NEW ZEALAND CHURCH AND SCHOOL HISTORY

Books and ephemera relating to New Zealand Church settlements and parishes, Schools and School Districts, Jubilees, Centennials, histories, and church and school publications.

All these fortunabooks.com prices are in New Zealand dollars, and there is a minimum order required of NZD$20 excluding postage.





ALEXANDER W E

The First Hundred Years


Celebrating the Centenary of the New Plymouth Boys' High School 1882-1982
VG VG sunned spine $35 C/D New Plymouth Boys' High School Centennial Committee 1982 first edition hard cover, large 4to, 188pp + colour plates, illustrated in B&W in text. [# 1282 new zealand school history]



ARCHERFIELD SCHOOL DUNEDIN

The Brownie


The Archerfield Magazine vol 16 1935
VG- one plate detached and the verso has two names and addresses in contemporary ink, minor foxing, rear page (printers imprint) totally covered with signatures of school members $30 B/A Otago Daily Times 1935 large format stapled wrappers, 39pp + 2 plates. [# 1280 new zealand school history]



ARCHERFIELD SCHOOL DUNEDIN

The Brownie


The Archerfield Magazine vol 18 1937
VG name at head of title $20 B/A Otago Daily Times 1937 large format stapled wrappers, 40pp + 2 plates. [# 1281 new zealand school history]



AULT H F

The Nelson Narrative


The Story of the Church of England in the Diocese of Nelson, New Zealand 1858 to 1958
VG G+ DW has some chipping and tears with large area chipped to the fold of the rear flap, book lacks fep $20 C/C Diocese of Nelson 1958 first edition cloth, 384pp + plates [# 668 nzhist]


BROWN Archdeacon A N

Brief Memorials of an Only Son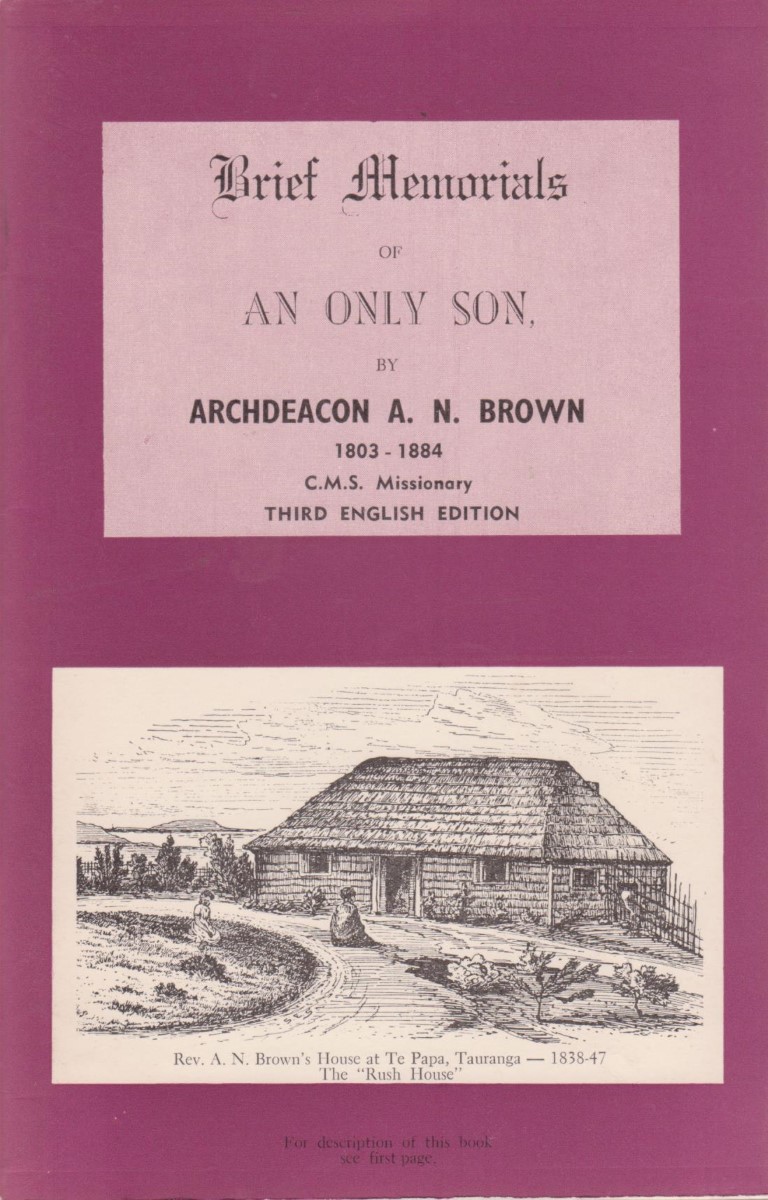 The only published work by the Tauranga based colonial Church Missionary Society missionary Archdeacon Alfred Nesbit Brown.
Inspired by the death of his son, Alfred Marsh.
Colonial History, Church Missionary Society, CMS, Tauranga, The Elms

VG+ softback stapled in pictorial card wrappers
$20 C/A
D H Maxwell (1964), 40pp + 12pp plates.
[#4023 ]





CATRIDGE L. E. & L. D. Kenyon

The Anglican Church in Waimate 1844-1972


A History of St Augustine's Parish (Centenary)
VG+ VG+ illustrated wrapper over card boards $25 C/B Centennial Committee 1972 first edition, hard covered, 110pp + plates. [#1896 nz church history]



COLLINS John

History of Waihi School 1907-1982


SIGNED COPY
VG $35 B/B Waihi School Association 1982 first edition hardcover titled to boards, 102pp + plates. Signed by author to title. [NZ 122]



GRIGG John R.

The Last Ripple

A Century of Methodism in the Manawatu
VG VG- DW has rubbing wear, tape residue to fep from errata slip which is present, $30 C/C Grigg 1972 first edition hardcover, 210pp + plates. [# 1752 nz chruch history]



GRIGG John R. [ signed copy]

The Last Ripple

A Century of Methodism in the Manawatu
VG VG minor handling wear to DW, signed 'J R Grigg' to fep. $40 C/C Grigg 1972 first edition hardcover, 210pp + plates. Errata slip present. [# 1753 nz chruch history]


HAMES E. W.

Coming of Age
New Zealand Methodism, the United Church 1913-1972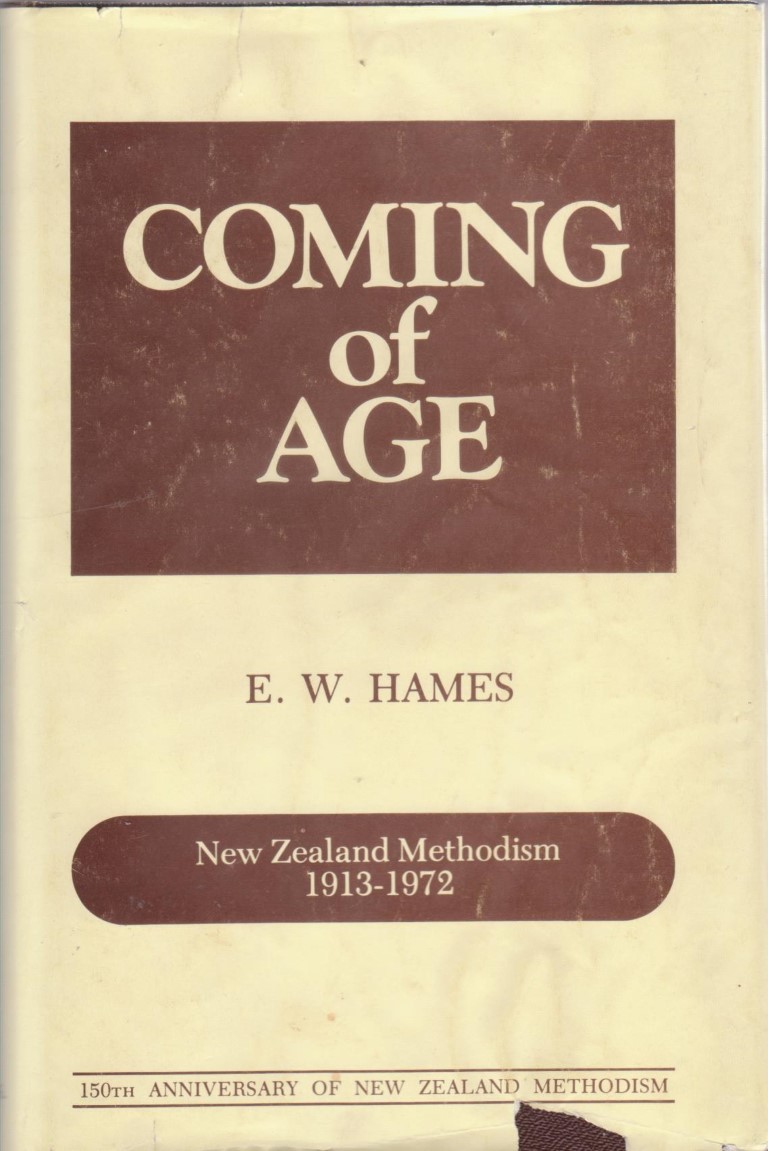 New Zealand Methodist Church History Vol 28 Numbers 1 & 2, the Proceedings of the Wesley Historical Society of New Zealand
VG hardback in G+ dust jacket with small chip to bottom edge of front panel, light wear.
$35 C/C
Wesley Historical Society 1974, 157pp +plates and index
[#3849 ]
LAUGHTON J. G.

From Forest Trail to City Street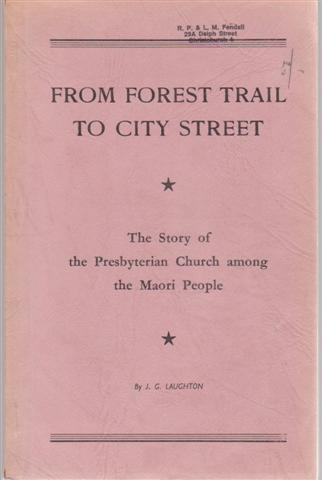 The Story of the Presbyterian Church among the Maori People. From Marsden in 1814 this is the history of the Methodist Maori Mission. in New Zealand. Includes a chronology and lists of missions and missionary appointments.
VG softback in wrappers. Small name stamp to cover.
$35 B/A
Presbyterian Bookroom 1961, 100pp. [#2874 new zealand, history, religion, church, maori ]
LINEHAM & GRIGG

Religious History of New Zealand: a Bibliography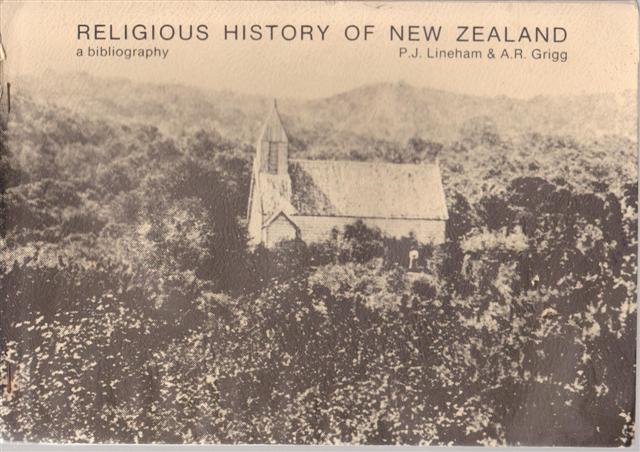 A preliminary bibliography of works related to religion in New Zealand. ISBN0908665040
VG softback, stapled sheets with pictorial paper cover, two columns per page, a few small scuff punctures to wrapper, light handling wear
$25 B/B
Department of History Massey University 1984, 164pp. [#2796 new zealand, history, religion, church ]
MASON Judy

A Venture of Faith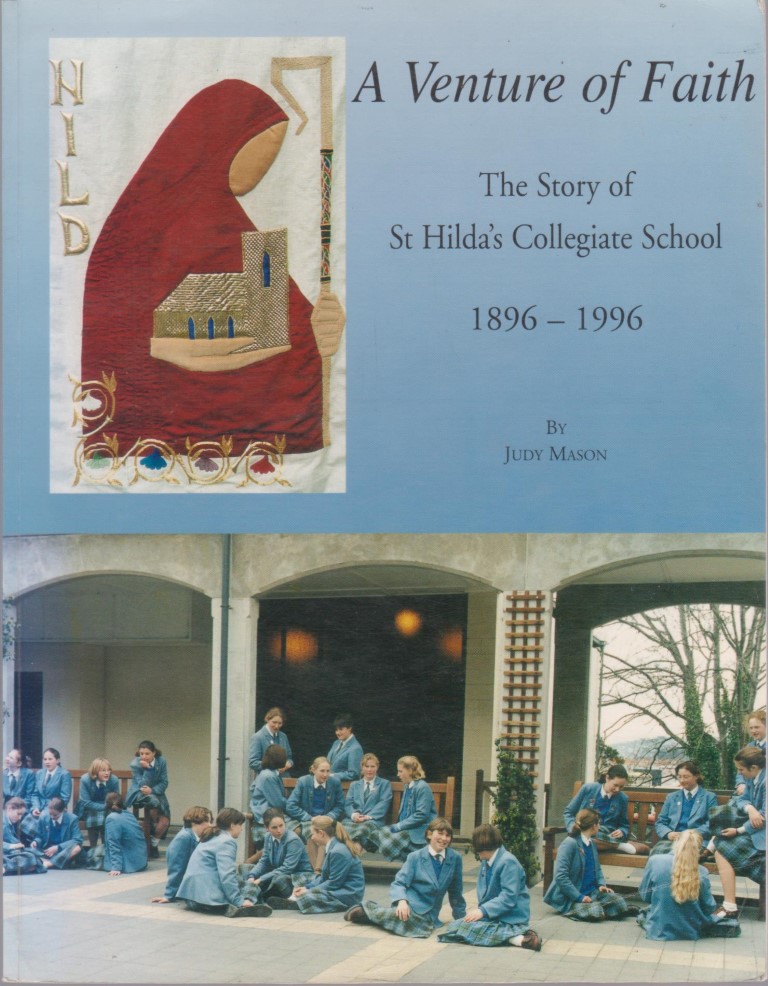 The story of St Hilda's Collegiate School 1896-1996.
Founded by the first Anglican bishop of Dunedin, Bishop Samuel Nevill and staffed by the Sisters of the Church.
The sisters withdrew from the school in the 1930s and is integrated into the state school system.
school, history, centenary publication, girls school
VG softback
$25 B/C
St Hildas Board of Trustees 1996, 221pp.
[#4064 ]
McDONALD Georgina

The Flame Unquenched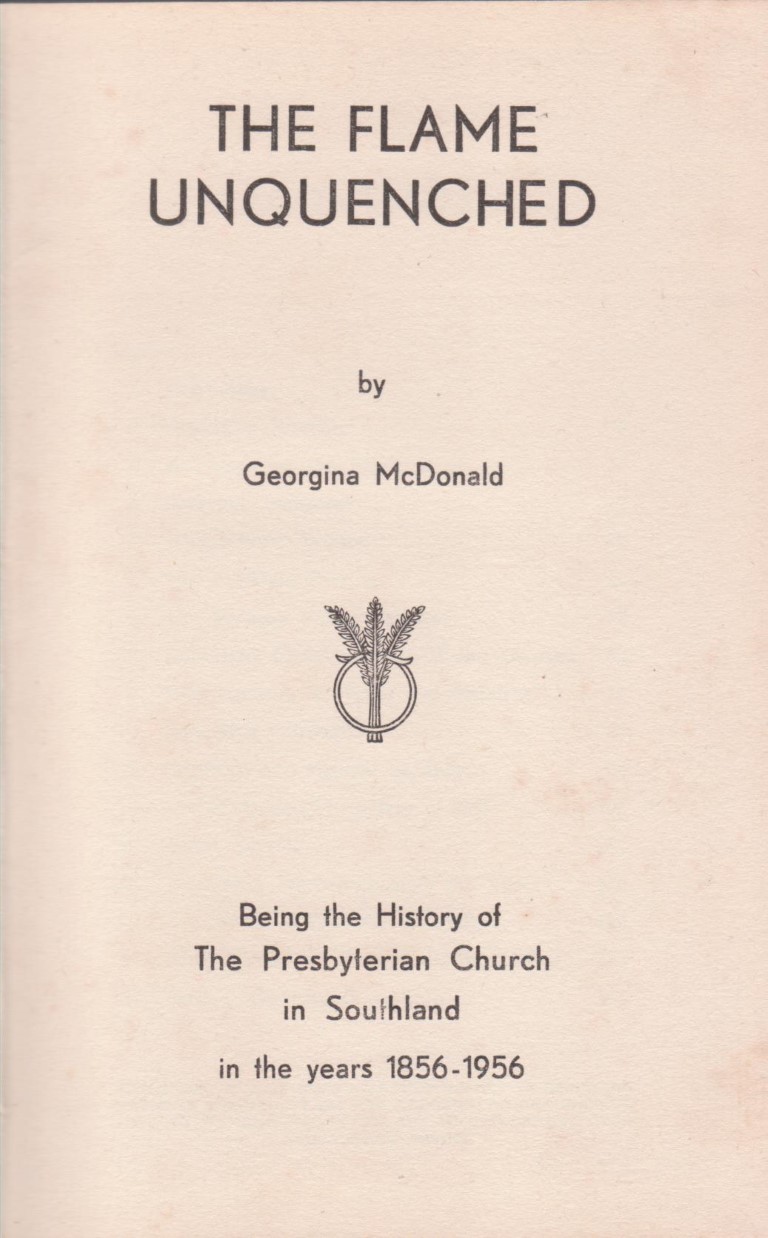 History of The Presbyterian Church in Southland 1856-1956
church history, christianity, new zealand
VG hardback with no dust jacket.
$25 C/B
Presbyterian Bookroom 1956 first edition, 152pp + plates, appendices and index
[#2173, 3627 ]
MORRELL W P

The Anglican Church in New Zealand, a history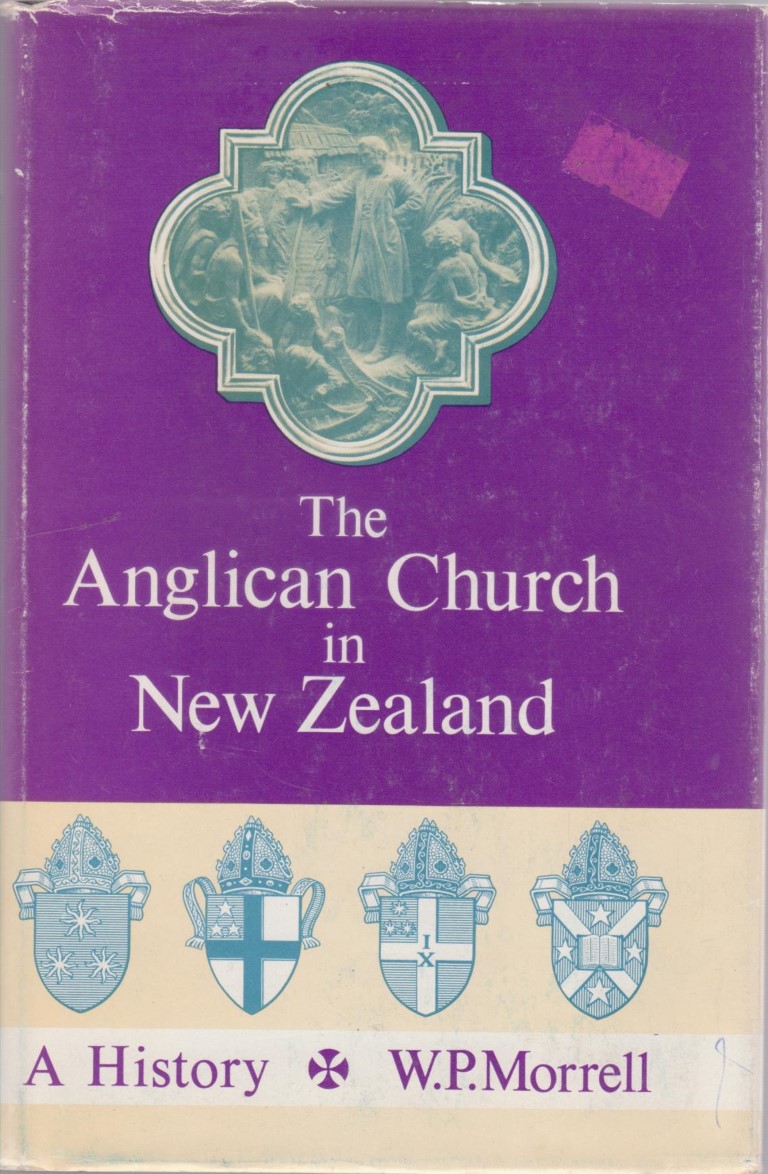 With information on the earliest colonial New Zealand, evangelisation and conversion of the Maori.
Also Maori Wars and Melanesian and Polynesian missions.
history, church of england
VG hardback in VG dust jacket.
$25 C/C
Anglican Church of the Province of New Zealand 1973, 277pp
[#3835 ]
PURCHAS H T

A History of The English Church in New Zealand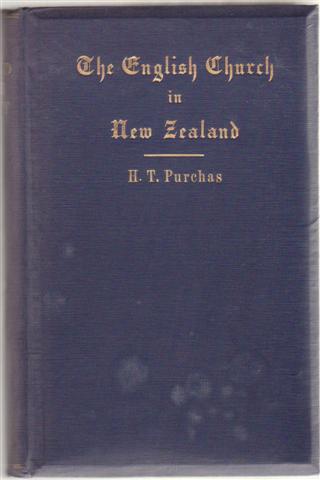 New Zealand church history from 1805. Includes much general history as it pertained to the spreading of the gospel into New Zealand, missionary influence on Maori, the Land Wars etc.
G+ hardback cloth, bevelled edges, gilt titled, no dust jacket. Inscription to free end paper. All plates present but a few are loose.
$30 C/C
Simpson & Williams 1914 first edition, xviii 252pp + plates
[#3141 ]
G+ hardback cloth, bevelled edges, gilt titled, no dust jacket. Hinge opened between half title and frontis, binding holds well, list of illustrations page detached, slight fade to backstrip, endpapers browned.
$30 C/C
Simpson & Williams 1914 first edition, xviii 252pp + plates
[NZ131 ]
RAINGER Alan and Hugh ABBOTT

King's College Register 1896-1972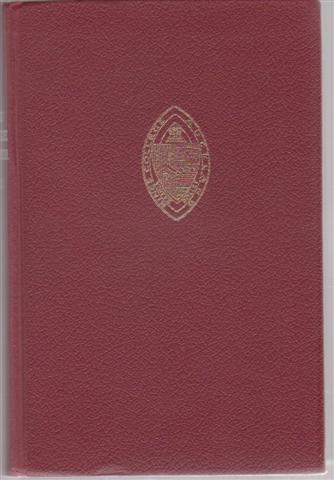 The updated second edition of this New Zealand high school register first published in 1959, complete list of students from 1896-1972 as well as sporting results etc.
VG hardback with no dust jacket, red cloth gilt school device to upper board. $55 C/C King's College Old Boys Association 1972, 686pp, fold out frontis. [#2371 NZ School history, Kings College, Auckland ]
SALMOND J. D.

By Love Serve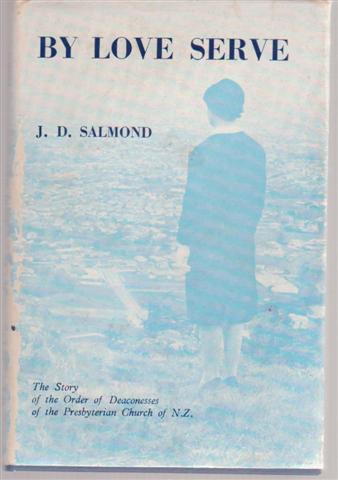 The Story of the Order of Deaconesses of the Presbyterian Church of New Zealand

G+ hardback in G+ dust jacket with rubbing wear to spine. Book and dust jacket have pen annotations often giving extra information about the subjects such as naming people in photos etc. $10 C/B Presbyterian Bookroom 1962 first edition hardcover, 62pp. [#2490 new zealand church history]





SISTERS OF THE LITTLE COMPANY OF MARY


The Philosophy of the Health Services under the care of the Sisters of the Little Company of Mary
mimeographed booklet
FINE $10 +$4 postage worldwide, undated, folded sheets to make 8pp in printed paper wrappers, stapled through once at spine. Issued by Mary Potter Hospice. The Little Company of Mary was a group of Sisters founded by Mary Potter with a mission to care for dying people. They came to Christchurch in 1913 and later established a Foundation in Wellington in 1926. [#2019 new zealand church history]


STOCK Eugene

The History of the Church Missionary Society in New Zealand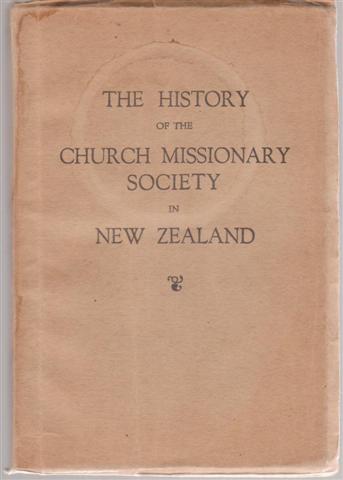 From first contact with 19th century Maori up to 1930s.

VG softback with cup mark to cover, wear to wrappers yapped edges $45 B/A New Zealand Church Missionary Society 1935 first edition sewn wrappers, 68pp + plates + 3pp adverts. [#2324 church history ]






WILLIAMS Alexia

The Chalkface

Reikorangi and Waikanae Schools 1895-1996
VG light crease to corners $30 C/C Waikanae School Centenary Committee 1996 first edition soft cover on glossy paper stock. 328pp, well illustrated. ISBN 0473039052 [# 761 wellington, kapiti]




© 2015 by Fortuna Books (NZ).