LATEST ARRIVALS, RECENT LISTINGS

Some of these items may have been sold, as this list is an indication of our new stock entries only and is not updated when items are sold until we delete old entries quarterly.

All these fortunabooks.com prices are in New Zealand dollars.
Recent uncataloged stock CLICK HERE
Some non-book items (board games, movies) CLICK HERE
23/3/2019ev
TAYLOR Clive Muscroft

From the Dales to the Downs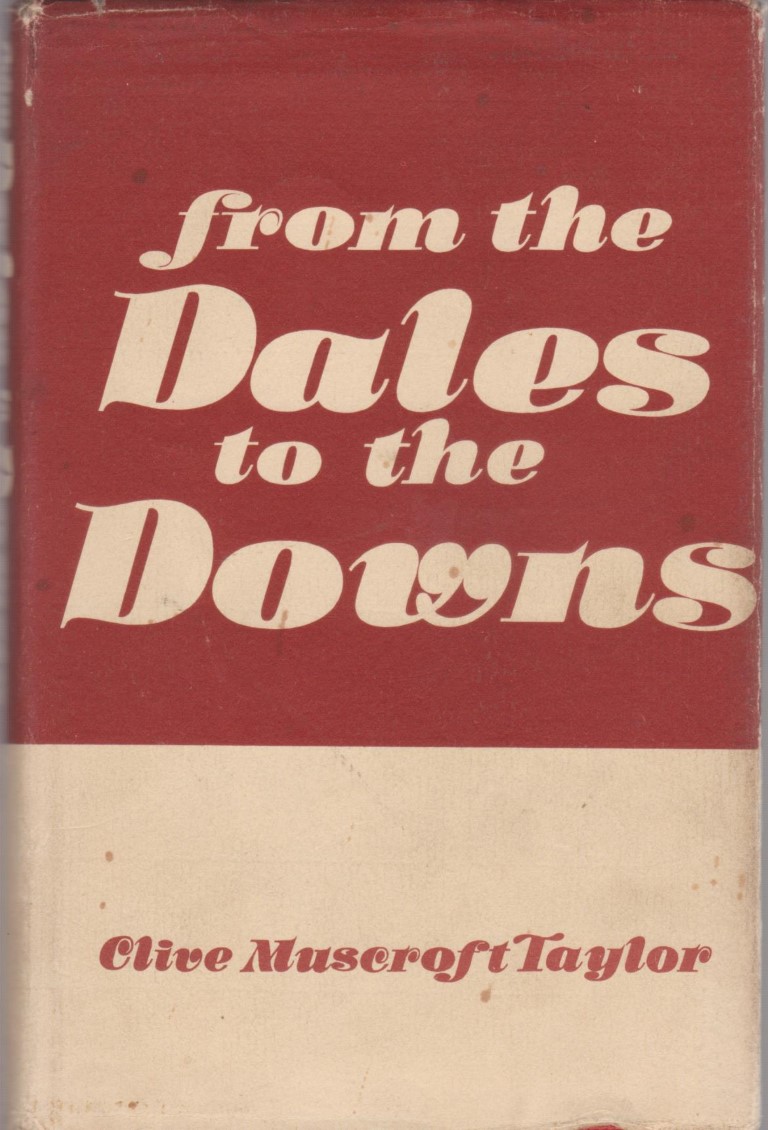 Autobiography of a resident of Geraldine who started off in Yorkshire, served in the Far East (Hong Kong) and India, as well as with the NZ forces during WWII.
biography, british military history, Kashmir, Indian mountain artillery, chamba, Jutogh, raincliffe
VG- hardback in VG- dust jacket with light wear and dust soiling.
Name to first page, review clipping pasted in at rear.
$20 C/B
John McIndoe 1976 first editon,176pp + plates.
[#4056 ]
GORDON Mona

Portrait in Mosaic of Ann Clifton Firth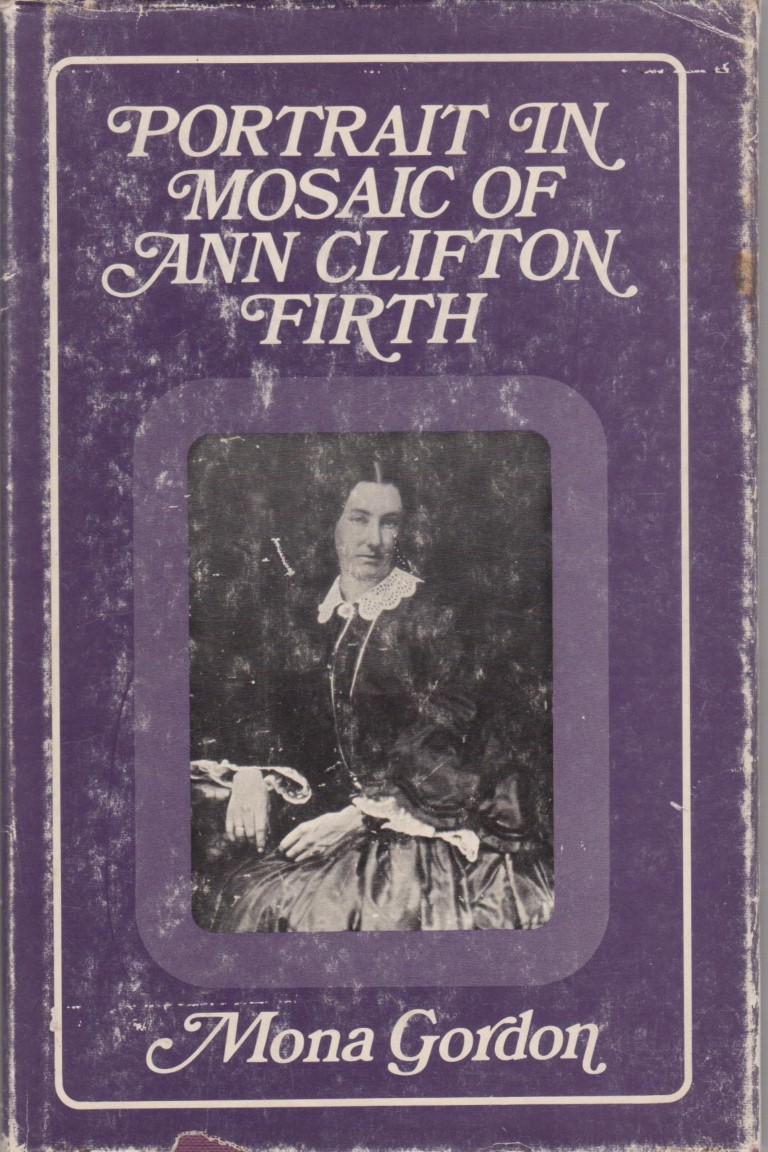 A biography of one of the Mt Eden Clifton Firth's with much on the rest of the family.
Victorian, New Zealand, biography, women's history, colonial, Auckland, Josiah Clifton Firth
VG hardback in G+ dust jacket that is well rubbed at edges and with minor edge chipping.
$20 C/B
Pegasus Press 1973 first edition, 114pp + plates.
[#4057 ]
MACKAY Margaret Elizabeth

Customers and Green Men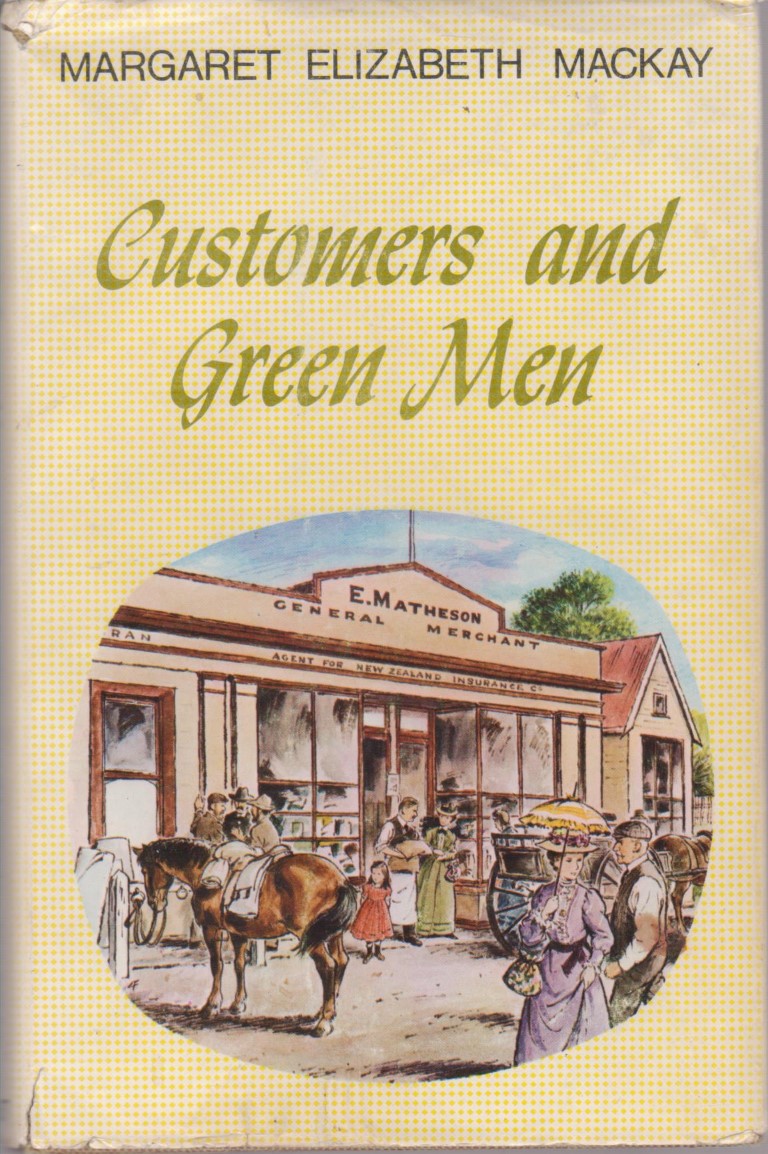 Memories from the author's life growing up in the General Store in Otautau in Southland.
Born at the end of the 19th century, she recounts her family and the wider community story in early New Zealand.
Takitimu, Orepuki, Ewen Matheson, flood
G+ hardback in VG- dust jacket with minor wear.
First blank page missing.
$20 C/B
Whitcombe and Tombs Ltd. 1967 first edition, 164pp+ plates.
[#4058 ]
18/3/2019ev
RAESIDE J. D.

Sovereign Chief
A Biography of Baron De Thierry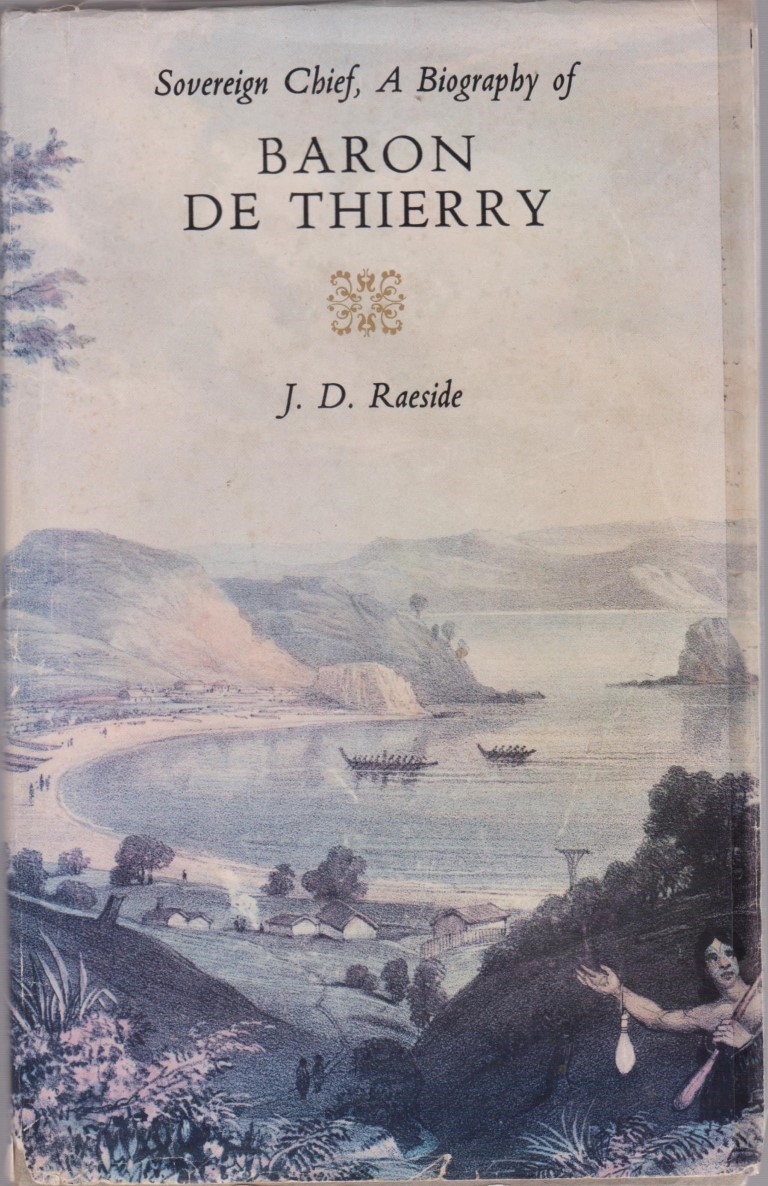 A biography of an aristocratic Frenchman who disputed the British Crown's right to land he had purchased from the Maori Hongi Hika who he met in England in 1820, prior to the signing of the Treaty of Waitangi.
Hika purchased 500 muskets with the proceeds of the land sale and embarked on what became the Musket Wars, which have been attributed with turning Maori opinion in favour of a Treaty with the British Crown.
Resident in Hokianga his grandiose plans failed yet he continued to agitate for the establishment of a French colony led by himself until the Treaty of Waitangi made this impossible.
One of the eccentrics of the colonisation of New Zealand.
ISBN0908563000
New Zealand Maori, Colonial History, King Nuku Hiva
VG softback in G+ dust jacket.
Proof copy in printed paper wrappers, dust jacket has fore edge taped and some short tears at spine ends.
Original folded and sewn sheets but not cased in a hard cover.
$30 B/C
Caxton Press 1977, 362pp + plates and maps.
[#4050 ]
SANSOM Olga

The Stewart Islanders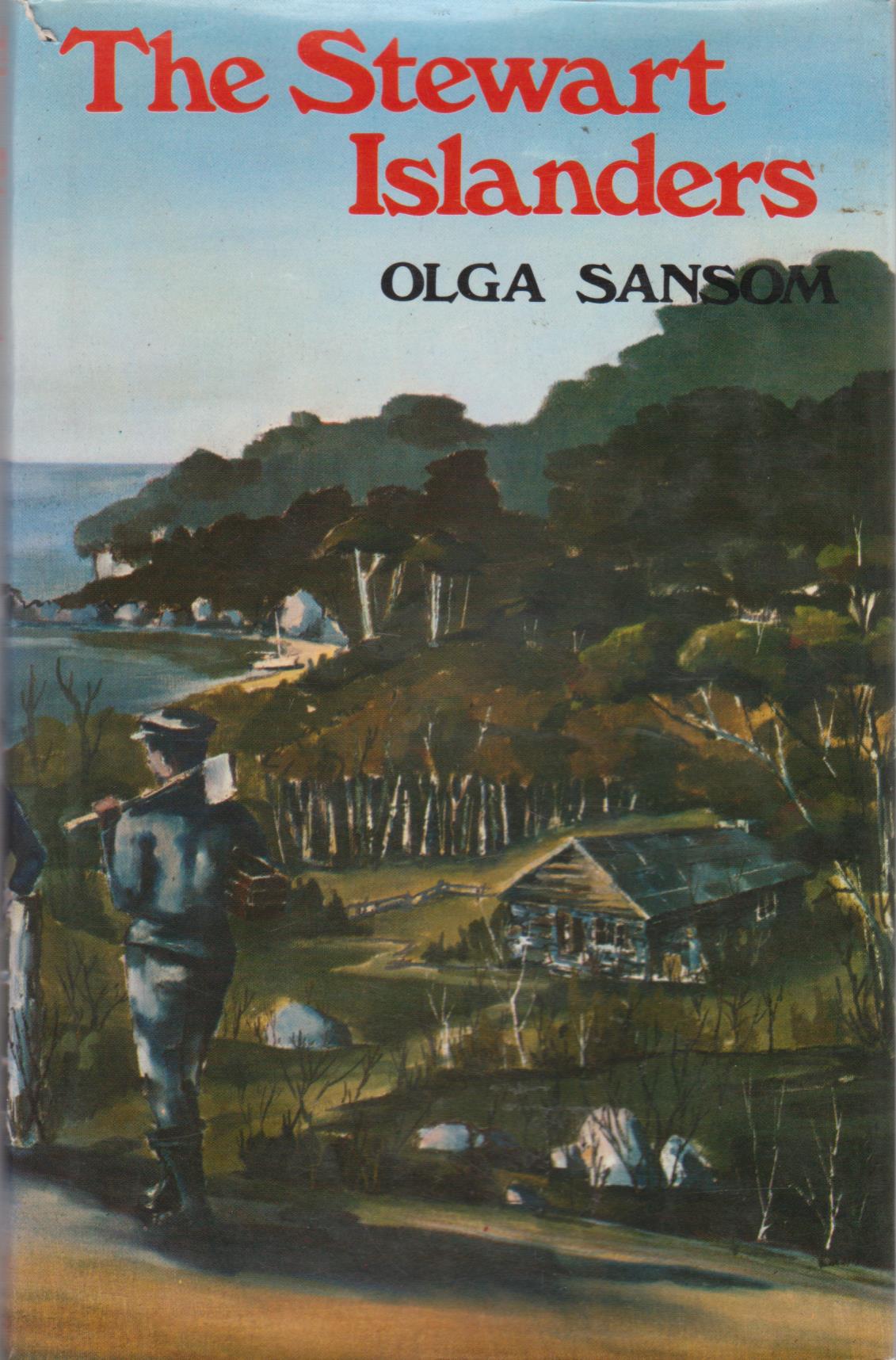 The story of the lives and families of the pioneers from the whaling days, when Maori and Pakeha joined together to build a community in this most southern New Zealand region.
ISBN0589004549
Foveaux Strait, Halfmoon Bay, Rakiura, Lewis Acker, John Kaiparohu Bragg, whaling, southland
VG hardback in VG dust jacket
$45 C/C
Reed 1970 first edition, 249pp + plates, map end papers.
[#4051 ]
WILLIS H. A.

Manhunt
The Story of Stanley Graham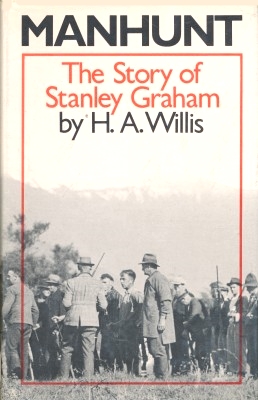 Belligerent Hokitika farmer Stan Graham refused to hand in his rifle for the war effort.
Later, combined with financial strain and arguments with his neighbours, he later shot and killed a total of seven people before being killed by an armed Home Guard search party.
Made into a film in 1981.
ISBN072330629X
true crime
VG+ hardback in VG dust jacket, some fading to red titling on the jacket spine.
$30 C/C
Whitcoulls 1979 first edition, 224pp illustrated.
[#4052]
KING Michael

The Penguin History of New Zealand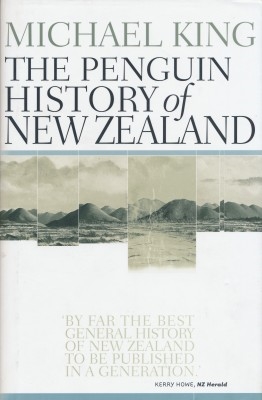 One thousand years of human settlement and cultural and social development in New Zealand.
One of the best current histories of New Zealand.
ISBN9780670045501
maori, pakeha, colonial, modern, history

VG hardback in VG dust jacket, name to first page, original price label to rear wrapper.
$35 C/C
Penguin 2004, 570pp.
[#4053 ]



28/2/2019ev



BROADHURST Francis J.

Prof. Bland Original Ink Portrait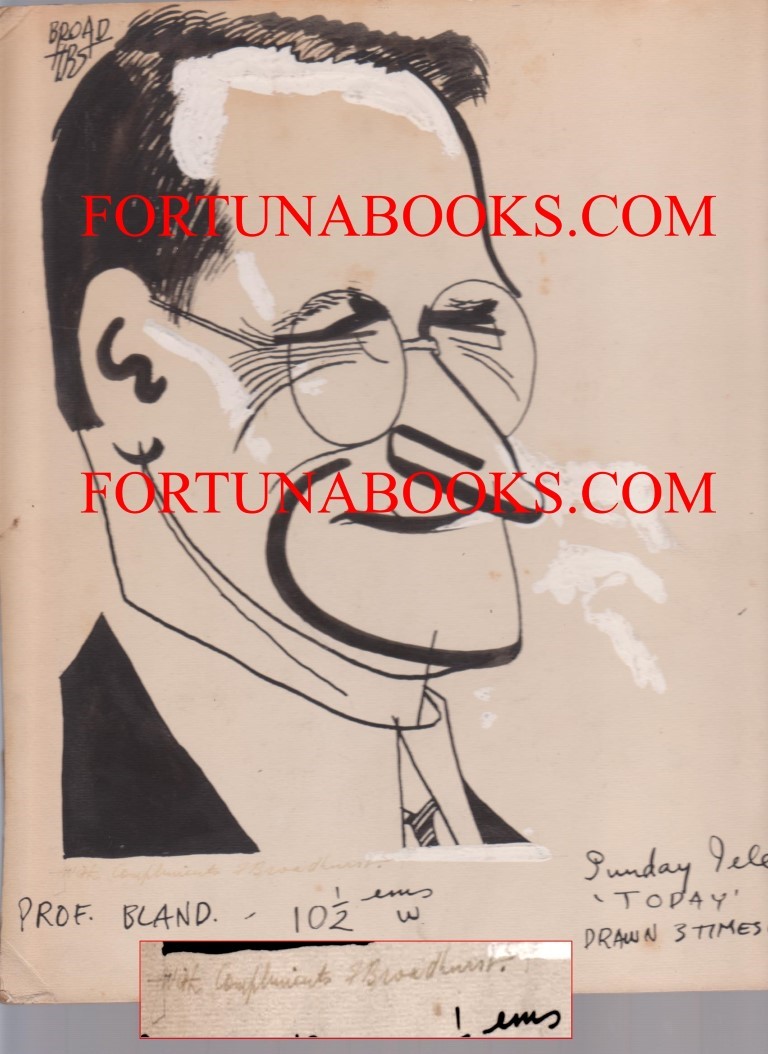 A Sketch for the Sunday Telegraph.
Done on card board with ink, a caricature sketch of Professor Bland by F Broadhurst, signed with monogram at top and with a faded ink 'with compliments F Broadhurst".
The caption reads 'PROF. BLAND.- 10 1/2 ems w Sunday Tele' 'TODAY' DRAWN 3 TIMES UP.
It has been corrected in some places with white out over the ink to mask the black, no idea of date probably pre- 1967 though.
It will need mounting and framing.
Francis J. Broadhurst was an illustrator and designer who trained for five years at Melbourne's National Gallery School under Napier Waller.
He is best known for his illustrations to Rabelais and The Decameron.
Prof. Bland, Francis Armand Bland, CMG (1882-1967) was a member of the Australian Parliament, he died in 1967.
Cartoon, Newspaper Caricature Portrait Illustration Original Artwork Professor Bland By F Broadhurst
VG sketch on board, 23x28 cm.
$125 B/B
circa 1960
[#4039 ]
LAW Phillip & John BECHERVAISE

ANARE Australia's Antarctic Outposts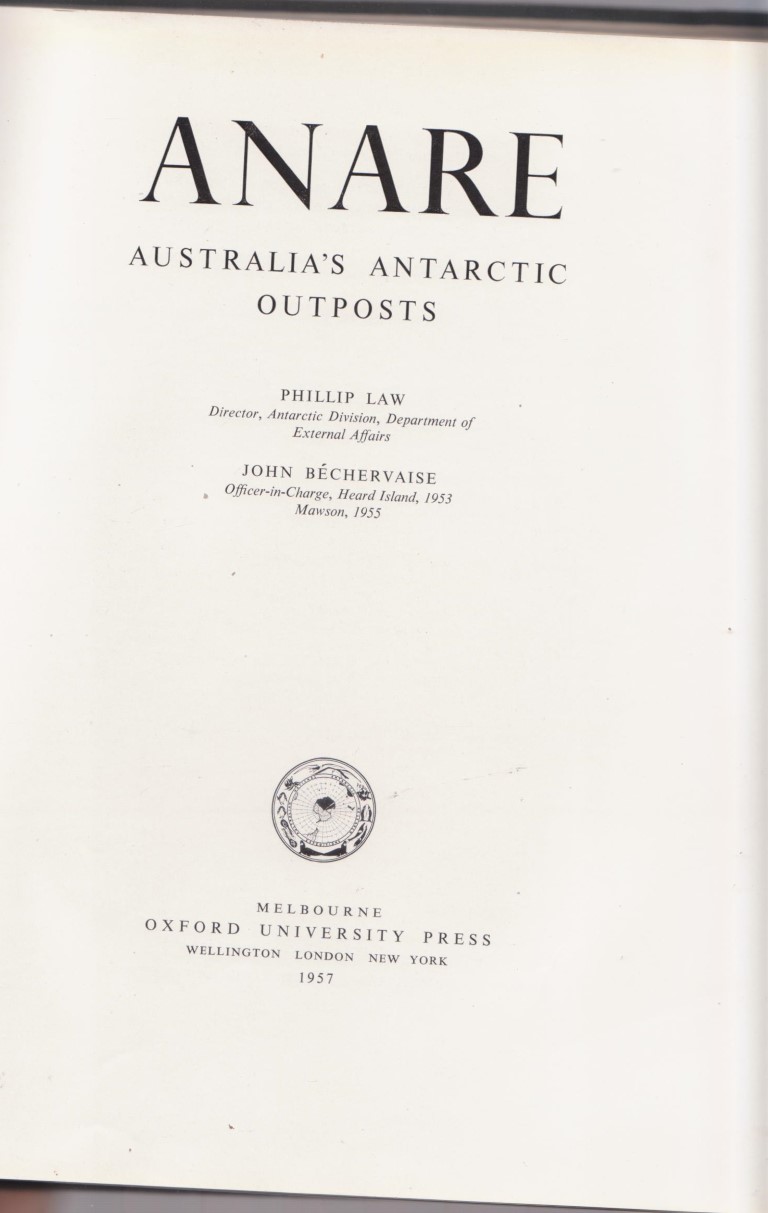 A study of the Australian Scientific Research Stations in Antarctica, and the work they conduct in the field.
Unmarked copy illustrated with b&w and colour photos.
Antarctic, South Pole, Polar, Geology, Balleny Islands, Vestfold, Wilkes Coast, Macquarie Island, Mawson Station, Heard Island, birds, animals, natural history
VG+ hardback in blue cloth, with no dust jacket.
$20 B/D
Oxford University Press1957 first edition, 152pp.
[#4040 ]
McDONALD Bryan

Home Landscaping in New Zealand
A Design Guide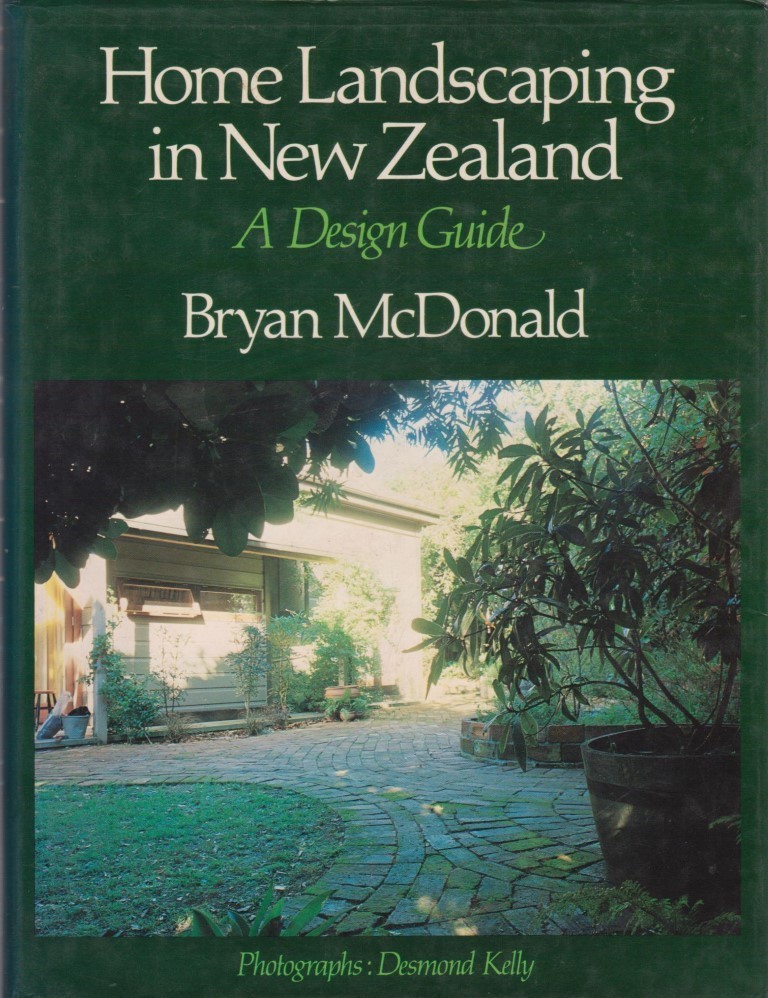 Landscape and Garden Design with a focus and man-made features such as pottery and walls and paths.
Some consideration of planting to ttract native birds.
With colour and black and white illustrations.
ISBN0002169789
gardening, landscaping, property,
VG hardback in VG dust jacket with chip from bottom right corner of rear cover taped in place.
$20 B/C
Collins 1980, 195pp.
[#4041 ]
FRY A. S.

The Aunt Daisy Story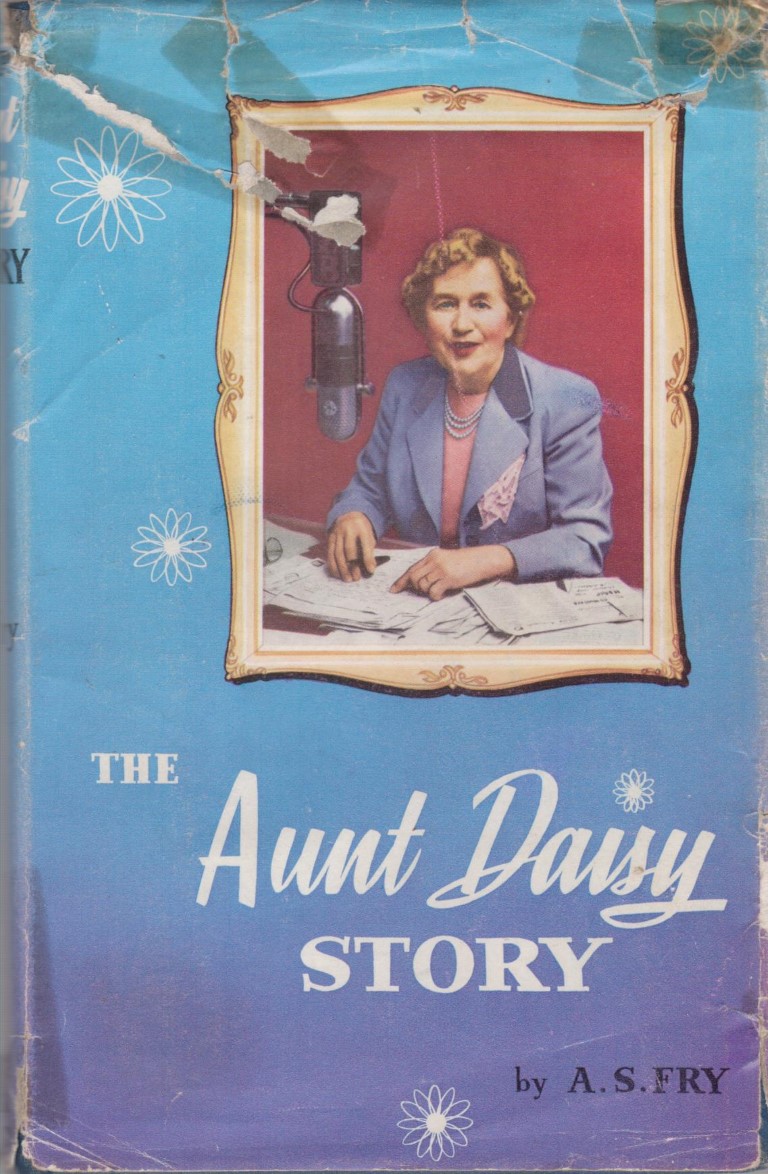 The story of the foremost New Zealand radio host of her time.
Maud Ruby Basham MBE (nee Taylor 1879-1963).
Aunt Daisy broadcast each morning to the women and housewives of NZ from 1930 to 1963.
Her half-hour morning show was to promote household products, and later boosted morale during WWII.
She also published seven cookbooks including "The Aunt Daisy Cookbook with Household Hints".
media, radio, broadcasting
VG hardback with Good dustjacket with edge wear, tears and chips.
Jacket has been taped on the reverse edge, complete but damaged.
Book is tidy, name to free end paper.
$20 C/B
Reed 1957 first edition, 131pp + plates.
[#4042 ]
PAPUS (Gerard Encausse) edited Arthur Edward Waite

The Tarot of the Bohemians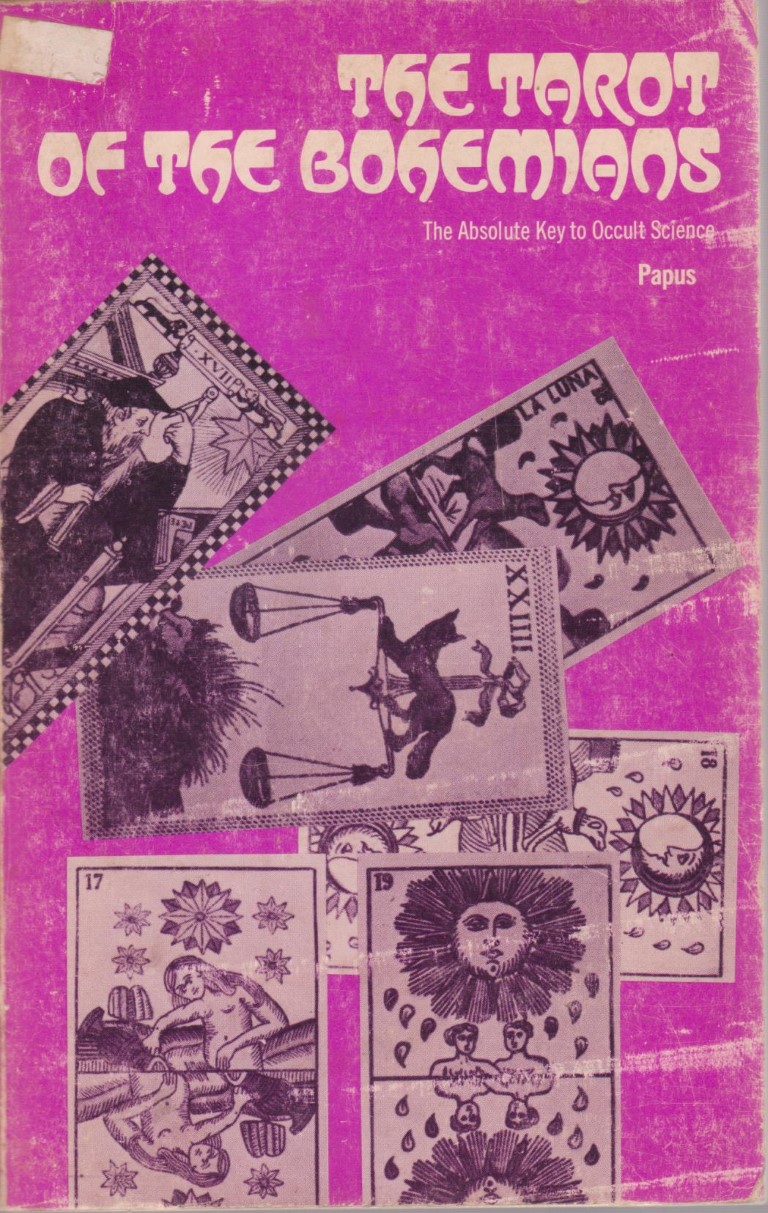 The Absolute Key to Occult Science
History and symbology of the Tarot including kabbalistic attributions.
Facsimile reprinting of the third revised edition of A E Waite's translation.
occult, rosicrucian, initiated
VG- softback with rubbed wrappers, Helios Book Service label to fep, soiled closed edges.
$25 C/C
Wilshire Book Company 1973 softcover, xxv 355pp
[#4043 ]
17/2/2019ev
BODDY Gillian

Katherine Mansfield, a Do You Remember LifeFour Stories With an Illustrated Introduction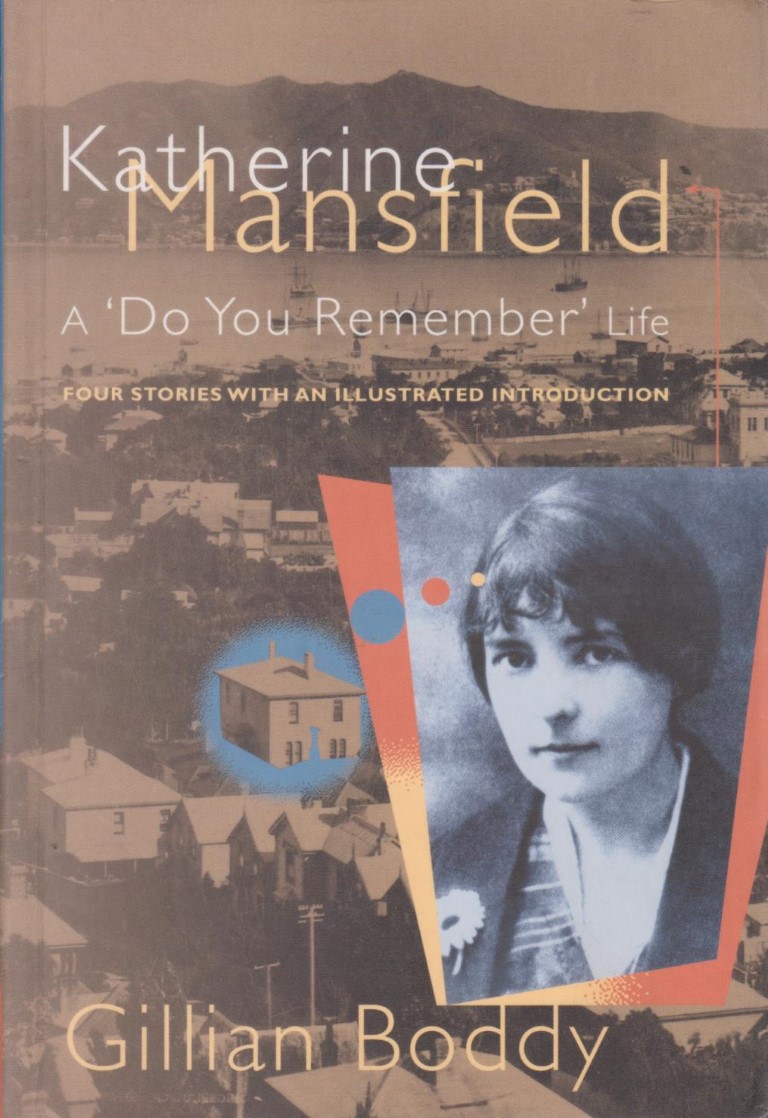 Four Stories With an Illustrated Introduction.
A Birthday, The Wind Blows, Prelude, The Doll's House.
Includes 56pp intro and also bibliography etc.
ISBN086473297X
new zealand literature, katherine mansfield
VG softback with pictorial card wrappers with flaps.
Katherine Mansfield Birthplace sticker to fep, signed by author to title.
$25 C/A
Victoria University Press 1996 first edition, 143pp.
[#4022 ]
BROWN Archdeacon A N

Brief Memorials of an Only Son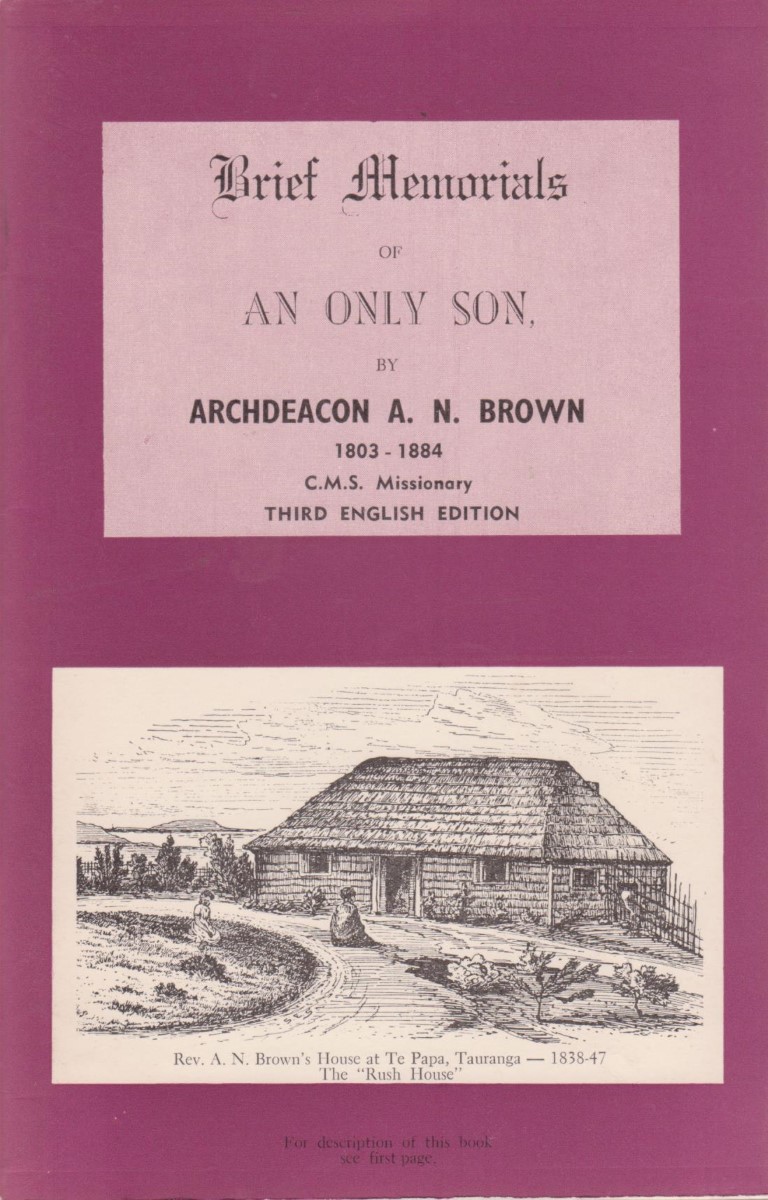 The only published work by the Tauranga based colonial Church Missionary Society missionary Archdeacon Alfred Nesbit Brown.
Inspired by the death of his son, Alfred Marsh.
Colonial History, Church Missionary Society, CMS, Tauranga, The Elms
VG+ softback stapled in pictorial card wrappers
$20 C/A
D H Maxwell (1964), 40pp + 12pp plates.
[#4023 ]
[G3746]

Fourth Progressive Primer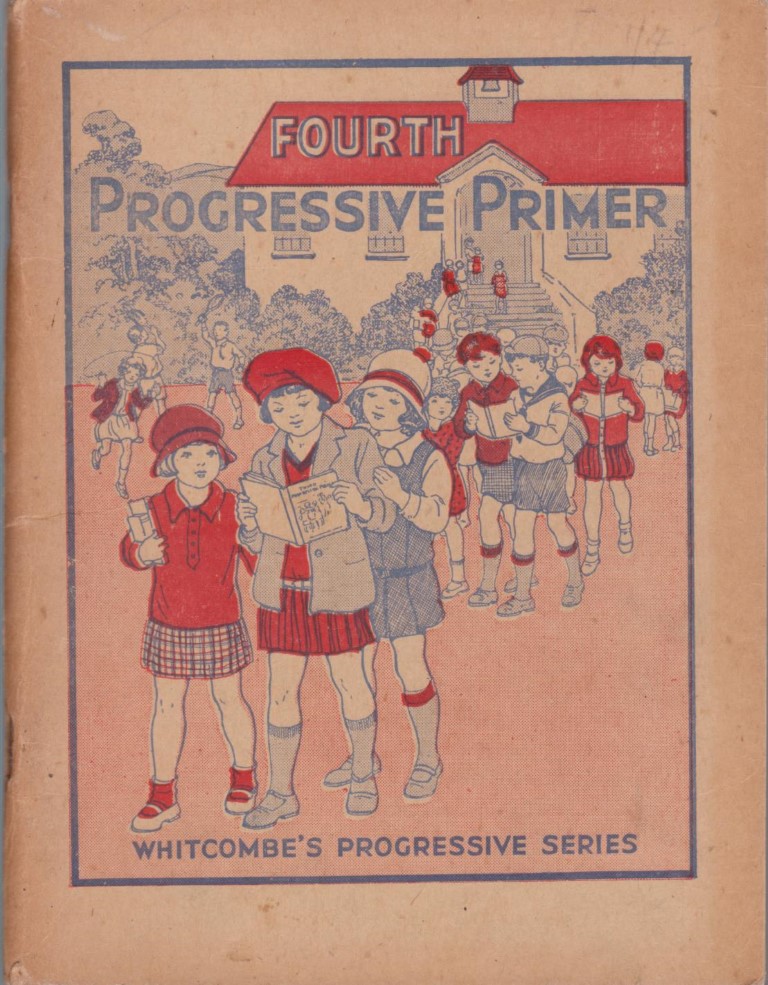 Whitcombe's Progressive Series school reader.
Illustrated in line and colour.
text book, vintage, school reader, new zealand
VG- softback with original stapled pictorial wrappers.
$25 C/A
Whitcombe and Tombs, 96pp
[#4024 ]
[G4885]

Sixth Progressive Primer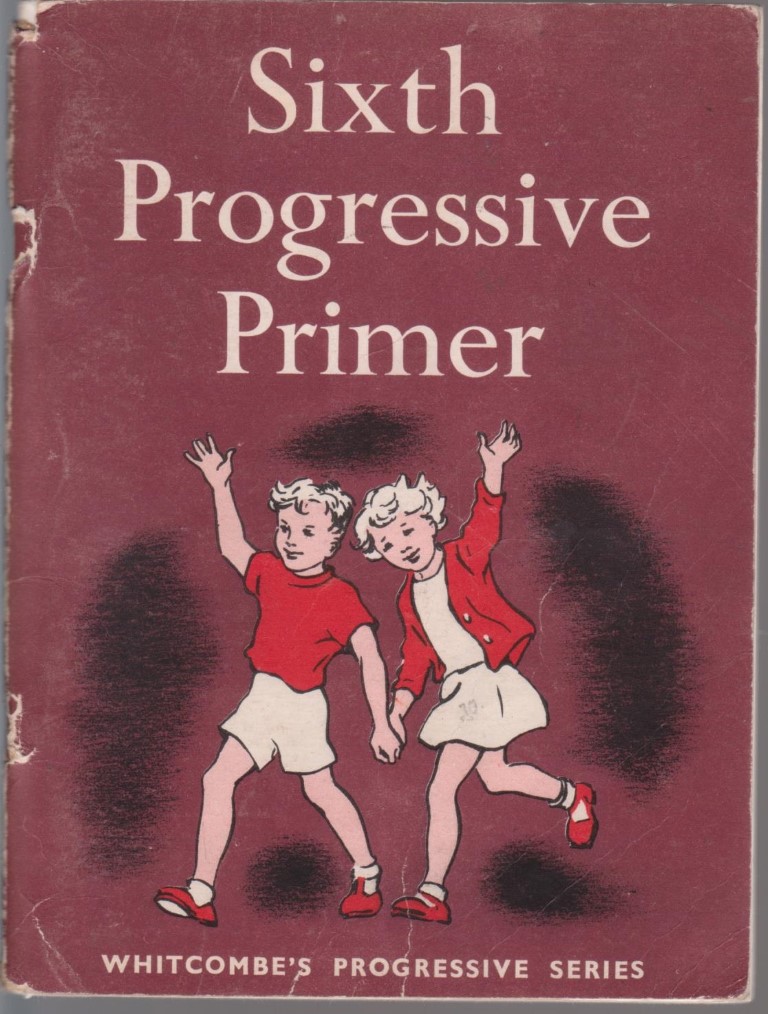 Whitcombe's Progressive Series school reader.
Illustrated in line and colour.
text book, vintage, school reader, new zealand
VG- softback with original stapled pictorial wrappers.
Some wear to spine and around staples, and school stamp to first page.
$25 C/A
Whitcombe and Tombs copyrighted 1931, 121pp
[#4025 ]
11/2/2019ev
HARKER Jack S.

HMNZS Achilles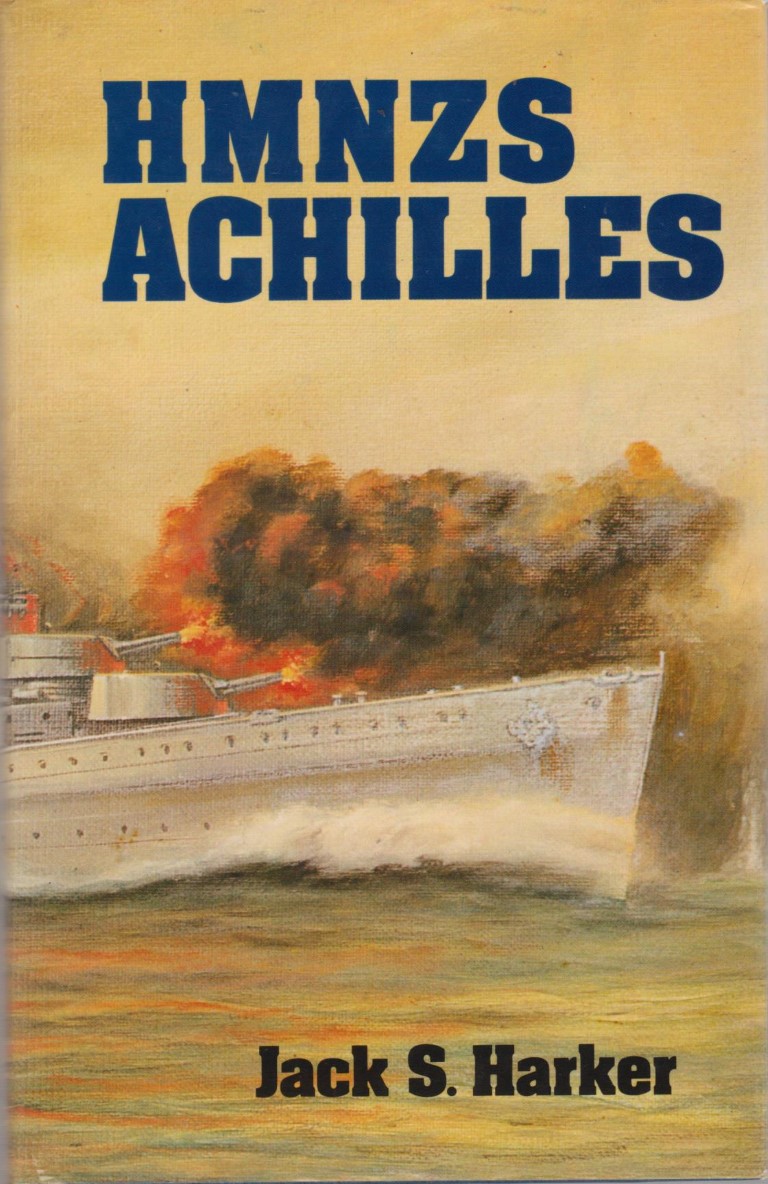 The New Zealand 7200 ton light cruiser which participated in the final encounter with the Graf Spee.
Achilles saw action at Guadalcanal (1943), Normandy (1944), and in the Pacific in 1945.
She served with the Indian Navy as the "Delhi" until being broken up in 1978.
The author served on the Achilles and her sister-ship Leander.
ISBN0002169614
ww2, wwii, RNZN, navy, naval, River Plate, Exeter, Ajax
VG+ hardback in VG+ dust jacket
$35 C/C
Collins 1980 first edition, 264pp + plates.
[#3996 ]
BUICK T. Lindsay

The French at Akaroa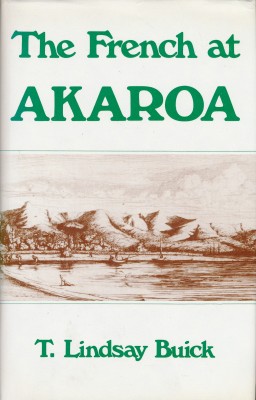 First published in 1928, this is the definitive history of the joint French/ German settlement of Akaroa, the first town in Canterbury.
banks peninsula, canterbury, akaroa, new zealand history
VG+ hardback in VG+ dust jacket
$50 C/C
Capper Press facsimile 1980, xvi 420pp + plates and folding map
[#3997 ]
10/2/2019ev
HOFFMAN Enid

Huna
A Beginners Guide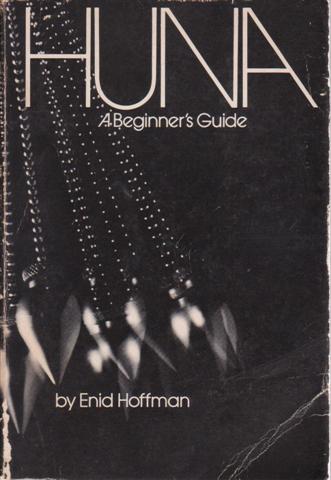 Introduction to the Huna magic of the Hawaiian Kahuna / Kuhuna magicians rediscovered by Max Freedom Long.
Includes use of the pendulum.
ISBN0914918036
new thought, magical practises, polynesian
G softback with light wear and creasing to covers.
$10 C/B
Para Research 1979 (third edition completing 12,000copies), 118pp.
[#2812, 3985 ]
BUTLER W. E.

Apprenticed to Magic
The path to magical attainment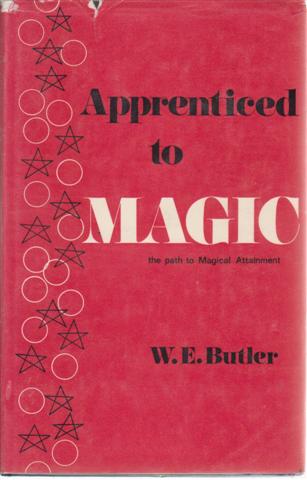 A series of dialogues between a master and his pupil on aspects of Western esoteric practise.
Based on the Tree of Life and kabala.
ISBN0850300401
occult, golden dawn, western magical tradition
VG hardback in VG- dust jacket with short edge tear to cover.
$25 C/B
The Aquarian Press 1972 third impression, 105pp
[#2768]
VG hardback in G+ dust jacket with short edge tears to cover.
Black marker to free end paper, name in pen to title page.
$25 C/B
The Aquarian Press 1972 third impression, 105pp
[#3986 ]
PEGASUS PRESS

Pegasus Press Advertising Brochure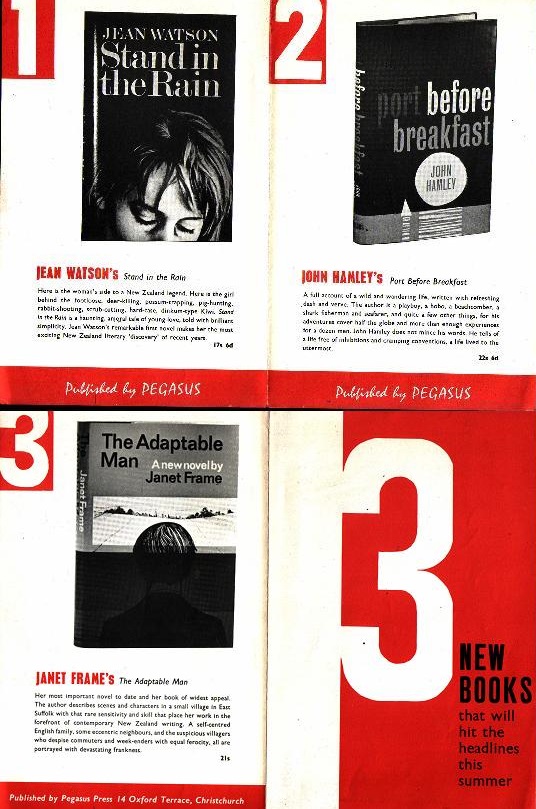 A printed flier advertising three recent release by the Christchurch artisan Pegasus Press.
Stand in the Rain by Jean Watson, Port Before Breakfast by John Hamley and The Adaptable Man by Janet Frame.
ephemera, printing,
A4 sheet folded once to make four pages, minor light crease otherwise tidy example
$30 C/ letter rate overseas.
Pegasus Press (1965)
[#3989 ]
SCOTT Captain R. F.
Text arranged by Leonard Huxley
Scott's Last Expedition (MacMillan's Empire Library)

Volume One is Scott's journals showing the human tragedy, while Volume Two has the Scientific Reports and Journals of Dr. E. A. Wilson and the other surviving members of this disastrous expedition to the South Pole.
south pole, antarctica, Robert Falcon Scott
G+ cloth bound set with decorative boards.
Some mild foxing, covers faded and slightly soiled.
Vol 1 lacks the rear folding map, but the one in Vol. 2 is present, with a repaired tear not affecting the printed map area.
$75 C/C
MacMillan 1913, first thus edition, xviii 497+ x 431pages + advertisements, plates and maps.
[#3990]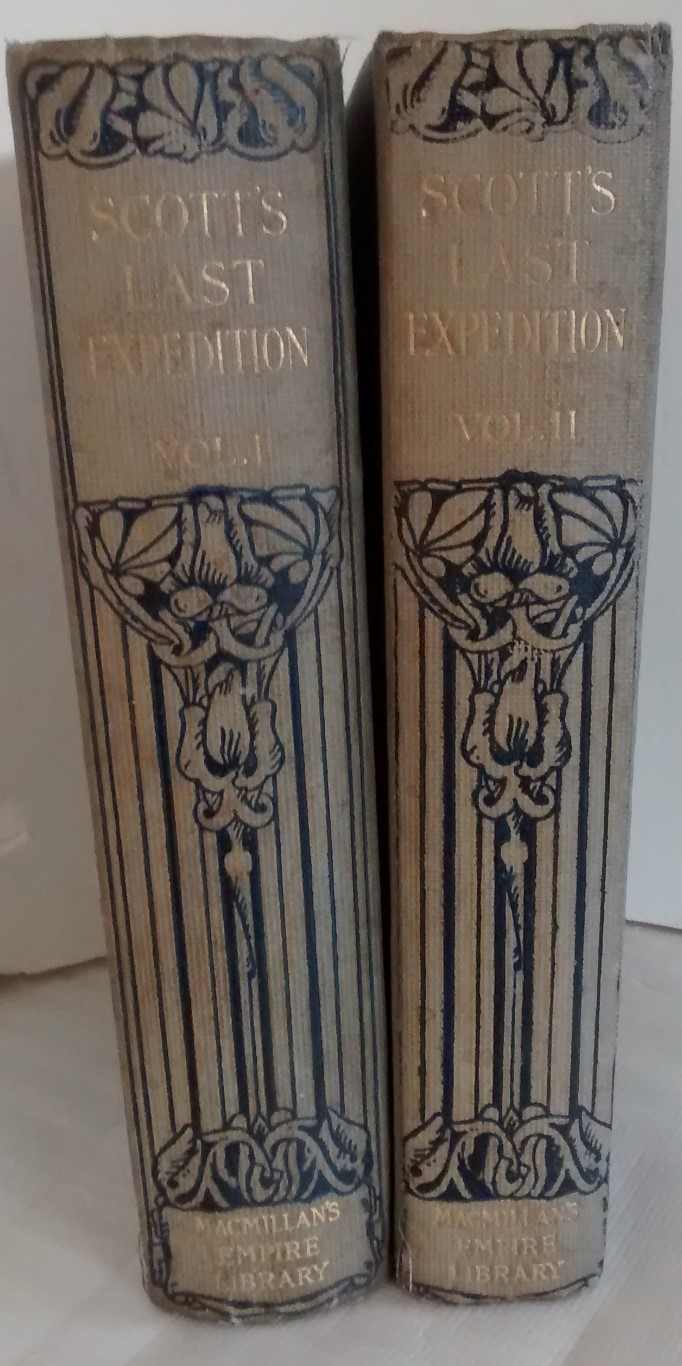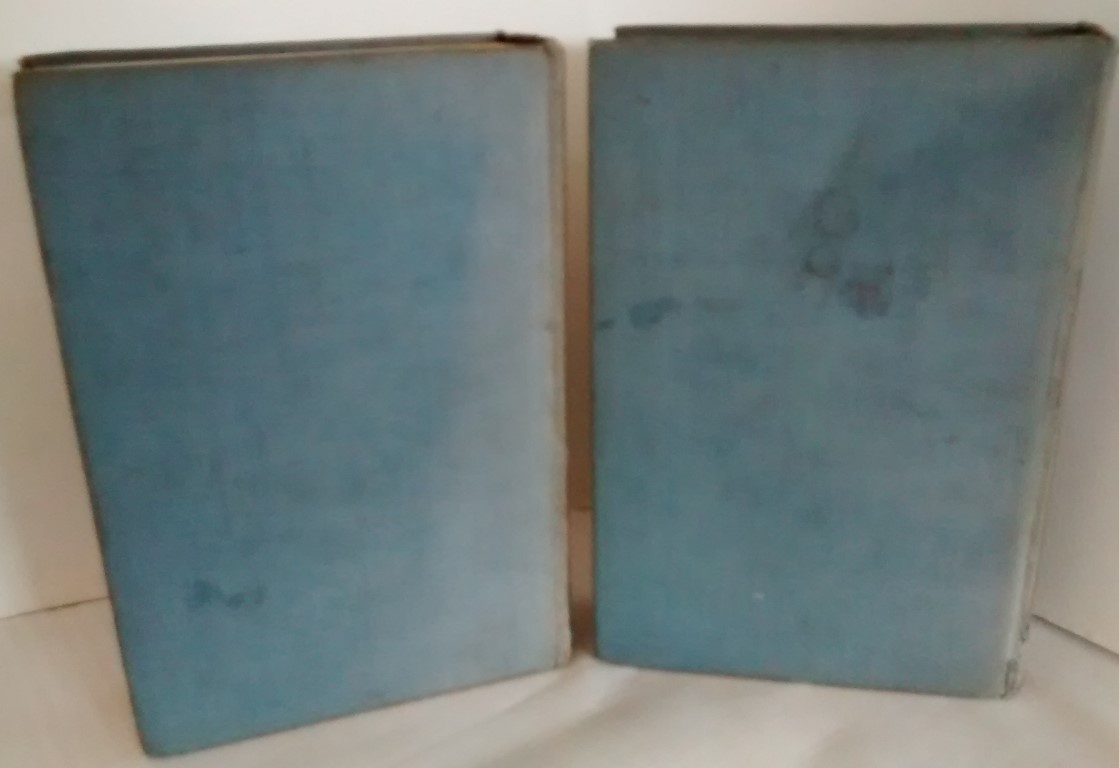 GRAHAM Peter

So Brilliantly Clever
Parker, Hulme and the murder that shocked the World.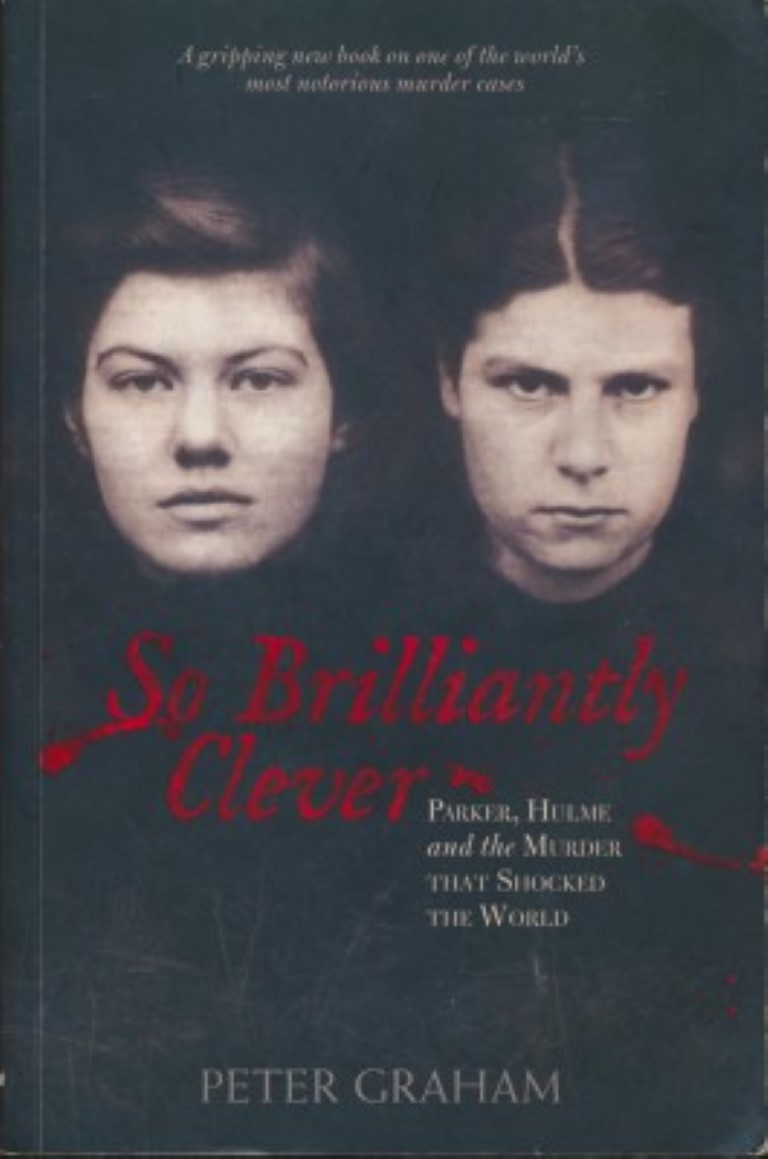 An excellent work on the most sensational and shocking murder of modern New Zealand times.
Written with an expert lawyer's insights, Graham explores the psychology of the relationship between Juliet Hulme (now writing as Anne Perry) and Pauline Parker.
The pre-meditated murder of Parker's mother, Honorah Rieper, on 22 June 1954 in Victoria Park, scandalised Christchurch and shocked the world, especially as there were hints the killers were a lesbian couple.
Graham details what happened to the murderers after their sentences were served.
ISBN9781877551123
true crime, Heavenly Creatures, Peter Jackson, Honorah Parker, Folie à Deux, matricide
VG softback
$35 C/C
Awa Press 2011 first edition, 341pp.
[#3991 ]
PONDER W.Frank

A Labyrinth of Waterways
The Forgotten Story of New Zealand's Marlborough Sounds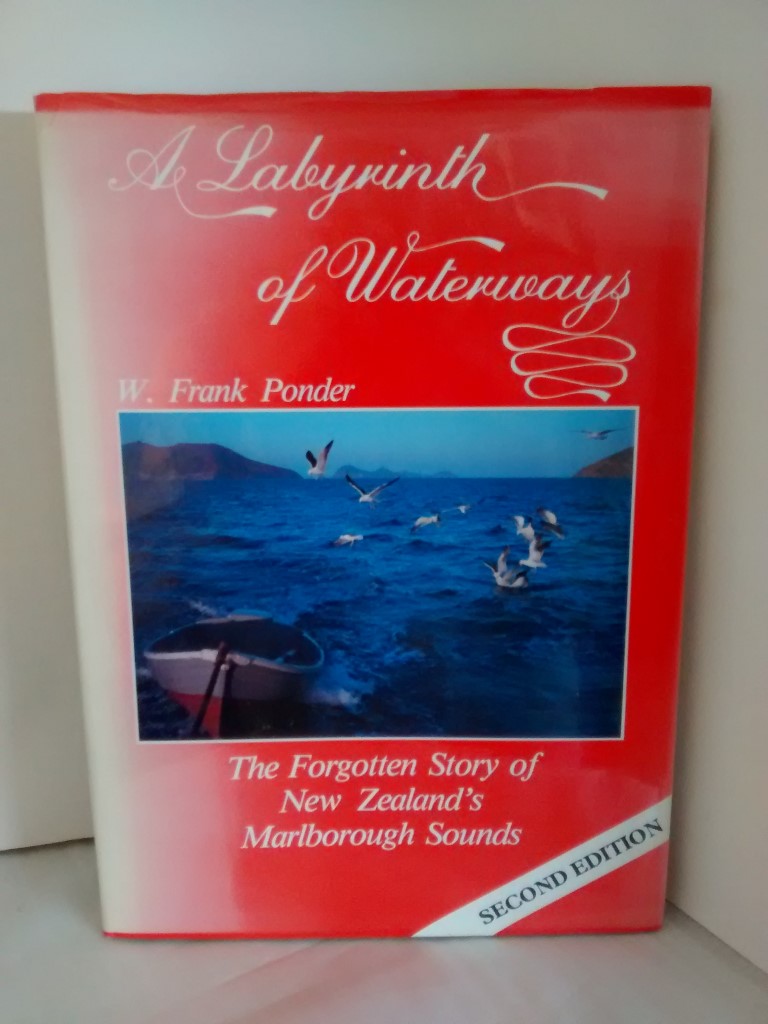 An excellent history and survey of the Marlborough Sounds.
Includes Maori history, European settlement in the 1840s, and modern developments.
Rare.
ISBN0473003562
Marlborough Sounds, New Zealand, History, Regional History, Maritime, Nelson, Maori, Whaling, Whalers, Marlborough Sounds Authority
VG hardback in VG- dust jacket.
Dust jacket is sunfaded (as usual with this sensitive red colour). Rear hinge strengthened with archival hinge-tape.
$125 D/D
Wenlock House 1986 second edition, vii 168pp + colour plates.
[#3992 ]

Swan Song for a Siren
Horwitz No 34. Third edition.
VG paperback, spine roll, mild rubbing or creasing.
$15 A/A
Horwitz 1960, 98pp. [PB1590]
PARRY Michael editor

The Rivals of Frankenstein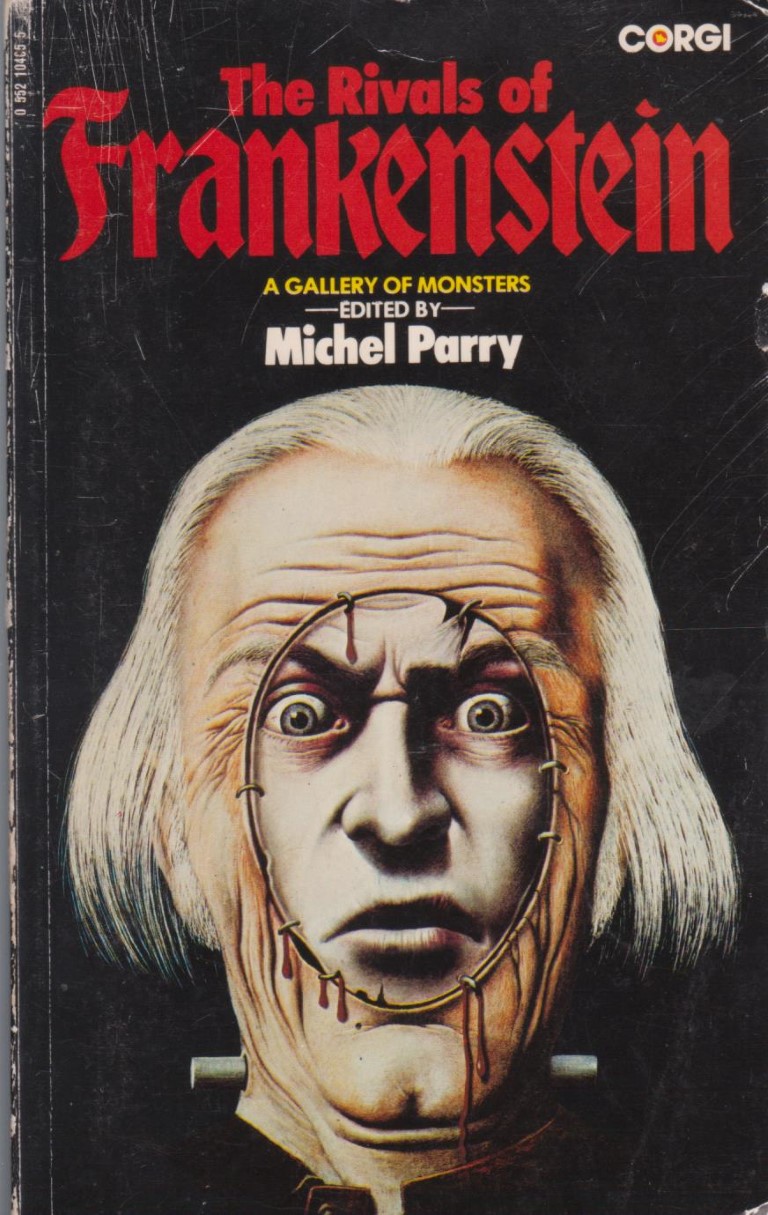 Anthology of classic moster stories.
Clark Ashton Smith ("The Colossus of Ylourgne"), Arnold Harvey ("The Last of the Daubeny-Fitzalans"), Jerome K. Jerome ("The Dancing Partner"), Ambrose Bierce ("Moxon's Master"), Donald F. Glut ("Dr. Karnstein's Creation"), Robert Bloch ("Almost Human"), D. Scott-Moncrieff ("Count Szolnok's Robots"), H.P. Lovecraft ("Herbert West, Reanimator"), Manly Wade Wellman ("Pithecanthropus Rejectus"), Fritz Leiber ("The Dead Man"), Eando Binder ("The Iron Man").
With a checklist of Frankenstein films at rear.
ISBN0552104655
VG- paperback, minimal cover wear, edges rubbed.
Small stain to closed top edge of pages.
$10 A/A
Corgi 1977 first paperback edition, 222pp.
[PB1591 ]
13/1/2019ev
DEE John
Translated and with commentary by J.W. Hamilton-Jones.
The Hieroglyphic Monad
The first English translation of "The Monad, Hieroglyphically, Mathematically, Magically, Cabbalistically and Anagogically Explained."
An exposition of the esoteric symbol invented and designed by John Dee, the Court Astrologer of Elizabeth I, which expresses the unity of the Cosmos and is a composite of various esoteric and astrological symbols.
The commentary attempts to explain the meanings of Dee's text.
Hamilton-Jones was a Freemason, Theosophist, member of the Societas Rosicruciana in Anglia (S.R.I.A.) and student of alchemy and hermeticism.
Monas hieroglyphica, Rosicrucian, Christian Rosenkreutz, alchemy, hermetic
VG- hardback in VG- price clipped dust jacket.
Some mild foxing to prelims, jacket edge wear and minor chipping or short edge tears, a little handling soiling.
Two leaves have some minimal tears to the fore edge.
$195 C/B
Watkins 1947 first edition this format, 76pp + frontis and 3 plates.
[#3981 ]
DOAK Wade

A PhotographicGuide to the
Sea Fishes of New Zealand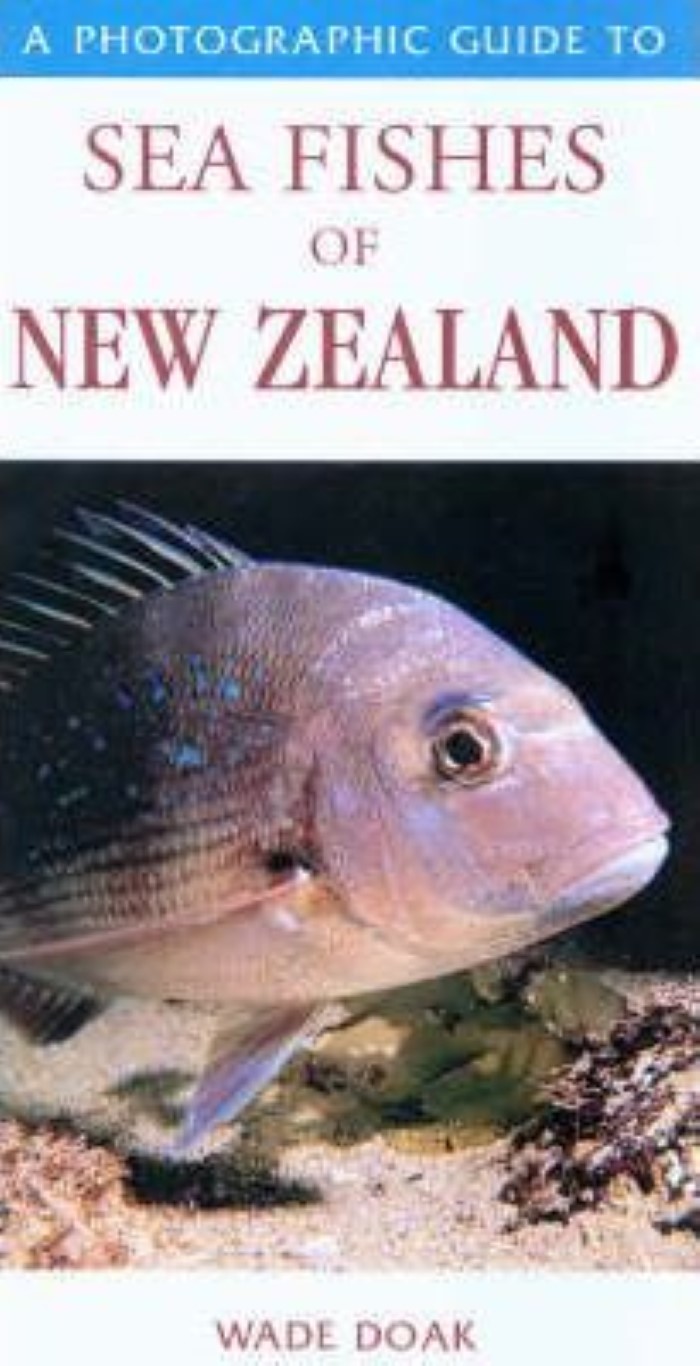 A pocket guide to the bony (teleostean) reef fishes belonging to the super class PISCES, class OSTEICHTHYES.
Their habits, modes of life, diet and relation to their surroundings.
Illustrated with full colour photographs.
ISBN9781877246951
new zealand, fish, marine biology, sea, diving, identification
NEW softback
$15 A/A
New Holland Publishers 2003, 144pp.
[#3982 ]
MOON Geoff

A PhotographicGuide to
Birds of New Zealand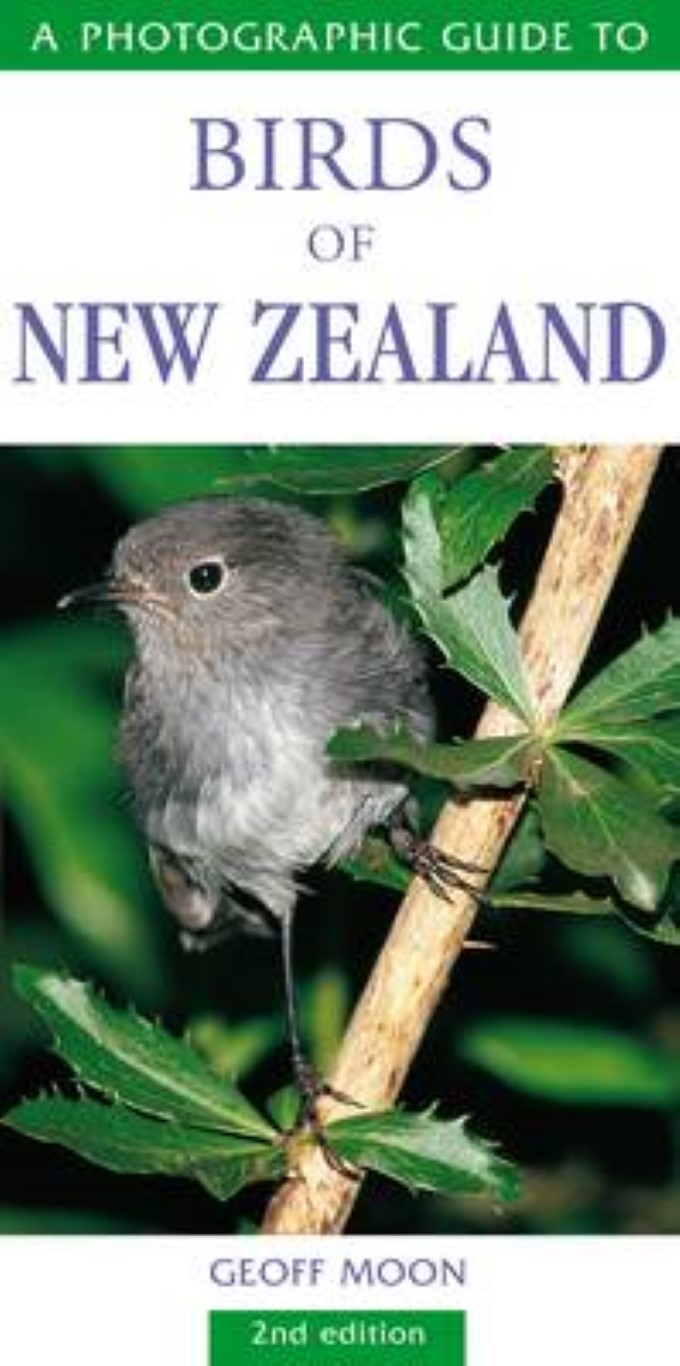 A pocket guide to New Zealand birds updated according to the 4th edition of the Ornithological Society's official "Checklist of the Birds of New Zealand"
Updates to classification, distribution and population status, and with Maori names added for all species, where applicable.
Illustrated with full colour photographs.
ISBN9781869663278
new zealand, ornithology, birds, wildlife, identification
NEW softback
$15 A/A
New Holland Publishers 2011, revised second edition, 141pp.
[#3983 ]
DOAK Wade

A PhotographicGuide to
Wildflowers of New Zealand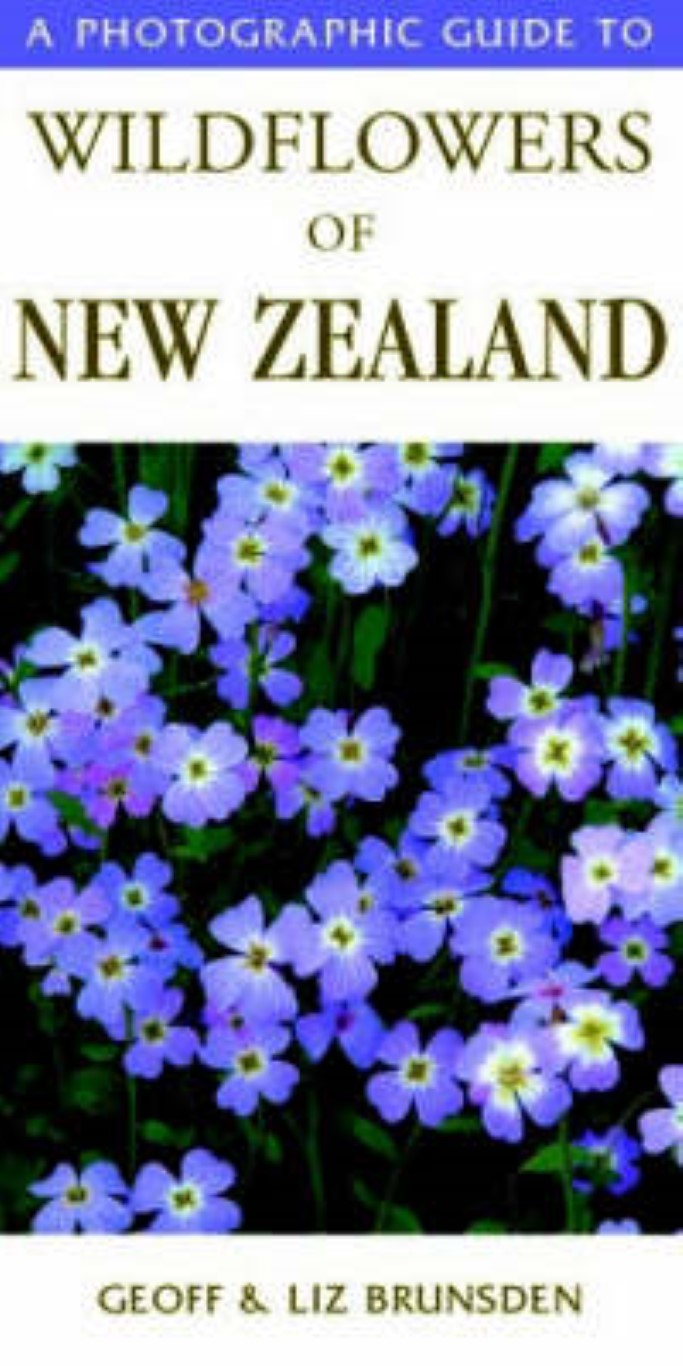 A pocket guide to wildflowers.
125 common species growing wild in accessible parts of New Zealand, with common native species, alongside introduced ones.
Each wildflower has descriptive information, habitat notes and distribution patterns.
Illustrated with full colour photographs.
ISBN9781869660475
new zealand, flowers, plants, botany, rambling, identification
NEW softback
$15 A/A
New Holland Publishers 2004, 142pp.
[#3984 ]
12/1/2019ev
SHARELL Richard

The Tuatara, Lizards and Frogs of New Zealand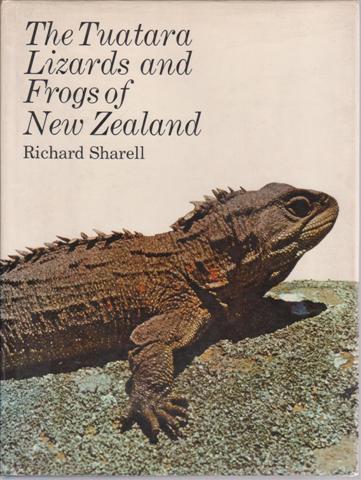 A detailed introduction to the lizards and amphibians of New Zealand.
Includes their place in Maori mythology and folklore.
Colour photographs.
Stephens Island, gecko, skink, reptiles, native
VG hardback in VG dust jacket
$20 B/C
Collins 1966, 94pp + plates.
[#2743, 3974 ]
STEWART Graham

The End Of The Penny Section
A history of Urban Transport in New Zealand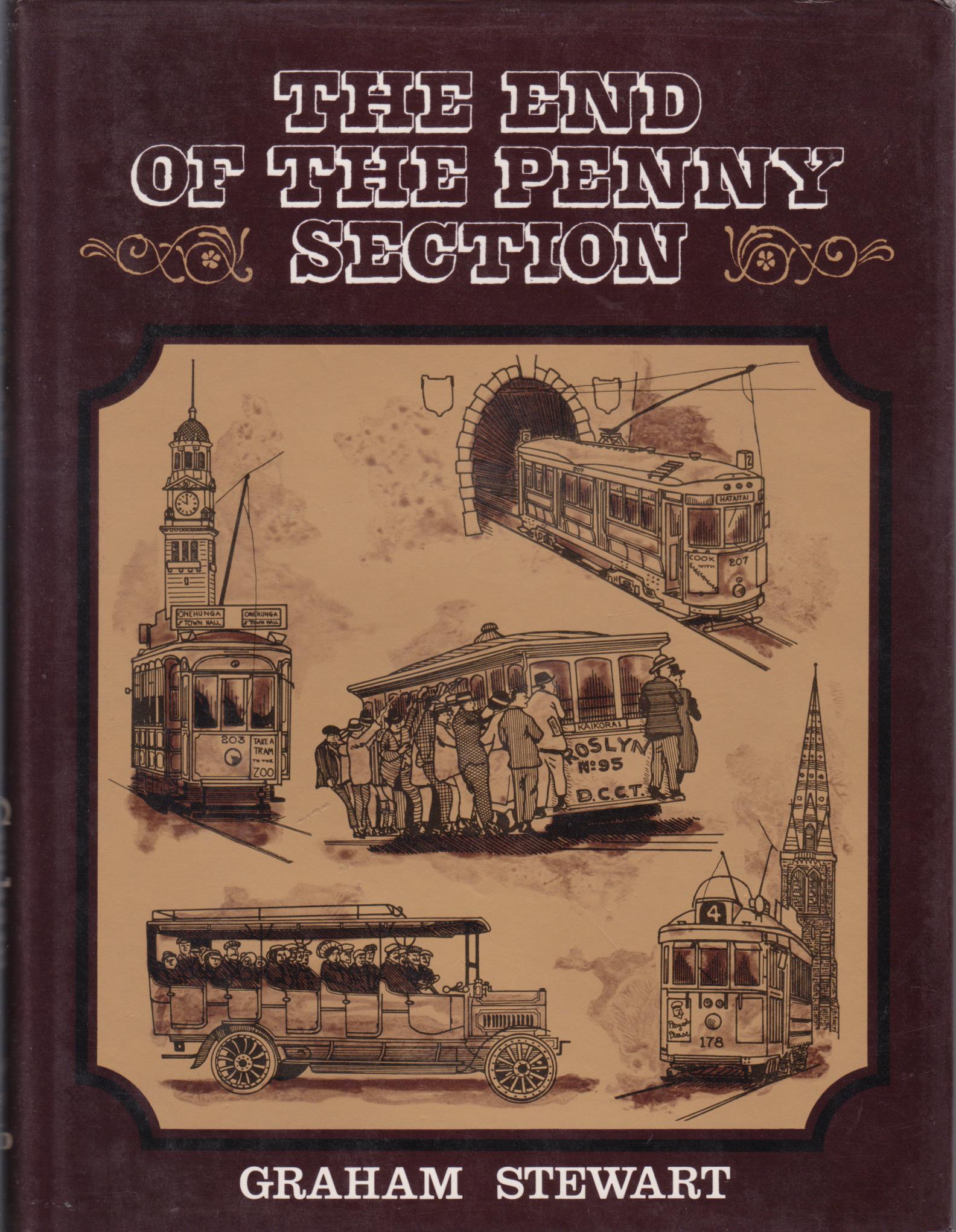 From carts and coaches, to trams and omnibuses.
Illustrated throughout with photos in the text.
ISBN0589007203
commuter transport, trams, cablecars, omnibus
VG+ hardback in VG+ dust jacket.
$30 B/C
Reed 1973 first edition, 221pp
[#3976 ]
CHAPMAN Lloyd

In a Strange Garden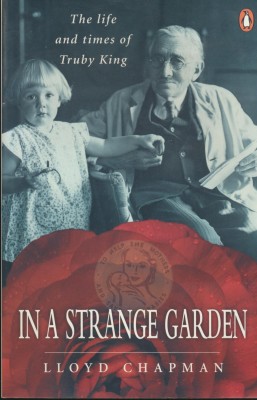 The life and times of Truby King
A biography of the founder of the Karitane Homes and the Plunket Society for child welfare.
ISBN9780143018797
domestic hygiene, childcare, Seacliff, Sir Frederic Truby King
VG softback
$20 C/C
Penguin 2003, 284pp.
[#3977 ]
BESANT Annie

Dharma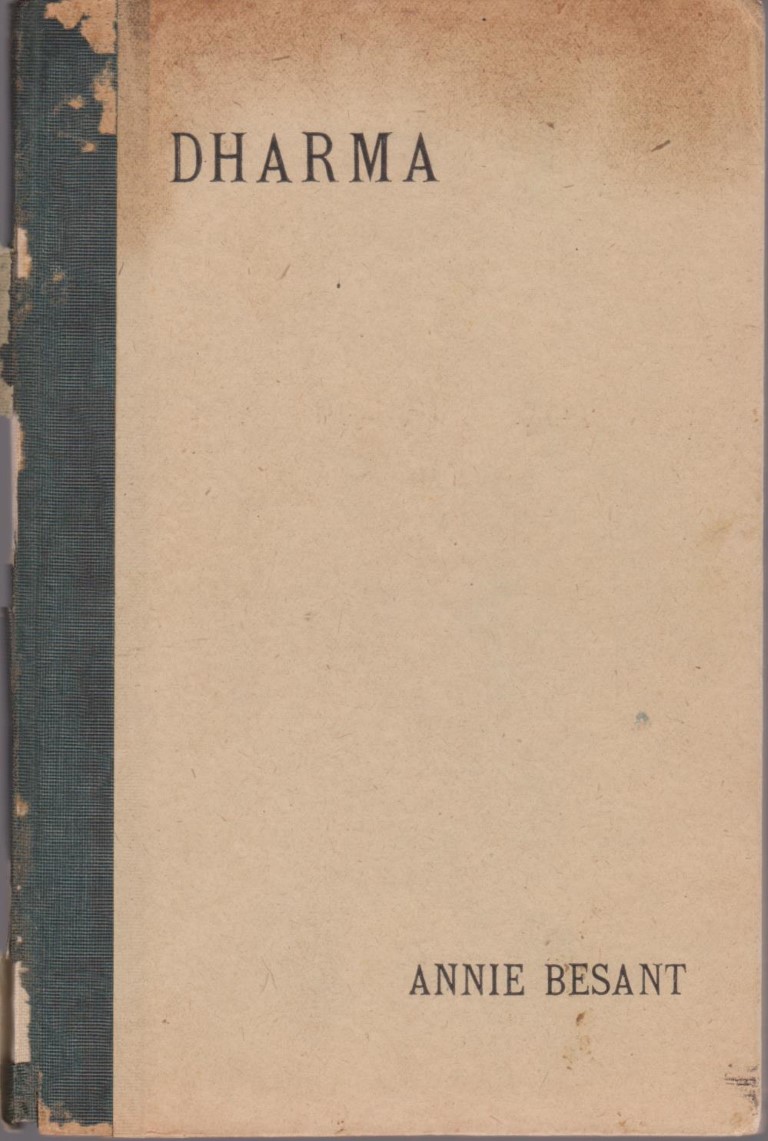 Hindu philosophical theories from three lectures delivered at the Eighth Annual Convention of the Indian Section of the Theosophical Society Held at Benares.
With references to Krishna and the Bhagavad Gita.
mahabharata, indian philosophy, ethics, morality
G- hardback with white boards with blue cloth spine which is chipped with some loss, name to endpaper, internally clean but aged browned paper stock
$20 C/A
Theosophical Publishing House 1918 fourth edition, 70pp.
[#3978 ]
COVENANT Peoples

These are Ancient Things, Selected Articles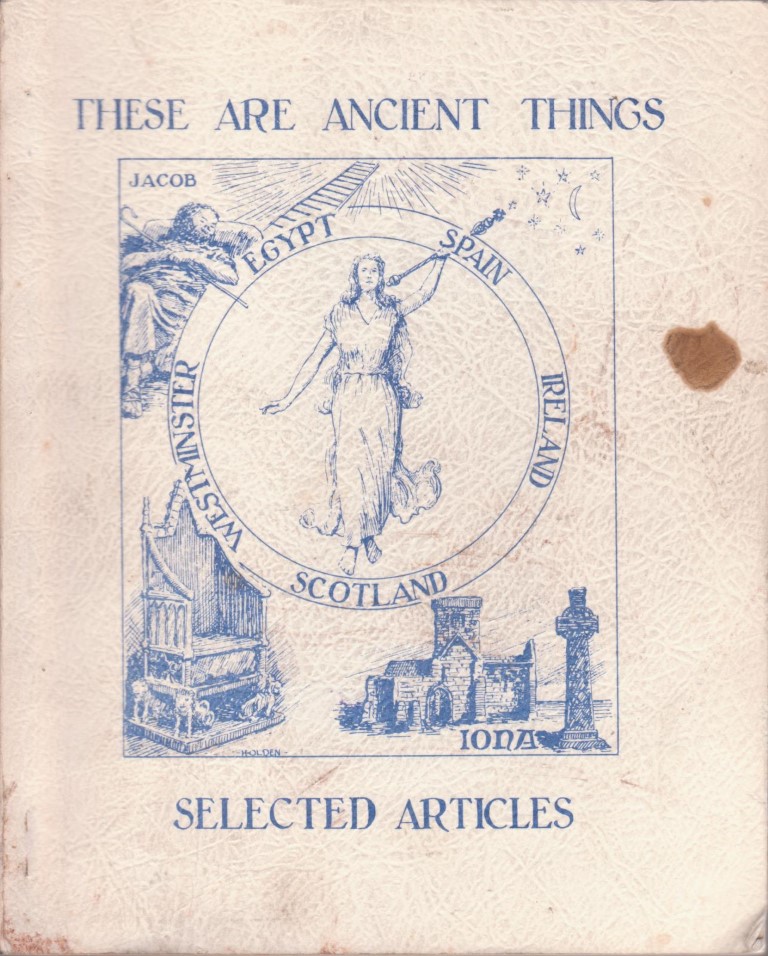 Reprints articles from various British Israelite sources, interesting material on early British history and christianity.
British Israelite, Aryan, Christianity, Christian Identity, Religion, History
G+ softback, soiled wrappers, name and price stamp to half title.
$30 C/B
Association of the Covenant People undated, 158pp.
[#3979 ]
SMITH Max

Champion Blokes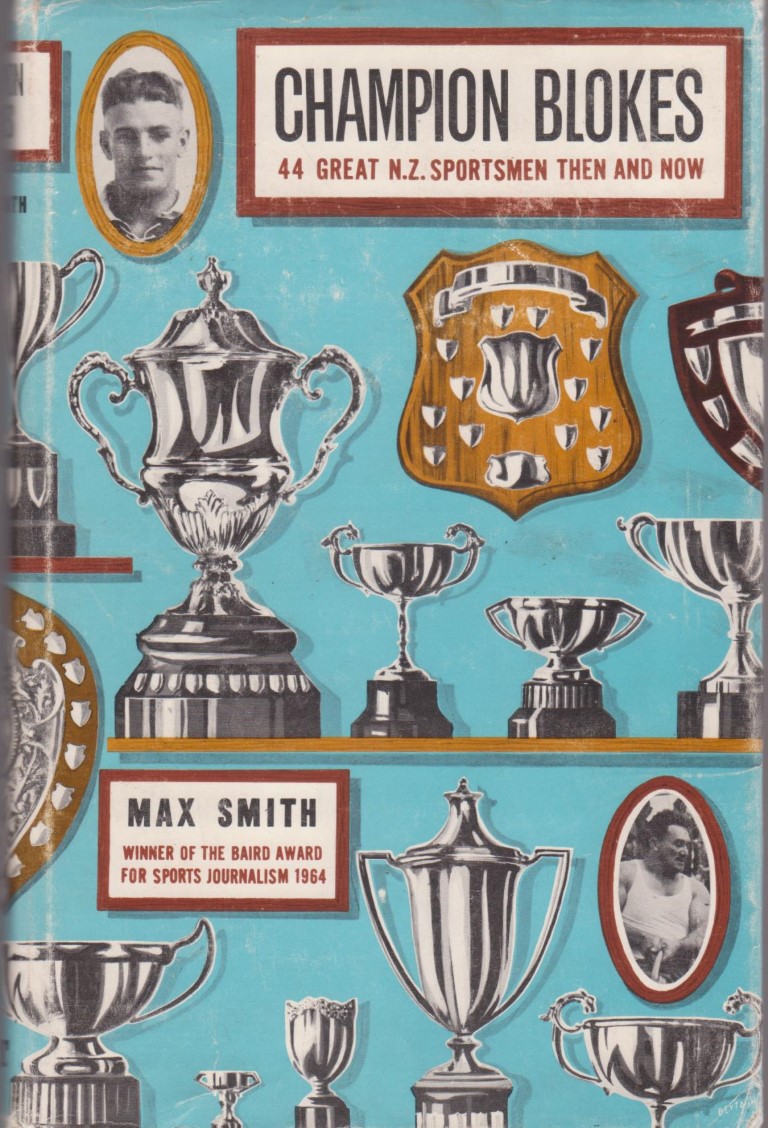 Biographies of 44 great New Zealand sportsmen then and now, from a variety of disciplines including jiu-jitsu, wrestling, wood chopping etc.
sport, new zealand, biography, history
VG hardback in VG dust jacket with light wear with splits to corners, minor mottling to cloth spine.
$20 C/C
Whitcombe and Tombs 1964 first edition cloth, 230pp+plates.
[#3980 ]
23/12/2018 ev
ESLER A.E.

Botany of The Manawatu District New Zealand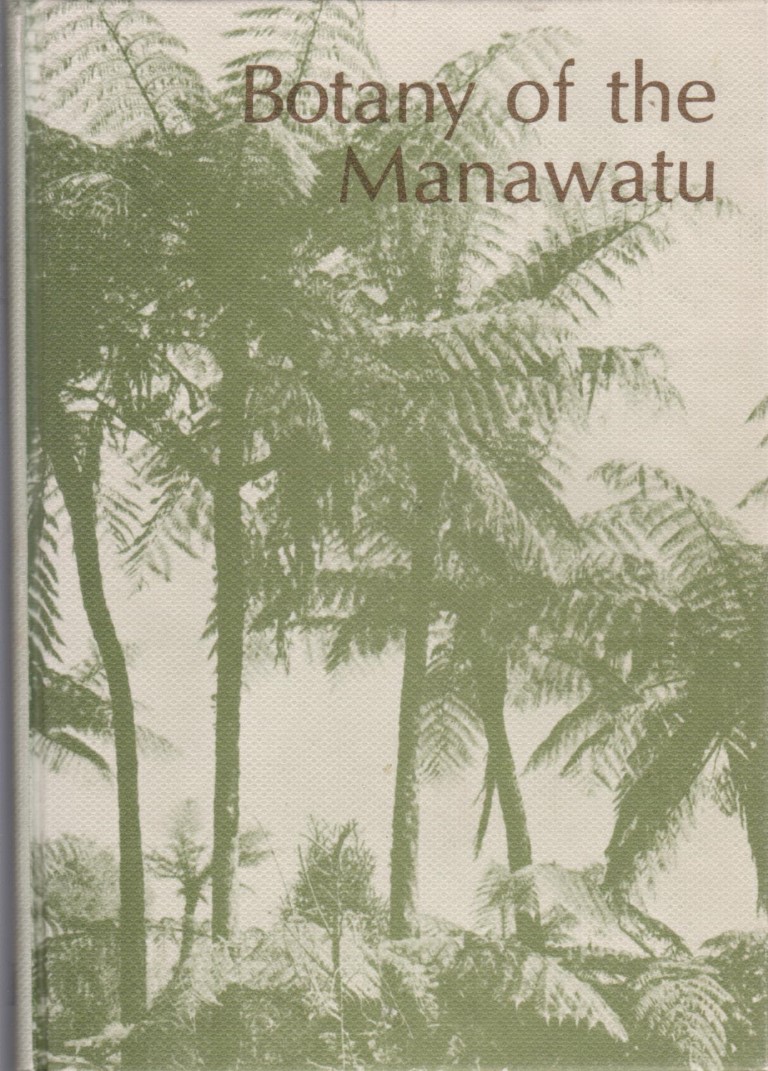 Botanical study of the Manawatu describing past and present ecosystems categorised into forests, wetlands, shrublands, grasslands, dune lands and wastelands.
ISBN0477010105
DSIR, ecology, native plants
VG+ hardback with no dust jacket, name to first page.
$25 C/C
Government Printer 1978, 206pp.
Folding map in pocket at rear.
[#3965 ]
NYE E.R.

Medical Research in Otago 1922-1997
as Portrayed by 75 Years of the Proceedings of the Univesity of Otago Medical School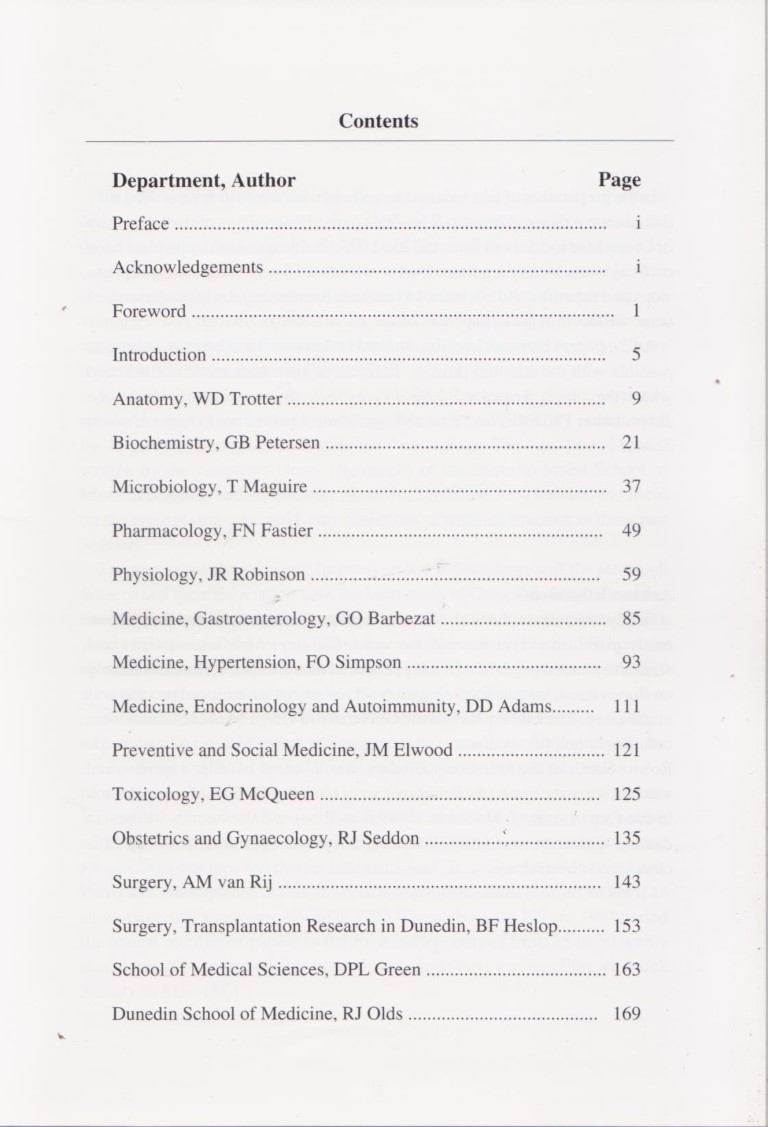 History of the various departments of the University over the years, and medical developments.
ISBN0473047314
medicine, health, otago university, history
VG+ hardback with no dust jacket, name to first page.
$45 C/B
Otago Medical Research Society 1997, 176pp.
[#3966 ]
EDWARDS Harry

Spirit Healing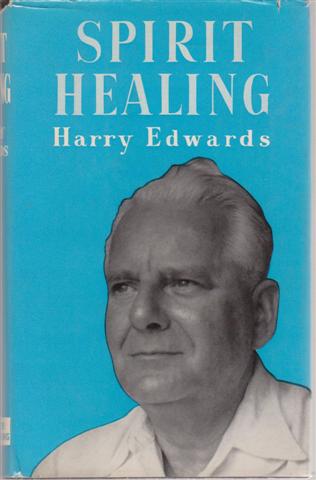 All aspects of spirit healing covered by this renowned English healer, the second part focuses on the application of spiritual healing, and the underlying causes of illness which Edwards believes to be psychological and emotional.
faith healing, health, spiritualism, alternative medicine,
VG hardback in VG price clipped dustjacket with minor chip head of spine, two small closed tears top edge rear panel.
$25 C/C
The Healer Publishing Co Ltd 1968 reprint, 173pp + plates
[#2459 blue dust jacket]
VG hardback in VG dustjacket. Some sellotape stains to endpapers.
$25 C/C
The Healer Publishing Co Ltd 1960 reprint, 173pp + plates
[#3967 red dust jacket ]
WIGLEY Harry

Ski-Plane Adventure: Flying in the New Zealand Alps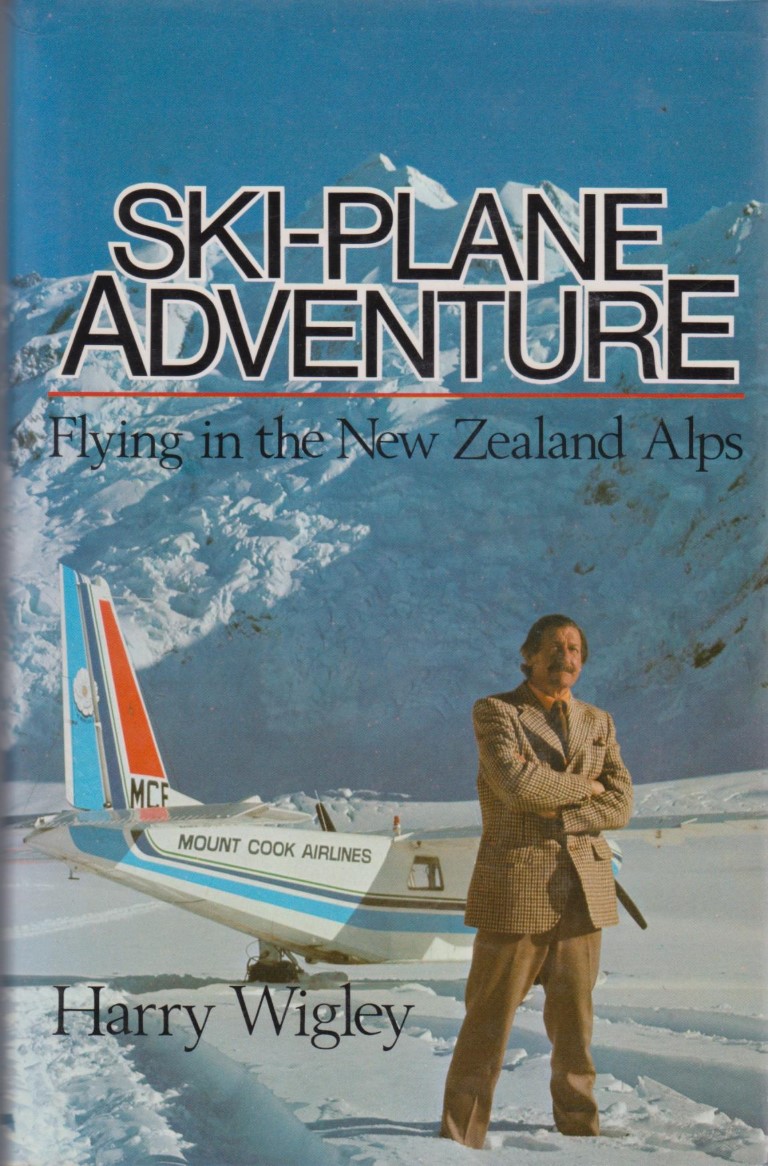 Harry Wigley was a pioneer commercial pilot, flying in the Southern Alps.
During WWII he saw service in the Pacific Islands with the RNZAF.
ISBN0589003283
Mount Cook Airlines, Bougainville, Pacific, WW2, Bonar Glacier
FINE hardback in FINE dust jacket.
$35 C/C
Reed 1977 Second Edition, 222pp + plates.
[#3968 ]
WIGLEY Harry

The Mount Cook Way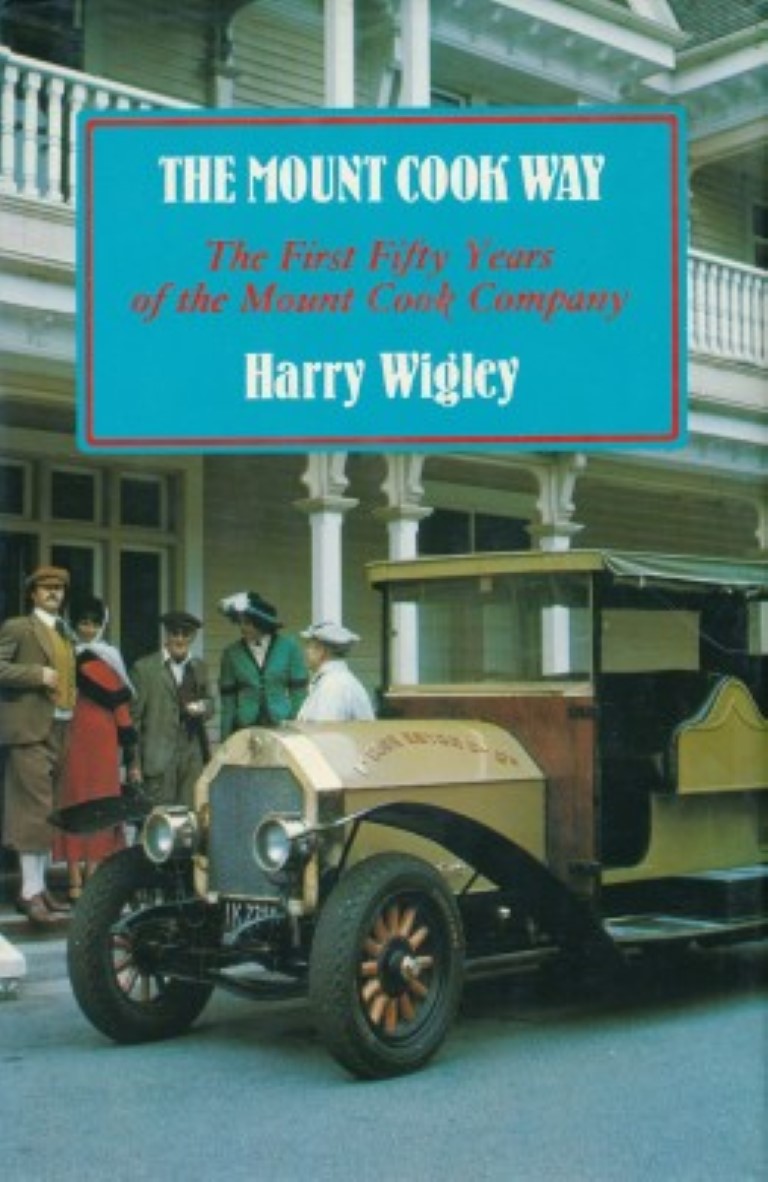 The first fifty years of the Mount Cook Company.
Originally a road transport business, the Mount Cook Tourist Company of New Zealand became a public company in 1928 and became the largest tourist organisation in New Zealand.
Renamed the Mount Cook and Southern Lakes Tourist Company, in 1976 it became The Mount Cook Group Ltd.
Notable for the use of light planes flying in alpine areas.
ISBN0002169533
Ohau Lodge, Coronet, Queenstown
VG hardback in VG- dust jacket with short edge tears at spine ends.
$25 C/C
Collins 1979 first edition, 218pp.
[#3969 ]
KRIEGLER Lyn

The Legend of the Kiwi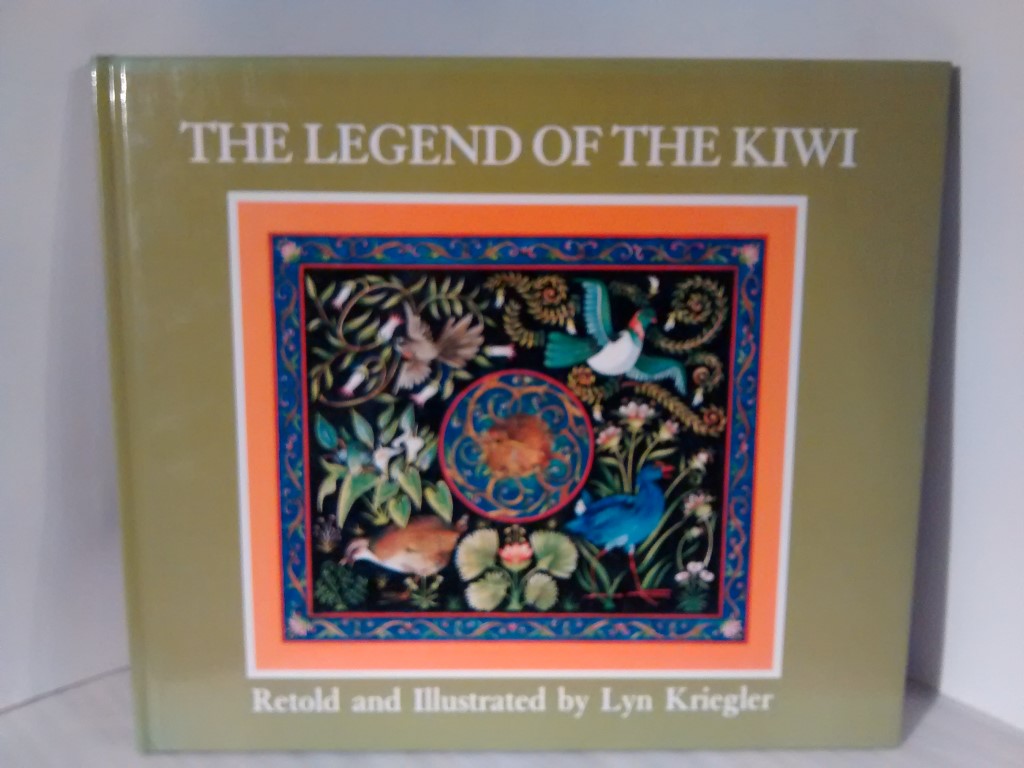 How the Kiwi lost his flight, and retreated to the soft embrace of the night-time world.
ISBN090857827X
illustrated, childrens, new zealand
VG hardback with no dust jacket
$20 B/C
Alister Taylor 1981 first edition, (28pp).
[#3971 ]
TAIT Cliff

Water Under My Wings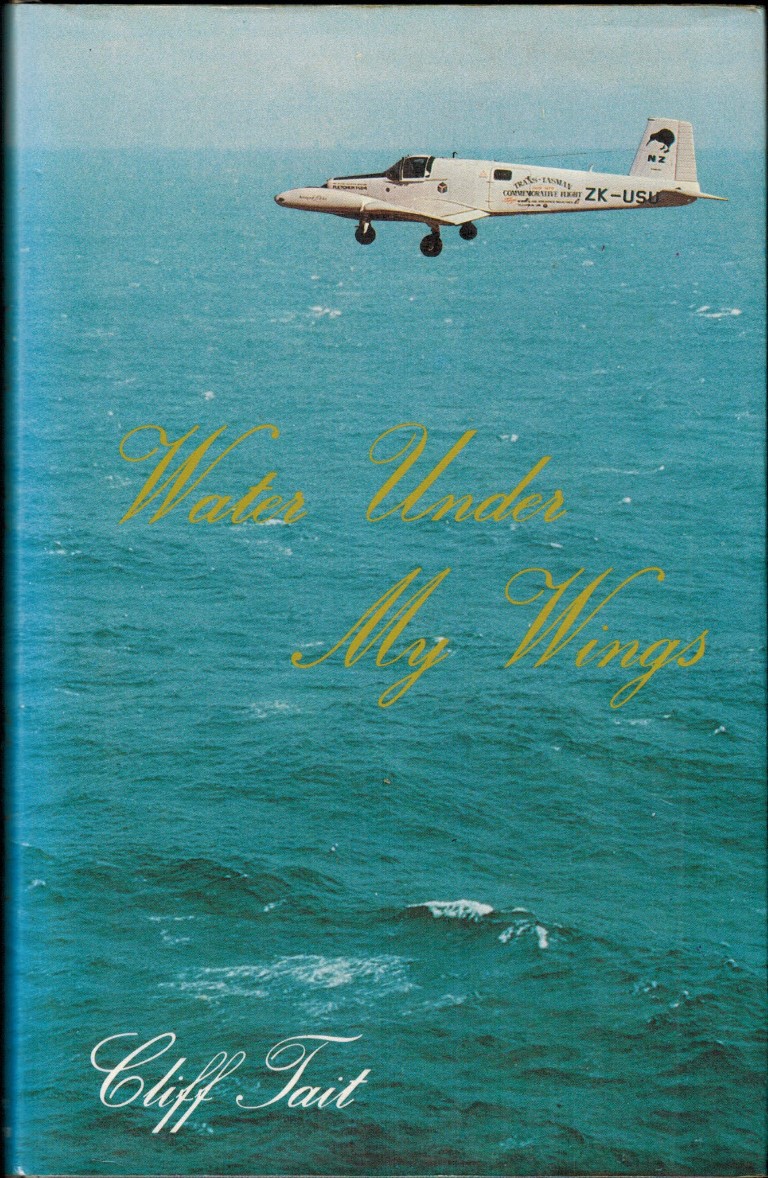 Stories about the beginning of aircraft manufacturing in New Zealand, which touch lightly on the imperfections of man and man made machines; record the worldwide, warm hearted friendship of the Amateur radio movement and vividly recount the hazards and frustrations a small dedicated band of New Zealand pilots faced in their efforts to deliver New Zealand manufactured aircraft to international customers.
Tait recounts his own career in aviation, including his long-distance delivery of aircraft, and use of Ham Radio contacts around the world.
ISBN0473000415
flying, aviation, light aircraft, air trainers, biography
VG+ hardback in VG+ dust jacket.
Signed by the author.
$35 C/C
Hamilton Publishers 1980 first edition, 268pp + plates.
[#3973 ]
22/12/2018 ev
MACPHERSON Myra

The Scarlet Sisters
Sex, Suffrage, and Scandal in the Gilded Age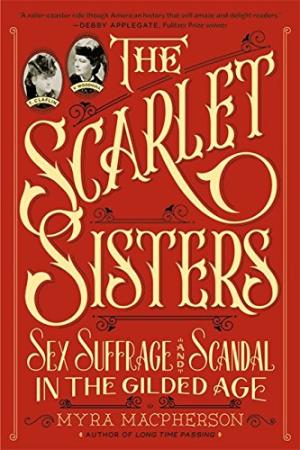 The life and times of Victoria Woodhull and Tennie Claflin, two sisters whose radical views on sex, love, politics, and business threatened the white male power structure of the nineteenth century and shocked the world.
Myra MacPherson deconstructs and lays bare the manners and mores of Victorian America, illuminating the struggle for equality that women are still fighting today.
ISBN9780446570244
feminism, suffrage, USA, america, biography
NEW softback
$10 C/B
Twelve Books 2015, 399pp + plates.
[#3957 ]
BARON (Stirling Henry Nahum)

Baron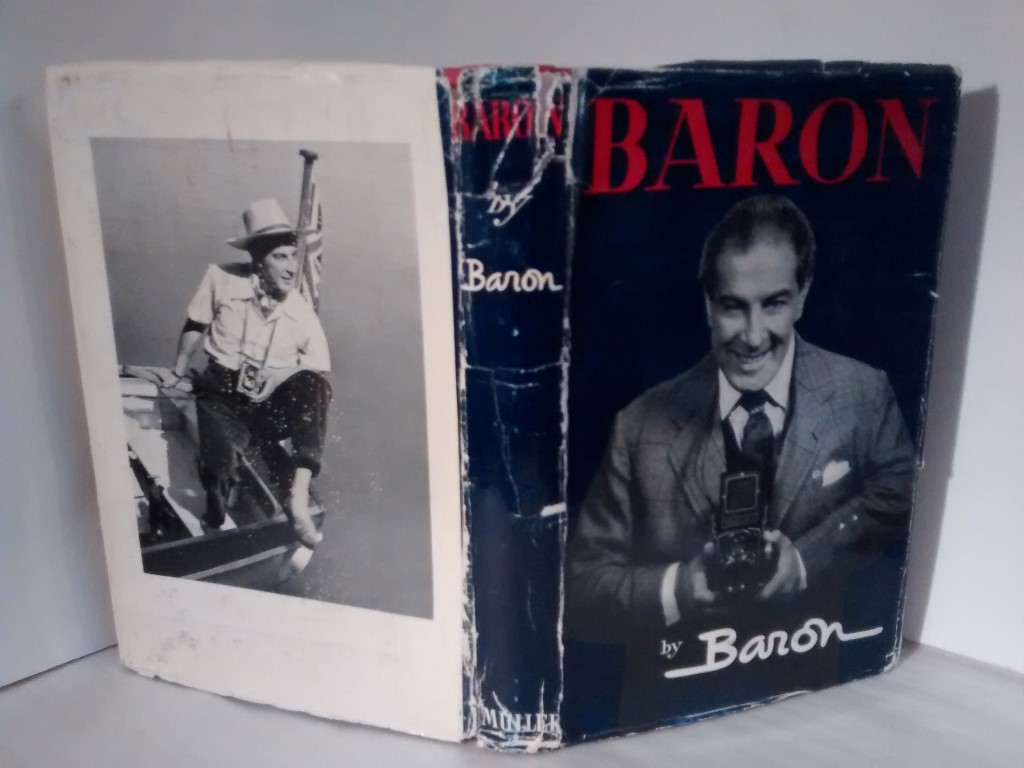 Memoir of this British portrait photographer, who began filming the Ballet.
After the war he concentrated on society and celebrity portraits, and was Court Photographer to the British Royal Family.
film, photography, memoir, tips
VG hardback in Good only dust jacket with tears and sellotape repair on the reverse.
$9 C/C
Muller 1957 April second impression, 220pp + plates
[#3958 ]
KAHUKIWA Robyn
Essays by Hinemoa Hilliard, Edward Lucie-Smith, Jonathan Mane-Wheoki
The Art of Robyn Kahukiwa
Thirty-five years of her art-work confronting issues of womanhood, colonialism and Maori identity.
ISBN9780790010137
maori, art, paintings
VG hardback in VG dust jacket.
Minor crease to fore edge of first few pages
$75 D/D
Reed 2005 first edition, 168pp with 100 colour illustrations.
[#3959 ]
ENTICOTT T. O.

Up The Hill
Cashmere Sanatorium and Coronation Hospital 1910 to 1991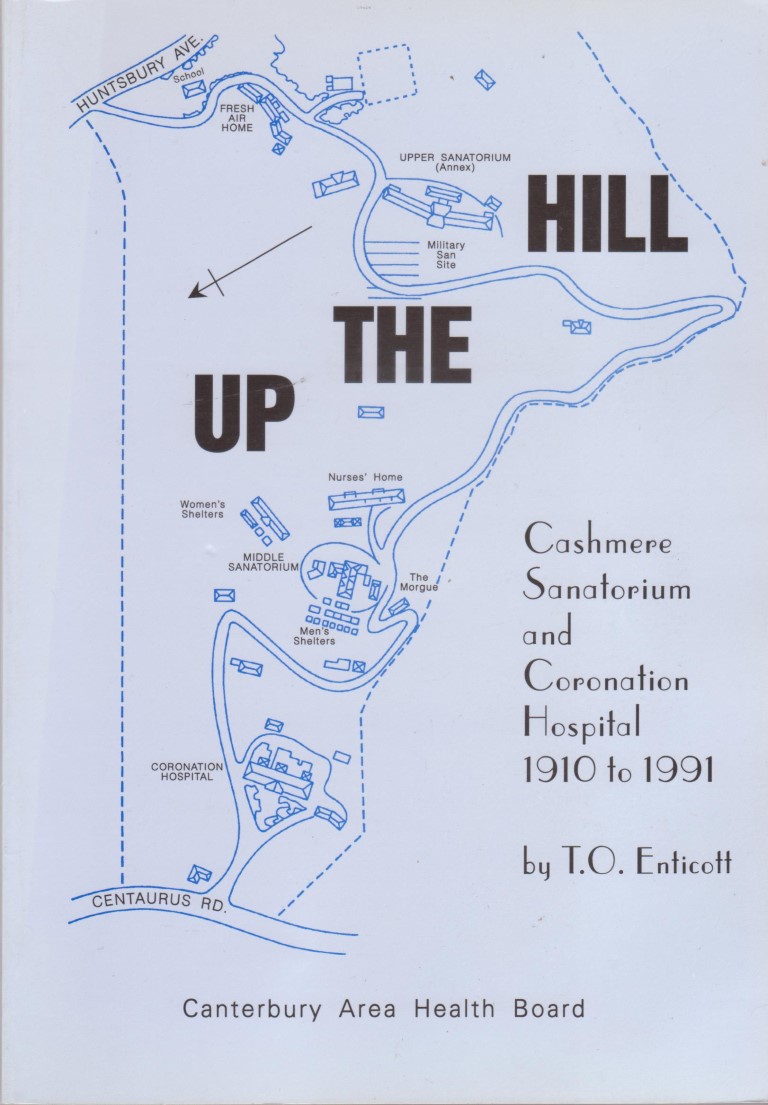 A history of the medical facilities in Cashmere on land that was donated by the Cracroft-Wilson family.
Originally for treatment of tuberculosis, when the last patient was discharged in 1960 the Sanatorium was renamed the Huntsbury Children's Home, and continued to operate until 1971.
Coronation Hospital was converted into a hospital for geriatrics until closing in 1991, when it was demolished and the site developed into the Broad Oaks subdivision.
TB, health, medical, Huntsbury
VG- softback, tape strengthened at inside front hinge.
$30 B/B
Canterbury Area Health Board 1993 first edition, vii 90pp.
[#3960 ]
BERESFORD Elisabeth with illustrations by Margaret Gordon

Tomsk and the Tired Tree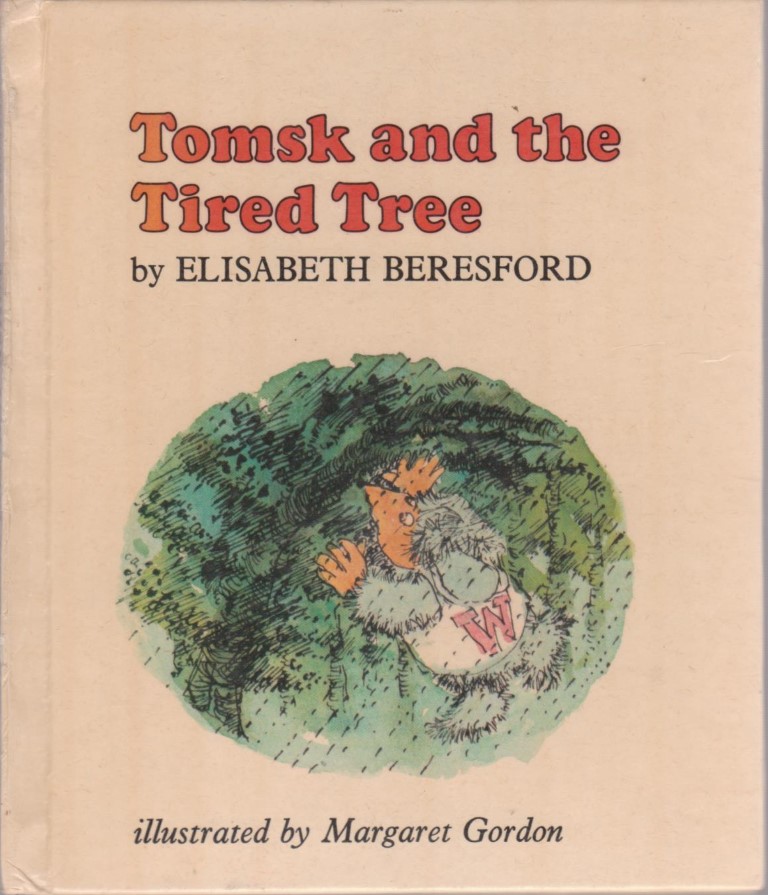 A story about the Wombles, who inhabitant a burrow on Wimbledon Common in London, and spend their days cleaning up the rubbish left by humans.
ISBN0510080030
The Wombles, collectable childrens book
VG- hardback with pictorial covers, with some rubbing to spine edges.
$10 C/A
Ernest Benn 1975 first edition, (28pp).
[#3961 ]
GIBBON Edward

The Decline and Fall of the Roman Empire
partial set.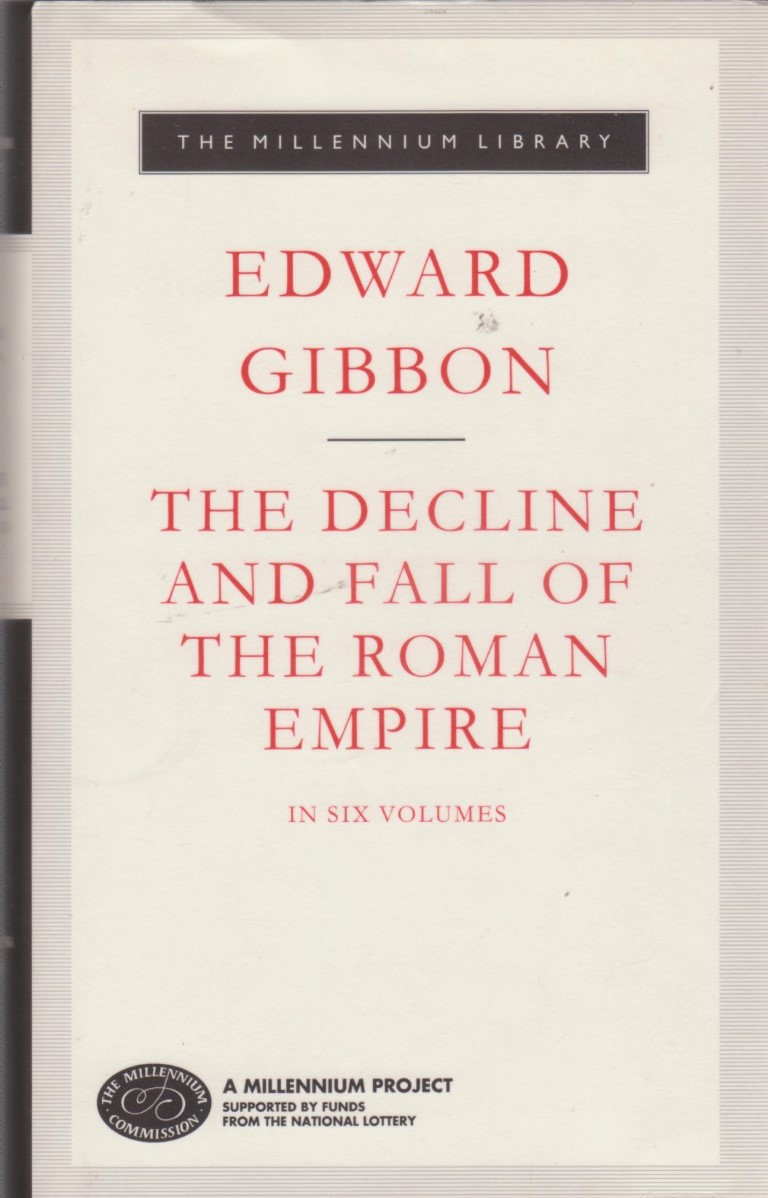 Gibbon's monumental history of the Roman Empire, from the beginning up to the end of the Byzantines.
Introduction by Hugh Trevor-Roper.
A landmark in its time for classical and historiographical scholarship, its fame rests more on the scope and force of Gibbon's argument and the brilliance of his style.
The first part, being volumes 1-3 (of 6) of The Millenium Library edition, which uses the Everyman Edition of 1910.
Part 1 includes chapters 1-36 (upto 490 C.E.)
ISBN1857150953
part one, gibbon's rome
VG+ hardbacks in VG+ dust jackets (no slipcase present).
$45 D/D
Everymans Library 1993, cxxv 567pp xx 592pp xix 556pp
[#3962 ]
GUTHREY A. R.

Dare to Achieve: An Autobiography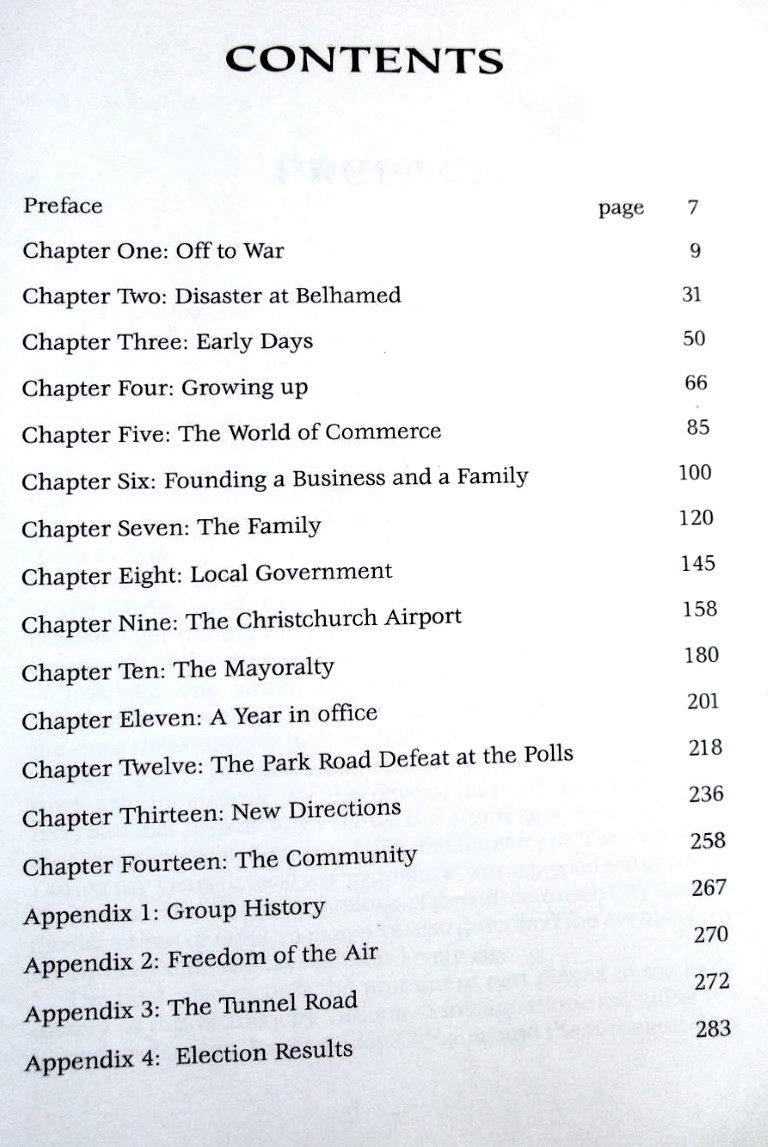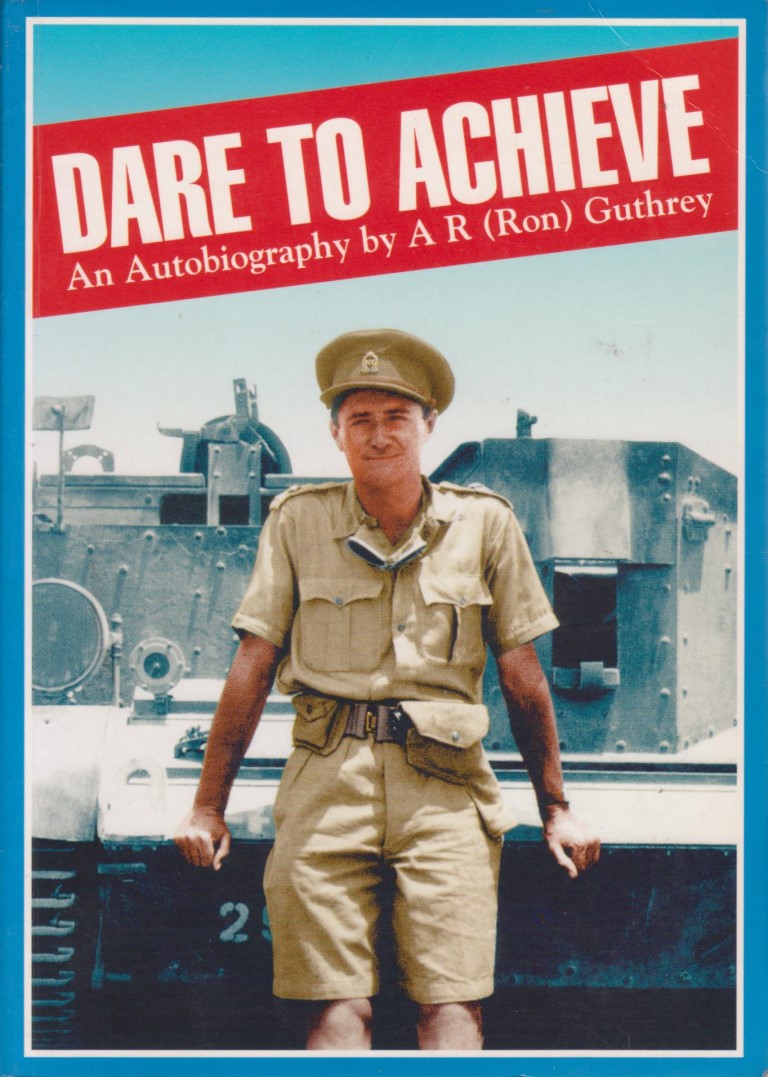 Memoirs by Albert Ronald Guthrey OBE MC.
Ron was a Christchurch City Councillor for 22 years before being elected Mayor of Christchurch.
A WWII veteran and well known in Christchurch.
ISBN0473048019
anzac, nz, wwii, ww2, 20 BN, 20th Battalion
VG+ softback, SIGNED BY GUTHREY
$45 C/B
The Caxton Press 1997 first edition, 284pp.
[#3963 ]
NOLAN Melanie

Breadwinning: New Zealand Women and the State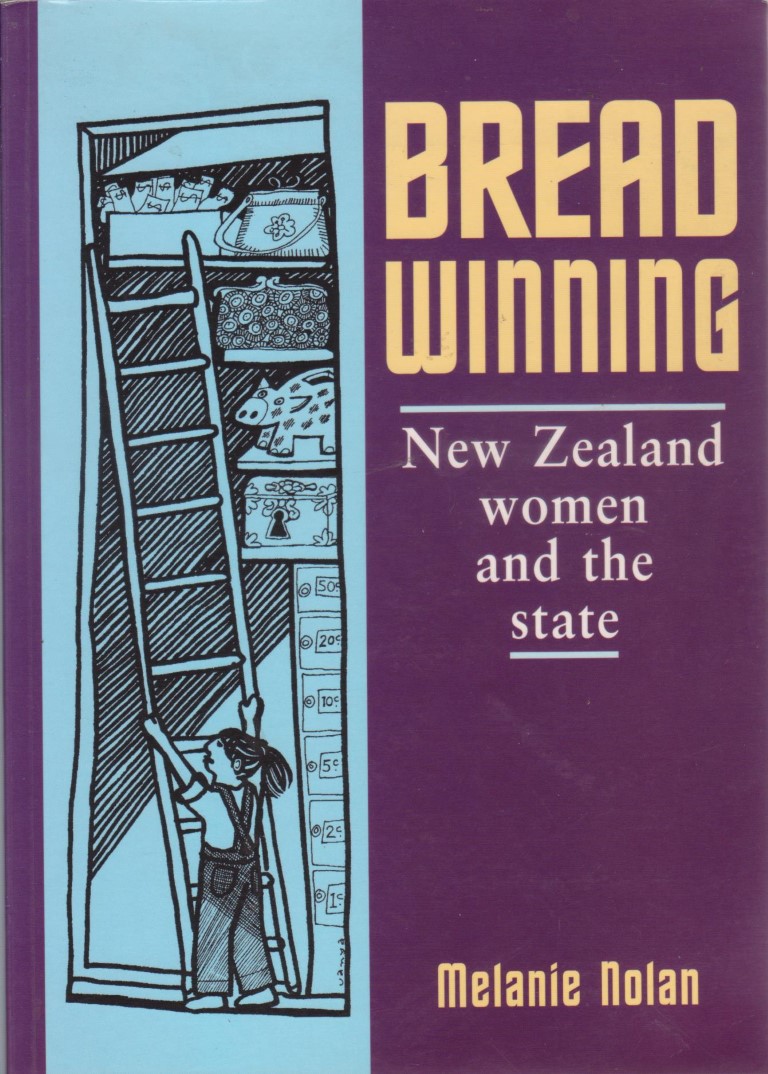 The history of the interaction between women and the policies of the New Zealand State.
ISBN9780908812974
feminism, women, gender equality, domesticity, labour legislation, welfare
VG softback
$35 C/C
Canterbury University Press 2000, 386pp.
[#3964 ]
8/12/2018 ev
BOOTH Pat

Sprint from the Bell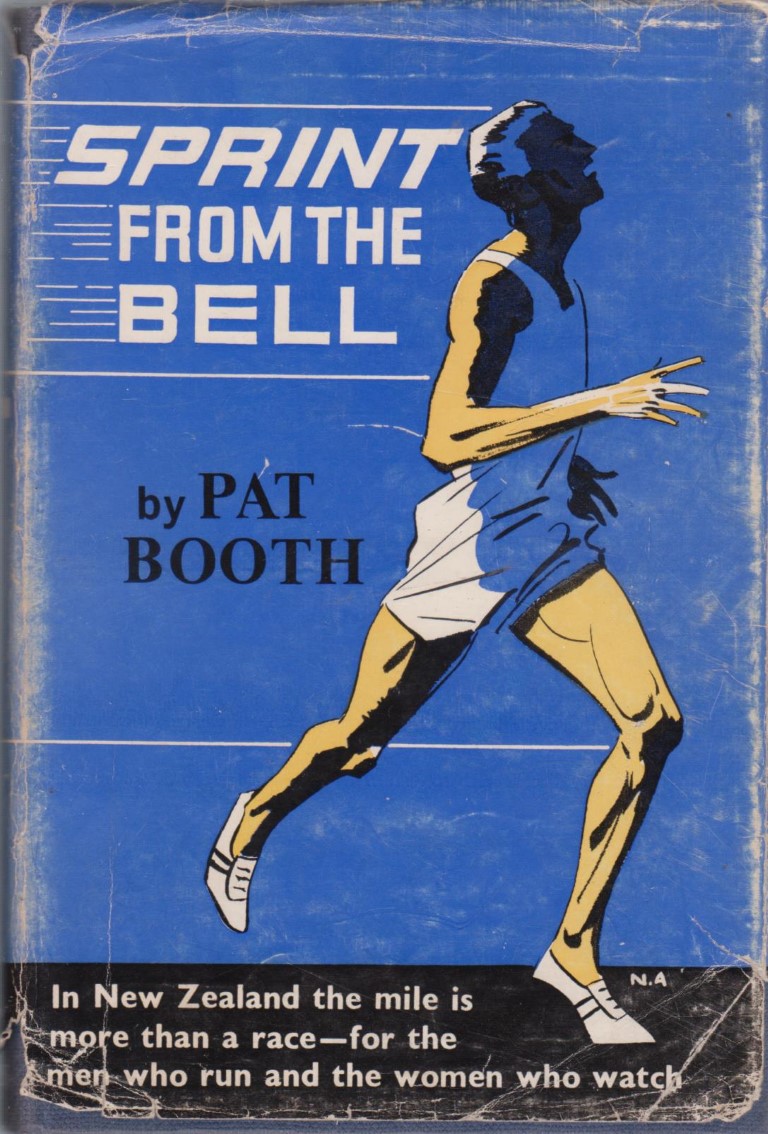 A novel about a 'minute-mile race' runner, Steve Barlow, who takes up running as a hobby, training in the Hutt Valley.
He becomes consumed by the desire to break the 3 minute 50 second mile record.
fiction, novel, New Zealand, running, sport, 4 minute mile, athletics
VG hardback in G- dust jacket with chipped to ends and corners with some creasing, split along lower fore edge fold taped on reverse.
Name blacked out to first page.
$15 C/B
Collins 1966 first edition, 254pp.
[#3940 ]
MULDOON R. D.

The Rise and Fall of a Young Turk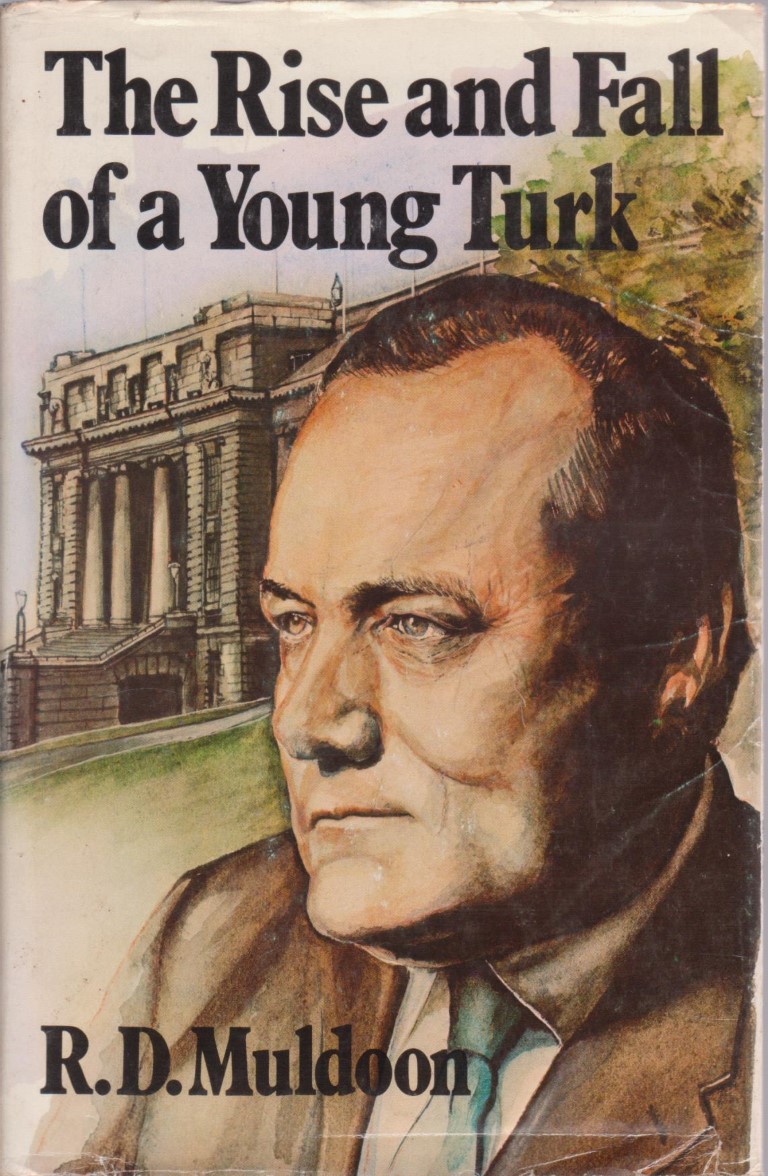 Autobiography of one of New Zealand's most important post-war Prime Ministers.
Signed by Muldoon on half-title page.
ISBN0589008731
political memoir, national, rob muldoon,
VG hardback in VG dust jacket.
$20 C/C
Reed 1974 first edition hardcover, 203pp + plates.
[#3941 ]
DAWSON John and Rob Lucas

Lifestyles of New Zealand Forest Plants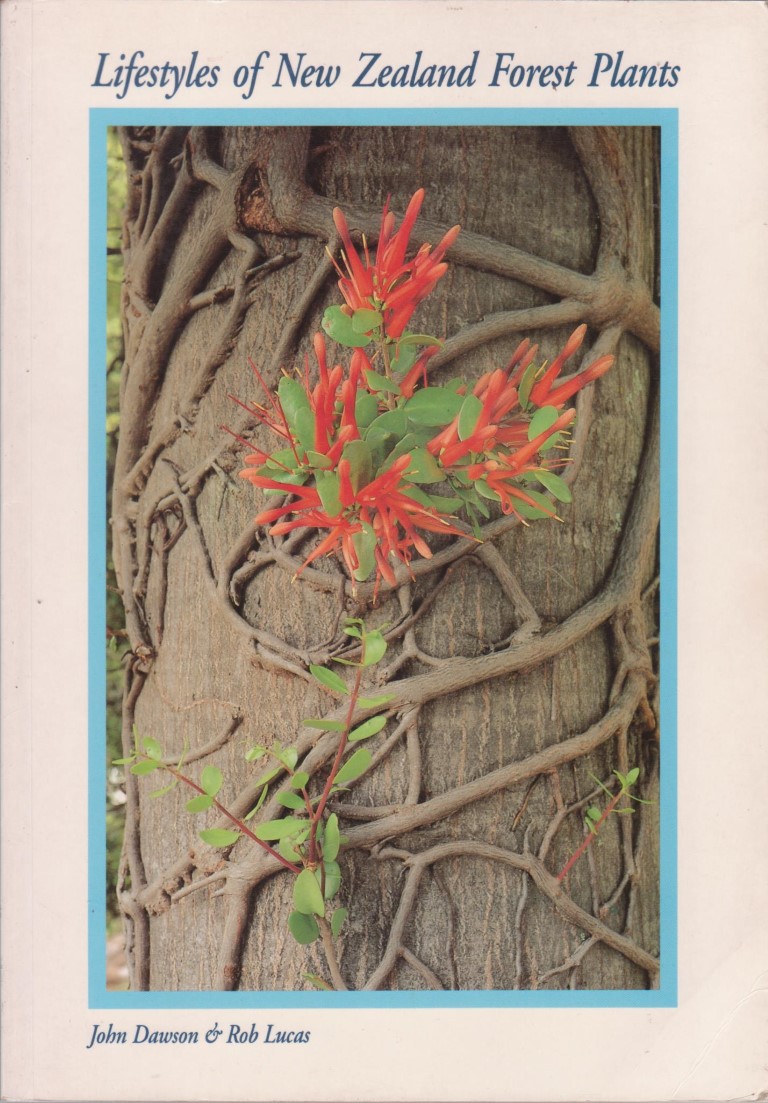 An excellent resource on the identification of native plants in our forests and their life stages, with photographs in colour by Rob Lucas.
ISBN0864732058
botany, native, vines, epiphytes, parasites, indigenous forest species
VG softcover with minor crease to front cover, in a sturdy sewn binding.
$30 B/C
Victoria University Press 1993 first edition, 176pp.
[#2206, 3942 ]
BELICH James

Making Peoples
A history of the New Zealanders from Polynesian Settlement to the End of the Nineteenth Century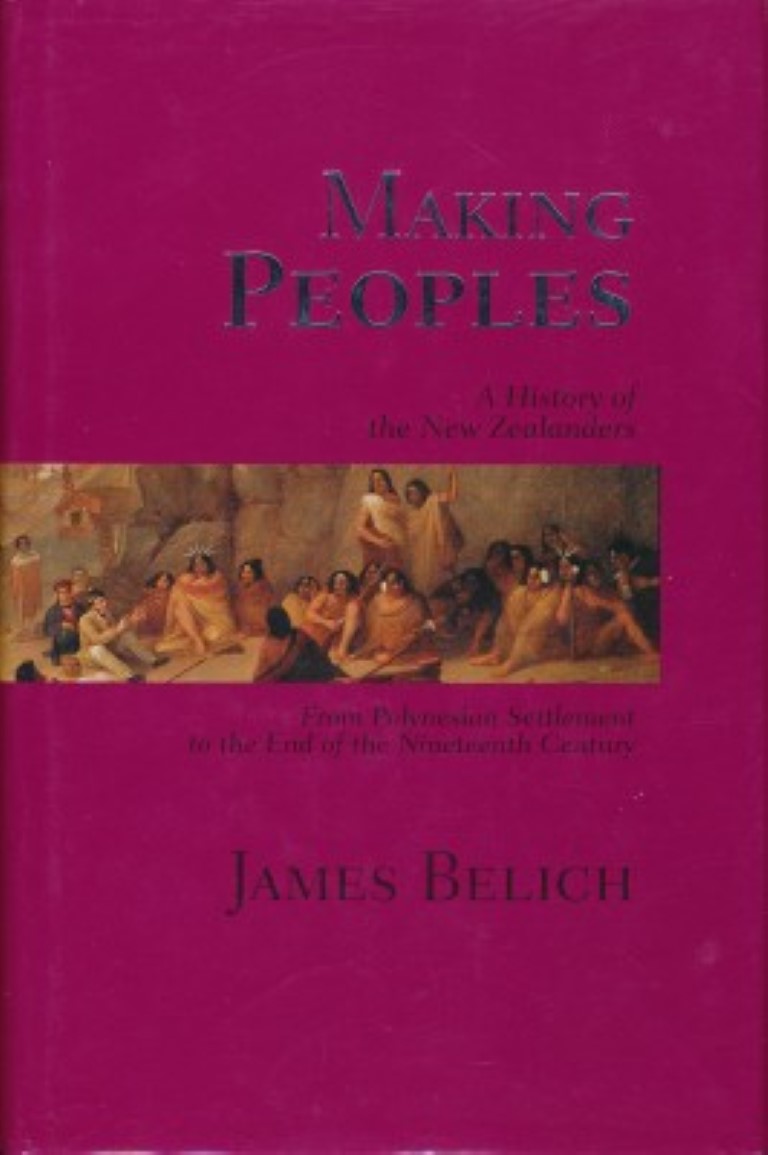 From the Polynesian settlement and development of the Maori tribes in the eleventh century.
First encounters between Maori and Europeans from 1642 and the settlement of the Pakeha, the neo-Europeans of New Zealand, between the 1830s and the 1880s.
Belich describes the forging of a neo-Polynesia and a neo-Britain and the traumatic interaction between them. He examines the myths and realities that drove the colonialization process and suggests a new "living" version of the Treaty of Waitangi, New Zealand's Magna Carta.
The construction of peoples, Maori and Pakeha, is a recurring theme: the response of each to the great shift from extractive to sustainable economics; their relationship with their ancestors and origins, with each other, and with myth.
ISBN9780713991710
new zealand, history, social, political
VG hardback in G+ dust jacket which has a sun-faded spine.
$25 C/C
Allen Lane/ Penguin Press 1996, 497pp.
[#3943 ]
EVISON Harry C.

New Zealand Racism in the Making
The Life & Times of Walter Mantell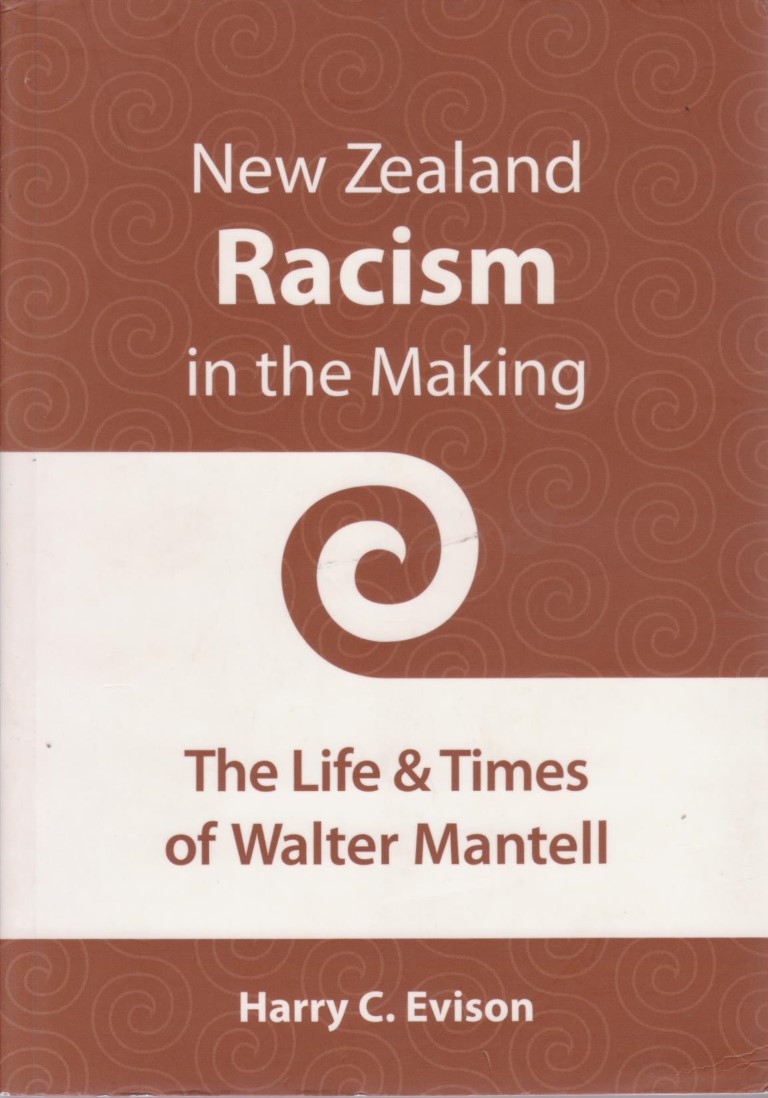 "Politically, racism is a distraction. Scientifically, it is nonsense. There was no racism in New Zealand 200 years ago. But New Zealand now has an Official Race Relations Commissioner to deal with racism. Where did this racism come from, and how did it get established"? This book explains how it came about. Walter Mantell was among the first English colonists to land in New Zealand when it became a British colony in 1840. He was then 19 years of age. By the time of his death in 1895, he had become well known as a Maori claims commissioner, as a scientist and as a politician. Mantell's 'life and times' coincide with the rise of New Zealand racism to this fateful development."
ISBN9780473175771
new zealand history, politics, biography, treaty of waitangi, maori land claims
VG softback
$30 C/C
Panuitia Press 2010 first edition, 447pp. Illustrated.
[#3944 ]
CHAPMAN-COHEN, G. (Editor)

Full Circle in Catlins Schools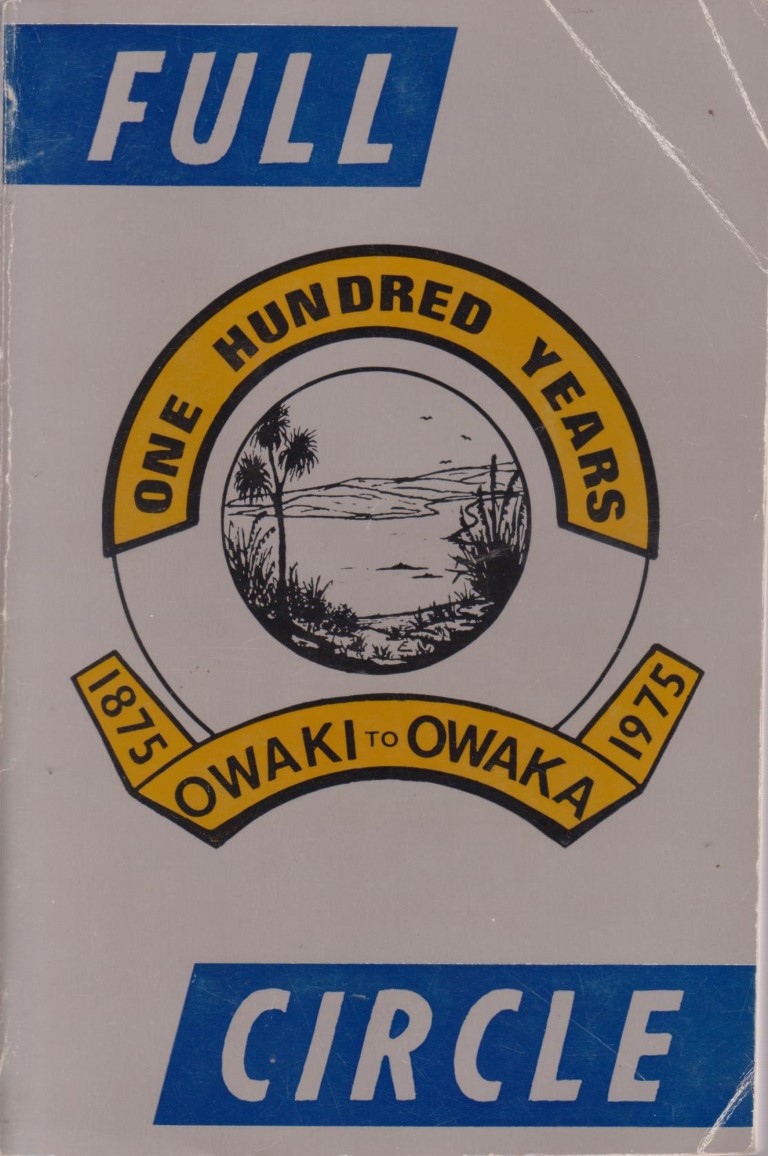 Published for the Centenary of a school district in the Catlins.
From Owaki School 1875 to Owaka District High School 1975
Owaki, Ahuriri, Glenomaru, Catlins River, Hina Hina, Tahatika, Ratanui, Romareka, Browns and Owaka Valley, Purekireki, Katea, Tarara, Purekauiti, Houipapa, Ahuriri Flat-Otekura, Tawanui, Puketiro, Pounawea, Otago
G+ softback, name at front and some wear to covers.
$40 C/C
Catlins Schools' Centennial Committee 1976, 168pp.
[#3945 ]
YSKA Redmer

All Shook Up
The Flash Bodgie and the Rise of the New Zealand Teenager in the Fifties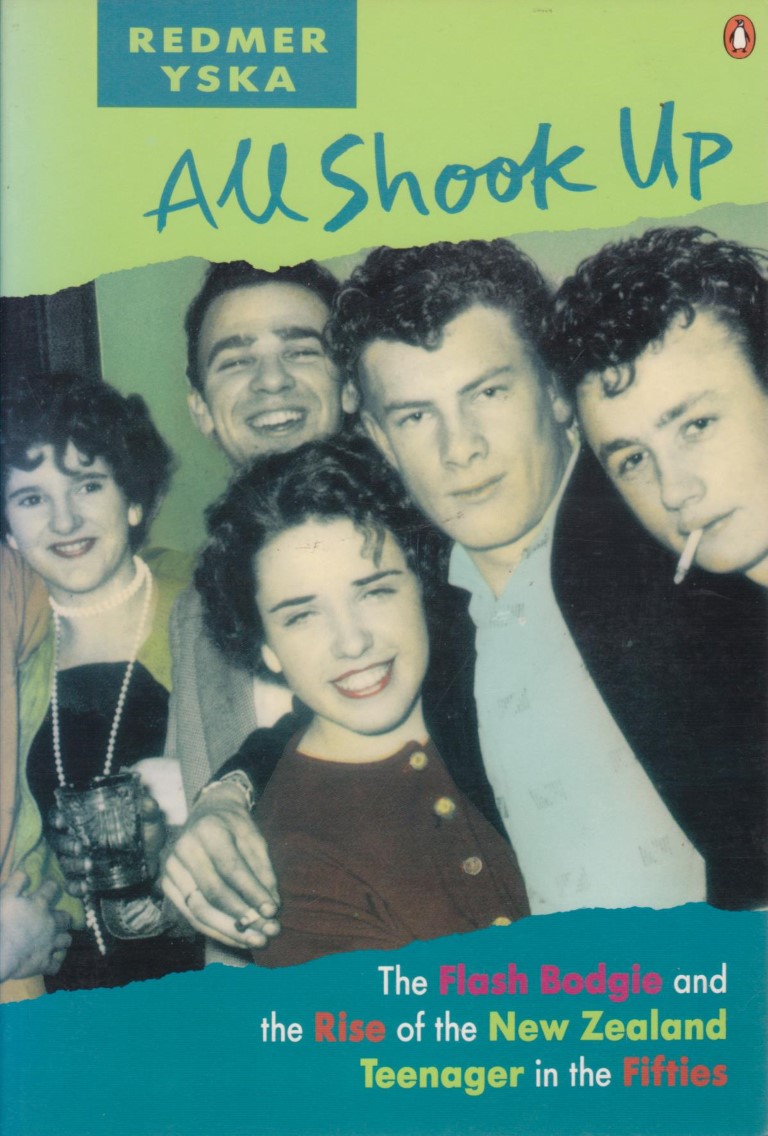 A look at NZ in the 1950s; Brylcreem, rock'n'roll, bodgies and widgies, the Cold War and Reds under the bed.
New Zealand, emerging from the war years is uncertain about it's future.
Still in the grip of anti-communist fever, the National Government of the day sees the coming generation of restless, promiscuous teenagers as part of another godless conspiracy, and orders an official inquiry into moral delinquency and tries to suppress the American influenced teenage subculture.
Yska traces the rise of "the teenager" in the repressive climate of Fifties New Zealand.
ISBN9780140169997
1950s, new zealand, bodgie, crime, delinquency, sociology
VG softback
$20 C/B
Penguin Books 1993 first edition, 224pp.
[# 3946]
BARROWMAN Rachel

A popular vision
The arts and the left in New Zealand 1930-1950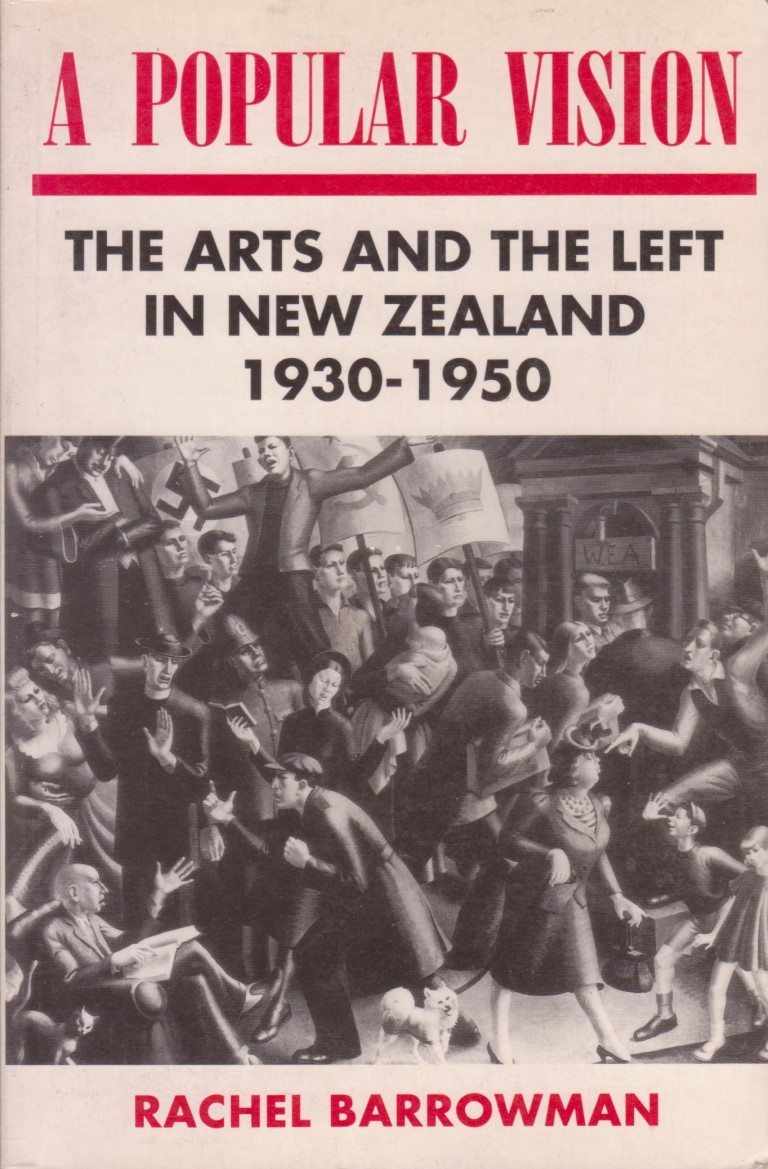 As a left-wing response to fascism in Europe, New Zealand's "Phoenix group" of writers and poets was instrumental in a burgeoning cultural nationalism.
Includes chapters on The Left Book Club, The Cooperative Book Movement and The Progressive Publishing Society
ISBN0864732171
communism, left, politics, arts, literary movement, socialism, theatre, ARD Fairburn, RAK Mason, WB Sutch
VG softback
$35 C/C
Victoria University Press 1991 first edition, 287pp.
[#3947 ]
ROGERS Lawrence M.

Te Wiremu
A Biography Of Henry Williams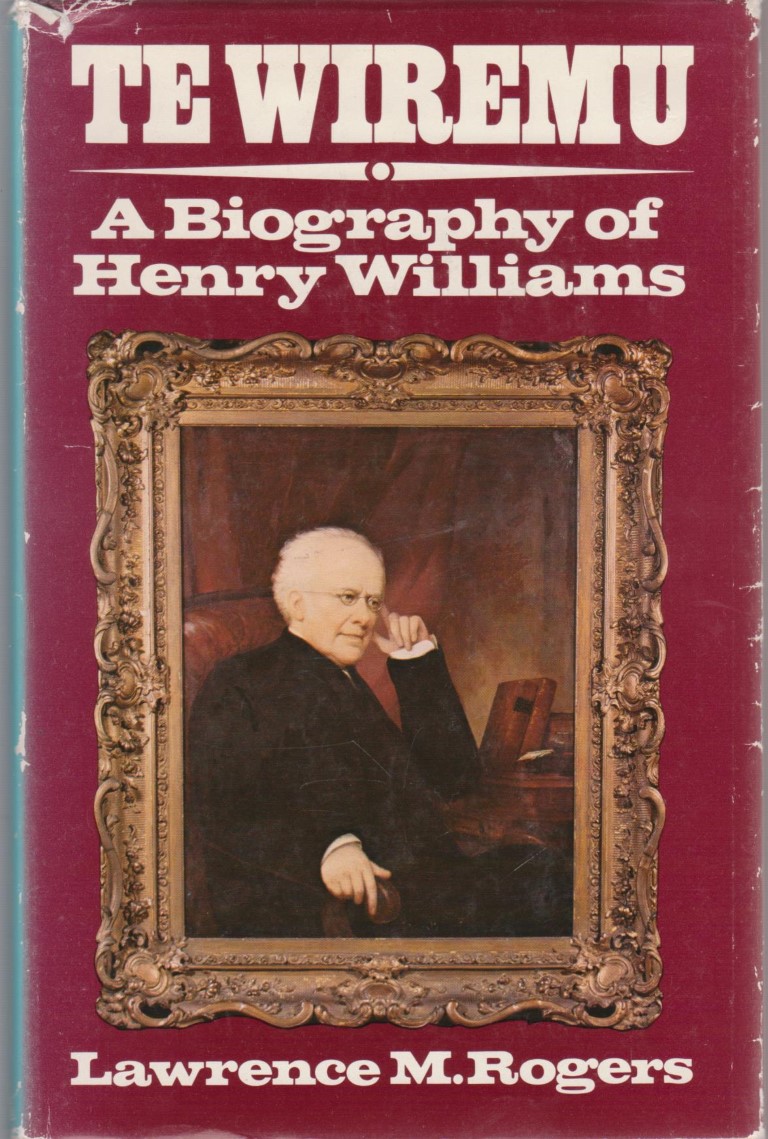 Henry Williams arrived as a missionary to the Bay of Islands in 1823 and was a firm friend to the Maori.
It was their faith in him that contributed to their agreeing to the Treaty of Waitangi, at which he was present.
This biography includes his early life and naval service before arriving in New Zealand, and the varied phases of his career and retirement.
keywords
VG hardback in G+ dust jacket with sunfaded spine.
Some wear to edges. Book has name to half title.
$25 C/C
Pegasus Press 1973 first edition, 335pp + plates.
[#3948 ]
NEILL Joyce (editor)

Plum Duff and Cake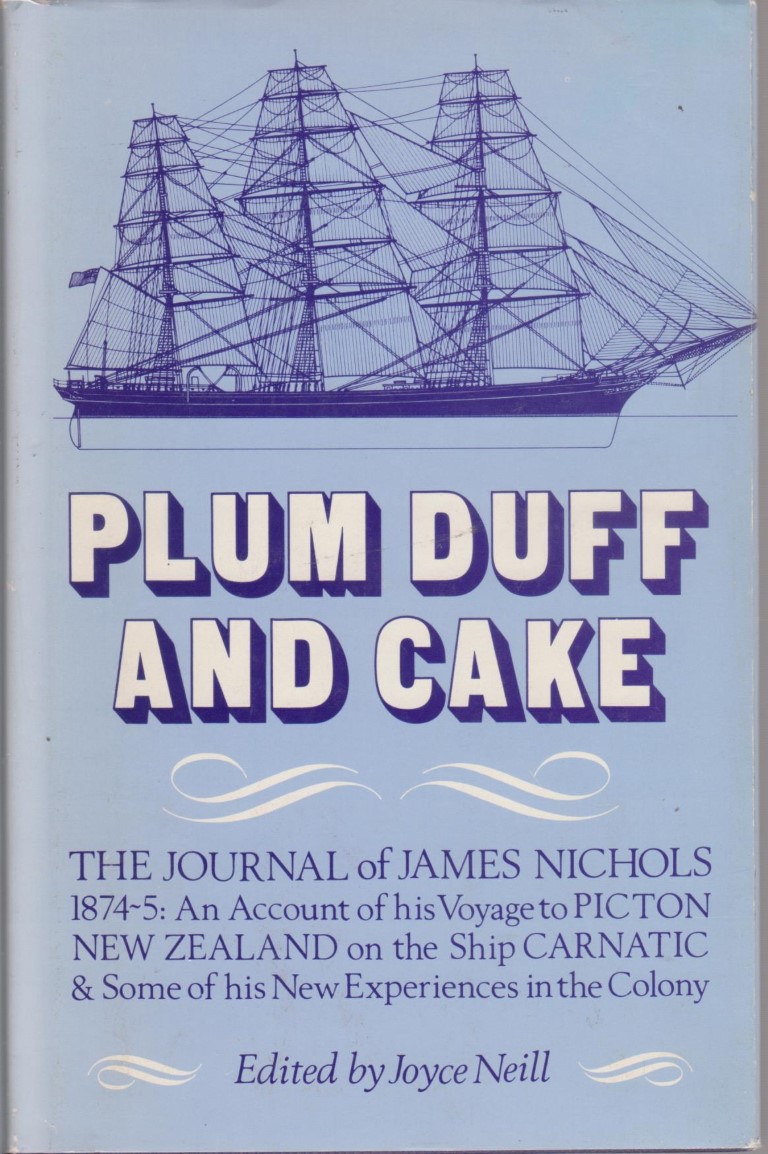 The Journals of James Nichols 1874-5.
An account of his voyage to Picton New Zealand on the ship Carnatic, and some of his experiences in the colony.
Ellen Nichols nee Hart, Tuamarina, colonial immigration, Picton, Marlborough, Feilding
VG hardback in VG dust jacket. Bookplate to half title
$45 C/C
Pegasus Press 1975 first edition, 223pp + plates.
[#3949 ]
SHARP Andrew

Ancient Voyagers in Polynesia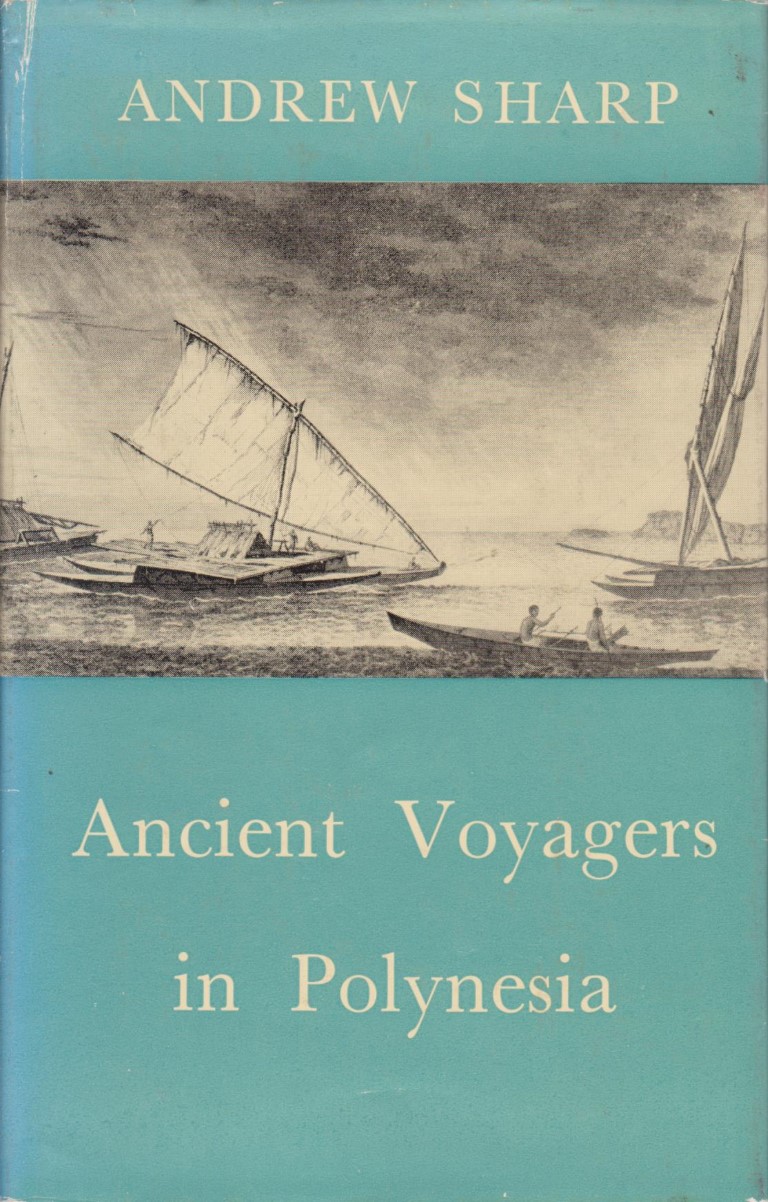 A rewritten edition of Ancient Voyagers in the Pacific with rebuttals of his critics arguments.
Contents; A world perspective; How did the Polynesians navigate?; Stone Age vessels in the Pacific; Voyages of no return; The voyaging traditions; Migrants from three kingdoms; The lonely islands; Early man in New Zealand; The Polynesian migration trail.
polynesia, pacific islands, navigation, ancient voyages
VG hardback in VG- dust jacket with small repaired tear at head of spine.
Tape rust and small pen name to map end papers.
$15 C/B
Longman Paul 1963 first edition, 159pp.
[#3951 ]
FERRIS George

The Trout and I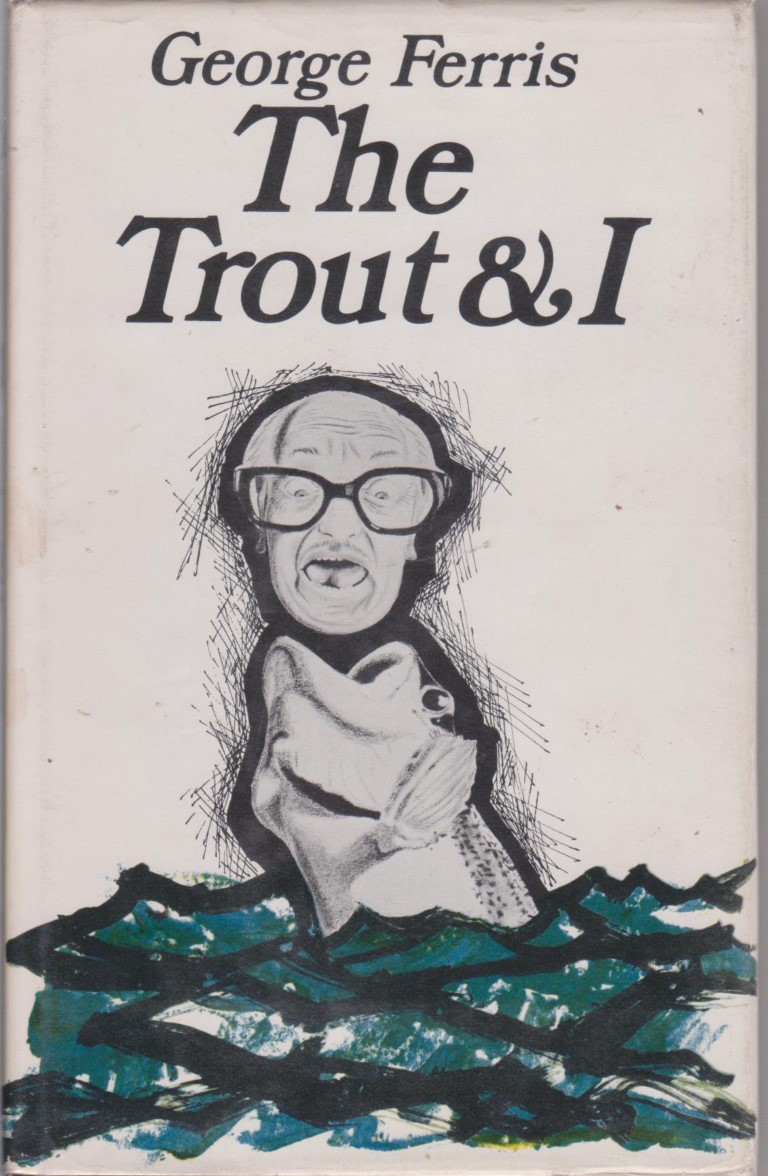 Anecdotes from sixty years of fishing, Ferris remembers the ' memorable characters ' he has encountered.
Chapters on South Canterbury, Taupo, Waiotaka, Lake Rotoiti, Murupara, The Hawea, Clutha, Ahuriri, Mataura, Canterbury including Ellesmere, Nelson and the Riwaka, North Canterbury and the West Coast.
ISBN0855610042
new zealand, angling, flyfishing, memoirs
VG+ hardback in VG+ dust jacket
$15 C/C
Heinemann 1970 first edition, 155pp+ plates.
[#3952 ]
DRISCOLL Ian

Airline, the making of a national flag carrier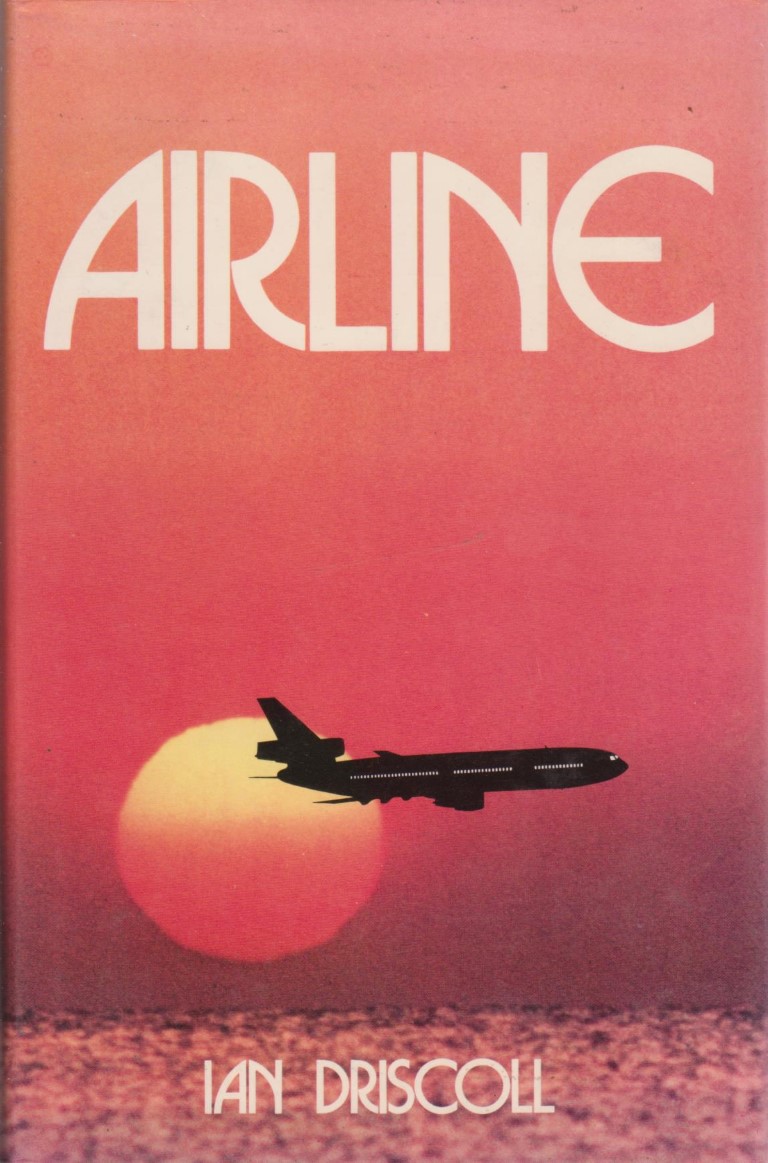 A history of New Zealand airline companies
Chapters include; New Zealand Pacific Aviation Survey, International Influences, Pioneering Airlines, plus appendices.
Includes references to the disappearance of Amelia Earhart and the possibility of her use by US military for intelligence gathering.
ISBN0868670316
air new zealand, aviation, airlines, passenger service
VG hardback in VG dustjacket.
$30 C/C
Shortland Publications 1989 first edition, 302pp + plates, map end papers.
[#3953 ]
LEHMANN John (editor) V S Pritchett, C Day Lewis, Stephen Spender, Sartre, Lorca, Auden, Isherwood

The Penguin New Writing 7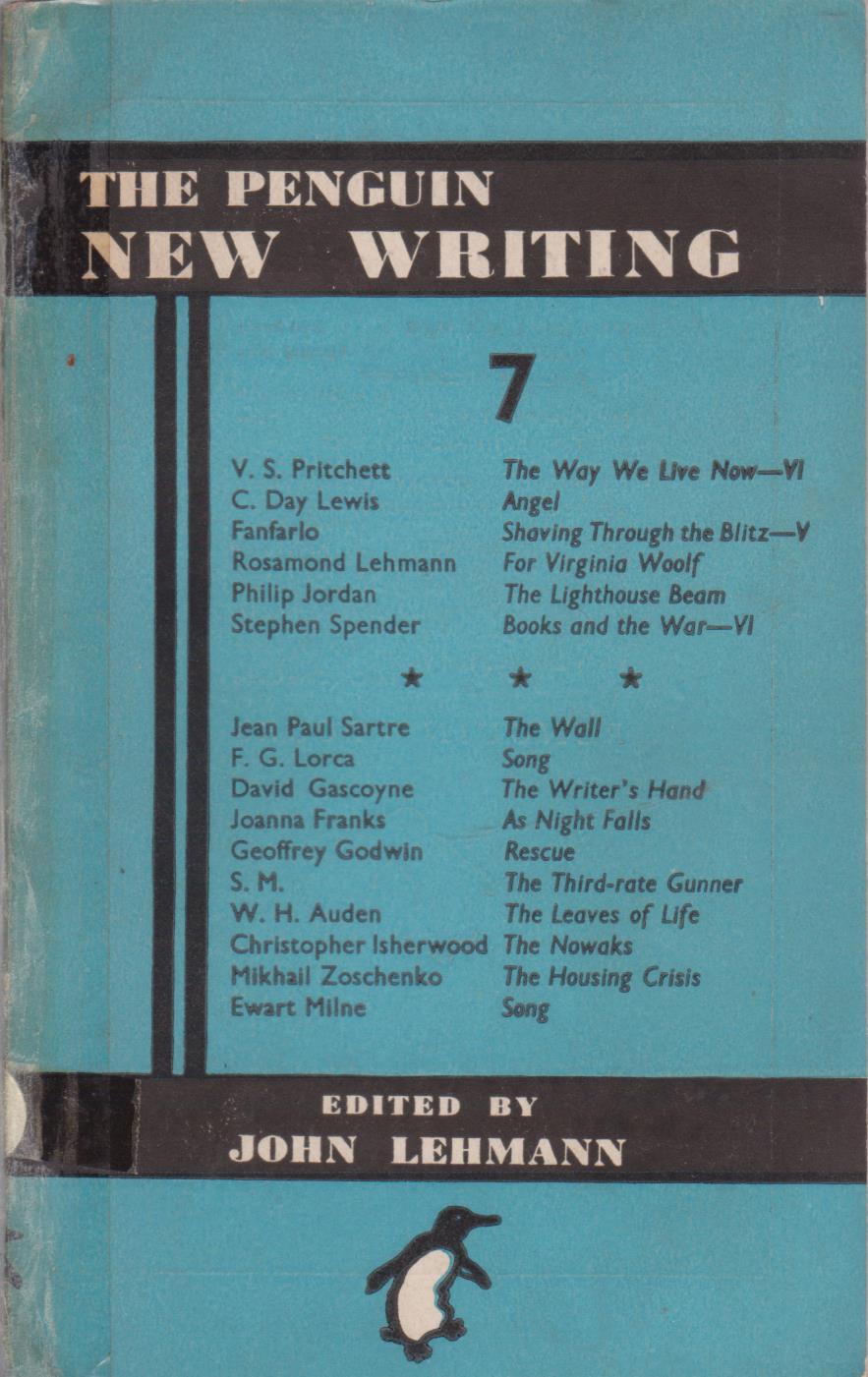 War-time short writings by V S Pritchett, C Day Lewis, Stephen Spender, Sartre, Lorca, Auden, Isherwood and others.
Some first publications.
Literature, Anthology, Short Stories, Penguin first edition
Paperback with sewn sheets in paper wrapper, war time issue cheaper paper, spine has strip of clear tape along the edge and on to both wrappers, convent library stamp to half title and title, small grease spot bottom margin rear few pages.
$7 A/A
Penguin 1941 first edition, 143pp.
[PB1587 ]
25/11/2018 ev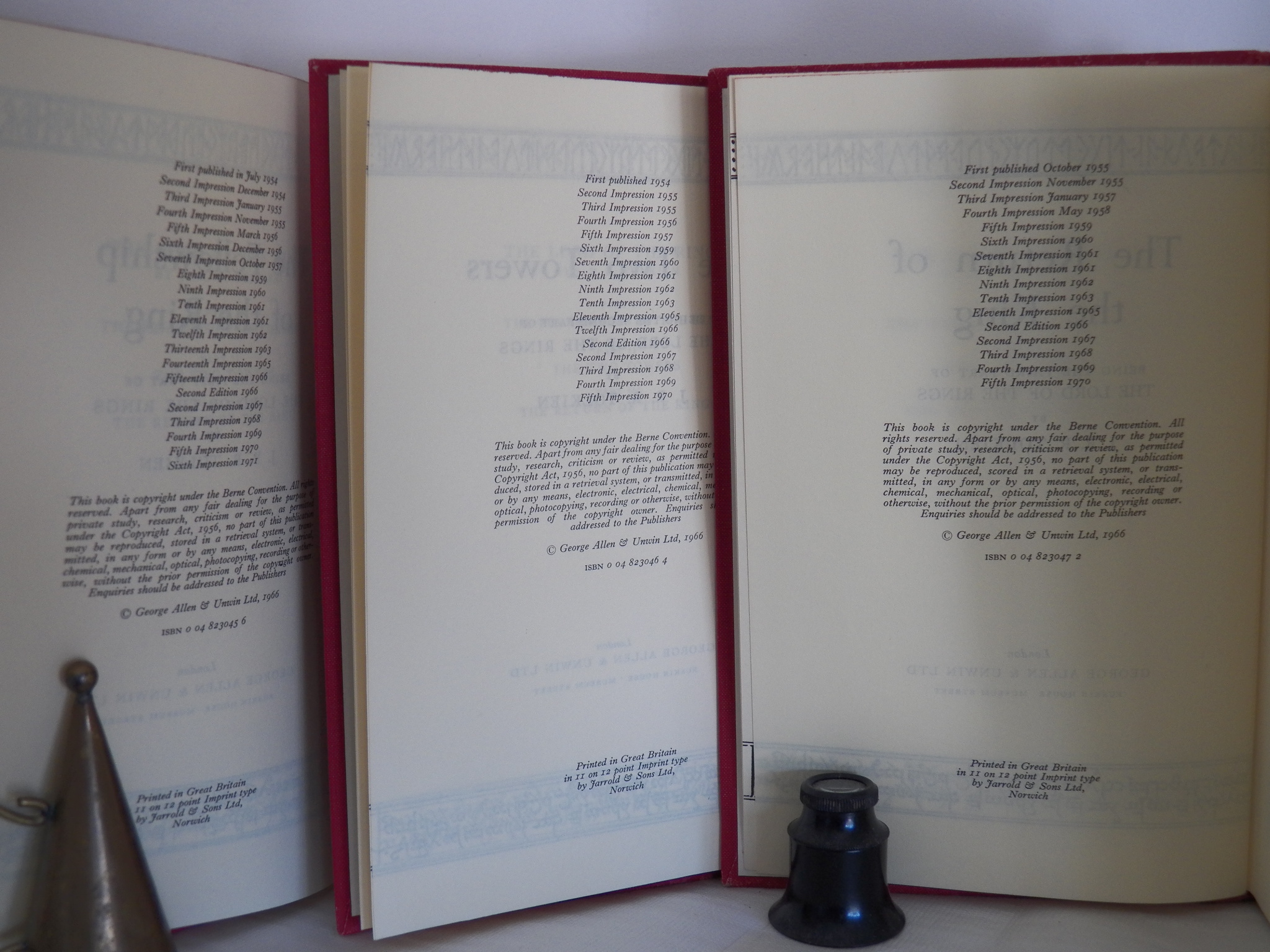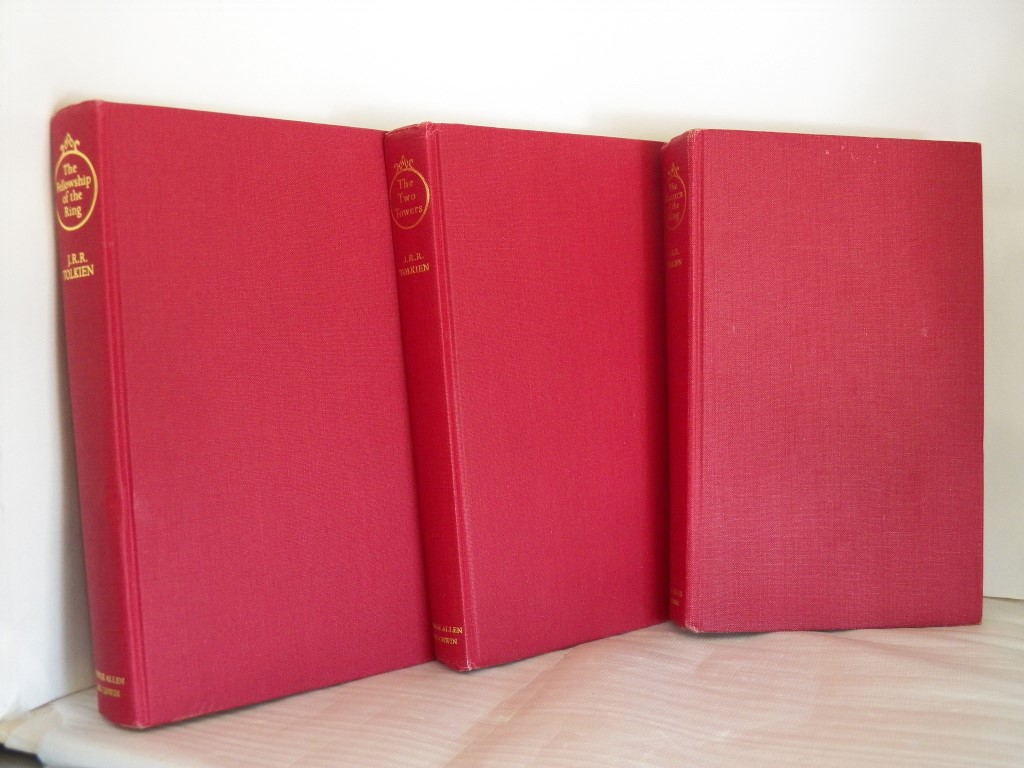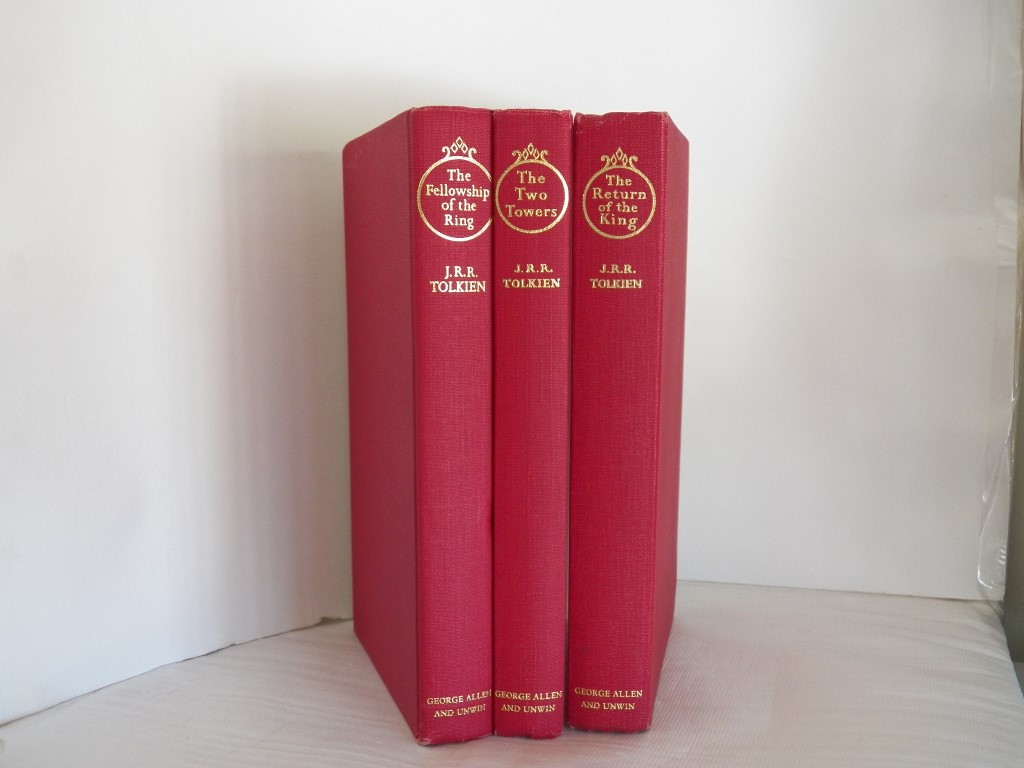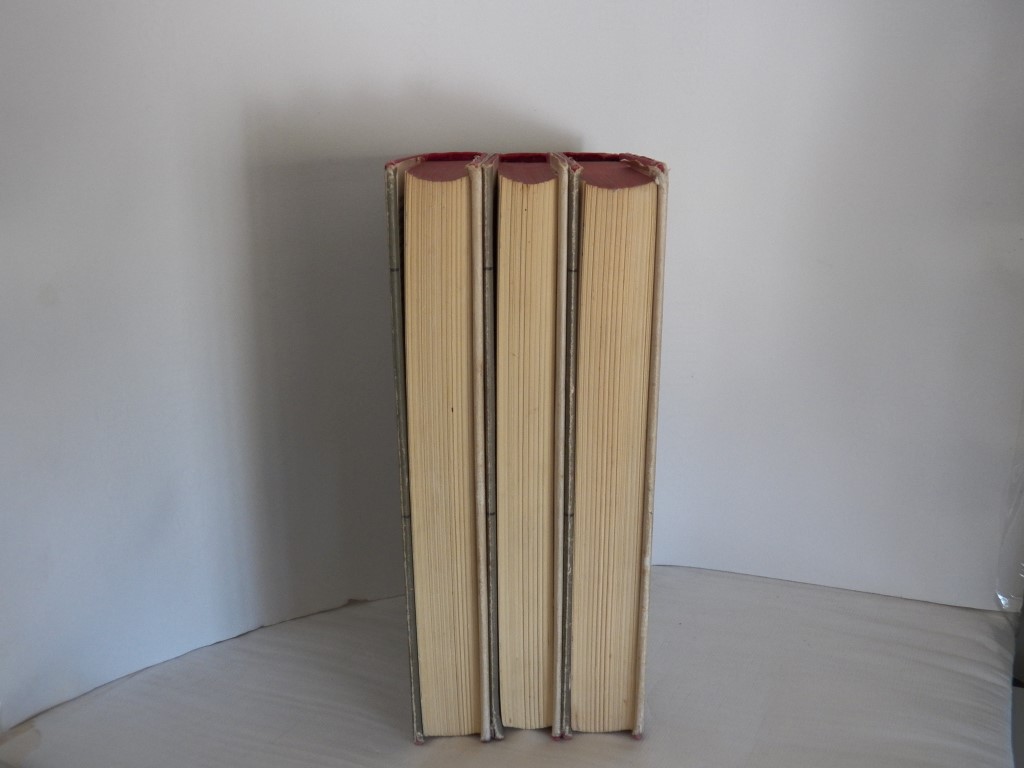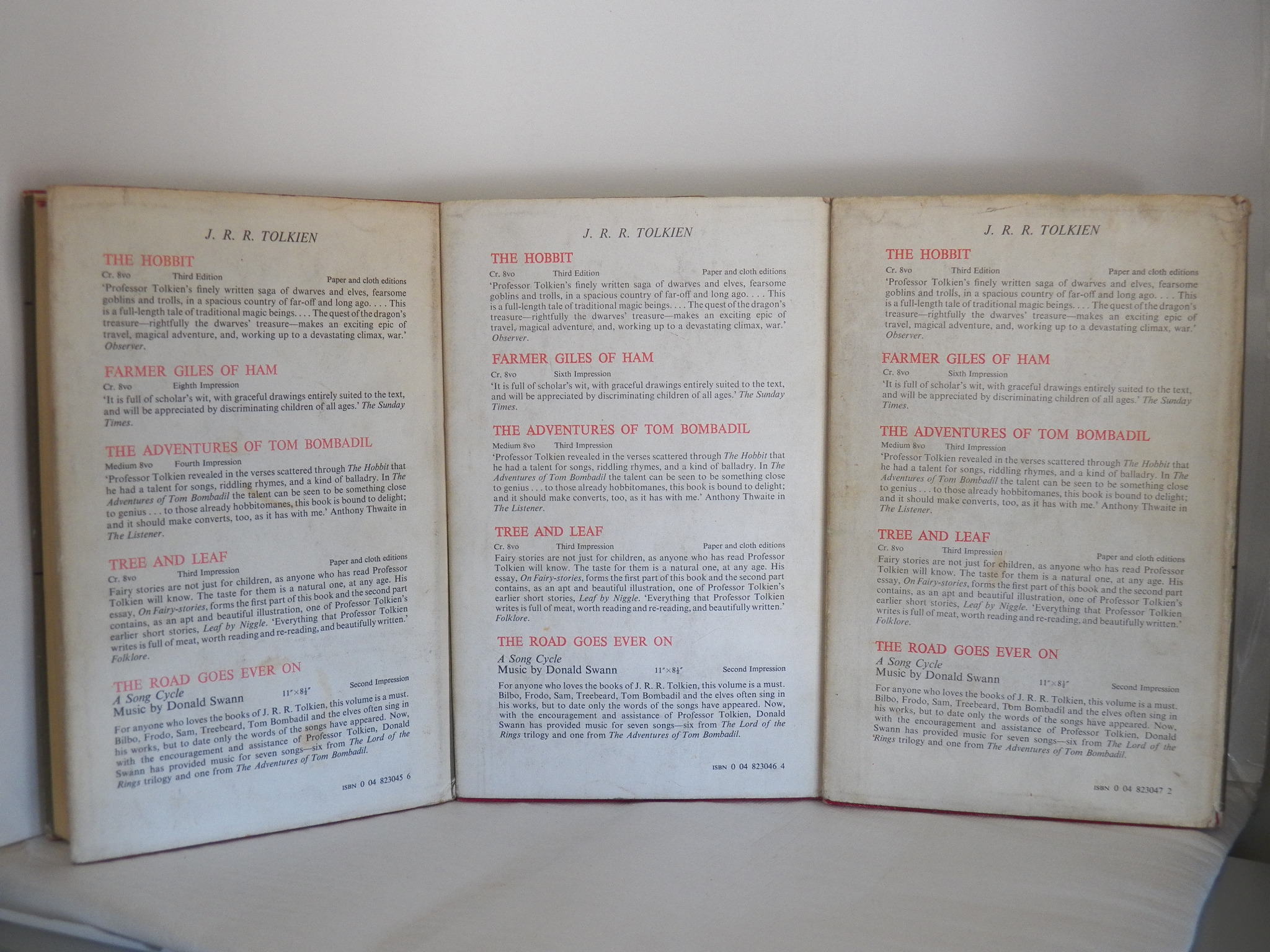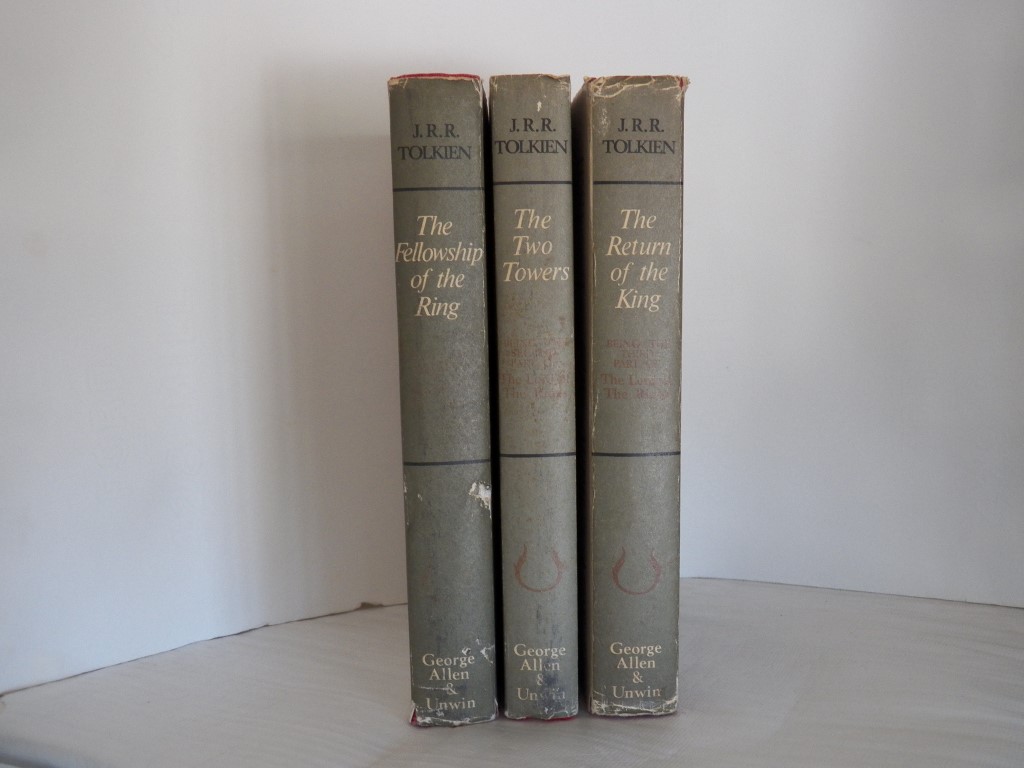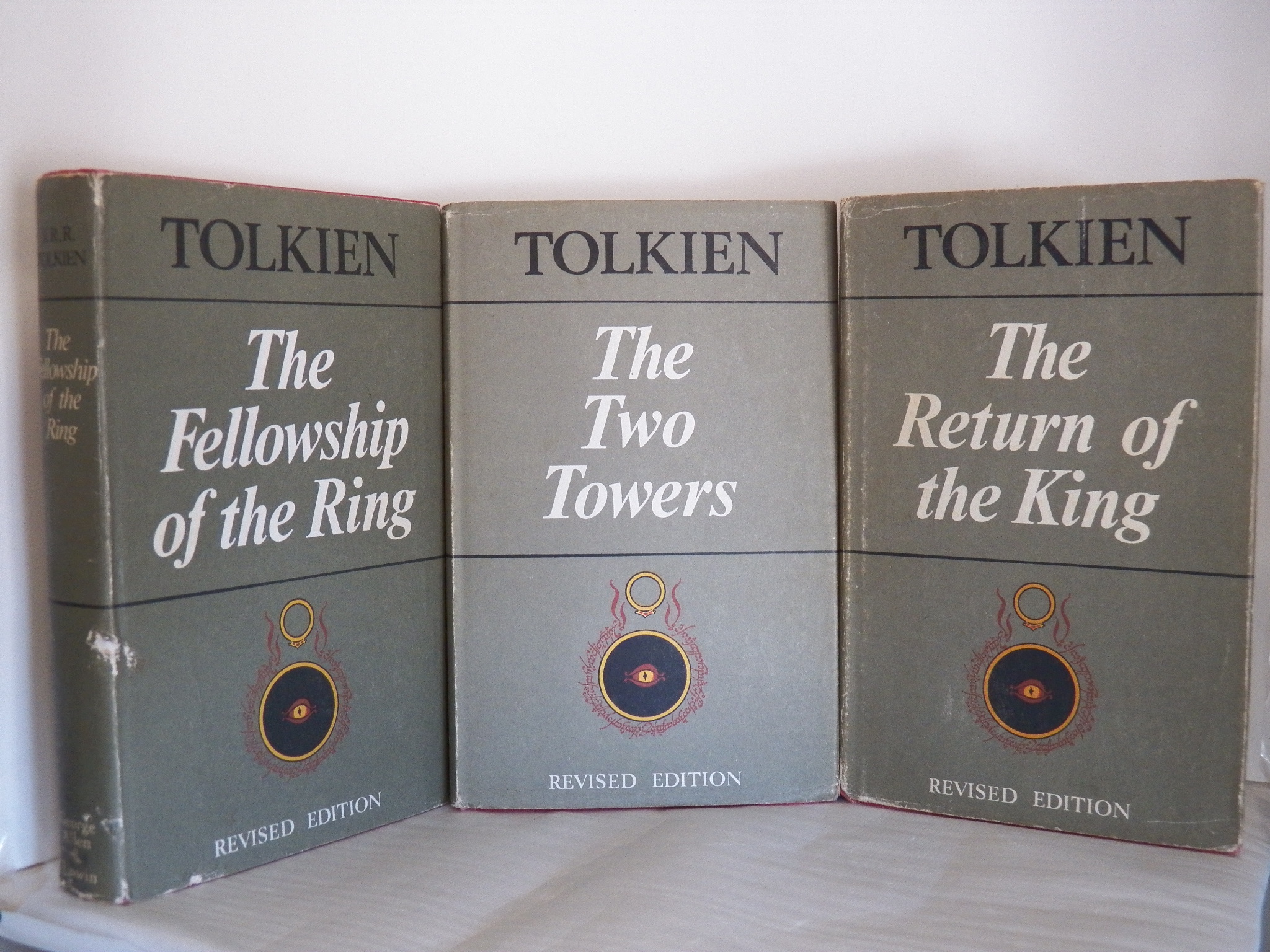 TOLKIEN J R R

The Lord of the Rings Trilogy
Second Edition, Revised
Vol. I - The Fellowship of the Ring, Vol. II - The Two Towers, Vol. III - The Return of the King
Complete LOTR 3 books in three volumes, this is the Unwin Second Revised edition.
Sixth Impression (vol1) and Fifth Impressions (vol 2 and 3).
ISBN0048230456 , ISBN0048230464, ISBN0048230472
LOTR, lord of the rings, 3 vols, complete, Set, Tolkien, Collectable, Unwin Books Edition, Second Edition, Hardcover Set, Middle Earth, Revised Second Edition
VG hardbacks in VG dust jackets with minor rubbing, all unclipped with publisher price intact.
3 volumes uniform in red cloth with dust jackets with the Ring and Elvish script about the Eye of Sauron.
Small pen name top corner of free end paper of each volume.
$350 D/D
George, Allen and Unwin 1971, 1970, 1970, 423, 352, 440pp. Includes maps etc.
[#3053 ]
18/11/2018 ev
CASE Paul Foster

The Tarot a Key to the Wisdom of the Ages
This work mainly focuses on the kabbalistic / occult symbology of the Trump Cards, as taught by the Builders Of The Adytum.
BOTA, tarot, occult, builders of the adytum, divination
VG hardback in G+ rubbed dust jacket, chipped to edges. Name to endpaper, and a few pages of tidy pencil underlining. Tiphareth on the Tree of life diagram at the rear is neatly painted yellow.
$30 C/B
Macoy 1975, 214pp.
[OCC 124 ]
CASE Paul Foster

The Tarot a Key to the Wisdom of the Ages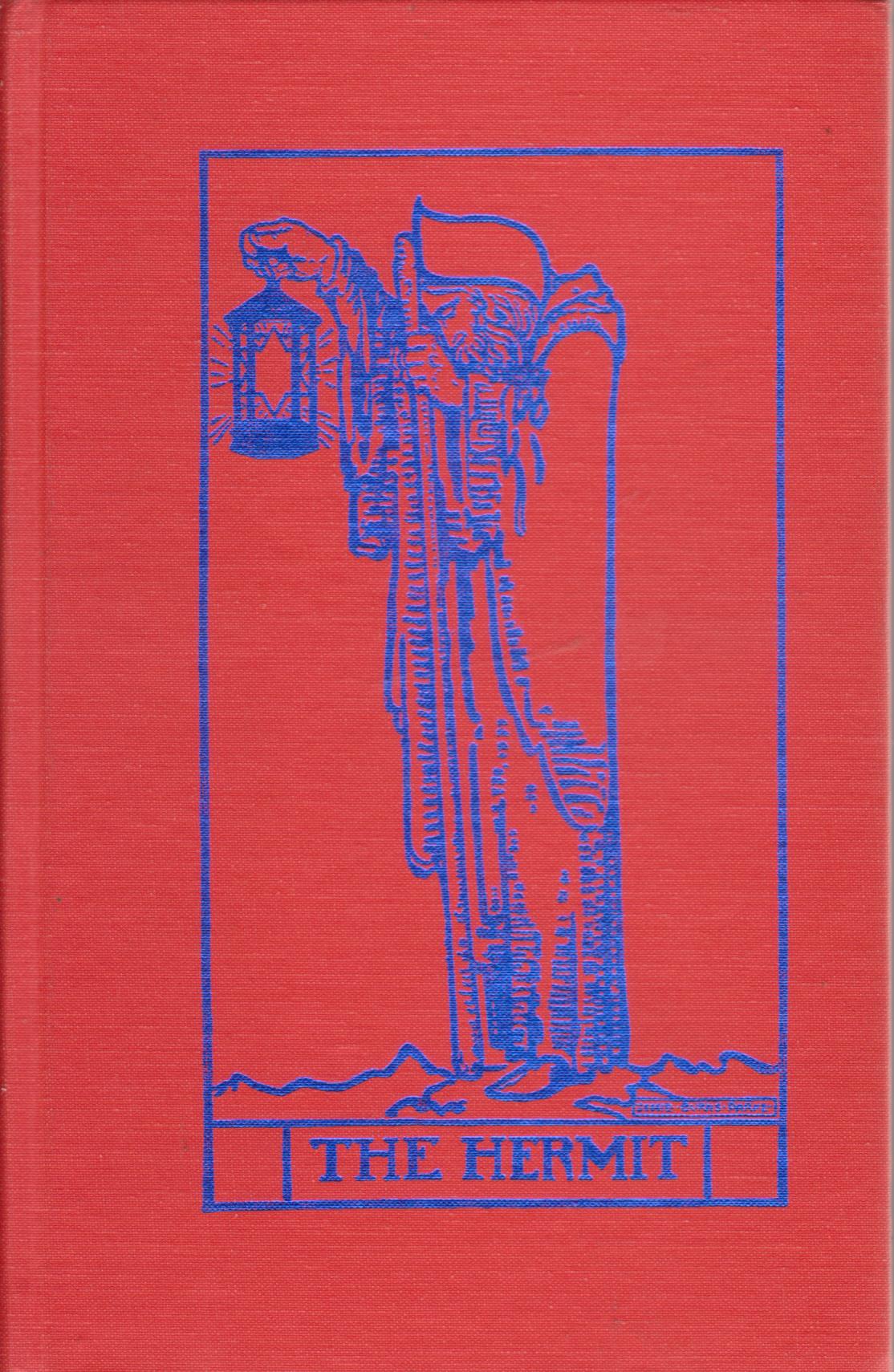 This work mainly focuses on the kabbalistic / occult symbology of the Trump Cards, as taught by the Builders Of The Adytum.
ISBN0938002082
BOTA, tarot, occult, builders of the adytum, divination
VG hardback with no dust jacket.
Red cloth with blue blocked design of The Hermit to cover.
Lacks free end paper.
First thus revised edition with colour plates of all the trumps and the Tree of Life.
$35 C/B
Builders Of The Adytum Ltd. 1990, 223pp.
[#3925 ]
FARRAR Janet and Stewart

Spells and how they work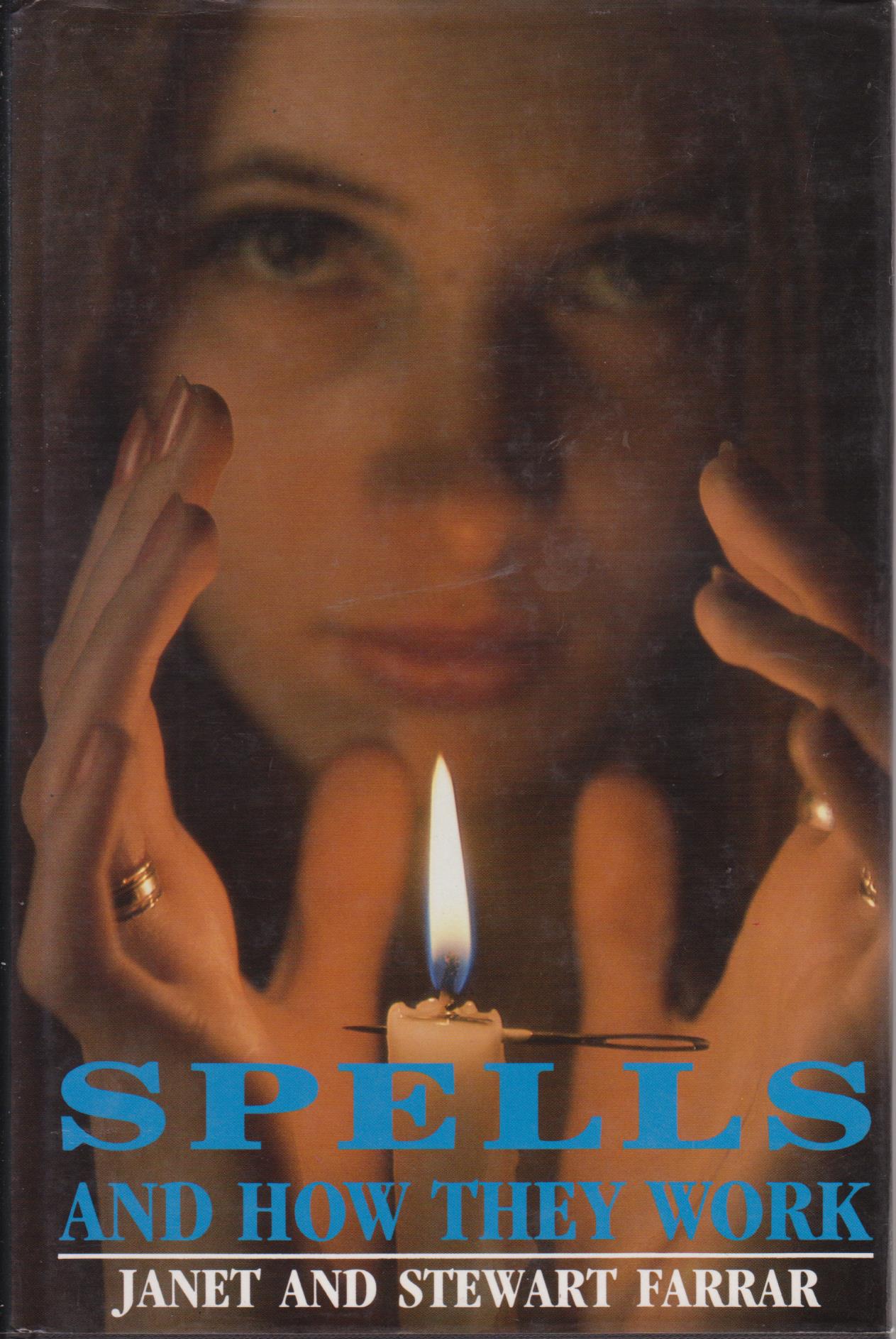 The theory and practise of casting spells, and ritual magical practices.
Based on traditional and historical forms, as the Farrars learned from their Gardnerian derived Wicca.
ISBN0709038429
witchcraft, wicca, occult, magic, supernatural
VG hardback in VG dust jacket
$25 C/C
Robert Hale 1990 first edition, 191pp + plates.
[#3926 ]
POWELL A. W. B.

The Shells of New Zealand
An illustrated handbook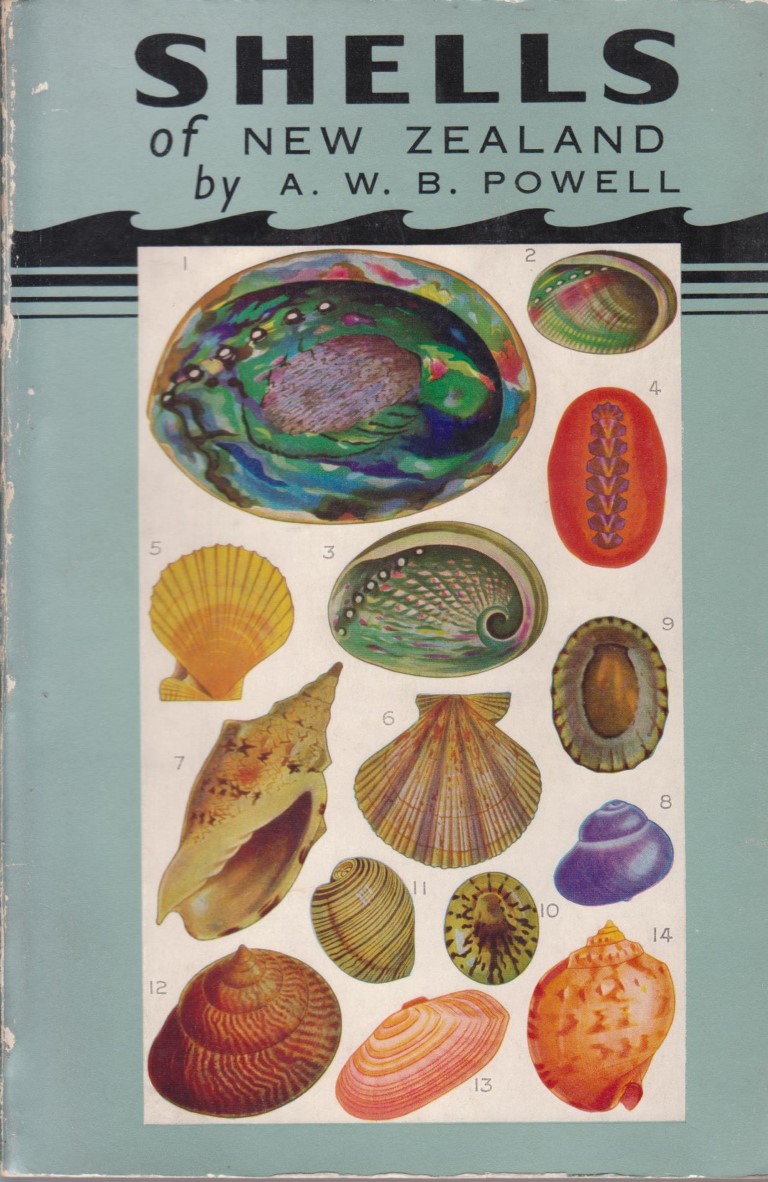 Scientific guide to the mollusca found in New Zealand coastal waters.
Illustrated with photographs and drawings.
mollusca, shellfish, seashore, illustrated
VG softback with sewn binding, with former owner name and stamp to first pages.
$25 C/C
Whitcombe and Tombs 1967 reprint of 4th edition, 203pp including 36 plates.
[#3927 ]
VG hardback with VG- dust jacket with a chip from bottom front edge and two small tears to rear top edge.
$15 C/C
ISBN072330470X
Reed 1976 5th revised edition, 154pp + plates
[#2105 ]
POWELL A. W. B.

The Shellfish of New Zealand
An illustrated handbook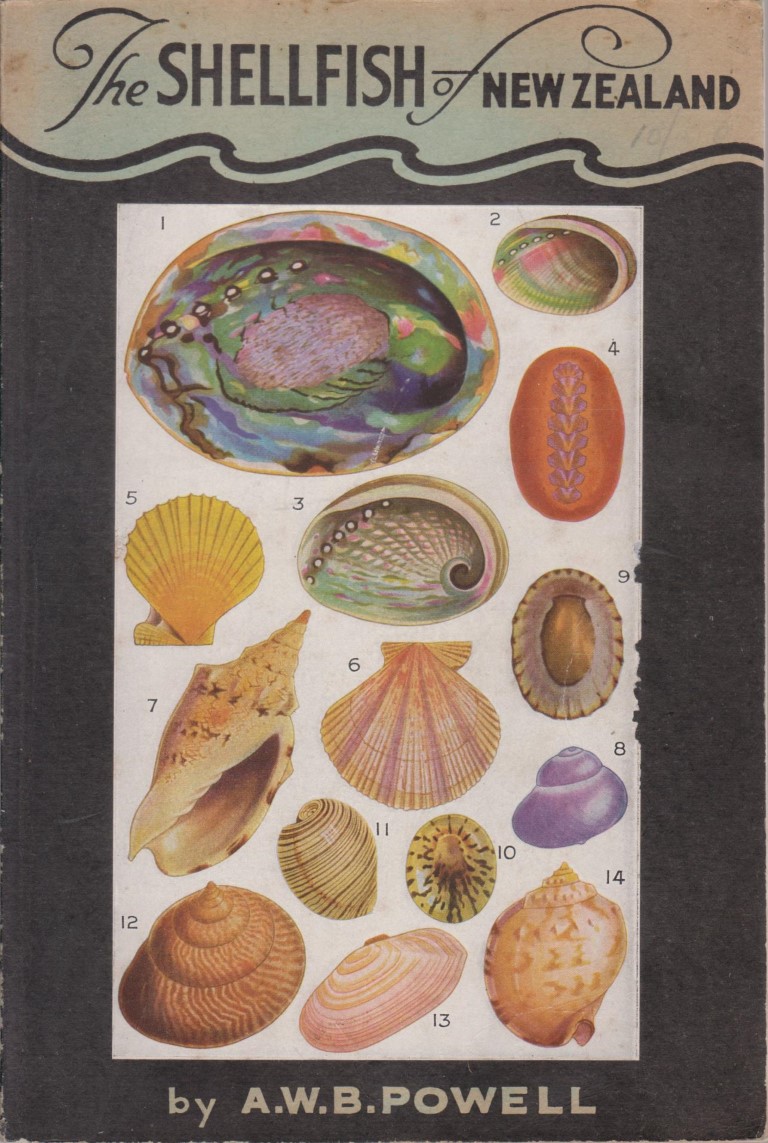 Scientific guide to the mollusca found in New Zealand coastal waters.
Illustrated with drawings.
mollusca, shellfish, seashore, illustrated
VG softback sewn bound in card wraps, former owner details inside front cover.
$25 C/C
Whitcombe and Tombs 1946, 2nd revised and enlarged edition, 106pp + 26 plates.
[#3928 ]
CLUTHA Valley Development Commission

Clutha Valley Development Commission Final Report Volume Two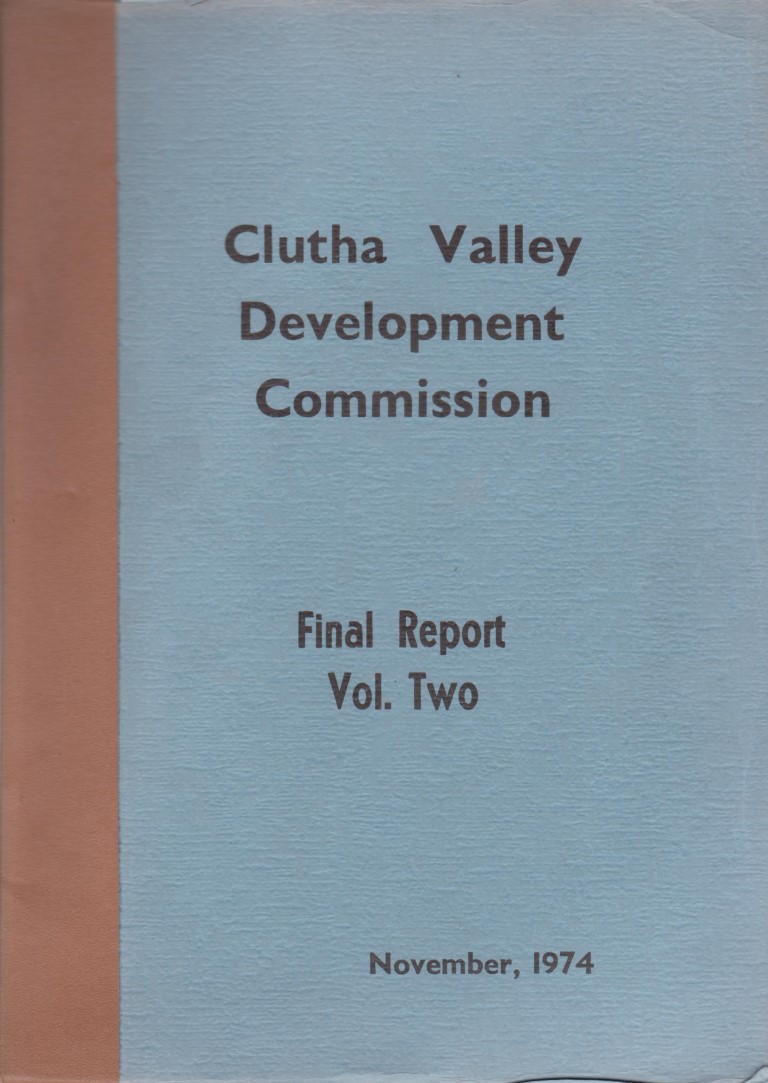 Official reports and surveys on the proposed Clutha River hydro-electric and irrigation scheme.
Includes folding charts and diagrams, some photos, various official reports etc.
otago, clutha, hydro electric scheme, dam, cromwell
VG- paper bound typescript with stapled binding with taped spine as issued.
$50 B/C
Clutha Valley Development Commission 1974, approx 100pp.
[#3929 ]
FLYNN E A

2A District Roads Council Tour of Auckland Motorways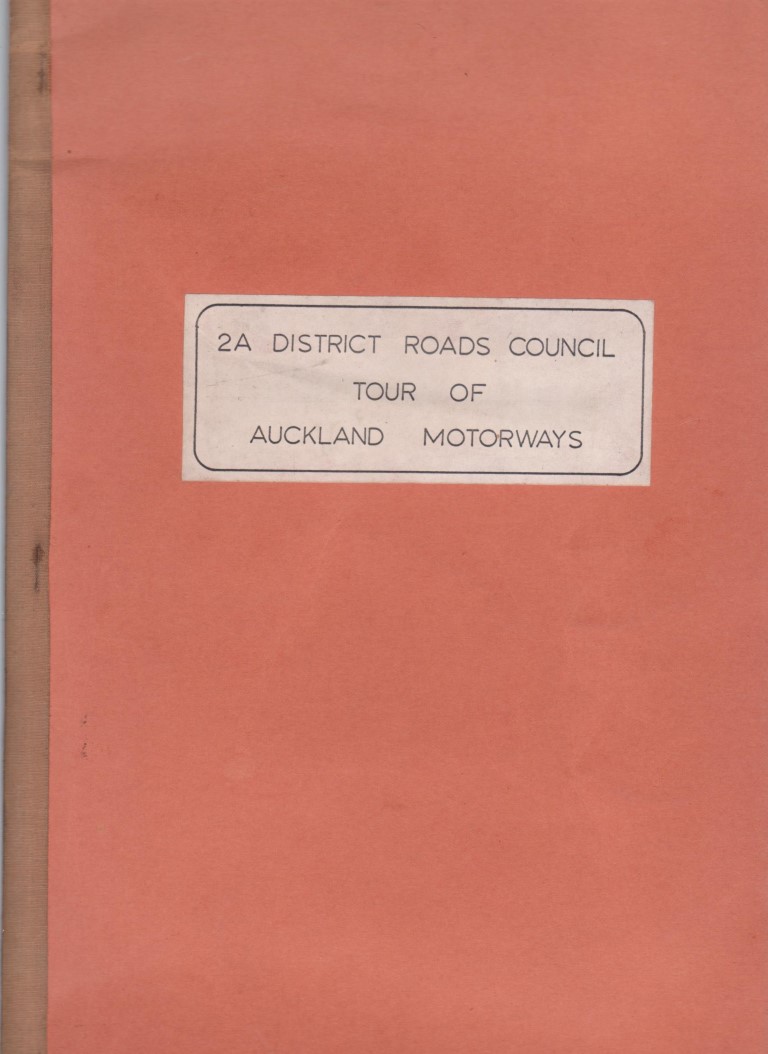 An itinerary for a tour of the motorways of Auckland in June 1966 complete with blueprint charts of some of the features to be viewed and perspective drawings.
Official Report, Ministry of Works, Auckland, Transport, Roading, Construction, Diagrams, Motorways, Khyber Pass Viaduct
VG stapled sheets in card wrappers with cloth spine and paper label.
$30 B/B
Ministry of Works 1966, 7pp single side only + 9 plans + large folding map
[#3930 ]
de THIER Walter

Sumner to Ferrymead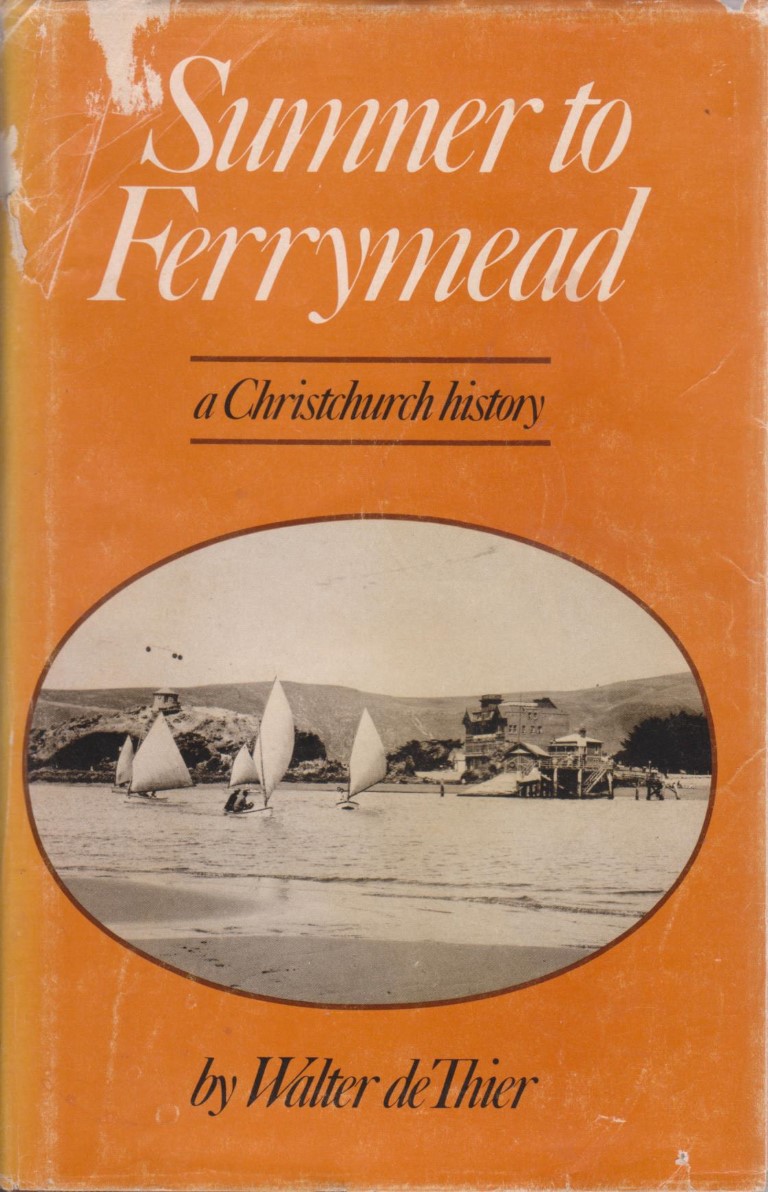 A history of the settlement and development of the Christchurch seaside suburb of Sumner and neighbouring areas.
ISBN0908568002
Clifton, McCormack's Bay, Mount Pleasant, St Andrew's Hill, Ferrymead
VG hardback in G+ dust jacket. Jacket has some repaired edge tears and rubbing. Book has name facing title page and book shop stamp at foot of title page.
$55 C/C
Pegasus Press 1976 first edition, 216pp + plates.
[#3931 ]
NEWTON Peter

High Country Journey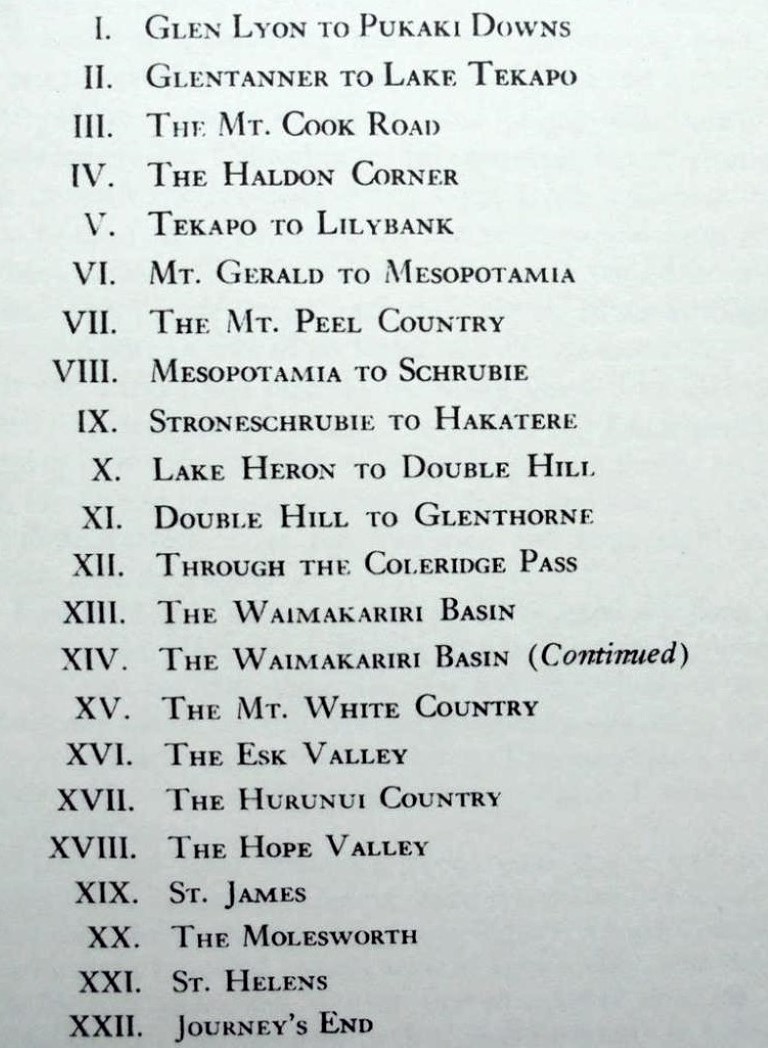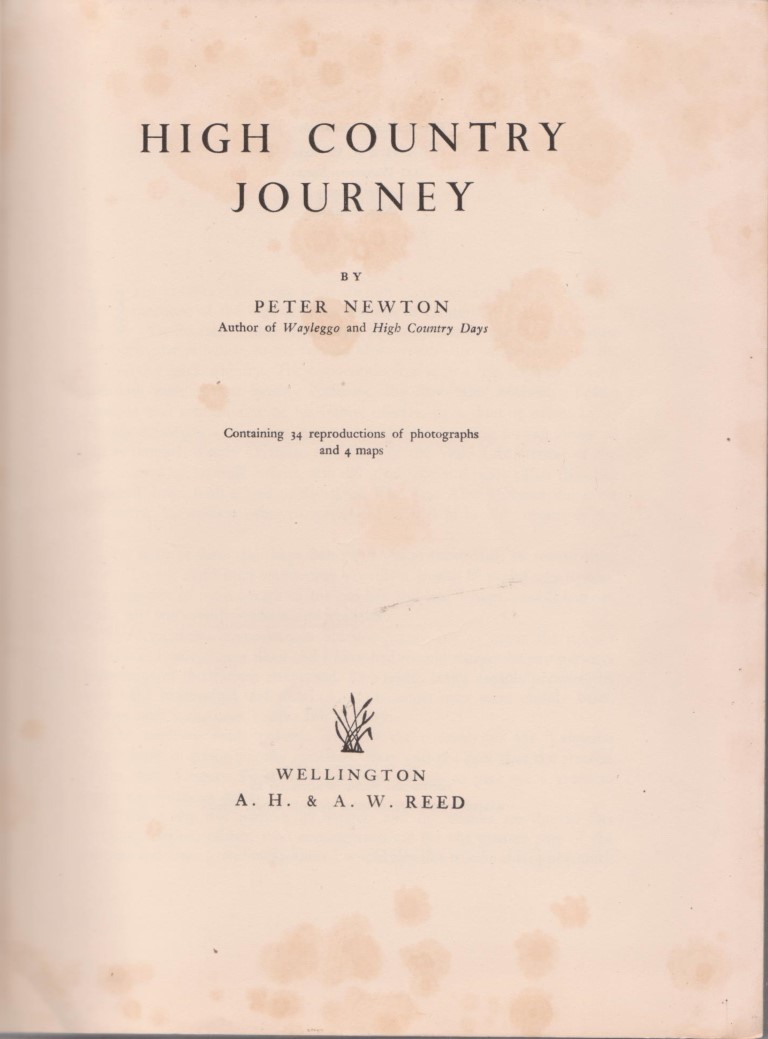 From Glen Lyon to Molesworth, Newton travelled on horseback visiting the many High Country Stations of Canterbury.
Tekapo, Pukaki, Mesopotamia, Hakatere, Coleridge, Waimakariri, Mt. White, Esk Valley, Hurunui, St James, Molesworth, St. Helens, rural, farming
G+ hardback with no dust jacket former owner details to first page.
$30 B/C
Reed 1952 first edition, 206 pp.+ 34 plates and 4 folding maps.
[#3932 ]
RENDEL David

Civil Aviation in New Zealand
An Illustrated History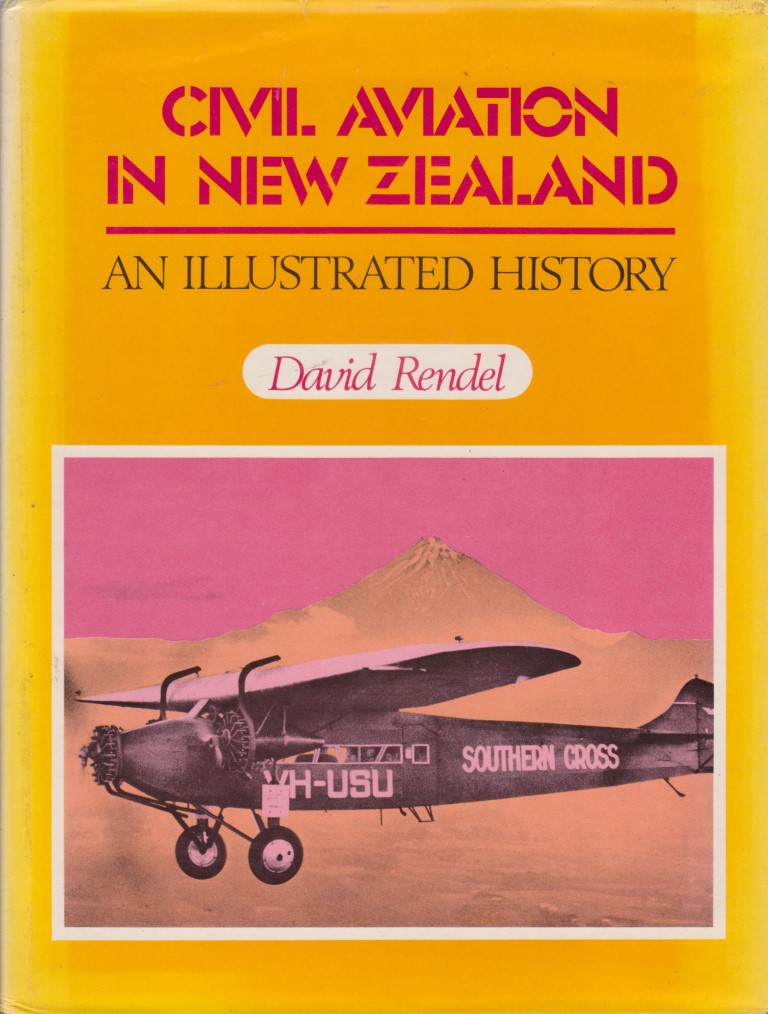 Good history of non-military aircraft and flying in New Zealand.
llustrated in black and white photos throughout.
ISBN0589009052
Aircraft, Flying,
VG- hardback in G+ dust jacket. Book is missing first blank page. Dust jacket has some sun fading and repaired tear to spine.
$20 B/C
Reed 1975, 188pp.
[#3933 ]
COOK Captain James edited by AH and AW REED

Captain Cook in New Zealand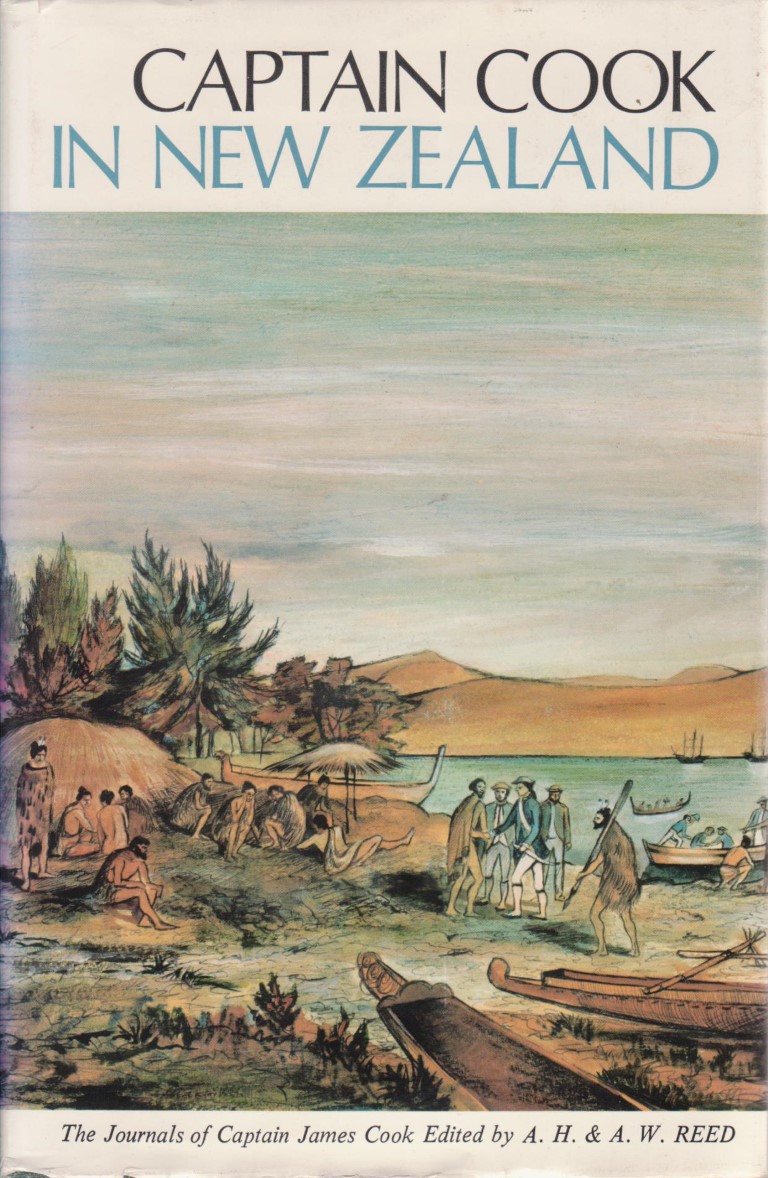 Extracts from the Journals of Captain James Cook Giving a Full Account in his Own Words of his Adventures and Discoveries in New Zealand.
australasia, maori, captain cook, H.M. Endeavour, H.M. Resolution, H.M. Adventure, Furneaux,
VG hardback in VG dust jacket.
$30 C/C
Reed 1969 reprint of Second Edition, 262pp+ plates and folding map.
[#3934 ]
SHEPHERD Marion dited by Rona Adshead

Some of my Yesterdays
The Autobiography of Marion Shepherd NZRN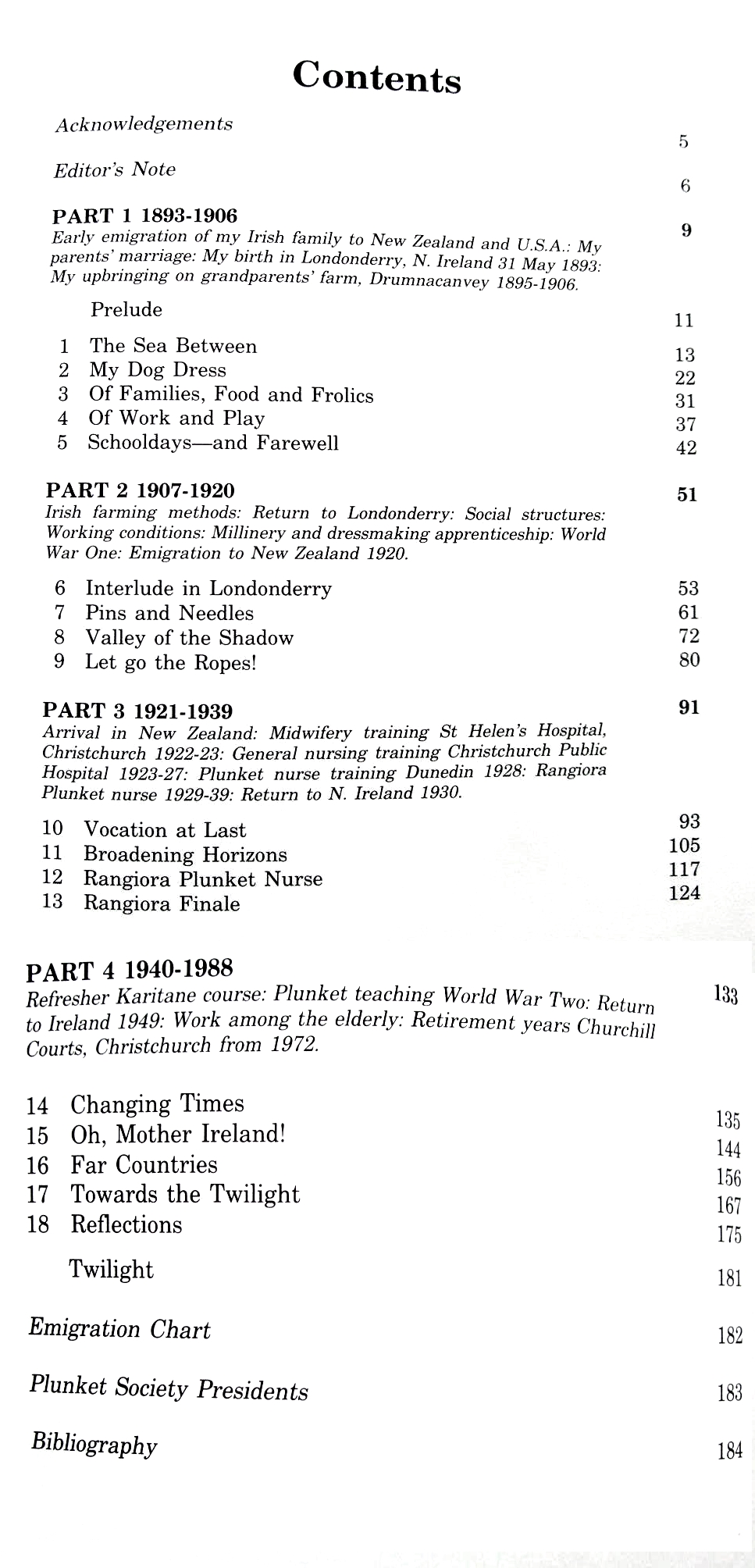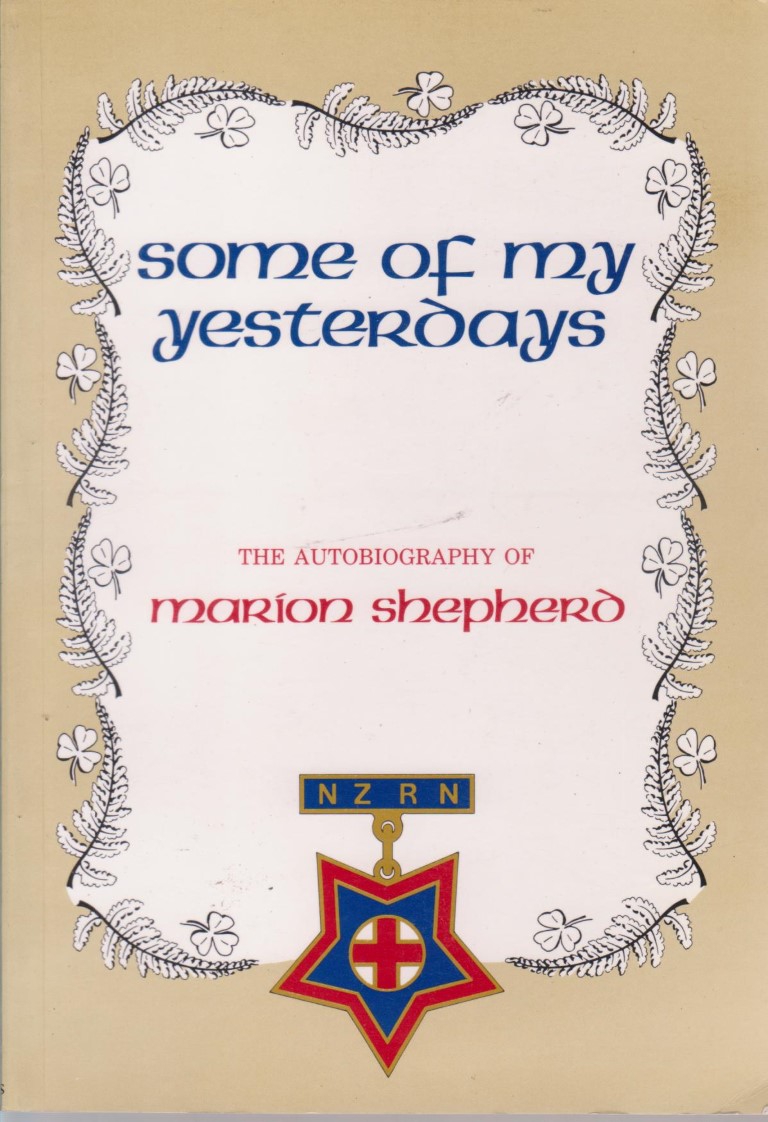 "Maisie" Shepherd was born in Londonderry, Northern Ireland, in 1893.
She arrived in New Zealand in 1921, and undertook midwifery and general nurse training in Christchurch.
She recounts her life in Plunket nursing, experiences during World War II, a return to Ireland, and work among the elderly.
ISBN0908629257
biography, nurse, women, registered nurse, nzrn, N.Z.R.N., Drumnacanvey
VG softback
$15 C/B
Craig Printing Co. 1989, 184pp.
[#3936 ]
5/11/2018 ev
SEVERINSEN Keith

Hunter Climb High
As an amateur hunter Severinsen progressed from stalking in the North Island and South Island to the plains of India and America.
Chapters include hunting at Taupo and the Ruahines; Thar and Red Stag stalking in the Alps and Wallaby in South Canterbury; Bear, Moose and Goats in Alaska; Indian big game.
hunting, big game, new zealand, india, alaska, wyoming, deer stalking
VG hardback in VG dust jacket, some mild wear or soiling to jacket, small gift inscription to first page
$35 C/C
Reed 1963 first reprint after 1962, 228pp + photographs.
[#3915 ]
PONDER W. Frank

A Man from the Ministry
Tales of a New Zealand Architect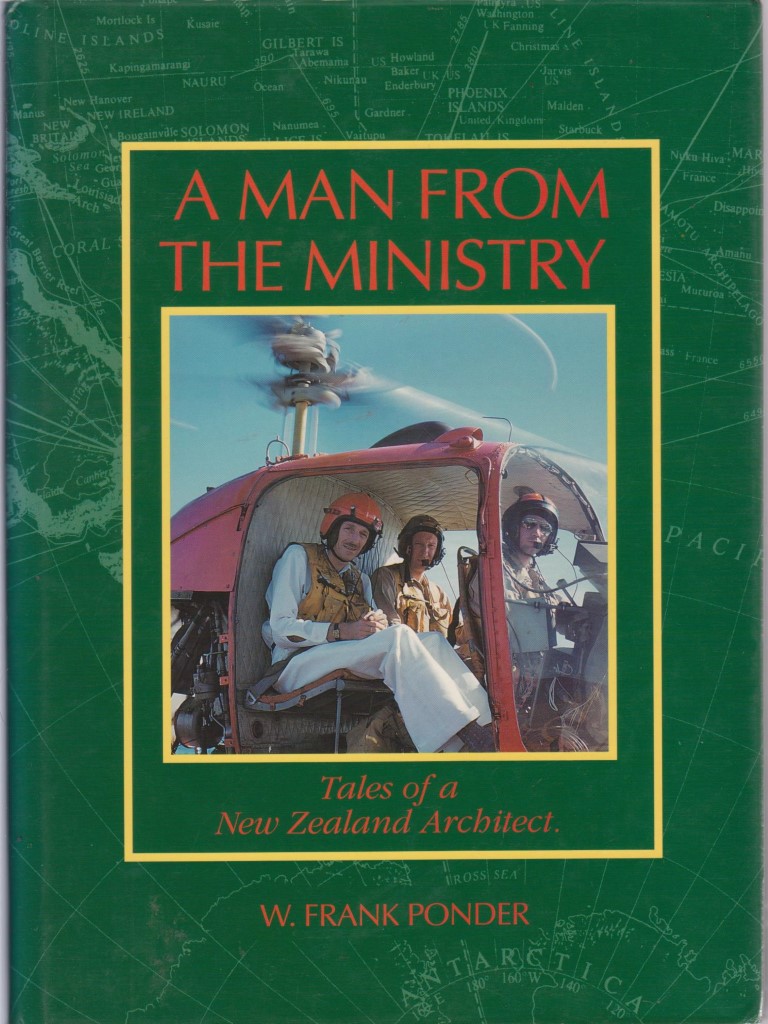 Frank Ponder recounts his career as a Government Architect for the New Zealand Ministry of Works.
He worked on many developments in the Pacific Islands, including Hurricane relief and infrastructure such as airports.
He designed Scott Base and helped with preservation of Scott and Shackleton's Huts.
Not just of interest for the biographical material, but as a record of the importance of the Ministry of Works.
ISBN0473036843
MV Maui Pomare, Niue, Rarotonga, Pacific Islands, infrastructure, development, Antarctica, flying boats, Samoa, airport design
VG- hardback in VG+ dust jacket. Two pages have a black line penned to margin to highlight a section of text, otherwise an excellent copy.
$25 B/C
Wenlock House 1996 first edition, 160pp.
[#3916 ]
SMITH C V illustrated by MINHINNICK

From N to Z
A Humorous Survey of New Zealand 1947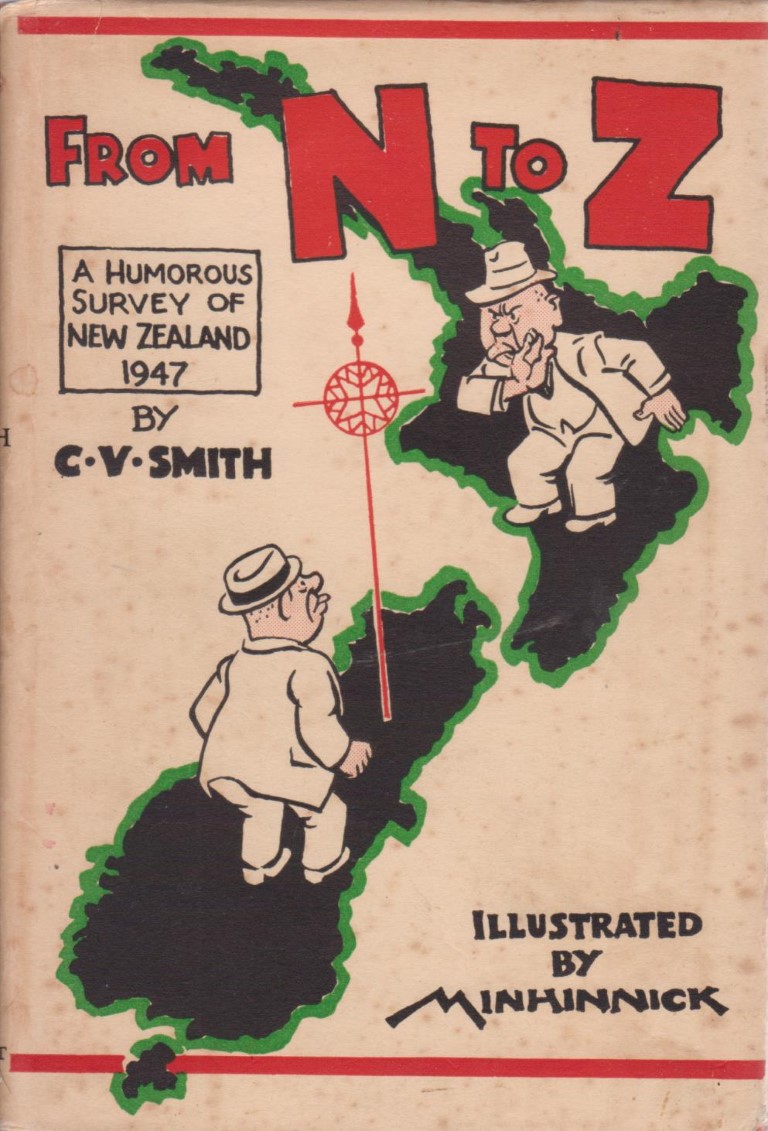 16 chapters describing various socio-political themes in the post-war New Zealand as of 1947.
new zealand, social comment, satire, caricatures, Labour Government
VG hardback in VG- dust jacket
$8 C/B
Hicks Smith and Wright (1947) 120pp.
[#3917 ]
CRANE David

Scott of the Antarctic
A Life of Courage and Tragedy in the Extreme South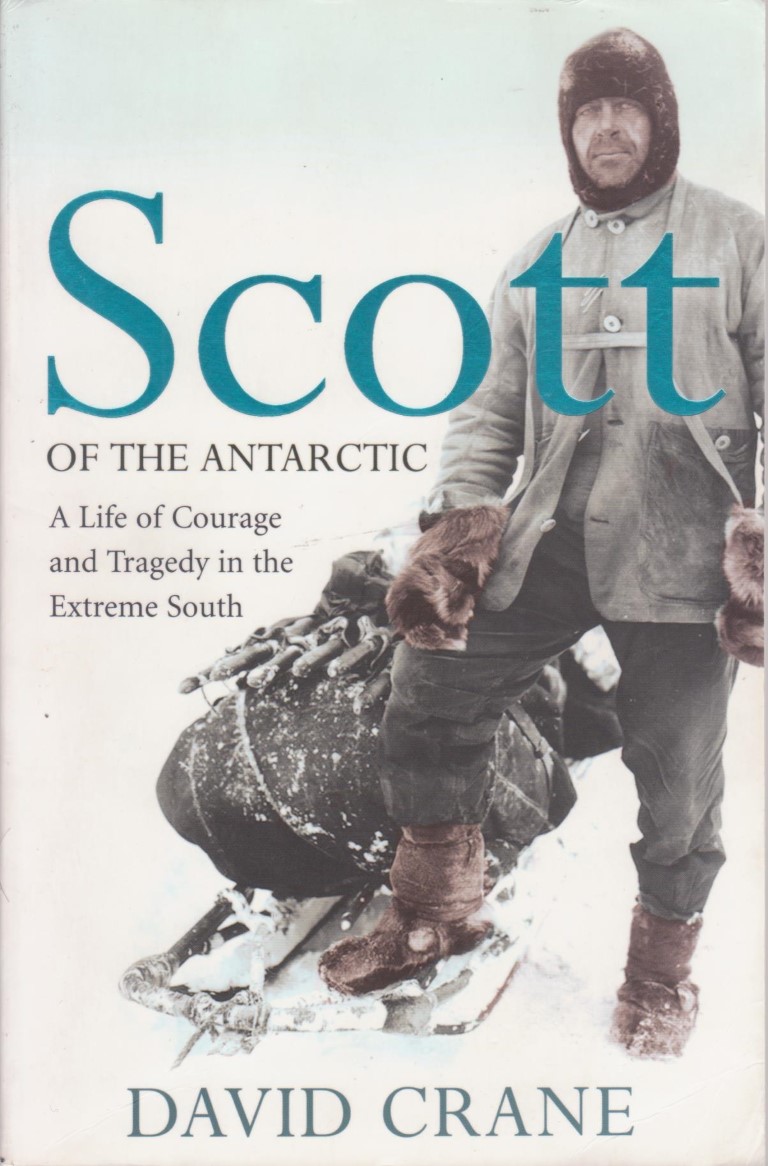 A new biography of Scott based on detailed research which gives fresh insights to the Discovery and Terra Nova expeditions.
ISBN9780007219650
antarctic, south pole, polar, biography, Robert Falcon Scott
VG softback
$20 C/C
HarperCollins 2005 first edition, 637pp.
[#3918 ]
FISHER Margery

Who's Who in Children's Books
A Treasury of the familiar characters of childhood.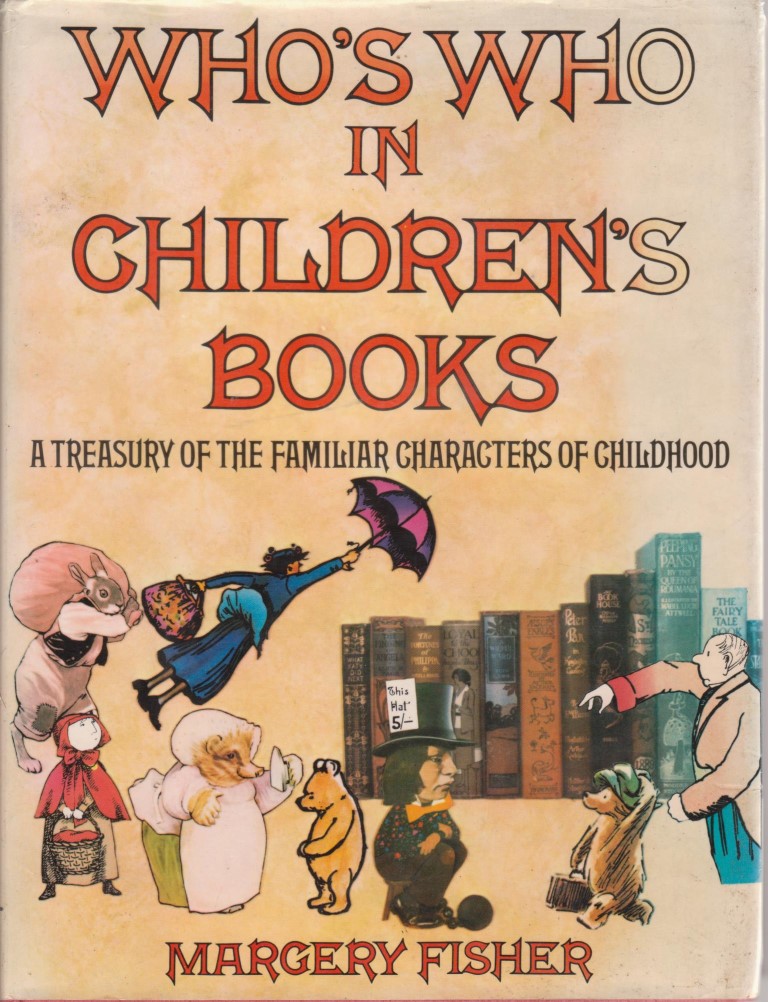 Alphabetical cyclopedia of the characters from children's fiction.
Very detailed and giving full information on the books, or series of books, which the characters appear in.
With illustrations from the works mentioned.
ISBN0297770373
biographies, imaginary persons, literary characters, encyclopedia, juvenile fiction,
VG hardback in VG- dust jacket with some sun fading.
$20 B/D
Weidenfeld and Nicholson 1978 (third printing), 399pp.
[#3919]
WOLFE Richard

The Way We Wore
The clothes New Zealanders have loved.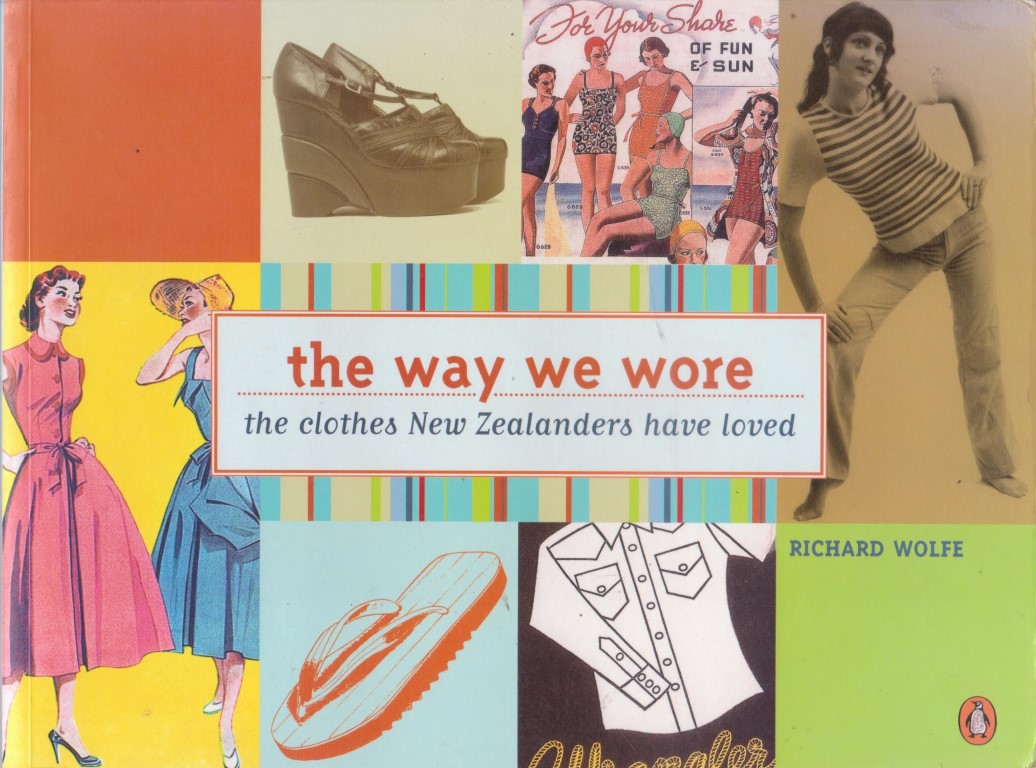 From 1940s war-time fashion, through the decades to the 21st century, Wolfe details the fashions Kiwis have loved the best.
Well illustrated with period photographs and advertisements.
Includes important manufacturers, designers, and specific garments such as jandals, swanndris and the black singlet.
ISBN9780141006321
fashion, cultural history, clothing collections
G+ softback, minor crease to covers, but this copy LACKS the title page.
$10 B/B
Penguin, 128pp.
[#3920 ]
TOLKIEN J R R

The Lord of the Rings
The Fellowship of the Ring, The Two Towers, The Return of the King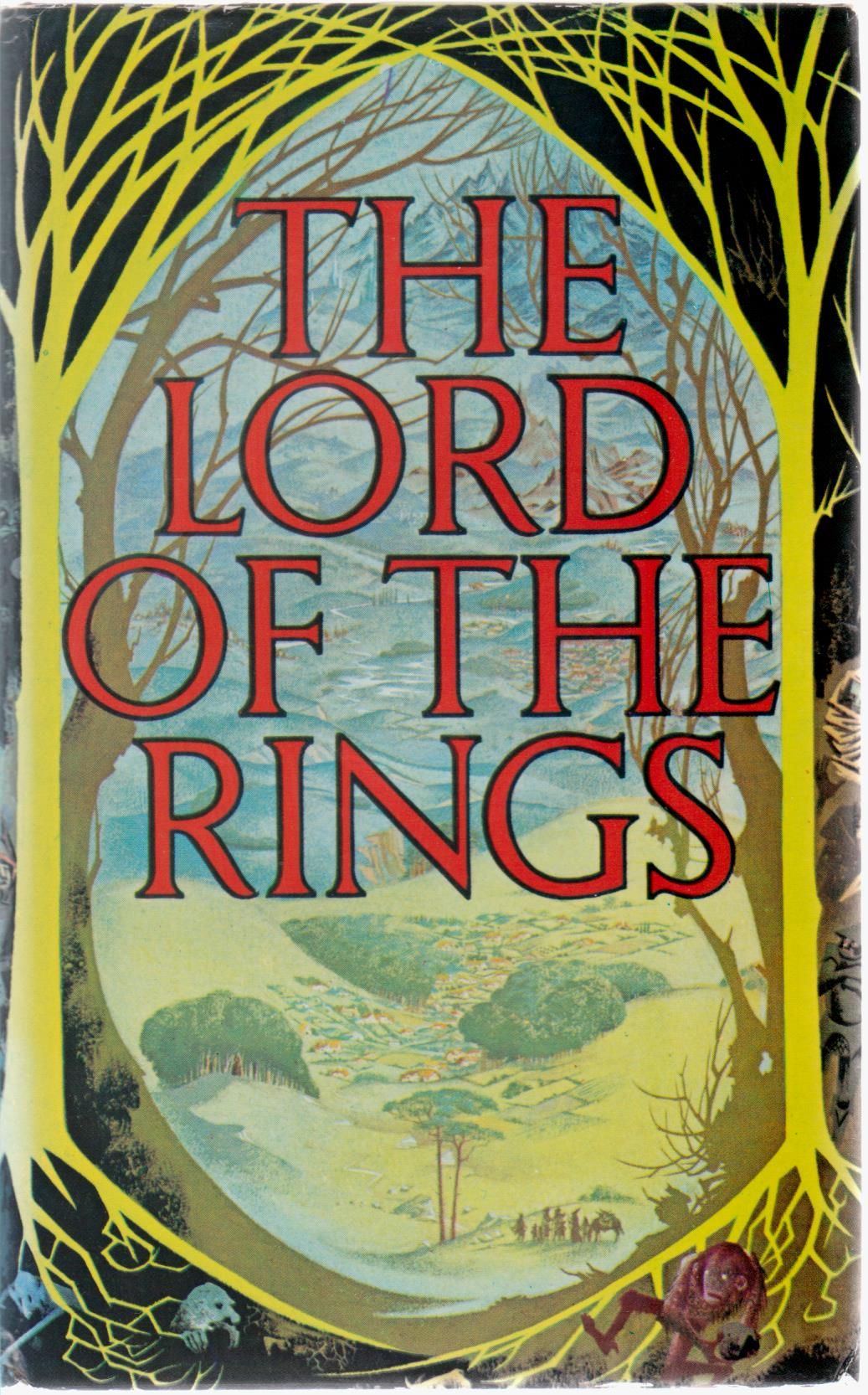 Complete LOTR 3 books in one volume, this is the Unwin perfect-bound 'one paperback volume' issue, but cased in boards by BCA with their logo to the book and dust jacket spine, CN4202 printed on rear fold in flap.
Seventeenth Impression.
ISBN0048230871
LOTR, lord of the rings, 3 in 1, complete, Set, Tolkien, Collectable, Unwin Books Edition
VG hardback in VG dust jacket with the red titling to the spine sun faded.
Tidy copy, bound without endpapers.
$55 C/C
George, Allen and Unwin 1977, 1077pp + 2pp. Includes maps etc.
[#3923 ]
WILSON John

The Guests of Mr. McLean
The McLean Institute and Holly Lea.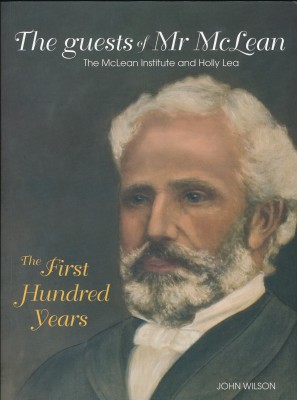 The first 100 years of the McLean Institutes charitable works with underprivileged women,who it offered a home and support.
ISBN9780473134389
Christchurch, charity, Allan McLean, women's home, history
VG softback
$25 B/C
McLean Institute 2008, 200pp.
[#3924 ]
14/10/2018 ev

Charlie Sent Me!
First release
Horwitz No 114 First edition.
G+ paperback, minor wear and handling soiling, one page has small archivally repaired tear.
$25 A/A
Horwitz 1963, 130pp.[PB1584]
CHASE James Hadley + Milton K. OZAKI

Dead Ringer + Maid for Murder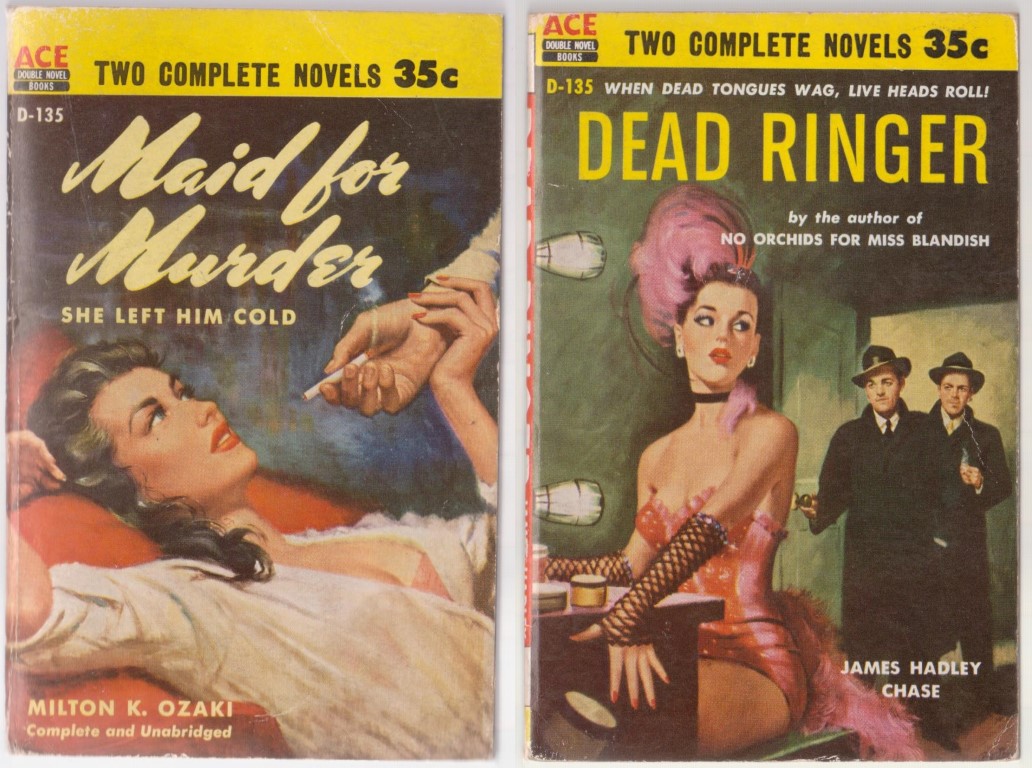 Vintage back-to-back printings of two hardboiled thriller novels, in the Ace Double Novel books series.
Ace D-135
ace books, dos a dos, back to back, PBO, paperback original, crime, noir
VG- paperback
$30 A/A
Ace Books 1955 first edition thus, and first printings of both stories, 177+141pp.
[PB1585]
BENTLEY E C

The Chill (Elephant's Work)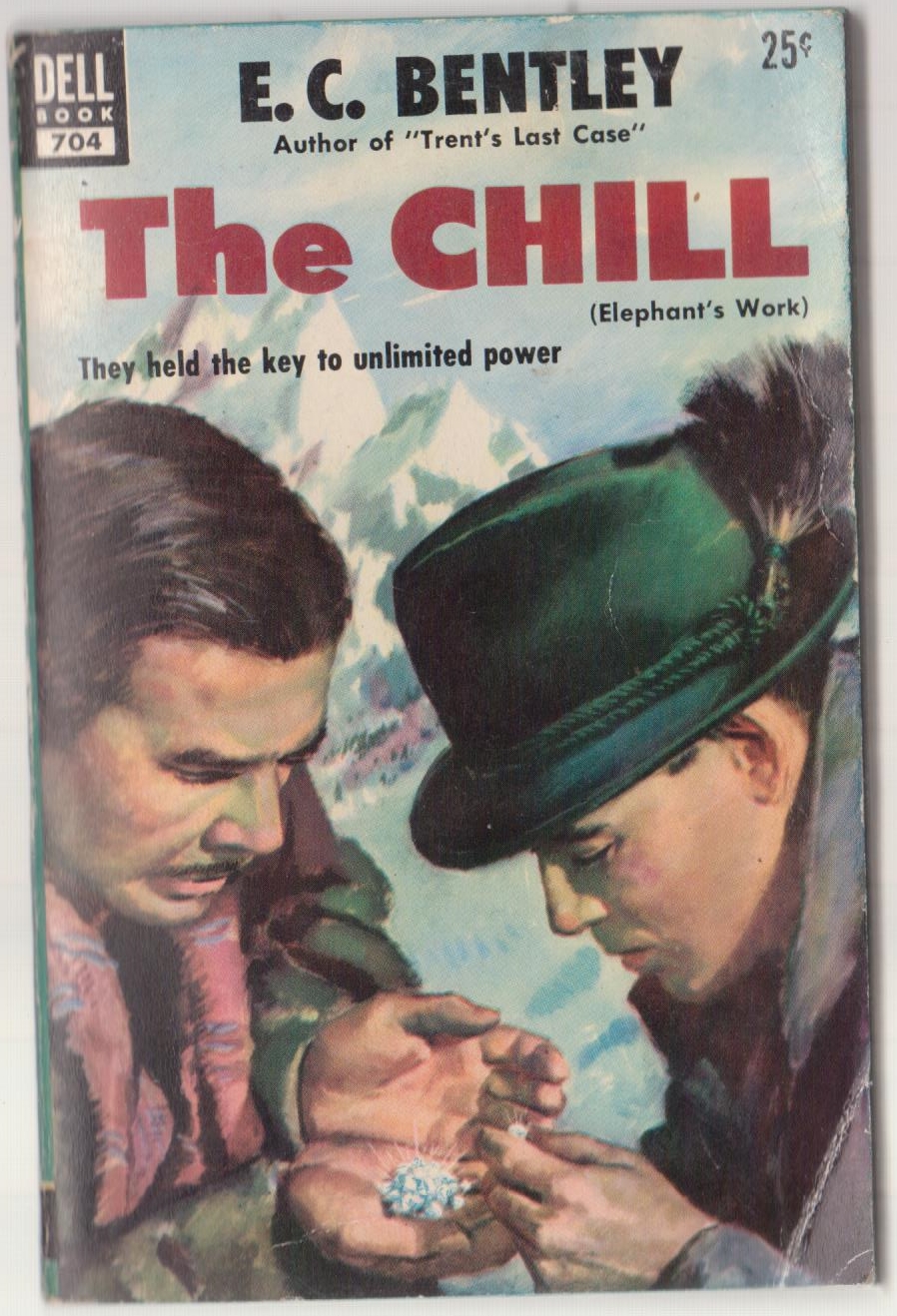 Thriller by the author of Trent's Last Case.
This undated printing has a cover price of 25c. and cover art by Carl Bobertz.
Dell Book 704
vintage, paperback, trhiller, retro, collectable
VG- paperback, small corner crease to covers
$10 A/A
Dell Publishing undated but 1953, 224pp.
[PB1586 ]
10/10/2018 ev
COLLINS Andrew

The Seventh Sword
Psychic Quest for King Arthur's Sword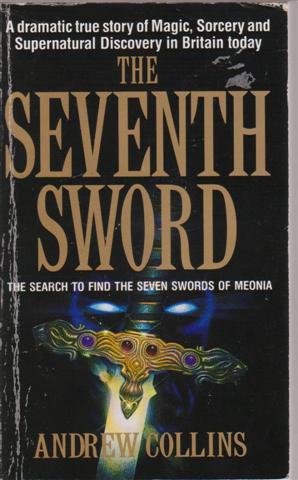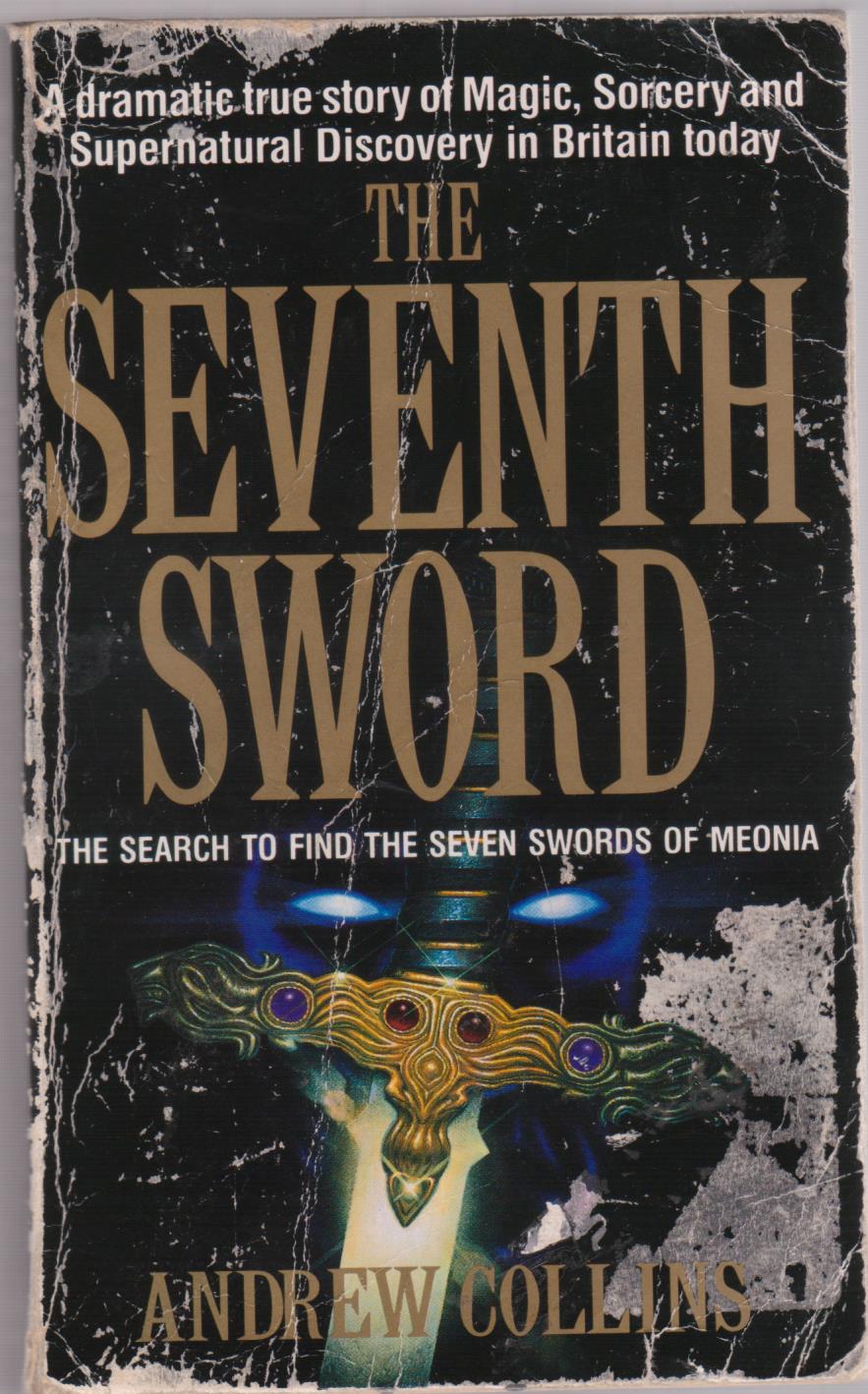 "In 1979 the author and a psychic colleague went to a secluded pool in the heart of England. Under the cover of darkness they unearthed a sword bearing Mary Queen of Scot's personal monogram and an inscription proclaiming Meonia fore Marye. Meonia; the name given to a green jewel believed to be the Philosophers Stone of the alchemists. Soon after a green jewel was discovered inside a seventeenth-century brass casket....a twelve year quest of supernatural drama, spectral visitations and confrontations with sinister forces. One by one five further swords, all identical to the first , surfaced under mysterious circumstances....the search is on to uncover their maker, their purpose, their ultimate use, and, of course the seventh and final Sword of Meonia". In 1989 the author and a colleague located and unearthed a sword which they believed had been made from a sword belonging to King Arthur. When he appeared on television with his discovery, five other people came forward who, as a result of dreams or visions, had found other swords belonging to the set of seven. According to legend, when the seven swords are brought together there will be a last battle with the forces of evil. At the end of the 19th century a group of Masons supposedly tried to bring the swords together but were defeated by an ancient occult conspiracy. The Masons dispersed and buried the swords in various places around the country. Now the author invites the reader to help him with the renewed quest for the seventh sword of destiny.
ISBN0099888009 9780099888000
psychic questing, The Black Alchemist, The Green Stone
VG+ paperback with reading crease to spine edge
$35 A/B
Arrow 1992 FIRST PAPERBACK EDITION, 680pp + plates.
[#3016 ]
G+ paperback , covers worn and rubbed and creased starting to split at the spine ends but binding still intact and holding etc.
The bottom corner of some pages at the rear of the book are a little humidity rippled, a G+ copy for reading or reference.
Remainder striped bottom edge.
$25 A/B
Arrow 1992 FIRST PAPERBACK EDITION, 680pp + plates.
[#3908 ]
AULT H F

The Nelson Narrative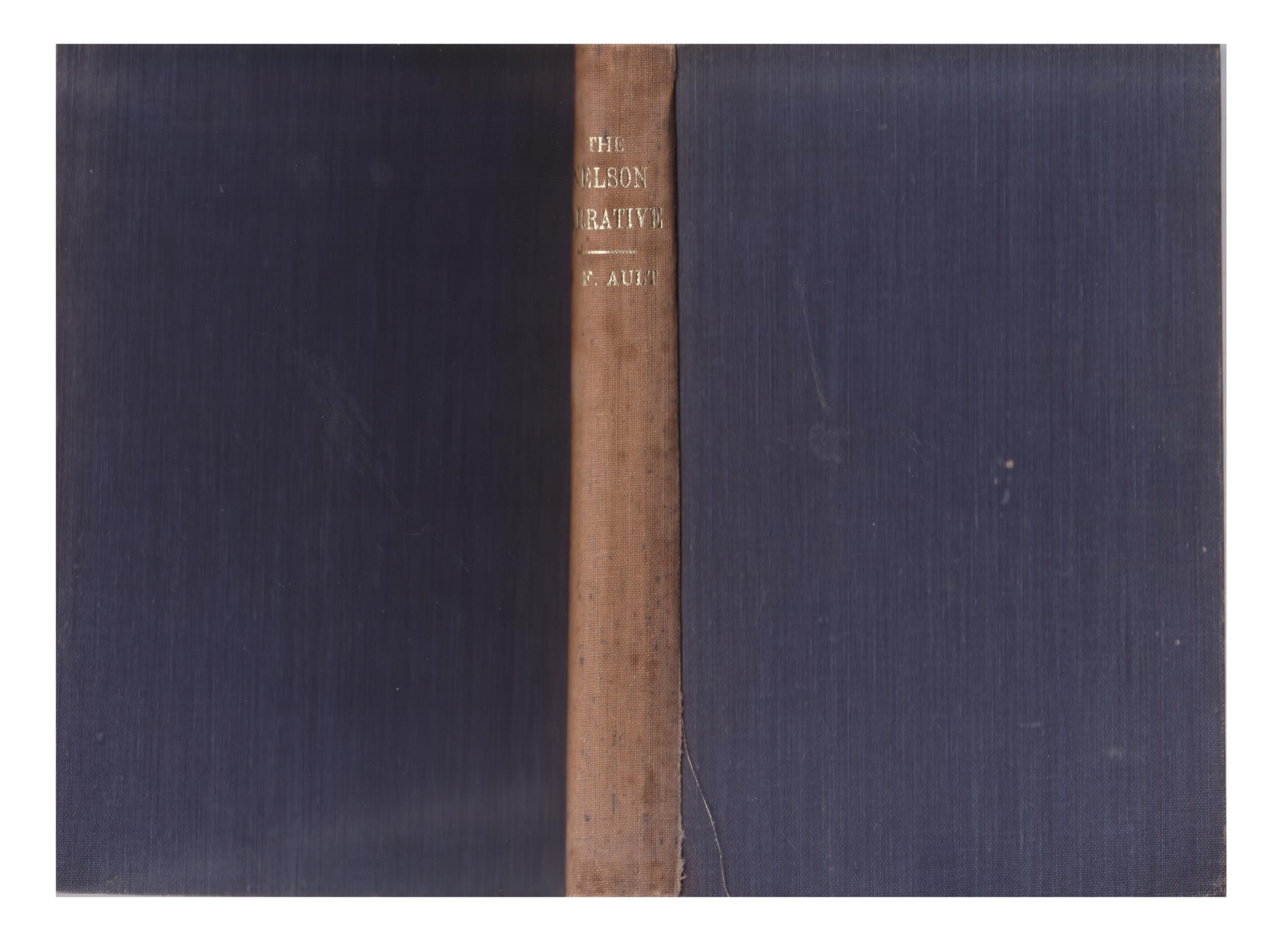 The Story of the Church of England in the Diocese of Nelson, New Zealand 1858 to 1958
ISBN
keywords
VG hardback in G+ dust jacket which has some chipping and tears with large area chipped to the fold of the rear flap, book lacks free end paper
$30 C/C
Diocese of Nelson 1958 first edition, 384pp + plates
[#668 ]
G+ hardback with heavily sunfaded backstrip and splits to top and bottom of joints, still holding well
$20 C/C
Diocese of Nelson 1958 first edition, 384pp + plates
[#3909 ]
5/10/2018 ev
SINCLAIR Keith and W F Mandle

Open Account
A History of the Bank of New South Wales in New Zealand 1861-1961.
Finding it's feet during the gold-rush days, and maturing through the establishment of colonial companies and businesses.
finance, history, banks, colonial banking, goldfields, Taranaki Dairy Co-op
VG hardback in VG dust jacket with light wear. Name to first page.
$15 C/C
Whitcombe and Tombs 1961, xiv 266pp.
[#3902 ]
MESSENGER Elizabeth

A Heap of Trouble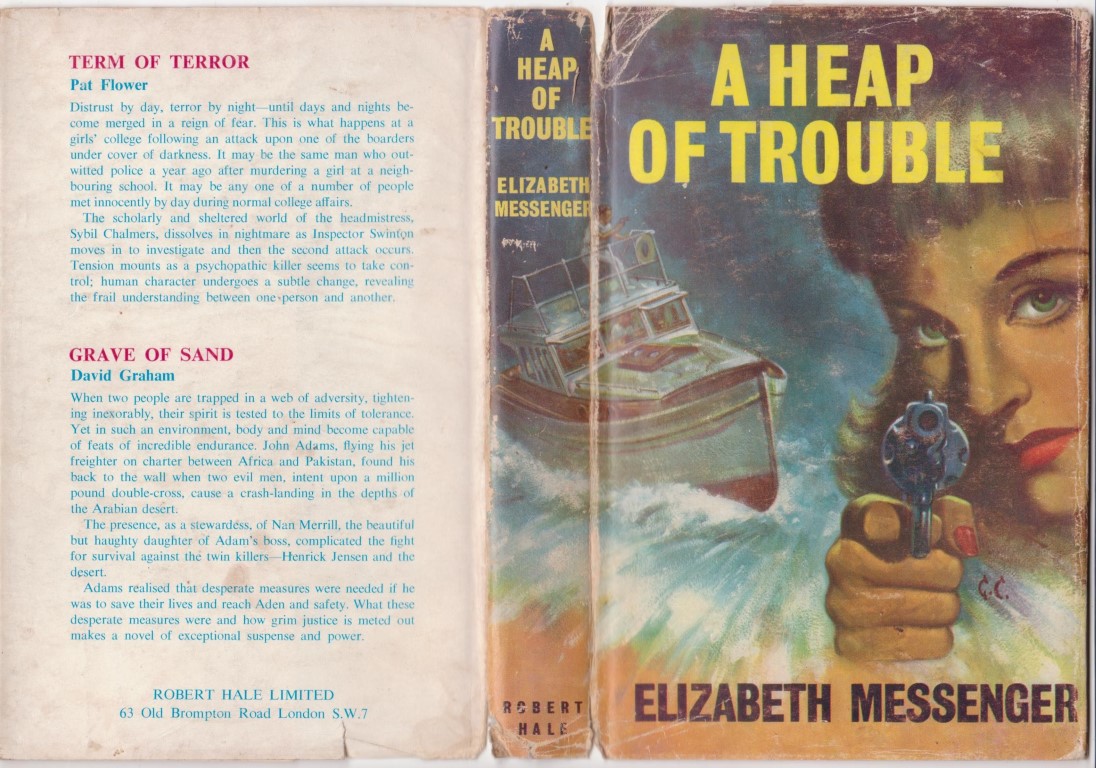 Murder mystery set in the Bay of Islands with Detective-Inspector Jonathon Lane.
crime, thriller, new zealand setting
VG hardback in VG- dust jacket. Splits at ends of dust jacket folds, small area clipped from top corner of the free end paper.
$30 C/B
Robert Hale 1963 first edition, 191pp.
[#3903 ]
MESSENGER Elizabeth

Uncertain Quest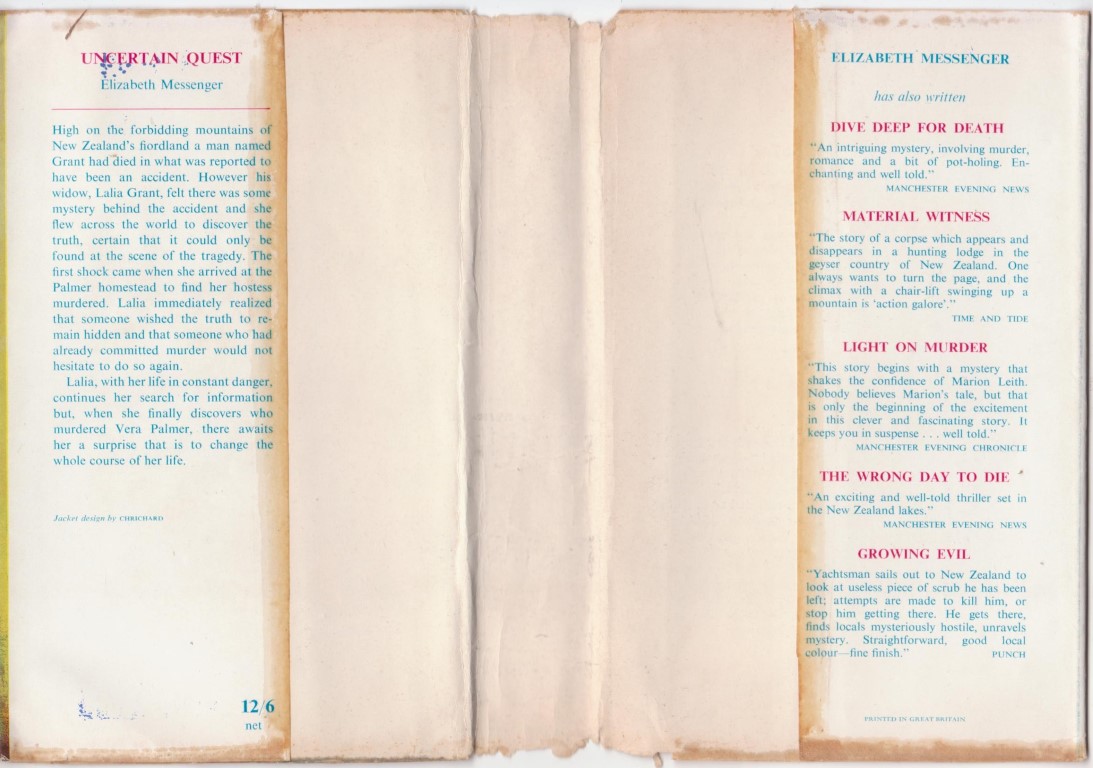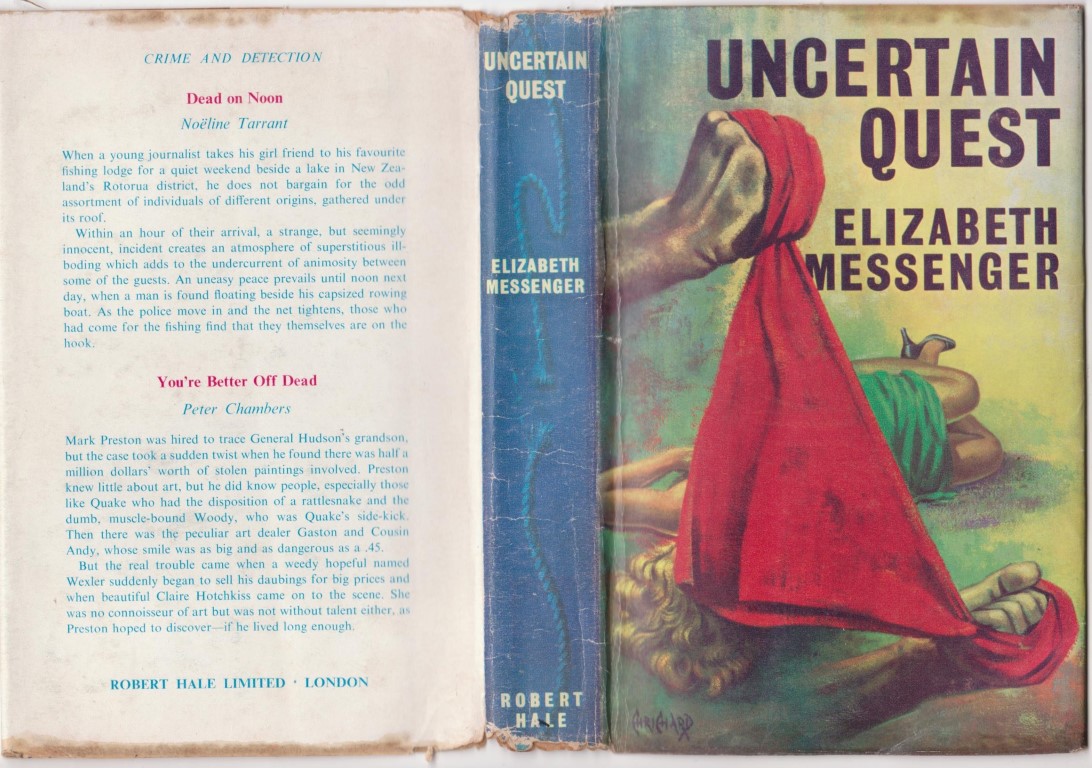 Just the dust jacket, which is unclipped with minor wear or soiling and some minor adhesive stain to some edges.
crime, thriller, new zealand setting
VG- dust jacket ONLY.
$20 C/Letter rate.
Robert Hale first edition.
[#3904 ]
THOREAU Henry David

Walden and other writings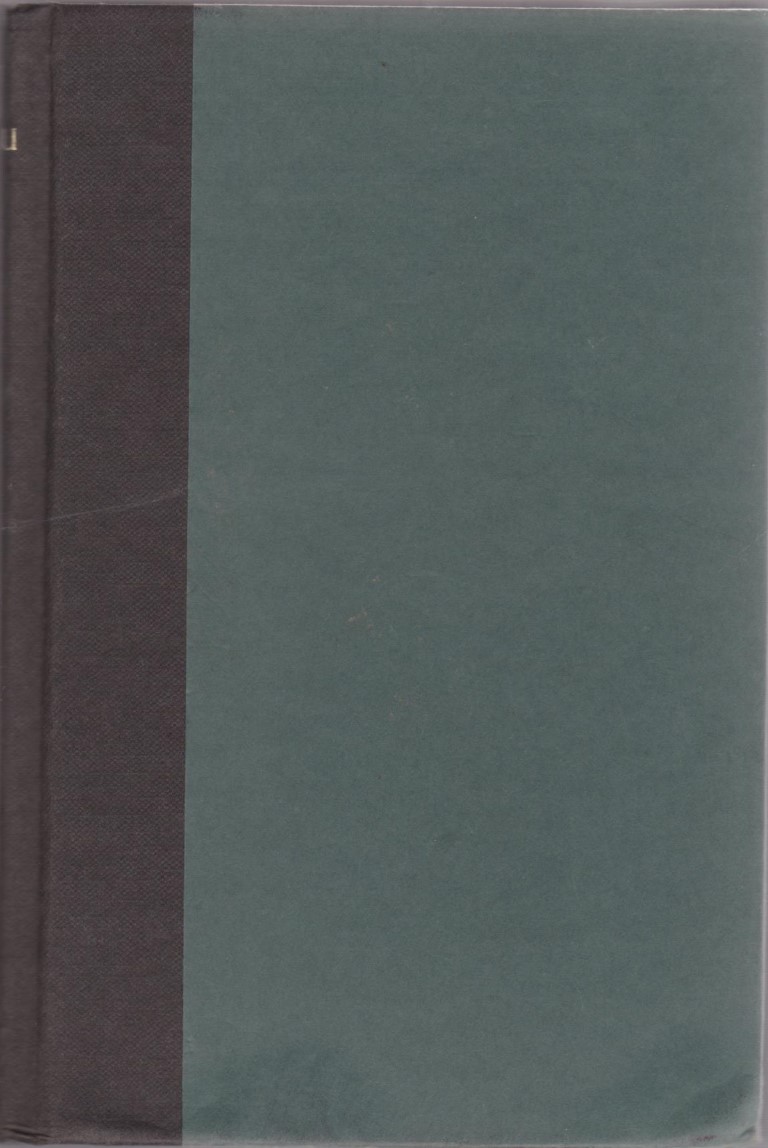 Collects Walden, or life in the woods; Civil Disobedience; Slavery in Massachusetts; A Plea for Captain John Brown; Life without Principle.
ISBN1586632116
philosophy, bucolic, american,
VG hardback with no dust jacket
$10 C/C
MetroBooks 2001, 368pp.
[#3905 ]
WILLIAMS Muriel

Charles Blomfield
His Life and Times.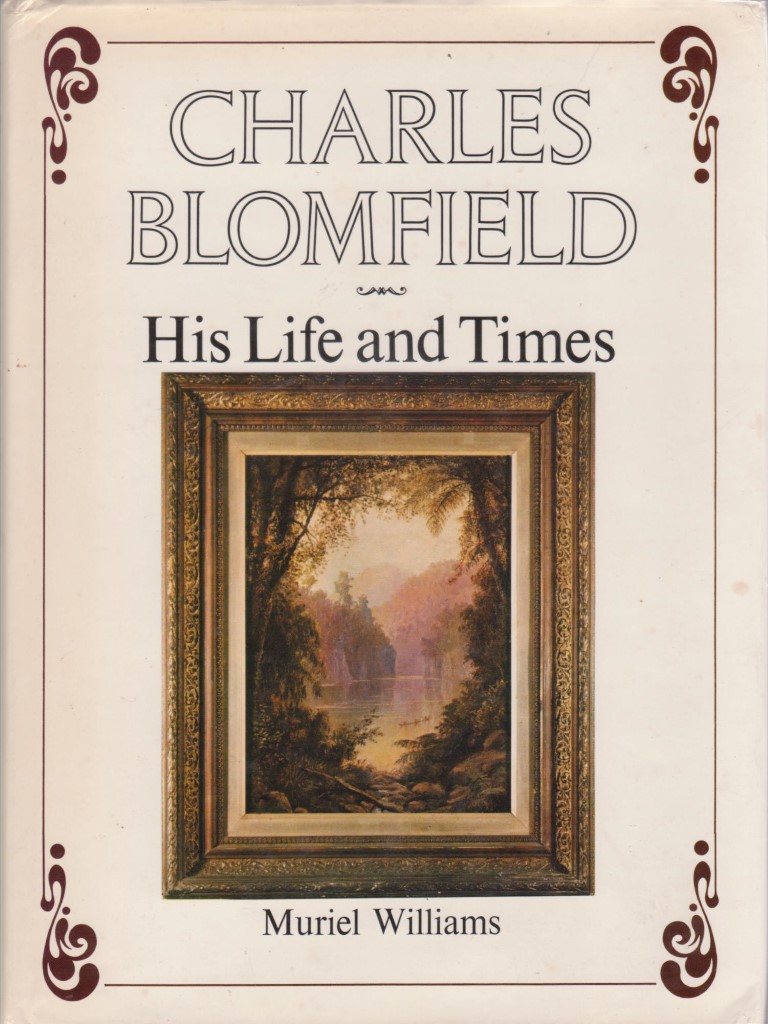 An account of this artists travels and the works he completed over the period 1862 to 1926.
He arrived from London in 1862 and the book has extracts from his diaries and sketchbooks and reproduces his paintings to describe his life, and gives an insight into the wider New Zealand of the time.
ISBN0340236663
Albertland, Wanganui, Taupo, Westland, art
VG hardback in VG dust jacket. There is a small blue marker stripe to closed top edge of pages.
$25 B/C
Hodder and Stoughton 1979 first edition,188 pp.
[#3906 ]
HOLDEN HX-HZ V8

Gregorys No.178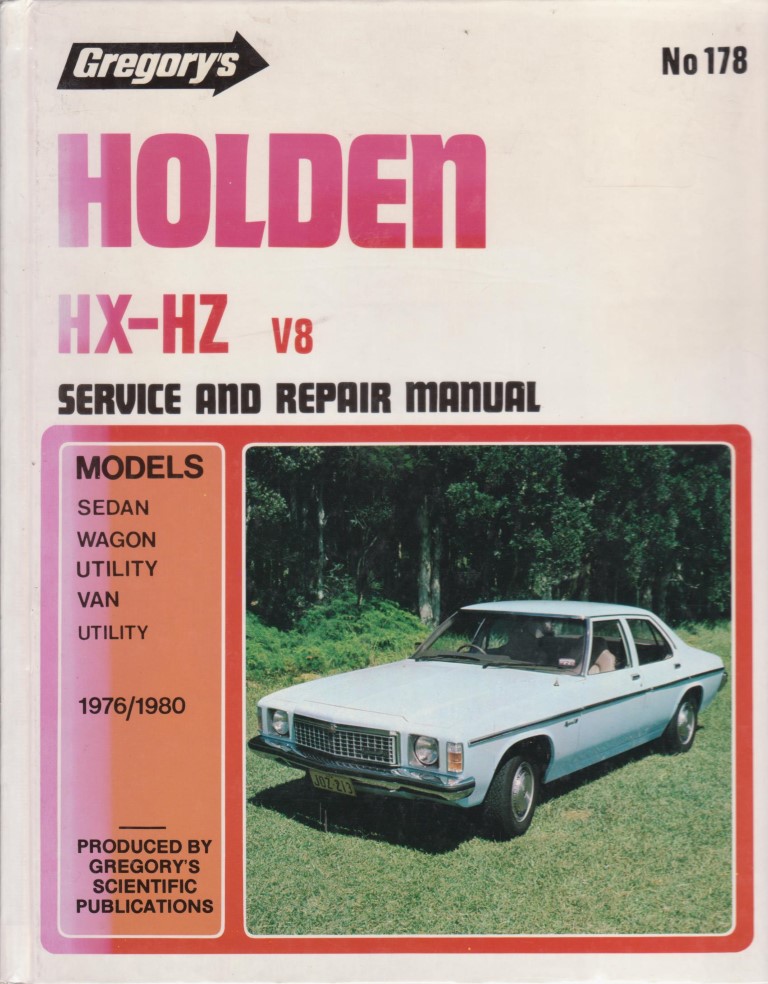 Service and repair manual for HX Sedan, Wagon, Van and Utility 1976-1977, and HZ Sedan, Wagon, Van and Utility 1977-1980
ISBN0855663898
Holden V8, gregory's
VG hardback with sunned spine, no dust jacket.
$35 B/C
Gregory's Scientific Publications 1991, 223pp.
[#3907 ]
MACDONNELL J E

Not Under Command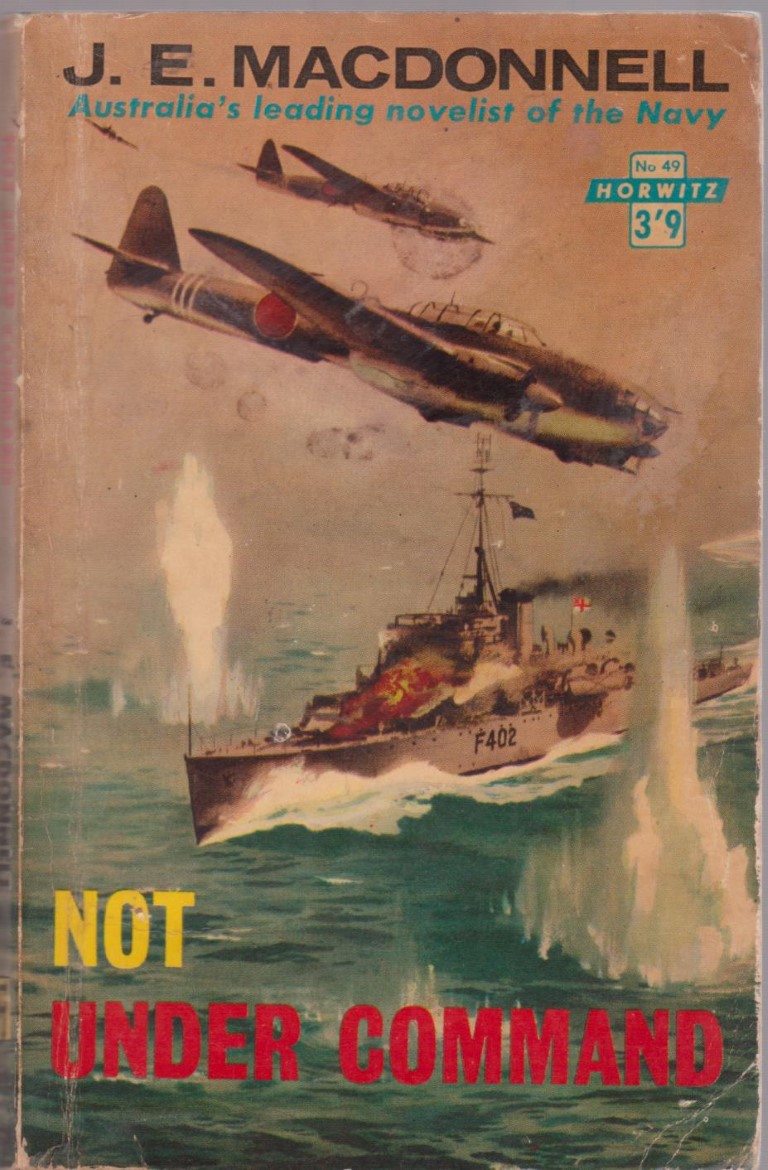 The Frigate Roper loses its full complement of Officers when a bomb destroys the bridge.
It falls to the lowly coxswain to command and navigate the ship back to base.
Horwitz No 49
ww2, wwii, naval, fiction, war story, pulp fiction
G paperback, spine leans
$10 A/A
Horwitz 1963 first edition, 130pp.
[PB1571]
VG- name to first page, spine roll, light wear.
Horwitz 1963 first edition, 130pp.
[PB525 ]
MACDONNELL J E

First Command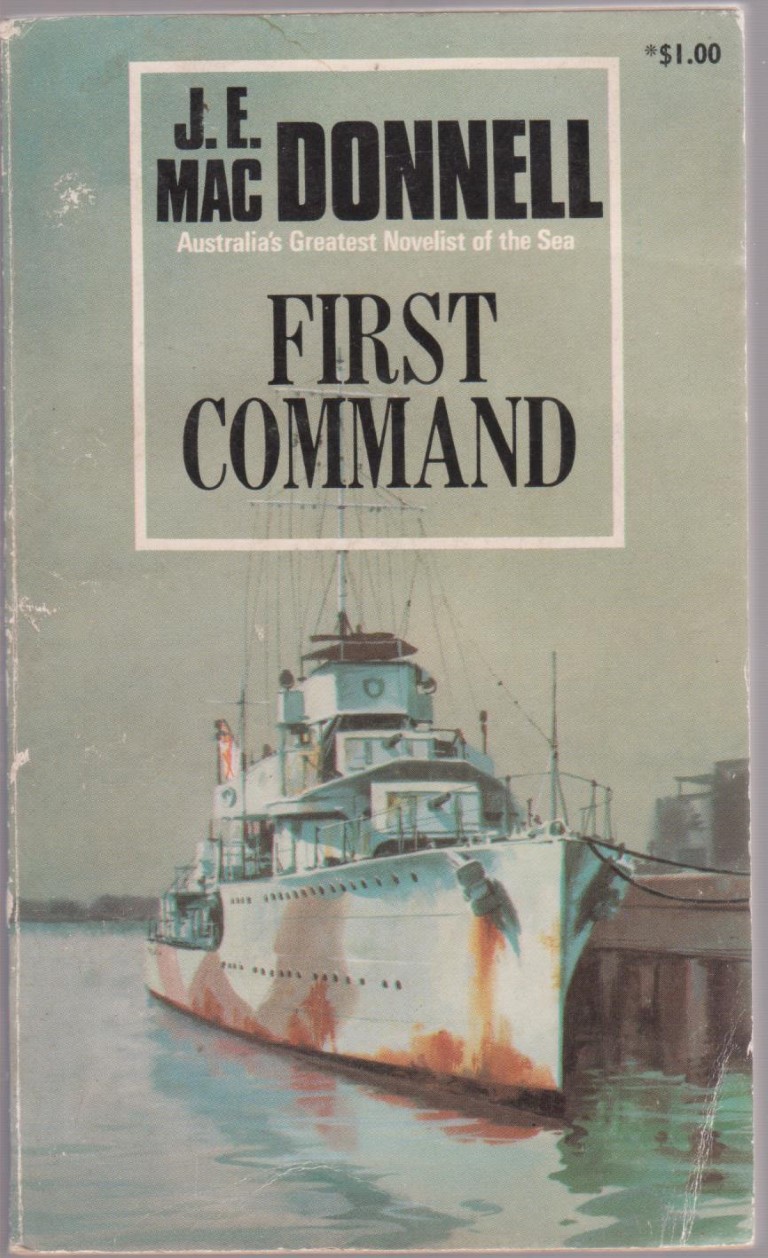 The Destroyer HMS Reaper loses its Officers when a bomb destroys the bridge.
It falls to Lieutenant Holland to navigate the ship back to base in Alexandria.
Horwitz No 117
ww2, wwii, naval, fiction, war story, pulp fiction
VG paperback, with mild wear.
$10 A/A
Horwitz 1975 second edition, 127pp.
[PB1572]
29/9/2018 ev
BROWN Michael

The Weaver and the Abbey
The Quest for a Secret Monastery in the Andes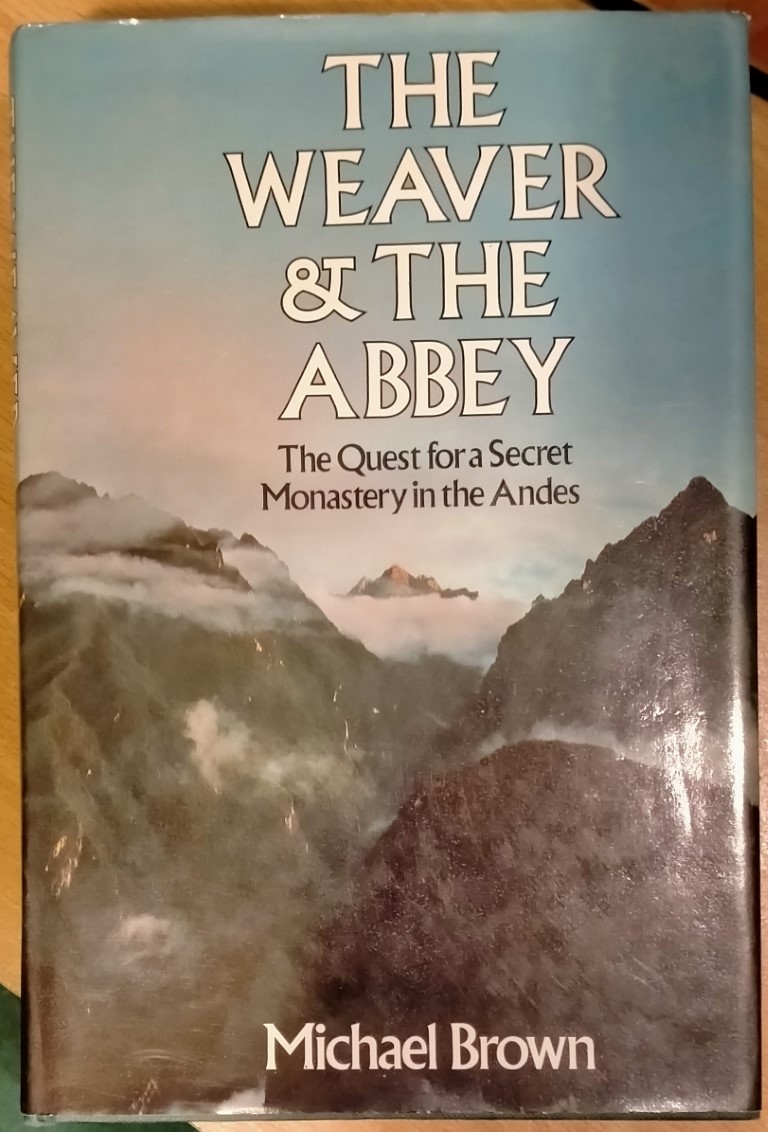 New Zealander Michael Brown gives his first hand account of how he searched for, and reached, the "Abbey of the Seven Rays" in southern Peru, a headquarters of the Great White Brotherhood.
ISBN0213168316
seven rays, occult, biography, new age, new zealand, hidden masters
VG hardback in VG- dust jacket with some mild adhesive residue along the top and bottom edges (offset from removed plastic sleeve).
$30 C/C
Arthur Barker Ltd. 1982 first edition, 223pp.
[#3891 ]
BUTLER Peter

Opium and Gold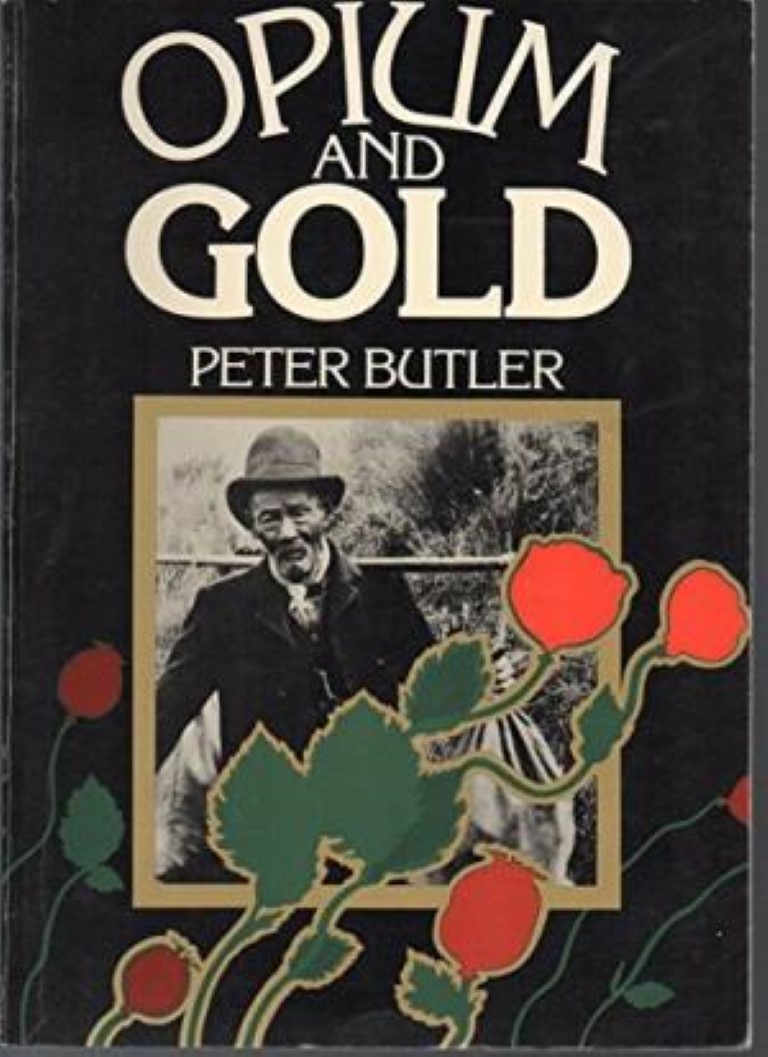 A documentary history of Chinese goldminers in New Zealand, describing the discrimination they experienced, and the rationale behind it.
Many excerpts from contemporary sources, including the murderer Lionel Terry.
Chapters on crime, mining, religion, vice (gambling, opium etc.), violence against them.
ISBN0908578024
goldrush, gold mining, chinese, china,
VG+ softback
$30 B/C
Alister Taylor 1977 first edition, 119pp.
[#3892 ]
RELPH David

From Tussocks to Tourists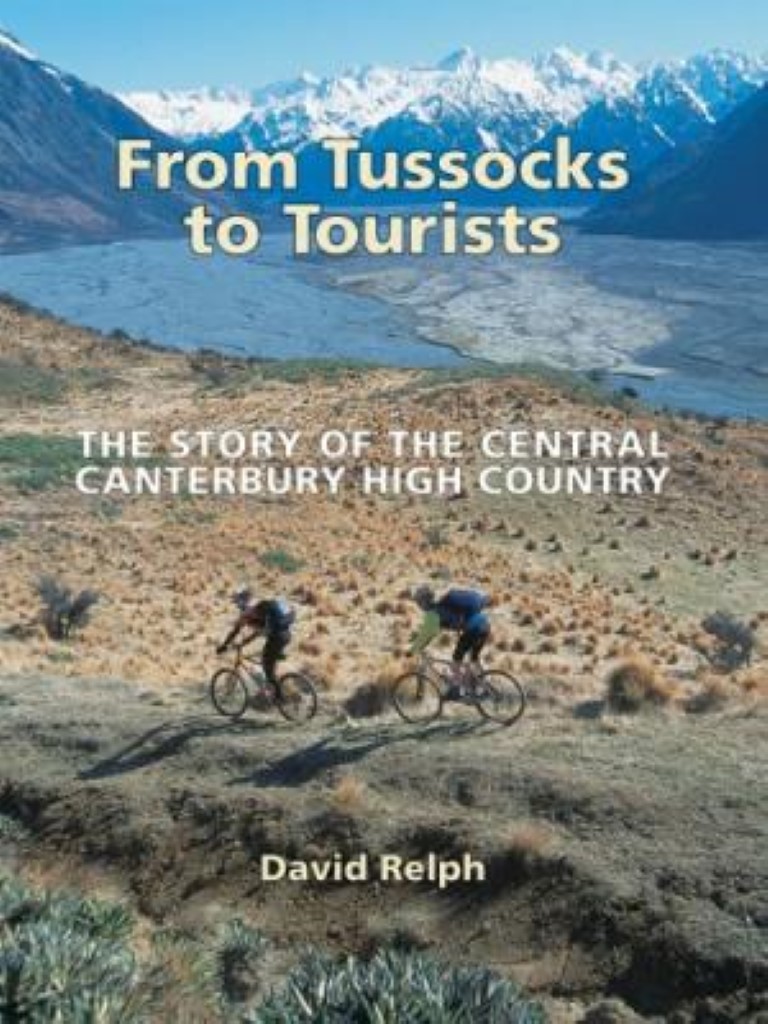 The river catchments of the Waimakariri, the Rakaia and the Rangitata, make up the Canterbury High Country. This book explores the region's ecology, geography and social history, from first explorers to today's farmers and tourism operators.
There are details of the various High Country Stations and homesteads, and the pioneering runs and runholders.
ISBN9781877257469
high country, canterbury, coleridge, mesopotamia, torlesse, arthurs pass
VG softback, gift inscription to first page
$30 B/C
Canterbury University Press 2007, 167pp.
[#3893 ]
NOLAN Tony

Historic Gold Trails of Nelson and Marlborough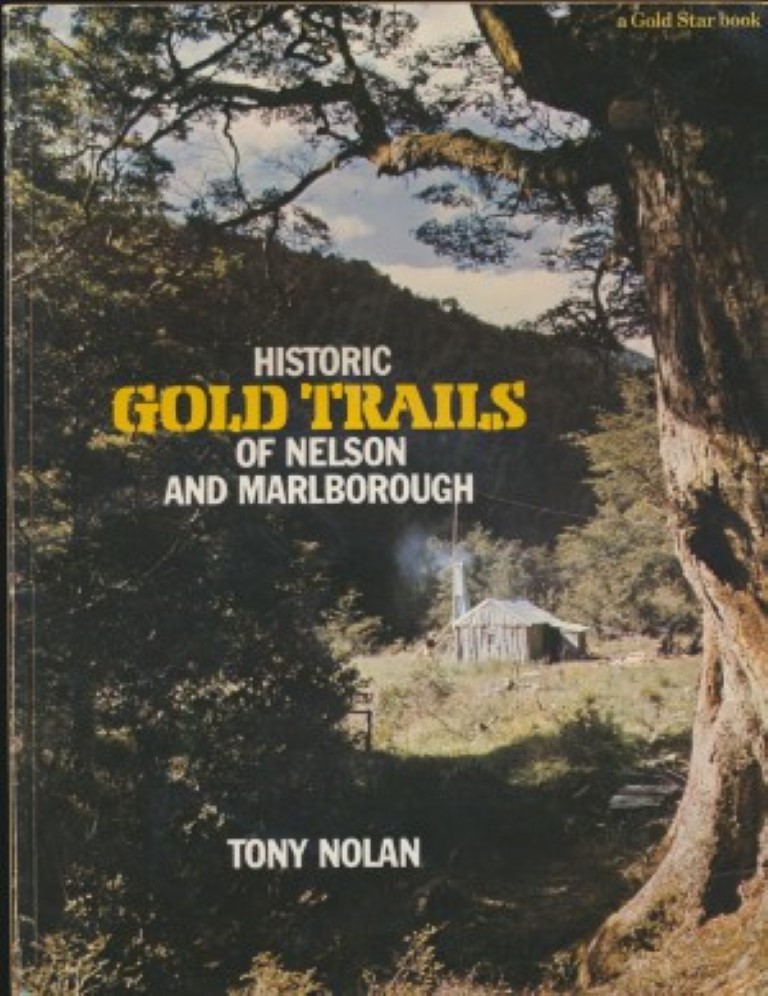 A history of the various aspects of gold mining in the Marlborough region.
Mining, panning, dredging, sluicing etc.
ISBN0589009699
picton, nelson, takaka, collingwood, maungatapu murders, murchison, prospecting, fossicking
VG softback
$25 B/B
Reed/ Gold Star Books 1978 reprint, 96 pp.
[#3894 ]
LEADBEATER C. W.

The Hidden Side of Lodge Meetings
A short dissertation on the psychic effects of Lodge work.
theosophy, freemasonry, occult, rare, ephemera
VG- booklet, folded sheets stapled to spine
$35 with free shipping
Theosophical Society New Zealand Section 1925, 13pp.
[#3895 ]
BAUGHAN B. E.

Mt Egmont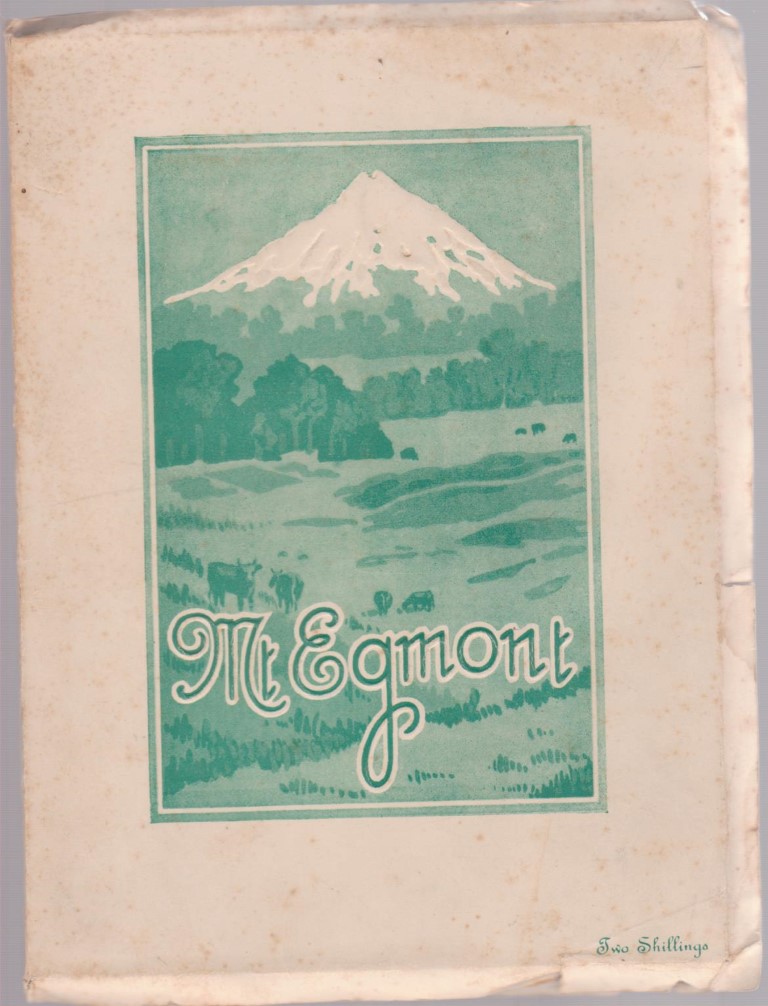 One of the Whitcombe and Tombs tourist 'Souvenir Booklets', printed on sized photo paper throughout, and with many photographs.
travel, tourism, vintage, Mount Taranaki, Mount Egmont,
G+ in stiff paper covers with yapped edges. The first and last pages have some minor surface damage where they had adhered to the inside covers, but are now free.
$30 C/B
Whitcombe and Tombs G51156 (1929?) 75pp.
[#3896 ]
WILLIAMS Tony

The Rise, Fall and Flight of Brierley Investments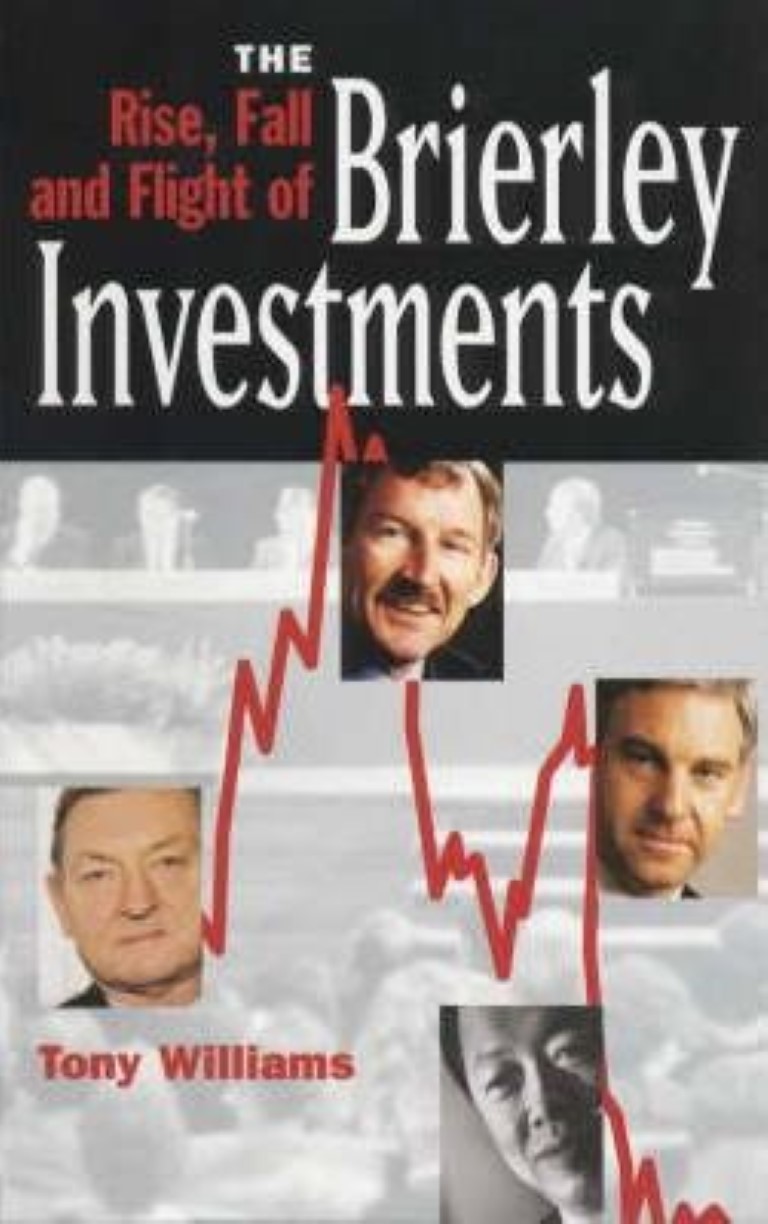 The story of Brierly Investments Limited, BIL, from its beginnings in 1961 and detailing the management problems of later years, including takeover bids and the appointment of Chairman Selwyn Cushing. The intriguing story of an iconic New Zealand business, during the dynamic the period from the 1960-90s
ISBN9781869534363
stock market, share market, ron brierley, quek leng chan, roger douglas, gearing, finance
VG+ softback
$30 C/C
David Bateman Ltd 1999, 216pp.
[#3897 ]
BRIEN Bill

100 Years of Hospitality in New Zealand 1902-2002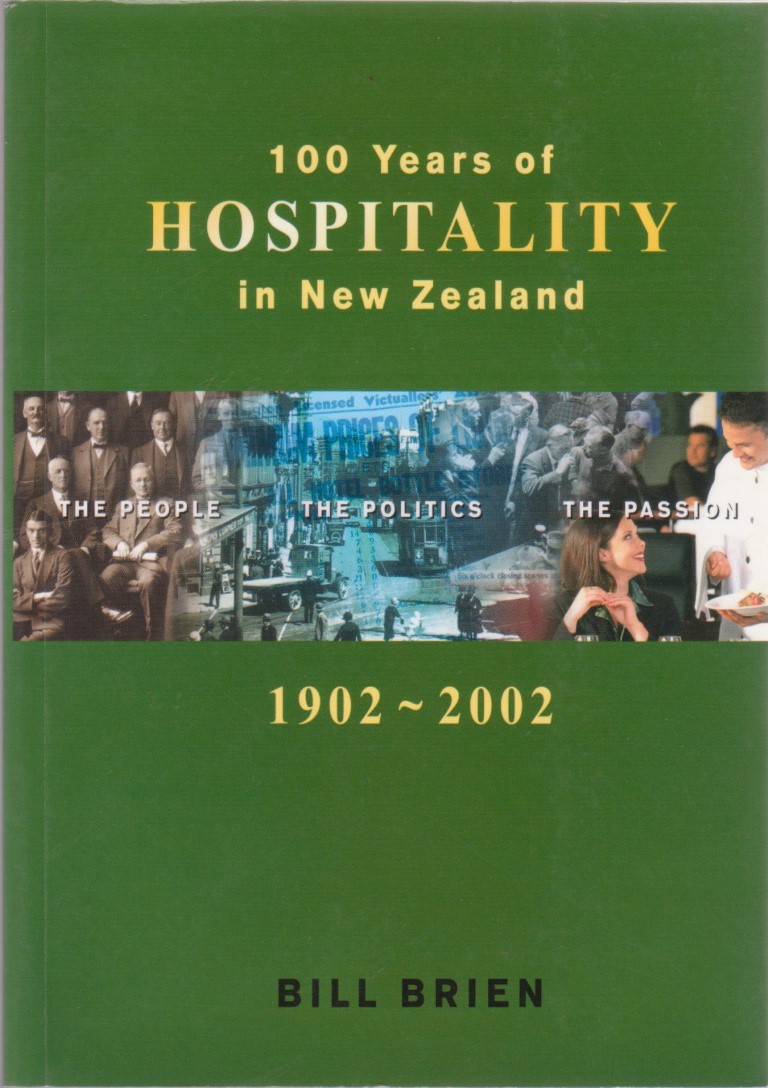 Early days and the prohibition threat, The great war, Post war problems,The depression years, Another World War, Peace and problems, The booming '50's, Staff, training & more legislation, Industry challenges, A new era : pokies in- the levy gone, HANZ looks at a restructure, More licensing reviews, Appendices (Office bearers ; Life members ; Conference venues & dates ; Branch president and secretaries in 2002 ; Milestones).
ISBN0473096281
hotels, hoteliers, bars, prohibition, hospitality association new zealand, hanz, history
VG+ softback with author's presentation inscription to title page.
$25 C/B
Wellington Museums Trust 2003, 176pp.
[#3898 ]
24/9/2018 ev
FREYBERG Lieutenant General (foreword)

Roads to Rome
With the Second New Zealand Division from Maadi to Florence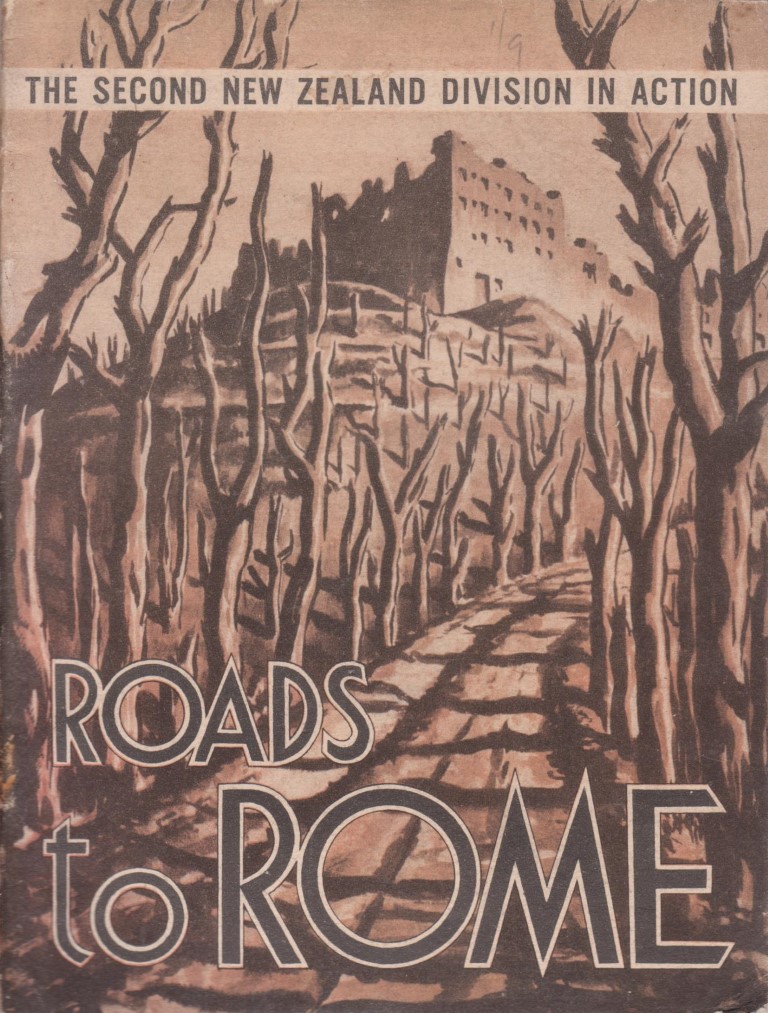 Quasi-Official publication to describe the progress of the New Zealand Division through the Italian Campaign.
Details actions up to the German Gothic Line in the north beyond Florence.
ww2, anzac, 2nzef, cassino,
VG- softcover stapled at spine, staples rusty.
$20 B/B
Army Board 1946, 48pp.
[#3876 ]
BARROWCLOUGH Major-General (foreword)

Guadalcanal to Nissan
With the Third New Zealand Division through the Solomons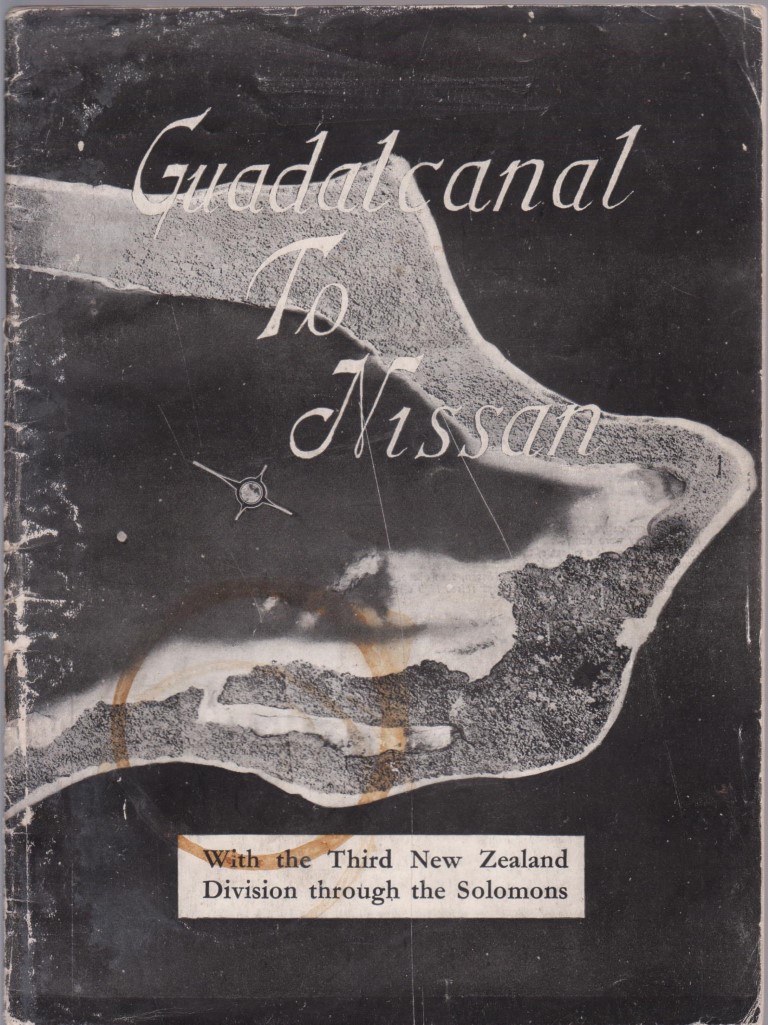 Quasi-official publication detailing Third Division activities in the Pacific campaign on the Solomon Islands, at Guadalcanal, Vella Lavella etc.
ww2, anzac, nzef, pacific,
G softcover stapled at spine, staples rusty, cup ring stain to cover, some rubbing wear.
$20 B/B
Army Board 1945, 48pp.
[#3877 ]
WATTS Alan W.

The Spirit of Zen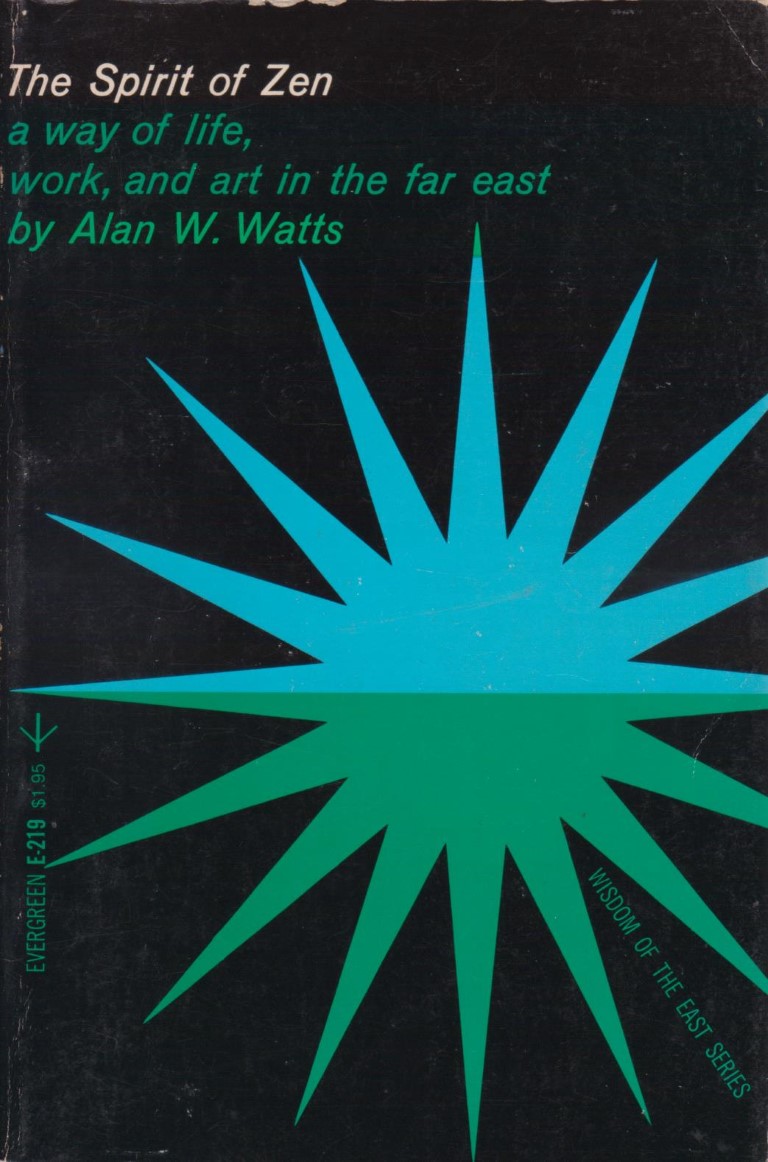 Zen as a way of life, work and art in the far east.
How Zen philosophy pervades art and culture.
ISBN0394174186
china, japan, religion, philosophy, buddhism
G+ softback, name to first page.
$8 C/B
Grove Press Evergreen edition 128pp.
[#3878 ]
KAUR Sadarni Premka

Peace Lagoon, Sacred Songs of the Sikhs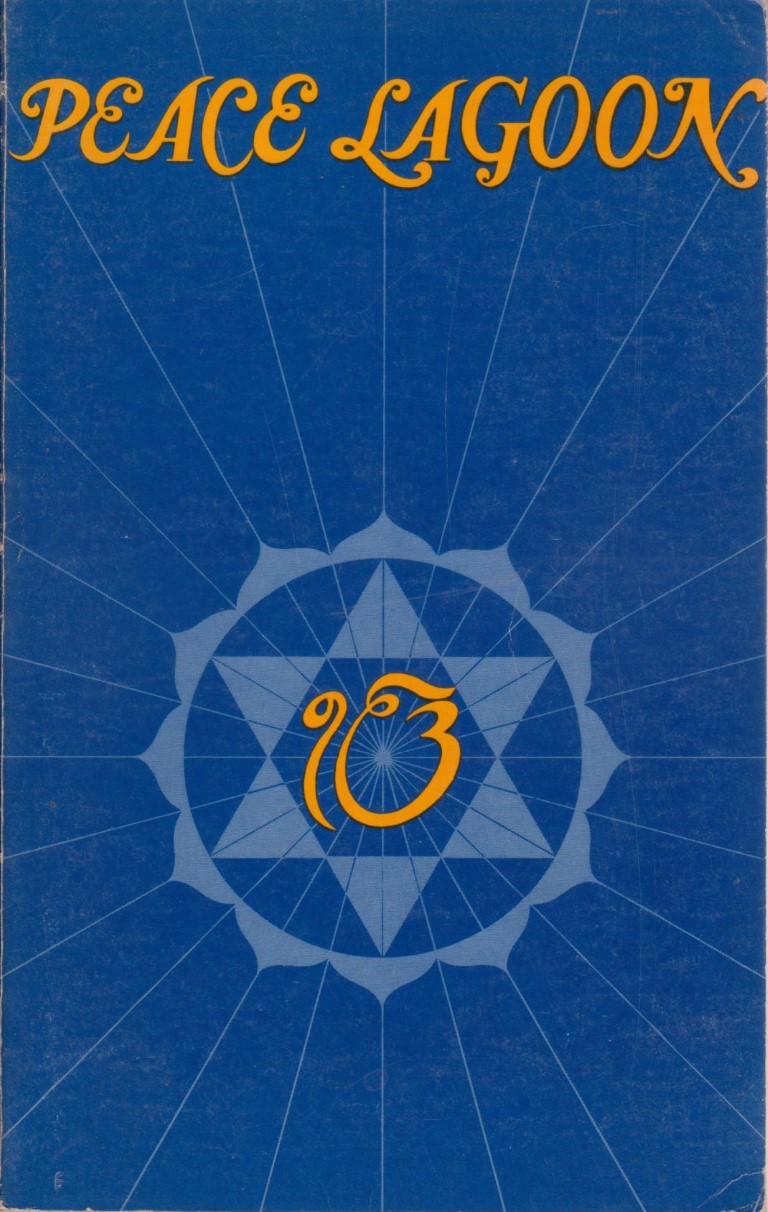 The Collected Hymns of Guru Nanak, Guru Amar Das, Guru RAM Das, Guru Arjun, and Guru Gobind Singh
sikh, scriptures, sacred texts, religion
VG softback, name at front
$30 C/B
Spiritual Community 1973 second revised edition, limited to 5000 copies, 223pp.
[#3879 ]
KHAN Sufi Inayat

The Book of Health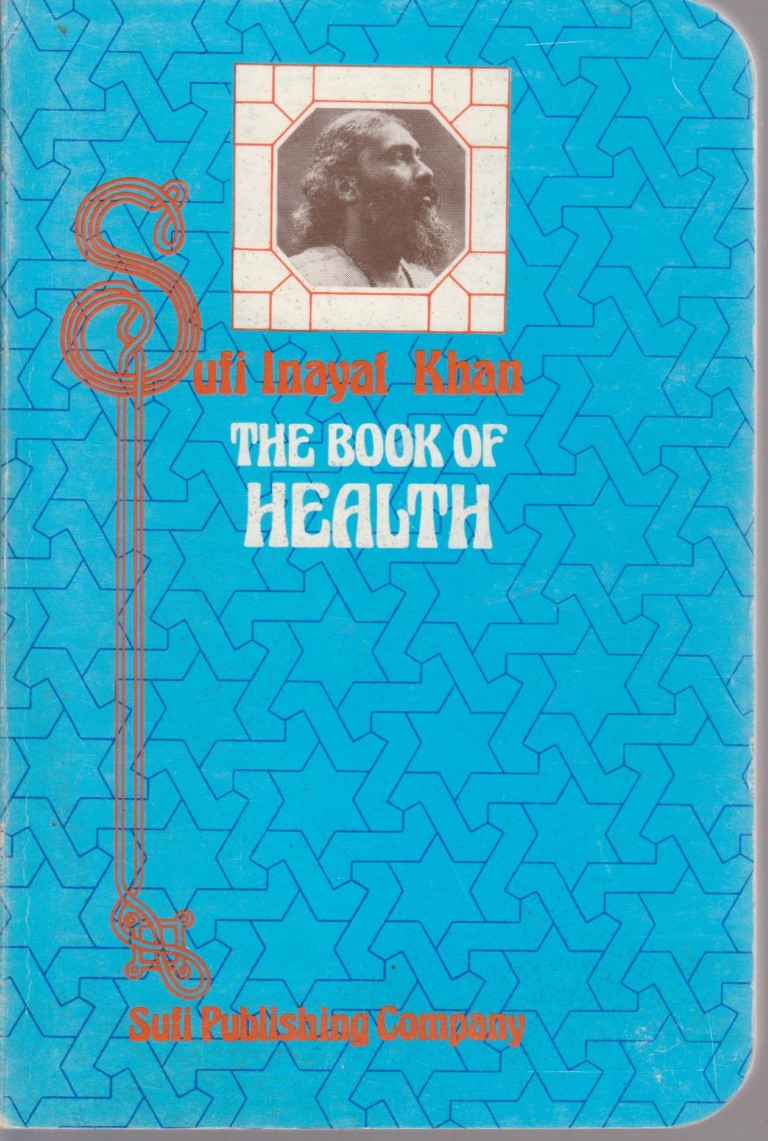 Writings on natural and spiritual healing taken from The Sufi Message of Inayat Khan.
Includes diet, breathing, food and prayer.
ISBN0900217057
health, healing, positive thought
VG softback
$15 C/B
Sufi Publishing Company 1974, 106pp.
[#3880 ]
CONZE Edward

Buddhism, It's Essence and Development.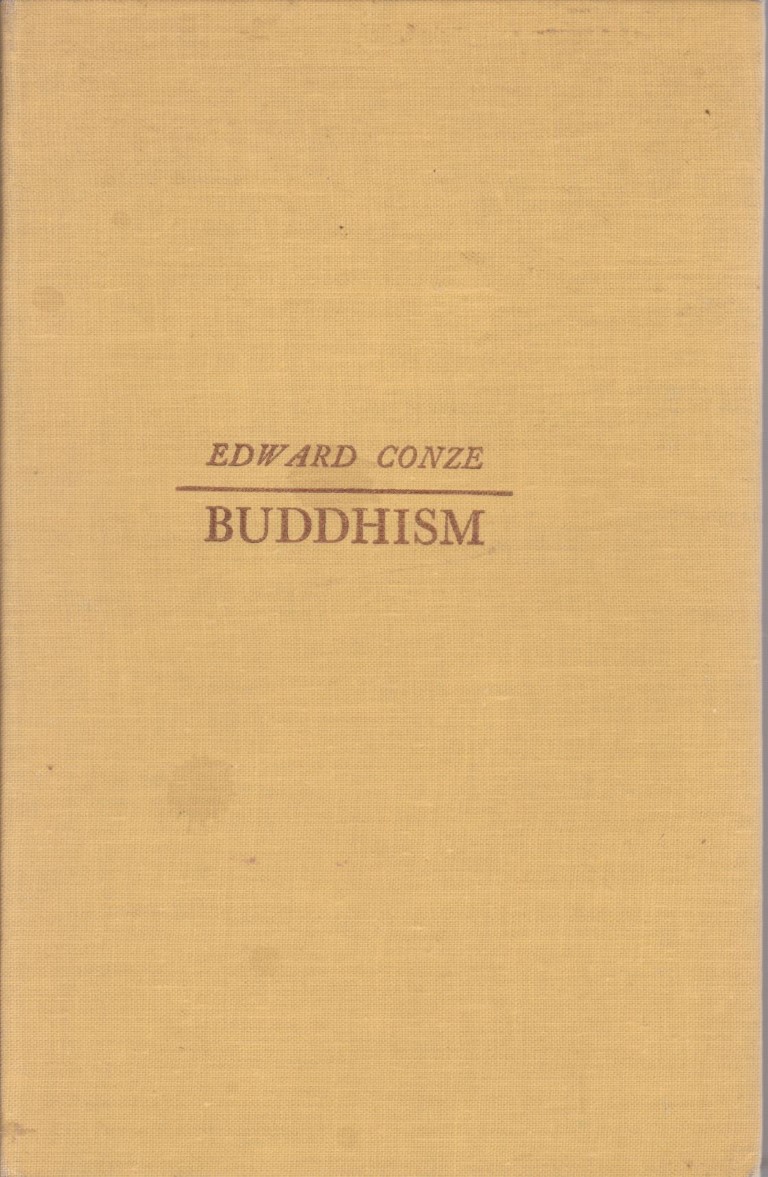 Good scholarship overview of the history of Buddhism.
Includes chapters on Monastic and Popular Buddhism, Mahayana, Yogacarins, Tantra (magical Buddhism), and non-Indian developments.
religion, philosophy
G+ hardback with no dust jacket
$10 C/C
Bruno Cassirer 1957 third edition, 212pp + index and folding chart.
[#3881 ]
SIMS Bennett

Confucius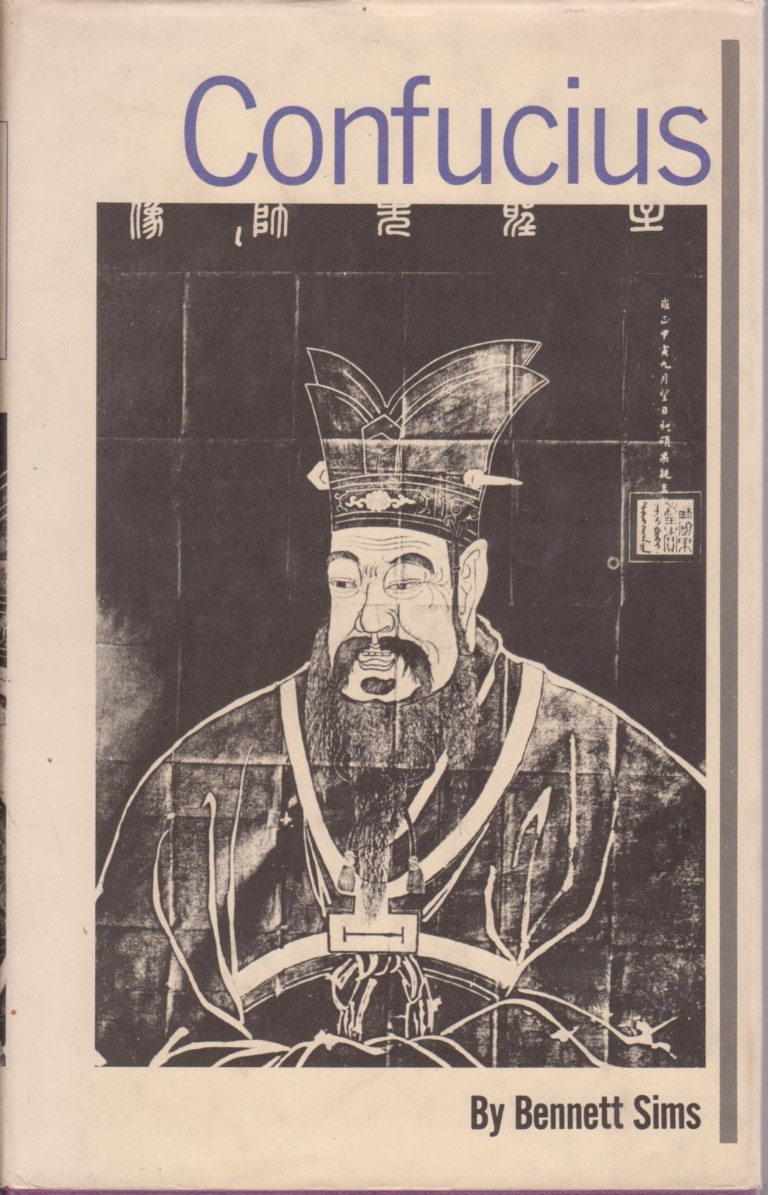 A biography of Confucius, and a study of the promotion of his philosophy by his devotee Mencius.
ISBN0851663249
china, chinese philosophy, K'ung Fu-tzu, Master K'ung, immortals of mankind series
VG hardback in VG dust jacket
$10 C/B
Franklin Watts Ltd.1968 first edition, 139pp.
[#3882 ]
ALBERTSON Edward

Vedanta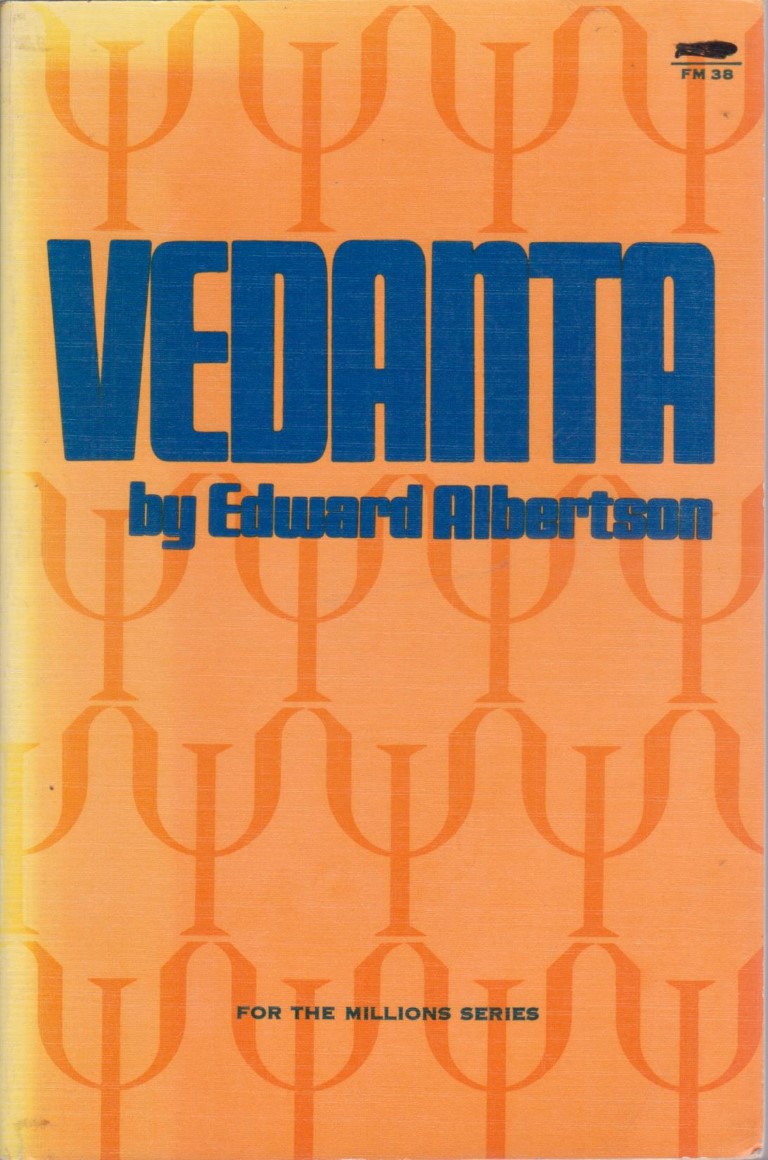 A simple yet thorough explanation of Vedanta philosophy and religious practise.
hindu, indian, religion, philosophy, Ramakrishna, Vivekananda, for the millions series
VG softback with sun faded spine
$10 C/B
Sherbourne Press 1970 first printing, 158pp.
[#3883 ]
YEATS W. B. and Shree Purohit Swami

The Ten Principal Upanishads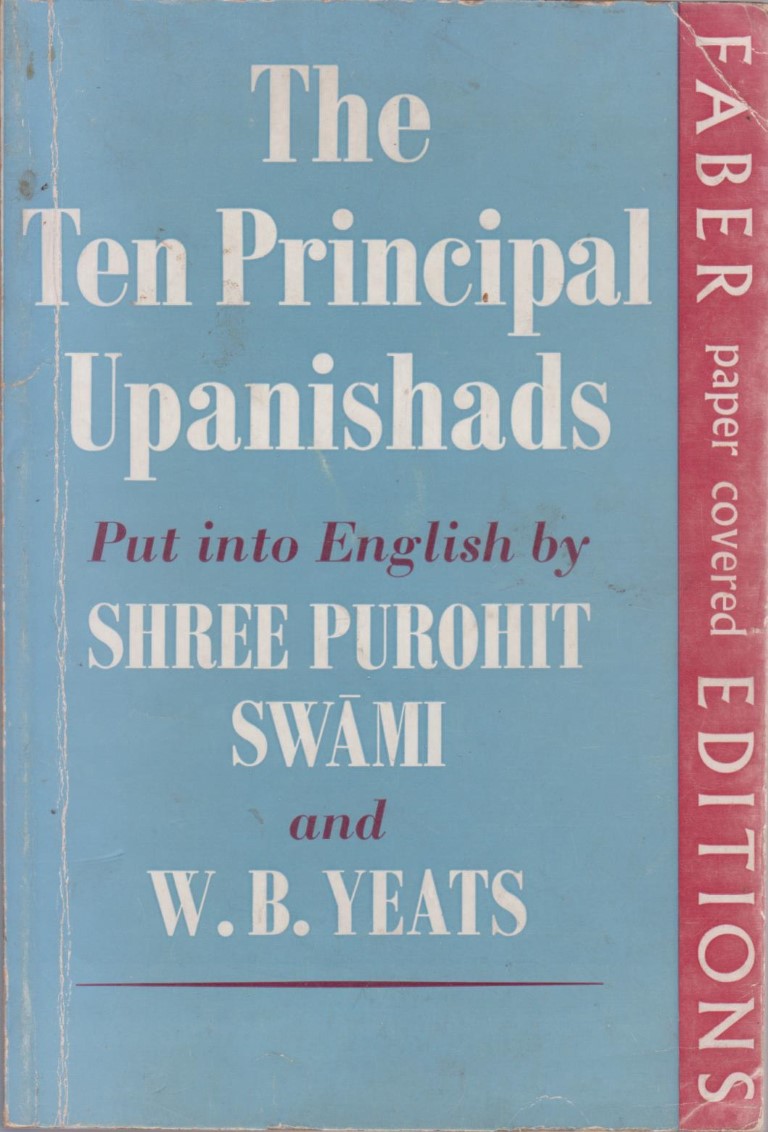 Yeats and Shree Purohit Swami have translated these into clear and understandable English.
ISBN0571093639
hindu, philosophy, religion, upanisads
G+ softback, name to first page.
$8 C/B
Faber 1970 first thus edition, 159pp.
[#3884 ]
MITCHELL G G M

Maori Place Names in Buller County
A study of current and former names of various places in the West Coast region of Buller.
With background history and an explanation of the place names.
maori, toponomy
G hardback, stapled at spine, library rebound into hardcover, minimal stamps.
$15 C/B
Reed 1948 first edition, 59pp.
[#3885 ]
WATSON Lyall

Supernature
The natural history of the supernatural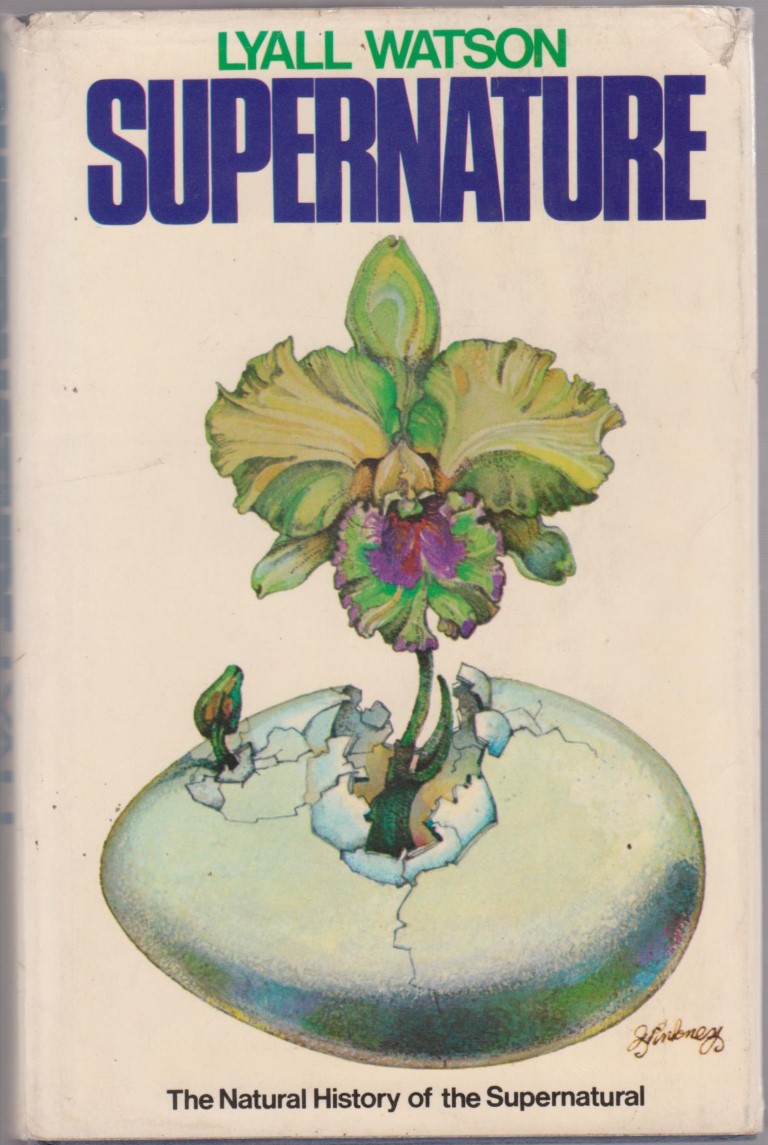 A good overview of supernatural powers and occurences such as ESP, clairvoyance, ghosts.
ISBN0340173688
exobiology, mysteries, psychic phenomena
VG- hardback in VG- dust jacket. Minor foxing to closed edges.
$20 C/C
Hodder and Stoughton 1973 first edition, 347pp.
[#3886 ]
G paperback, shows foxing to page edges.
$5 A/B
Coronet paperback, 348pp. ISBN 0340188340
[PB235, PB325 ]
20/9/2018 ev

Blonde on the Rocks
Horwitz IE41.
VG paperback.
$20 A/A
Horwitz 1964 second edition, 130pp.[PB1562]

The Lady is Not Available
Horwitz No. 105.
VG- paperback with pencil name to cover and some soiling or paper browning.
$30 A/A
Horwitz 1963 first edition, 130pp.[PB1563]

Who Killed Doctor Sex?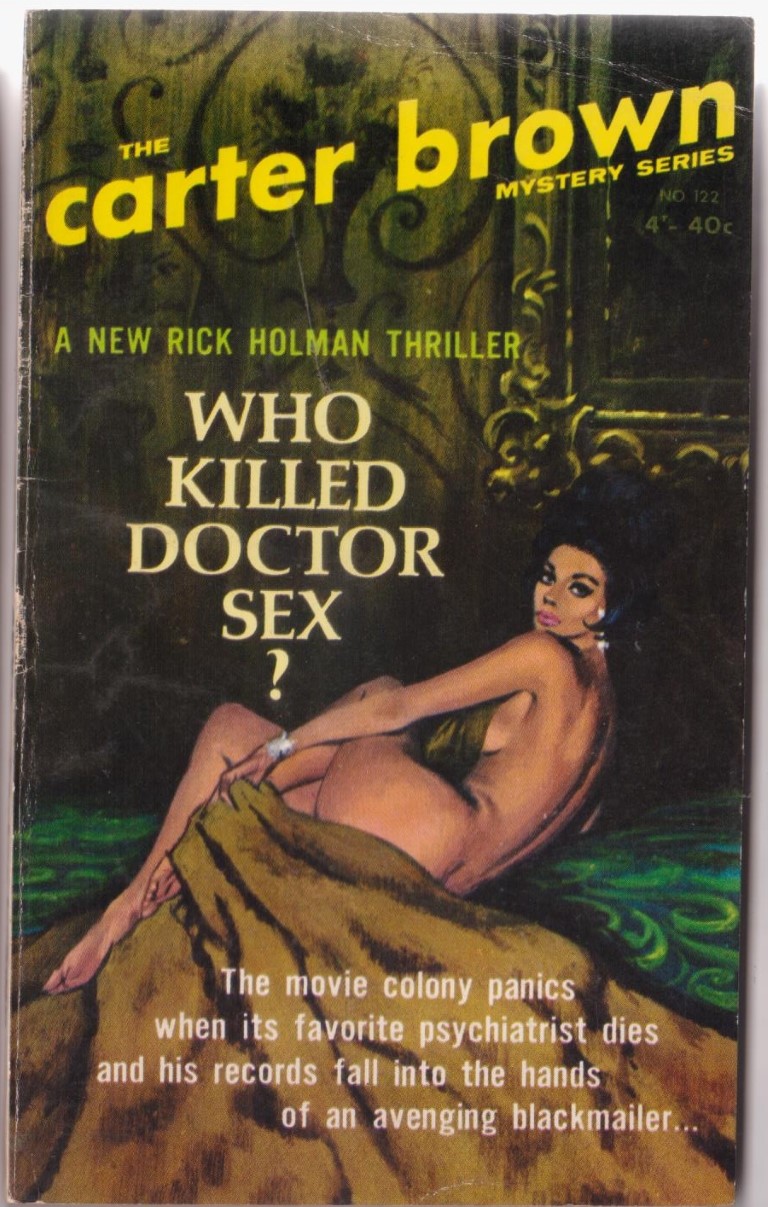 Rick Holman thriller.
VG- paperback, first (blurb) page has a tear.
$15 A/A
Horwitz International Inc. 1965, 128pp.[PB1564]

The Deep Cold Green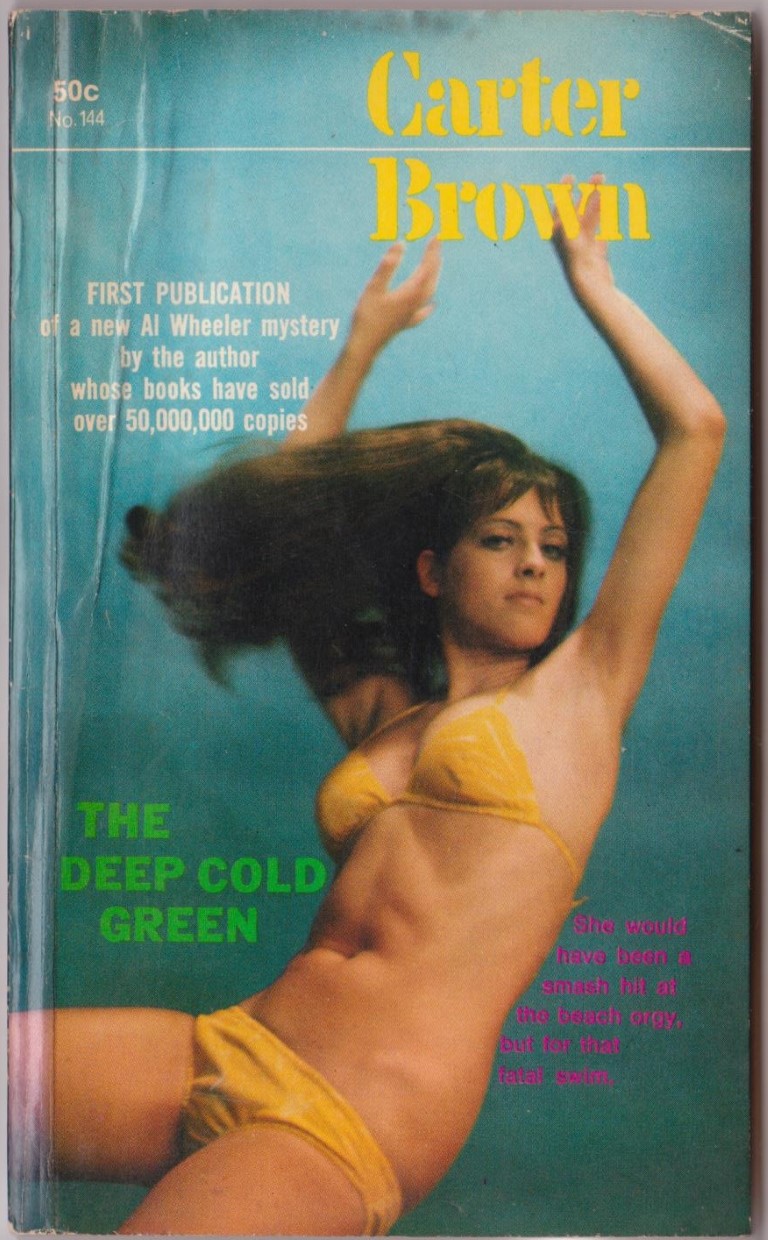 Horwitz No.144. Al Wheeler mystery.
VG- paperback.
$20 A/A
Horwitz 1968 first edition, 127pp.[PB1565]

The Deadly Kitten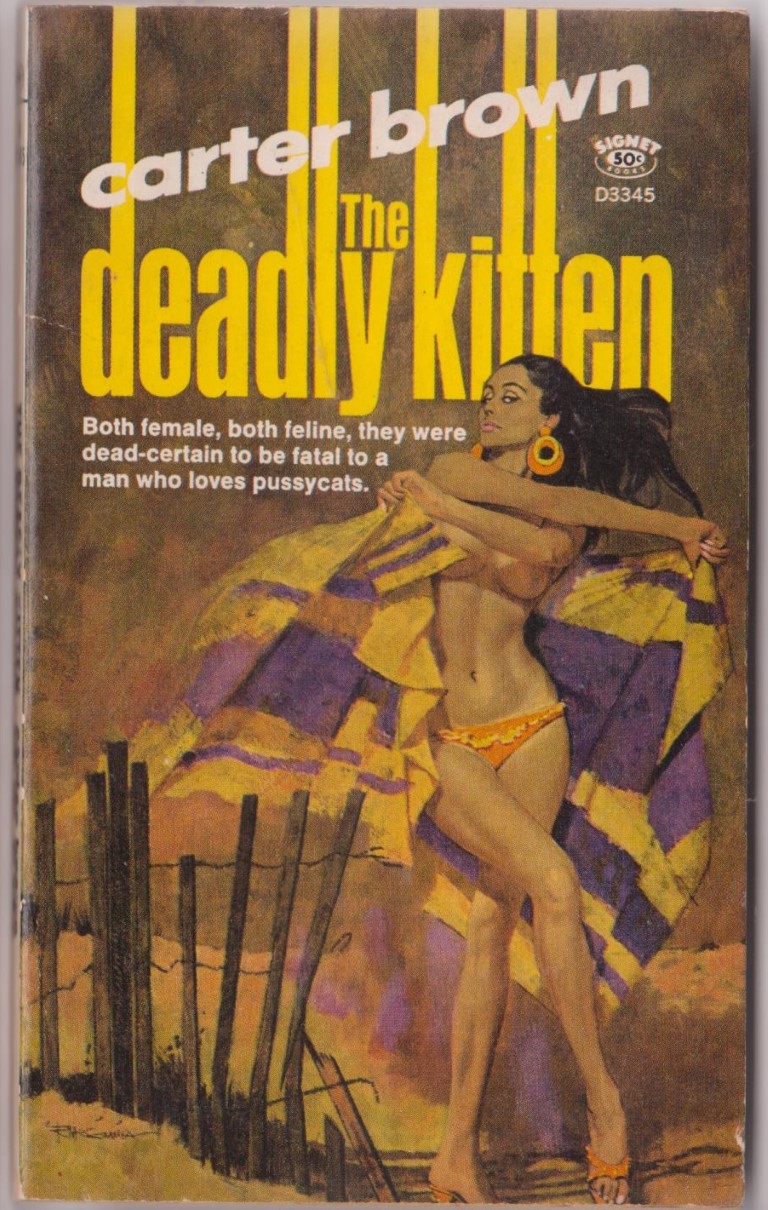 Signet Books D3345. Rick Holman thriller.
VG paperback.
$20 A/A
Signet 1967 first edition, 127pp.[PB1566]
IDRIESS Ion L.

Horrie the Wog Dog.
With the A.I.F. in Egypt, Greece, Crete and Palestine.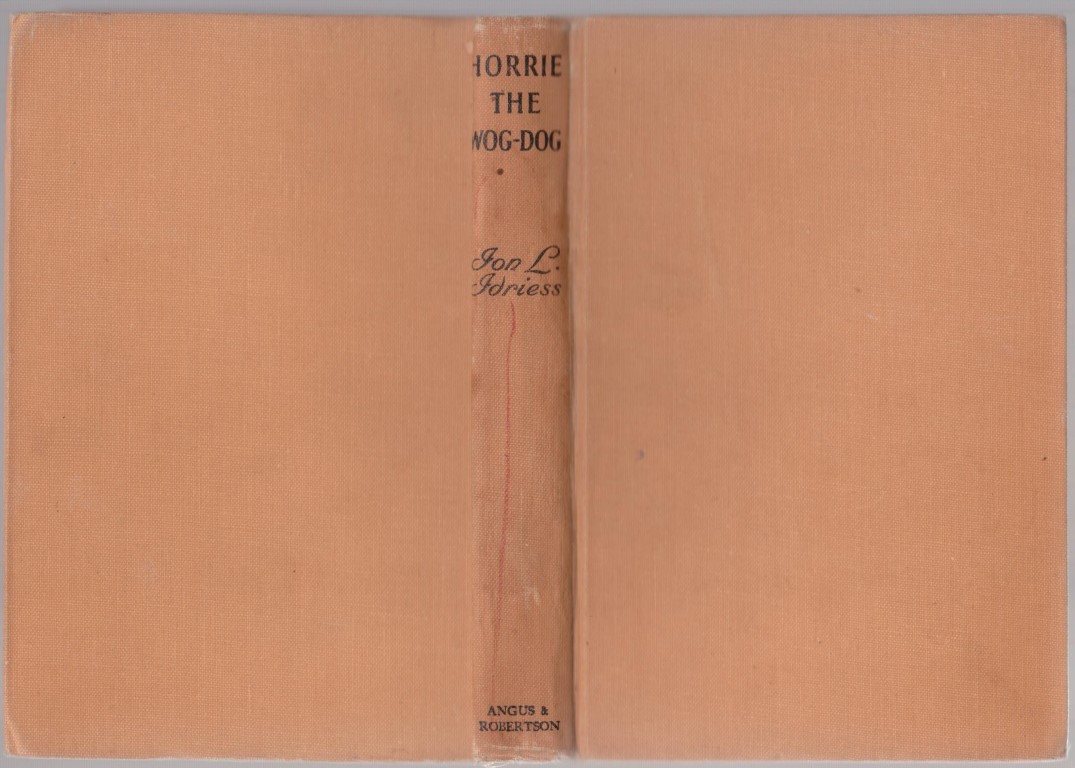 The true story of a mascot dog with the Australian troops in North Africa and the Mediterranean during the Second World War.
Written from the Diary of Private VX13091 J.B. Moody A.I.F.
ww2, wwii, crete, greece, egypt, animals, imshi, syria
VG- hardcover, red pen line on spine.
$55 C/B
Angus and Robertson 1948 third printing, x 232pp + plates
[#3872 ]
HUTCHINSON Roger

Aleister Crowley, the Beast Demystified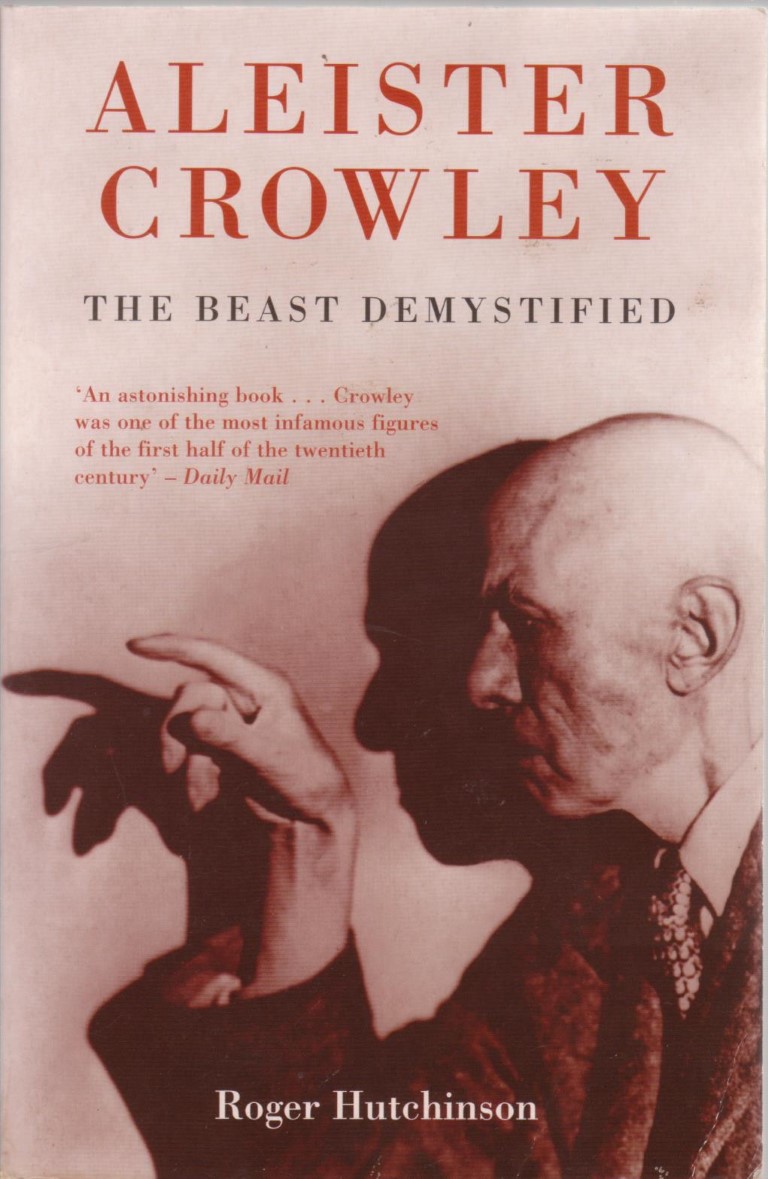 A biography the the Beast 666, the Prophet of the Age of Horus and one who led a very flamboyant life.
Poet, mountaineer, explorer, magician and addict.
ISBN9781845961329
666, OTO, thelema
VG paperback, paper scar to inside of rear cover
$15 C/B
Mainstream Publishing 2006, 220pp.
[#3874 ]
GOLDING Louis

The Camberwell Beauty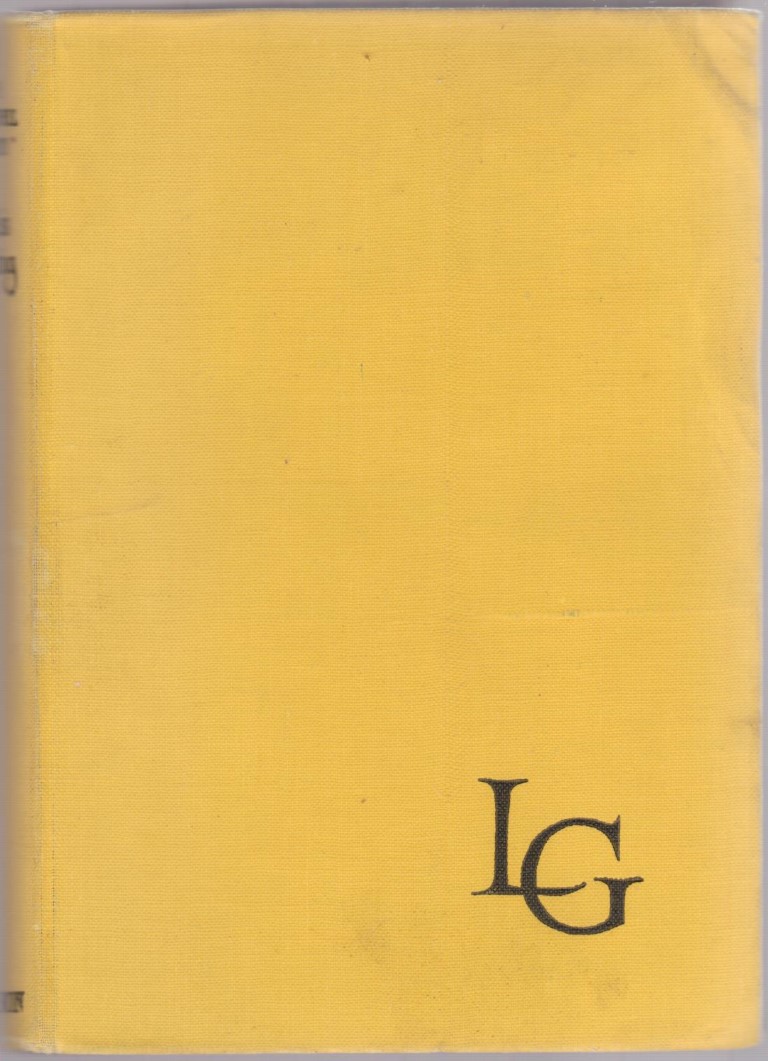 A novel about black magic and infatuation.
One of the characters, who runs a mystical retreat in Sicily, is based upon Aleister Crowley.
magic, novel, fiction, italy
VG- hardback with no dust jacket, top corner a little bumped. Paper stock age browned.
$35 C/B
Hutchinson 1953 first printing in the Collected Edition. 272pp.
[#3875 ]
16/9/2018 ev
PROPHET Elizabeth Clare channels Ascended Master El Morya

The Chela and the Path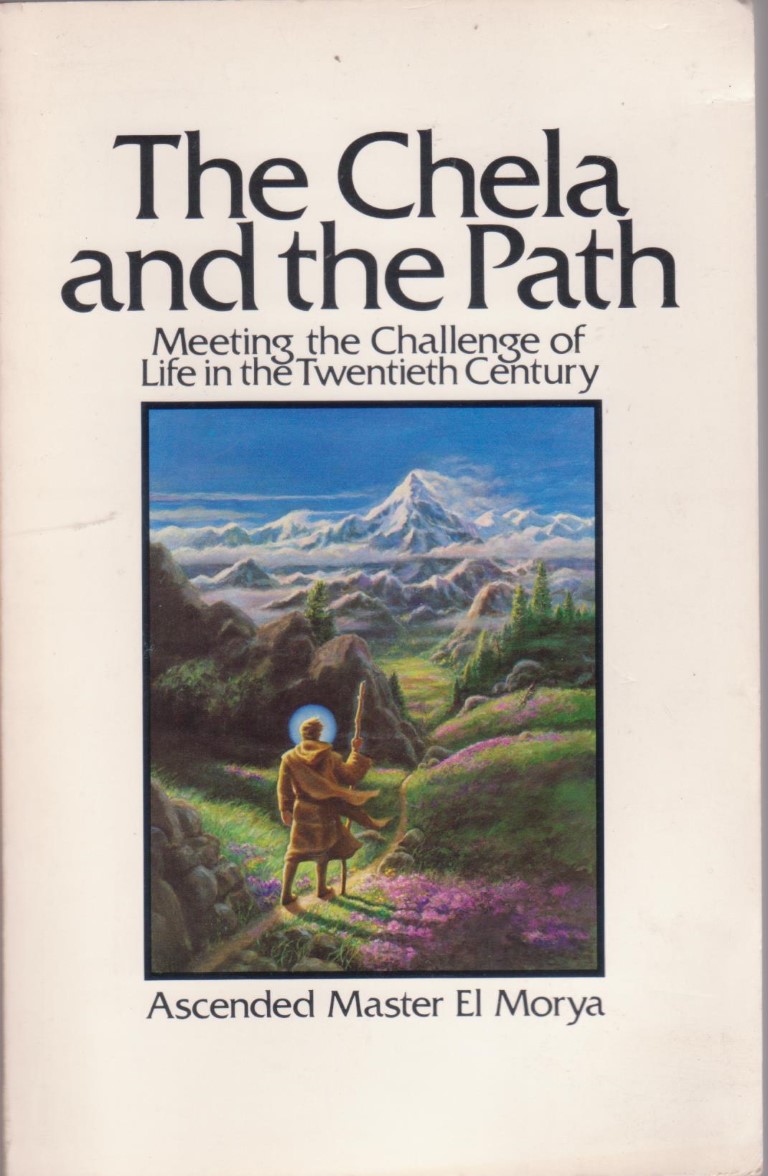 In The Chela and the Path, El Morya clearly points the way for all who aspire to a higher level of consciousness and spirituality.
With insights and meditations that the earnest seeker of truth can ill afford to be without, these are channelled instructions from the heart and mind of El Morya to you.
ISBN0916766128
Church Universal and Triumphant, new age, I Am, channelled teachings
VG softback with former owner name to first page.
$9 C/B
Summit University Press 1977, 142pp.
[#3861 ]
PROPHET Mark and Elizabeth Clare

The Science of the Spoken Word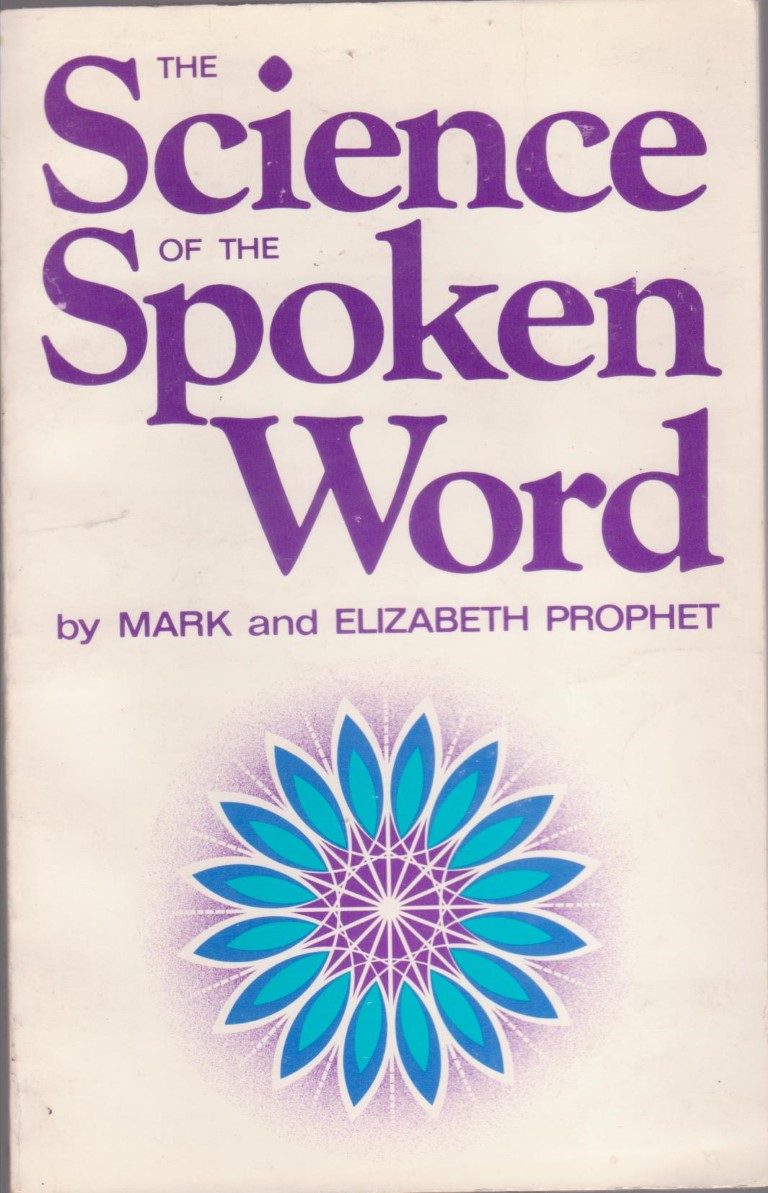 Prayers and affirmations as channelled from various Ascended Masters including Lord Maitreya, Saint Germain, El Morya, and Kuthumi.
ISBN0916766071
Church Universal and Triumphant, new age, I Am, channelled teachings
VG- softback, name at front.
$9 C/B
Summit University Press 1974, 91pp.
[#3862 ]
SWEDENBORG Emanuel

Doctrine of the New Jerusalem Concerning the Sacred Scripture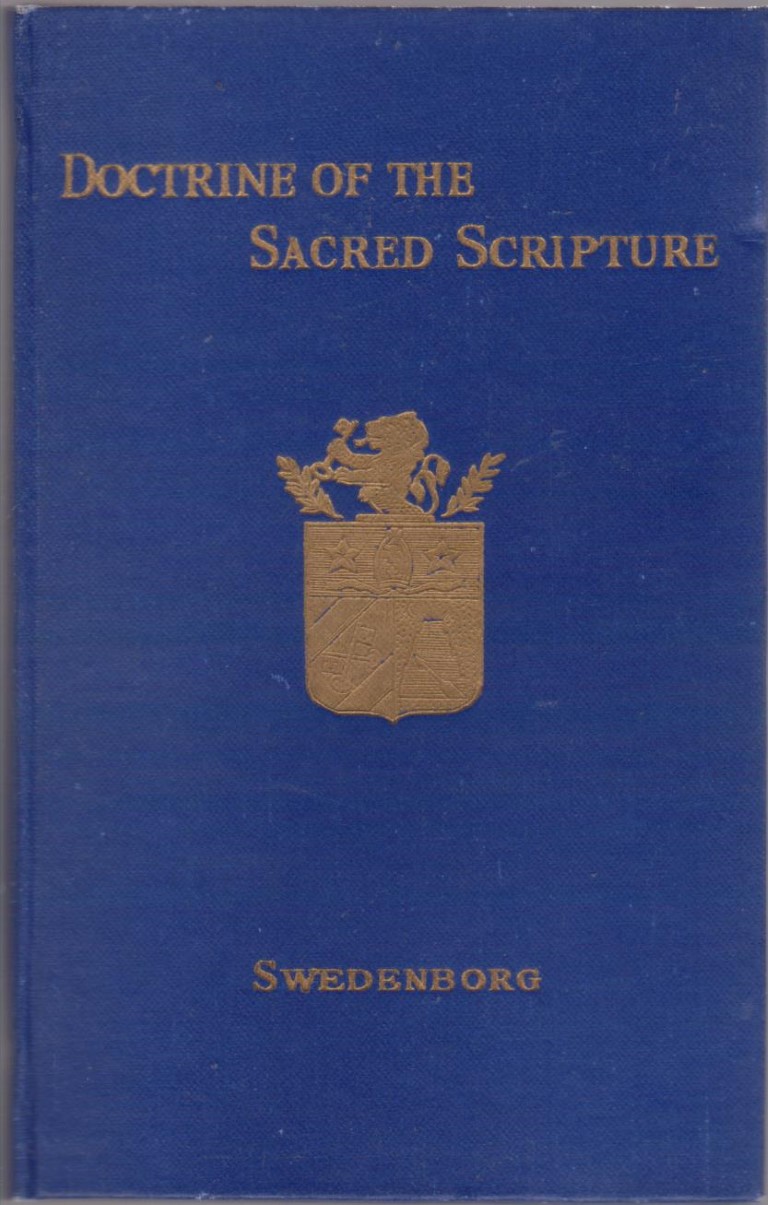 Swedenborg's explication of the fundamental importance of the Scriptures.
"The truths of the sense of the letter of the Word are in part not naked truths, but are appearances of truth, and like similitudes and comparisons are taken from such things as are in nature; and thus are such as have been accommodated and adapted to the capacity of the simple and also of children."
Christianity, Mystical, Mysticism
VG hardback with no dust jacket, name at front.
$20 A/A
Swedenborg Society 1930, 133pp.
[#3863 ]
SIMPSON Mary Elizabeth

Sunray Lessons in Divine Science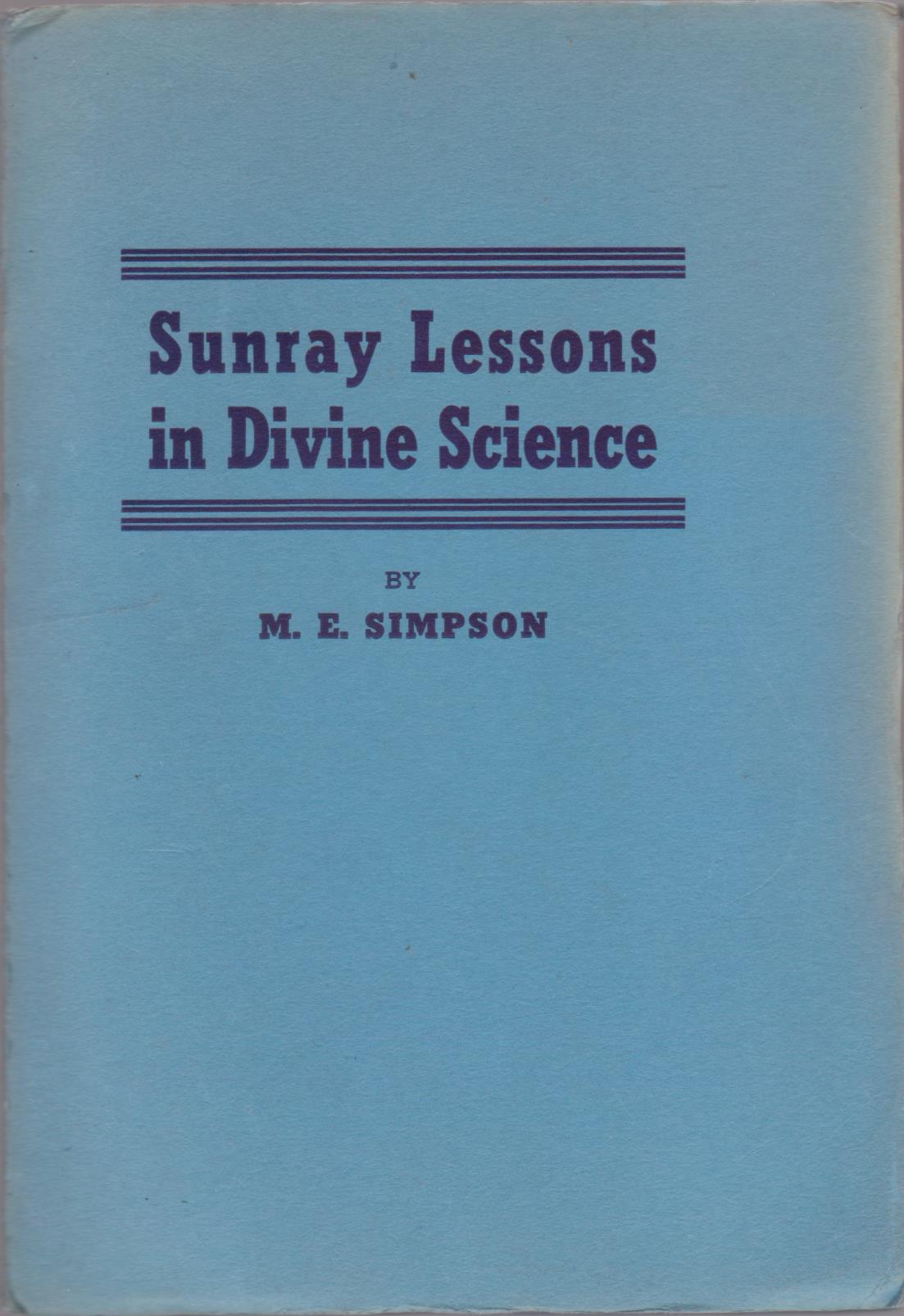 New Thought essays pertaining to christian mysticism.
Simpson was a religious healer and teacher who was responsible for establishing the Christian Science church in New Zealand.
In 1911 she became the first Christian Science practitioner from New Zealand to be listed in the Christian Science Journal, and in 1913 went to Boston to train as an authorised Christian Science teacher.
She returned to Christchurch in 1914 and bought the first Christian Science church property.
In 1925 she resigned from the Christian Science movemnt, but continued as a spiritual teacher.
Her Sunray series of 15 booklets expounded her basic teaching.
M E Simpson 1865–1948, new zealand, new thought, I Am
VG- softback with sun faded covers, name at front.
$35 C/A
DeVorss 1935, 75pp.
[#3864 ]
ELLIOTT Murray

Vasili, the Lion of Crete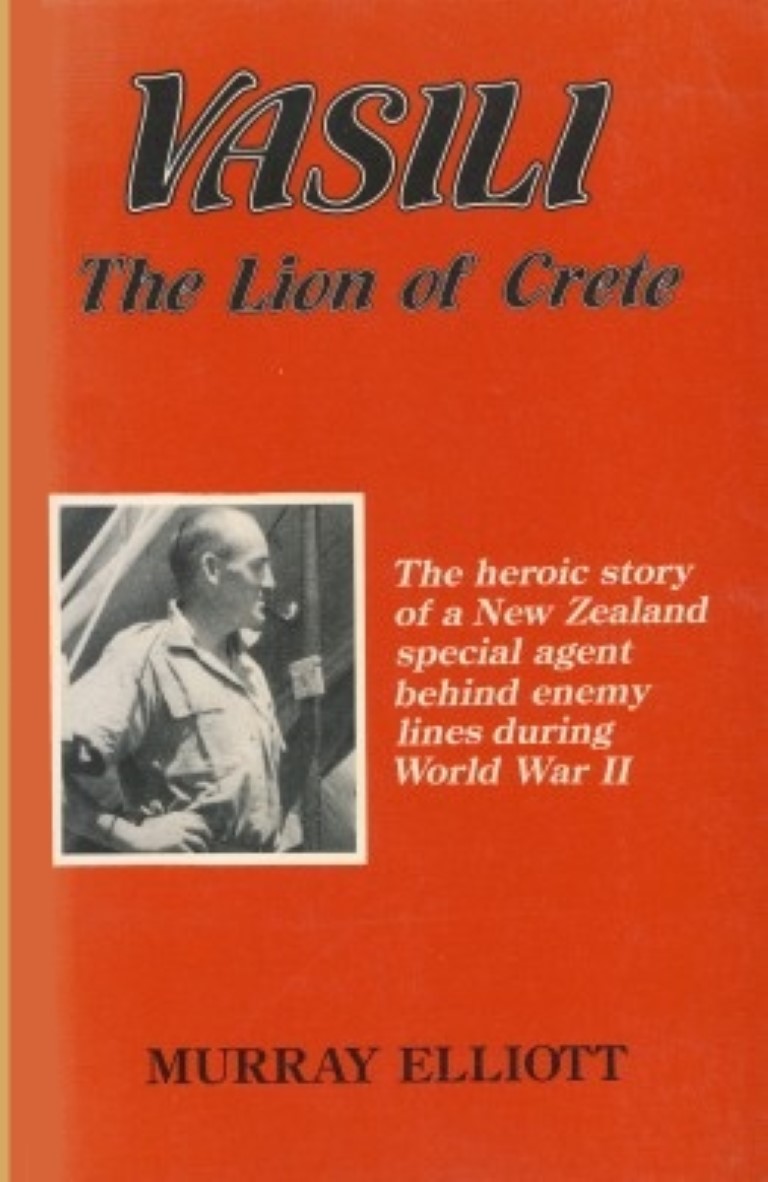 New Zealander Dudley Churchill Perkins (aka Vasili) after escaping from German hands spent a year evading them on Crete before making his way to Egypt.
He returned as an SOE special agent and leader of a guerilla resistance unit.
ISBN9418694100844
ww2, wwii, crete, nzef
VG softback, sun faded spine
$20 C/B
Century Hutchinson 1987, 174pp +plates.
[#3865 ]
MANSON Lorna

Cockle Cove
Malborough Sounds Haven for Four Generations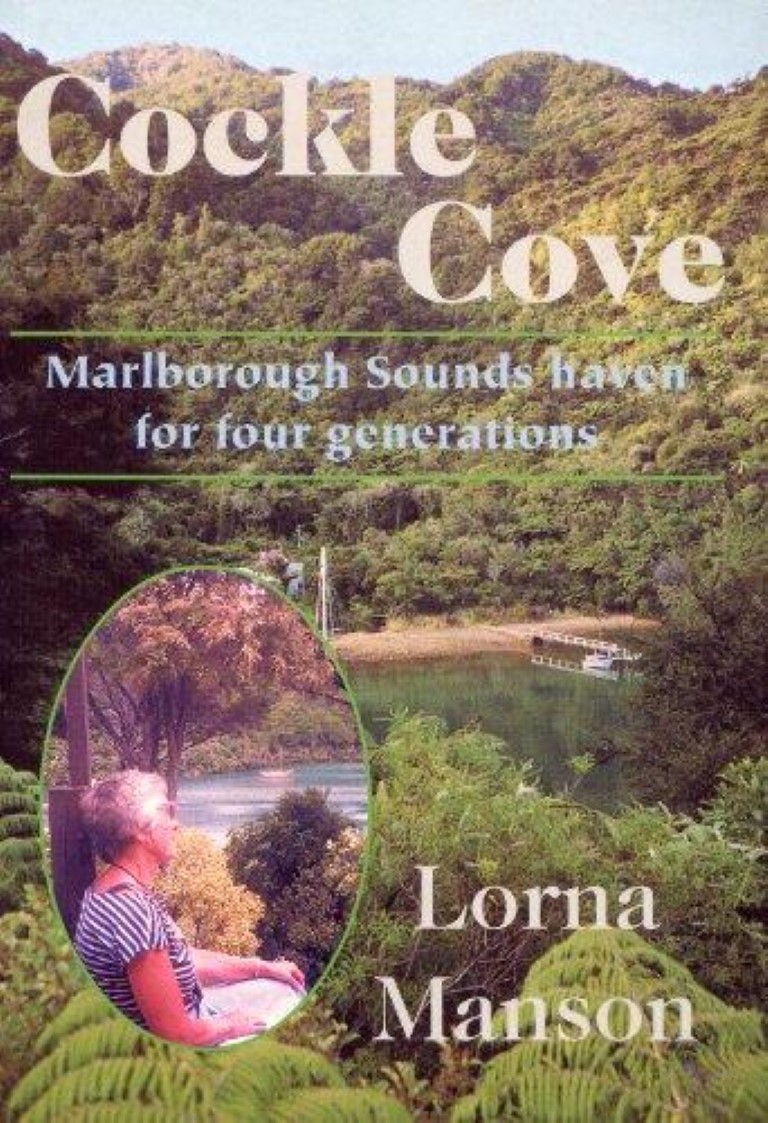 A family history firmly based in this small cove in the Sounds.
Cockle Cove in the Bay of Many Coves in the Marlborough Sounds, is accessible only by water. Lorna Manson's parents bought land there in 1925, when the area was being cleared for a dairy farm and when whaling still occurred in the outer Sounds.
Ada and Ernest Cull wanted to preserve the bush and bay as the haven it was and still is.
In her warm and well illustrated account, Lorna writes of the incidents, politics, wildlife and boats she's experienced, and the people who have dropped anchor in this small slice of paradise.
ISBN0908561792
Queen Charlotte Sound, biography, genealogy, Hindmarsh, Maddever, O'Callaghan, Manson
VG+ softback, signed by the author.
$25 C/C
Cape Catley Ltd 2000, 235pp.
[#3866 ]
LARSON Christian D.

Your Forces and How to Use Them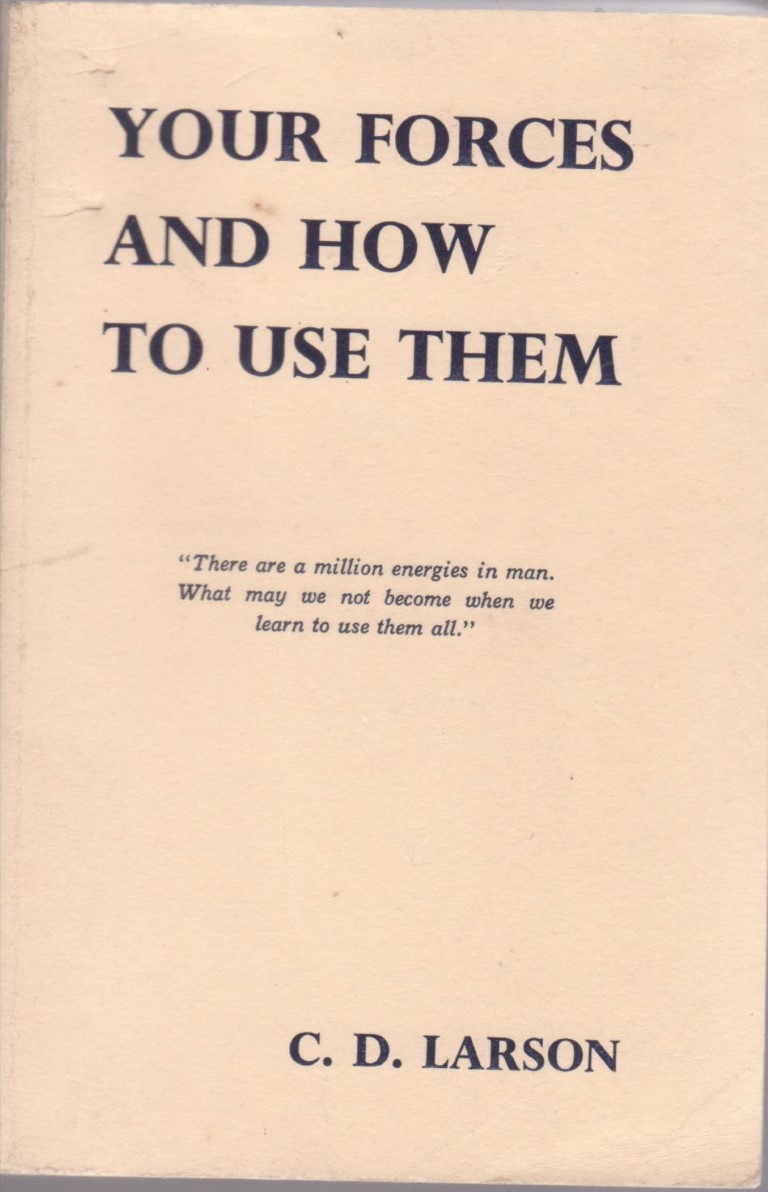 New Thought approach to self improvement through training of the sub-conscious mind through positive thinking and affirmations to harness the Higher Powers in Man.
ISBN0852430876
New Thought, Self Improvement, Mind Power, Mind Control, Building Character, Subconscious Mind, New Age
G+ softback, spine leans, mild dust soiling, name to first page.
$9 C/B
Fowler 1975, 304pp.
[#3867 ]
15/9/2018 ev
CRUMP Chris and Dorothy McKenzie

Christina's Story
Realities of family life on an isolated Pacific Island 1938-1956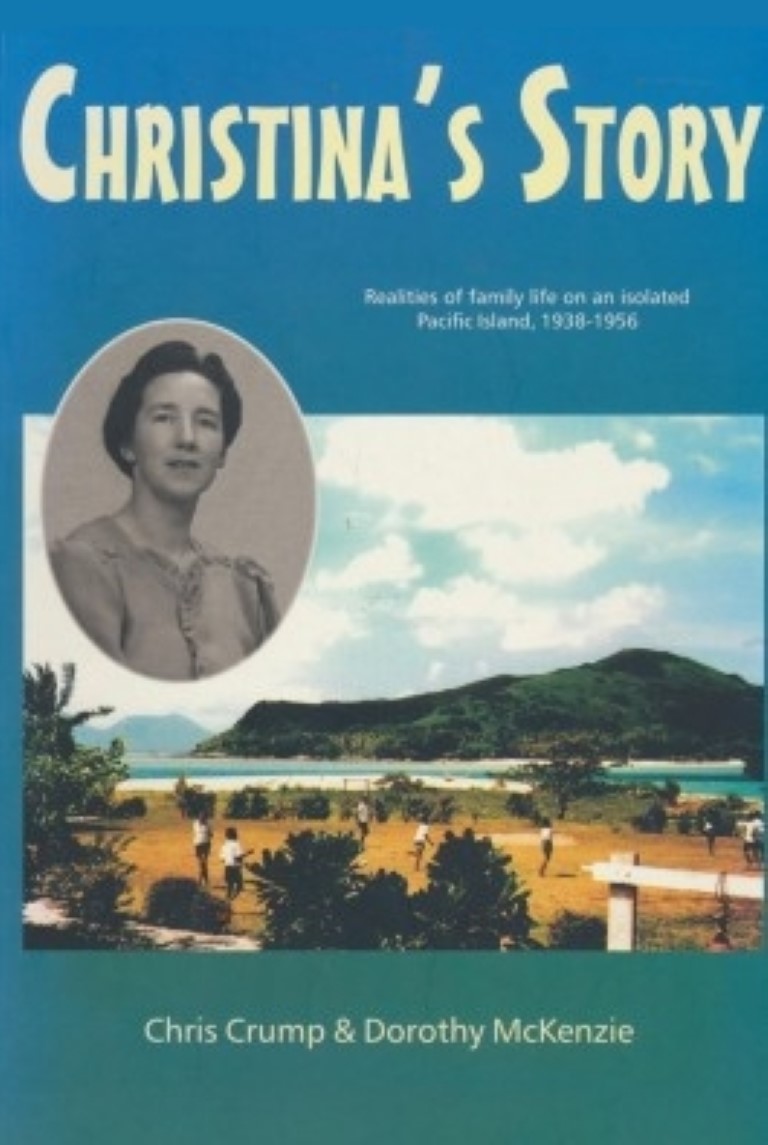 A memoir by the wife of a Presbyterian missionary in the New Hebrides (now called Vanuatu).
She was there during WWII when American troops were stationed on the island.
ISBN9780958224307
pacific islands, missionary, new zealand, ww11, ww2, US troops
VG- softback, extremely minor water mark to top corner of first few pages.
$20 B/B
Ngaio Press 2000, 112pp.
[#3850 ]
GARDNER W. J.

A Pastoral Kingdom Divided
Cheviot 1889-94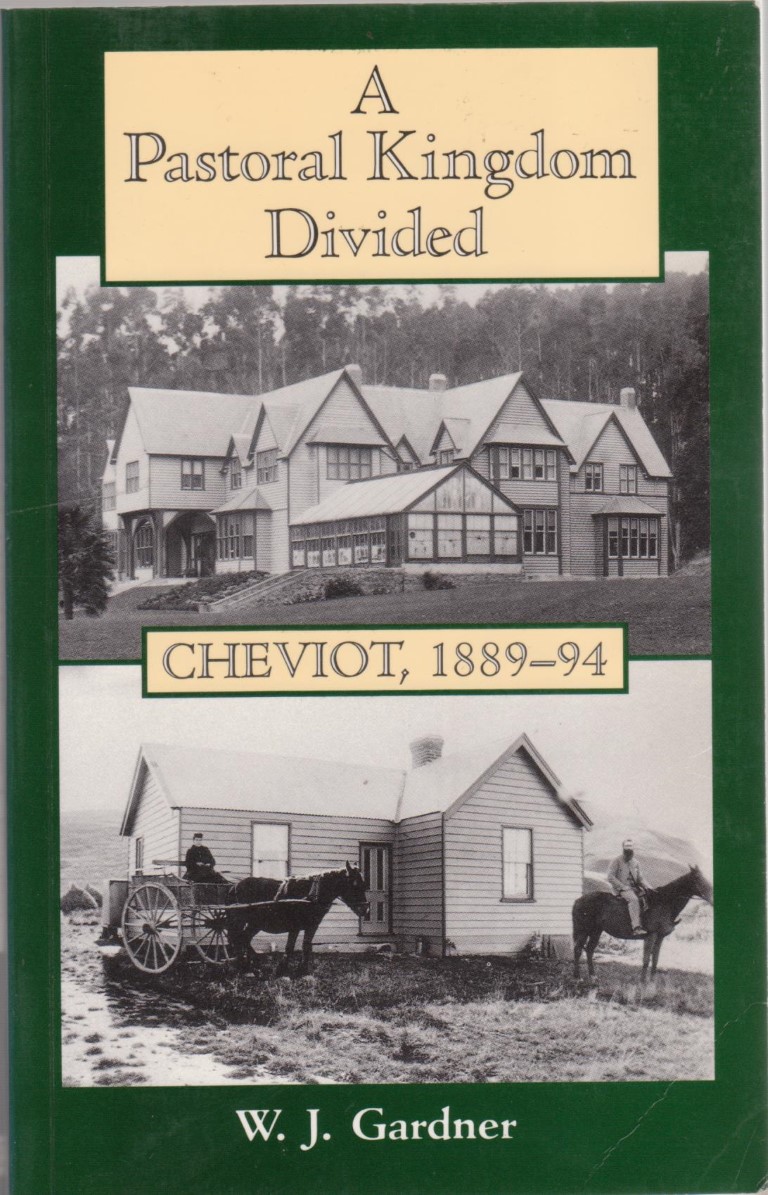 A history of John Ballance's Liberal Government purchase and break-up of 'Ready Money' Robinson's Cheviot Hills pastoral run.
After purchase it was broken into smaller farms and sold to settlers.
ISBN9780908912346 ISBN090891234X
north canterbury, amuri county, sheep runs,
VG softback
$35 C/C
Bridget Williams Books 1992, 247pp.
[#3851 ]
HUTCHING Gerard

The Penguin Natural World of New Zealand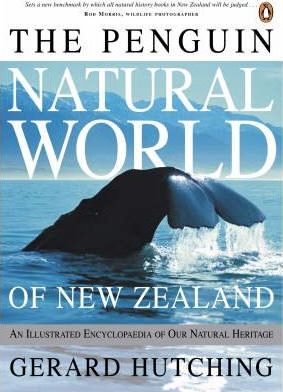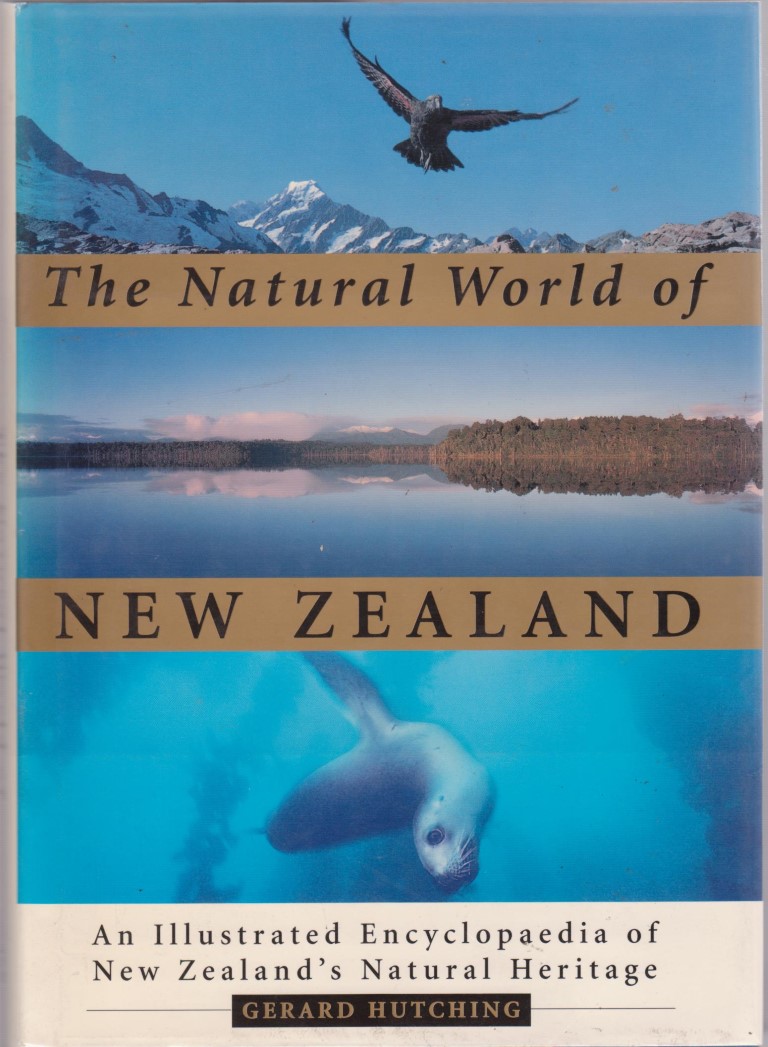 An alphabetical resource, from albatrosses to ants, kiwi to kea, lakes to lizards, and from weta to whales.
This comprehensive encyclopaedia covers every aspect of New Zealand's natural history.
An introduction explains how New Zealand's unique natural world evolved through history and describes wildlife habitats.
Feature pages provide additional information about people, the weather and physical features such as islands, mountains and rivers.
Illustrated by hundreds of photographs from New Zealand's leading nature photographers as well as stunning artwork by the country's top natural history illustrators.
keywords
VG+ softback
$30 B/D
Penguin Books 2004 NEW EDITION, 400 pp. ISBN0143019252
[#3325, 3568 ]
VG hardback in VG dust jacket, small name to first page.
$40 B/D
Viking / Penguin Books 1998, 400 pp. ISBN0670877824
[#3852 ]
CHAPMAN Ian

Kiwi Rock Chicks, Pop Stars & Trailblazers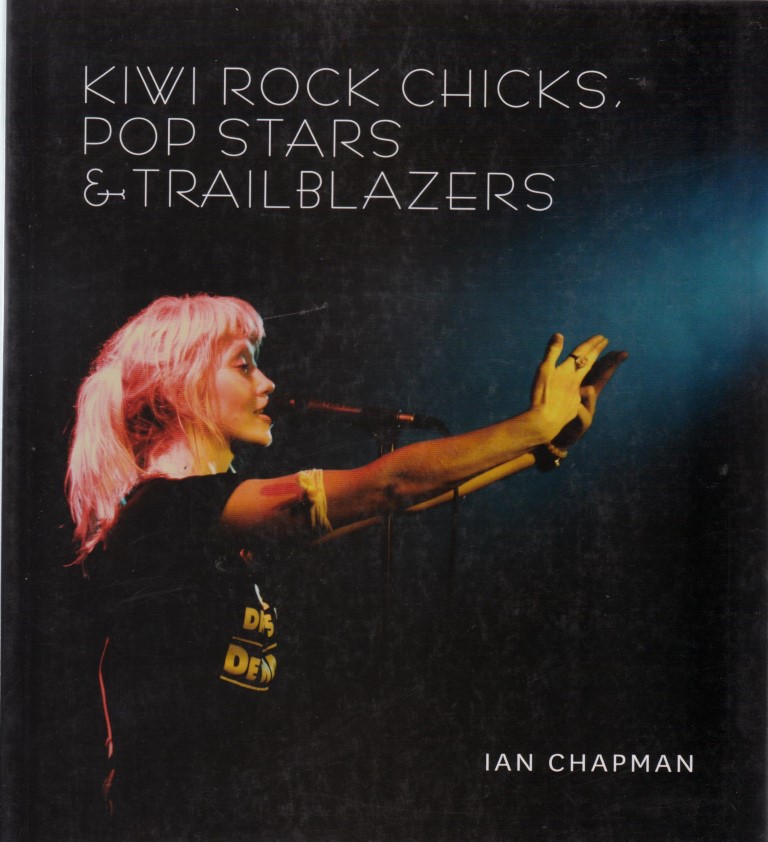 54 female Kiwi musicians, including soloists, and front-women are detailed, spanning the period from the 1950s onwards, mainly in pop-music.
Includes discography and excellent photography.
ISBN9781869508302
Dinah Lee and The Chicks, Bic Runga, Boh Runga, Sharon O'Neill, Ladi6
VG softback
$30 B/D
Harper Collins 2010, 271pp.
[#3853 ]
COX Peter

Desert War : The Battle of Sidi Rezegh
ANZAC Battles series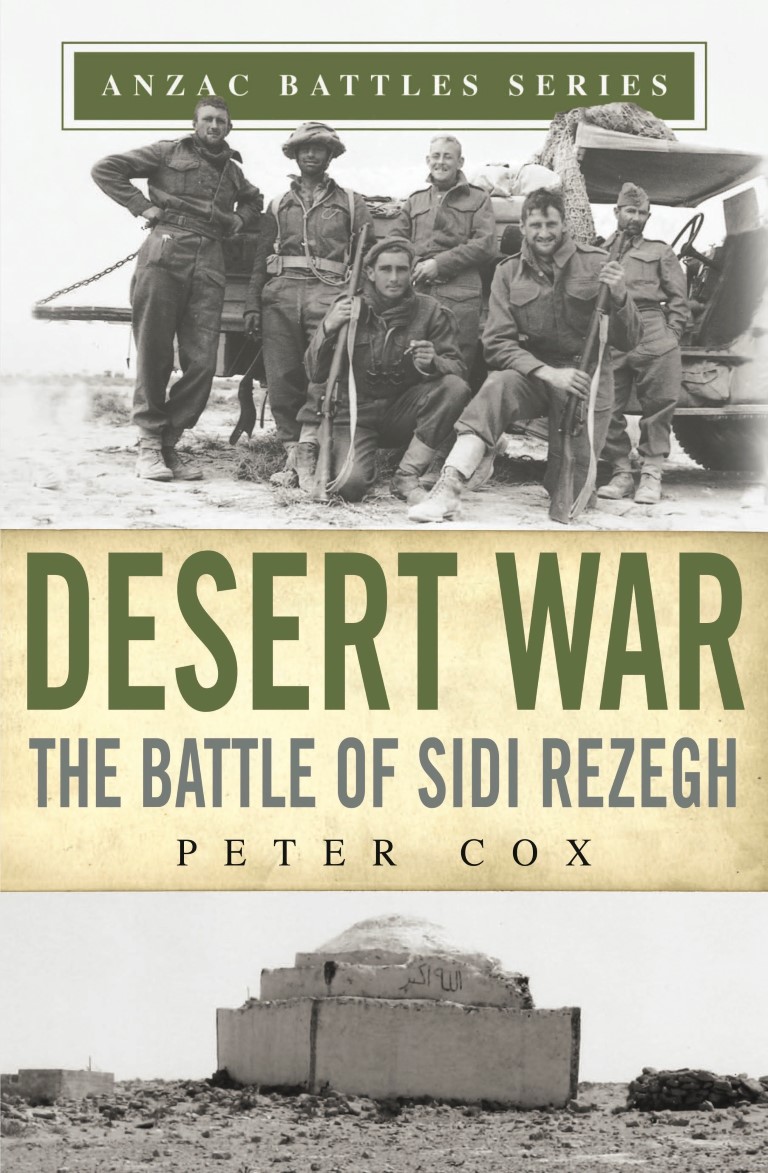 The Battle of Sidi Rezegh, fought during Operation Crusader in Libya during November and December 1941.
The objective was to retake Cyrenaica, and drive the Italians and Germans out of North Africa.
The campaign involved British and South African troops, and achieved the relief of Tobruk.
More Kiwi soldiers were killed or taken prisoner during Crusader than in any other campaign during the war.
ISBN9781921966705
ww2, nzef, north africa, rommel, nz division
VG+ softback
$20 C/C
Exisle Publishing 2015, 224pp + plates.
[#3855 ]
TAAFFE Brian

The Gatekeepers of Galatas - the Untold Story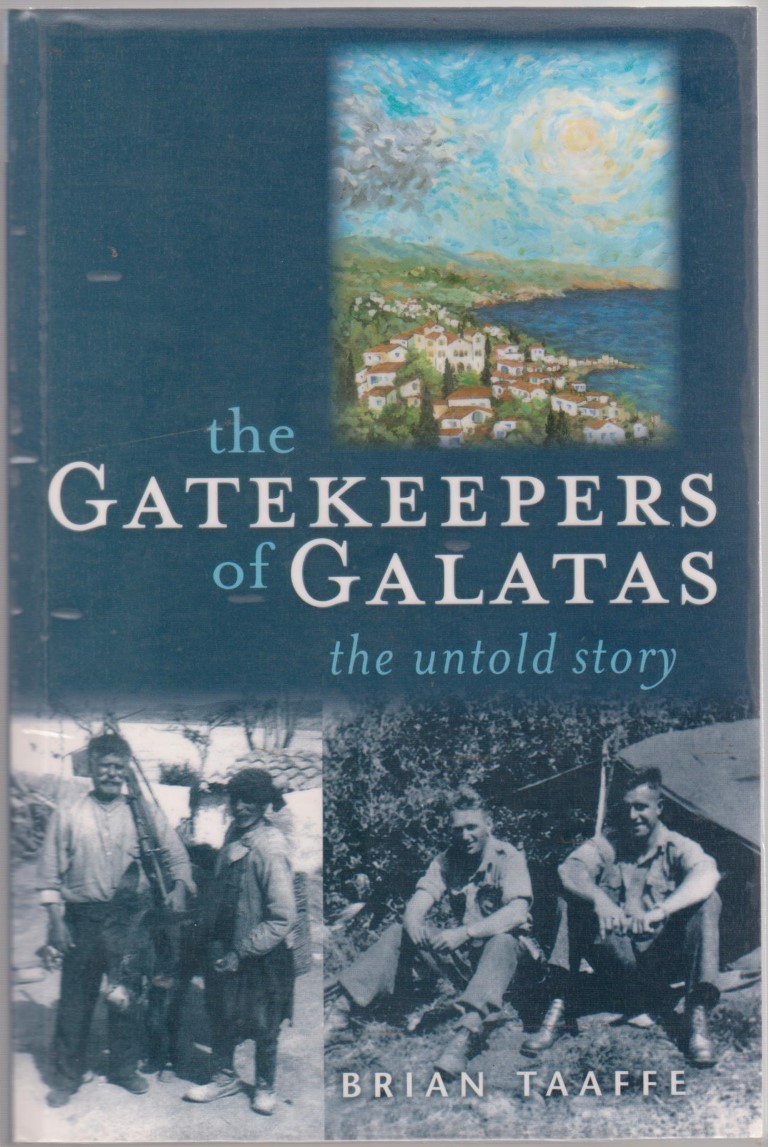 The author has travelled to Greece and Crete to follow in the footsteps of the ANZACs during the Second World War.
He recounts how outside the village of Galatas on Crete, drivers of the New Zealand Divisional Petrol Company, fought Hitlers elite 3rd Parachute Regiment to a standstill, never taking a backward step over six tumultuous days of fighting despite the loss of all their officers in the initial assault.
He recounts the courageous deeds of the Cretan villagers who fought alongside the Anzacs, and of the Australian 2/7 rearguard abandoned at Sfakia and the troops at Iraklio left in the lurch.
The author continues in his father's tyre tracks through North Africa and Italy
ISBN9780646457352
ww2, crete, Rethymno, fallschirmjaeger
VG- softback, has been contact sealed otherwise excellent.
$25 C/C
Sabicas 2007 revised edition, xvii 603pp.
[#3856 ]
ROBINSON Stephen

False Flags
Disguised German Raiders of World War II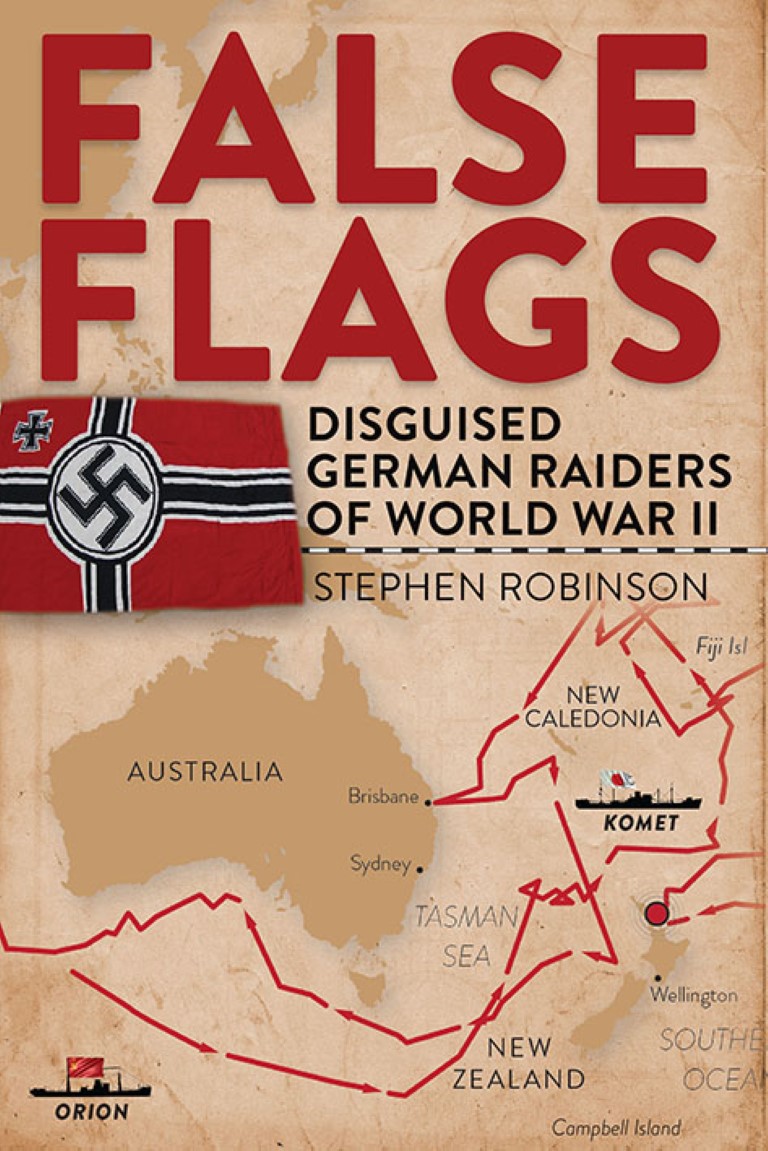 In 1940 the raiders Orion, Komet, Pinguin, and Kormoran left Germany disguised as neutral merchantmen and waged a 'pirate war' in the South Seas as part of Germany's strategy to attack the British Empire's maritime trade on a global scale.
It details the raids, the victims, and the allied seamen who encounterd the raiders.
Also accounts by those taken onbord as captives from ships that were sunk.
ISBN9781925335156
ww2,
VG hardback in VG dust jacket
$25 C/C
Exisle Publishing 2016 first edition, 359pp.
[#3857 ]
LAMBERT Max

Victory
New Zealand airmen and the fall of Germany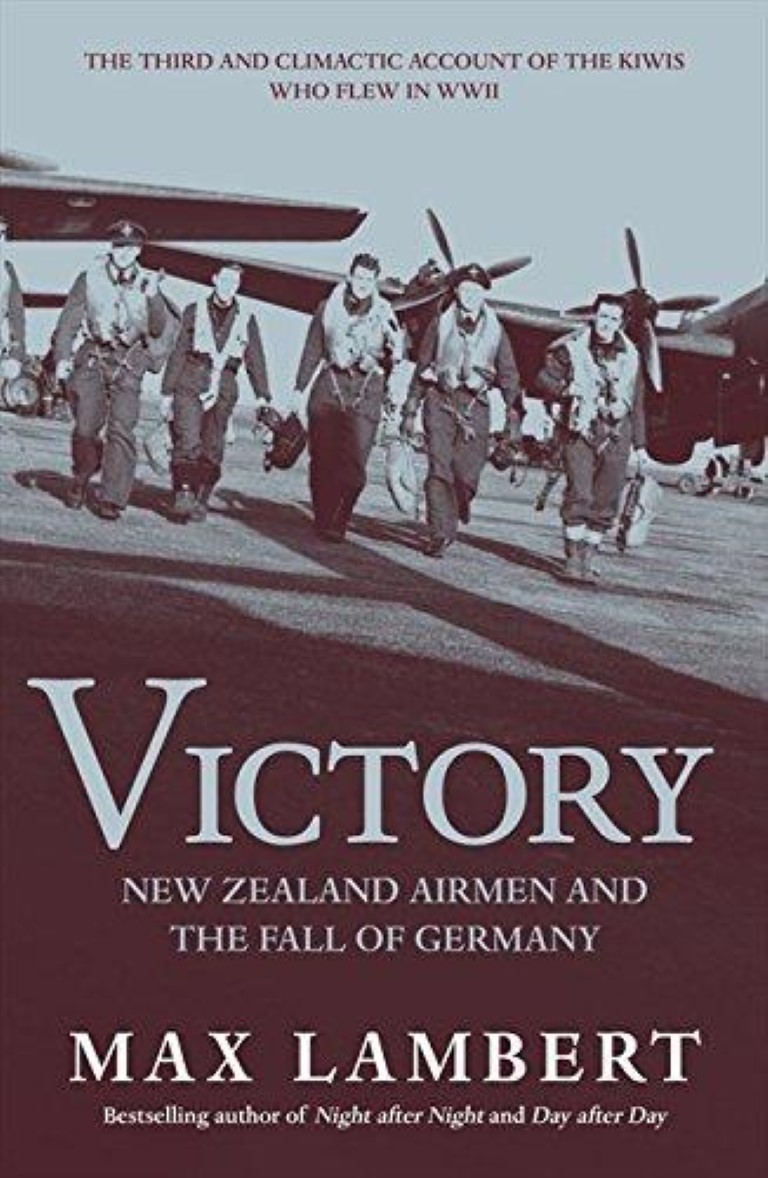 The definitive account of the New Zealand air crews' role in the invasion of Europe in 1944 and the fall of Berlin in 1945.
They participated in hunting U-boats and dropping supplies for the Resistance, towed the gliders carrying paratroopers and weapons at Normandy, Arnhem and the Rhine crossing.
Lambert also wrote Night After Night and Day After Day.
ISBN9781775540434
ww2, rnzaf, raf, bomber command, air force
VG softback
$20 C/C
HarperCollins 2014, 389pp + plates.
[#3858 ]
DAWBER Carol and Cheryl Win

North of Kahurangi, West of Golden Bay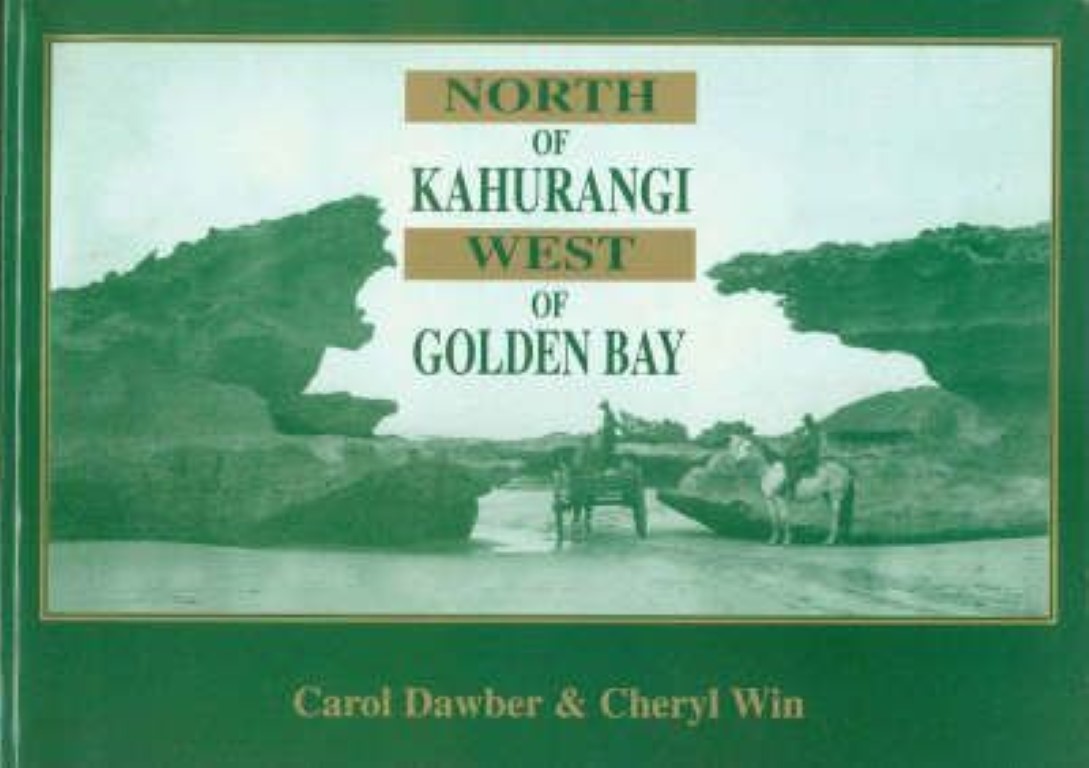 A photographic history of Kahurangi and Westhaven Inlet, on the South Island's West Coast.
Landscape format with illustrations and maps, 22x29 cm.
ISBN9780958225212
Nelson, Golden Bay, history, Mangarakau, Benara Timber Company, Rakopi, Bassetts Point Mill, Prouse and Saunders coalmine, Prouse and Saunders Mill, Whanganui Inlet, Te Hapu, Shark Heads, Paturau River, Paturau, Puni Paua, Sandhill Creek, Lake Otuhie, Anatori, Anaweka River, Turimawiwi, Kahurangi Lighthouse, West Whanganui Inlet, Karaka, Parkeston, Flaxmilling, Taitapu Battery, Aorangi Mine, Slaty Creek
VG softback
$65 B/C
River Press 2001 first edition, 167 + 8pp.
[#3859 ]
SOUTHLAND AND OTAGO RUGBY FOOTBALL UNIONS

Shield Fever
The Ranfurly Shield History of Otago and Southland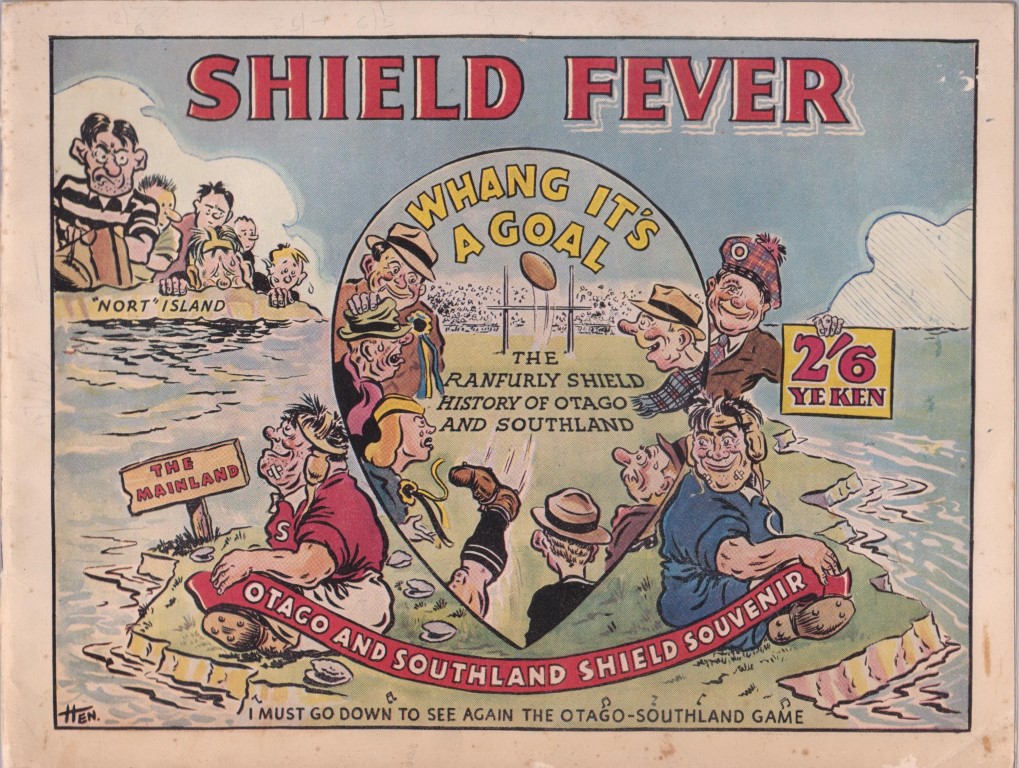 Souvenir publication for th 1950 Ranfurly Shield challenge.
Includes history of the NZRFU from 1875, cartoons by 'Hen', humour, and advertising from various Otago and Southland firms etc.
Colour front and rear covers.
nzrfu, sport, cartoon, souvenir, memorabilia
VG- softback, stapled, minor age or wear.
$30 B/B
Evening Star Company 1950 First Edition, 56pp.
[#3860 ]
12/9/2018 ev
THOMPSON Martyn

On Active Service
5177 O. R. Gatman 2 NZEF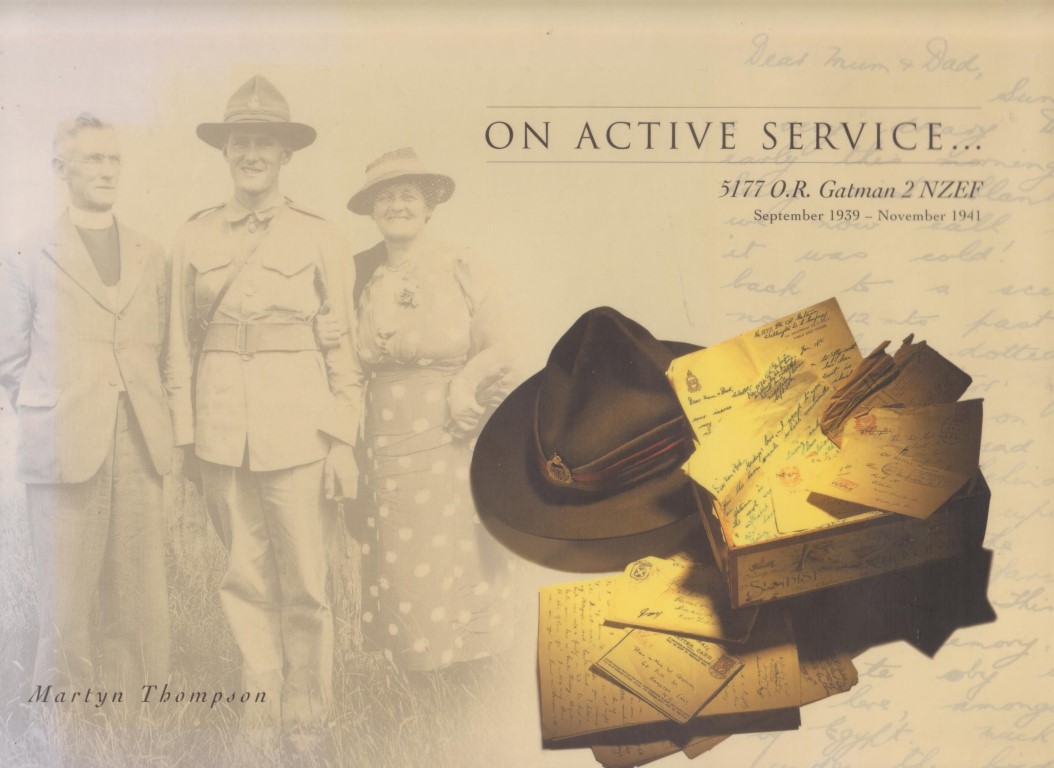 A record of Owen Gatman's service in the Middle east and Crete, from September 1939 to November 1941, when he died of wounds received at Sidi Azeiz.
Taken from his letters home, and Official Histories and other resources.
ISBN9780582542013
ww2, wwii, nzef, anzac
VG hardback in VG dust jacket with mild sun fade to spine.
As usual page 2 has blue pigment offset from the facing page.
$25 B/C
Longman NZ 1999 first edition, 128pp.
[#3839 ]
WOODFIELD Graeme and Joseph Romanos

No Ordinary Man
The Remarkable life of Arthur Porritt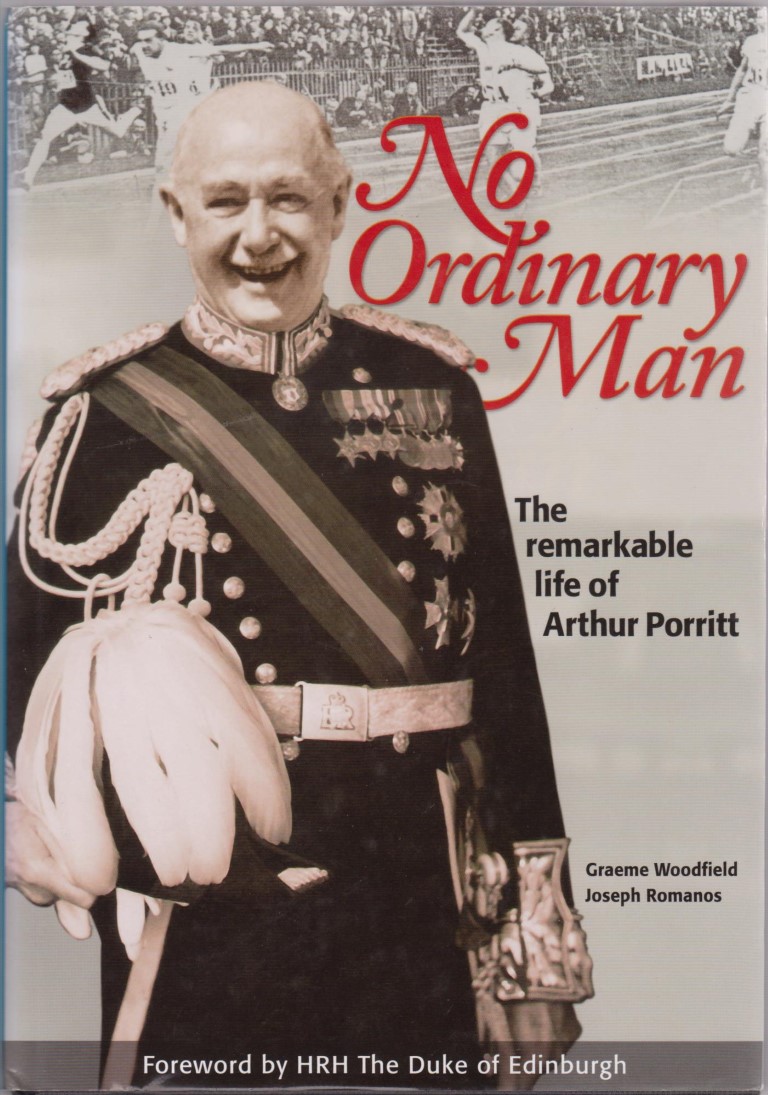 Biography of this accomplished New Zealander.
Porritt excelled in athletics, being a contemporary of Jack Lovelock; medicine as a surgeon to the Royal family; and politics, from the House of Lords to being the Governor General of New Zealand.
ISBN9780958283953
biography, IOC, politics
VG+ hardback in VG+ dust jacket
$35 B/D
Trio Books 2009 second printing, x 318 pp.
[#3841 ]
FUSI Stefano (editor)

To the Gateways of Florence
New Zealand Forces in Tuscany 1944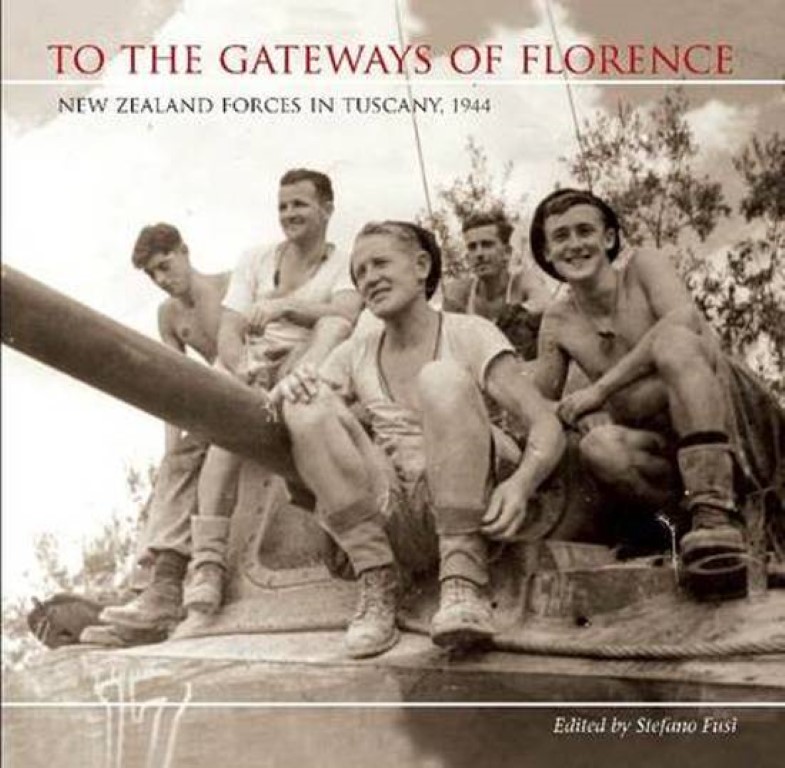 Stefano Fusi, Mayor of Tavarnelle Val di Pesa in Tuscany, with his NZ born wife has researched the liberation of the towns about Florence, which paved the way for the decisive battle for the great city.
Their research showed that units of the 28th Maori Battallion, and the 23rd Infantry Battalion were instrumental in the campaign in Tuscany.
Includes research by the author as well as recollections by Kiwi soldiers, and details of combat and strategy.
This work is an enlarged translation of the Italian original, with new material and photographs.
ISBN9781877514234
wwii, ww2, anzac, italy, kiwis, 2nzef
VG softback
$30 B/D
Libro International 2011 first English edition, 275pp.
[#3842 ]
HARPER Glyn and John Tonkin-Covell

The Battles of Monte Cassino
The campaign and its controversies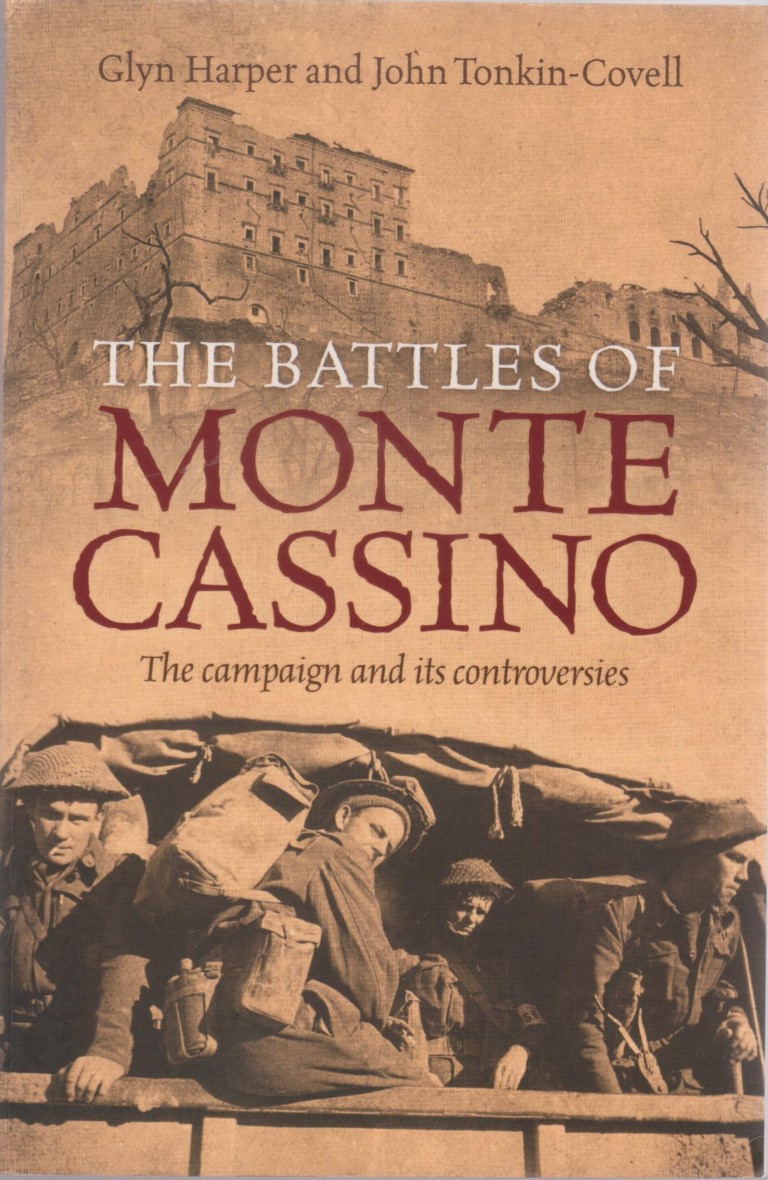 A study of the four major battles that were needed to dislodge the German forces from Monte Cassino, allowing the Allied advance to Rome.
ISBN9781741148794
ww2, wwii, italy, anzac, 2nzef, 28 battallion
VG softback
$20 C/C
Allen and Unwin 2013, xxii 290pp + plates.
[#3843 ]
SHARE Dave

Oceans of Time
The Memoir of a happy-go-lucky seadog.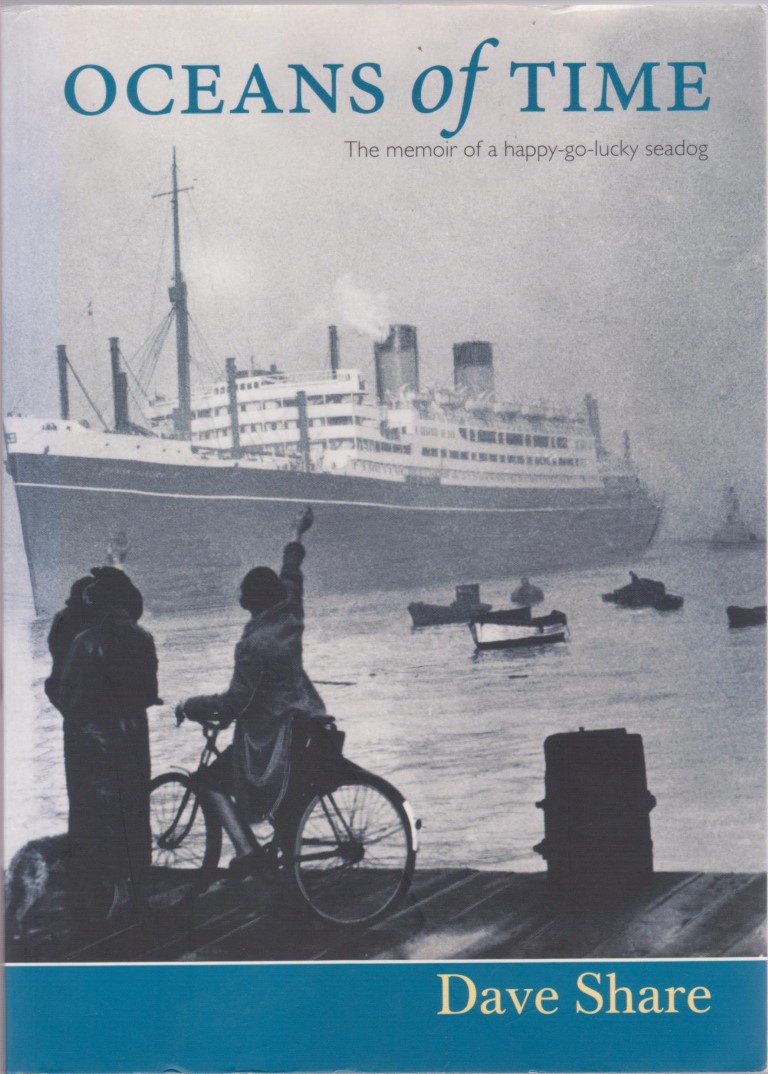 An autobiographical memoir by a chap orphaned during WWII in the UK and who joined the British Merchant Navy.
Jumping ship three times in NZ he eventually settled here and continued his nautical career.
ISBN9781877338939
biography, maritime, merchant marine,
VG softback with review copy label to inside cover.
$30 C/C
Steele Roberts 2006, 279pp.
[#3844 ]
POLLARD Jane

A Mingled Yarn
The Seifert Family and Flaxmilling in New Zealand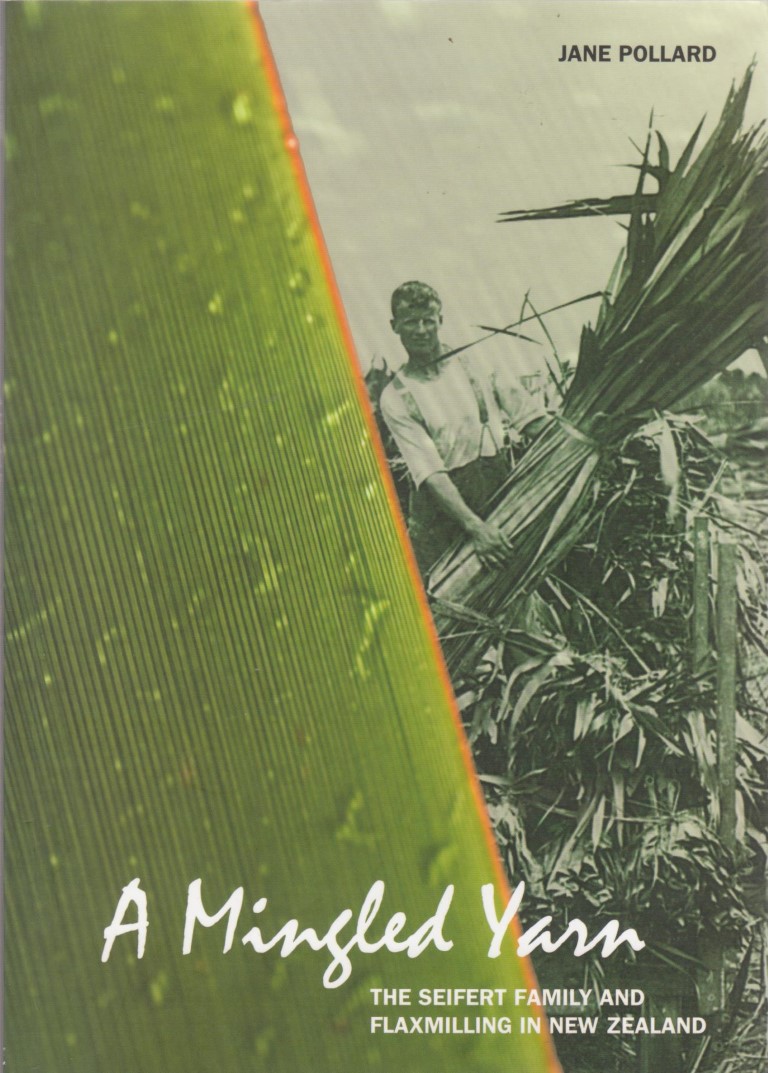 An immigrants from Germany, Johann Hermann Seifert took up flax-milling in the long depression of 1889.
His seven sons milled flax across New Zealand from Southland to the Waikato.
ISBN064644025X
new zealand, manufacturing, textiles, industry, genealogy, Turakina, Paiaka, Okuku, Miranui
VG softback
$30 B/C
Jane Pollard 2004, viii 159pp.
[#3845 ]
MOORE John

From Pushchair to Railway Train
The Memoirs of a Marlborough Farmer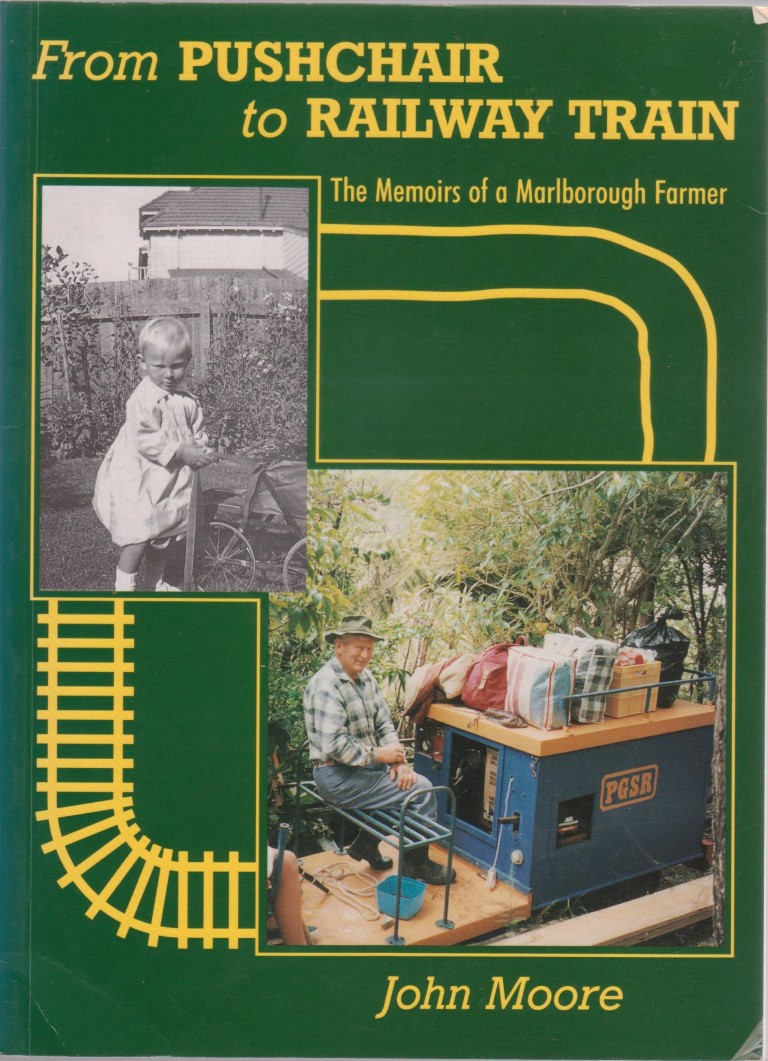 Moore relates his interesting life, including serving in the Pacific during WWII, farming, and working with the Marlborough Electric Power Board
ISBN0473037572
35th battalion, 2nzefip, pacific war, ww2, memoir, biography, John R E Moore, Glen Wye
VG softback
$25 B/B
Clerestory Publication Services 1996, ix 162pp.
[#3846 ]
MORTON Elsie K

Crusoes of Sunday Island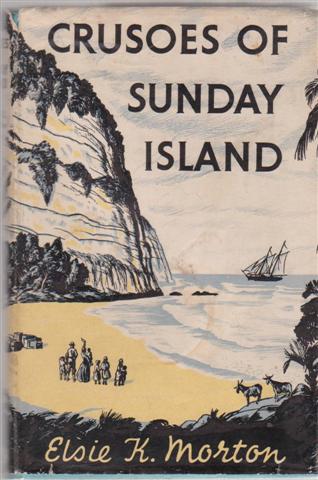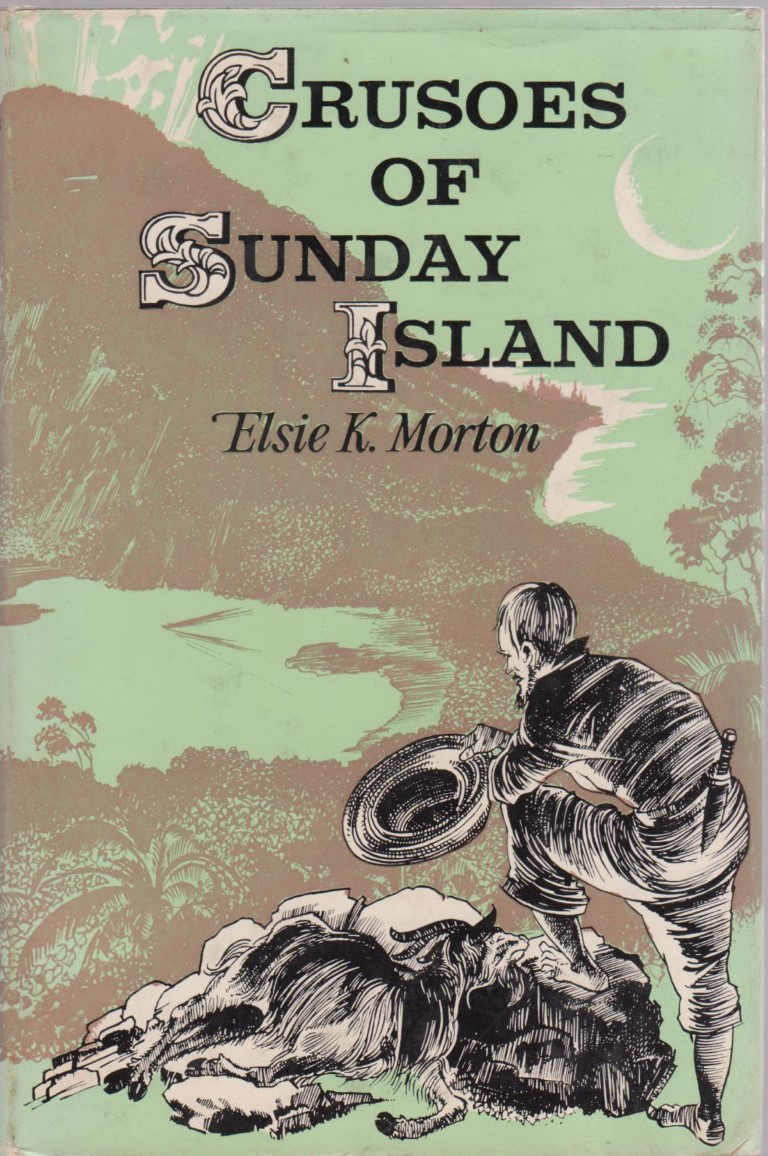 Tom Bell was a born pioneer who, after fighting in the Maori wars of the sixties decided that the one thing he wanted more than anything else was to find an uninhabited Pacific Island, take his wife and young children there, and open it up as a trading station.
In 1878 they came eventually to Sunday Island six hundred miles north of Auckland.
This is a desert island story. It has elements of both Robinson Crusoe and The Swiss Family Robinson, but has the added interest of being absolutely true.
Sunday Island is a tiny fertile volcanic island which was haunted by ill-luck. From the start the family had to live the life of desert islanders.
They had bought food supplies from the captain of the trading schooner from which they landed, but when they began to unpack the cases of food they found all of it rotten.
They had been deserted as well as cheated, for the schooner never returned and it was nearly another year before they saw anyone.
Tom and Frederica Bell raised a family of ten in utter isolation and after years of effort and setbacks they made an Eden of their island only to lose it in the end.
The story was told to the author by one of Tom Bell's daughters who was nine years old when the family landed on the island.
VG hardback in VG- dust jacket with small splits to edges. Lightly soiled wrapper
$55 C/B
G Bell 1957 first reprint, hard cover, 189pp + plates. [#2489 nz history ]
G+ hardback in VG dust jacket. Jacket flaps pasted down to endpaper. some tape rust to jacket flaps and endpapers. Ex-library with stamps to endpapers only.
$35 C/B
G Bell 1957 FIRST EDITION, 189pp + plates
[#3138 ]
VG hardback in VG dust jacket. Gift inscription to free endpapers.
$55 C/B
Reed 1964 New Zealand edition, 189pp + plates
[#3847 ]
REID Alec as told by David Reid

Paddlewheels on the Wanganui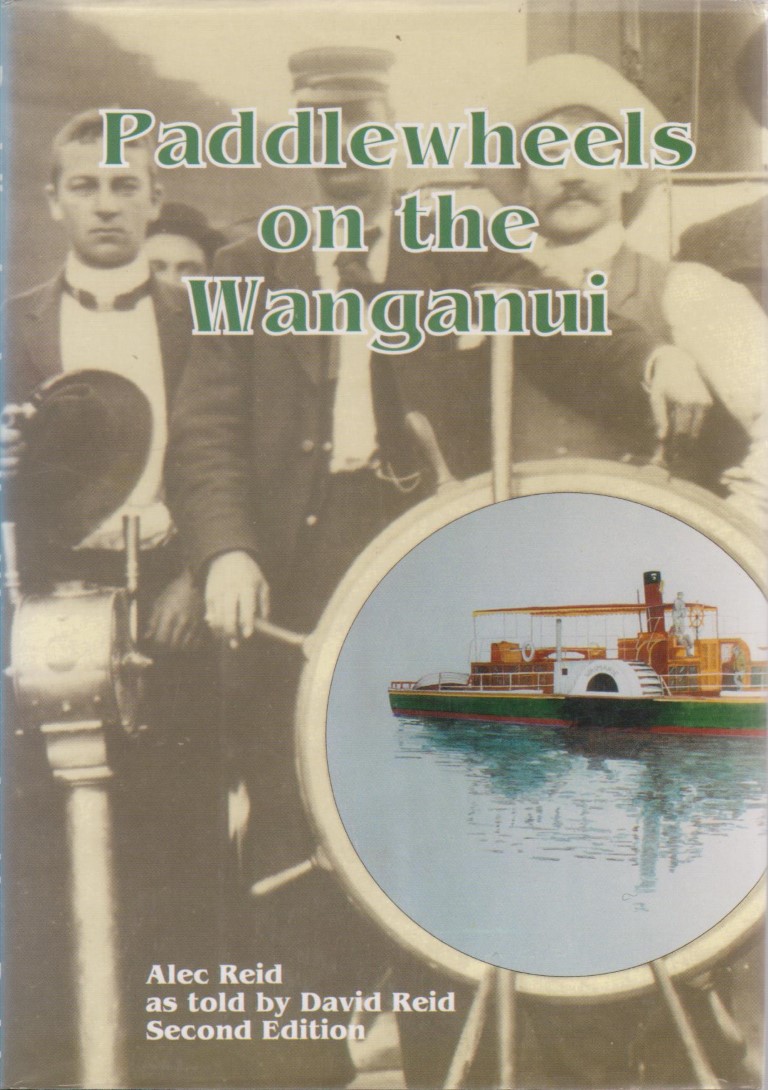 A memoir of his time spent piloting paddle boats on the long Wanganui river, as well as a history of the river and commerce on it.
ISBN0473020904
river boats, wanganui river, paddle steamers, transport, pipiriki, taumaranui
VG hardback in VG dust jacket, signed by Alec Reid to title page.
$35 C/B
Paddlewheels Press1993 second edition, 127pp.
[#3848 ]
HAMES E. W.

Coming of Age
New Zealand Methodism, the United Church 1913-1972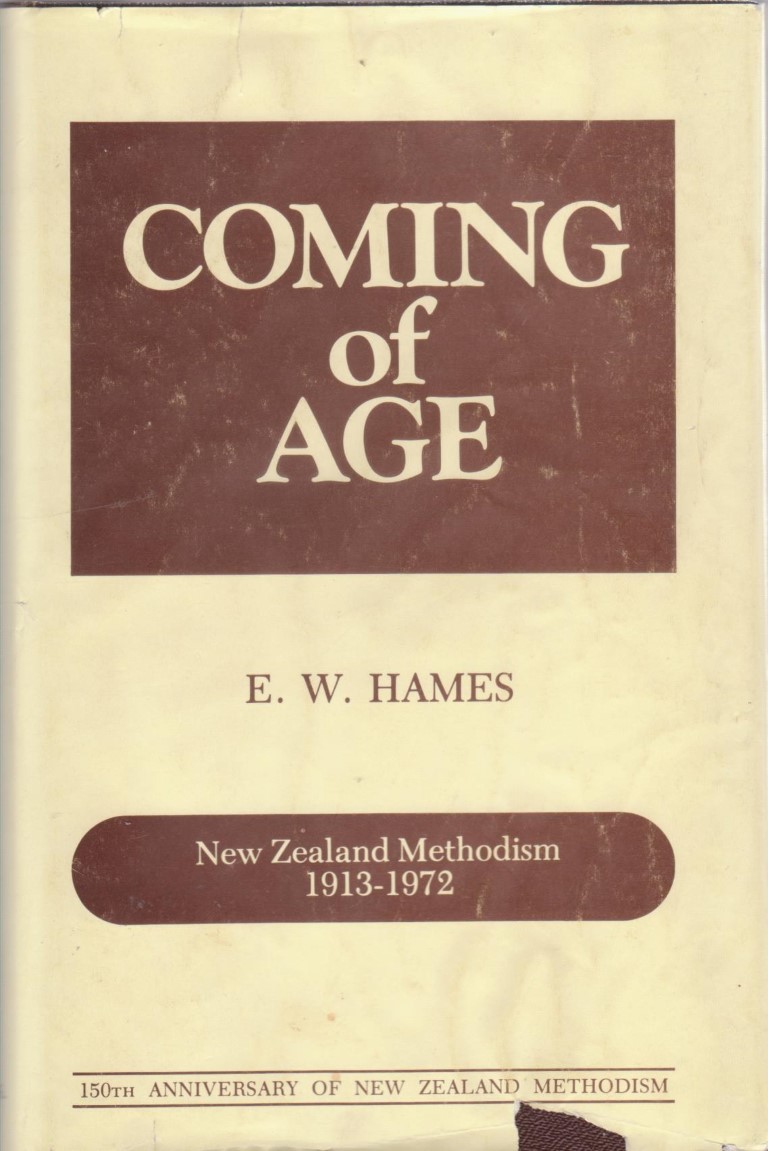 New Zealand Methodist Church History Vol 28 Numbers 1 & 2, the Proceedings of the Wesley Historical Society of New Zealand
VG hardback in G+ dust jacket with small chip to bottom edge of front panel, light wear.
$35 C/C
Wesley Historical Society 1974, 157pp +plates and index
[#3849 ]
4/9/2018 ev
LAVER Rod & Jack Pollard

How to play Winning Tennis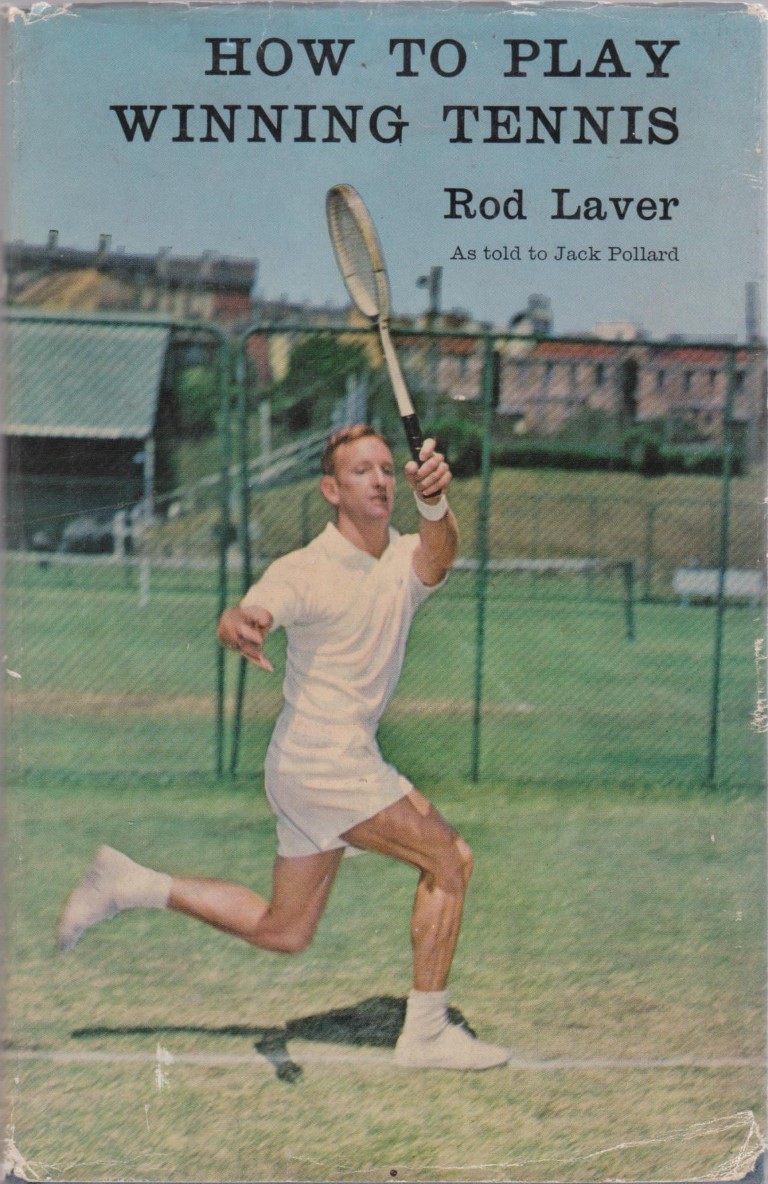 Australian Rodney George Laver was the first ranked professional tennis player from 1964 to 1970, and the first ranked amateur in 1961 to 1962.
He was one of the most successful championship players ever.
Here he has imparted his knowledge through conversations with Jack Pollard.
technique, coaching, grand slam, davis cup
VG- hardback in G+ price clipped dust jacket with light edge rubbing and some chipping to spine ends and corners, name stamps to free end paper.
$15 C/B
Pelham Books 1964 first edition, 112pp + plates and diagrams.
[#3836 ]
BAXTER James K.

The Sore-footed Man
The Temptations of Oedipus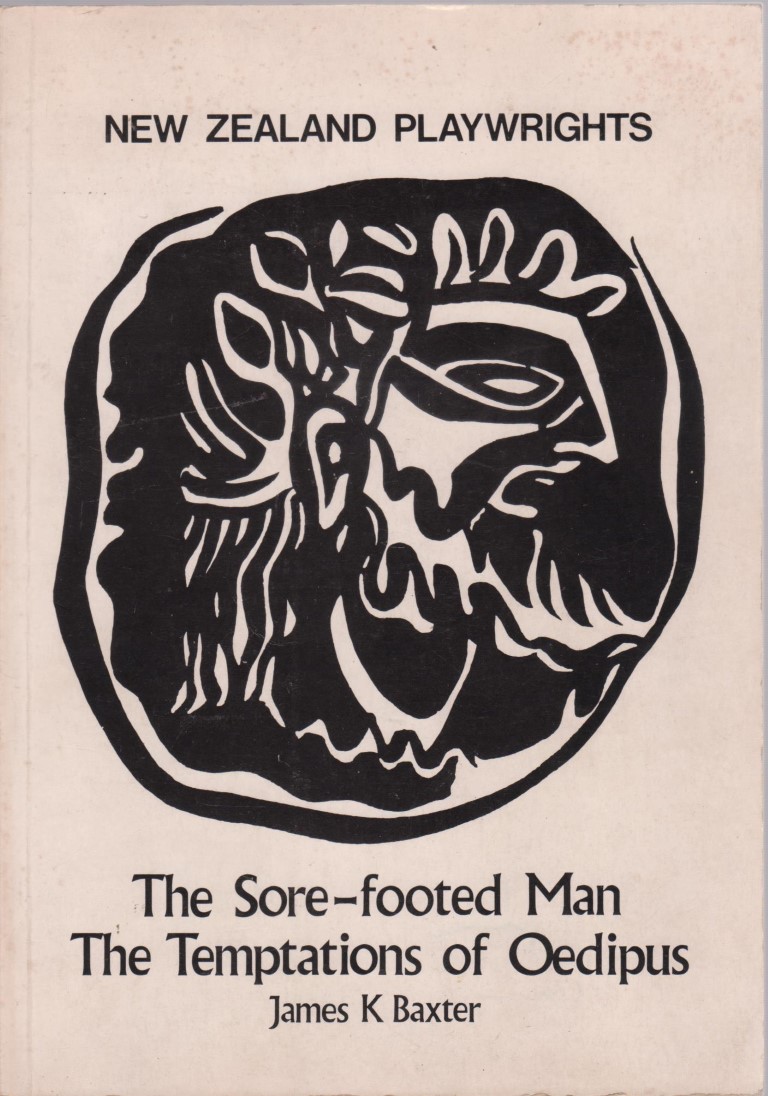 Two plays on Ancient Greek mythological themes.
Part of the New Zealand Playwrights Series.
theatre, playscript, plays, classical, classics, new zealand theatre
VG softback
$25 B/B
Heinemann Educational Books 1971 first edition, 83pp.
[#3837 ]
TURNER Brian

Into the Wider World: a Back Country Miscellany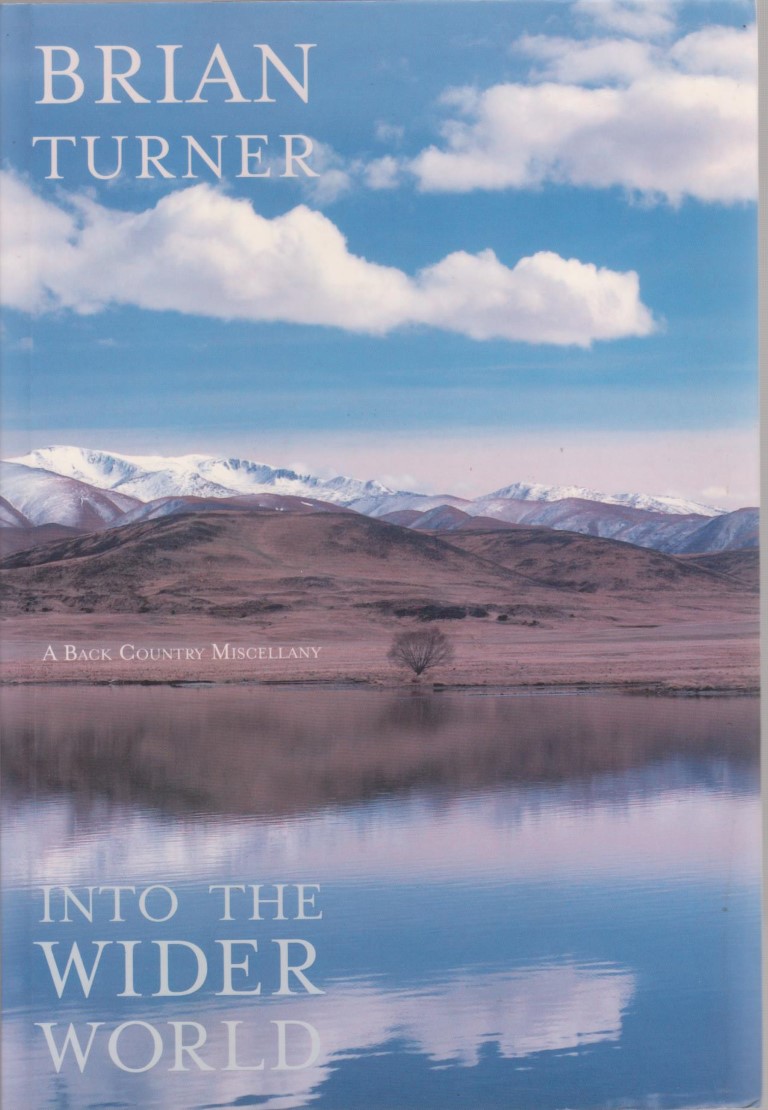 A collection of essays, columns, articles and poetry that concentrate on wild places and outdoor pursuits engaged in by this conservationist and author who also is a passionate fly-fisher and tramper.
With a focus on southern areas like the MacKenzie and Central Otago, and a good deal about angling.
Illustrated with colour photographs.
ISBN9781869621421
angling, hiking, nature, ecology
VG softback.
$35 C/D
Random House/Godwit 2008 first edition, 492pp.
[#3838 ]
27/8/2018 ev
VOLTAIRE Francois Marie Arouet de,

Candide, or Optimism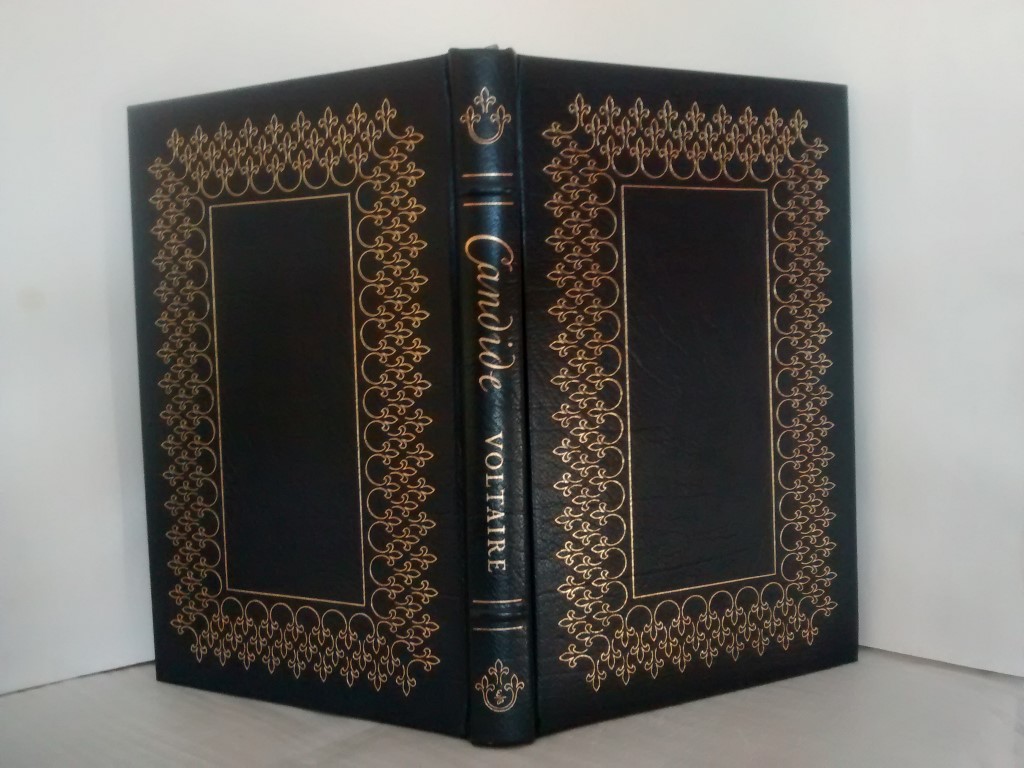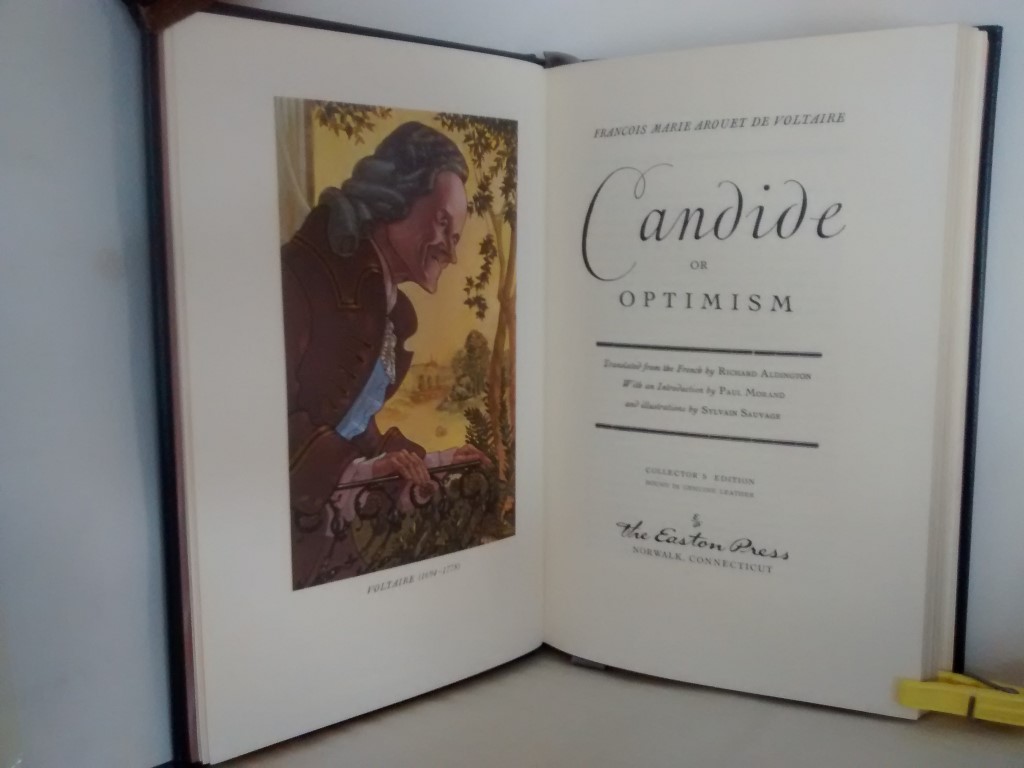 Translated by Richard Aldington, with an introduction by Paul Morand, and illustrations by Sylvain Sauvage.
A deluxe illustrated edition, bound in leather with gilt decoration, and all edges gilt.
Silk-moire fabric endpapers and a marker ribbon.
Part of the subscription set of The 100 Greatest Books Ever Written.
rare, collectable, deluxe, french literature
FINE leather hardback
$55 B/C
Easton Press 1977, 131pp.
[#3823 ]
URQUHART D. W. Fraser

The Lure of the Lakes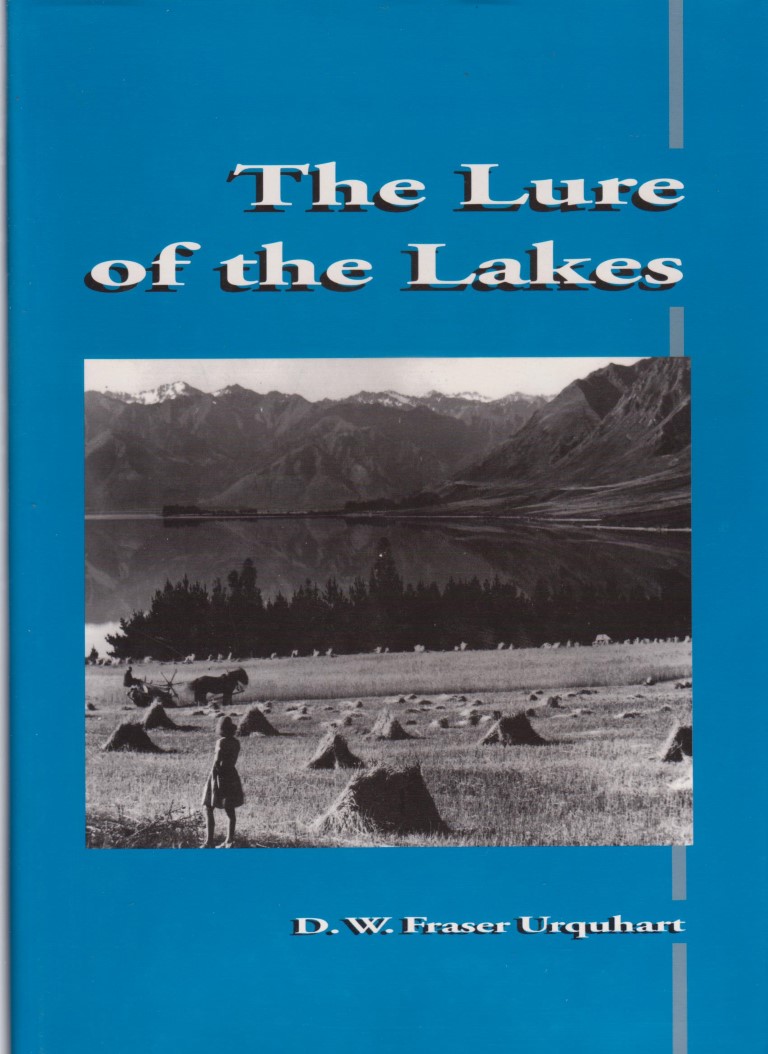 A family and regional history of pioneers in the Lake Hawea area of Central Otago.
Includes genealogical charts of the Urquhart, Trustrum, Matheson, John and Taylor families.
ISBN0473055023
FINE hardback in Near fine dust jacket.
$75 B/D
K A Hawkes 1998 first edition limited to 1000 copies. viii 159pp+ xxv pp.
[#3824 ]
ALPERS Antony

A Book of Dolphins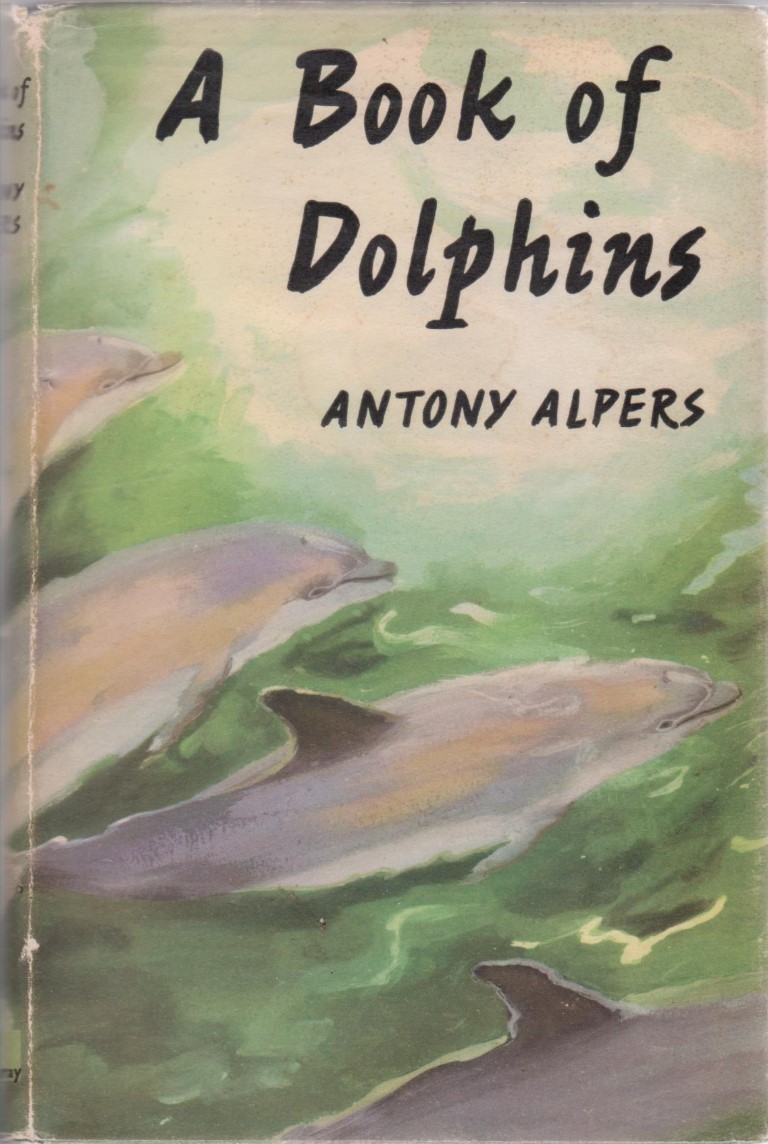 Alpers surveys dolphin lore from ancient Greek times up to modern New Zealand, where dolphins have at times become the playthings of beach-goers.
Drawings by Erik Thorn
Pelorus Jack, Opononi, Arion, Polynesian legends,
VG hardback in VG dust jacket
$8 C/B
Paul's Book Arcade 1960 first edition, 147pp + plates.
[#3825 ]
WOODHOUSE A. E.

New Zealand Farm and Station Verse 1850-1950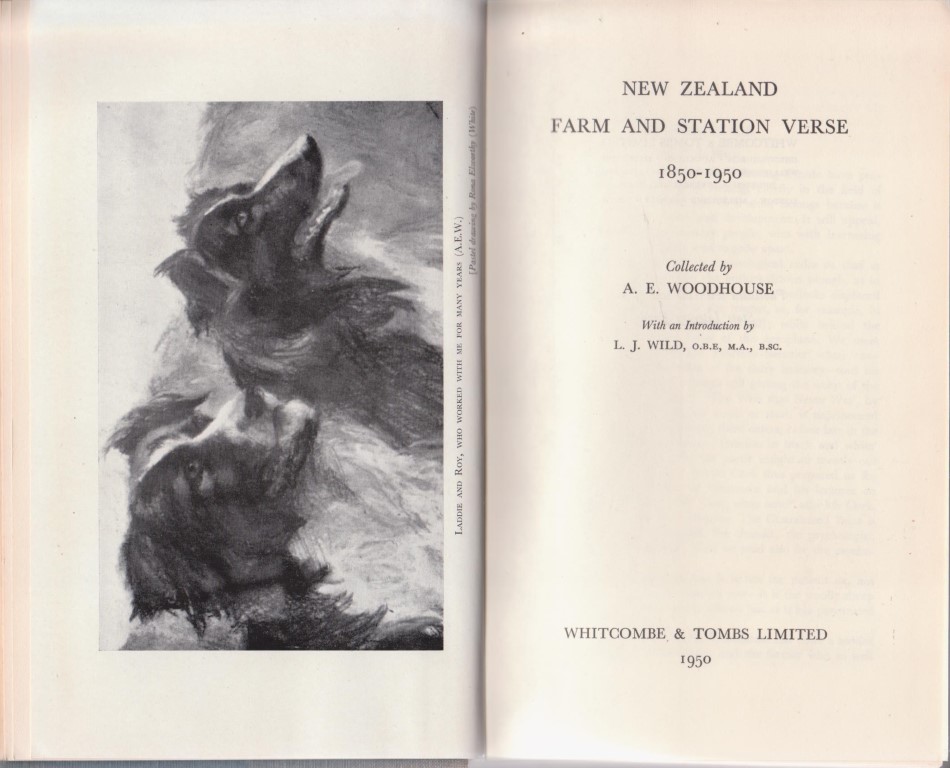 High Country mustering, shearing, farming based poetry, verse and ballads.
VG+ hardback in VG+ dust jacket, with small pen name to fep
$30 C/C
Whitcombe and Tombs 1967 reprint, prelims + 202pp +plates.
[#1920 ]
VG- hardback with sunned spine. No jacket.
$15 C/C
Whitcombe and Tombs 1967 reprint, prelims + 202pp +plates.
[#3826 ]
RENNIE Frank

Regular Soldier
A Life in the New Zealand Army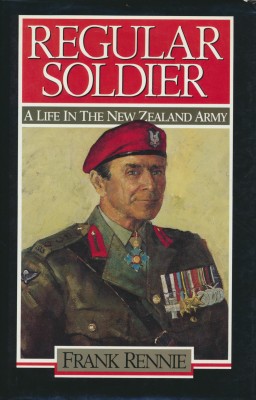 Rennie's autobiography of fifty years of service in the New Zealand army since enlisting in 1937. Served in the Pacific and Italy , with Jayforce in occupied Japan, and later with the SAS and as Commander of the Fiji Military Forces leading up to independence.
ISBN0864811705
G+ hardback in VG dust jacket. Books title page has some repaired damage to the edge. Dust jacket under a removable plastic sleeve
$15 C/C
Endeavour Press1986, 316 pp.
[#3055 ]
VG+ hardback in VG+ dust jacket.
$30 C/C
Endeavour Press1986, 316 pp.
[#3827 ]
SINCLAIR Keith

Walter Nash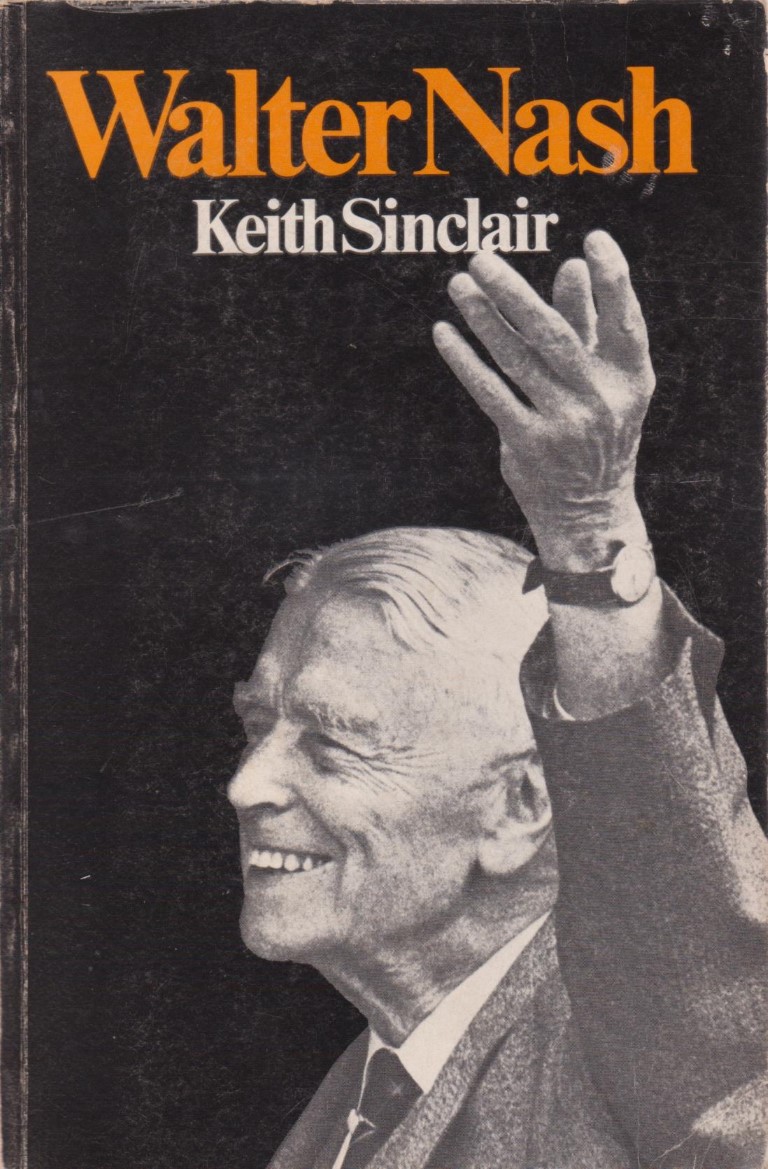 This biography gives details of Nash's 40 year political career, and the state of NZ politics in this period.
He was Prime Minister for one term, and was instrumental in the implementation of the Labour Party's Welfare State.
ISBN0196479665
new zealand, politics
VG softback
$15 C/C
Auckland University Press 1977, 439pp.
[#3829 ]
ROGERS Anna

A Lucky Landing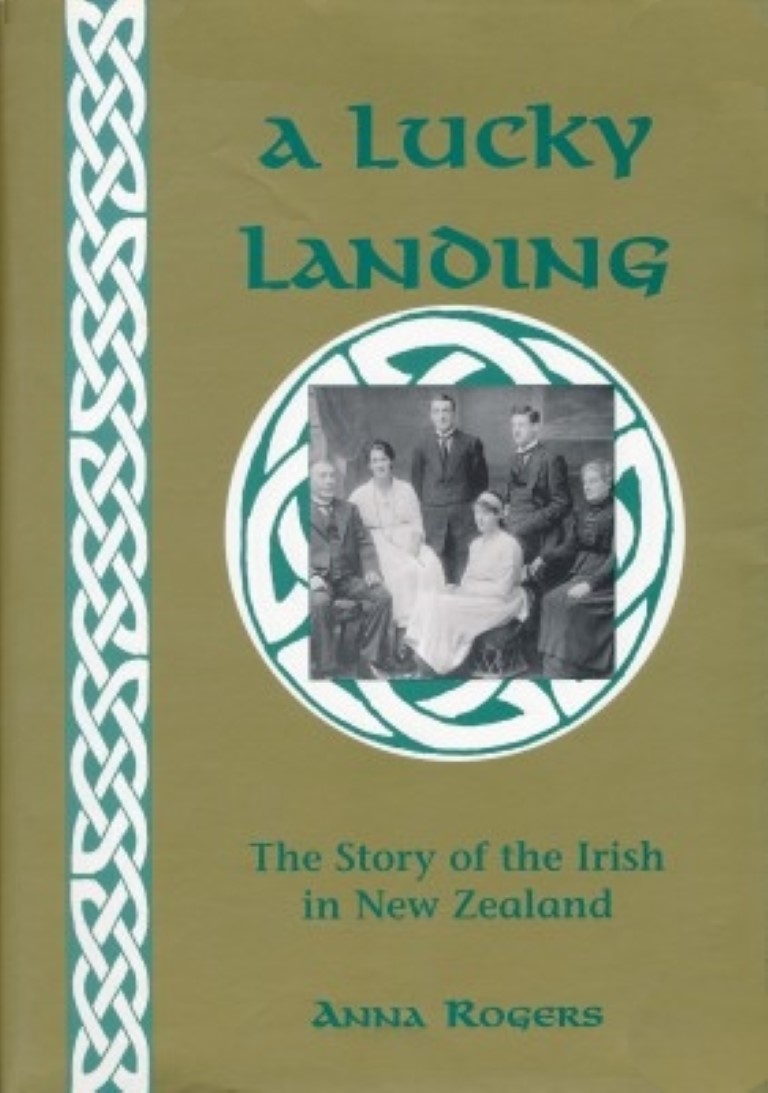 The Story of the Irish in New Zealand.
How the Irish colonists and immugrants have contirbuted to the New Zealand culture and economy, through their skills, beliefs, and old animosities.
ISBN9781869412883
irish, celtic, genealogy, colonial, history
VG softback with dust jacket. Name to first page.
$25 B/D
Random House 1996, 246pp.
[#3830 ]
BENTLY Geoffrey and Maurice Conly

Portrait of an Air Force
The Royal New Zealand Air Force 1937-1987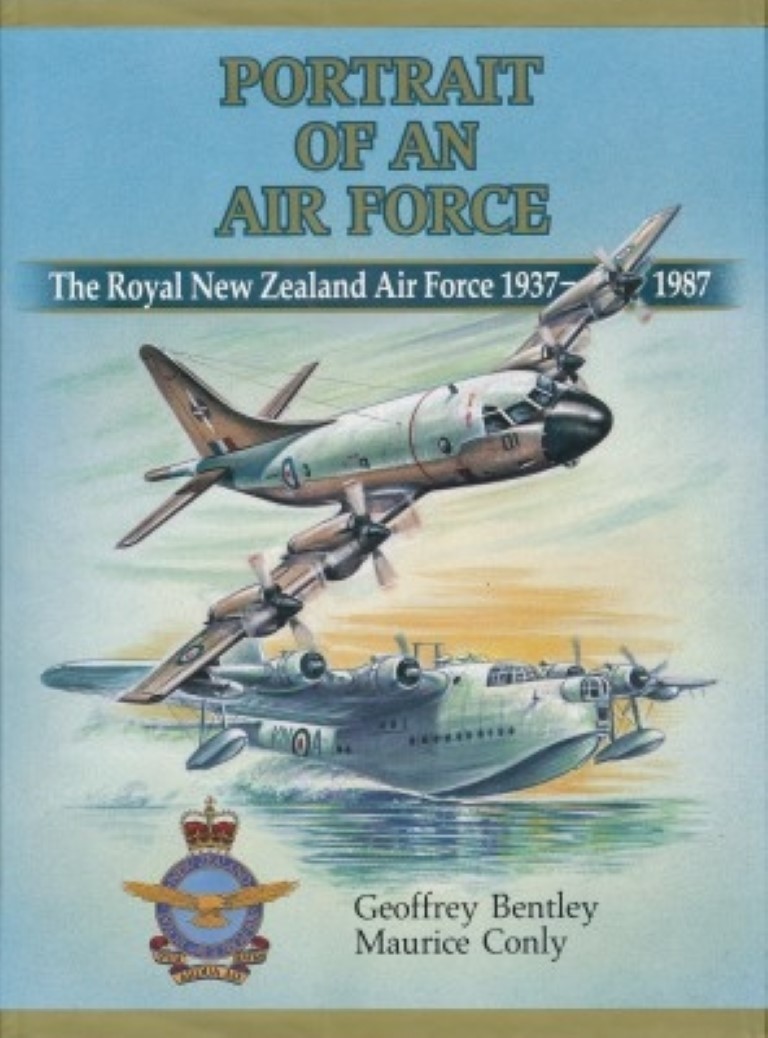 A history of the RNZAF, published for the Jubilee.
Many photographs as well as artwork by the Official Artist Maurice Conly.
ISBN978869340100
ww2, wwii, no.75 squadron, raf, rabaul, no.14 squadron, no.40 squadron, orions, skyhawks
VG- hardback in VG dust jacket. Bottom edge of book covers rubbed. Small pen inscription facing half title page and on top corner of title page.
$30 B/D
Grantham House 1987, 200pp.
[#3831 ]
MALCOLM Bill and Nancy

The Forest Carpet
New Zealand's Little-Noticed Forest Plants-Mosses, Lichens, Liverworts, Hornworts, Fork-Ferns, and Lycopods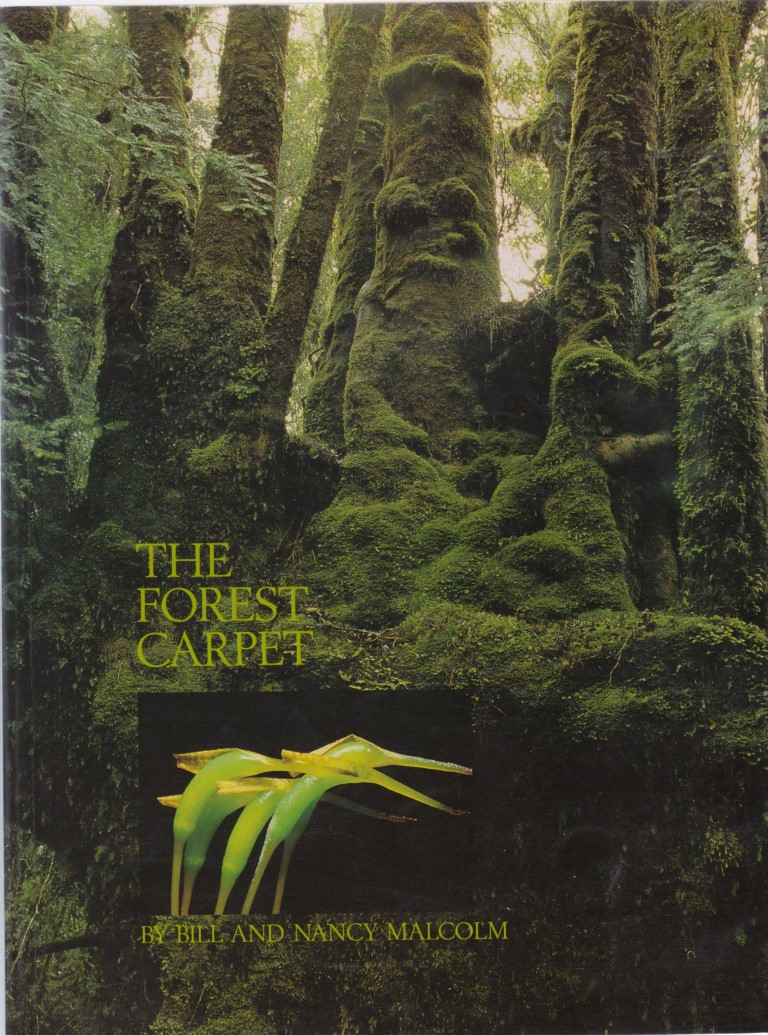 Amazing full colour photographs throughout this study of the forest covering plants of New Zealand.
Apart from the trees and larger shrubs and bushes, our forests have an extensive selection of moss-like ground covers.
Includes super close-up macro-photography, and microscope views.
ISBN0908802080
flora, nature, native plants
VG softback.
$55 B/C
Craig Potton Publishing Ltd 1989 First Edition, 140pp.
[#3832 ]
MUNDY D.

There's Gold in Them Hills
The Saga of a Colonial Cove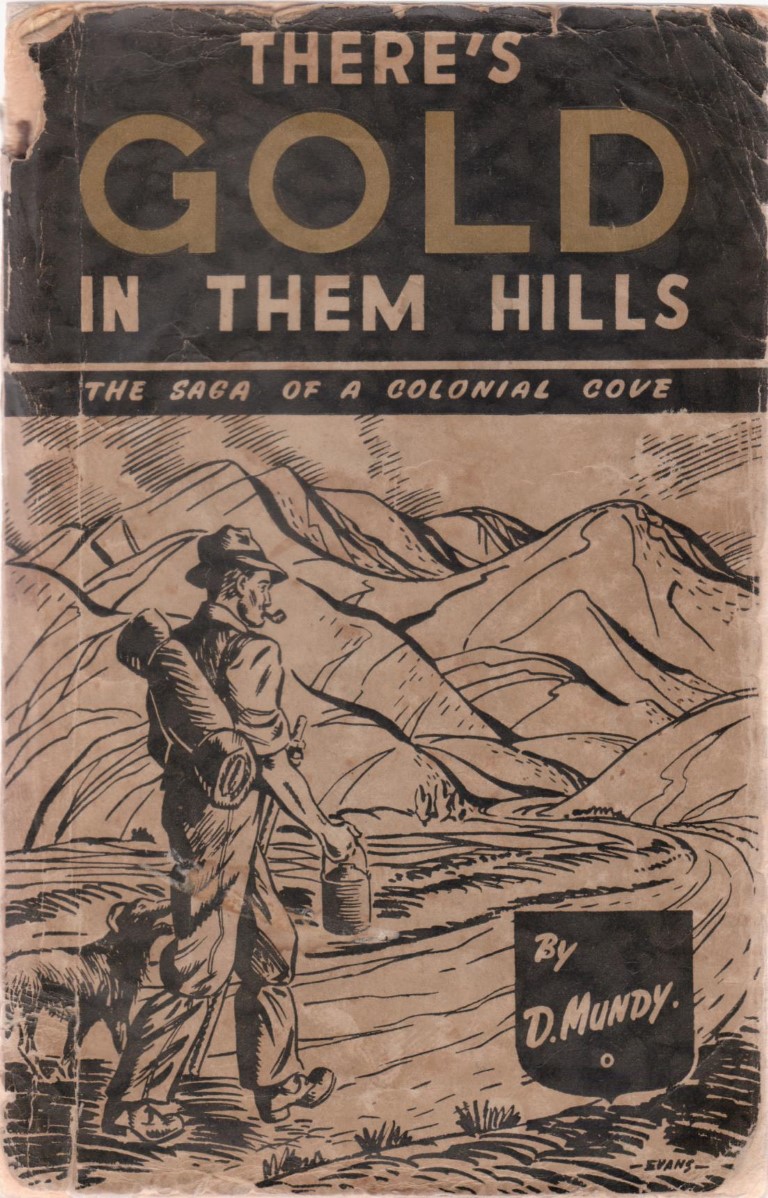 The author immigrated from Australia to Karangahape at the turn of the 20th century.
He recounts his travels about NZ, and some trips back to Australia, and his various jobs, which including being a show wrestler.
westland, wrestling, memoir, biography
Good only softback with wear to covers. Contemporary India ink name to half-title page.
$15 C/B
Simpson and Williams (1947), 132pp.
[#3833 ]
WATSON E L Grant

The Mystery of Physical Life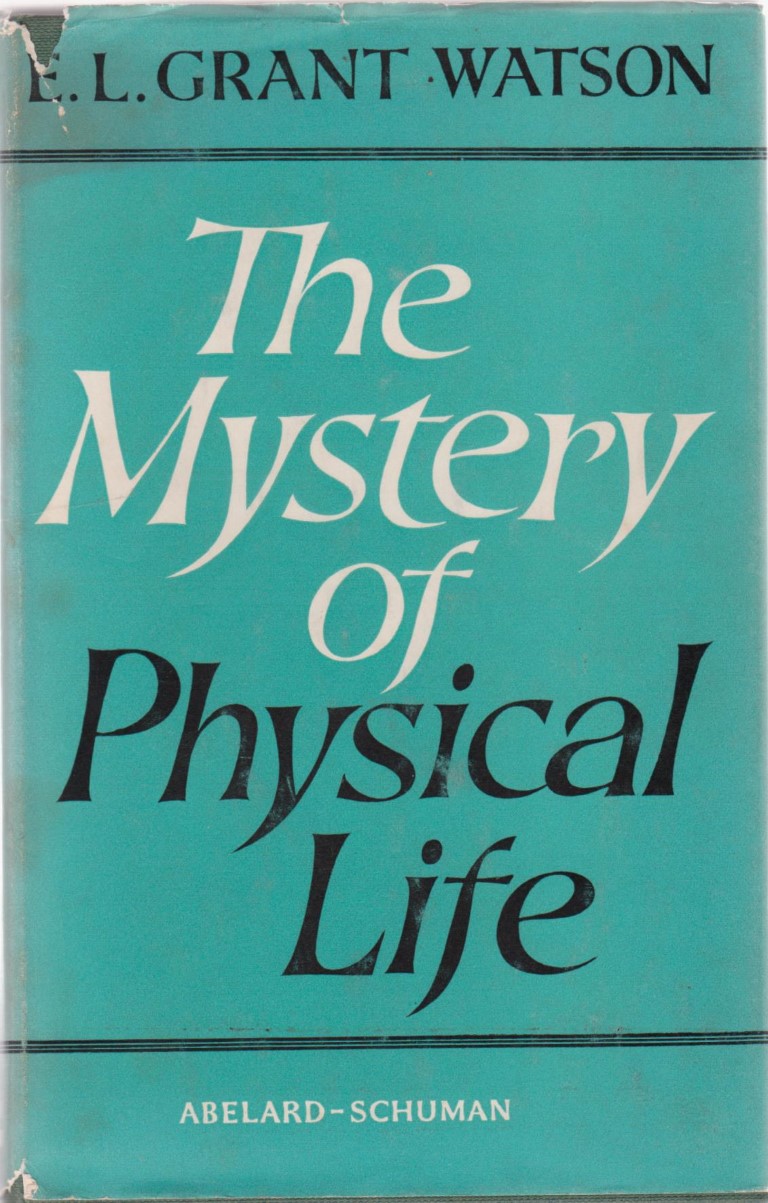 The author, a zoologist, questions the absolute mechanism of Darwinian Evolution, and with examples from Nature posits a pantheistic understanding of biological facts.
Jung has contributed some comments which appear as footnotes.
nature, pantheism, C G Jung, spirituality
VG hardback in G+ dust jacket with some minor chipping loss.
$8 C/B
Abelard Schuman 1964 first edition, 156pp.
[#3834 ]
19/8/2018 ev
WILLIAMS P. M. E.

Te Rongo Maori, Maori Medicine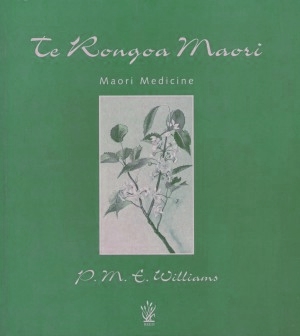 Pip Williams was a pharmacist in rural Northland and kept notes of traditional remedies he saw the local Maori use.
He recounts what he saw and was told, how the native plants were used and what complaints they treated.
ISBN9780143011361
herbs, health, naturopathy
VG+ softback
$15 B/A
Penguin Books 2008, 79pp.
[#3814 ]
SZEKELY Edmond Bordeaux

The Essene Gospel of Peace
book one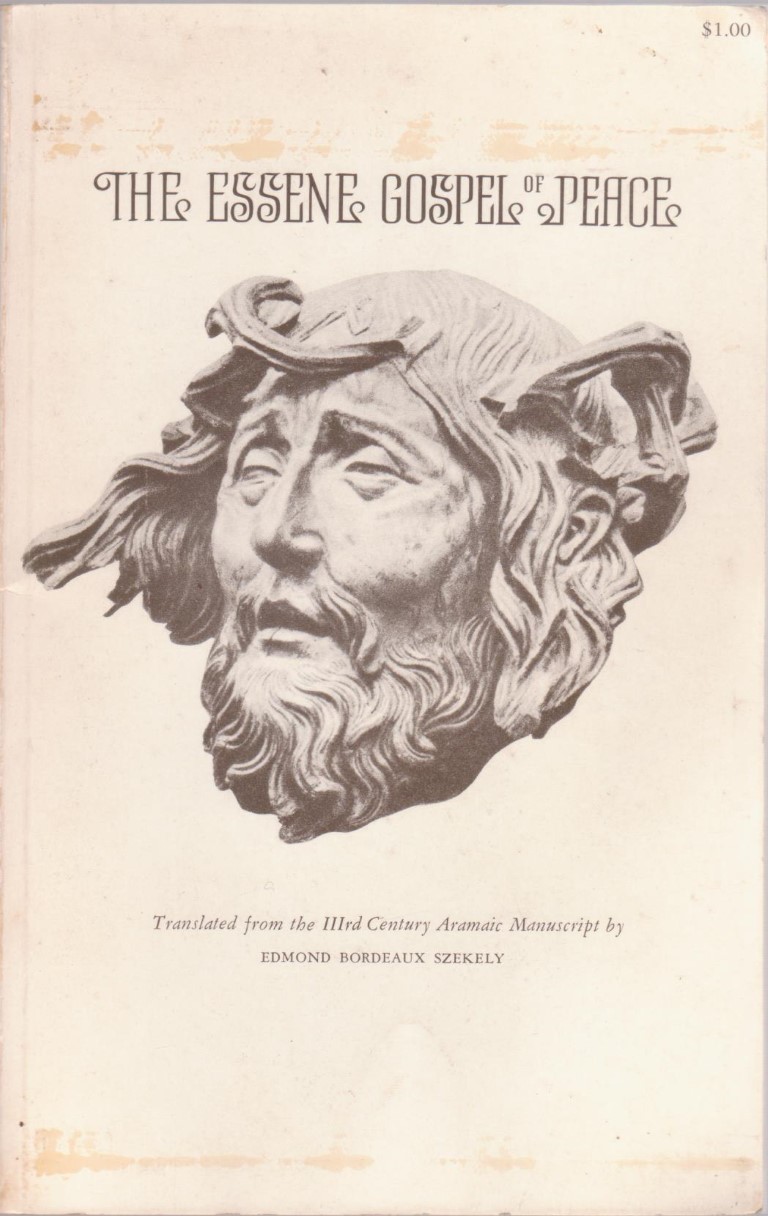 Translation of an ancient Slavonic manuscript transliteration of third century C.E. christian / essene gospel.
Contains the basic principles of Nature Cure within religious context!
essene, apocrypha, hebrew, aramaic, mysticism, biogenics
VG softback
$10 C/A
International Biogenic Society 1981, 72pp.
[#1166 ]
VG softback
$10 C/A
Academy of Creative Living 1970 (14th edition), 62pp.
[#3815 ]
GOLDSMITH Joel S.

Living the Infinite Way
Proof copy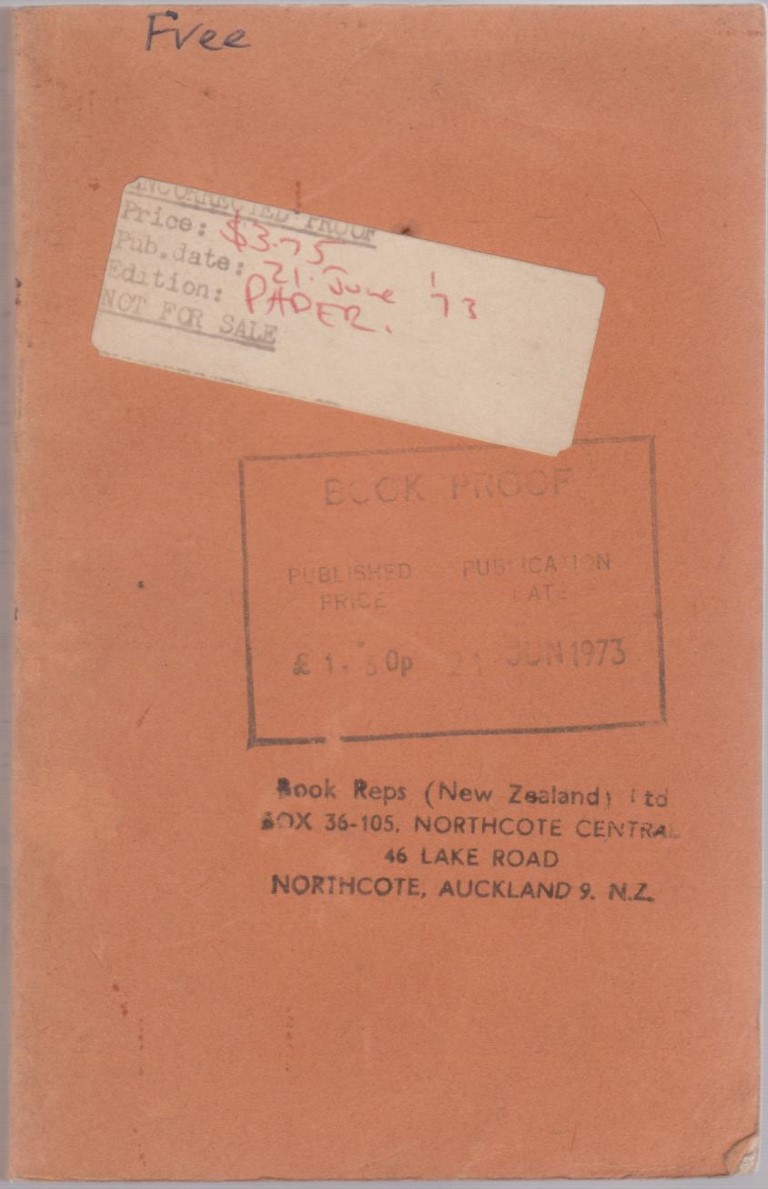 A New Thought look at spirituality and God-Consciousness.
What God is and how to attain God-Experience.
Mentions the Master Jesus, but not doctrinally Christian.
ISBN0042000262
New Thought, spirituality
G+ softback with plain paper wrappers with book distributor's stamped details. Pen title to spine.
$10 A/A
George Allen and Unwin 1973, 144pp.
[#3816 ]
DAVIS Roy Eugene

The Way of the Initiate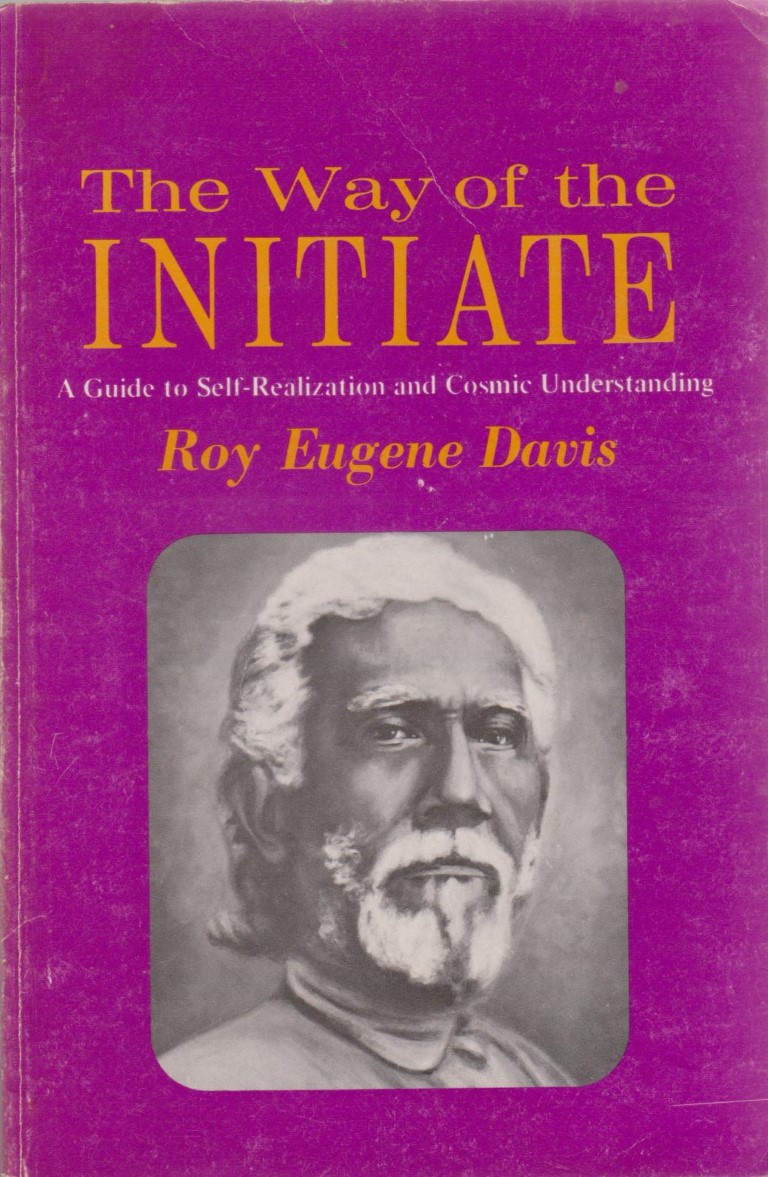 A guide to self-realization and cosmic understanding, by a direct disciple of Paramahansa Yogananda.
ISBN0877070121
meditation, occultism, theosophical
VG- softback
$10 C/B
CSA Press 1976 rprint, 144pp
[#3817 ]
WOOD Ernest E.

Practical Yoga, Ancient and Modern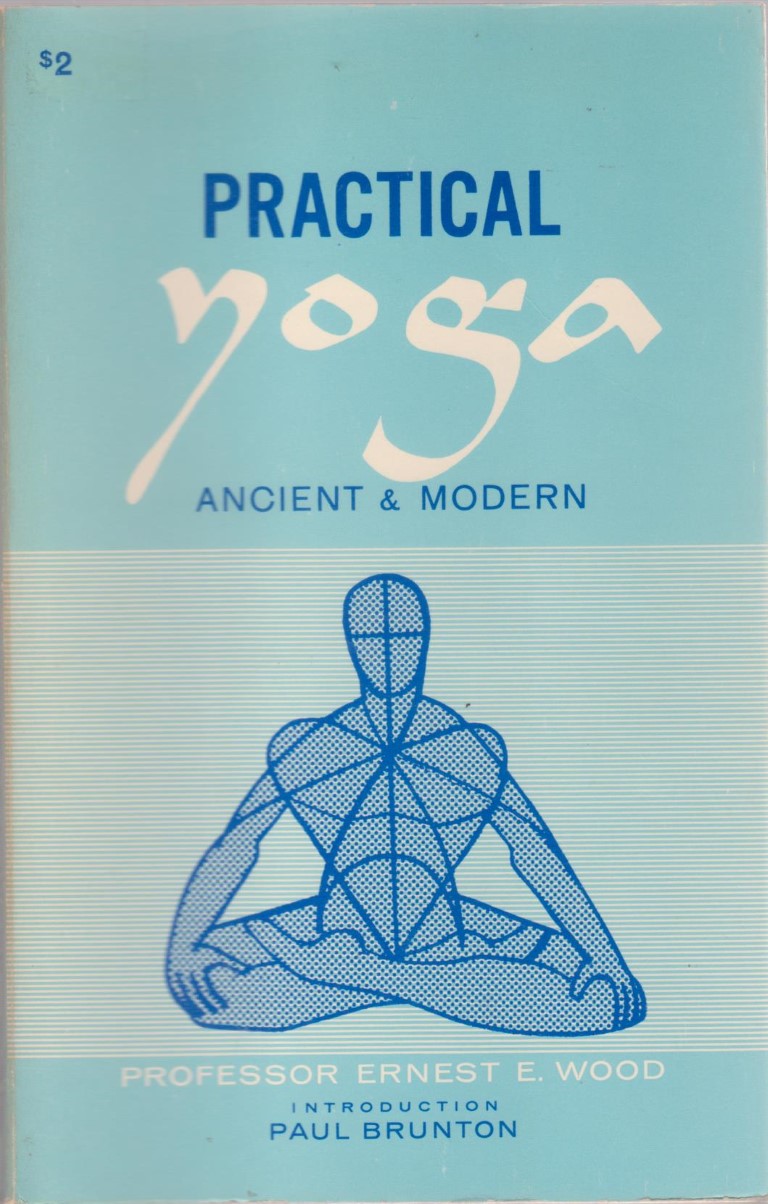 A translation of Patanjali's Yoga Aphorisms, interpreted in the light of ancient and modern psychological knowledge and practical experience.
With an introduction by Paul Brunton.
ISBN0879801492
veda, vedic, hindu, yoga philosophy, raja yoga
VG- with name to first page.
$15 C/B
Wilshire Book Company 1973 (reprint of 1948 Dutton edition), 245pp + index.
[#3818 ]
AUROBINDO Sri

The Future Evolution of Man
The Divine Life Upon Earth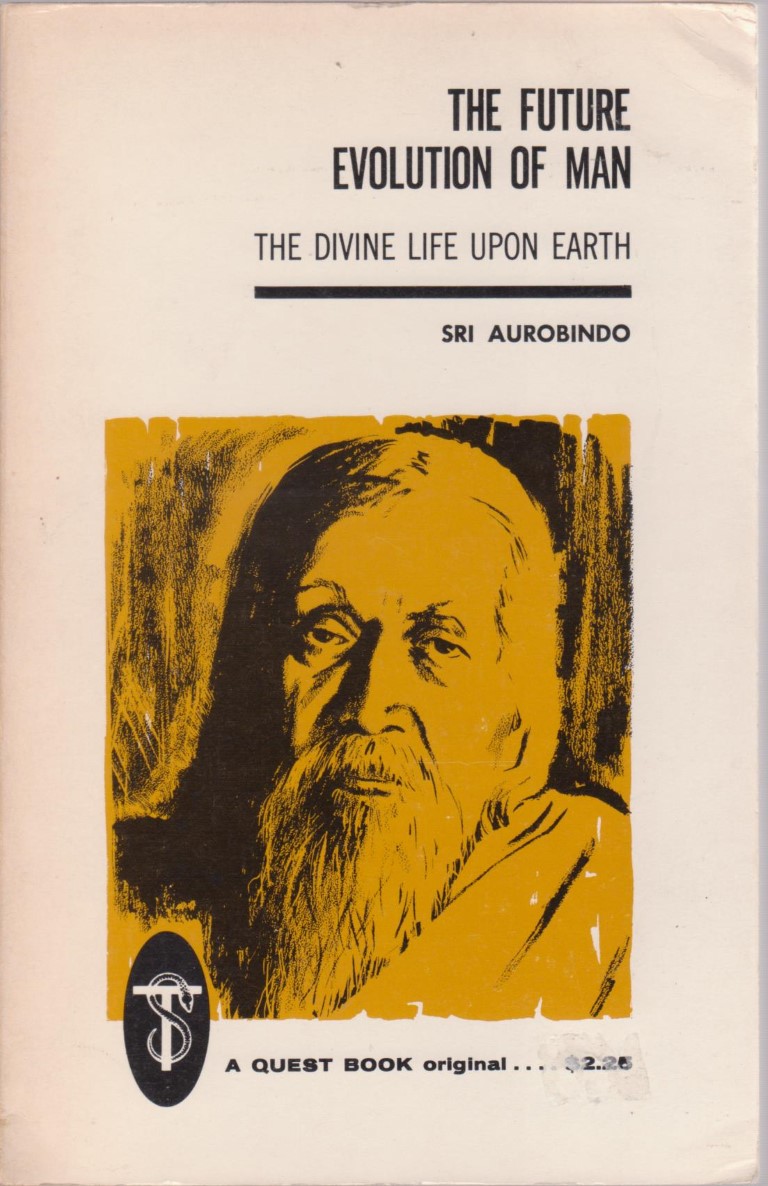 Selections from Sri Aurobindo Ghose; The Life Divine, The Human Cycle and The Synthesis of Yoga, compiled by P. B. Saint-Hilaire, with a summary and notes.
ISBN0835604411
hindu, philosophy, indian, yoga, spirituality
VG- softback, name at front.
$15 C/B
Theosophical Publishing House 1971 second edition, 157pp.
[#3819 ]
AUROBINDO Sri

Lights on Yoga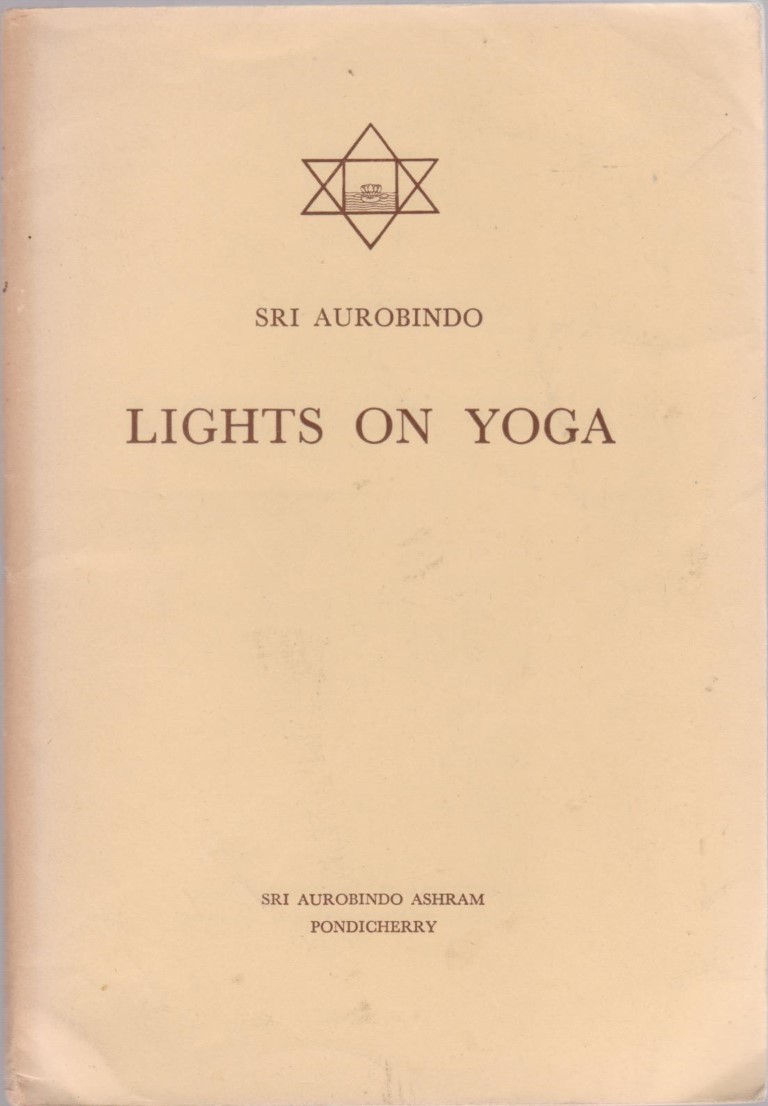 Extracts from letters written by Sri Aurobindo Ghose to his disciples, arranged as to be of use to students of Yoga.
With glossary of Sanskrit terminology.
hindu, indian, yoga, philosophy,
VG softback sewn into paper wrappers, name to first page.
$10 C/A
Sri Aurobindo Ashram 1974, 64pp.
[#3820 ]
JOHNSTON Charles

The Yoga Sutras of Patanjali
The Book of the Spiritual Man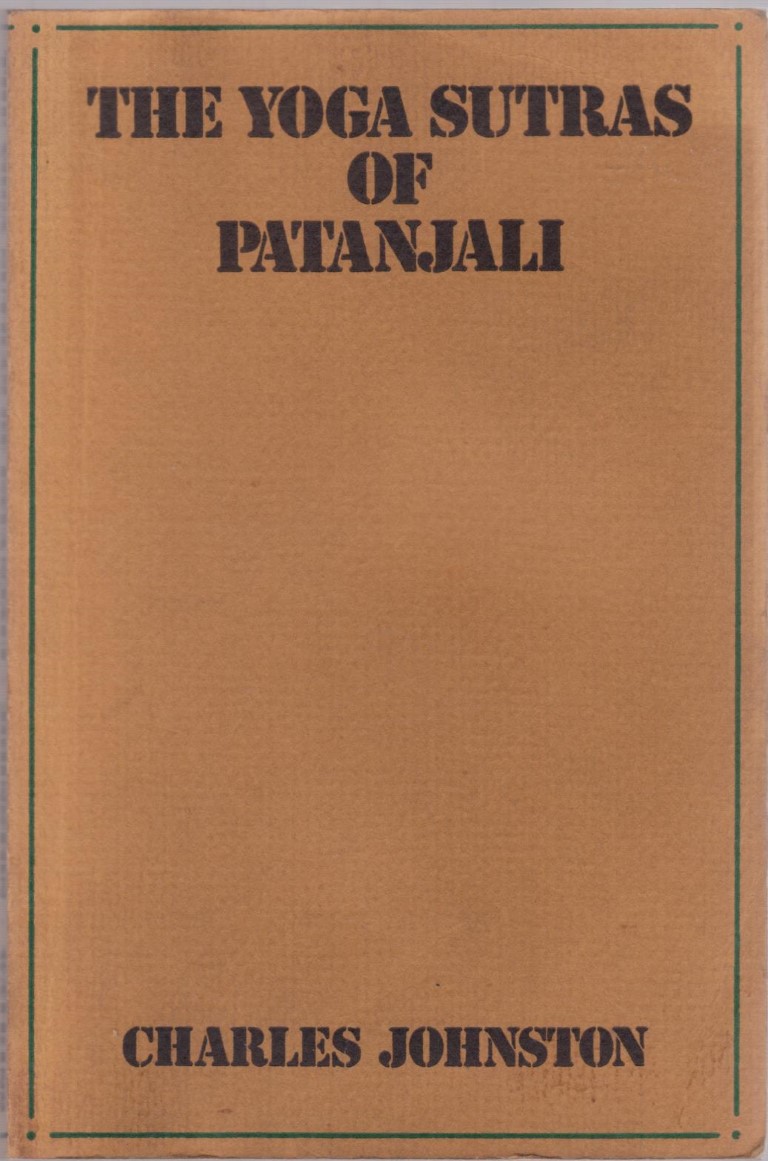 An interpretation of Patanjali, sutra by sutra.
Written in 1912 and first published in England in 1949.
ISBN0722401299
hindu, indian, yoga, philosophy
G+ softback
$15 C/B
Watkins 1974 revised edition, 127pp.
[#3821 ]
JINARAJADASA C.

In His Name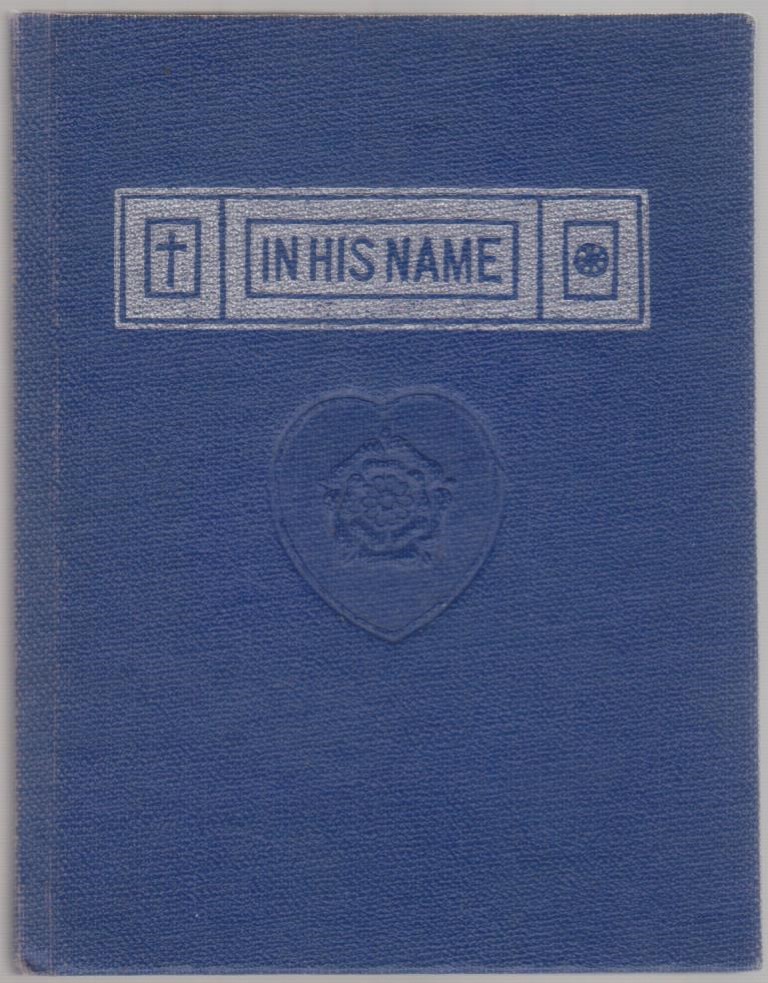 How individuals are guided to God's Plan by the Masters of the Great White Brotherhood.
A Theosophical work written in 1912
Contents: The Real and the Unreal, The Master, God's Plan, Those who direct God's Plan, The Plan of the Master, Discipleship, In His name.
spirituality, mysticism, theosophy
VG hardback with no dust jacket, a very small book.
Name to half-title page.
$15 A/A
Theosophical Publishing House Adyar 1961 (5th edition), xii + 64pp
[#3822 ]
13/8/2018 ev
ODELL R S

Handbook of Arthur Pass National Park
Its History, Tracks, Climbing Routes, Place Names, Geology, Botany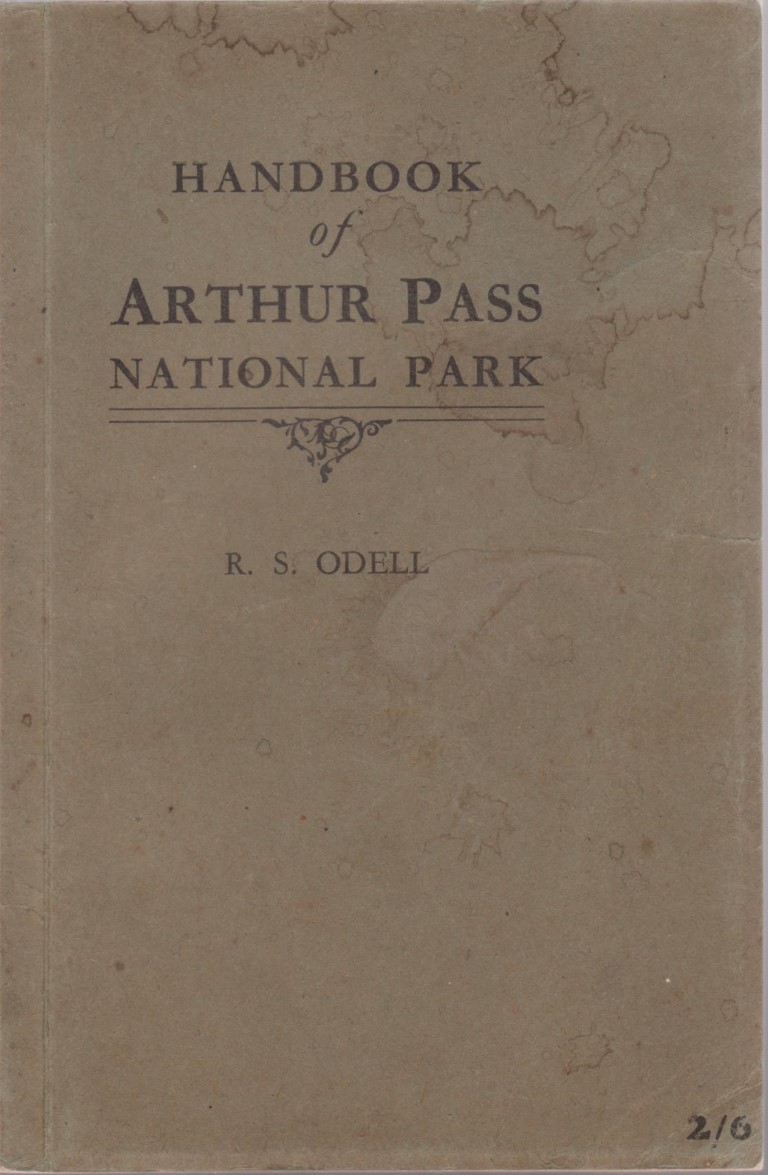 Written for the Arthur Pass National Park Board.
With details of the vegetation and geology of the National Park, and information for tourists, hikers and mountaineers.
Folding map at front.
tourism, guidebook, vintage, arthurs pass
G+ softback, minor soiling and a very small edge tear to wrappers.
$25 C/B
Whitcombe and Tombs 1935 first edition, 103pp + plates, maps and adverts.
[#3802 ]
CAMPBELL Ngaire

History 1888-1988 of St Paul's Church, Port Levy.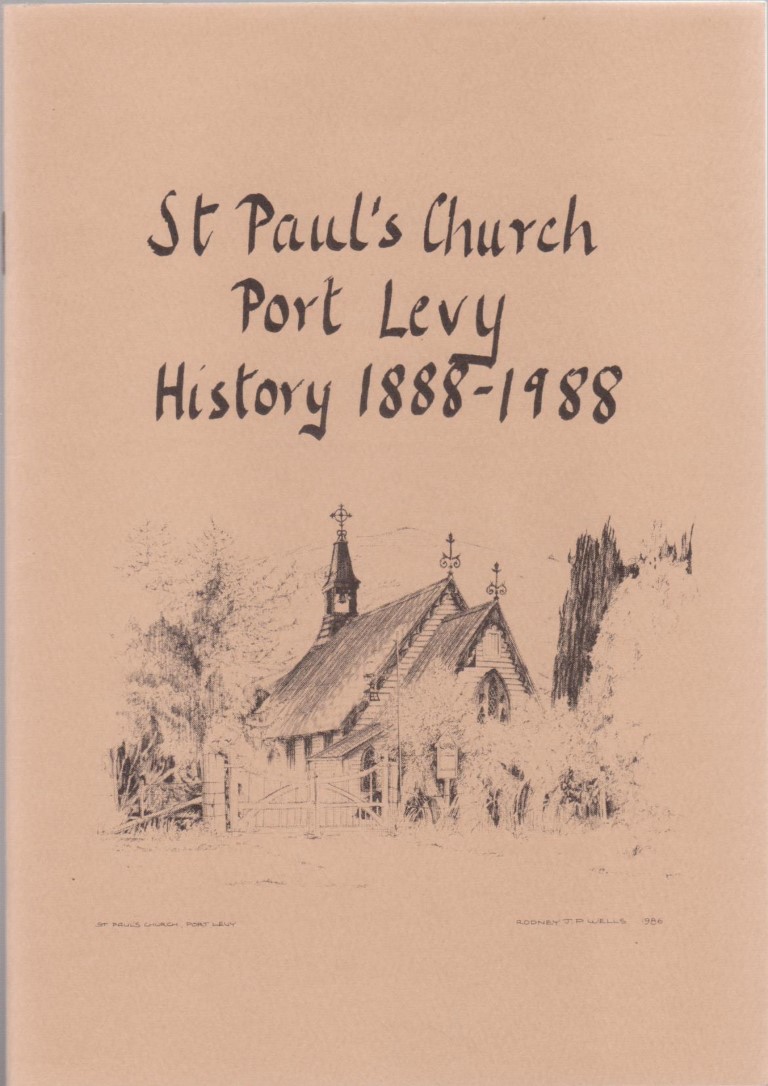 Centennial celebration of this church in the Akaroa-Banks Peninsula Parish.
Includes a record of baptisms, burials, marriages, clergy, and the visitors to the 50th and 75th anniversaries.
With some photographs.
local history, genealogy, banks peninsula, canterbury, church
VG softback
$15 C/A
St Paul's Church 1988, 40pp.
[#3803 ]
BEATTIE Herries

Maori Place-Names of Canterbury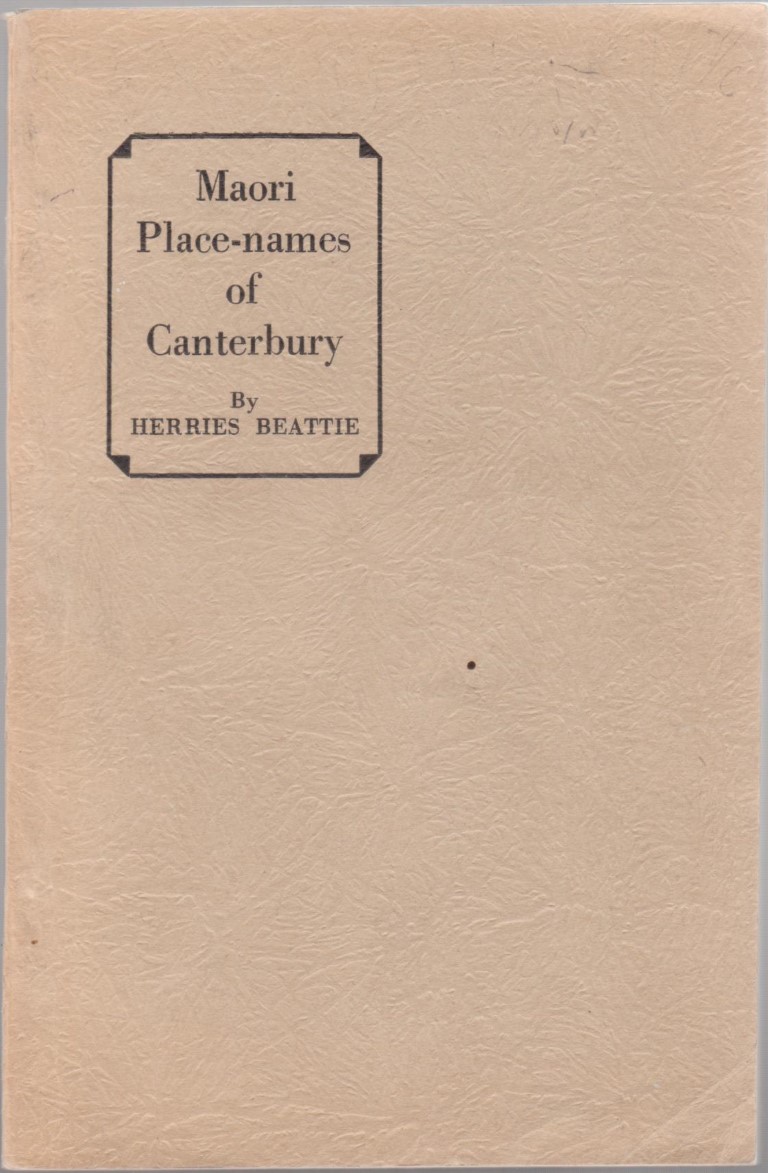 An account of the Maori names of Canterbury locations, including one thousand names collected from Maori sources.
ngai tahu, geography, place names, history
VG sofback
$45 C/B
Otago Daily Times and Witness Newspapers Co. 1945, 120pp.
[#3804 ]
KNIGHT Hardwicke

The Ordeal of William Larnach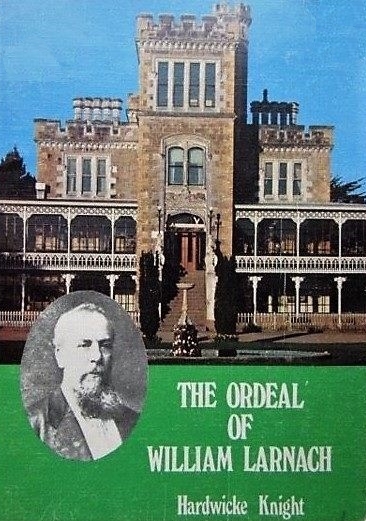 William James Mudie Larnach CMG (27 January 1833 – 12 October 1898), is best known in New Zealand for his grand house Larnach Castle in Dunedin. With varying success in business and politics, he was appointed Chief Colonial Manager of the Bank of Otago, whose decline he could not reverse.
A number of factors may have contributed to his decision to commit suicide in a committee room at Parliament.
ISBN0864660006 / 0959785779
biography, otago, dunedin, politics, new zealand
VG softback with minor wear to covers.
$15 C/B
University of Oatgo 1993, 136pp.
[#3805 ]
SZEKELY Edmond Bordeaux

The Gospel of the Essenes books 2 and 3.
The Unknown Books of the Essenes and Lost Scrolls of the Essene Brotherhood.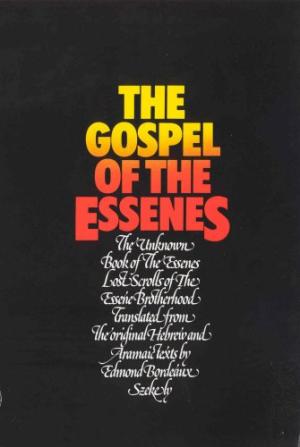 Books Two and Three of the Gospel of the Essenes, translated from the original Hebrew and Aramaic.
The pure original words of Jesus and his disciple John.
Book One (not present in this printing) is The Gospel of Peace of Jesus Christ.
ISBN0852071353
new age, essene, mysticism, christian, enoch, moses, angels, dead sea scrolls
VG hardback with VG dust jacket, name and bookseller stamp to free end paper.
$20 C/B
C W Daniel 1976 first UK issue, 221pp.
[#3806 ]
FILLMORE Charles

The Twelve Powers of Man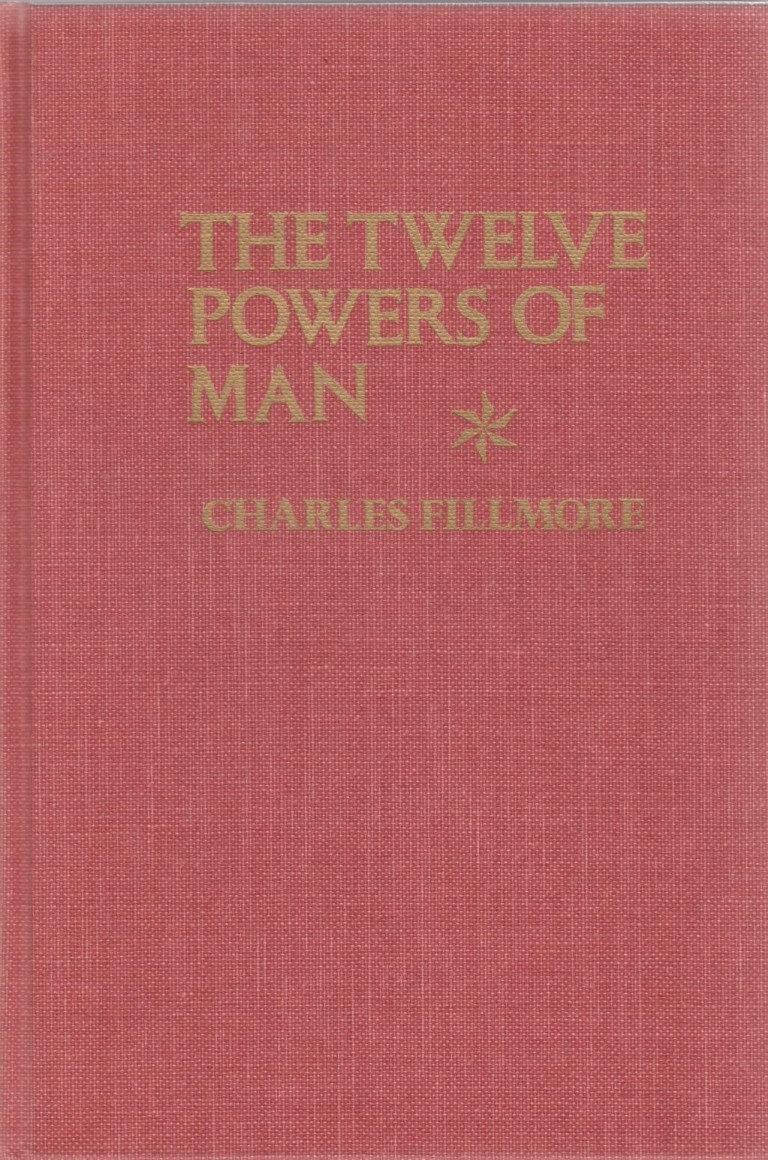 "I AM" New Thought spiritual philosophy of enlightenment equating spiritual powers with Jesus' 12 disciples.
Corresponding to physical points of the body akin to the chakra system.
New Thought, Unity, Self Help, Personal Development, Mind Power, Spirituality
VG cloth hardback with no dust jacket. Name to free end paper.
$15 C/B
Unity School of Christianity (1973), 188+x pp.
[#3807 ]
VG cloth hardback with no dust jacket. Name to free end paper.
$15 C/B
Unity School of Christianity (1977), 188+x pp.
[#3808 ]
PRABHAVANANDA Swami edited by Dr P H Houston

Vedic Religion and Philosophy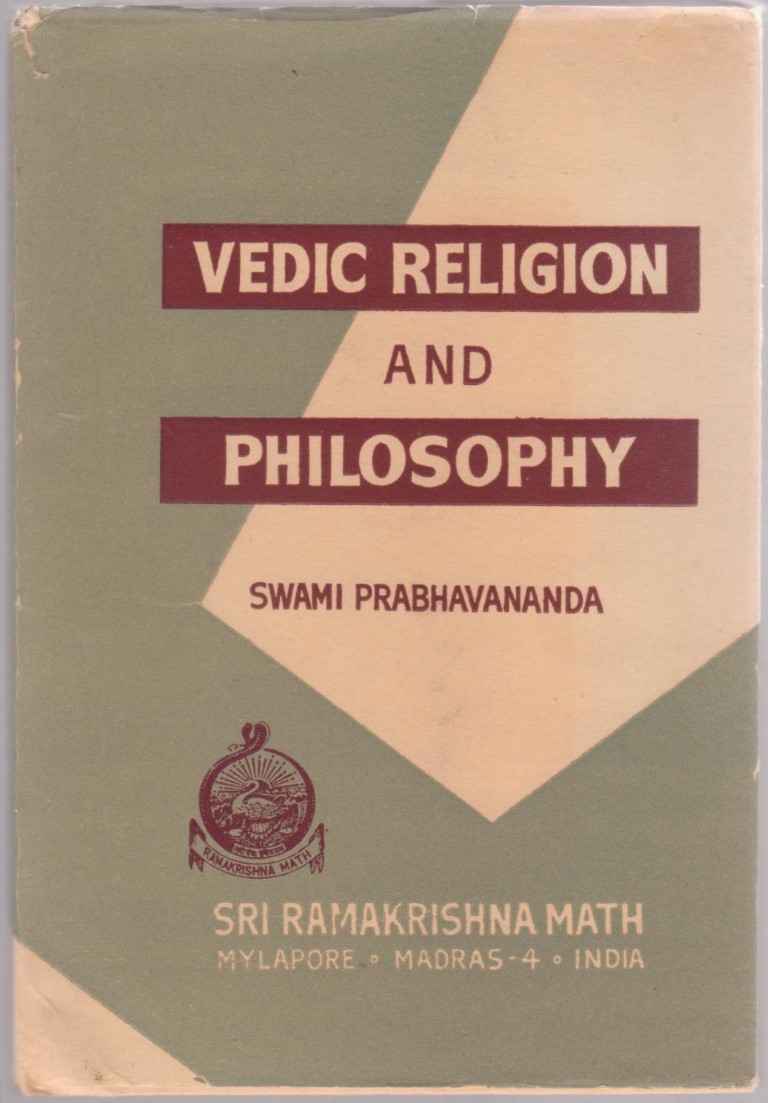 A brief introduction to Hinduism and Vedanta Philosophy.
Contents: The Spirit of Indian Philosophy, The Vedas and Their Teachings, The Philosophy of the Upanishads, The Message of the Bhagavad Gita.
veda, hindu, indian, philosophy, vedanta
VG hardback with VG dust jacket. Name and date to free end paper.
$25 C/B
Sri Ramakrisha Math, distributed by Vedanta Press 1974 (7th impression), 172pp.
[#3809 ]
FAUSSET Hugh I'Anson

The Lost Dimension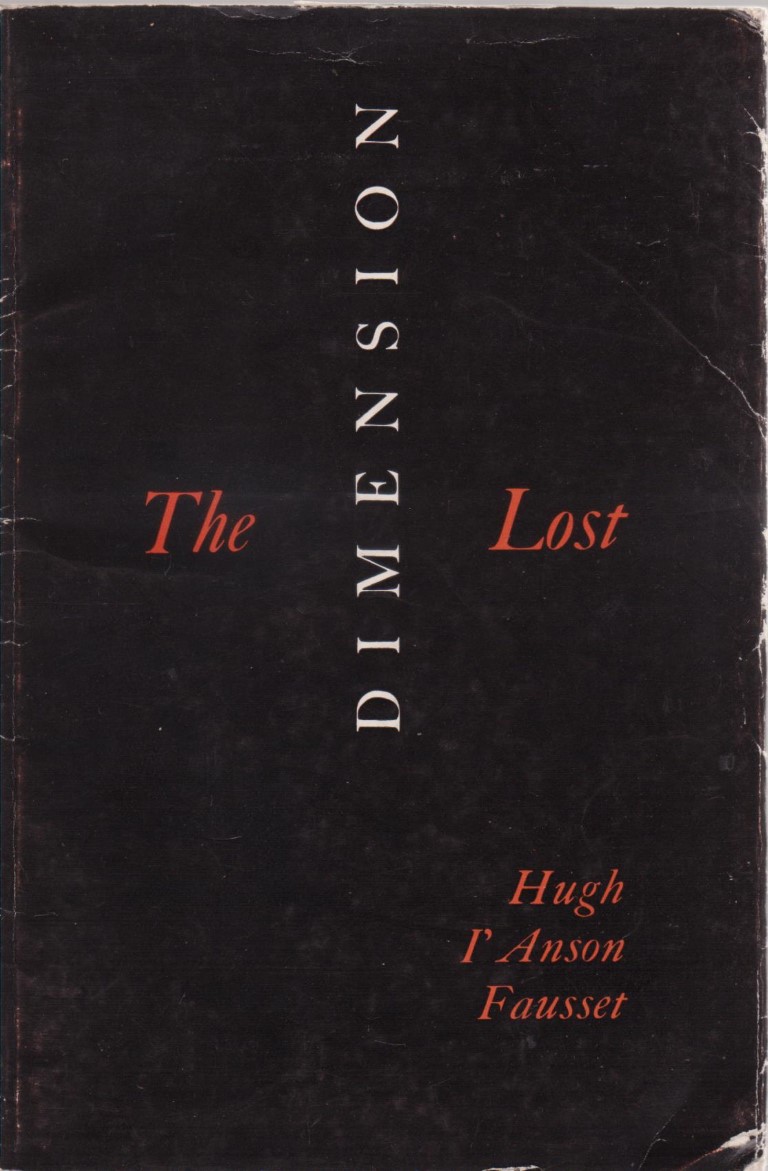 An investigation of spirituality in Western rational society, as referenced by philosophers and thinkers.
Contents: At Home with the Unconscious, Existence and Being, The Way of Holiness.
mindfulness, buddhism, spirituality, western
VG softback with dust jacket with minor rubbing. Name and date to half title.
$15 C/A
Stuart and Watkins 1966 first edition, 80pp.
[#3810 ]
POWELL A .E.

The Etheric Double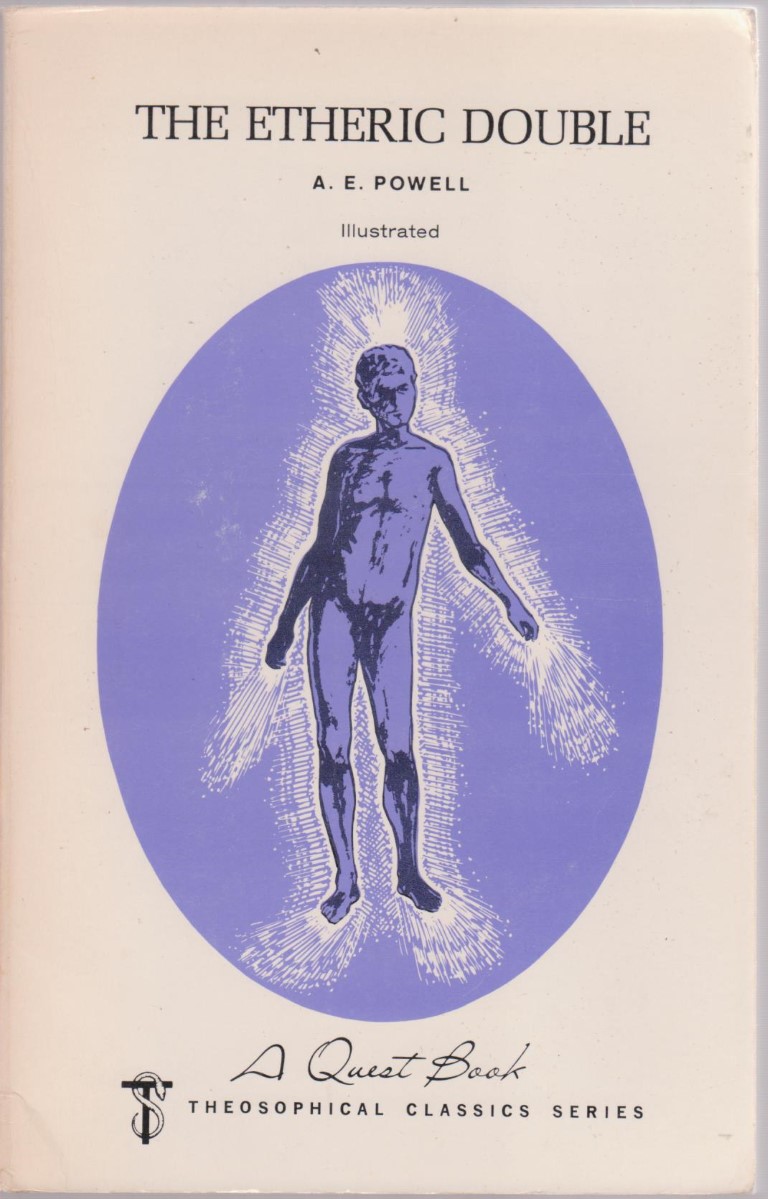 Powell compiles from the writings of H P Blavatsky, C W Leadbeater and others, information on the subtle energy body referred to here as the Etheric Body.
occult, chakra, kundalini, astral body, energy, mesmerism, Dr Walter J Kilner, prana, chi, qi, aura
VG softback. Name to first page.
$15 C/B
Theosophical Publishing House 1969, xvii 140pp.
[#3811 ]
CHAKRAVARTI Sri Surath

Scientific Yoga for the Man of Today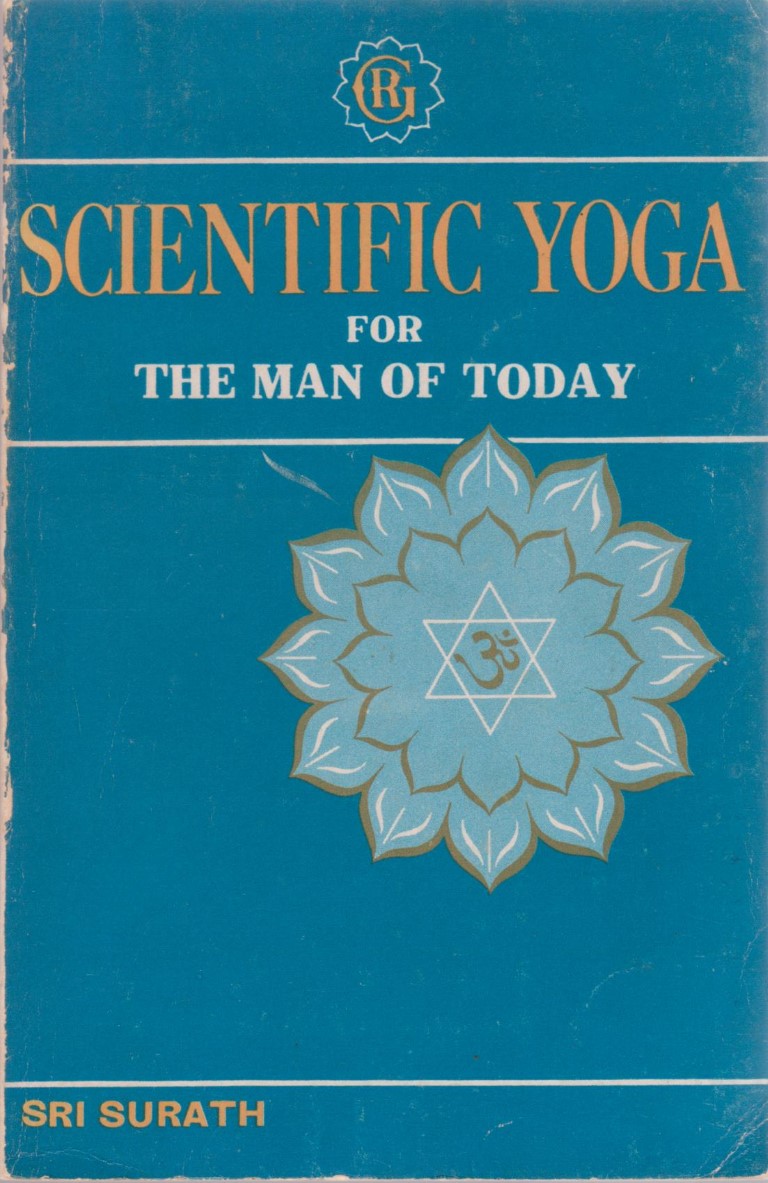 A study of Hindu Yoga and it's benefits for the spiritual development of the practitioner.
Includes chapter on the Neuro-Physical effects of the meditations.
hindu, india, chakras, yoga philosophy, religion, spirituality
VG softback with sewn binding. Name to first page.
$20 C/B
Ranney publications 1971, xvi 147pp.
[#3812 ]
EYRE Margery

The Revealing Light, a spiritual diary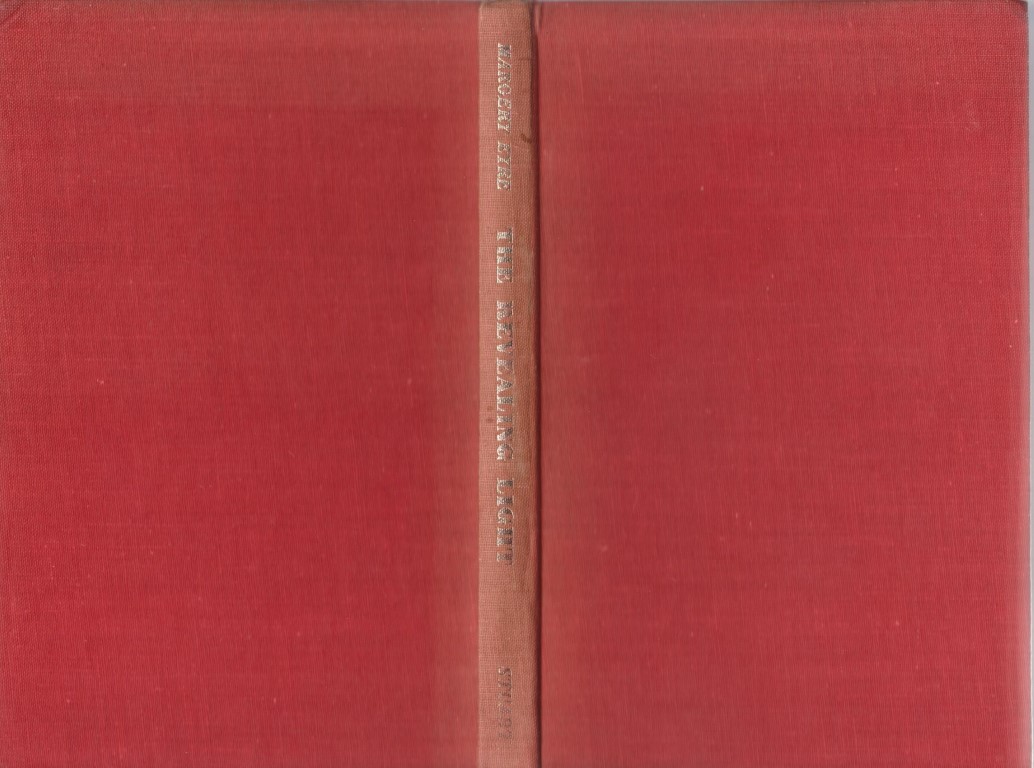 Triggered by a period of Jungian analysis, Margery began to keep a record of conversations with her 'inner voice'.
This spiritual mentor helped her to write The Teaching of Melchior.
Margery writes what is dictated to her by more than one Higher Intelligence.
spirituality, religion, mysticism, ascended master, channelled teaching, channelling
VG- cloth hardback with no dust jacket. Spine is lightly sun-faded. Name to first page.
$25 C/B
Vincent Stuart Ltd. 1962 first edition, 114pp.
[#3813 ]
SHAW Peter

A History of New Zealand Architecture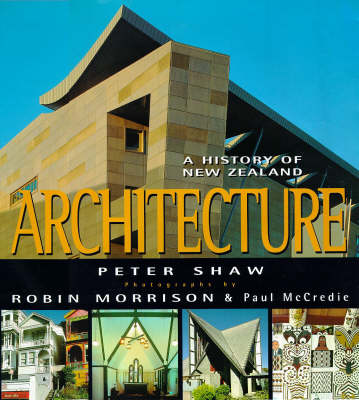 With photographs by Robin Morrison and Paul McCredie.
Domestic, commercial and civic architecture from the beginnings of human settlement in New Zealand.
Second edition of A History of New Zealand Architecture, From Polynesian Beginnings to 1990 with updated material and a new chapter, with images by Paul McCredie, which covers new structures such as Te Papa and the refurbished Parliament buildings.
ISBN9781869585419
building, houses, heritage, history, construction
Fine hardback in Fine dust jacket.
$75 D/D
Hodder Moa Beckett 1997, 238pp.
[#3801 ]
4/8/2018 ev
KEITH Jim

Mind Control, World Control: The Encyclopedia of Mind Control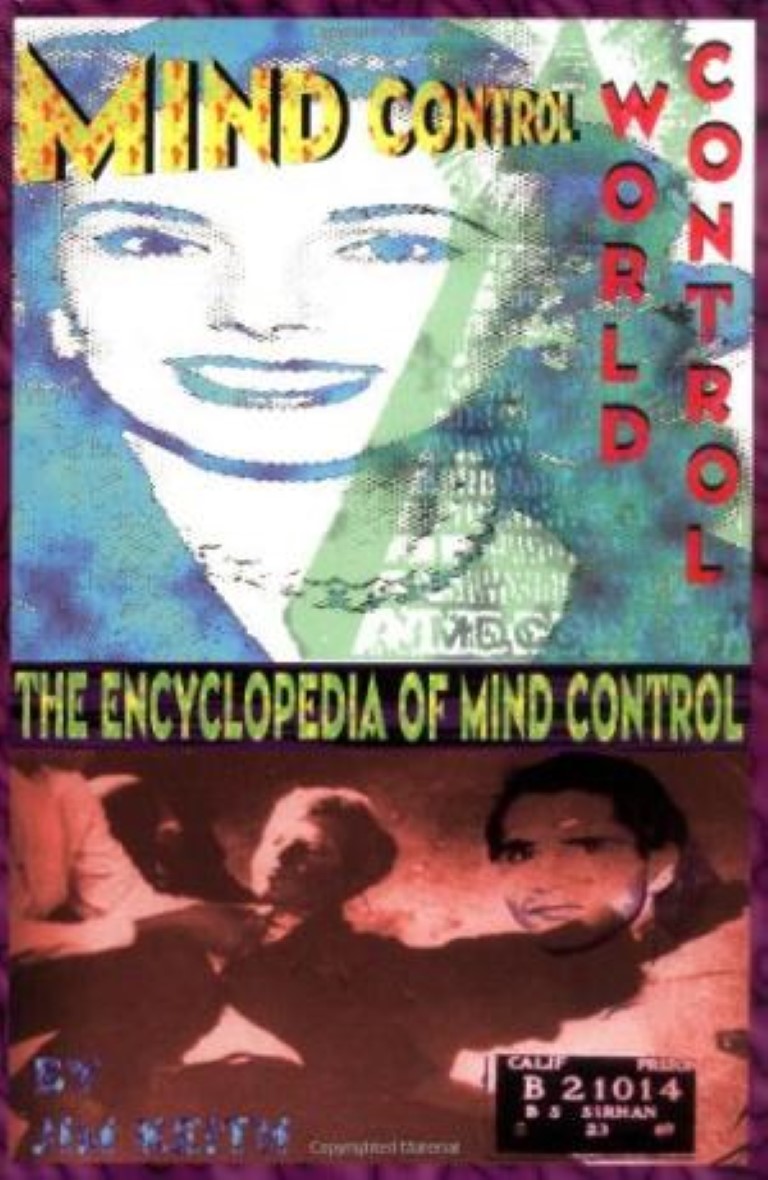 Veteran investigator Jim Keith uncovers information on the technology, experimentation and implementation of Mind Control technology.
Various Chapters on early CIA experiments such as Project Artichoke and Project RHIC-EDOM, the methodology and technology of implants, Mind Control Assassins, Couriers, and victims such as Sirhan Sirhan and Candy Jones.
Also Mind Control technology links to UFO activity and UFO abductions.
ISBN9780932813459
conspiracy, deep state, black ops, mkultra, oss, tavistock, haarp
VG+ softback
$20 C/B
Adventures Unlimited Press 1998, 311pp.
[#3793 ]
KEITH Jim and Kenn Thomas

The Octopus: Secret Government and the Death of Danny Casolaro
Revised Edition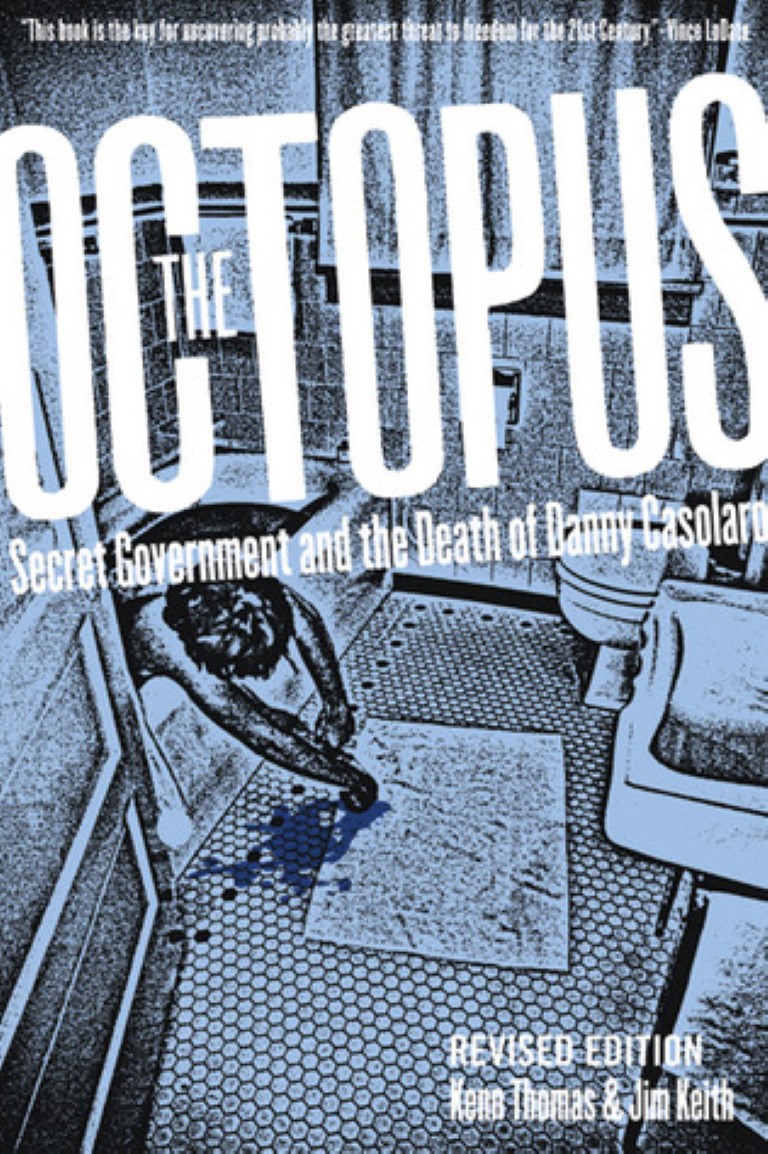 Amidst researching a transnational power bloc using subversion, dirty money and election fraud, Danny was found, "suicided".
This book presents his extant research, with new information by the authors.
This revised edition includes Casolaro's insights and research into the post-911 world
ISBN9780922915910
nwo, deep state, globalists, globalism, conspiracy, 9/11, 911, Iran-contra
VG+ softback
$20 C/B
Feral House 2004, 235pp.
[#3794 ]
THOMAS Kenn and David Hatcher Childress

Inside the Gemstone File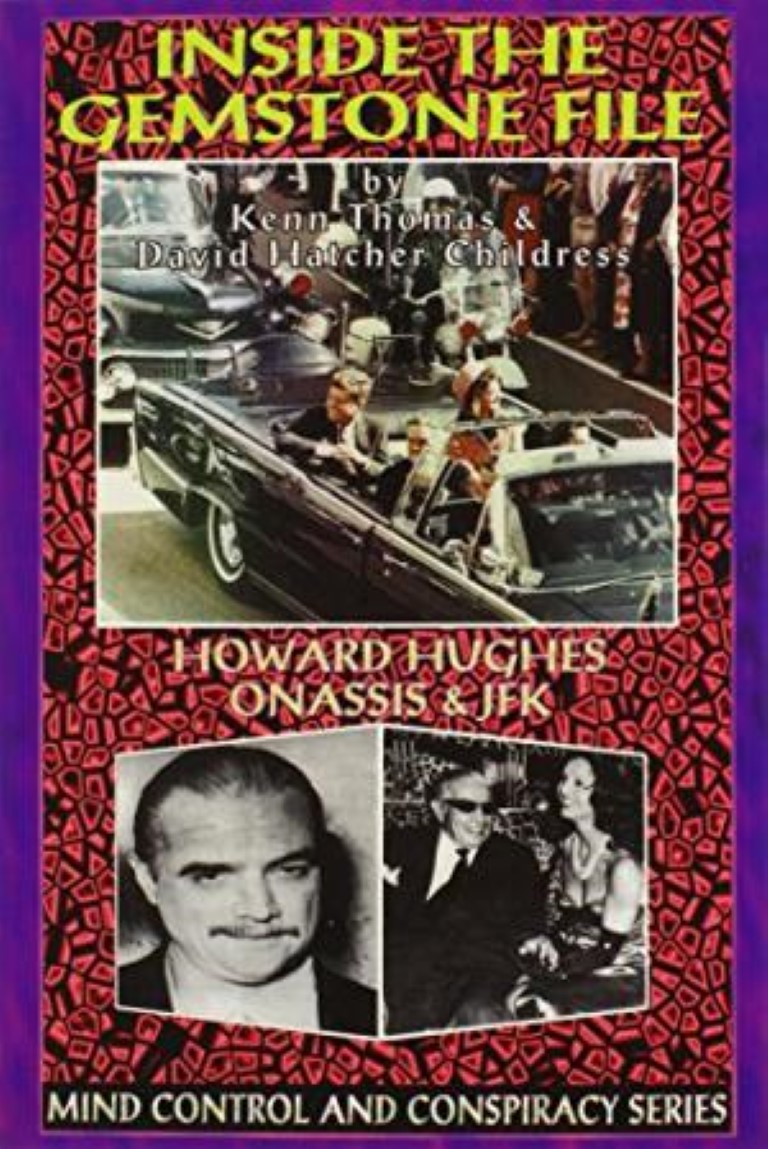 "The most notorious rant in the history of conspiracy theories"
Hundreds of letters by Bruce Roberts, the creator of synthetic rubies, which according to him, Hughes Aircraft stole in 1960 for use in laser weapons research.
The Gemstone letters, tracks the international mob and industrial espionage, and their role in political intrigue.
Includes connections with New Zealand.
ISBN9780932813664
Skeleton Key, conspiracy, usa, aristotle onassis, howard hughes, Kiwi Gemstone, octopus, casolaro
VG+ softback
$20 C/B
Adventures Unlimited Press 1999, 250pp.
[#3795 ]
NEWALD Alec

Coevolution
The True Story of a Man Taken for Ten Days to an Extraterrestrial Civilization
Newald recalls being abducted by a UFO while driving from Rotorua to Auckland, and describes the extraterrestrial civilization he was shown during the ten days he was "missing".
ISBN9780987163905
alien abduction, ufology, kiwi, abductee, e.t., etxra terrestrial, Close Encounter of the Fourth kind
VG+ softback
$45 C/B
Nexus Magazine 2011 second edition, 239pp.
[#3796 ]
GREER Steven M.

Disclosure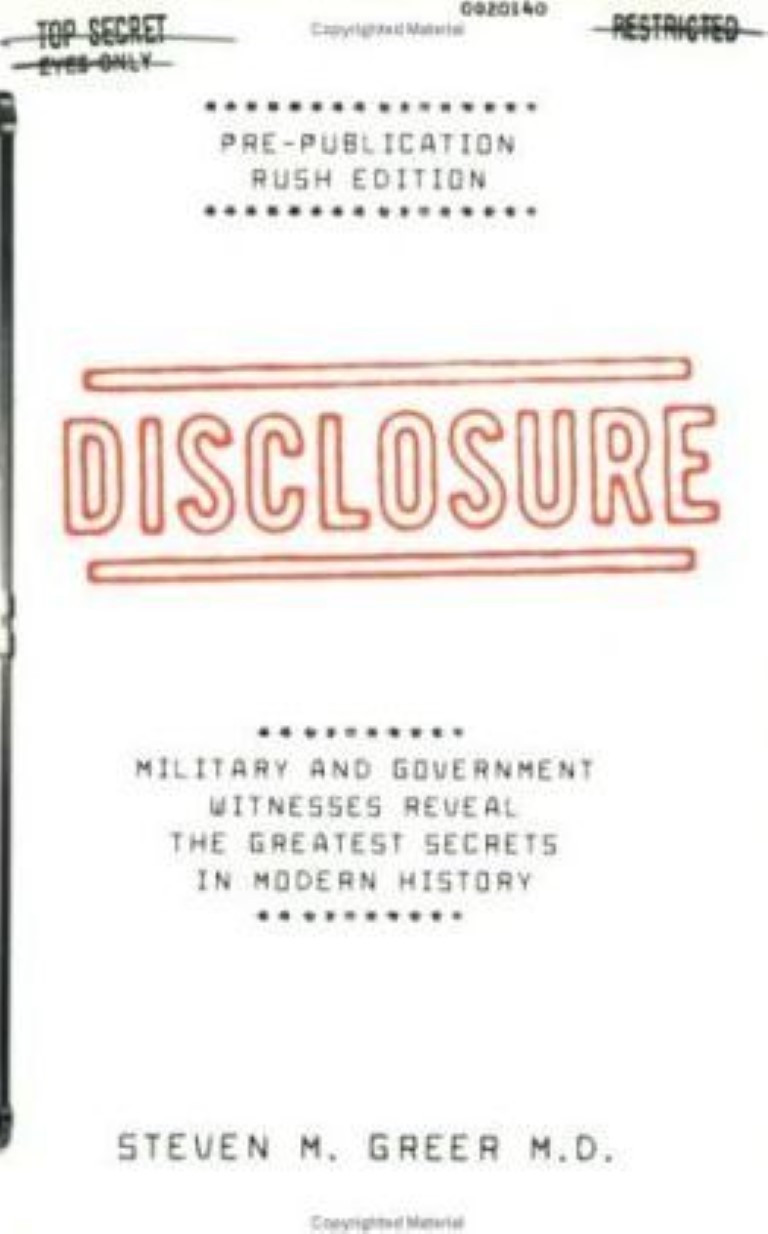 Military and Government witnesses reveal the greatest secrets in modern history, including UFOs and alien encounters and technology and hidden weapons programs.
"This ...testimony by...government insiders proves that UFOs are real, (and) are of extraterrestrial origin and that super-secret programs have energy and propulsion technologies that will enable humanity to begin a new civilization... without pollution, (or) poverty... capable of traveling among the stars."
ISBN9780967323817
black budget, e.t., alien technology, anti-gravity, Star Wars missile defence, UFO, military industrial complex, NASA
VG softback
$25 C/C
Crossing Point Inc. 2001 pre-publication edition, 573pp.
[#3797 ]
MOON Peter and Preston B. Nichols

The Montauk Books 1-3
The Montauk Project: Experiments in Time
Montauk Revisited: Adventures in Synchronicity
Pyramids of Montauk: Explorations in Consciousness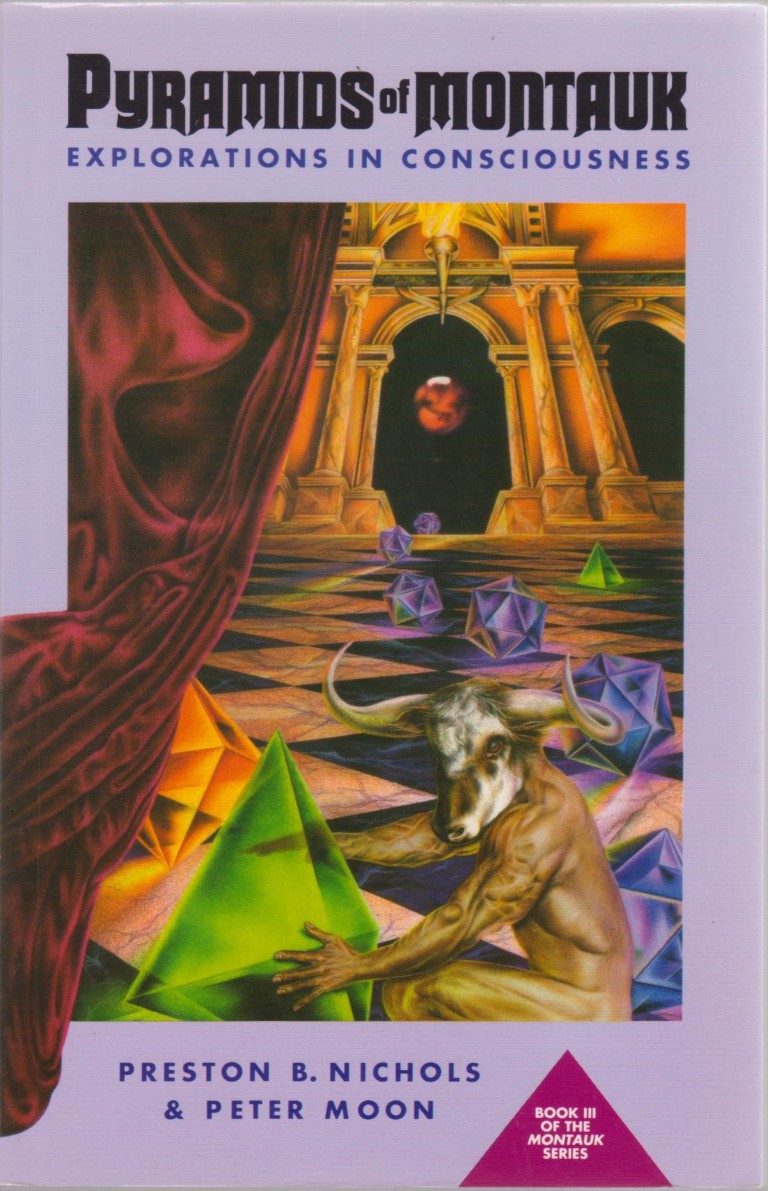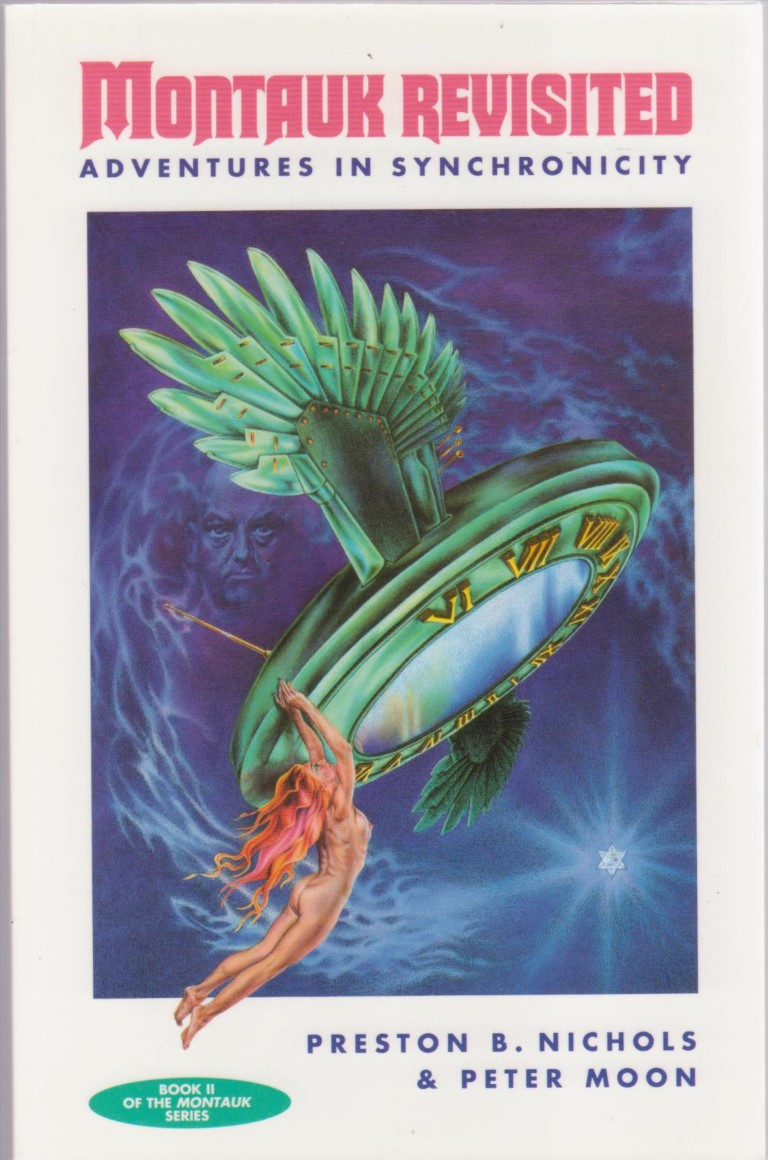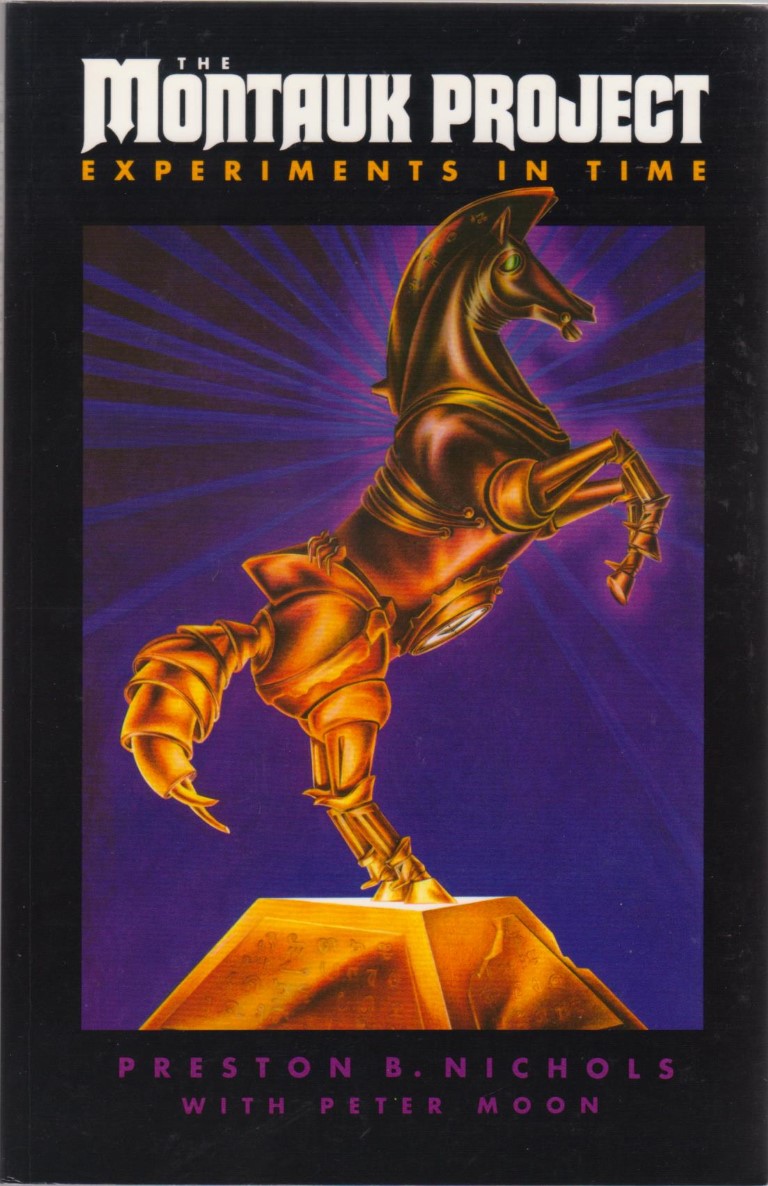 The author's posit the Montauk Project being involved in time travel and alien contact with Sirius, among other things.
Claiming links with Crowley, Parsons and Marjorie Cameron of the OTO, L. Ron Hubbard founder of Scientology, Howard Hughes... and the Philadelphia Experiment.
ISBN9780963188908 ISBN9780963188915 ISBN9780963188922
666, time travel, philadelphia experiment, OTO, Aleister Crowley, UFO, e.t., aliens
VG+ softbacks
$45 C/C
Sky Books 2008, 2010, 2008. 156+249+256pp.
[#3798 ]
CROWLEY Aleister

The Book of the Law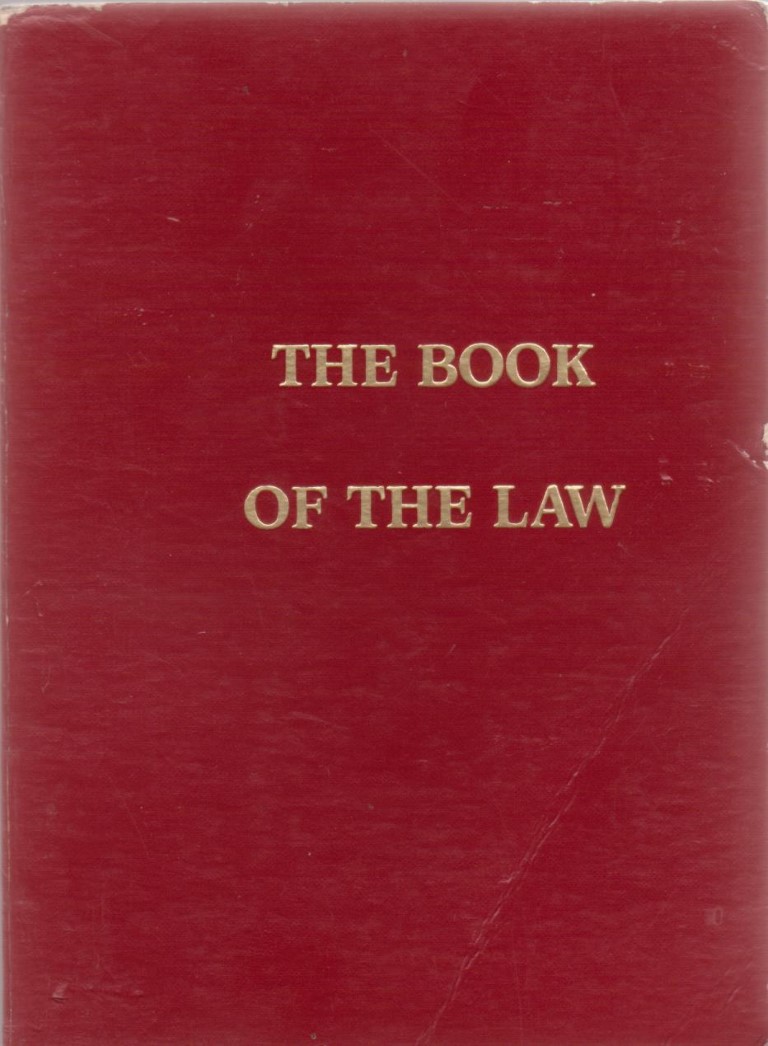 Facsimile of the OTO 1938 edition of Crowley's Liber al vel Legis, founding document of the New Aeon of Thelema.
ISBN0877283346
666, aleister crowley, thelema, oto, liber al vel legis
VG- softcover with light crease to cover.
$10 A/A
Samuel Weiser 1991, 50+65pp.
[#3799 ]
CROWLEY Aleister edited by John Symonds and Kenneth Grant

The Confessions of Aleister Crowley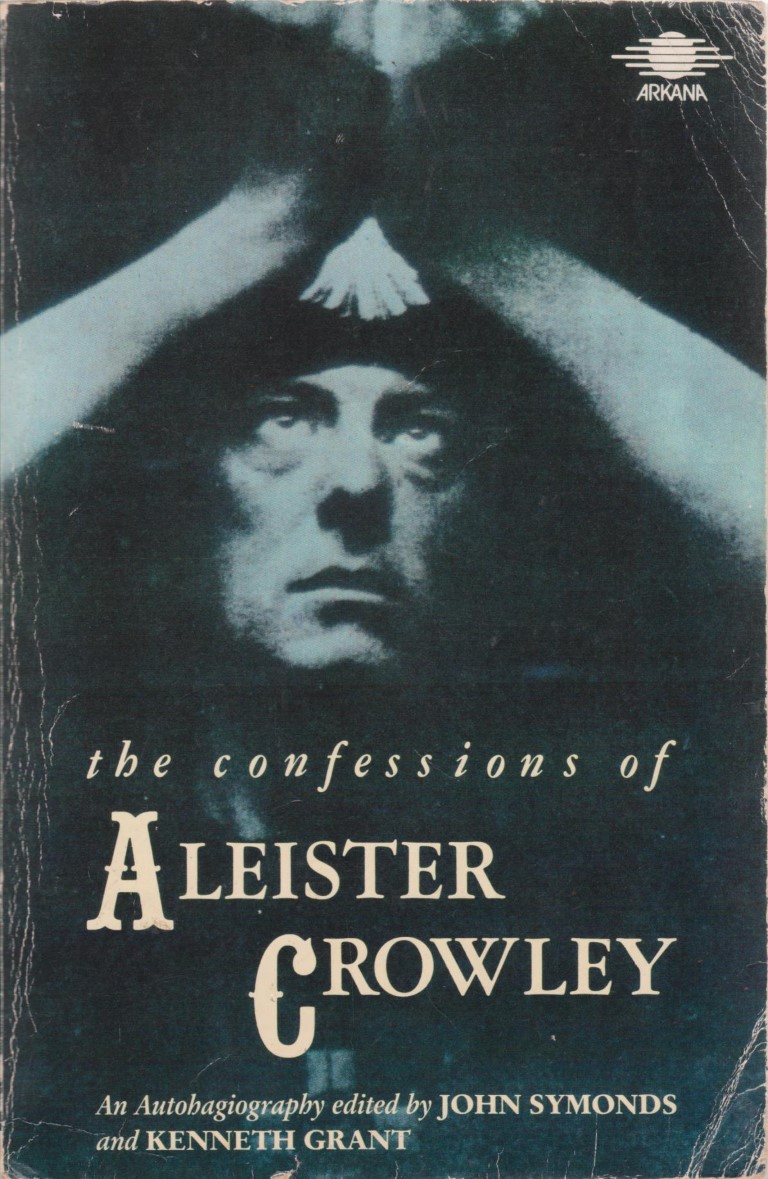 The 6 parts of Crowley's 'Autohagiography', the autobiography of a saint, from his birth up to his expulsion from the Abbey of Thelema in Sicily.
ISBN9780140191899
666, OTO, aleister crowley, biography, occult
G+ large paper back with some cover wear.
$50 B/D
Arkana 1989 first softback edition, 960pp.
[#3800 ]
31/7/2018 ev
STEELE Audrey

Memories of Mendip Hills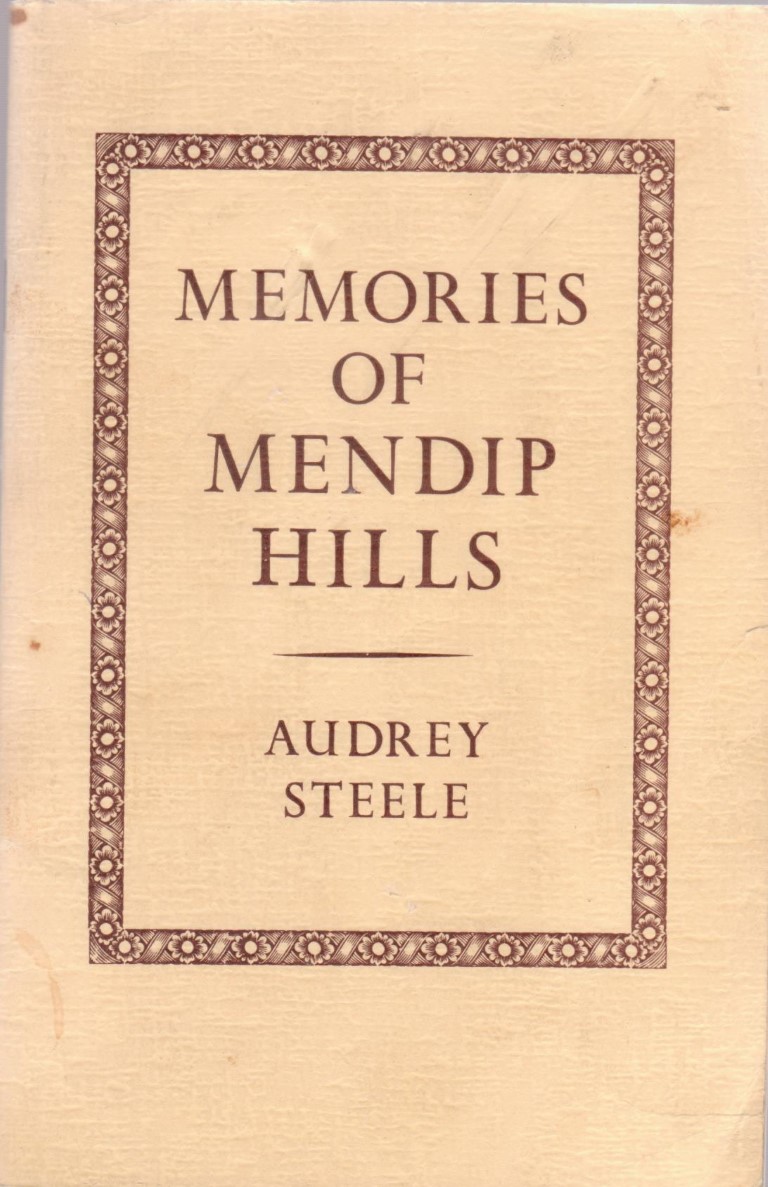 A memoir of Audrey Steele's life at the Mendip Hills sheep station in North Canterbury.
She gives some history of the Rutherford family and the early days of the station.
She accompanied her husband Dick Steele there when she was married in 1924.
high country, Parnassus, shearers, shearing, swagmen, Leader River
G+ softback, name scribbled out to first page.
$20 C/A
Audrey Steele and Pegasus Press 1974, 67 pp.
[#3784 ]
JACOBSON William Edward Moxhay

Akaroa and Banks Peninsula 1840-1940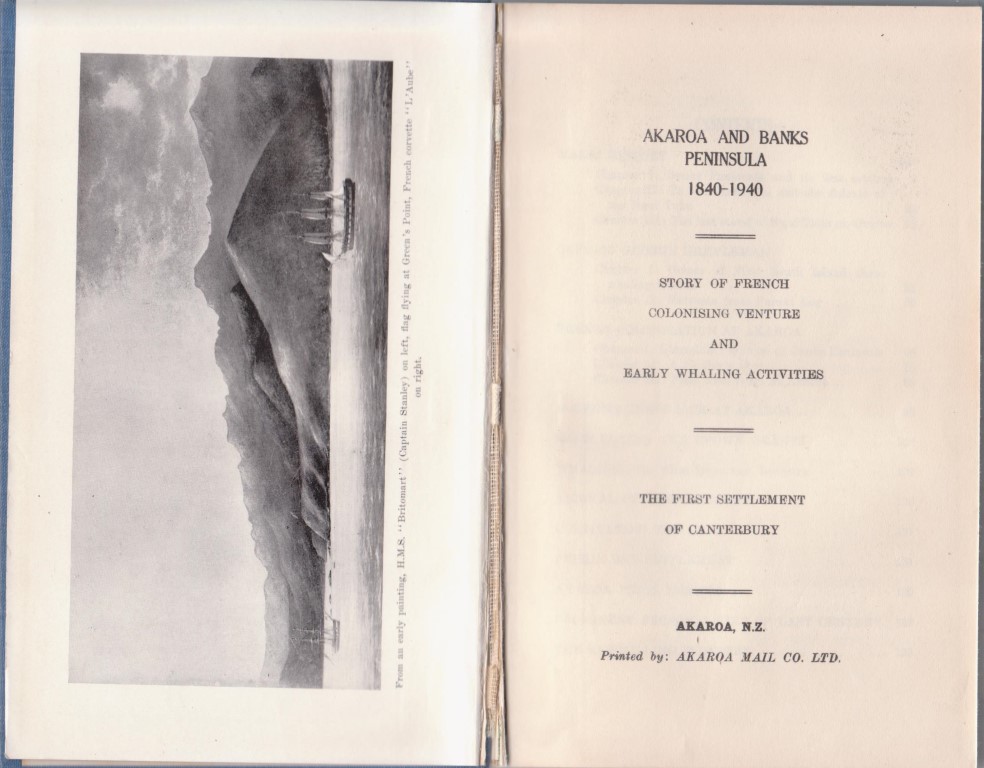 Centennial publication gives the story of the French Colonising Venture and Early Whaling Activities at what was the first Europen settlement of Canterbury.
Gives details of Maori history, Captain George Hempleman, French colonial activity, Land claims and Crown Grants, Whaling, the arrival of the Monarch.
Also Pigeon Bay, Little River, the geology of the area, and notable personalities.
Akaroa, Banks Peninsula, Rare, Collectable, Bagnall J32
VG- hardback with no dust jacket. Front hinge loose.
$125 C/C
Akaroa Mail Co. 1940 first edition, 396pp+ plates
[#3785 ]
GRADY Don

The Perano Whalers of Cook Strait 1911-1964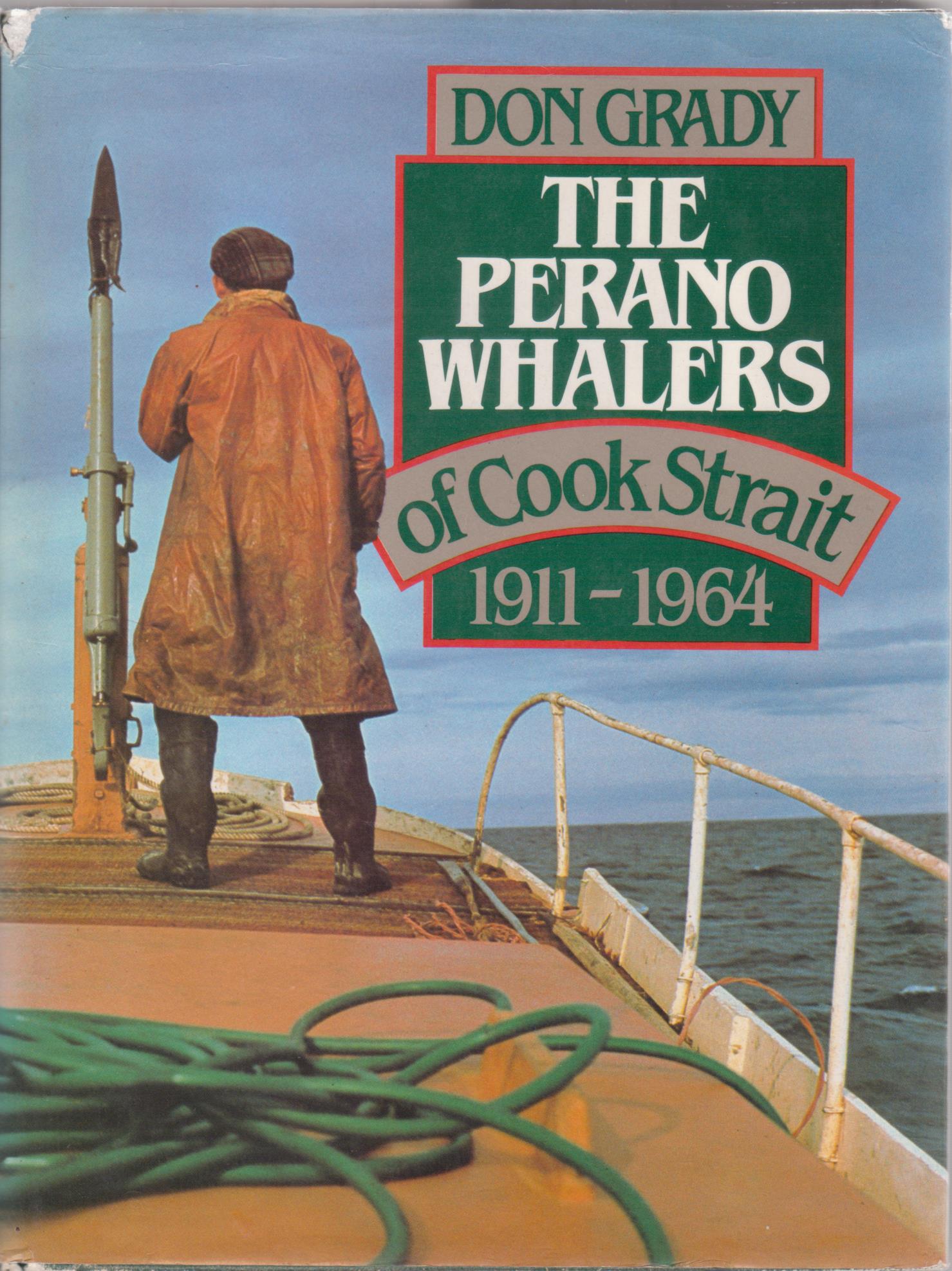 A record of the whaling activies of the Perano family who used small boats in the Tory Channel to harpoon and harvest whales during the last fifty years of New Zealand's whaling era.
ISBN0589013920
Marlborough, biography, whales, cetaceans
VG- hardback in VG- dust jacket with small tear or wear at head of spine. Edges of book boards rubbed, name at head of half title.
$45 B/D
Reed 1982 first edition, 238pp.
[#3786 ]
ANDERSEN Johannes C.

Place-Names of Banks Peninsula
A Topographical History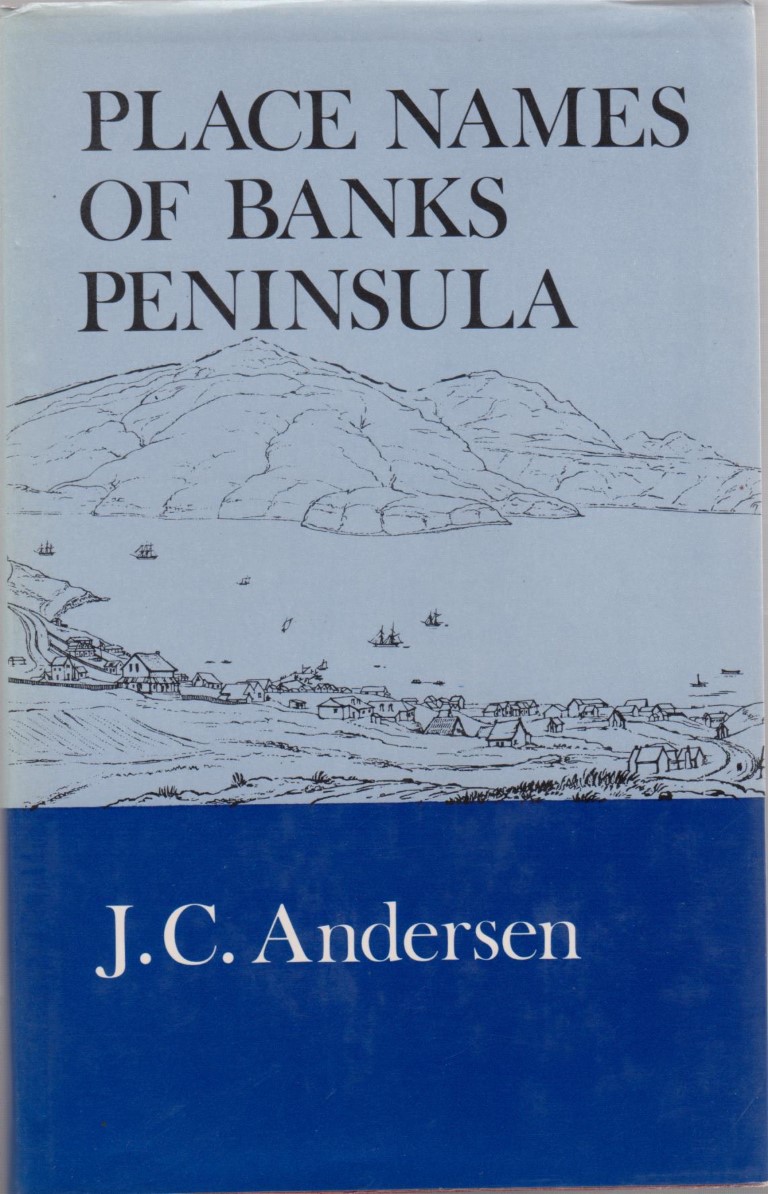 An alphabetical record of the named places on the Peninsula, with the history that can be recorded or surmised for them.
Gives a physical description, and references as to where information was sourced.
Includes separate entries for Maori and European names for the same places.
Facsimile of the 1927 first edition.
Banks Peninsula, Lyttleton Harbour, Port Hills, Canterbury, Christchurch, Ngai Tahu
VG+ hardback in VG+ dust jacket, small name stamp to free endpaper.
$45 C/C
Capper Press 1976, 238pp+ folding map.
[#3787 ]
MALING Peter Bromley

Samuel Butler at Mesopotamia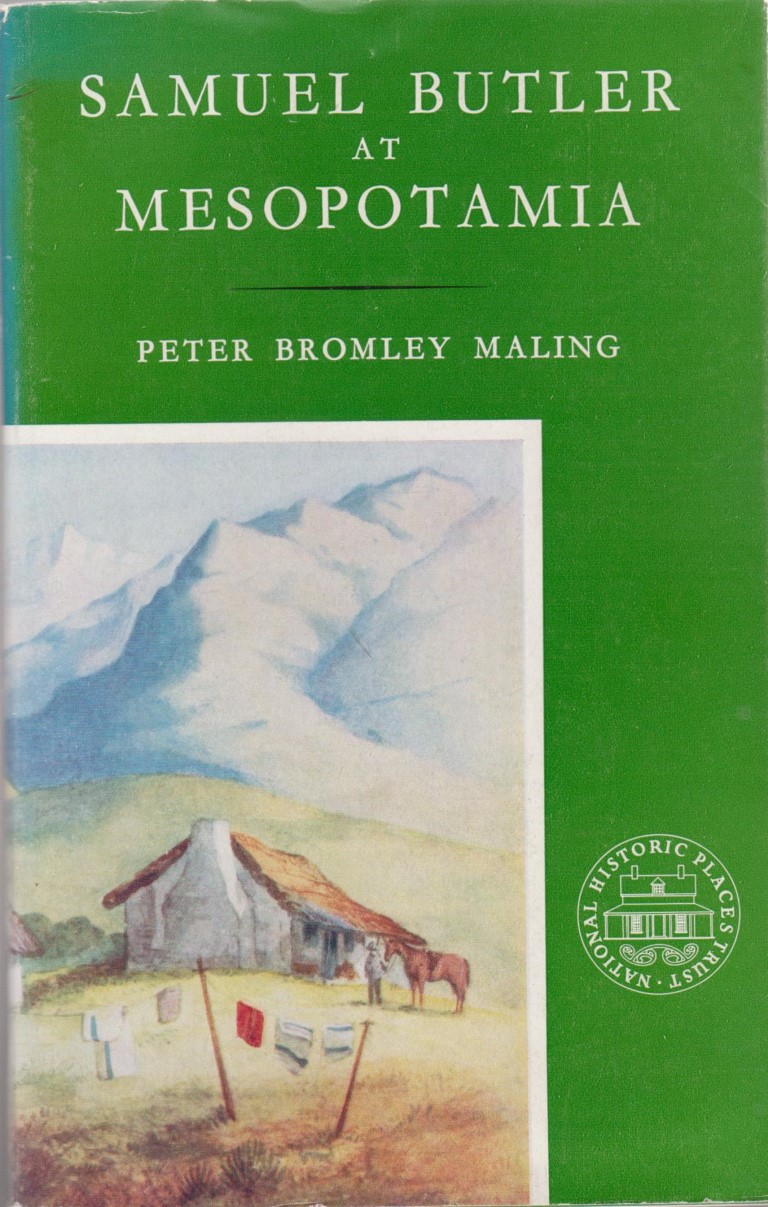 Together with Butler's "Forest Creek Manuscript" and His Letters to Tripp and Acland.
The history of Forest Creek and Mesopotamia Stations, during Butler's residence and subsequently up to 1950.
erewhon, high country, rangitata runs, south canterbury
VG softback with VG dust jacket.
$20 C/A
National Historic Places Trust 1960 first edition, 66pp+ plates and colour frontis.
[#3788 ]
NEWTON Peter

Mesopotamia Station
A survey of the first hundred Years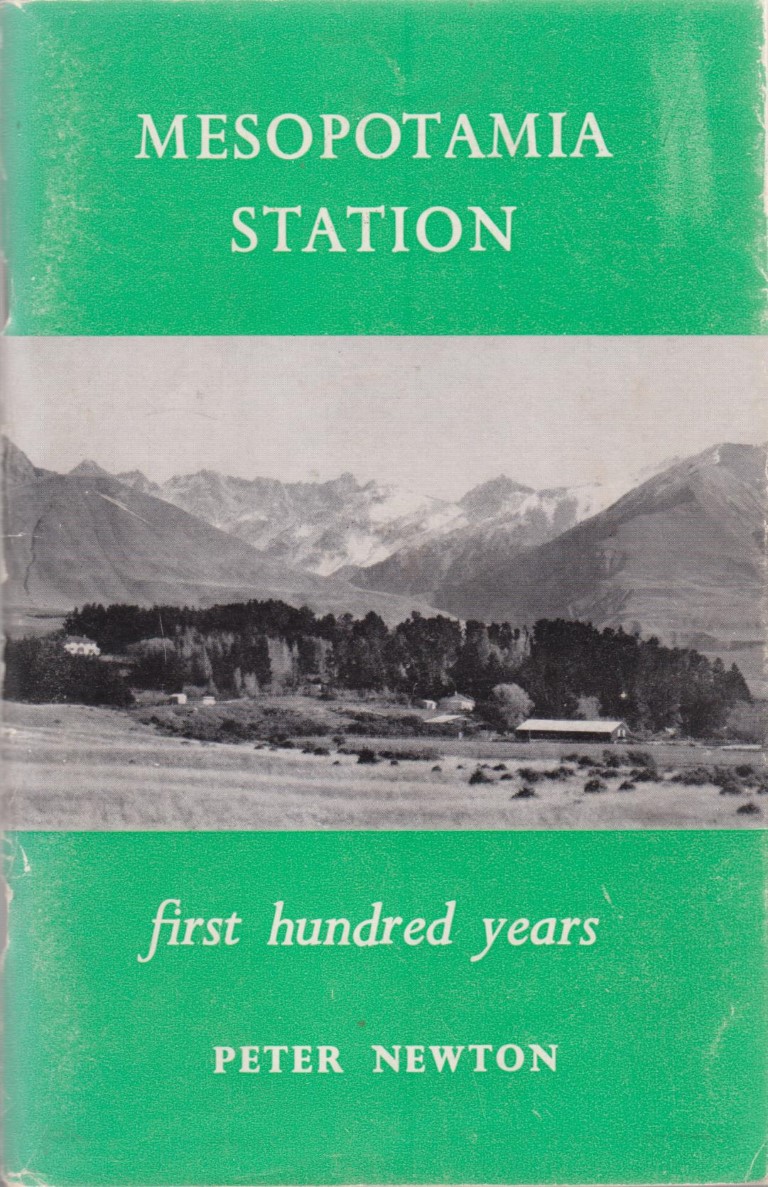 A history of this iconic South Canterbury high country sheep station and the men, animals and landscape over one hundred years.
Samuel Butler, erewhon, south canterbury, high country run, sheep station, rod urquhart
VG softback with VG lightly rubbed dust jacket. Name to first page.
$30 C/A
Timaru Herald Co. 1960 first edition, 55pp+ plates and folding map.
[#3789 ]
23/7/2018 ev
MOFFAT Gwen

Space Below My Feet
Gwen Mary Moffat lived a bohemian lifestyle in the 1940-50s, mainly as a mountain guide.
As well as private guiding she also worked with the RAF Mountain Rescue Service in North Wales.
She later wrote detective fiction, including a series featuring Melinda Pink.
British, women, climber, autobiography
VG hardback in G+ dust jacket with some creasing.
$10 C/B
The Quality Book Club 1961 first thus, 286pp.
[#3772 ]
VG paperback with a lightly sunned / soiled spine
$5 A/B
Penguin 1976, 304pp + plates
ISBN0140039910 [PB# 407 ]
LEE Jack

I Have Named it the Bay of Islands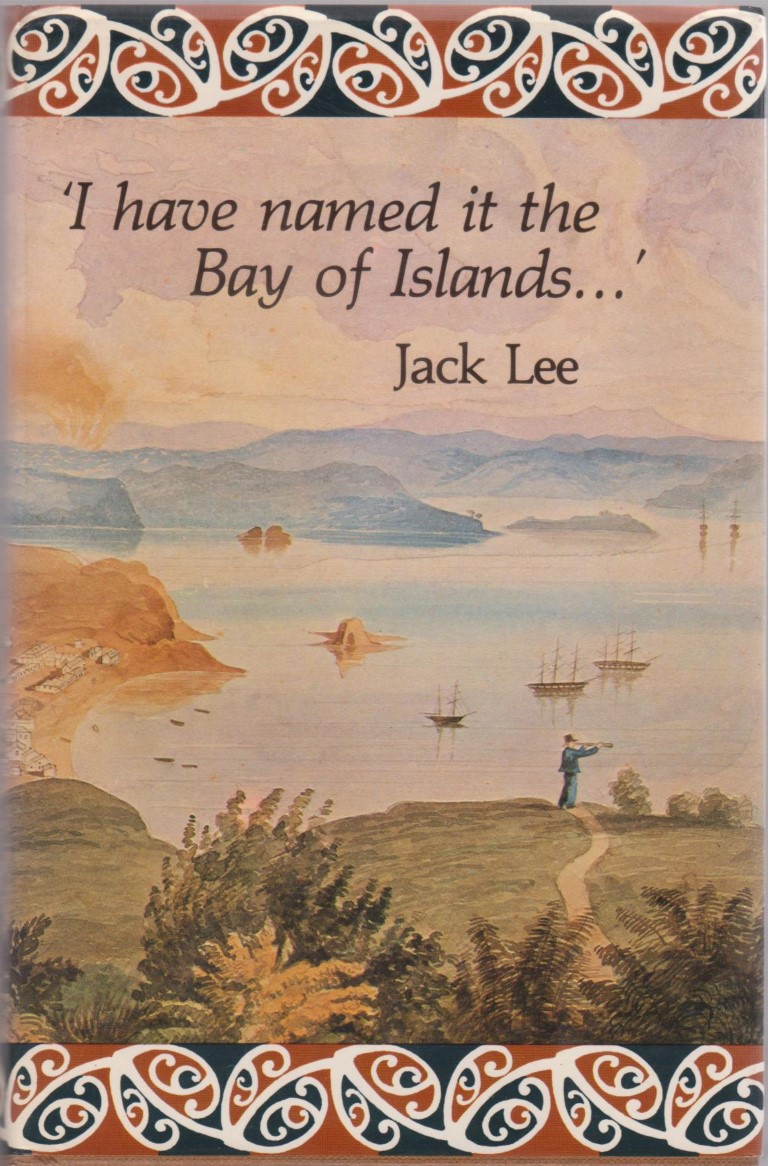 A study of the early colonial history of the Bay of Islands, from Cook's landing to the defeat of Hongi Heke's uprising.
Includes lists of whakapapa / genealogy.
ISBN0340338784
New Zealand, Colonial History, Nineteenth Century, Northland, Hongi Hika, Maori Wars, de Thierry
VG hardback in VG dust jacket.
$40 C/C
Hodder 1983 first edition, 328pp + plates
[#3773 ]
BEST Elsdon

Games and Pastimes of the Maori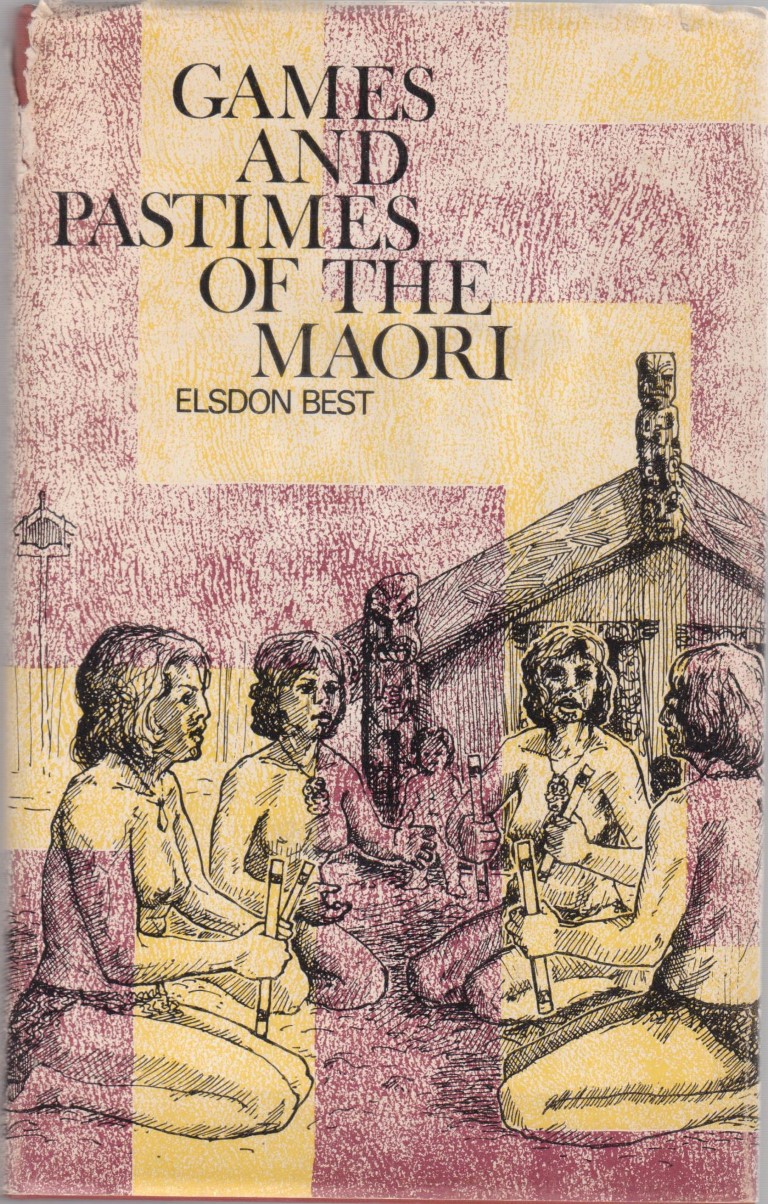 An Account of Various Exercises, Games and Pastimes of the Natives of New Zealand as Practised in Former Times, Including Some Information Concerning Their Vocal and Instrumental Music.
ethnology, traditional culture, Dominion Museum Bulletin No 8
VG leatherette hardback in G+ dust jacket, some rubbing with a short tear and chipping and loss at head of spine.
$55 C/C
Government Printer 1976 facsimile of 1926 edition, 334pp illustrated throughout with photographs in the text.
[#3774 ]
ANGAS George French

Polynesia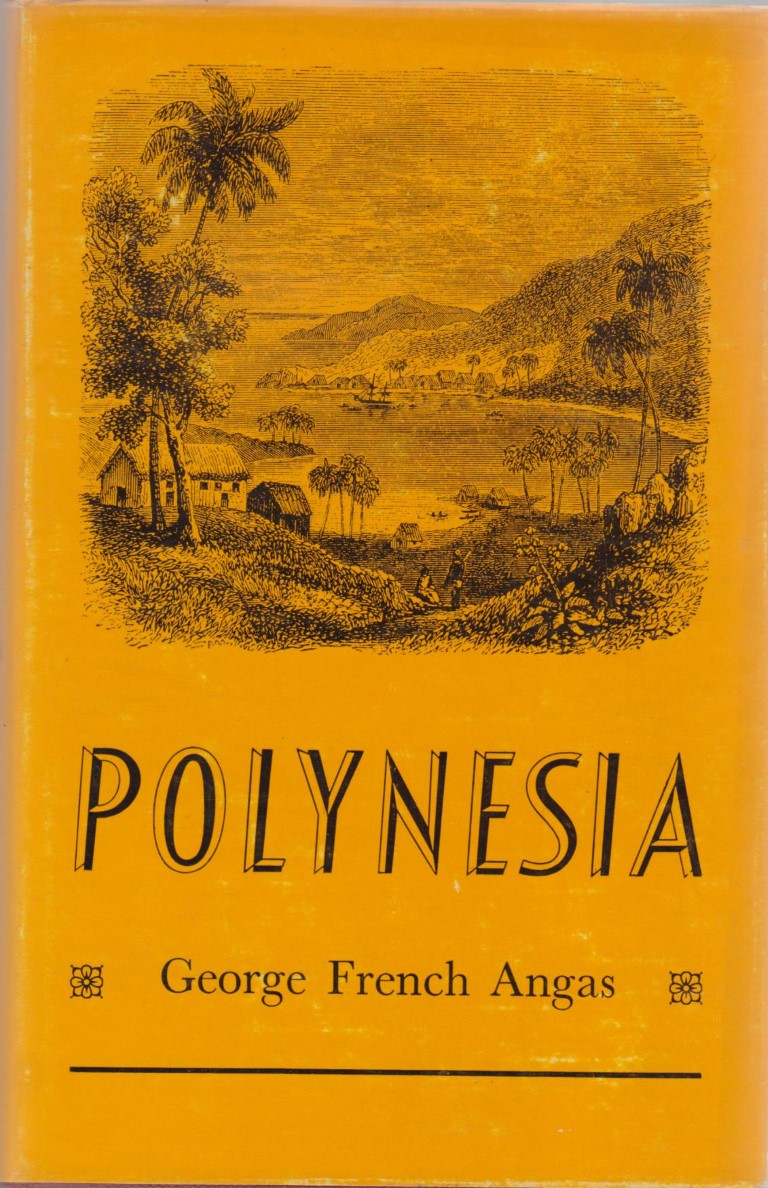 A Popular Description of the Physical Features, Inhabitants, Natural History, and Productions of the Islands of the Pacific.
Includes the discovery and colonisation of New Zealand, Papua, New Guinea, Fiji, Tonga, Cook Islands, New Caledonia, Solomons and Easter Island, as well as others.
Facsimile of the original SPCK 1866 edition.
history, colonial, 19th centiry, nineteenth century, pacific, missionary
VG+ hardback in VG+ dust jacket.
$35 C/C
Capper Press 1973, xii 436pp + 4pp adverts, engraved illustrations within the text, folding map at rear.
[#3775 ]
16/7/2018 ev
YOUNG Pamela

Penguin Summer
-or a rare bird in Antarctica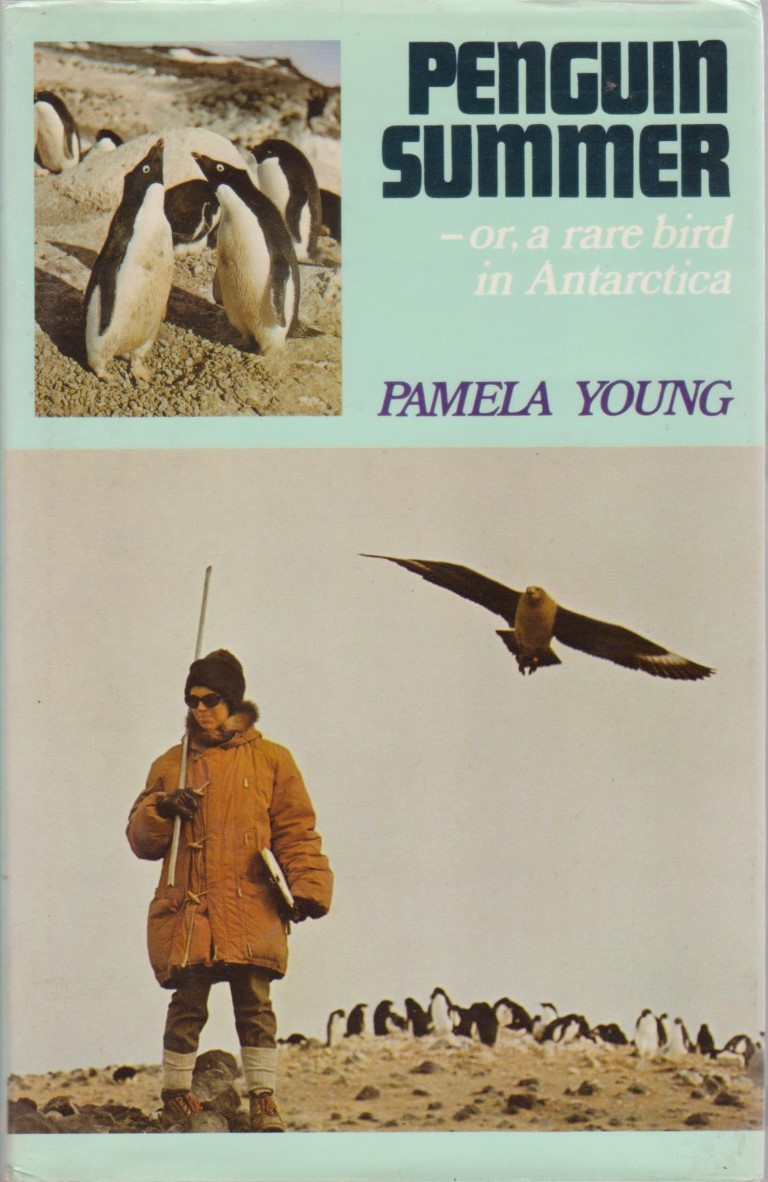 Observations in Antarctica by the wife of an Antarctic zoologist.
Pam paid particular attention to the Adelie penguins and their main predator, the skua.
She also observed her fellow rsearchers and the tough life they led on the ice.
ISBN058900686
natural history, ornithology
VG hardback in VG dut jacket
$15 C/B
Reed 1971 first edition, 166pp.
[#3762 ]
MULGREW Peter

No Place for Men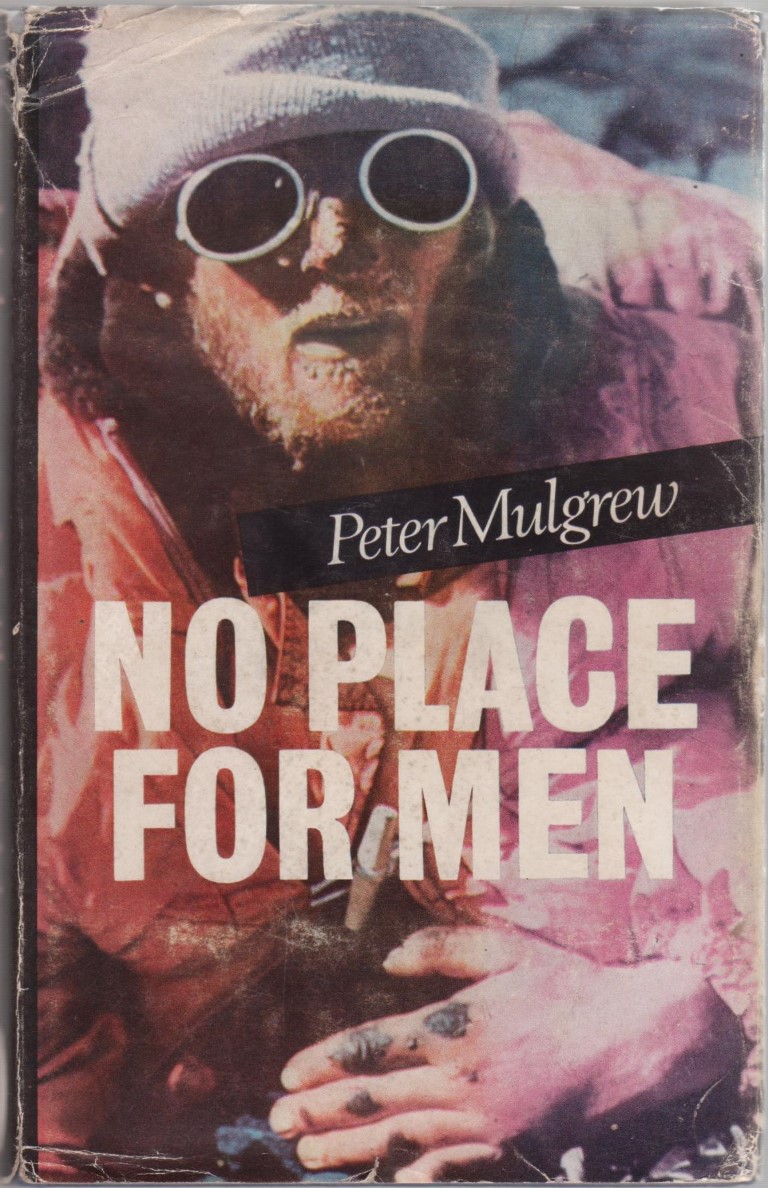 Peter Mulgrew was on the Himalayan Scientific Expedition led by Edmund Hillary to Makalu in 1960.
Here he details the aftermath of his severe frostbite.
new zealand, mountaineering, everest, himalaya
VG hardback in G+ dust jacket which has short repaired tears at head of spine. Gift inscription to half title page.
$25 C/C
Reed 1964 first edition, 199pp + plates.
[#3763 ]
VG hardback in G dust jacket which has edge tears and chipping and a repaired tear with associated creases at top of front cover
$15 C/C
Reed 1965, 199pp + plates.
[#890 ]
VG hardback in VG- dust jacket which has edge rubbing and handling soiling
$15 C/C
Reed 1965, 199pp + plates. [#1705]
COWAN James

The New Zealand Wars and the pioneering Period
Vol1; 1845-64 Vol2; Hauhau wars 1864-72.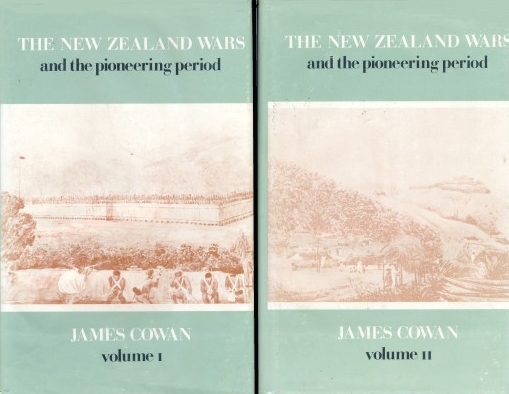 Cowan was commissioned by the governement to write this history of the formative period of Maori- European interaction.
The armed confrontations of this period have variously been called the Maori Wars or Land Wars.
The standard work on the subject, this is a facsimile of the 1922 edition, with a new foreword by Michael King and a revised index.
ISBN0477012302
new zealand, history,
VG+ hardbacks in VG+ dust jackets, with some ageing. Vol 1 sunned to the dust jacket fore edge and light rubbing to the joint.
$160 C/D
Government Printer 1983, xxviii + 466; xx + 633pp.
[#3764 ]
TONSON A E

Old Manukau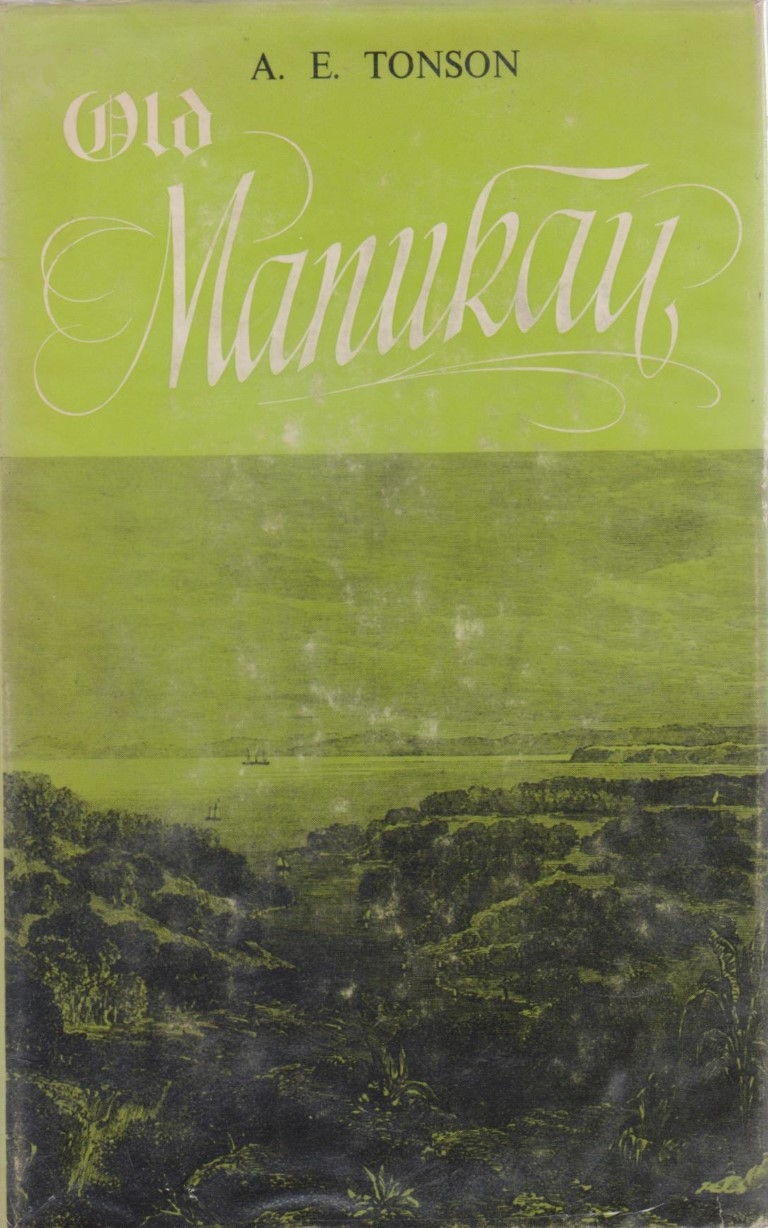 A regional history of the settlements that coalesced into Manukau district.
keywords
VG hardback in VG dust jacket with a little surface and edge rubbing, spine slightly faded. Book has some minor waving of pages from atmospheric damp.
$70 C/C
Tonson Publishing 1966 first edition, 336pp + plates.
[#3765 ]
FIRTH Raymond

Economics of the New Zealand Maori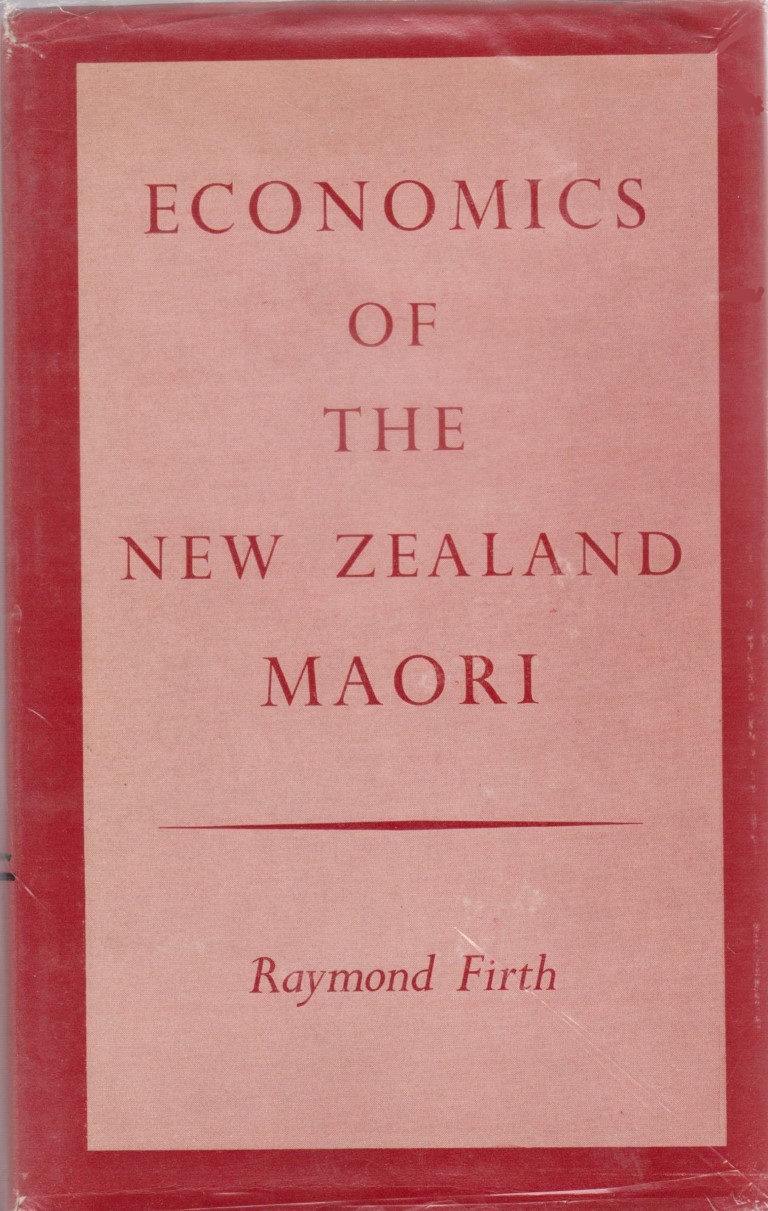 Statistical study of the economics of Maori communities and society.
Economic organisation provides the medium whereby food, clothing, shelter, tools, and objects of wealth of less utilitarian kind are secured to the service of man. Firth's study of this aspect of life forms the theme of the present book.
The Second Edition of Primitive Economics Of the New Zealand Maori (1923)
With a completely re-written introductory chapter and much new material added, and a final chapter on the post-European period, expanded to show the developing contribution of modern Maori to New Zealand society as a whole.
new zealand, society, reference, statistics
VG hardback in VG dust jacket with minor wear short edge split etc. Name to fep in pen.
$45 B/D
Government Printer 1959 second edition, 519pp + plates and maps etc.
[#3766 ]
KEN HOLT MYSTERY SERIES
Ken Holt is the adolescent son of world-famous foreign correspondent Richard Holt.
With his friend, Sandy Allen, he travels around the world solving various mysteries.
Ken lives with the Allen family, as his father is frequently away and his mother had died before the start of the series.
Plot summaries for the Ken Holt novels below have been taken from http://seriesbooks.info/kenholt.htm, with thanks.

CAMPBELL Bruce (Sam and Beryl Epstein)

Ken Holt in the Clue of the Marked Claw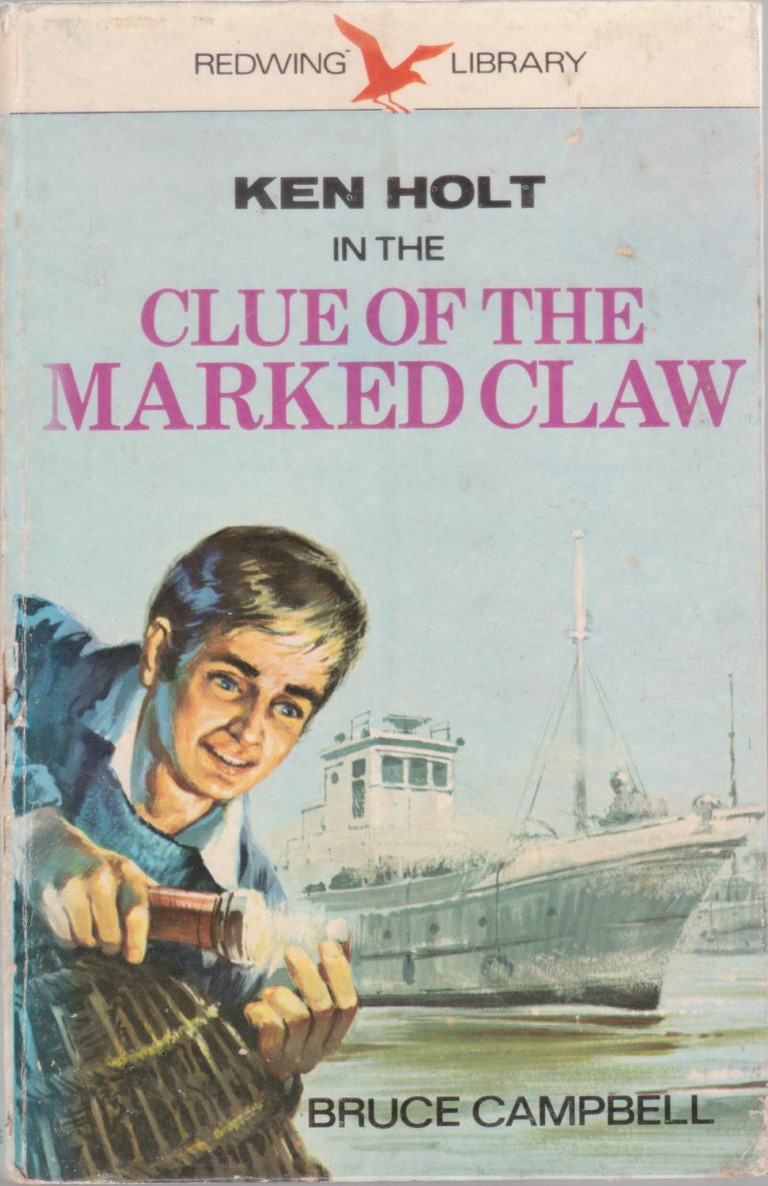 Ken and Sandy head to Long Island for a week's holiday at the invitation of Sandy's school friend, Ted Bateson.
While planning on doing nothing more than help catch lobsters, the boys are quickly caught up in the mystery of why the Bateson's lobster pots are being robbed.
Even the boys have no idea of what they were getting into in this adventure.
ISBN0723555109
young adult, mystery, series
G+ hardback with no dust jacket, pictorial papered boards. Short split to joint, bumped corners, foxed closed edges.
$6 A/B
World Distributers Redwing Library 1972, 208pp.
[#3767 ]
CAMPBELL Bruce (Sam and Beryl Epstein)

Ken Holt in the Secret of Skeleton Island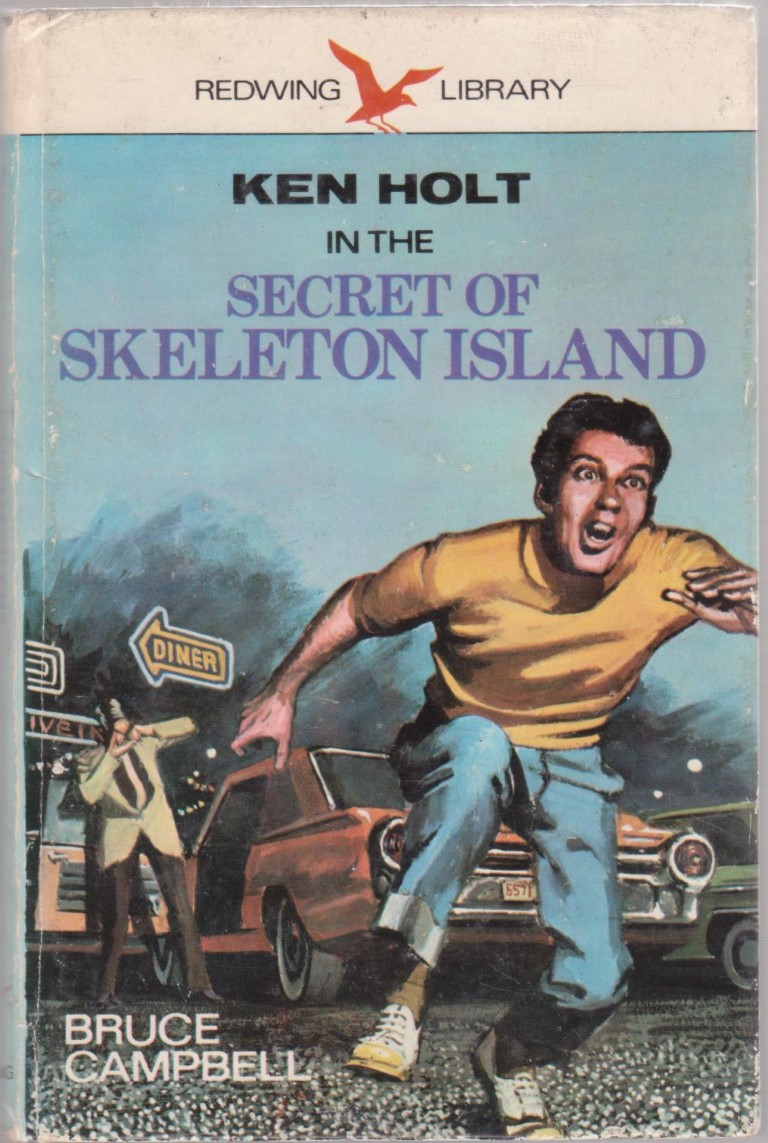 When Richard Holt fails to meet an appointment with his son, Ken heads to New York in order to find him.
Kidnapped along the way, he manages to escape and seeks refuge with the Allen family, owners of the Brentwood Advance newspaper.
Sandy Allen teams up with Ken to investigate Holt's disappearance.
Heading to Skeleton Island, the last known destination of the kidnappers, leads Ken and Sandy into adventure, mystery and danger.
The boys uncover a clever international smuggling ring that requires all of their efforts to thwart.
ISBN0723555273
young adult, mystery, series
VG hardback with no dust jacket, pictorial papered boards, short split to top of lower joint,browned closed edges, number rubber stamped to final page.
$6 A/B
World Distributers Redwing Library 1973, 208pp.
[#3768 ]
CAMPBELL Bruce (Sam and Beryl Epstein)

Ken Holt in the Clue of the Phantom Car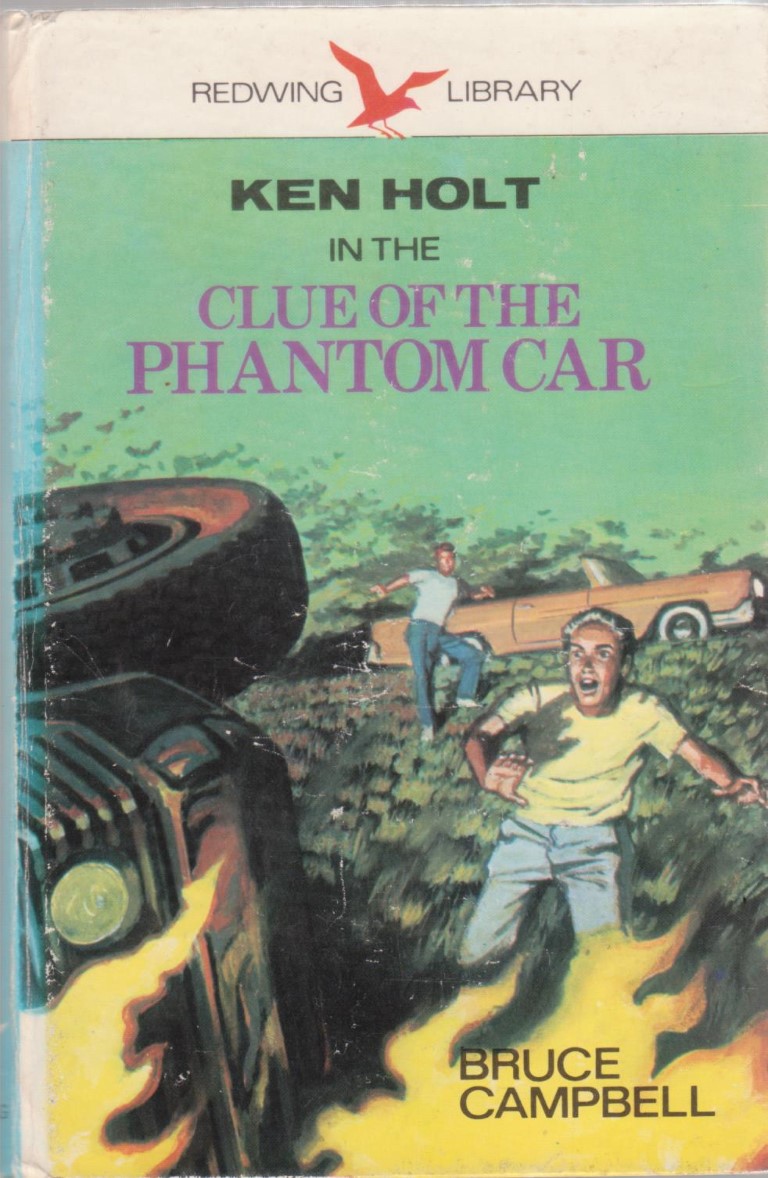 The mayor of Brentwood dedicates a new lakeside playground, and the Allen clan were there to enjoy the event and cover it for the Advance newspaper.
On their way home, Sandy and Ken opt for a short cut, and rescue Ralph Conner from the wreck of his truck. However, this last incident in a string of bad luck, could cause the Conner Brother Trucking Company to lose its insurance coverage, and end of their business. It's up to Ken and Sandy to prove a conspiracy is involved.
Despite repeated attempts to explain the circumstances surrounding Ralph's crash, nothing concrete is achieved.
When Mr. Randolph Dutton enters and offers to buy out the company, suspicions are raised. When the name of James Tolliver becomes involved, the boys find out from Granger that the mob may be in on the action.
Further investigations at the lake on the outskirts of Brentwood, reveal the whole sordid plot. Ken and Sandy must escape a gas filled tunnel and a final battle with the forces arrayed against them, before successfully unraveling the Clue of the Phantom Car.
ISBN0723555265
young adult, mystery, series
G+ hardback with no dust jacket, pictorial papered boards. Short split to joint, bumped corners, foxed closed edges.
$6 A/B
World Distributers Redwing Library 1972, 208pp.
[#3769 ]
BUDDEE Paul

Peter Devlin and the Road Bandits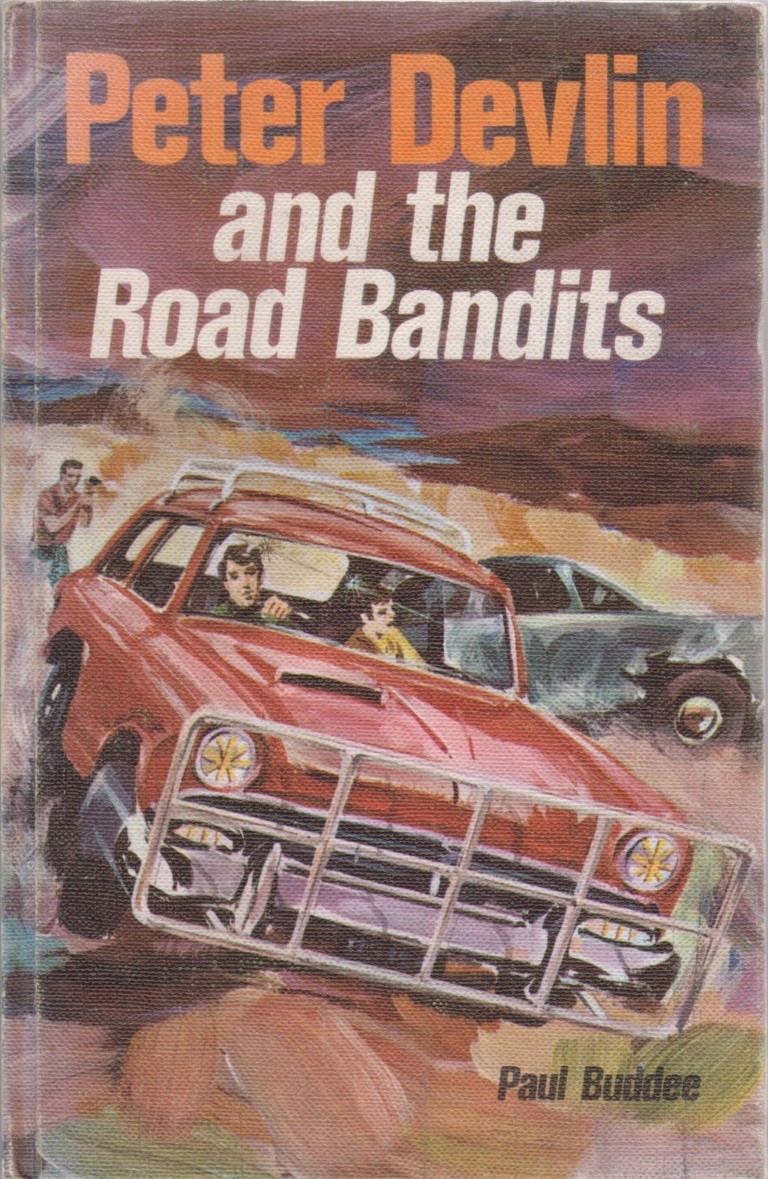 While flying over the Mad Two Hundred, a dusty road in the outback, Peter Devlin spots road bandits crashing into and looting other vehicles.
With no interest from the authorities, Peter and Jet search for the bandits and with a decoy car lure them to face justice.
ISBN0851795862
australian, young adult, fiction
VG hardback with pictorial boards. School prize plate pasted to front end paper.
$10 C/B
Rigby 1973 first edition, 172pp.
[BGO103, #3770 ]
16/7/2018 ev
BEGG George

Burt Munro Indian Legend of Speed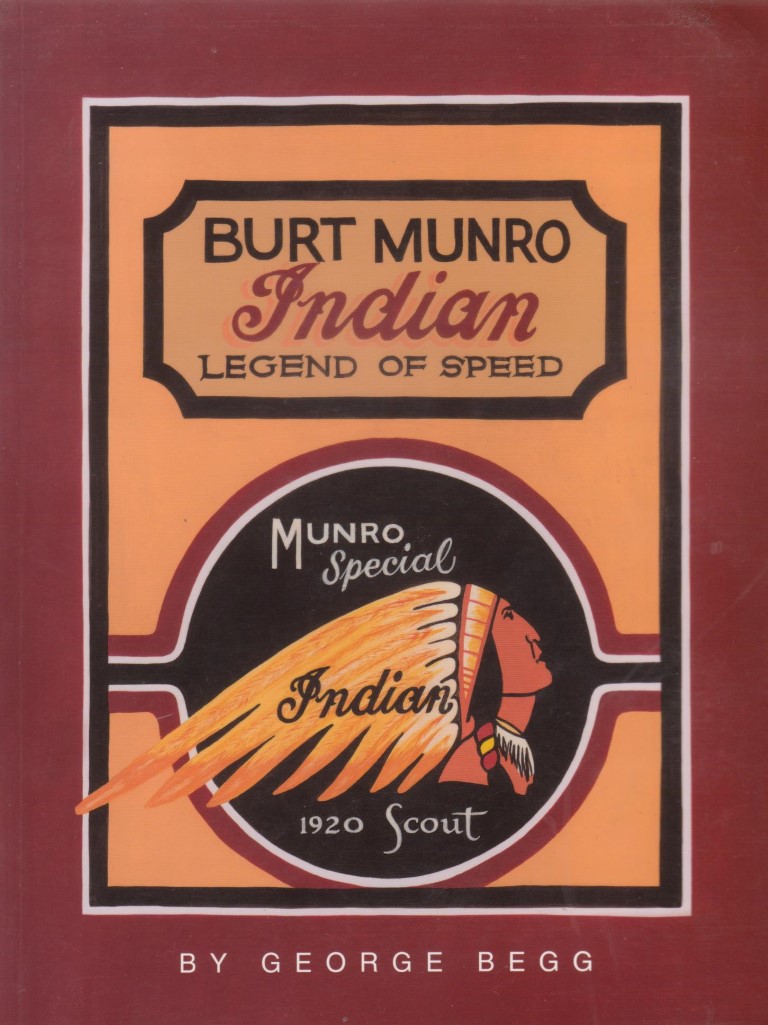 The story of Burt Munro, the eccentric New Zealand motorcycle engineer and speed record breaker.
The author knew Munro personally, and often raced against him in the early days in the Southland Motorcycle Club.
Details of Burt's record breaking attempts at Bonneville, his fine tuning of his Indian 1920 Scout, and colour and black and white photographs.
ISBN9780473089061
speed record, motor cycling, motor sport,
VG softback with former owner details in ball-pen on inside of front cover.
$30 B/B
Begg and Allen first printing 2002, 200pp.
[#3747 ]
KNIGHT Sir Peter with Rod Dew

The Boss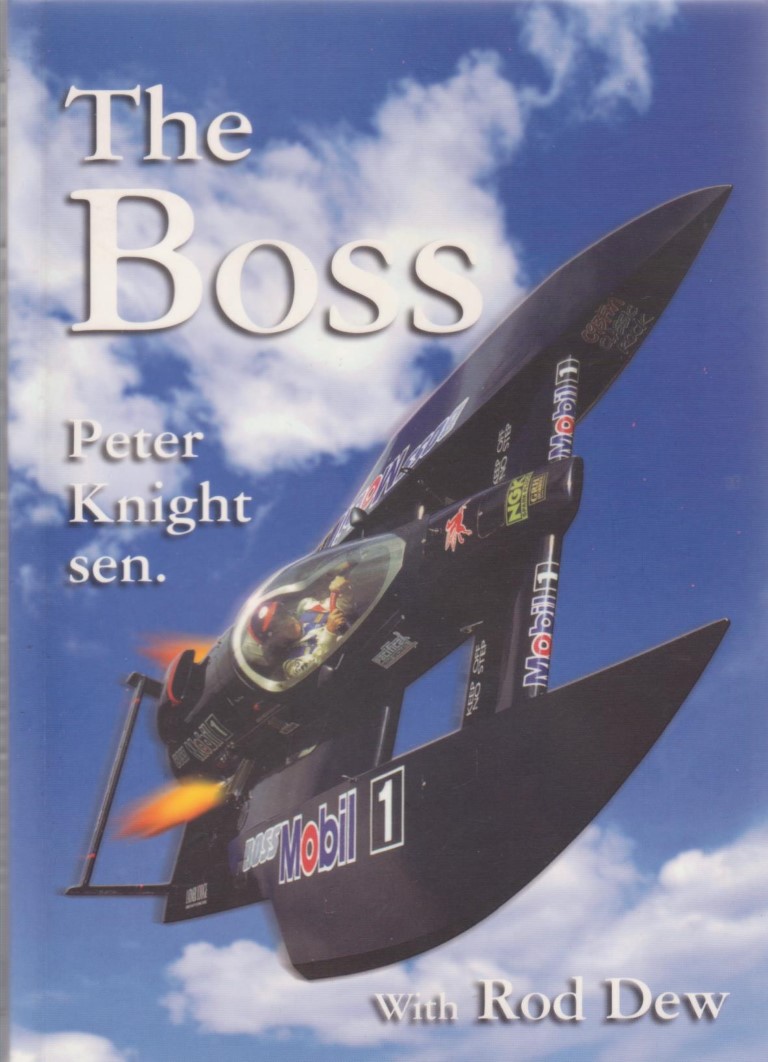 An autobiography by Sir Peter Robert Knight sen. MBE
New Zealand Grand Prix Powerboat champion, who built his boats in an abandoned service station in Latimer Square, Christchuch.
ISBN9416479003106
Bel Air III, hydroplane, world speed record, Masport Cup
VG softback
$45 C/B
Latimer Hotel 2005 first edition, 252pp.
[#3748 ]
MATTHEWS Prudence

Around St Arnaud
With pen and ink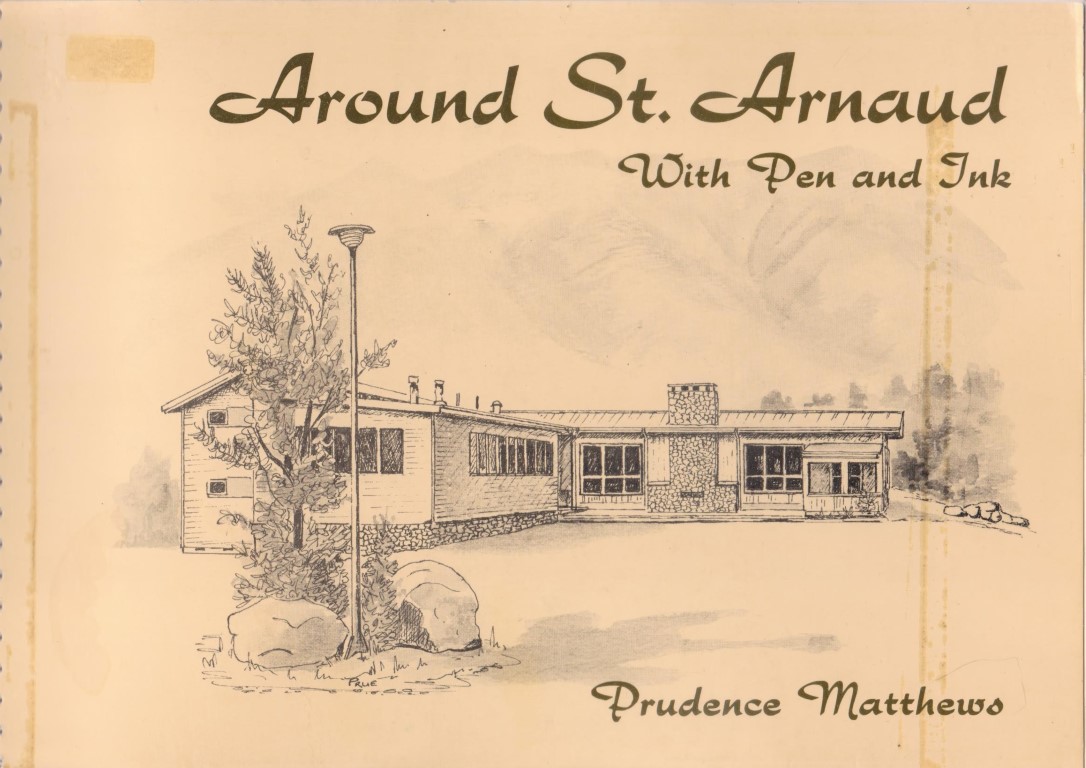 Prudence has collected her sketches of interesting places in the area around St Arnaud and Lake Rotoiti.
Her simple sketches are described with facing text.
Marlborough, art, historic buildings, Nelson Lakes National Park
VG- wire bound softback. Some tape marks to cover.
$45 B/B
Prudence Matthews 1982 first edition limited to 400 copies, 36pp.
[#3749 ]
PRICE Felicity

LWR: 100 Years in the Making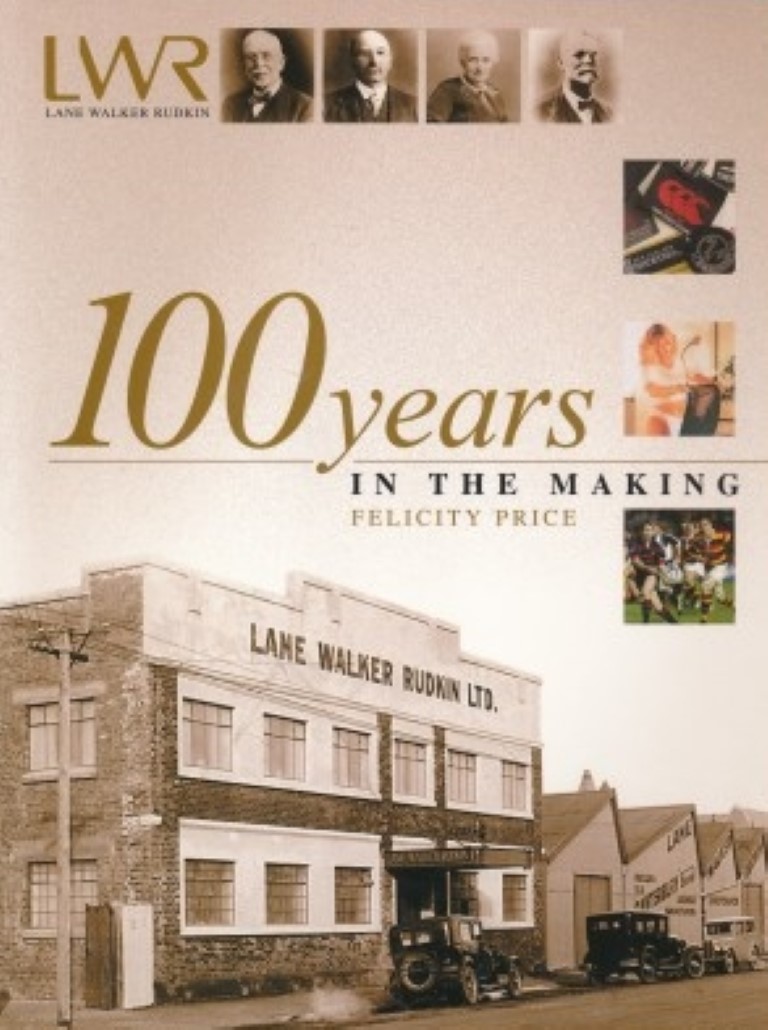 A history of the founding and development of Lane Walker Rudkin Ltd., the iconic Christchurch clothing manufacturer.
Well known for producing the Canterbury brand of clothing used by National rugby teams, and the All Blacks, LWR had a number of market leading clothing brands.
LWR was placed into liquidation in 2009, when it's financing bank laid chages of fraud against its director.
ISBN9781877270918
chistchurch, company history, clothing, manufacturing
VG softback
$30 B/C
Hazard Press 2005, 184pp.
[#3750 ]
PAUL Larry and John Moreland
Illustrated by Eric Heath
Handbook of New Zealand Marine Fishes
Illustrated and with written descripitons of nearly 200 species of fish found in our sea waters.
Common, commercial, and unusual fish illustrated in colour.
ISBN9780790002965
fisheries, angling, identification guide
VG softback
$15 C/B
Reed 1993, 150pp.
[#3751 ]
HERSEY Paul

Searching for Groundswell
A New Zealand Surfer's Road Trip.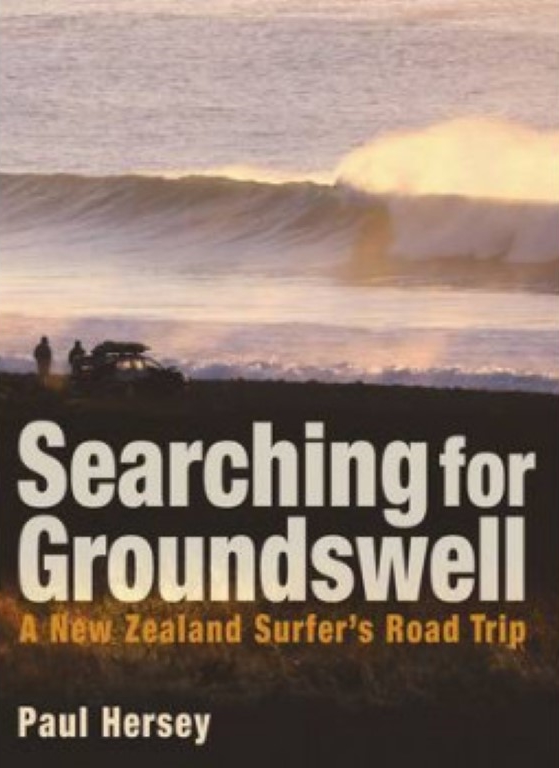 Paul travels all about the surfing spots of New Zealand, from Dunedin, the Catlins, Christchurch, Kaikoura, and the West Coast, to Wellington, Taranaki, Raglan, Tauranga, East Cape, Gisborne, Auckland and Northland.
He sees how what were originally just beaches with a local surfing community, have developed into commercial enterprises complete with malls and resorts.
ISBN9781869662813
surfing, beach, surf
VG softback
$20 B/C
New Holland Publishers 2010, 205pp.
[#3752 ]
HENDERSON Jim

Gunner Inglorious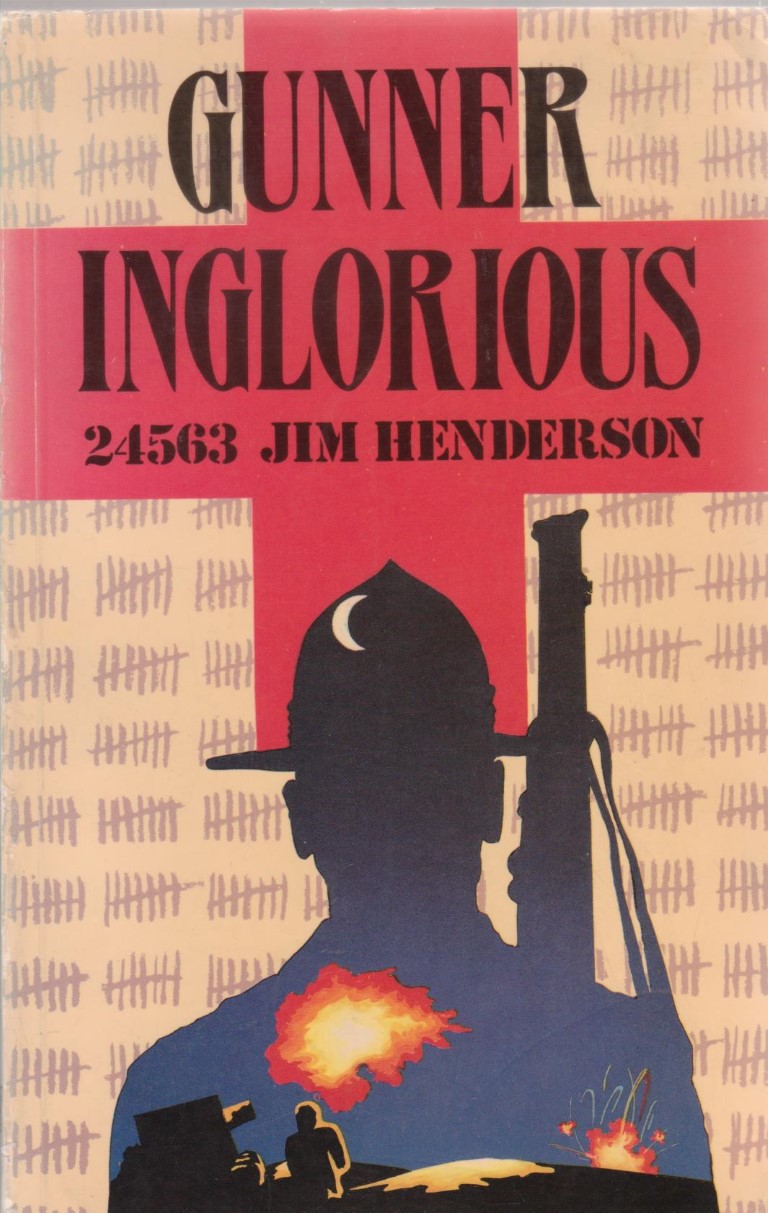 Henderson served as a gunner in 29 Battery New Zealand Artillery, 2NZEF and was wounded and taken prisoner at Sidi Rezegh December 1941 during North African Campaign.
He had a leg amputated while a POW in Italy.
ISBN0340363967
ww2, wwii, memoir
VG- softback with small name to first page.
$10 C/B
Hodder and Stoughton 1984, 159pp.
[#3753 ]
BIRT Chris

The Final Chapter
The Truth Bedhind New Zealand's Most Famous Murder Mystery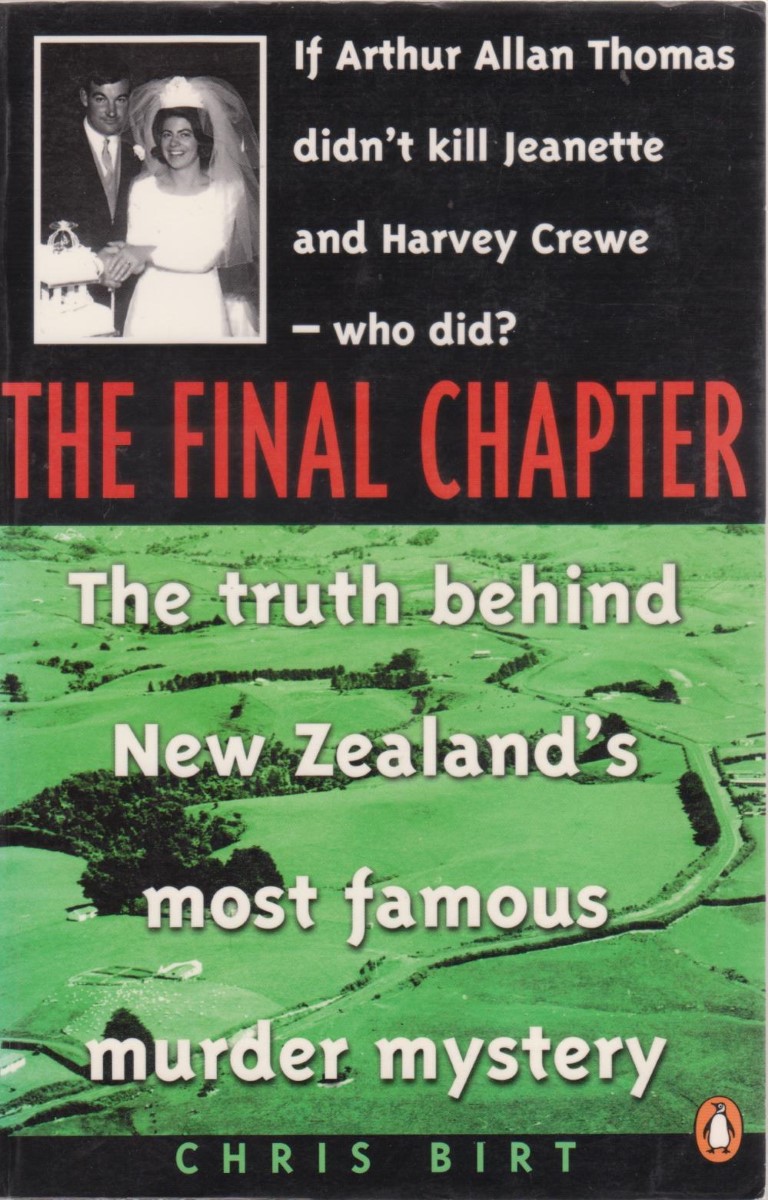 The author revisits the terrible 1970 murders of Jeanette and Harvey Crewe on their isolated farmhouse at Pukekawa.
Arthur Allan Thomas was twice convicted of murder, but later declared innocent and pardoned.
Birt posits another candidate for the crime, who had motive, means and opportunity.
That man was Jeanette's own father, Lenard William Demler.
ISBN9780141006291
Crewe murders, new zealand, true crime
VG softback, name to inside cover with tippex over it.
$15 C/B
Penguin 2001, 227pp + plates.
[#3754 ]
RAM Nilakanta Sri

Life's Deeper Aspects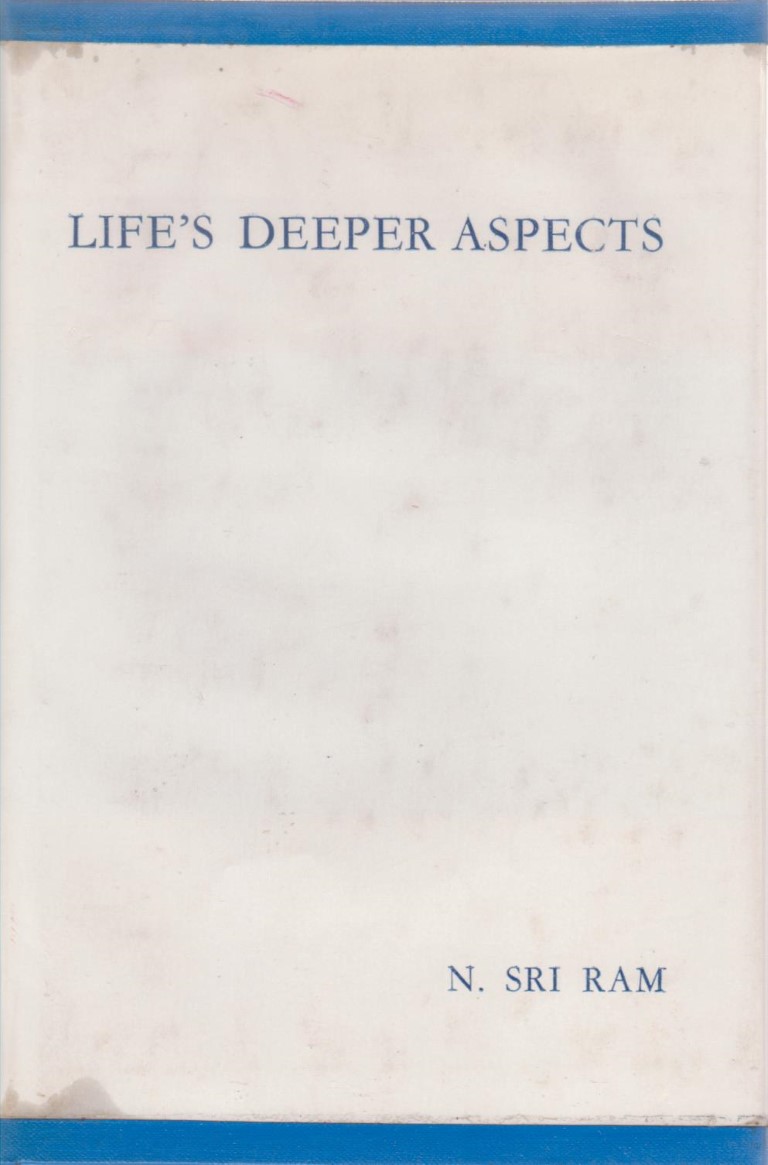 Eight addresses on spiritual matters by the fifth President of the Theosophical Society, an early member who had known Olcott, Besant, Arundale and Jinarajadasa.
theosophy, hinduism, occult
VG hardback in VG dust jacket under plastic sleeve, may have adhesive bleed along the edges of the jacket.
$20 A/B
Theosophical Publishing House 1968, 152pp.
[#3755 ]
HUNT Roland T.

The Eighth Key to Colour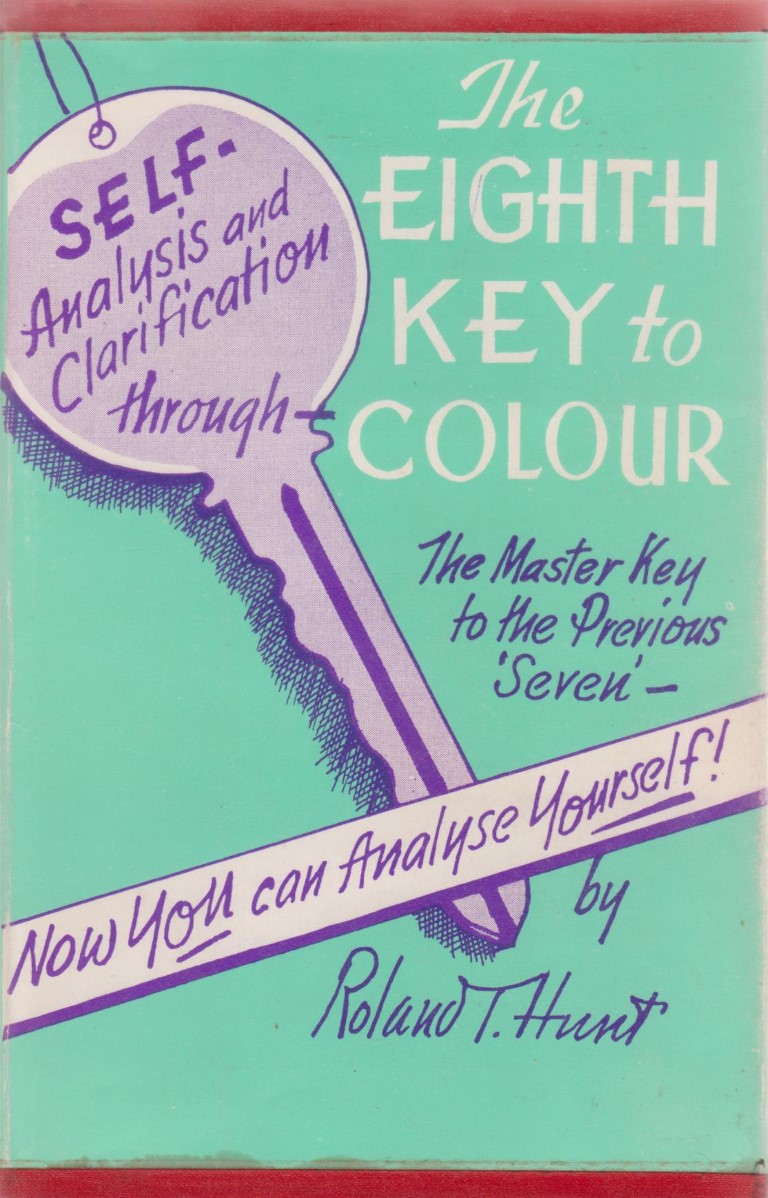 Self-analysis and clarification through colour therapy, based on the Theosophical concept of the Seven Rays.
ISBN0852430353
psychology, occult, theosophy, 7 rays, colour therapy, healing, new age
VG hardback in VG dust jacket under plastic sleeve, may have adhesive bleed along the edges of the jacket.
$25 C/B
Fowler 1973 third edition, 101pp.
[#3756 ]
MASCARO Juan

The Bhagavad Gita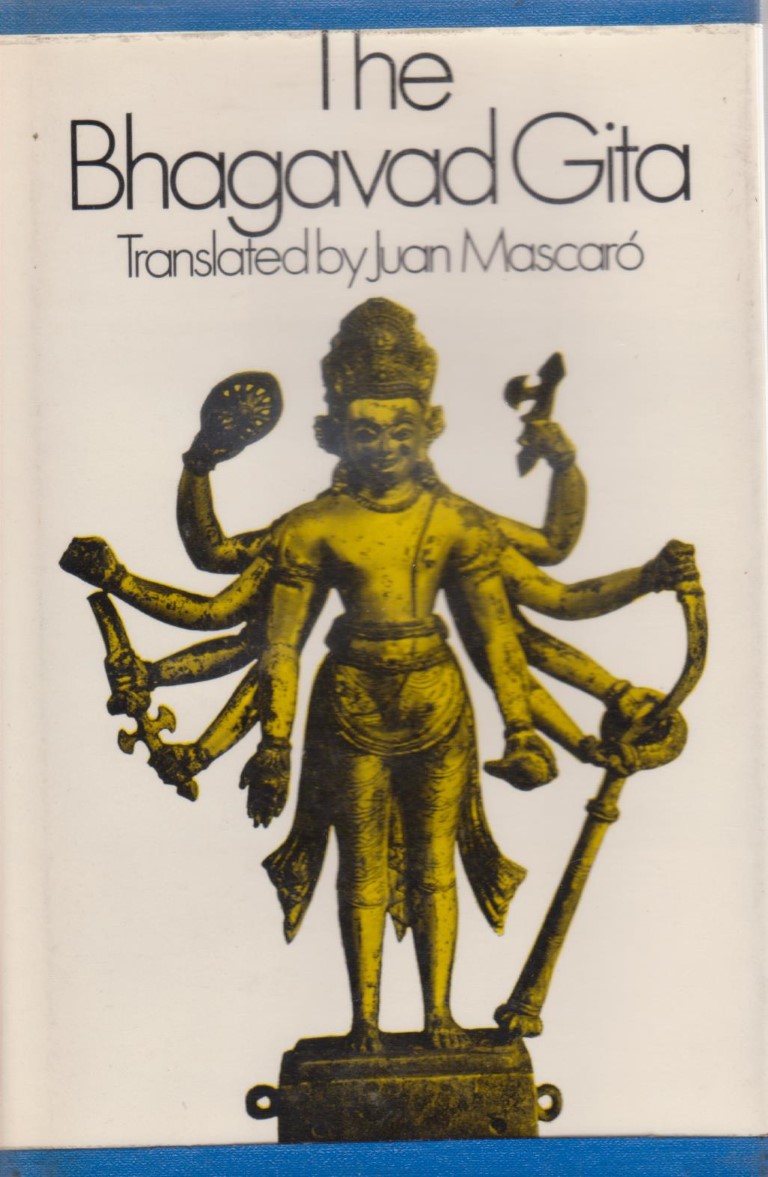 Rider has reissued the classic Penguin translation by Mascaro of this classic of Indian spiritual thought.
ISBN0091014204
hinduism, gita, sanskrit, mahabharata
VG hardback in VG dust jacket under plastic sleeve, may have adhesive bleed along the edges of the jacket. Name to first page.
$20 C/B
Rider 1970, 128pp
[#3757 ]
ANON (Joseph S. Benner)

The Impersonal Life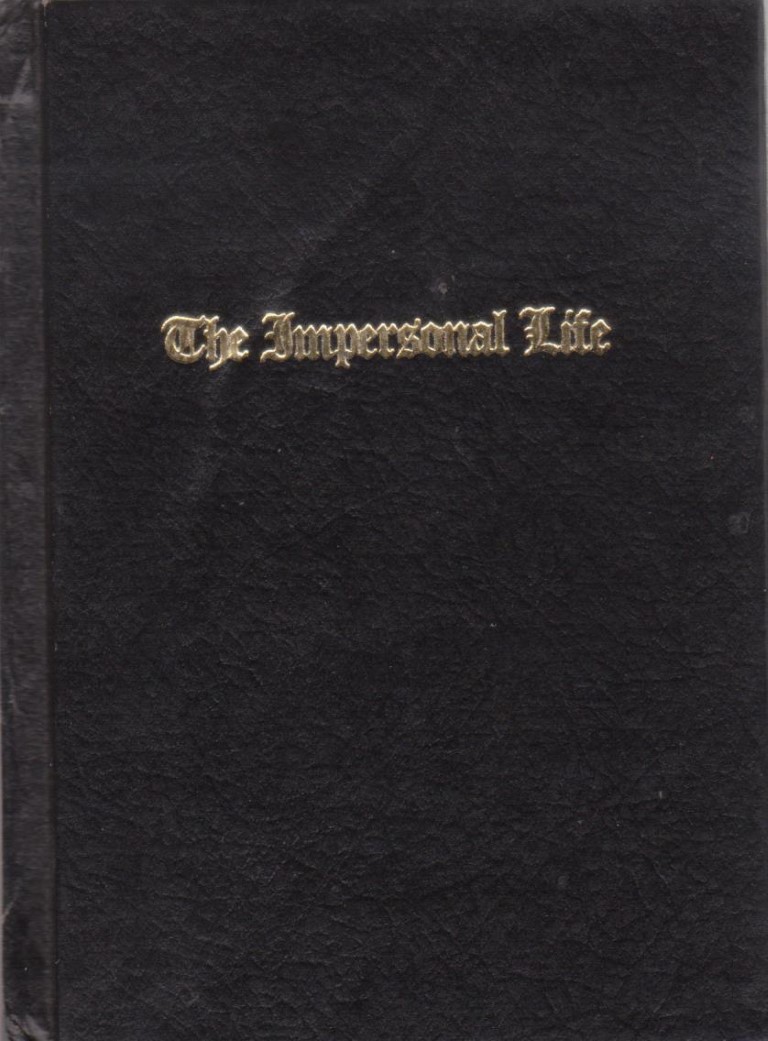 Foundation work of the "I AM" New Thought teachings. Benner believed that God had chosen him as a medium.
new thought,
VG hardback with no dust jacket, inscription to first page.
$10 A/A
C A Willing 1976 (37th edition), 167pp.
[#3758 ]
VIVEKANANDA Swami

Raja-Yoga
Conquering the Internal Nature
Vivekananda's teachings on Raja-yoga, supported by his translation and discussion of Patanjali's Yoga Sutras, with the original Sanskrit
yoga, indian spirituality, hindu
VG leatherette with no dust jacket. Name at front.
$15 A/B
Advaita Ashrama 1973, 280pp.
[#3759 ]
TAIMNI I. K.

The Science of Yoga: The Yoga-Sutras of Patanjali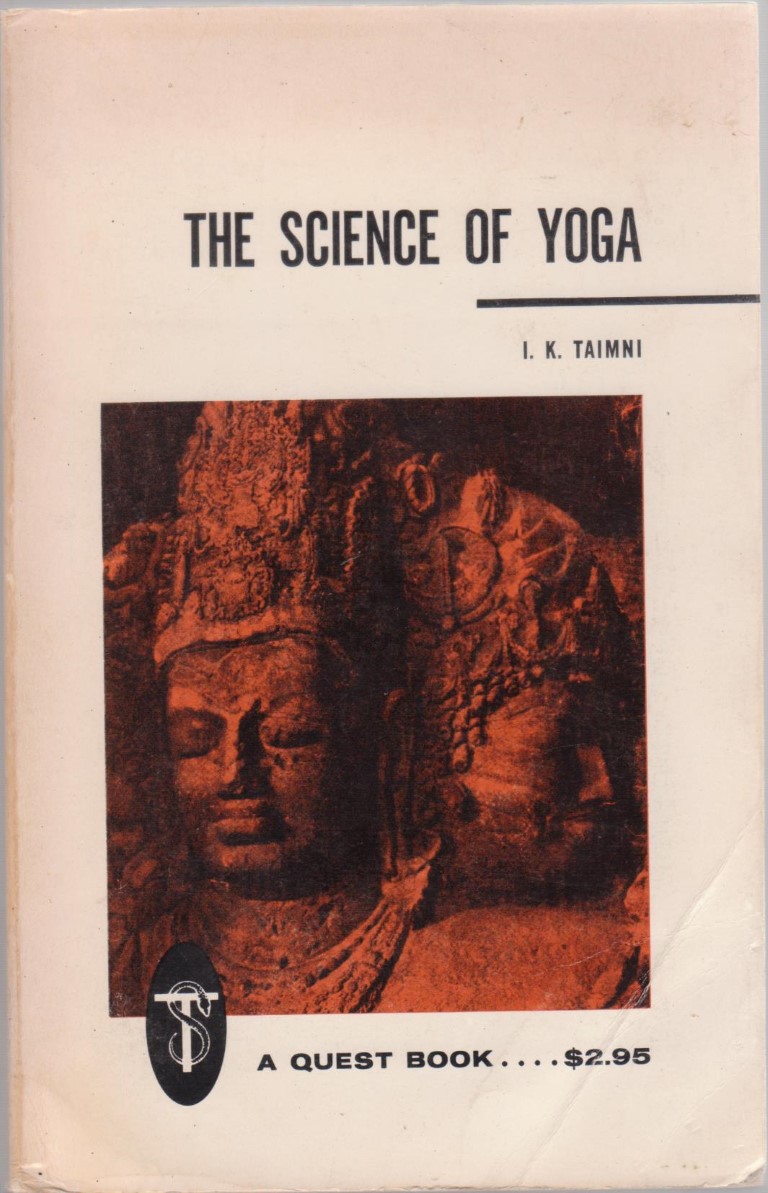 In Sanskrit with Transliteration in Roman, Translation and Commentary in English.
ISBN0835600238
yoga, hindu, indian, spirituality
VG- softback
$15 C/C
Theosophical Publishing House/ Quest Book 1972, 448pp.
[#3760 ]
SADHU Mouni (aka Mieczyslaw Demetriusz Sudowski)

Concentration
A Guide to Mental Mastery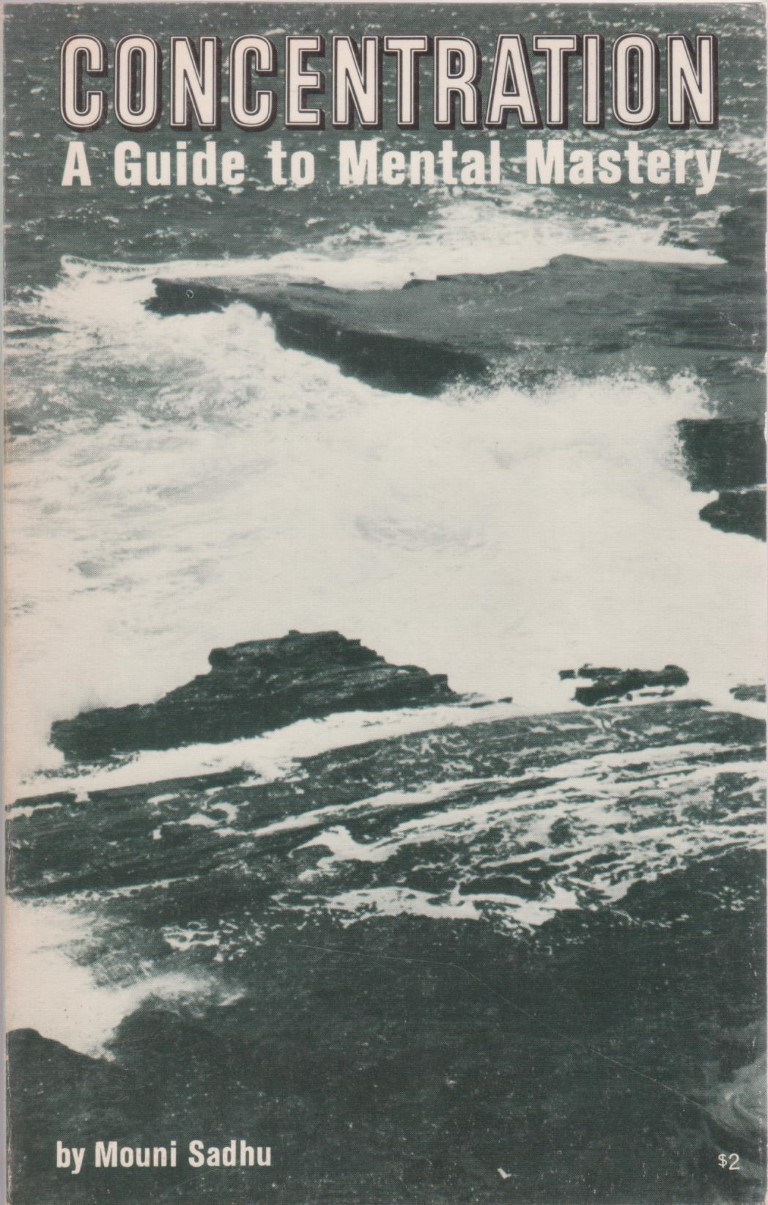 Influenced by Yogi Ramacharaka (William Walker Atkinson), this work deals with techniques of concentrationbased on Hindu yoga theory.
At one time a Rosicrucian Hermetist Sadhu later was influenced by Ramana Maharshi and wrote on spiritual mysticism.
new age, occult, dharana
VG softback, name to dedication page.
$20 C/B
Wilshire Book Company 1974, 219pp.
[#3761 ]
12/7/2018 ev
PASCOE John

The Haast is in South Westland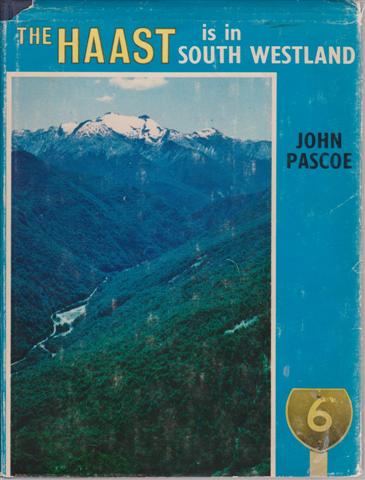 The history of the Haast Pass and local areas, including Jackson Bay, Maori times, early settlers, the Haast road.
Surveyors, engineers and workmen.
VG hardback in VG- dust jacket with a small chip and a closed tear to rear panel.
$30 B/C
Reed 1966 first edition, 116pp + plates.
[#2713 ]
VG hardback in VG dust jacket. Name at top of title page.
$30 B/C
Reed 1968 reprint, 116pp + plates.
[#3744 ]
MEDLAND Grace M.

Great Barrier Calls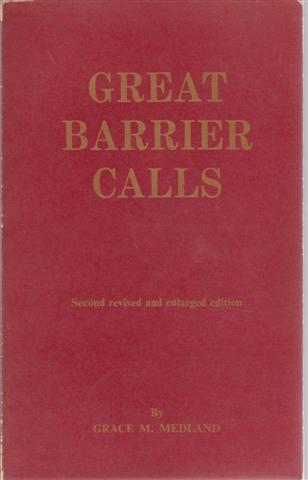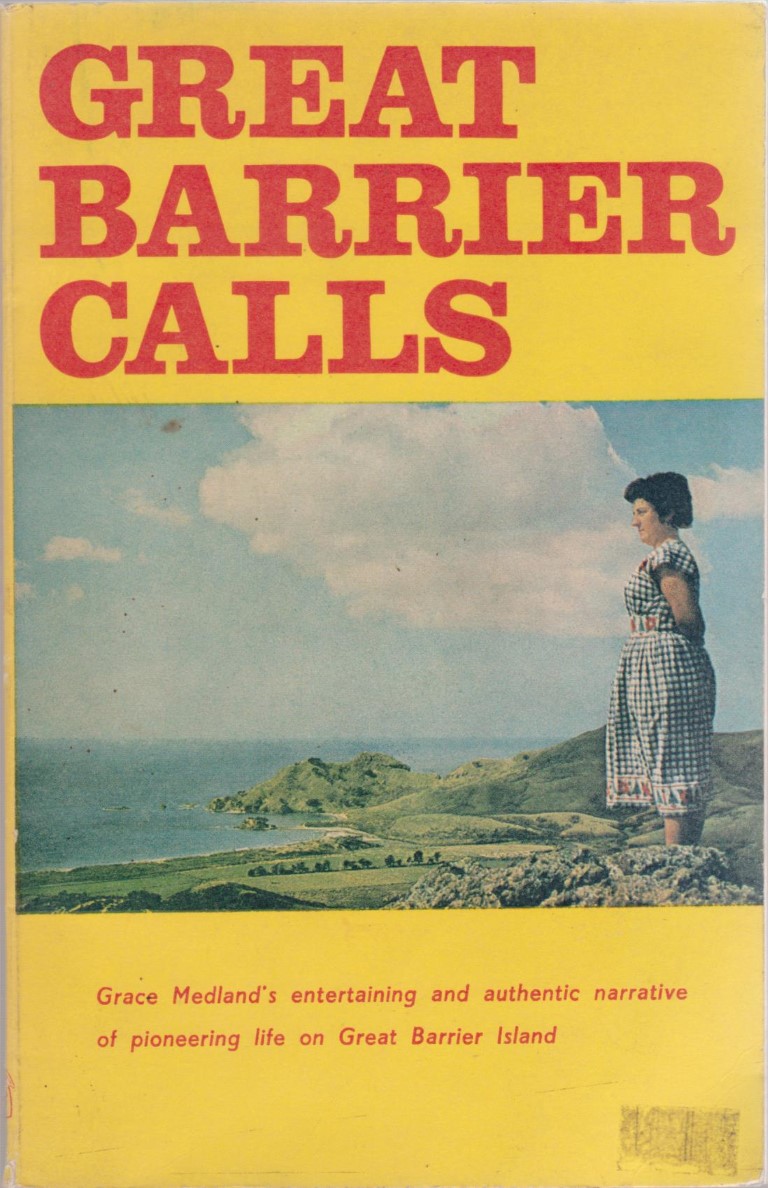 An informative, historic, authentic narrative, written by one of the pioneers born on Great Barrier Island.
Whangapara, Okupu, Tryphena, Fitzroy, Hauraki Gulf
VG softback Signed by the author.
$30 C/A
Wilson and Horton 1971, Enlarged second revised edition, 119 pages + plates.
[#2432 ]
VG softback.
$30 C/A
Grace Medland 1969, first edition, 104 pages + plates.
[#3745 ]
WRIGHT Matthew editor

Behind Enemy Lines
Kiwi Freedom Fighters in WWII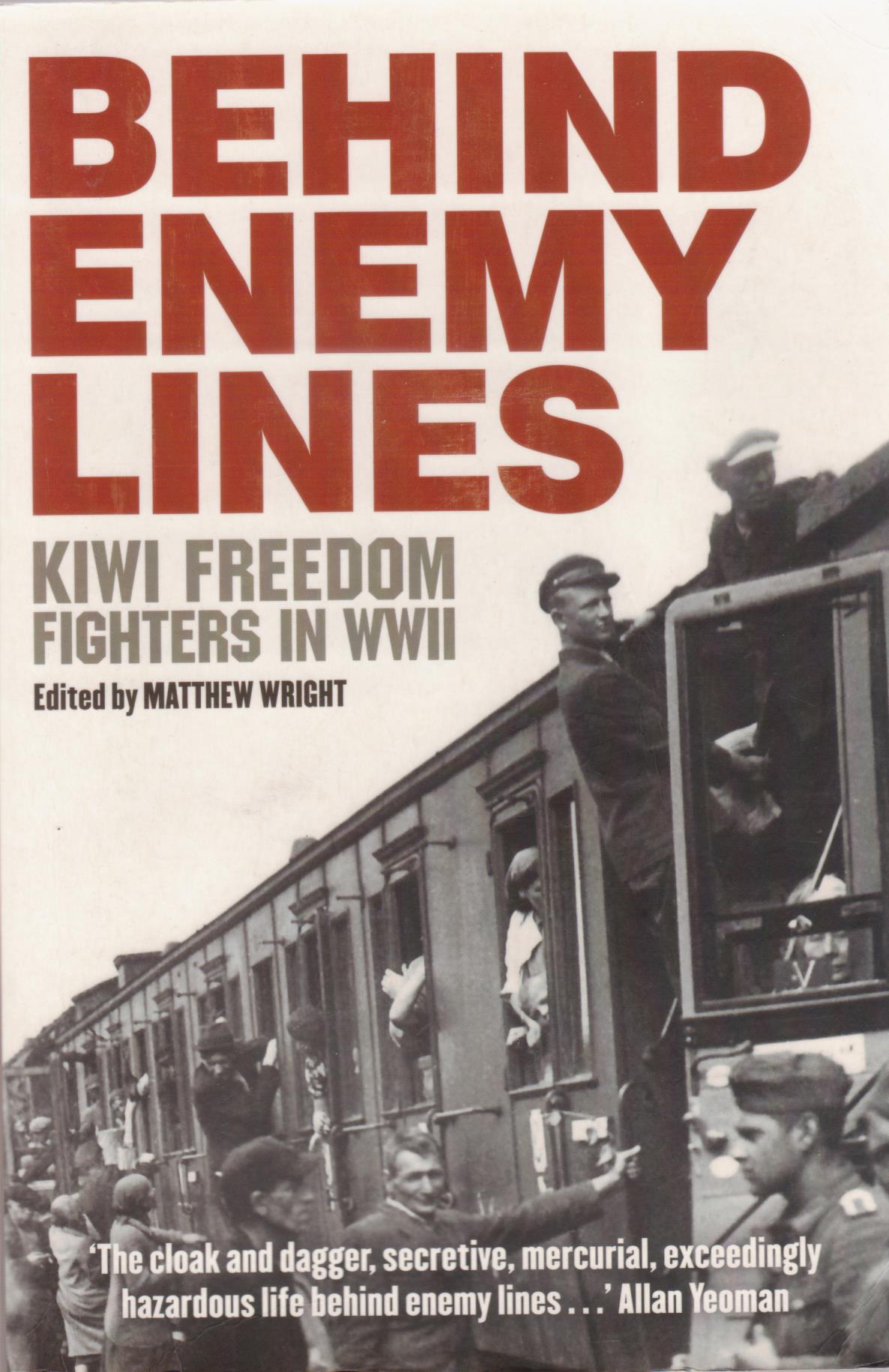 Edited extracts from the written accounts of Kiwi soldiers who found themselves fighting as partisans behind enemy lines in Italy, Greece and Yugoslavia.
Contributions by Bill Griffiths, Daniel Riddiford, Allan Yeoman, Malcolm Mason, Donald 'Jack' Winter, John Broad, John Mulgan, and accounts of John Denvir, Frank Gardner, and Dudley Perkins.
ISBN9781869790691
Italy, Greece, partisans, anzac, ww2
VG softback
$25 C/C
Random House 2010, 253pp.
[#3746 ]
8/7/2018 ev
BOHAN Edmund

Edward Stafford, New Zealand's First Statesman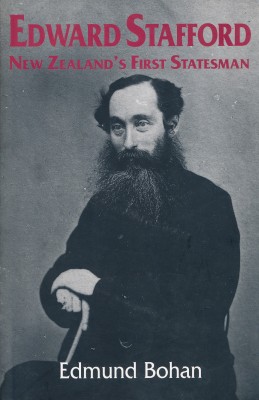 A biography and study of New Zealand's first Prime Minister, and the political climate of his times.
After being the Superintendent of Nelson, he later held the office of Prime Minister three times.
ISBN9780908790678
politics, colonial government, Te Kooti, Titokowaru, Vogel
VG+ softback
$25 C/C
Hazard Press 1994, 432pp.
[#3736 ]
WILSON John

Lost Christchurch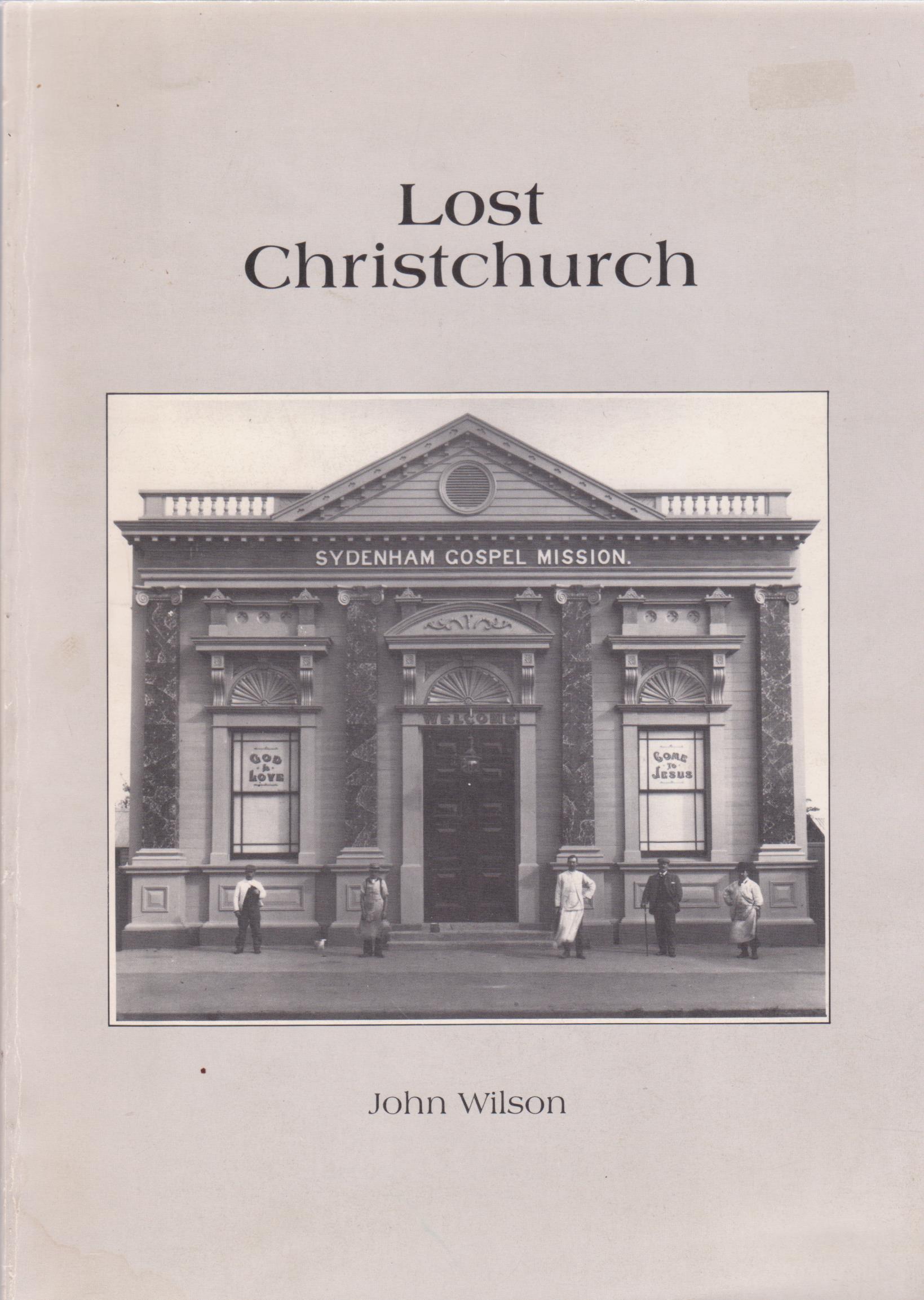 A record of notable Christchurch buildings of the past that have not survived into the present.
Also records buildings that at the time of writing were considered under threat, many of which have since succumbed to development or the devastating 2010-2011 earthquakes.
Good historic photographs.
ISBN0908714009
heritage, architecture, buildings
VG softback
$45 B/B
Te Waihora Press 1985, first reprint in an edition of 1500 copies, 96 pages.
[#3737 ]
INGRAM C W N

New Zealand Shipwrecks
1795-1970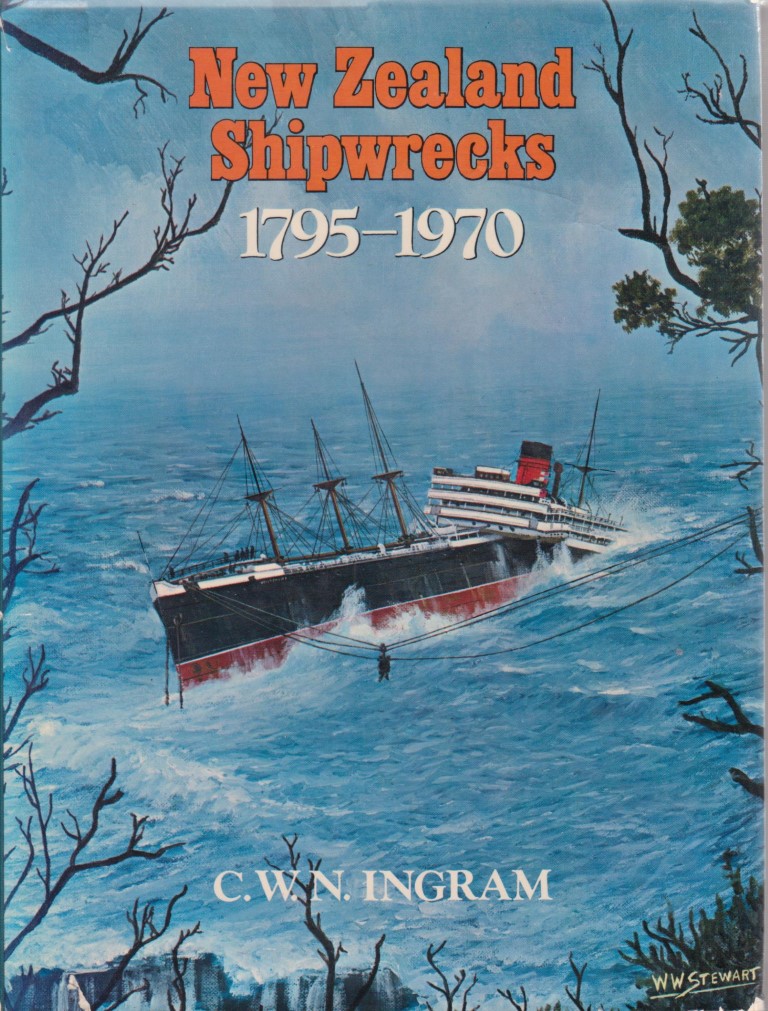 Over 1900 shipping accidents in New Zealand waters over a span of 175 years.
ISBN0589007157
nautical, merchant marine, wrecks, shipping
VG hardback in G+ dust jacket with repaired tear at head of spine.
$30 D/D
Reed 1972 fourth edition, revised and enlarged, 448pp.
[#3738 ]
LOOSER Frieda

Fendall's Legacy
A history of Fendalton and North-West Christchurch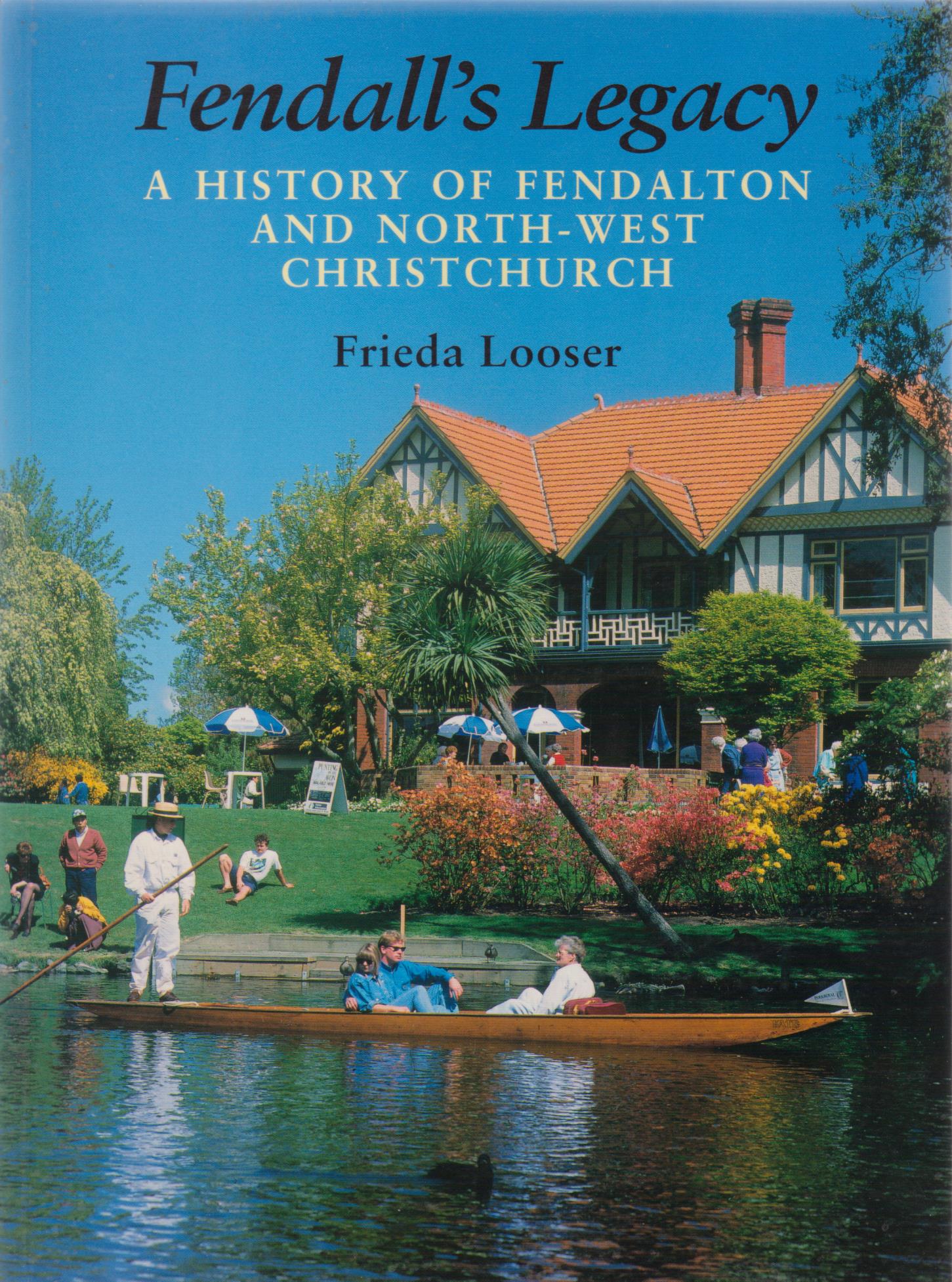 A fascinating history of the suburb of Fendalton, as well as neighbouring Riccarton, Ilam, Bryndwyr and Burnside.
ISBN9781877257049
christchurch, history, suburb
VG+ softback
$45 B/C
Canterbury University Press 2002, 227pp.
[# 3739]
FIELD Michael J.

Mau
Samoas Struggle for Freedom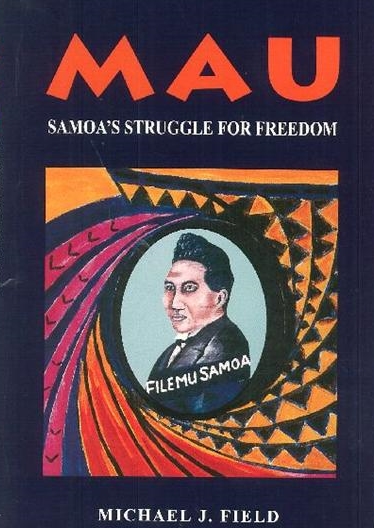 A history of New Zealand's 50 year colonial rule of Samoa, and of the non-violent freedom movement known as Mau.
ISBN9780908597079
pasifika, pacific, polynesia, imperialism, colonial
VG+ softback
$55 C/C
Pasifika Press 2008, reprint of revised 1991 edition, 262pp.
[#3740 ]
SEAGER Madeleine

Edward William Seager
Pioneer of Mental Health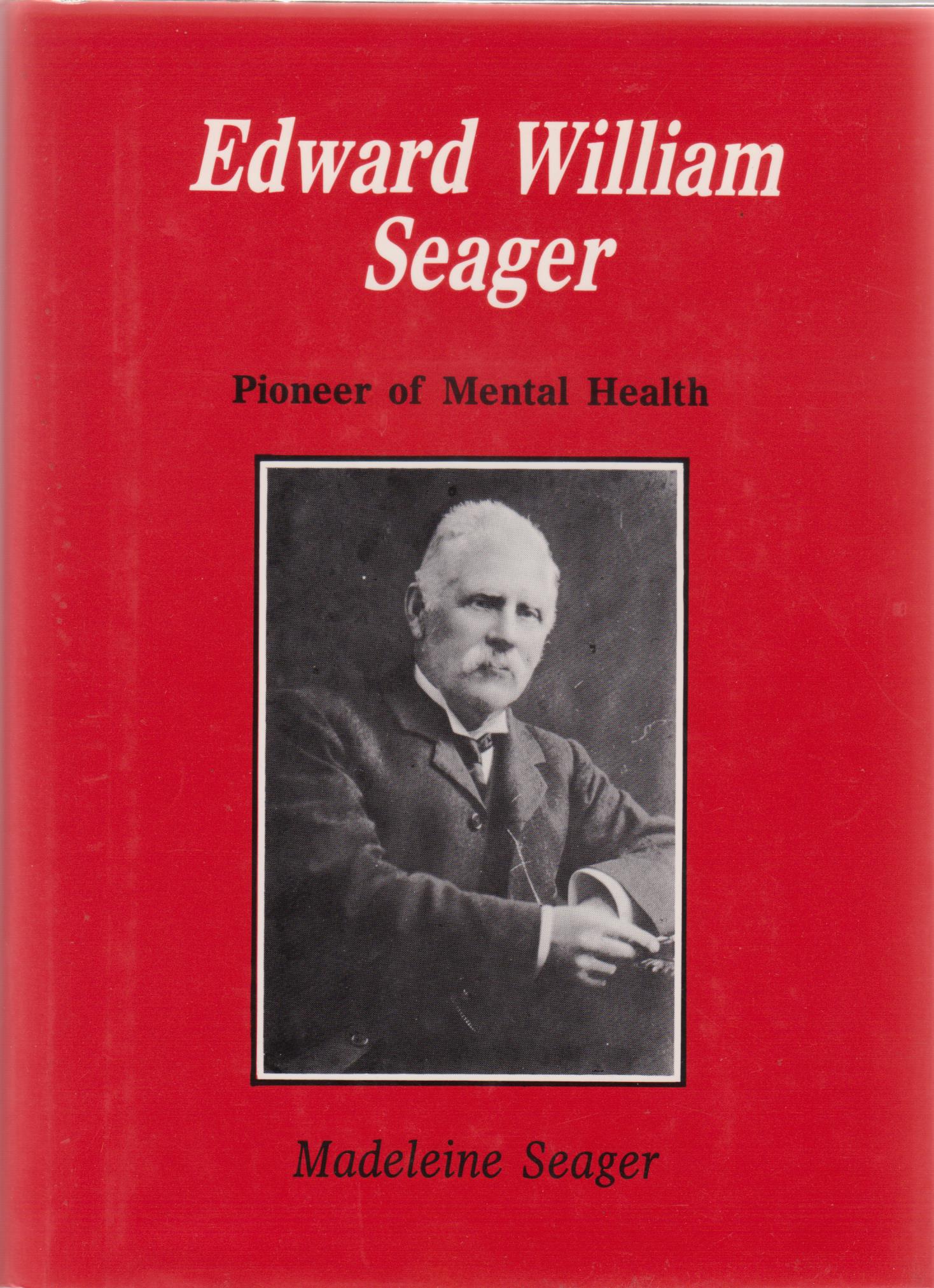 After arriving in New Zealand in 1851, Seager first served in the police force and prison service.
He became the first Steward of Sunnyside Asylum, and played a prominent role in mental health care.
ISBN0908708076
mental health, biography, canterbury
VG+ hardback in VG+ dust jacket
$25 C/C
Heritage Press 1987, 299pp.
[#3741 ]
© 2015 by Fortuna Books (NZ).