Minimum order $20 value excluding postage.
LATEST ARRIVALS, RECENT LISTINGS

Some of these items may have been sold, as this list is an indication of our new stock entries only and is not updated when items are sold until we delete old entries quarterly.

All these fortunabooks.com prices are in New Zealand dollars, and there is a minimum order required of NZD$20 excluding postage.
Recent uncataloged stock CLICK HERE
Some non-book items (board games, movies) CLICK HERE
21/5/2020ev
LEE Tanith

Lycanthia, or The Children of Wolves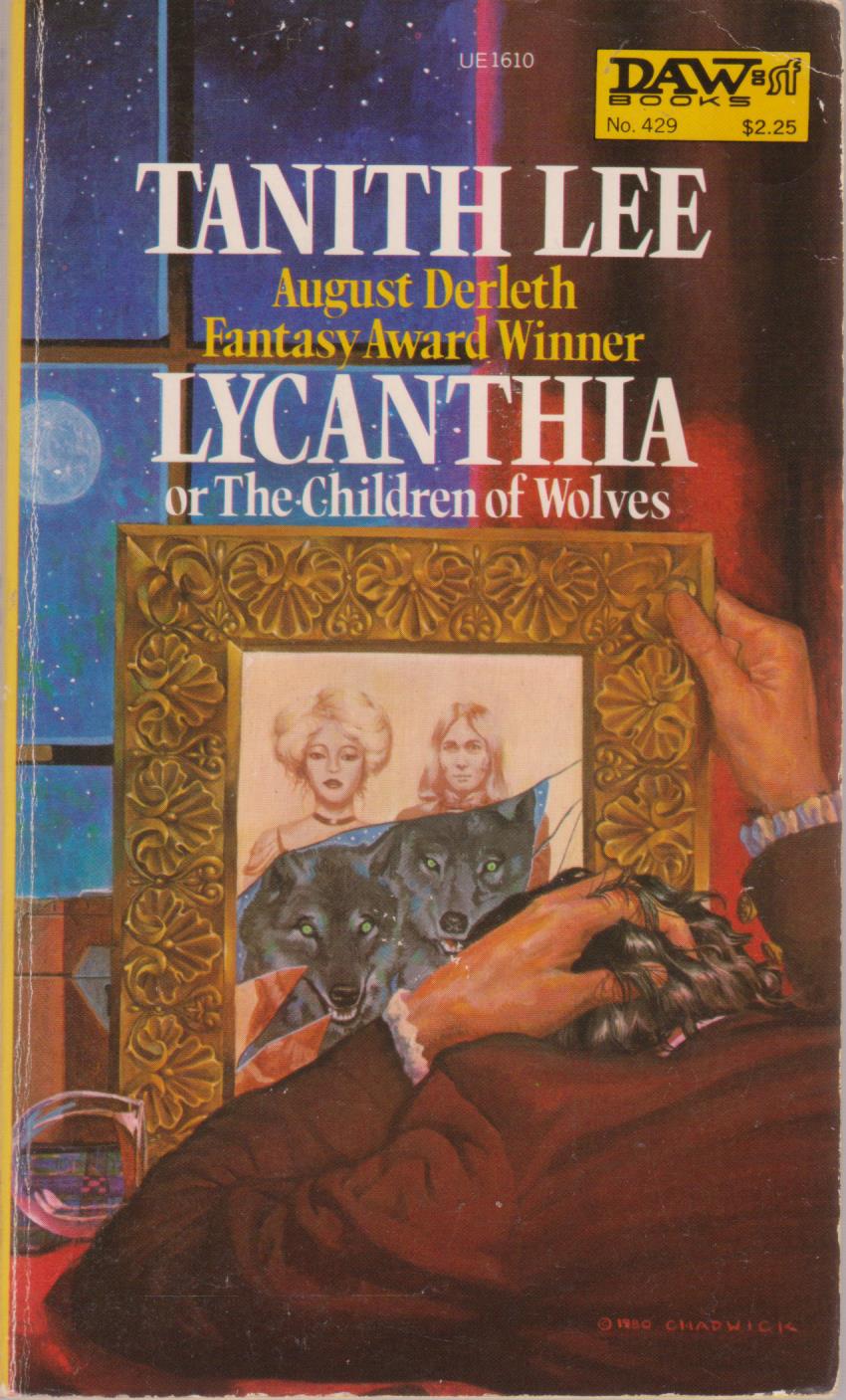 Paperback Original DAW first issue, 123456789 numberline.
ISBN0879976101
(DAW 429)
VG+ paperback
$15 A/B
Daw Books, 1981. First Edition, 220pp + adverts
[PB1661 ]
20/5/2020ev
MASON W Wynne.

Prisoners Of War
Official History of New Zealand in the Second World War 1939-45.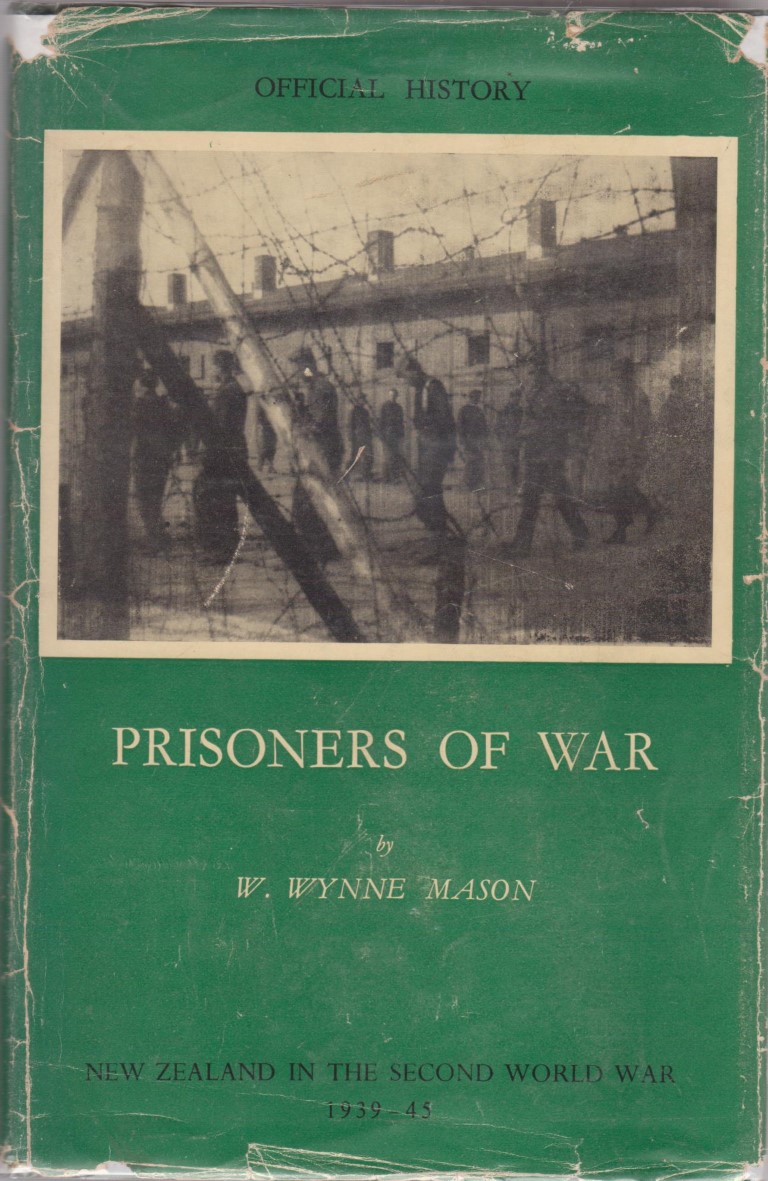 The Official New Zealand Government history of treatment and experiences of New Zealand servicemen held as prisoners during WWII.
Also information on enemy prisoners and internees held in New Zealand.
internment, enemy aliens, relief organisations, greece and crete, japanese pow in nz, featherston, stalag
VG hard back in G+ dust jacket with large chip at head of spine not affecting the title, wear to edges and joints, some corner chipping, under plastic sleeve.
Book has name to free endpaper otherwise tidy and complete.
$120 B/D
War History Branch Department of Internal Affairs 1954 First Edition, xxvi 546pp + plates and maps
[#4457 ]
PEAT Neville.

Snow Dogs, the Huskies of Antarctica.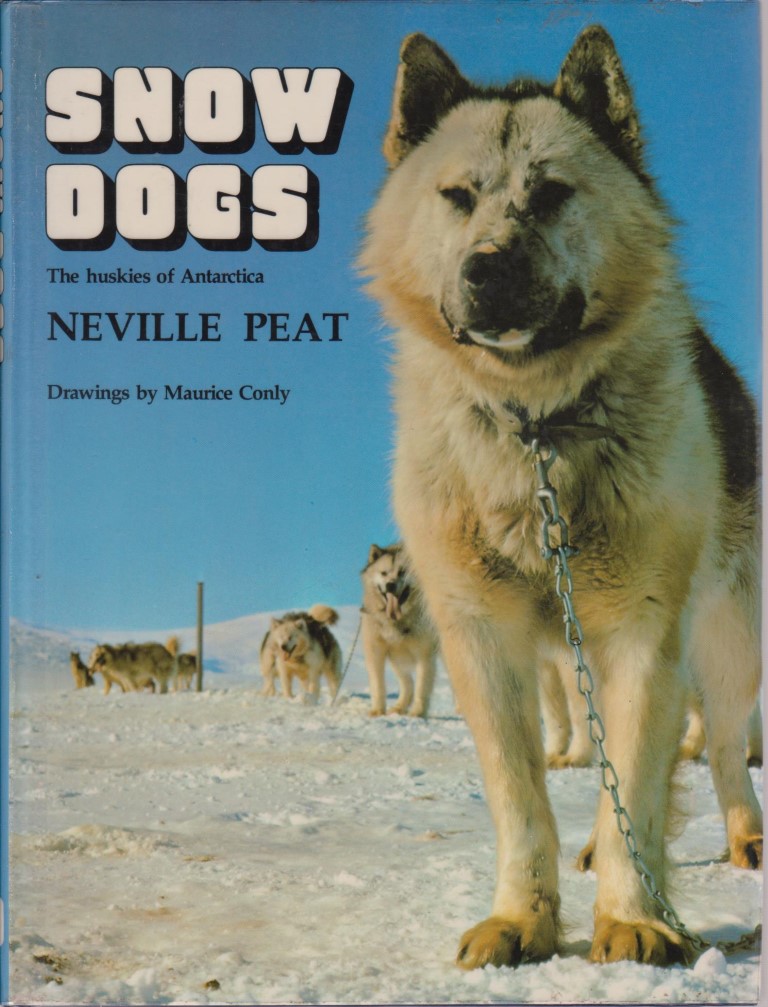 An account of two years at Scott Base, Antarctica when the New Zealanders were still using huskies as sled dogs.
Illustrated throughout with black and white photographs and line illustrations by Maurice Conly.
ISBN0723305552
new zealand antarctic program, dogs on the ice, photo journalism.
VG hardback in VG dustjacket.
$20 B/C
Whitcoulls 1978 First Edition, 112pp.
[#4458 ]
SUMMERS John.

Strictly for the Words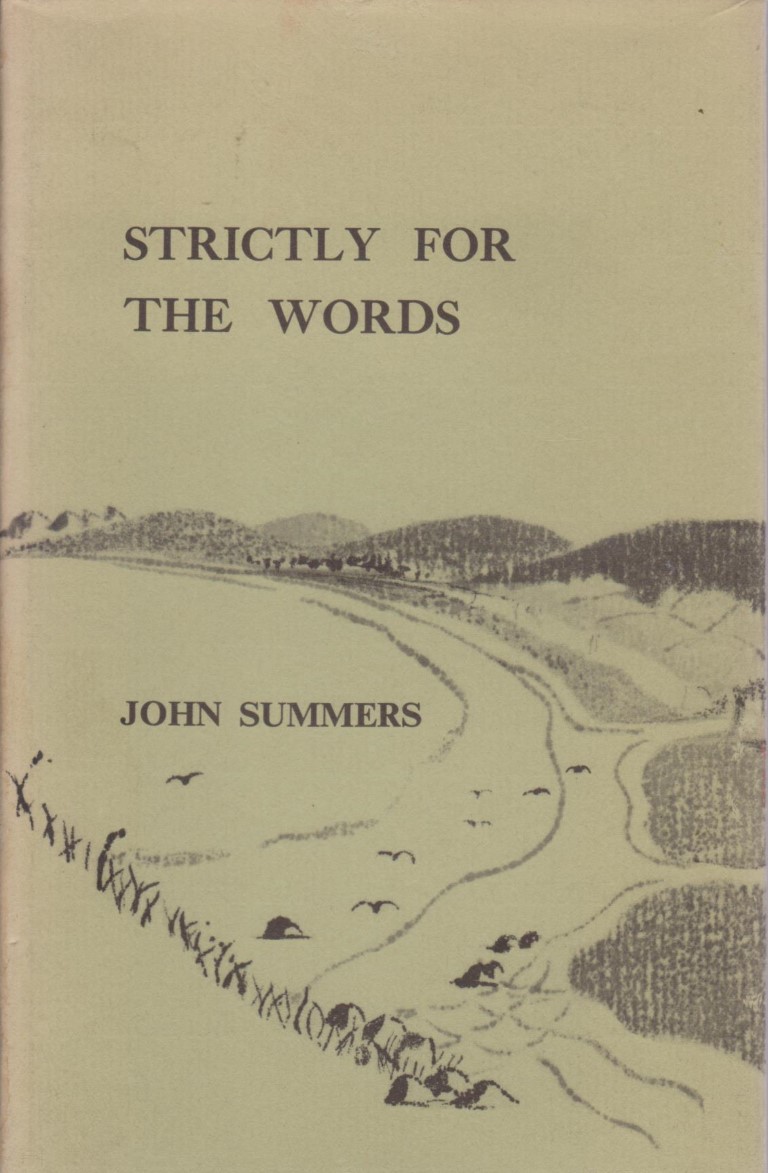 Poetry by one of Christchurch's flamboyant personalities and an antiquarian bookseller for a number of years.
Nicely printed and bound on good paper.
VG hardback in VG dustjacket with slightly faded spine.
Name and date to first page.
$25 C/B
Pisces Print 1974 First Edition, 96pp.
[#4459 ]
SCARFALLOTO Rodolfo

The Alchemy of Opposites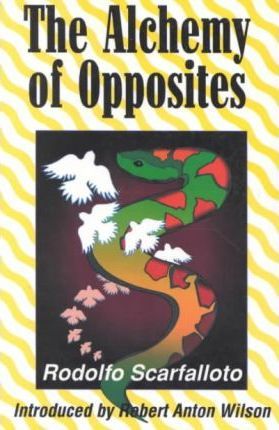 Interaction of opposites within the ego analysed.
Introduction by Robert Anton Wilson.
ISBN1561840858
Self-Help, Psychology
NEW softback
$30 C/B
New Falcon 1997 first edition, 285pp.
[#4460 ]
19/5/2020ev
MURPHY W. E.

The Relief of Tobruk
Official History of New Zealand in the Second World War 1939-45.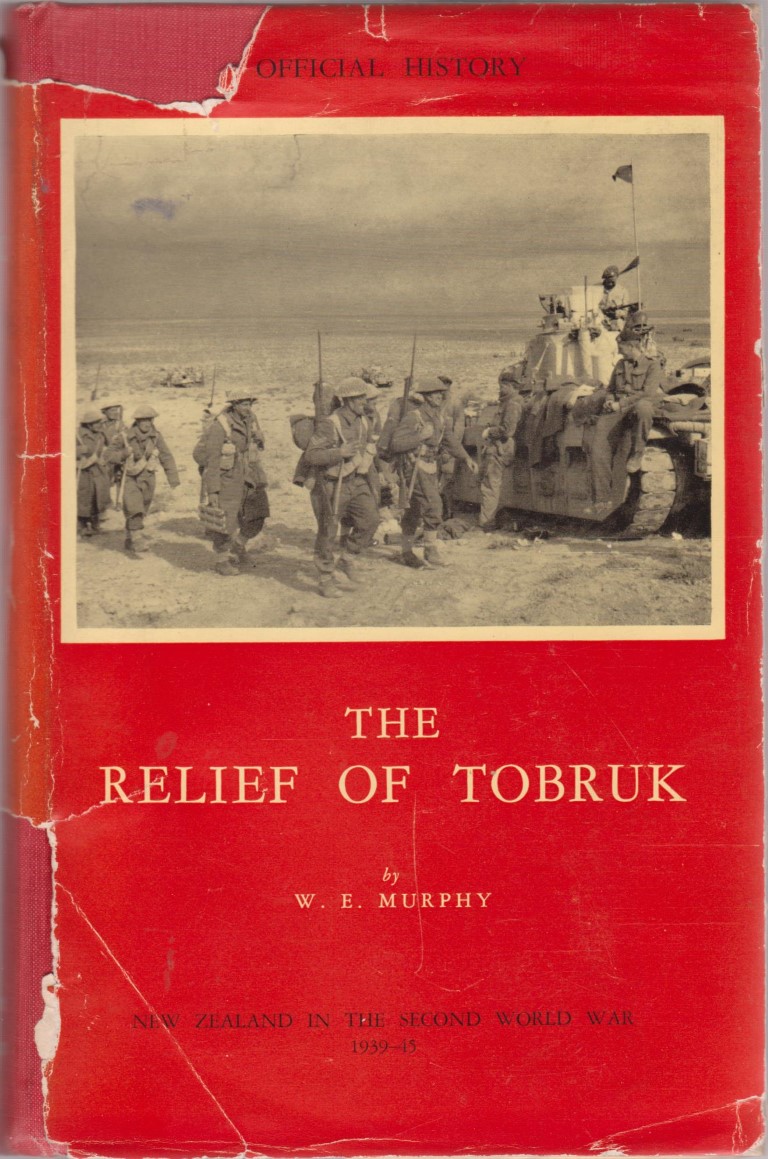 New Zealand Division against Rommel and the Afrika Korps to raise the siege of Tobruk.
Based on official documents and interviews with participants.
Anzac, North Africa, Desert Rats, 19 Battalion, Matruh, Belhamed, Sidi Rezegh, Capuzzo, Freyberg, Crusader
VG hardback in G dust jacket which lacks bottom third of spine and large chip off at top left corner of front panel, spine sunned and soiled, book has former owner details to free end paper, otherwise tidy and complete.
$100 B/D
War History Branch Department of Internal Affairs 1961 First Edition, xii 566pp + plates and maps.
[#4455 ]
BROWNING Tovi

Gentle Miracles, Holistic Pulsing.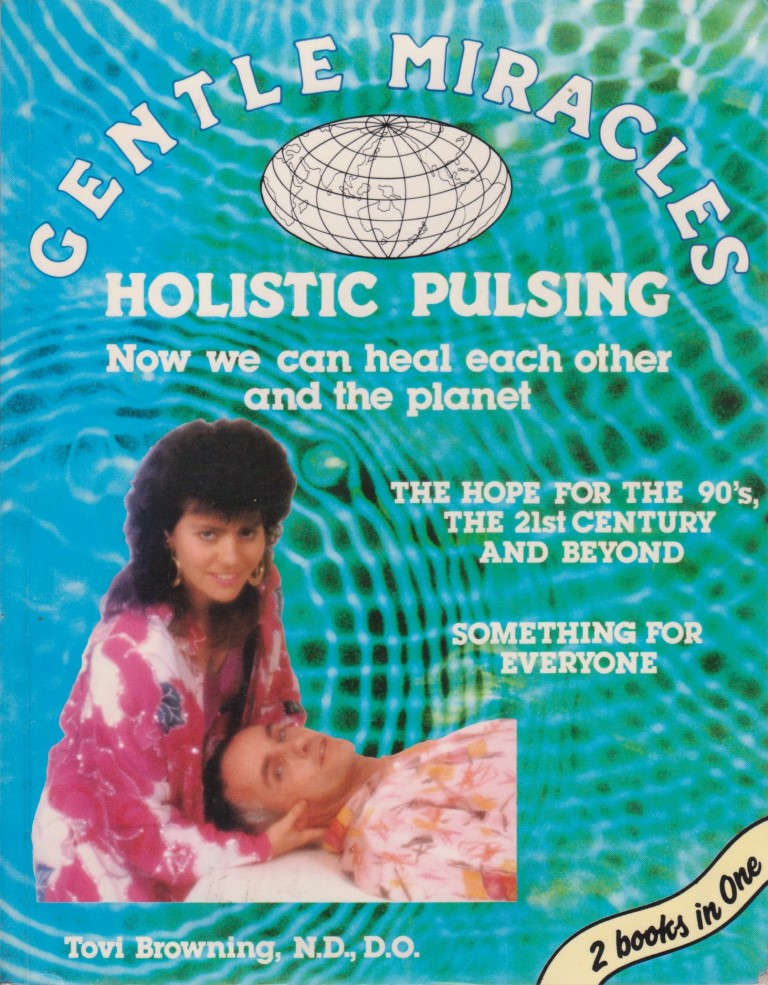 Holistic pulsing natural therapy, a ' comprehensive philosophy of living' with practical technique of holistic massage explained.
Cover states 'two books in one'.
ISBN0959794301
healing, natural health, therapy, reiki, energy work, massage,
VG- softback, black marker to top corner of title page and some minor tape residue to inside covers.
$50 B/C
Global Embrace 1990, 359pp.
[#4456 ]
13/5/2020ev
OWEN G Vale.

The Life Beyond the Veil
Volume 4 The Battalions Of Heaven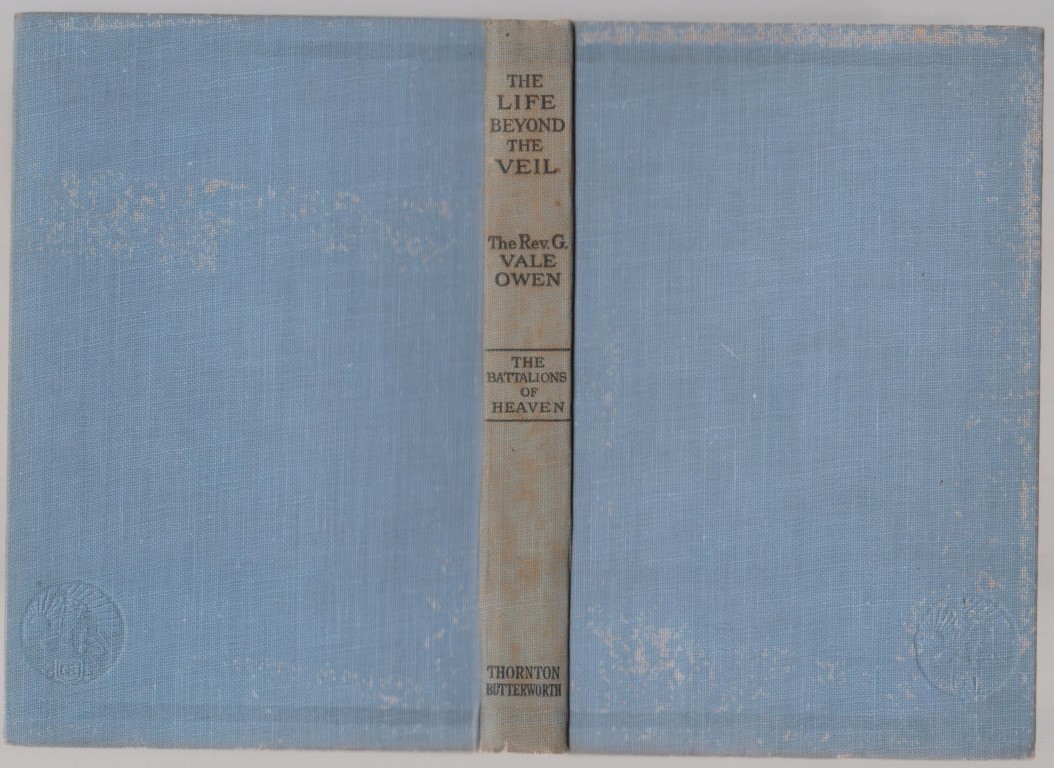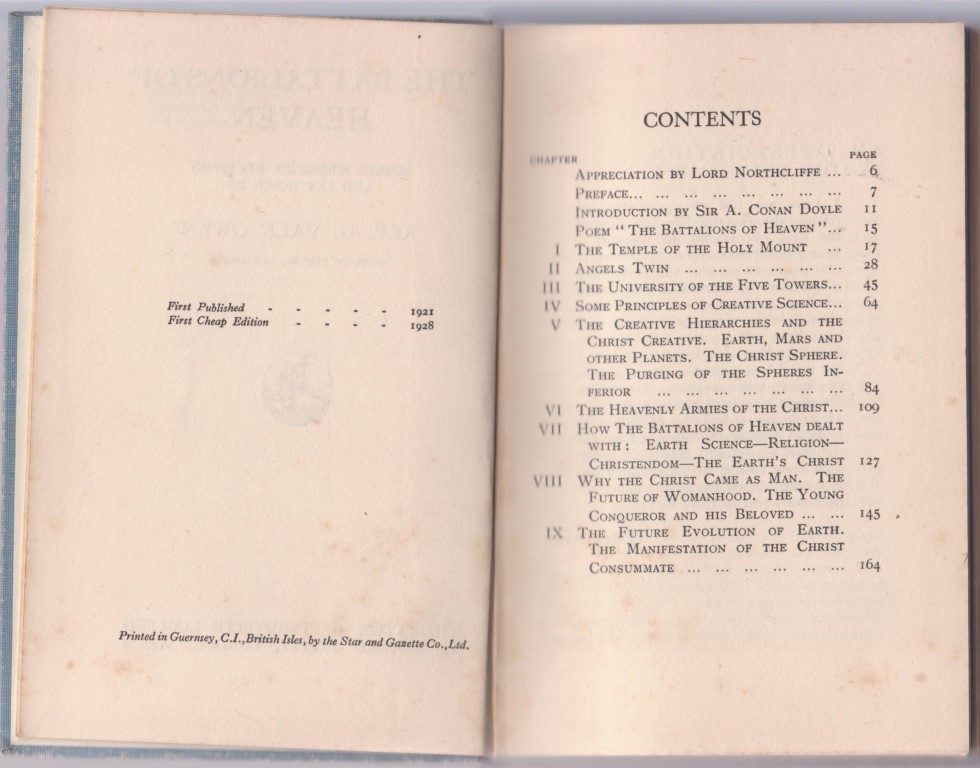 Spirit messages recieved and set down by G Vale Owen.
Owen was the Vicar of Orford in Lancashire 1908-1922 and received writings from 'Astriel' and 'Zabdiel' through automatic writing.
Each volume in the series is complete in of itself.
Introduction by Arthur Conan Doyle.
spiritualism, mediumship, survival,
G+ blue cloth with rubbing and surface insect action, inscribed free end paper.
$20 C/B
Thornton Butterworth 1928 first cheap edition reprint, 176pp.
[#4452 ]
NEWTON Toyne, Charles Walker and Alan Brown.

The Demonic Connection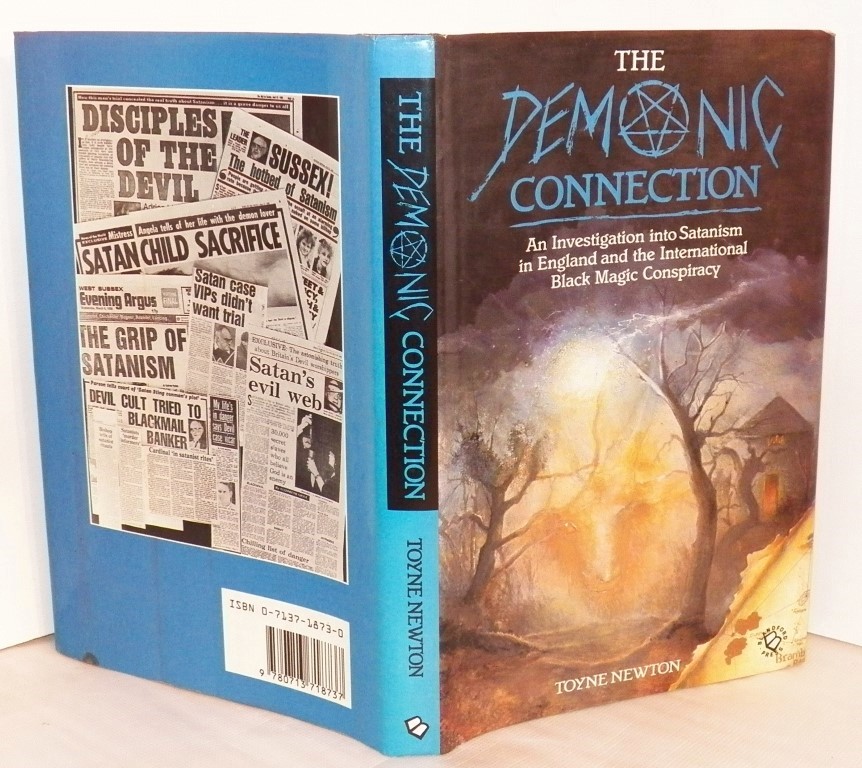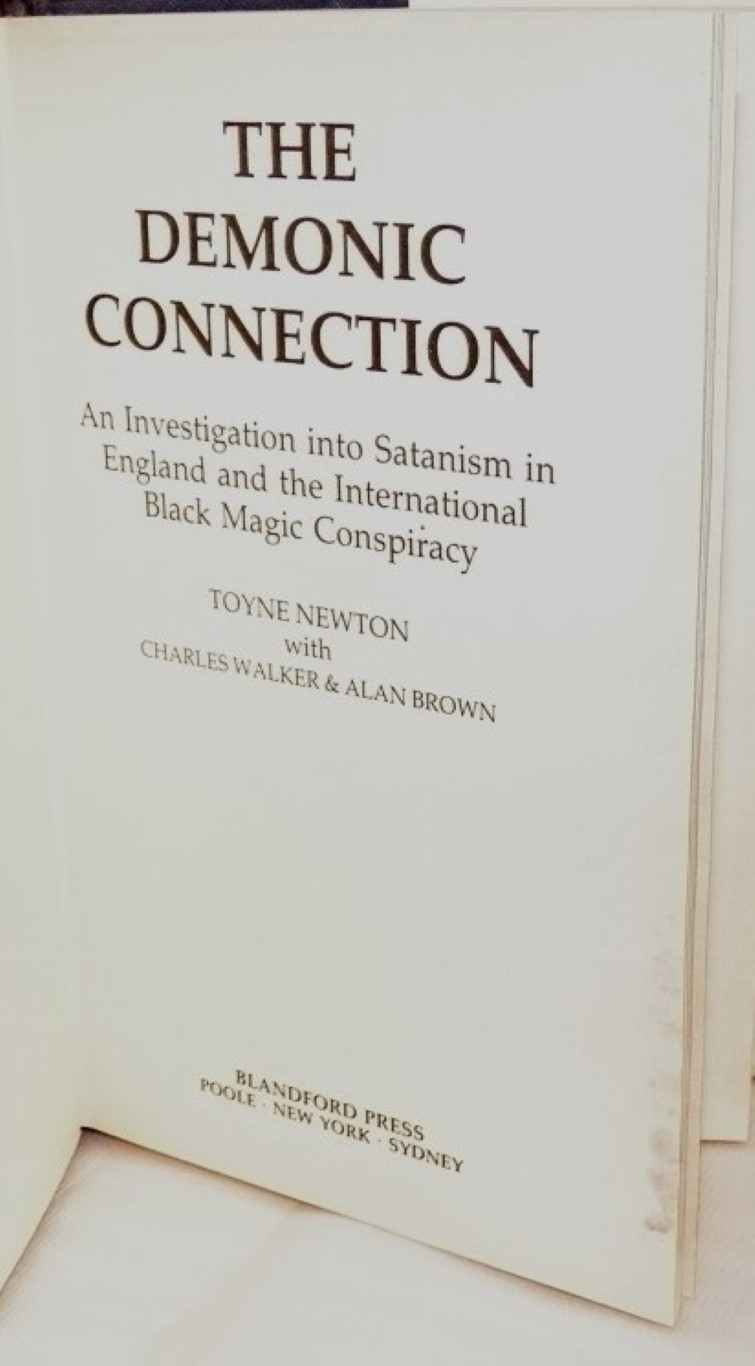 An Investigation Into Satanism in England and the International Black Magic Conspiracy.
With emphasis on activities associated with the Cult of Hecate in the Sussex Rape of Bramber area.
ISBN0713718730
Satan, Satanic, Occult, Witchcraft, British, Sussex, UFO, Alien, Hekate, Hellfire Club
G+ hardback in VG- dust jacket.
Jacket has some minor discolouration to rear panel, book boards a little soiled or mottled, some minor browning discolouration to closed edges near the bottom corner, seems to have been stored in damp conditions for a while but still reasonably tidy.
$50 C/B
Blandford Press 1987 first edition, 160pp + plates.
[#4453 ]
LEA Cliff

Draught Horse Power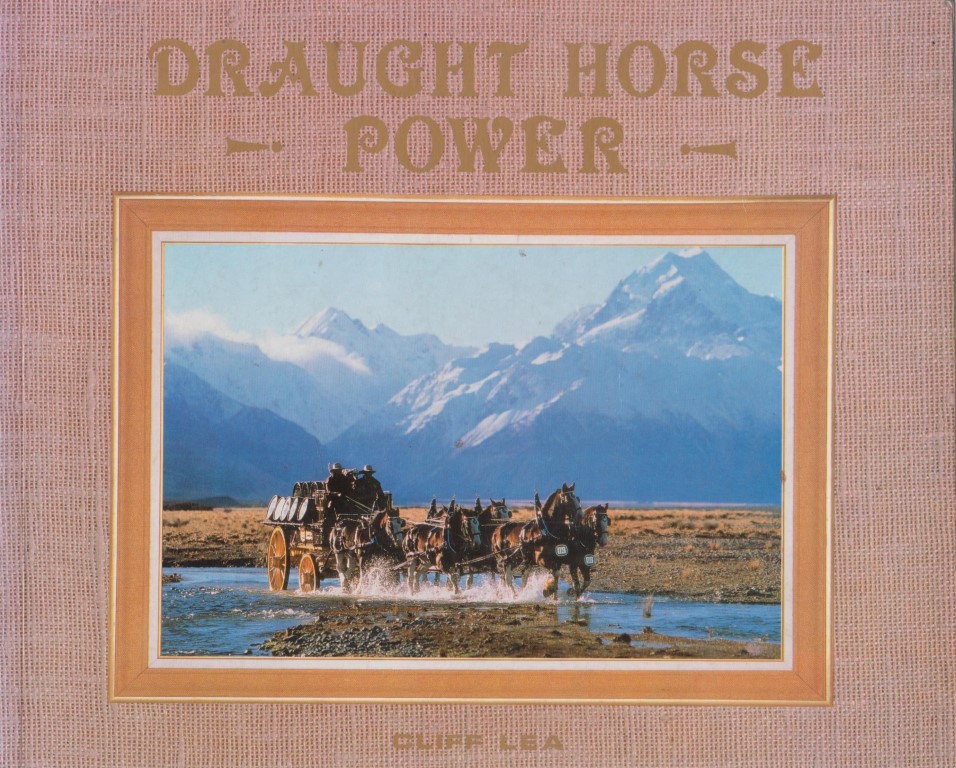 A historical and practical look at draught horse involvement in New Zealands agricultural foundation.
Includes good information on horse drawn farm machinery.
The author spent the first sixteen years of his working life on a large Wairarapa Station where the mighty Draught Horse provided the motive power for much of the farming work.
He gives details of the working methods and techniques, the specialised equipment involved and of the life of the horses and their masters, with whom they enjoyed such a close working relationship.
Illustrated with archival photographs drawn from the Alexander Turnbull Library and other recent photographs of some of the survivors of these splendid animals.
ISBN0908887086
Equine, Equestrian, Farm Machinery, Beasts of Burden, Friends in Chains, working horses
VG softback
$30 B/B
Cosmos Publications 1992 first edition, 72pp.
[#4454 ]
8/5/2020ev
INGRAM C W N

New Zealand Shipwrecks
1795-1982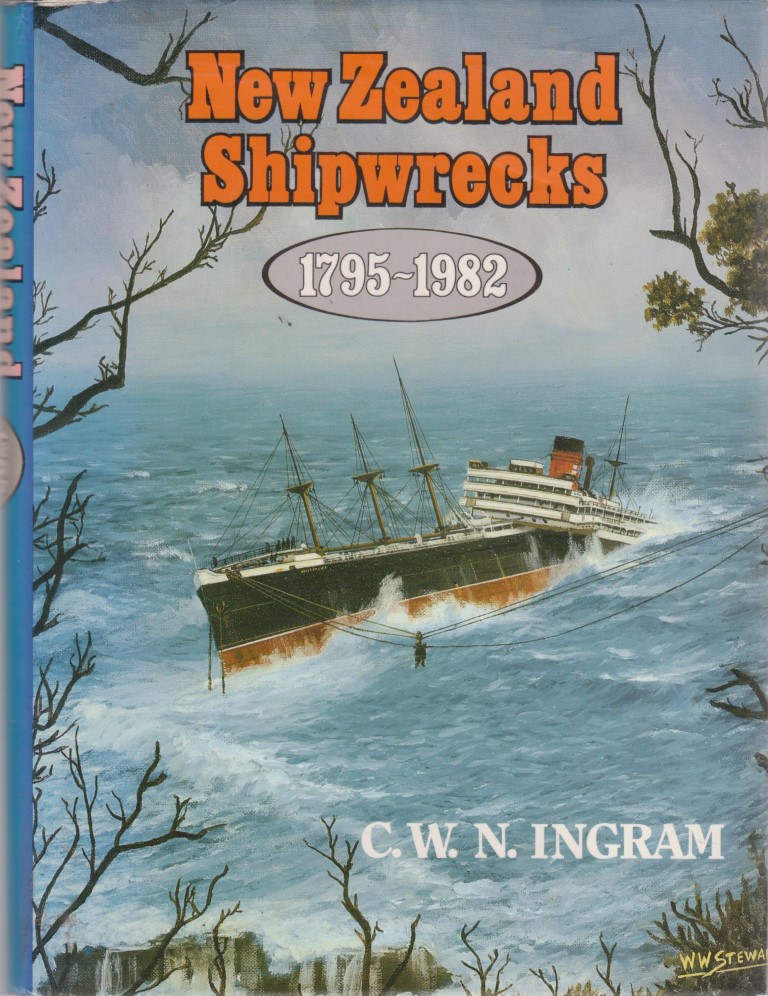 Over 1900 shipping accidents in New Zealand waters over a span of 175 years.
Dust jacket painting by painting by W W Stewart.
ISBN0589015109
nautical, merchant marine, wrecks, shipping
VG hardback in VG dust jacket.
$65 C/D
Reed 1984 Sixth edition, revised and enlarged, 491pp + plates
[#4447 ]
R.C. PRICKETT and T. N. O'BYRNE

Recommended Conservation Land Use of the West Coast Region South Island New Zealand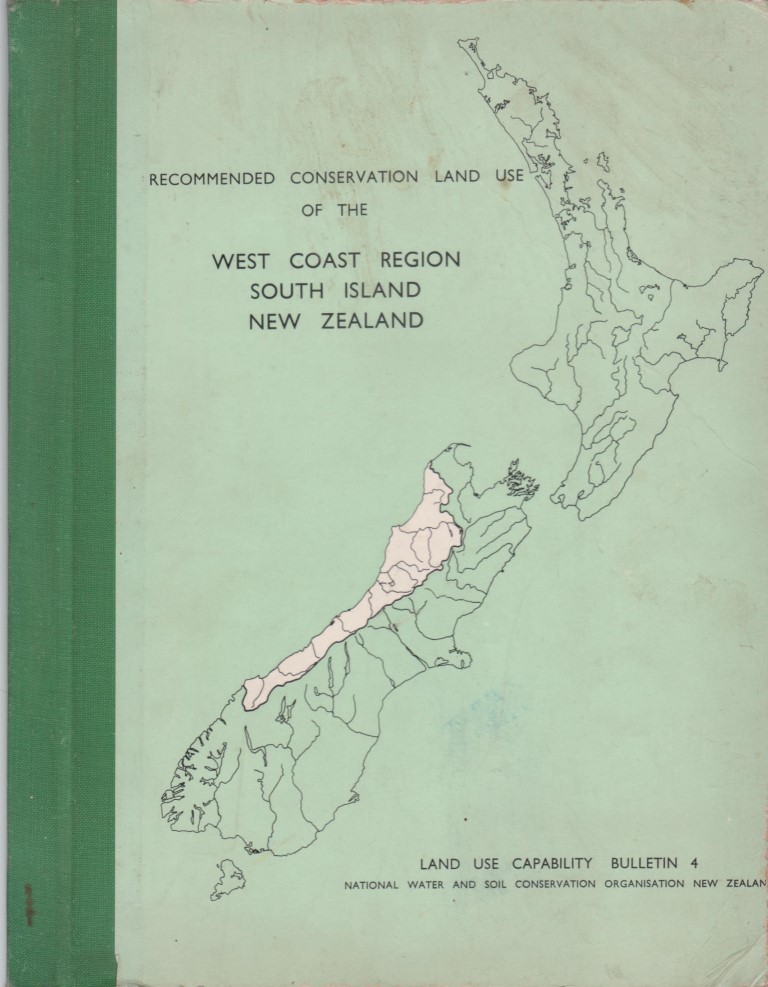 Land Use Capability Bulletin 4.
geology, ecology, conservation, westland, south island west coast, research
VG Quarter cloth hardback rubbed to edges of boards, with no jacket.
$30 B/C
National Water and Soil Conservation Organisation, Christchurch 1972, 53pp 18 photos + 6 folding maps in rear pocket
[#4448 ]
HEN

Centennial Scratches By Hen.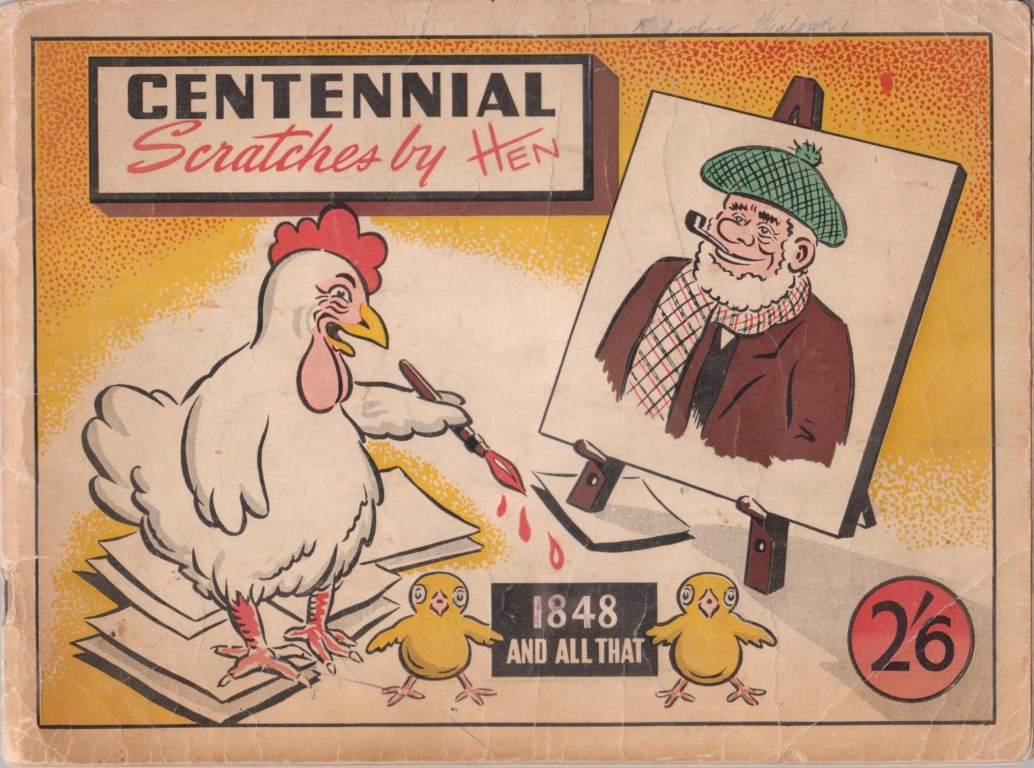 Otago centennial , humorous cartoons pertaining to colonisation etc and the 100 years of events, some have been 'altered' in pencil with borders given or segments filled in ( graphite pencil), still tidy though.
new zealand, history, cartoon, caricature, graphic art
VG- softback, printed wrappers stapled at spine.
$20 B/B
Whitcombe and Tombs, 1948. First Edition
[#4449 ]
NEWTON Peter

In the Wake of the Axe Big Country of the West and North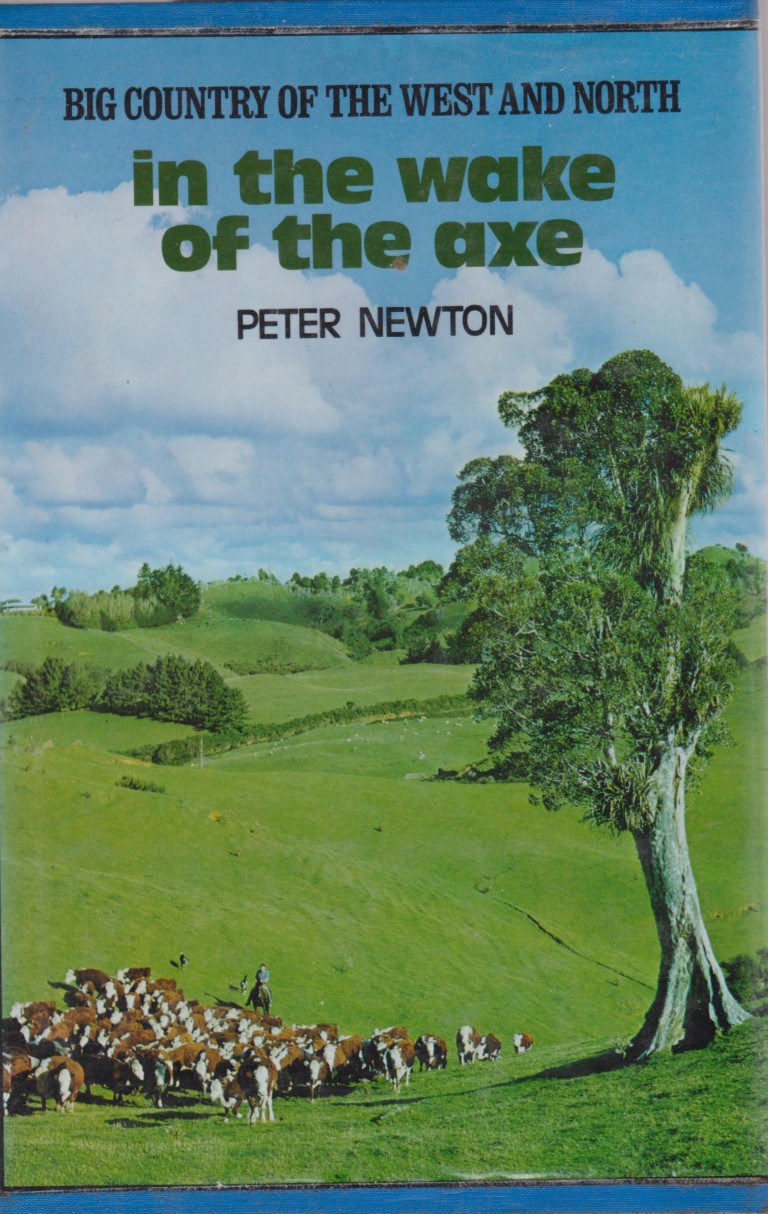 Peter recounts travelling about 48 farms and stations in the Big Country of the West and North of the North Island.
ISBN0589007181
farming, high country, cattle country, Orongorongo, Te Paki
VG hardback in VG dustjacket under plastic sleeve.
$25 B/C
Reed 1972, 224pp + plates.
[#4450 ]
SHADBOLT Maurice

The Lovelock Version.
Signed by Author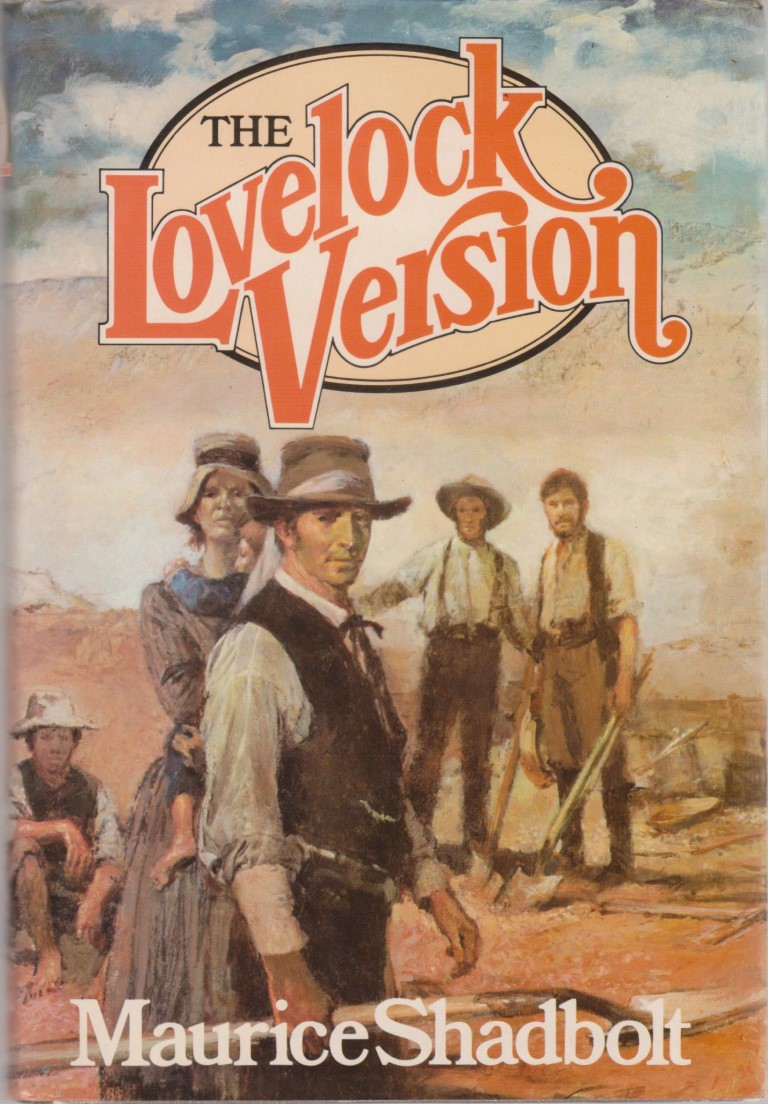 Shadbolts epic of New Zealand pioneering days covering themes such as the goldfields, McKenzie the sheep-stealer, Richard Pearce, Gallipoli, a family epic.
AUTHOR SIGNED AT HEAD OF TITLE PAGE.
Shadbolt died 11/10/04.
ISBN0340257180
modern first edition, new zealand literature, signed copy,
VG hardback in VG dust jacket, two pages neatly dog-eared.
A little insect damage to edge of rear endpaper and the bottom edge of the boards where they rest on the shelf.
$75 B/C
Hodder 1980 First Edition, 568pp.
[#4451 ]
4/5/2020ev
FRAME Janet.

To the Is-land, an Autobiography.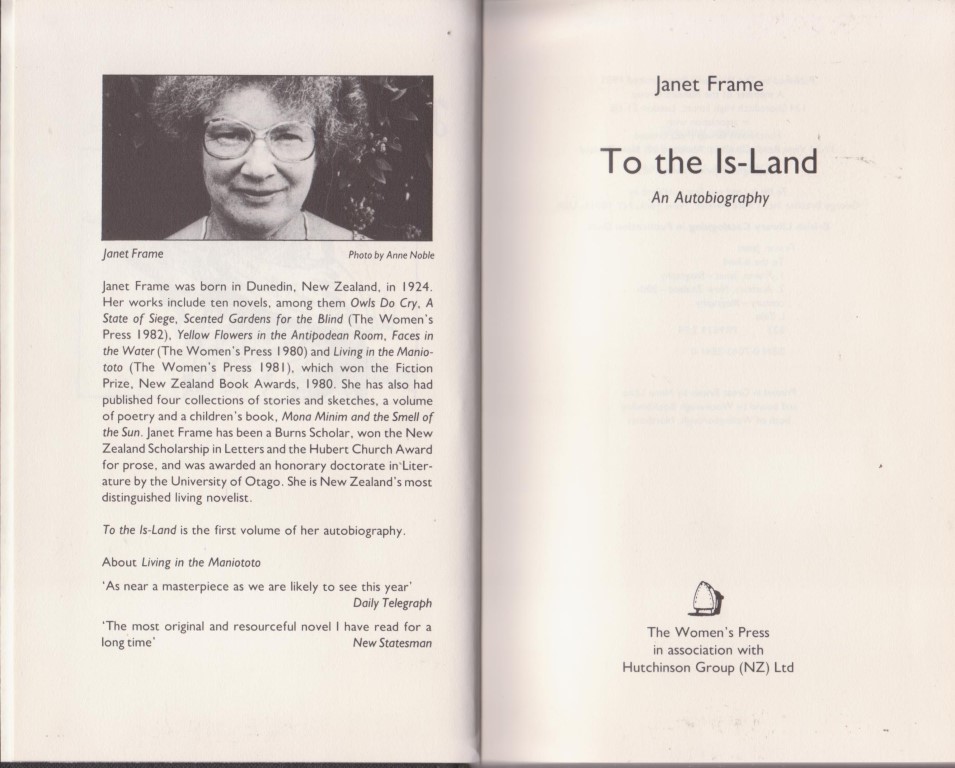 An autobiography by one of New Zealand's most well regarded female authors.
ISBN0704328410
janet frame, biography, memoir, literature, women's writing
VG hardback lacking the dust jacket.
$15 C/C
The Women's Press 1983 First UK Edition, 253pp.
[#4444 ]
Renata Kawepo Tama Ki Hikurangi translated Helen Hogan

Renata's Journey / Ko te Haeranga o Renata.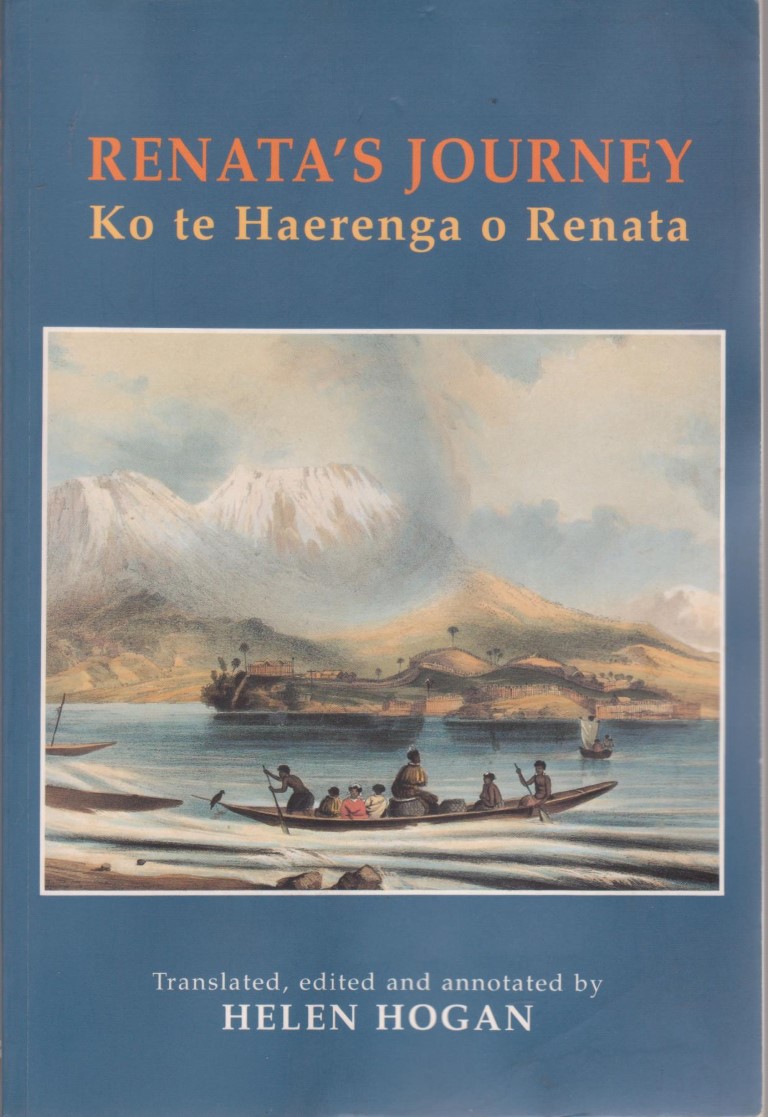 A journey in late 1843 by Bishop Augustus Selwyn, William Cotton, William Nihill and a number of Maori porters etc including Renata.
Facing Maori and English, many footnotes etc.
One of the earliest examples of Maori written prose.
Includes black and white illustrations.
"Earliest Maori writing of significant size, this is an account by Renata Kawepo Tama ki Hikurangi of an arduous journey undertaken in 1843-44, when he was among Bishop Augustus Selwyn's party visiting Anglican mission posts throughout the North Island and Nelson Province"
ISBN0908812361
new zealand, maori, history, early New Zealand
Good softback
Book at front has been water marked, shows to half title as yellow but to rest of book only as rippled pages, heavier at front but fading away to nothing to the rear.
SIGNED BY AUTHOR to title page [Kia ora | Helen M Hogan]
$45 C/C
Canterbury University Press 1994, 175pp.
[#4445 ]
SUMMERS John.

Dreamscape 1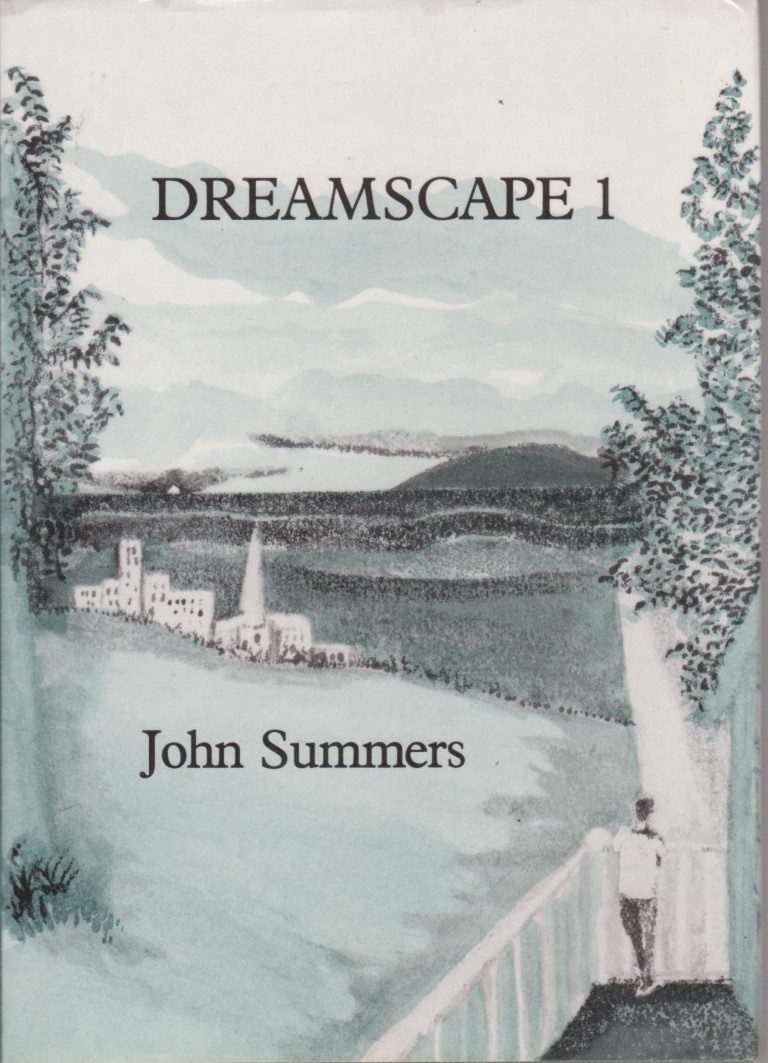 John Summers' autobigraphy and literary memoir.
Summers was well known in Christchurch for among other things his long-running bookshop in the city.
ISBN0473011808
biography, literary, bohemia, bon vivant
FINE hardback in FINE dust jacket.
$25 C/C
Pisces Print 1991 First Edition, 350pp+ frontis
[#4446 ]
27/4/2020ev
ROBERTSON R B.

Of Whales and Men.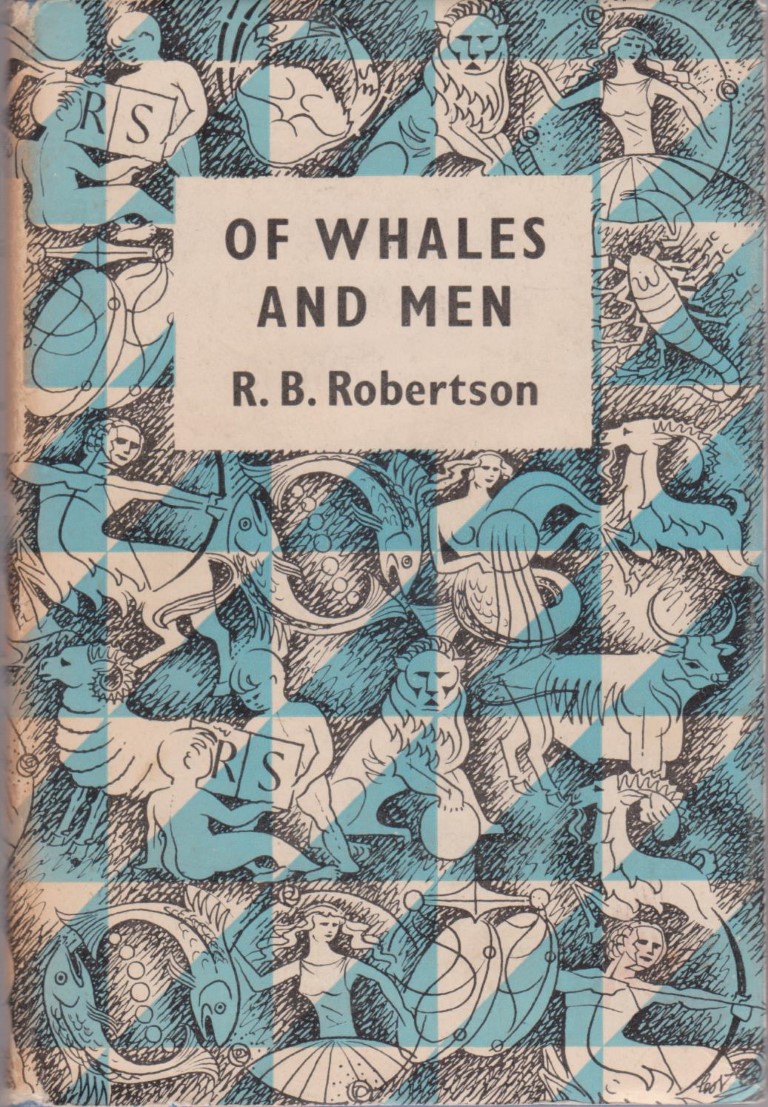 An account of factory whaling in the southern oceans south of South Georgia off the coast of South America and the Antarctic.
whales, whaling, south atlantic, weddell sea, antarctica
VG hardback in VG dust jacket.
$10 C/B
Reprint Society 1958, 255pp + plates, map endpapers.
[#4439 ]
JONES E. H.

The Road to En-Dor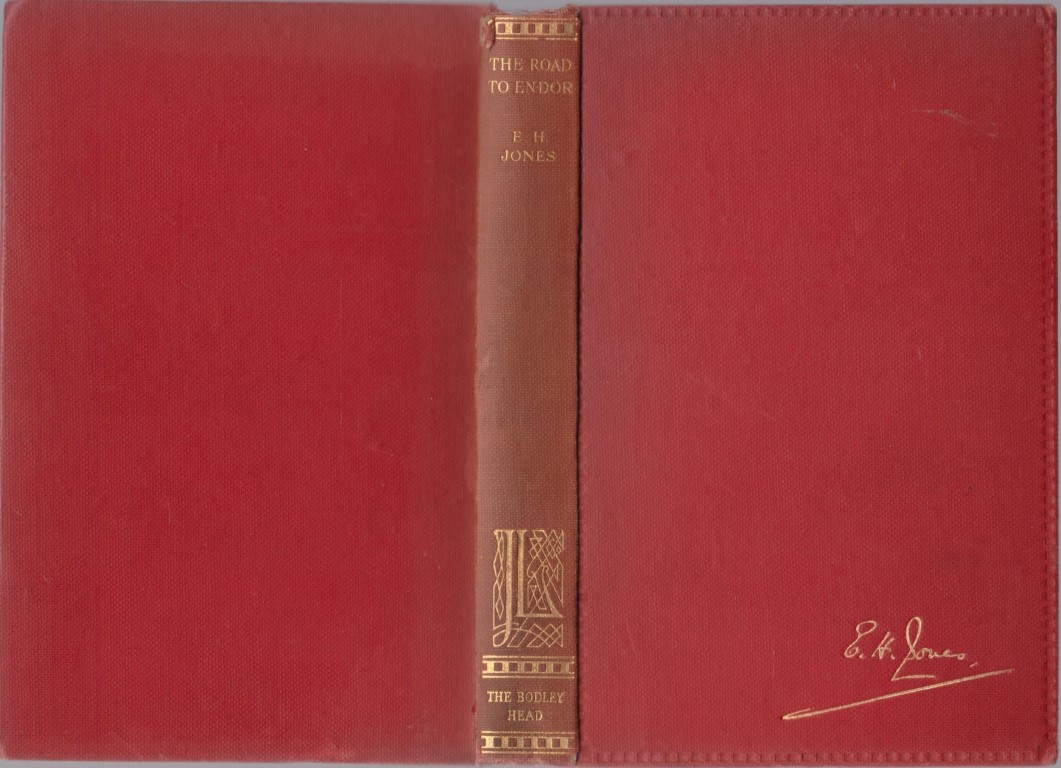 Being an account of how two prisoners of war at Yozgad in Turkey won their way to freedom.
ww1, wwi, First World War, Great War, World War One, Escape, Turk, Turkey, ottoman
VG hardback with no dust jacket.Spine ends rubbed/ frayed.
$15 A/B
Bodley Head 1930, first edition in The Week End Library series, 16mo cloth, 336pp.
[#4440 ]
17/4/2020ev
ROBERTS Neil

Nicholas Chevalier: an artist's journey through Canterbury in 1866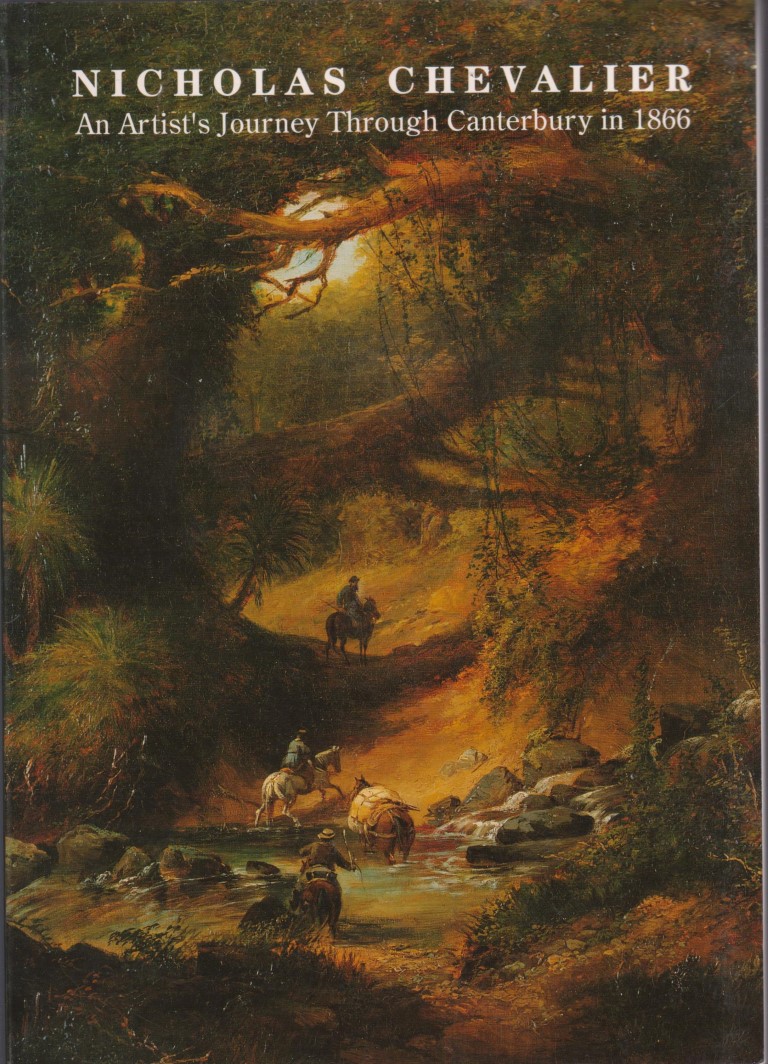 Catalogue of an exhibition of Chevalier's work.
Includes peices made during his travels from Banks Peninsula travelling West to Hokitika, and South to Mt Cook and Lake Wanaka.
With colour illustrations, a biography, and a bibliography.
ISBN0908874111
19th century art, new zealand, fine art, gallery
VG softback
$20 B/B
Robert McDougall Art Galley 1992, 55pp.
[#4432 ]
HUXLEY Aldous

Brave New World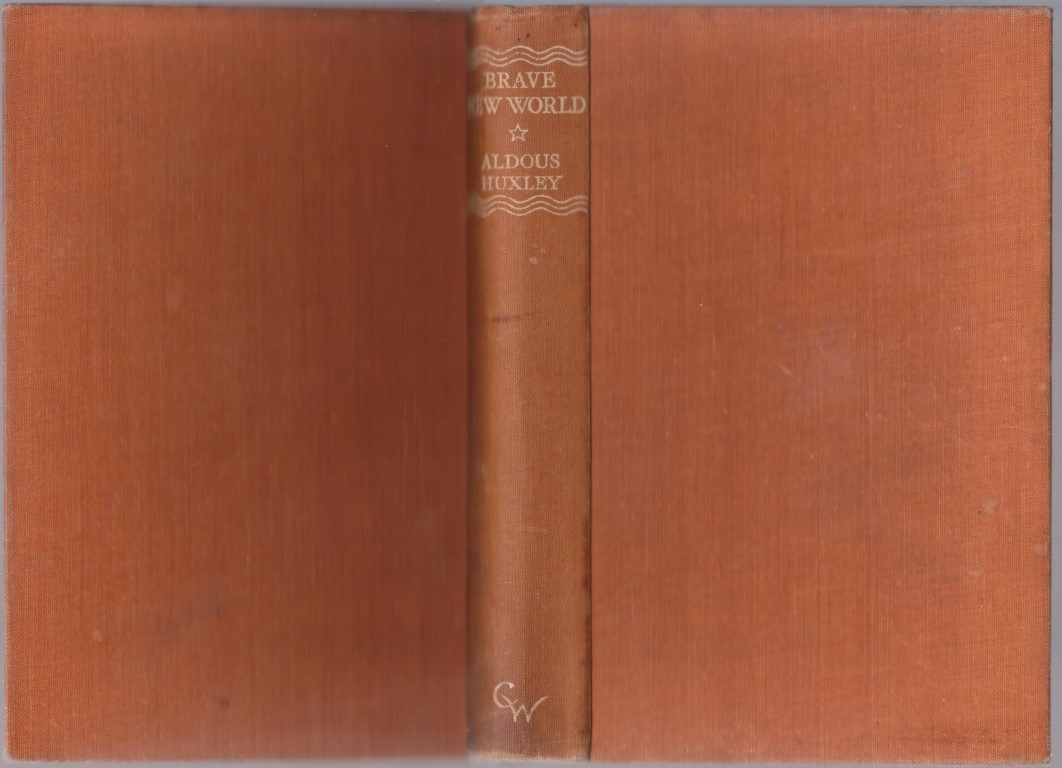 An early printing of this famous dystopian novel by a man well acquainted with many of the thinkers behind eugenics and other mind and population control disciplines such as psychiatry and social planning.
dystopian fiction, early edition, mind control, social engineering
G+ cloth hardback with NO dust jacket.
$35 C/C
Chatto and Windus 1938 new edition, (8)306(1)pp.
[#4433 ]
BARR Noel

The Discontented Pony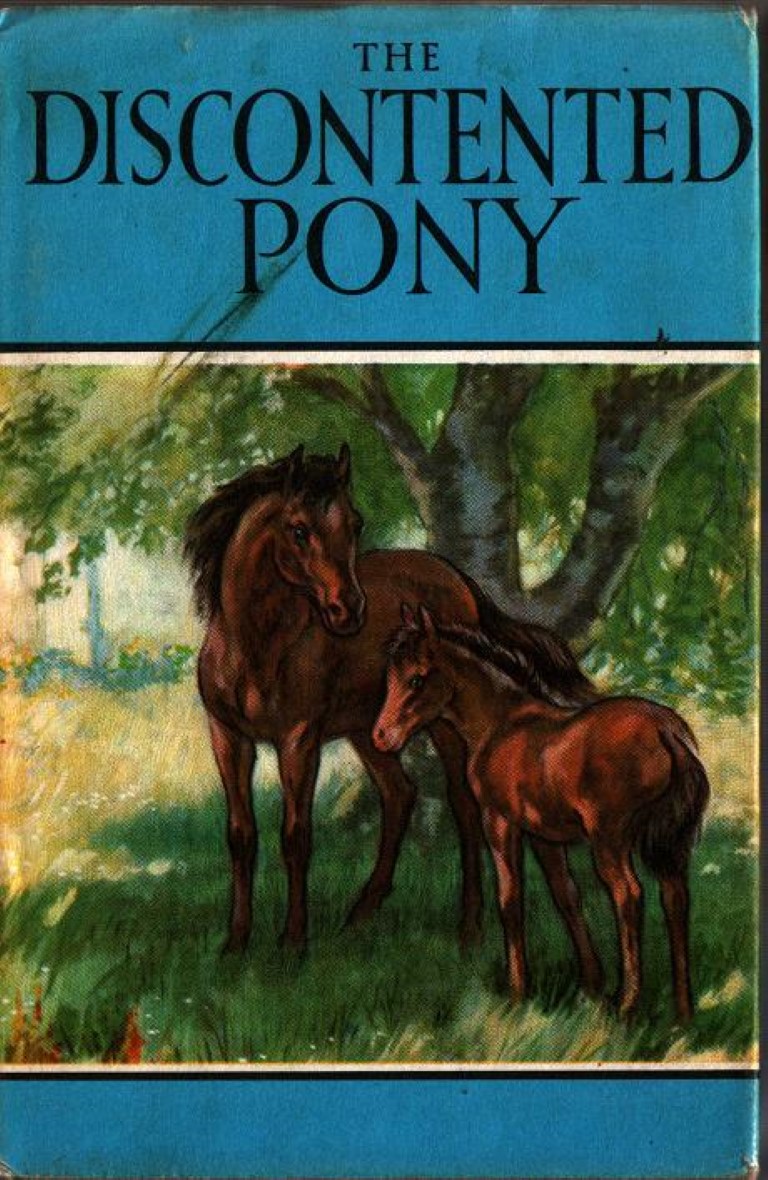 Illustrated by P. B. Hickling.
Series 497
VG hardback in VG price clipped dust jacket, name to free end paper.
$15 A/A
Ladybird Books, assumed first, undated, 51pp.
[#4434 ]
BARR Noel.

Tiptoes the Mischievous Kitten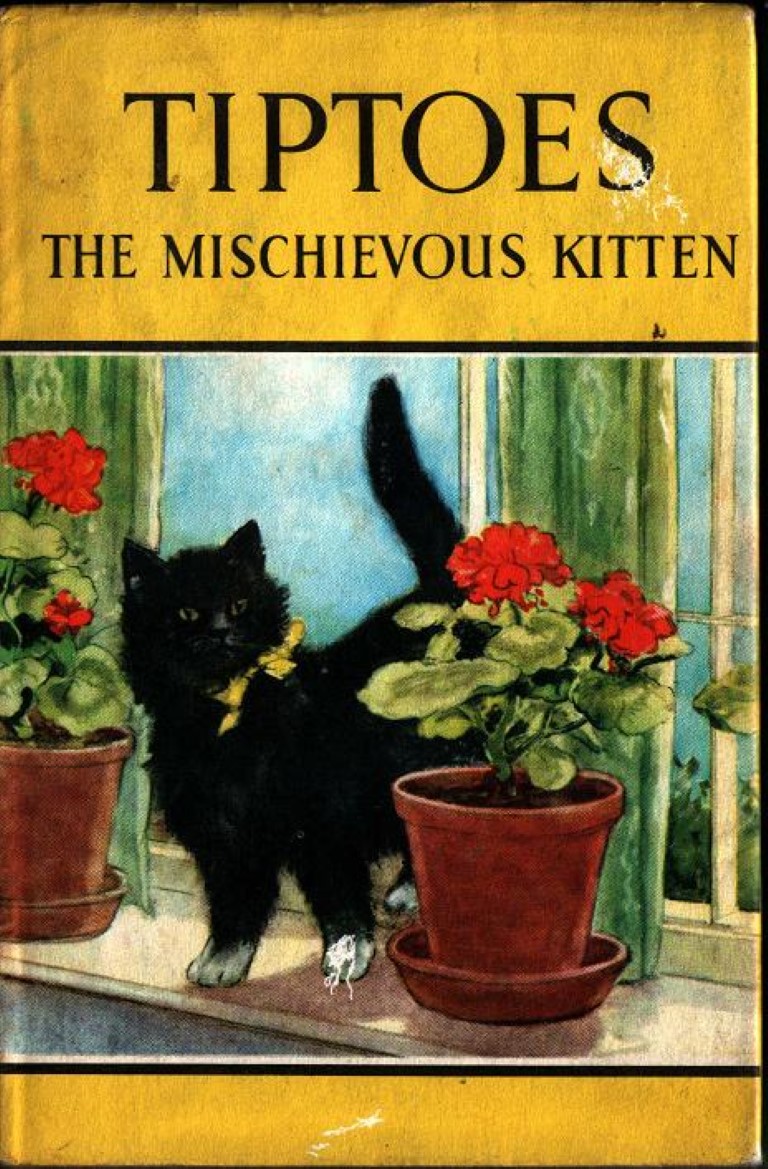 Illustrated by P. B. Hickling.
Series 497
VG hardback in VG price clipped dust jacket.
Small childs name to rear fep, price clipped dust jacket handling soiled with very minor surface insect damage.
$10 A/A
Ladybird Books, assumed first, undated, 51pp.
[#4435 ]
MACEY Sheila

The Full Circle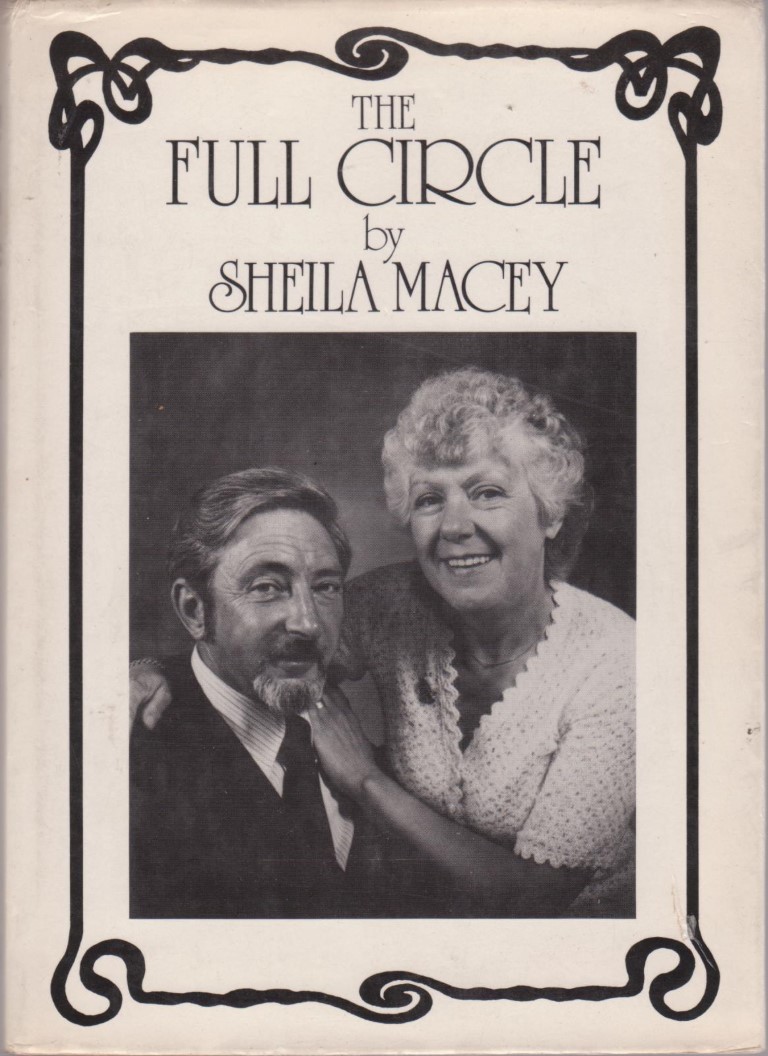 An autobiography of a medium.
Sheila only realised and developed her psychic powers after meeting her husband and a teacher.
ISBN0721206727
Spiritualism, Survival, Life After Death, Seance, Spiritualist, Spiritualism
VG hardback in VG dust jacket.
$30 C/B
Regency Press 1982 First Edition, 151pp.
[#4436 ]
New Zealand Alpine Club

New Zealand Alpine Journal 1997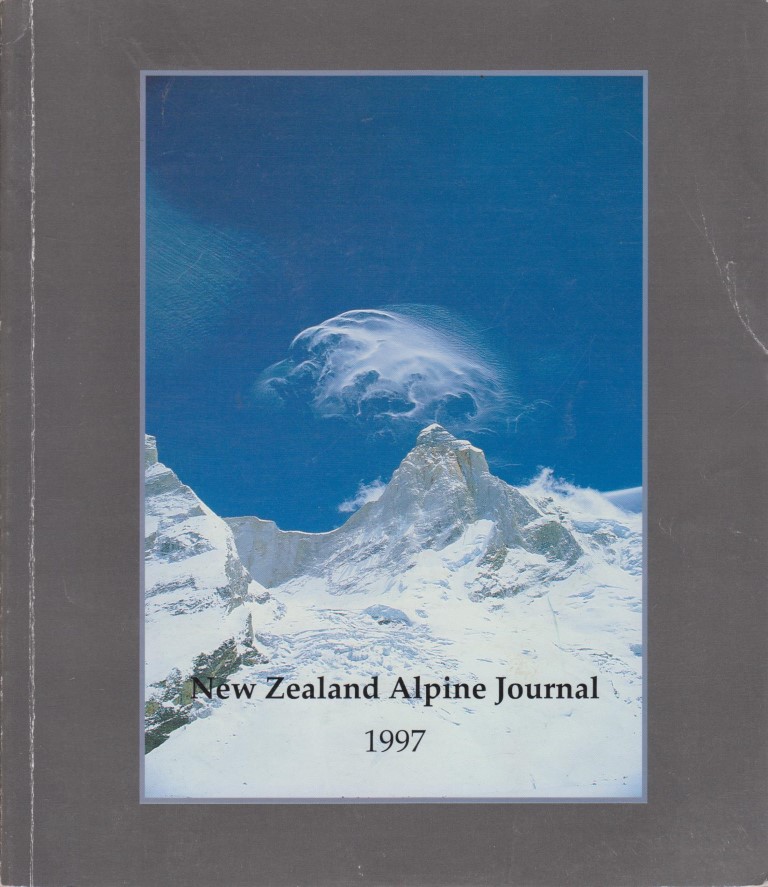 With colour and monochrome photos.
ISBN01101080
mountaineering, climbing, NZAC
VG softback
$20 B/B
New Zealand Alpine Club 1997, 128pp.
[#4437 ]
17/4/2020ev
KING Stephen

Cujo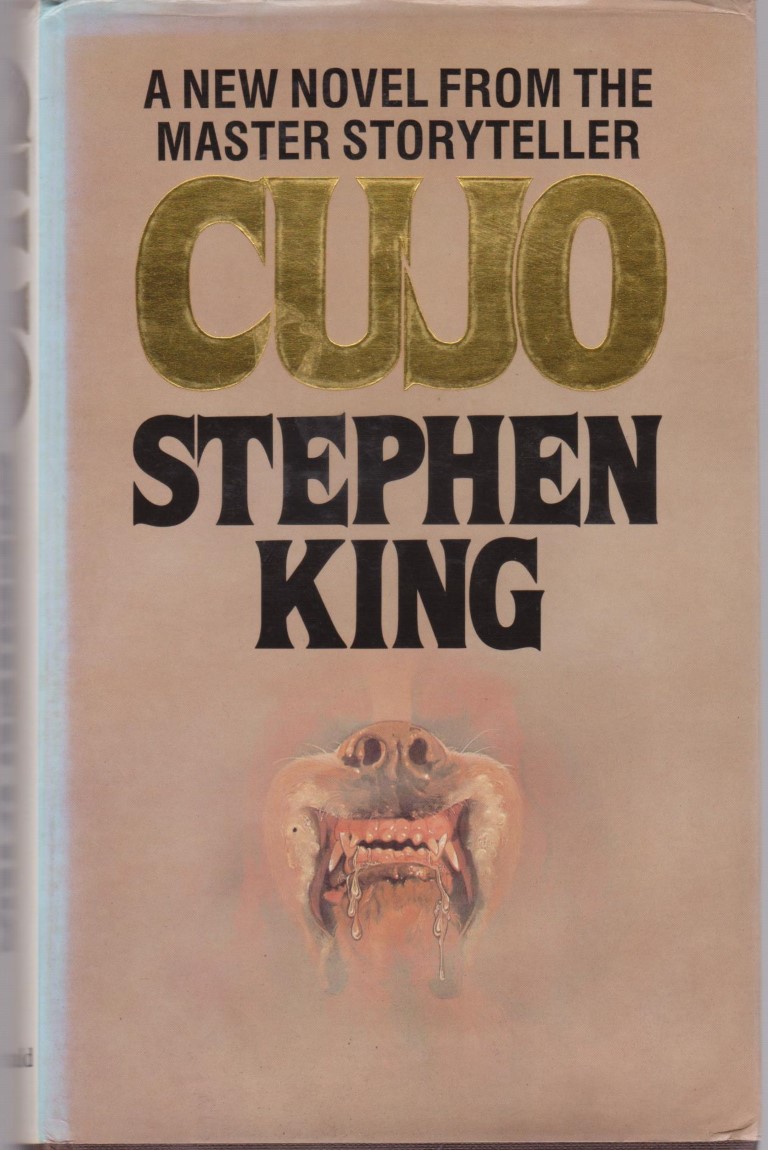 A rabid St Bernard dog terrorises a mother and son in this psychological thriller.
ISBN0354047590
modern first edition, horror, made into film
VG hardback in VG- dust jacket.
Book spine leans a little, dust jacket spine sun faded and on to cover at edge.
No price printed to dust jacket.
$20 C/C
Macdonald 1982 first UK edition, 345pp.
[#4419 ]
TURNER Gwenda

Gwenda Turner's Christchurch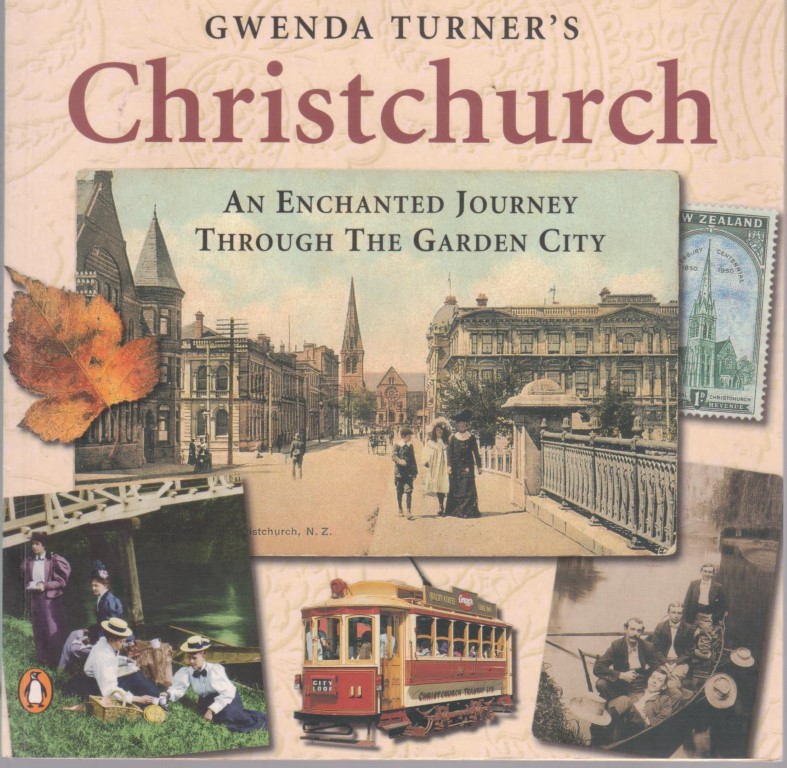 An illustrated journey through the garden city with art by Gwenda, mingled with photographs of the many landmarks, most of which were lost in the 2011 earthquakes.
This edition has the envelope/ pockets with inserted ephemera.
ISBN9780143018544
christchurch, history, vintage, architecture, pre-quake, historic buildings
VG softback
$25 C/B
Penguin Books 2002 reprint, 101pp.
[#4421]
CORELLI Marie

The Sorrows of Satan
Or the strange experience of one Geoffrey Tempest, millionaire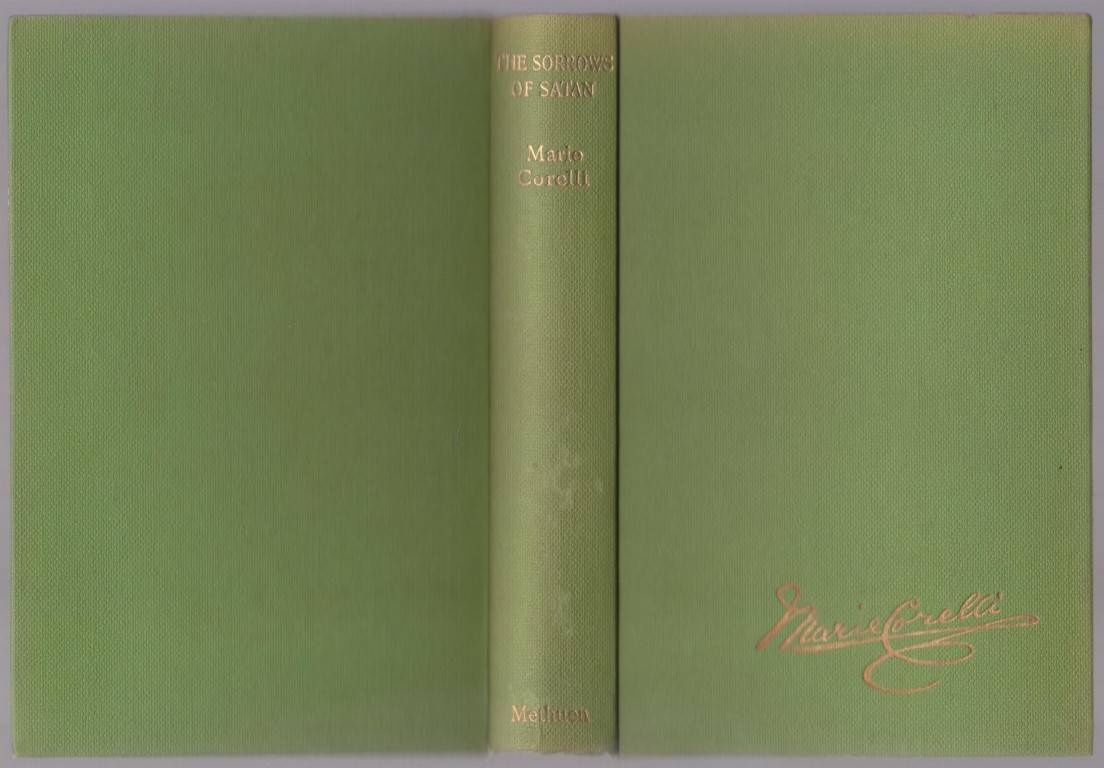 A Faustian novel, widely regarded as one of the world's first best-sellers, and an influential fin de siecle text.
The destitute author Geoffrey Tempest recieves an inheritance and is introduced to a foreign aristocrat called Lucio, who guides him in how best to use his newfound wealth.
Tempest is unaware, despite warnings from people he meets, that Lucio is the earthly incarnation of the Devil.
His wealth leads to misery, and eventually, when confronted with Lucio's true nature, Tempest renounces evil and returns to society penniless hoping to purify his soul.
Tempest is in many regards a secondary character to Lucio / Satan's yearning to achieve salvation, for he truly believes in the Gospel yet he is forbidden ever to partake of it.
Faustian literature, good and evil, morality
G+ hardback with boards rubbed to bottom fore edges, names and blacked our names to endpapers.
$10 C/C
Methuen 1956 reprint, 487pp.
[#4423 ]
CORELLI Marie

Thelma, a Norwegian Princess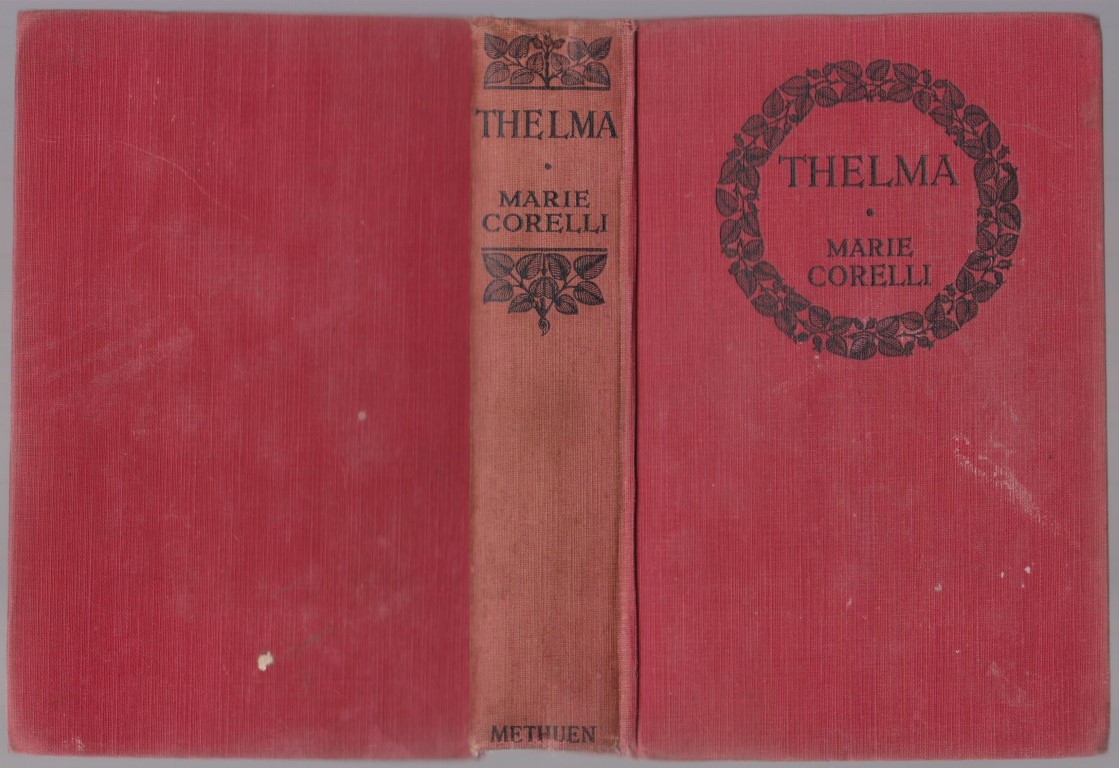 A Norwegian Princess marries and English gentlemen but finds society in England dreadful and is tricked into fleeing her husband back to Norway, where he follows his true love.
Thelma's father Olaf is a pagan, and the Lutheran villagers are suspicious of Thelma's Catholicism.

G+ hardback, cloth boards lightly soiled, joints rubbed, names to endpapers and to half title.
$15 C/C
Methuen 1929 reprint, 615 + 8pp adverts.
[#4424 ]
16/4/2020ev
RUTHERFORD Douglas.

The Long Echo
Set in a North Italian town, the protagonist becomes embroiled in a generations old vendetta.
crime, thriller
VG- hardback in G+ dust jacket.
Jacket has rubbing and surface scratching wear.
The rear board has a small puncture hole that does not penetrate fully.
$10 C/B
Collins 1971 reprint, 192pp.
[#4415 ]
WILLIAMSON Jack

Brother to Demons, Brother to Gods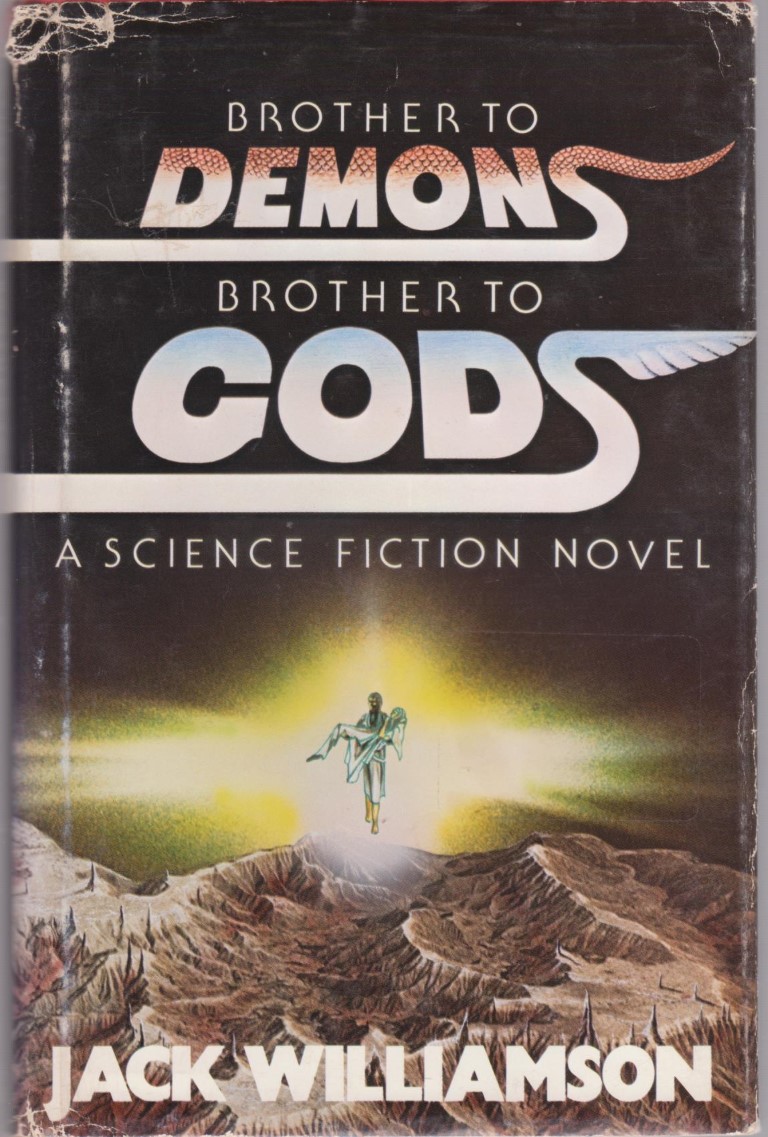 A novel about a future of genetically engineered humans, genetically perfected humans, genetically modified soldiers and gods, who are part human, part celestial matter.
ISBN0672521407
science fiction,
VG hardback in G+ dust jacket.
Jacket chipped at head of spine losing first letter of title.
$20 C/C
Bobbs-Merrill 1979 stated frirst printing (after magazine serialisation), 228pp.
[#4416 ]
VILLIERS Alan

Whalers of the Midnight Sun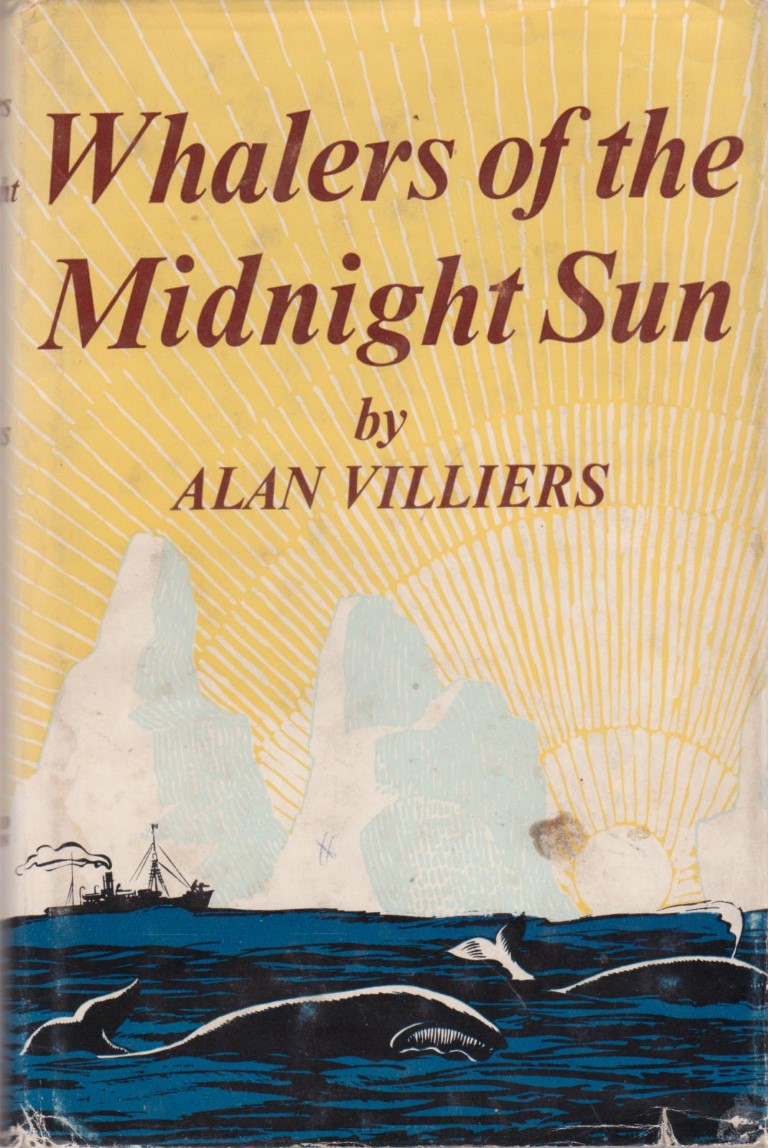 A Story of Modern Whaling in the Antarctic.
A Norweigan whaler recruits some Australian youths in Hobart, set for the Antarctic whaling grounds.
Winner of the Australian Children's Book Council Book-of-the-Year Award in 1949.
Illustrated with woodcuts.
novel, young adult, fiction.
VG hardback in VG dust jacket.
Front free end paper removed.
$15 C/B
Angus and Robertson 1964 reprint, 248pp.
[#4417 ]
PEREZ Fr. Eugene

Kalumburu War Diary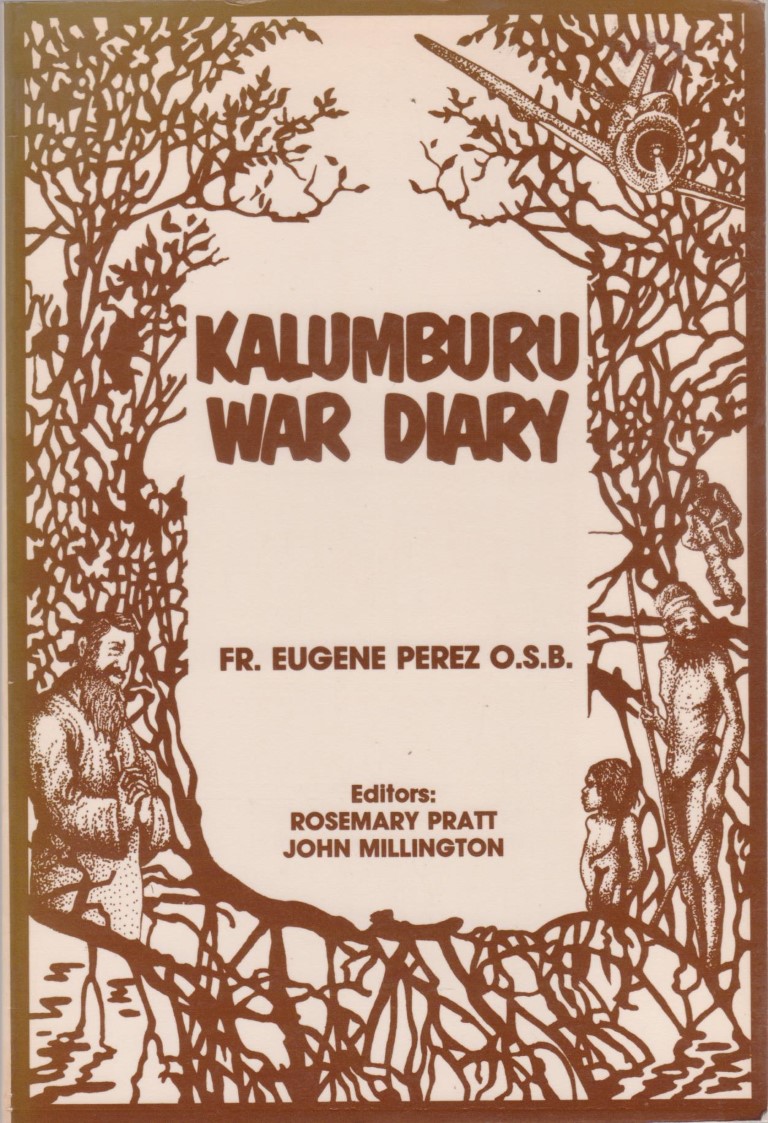 Edited by Rosemary Pratt and John Millington.
The day-to-day record of a Catholic Mission to Aboriginals in remote North-Western Australia during the Second World War.
The Mission became a base for RAAF aircrews and suffered a Japanese bombing raid.
This diary covers 1942-1945 and is mainly about the Mission and the native community, but does have information about military duties.
ISBN0864450133
Drysdale Mission, No 58 Operational Base Unit, RAAF, Ft Lt F L Bragg, W.A.
VG softback
$25 B/C
Artlook Books 1981 first edition, 264pp.
[#4418 ]
15/4/2020ev
CHRISTIE Agatha

Destination Unknown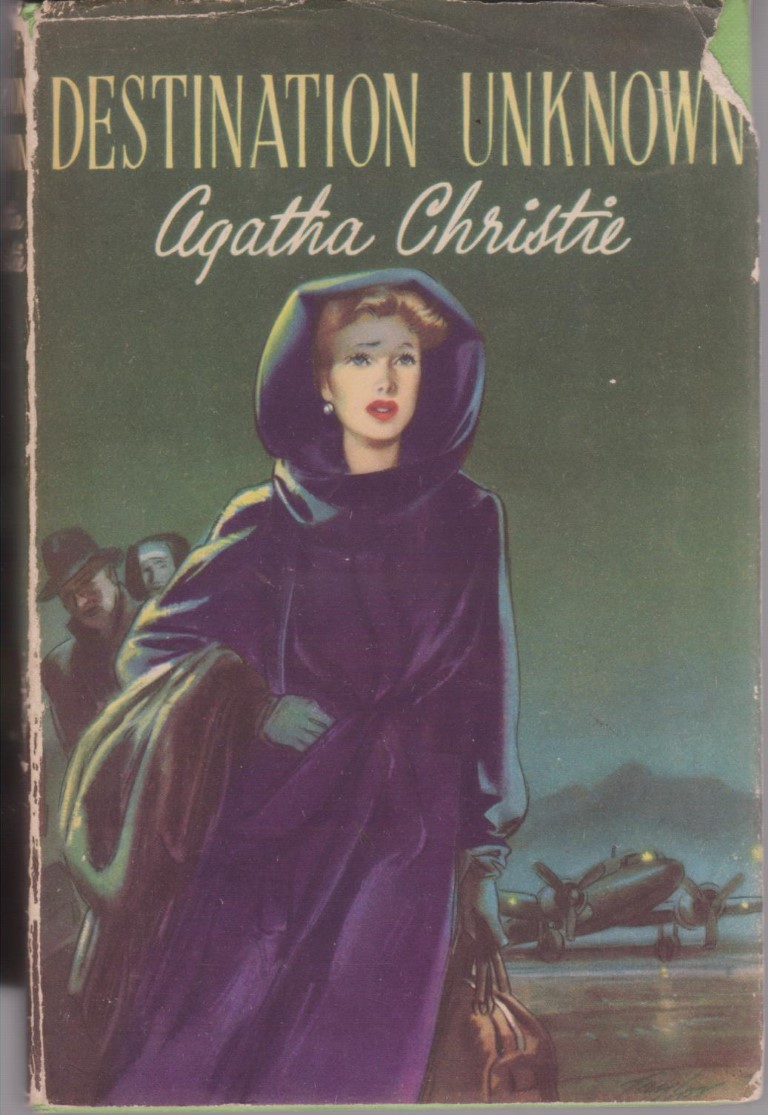 An espionage thriller based around a secret scientific research facility.
book club edition
VG hardback in G+ dust jacket with some edge wear or chipping
$10 C/B
The Book Club 1955, 192pp.
[#4406 ]
SUTHERLAND Temple

Evergreen Journey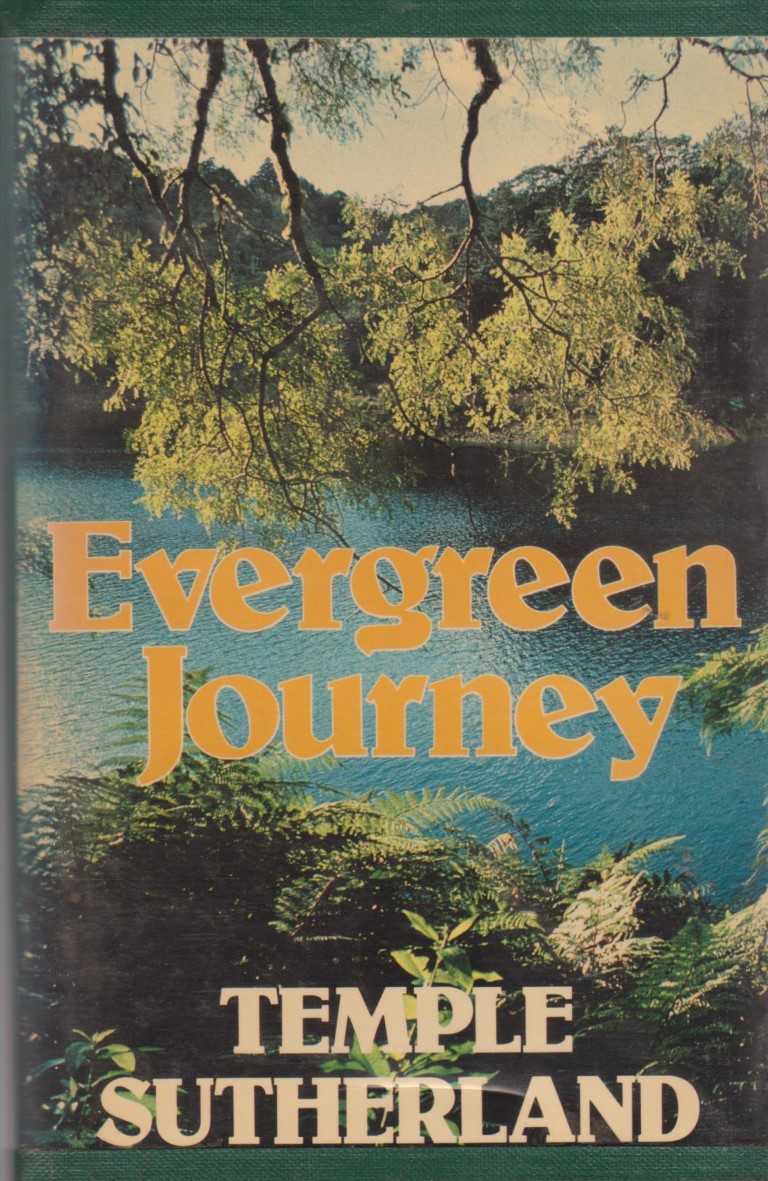 Temple emigrated from Scotland to New Zealand in 1925.
This autobiography follows his life about New Zealand including High Country life and his interest in angling and sport fishing.
ISBN0340342870
Newton McConochie, Buller, Marlborough
VG hardback in VG dust jacket.
Gift inscription to dedication page.
Has a typed bookplate from Temple with a personal message to Margaret Lindsay and his signature
$20 C/C
Hodder 1983 first edition, 336pp + plates.
[#4407 ]
STEINBECK John

East of Eden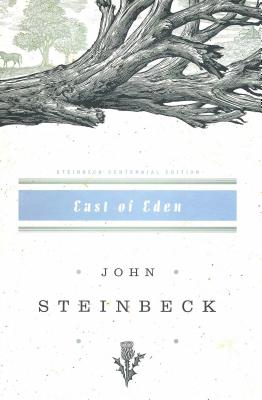 A novel of two families, the Trasks and the Hamiltons, which Steinbeck used a a vehicle for describing the Salinas Valley in detail.
An epic in which Steinbeck created his most mesmerizing characters and explored his most enduring themes: the mystery of identity, the inexplicability of love, and the murderous consequences of love's absence.
ISBN9780142004234
Steinbeck Centennial Edition
VG softback, sewn sheets and French flaps.
$10 C/C
Penguin2002 first thus edition, 601pp
[#4408 ]
JONES and SIDWELL

Reading Latin: Text
Reading Latin: Grammar Vocabulary and Exercises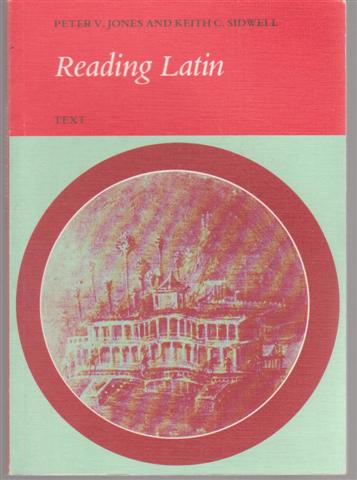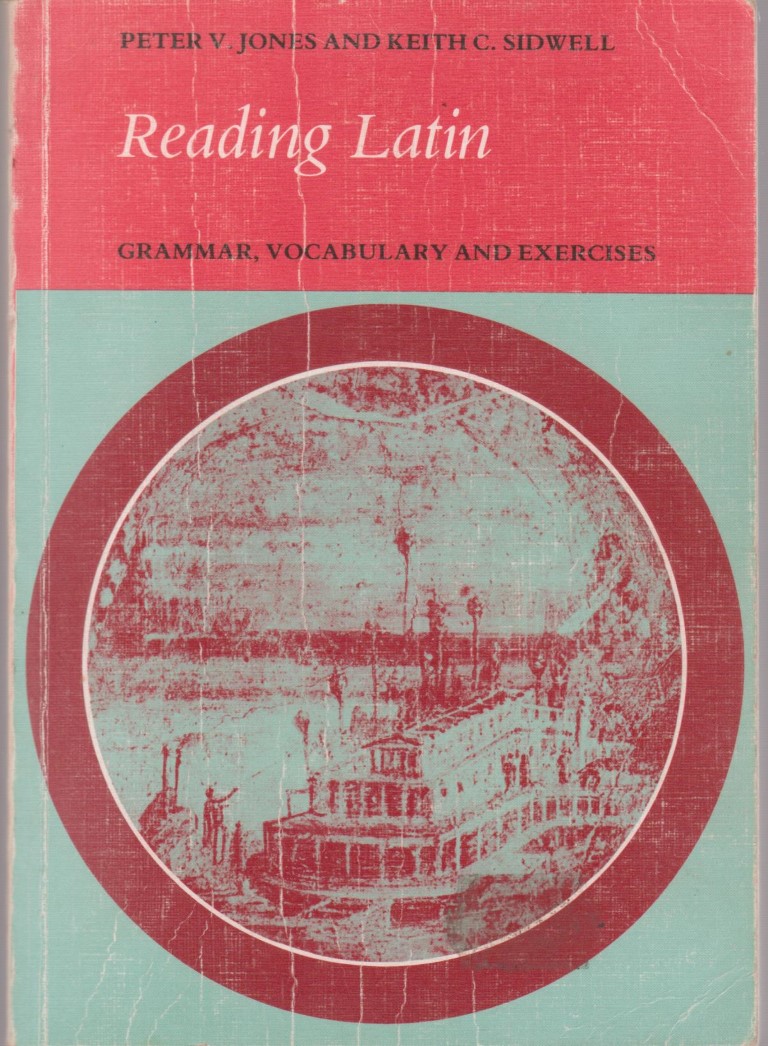 Latin course designed to help mature beginners read Latin fluently and intelligently, primarily in the context of classical culture, but with some mediaeval Latin too.
Texts set for the Open University course in Latin (A297 Reading Classical Latin).
VG softbacks, Grammar volume has creased cover
$40 for set of 2 books C/C
Cambridge University Press.
Text, 1995 ISBN0521286239; Grammar, 1994 ISBN0521286220
[#4409 ]
LAMBERT Max and Jim HARTLEY

The Wahine Disaster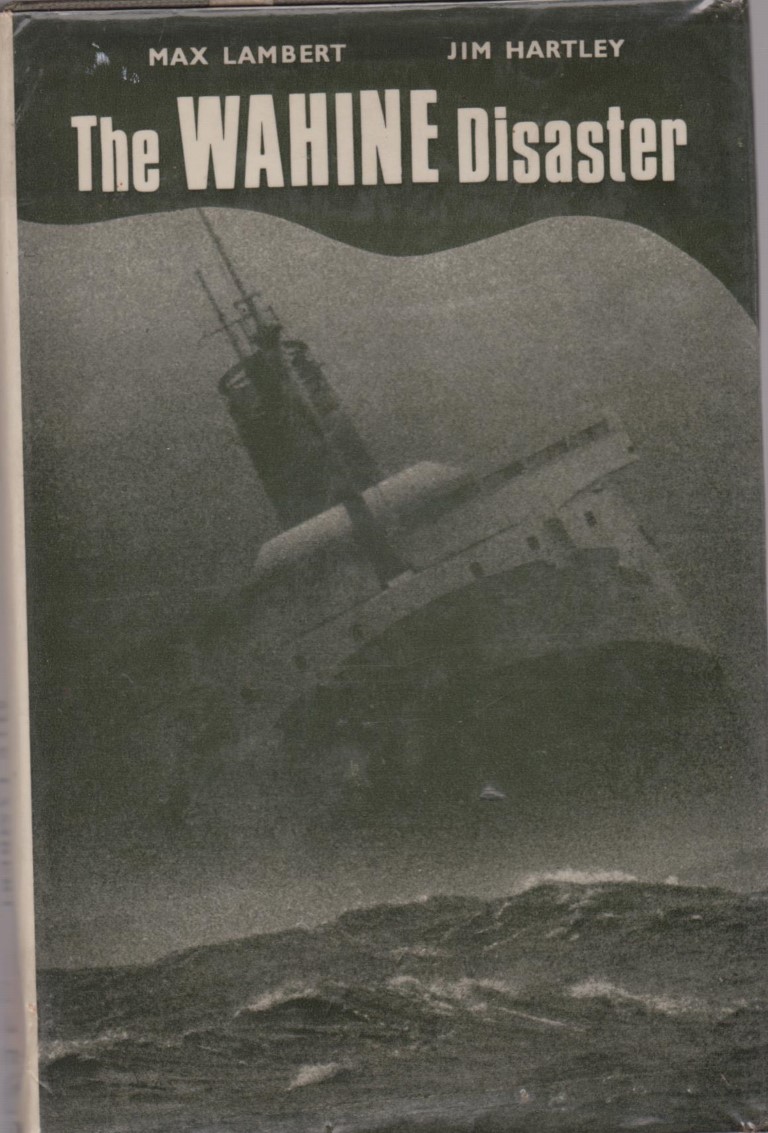 The definitive account of New Zealand's worst maritime disaster since 1894.
ship wreck, marine, T E V Wahine
VG- hardback in VG- dust jacket.
Jacket has been contact sealed.
Book has a College Library stamp to closed fore edge and the half-title, otherwise unmarked.
$20 C/C
Reed 1969 first edition, 221pp+plates.
[#4410 ]
HINDMARSH Gerard

Angelina From Stromboli to D'Urville Island
A Family's Story.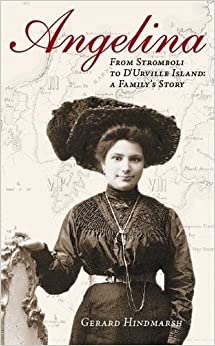 In 1906 Angelina Criscillo left Stromboli to travel to her fiancee Vincenzo Moleta in New Zealand.
Starting a new life on D'Urville Island in Cook Strait, Angelina found solace and friendship with a high-born Maori woman, Wetekia Ruruku Elkington, who lived nearby.
Angelina and Vincenzo finally left D'Urville Island in 1946, and both died within a few months of each other in Wellington in 1954.
The role the Moletas and Wetekia played in the history of D'Urville Island has been acknowledged by having features on the island named after them. Angelina is a remarkable story of the struggles and triumphs of pioneering immigrant life in New Zealand.
ISBN9781877333217
sicily, Angelina Margherita Moleta 1891-1954
VG softback, name to first page
$25 C/B
Craig Potton 2004, 227pp + plates.
[#4411 ]
De BEAUVOIR Simone

Adieux: A Farewell to Sartre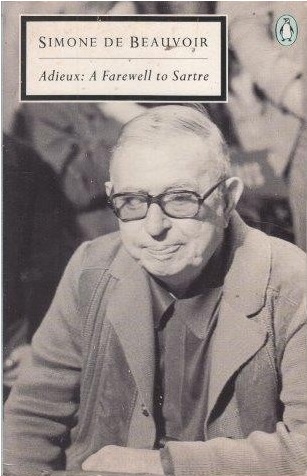 The loving friendship between Simone de Beauvior and Jean-Paul Sartre lasted for over half a century and ended with Sartre's death in 1980.
Adieux is a devastatingly frank account of the last years of Sartre's life and his death.
It also consists of long conversations which they taped in 1974 at the onset of his increasing blindness, in which, under de Beauvior's gentle probing, Sartre expresses himself fully - on women and politics, his childhood, religion and food.
ISBN9780140183283
existentialism, French, philosophy, politics
VG paperback
$10 C/B
Penguin 1985, 453pp.
[#4412 ]
GUNBY David

Rangiora High School 1884-1984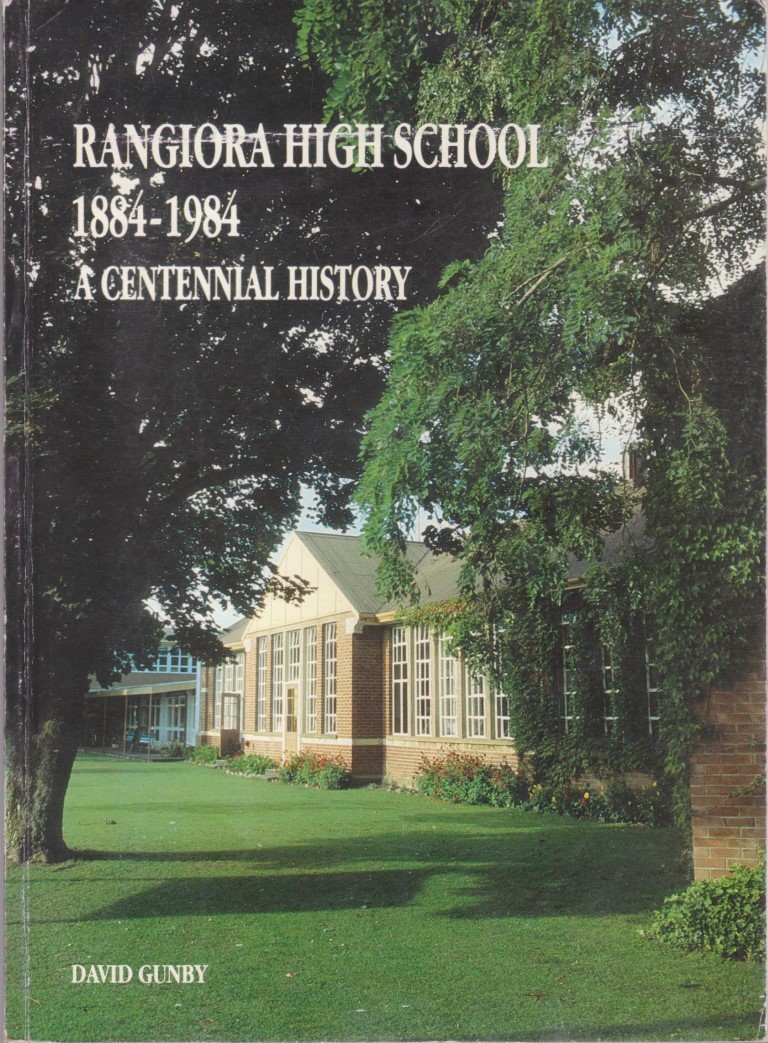 A Centennial History, well researched and with many illustrations.
Printed on high quality paper.
ISBN0473002353
canterbury, education, local history
VG softback
$45 B/C
Rangiora High School Centennial Committee 1984, 274pp.
[#4413 ]
KUBLER-ROSS Elisabeth

On Death and Dying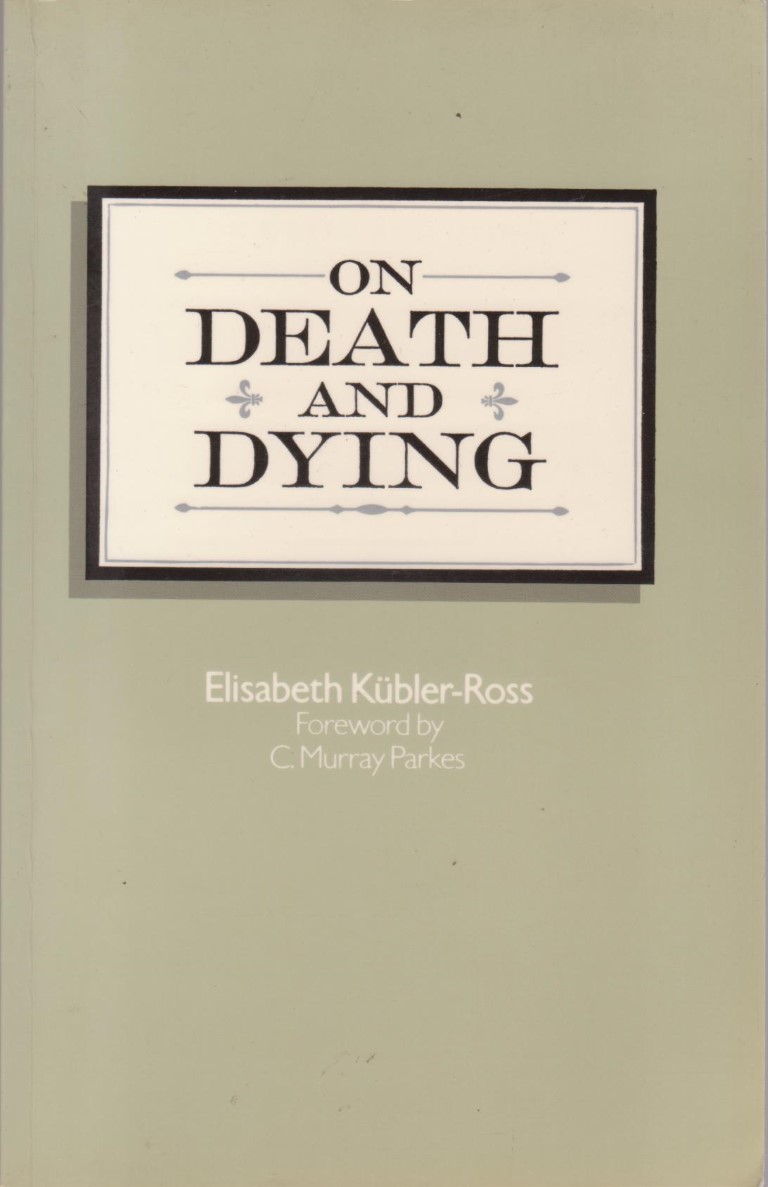 With foreword by C Murray Parkes.
Denial, anger, bargaining, depression and acceptance, the five stages of grief, first identified by Elisabeth Kubler-Ross in her work with dying patients at the University of Chicago.
Considered phases that all or most people went through, when faced with the prospect of their own death, are now often accepted as a response to any major life change.
ISBN9780422754903
therapy, life-coaching, grief, psychology, mental health
VG softback
$10 C/B
Tavistock Publications 1986, x 260pp.
[#4414 ]
HUBBARD L Ron

Dianetics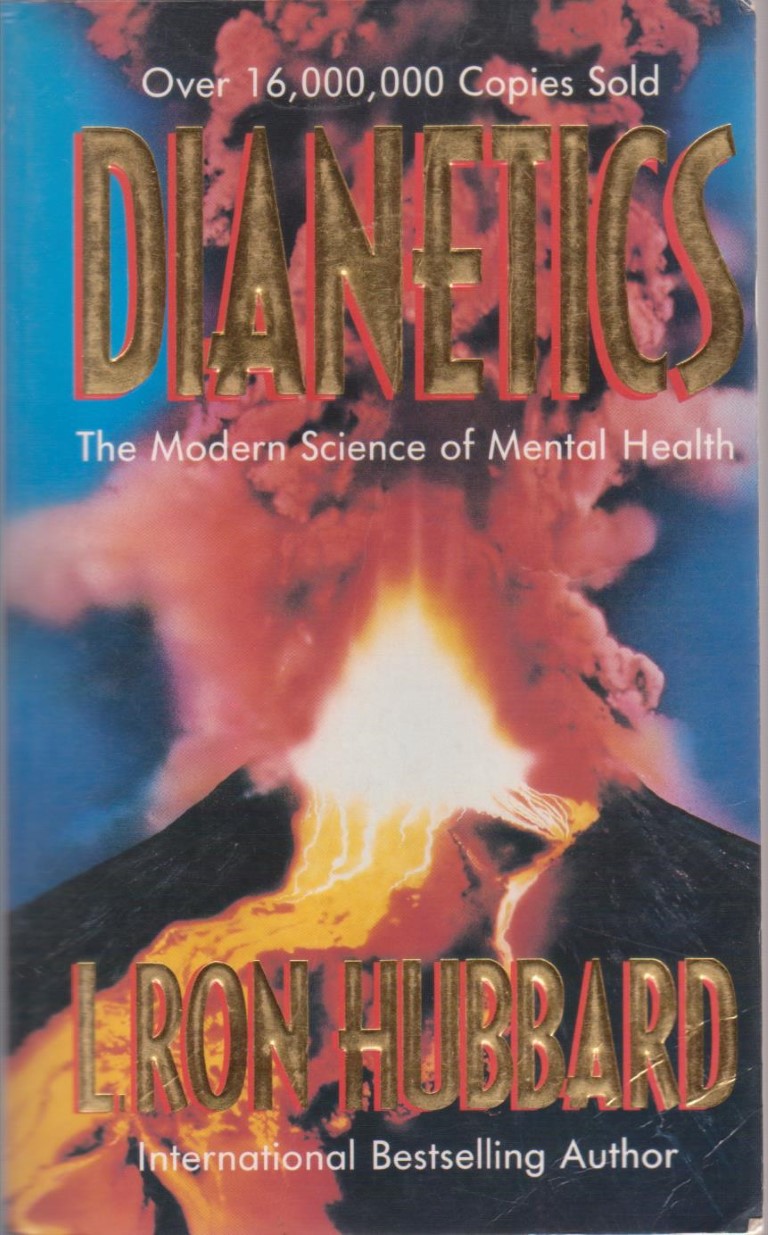 The Modern Science of Mental Health, from the creator of Scientology.
ISBN9780646190341
scientology, psychology, self help
VG paperback
$10 A/B
New Era Publications (Australia Pty) Ltd 1994, 676pp.
[PB1646 ]
Brother LAWRENCE translated by E M BLAIKLOCK

The Practice of the Presence of God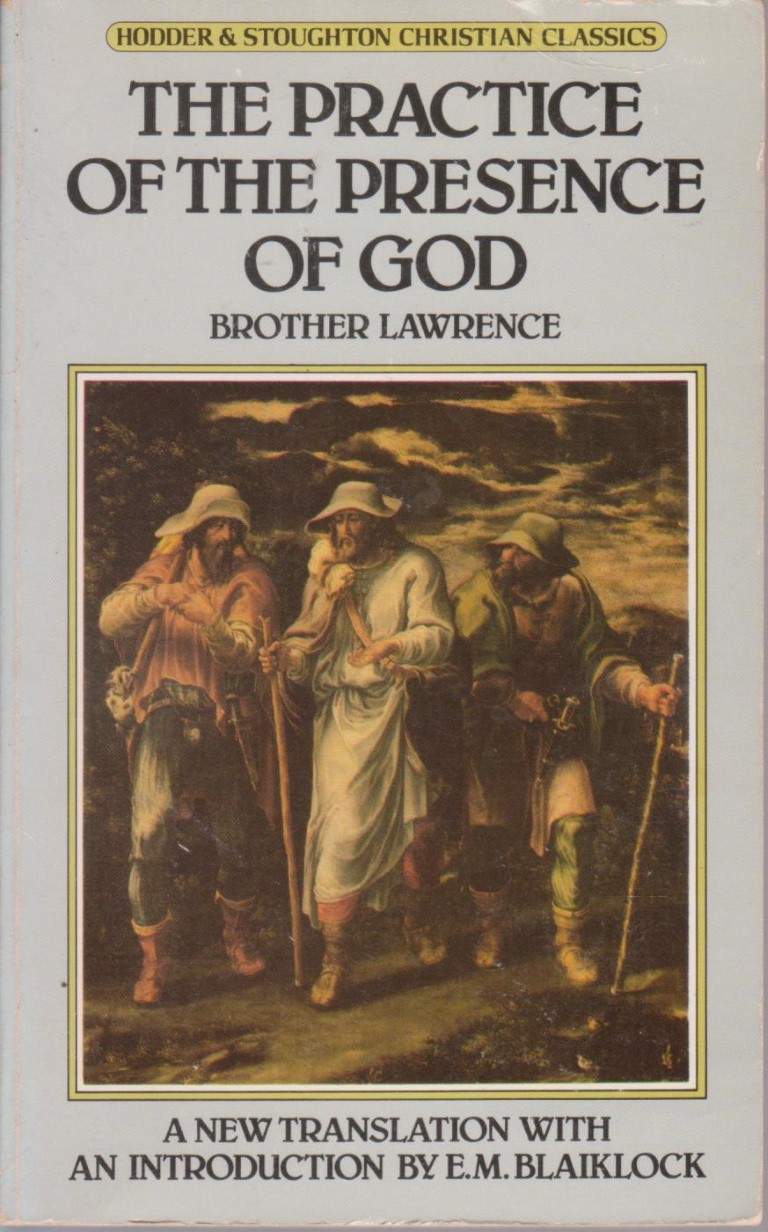 Conversations, letters, ways and spiritual principles of Brother Lawrence, the 17th century French monk who in his monastery kitchen discovered an overwhelming delight in God's presence.
ISBN9780340269374
christian, spirituality, devotional writing, mysticism
VG paperback
$5 A/A
Hodder 1992, 93pp.
[#PB1647 ]
KUBLER-ROSS Elisabeth

Questions and Answers on Death and Dying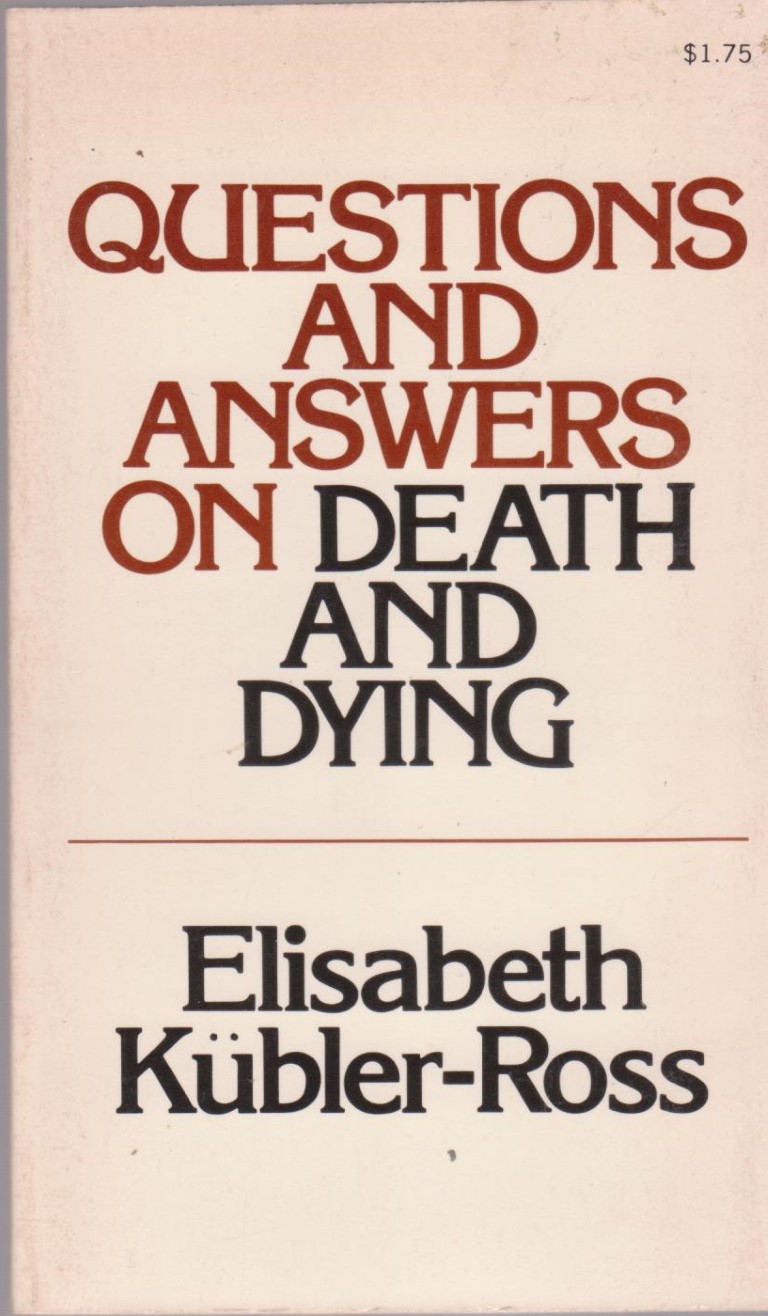 Faced with answering the questions of people and families faced with the care of the dying, doctors, nurses, clergymen, and social workers, as well as lay people, have gathered in workshops around the country to ask her questions arising out of their experiences with the terminally ill.
Many had read "On Death and Dying" and were trying to put its precepts into practice.
This sequel to On Death and Dying consists of the most frequently asked questions and Dr. Kuebler-Ross's answers.
ISBN0020891504
thanatos, grieving, therapy, psychology
VG paperback
$7 A/A
MacMillan 1977, xii 177pp.
[PB1648 ]
14/4/2020ev
DWYER Denis

Black Jersey - Silver Fern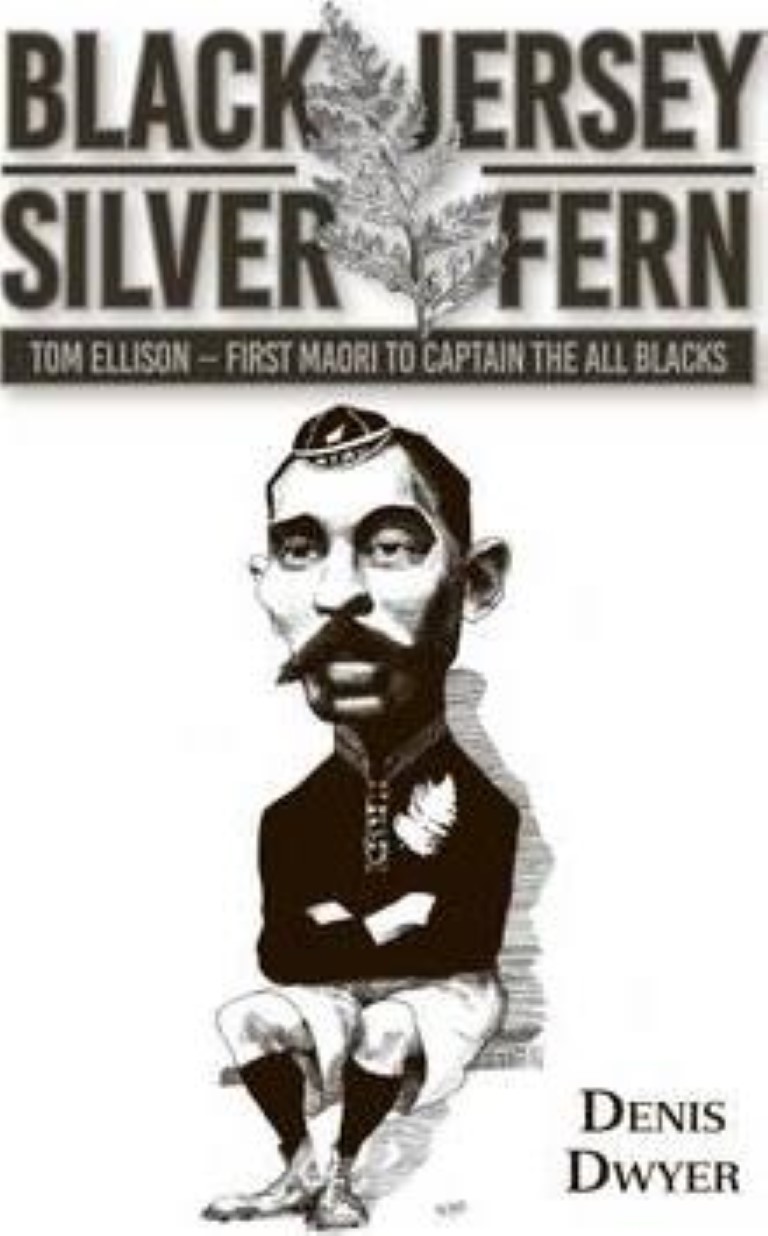 Sporting history and a biography of Tom Ellison, the first Maori to Captain the All Blacks.
With illustrations.
ISBN9781869341251
rugby, nzrfu, new zealand all blacks
VG+ softback
$25 C/C
Grantham House 2015 first edition, 223pp.
[#4394 ]
CARTERS Reg

More Paddocks to Plough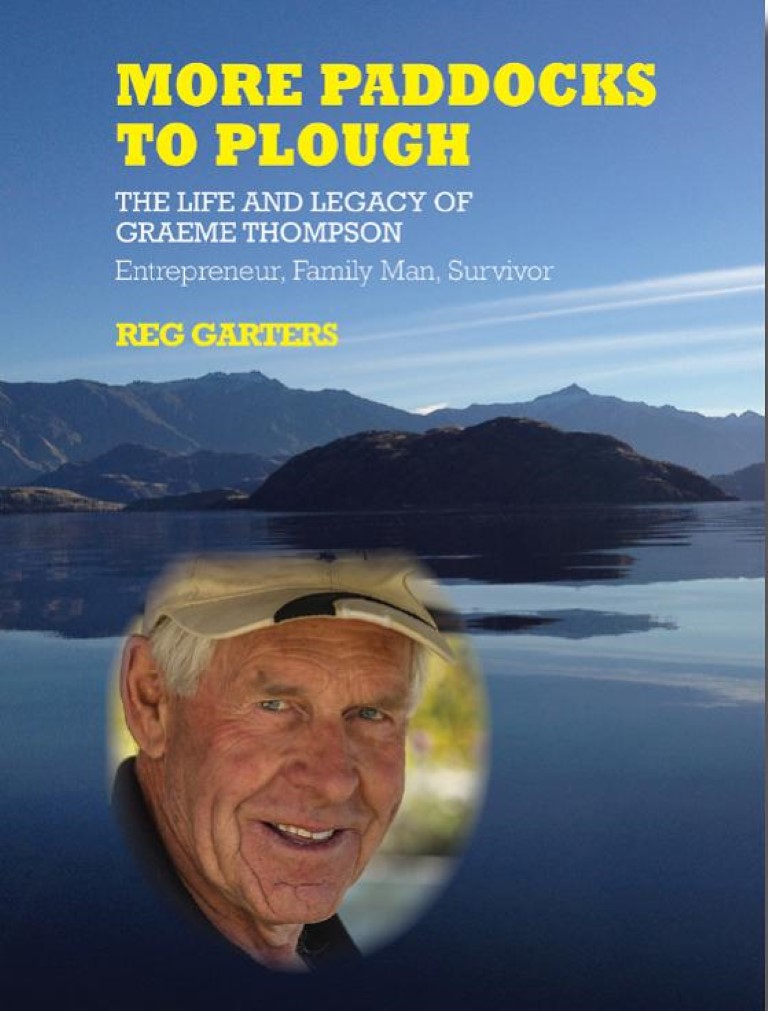 Graeme Thompson left the security of his family farm in Central Otago and took actions that revolutionised the New Zealand meat industry through the dynamic company he founded, Fortex New Zealand Limited.
When the empire he had built came crashing down, he was thrown into jail.
Graeme's courage, resilience and unwavering support from family and friends saw him through that hard time and,after leaving prison, he established a new and exciting business.
The story takes us through Graeme's Scottish heritage, his childhood, boarding school and university days, marriage to his wife Barb, and the raising of their children.
ISBN9780473408459
new zealand, company, buiness, biography
VG softback
$25 B/C
Lismore Press 2017 first edition, 217pp.
[#4395 ]
PARSONS Captain Edward

Bible-Back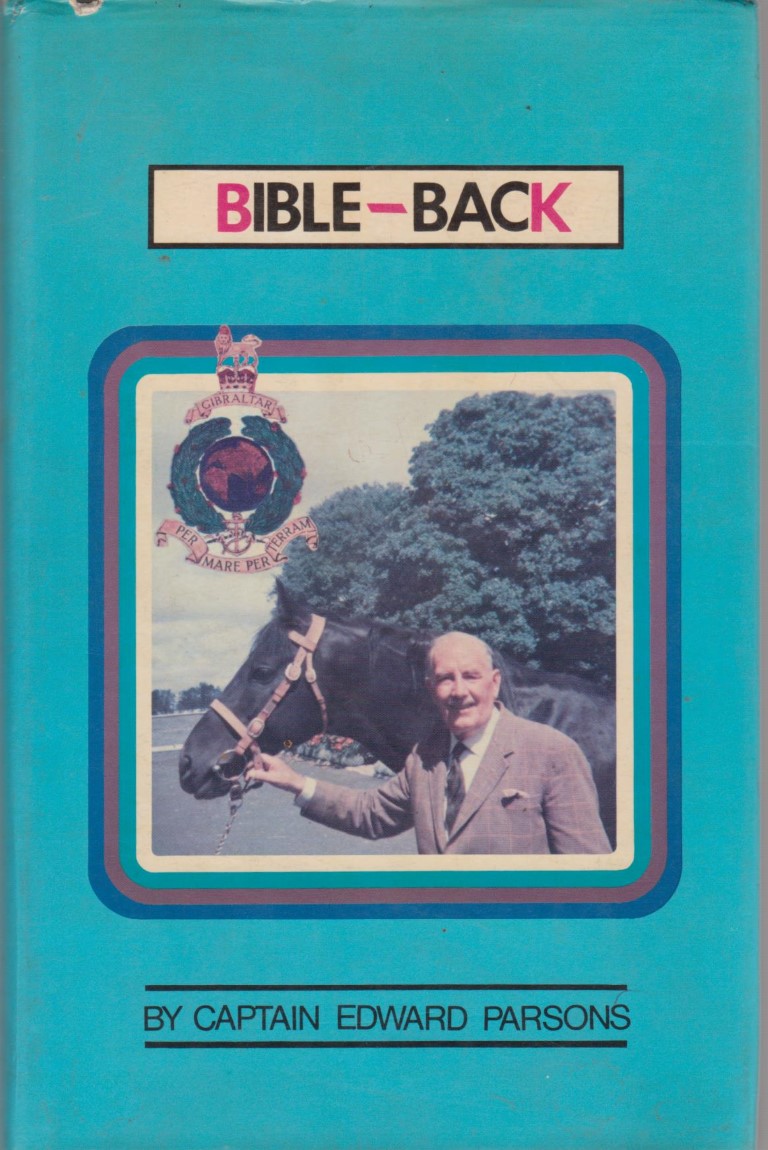 Autobiography of a long term member of the Royal Marines, born in Burwash, Sussex, and emigrating to New Zealand after WWII.
RNZN, Royal Navy, biography
VG hardback in VG dust jacket. Inscription to free end paper.
$15 C/C
Dai Nippon Printing Co. (1970) first edition, xviii 223pp.
[#4396 ]
THOMSON R H

Captive Kiwi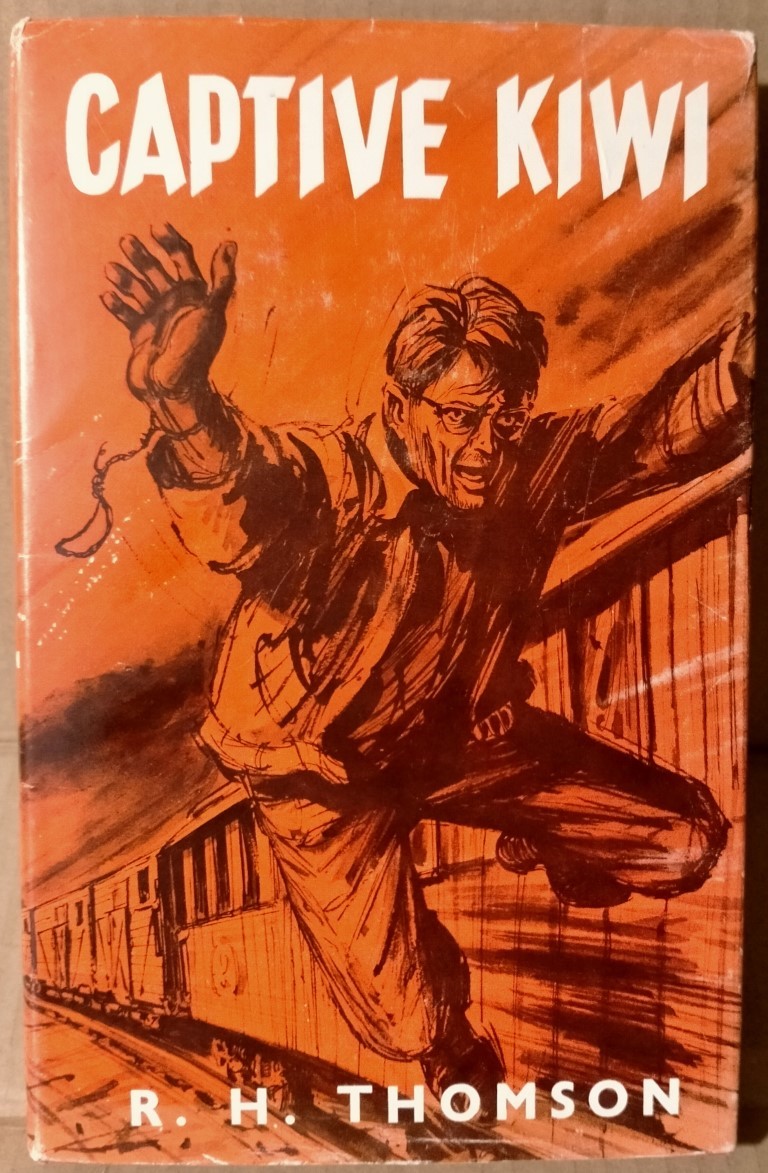 During the Second World War the author served in Libya with the 4th RMT Company.
For some time he evaded the Germans on Crete before capture and internment in Greece where he made some escape attempts before being interned in Germany.
ISBN
wwii, ww2, pow, prisoner of war
VG hardback in VG dust jacket with light wear
$20 C/B
Whitcombe and Tombs Ltd. 1964 first edition, 196pp.
[#2227]
VG hardback in VG dust jacket with light wear. Inscription to contents page.
$20 C/B
Whitcombe and Tombs Ltd. 1965 reprint, 196pp.
[#4397]
PARK Geoff

Nga Uruora: The Groves of Life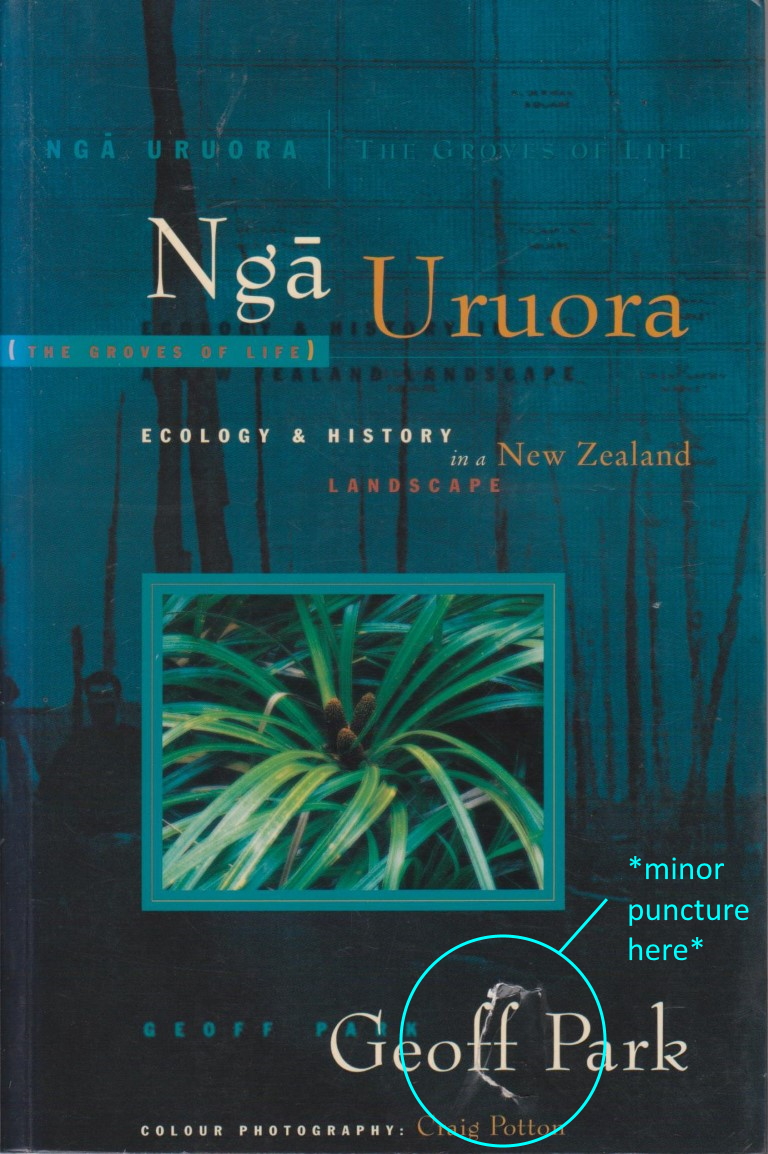 Ecology and History in a New Zealand landscape.
Part ecology, part history, part personal odyssey, Park researches New Zealand's fertile coastal plains, whose natural character has vanished as the imperatives of colonial settlement transformed the original forests and swamps with ruthless efficiency.
Focuses on four places; Tauwhare on the Mokau River, Papaitonga in Horowhenua, Whanganui Inlet and Punakaiki on the South Island's West Coast, where small remnants of the indigenous ecosystems of kahikatea and harakeke still survive.
The histories of these places, what they mean to Maori, their ecological vulnerability and their significance for conservation are discussed.
ISBN0864732910
natural history, ecology
VG- softback with a small puncture mark to front cover and first 15 pages.
This is minor and at the lower margin.
$20 C/C
Victoria University Press 1995 first edition, 376pp + colour photo section.
[#4398 ]
CUNLIFFE Barry

Greeks, Romans and Barbarians
Spheres of Interaction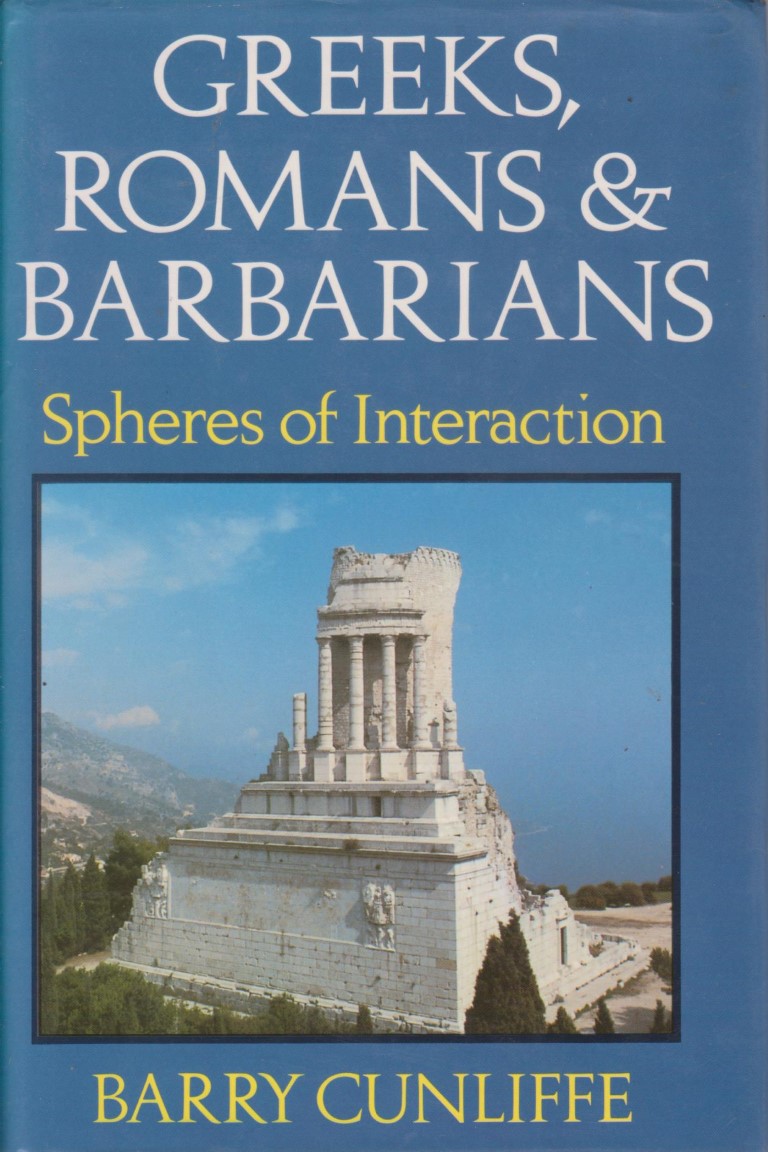 Cunliffe, the celebrated archaeologist, seeks a "rapprochement" between the traditionally conflicting methodologies of the classical archaeologist and the prehistorian.
He examines the social and economic systems of barbarian Europe in relation to Greco-Roman civilization and chronicles its development from 600 BC to the fifth century.
New research includes the results of the author's own excavations at sites such as Hengistbury.
ancient history, europe, rome, roman empire, celtic, germanic
VG hardback in VG dust jacket
$15 C/C
Guild Publishing 1988,243pp.
[#4399 ]
ADAMS Douglas

Dirk Gently's Holistic Detective Agency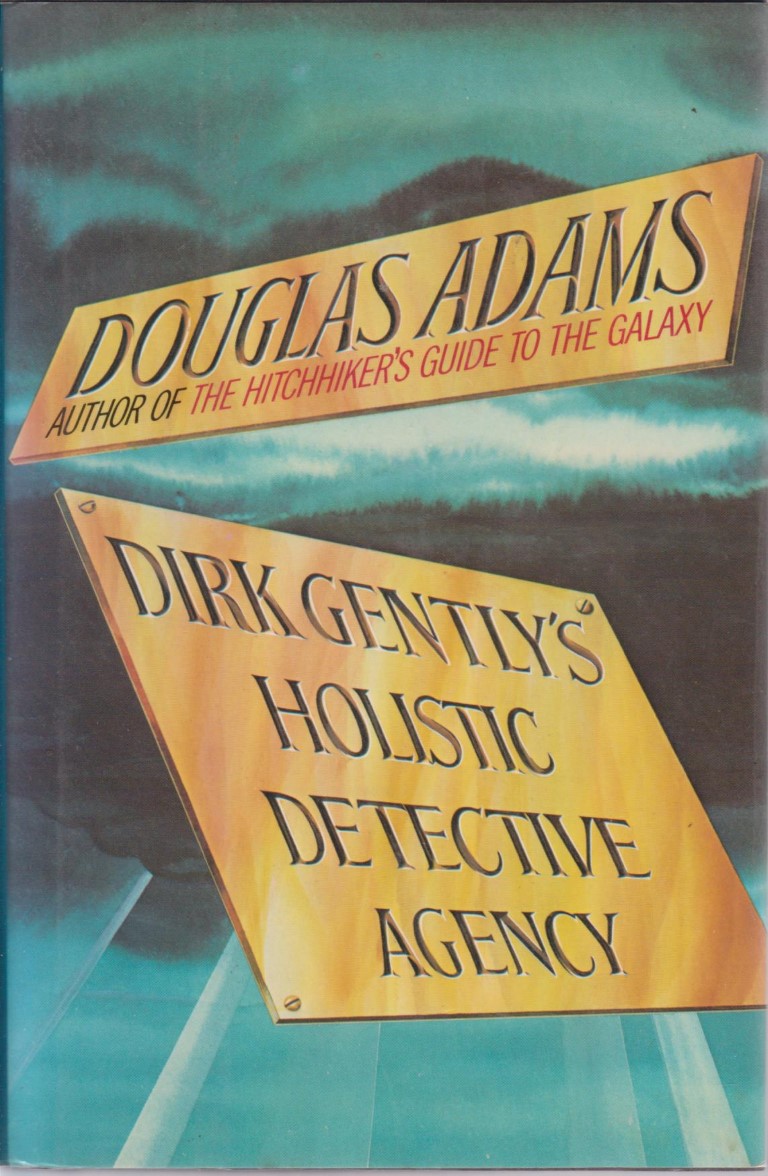 A "ghost-horror-detective-time travel-romantic-comedy epic".
ISBN0671625829
humour, science fiction,
VG hardback in VG dust jacket, publishers remainder stamp to closed bottom page edge.
$20 C/C
Simon and Schuster 1987 US First edition with complete number line and $14.95 price, 247pp
[#4400 ]
TROWELL Margaret and Hans NEVERMANN

African and Oceanic Art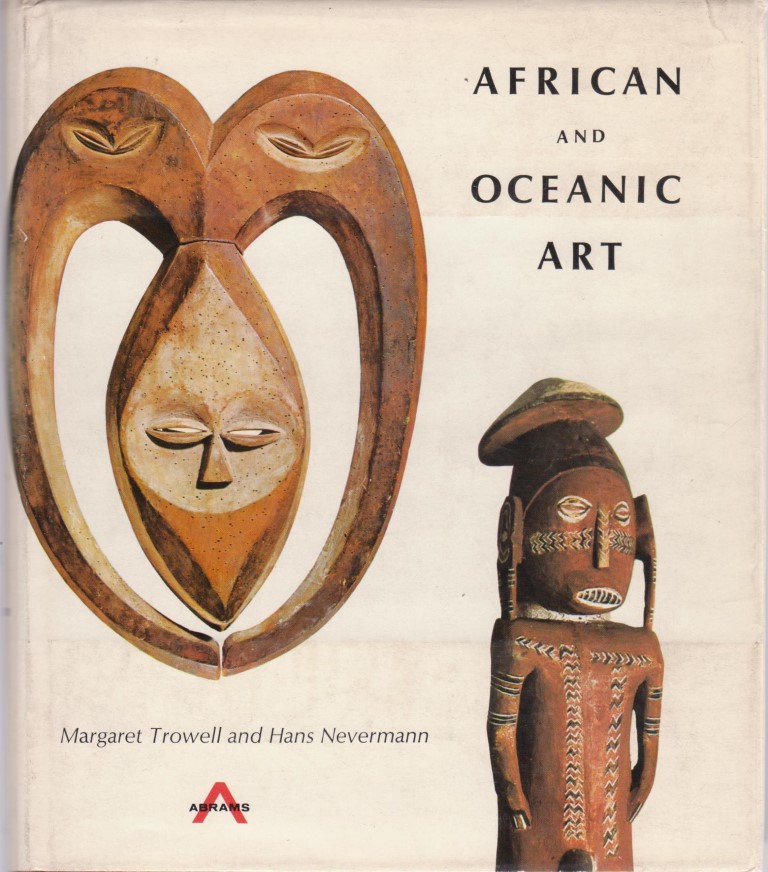 Mainly African art but includes 50pp on Oceania inclusing New Zealand Maori.
In the 'Panorama of World Art' series, with 287 plates including 154 colour.
art, primitive, indigenous, folk art, masks, fetish, decorative art, melanesia, micronesia, polynesia, negro
VG hardback in VG dust jacket
$20 B/D
Harry N Abrams (undated about 1970), 263pp.
[#4401 ]
DIEFFENBACH Ernst

Travels in New Zealand
Volume Two (only).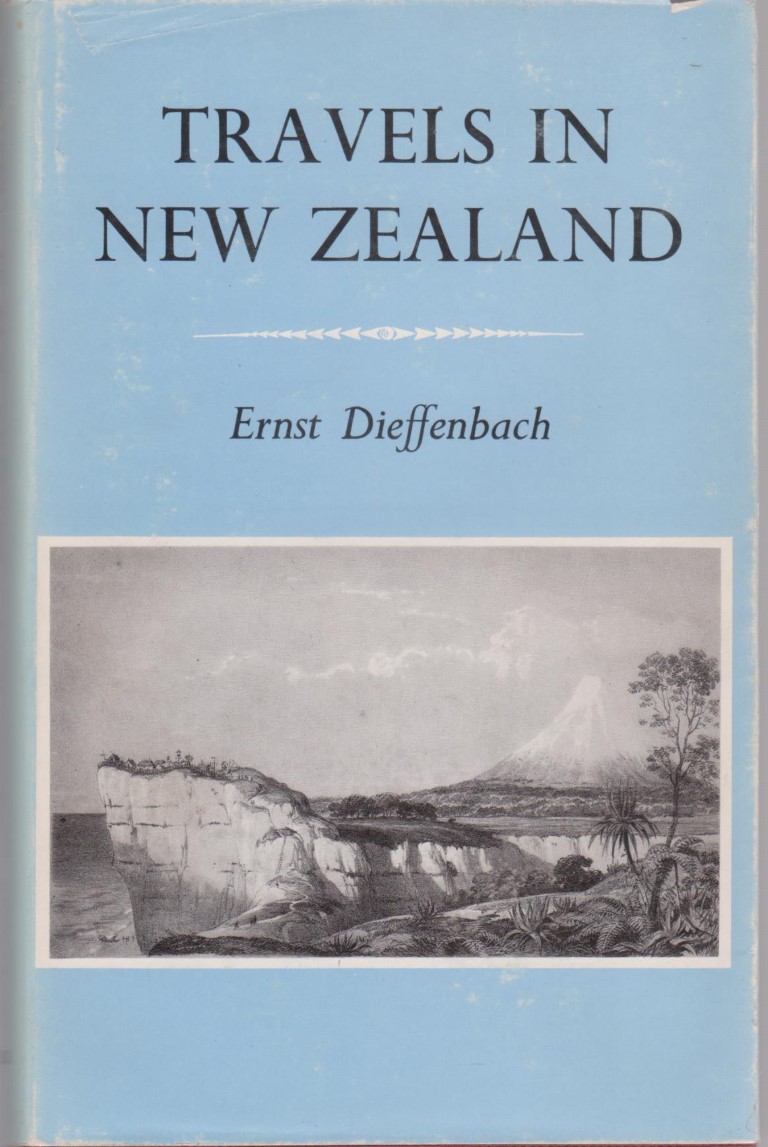 Early writings on geography, geology, botany and natural history of New Zealand from the 1840s.
Includes a Maori grammar and dictionary from the earliest times of European contact.
VOLUME TWO ONLY of 2 vol facsimile reprint.
Originally published by John Murray 1843.
maori grammar, dictionary, colonial history
VG hardback in VG dust jacket with light spine lean.
$30 C/C
Capper Press 1974 facsimile reprint, 396+ 4pp.
[#4402 ]
MIDDLETON Sue and Helen MAY

Teachers Talk Teaching, 1915-1995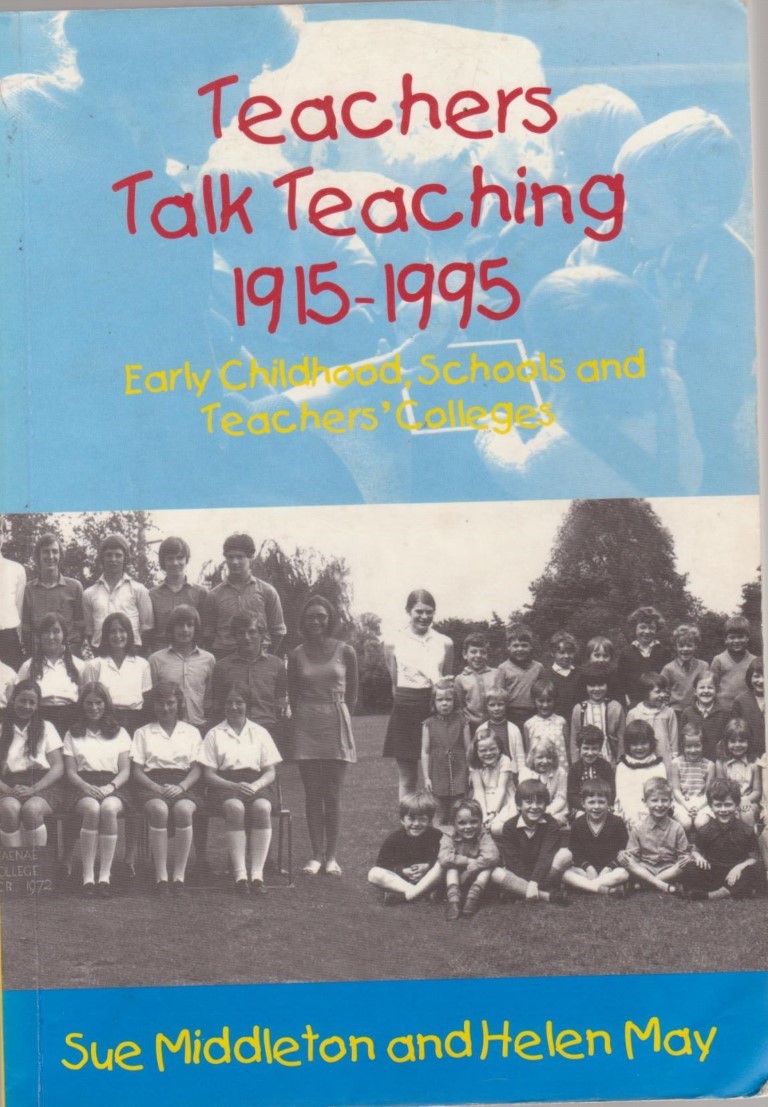 Early Childhood, Schools and Teachers' Colleges in New Zealand.
Interviews with 150 teachers born between 1899 and 1973.
Charts the tides and currents of educational thought in New Zealand over the past 80 year
ISBN9780864693013
education, social history
VG softback.
$30 C/C
Dunmore Press 1997, 380pp.
[#4403 ]
De MONTALK Stephanie

Unquiet World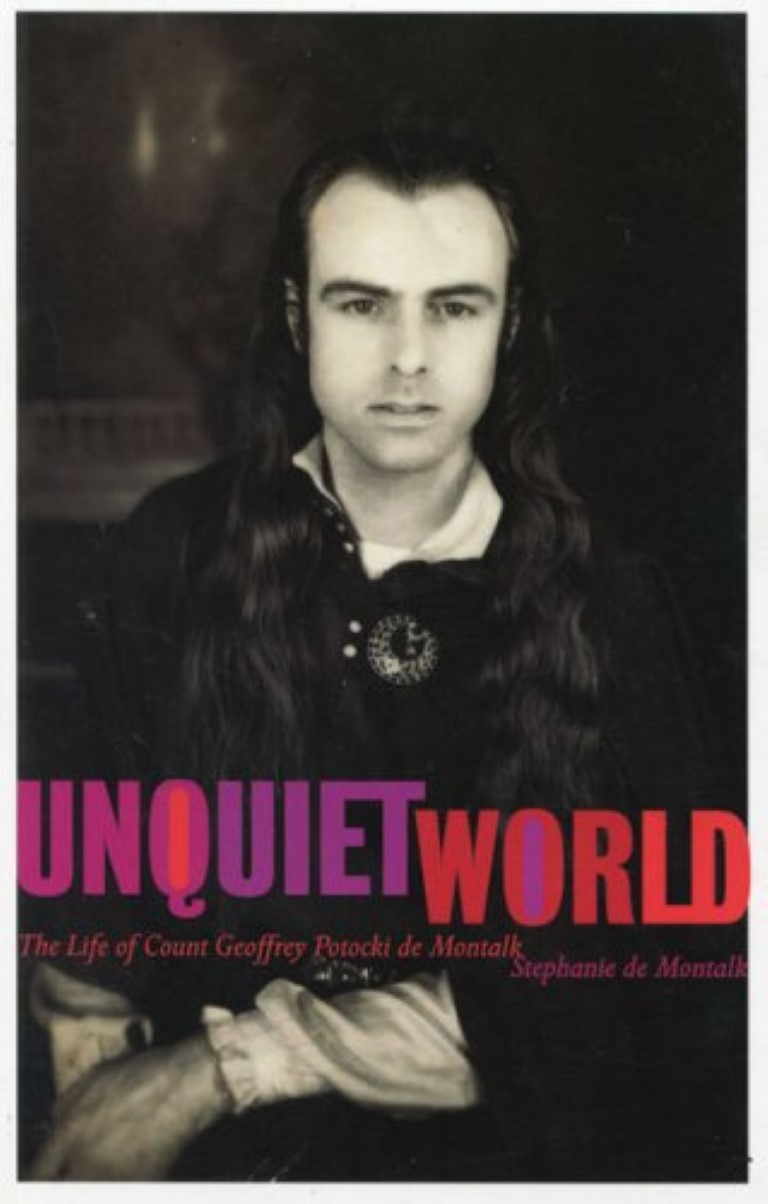 The Life of Count Geoffrey Potocki de Montalk.
Poet, polemicist, pagan and pretender to the throne of Poland, one of the great eccentrics of the 20th century.
Gaining acknowledgment in the 1930s, his career took a strange turn when he was imprisoned for obscene libel after a celebrated trial in London, then became increasingly eccentric.
He hand-printed and published a stream of poetry and pamphlets from his home in the South of France; before returning to NZ for a period in the 1980s and 90s.
ISBN9780864734143
literature, biography, poet, eccentricity, eccentric, new zealand ex-pat
VG softback
$30 C/C
Victoria University Press
[#4404 ]
EISEN Jonathan (editor)

Suppressed Inventions and Other Discoveries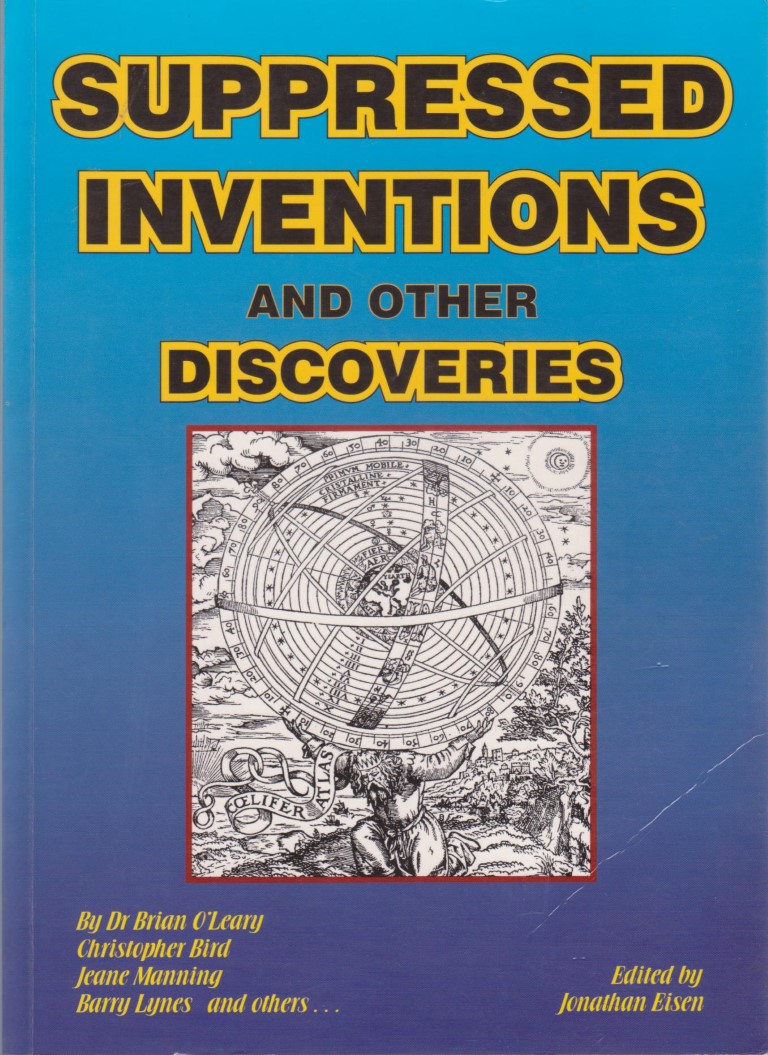 Eisen traveled the world in search of documented stories of scientific cover-ups, covert operations, and programs of deliberate misinformation, all designed to hide controversial inventions and discoveries, such as anti-gravity devices, limitless energy sources, results of cancer and AIDS research, and more.
ISBN0958333475
science, fraud in science, Cancer, Medical innovations, Renewable energy sources
VG softback.
$15 B/D
Auckland Institute of Technology Press 1994, 416pp.
[#4405 ]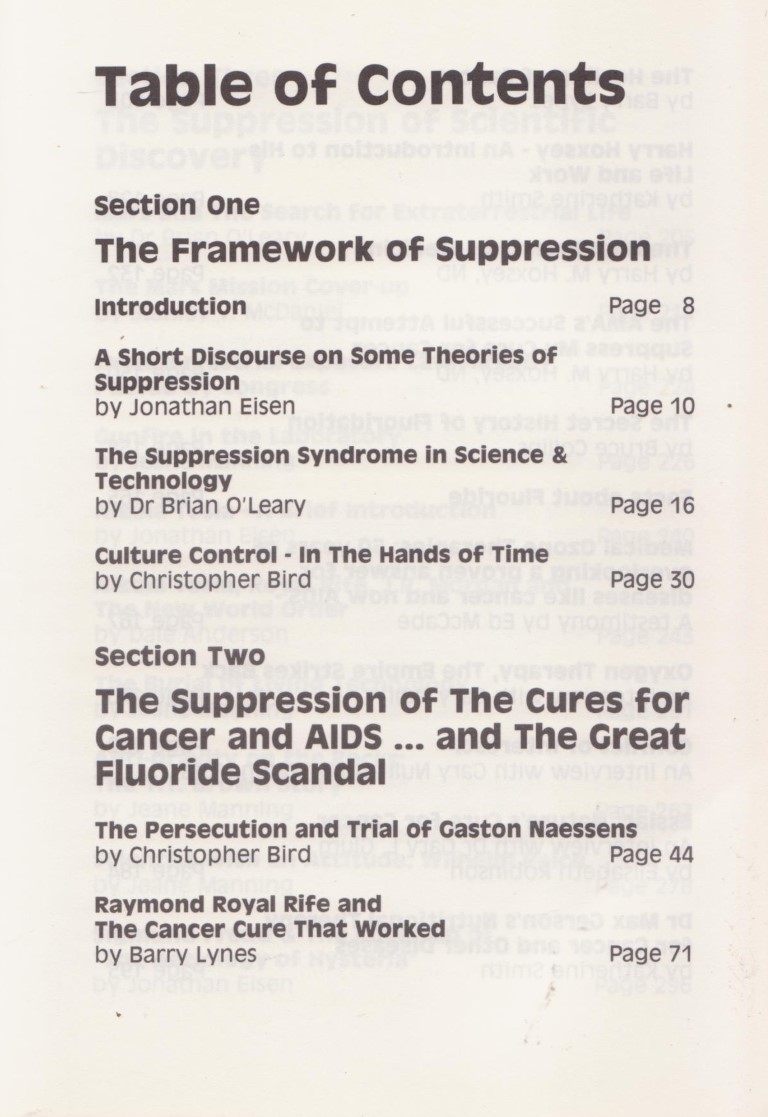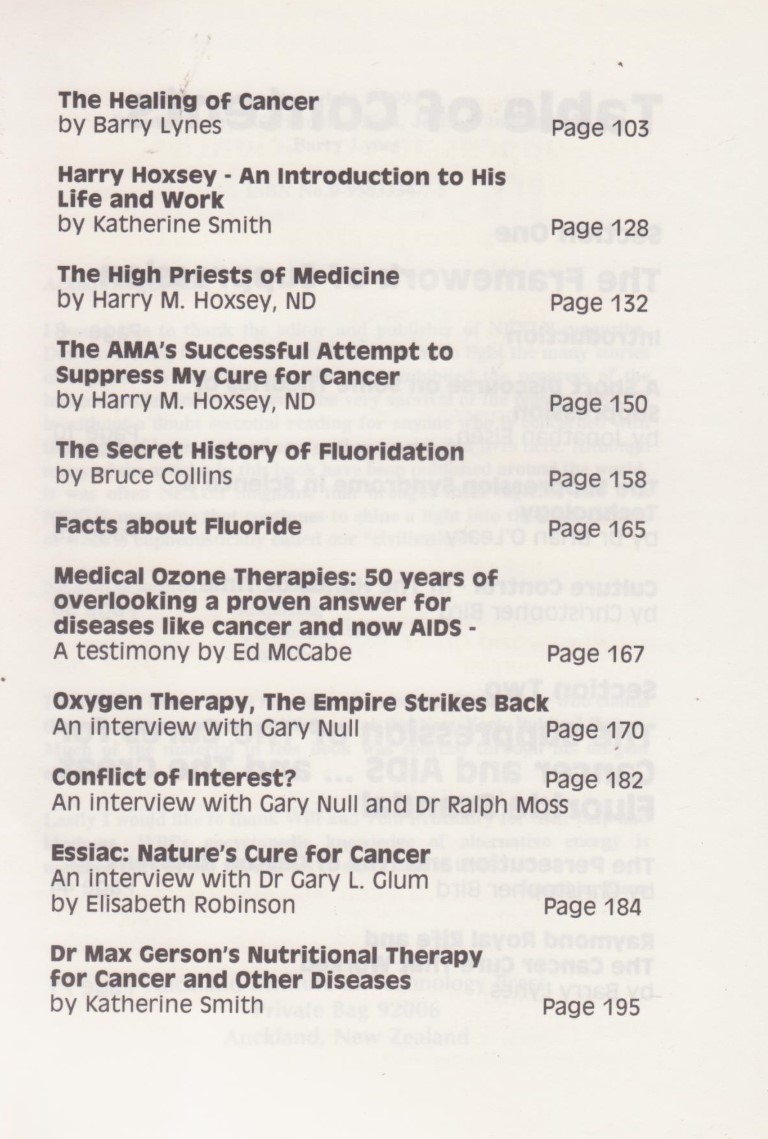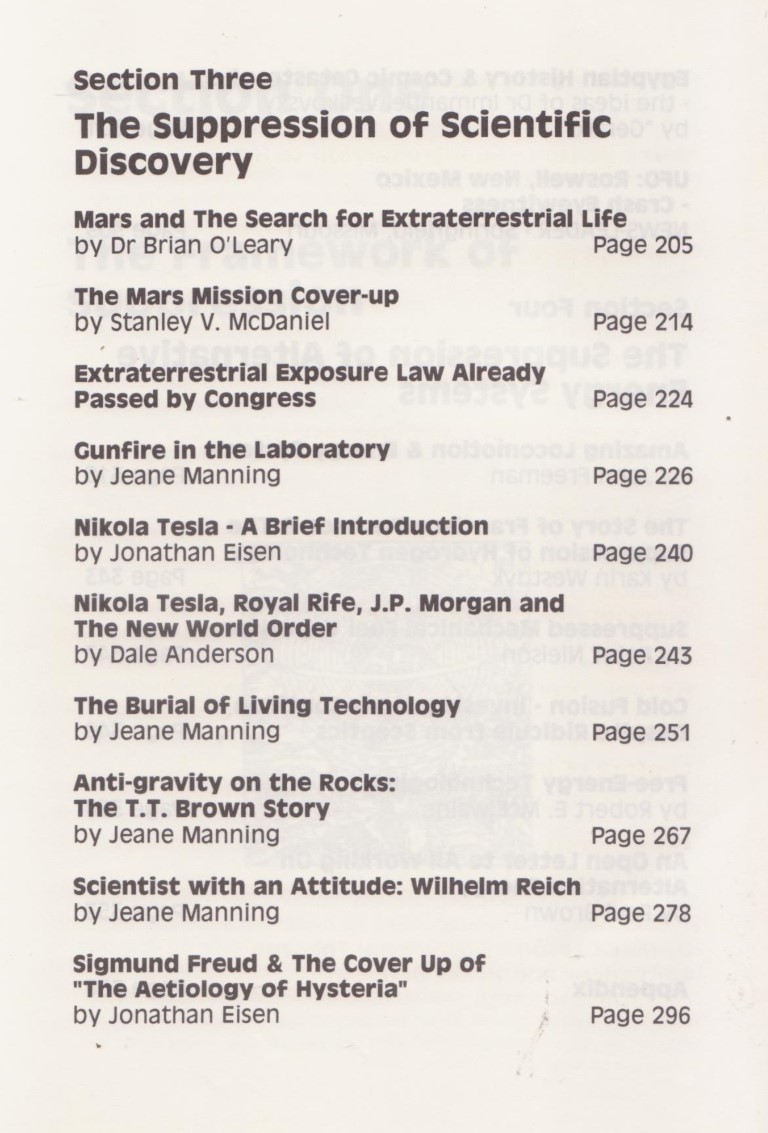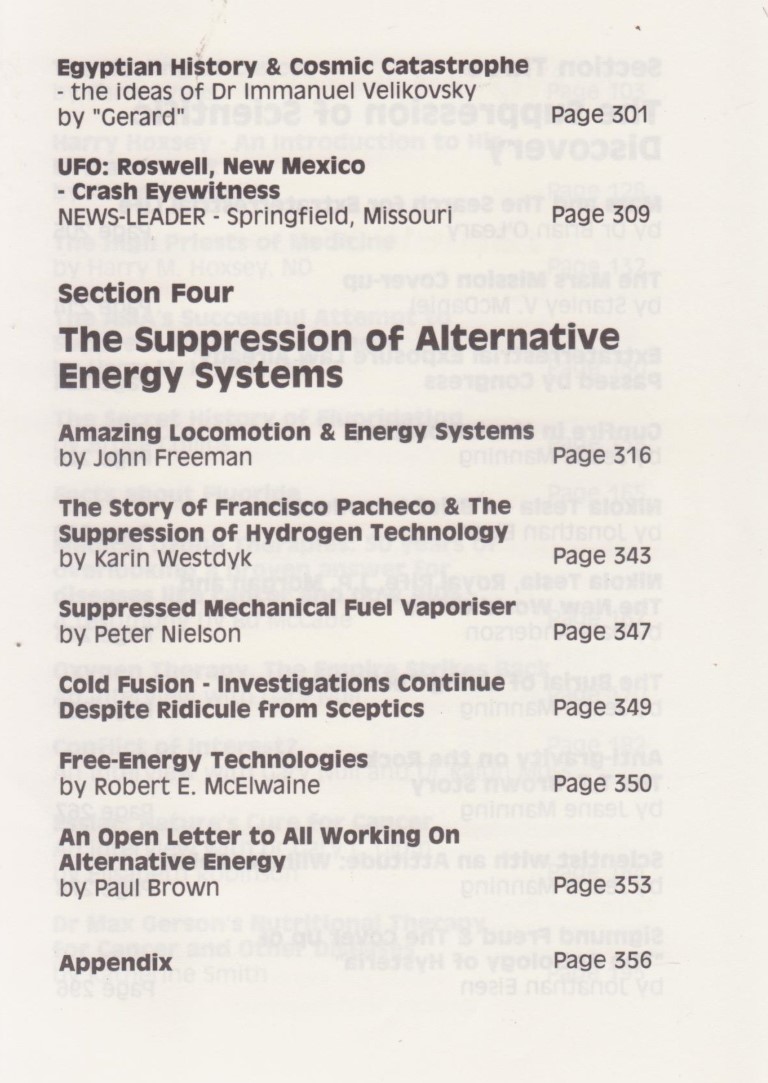 6/4/2020ev
RHODES H. T. F.

The Satanic Mass
A Sociological and Criminological Study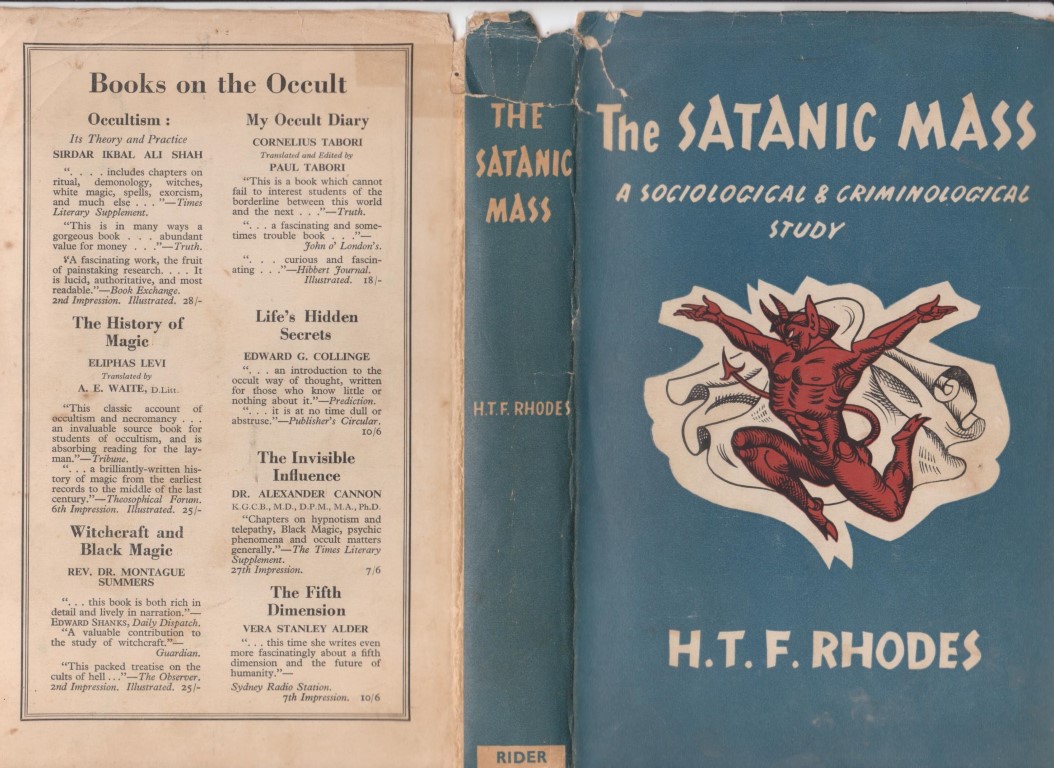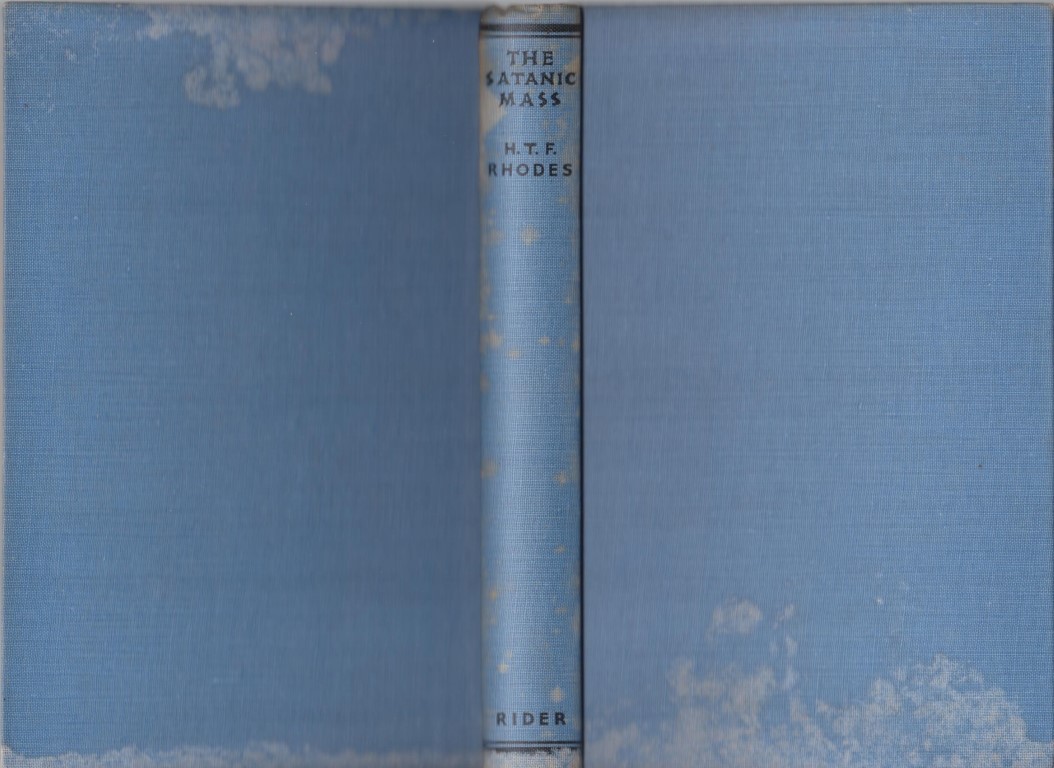 Satanism from its 'origins' in the gods of antiquity to the present (1950s)
Includes medieval Black Masses and Sabbats, 17th century aristocratic satanism (Gibourg mass etc), 'modern' satanism with the Boullan - Vintras affair etc, Twentieth century satanism including a short appraisal of the Gnosticism of Aleister Crowley.
Satan, Devil, Diabolism, Black Mass, History, Huysmans
G+ hardback in blue cloth with some mottling to boards in G+ dust jacket with minor chipping and tears tape repaired to the reverse.
$75 C/C
Rider 1955, second impression of first edition, 232pp+ plates.
[#4386 ]
FRANCIS Dick

Break In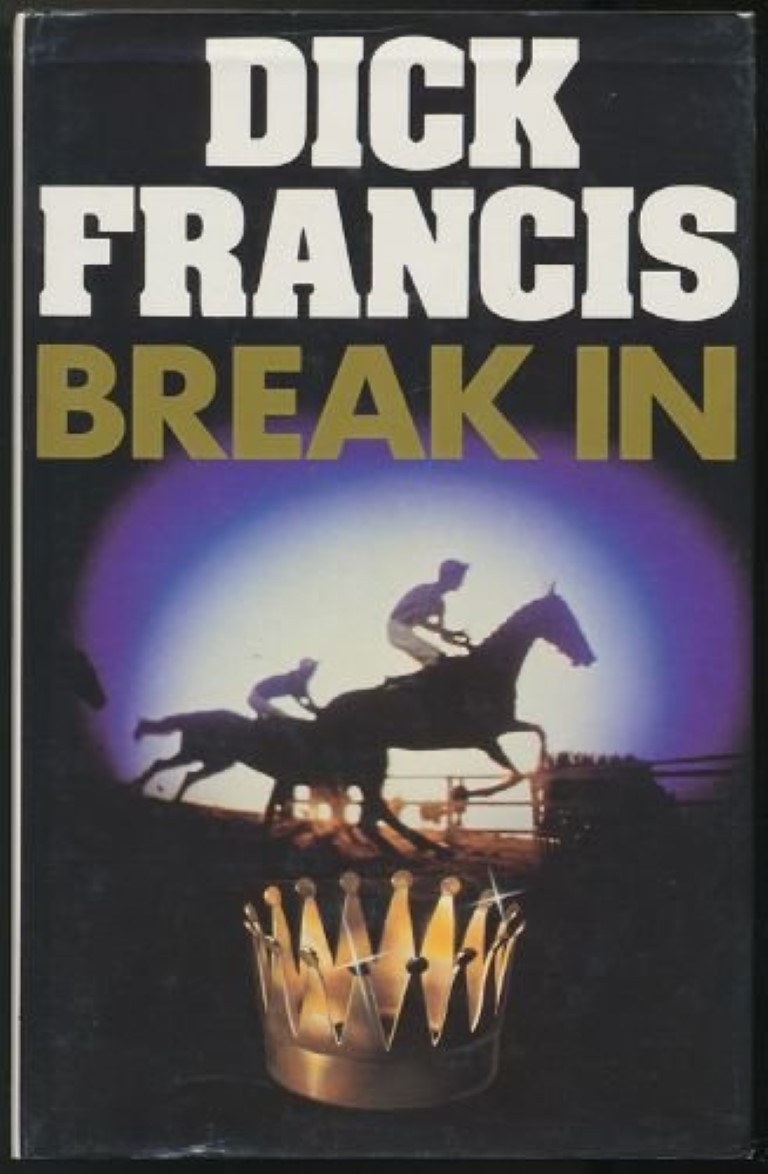 A classic mystery thriller set in the world of horse racing.
ISBN0718125975
modern first edition, equestrian
VG hardback in VG dust jacket
$25 C/C
Michael Joseph 1985 First Edition, 272pp.
[#4387 ]
BOWMAN Martin.

Jane's Battles with the Luftwaffe
The Bomber Campaign Against Germany 1942-45.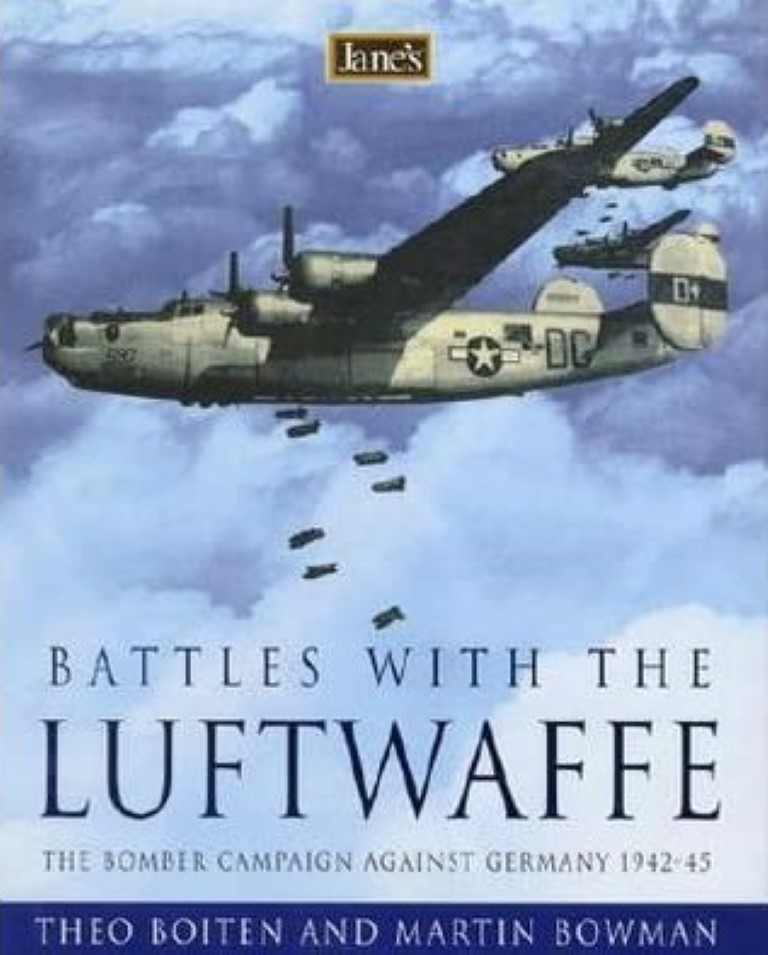 Covers technological advances and secret weapons, and in-depth service details of Luftwaffe aces.
ISBN0007113633
Second World War, Fighter Pilots, Bomber Command, Aviation, Military, wwii
VG+ hardback in VG+ dust jacket
$45 D/D
Harper Collins 2001 First Edition, 240pp.
[#4388 ]
24/3/2020ev
ROBERTS J M

The Mythology of the Secret Societies
revised edition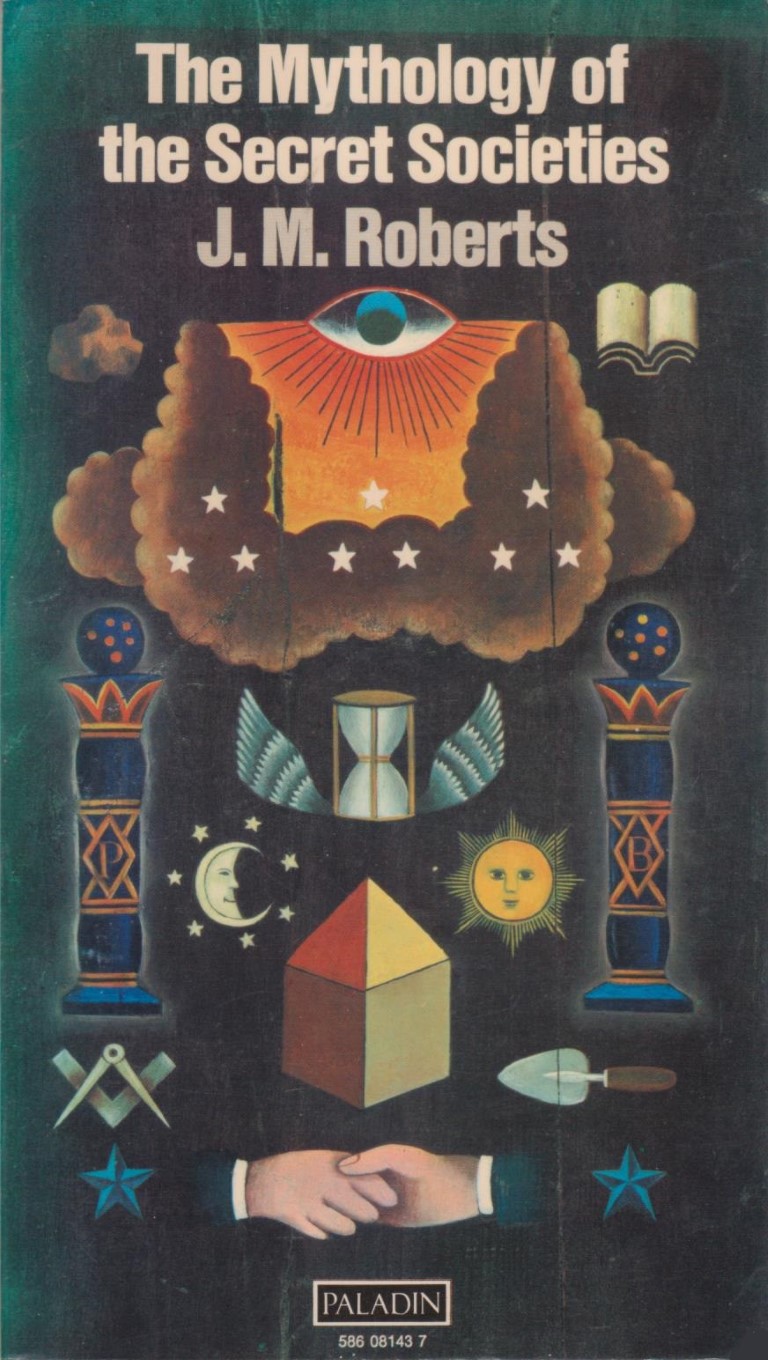 Investigates historical Freemasonry, Anti-masonry, Occult societies, Illuminati and Weishaupt, involvement in the French Revolution, involvement in Italian nationhood, and Napoleonic societies.
ISBN0586081437

VG softback, remainder stripe to bottom edge, light reading wear
$25 C/B
Paladin 1974 first paperback edition, 478pp.
[#1257/4351 ]
ROBERTSON Angus Cameron

Salt Sea Tang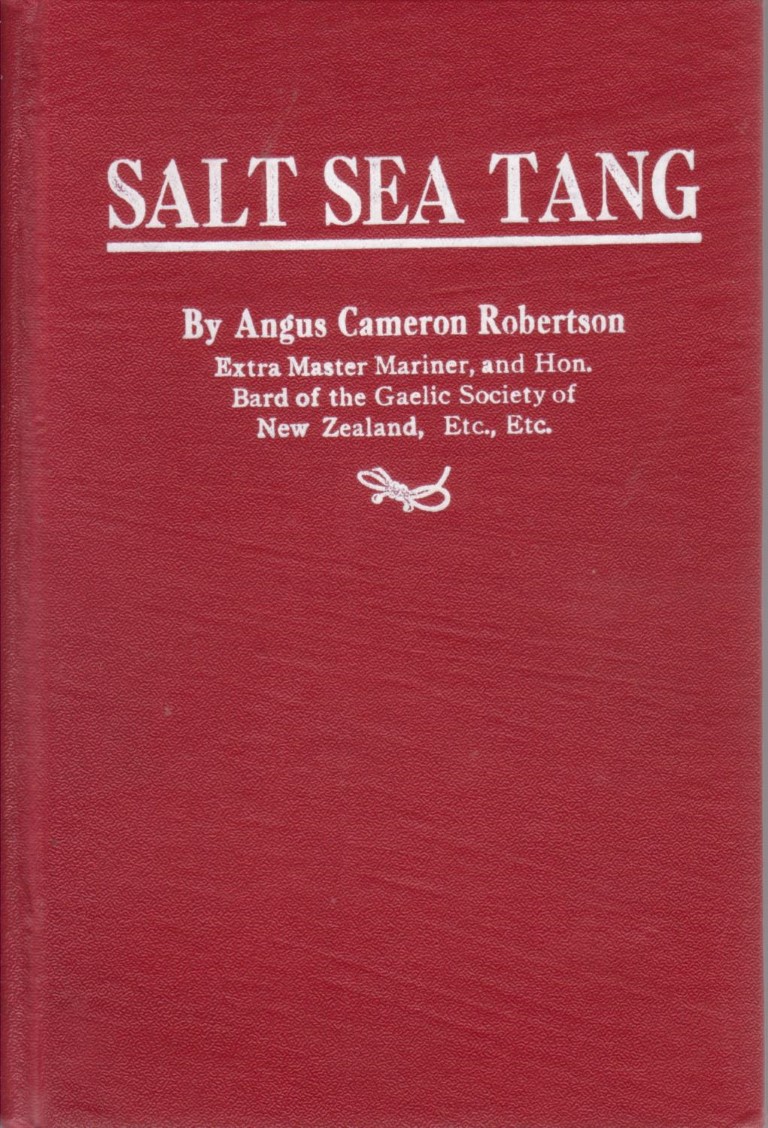 Author credited as "Extra master mariner, Hon. Bard Gaelic Society of New Zealand.
Assorted collected writings over the years by this chap who started life on the Isle of Skye as a herring fisher speaking only Gaelic.
Much to do with the sea, New Zealand people and places, with emphasis on Otago, his journeys in foreign parts etc.
Some of the poetry is in Gaelic

scottish, scottish diaspora, literature, celtic new zealand
VG cloth hardback, faint india ink writing to paste down, light foxing to closed edges.
$35 C/B
David M Lister 1927 first, 362pp.
[#4352 ]
STARTUP Bill & Neil Illingworth.

The Kaikoura UFOs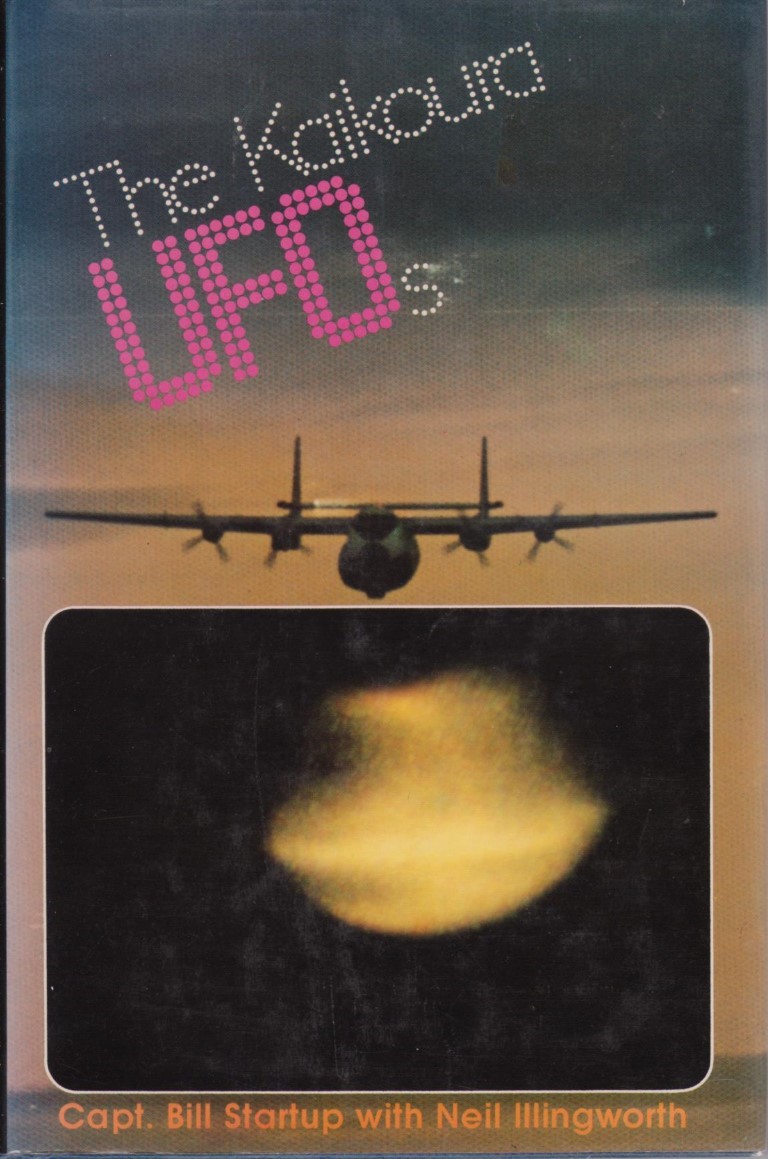 Adetailed and rational account of the first encounter with UFOs recorded on film (still and moving) supported by visual and radar observation, as seen over Kaikoura in December 1978.
ISBN0340256893
extra terrestrial, close encounter, alien, new zealand
VG+ hardback in VG+ dust jacket.
$35 C/C
Hodder 1980 First Edition, 209pp +plates including in colour
[#4353 ]
OGILVIE Gordon

The Riddle of Richard Pearse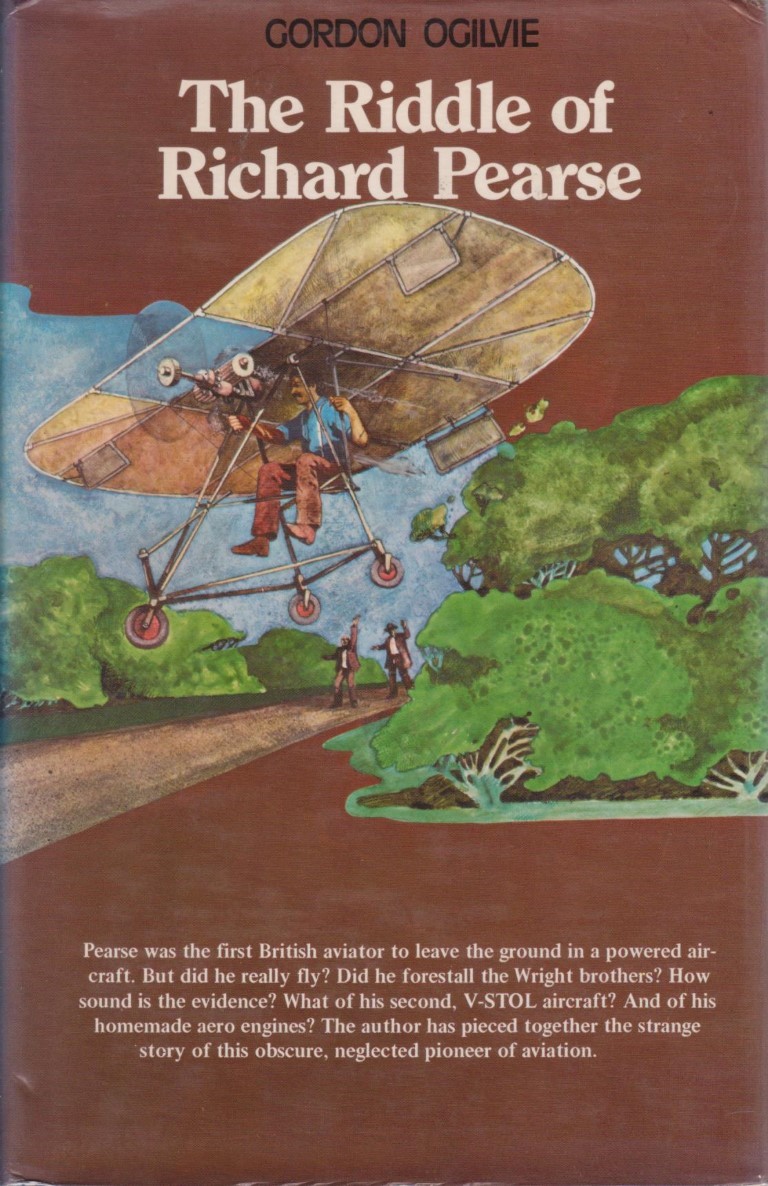 Pearse was the first British aviator to leave the ground in a powered aircraft. But did he really fly?
Sometimes rumoured to have beaten even the Wright brothers he went on to complete many ingenious inventions.
A fascinating account of an aviation pioneer.
ISBN0589007947
new zealand transport, engineering, aviation, south canterbury
VG hardback in VG dust jacket, sunned spine.
$30 C/C
Reed 1973 First Edition, 251pp + plates, map end papers.
[#4354 ]
PETRA

Beyond Belief
SHEET MUSIC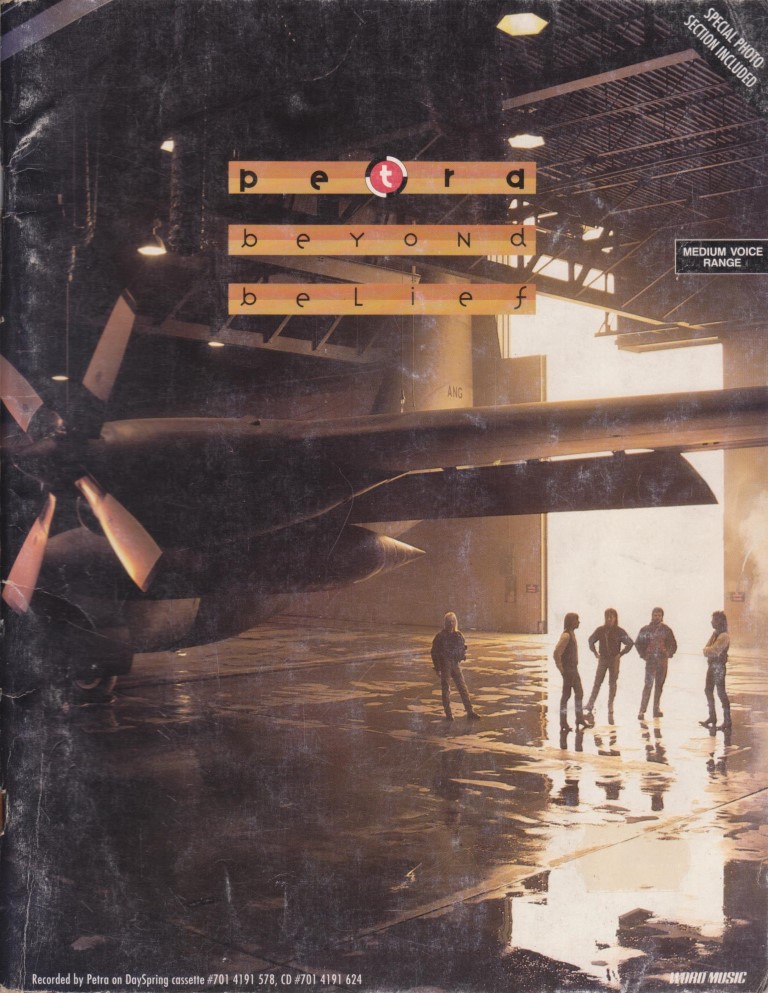 10 songs from Christian metal band, transcribed by Bryce Inman.
ISBN3010188498
heavy metal, christian rock
VG- softback with rubbed edges.
Bookseller label at foot of title page, middle 4pp photo section missing (pp47-50).
$20 B/B
Word Music 1990 stapled wraps, 95pp, 10 songs from Christian metal band.
[#4355 ]
PETRA

On Fire
SHEET MUSIC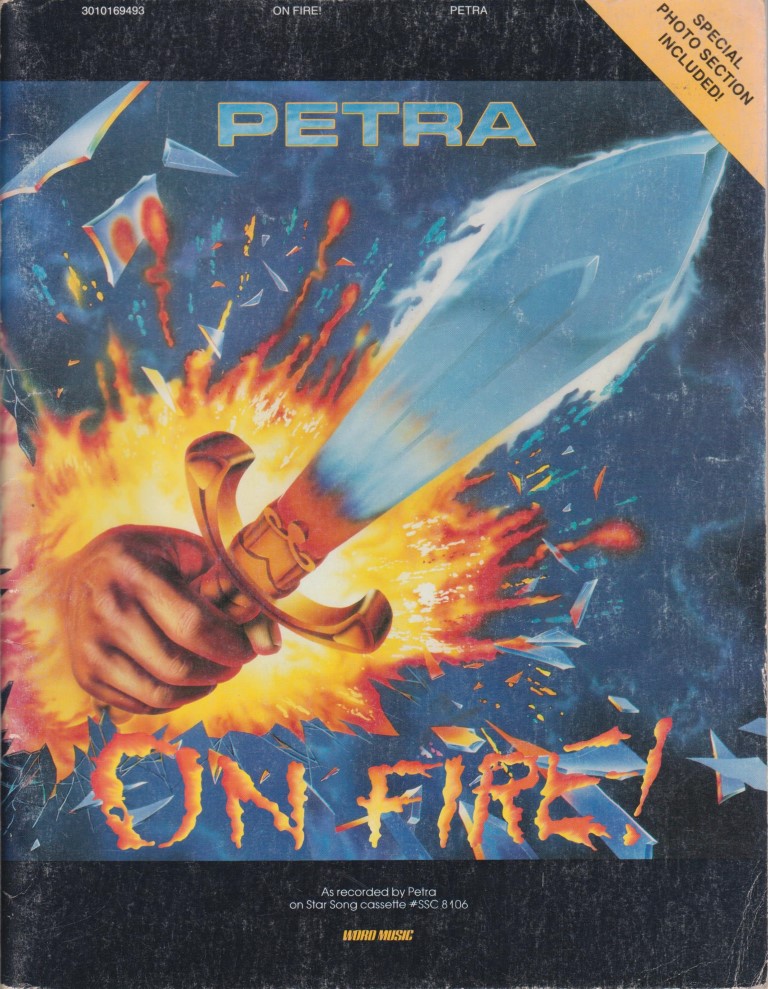 10 songs from Christian metal band, transcribed by Bill Wolaver.
ISBN3010169493
heavy metal, christian rock
VG- softback with light rubbing to edges.
Bookseller label foot of title page.
$20 B/B
Word Music 1989 stapled wrappers, 87pp with photo section.
[#4356 ]
STREISAND Barbara

Guilty
SHEET MUSIC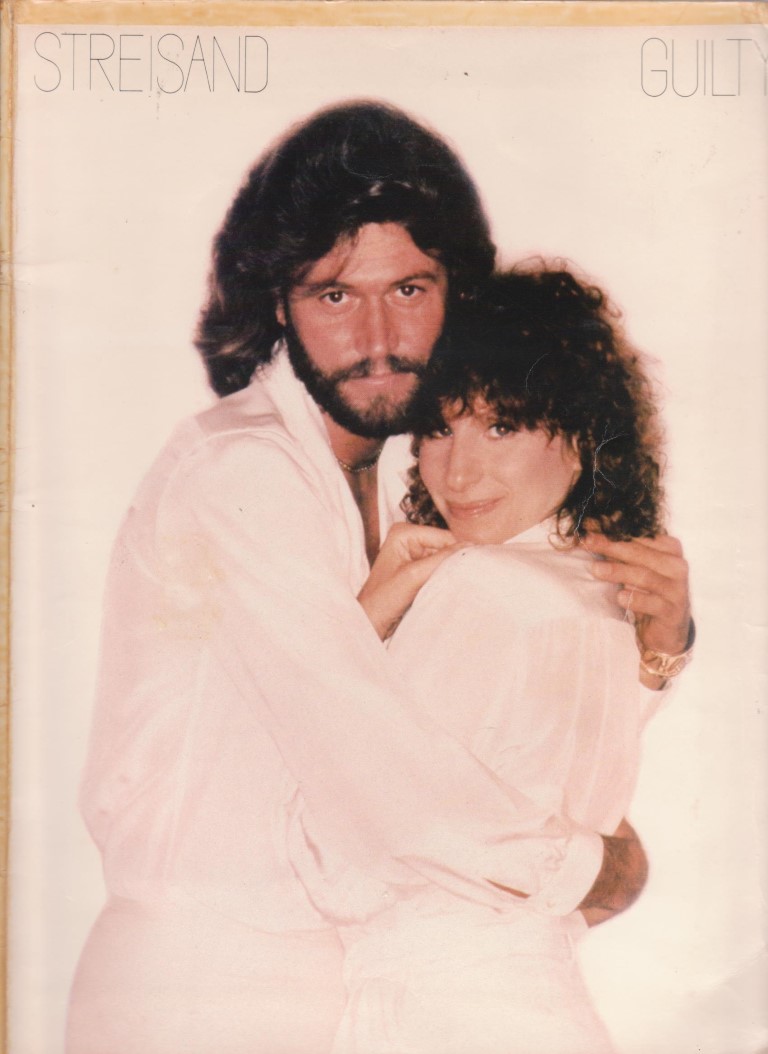 Musical notation for 9 songs
Guilty;Woman in Love; Run Wild; Promises; The Love Inside; What Kind of Fool; Life Story; Never Give Up; Make it Like a Memory.
G+ softback
The edges of wrappers taped with yellowed clear tape with tape residue offsetting to first and last pages.
$15 B/B
Chappell 1980, 63pp.
[#4357 ]
15/3/2020ev
MAHY Margaret

The Changeover: A Supernatural Romance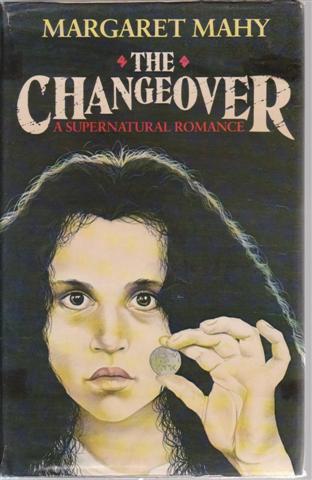 The face in the mirror. From the moment she saw it, Laura Chant knew that something dreadful was going to happen. It wasn't the first time she'd been forewarned. But never before had anything so terrible happened.
The horrifyingly evil Carmody Braque touched and branded her little brother – and now Jacko was very ill, getting steadily worse. There was only one way to save him.
Laura had to change over: had to release her supernatural powers. And that meant joining forces with the extraordinary and enigmatic Sorenson Carlisle…
A Carnegie medal-winning supernatural romance from Margaret Mahy, filmed in Christchurch in 2017 starring Timothy Spall and Melanie Lynskey
ISBN041652270X
new zealand, young adult fiction, first edition, supernatural
VG hardback in VG- dust jacket.
$45 C/C
Dent 1984 first edition, 214pp. [#2813/4344 ]
STRAUBEL C. R. edits

The Whaling Journal of Captain W.B. Rhodes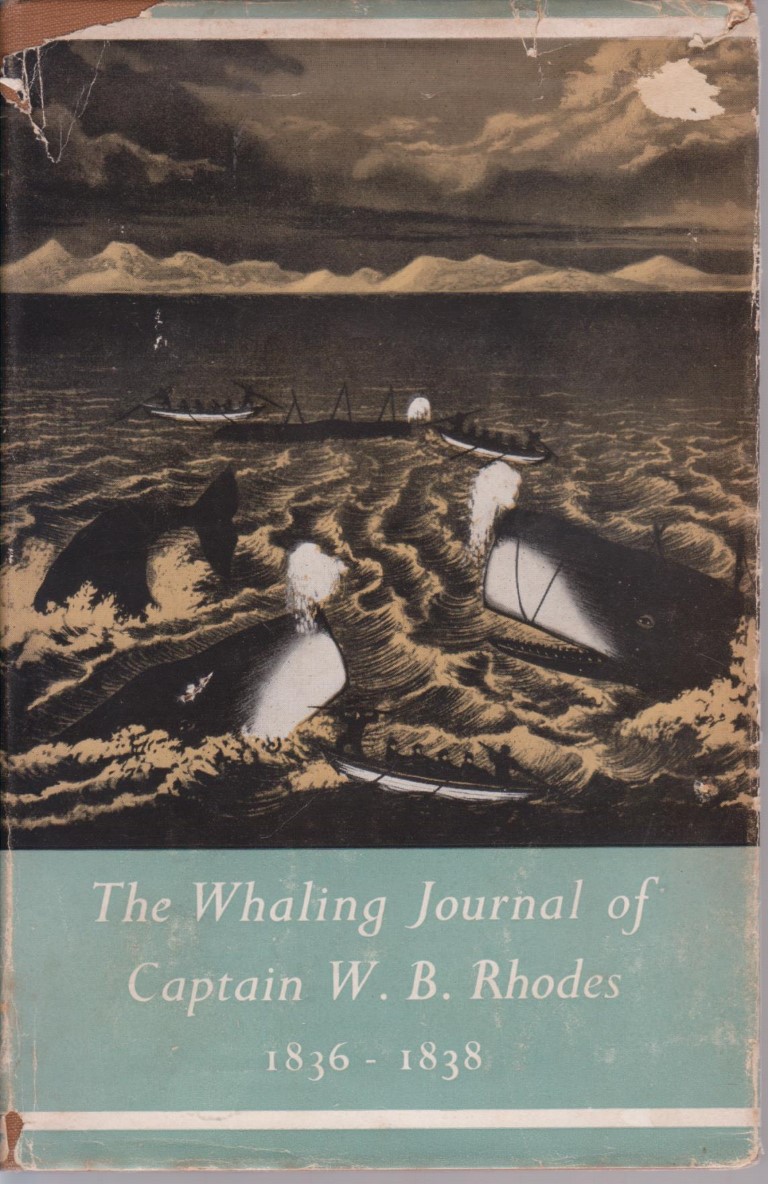 While engaged whaling on the Barque Australian of Sydney 1836-1838.
Rhodes whaling journeys ranged from Lyttelton to the Kermadec Islands, Tonga, New Caledonia and Sydney.
19th century, pacific, whaling, whaler, australian, new zealand, maori, lyttelton
VG hardback in G+ dust jacket with some edge chipping and minor loss
$35 C/B
Whitcombe and Tombs 1954 first edition, xxxviii 123pp + plates.
[#4345 ]
KINGSFORD A. R.

Night Raiders of the Air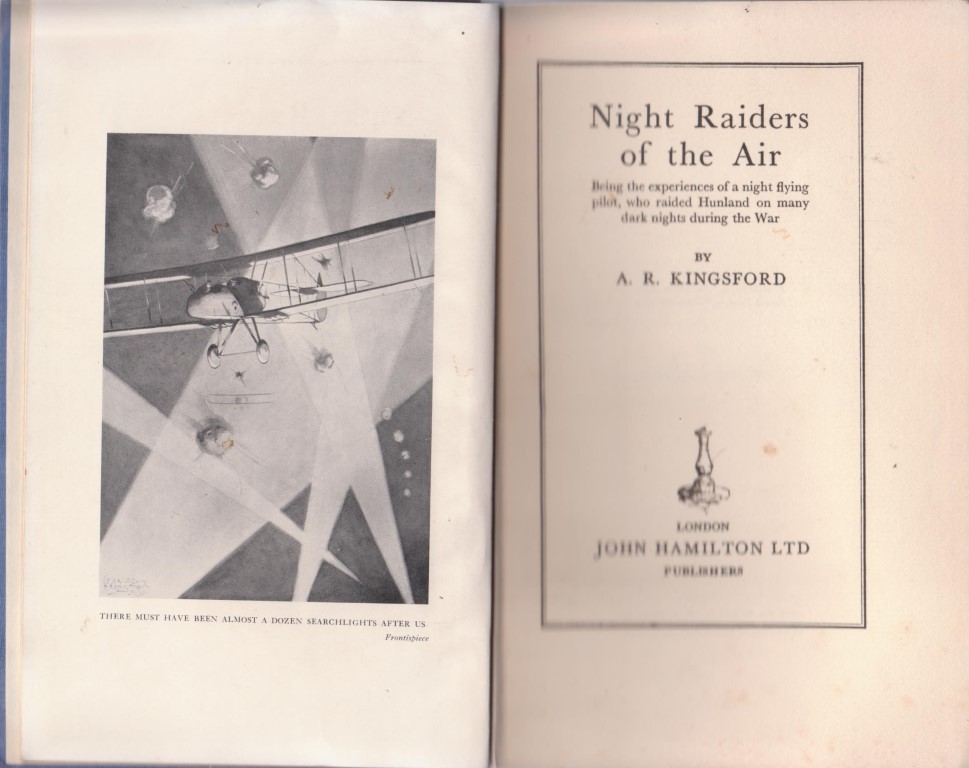 Being the Experiences of a Night Flying Pilot, Who Raided Hunland on Many Dark Nights During the War.
An exciting memoir written by a Kiwi in the RFC.
Alfred Reginald Kingsford left New Zealand in 1914, joining the RFC in 1917 and learning to fly at Northolt.
He was posted to 33 Squadron at Lincoln, flying against Zeppelins on night bombing raids before joining 100 Squadron in France early in 1918.
Royal Flying Corps, ww1, wwi, aviation, anzac, vintage
VG- hardback with no dust jacket.
School prize plate at front awarded to Eric Newell by Templeton District School 1935.
$45 C/C
Hamilton 1934 second printing, 208pp + plates.
[#4346 ]
CAFFYN Paul

The Dreamtime Voyage: Around Australia Kayak Odyssey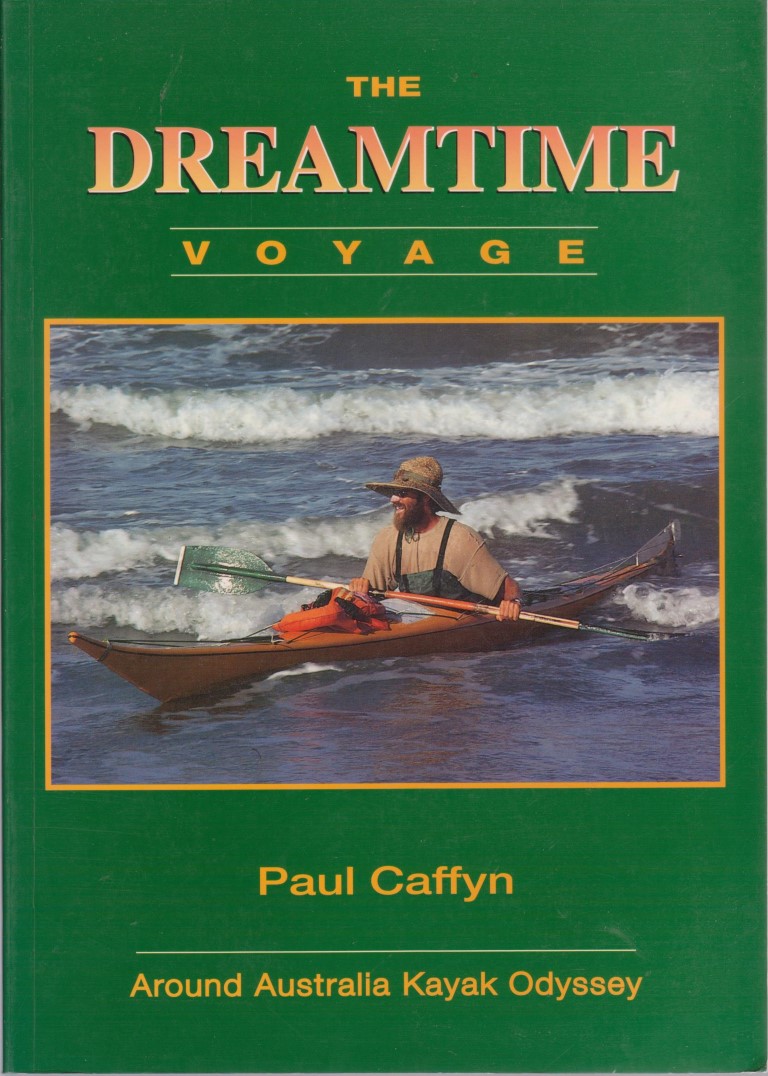 New Zealand West Coaster Paul Caffyn gives his own account of the first kayak circumnavigation of Australia.
Commencing in December 1981 it took him 360 days to complete the 9,420 mile journey.
First softcover printing of this rare book, complete with colour photos.
ISBN941679000259
exploration, kayak, canoe, australia, ocean kayak,
VG+ softback
$75 B/C
Kayak Dundee Press 1994 Second printing, 186pp.
[#4347 ]
POWNALL Glen

New Zealand Shells And Shell Fish: Collecting, Eating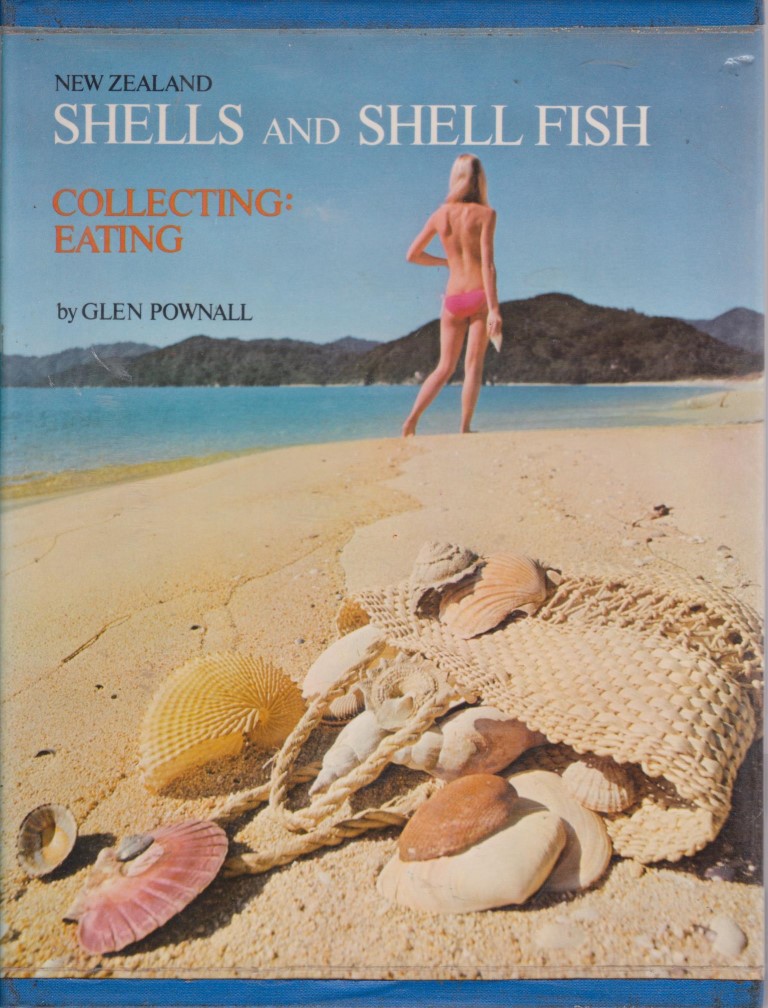 Nice retro title on New Zealand shellfish.
Four sections: Collecting, Identifying, Finding and Preparing Edible shellfish, Recipes.
With colour photographs and taxonomy.
ISBN0854670122
molluscs, mollusca, foraging, survival, seafood, kai moana
VG hardback in VG dust jacket
$20 B/C
Seven Seas publishing 1971 first edition, 87pp.
[#4348 ]
PRICE Mark

Getting Away with Murder: The Jennifer Beard Inquiry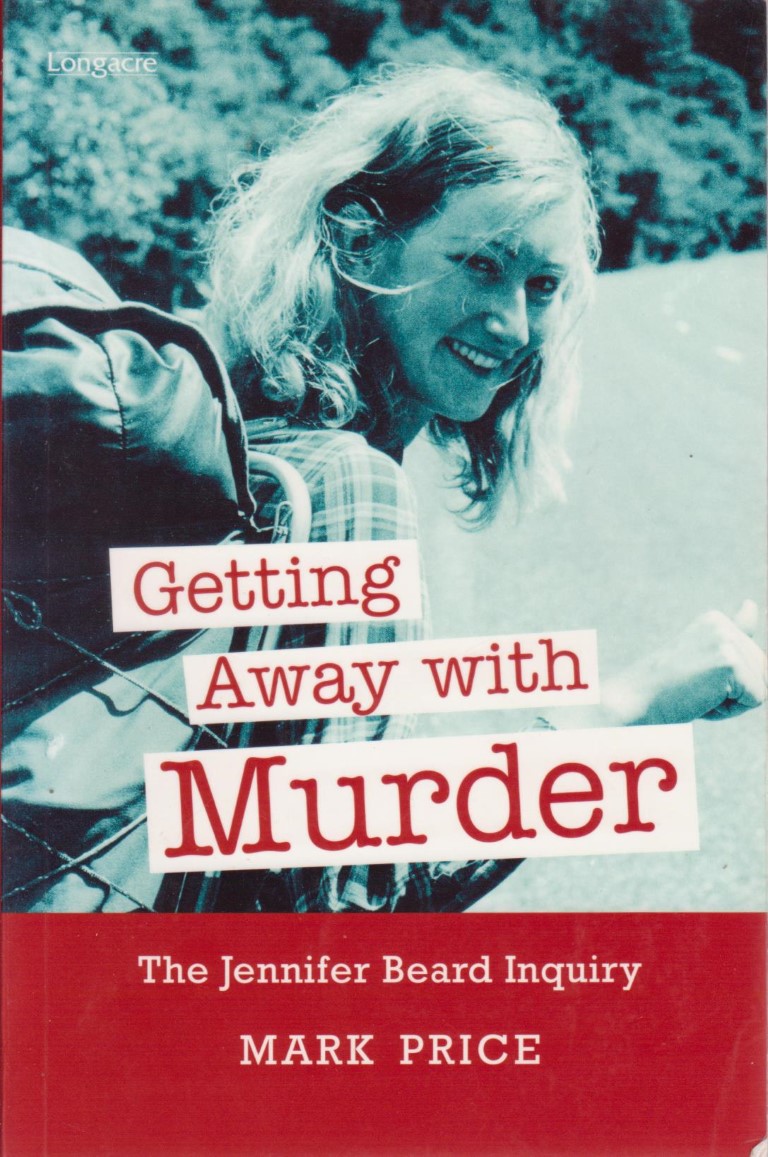 In 1969 Jennifer Beard was murdered as she traveled a remote road near Haast Pass.
At the time, the Jennifer Beard inquiry was described as the biggest manhunt in new Zealand's history.
One suspect stood out, yet despite physical evidence and eyewitnesses connecting him to the murdered woman, Gordon Bray was never charged and the case remains unsolved.
ISBN9781877361081
new zealand, murder, true crime, cold case
VG softback
$15 C/B
Longacre Press 2005 first edition, 304pp + plates.
[#4349 ]
TAYLOR Ivan D.

Let 'Em Go!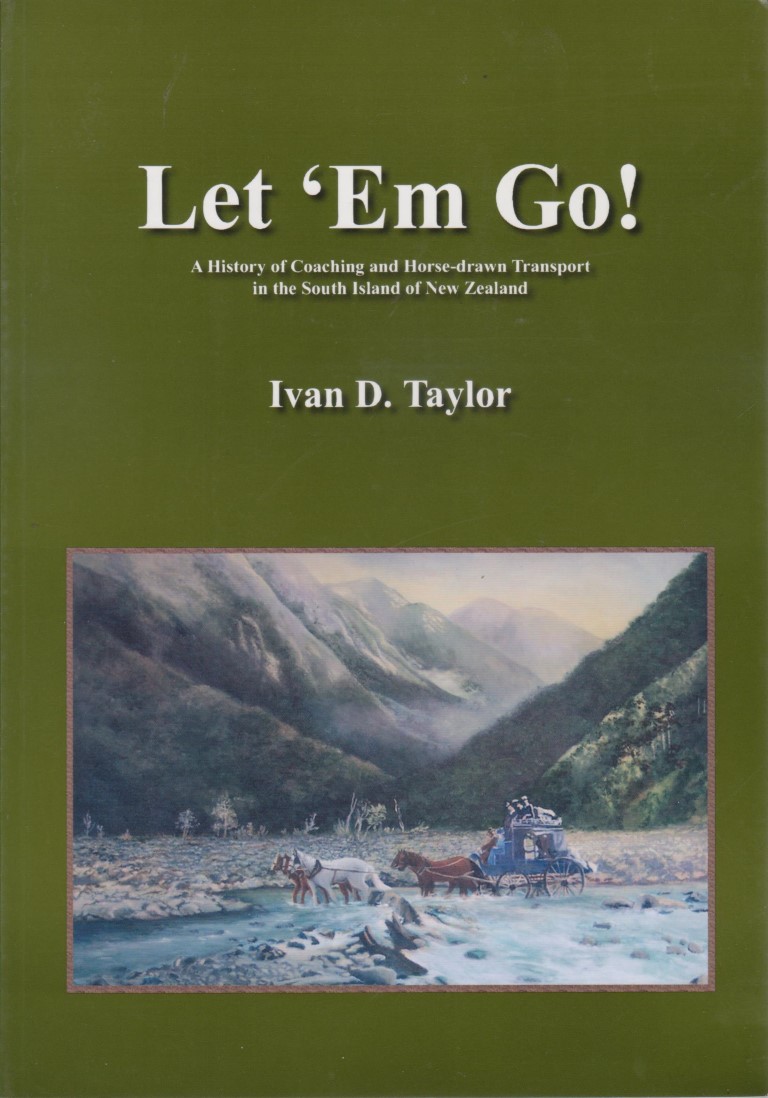 A History of Coaching and Horse-drawn Transport in the South Island of New Zealand
From the origins of coaching in the United States, its extension to the Australian goldfields, and the arrival of Charles Cole in Dunedin in 1861 to establish a Cobb and Co. service to Gabriels Gully and further afield.
Good information on Otago and Canterbury transport.
ISBN9780908708741
history, Hoyt, Chaplin, Cole, Newman, accommodation houses, coaching routes, carriages
VG softback, signed by the author
$65 B/C
Heritage Press 2008 first edition, 120pp.
[#4350 ]
10/3/2020ev
LEVINE Stephen

A Standard for the People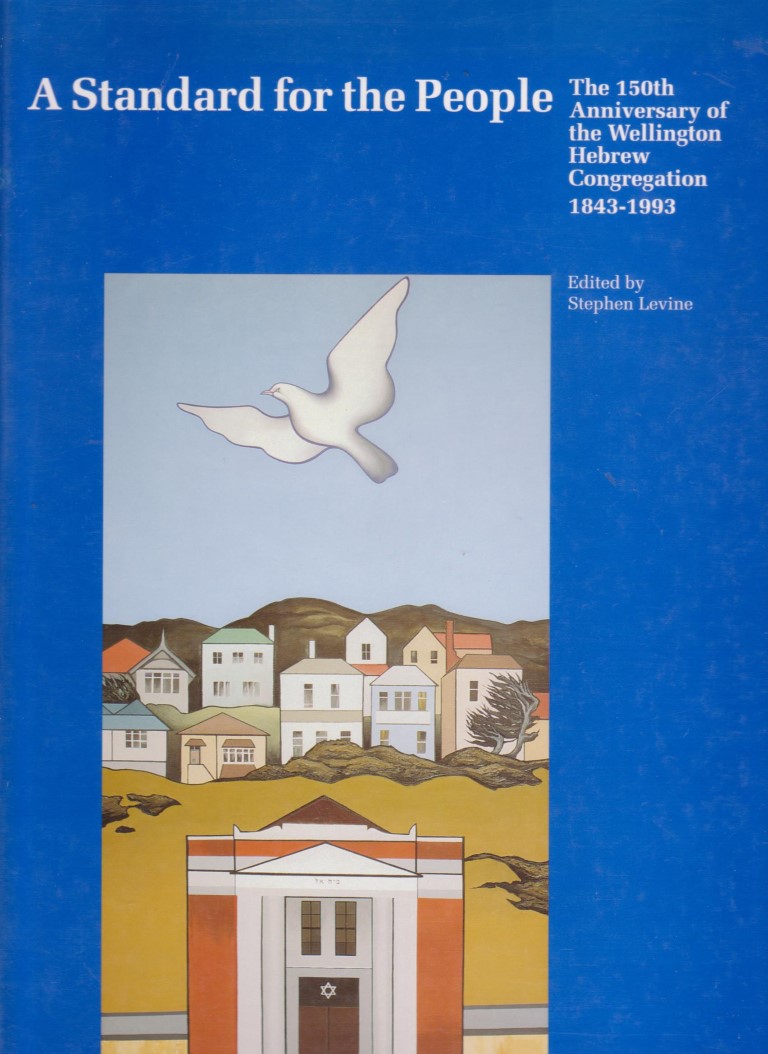 The 150th Anniversary of the Wellington Hebrew Congregation, 1843-1993.
A history of the Jewish community in Wellington from the earliest Jewish immigrants, establishment of the Synagogue, creation of Jewish schools and associations etc.
Limited to 1250 copies.
ISBN0908790821
judaism, hebrew, jews in new zealand, jewish history
VG hardback in VG dust jacket
$55 D/D
Hazard Press 1995 First Edition, 478pp.
[#4338 ]
WATERS Lance

Mostly a Farmer, 80 Years of Living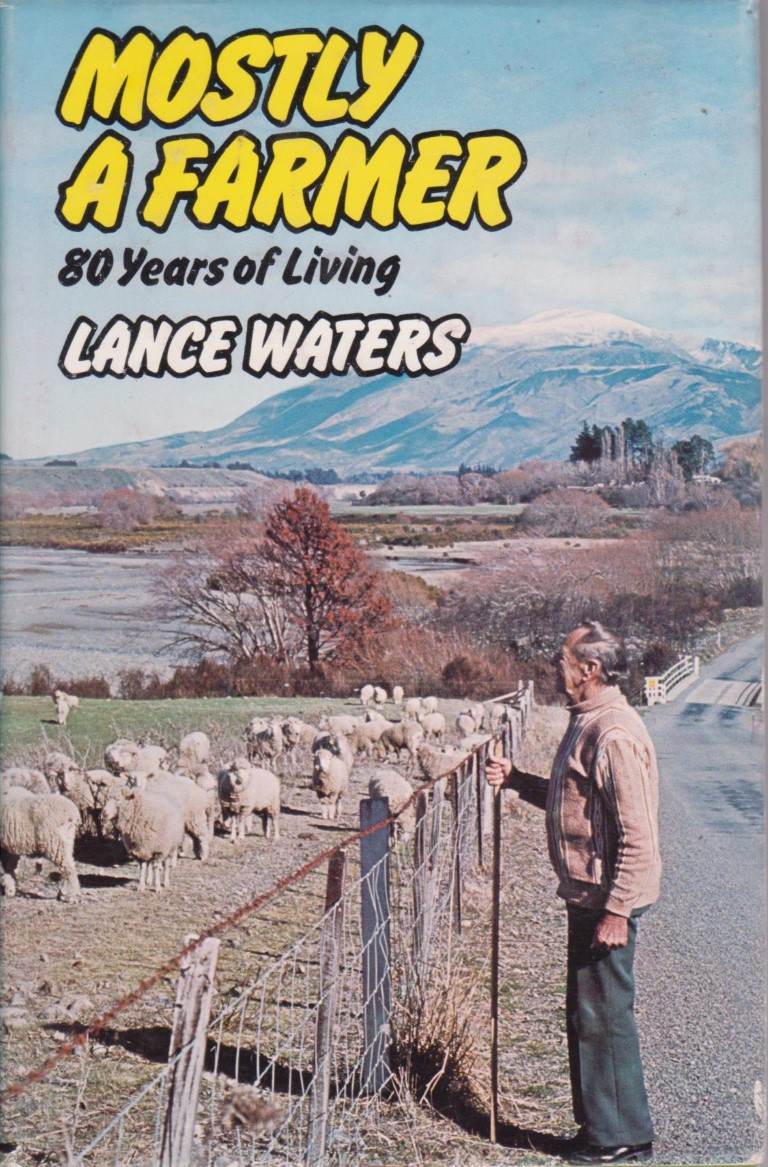 An autobiography by a farmer who has lived a long and interesting life, mainly in Marlborough.
He was there for the Murchison earthquake, and saw service overseas in WWI.
Good information on the social history of Murchison and surrounds.
ISBN0908561016
Awatere, Murchison, ww1
VG hardback in VG dust jacket
$30 C/C
Cape Catley 1976 First Edition, 193pp.
[#4339 ]
BUSHBY Tony

The Bible Fraud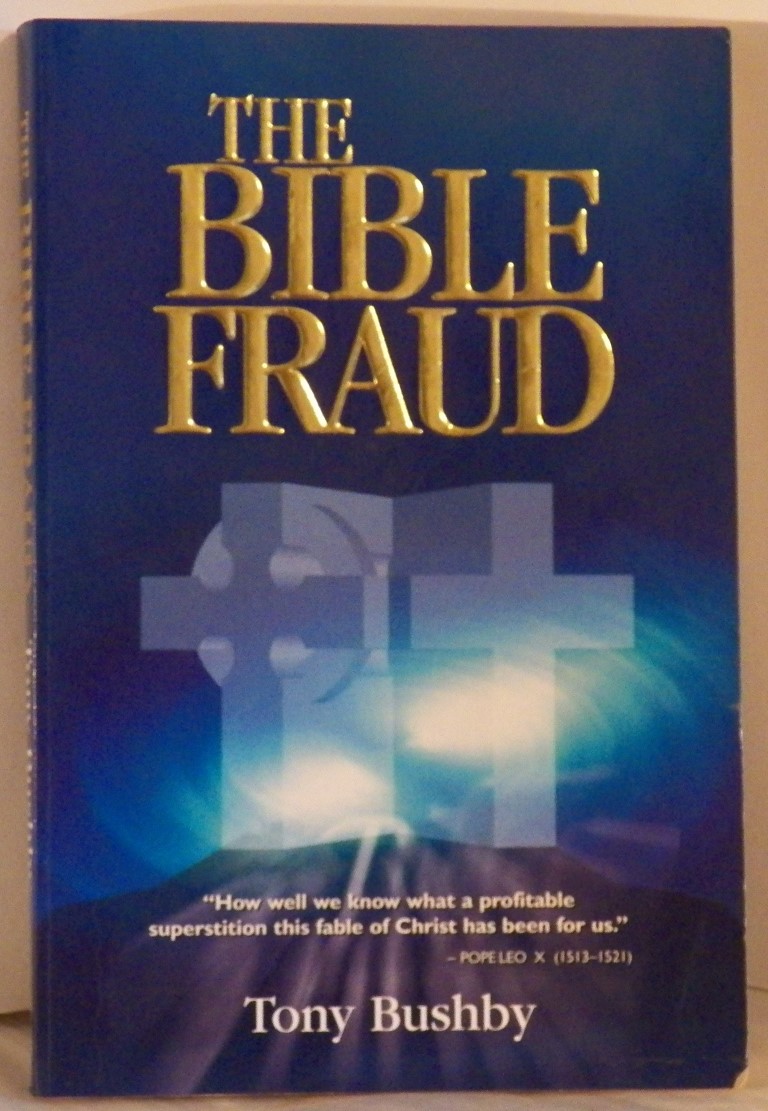 The Untold Story of Jesus and His Twin Brother, Judas Khrestus.
The truth about Rabbi Jesus and his twin brother, their birth, marriages and deaths, as well as the bloodlines that have resulted from events of that time.
King Rabbi Jesus is claimed to be an initiate of the Ancient Mysteries, and part of the Ancient Royal Lineages of Europe.
ISBN0957900716
christianity, religion, ancient mysteries, khrestians, jews, judaism, bloodline of jesus,
VG softback
$25 C/C
Joshua Books 2001 First Ediion, 271pp.
[#4340 ]
BROWN Derek

A Loco Man's Life 1950-1990
Derek recounts 40 years on the rails, mainly in the North Island.
A good mix of technical details and reminiscences and recollections.
Illustrated
steam, locomotives, railways, new zealand transport, hawera, wanganui, tiger country, stratford, taumaranui
VG softback, name to first page.
$30 C/B
Derek Brown, Otaki 2004 First Edition, 194pp.
[#4341 ]
O'REILLY Peter

The Spirit of O'Reillys
The World At Our Feet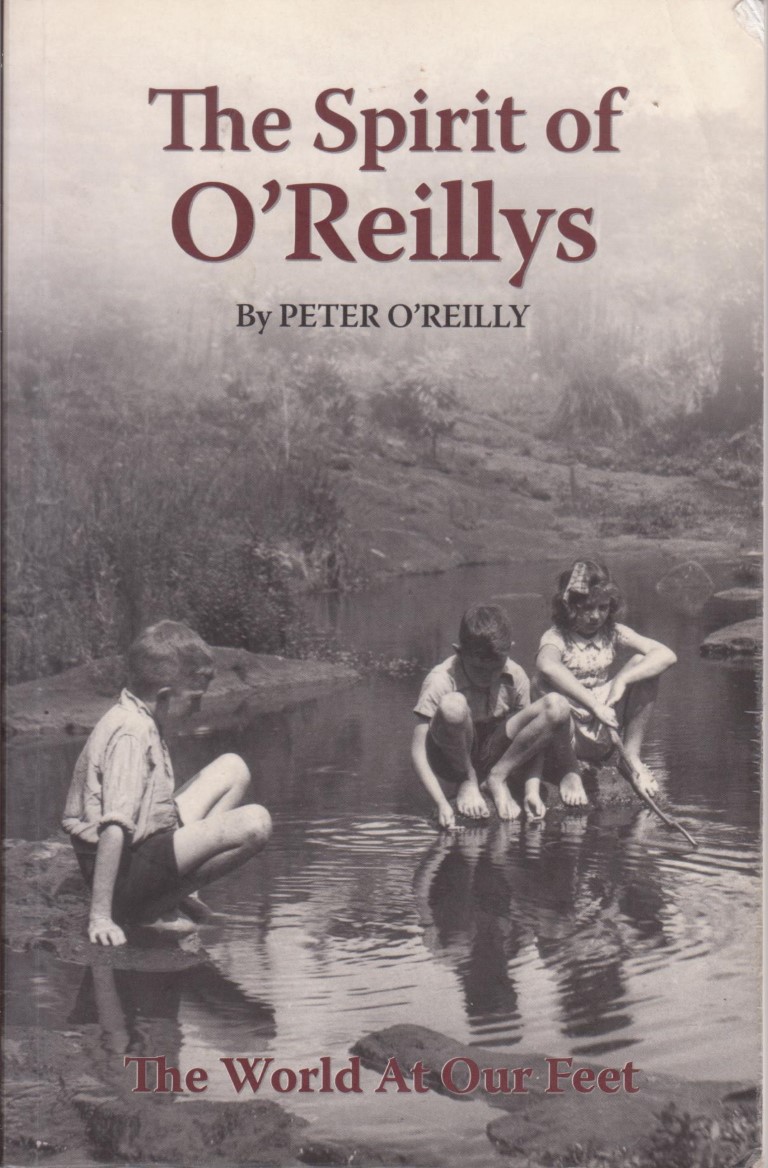 The O'Reilly family used axes and wagons to access the Lamington Plateau, building a remote Guest House in the mountains which still functions over 100 years later.
This family history shows how they have continued to contribute to the local and national community.
ISBN9780646496016
O'Reilly's Rainforest Retreat, australian family history, Lamington National Park, Queensland, McPherson Range
VG- softback, with author's gift inscription to first page.
$30 C/C
Peter O'Reilly 2008 First Edition, 269pp.
[#4342 ]
OVASON David

Lost Symbols?
The Secrets of Washington D.C.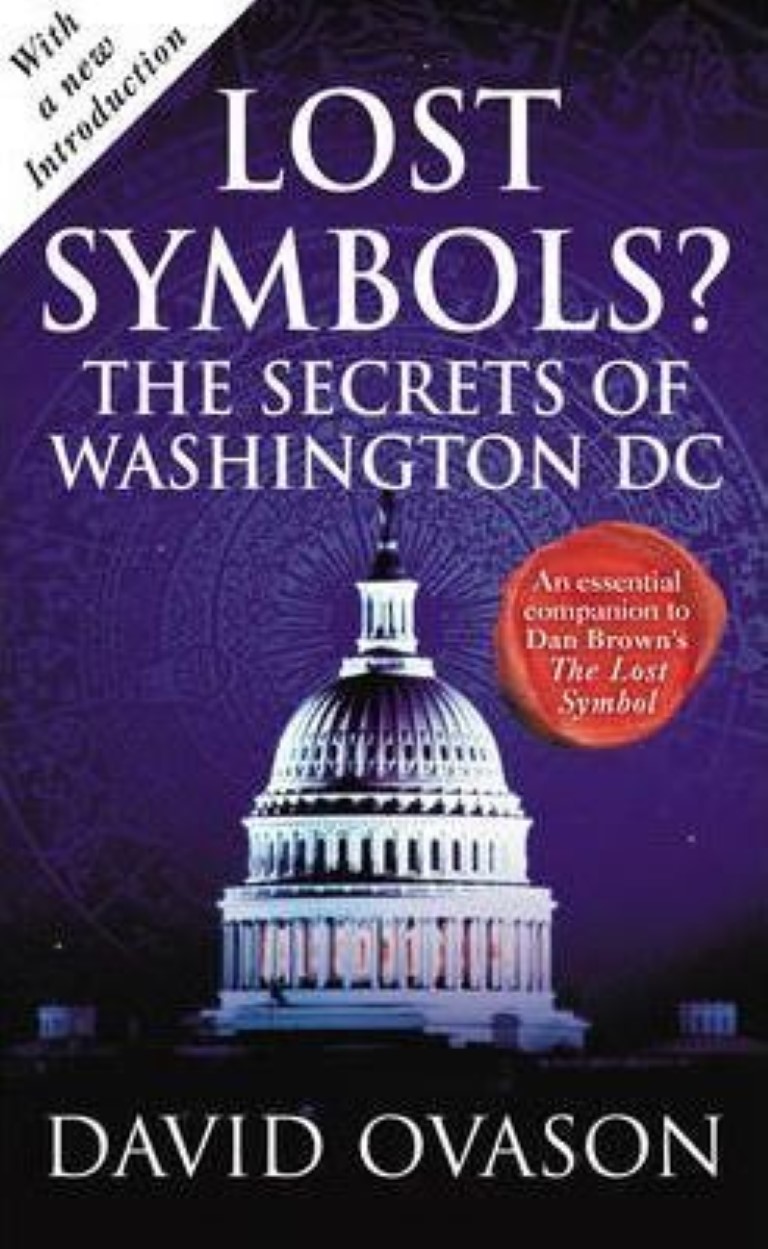 The intimate connections between the mysterious zodiacal symbols and the stellar lore of Washington, D.C. and the secret plan for the city.
There are over fifty complete zodiacs in Washington, D.C., Why did generations of architects and artists use this symbolism when designing this City of the Stars?
What or who drove them to create a city overflowing with such esoteric symbolism, and what is the meaning behind Washington, D.C.'s layout?
ISBN9780099548089
freemasonry, masonic, US history, secret societies, occult geography
VG paperback
$20 C/C
Arrow 2009 reissue of The Secret Zodiacs of Washingon D.C.. 635pp + photos.
[#4343 ]
7/3/2020ev
SMITH Sydney

Mostly Murder
An Autobiography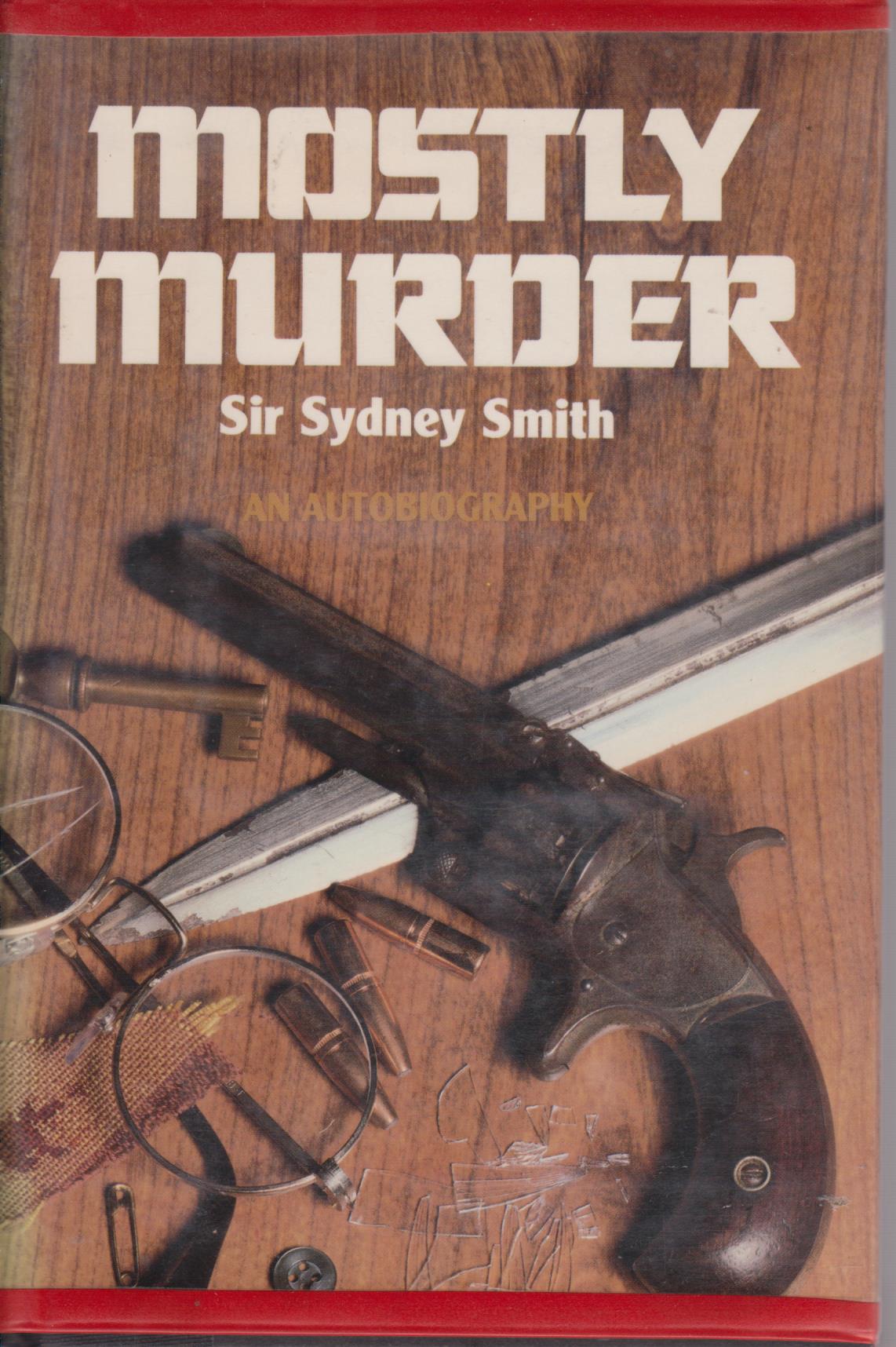 Sir Sydney Smith was a New Zealander who became famous as one of the Empires greatest pathologists.
With a new foreword by Professor Keith Simpson.
Includes Sidney Fox, Annie Hearn, Chrissie Gall, and the Ruxton cases, and the Auckland Arsenic Mystery of Mrs Wilson.
ISBN0880293063
true crime, criminology, pathology, forensic pathology, memoirs,
VG hardback with VG dust jacket.
$15 C/C
Dorset Press 1988 first thus after 1959 original, 318pp + photos.
[#4336 ]
McNEISH James

The Sixth Man: The Extraordinary Life of Paddy Costello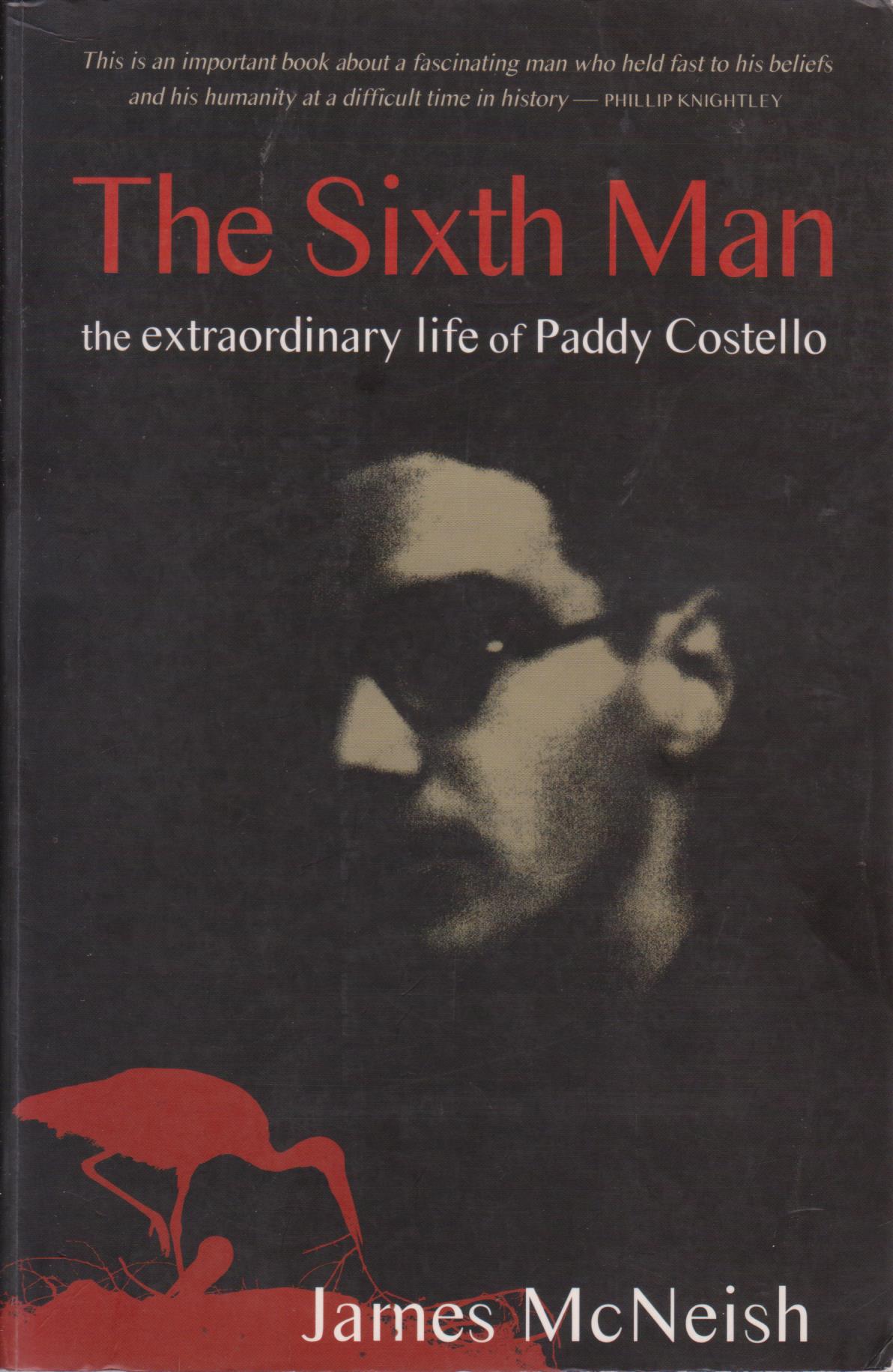 General Freyberg's favourite Intelligence officer who held pre-war Communist views, was long rumoured to be a spy for the Soviets.
Philip Knightley's preface concludes; "This long overdue biography sets the record straight. It convincingly shows that the slim evidence for the traitor charge was invented, exaggerated and misinterpreted."
ISBN9781869418915
new zealand, biography, diplomacy, espionage, communism, cold war
VG softback
$20 C/C
Vintage 2007 first edition, 414 pp + photos.
[#4337 ]
2/3/2020ev
BRUNO Frank

Maleesh George
Humorous peices on the life of the Kiwi Digger in the Middle East campaign during the Second World War.
With cartoon illustrations by the author Ex-8867 A.F. St. Bruno and W. P. Gibson Ex-7761
anzac, digger, ww2, wwii, Egypt, North Africa, humour
VG- softback with a little wear and former owner details in pen to title page.
$30 A/A
Wright and Jaques, First Edition, 96pp.
[#4332 ]
CHAMBERS W A

Our Yesteryears 1840-1950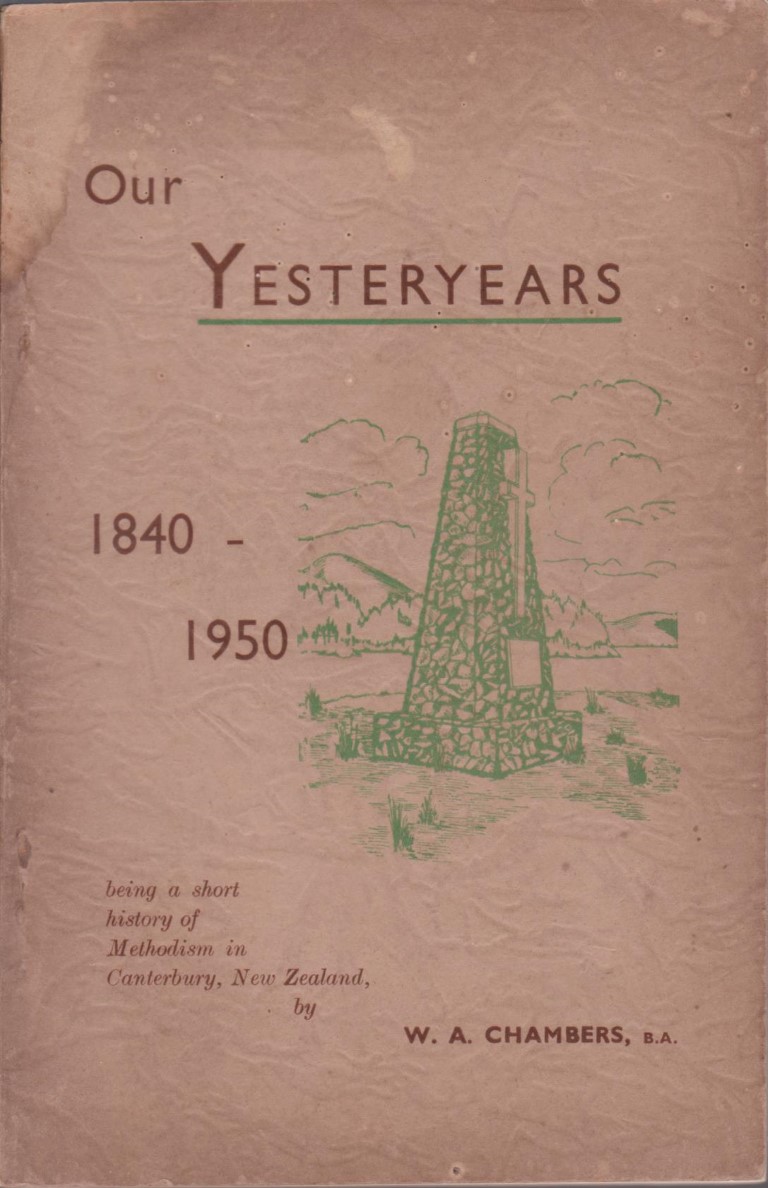 A short history of Methodism in Canterbury, New Zealand, including the Wesleyan Maori Mission, the United Methodist Free Church, and more.
church history, colonial
VG softback with light mark top spine end and corner of covers to the wrappers only, internally clean.
$30 B/A
Willis & Aiken (1950) first edition, 70pp + plates.
[#4333 ]
ROBSON J L

Sacred Cows and Rogue Elephants
Policy development in the New Zealand Justice Department.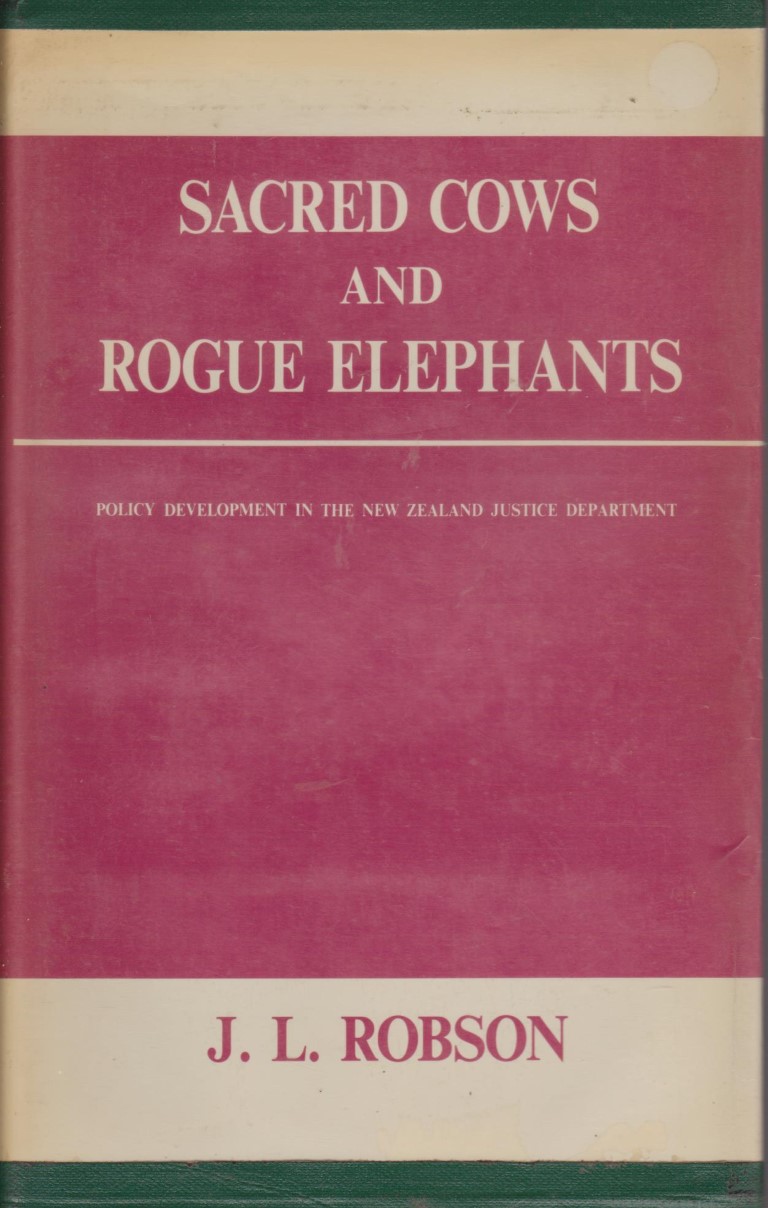 The author discusses his role in the Department, and an overview of it's history, with emphasis on the 1960s.
Includes discussion of Barnett, Findlay, Matthews, Dallard eras.
Penal Administration and Policy; Capital Punishment; Constitutional Questions.
ISBN0477013732
law, criminology, judiciary, crime
VG hardback in VG dust jacket.
Ex library with stamps etc, jacket under plastic sleeve.
$25 C/C
Government Print 1987 first edition, xiv 296pp + plates.
[#4334 ]
25/2/2020ev
NEWMAN Lt. S D

Vietnam Gunners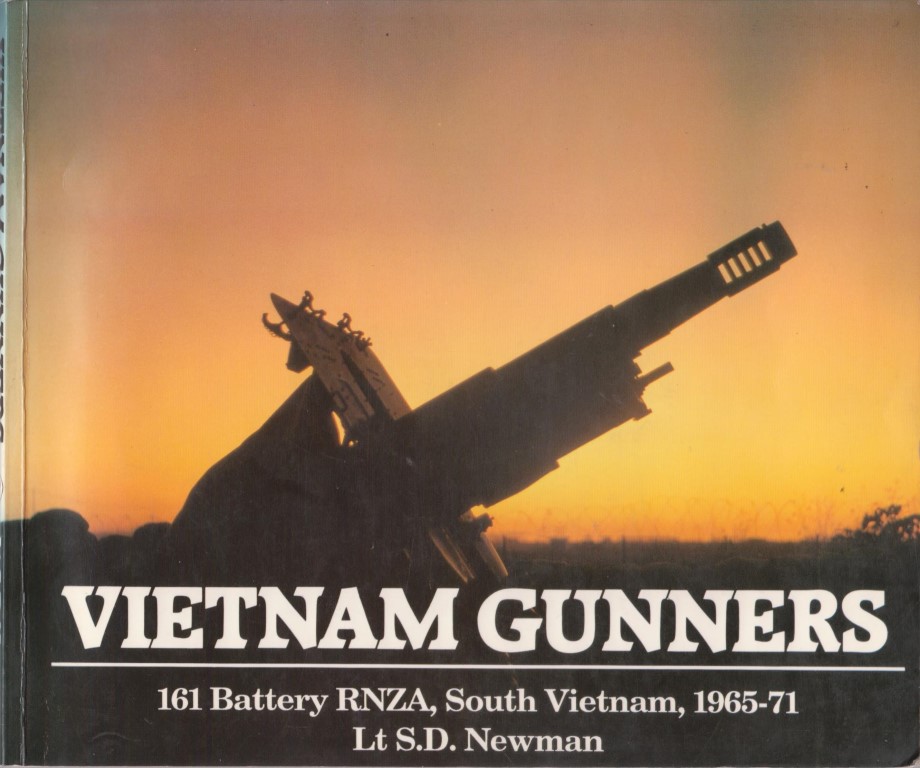 A detailed history of the tour of duty of 161 Battery RNZA, South Vietnam, 1965-71.
Includes personal accounts of service with the Battalion; Honours, Decorations and Awards; personnel list; and a bibliography.
A rare title.
ISBN0908705352
military history, kiwi, aussie, vietnam, fire support, artillery
VG softback
$95 B/C
Moana Press 1988 first edition, 152pp.
[#4328 ]
THOMAS W B (Sandy)

Dare to be Free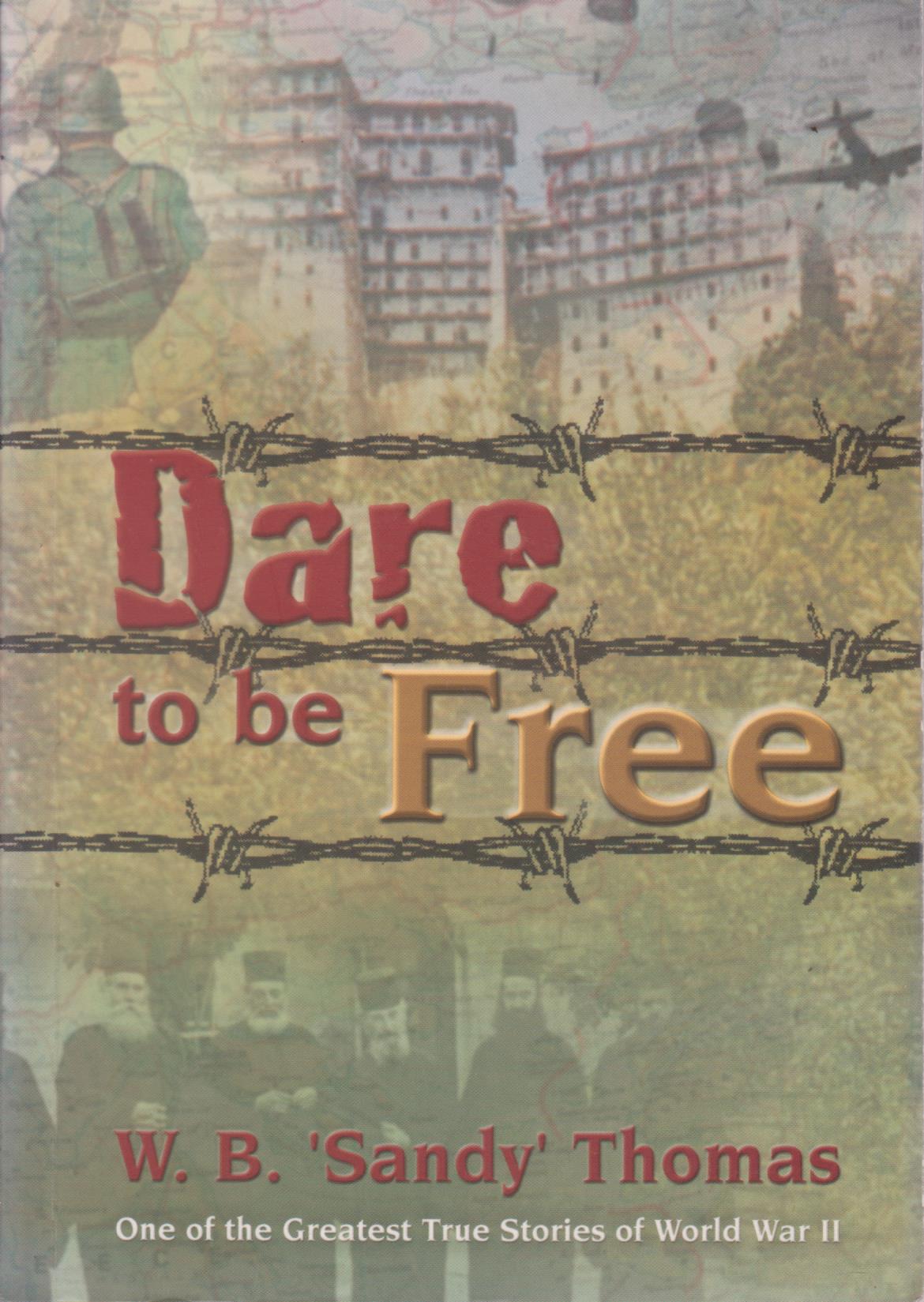 'Sandy' Thomas was captured on Crete and became an habitual escaper from Axis P.O.W. camps.
He spent nearly a year amongst the crags of Greece's Mt Athos.
ISBN0473077728
ww2, anzac, kiwi, Crete, Greece, Mt Athos, POW
VG softback, signed by author
$40 C/B
Dryden Press 2001 new edition, 245pp.
[#4329 ]
CUTHBERTSON Ken

Two Dogs and a Rifle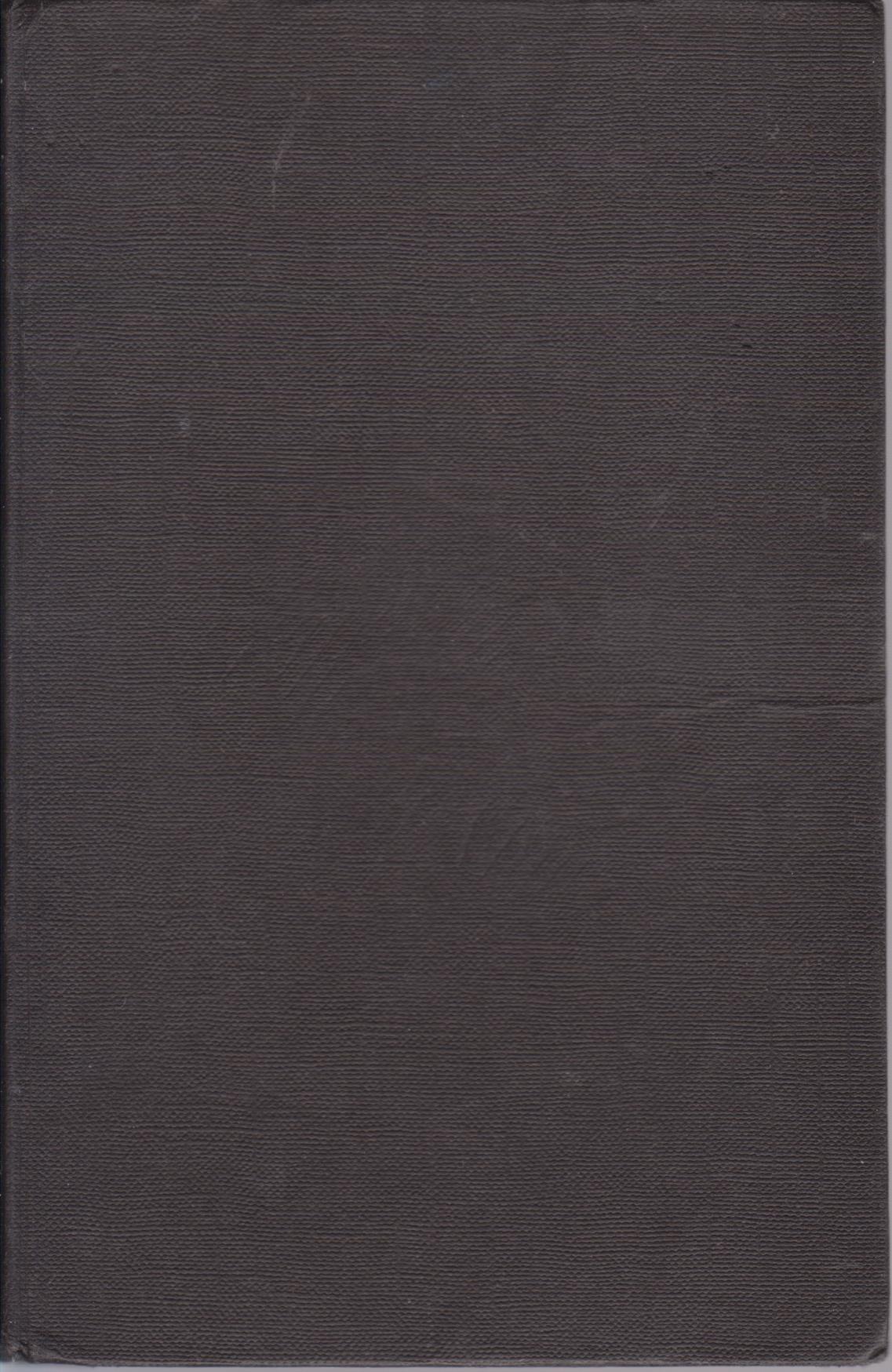 Quintessential New Zealand pig hunting with bailing dogs in the bush, 40 years of stalking in the bush from the 1920s to the 1960s
New Zealand hunting, Stalking Game, Hunting, Ken Cuthbertson, Wild Pig, Wild Boar
VG- hardback with no dust jacket
$45 C/C
Reed 1968 First Edition, 180pp+ plates.
[#4331 ]
16/2/2020ev
PHILLIPS A. A.

Always Ready
Christchurch Fire Brigade 1869-1985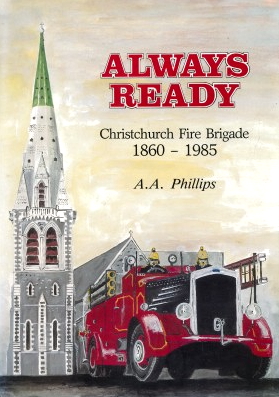 An excellent local history of the Christchurch City Fire Brigade, with details of the training, machinery and equipment, personnel and some notable fires attended to.
ISBN0959776303
firefighting, fire engines, fire brigade, public service, first responders, christchurch history
G+ softback, with former owner inscriptions at front pages, repaired split at head of spine.
$20 B/C
New Zealand Fire Service 1985, 96pp.
[#4322 ]
PATTERSON Rosemarie

A bob both ways, Celebrating 100 years of Naylor Love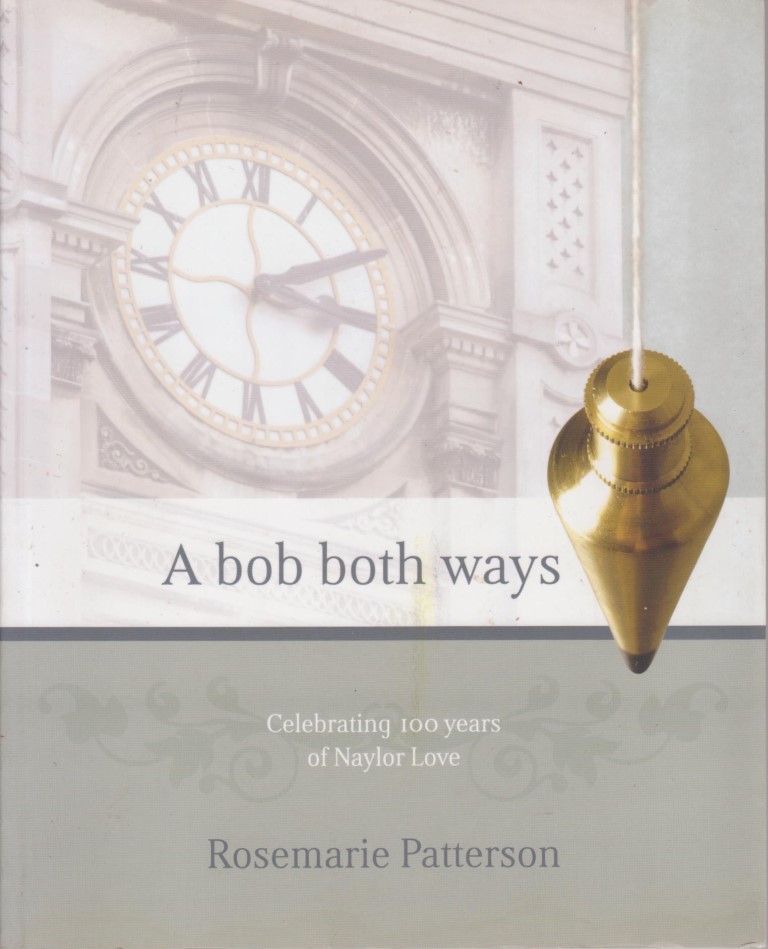 The centennial history publication of this construction company from the beginnings as two independent building companies in Dunedin in 1910, WH Naylor (Hugh Naylor born Clyde 1884)and Love Brothers Construction, formed by brothers JY, Bob and Bill Love in Port Chalmers.
In 1969, the Love Construction Company and WH Naylor merged to form Naylor Love.
ISBN9780473166809
company history, otago, construction, business, building
VG+ softback
$30 C/D
Advertising and Art 2010 first edition, 394pp.
[#4323 ]
AMODEO Colin editor

Rescue
The Sumner community and its lifeboat service.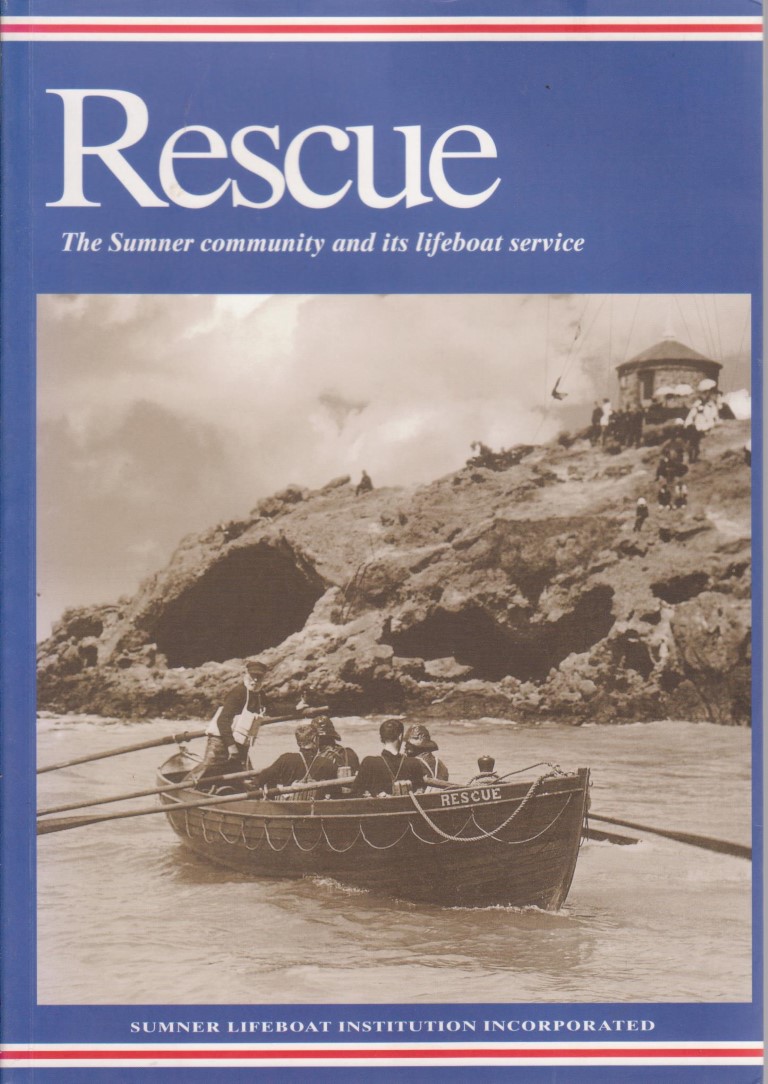 100 years of the relationship between the Sumner community and its lifeboat service, instrumental in making maritime commerce, recreation and transport about the coast that little bit safer.
ISBN0473051648
sumner volunteer lifeboat brigade, history, christchurch, SLBI, voluntary organisation, history
VG+ softback
$30 B/C
Sumner Lifeboat Institution Inc. 1998, 188pp.
[#4324 ]
LITTLE Paul

Air New Zealand: Celebrating 75 Years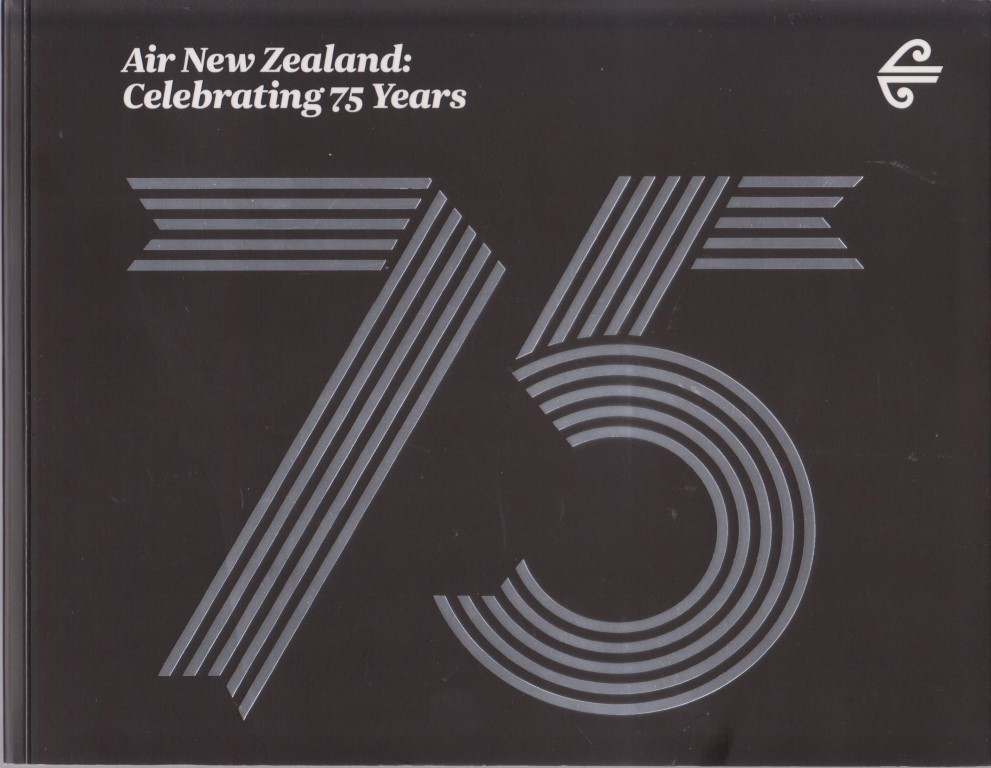 From 1940-2015, full details of the business model and the technical side of the national civilian air carrier.
ISBN9780473302511
civil aviation, transport, TEAL, coral route, tourism, promotion
VG+ softback
$25 B/C
Bauer Media Group 2014, 242pp.
[#4325 ]
COLLINS & SON company

A Century of Architecture, Collins and Son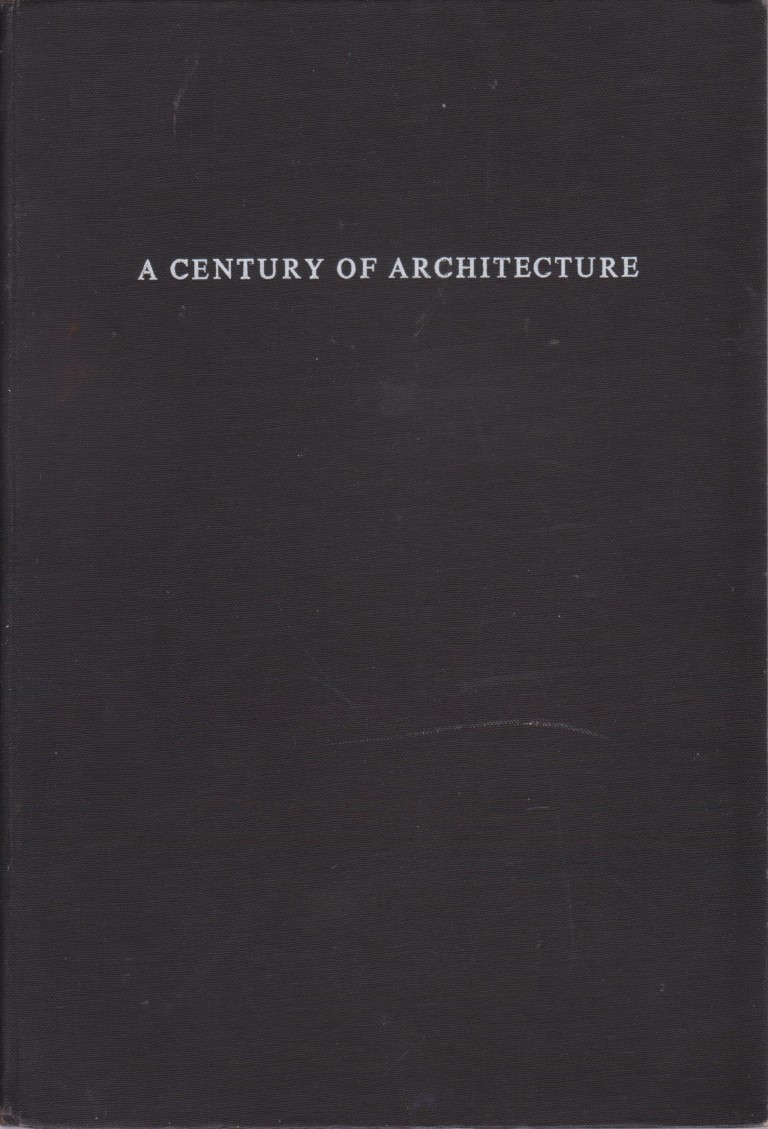 The history of the Christchurch architectural firm.
Architect W B Armson took on JJ Collins in 1871.
R D Harman later joined the firm of Collins and Harman.
Includes appendices lsiting notable projects.
architect, canterbury, christchurch, new zealand, company history, architectural firm
VG- hardback with no dust jacket.
Tidy ex-library with only a stamp on the front and rear end-papers.
$30 B/B
The Caxton Press 1965 firsty edition, 29pp+ plates.
[#4326 ]
ROBERTS Betty and Norman

Old Stone House 1870-1990
And the Cracroft Community Centre of Christchurch 1972 - 1990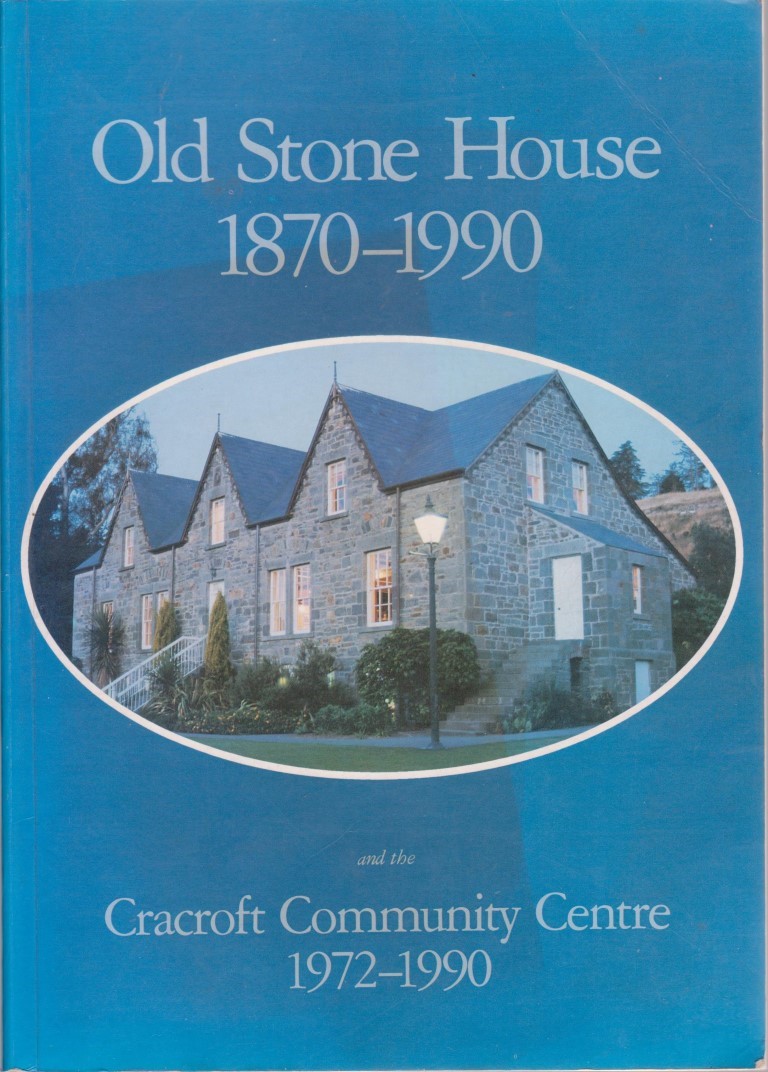 The Cracroft Wilson Family and Old Stone House; The Student Christian Movement Years; Towards a Retreat and Conference Centre; The Fire; The Birth of a Community Centre; Dame Fortune Smiles on Restoration; Community Centre Programmes.
ISBN0473011417
christchurch history, community centre, cashmere
VG- softback with slight sun fade to spine and on to cover
$30 B/C
Te Waihora Press, for the Cracroft Community Centre 1991 first edition, 175pp.
[#2097/4327 ]
5/2/2020ev
HARKNESS Philip

Reading the Riot Act
A 200 Year History of Justices of the Peace in New Zealand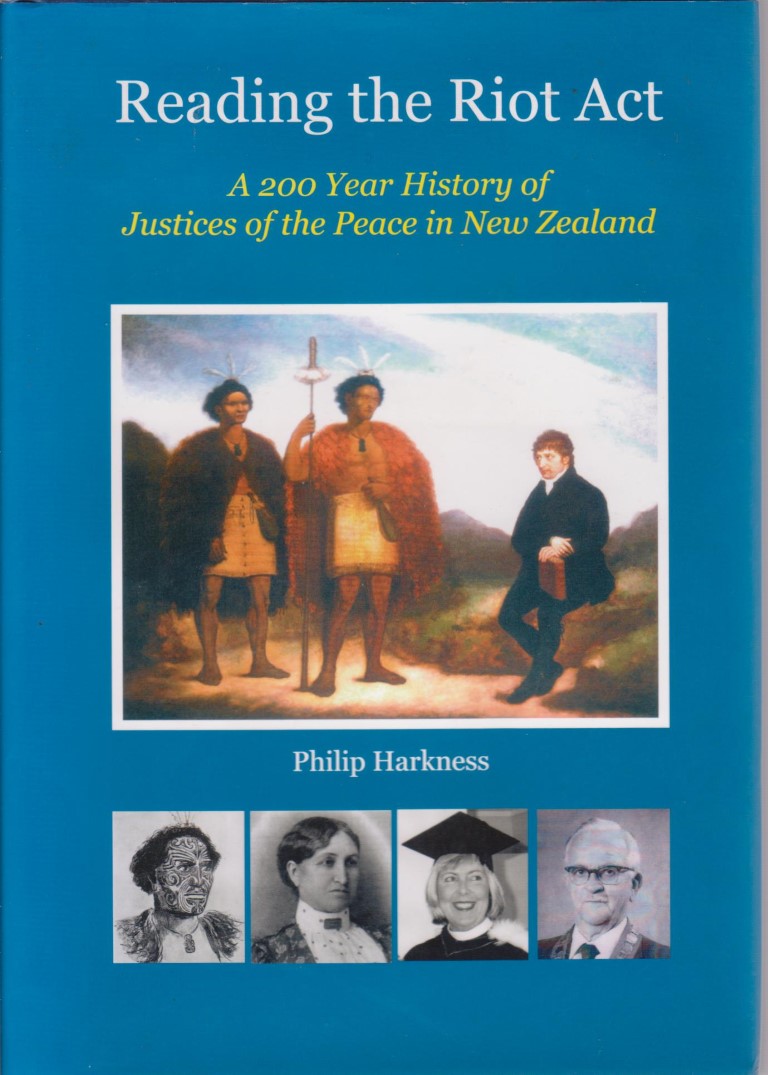 Based on British common law and the principles of the Magna Carta, the institution of the Justice of the Peace in colonial New Zealand evolved to meet the needs of the Maori custom of utu.
This history shows how JPs have had to balance both the British and the Maori sense of justice.
Includes the achievements of the early colonial JPs,from Thomas Kendall onwards, and the creating of Judicial Justices of the Peace.
ISBN9780473295967
public order, crime, justice, law, legal history
VG hardback in VG dust jacket.
$30 C/C
Media Features Ltd 2015, 160pp.
[#4311 ]
GARNER Jean

By His Own Merits
Sir John Hall-Pioneer, Pastoralist and Premier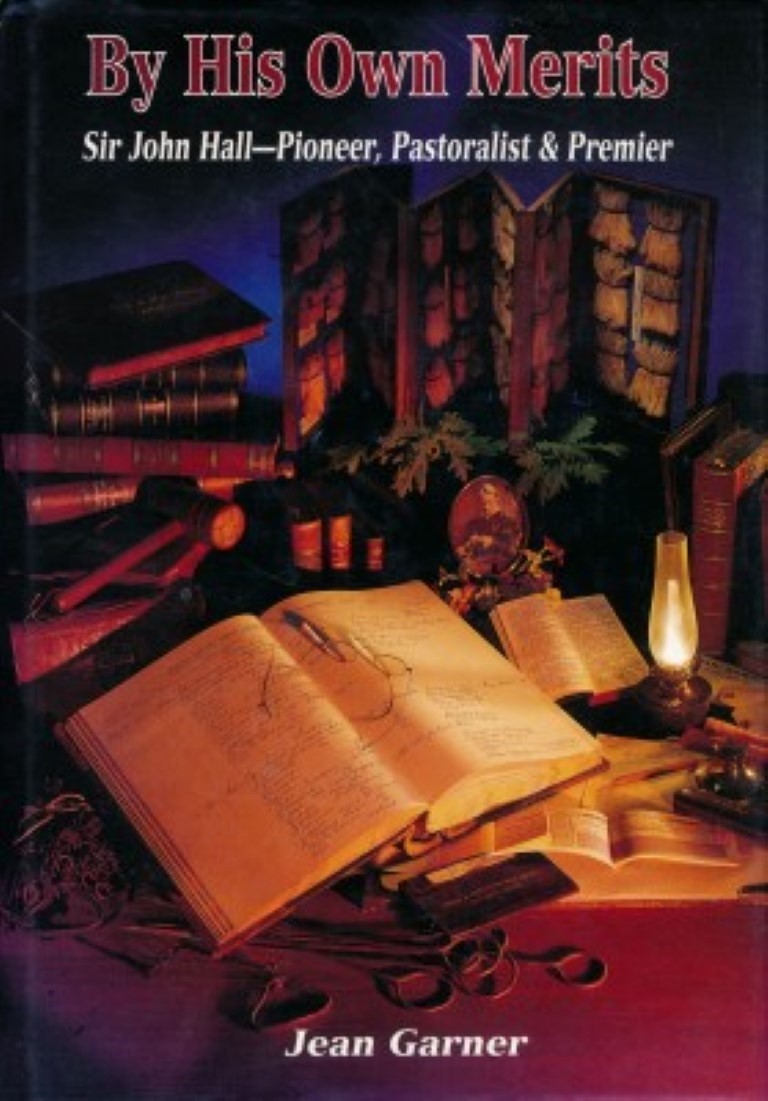 A biographical study of the man who becamse New Zealand's 12th Prime Minister.
Hall was a run-holder, City Councillor, and the first town council Chairman in Christchurch.
An M.P. at various times for Christchurch, Heathcote, Selwyn and Ellesmere.
Hall was the Premier of New Zealand at the time of the conflict between settlers and Maori at Parihaka, and also moved the Parliamentary Bill that gave women the vote in 1893.
ISBN047303543X
Sir John Hall KCMG (1824-1907), politics, suffrage, Hororata
VG hardback in VG dust jacket, with author's signed gift inscription on title page.
$35 C/C
Dryden Press 1995, 362pp.
[#4312 ]
CRUMP Barry

The Adventures of Sam Cash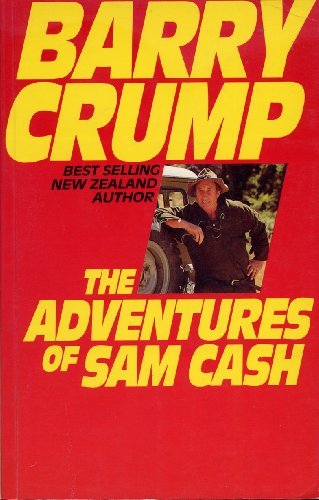 Collects the two Sam cash stories; Hang on a Minute Mate and There and Back.
ISBN0908676506

VG softback
$15 C/C
Beckett 1985 first collected edition, 281pp.
[#4313 ]
MORRISON J P

The Evolution of a City
The Story of the Growth of the City and Suburbs of Christchurch the Capital of Canterbury in the Years from 1850 to 1903
christchurch city council, history, municipal development
VG hardback in VG dust jacket
$20 C/C
Christchurch City Council 1948 first edition, xvi 197pp + plates.
[#1390, 2022, 4315 ]
GEORGESON Dick with Anna Wilson

The Leading Edge: An adventure story.
Revised edition.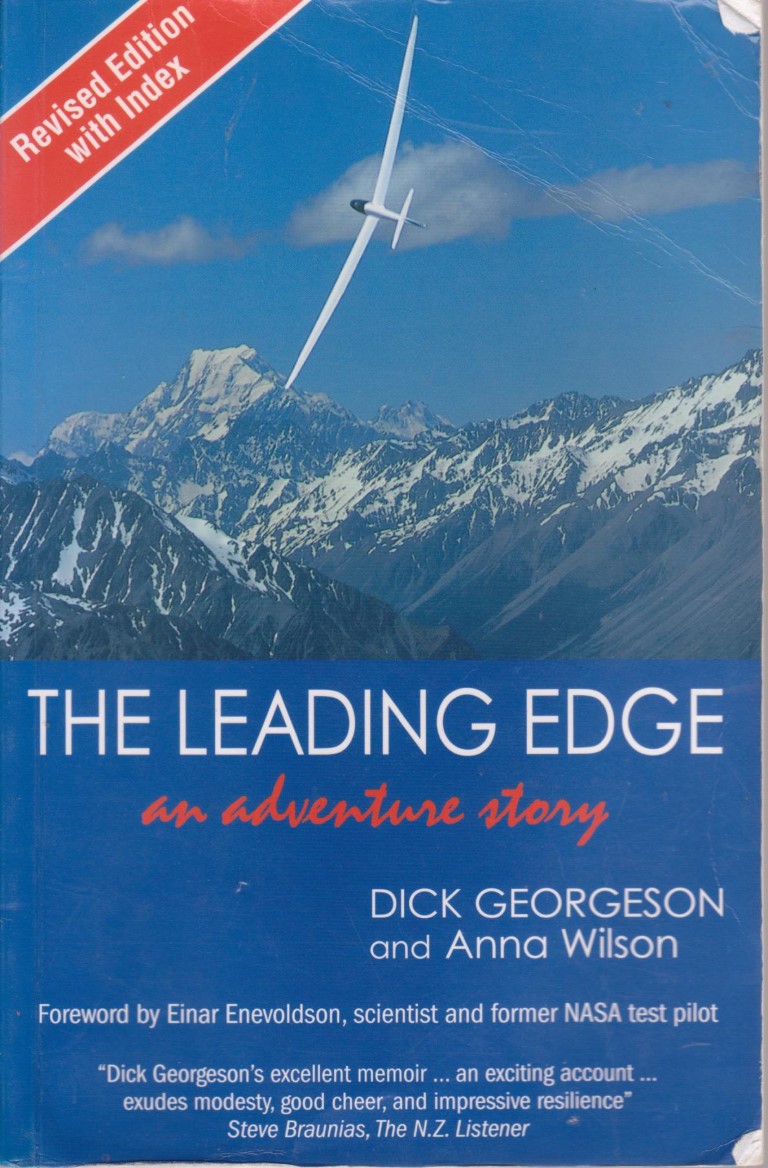 Autobiography of S. H. (Dick) Georgeson, a record breaking glider pilot.
Recipient of the Federation Aeronautique Internationale Gold Medal, and the Lilienthal Medal.
Dick has been prominent in the sport for over 50 years.
Revised edition with an added index.
ISBN9780473117030
aviation, Irishman Creek, sailplanes, unpowered flight
VG- softback, front cover dog eared.
$35 C/C
Shoal Bay Press 2006 revised edition, 212pp + plates.
[#4316 ]
CRESSWELL D'Arcy selected by Helen Shaw

The Letters of D'Arcy Cresswell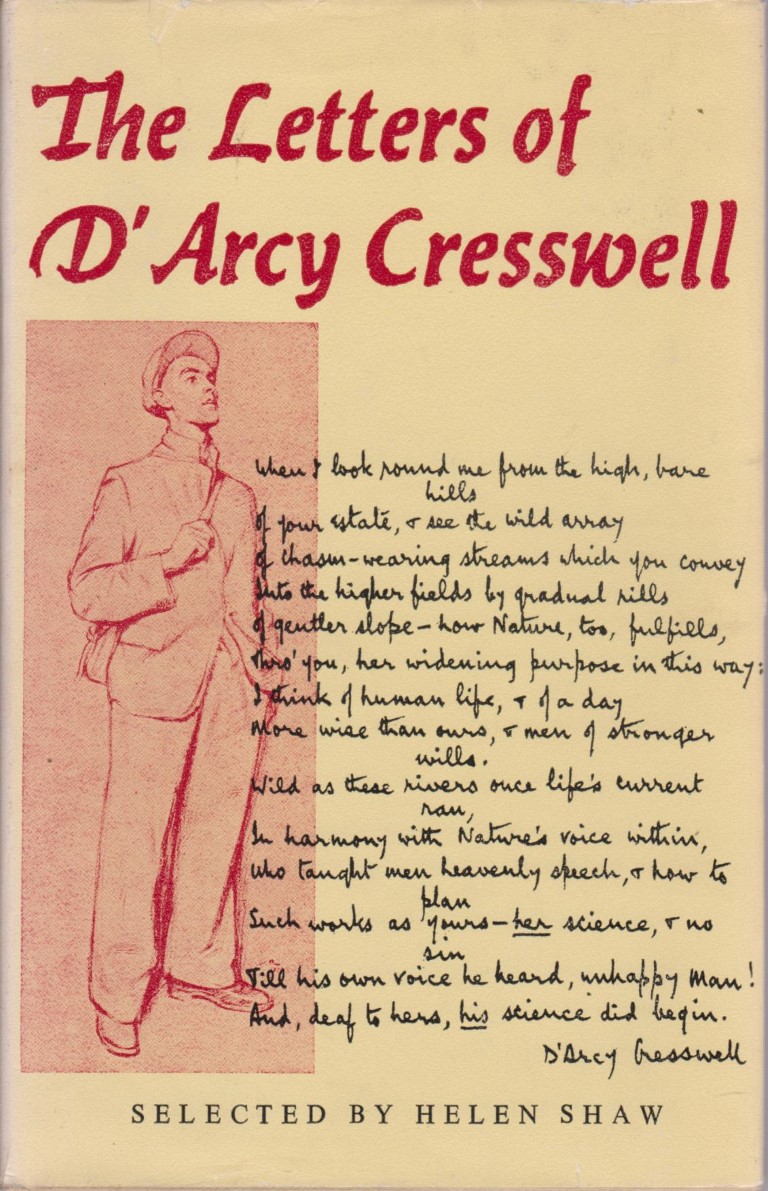 Selected letters by Walter D'Arcy Cresswell (1896–1960) the New Zealand poet, journalist and writer, pertaining to the NZ literary scene of the time.
Cresswell blackmailed Charles Mackay, the Mayor of Wanganui, by threatening to expose his homosexuality, and Mackay shot and injured Cresswell. The mayor was convicted of attempted murder in 1920 and Cresswell moved to London.
He kept up a correspondence with Ursula Bethell, Frank Sargeson, Basil Dowling, Ormond Wilson, Roderick Finlayson, and also British figures.
new zealand writers, literature, criticism
VG hardback in VG dust jacket
$25 C/C
University of Canterbury 1971 first edition, 256pp.
[#4317 ]
SINCLAIR Keith

William Pember Reeves, New Zealand Fabian.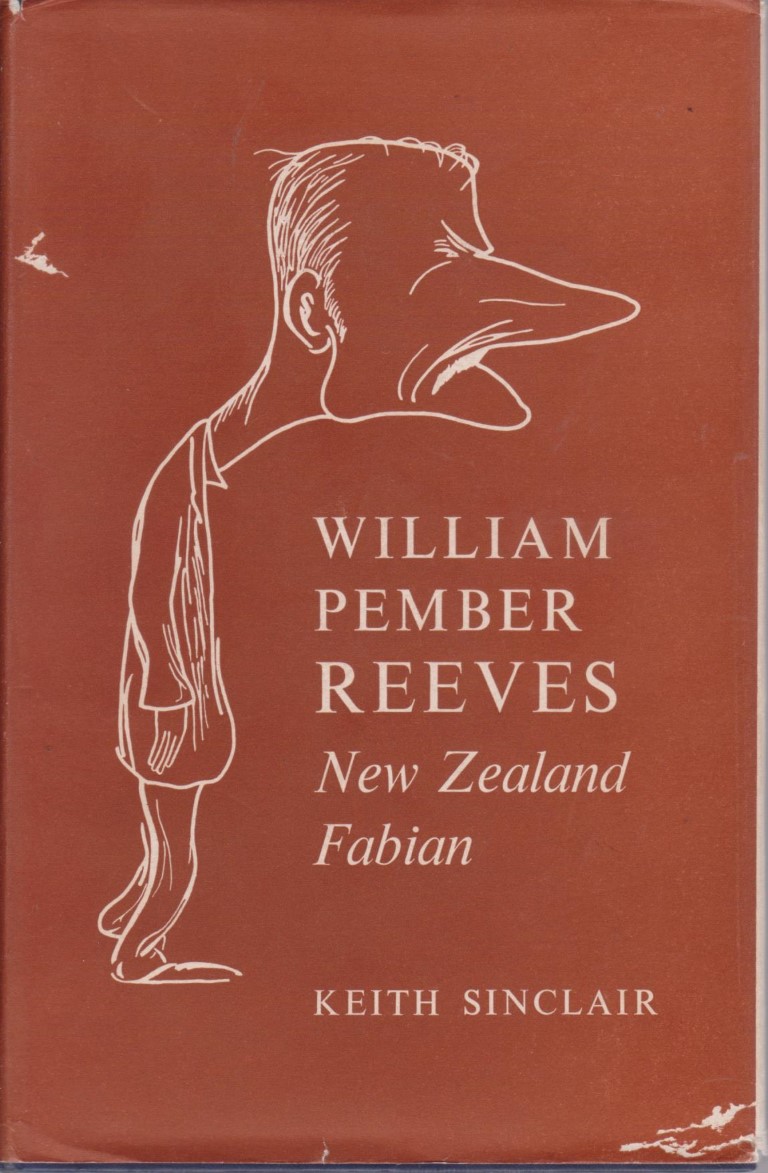 A biography, focusing on Reeves political career, based in part on his unpublished memoirs.
Reeves became the principal intellectual ideologist of the Liberal party, elected to government in 1890.
He used his ministerial portfolios for education and justice, to enact sweeping labour reforms, becoming the first minister of labour in the British Empire.
These labour reforms formed the New Zealand society of today.
Reeves moved to London in 1896 and associated with Fabians such as George Bernard Shaw.
new zealand politics, socialism, unionism, biography, history
VG hardback in VG dust jacket with minor wear.
$30 C/C
Clarendon Press 1965 first edition, x 356pp + plates.
[#4318 ]
WOODFIELD Graeme and Joseph Romanos

No Ordinary Man
The remarkable life of Arthur Porritt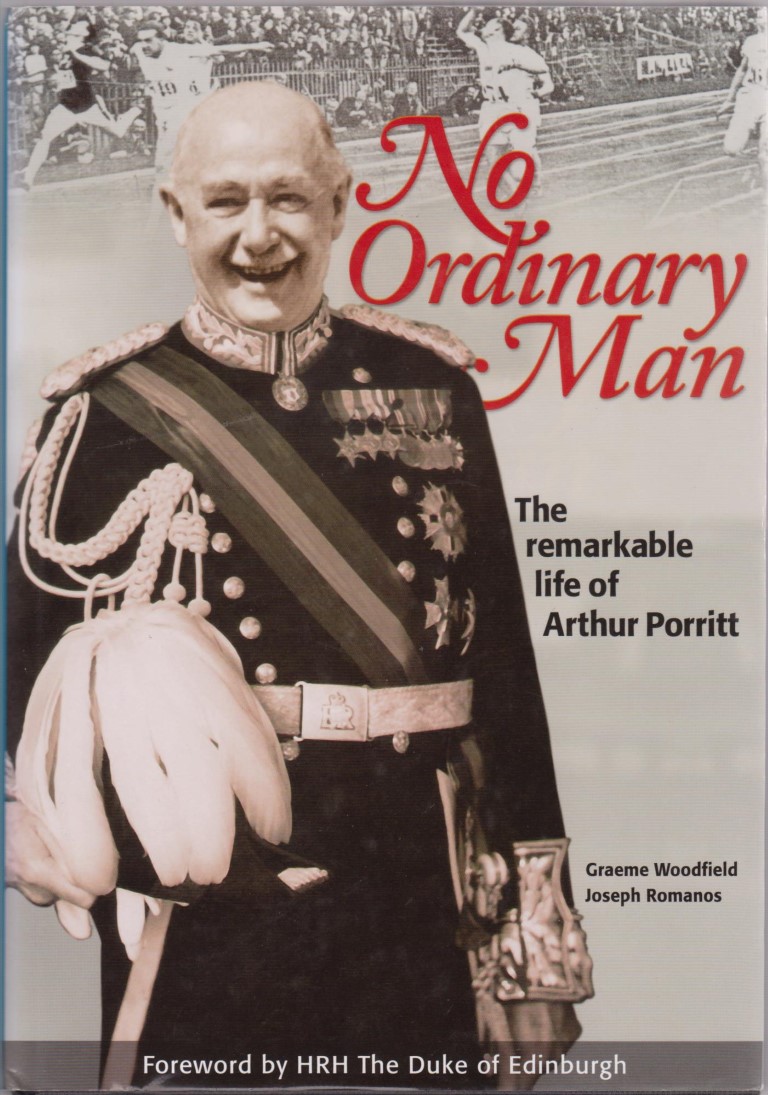 A biography of the first New Zealand born Governor-General, and a man of great achievements.
Soldier, surgeon, athlete, scholar and politician, Porritt was president of both the Royal College of Surgeons and the British Medical Associaion, a member of the International Olympic Committee and a member of the House of Lords.
He also served as the Surgeon to the Royal Family form 1936-1967.
Based on his unpublished memoirs.
ISBN9780958283953
VG hardback in VG dust jacket.
$35 B/D
Trio Books 2009, 318pp.
[#3841, 4319 ]
READ Piers Paul

The Templars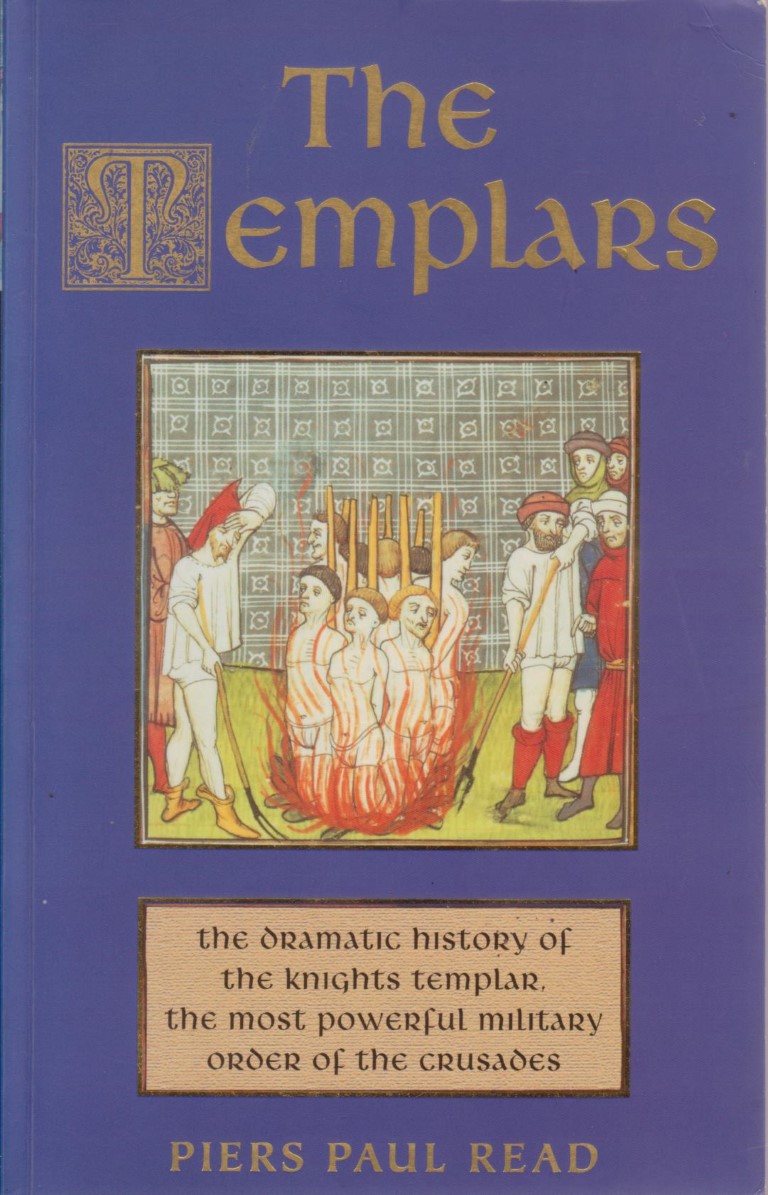 A rational history of the Knights Templar, the first uniformed standing army in the Western world and pioneers of international banking.
Probably as a means of confiscating their wealth, they were purged and suppressed by Philip IV of France and Pope Clement V in the 14th Century.
ISBN9781842121429
gnosticism, secret society, crusades, medieval history, christian kingdoms
VG softback
$15 C/C
Phoenix Press 2001, 350pp + plates.
[#4320 ]
31/01/2020ev
PARKVILLE ASSOCIATION

South Parkville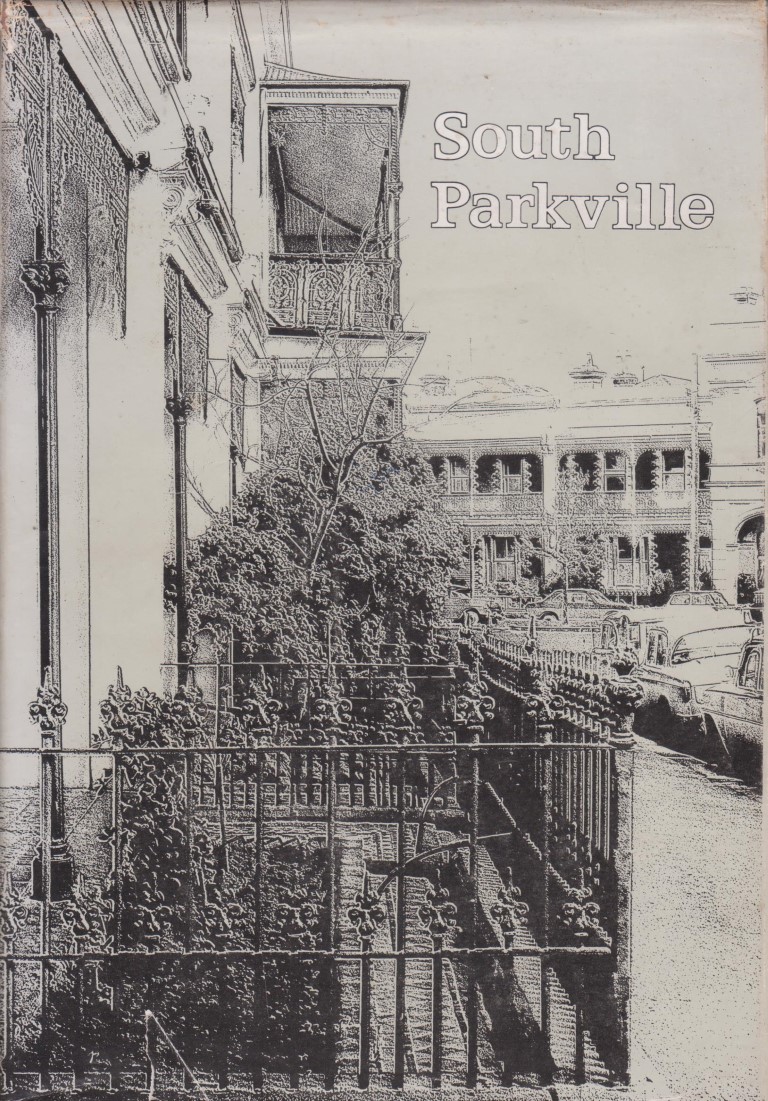 A history of the historic Melbourne suburb of South Parkville and its predominantly Victorian architecture.
Details of the development and sale of the suburban lots, the builders, investors and buyers, and a special look at the decorative cast iron features.
Many photographs.
ISBN0959878609
Parkville suburb, architecture, historic buildings
VG hardback in VG- dustjacket with minor wear and edge tears.
$20 B/C
Parkville Association 1974 first edition, 103pp.
[#4307 ]
HAWORTH Archdeacon Dr. Geoffrey M. R.

Marching as to War?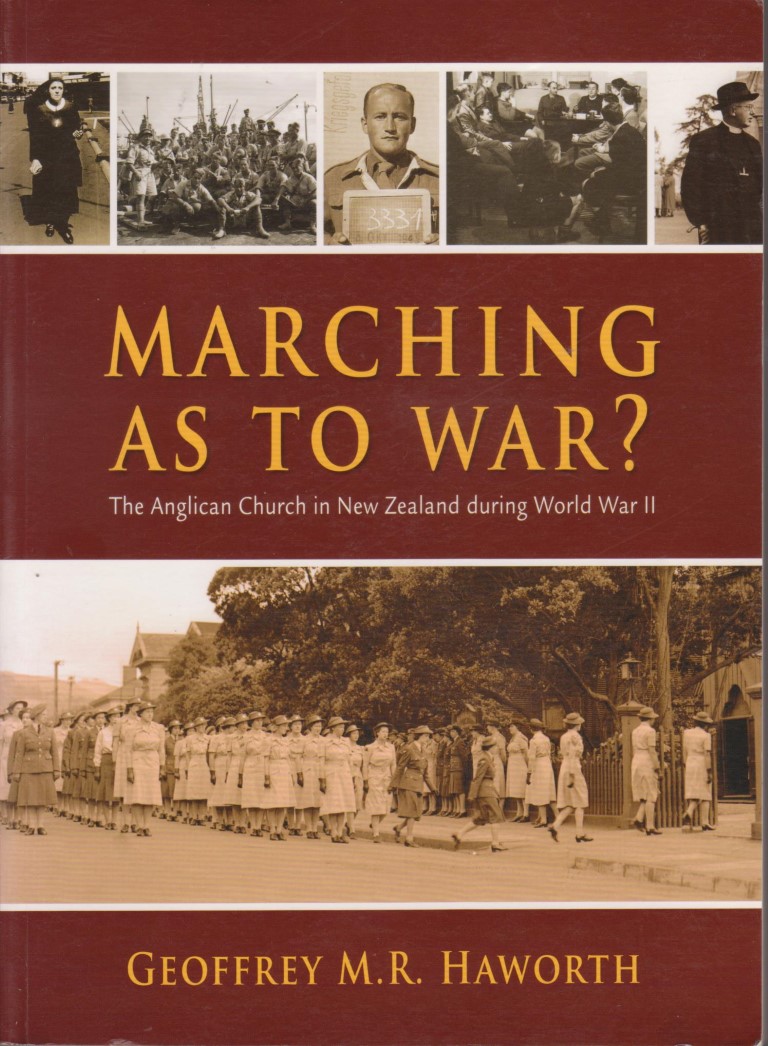 A history of the activities of the Anglican Church in New Zealand during World War II.
Church contributions at home and overseas in theatre of war, where many members were serving in the armed forces as troops and chaplains.
Researched from interviews with men and women with personal memories of the war, as well as from letters, reports, drawings, sermons, radio broadcasts and magazine articles from archives and private collections.
ISBN9780473129408
ww2, wwii, christian, soldiers, anglicans
VG softback
$25 B/C
Wily Publications 2008, 240pp.
[#4308 ]
TURNER Gwenda

Gwenda Turner's Christchurch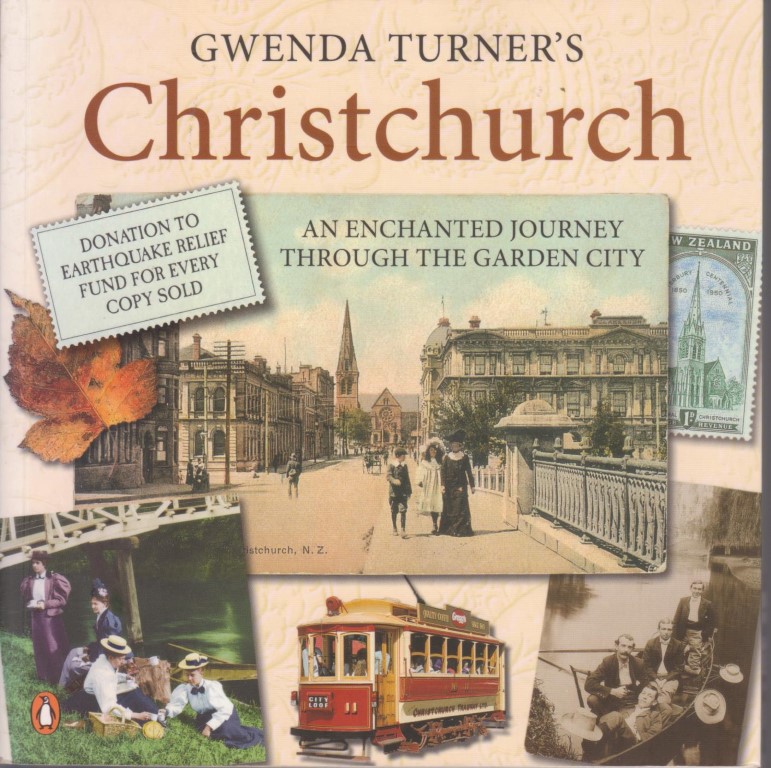 An illustrated journey through the garden city with art by Gwenda, mingled with photographs of the many landmarks, most of which were lost in the 2011 earthquakes.
ISBN9780143566236
christchurch, history, vintage, architecture, pre-quake, historic buildings
VG softback
$20 C/B
Penguin Books 2011 new edition, 101pp.
[#4309 ]
RAMAGE Nancy H. and Andrew

Roman Art: Romulus to Constantine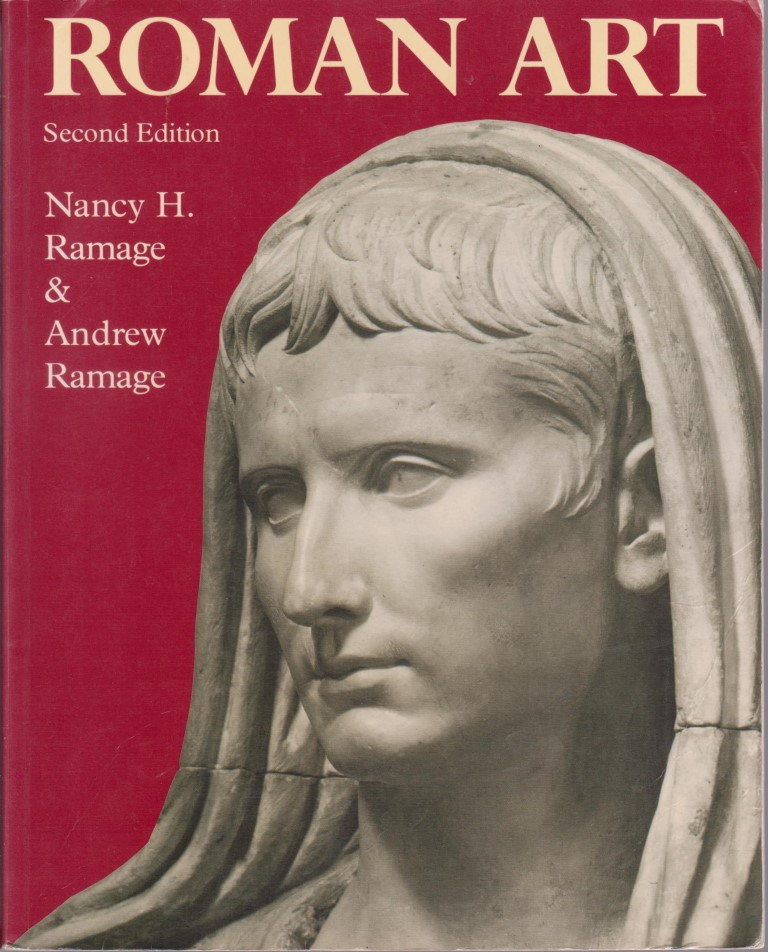 Introductory but still authoritative study of all forms of Roman art, illustrated with colour and black and white photographs.
Etruscan Forerunners 100-200 BC.; The Roman Republic 509-27 BC.; Augustus and the Imperial Idea 27 BC-AD 14; The Julio-Claudians AD 14-68; The Flavians: Savior to Despot AD 69-98; Trajan; Optimus Princeps AD 98-117; Hadrian and the Classical Revival AD 117-138; The Antonines AD 138-193; The Severans AD 193-235; The Soldier Emperors AD 235-284; The Tetrarchs AD 284-312; Constantine AD 307-337 and the Aftermath.
ISBN9780134407029
classical history, classical art, rome, european, culture
VG softback
$20 B/D
Prentice Hall 1996 Second edition, 320pp.
[#4310 ]
28/01/2020ev
TOD Frank

The Making of a Madman, Lionel Terry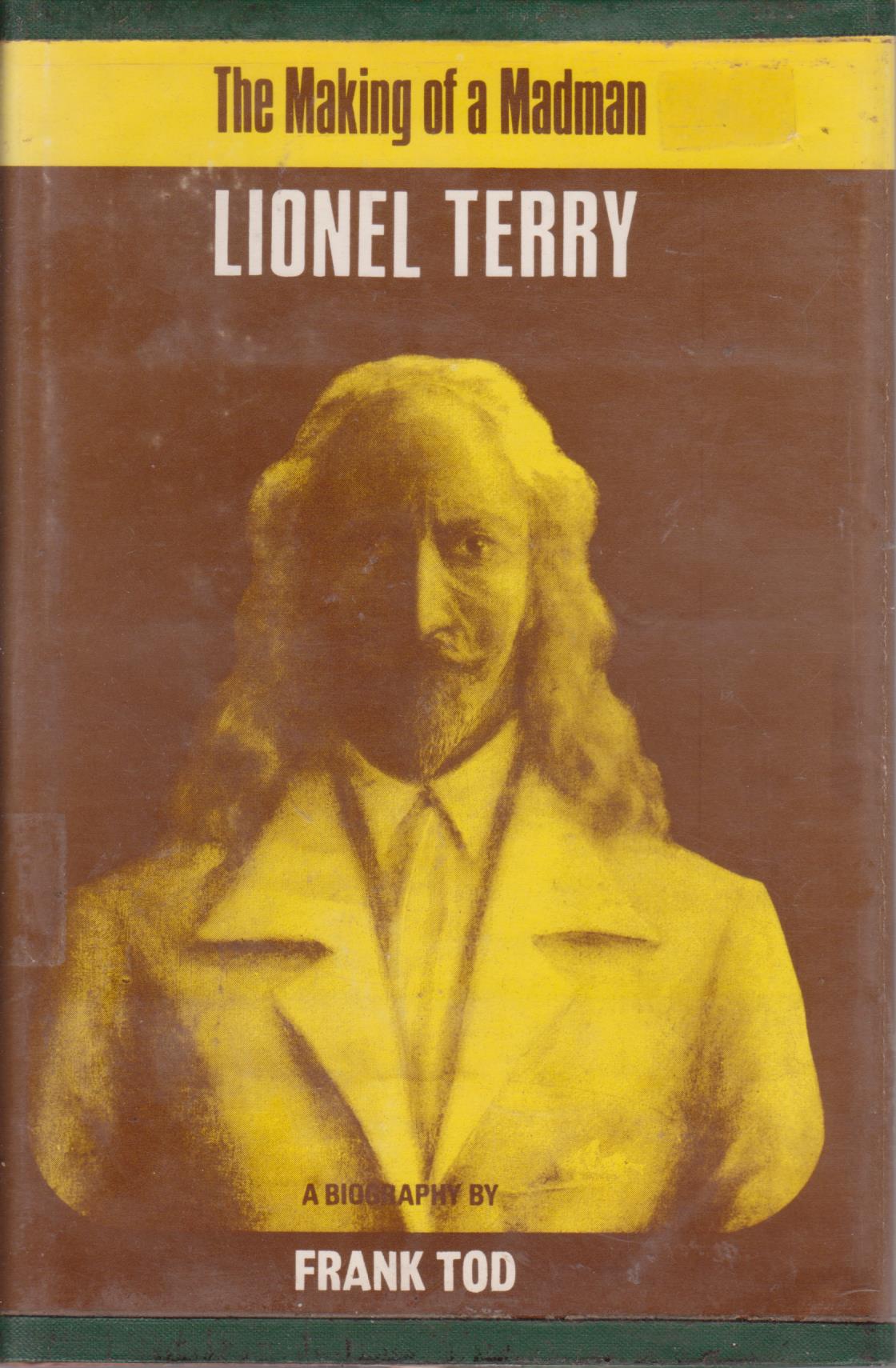 A biography, which includes verse and ballads written by Terry, a notorious chap who shot an old Chinaman to highlight the threat of non-white immigration in turn of the Twentieth Century New Zealand.
He became a bit of a celebrity, with many supporting him during his escapes from the Seacliff mental institution.
Hard to find title.
crime, murder, insanity, mental health, institutionalisation, xenophobia, Yellow Peril
Very Good hardback with Very Good dust jacket.
However it is ex-library with stamps and pockets, dust jacket under plastic sleeve.
$45 C/C
Otago Foundation Books 1977, First Edition, 222pp + plates.
[#4305 ]
GOODRICH Janet

Natural Vision Improvement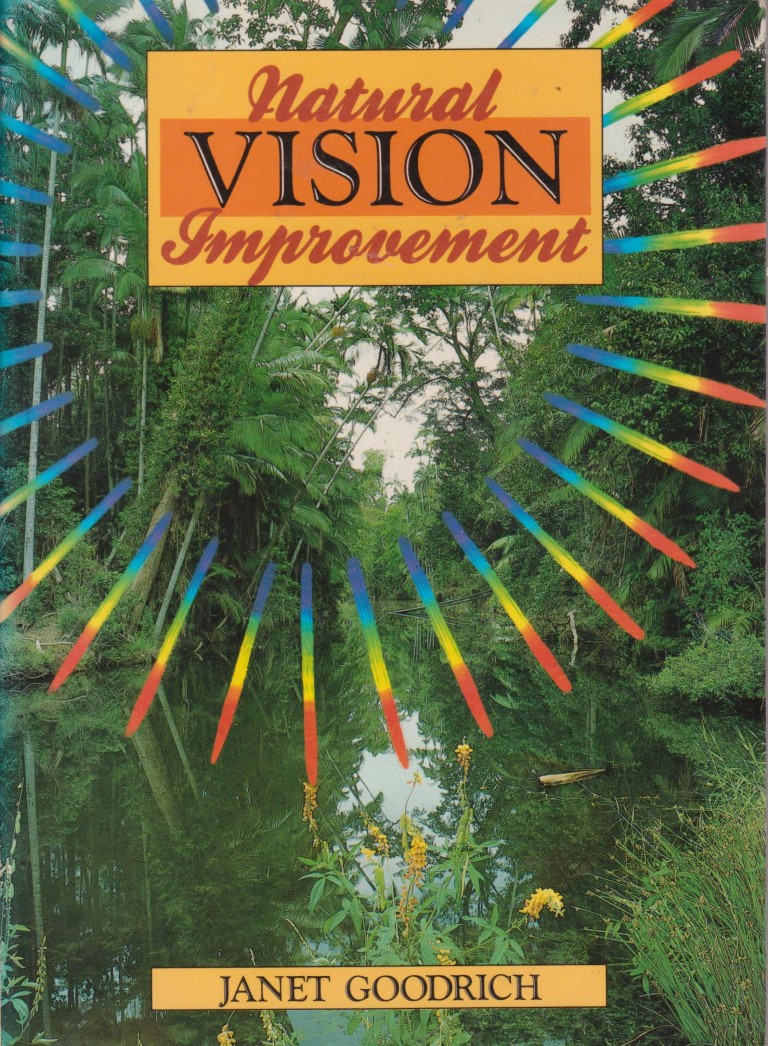 An holistic approach to natural vision treatment and cure. As well as some far out new-age type creative visualization methods, there are more 'orthodox' ones such as palming and eye exercises.
ISBN0909104905
eyesight, vision, optometry, nature cure, health
VG- large format softback, spine sunned, name stamp to first page.
$15 B/C
Greenhouse Publications 1985, 218pp.
[#4306 ]
21/01/2020ev
BAKER Carlos

Ernest Hemingway, a life story.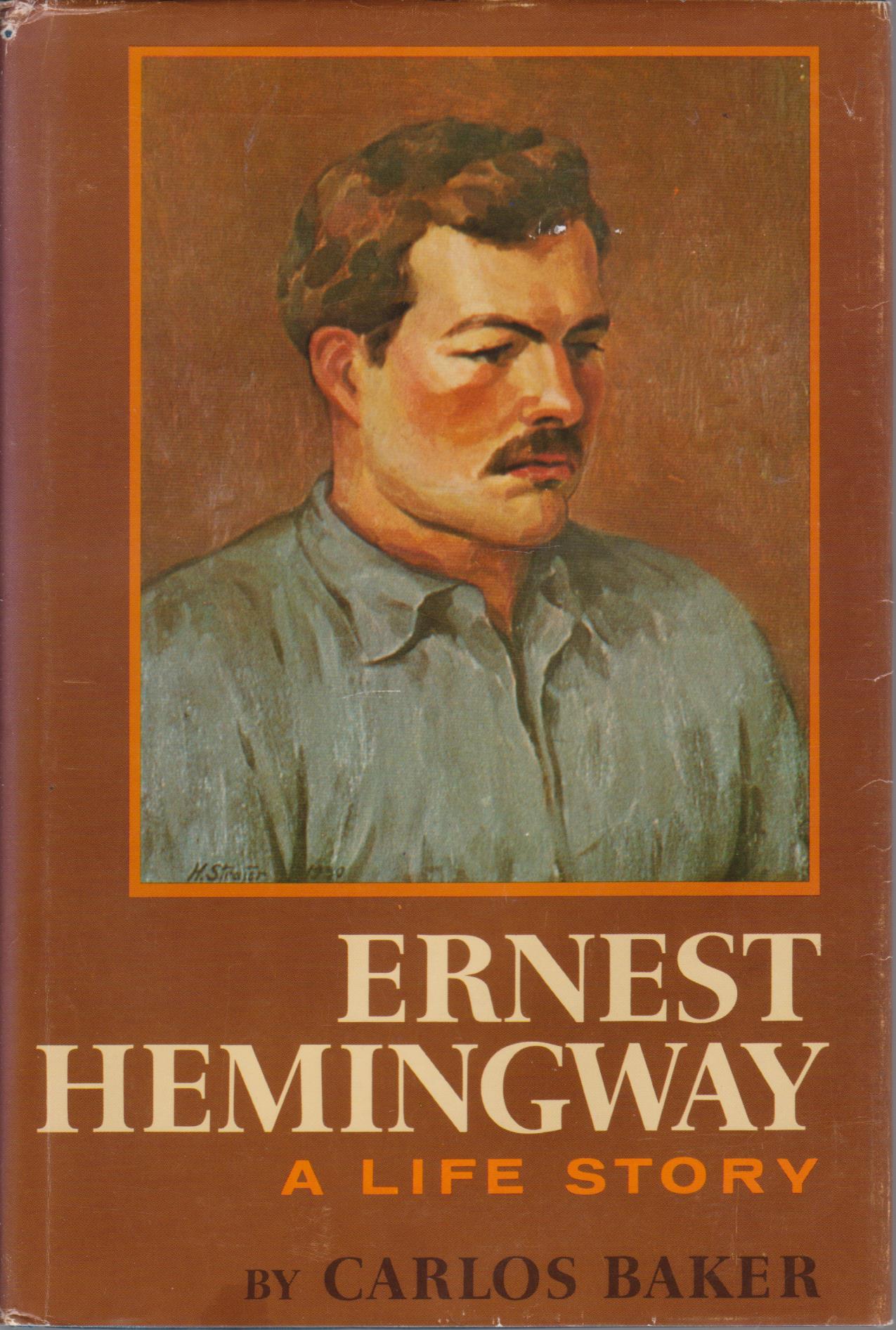 Exhaustive biography of this man's man, war correspondent, big-game hunter, big-game fisherman, and exceptional author.
Large heavy book. Edition= A-3,69[C]
literature, american, novelist, twentieth century.
VG hardback in VG dust jacket.
Name to free end paper, faint tape stain to endpapers.
$20 D/D
Charles Scribners 1969 cloth, 697pp + plates.
[#4297 ]
STEINER Rudolf Translated Vera Compton-Burnett

Human Values in Education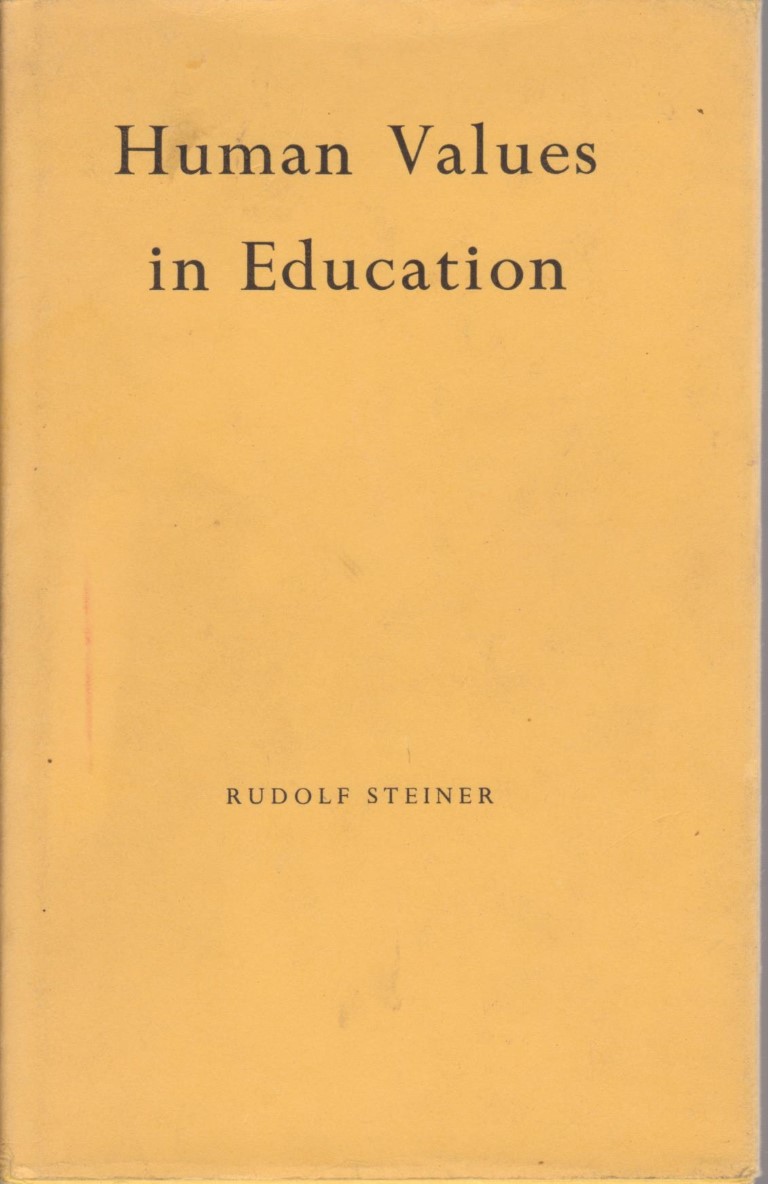 Ten lectures on education, given in Arnheim July 17-24 1924.
ISBN0854402500
anthroposophy, rudolf steiner
VG hardback in VG dust jacket.
$30 C/B
Rudolf Steiner Press 1971 First Edition, 189 +2pp adverts
[#4298 ]
TOLKIEN J R R.
Illustrated by Pauline Baynes
Farmer Giles Of Ham
A humorous medieval themed fable about the encounters between Farmer Giles and the dragon named Chrysophylax, with wonderful Baynes illustrations and frontispiece.
ISBN0048230685
dragonslayer, giant, myth, modern myth, LOTR
VG hardback in VG dustjacket.
Hard to fault copy, dust jacket is price clipped with minor edge wear and small area of surface rubbing to rear panl, tiny chip bottom edge of front panel, bookplate and former owner name on the half-title page
$30 C/B
George Allen Unwin, 1972 first edition ninth impression. 80pp.
[#4300 ]
ALLINGHAM Margery

The China Governess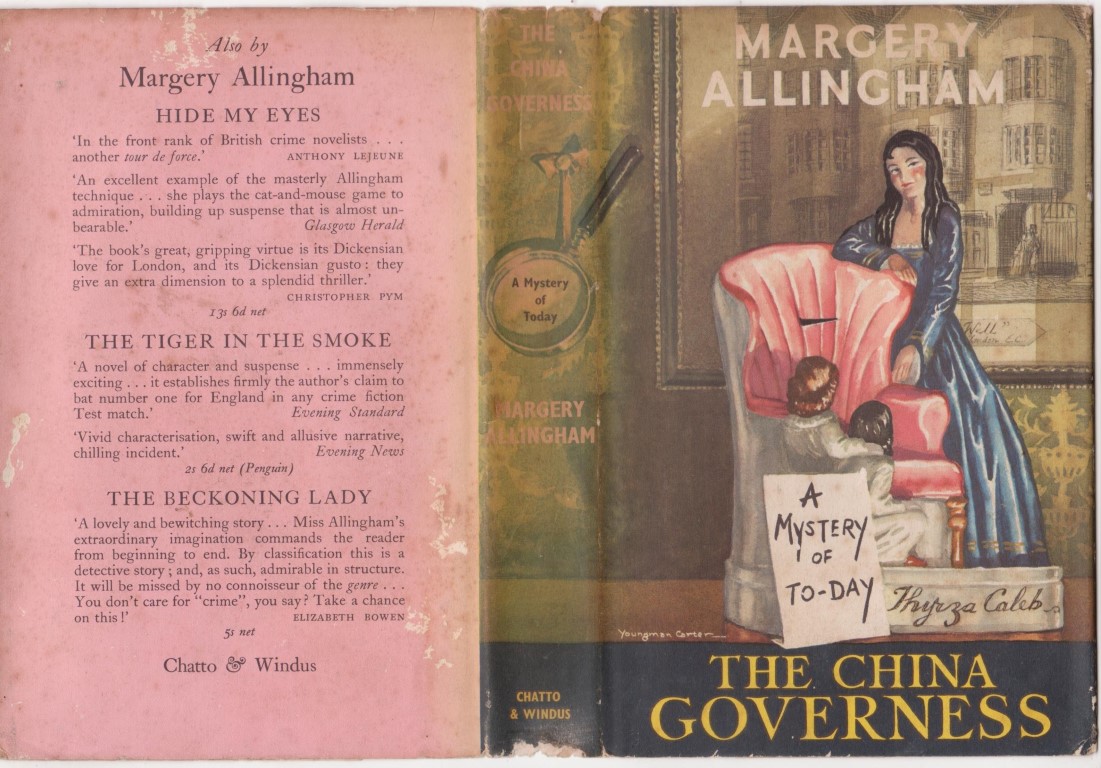 The seventeenth novel in the Albert Campion series.
crime, thriller
G+ hardback in G+ dust jacket.
Book has some foxing to closed edges and a bit of a musty aroma.
The unclipped jacket has some edge wear and the rear panel has some minor surface insect damage.
$25 C/B
Chatto and Windus 1963 first edition, 254pp.
[#4301 ]
MILLER Rachel

Wife and Baggage to Follow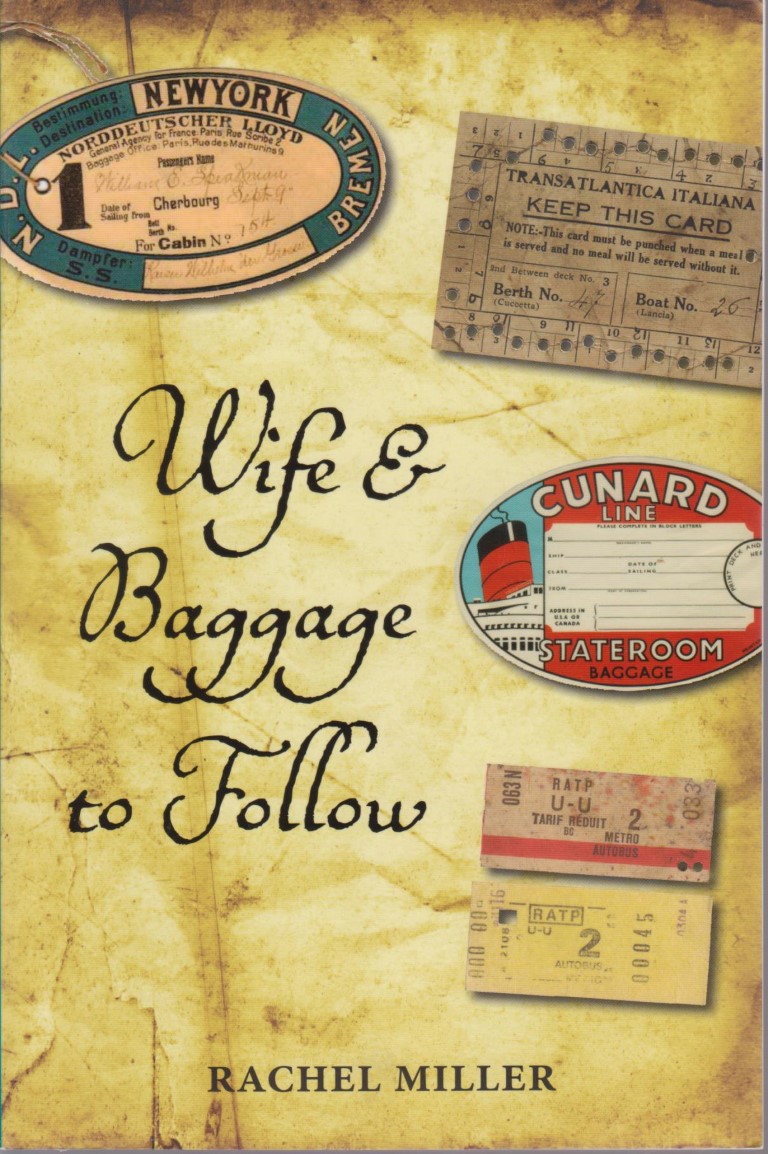 First hand stories of overseas postings in the words of Australian diplomats' wives.
It offers an eye opening journey through the early decades of the diplomatic service, starting with the experiences of Australia's first wife of a Head of Mission in Washington, and continuing to the likes of Beirut, Moscow, Rangoon, Cairo, Tokyo, Dili and Saigon.
Continuing to more recent times, it traces the evolution of a young foreign service as it became better organised and increasingly professional, and the evolving role of women within it.
Adventure, hardship, war, opportunity, these are the fish-out-of-water stories of intelligent, dedicated women raising families in far-flung corners of the globe.
Illustrated and indexed.
ISBN9781925043006
Jakarta, Malaysia, australian diplomacy
VG softback, with author's gift inscription inside front cover.
$55 C/C
Halstead Press 2013 first edition, 255pp.
[#4302 ]
JACKAMAN Rob

Shaman and Charlatan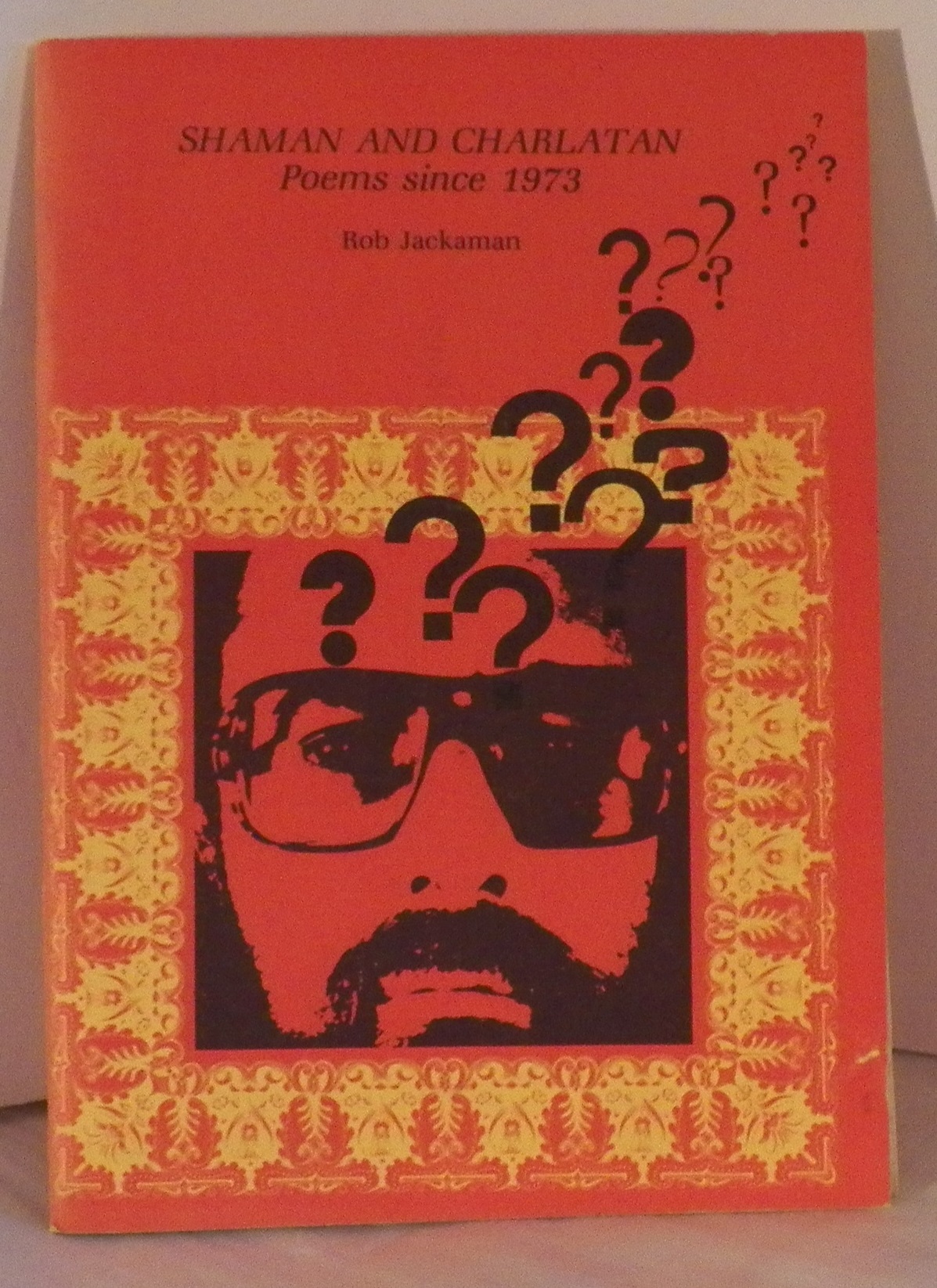 Poems since 1973.
ISBN0908599072
Cover design by Max Hailstone.
VG- stapled softback, small crease to corner of first few pages.
$20 C/A
Cicada Press 1981 first edition, 42pp.
[#4303 ]
GRECIAN Alex

The Yard
Advanced Reading Copy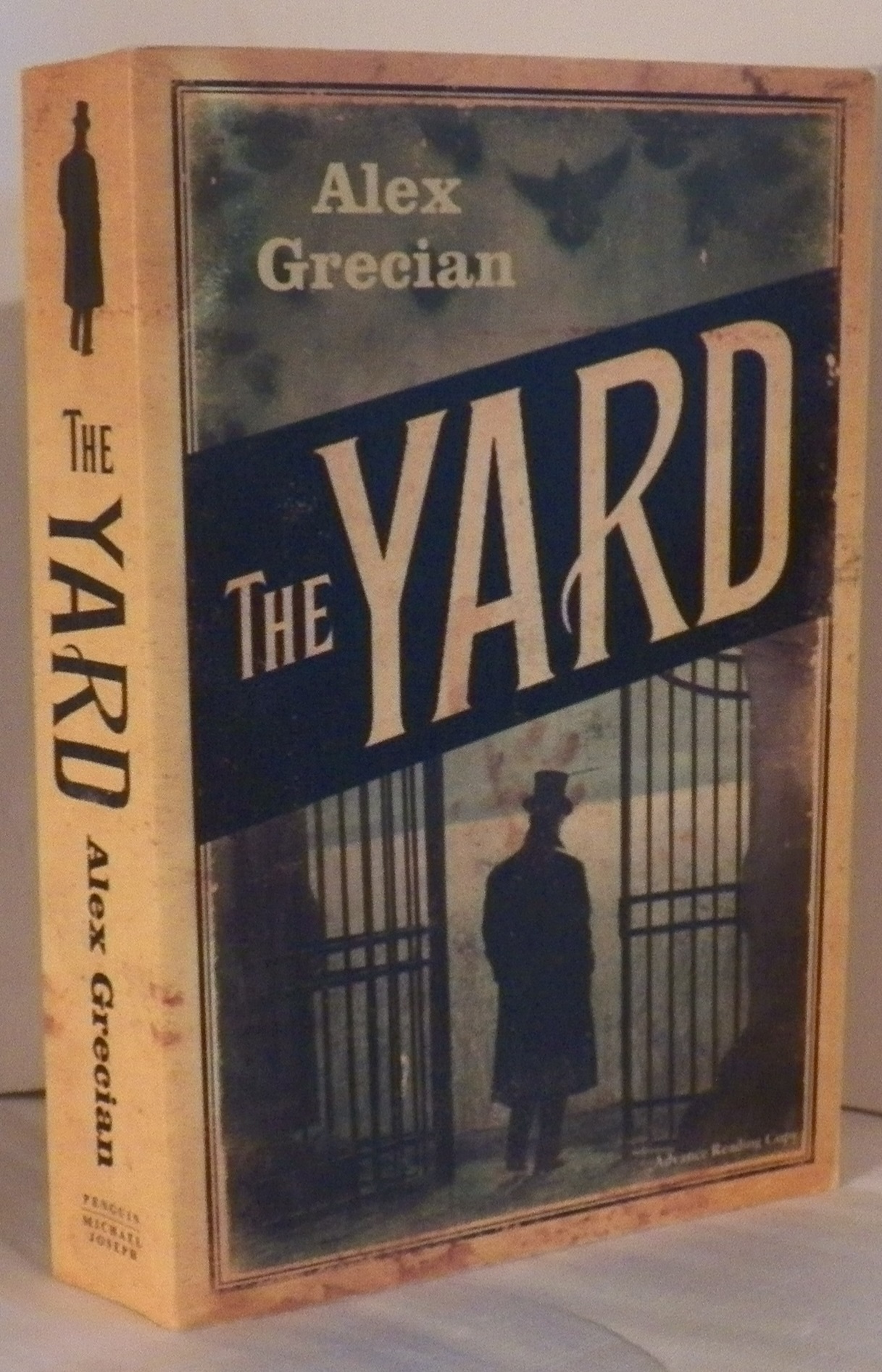 A meticulously researched thriller novel set in Victorian London, where multiple narratives converge in a heart-stopping climax.
Filled with period detail, and real historical figures, this showcases the depravity of the late Victorian city, and the advent of modern theories of criminology.
ISBN9780718159160
Jack the Ripper, Victorian policing, crime, fiction
VG softback.
$35 C/C
Penguin/ Michael Joseph 2012 first edition/ ARC, 523pp.
[#4304 ]
21/01/2020ev
HANLON A. C.

Random Recollections, Notes on a Lifetime at the Bar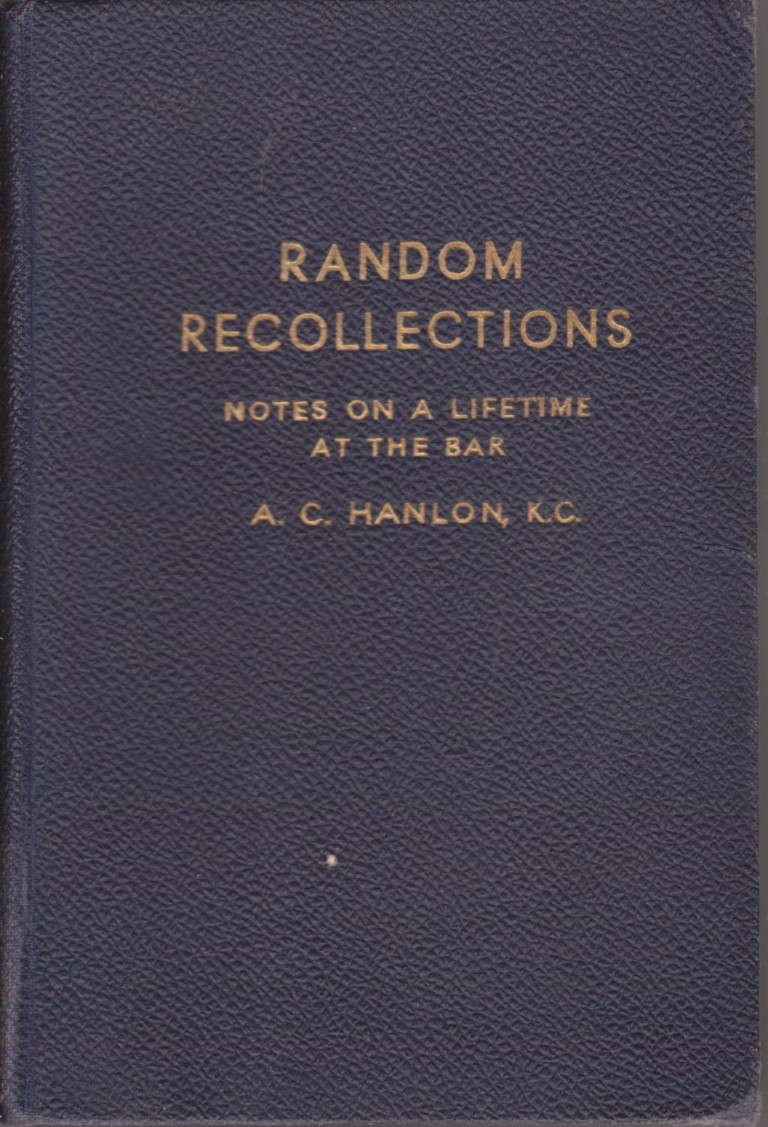 Memoirs by, at the time, New Zealand's foremost barrister and judge.
Includes famous New Zealand criminal cases and the trials of Minnie Deans, Charles Clements, the Tapanui murder of Sing Tong, William Wogan and more.
criminology, trials, jurisprudence, law
VG hardback with no dust jacket. Minor rubbing wear to corners.
$45 C/B
Otago Daily Times 1939 First Edition, xii 332 + frontis portrait.
[#4290 ]
ASHTON-WARNER Sylvia

"Teacher" in America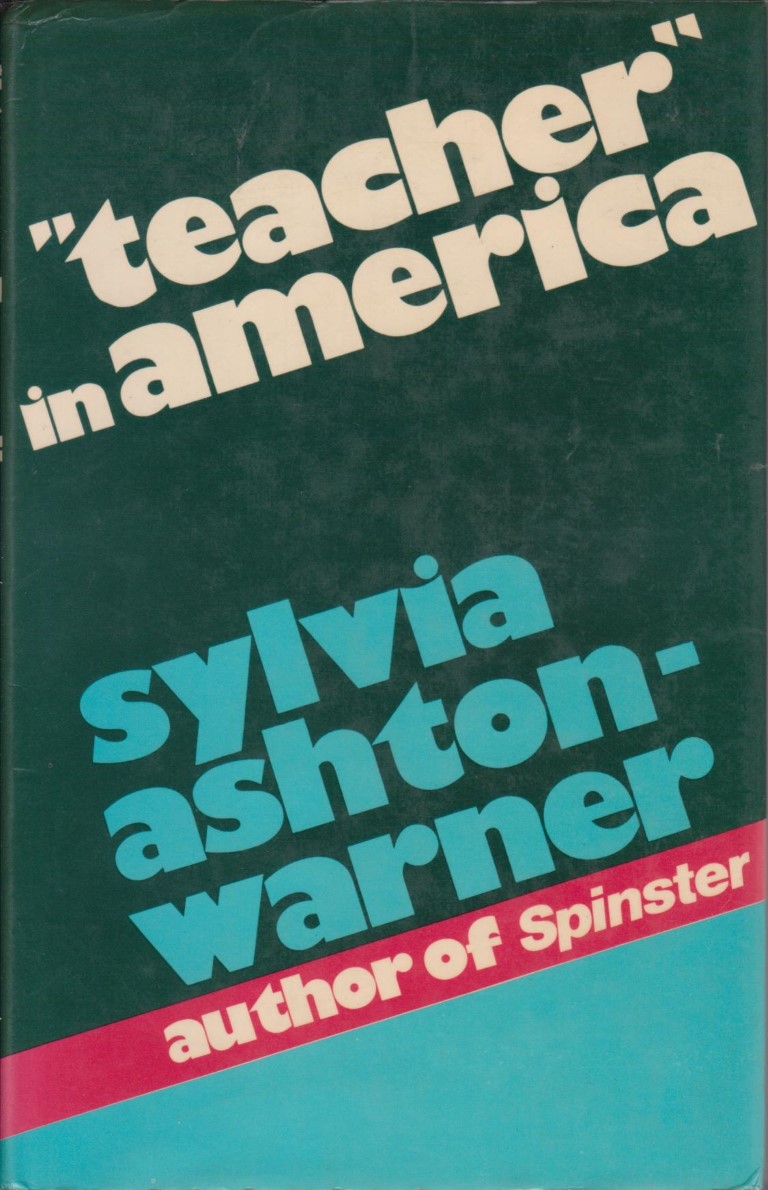 Warner won international fame for her juvenile teaching methods based on psychoanalytical theory, and her novels based on these experiences.
This is her account of teaching in an experimental parent-funded school in Aspen, Colorado, where she spent a year.
ISBN0304293962
education, teaching, theory, USA
VG hardback with VG dust jacket.
$15 C/C
Cassell 1974 first UK issue, 224pp.
[#4291 ]
NORBU Thubten and Heinrich HARRER

Tibet is my Country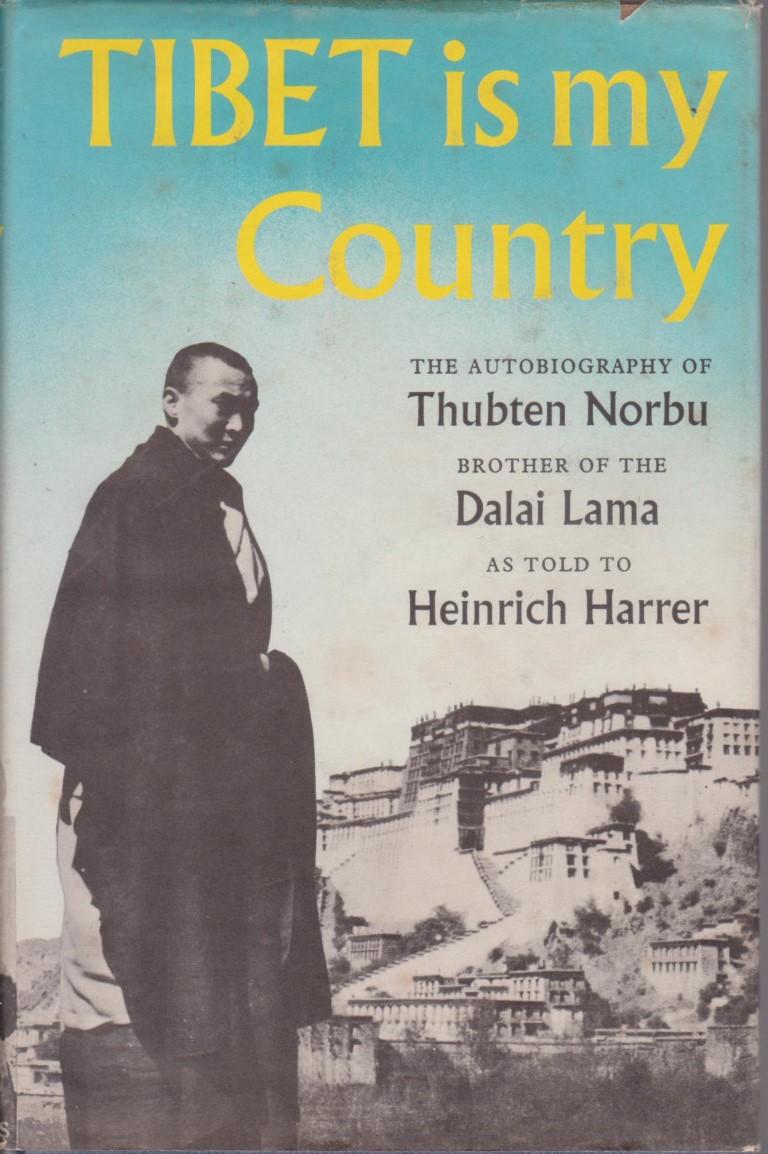 The autobiography of Thubten Norbu brother of the Dalai Lama, as told to Heinrich Harrer, in English translation.
Includes his exile after the Communist Chinese invasion.
Tibet, Dalai Lama, biography, history, Himalaya
VG hardback in VG dust jacket with light edge wear.
Name to free end paper, minor scattered foxing to prelims.
$30 C/C
Hart Davis 1960 first edition, 264pp + colour plates.
[#4293 ]
JENNINGS Al

Through the Shadows with O. Henry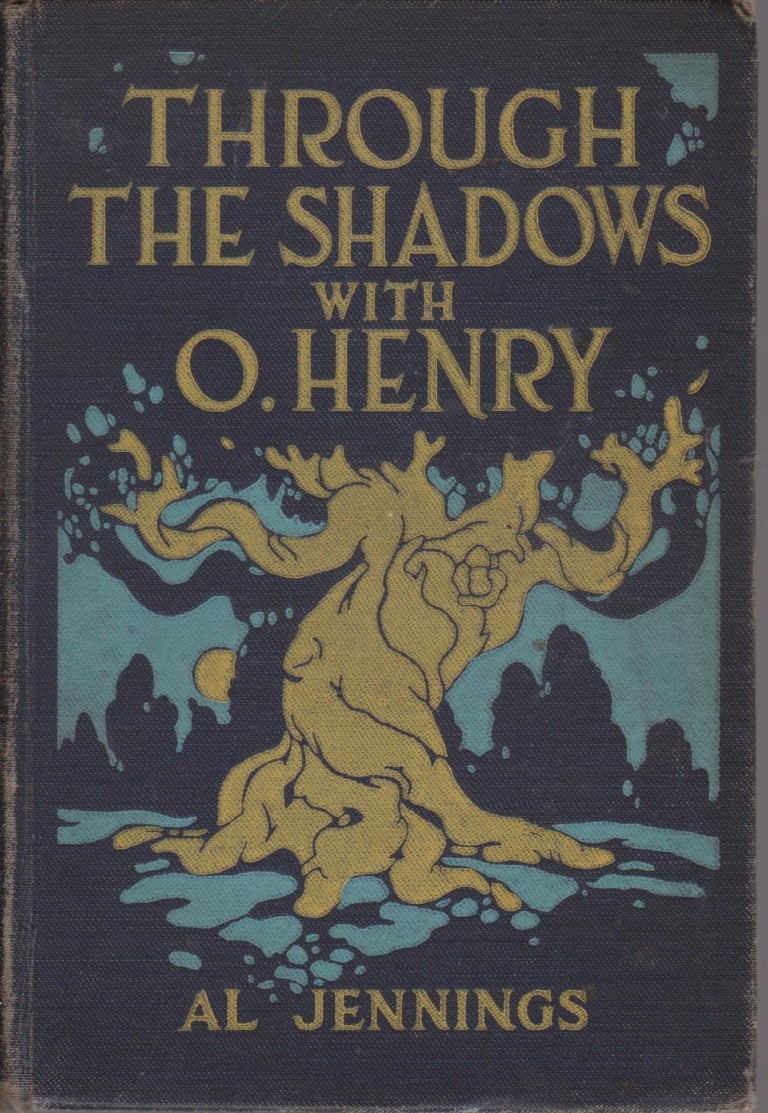 A biography of O.Henry by one of his prison cell mates from before he made his mark as an author.
Jennings was a small-time Oklahoma outlaw and friend of William S. Porter, aka O. Henry.
author, writer, prison diary
Good hardback with rubbed edges.
Rear hinge cracked and loosened, minor foxing, one plate loose, minor pencil notation, one page messy tear repaired with archival tape.
$15 C/C
H K Fly 1921 first edition decorated cloth, 320pp.
[#4294 ]
20/01/2020ev
RAMER Jesse E.

Whats next - whats needed.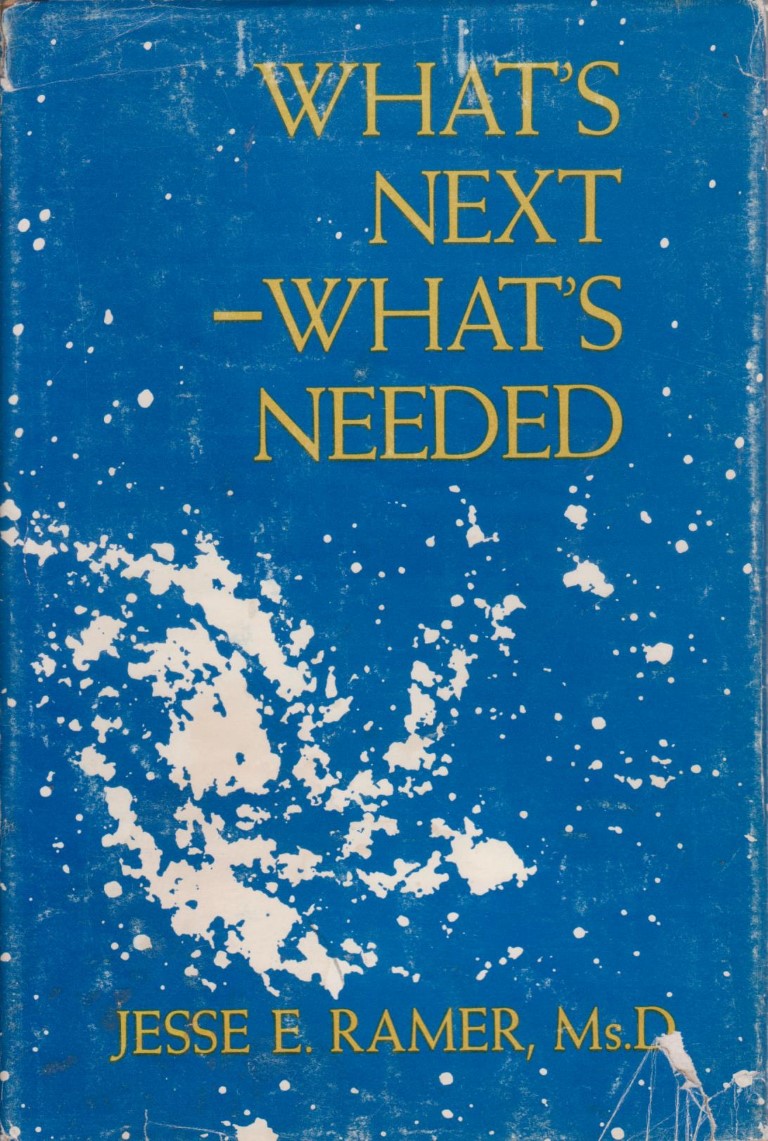 This unusual book predicts Armageddon in 1968...obviously incorrect!
Treats of many different theories of prophecy including psychometry, numerology, astrology, theology, divination and biblical prophecy.
He gives many prophecies for the late 1960s many based on astrological readings.
pyramids, gizeh, zodiac, bible
VG hardback in G+ dust jacket.
some wear and closed edge tears 6 line inscription to free end paper.
$10 C/B
Carlton Press 1962 First Edition, 139pp.
[#4285 ]
SCOTT Desmond

One More Hour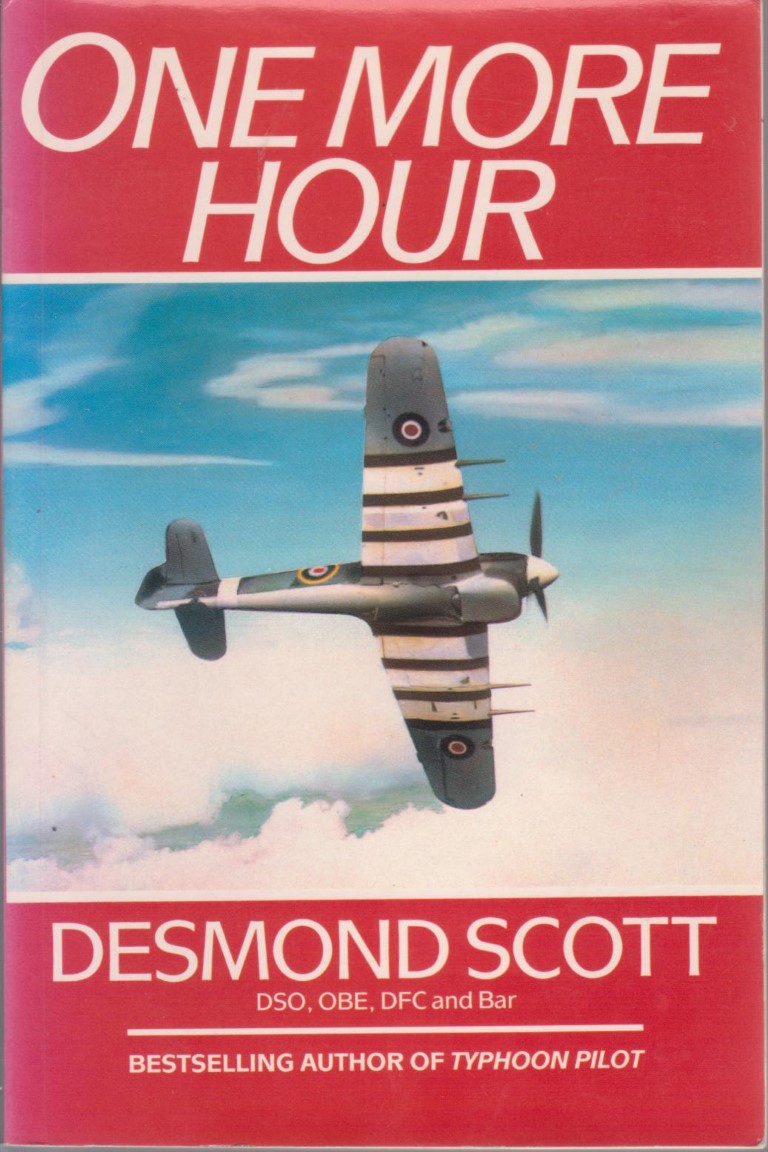 Desmond Scott recounts his career with the RAF including how he became the most decorated New Zealand pilot.
Commanding No 486 NZ Squadron, and later Nos. 164, 183, 198 and 609 Squadrons.
One of the youngest Group Captains in the RAF he commanded and flew Typhoons.
ISBN0099844400
ww2, wwii, raf, nz, typhoon pilot,
VG softback with sun faded spine.
$15 C/B
Arrow1991 first thus printing, 143pp.
[#4286 ]
LUDLAM H.

A Biography of Dracula, the Life Story of Bram Stoker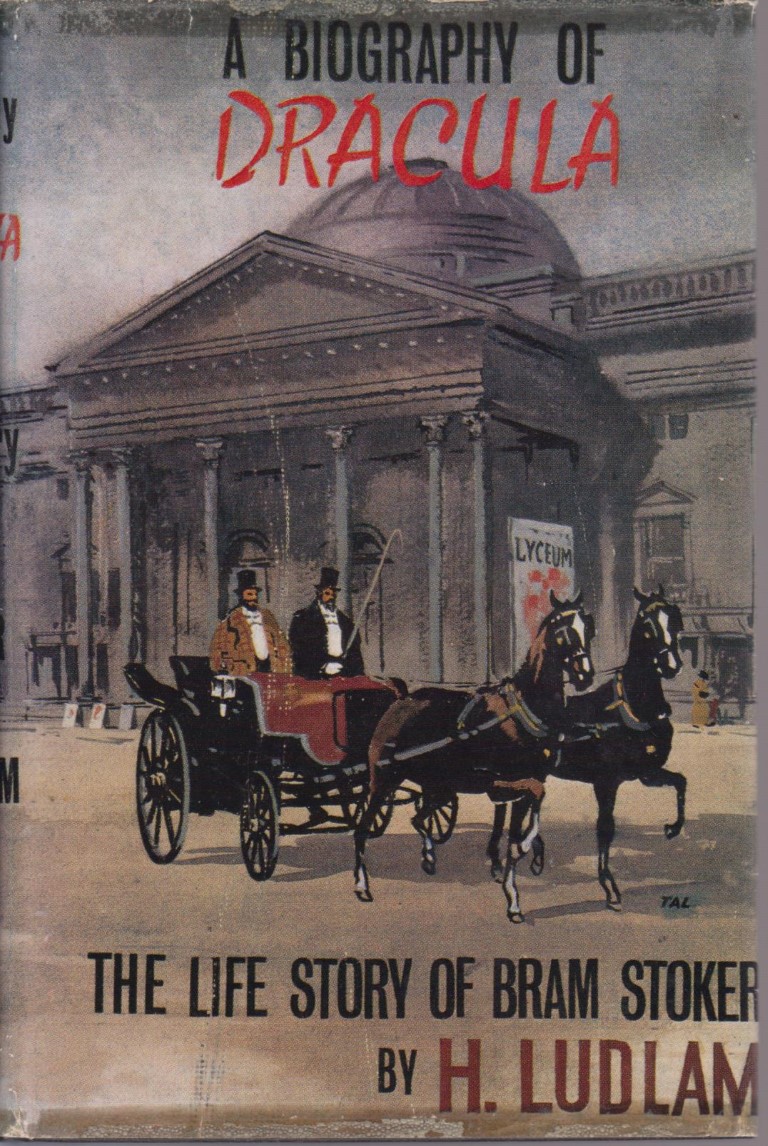 An interesting biography of Bram Stoker, with much emphasis on the sucess that Dracula brought him, both as a novel and a stage act.
biography, horror, vampire, literature
VG hardback in G dust jacket.
Minor tape residue shows as vertical strip down middle of paste downs with light offset to free end papers.
A small pen price to free end paper.
Jacket is complete and unclipped but has tape rust residue to top and bottom edges and the edges of the fold in flaps, this shows as darkened area but is not sticky.
$15 C/B
Quality Book Club 1962 First thus Book Club Edition, 200pp.
[#4287 ]
WILKINSON V. F.

Days and ways at Boys High.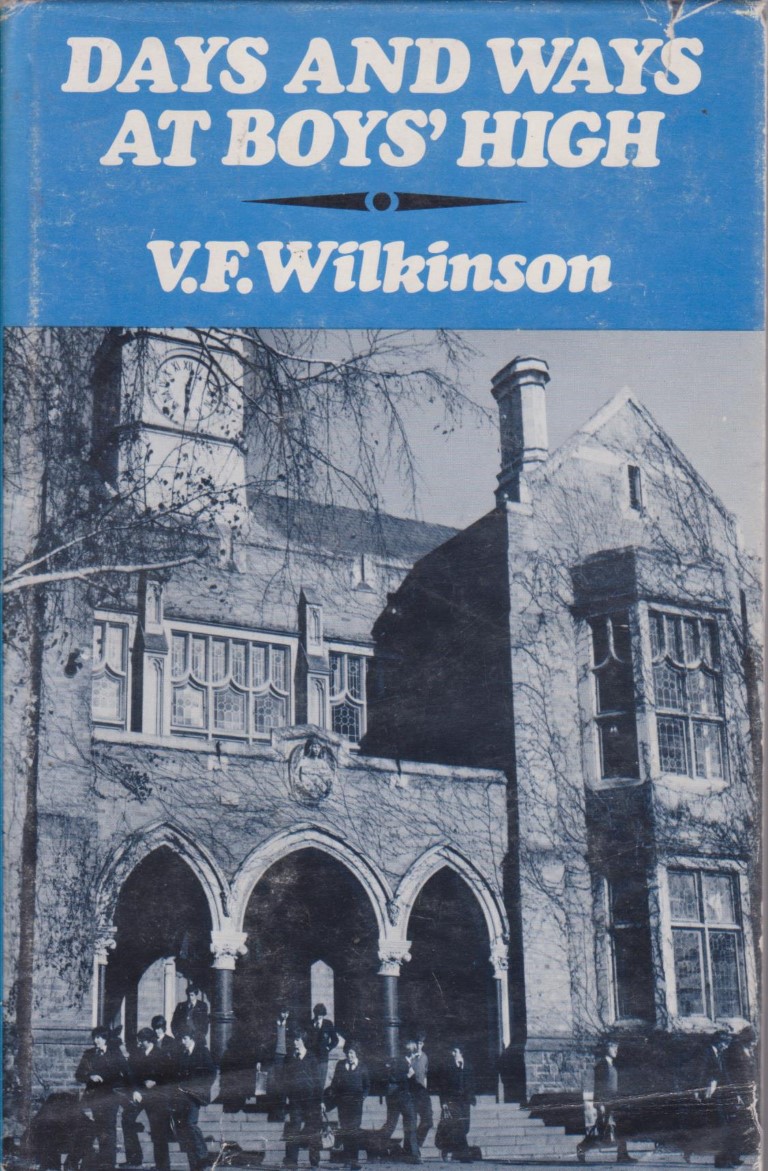 A history of the Christchurch Boys' High School, with some emphasis on non-academic activities; sport, theatre, tramping.
ISBN090856807X
ChChBHS, education, school history, boys high
VG hardback in VG- dust jacket with small tear 10mm long at top corner, small chip at head of tail.
$20 C/C
Pegasus Press 1979 First Edition, 215pp + plates.
[#4288 ]
WILFORD John Russell

Southern Cross and Evening Star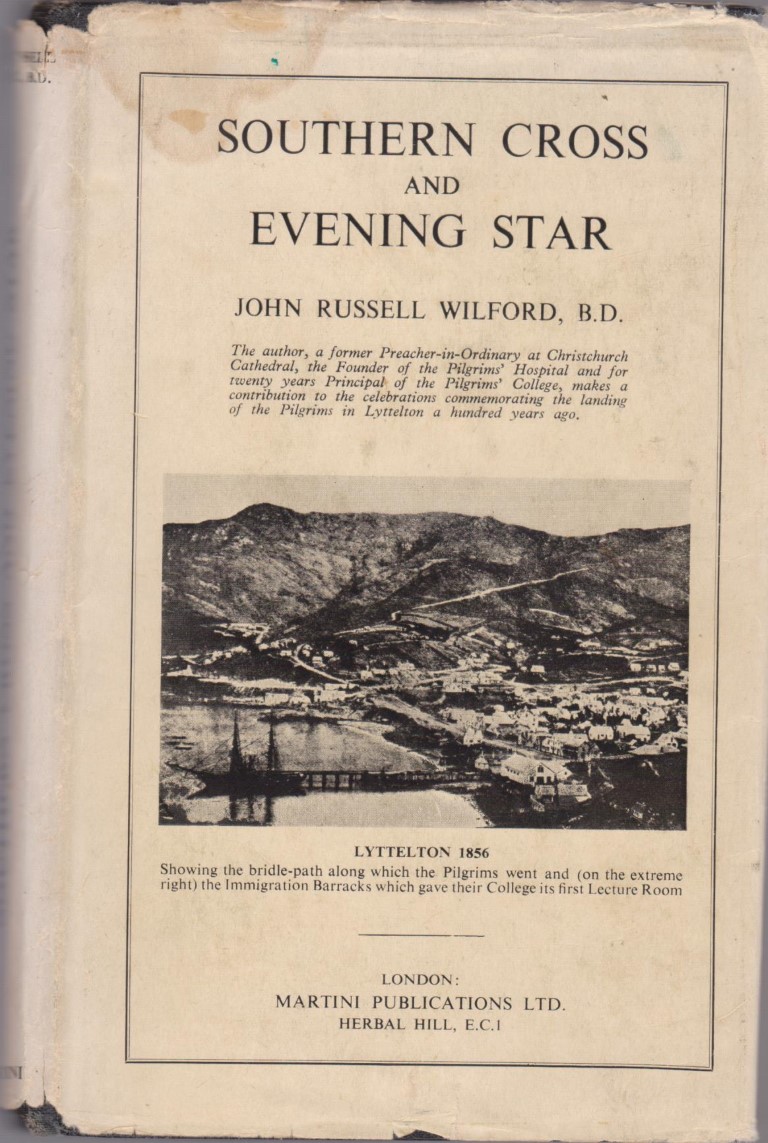 Autobiographical memoir by a clergyman who came out from England to be the vicar at Waikari.
Canon Wilford also worked at Christ's College and the Christchurch Cathedral.
Between 1904 and 1933he was involved in church building at Waikari, the 1910 missions in Prebbleton, the redevelopment of College House and the building of St George's Hospital.
new zealand, religious, memoir, anglican, north canterbury
VG hardback in G dust jacket with edge wear and some soiling and loss.
$25 C/C
Martini Publications Ltd. 1949 first edition, 248pp
[#4289 ]
10/01/2020ev
DRURY Nevill.

The Occult Experience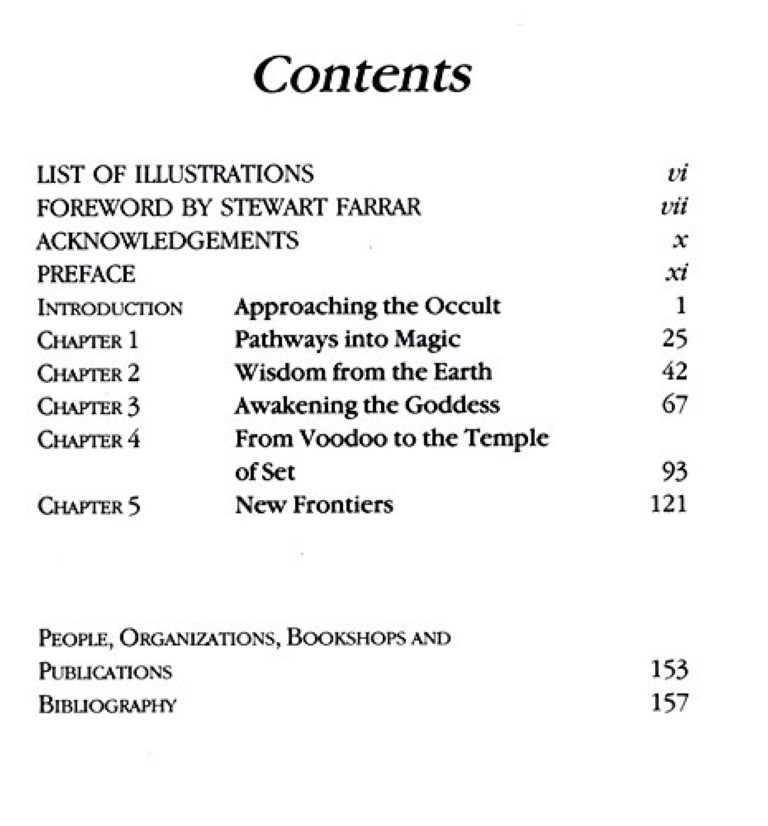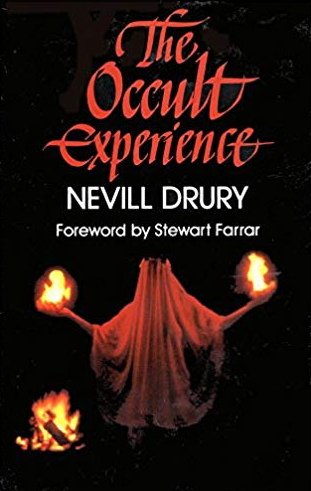 Gives some history to, and a good look into, then contemporary occult practices in the British Isles, USA and Australia.
ISBN0709029616
Magic, Metaphysics, Wicca, Witchcraft, Paganism, Voodoo, Temple of Set, Satanism, New Religious Movements
VG+ hardback in VG+ unclipped dust jacket.
$30 C/B
Robert Hale 1987 First Edition, xii 161pp+ plates.
[#4281 ]
6/01/2020ev
WILLIAMS Murray

The Duckshooter's Bag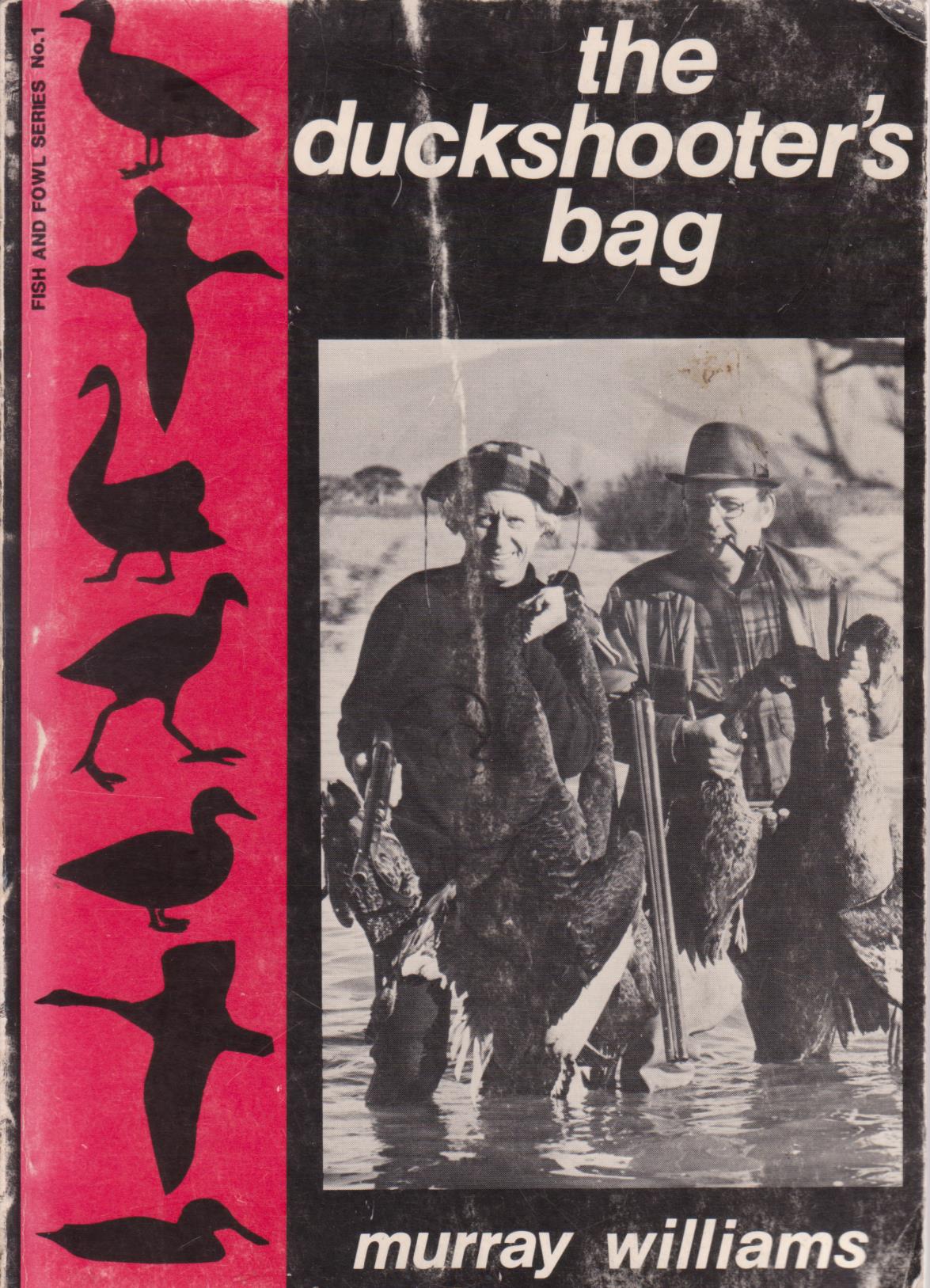 An Understanding of New Zealand's Wetland Gamebirds.
Gamebird hunting in New Zealand.
ISBN0959760903
keywords
VG- softback with worn wrappers.
$10 C/B
Wetland Press 1981 first edition, 123pp photo illustrations in text.
[#4279 ]
VG- softback with worn wrappers, scattered pencil annotation.
$10 C/B
Wetland Press 1981 first edition, 123pp photo illustrations in text.
[#240 ]
SAVEDOW Steve

Goetic Evocation
The Magician's Workbook Volume 2.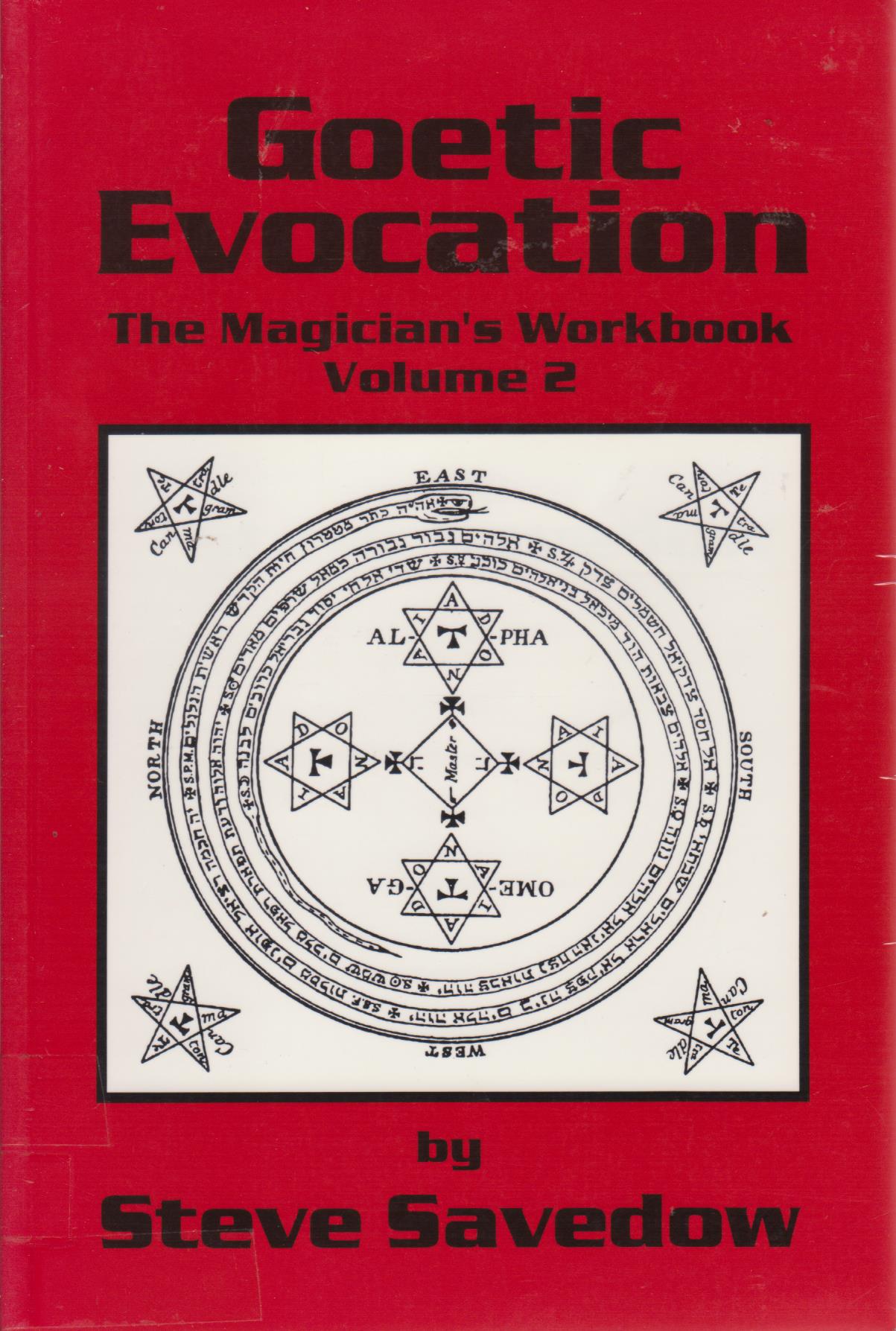 This book is a never before attempted practical study of the Goetia.
It is a handbook of ceremonial magic, including methods of summoning to VISIBLE appearance the spirits from The Lesser Key of Solomon the King.
With transcripts from the author's own Goetic evocation workings.
Scarce first softcover edition, there was also a near simulatenous hardcover edition, limited to 100 copies
ISBN9781573531115
Occult Magic, Evocation, Kabbalah, Qabalistic, Theurgy, Demonology, Satanism, Lesser Key of Solomon the King, Grimoire, Crowley
VG softback, has clear tape at heel of spine (no reason for it to be there as there is no damage) and faint pencil to fep, pen name at head of contents page, iv 203pp, foot of final page has been neatly removed with no loss of text
$65 C/B
Eschaton 1996 First Edition, iv 203pp.
[#4280 ]
20/12/2019ev
CLEVELAND Les.(editor)

The Iron Hand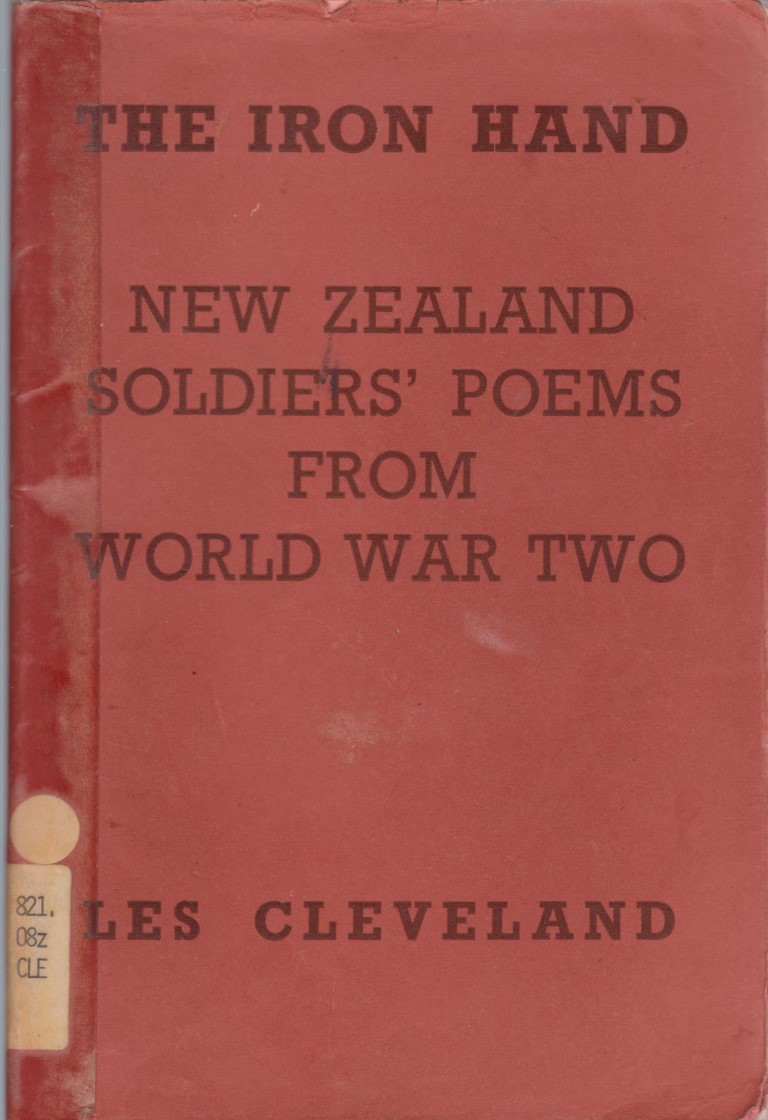 New Zealand Soldiers Poems from World War Two.
2NZEF war poetry, letterpress on nice paper.
Greece, Crete, Western Desert, North Italy
G softback.
Sewn wrappers with stiff card covers and jacket, spine library taped with shelf label, chipped at edges, both fold in flaps detached but present, lacks half title, title with WITHDRAWN and date stamp, call numbers etc on verso page.
$15 C/B
Wai-te-ata Press 1979 First Edition, 56pp.
[#4275 ]
EWING J L.

The Development of the New Zealand Primary School Curriculum 1877-1970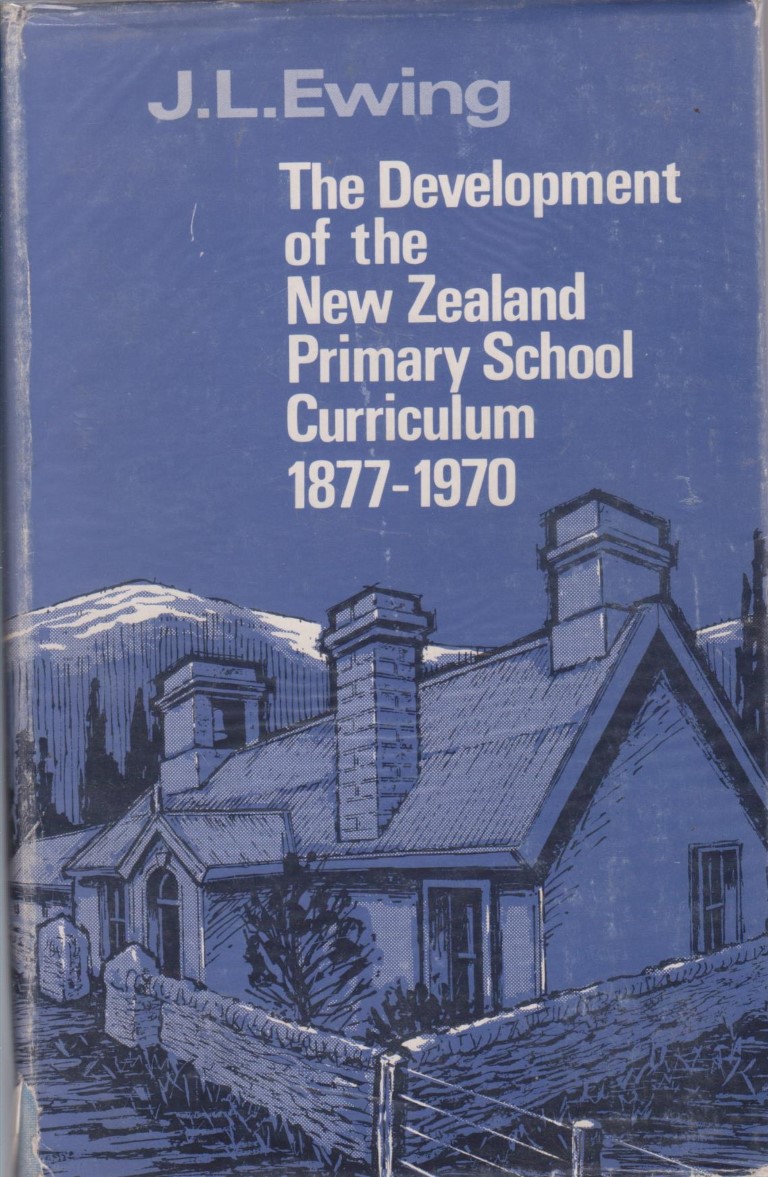 Includes Hogben's New Syllabus, Proficiency Examinations, post war changes and new subjects.
education, children, teaching
VG hardback in VG- dust jacket.
$30 C/C
New Zealand Council for Educational Research 1970 First Edition, xviii 321pp+ plates
[#4276 ]
BARR John

The City of Auckland New Zealand 1840-1920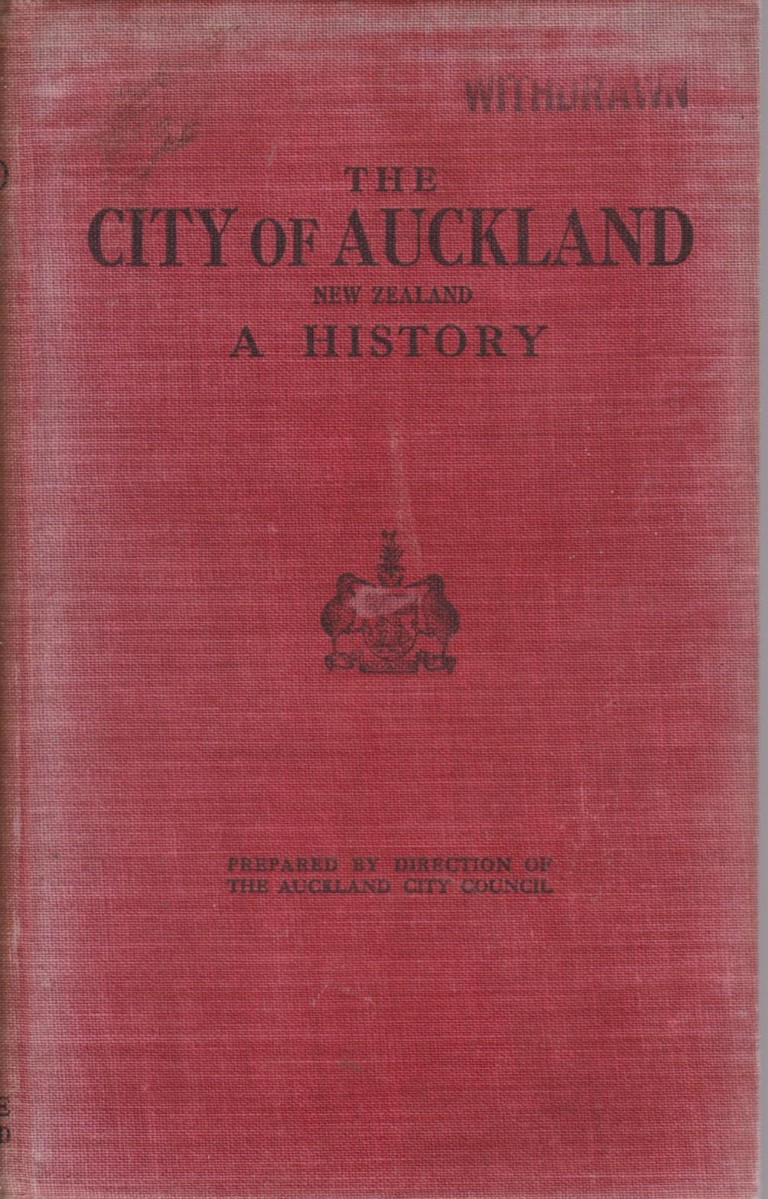 Preceeded By a Maori Histroy of the Auckland Isthmus By George Graham.
G hardback with no jacket.
Cloth rubbed and faded, ex Ministry of Works library with library marks etc., Auckland City Coat of Arms plate tipped to half title (as published), large folding map at rear with minor tear.
$25 C/C
Whitcombe and Tombs 1922 First Edition, 255pp + many plates.
[#4277 ]
4/12/2019ev
HARPER Barbara.

The Harvest
History of the Catholic Church in Timaru 1869-1969
Centennial publication history of the Catholic Chruch in Timaru.
south canterbury, catholic, regional history, local history
VG hardback in VG dustjacket.
Sewn sections with plain card boards with jacket pasted to these, as published.
Name to half title.
$30 C/B
The Catholic Presbytery 1969 First Edition, 151pp + plates
[#4265 ]
SPENDER Stephen

Poems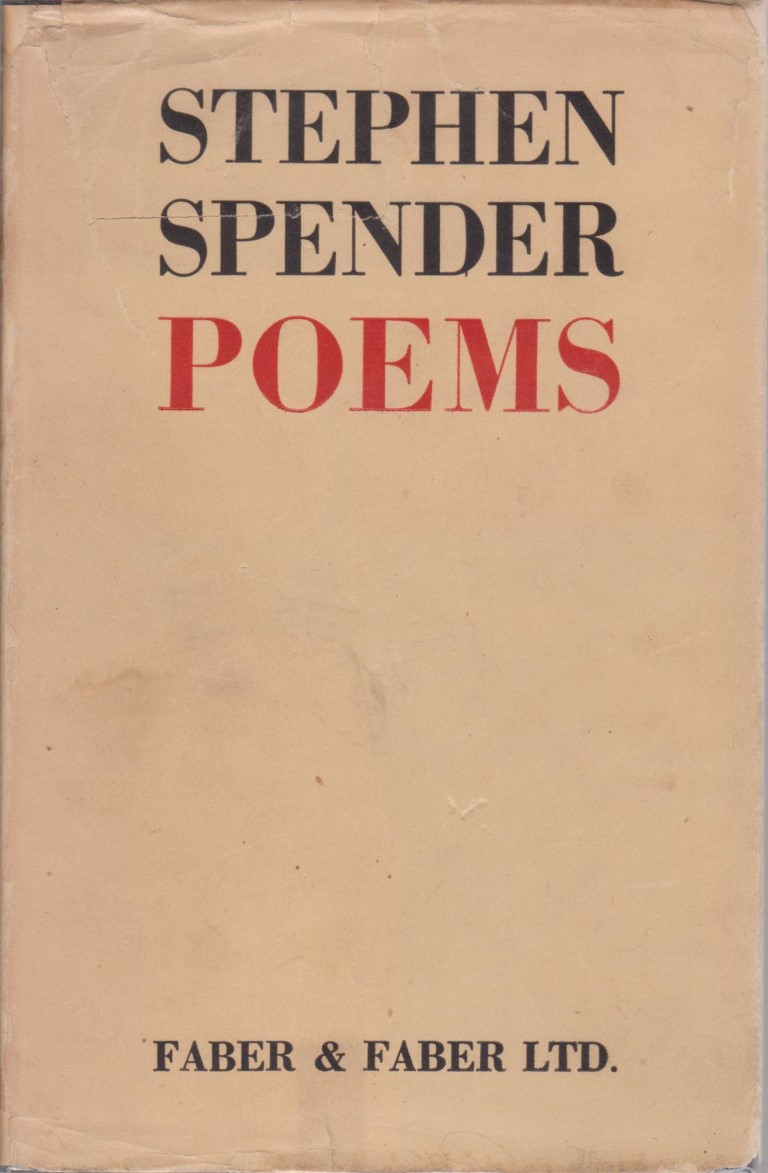 40 poems, nice printing.
twentieth century poetry, british
VG hardback in G+ dustjacket with chipped spine ends losing the P of POEMS at the head., small ink name on lower dust jacket panel.

$10 C/B
Faber 1952 reprint, 69pp.
[#4266 ]
PHILLIPS Tony

With Great Foresight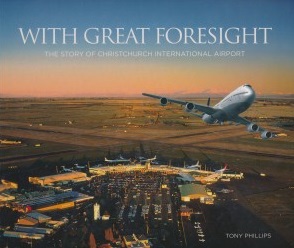 The Story of Christchurch International Airport.
ISBN9416479003298
aviation, aerodrome, canterbury
VG hardback with no dust jacket.
A pen gift inscription inside front cover.
$25 C/D
Christchurch International Airport 2006, 223pp.
[#4267 ]
OGILVIE Gordon

Ballantynes, The Story Of Dunstable House 1854-2004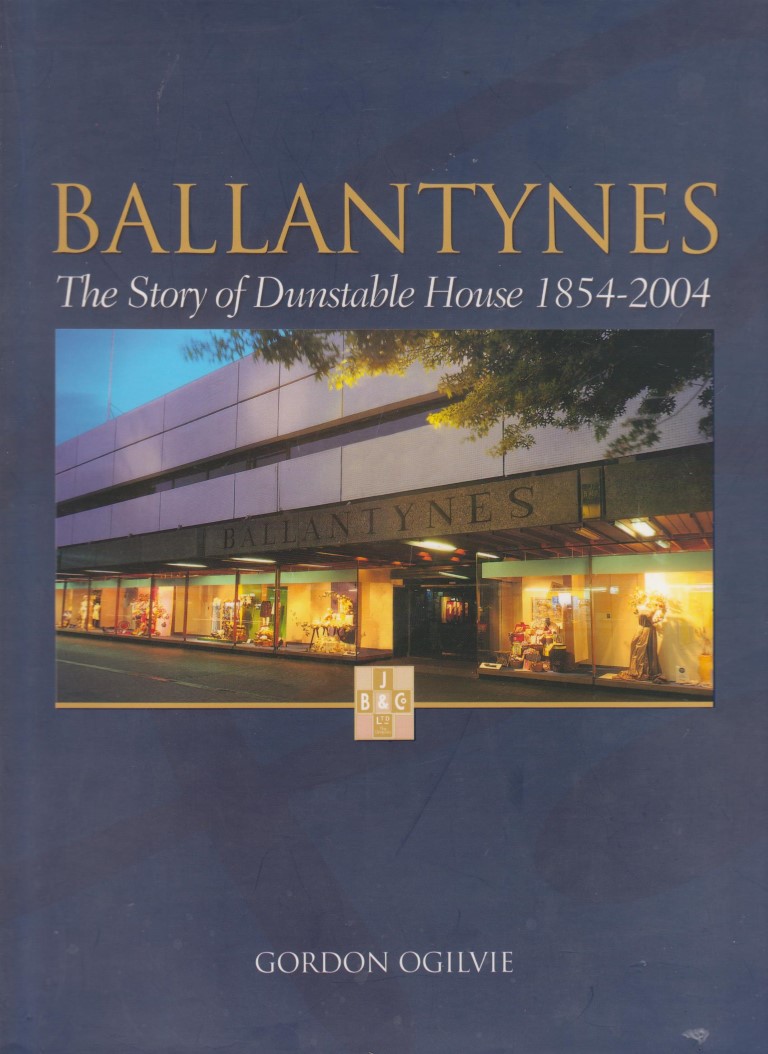 A history of a business dynasty from its early beginnings in Colonial Canterbury.
With a detailed account of the 1947 fire which killed 41 people, and could have been the end of the firm.
ISBN0476005647
business, company, department store
VG hardback in VG dust jacket
$55 D/D a large heavy book.
J Ballantyne & Co Ltd 2004, 264pp.
[#4268 ]
COOPER Michael with photography by Robin Morrison

The wines and vineyards of New Zealand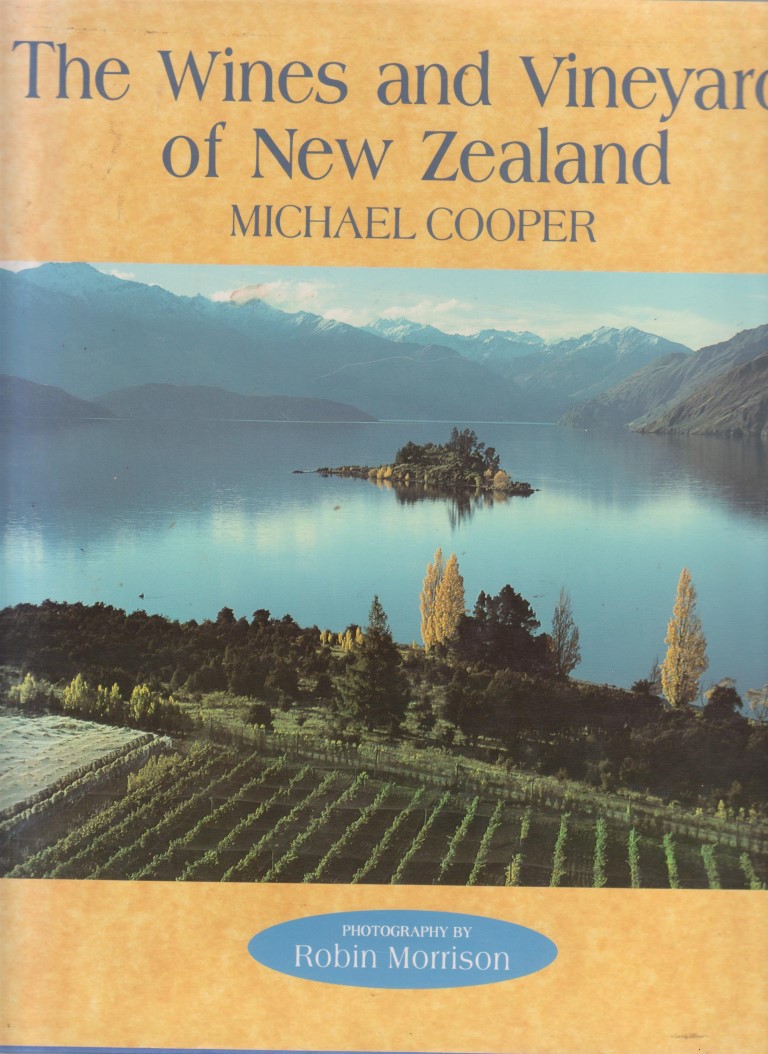 A short history of wine production in New Zealand followed by a gazetter of notable wineries and winemakers.
With stunning photography by award winner Morrison, as well as a few by Marti Friedlander.
Covers both North and South Island producers.
ISBN9780340575703
viticulture, winery, primary produce, company history
VG hardback in VG dust jacket
$25 D/D
Hodder and Stoughton 1993 first printing of Fourth Edition, 184pp.
[#4269 ]
SINCLAIR Keith

A History of the University of Auckland, 1883-1983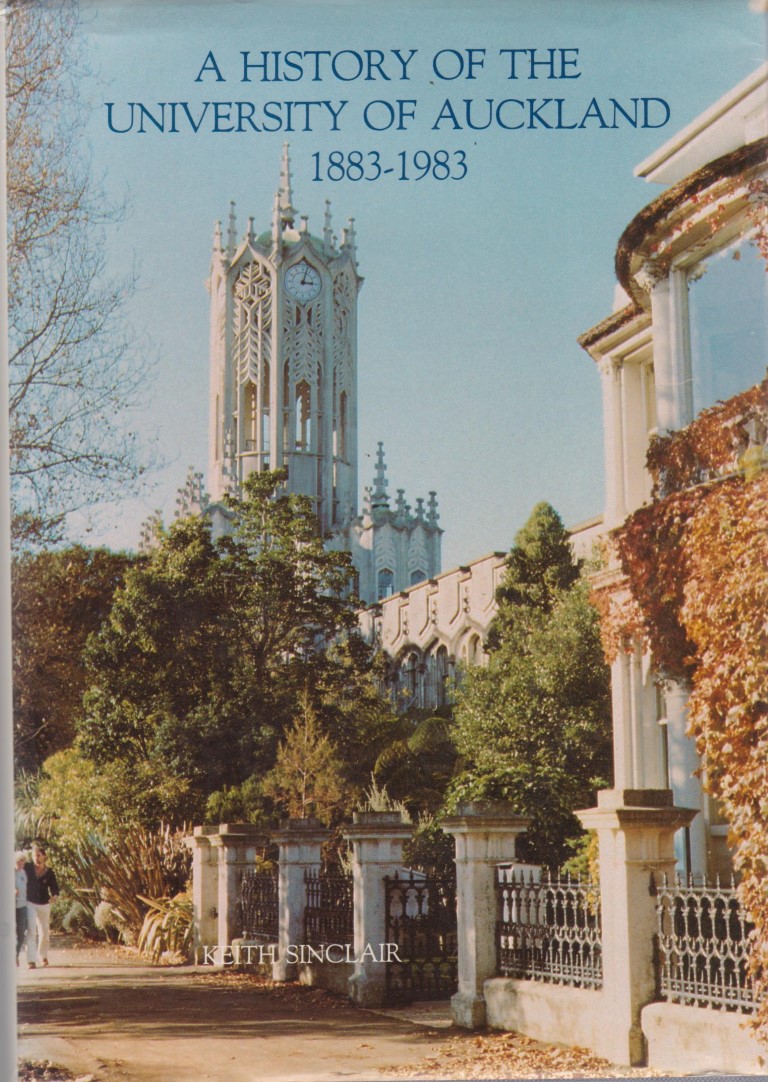 First envisaged as early as 1854, it was not until the late 1800s that the University was established.
An exhaustive account of the students, staff and curriculum through the years at Auckland University.
ISBN0196480213
education, tertiary, academia
VG hardback in VG dust jacket.
Name to free end paper.
$35 B/D
Auckland University Press 1983, 364pp.
[#4270 ]
28/11/2019ev
CANNON Dolores

Legacy from the Stars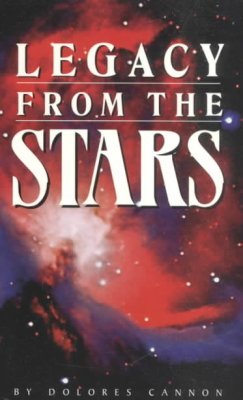 Earth is not our only home, and we have lived many lives in unusual environments before deciding to journey here and learn the lessons of Earth.
Cannon believes the memories of these soul journeys are recorded in our subconscious and can be retrieved through regressive hypnosis.
ISBN9780963277695
UFO, past lives, survival, new age, aliens, metaphysics, regression
VG softback
$20 C/B
Ozark Mountain Publishers 2010, 320pp
[#4252 ]
WILKINS Brian

Among Secret Beauties
A Memoir of Mountaineering in New Zealand and the Himalayas.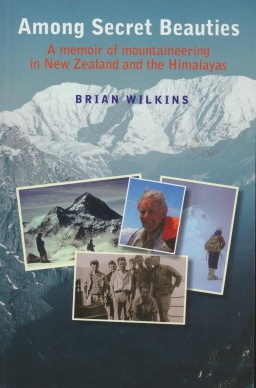 Brian Wilkins shares his experiences of climbing in the Southern Alps and the Himalayas.
During the New Zealand Alpine Club expedition to the Himalayas in 1954 Wilkins was closely associated with Sir Edmund Hillary, and was in a unique position to gauge his character and actions.
Wilkins achieved the first ascent of the northeast ridge of Mt Aspiring, a gripping drama of survival and human endurance and a test of the ethics of mountaineering.
In this account he also submits the writings of his contemporaries to robust criticism.
ISBN9781877578489
mountaineering, climbing, alpine, memoir, NZAC
VG softback
$30 C/C
Otago University Press 2013, 215pp
[#4253 ]
HUNT Graeme

The Rich List 1820-2003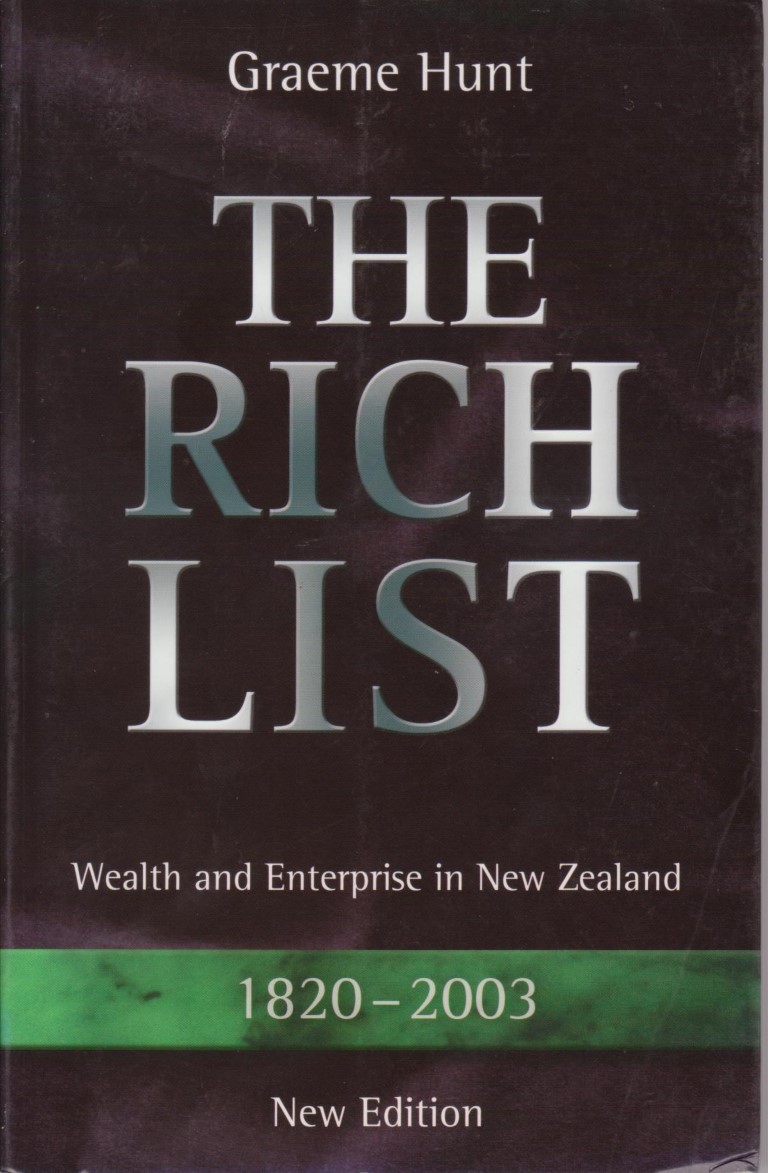 Wealth and Enterprise in New Zealand.
A history of the economic development of New Zealand and it's leaders, from the colonial runholders and industrialists, to stock market speculators and businessmen.
Includes list of those worth over $15 million dollar.
ISBN9780790009179
new edition, economics, biography,
VG softback
$15 C/C
Reed 2003 new edition, 333pp
[#4254 ]
JARDINE D G.

Shadows on the Hill
The Remarkables Station, Queenstown.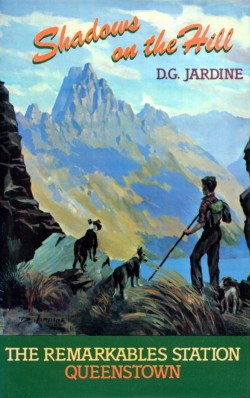 The Remarkables high country sheep station in southern New Zealand, with historical information on those who have run it as a business as well as the native wildlife and the landscape etc.
ISBN0589010093
otago, history, farms
VG hardback with VG dust jacket.
Small name and address to half-title page.
$35 C/C
Reed 1978, 190pp many black and white photos in text, map end papers.
[#4255 ]
KING Julie

Flowers into Landscape
Margaret Stoddart 1865-1934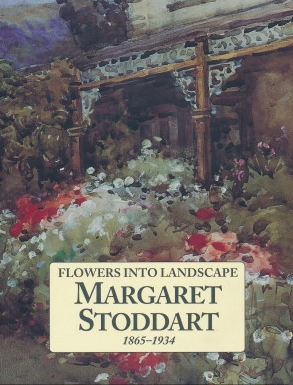 Best known as a landscape and flower painter, Stoddart moved from precisely observed studies to impressionism after eight years study in Europe.
A superb monograph of this Canterbury based woman artist.
ISBN9781877161131
art, painting, impressionist, women
VG softback
$20 B/C
Hazard Press Ltd 1997, 111 pp.
[#4256 ]
STORER Audrey

Light and Life.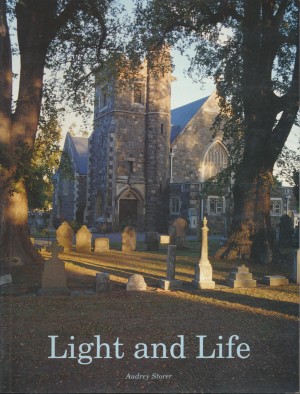 The Memorial stained glass and some Notable Graves of St Peter's, Upper Riccarton, Christchurch, New Zealand, with colour photographs of the windows.
ISBN090871405X
architecture, arts and crafts, ecclesiastical art, christian
VG softback
$30 B/C
Te Waihora Press/ Parish of St Peter's 1990, 96pp.
[#4257 ]
STIRLING Eruera as told to Anne Salmond

Eruera, The Teachings of a Maori Elder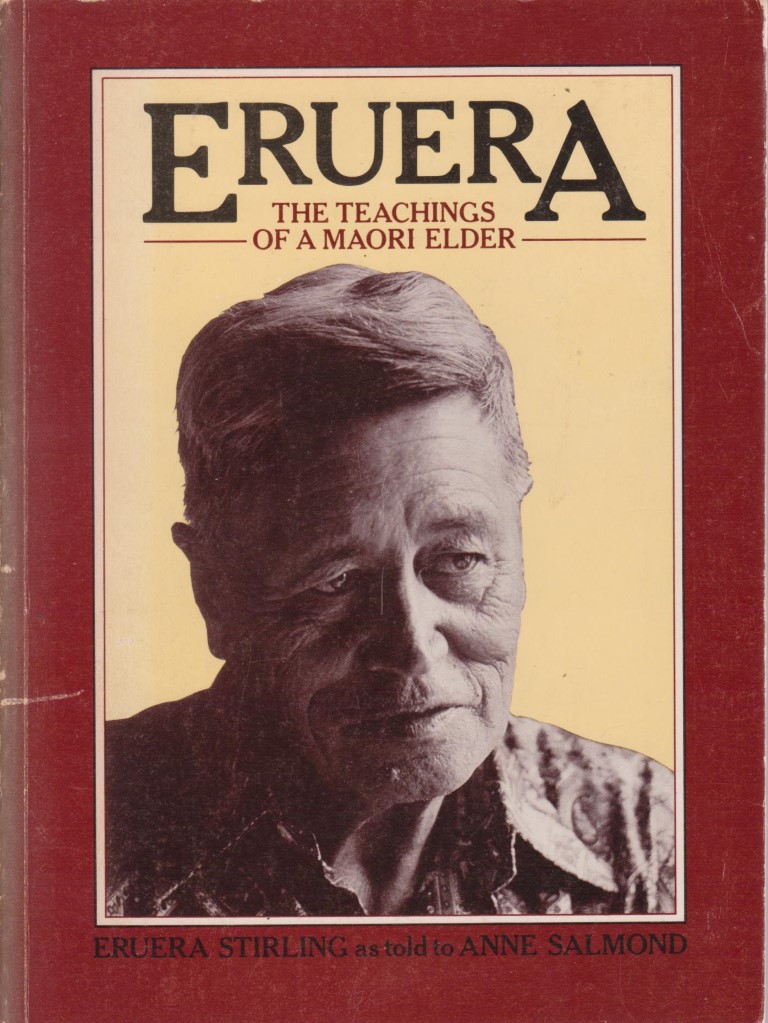 Autobiography of an an elder of the Whanau-a-Apanui tribe in Auckland, with commentary by Anne Salmond.
Stirling passes on his traditional tribal knowledge and the deeper meanings of an ancestral way of life.
Discusses such traditional concepts as mana (spiritual power), matauranga (knowledge), and whakapapa (genealogy), and the customs of the rahui (reserve), taua (raiding party), and haka (war dance).
Also life in the Bay of Plenty in the era of whaling, maize-cropping, and kumara growing, and an account of his work with Sir Apirana Ngata.
ISBN0195580702
maori, maoritanga, history
VG softback with minor wear.
$50 B/C
Oxford University Press 1980, 288pp.
[#4258 ]
WRIGHT Matthew

Wings Over New Zealand
A social history of New Zealand aviation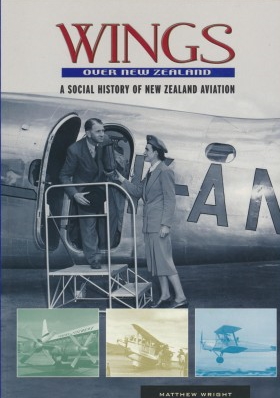 Covers the early figures involved in the development of aviation in New Zealand.
Richard Pearse, Bertram Ogilvie, George Bolt, Kingsford Smith, Jean Batten etc.
Discusses the commercial airlines TEAL and Air New Zealand.
ISBN9781877327094
transport, commercial, airlines, flying
VG softback
$20 B/C
Whitcoulls 2002, 144pp.
[#4259 ]
WRIGHT Matthew

New Zealand's Engineering Heritgae 1870-2000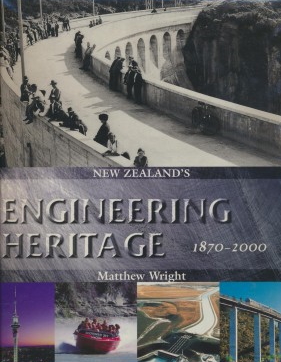 An impressive record of engineering works large and small from across the length of the country.
Over 65 projects, spanning more than 130 years, feature in this record of engineering works that have contributed to the shape of New Zealand today.
ISBN9780790006901
buildings, roads, bridges, industrial engineering, ministry of works, colonial, power, hydroelectric
VG hardback in VG dustjacket.
$35 D/D
Reed Books 1999, 167pp.
[#4260 ]
WATSON James

Along The Hills
A History of Heathcote 1864-1989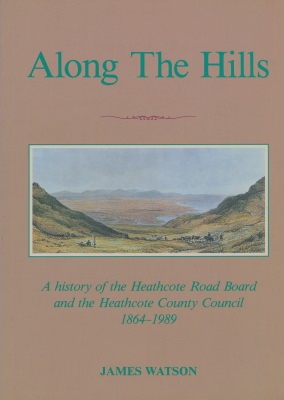 A history of the Heathcote Road Board and the Heathcote County Council, from the early days of the Canterbury Settlement.
ISBN0473008513
christchurch, local body, regional
VG softback
$30 C/B
Heathcote County Council 1989, 274pp.
[#4261 ]
ROBERTSON Martin

A Shorter History of Greek Art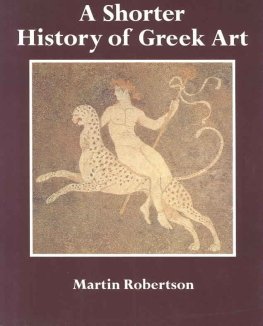 First published in 1981, this is the shorter work of the two volume set A History of Greek Art, intended for a general readership.
The abbreviation has been achieved by the selection of fewer objects for discussion rather than by a more summary treatment and the particular qualities of the larger History have been preserved.
ISBN9780521280846
classical history, classical art, hellenismos, hellenic, european, culture
VG softback
$20 B/D
Cambridge University Press, 1989, 240pp.
[#4262 ]
27/11/2019ev
McINTYRE Peter

Peter McIntyre's New Zealand
New Edition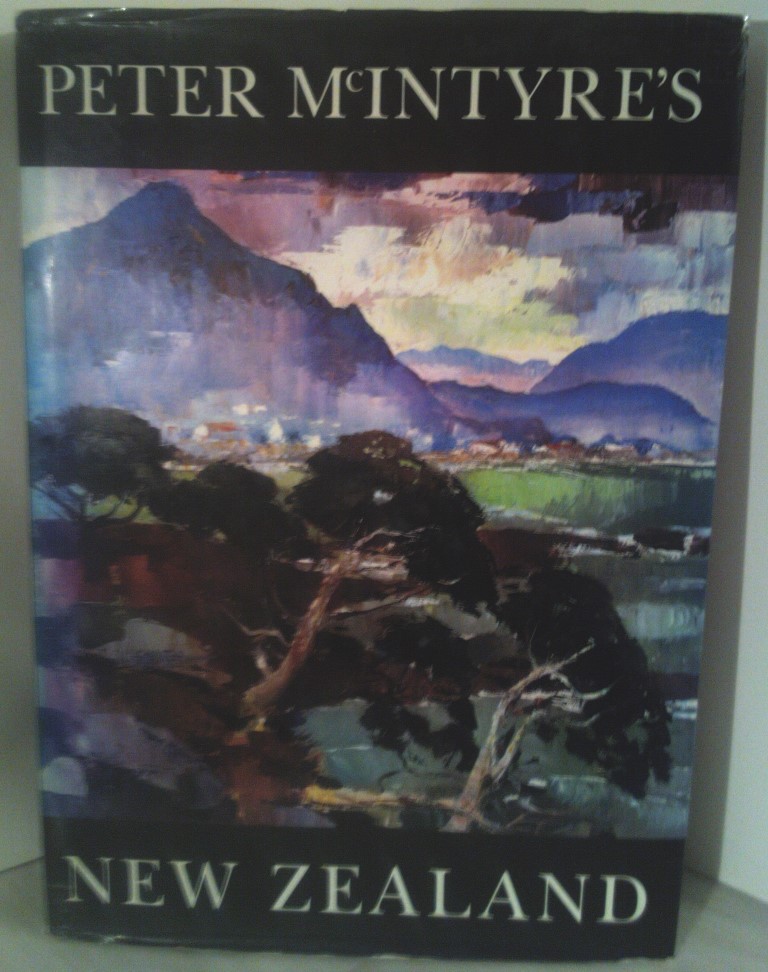 Reissue of the 1968 original book of McIntyres paintings of places around NZ.
An essay followed by 56 full page colour reproductions of his paintings.
ISBN0908676387
art, paintings, landscape
VG hardback in VG dust jacket.
Jacket has some mild rubbing to spine ends.
$55 D/D
Large format book.
Beckett 1989 new edition.
[#4246 ]
TULLETT J. S

Nairn Bus to Baghdad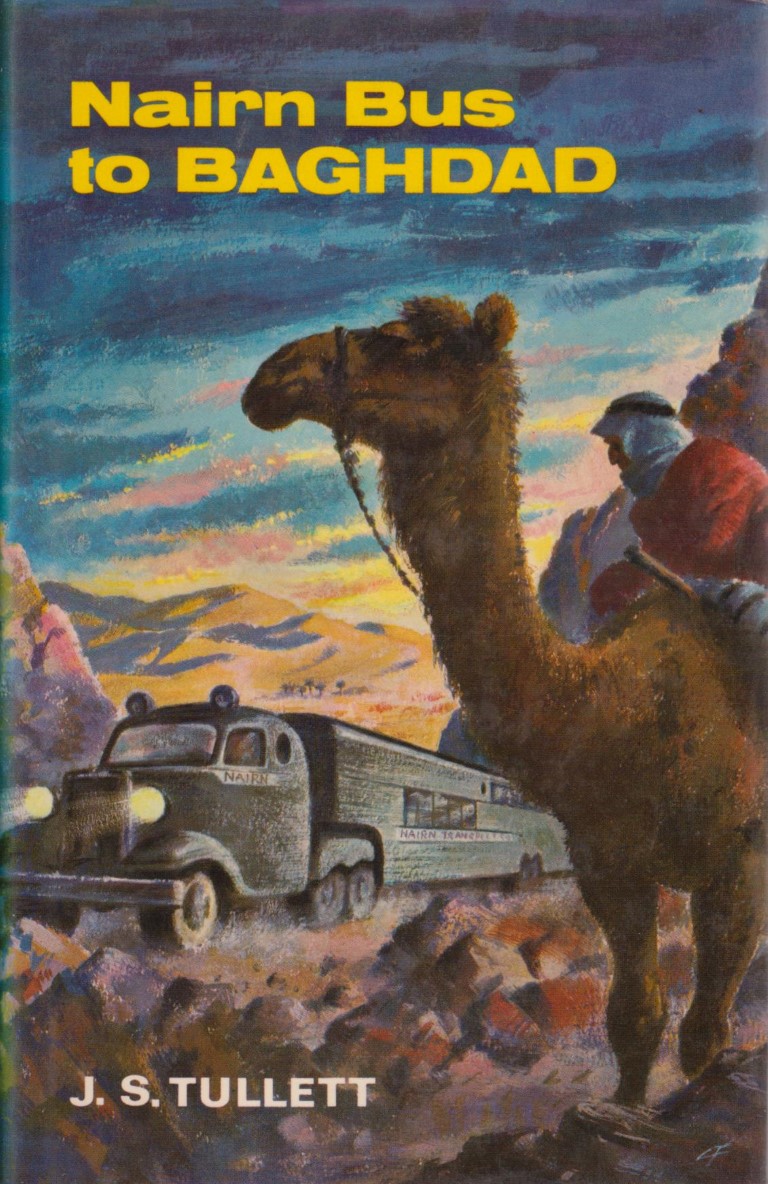 Gerald and Norman Nairn, who had served in the NZEF in the Middle East, seized on the demise of the Turkish Empire post WWI and set up a transport company which serviced a desert route between Beirut and Baghdad.
The company had success during WWII with their specially designed bus fleet.
Rare title.
new zealand business, transport, iraq, mesopotamia
VG hardback in VG dust jacket, but is MISSING the title page.
$45 C/B
Reed, 192pp + plates.
[#4247 ]
NIN Anais

A Spy in the House of Love.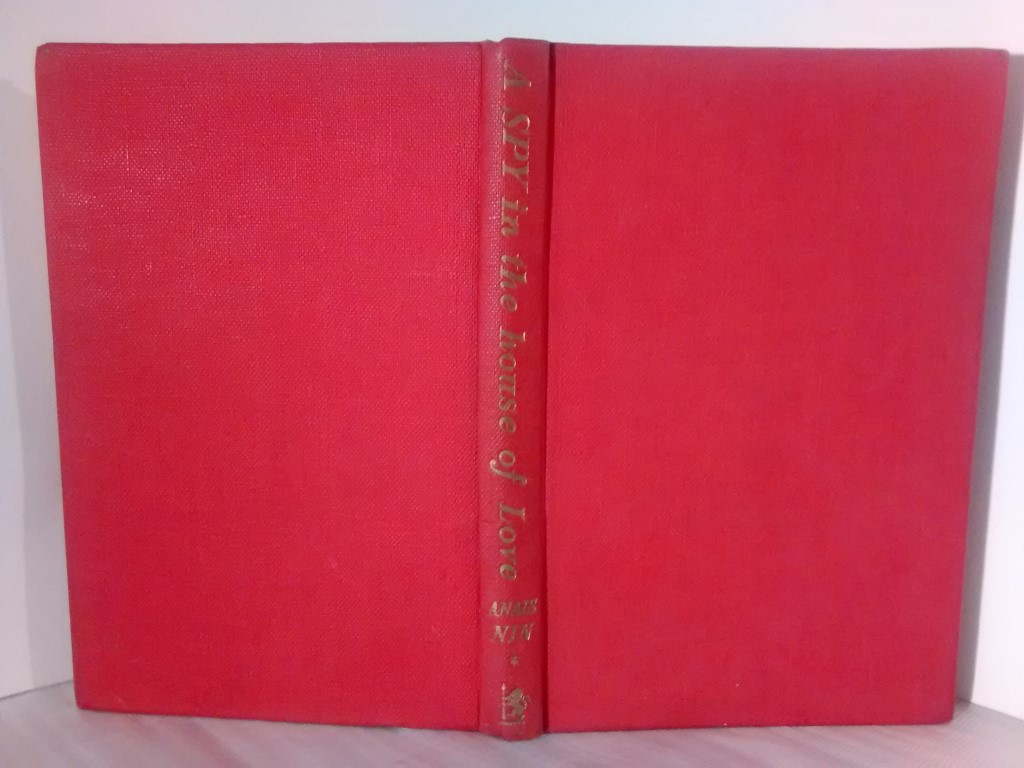 An erotic literary work by this feminist icon.
fiction, literature, erotica
VG- hardback with no dust jacket.
A few pencil numbers to end paper, boards slighlty soiled by dust and handling.
A few page corners have been folded over.
$20 C/B
Spearman 1955 First Edition, 136pp.
[#4248 ]
WOOD Ernest

The Seven Rays a Theosophical Handbook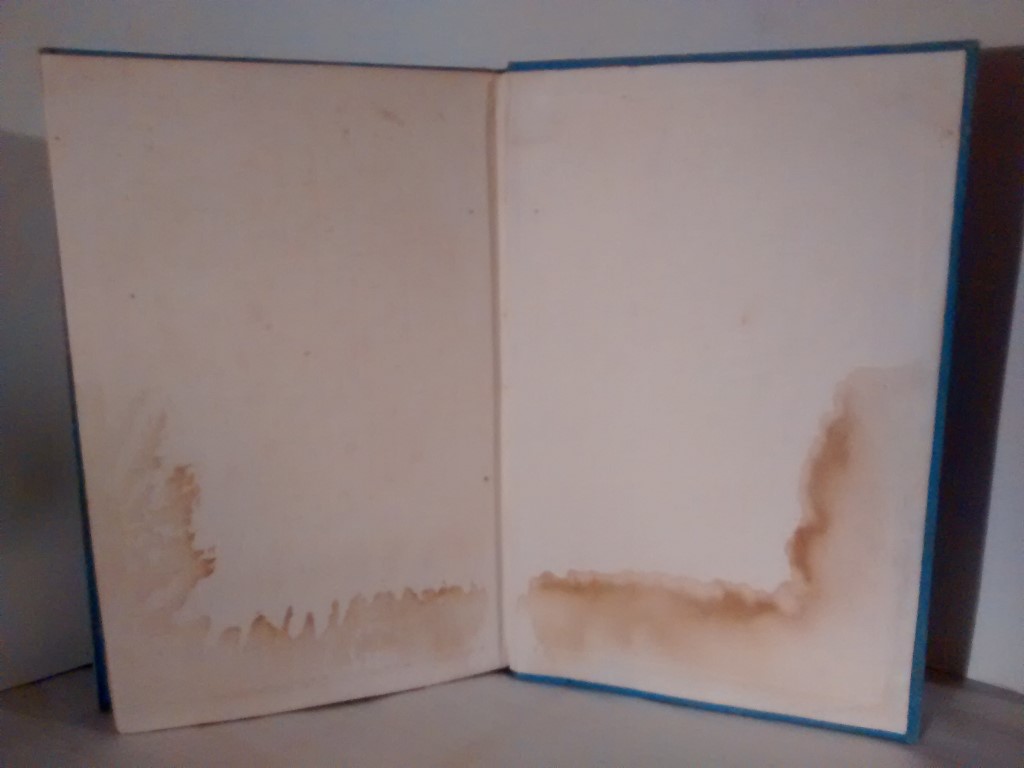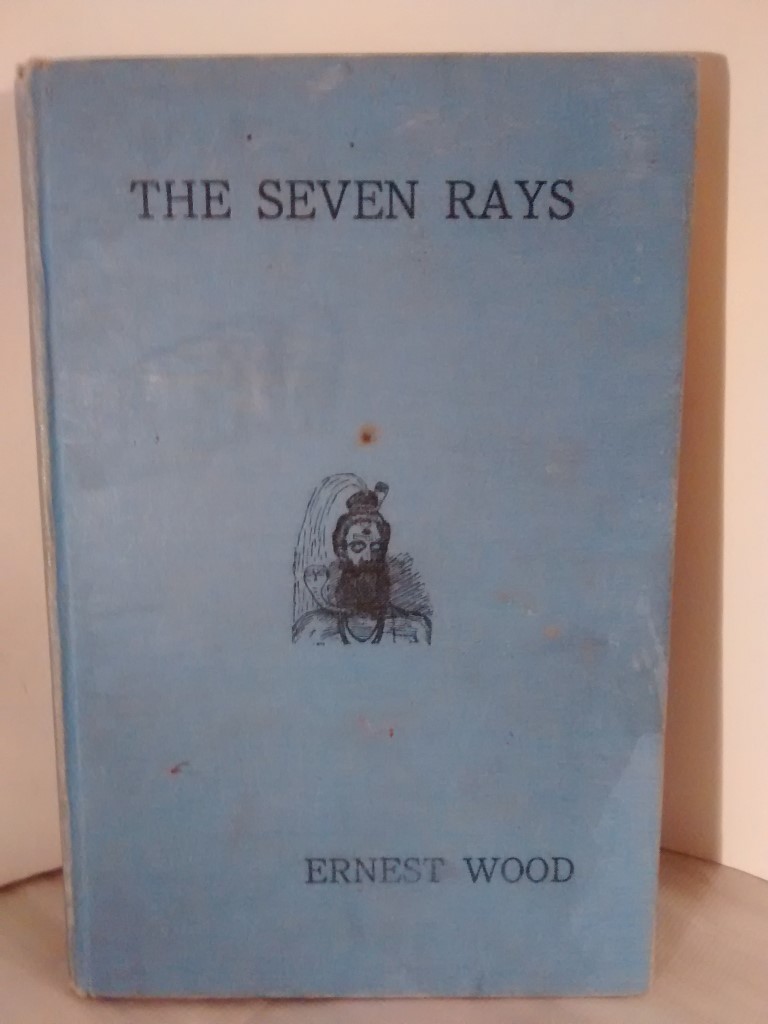 An important work on the nature of the Seven Rays, their source and the Great Use and Danger of the Knowledge of the Rays.
Includes discussions of Shiva and other Hindu concepts.
philosophy, hinduism, theosophy, new age, annie besant
Good hardback with no jacket.
Rubbed to extremities and lightly soiled.
Title page and contents page foxed and some foxing to page edges.
The rear end paper and paste down (only) are water stained and the glossary at rear is a bit foxed as well.
At the lower end of 'Good' condition but no real faults just overall a bit 'tired' etc.
$25 C/B
Theosophical Publishing House 1925 First Edition, 146pp.
[#4249 ]
BULLOCK-WEBSTER H.

Memories of Sport and Travel Fifty Years Ago
From the Hudson's Bay Company to New Zealand.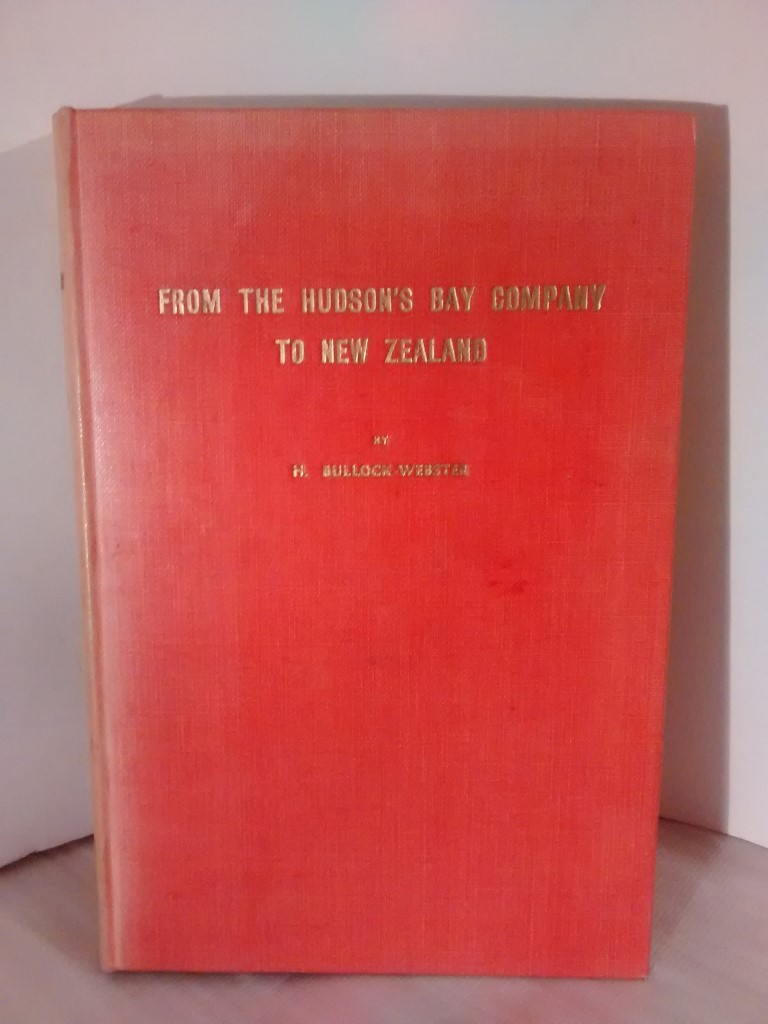 The author ventured to the Hudson's Bay Company in Canada in 1874, and later came out to New Zealand where he became Master of the Pakuranga Hounds.
Contains much on The Hunt with amusing sketches by the author, who seems to have travelled widely in the early days of New Zealand colonial settlement.
horse and hound, hunt, Waikato Hunt Club, Hudson's Bay Canada
VG hardback with no jacket.
Red cloth gilt titled upper board and spine, the spine has been sunned to a bone colour.
Ink name to end paper.
$65 C/C
Whitcombe and Tombs 1938 First Edition, 235pp +plates +adverts at rear.
[#4250 ]
22/11/2019ev
YSKA Redmer

New Zealand Green
The Story of Marijuana in New Zealand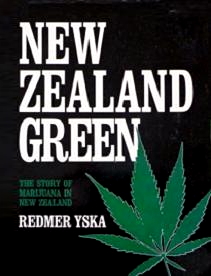 A social and criminal history of marijuana use in New Zealand.
Researched from Police, Customs and Health Department records, as well as media reports and other sources.
ISBN9781869530310
cannabis, hemp, drugs, narcotics, sociology
VG softback
$30 B/C
David Bateman 1990, 184pp.
[#4239 ]
KIRK Allan A.

Express Steamers of Cook Strait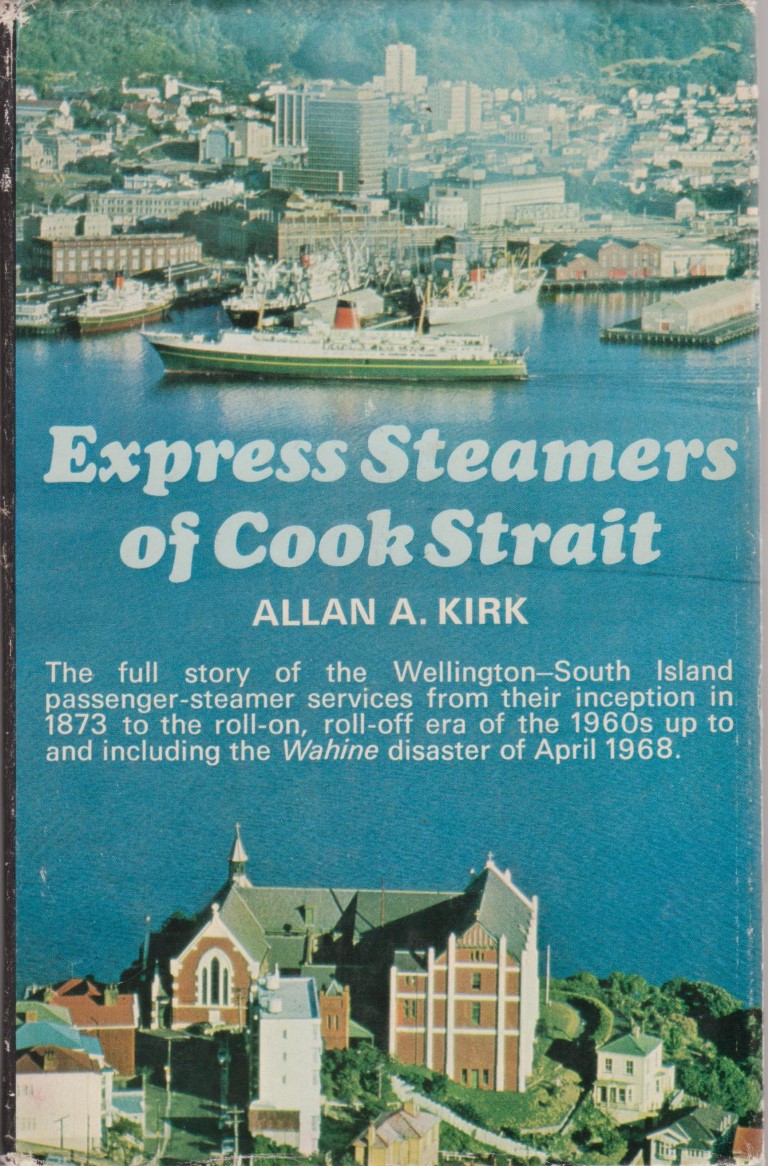 History of the passenger steamer services between Wellington and the South Island from 1873 to the Wahine disaster of 1968.
transport, shipping, merchant marine
VG hardback in VG dust jacket.
Inscription to first page.
$25 C/C
Reed 1968 first edition, 207pp.
[#4240 ]
BARNETT, GILPIN and METCALF

A Garden Century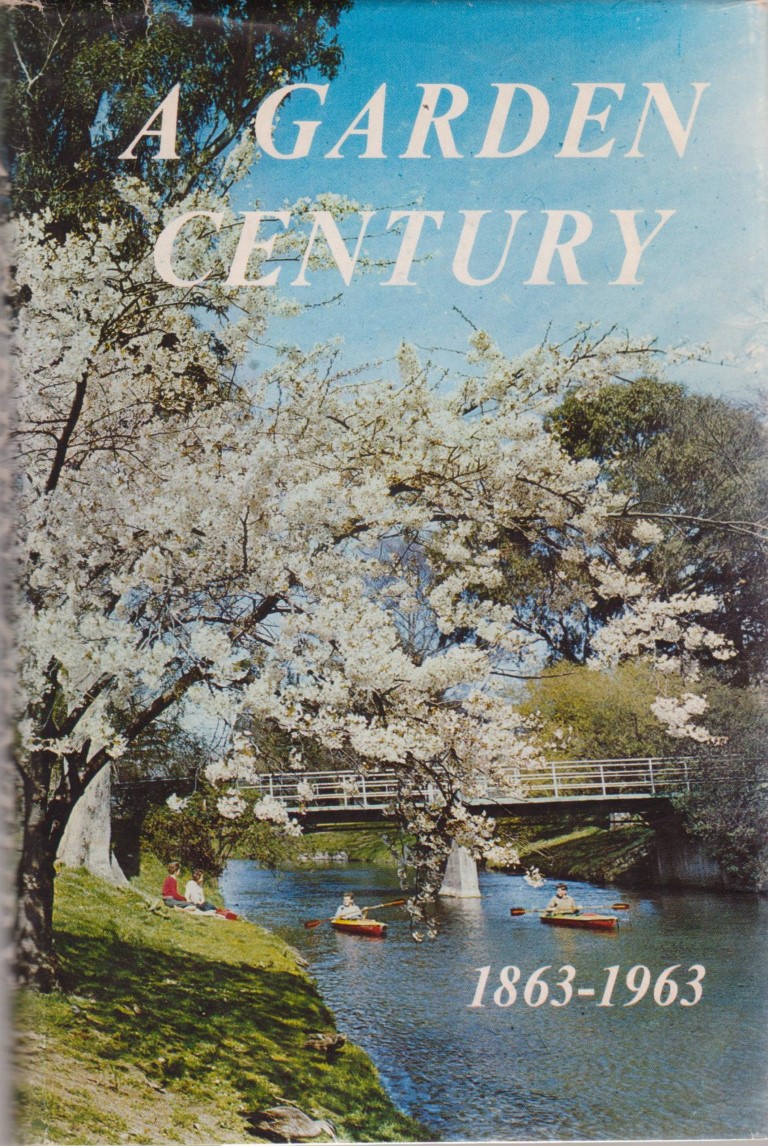 The official record of the first hundred years of Christchurch Botanic Gardens, from 1863-1963.
botany, botanical gardens,
VG- hardback in VG dust jacket.
First page has some pen inscriptions.
$15 C/C
Christchurch City Council (1963), 182pp + plates and folding map at rear pocket.
[#4241 ]
FLETCHER R. S.

Single Track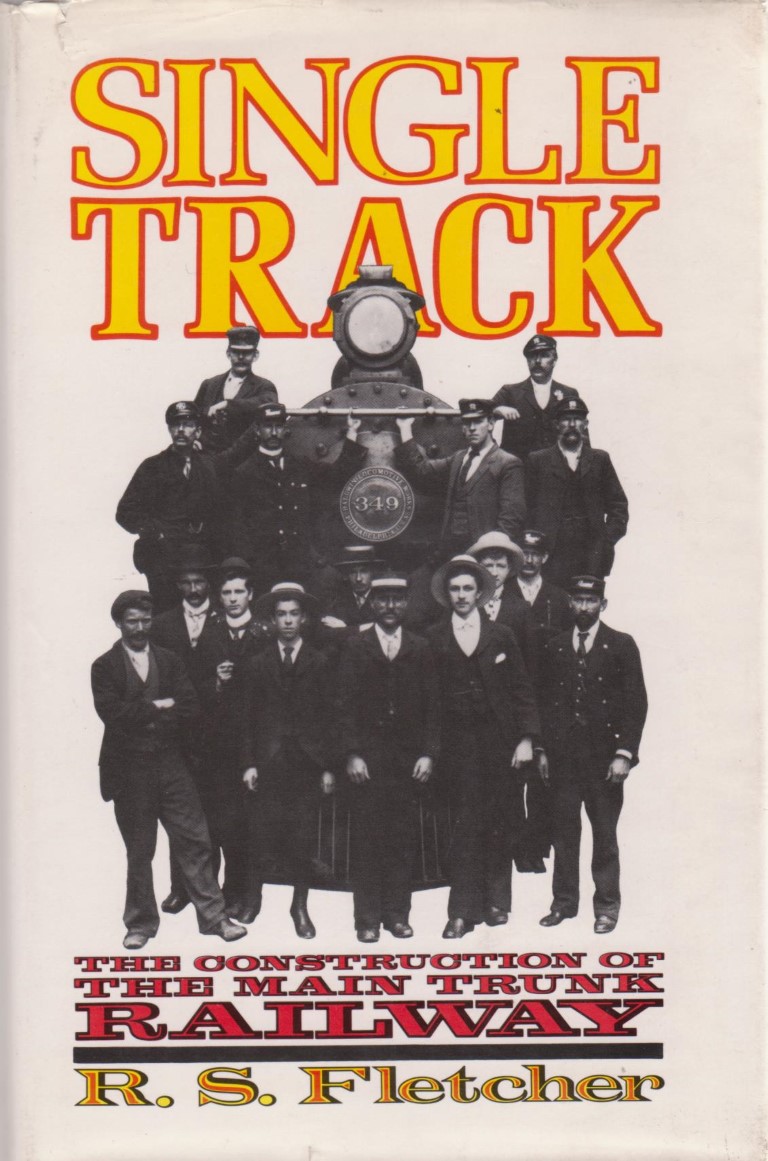 The construction of the North Island Main Trunk Railway.
ISBN0002169371
railways, locomotives, steam, nzr, new zealand rail
VG- hardback with VG dust jacket sunfaded to spine.
Pen gift inscription to title page.
$25 C/C
Collins 1978, 224pp.
[#4242 ]
CLARKE Robert B.

An Order Outside Time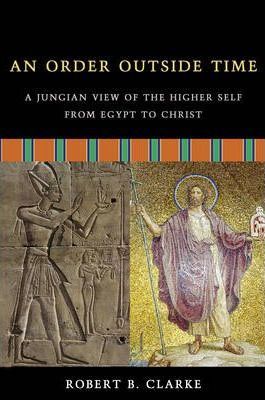 A Jungian View of the Higher Self from Egypt to Christ.
Clarke reinterprets Western Spirituality, using Jungian symbolism, to show that the great stories of ancient Egypt and of the Old and New Testament are processes of what Jung called individuation.
This is the individual's journey from lowest to highest Self; from Osiris to Horus, from Moses to Joshua, from David to Solomon, from John the Baptist to Jesus Christ.
These pairings also reflect what Joseph Campbell calls the Hero's Journey, which may ultimately spiritualize the whole culture.
The ultimate example of individuation, Clarke says, is the Christ, who must now be further understood and developed.
ISBN9781571744227
psychology, C G Jung, mysticism, initiation, esoteric, gnosticism
VG softback, but has a few pages of pencil notation.
$20 C/C
Hampton Roads 2005, 453pp.
[#4243 ]
20/11/2019ev
ANDERSON Mollie

50 Years
of the Vintage Car Club of New Zealand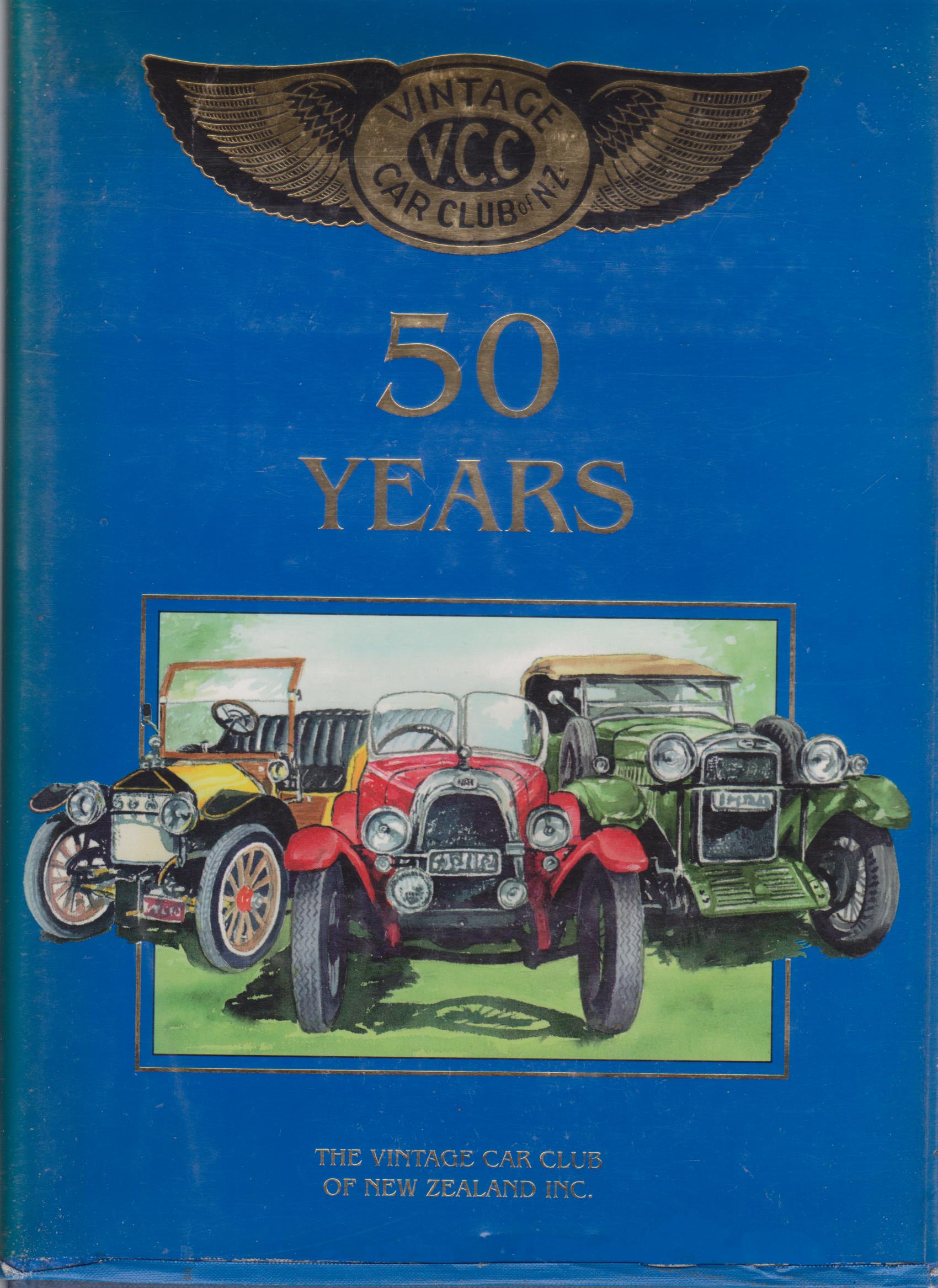 History of the Club published for the 50 year anniversary.
With some colour and black and white photographs.
ISBN0473036630
keywords
VG hardback in VG dust jacket under plastic sleeve. Name in marker to top of title page.
$40 B/D
Vintage Car Club of New Zealand Inc. 1996 viii 208pp.
[#4226 ]
BAKER Tim

History of Aranui and Wainoni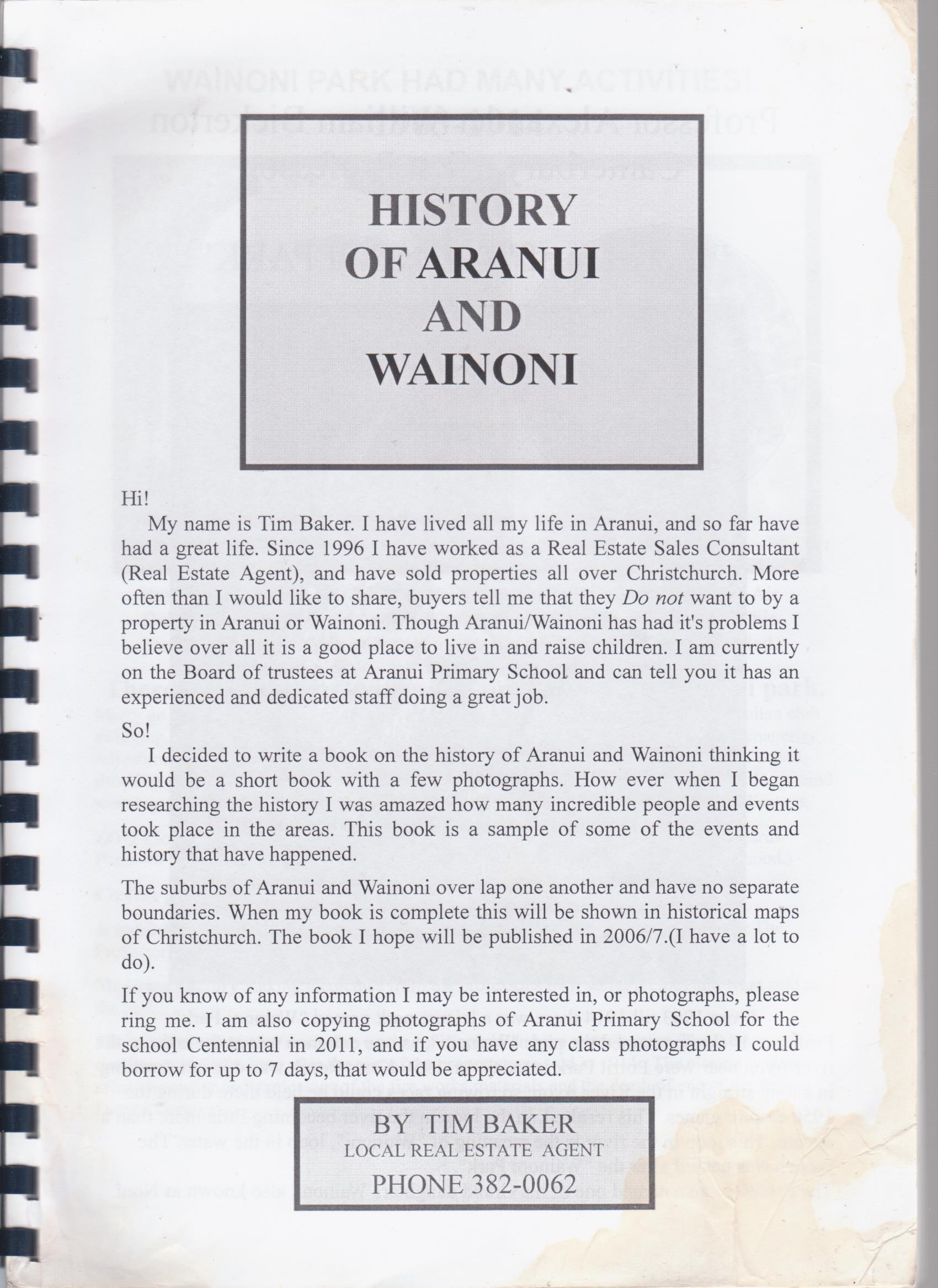 Assembled from research for a full history of the Christchurch suburbs of Aranui and Wainoni, this has a lot of intresting facts on some obscure residents and businesses in the area, with many photographs.
local history, Bickerton, Richard Pearse, Wainoni Park, Aranui School, Breezes Road, Amateur Speedway, Vennell murder, Littleover, Pine Avon Sanitorium
G+ comb bound laser printed sheets. Small area of staining bottom corner of first pages.
$25 B/B
Tim Baker (2005?) 53pp.
[#4227 ]
CONNELL Graeme

Tide Cracks and Sastrugi
An Antarctic Summer in 1968-69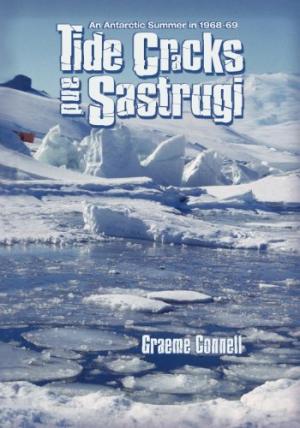 Graeme Connell was a young, disillusioned small town newspaper journalist who went to Antarctica with the New Zealand Antarctic Research Program.
He recounts his professional, and personal, experiences during his stay on the ice.
ISBN9780987692207
Scott Base, Vanda Station, Operation Deep Freeze
VG softback
$30 B/C
Polished Publishing Group 2011, 290pp.
[#4228 ]
EDWARDS Colin, edited by David N. Thomas

Dylan Remembered
Volume One 1914-1934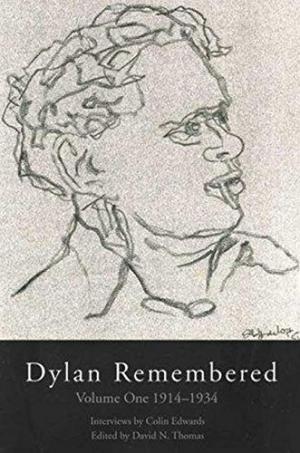 Culled from archive tapes stored at the National Library of Wales following the death of Colin Edwards, who had interviewed everyone he could find with a Dylan Thomas connection as the groundwork for an intended biography.
David N. Thomas has edited the transcribed tapes, discovering startling new information about Thomas's life and writing.
Volume One covers Dylan's life to the age of twenty, when he left Swansea for what he hoped would be a bohemian life in London.
ISBN9781854113481
Wales, Welsh, Celtic, poetry, literature, biography
VG softback with gift inscription to first page.
$15 C/C
Seren / Poetry Wales Press 2003, 314pp.
[#4229 ]
KUEI Steven and Stephen Comee

Beginning Qigong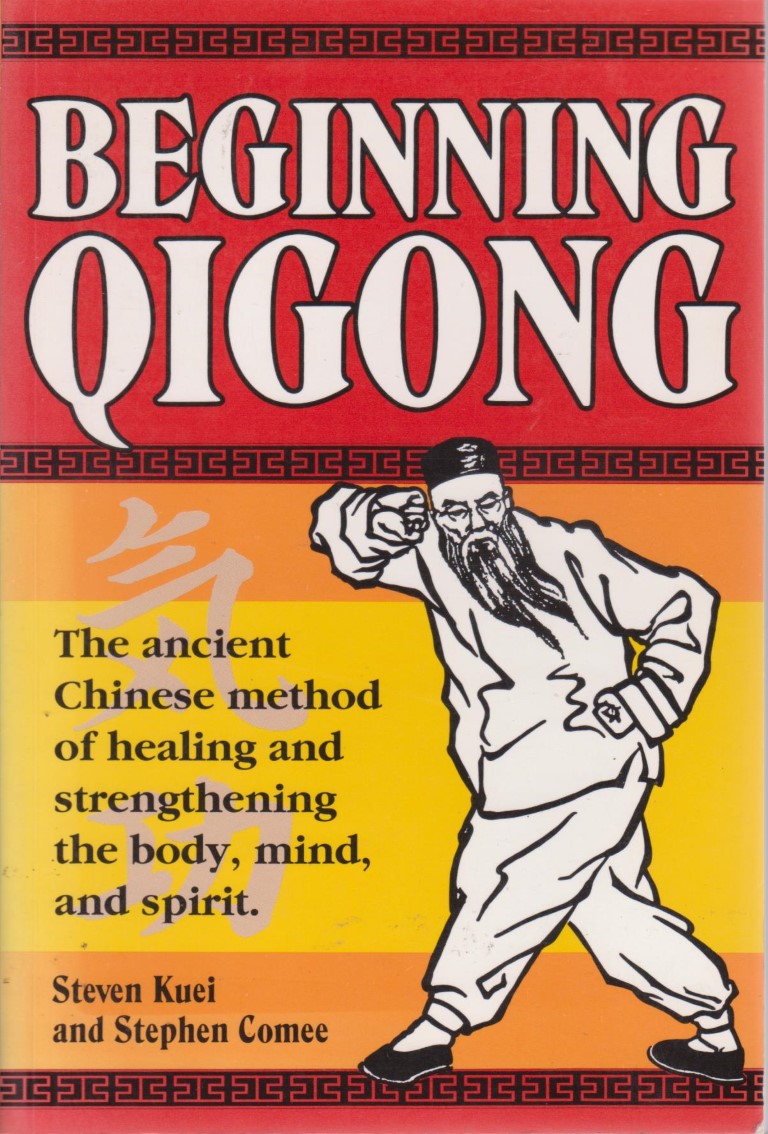 Introduction with exercises to the ancient Chinese system of breathing techniques and exercises that strengthen the mind, body and spirit as they balance and augment Qi, or life force.
Includes a table that describes the various exercises, lists their physical benefits and classifies them according to level of difficulty.
ISBN9780804817219
chinese yoga, tao, meditation, martial arts
VG softback
$15 B/B
Tuttle 1994, 120pp.
[#4230 ]
KENNARD Sheila and Harold MUSSON

Sky Full of Stars
Penpals Across A Century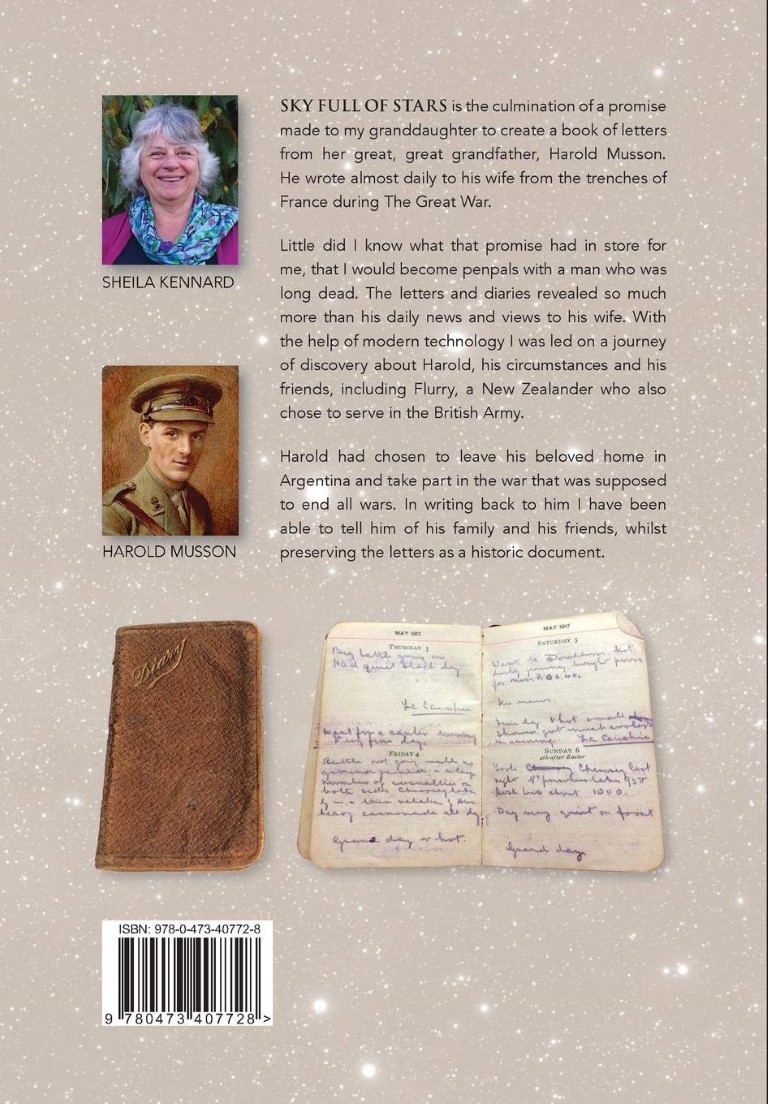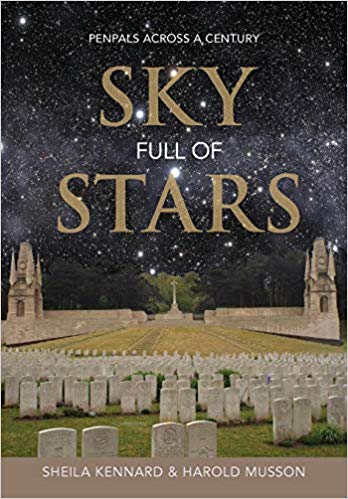 A book of letters from, Harold Musson, who wrote almost daily to his wife from the trenches of France during The Great War.
Harold had chosen to leave his home in Argentina to take part in the war.
The letters and diaries reveal much more than his daily news and views to his wife, and with the help of modern technology Sheila discovered more about Harold, his circumstances and his friends, including Flurry, a New Zealander who also chose to serve in the British Army.
In the book Sheila "writes back to him", to tell him of his family and his friends, whilst preserving his letters as a historic document.
ISBN9780473407728
ww1, wwi,
VG softback
$35 B/C
The Copy Press, Nelson, 2017, 379pp.
[#4231 ]
PHILLIPS Roger, and Lyndsay Shearer, Derek Reid, Ronald Rayner.

Mushrooms and Other Fungi of Great Britain and Europe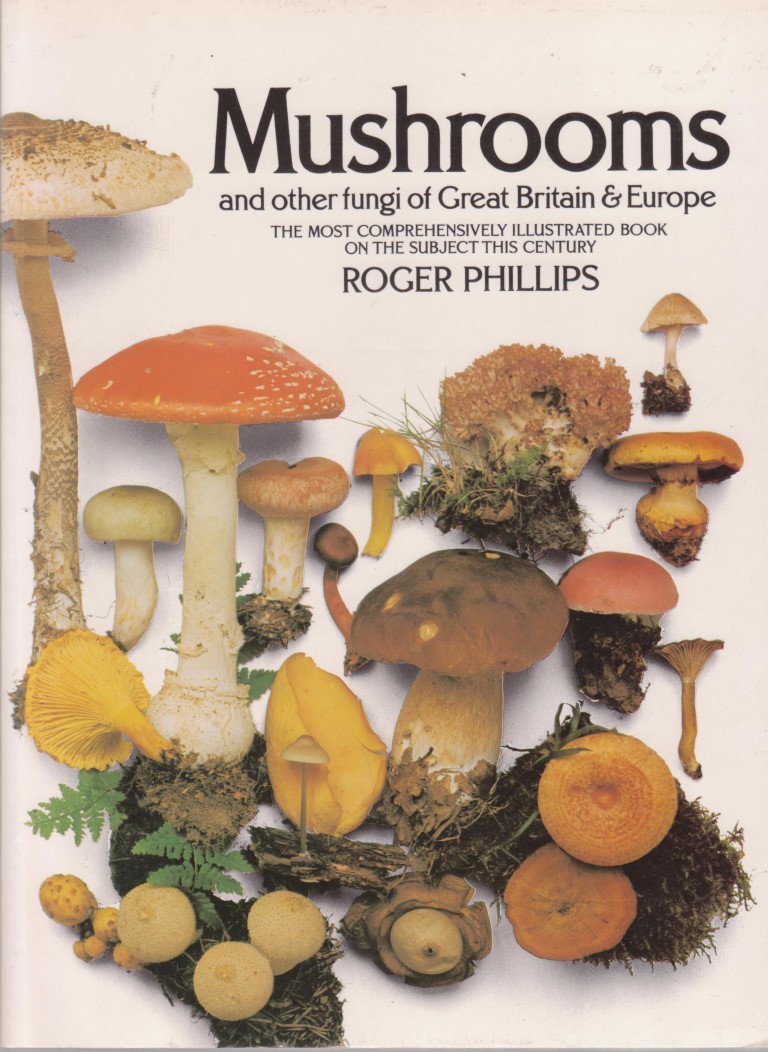 The most comprehensively illustrated book on the subject at time of publication, with thousands of specimens in clear, colour photographs.
ISBN0330264419
mycology, fungi, mushrooms, toadstools, agaric, polypores, ascomycetes, foraging,
VG+ softback
$45 B/D
Pan MacMillan 1994, 288pp.
[#4232 ]
DAHL Roald

The Minpins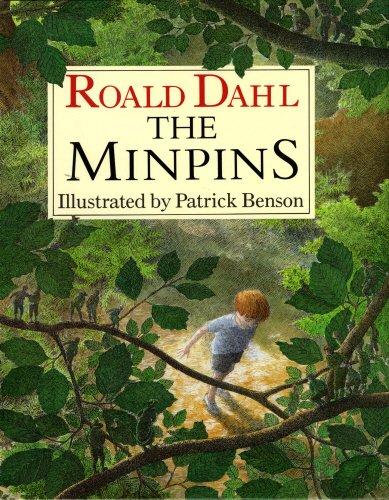 Pristine first edition in unclipped dust jacket of this posthumously published tale by Roald Dahl.
Illustrated by Patick Benson.
ISBN9780224028998
illustrated, childrens fiction
VG+ hardback in VG+ dust jacket.
$30 B/C
Jonathan Cape 1991 first edition, 48pp.
[#4233 ]
DAHL Roald

Rhyme Stew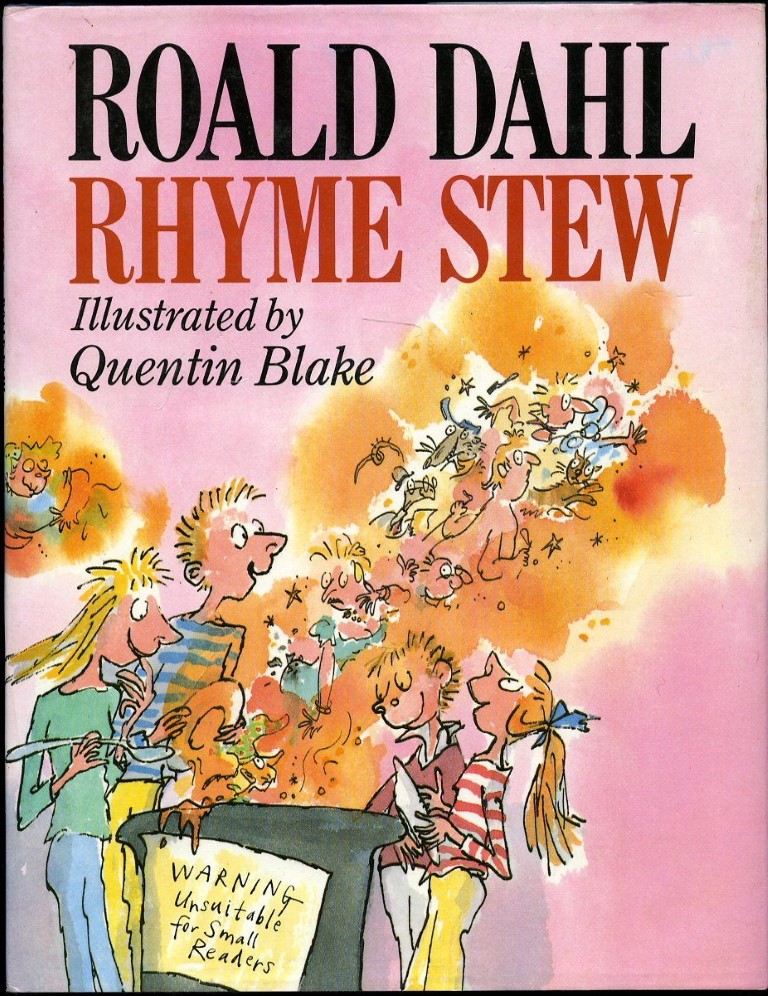 Tidy first edition in unclipped dust jacket of these wicked rhymes by Roald Dahl.
Illustrated by Quentin Blake.
ISBN9780224026604
illustrated, childrens verse
VG hardback in VG dust jacket.
$35 B/C
Jonathan Cape 1989 first edition, 80pp.
[#4234 ]
HANSON, V. T. and R. J. CARTER, R. J.

Ashburton Garages: The First 100 Years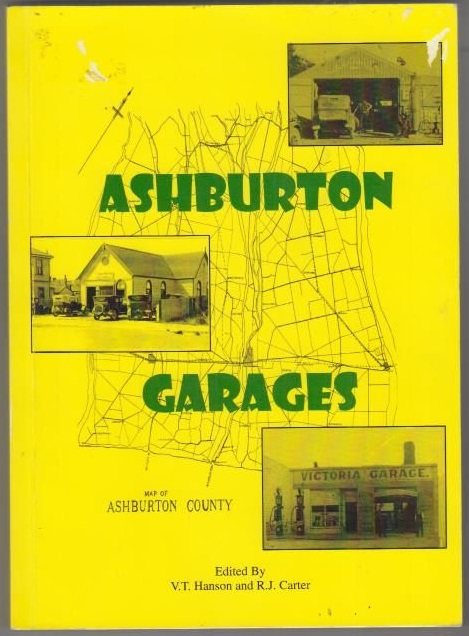 A history of the garages servicing the motorists of Ashburton County, as well as ancilliary businesses.
With photographs.
ISBN9780473125844
canterbury, automotive, company history, motoring
VG- softback with minor label lift to cover.
$35 C/B
Ashburton Garages History Group (2005), 266pp.
[#4235 ]
CHARTERIS Leslie
KING Rufus, ELLISON Harlan, JAKES John, MERRIL Judith, WHIPPER Leighla.
Let Her Kill Herself
The Saint Mystery Library Number 11.
With intro by Charteris plus 5 short stories.
Illustrated by Frank Kalin
VG- paperback with light wear to wrappers, aged paper stock.
$10 A/B
The Saint Mystery Library 1960 First Edition, 154pp.
[PB1633 ]
LONG Frank Belknap

The Black Druid and Other Stories.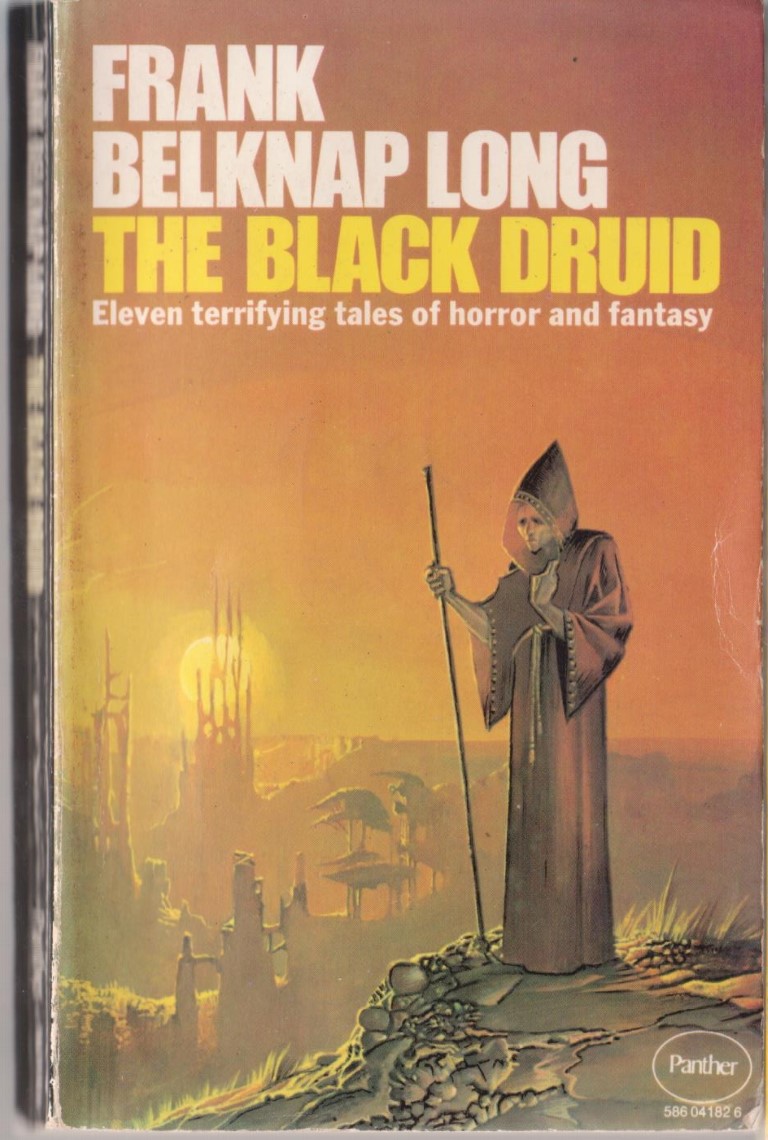 11 horror tales in the vein of Lovecraft and Clark Ashton Smith.
The second volume in the British paperback edition of The Hounds of Tindalos collection.
ISBN0586041826
Rare
G+ paperback with light wear, a spine lean and some foxing mainly to closed edges.
Bookstore code label to inside rear cover.
$65 A/B
Panther 1975 First Edition, 174pp.
[PB1634 ]
YOGANANDA Paramahansa

Autobiography of a Yogi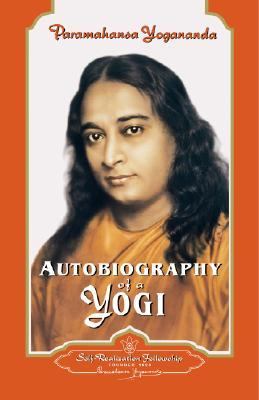 The famous autobiography of the first great philosopher and guru from India to live in the West for an extended period.
He was sent to America in 1920 and introduced tens of thousands of Americans to yoga.
ISBN9780876120798
philosophy, hindu, indian, spirituality
VG- paperback
$10 A/B
Self Realization Fellowship 2005, 596pp.
[PB1635 ]
7/11/2019ev
WRIGHT Judith

Fourth Quarter and Other Poems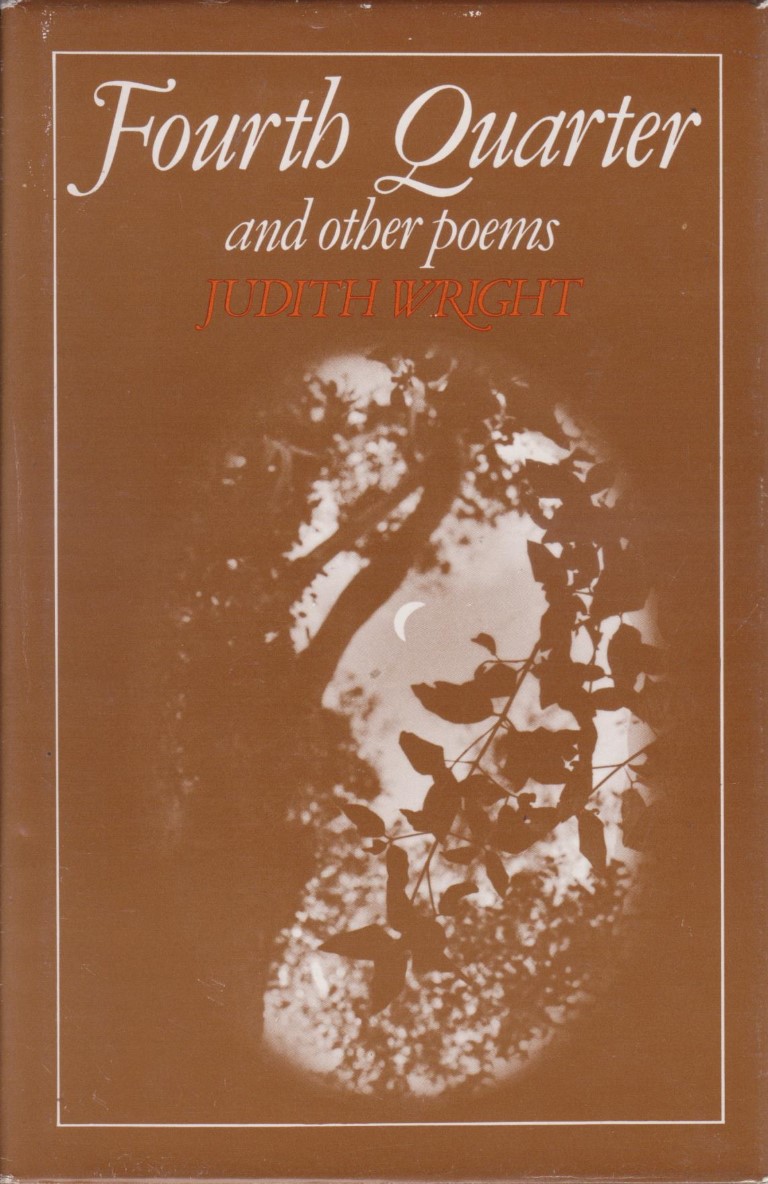 Poetry collection by a middle aged Australian woman living on her own, pondering life.
Original New Zealand printing.
ISBN0908562403
women's literature, poet, poets
VG hardback in VG dust jacket lightly rubbed to dust jacket edges.
$20 C/B
Caveman Press 1976 First Edition, 71pp.
[#4218 ]
CROUCH Ewan

Nelson Lakes National Park Resource Manual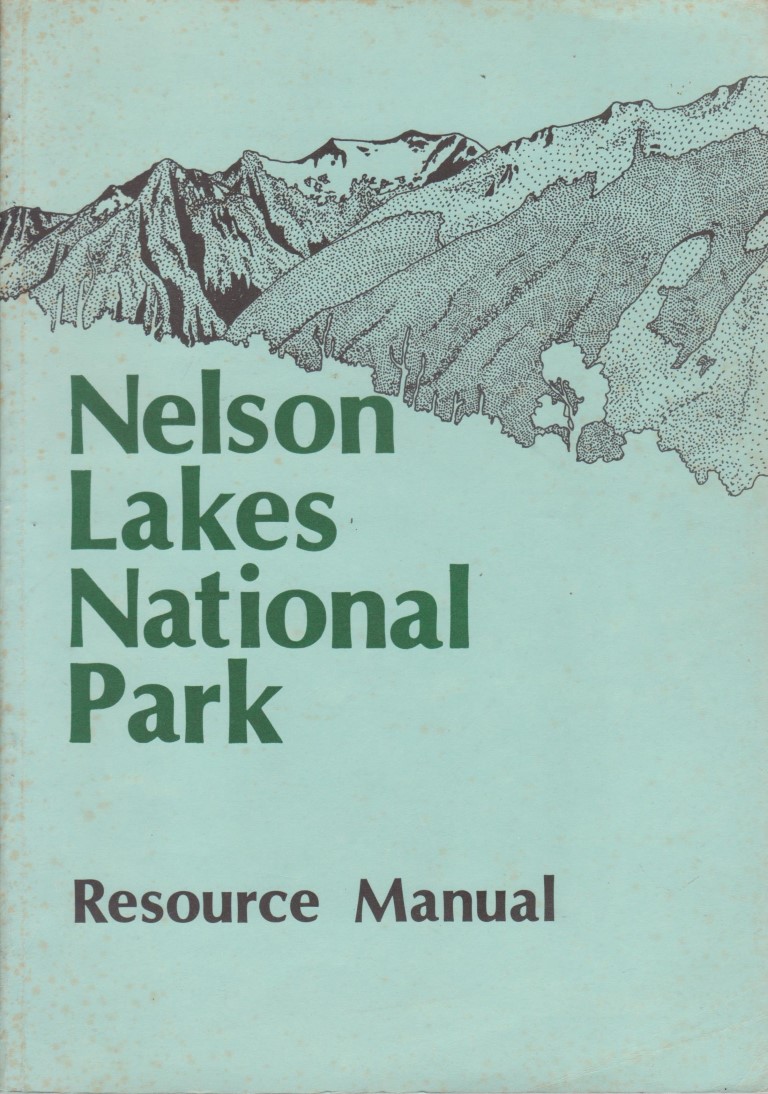 A survey of the region with information on meteorology, hydrology, gology, soils, botany, biology and zoology.
Also the social history of human activity in the 19th and 20th centuries.
ISBN0477061044
Rotoiti lodge workshop september 1978, conservation, statistics, survey, Tasman, St Arnaud
VG- softback
$45 B/C
Department of Lands and Survey 1981, 227pp.
[#4219 ]
LOGAN Hugh

Great Peaks of New Zealand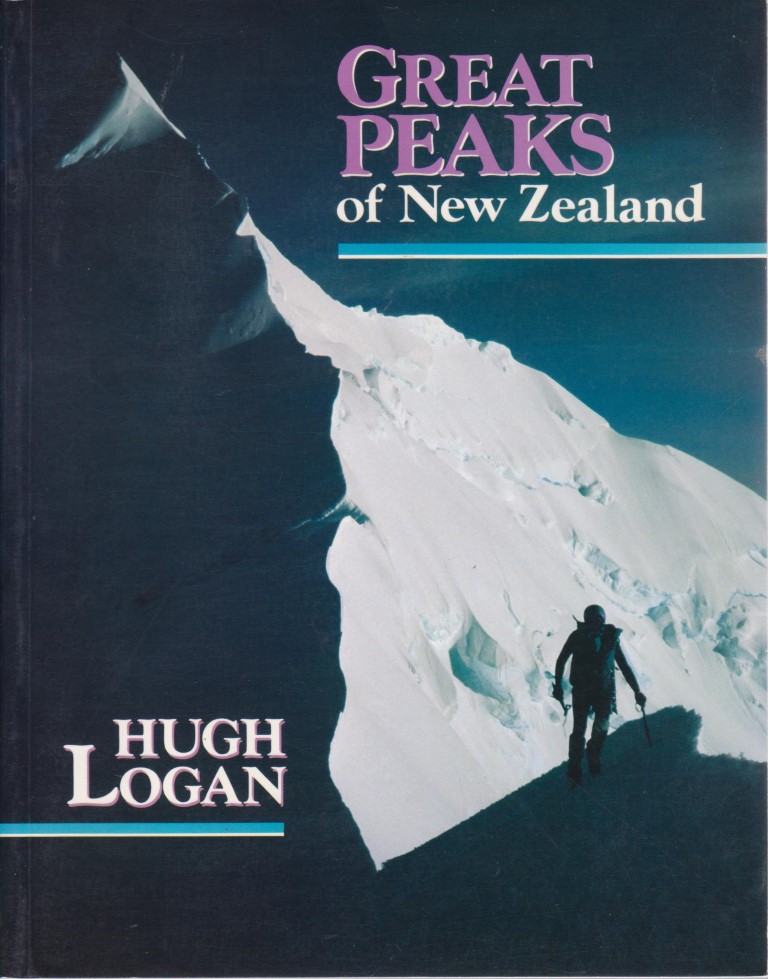 Each of the sixteen chapters focuses on one of New Zealand's great alpine mountain peaks.
Also the North Island volcanic Mt.Taranaki / Mt Egmont.
With historic black and white, and modern colour, photographs, and details the classic mountaineering routes.
ISBN0868681253
Mt Cook, Mt Tasman, Mt Hicks, Mt Sefton, Malte Brun,
Mt Aspiring, Tapuae-o-Uenuku, Mt D'Archaic, Mt Earnslaw, Mt Arrowsmith,
Mt Tutoko, Mt Whitcombe, Mt Evans, Mt Rolleston, Mt Sabre.
VG softback
$25 B/C
John McIndoe 1990, 176pp.
[#4220 ]
POPE Diana and Jeremy

Mobil New Zealand Travel Guide
South Island, Stewart Island and the Chatham Islands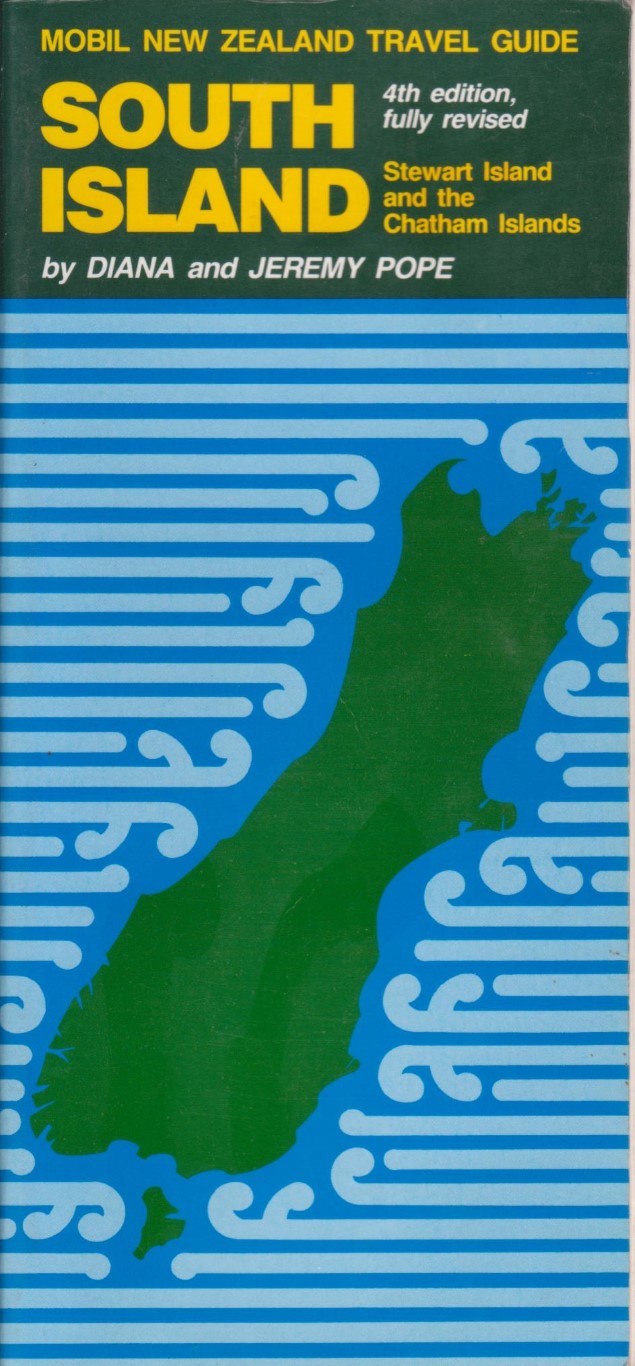 One of the best travel guides to New Zealand, with detailed historical information as well as current points of note. Valued by tour guides for the local history notes.
ISBN9780474001307
VG+ softback
$20 B/C
Reed 1986 4th edition fully revised, 422pp.
[#4221 ]
© 2015 by Fortuna Books (NZ).