LATEST ARRIVALS, RECENT LISTINGS

Some of these items may have been sold, as this list is an indication of our new stock entries only and is not updated when items are sold until we delete old entries quarterly.

All these fortunabooks.com prices are in New Zealand dollars.
Recent uncataloged stock CLICK HERE
Some non-book items (board games, movies) CLICK HERE
17/12/2017 ev
New Zealand Alpine Club

The New Zealand Alpine Journal 1892 To 1940
A Record Of Mountain Exploration And Adventure.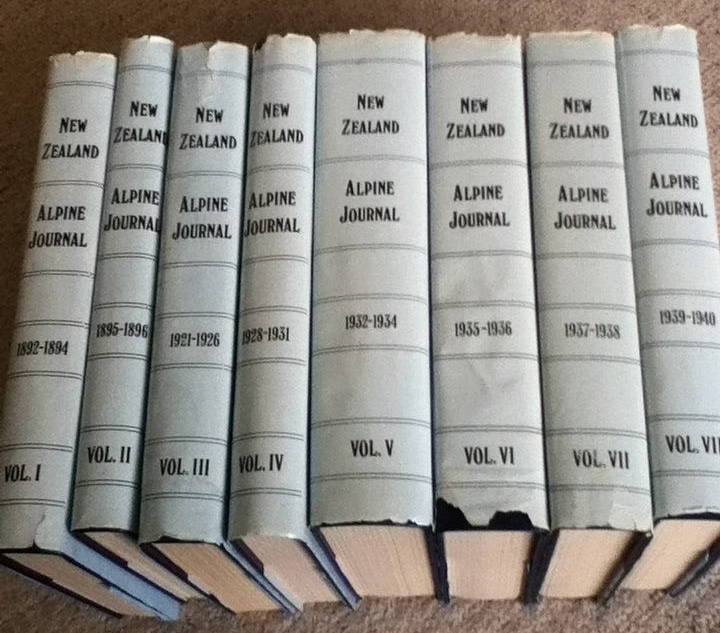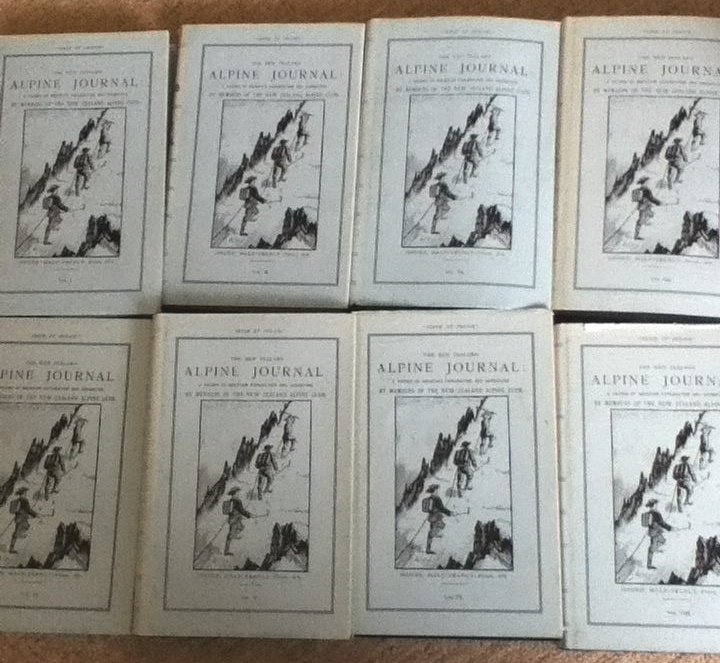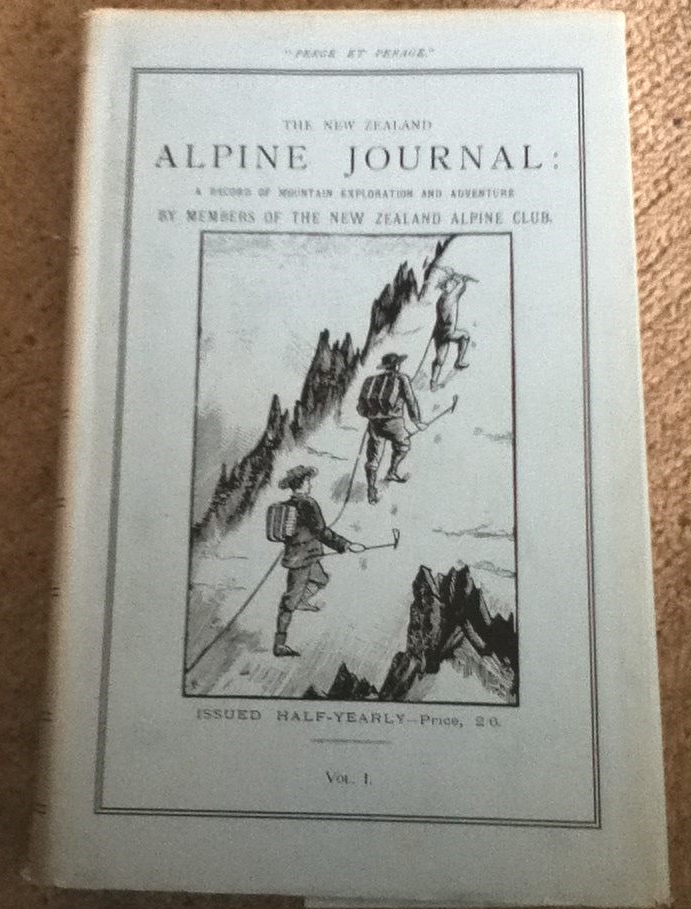 By members Of The New Zealand Alpine Club, this is a facsimile edition of the first 27 issues of the Journal. A Limited Edition of 500 numbered sets, complete with original maps and photographs, some folding.
mountaineering, NZAC, journal, complete set, southern alps
VG hardbacks with G+ dust jackets with some handling wear or small edge tears.
$375, a large heavy set so ask for a postal quote to your location please.
New Zealand Alpine Club (Inc.) 1975-1978. 372, 195, 358, 240, 501, 420, 352 and 291pp +maps and photographs.
[#3504 ]
LEO William

Alchemy
For the Millions
A modern in-depth study of alchemy, which began as a cross between chemistry and philosophy, the aim of which was to benefit mankind through the use of the Philosopher's Stone. Changing base metals into gold, curing illness, and extending life indefinitely were the goals of the alchemists. Leo studies those associated with alchemy such as Roger Bacon, Albertus Magnus, paracelsus, Jakob Boehme and Carl Gustav Jung. A chapter on alchemy as psychology is followed by actual recipes for material alchemical processes.
ISBN0820200948
philosophy, religion, science
VG softback
$15 C/B
Sherbourne Press 1972 first printing stated, 150pp.
[#3505 ]
SURESVARA Sri, translated by A J Alston

Realization of the Absolute
The Naiskarmya Siddhi of Sri Suresvara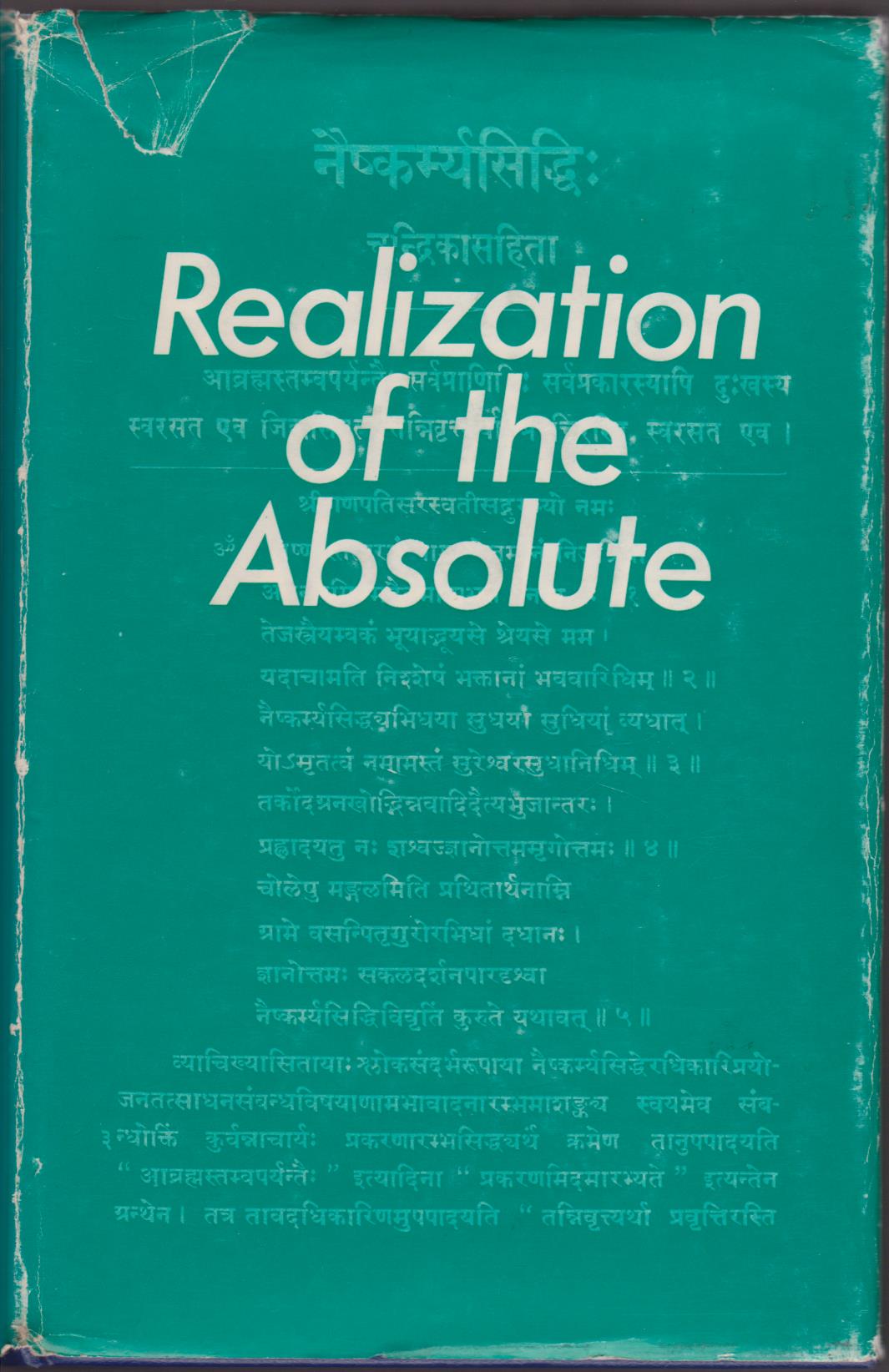 An English translation of Suresvara's presentation of the pure non-dual teachings (Advaita Vedanta), with reasoned-out explanations to help us understand them.
Suresvara was, according to tradition, a close disciple of Sri Shankara, and entrusted as head of the first of the four great monasteries established by Shankara.
Shanakara and Suresvara account for all of experience without in anyway compromising the non-duality of the supreme Reality. According to this view, all our difficulties arise from lack of knowledge of our true nature, and all limitations are resolved completely and forever by Self-knowledge, which is Realization of the Absolute (Naishkarmya Siddhi).
The text shows why methods that do not give rise to knowledge cannot overcome the illusion that causes limitations and suffering, and presents the right way of reasoning and reflection that leads to discovery of the real principle within. The text consists of 422 verses in four books, with a commentary by the author, that looks ahead to the coming verse.
hindu, advaita, philosophy, mysticism
VG hardback in VG- dust jacket with small repaired tears and light handling wear.
$30 C/C
Shanti Sadan 1971 second edition, xvi 269pp.
[#3506 ]
PEARSON E. Norman

Space, Time and Self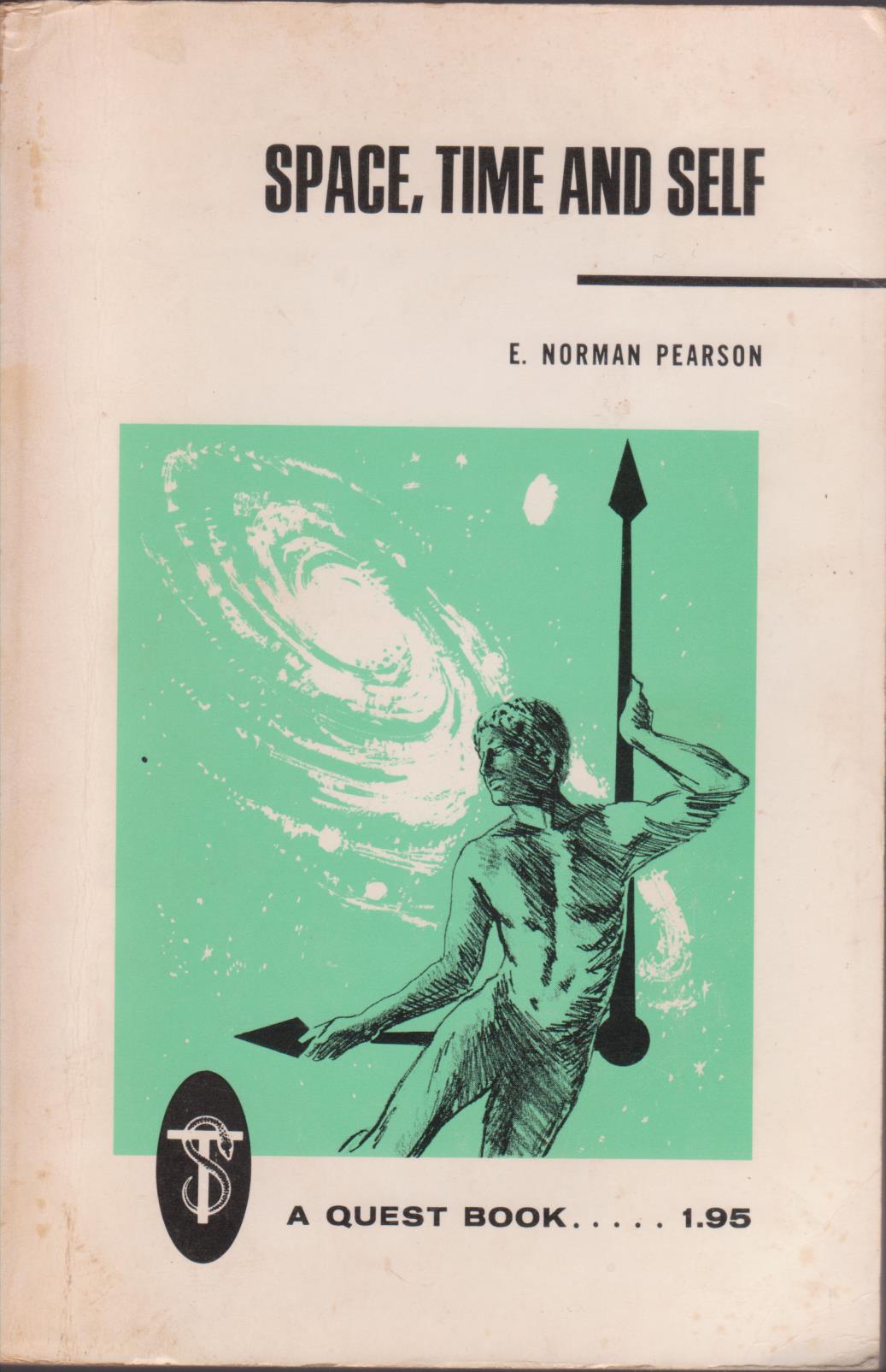 Explores the three great illusions all people must face and conquer before they can glimpse the Real; viz. space, as dimension; time, as succession; and self, as separation. Along this path, we evolve spiritually toward higher reality consciousness and eventually develop divine powers, a process Pearson sees as the purpose for living that may require several lifetimes to fully realize.
Combining Eastern wisdom and Western science, Pearson explains how priceless teachings of this Ancient Wisdom tradition are consistent with many of the newest findings in science. The Eastern wisdom originally was the sole province of initiates of mystery schools and transmitted only to worthy pupils after adequate preparation. Western thinkers such as Plato, Plotinus, Simon Magus, Paracelsus, Bruno, and Blavatsky have promulgated many of its tenets. Space, Time and Self combines the wisdom of the East with the logic and scientific thinking of the West.
With many illustrative diagrams.
ISBN0835604098
Theosophy, mysticism, occult, philosophy
G+ softback, name to first page.
$20 C/B
Theosophical Publishing House/ A Quest Book 1971 revised edition, 288pp.
[#3507 ]
LEADBEATER C W

The Masters and the Path
The historical records of every nation are full of the doings of men of genius who in their special lines of work and ability have stood far above the rest that at times their ideals were utterly beyond the comprehension of the people, so that not only the work that they may have done has been lost to mankind, but their very names even have not been preserved.
It has been said that the history of every nation could be written in the biography of a few individuals, and that it is always the few, towering above the rest, who initiate the great forward steps in art, music, literature, science, philosophy, philanthropy, statecraft, and religion. They stand high sometimes in love of God and their fellow-men, as great saints and philanthropists; sometimes in understanding of man and Nature, as great philosophers, sages and scientists; sometimes in work for humanity, as great liberators and reformers.
Looking at these men, and realizing how high they stand among humanity, how far they have gone in human evolution, is it not logical to say that we cannot see the bounds of human attainment, and that there may well have been, and even now may be, men far further developed even than they, men great in spirituality as well as knowledge or artistic power, men complete as regards human perfections, the Adepts or Supermen whom some of us have had the inestimable privilege to encounter? Leadbeater's book is about the these Masters and their path to perfection, revealed in Theosophical teachings on the Hidden Masters and Ascended spiritual teachers.
G+ large format hardback with no dust jacket. Both end papers have been removed otherwise a good copy.
$30 B/C
Theosophical Publishing House 1946, ix 296pp + plates
[#3508 ]
SARAYDARIAN H.

The Magnet of Life
A Psychological Key to the Inner Man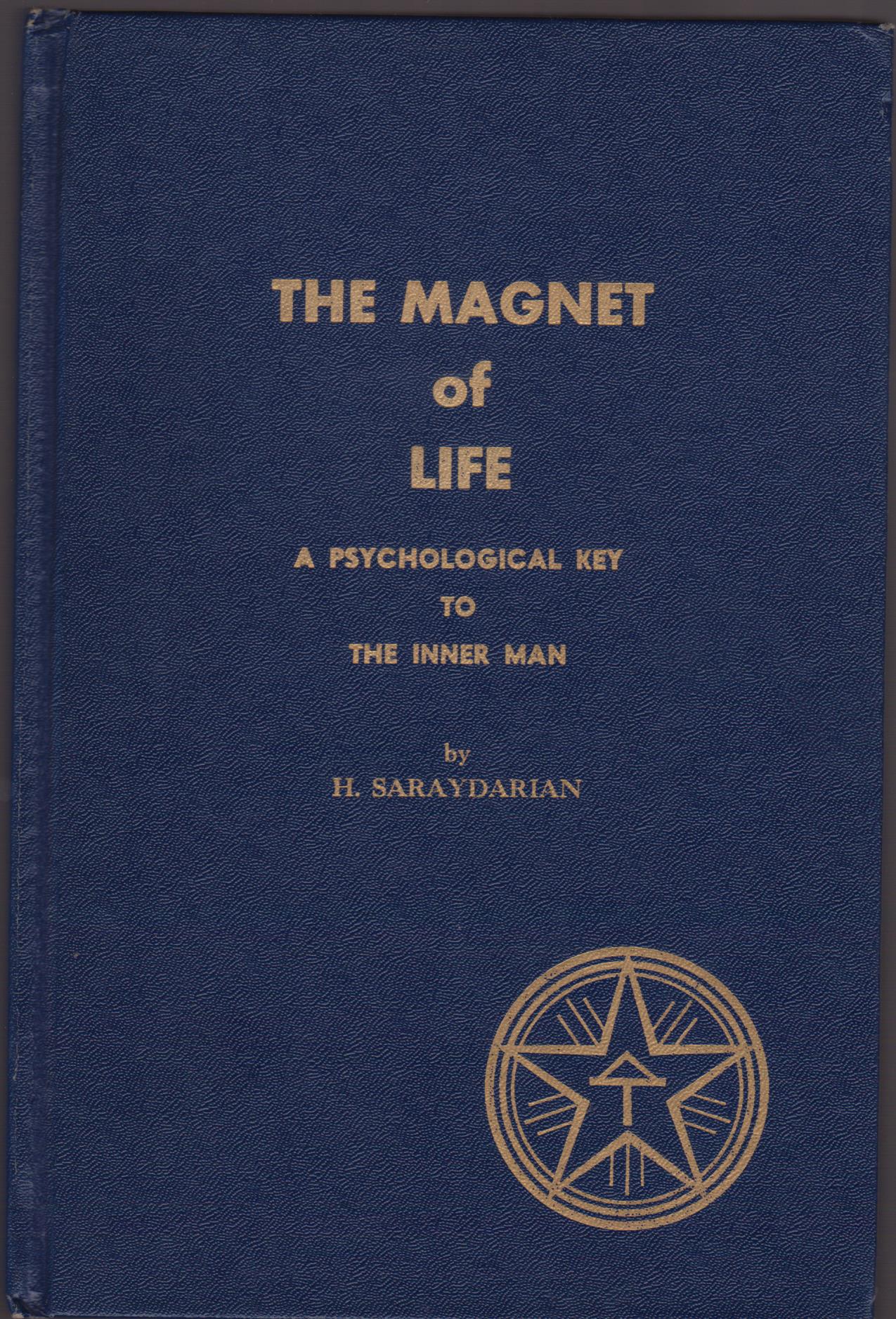 Theosophical study of the Fifth Age/ Kingdom of God and spiritual evolution of the Soul.
Theosophy, new thought, psychology, mysticism
VG hardback with no dust jacket.
$20 B/B
Aquarian Educational Group 1968,126pp.
[#3509 ]
BAILEY Alice A.

From Intellect to Intuition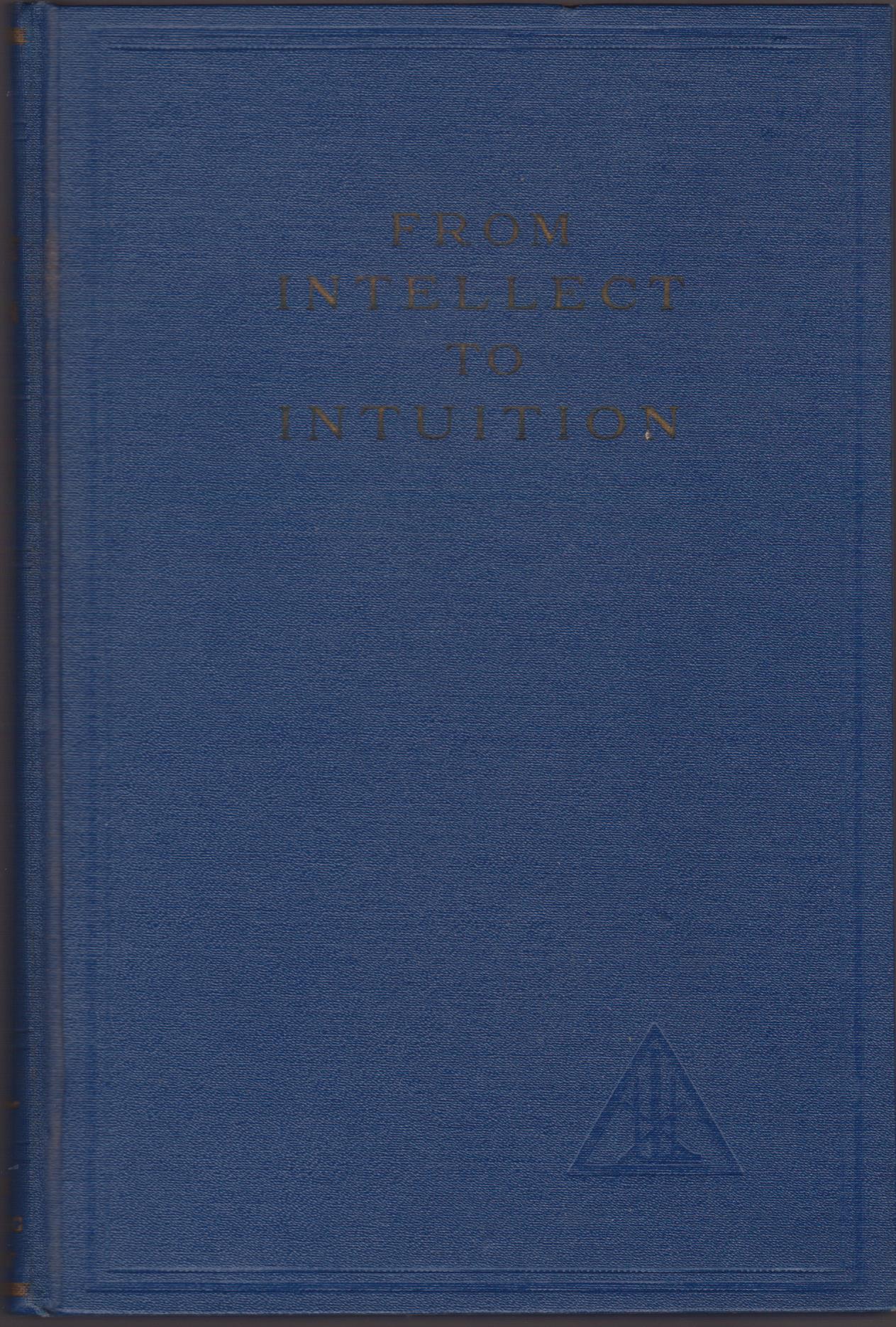 Theosophically influenced discussions on meditation and spiritual development.
Theosophy, new thought, seven rays
VG hardback with no dust jacket, name to endpaper.
$25 B/C
Lucis Publishing Company 1969 seventh printing, viii 275pp.
[#3510 ]
HELINE Corinne

The Cosmic Harp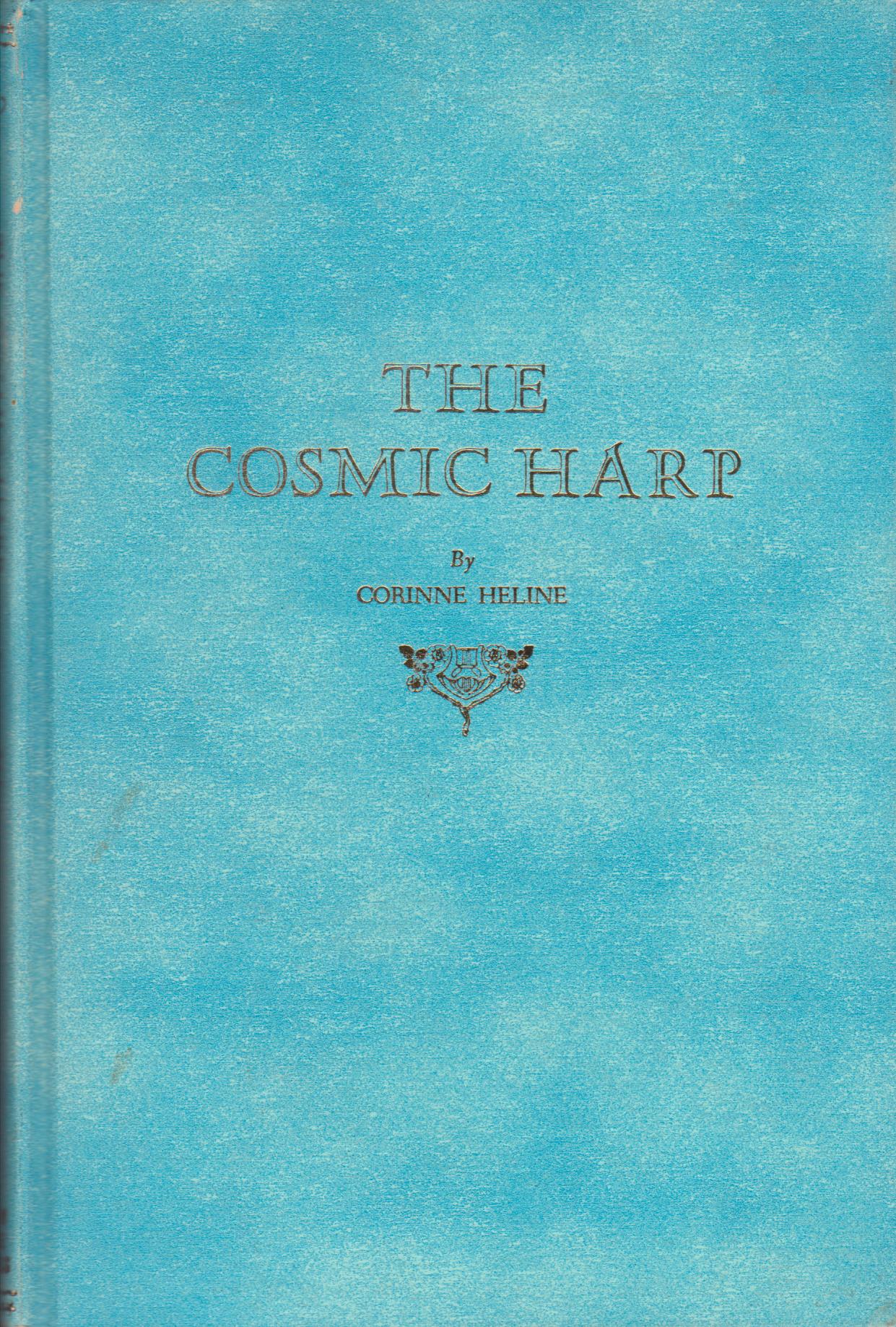 The whole solar system is one vast musical instrument, spoken of in Greek mythology as "the seven-stringed lyre of Apollo." Corinne here describes the Zodiacal correspondences annd qualities as perceived by esoteric means. She relates spiritual hierarchies and a particular musical composer to each zodiac.
astrology, mysticism, new thought, music, angelic hosts, angels
VG+ hardback with no dust jacket. name to blank fly leaf.
$15 B/B
New Age Press Inc. 1969, 99pp.
[#3511 ]
15/12/2017 ev
DIX John

Stranded in Paradise
New Zealand Rock'n'Roll, 1955-1988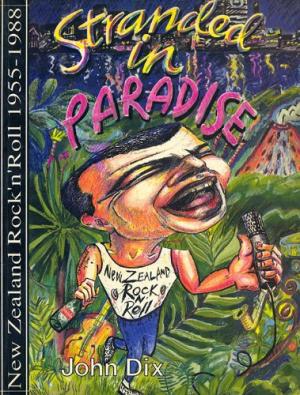 The most in depth, and iconic, Kiwi rock music history. All the classic New Zealand music milestones of the period, which included Punk, New Wave, the alternative / hippy groups of the sixties, and Pacific influences.
ISBN0473006383
Rockabilly, Dragon, Hello Sailor, Split Enz, Toy Love, Misex, Dunedin Sound, NZ music.
VG softback, sewn collations on sized paper.
$45 B/D (2kg packaged weight)
Paradise Publications 1988 First Edition, 352pp.
[#3502 ]
THOMAS Nicholas

Discoveries; The Voyages of Captain Cook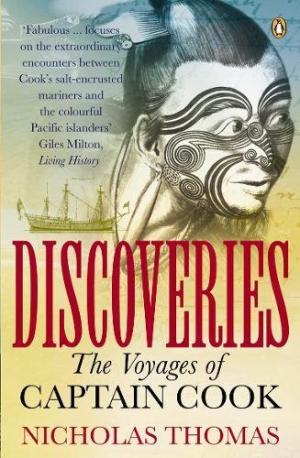 Cook's great voyages marked the end of an era in world history. As he sailed into Hawaii in January 1778 he made contact with the last of the human civilizations to grow up independently of the rest of the world. But equally for the Polynesians and Melanesians of the Pacific, Cook's arrival in their midst merely marked a further (if disastrous) twist in diverse histories already many centuries old.
In this immensely enjoyable and absorbing book Cook's journeys are reimagined, attempting to leave behind our later preoccupations to let us see what Cook and his associates experienced and what the societies he encountered experienced - from the Beothuks of Newfoundland to the Tongans of the Friendly Islands.
ISBN9780141002798
exploration, 18th century, pacific, first contact, pacifica
VG softback, remainder striped to bottom edge.
$20 C/B
Penguin 2004 first softback printing, 468pp.
[#3503 ]
10/12/2017 ev
HARDIE Norman

On My Own Two Feet
The Life of a Mountaineer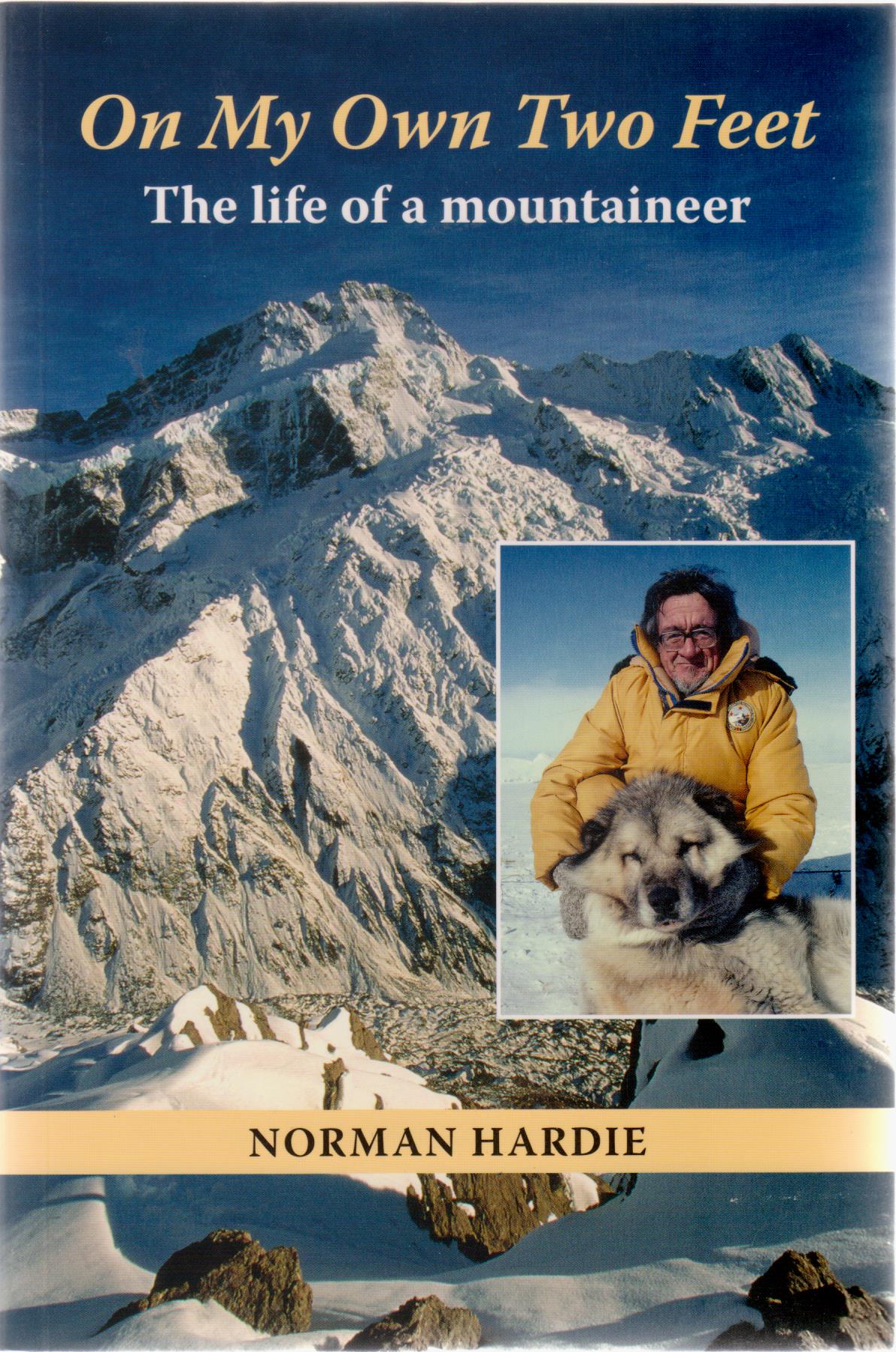 Norman Hardie, a New Zealand civil engineer, lived a fascinating life. He paid his way through university as a deer culler. After graduating he worked on hydro-electric projects among the mountains and, with a strong group of friends, made many first ascents on major summits in the Southern Alps.
Eventually London and the Himalayas beckoned, and Norman served as a secretary to the 1953 British expedition to Everest. Two years later he led one of the two summit pairs that made the first ascent of Kangchenjunga, the third highest mountain in the world.
Norman played an important part in three expeditions with Sir Edmund Hillary and was a director of his Himalayan Trust. He went to Antarctica three times, including as the leader of Scott Base, and was also involved in many mountain rescues.
The story of Norman Hardie's eventful life is here told with clarity and honesty, in a fast-moving, often amusing style. Some myths are debunked in this valuable record of a pioneering era in mountain history.
ISBN1877257478
VG softback SIGNED BY AUTHOR
$75 C/C
Canterbury University Press 2006, 323pp.
[#3496 ]
LOCKE Elsie
Illustrated by Gary Hebley
The Runaway Settlers
A new edition of this classic historical novel set in 1859 when the Small family arrives in the Canterbury colony without a penny to their name. Mother and six children have a hard beginning to their new life - all the more since they are runaways from a cruel father and husband in Australia..
ISBN9780908790456
Lyttelton, Dyers Pass, Banks Peninsula, children's fiction
VG softback this copy has a book award label on the front cover.
$15 A/B
Hazard Press 1993, 175pp.
[#3500 ]
McGREAL Captain Maurice

A Noble Chance, One Pilot's Life
Revised edition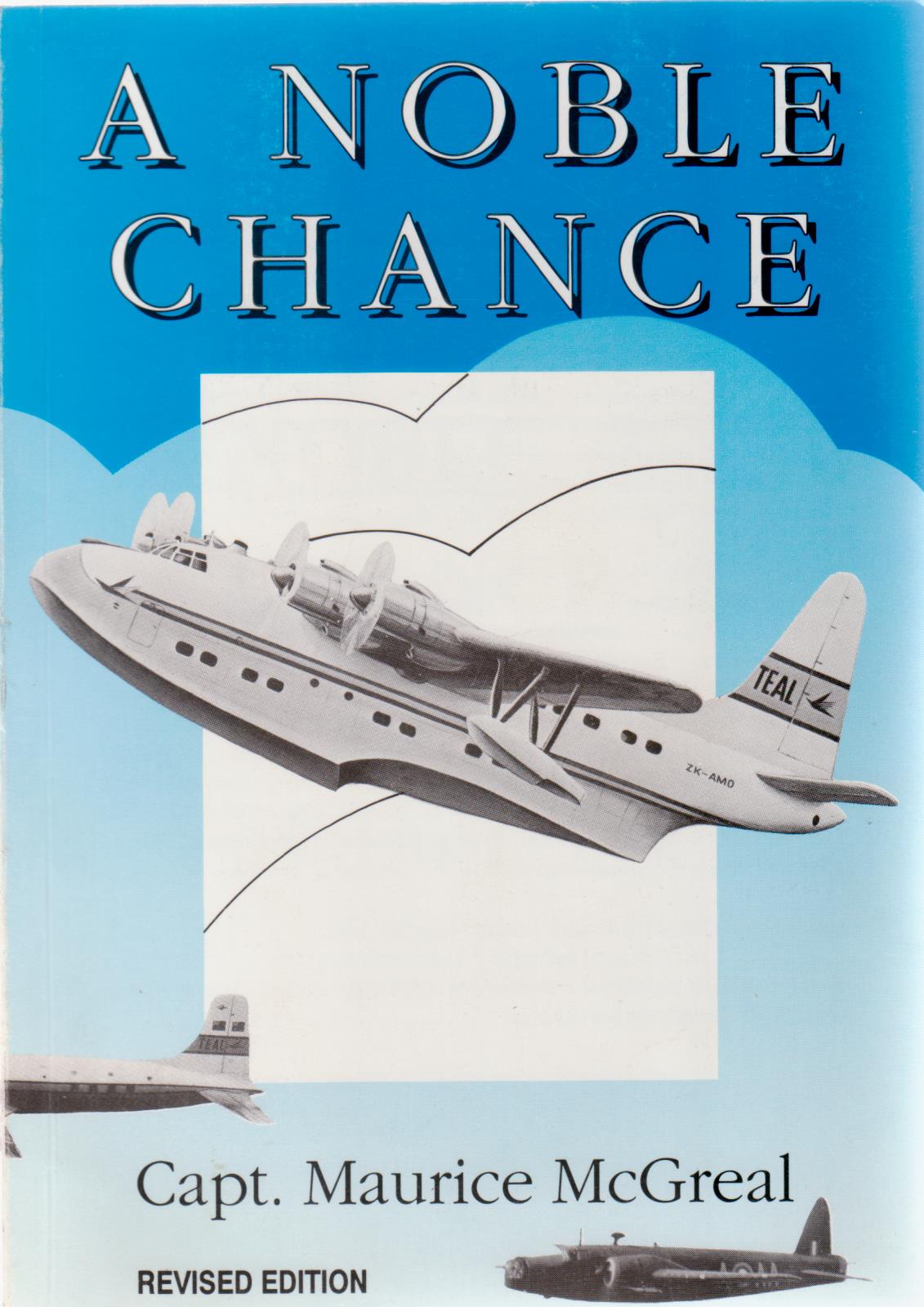 Memoirs by a career pilot and member of 75 Squadron RAF and 490 Squadron RNZAF. McGreal served in wartime and later for Tasman Airways and the Civil Aviation department.
ISBN0473027615
wwii, ww2, PACSAA, 75 Sqdn RAF, Sunderlands, TEAL, Coral Route
VG softback
$30 C/B
Maurice McGreal 1998, viii 208pp.
[#3501 ]
1/12/2017 ev
MASON Bruce

End of the Golden Weather
A Voyage Into a New Zealand Childhood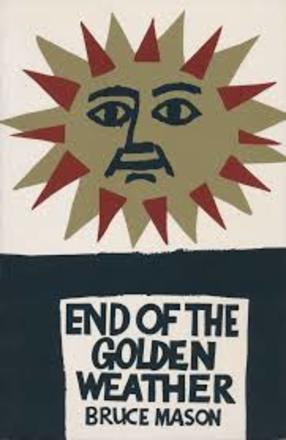 Mason's solo protagonist begins; 'Let me take you on a voyage into that territory of the heart that we call childhood.' A boy's experiences with local eccentrics on a beach in the Auckland area during a summer holiday marks the end of his childhood and the beginning of adult awareness and compassion.
ISBN0705500101
play, theatre, new zealand identity, Takapuna Beach
VG softback with name to first page and slight foxing to inside of card wrappers and first and last pages.
$15 C/B
New Zealand University Press / Price Milburn 1970, 95pp.
[#3484 ]
HOBBS Mary

Matagouri and Other Pricks
The Journey to Aorangi-Mount Cook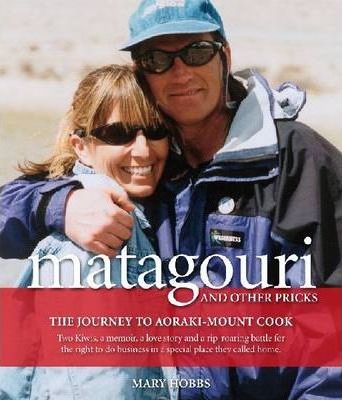 Matagouri and Other Pricks will take you from Tibet to Antarctica; to Nepal with Sir Edmund Hillary; and to New York, Washington and the White House in the aftermath of 9/11. It includes the thrills and spills of a nursing profession; the excitment of launching a new career as a writer and publisher; the challenges of running a guiding business; and also the story of 'The Old Mountaineers' Cafe, Bar, Restaurant and Gallery' in Aoraki-Mount Cook National Park village. It recounts a battle with the Department of Conservation, yet it is also a love story, and an overview of the principles held by a New Zealand family, chief among them the refusal to give up, and how this and other factors helped to make the dream of 'The Old Mountaineers' finally come true.
ISBN9780473174668
biography, mountaineering, Mary Hobbs
VG+ softback
$35 B/D
Spirit Ltd 2010, 350pp.
[#3485 ]
NGATA H. M.

English-Maori Dictionary
Pocket edition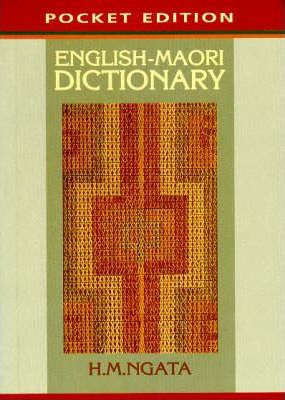 The most authoritative English-Maori dictionary, with the same content as the larger version, in a handy pocket size. 104 x 145 x 25mm
ISBN9780478057997
maori language, dictionary, te reo
VG softback
$15 A/B
Learning Media Ltd 1995, 621pp.
[#3486 ]
BOA Fraser

The Way of the Dream
Conversations on Jungian Dream Interpretation with Marie-Louise von Franz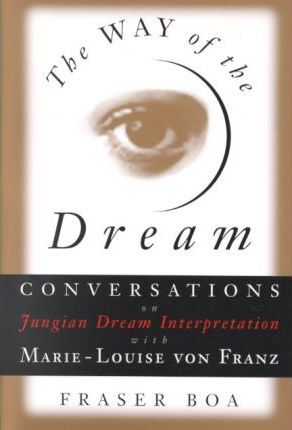 Based on a series of films made by Boa, who collected first-person accounts of dreams from interviews with ordinary men and women around the world. He then asked the eminent psychoanalyst Marie-Louise von Franz to interpret these dreams on film, just as she would in a private analytical session. The results explain and demonstrate the art and science of dream analysis for the general public. Includes dreams of men, of women, what dreams tell us about ourselves and our relationships, the historical significance of dreams, and dreams about death and dying. Dr. von Franz concludes that one of the healthiest things people can do is to pay attention to their dreams: "Dreams show us how to find meaning in our lives, how to fulfill our own destiny, how to realize the greater potential of life within us."
ISBN9781570620362
psycholgy, jung, dreams, dream analysis
VG- used softback with light cover wear
$15 C/C
Shambhala 1994, 239pp.
[#3487 ]
MARKHAM Edward edited by E. H. McCormick

New Zealand Or Recollections of It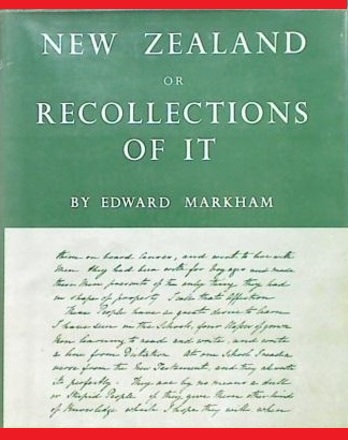 The first published edition of Markham's manuscript account of his leaving Gravesend in 1833, via Van Diemen's Land to New Zealand, where he spent eight months in the Hoking and Bay of Islands, and describes Maori and Pakeha of the time. Edited with introduction and explanatory notes, glossary and bibliograpy.
New Zealand, history, maori pakeha, primary source
VG hardback in VG dust jacket under removable plastic sleeve. Name blacked out to free end paper.
$30 B/C
Government Printer 1963
[#3489 ]
de SURVILLE, transcribed and translated by Isabel Ollivier and Cheryl Hingley

Extracts from Journals of the Ship St Jean Baptiste, 1769.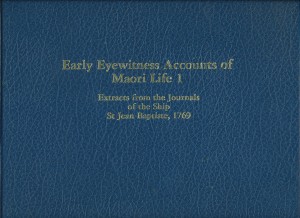 Early eyewitness Accounts of Maori Life 1, being, Extracts from journals of the visit to New Zealand of the French ship St Jean Baptiste in December 1769 under the command of Jean F.M. de Surville.
First thus translation of important early French accounts of exploration in New Zealand in the Eighteenth Century, with an appendix of charts and drawings. Includes accounts of Maori social life and customs, and the nautical exploration of the country.
French text and English translation side by side.
ISBN0477060285
new zealand, french exploration, 18th century, pre-european maori
VG hardback with no dust jacket, landscape format.
$65 D/D
Alexander Turnbull Library 1982, 225pp.
[#3490 ]
WELLS Rodney and Vicky HEWARD

Canterbury Country Houses II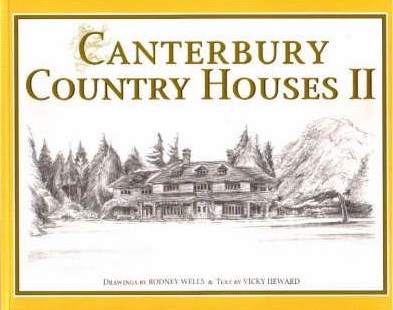 An illustrated account of 70 country houses located in Canterbury. Pen and ink drawings by Rodney Wells with accompanying text by Vicky Heward.
ISBN1877303038
Rodney J P Wells, sketches, drawings, heritage buildings, canterbury history
VG softback
$35 D/C
Caxton Press 2006, unpaginated c. 100pp.
[#3492 ]
OLIVER W. R. B. (D.Sc., F.R.S.N.Z.)

New Zealand Birds
Revised and enlarged edition.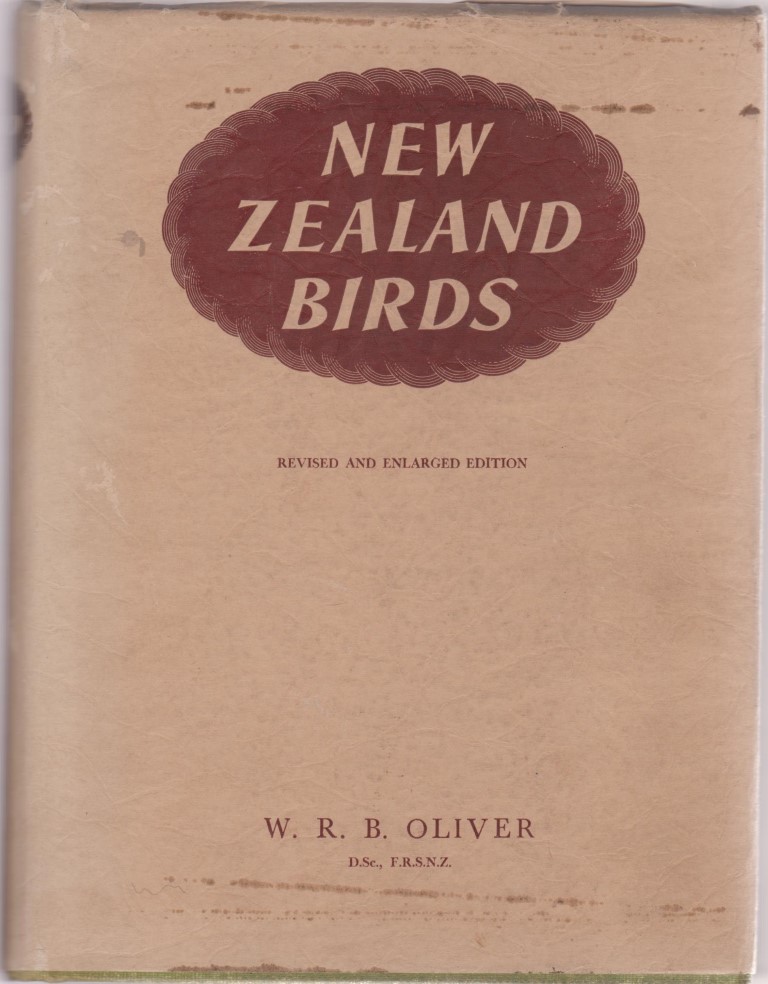 Exhaustive work, with black and white photos throughout the text. Printed on sized paper to support the photgraphic reproductions, this is therefore a very heavy book.
ISBN
ornithology, reference, birds, nz birds
VG- cloth hardback with minor silverfish damage to free end paper in a VG slightly soiled dust jacket.
$30 C/D
Reed 1955 revised and enlarged second edition. 661pp.
[#3493 ]
GREGORY Alfred and Sir John Hunt

The Picture of Everest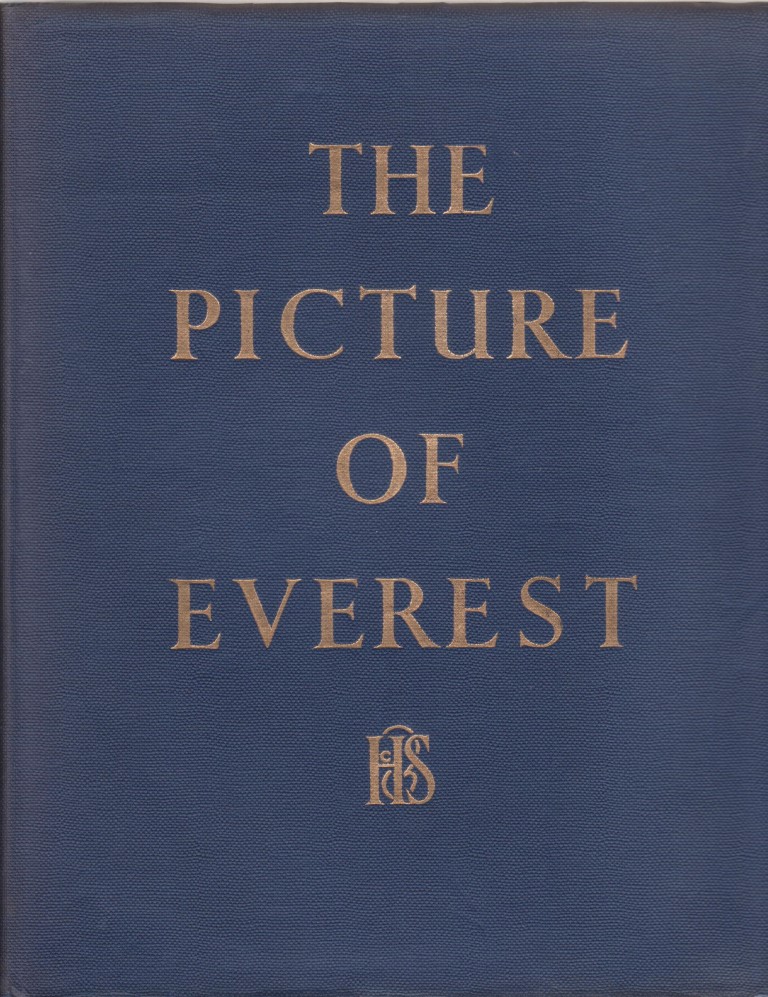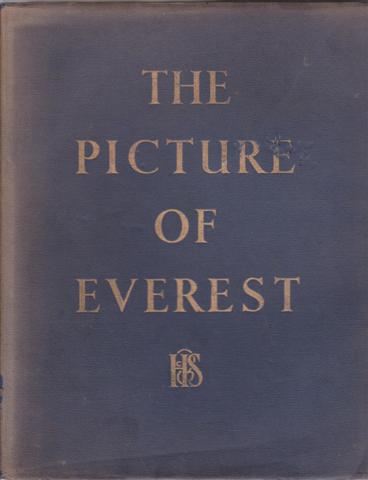 A book of full colour reproductions of photographs of the British Mount Everest Expedition of 1953. Colour photographs with facing text, taken on the successful British attempt on Everest where Hillary and Tenzing reached the summit.
Everest, 1953, Hillary, Tenzing, first edition
VG hardback in VG dust jacket with intact transparent plastic dust jacket.. Former owner details to free end paper blocked out with white correction tape.
$35 B/C
Hodder 1954 first edition, unpaginated approx 120 pages.
[#3494 ]
VG- hardback in G+ sunned dust jacket. One page has been creased, and there is some edge and surface wear to the dust jacket.
$20 B/C
Hodder 1954 first edition, unpaginated approx 120 pages.
[#2670 ]
KOONTZ Dean R.

Darkness Comes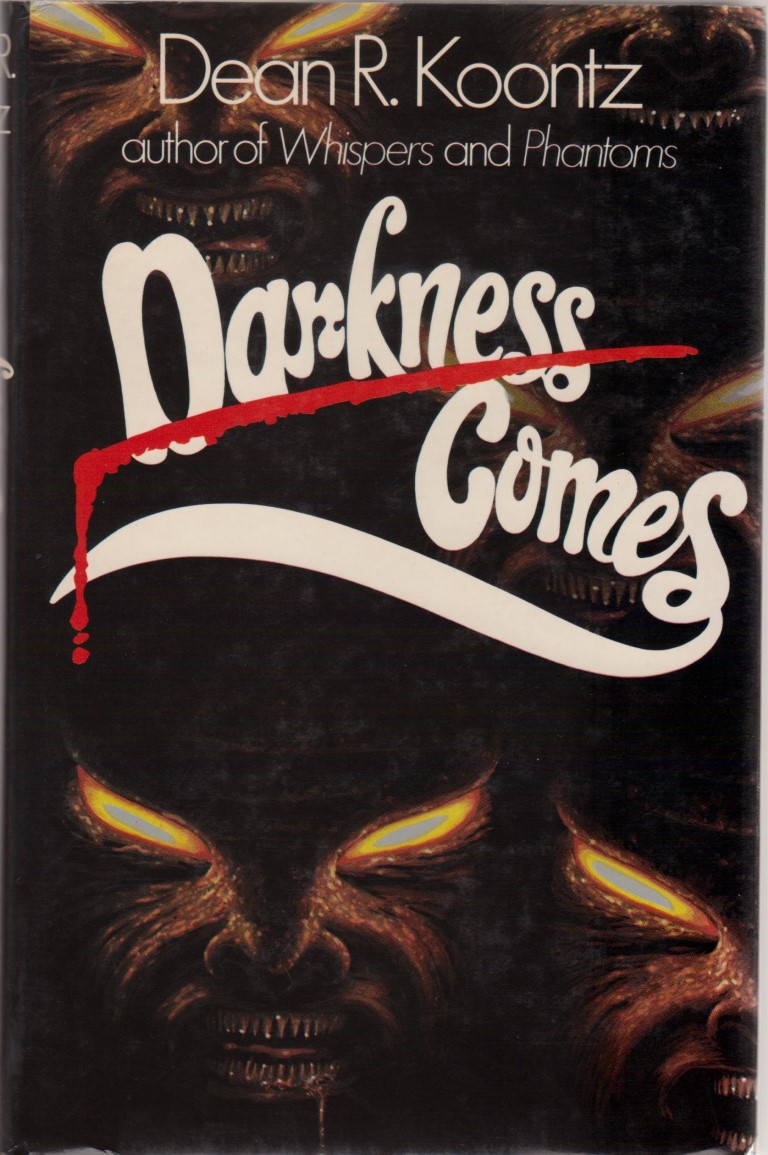 Early BCA edition of this thriller, with the original cover art work.
Who is more foolish - the child afraid of the dark or the man afraid of the light? Baba Lavelle is a stranger in New York. A stranger with a mission to break the Mafia stranglehold on the city's drug traffic, and take it over himself. He has no guns, no army of hoods, no friends in high places. But he has the Power - magical, ancient, and terrifyingly brutal. The power that thrives in darkness...
BCA editions have no ISBN but the original WH Allen editions have ISBN 0491031521. at the base of the book and jacket spine it has BCA logo.
thriller, occult, supernatural, horror
VG hardback in VG unclipped dust jacket with the red blood-streak sun-faded to white on the spine. very minor rubbing to corner tips of folds.
$15 C/C
Book Club Associates London 1984, 351pp.
[#3495 ]
12/11/2017 ev
DRURY Nevill

The Path of the Chameleon.
Man's encounter with the Gods and Magic.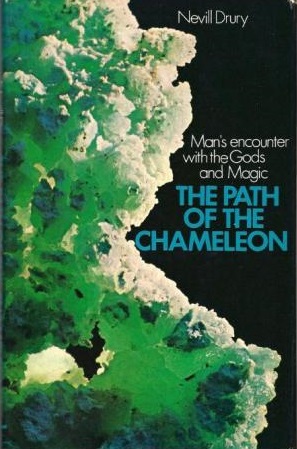 A discussion of the relationship of magical and occult practices and the mystery religions of the past. Includes Egyptian, Gnostic , Graeco-Roman, Qabalistic and Golden dawn systems.
ISBN0859780031
magic, occult, cabala, mystery religions, gnostic
VG hardback in VG dust jacket, with one small edge tear to rear panel, name to fep.
$25 C/B
Neville Spearman 1973 first edition, 160pp.
[#3469 ]
MICHELL John

City of Revelation
On the Proportions and Symbolic Numbers of the Cosmic Temple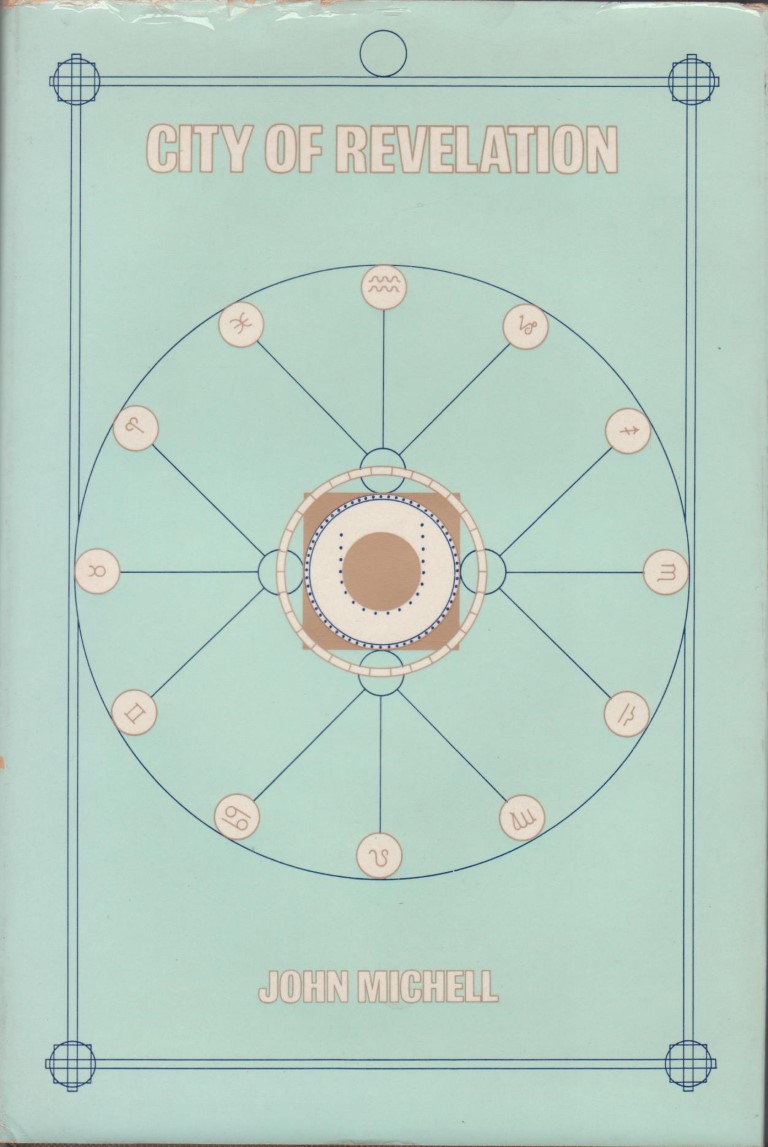 A sequel to The View over Atlantis this covers sacred geometry, numerology, gematria, and the esoteric concept of the New Jerusalem. Chapters include ones on the symbolism and esoteric meaning of the numbers 666, 1080, and other important Gnosic numbers, and those associated wih the geography of Stonehenge and Glastonbury.
ISBN0855110406
numerology, sacred geometry, geomancy, zodiac, Glastonbury
VG hardback in VG- price clipped dustjacket with mild handling wear to edges.
$35 C/C
Garnstone Press 1972 first edition, 176pp.
[#3470 ]
BISHOP Jane and Malcom Walker

Westland County
A Centennial Album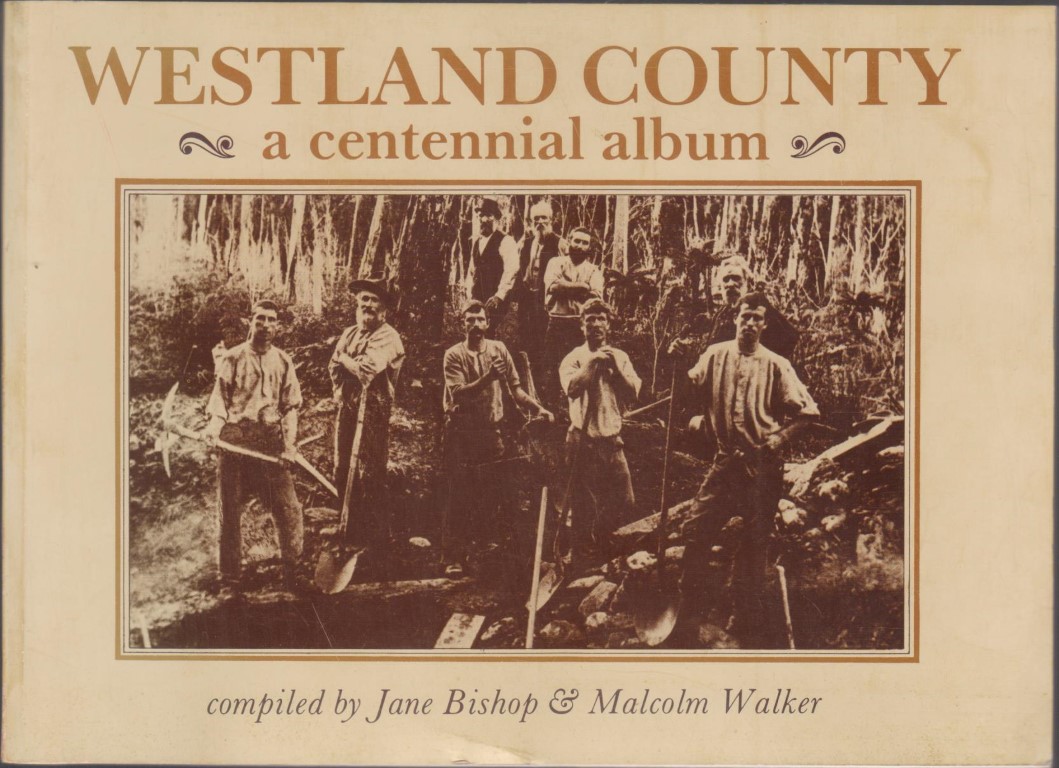 Published for the Westland Centenary in 1976. A history of the settlement and development of the West Coast and it's industries and personalities. With many historic photos.
Jackson's Bay, Westport, Arthur's Pass, Otira, Bealey, railway, Greymouth
VG softback
$30 C/B
Westland County Council with Pegasus Press 1977, 168p.
[#3471]
SILVERSON Alice

The Last Thirty Years 1963-1993
The History of the Canterbury Area Health Board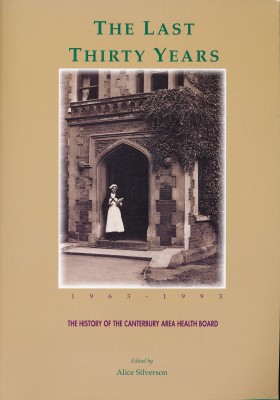 Gives details of the North Canterbury and Canterbury Area Health Board including details of the regional and rural hospitals, and the personell and management.
ISBN9780473029647
health, medicine, dhb, canterbury
VG softback with faintly sunned spine.
$30 B/D
Canterbury Health Ltd.1995, 396 pp.
[#3472 ]
OGILVIE Gordon

The Port Hills of Christchurch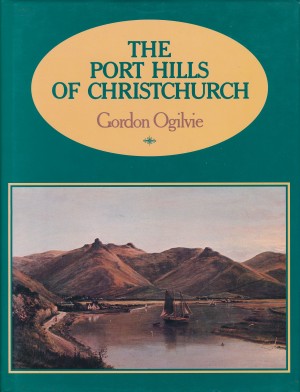 A history of the Port Hills recording the geography, botany and history of each settlement.
ISBN0589010409
VG Hardback with VG- dust jacket.
$30 B/C
Reed 1978 first edition, 246 pages. [#3473 ]
TIPPLES Rupert

Colonial Landscape Gardener
Alfred Buxton of Christchurch, New Zealand 1872-1950.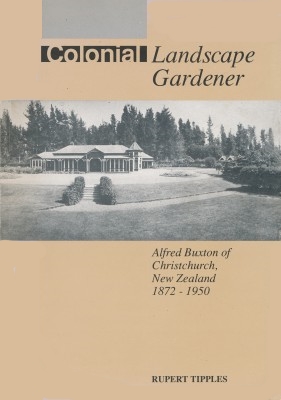 A history of this early landscape and garden designer, who began as a nurseryman, and later became a flower gower in Otaki. Includes many rare photographs in folding panoramas.
ISBN0864760337
christchurch, landscape design, nursery, gardening, biography
VG softback
$45 B/D
Department of Horticulture and Landscape, Lincoln College 1989, 179pp.
[#3474 ]
PENNEY Sarah E.W.

Beyond the City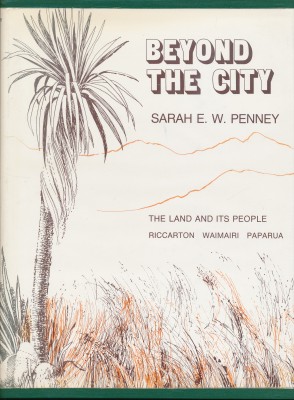 A history of the land and the people of Riccarton, Waimari and Paparua in Christchurch / Canterbury.
Selwyn county, Christchurch, local government, Templeton, Halswell
VG hardback in VG dustjacket.
$45 B/D
Penney Ash Publications 1977, 239pp.
[#3475 ]
PHILLIPS Roger and Martyn Rix

Perennials.
Vol. 2 Late Perennials.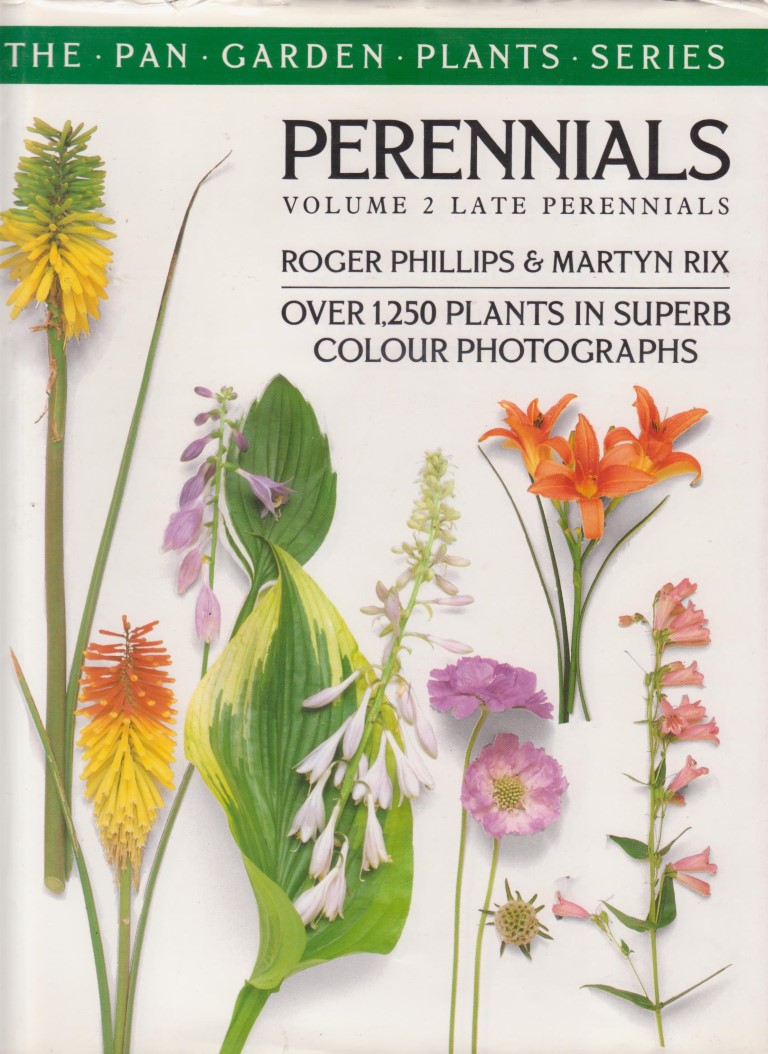 Over 1250 perennial plants described and shown in superb colour photographs. Part of The Pan Garden Plants Series.
ISBN9780330292757 / 0330309369
gardening, garden plants, botany, reference, summer, autumn, flowering plants
VG hardback in VG dustjacket
$30 B/D
Pan Books 1991, 252pp.
[#3476 ]
PHILLIPS Roger and Martyn Rix

Shrubs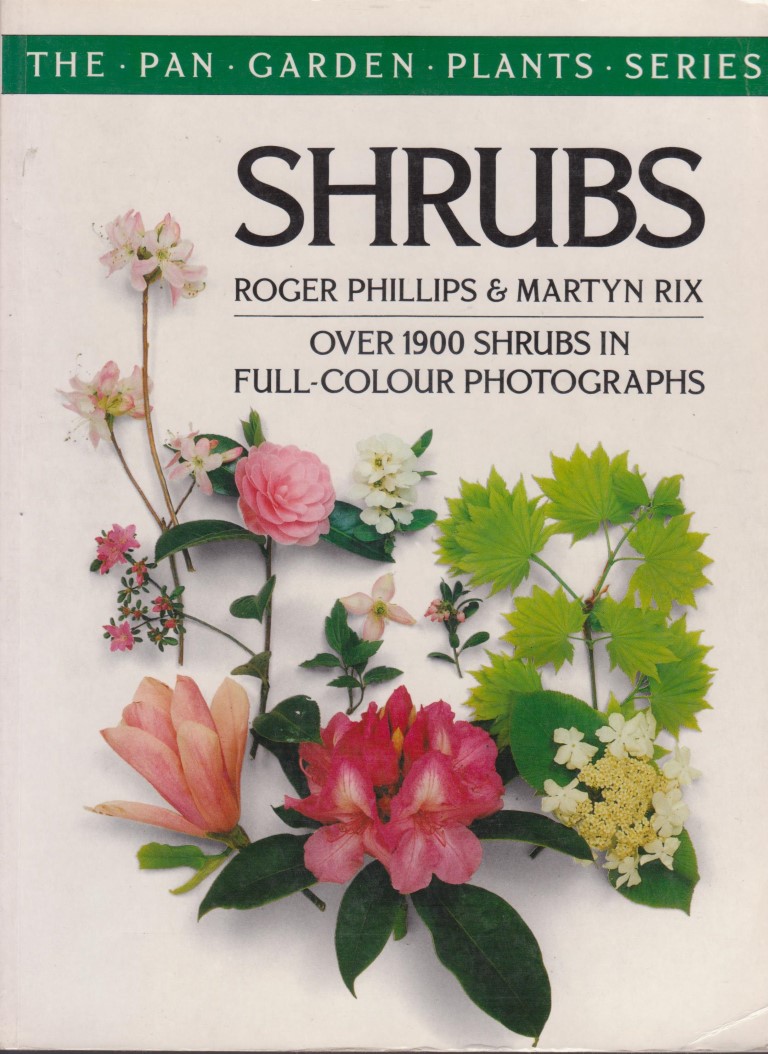 More than 1900 shrubs described and shown in superb colour photographs. Part of The Pan Garden Plants Series.
ISBN9780330302586
gardening, garden plants, botany, reference, summer, autumn, flowering plants
VG softback
$25 B/D
Pan Books 1989, 288pp.
[#3477 ]
POWELL Paul

Just where do you think you've been?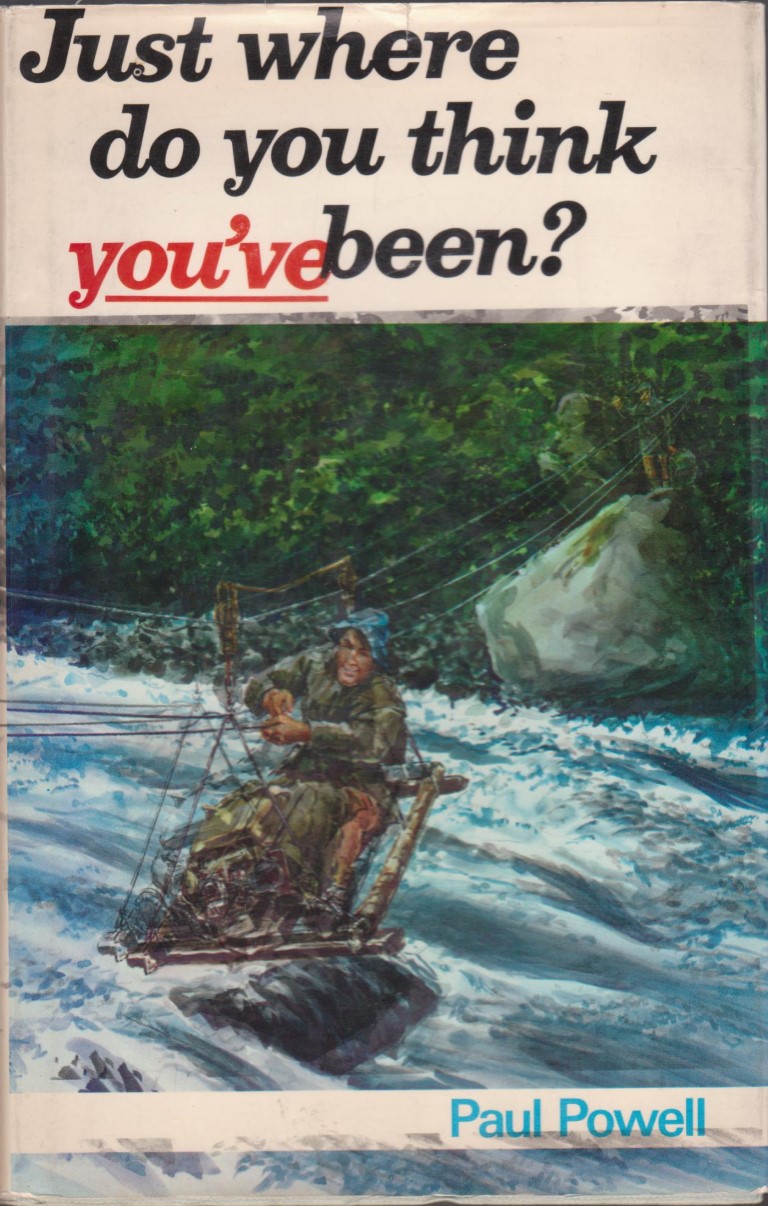 Powell recounts over twenty years of his experiences in the bush and mountains of New Zealand. Climbs in the mountains of Tararua, Rakaia, Arthur's Pass, Remarkables, Milford Sound, Mt Aspiring and overseas.
ISBN0589004492
mountaineering, climbing, new zealand
VG hardback in VG dustjacket. Jacket has printer error to image and a few short edge tears.
$25 B/C
Reed 1970, 211pp.
[#3478 ]
RAMACHARAKA Yogi aka W W Atkinson

Fourteen Lessons in Yogi Philosoophy and Oriental Occultism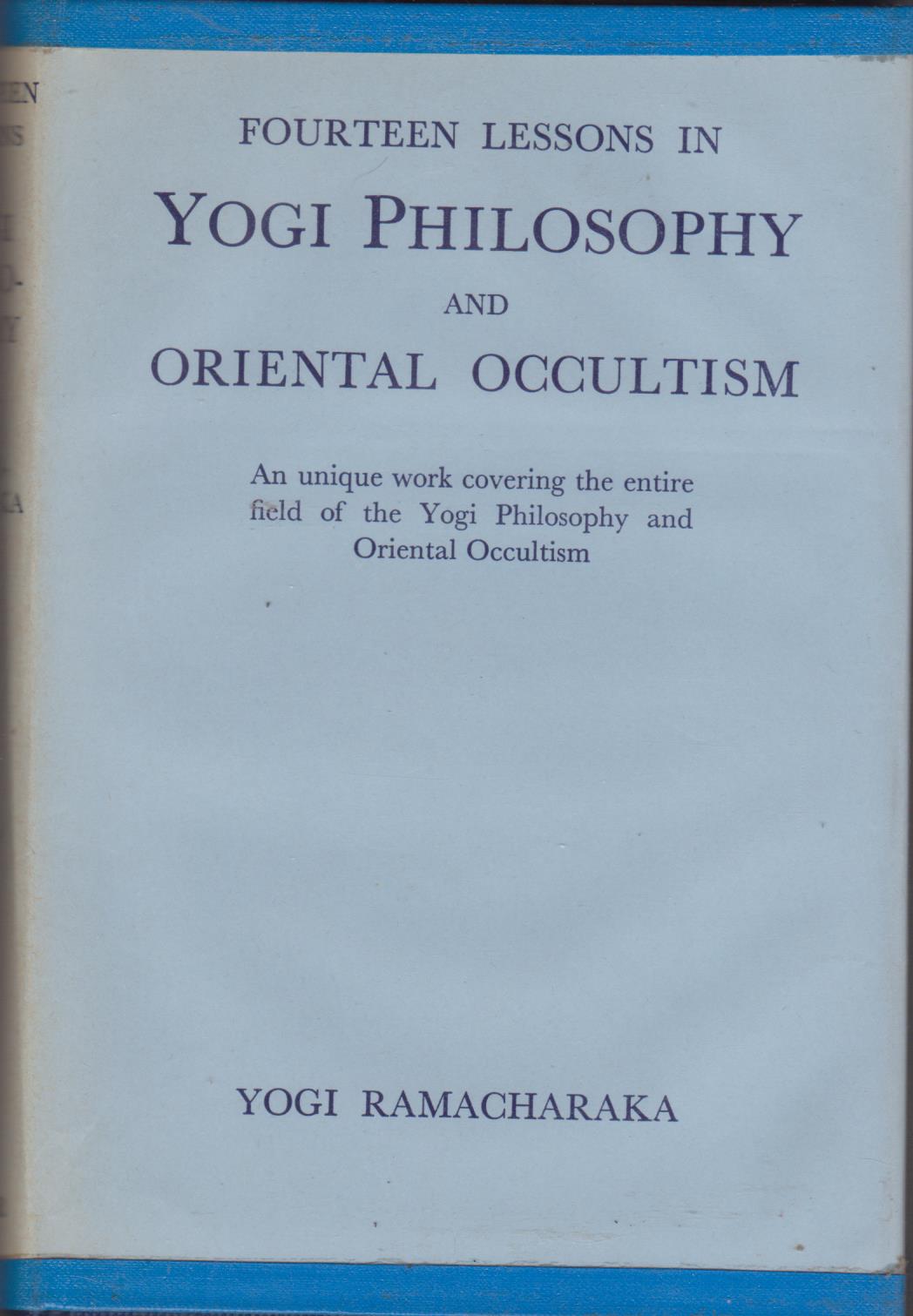 An unique work covering the entire field of occultism including the astral and spiritual worlds, the aura, clairvoyance and teleptahy, magnetism, mesmerism, Survival after death etc. Part of W W Atkinson's Yogi Philosophy course of Oriental Occultism.
VG hardback in VG dust jacket under a removable sleeve. Name in pen to free end paper.
$30 C/B
Fowler undated reprint of about the 1970s, 270pp.
[#3479 ]
RAMACHARAKA Yogi aka W W Atkinson

The Hindu-Yogi Science of Breath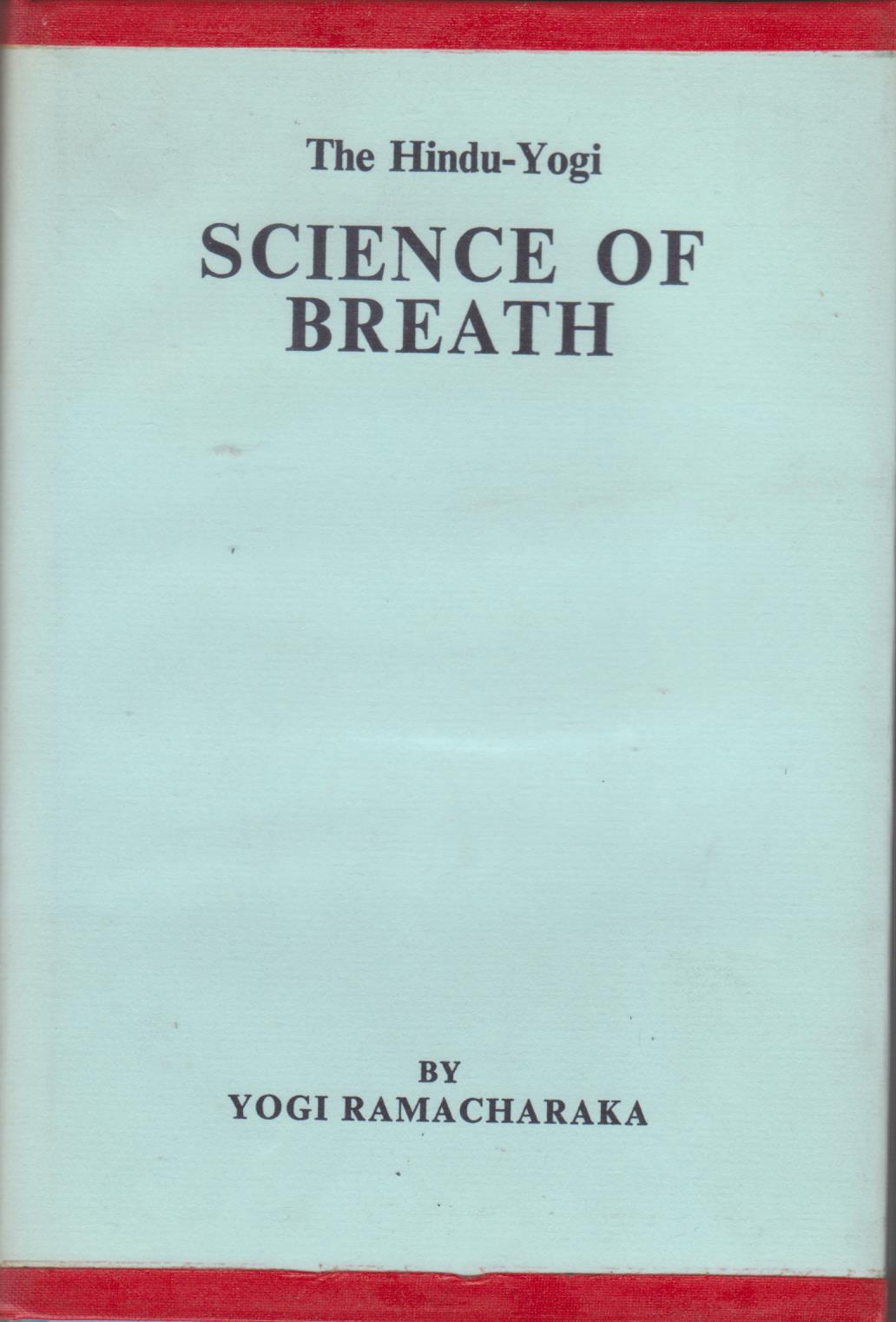 Lessons on the occult uses and benefits of breath control.
ISBN0852430973
yoga, pranayama, breathing
VG hardback in VG dustjacket under removable sleeve. Minor adhesive residue offset to endpapers from Dust jacket sleeve.
$15 C/B
Fowler 1960 (22nd edition), 73pp + adverts.
[#3480 ]
ALDER Vera Stanley

The Finding of the Third Eye
With a preface by Alice A. Bailey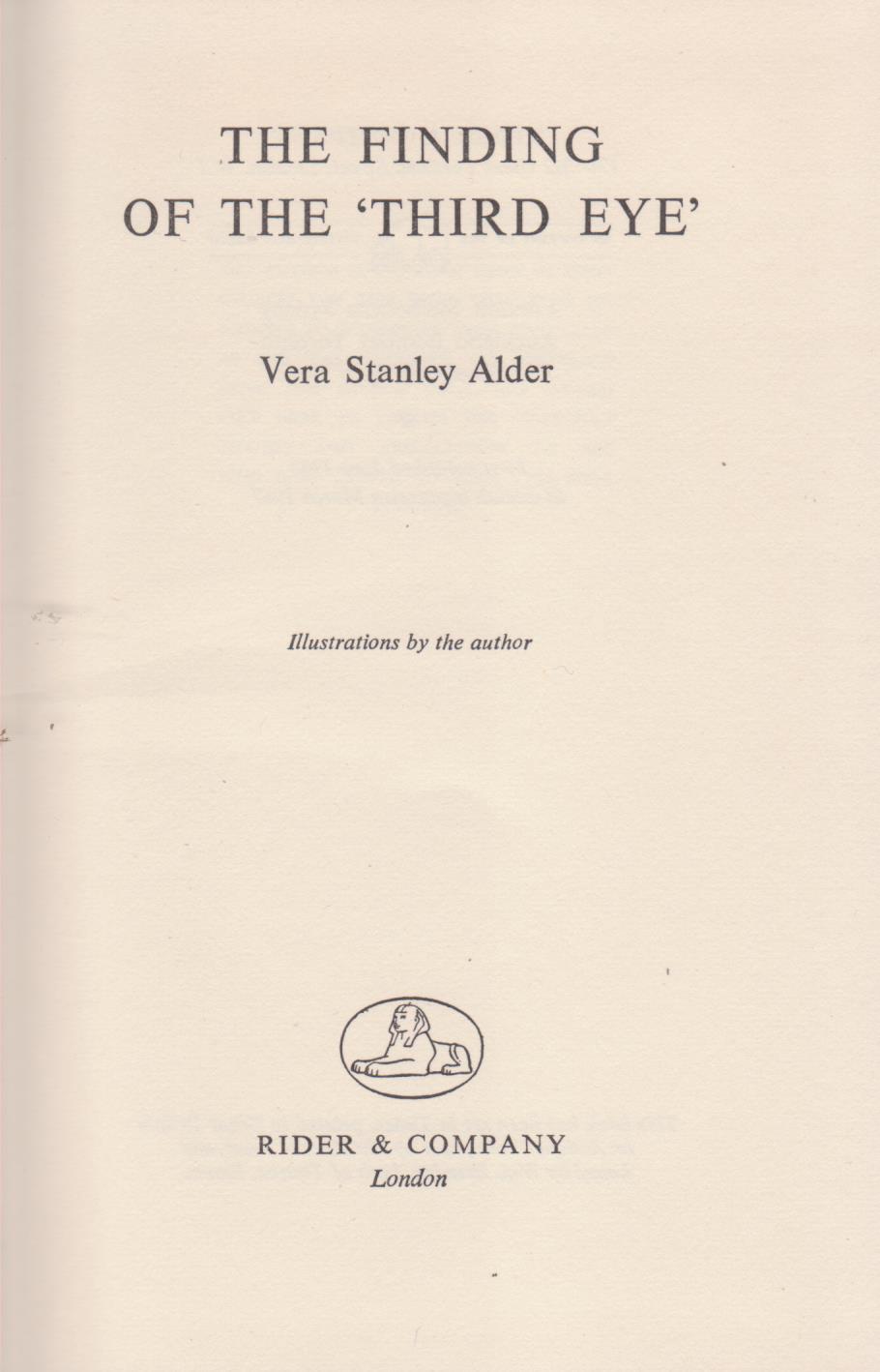 Occult practices of breathing, color, sound, diet, exercise, and how these can be used to develop the third eye.
Seven Rays new age philosophy.
VG hardback with no dust jacket, section from top of endpaper removed.
$12 C/B
Rider 1967, 187pp.
[#3481 ]
G+ hardback with no dust jacket, top of endpaper clipped, a few pages have minor ball pen underlining.
$9 C/B
Rider 1962, 187pp.
[#2528 ]
JONES Bob

Jones on Property
The property game for fun and Profit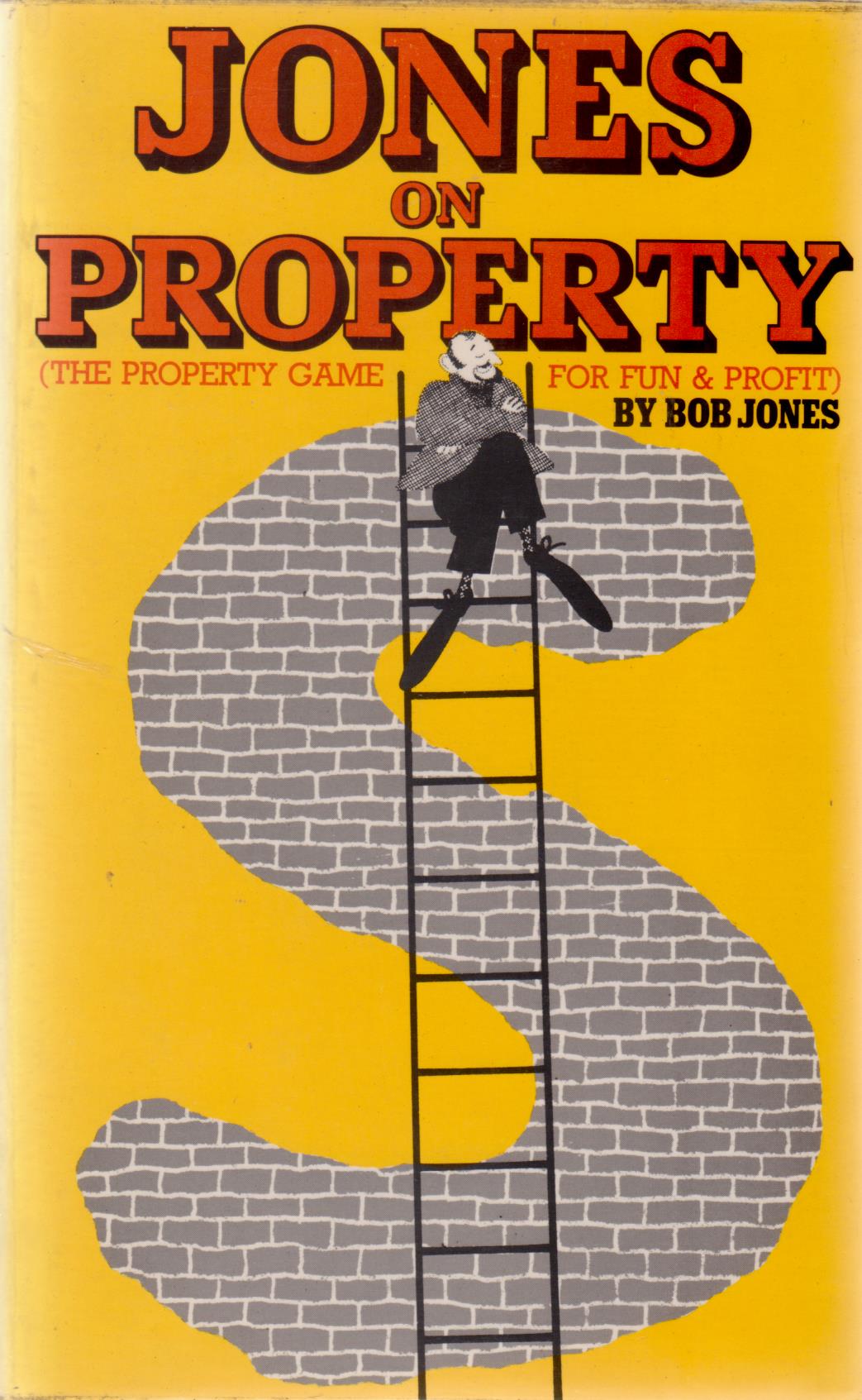 Bob Jones shows how he succesfully invested in commercial real estate, and the mistakes one should avoid.
property development, finance, investment, bob jones
VG hardback in VG- unclipped dust jacket with minor soiling to top and bottom edges where adhesive had bled from a plastic sleeve, sunfaded spine, book tidy.
$15 C/C
Fourth Estate Books Limited, 1977 SECOND IMPRESSION of first edition, 249pp+ plates.
[#3482 ]
21/10/2017 ev
COULIANO I. P.

Out of this World; Otherworldly Journeys from Gilgamesh to Albert Einstein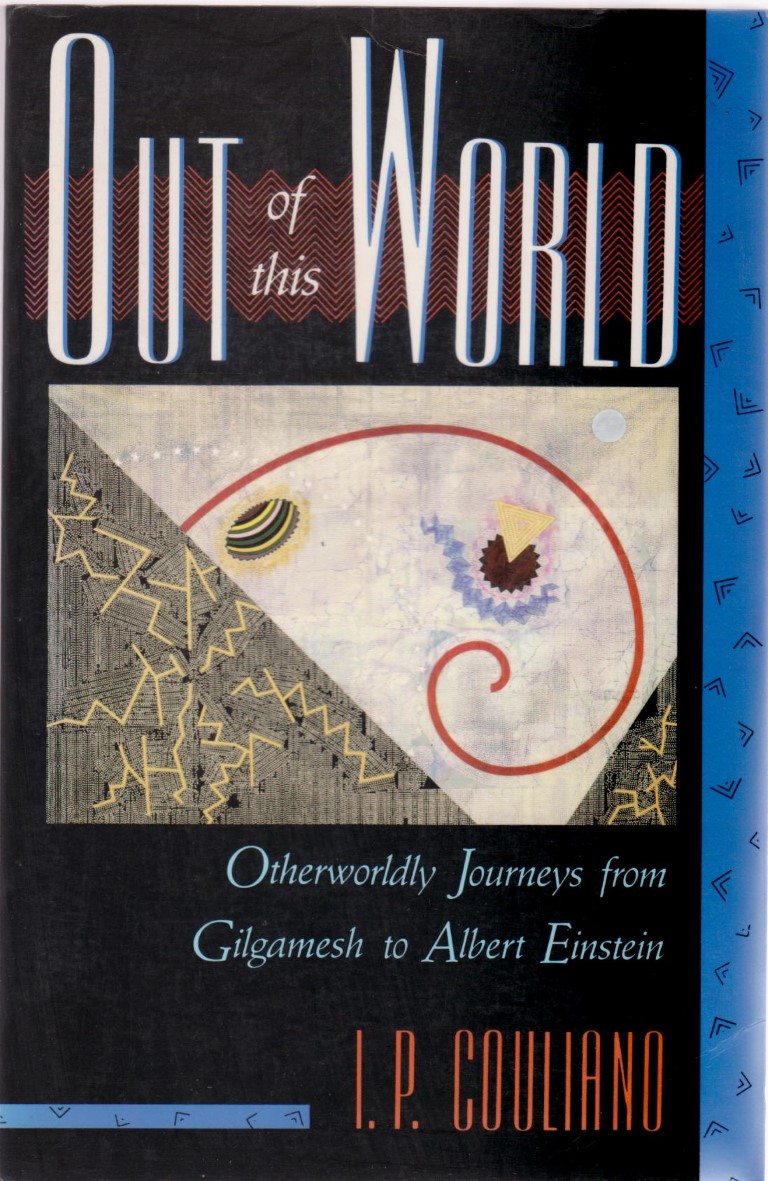 This book takes the reader on a fantastic journey through a wide range of cultures and traditions to examine the phenomenon of ecstatic visionary experiences.
From the Sumerian Gilgamesh and the Taoist Immortals to the imaginative fiction of Jorge Luis Borges, the author provides a comprehensive tour of otherworldly journeys common from immemorial times among shamans, magicians, and witches, and illustrates their connection with such modern phenomena as altered states of consciousness, out-of-body experiences, and near-death experiences.
ISBN0877734887
shamanism, altered states, astral projection, trance, Taoist, Cabalistic, GnosticPlato, Neo-platonism
VG softback, name and address in pen to fep.
$15 C/C
Shambala 1991, xvi 267pp.
[#3458 ]
TAYLOR Bernard

There Must be Evil: The Life and Murderous Career of Elizabeth Berry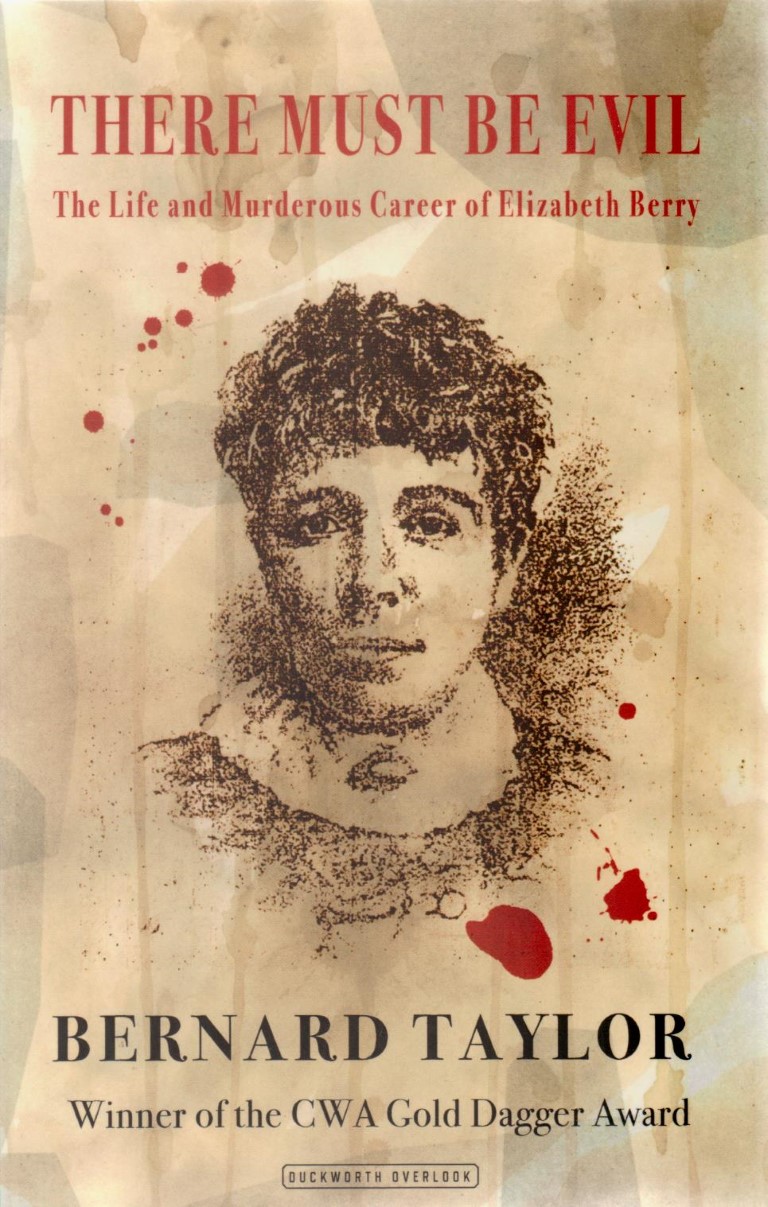 In 1887, Elizabeth Berry, an attractive young nurse from the grim Oldham workhouse, found notoriety throughout the nation after the death of her daughter, perceived by many to be the cruellest of murders - performed with a callousness that was almost beyond belief.
There were many who protested her innocence in the affair, but there were also suspicions surrounding another death related to the nurse: that of her mother. Suddenly Elizabeth Berry's dark story began appearing darker still.
Bernard Taylor, investigates the disturbing life of Elizabeth Berry endured during an era of grinding poverty when Victorian England was obsessed with the exploits of murderers and forensic science was in its infancy. He takes a fresh look at the demise of Berry's husband and two other young children, deaths that for a long time were considered to be of natural causes.
ISBN9780715651209
murder, true crime, British
VG softback
$15 C/B
Duckworth Overlook 2016, 242pp.
[#3459 ]
FIELD Jim

Backtracking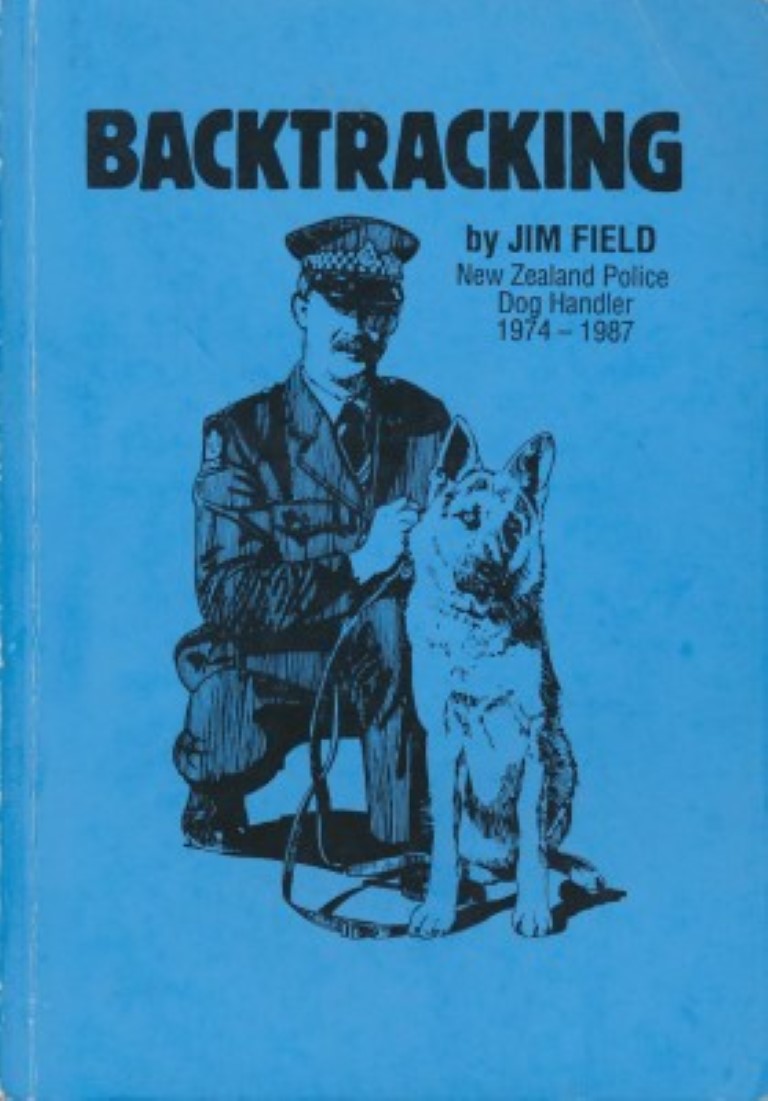 Field was a New Zealand Police Dog Handler from 1974-1987. He describes his experiences of the selection, training and operation of police dogs. He saw service in Masterton and the Wairarapa, and policed the Springbok Tour protests.
ISBN0473021099
police, dog-handler, canine, memoir
VG softback with gift inscription and signed by Jim Field
$25 C/C
Wairarapa Times-Age Co. Ltd., 248 pp.
[#3460 ]
TUSTIN Ken

A Wild Moose Chase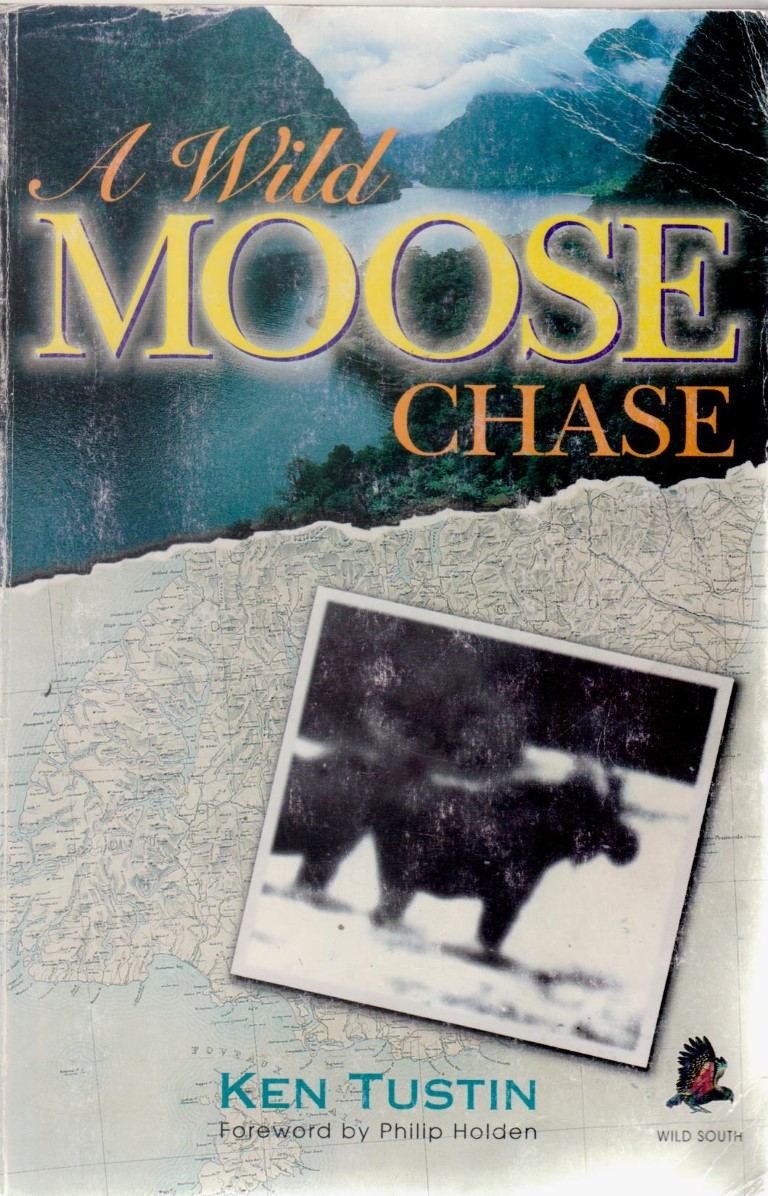 Tustin recounts his quest to find any remnants of moose in Fiordland. He believes he has camera footage and other evidence of their continuing prescence.
ISBN9780958372305
hunting, new zealand, fiordland, Herrick creek, Wet Jacket Arm
VG- softback with rubbed covers
$20 C/C
Wild South Books 1998, 224pp.
[#3461 ]
GRASS Gunter

Peeling the Onion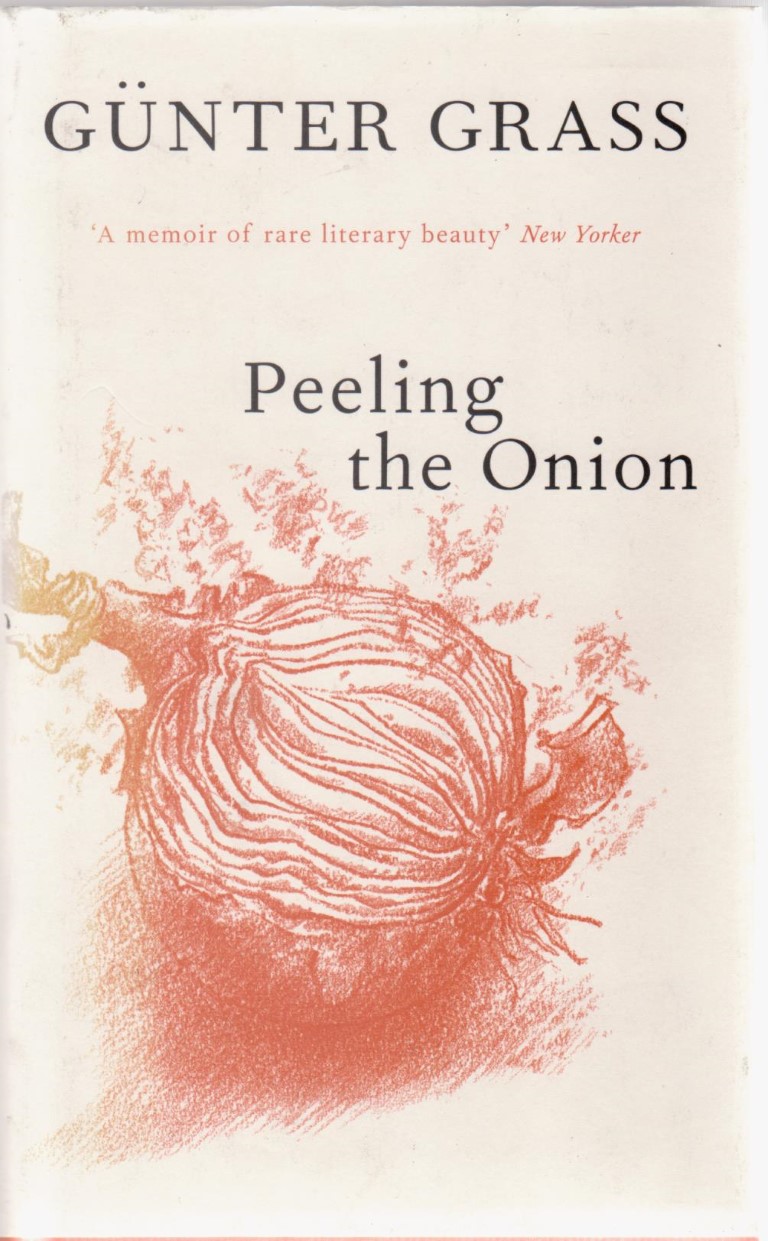 In this extraordinary memoir, Nobel Prizewinning author Gnter Grass remembers his early life, from his boyhood in a cramped two-room apartment in Danzig through his short war-time service in the Waffen-SS, and the late 1950s, when his book The Tin Drum was published.
ISBN9781846550621
autobiography, german literature, tin drum
VG hardback in VG dust jacket with sun faded spine
$20 C/C
Harvill Secker 2007 first edition, 425pp.
[#3462 ]
CRUMP Barry

Bastards I Have Met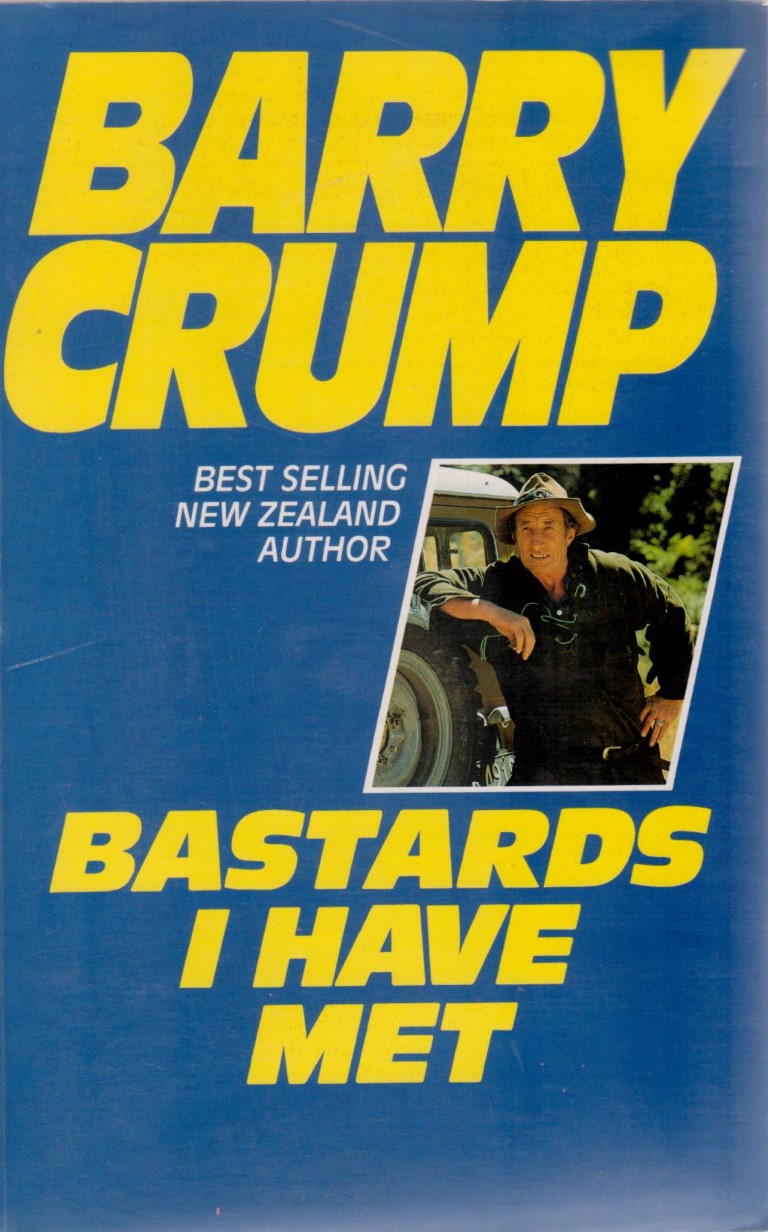 Bastards, discovered Barry Crump one afternoon in the Timberlands hotel, out number hero's by at least 15 thousand to one. Yet there has never been a single book or poem,or TV documentary, or song,or even a speech, devoted to the common or garden bastard!
This situation had to be remedied at once. And so, from a great wealth of candidates who have come the way of New Zealand's most popular writer, Barry Crump has now distilled this first ABC of bastardry.
Illustrated by Graham Kirk
ISBN095978974X
Barry Crump, kiwi, humour
VG softback
$9 C/B
Hodder Moa Beckett, 186pp.
[#2080, 3463 + BOX#2 ]
SANFORD Agnes

Behold Your God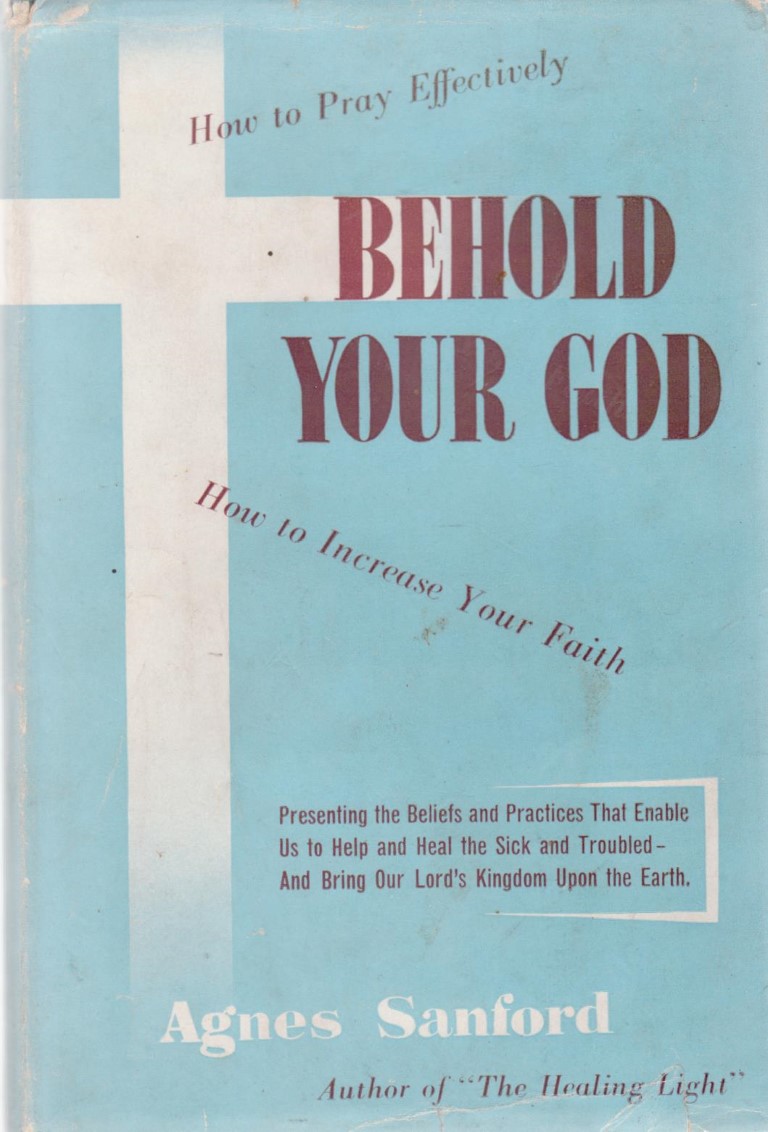 Christian spiritual healing, how to pray effectively, how to increase your faith.
Christianity, Spiritual Healing, Prayer, Faith Healing
G hardback in VG- dust jacket with minor edg tears and rubbing. BOOK lacks fep and has a torn page repaired with archival tape.
$10 C/B
Evesham 1961, 204pp.
[#3464 ]
HUNTER Keith

Trial by Trickery
Scott Watson, the Sounds Murders and the Game of Law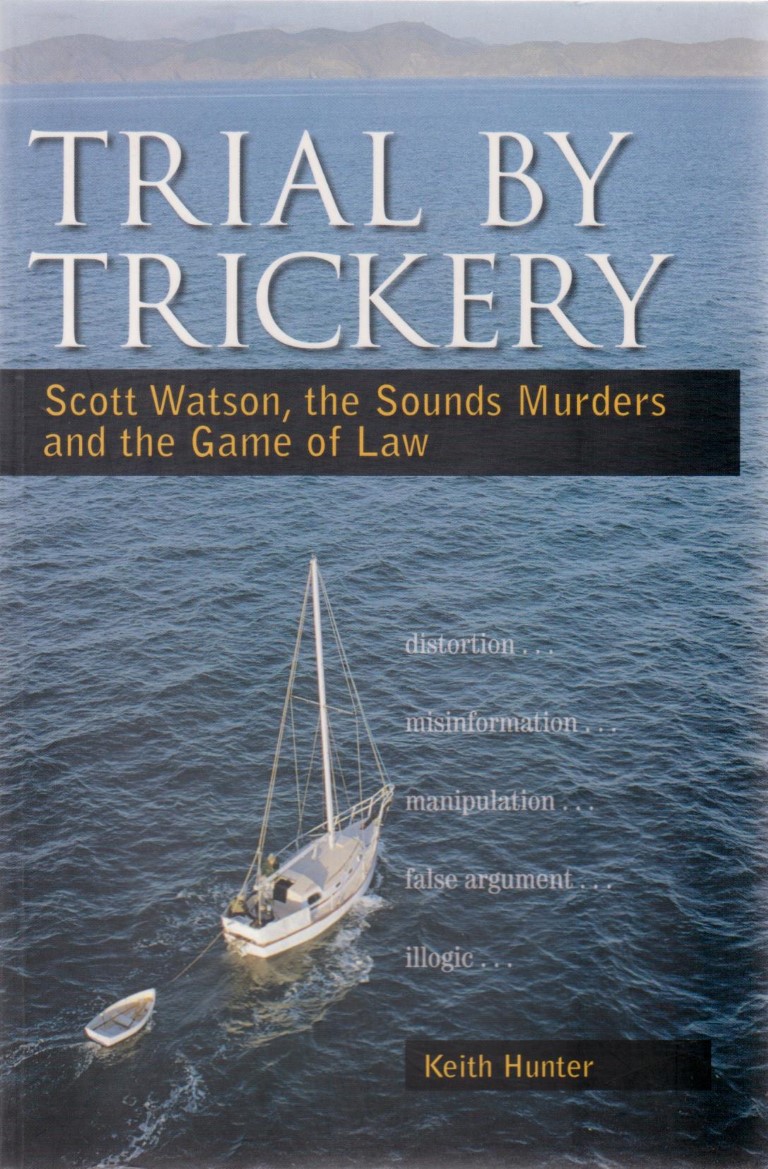 On New Year's Eve 1997, young holiday-makers Ben Smart and Olivia Hope disappeared from a party at a seaside resort, last seen boarding a mystery yacht with a mystery man. Five months later 26-year old Scott Watson was arrested and later convicted of their murders. But is Watson guilty? Keith Hunter is one of many who think not and in 2003 he produced a documentary that showed why. Now he goes further, showing how the jury's verdict was acquired
ISBN9780473117214
true crime, murder, justice
VG softback
$20 C/C
Hunter Productions 2006, 295pp.
[#3465 ]
FLEMING Ian

The Man with the Golden Gun
US edition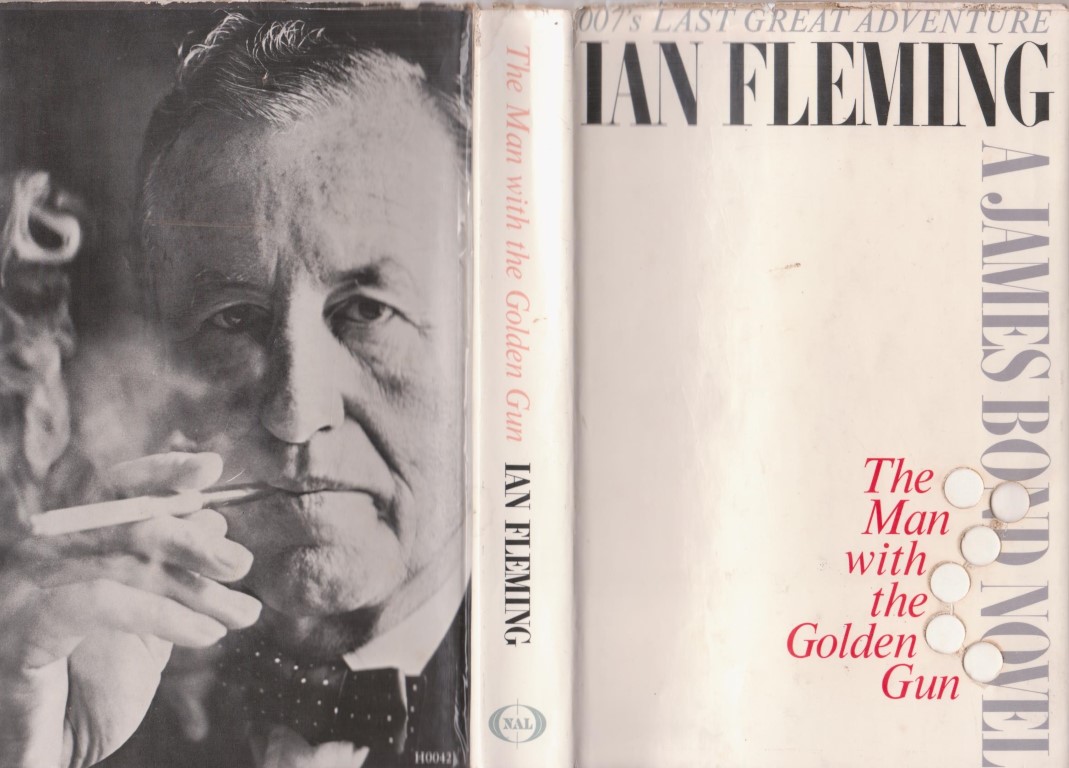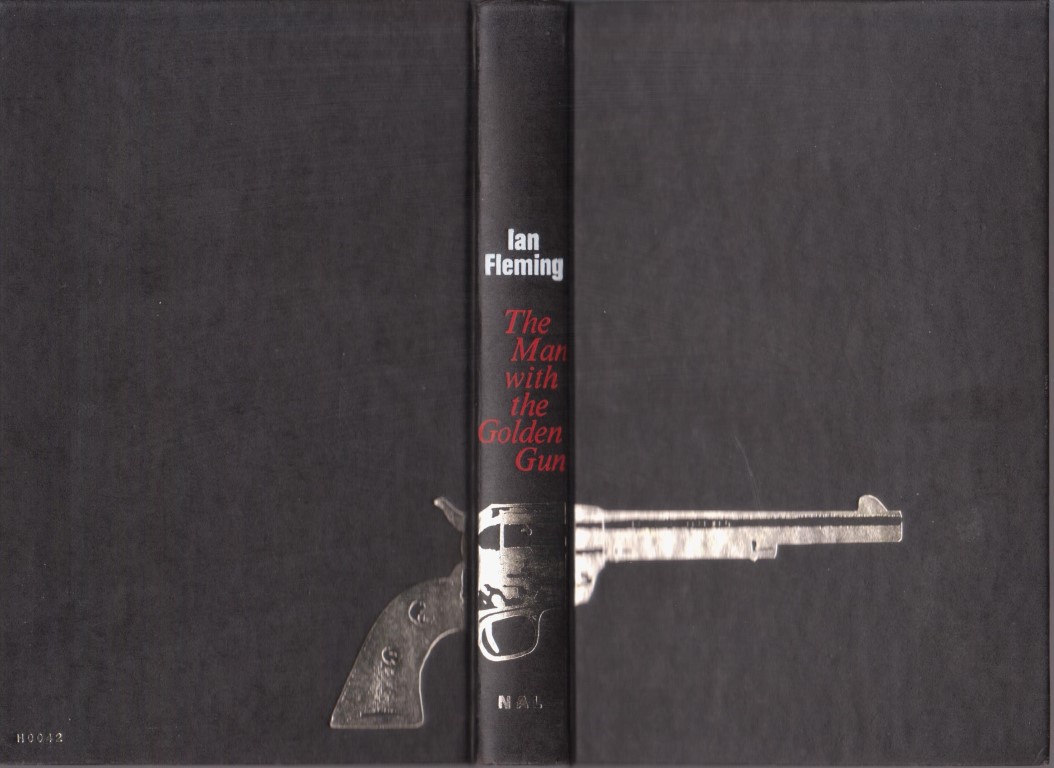 Second printing with 'bullet holed' jacket.
VG hardback in VG- dust jacket with light handling and soiling, and minor edge wear.
$20 C/C
New American Library (1965), 183pp. [#3466]
HAWTHORNE Nathaniel

The Scarlet Letter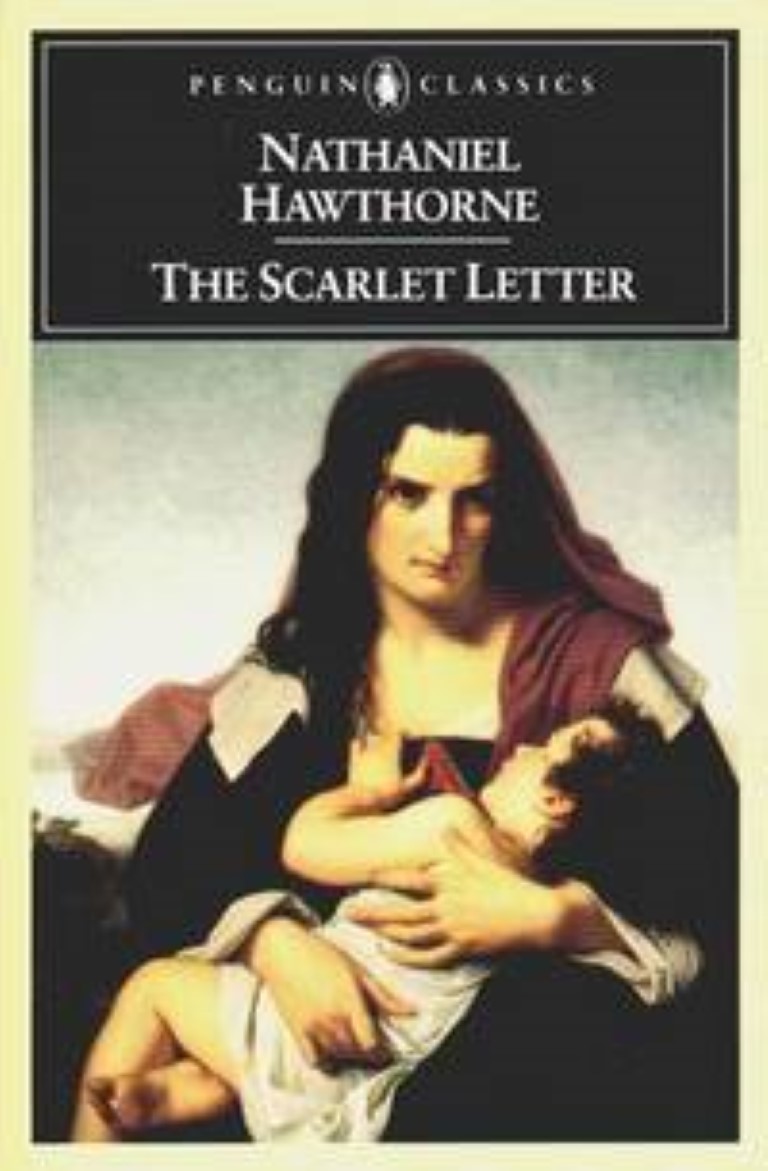 Introduction by Nina Baym and notes by Thomas E. Connolly.
The story of a woman persecuted by the narrow Puritan Boston society that was the author's own heritage. The book examines the circumstances of Hester Prynne's illegitimate pregnancy, reveals the shocking identity of the father, and attacks this society for blaming the innocent.
ISBN9780140390193
american, literature, 19th century, puritan, Hester Prynne
G+ paperback
$6 A/A
Penguin 1986, 284pp.
[#PB1547]
20/10/2017 ev
HEDLEY Alex and Megan Hutching

Fernleaf Cairo
New Zealanders at Maadi Camp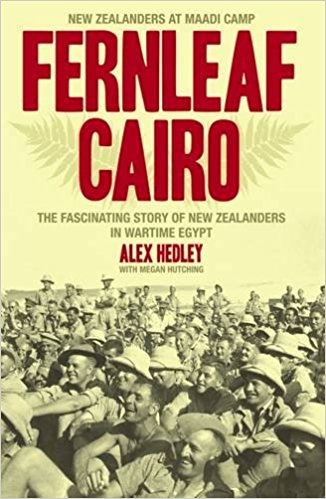 The Fascinating Story of New Zealanders in Wartime Egypt. Between 1939 and 1946, around 76,000 Kiwis of the Second New Zealand Expeditionary Force passed through Maadi Camp, south of Cairo. A fascinating insight into the unlikely bond young New Zealanders forged with the people and city of Cairo, including their many highly colourful experiences on leave.
ISBN9781869507558
NZEF, ww2, wwii, middle east, egypt
VG softback
$25 C/C
HarperCollins 2009, 272pp + plates.
[#3442 ]
McCASKILL L. W.

Molesworth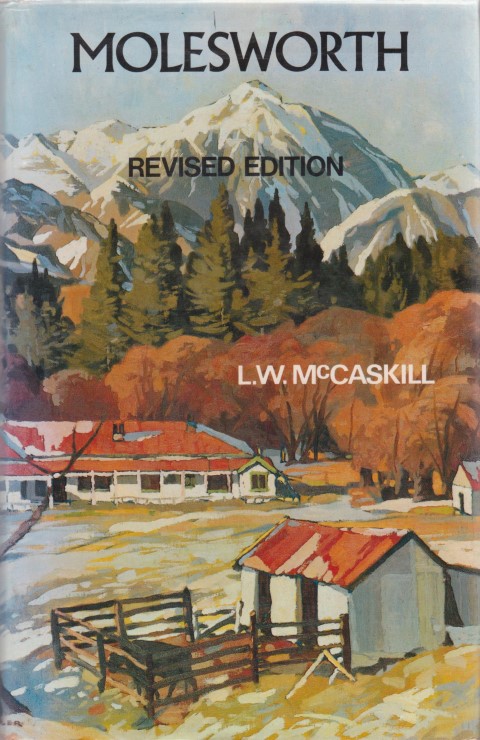 The history of the massive Molesworth High country sheep station, which straddles Canterbury and Marlborough provinces.
ISBN0589002236
sheep station, clarence, awatere, acheron, marlborough
VG hardback in VG dust jacket.
$45 B/C
Reed 1975 revised edition, 298pp + plates.
[#3443 ]
PUGSLEY Christopher

Gallipoli: The New Zealand Story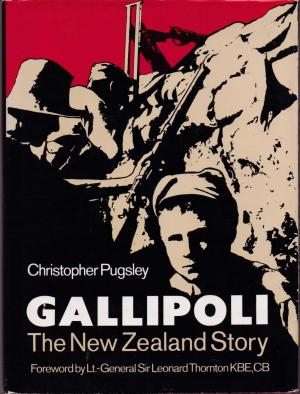 An in depth account of the strategy, tactics and aftermath of the costly Dardanelles Campaign, where more than a quarter of the Kiwi ANZACS at Gallipoli were killed, and the remainder changed forever. It has been said Gallipoli cemented the Australian sense of Nationhood, whereas it was where the seeds of New Zealands identity were sown.
ISBN0340338776
ww1, wwi, anzac, gallipoli, dardanelles
VG hardback in VG dust jacket, minor soiling to closed page edges.
$55 B/D
Hodder and Stoughton 1984, 384pp.
[#3444]
GOLDING William

Lord of the Flies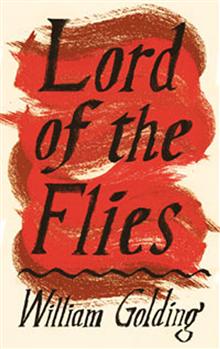 A plane crashes on a desert island and the only survivors, a group of schoolboys, assemble on the beach and wait to be rescued. By day they inhabit a land of bright fantastic birds and dark blue seas, but at night their dreams are haunted by the image of a terrifying beast.
ISBN9780571245895
fiction, british, 20th century, faber firsts
VG paperback
$7 A/B
Faber 2009, 225pp.
[#3445 ]
FLEET Harriet

The Concise Natural History of New Zealand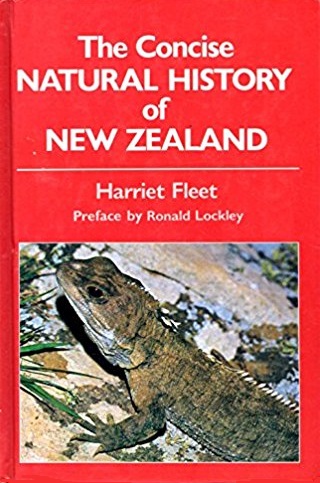 This essential guide to the natural history of New Zealand is both concise and comprehensive. It has the widest possible coverage and is the only concise text available.
New Zealand's unique flora and fauna, which has evolved over many years of geographic isolation, is examined in detail. The information is presented in a logical and interesting way that is readily understandable to any reader.
The text is organised into the main habitat regions, starting in the high mountains, progressing steadily to the sea and the offshore islands. In each region the habitat is discussed in detail, together with the main plant and animal species found there. Superbly illustrated throughout, this is an ideal introduction to New Zealand's natural history.
ISBN9780868631363
natural history, flora, fauna, plants, animals
VG hardback with no dust jacket. Spine sunfaded.
$20 C/C
Heinemann 1986, 275pp.
[#3447 ]
HAMILTON Joyce

White Water
The Colorado Jet Boat Expedition
50th Anniversary Edition 1960-2010.
includes DVD.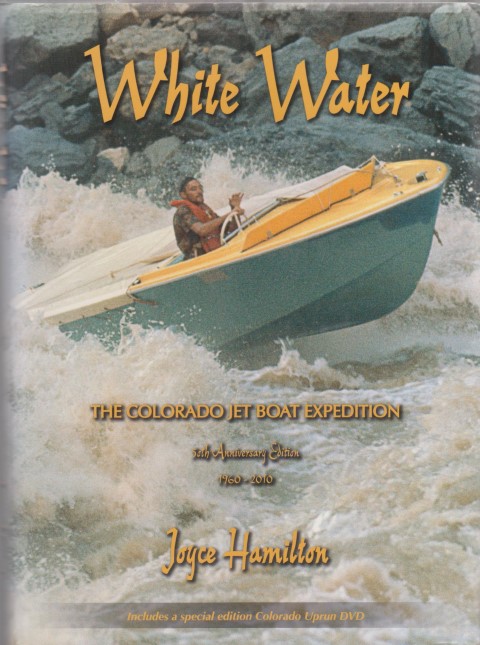 A new edition of this classic account of the first jet-boat on the Colorado River and it's epic 1960 expedition upstream. This Anniversary edition has colour photographs not seen in the original edition, and a movie DVD.
ISBN9780473175894
keywords
VG hardback in VG dust jacket.
$45 B/C
Joyce Hamilton and Tony Kean 2010, 264pp.
[#3448 ]
PHILLIPS Roger and Martyn Rix

Roses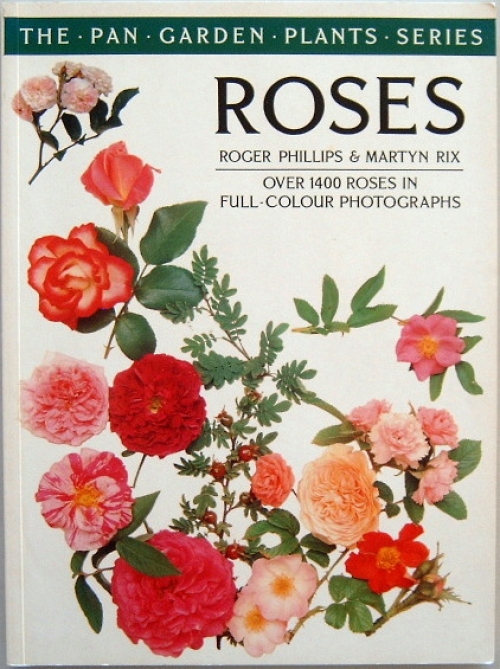 Illustrated with over 1400 colour photographs of roses from all over the world - old roses, species roses, hybrid teas, floribundas, climbers, ramblers and miniature roses. With detailed descriptions of each rose's origin and parentage, appearance, characteristics and growing conditions.
ISBN0330299972
garden plants, roses, cultivation, heritage varieties, wild roses
VG softback
$25 B/C
Pan Books 1988, 284pp.
[#3450 ]
STEINBECK John

The Grapes of Wrath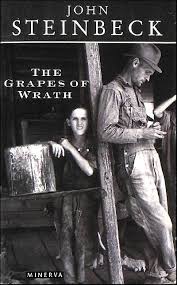 The novel that won John Steinbeck the Pulitzer Prize in 1940 endures as his masterpiece. An extraordinary book which caused a storm of controversy, it remains one of the most powerful and persuasive novels of human tragedy and endurance ever written.
The narrative follows the destiny of the Joads, a family of refugee farmers from Oklahoma who abandon the dustbowl to head west, for the fields and orchards of California. Travelling in a beat-up truck with all their possessions, they are impelled by hope of work, but the promised land turns out to be a world of labour camps, hungry people and broken dreams, the scene of an elemental conflict between migrant workers and company thugs.
ISBN9780749391553
american modern literature
VG- paperback
$8 A/ B
Minerva 1992, 535pp.
[#3451 ]
TURNER Michael

One Muff Too Tough: Ocean Beach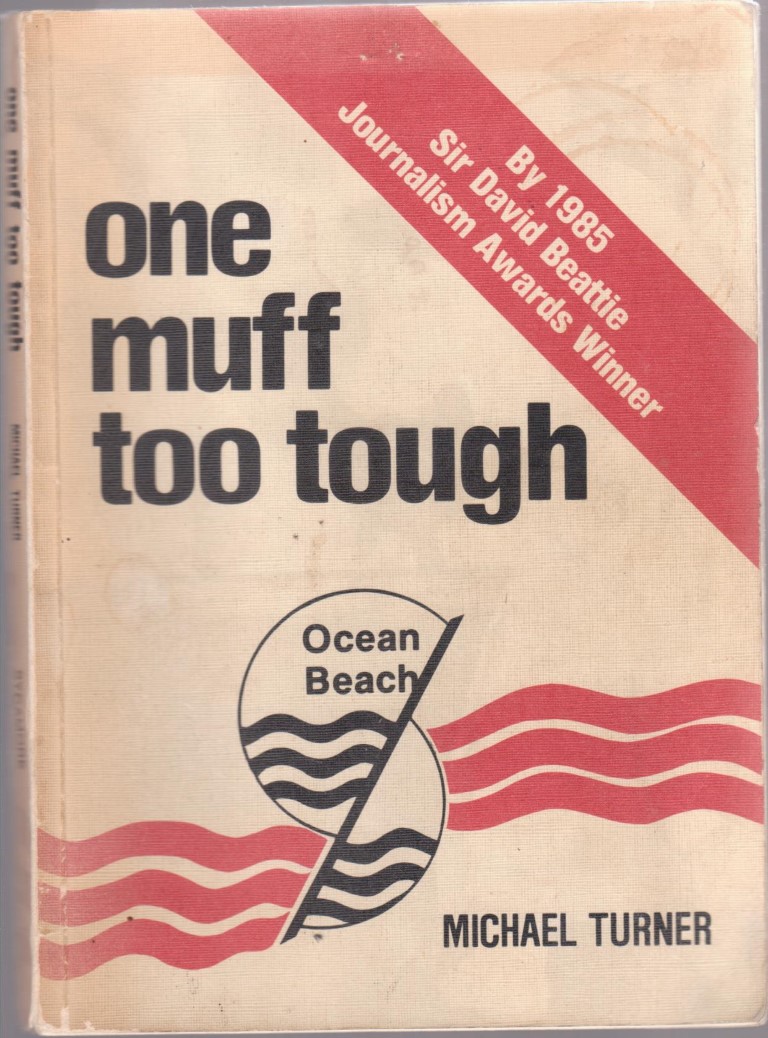 Journalist investigates the disputes between staff, the union, and management at the Bluff Ocean Beach meat processing plant. ISBN0908720009
industrial relations, trade union, meatworks, meat processing, Bluff, New Zealand Meat Workers' Union
G softback with wear and soiling to covers.
$15 C/B
Sycamore Print 1985 reprint, 148pp.
[#3452 ]
WRIGHT Matthew

100 BIG IDEAS - Wonders of New Zealand Engineering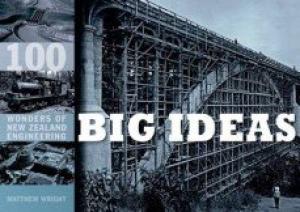 From early Maori and European settlement through the boom days of the late 1900's into the Depression-era projects of the early twentieth century and on to the Think Big years, Wonders of New Zealand Engineering features 100 projects from around the country with informative text, fact boxes and historic photographs.
Roads, bridges, dams, railway viaducts and tunnels, Burt Monro's super-fast motorcycles - and much more
ISBN9781869791070
civil engineering, transport, hydro-electricity, power scheme, public works
VG softback
$20 B/D
Random House 2010 reprint, 240 pp.
[#3453 ]
MAIR and HENDRY

Homes of the Pioneers
Pen & Wash Drawings by A. J. Mair with text by J. A. Hendry.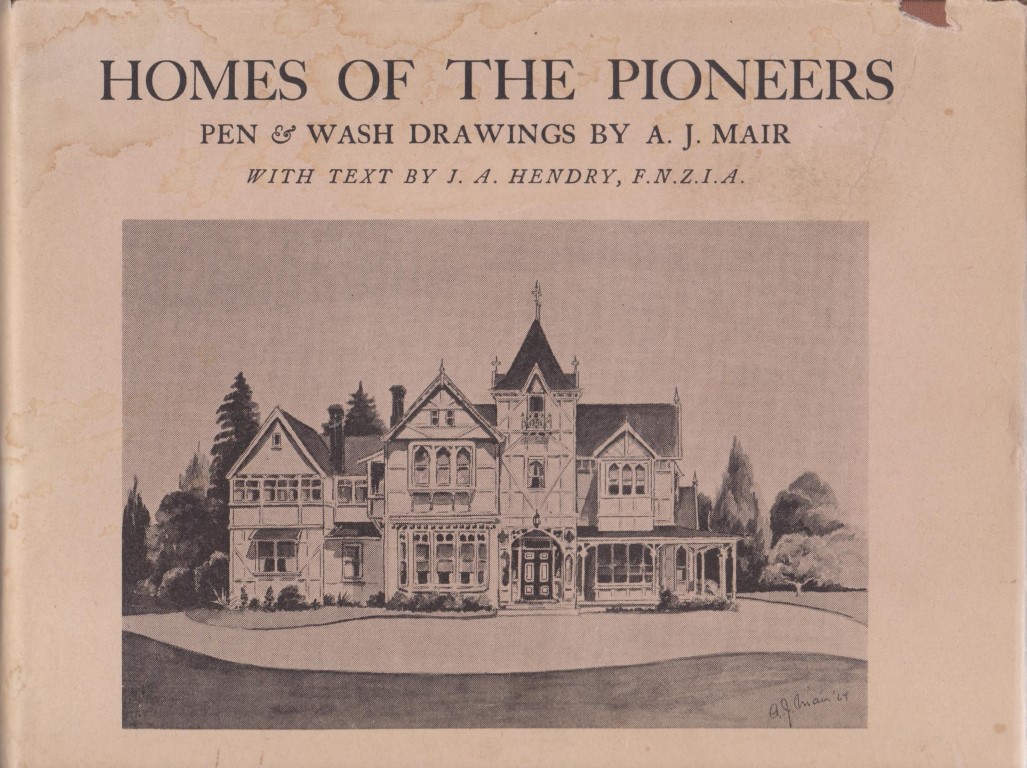 51 iconic heritage Canterbury homesteads sketched with facing page of descriptive text. Includes Christchurch city, Banks Peninsula and Canterbury plains.
architecture, historic buildings, homesteads, historic, history
VG hardback with G+ dust jacket with short closed tear and small chip at top corner of front, and some soiling.
$30 B/C
Caxton press 1968, approx 100pp.
[#3454 ]
17/9/2017 ev
McLEOD David

Many a Glorious Morning
cover art by Colin Wheeler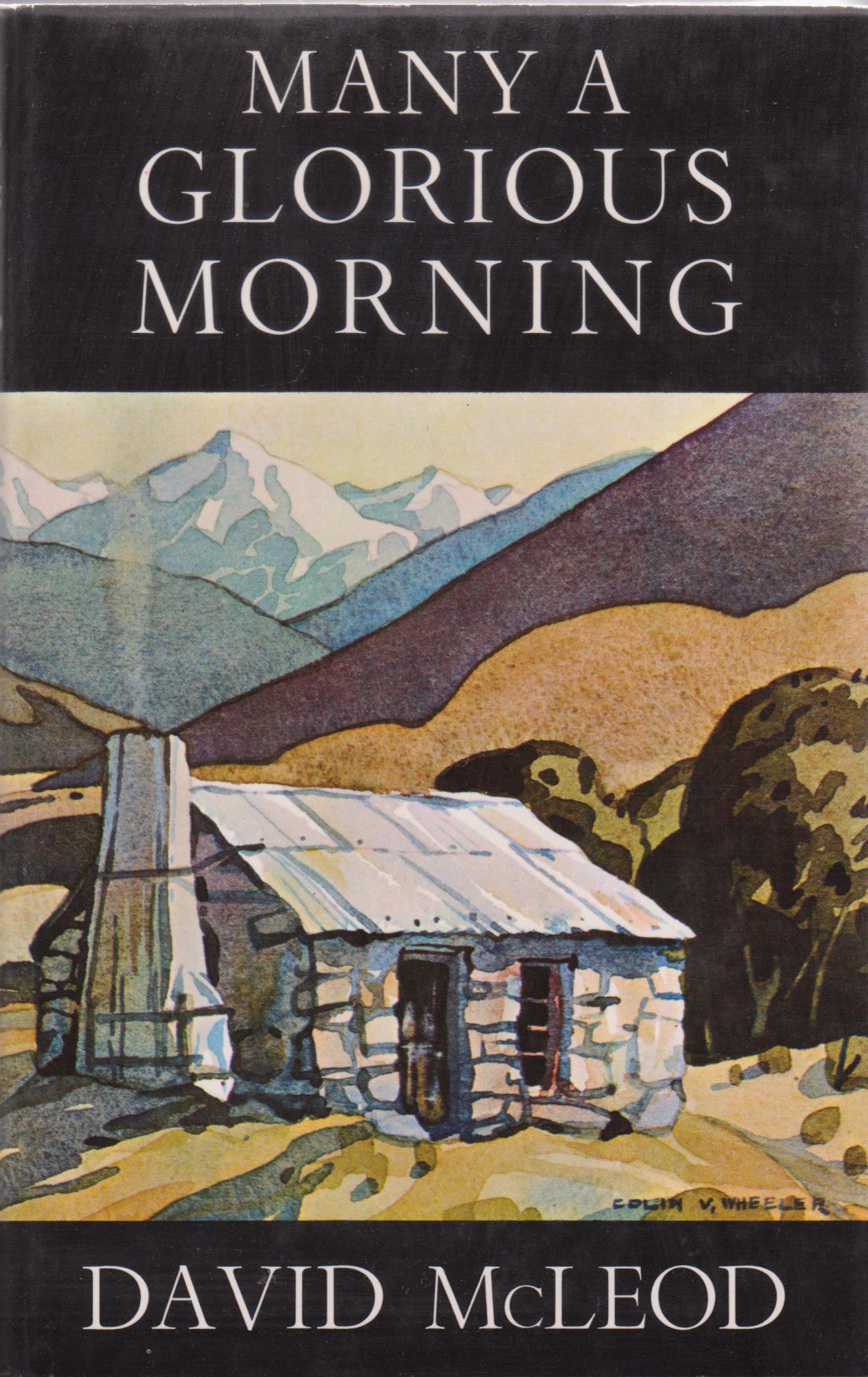 McLeod immigrated to New Zealand in the 1920s to become a musterer and sheep station manager. He worked on Mt White, Mesopotamia, Craigieburn and Avoca Stations. Accounts of sheep farming, rabbit pest and deer stalking.
ISBN072330179
Canterbury high country
VG hardback in VG dust jacket. Small area at top of end paper removed
$30 C/C
Whitcombe and Tombs 1970, 255pp + plates.
[#3423 ]
LEECH Robin

All Bull
Tales of an Angus Studmaster
Illustrated by David Henshaw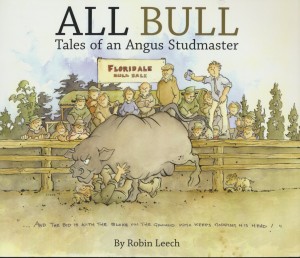 Robin Leech recounts his life story, focusing on the Floridale Angus Stud which he started at Kimberley near Darfield.
ISBN9780473142759
Canterbury, farming, livestock, biography
VG softback
$25 B/C
Robin Leech 2008, 176pp.
[#3424 ]
WOODHOUSE E.D. illustrated by Eileen Revere Wright.

Colonial Homes of Palmerston North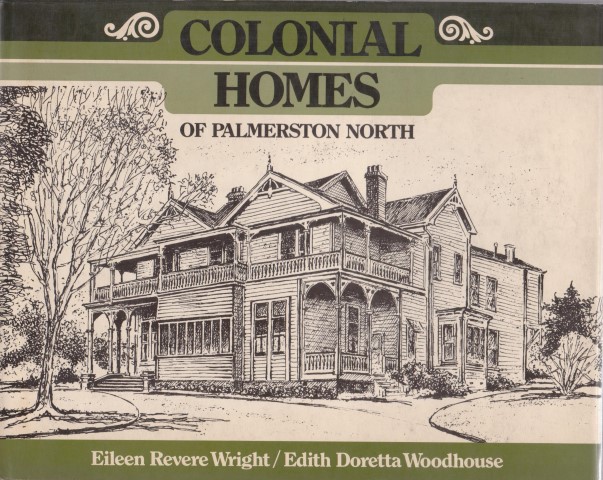 47 historic heritage houses in Palmerston North sketched by Wright with descriptive text by Woodhouse.
ISBN0589009206
architecture, art, heritage buildings
VG hardback in VG- dust jacket
$15 B/C
Reed 1975, 108pp.
[#3425 ]
LAY Graeme and Evotia Tamua

Pacific New Zealand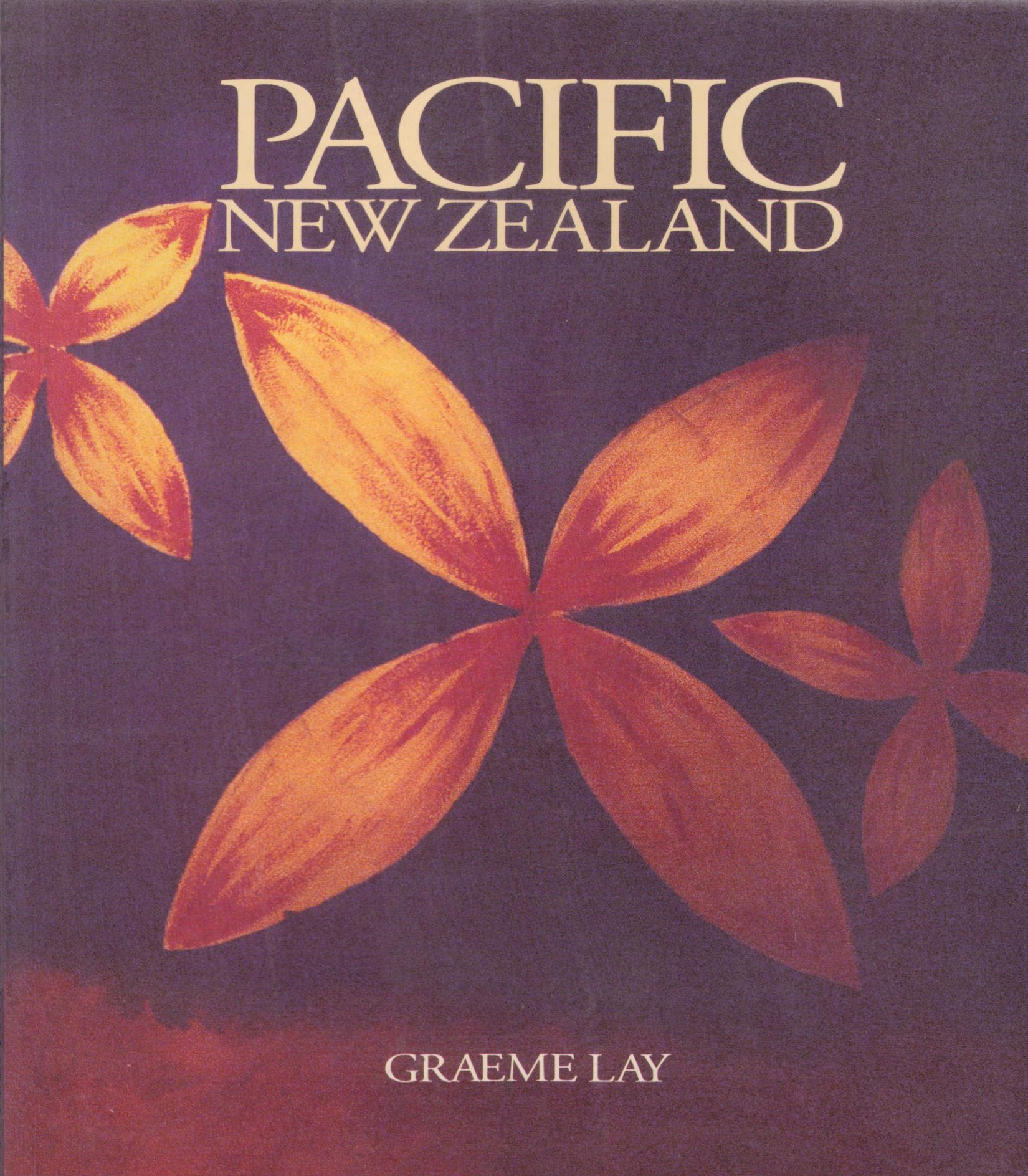 A celebration of the mingling of European and Pacific cultures in contemporary New Zealand. Many photographs.
ISBN9780908990337
pasifika, art, literature, society
VG- softback, mild wear, and gift inscription to first page.
$15 B/C
David Ling 1996, 124pp.
[#3426]
PEAT Neville

The Falcon and the Lark
A New Zealand High Country Journal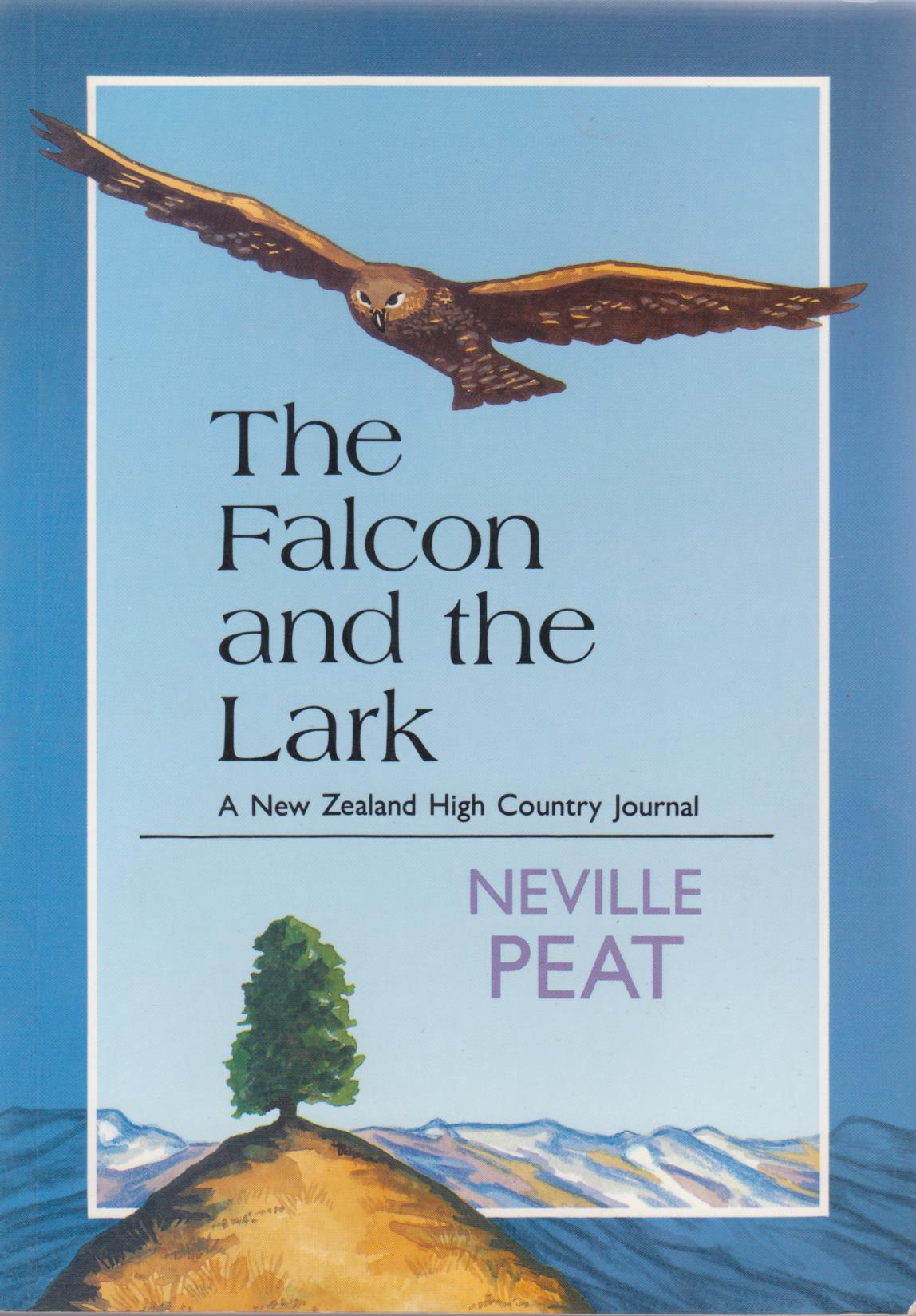 An evocative seasonal journal set in rock-and-tussock country in Central Otago, blending natural history and folklore, fact and fiction, featuring the New Zealand falcon, 'the wildest thing in our skies'. Meet a mysterious itinerant farmhand, thoroughly tuned into his environment, who is able to fly with falcons.
Part memoir, part natural history, a journey through Central Otago and encounters with New Zealand's magnificent native falcon the karearea.
ISBN0868681369
Otago, natural history, memoir
VG softback
$10 C/B
John McIndoe 1992, 143pp.
[#3428 ]
MAIN William

Send me a Postcard
New Zealand Postcards and the story they tell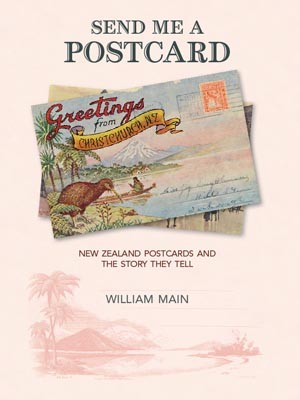 A look at the social history of New Zealand through illustrated and photographic postcards. Bill Main shares his collection and the insights it gives to the changing face of New Zealand society.
ISBN9781877333729
collecting, deltiology, ephemera, printing
VG softback
$25 B/C
Craig Potton Publishing 2007, 140pp.
[#3429 ]
HELLER Joseph

Catch-22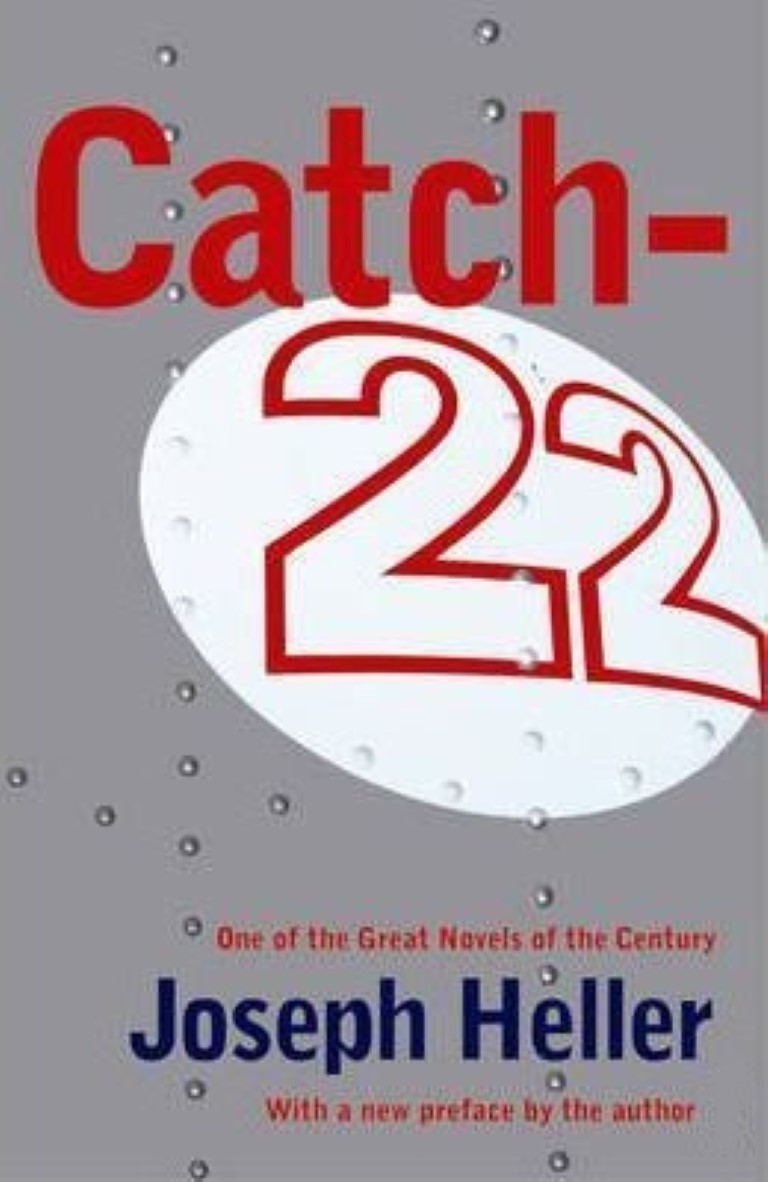 Set in the closing months of World War II, this is the story of a bombardier named Yossarian who is frantic and furious because thousands of people he has never met are trying to kill him. His real problem is not the enemy - it is his own army which keeps increasing the number of missions the men must fly to complete their service. If Yossarian makes any attempts to excuse himself from the perilous missions then he is caught in Catch-22: if he flies he is crazy, and doesn't have to; but if he doesn't want to he must be sane and has to. That's some catch...
ISBN9780099477310
american, literature, WWII
VG- trade paperback
$9 C/C
Vintage 1994, 519 pp
[#3430/BOX#4 ]
GREY Zane

Tales of the Angler's Eldorado, New Zealand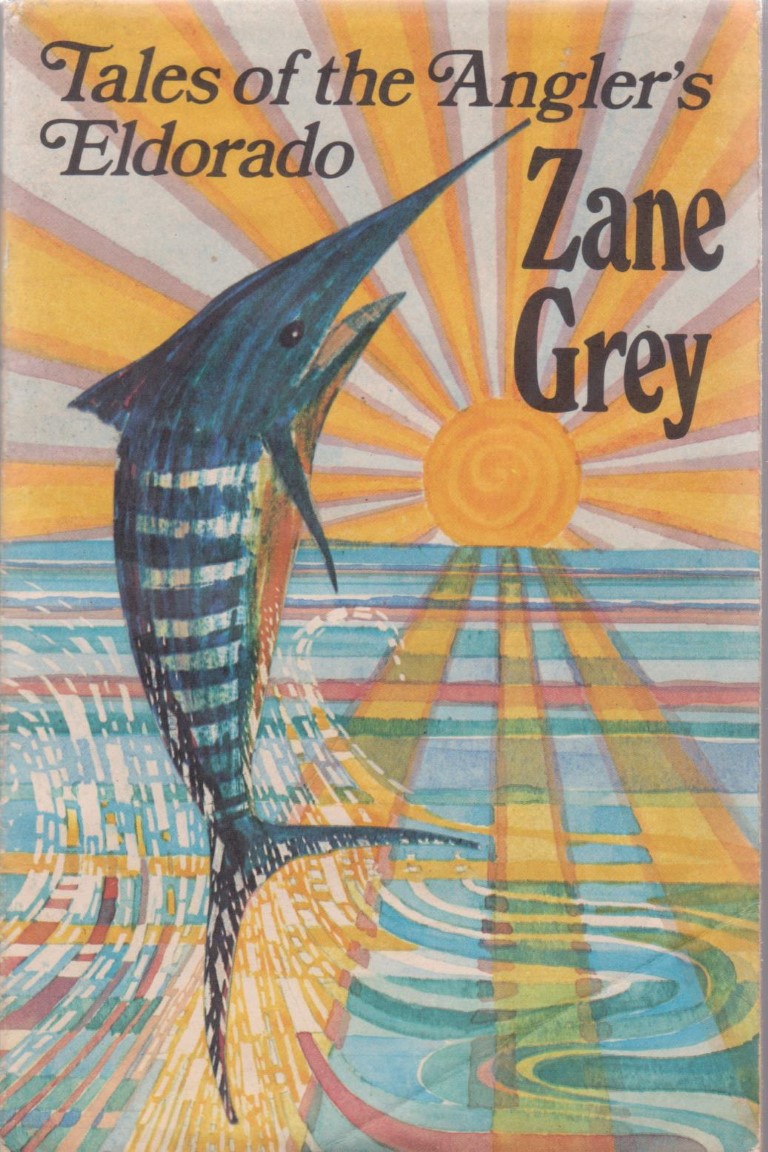 Zane Grey spent his vacations in New Zealand, angling for trout and salt-water big game such as shark and marlin. He recounts his adventures in New Zealand waters, and the local guides and characters he knew.
angling, game fishing, swordfish, salt water, facsimile
G+ paperback, biro gift inscription to first page.
$8 C/B
Wilson and Horton (undated) facsimile of the Hodder and Stoughton 1926 edition
[#3431 ]
WELLS Rodney and Tessa Ward

In a Country Churchyard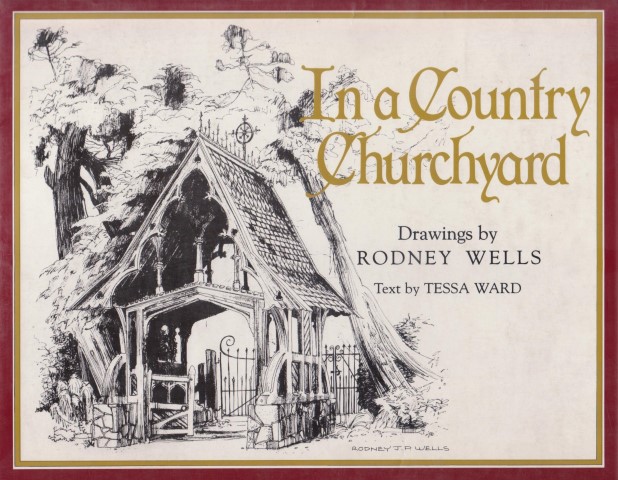 Black and white pencil drawings of fifty country churches by Rodney, with descriptive histories by Ward. Churches in Canterbury, South Canterbury and Banks Peninsula, and from various denominations.
ISBN0908563175
Rodney J P Wells, sketches, drawings, heritage buildings, church history
G+ hardback in G+ dust jacket. Mild wear.
$15 B/C
Caxton Press 1987, unpaginated c. 100pp.
[#3432 ]
BEGG N C

Historic Buildings of New Zealand, South Island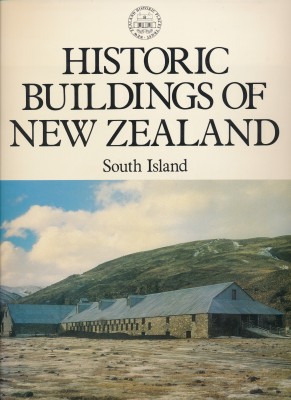 A large and heavy volume published by Historic Places Trust covering the history and architecture of many historic buildings in New Zealand's South Island.
ISBN0456031200
architecture, colonial, heritage
VG hardback in VG dust jacket
$45 D/D
New Zealand Historic Places Trust /Methuen 1983, 264pp.
[#3433 ]
LIND Clive A.

The Keys to Prosperity
The Centennial History of Southland Frozen Meat Limited.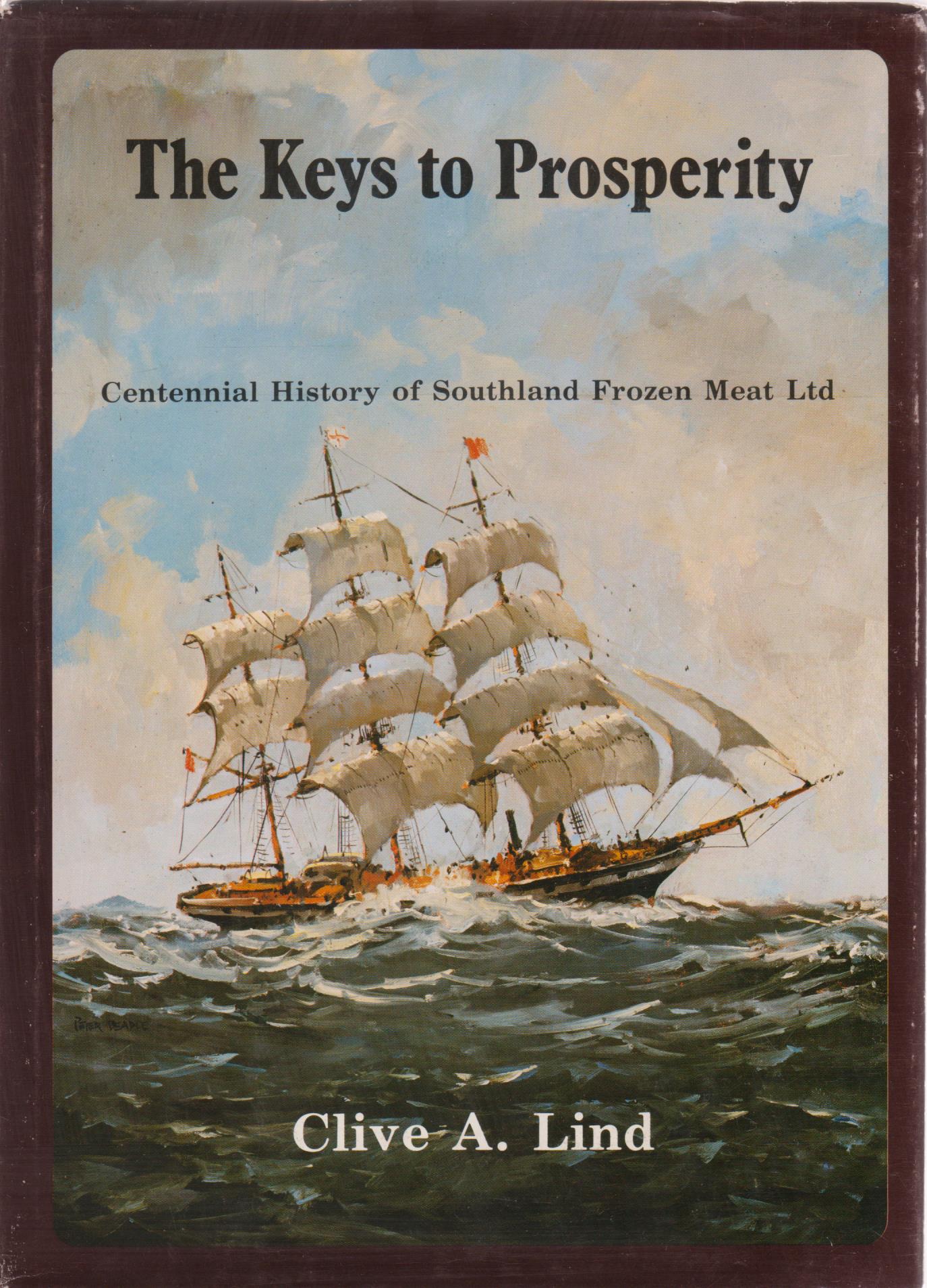 The Southland Frozen Meat and Produce Export Company offered bright prospects for the new settlers of a largely untamed land. But it had an uneasy beginning in a period of adversity.
For its first 13 years the company reeled from difficulty to disaster, in spite of tantalisingly fleeting glimpses of how impressive its potential was to the people of Southland, and how its success promoted the very welfare of the province. Then in 1895 financial catastrophe struck. Seemingly, it could not continue.
But the rallying call went out through the province. Soon it became apparent that the company would not only be saved, but that it would grow from strength to strength. That it did as it diversified over several decades into land development and other activities allied with its main object - the killing, processing and freezing of animals for export.
This book gives the history of the company's formative years and its period of consolidation. Later it goes behind the scenes and into the board room to show how some of the largest commercial decisions of the province were made.
ISBN0473000725
Agriculture, Bluff, Mataura, Makarewa, freezing works, meat works, southland
VG hardback in VG dust jacket
$10 B/D
Southland Frozen Meat Ltd 1981, 448pp.
[#3434, 3435 ]
OLIVER Michael, Tony Sheild and Peter Jerram

I am a Working Dog
Natural Training for Sheepdogs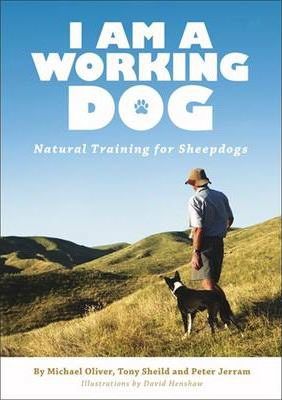 Practical guide to training working dogs on the farm.
ISBN9781877460326
mustering, huntaway, sheepdog, training
VG softback
$20 C/B
Shoal Bay 2004, 79pp.
[#3436]
RANDELL Ralph

Angry Australian
Dreaming, Criticing, Philosophising, Provoking, Rembering.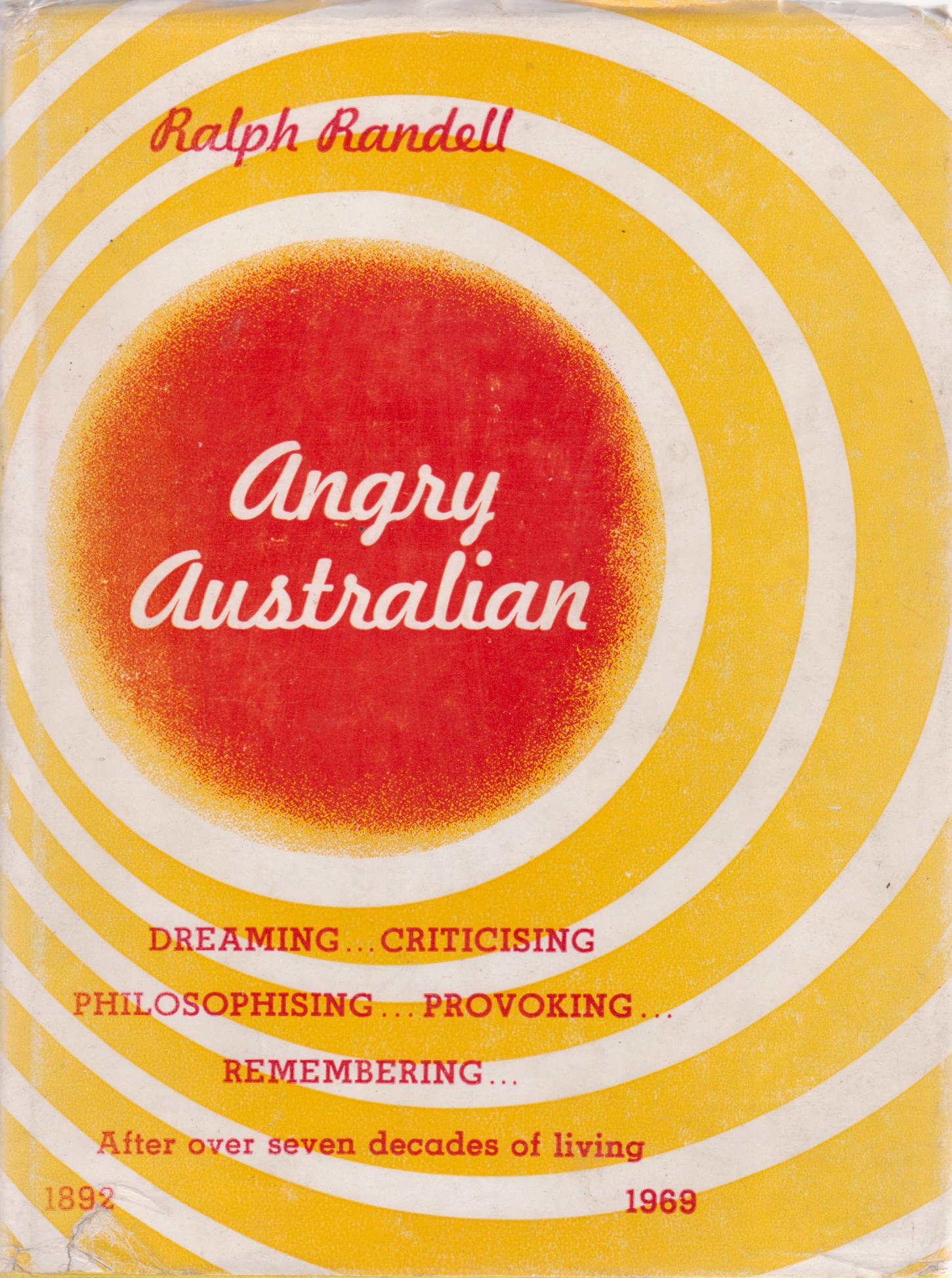 The author's views and thoughts over seven decades of experience (1892-1969). His views on political and economic conditions and prospects in Australia.
G+ hardback in G+ dust jacket, signed to title page by Ralp Randell.
$10 B/C
R and G Publications 1969, 252pp.
[#3437 ]
BOWDEN Tom

Changi Photographer
George Aspinall's Record of Captivity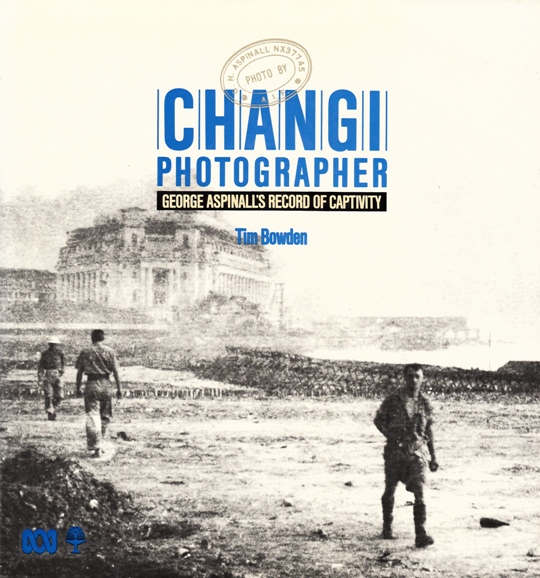 Even before he became a prisoner-of-war of the Japanese in Singapore in 1942, George Aspinall was nicknamed 'Changi' Aspinall by his 2/30th Battalion mates. At lights-out time in Birdwood Camp, this teenaged Australian soldier was invariably 'down at Changi Village' helping to process photographs he had taken with a hidden camera of his friends in their new and exotic tropical surroundings.After captivity that hobby became a private obsession that saw George not only taken secret photographs in the Changi area, but up on the appalling Thai/Burma Railway. He not only took photographs at great personal risk, but actually processed them on the spot, using chemicals smuggled in medicine bottles from Singapore. The ingenuity and resourcefulness of this young Australian private soldier have resulted in a unique visual diary of captivity.
ISBN0642975590
ww2, wwii, australian, POW, singapore, changi
VG hardback in VG dust jacket, free endpaper has a large gift inscription.
$10 B/C
Times Editions 1996, 144pp.
[#3438 ]
FITZGERALD Alan

Canberra and the New Parliament House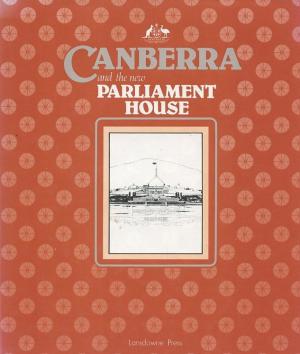 A background history of Canberra and details of the design and construction of the new Parliament House buildings in the 1980s.
ISBN0701814810
canberra, ACT, architecture, government
VG hardback in VG dust jacket. Jacket spine lightly sun-faded.
$10 B/C
Lansdowne Press 1983, 111pp.
[#3439 ]
WISHART Ian

Air Con
The seriously inconvenient truth about global warming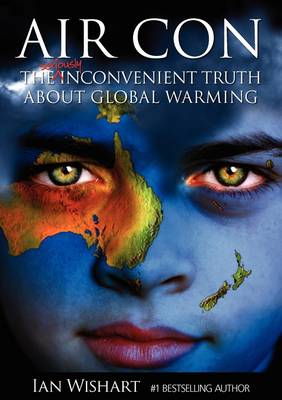 Conservative journalist debates and refutes the claims of the 'Global Warming' climate change promoters. Scientific evidence to back his claims that the real agenda of the lobbyists is political rather than environmental.
ISBN9780958240147
climate change, agenda, NWO, globalism
VG softback with some minor wear to cover.
$8 C/C
Howling at the Moon Publishing 2009, 285pp.
[#3440 ]
FRASER Chris

Chronic Pig Huntingitis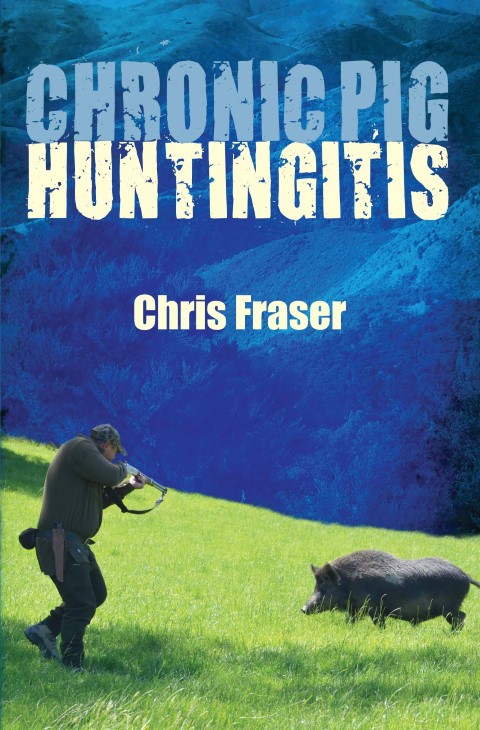 Chris described the symptoms of Pig Huntingitis, as owning a 4WD truck with a dog box on the back, along pointed knife, a collection of motley looking dogs and when you are talking with your mates every second sentence has the word "pig" in it at least once. Fortunately not a life-threatening problem, except possibly for the pigs. The progress from just infected to "chronic" is described in the stories in this book. As it progresses it involves wives, children, friends even casual acquaintances. Rather than alarming it becomes life affirming as lots of fresh air and exercise in the pursuit of pigs improves overall health and the pigs provide nutritional food that is totally organic and as free range as it is possible to be. It provides for family oriented activity as wives, girlfriends, sons and daughters, friends and other sufferers can join in. It provides healthy exercise and vocations for dogs that might otherwise have been put down at the pound. Colour photographs.
ISBN9781877566196
hunting, pig hunting, new zealand
VG softback
$15 C/C
Halcyon Press 2012, 199pp.
[#3441 ]
10/9/2017 ev
PETRIE Noeline

From Kiwi Land to Tropical Island
Noeline's Story, 1940-1945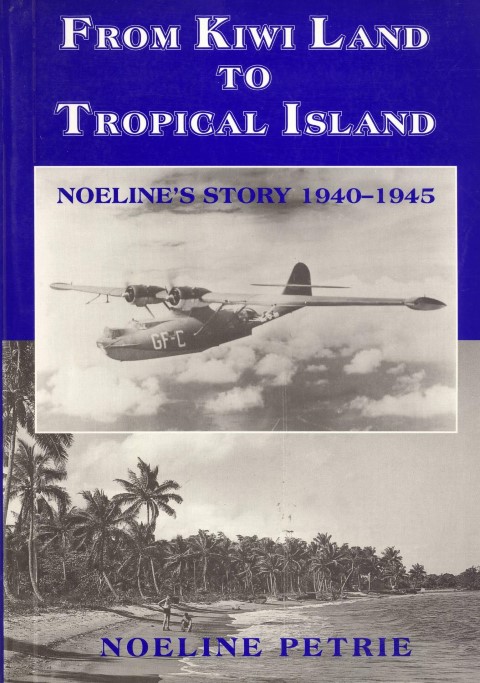 Noeline Petrie recounts her wartime service in the Women's Auxiliary Air Force (WAAF) of the RNZAF. her sister Daphne also served at Wigram in training aircrews. Noeline was stationed in Fiji.
ISBN0473046199
VG softback. SIGNED by Noeline to title page.
$30 C/B
Noeline Petrie/ Caxton Press 1997, 72pp.
[#3420 ]
ANON (N M Ingram 42110)

ANZAC Diary. A Nonentity in Khaki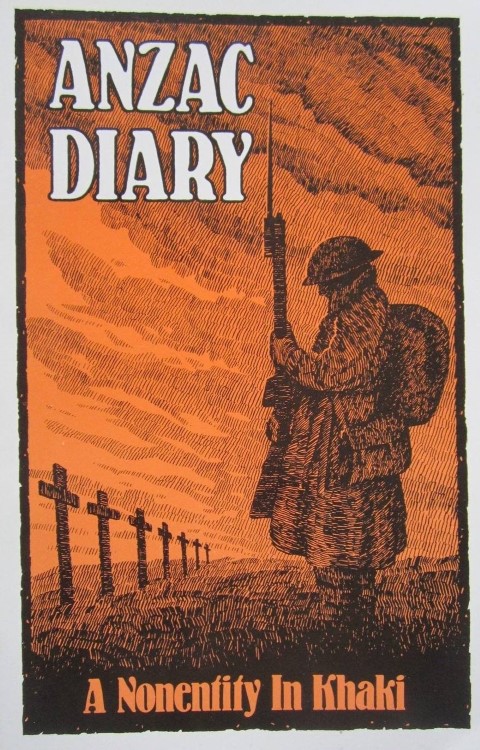 A diary from an New Zealand private during WWI. This ANZAC soldier passed his diary to a military chaplain before he died, who in turn arranged for its publication. Focuses on the 1917-1918 Western Front nd is a powerful account of the great offensive at Passchendaele in the Third Battle of Ypres.
VG softback
$35 C/B
Treharne Publishers, no date given, about 1970?, 156pp.
[#3421 ]
WRAY John

South Sea Vagabonds
A New Zealand Classic Adventure of the Sea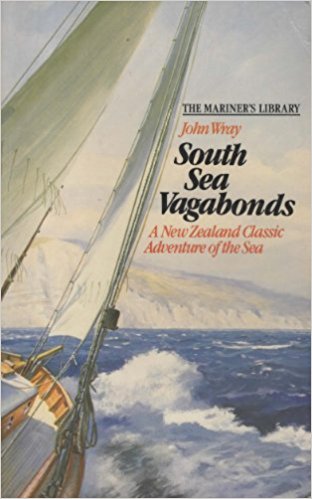 When he was sacked from his job, John Wray decided to build a boat on his parents front lawn! Finally he launched the Ngataki and spent a lifetime of adventure sailing the South seas.
ISBN0246133791
VG softback but title page is missing.
$15 C/B
Grafton The Mariner's Library, 235pp.
[#3422 ]
28/8/2017 ev
McNEISH James

Dance of the Peacocks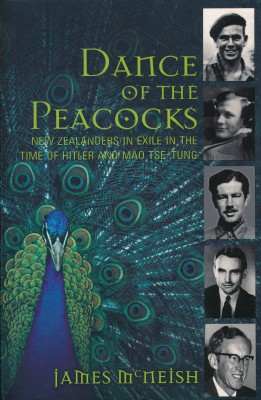 New Zealanders in exile in the time of Hitler and Mao Tse-Tung. Based on letters, diaries and interviews this is the story of a group of Rhodes scholars, five young men from New Zealand; James Bertram, Geoffrey Cox, Dan Davin, Ian Milner, John Mulgan, caught up in the turmoil of their times: Spain, Hitler's Germany, Greece and North Africa, Eastern Europe, China.
ISBN9781869415648
VG softback
$45 B/C
Vintage 2003, 480pp.
[#3417 ]
WILSON John

Christchurch, Swamp to City
A Short History of the Christchurch Drainage Board 1875-1989.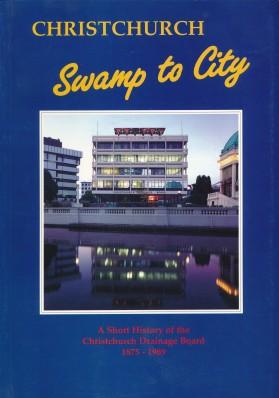 Built on a swamp, the importance of the Christchurch Drainage Board in draining the water from storm drains and sewers is hard to overstate. This history shows the methods used by the CDB to take Christchurch from the country's most unhealthy town in the 1870s, to the best drained city by the 1980s. Illustrated with photographs and maps and charts.
ISBN0908714041
VG softback
$45 B/C
Te Waihora Press 1989, 96pp + folding maps.
[#3418 ]
STEVENS Graeme

Prehistoric New Zealand
Illustrated by Vivian Ward and Geoffrey Cox.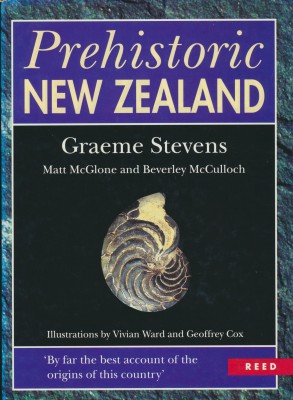 A study of 500 million years of New Zealand geology, flora and fauna. From breaking away from the Gondwana land continental mass, to the arrival of the first Polynesians. With illustrations, maps and photographs.
ISBN9780790004143
VG hardback in VG dust jacket
$25 B/C
Reed 1995 revised edition, 128pp.
[#3419 ]
12/8/2017 ev
BUTLER David with foreword by Gerald Durrell.

Quest for the Kakapo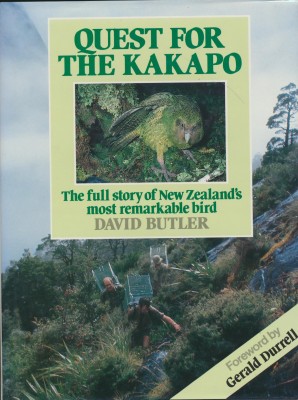 The full story of the efforts by the Wildlife Service to safeguard the future of New Zealand's most endangered and fascinating bird. Includes information on the pioneering work of Richard Henry, captive breeding and island transfer successes, and details of Kakapo biology and behaviour.
ISBN9780790000657
VG hardback with VG dust jacket
This copy is inscribed "Best wishes, David Butler".
$45 B/C
Heinemann Reed 1989 First edition, 136pp.
[#3398 ]
POPE Diana and Jeremy

Mobil New Zealand Travel Guide
North Island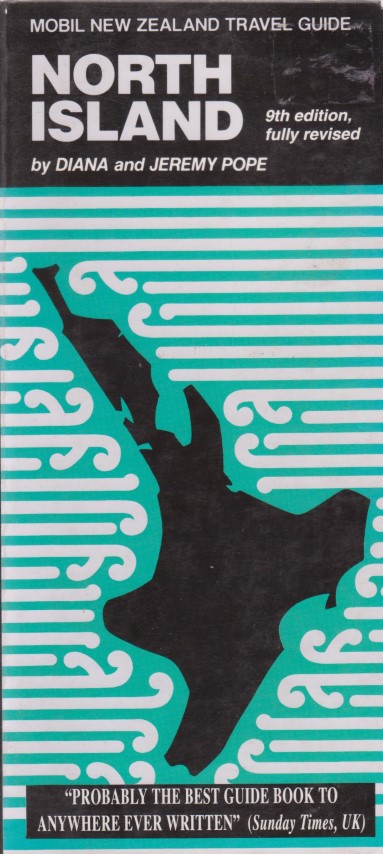 One of the best travel guides to New Zealand, with detailed historical information as well as current points of note. Valued by tour guides for the local history notes.
ISBN9780790004364
VG+ softback
$20 B/C
Reed 1996 9th edition fully revised, 326pp.
[#3400 ]
BERNDT Ronald M. and Catherine Helen,

The World of the First Australians
Aboriginal Traditional Life: Past and Present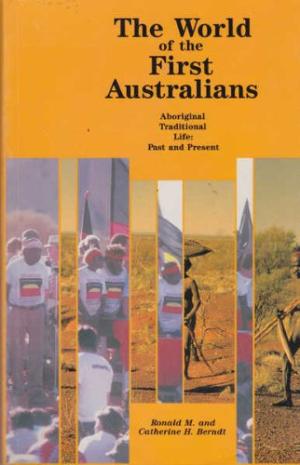 A comprehensive reference covering a wide range of traditional Aboriginal societies and cultures on the Australian continent.
This draws together the threads of Aboriginal belief and practice in general terms, and brings together material from over 40 years of the authors' anthropological research and fieldwork from many parts of Australia, supplemented with comprehensive statements from other sources.
It concentrates on the past and present traditional life of Aboriginal Australians, and the changes that have overtaken them.
Covers: social organisation, economic adaptation, relationship to land and resources, growing up and getting married, religious belief, myth and ritual, forms of sorcery and magic, law and order, oral literature and visual art.
ISBN0855751843
VG softback
$30 B/D
Aboriginal Studies Press 1988 fifth edition reprinted with additions, 608pp.
[#3401 ]
SAMPSON F. Bruce

Early New Zealand Botanical Art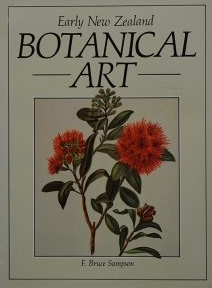 A survey of the history of New Zealand botanical art from the rarest and most famous plant books. From the scientific observations of the first European voyagers, to the amateur and professional botanists of the Victorian period.
ISBN047400015X
Flora, Botanical Art, Prints
VG hardback in VG dust jacket
$40 B/D
Reed Methuen 1985, 142pp + 48 plates
[#3402 ]
MOON Geoff

New Zealand Forest Birds and Their World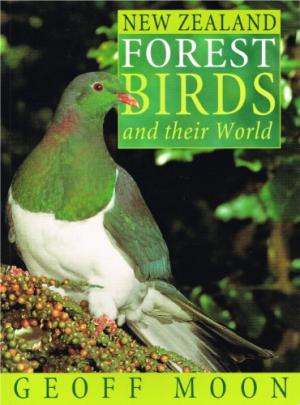 Drawing on thousands of hours spent poised behind a 300mm lens, Geoff Moon presents a visual and written portrait of the most important birds of the New Zealand forest.
Arranged in taxonomic order are nearly 30 species, including the bellbird, fantail, kingfisher, kiwi, kokako, morepork, tomtit, kakariki, saddleback, stitchbird and tui.
Enriching the photography are Geoff's personal notes, amassed, like his photographs, from decades of observation.
ISBN9781869661960
VG softback
$20 B/C
New Holland Publishers 2010, 143pp.
[#3403]
MORRIS Rod and Hal Smith

Wild South
Saving New Zealand's Endangered Birds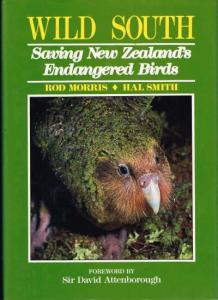 The background to the conservation efforts to save New Zealand native birds, as well as an account of the extinct Moa and Huia. With mntions of those who helped bring species back from the edge of extinction. Includes Kea, Kiwi, Takahe, Black Stilt, Saddleback,Kakapo, Black Robin, Yellow-eyed Penguin, Kokako.
ISBN090869038X
VG hardback in VG dust jacket. With presentation inscription to title page from Rod Morris.
$30 B/C
TVNZ / Century Hutchinson 1988, 234pp.
[#3404 ]
YALDWYN, J. C.

Preliminary Results of the Auckland Islands Expedition 1972-1973
From Reports of Participants to the Director-General of Lands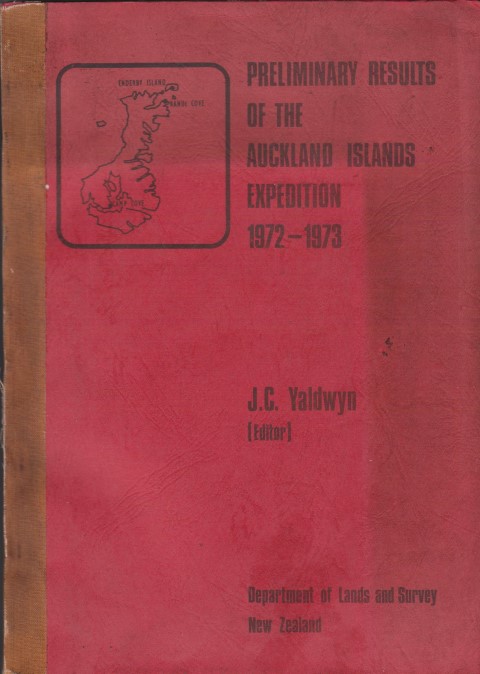 A full survey of the island including natural history and human activities. Includes native and introduced animals, abandoned settlements etc.
G+ softback with some smoke soiling to covers and edges. Linen spine. Ex-library with stamps, issue slips at rear.
$175 B/D
The Department of Lands and Survey 1975, 447pp.
[#3405 ]
PHILLIPS Jock and Chris Maclean

In the Light of the Past
Stained Glass Windows in New Zealand Houses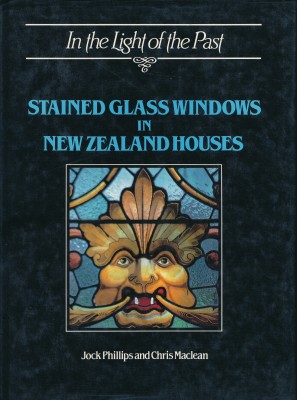 Covers the architectural use of stained glass in New Zealand domestic buildings. Period covered is from 1890s to the 1970s. Includes specific craftsmen and their designs.
ISBN0195581032
VG hardback in VG dust jacket. Light wear, one private library stamp and pen name to endpaper.
$45 B/C
Oxford University Press 1983, 143pp.
[#3406 ]
DOUGHERTY Ian

Arawata Bill
The story of legendary gold prospector William James O'Leary.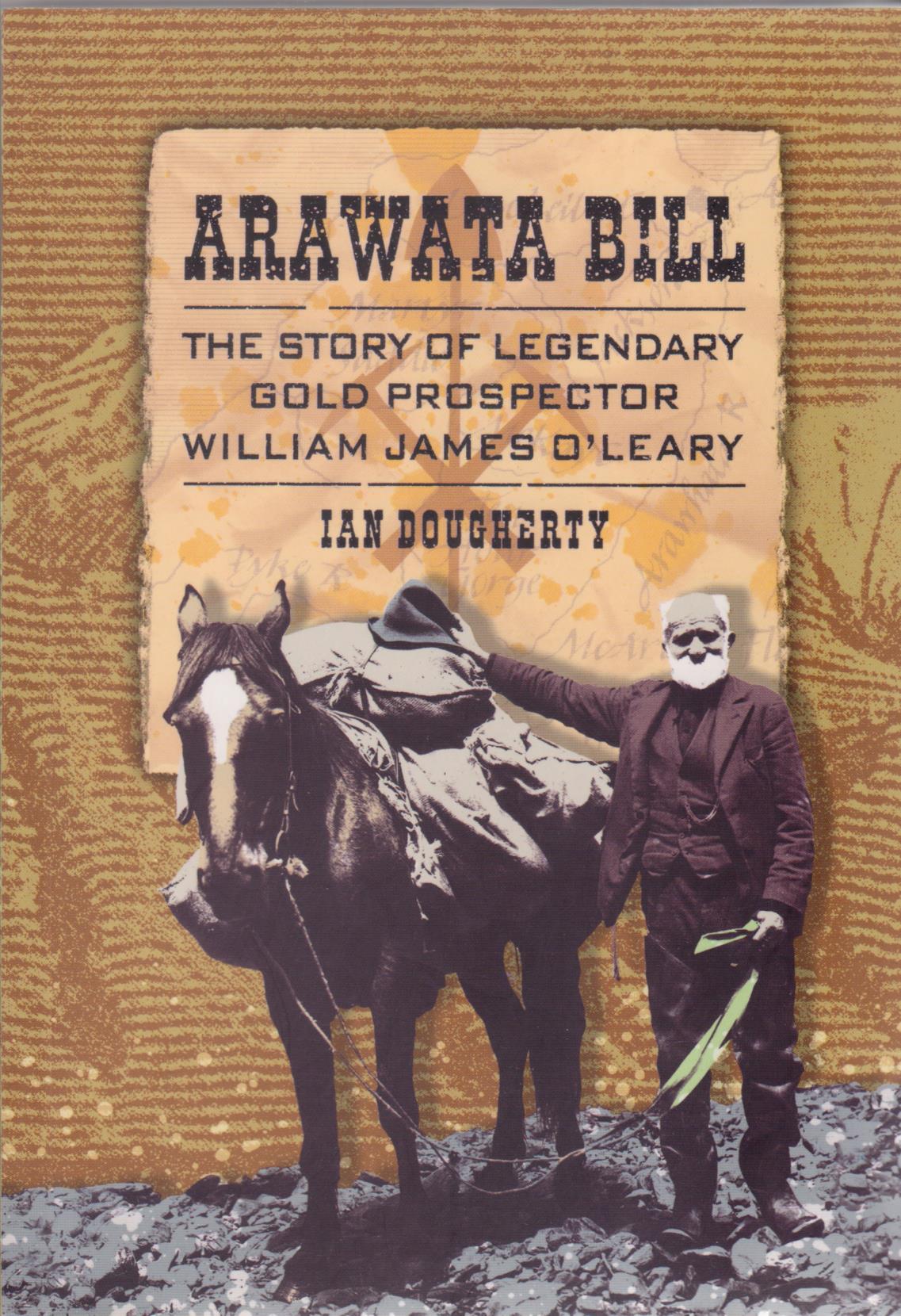 William James O'Leary (1865-1947) was a prospector for gold and other minerals in Otago and Westland, making new tracks in unexplored areas. His astonishing endurance, tenacity, and eccentricity captured the imagination of those who met and knew him, and those who have only heard his legend. Denis Glover immortalised him in his famous poem 'Arawata Bill'. This new edition includes information that has only recently come to light.
ISBN9780908988150
VG softback
$25 B/B
Exisle publishing 2005 New Revised edition, 196pp.
[#3407 ]
BOYLE Vince

The Fastest Old Man in the World
The Derek Turnbull Story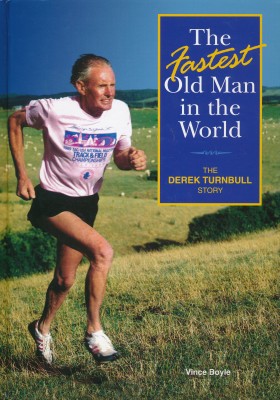 Derek Turnbull set his first record in world masters competitions in 1977, aged 51, following up with 25 age-group world records and winning 28 World Masters Games gold medals. He competed in many events including cross country and marathon. A farmer in Southland he was involved in competitive running until his death in 2006, just before his 80th birthday.
ISBN9780473111373
VG+ hardback
$30 B/C
Pat Turnbull 2006, 256pp. Illustrated.
[#3408 ]
JOLL Gary

To Alaska to Hunt
New Zealand hunter Gary Joll and friend bag big game in Alaska, including bull moose, caribou and black and grizzly bears, Also getting antelope and deer in Wyoming, Entertaining and dramatic accounts.
ISBN0908565801
VG- softback
$35 C/B
John McIndoe 1978, 148pp.
[#3409 ]
CUTHBERTSON Ken

Pighunting in New Zealand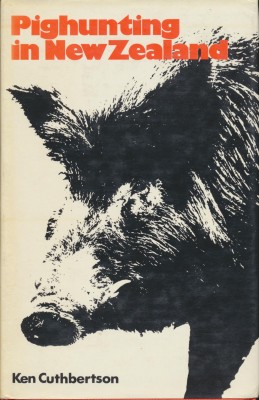 Complete guide to preparing for, and what to do during and after a successful pig-hunt. From choosing the best type of dogs and guns, to stalking and finally butchering the carcass. Ken has spent a lifetime pighunting and has a lot of practical knowledge for the beginner and experienced hunter.
ISBN0589008293
pigs, hunting, stalking, dogs, bush carbines
VG hardback in VG dust jacket with sunfading to spine.
$40 C/C
AH and AW Reed 1974 first edition, 186pp + plates.
[#3413 ]
23/7/2017 ev
LETHBRIDGE Christopher

The Wounded Lion
Octavius Hadfield, 1814-1904.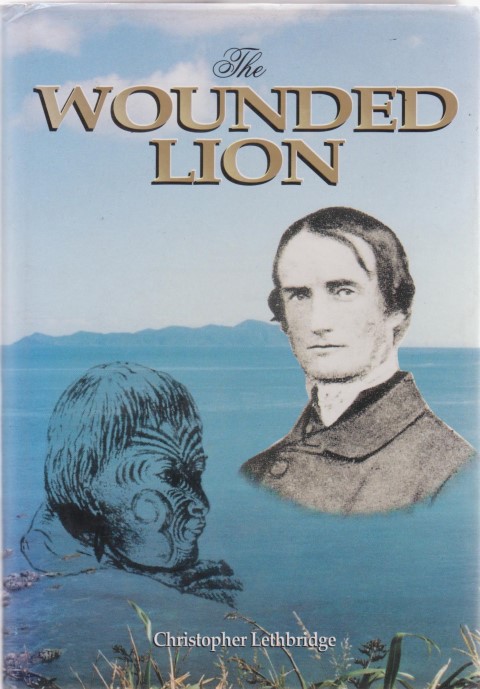 The life of a pioneer missionary, friend of the Maori, and Primate of New Zealand.
Hadfield arrived in 1838 to work for the Church Missionary Society, and became associated with Te Rauparaha.
ISBN0908563523
VG- hardback in VG dust jacket. Small name label to endpaper. SIGNED TO TITLE PAGE BY AUTHOR.
$45 C/C
Caxton Press 1993, 319pp including plates.
[#3373 ]
OGILVIE Gordon

Moonshine Country
The Story of Waitohi, South Canterbury.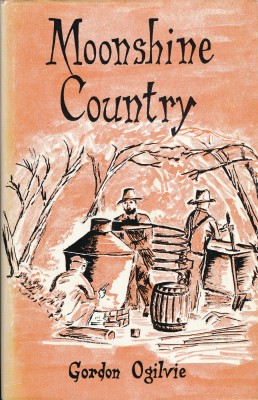 A history of Waitohi, near Temuka in South Canterbury. From Maori times to European settlement and with some time spent on the period of moonshining and illegal alcohol distilling. With a chapter on the pioneer aviator and inventor Richard Pearse.
VG hardback in VG dustjacket with sun faded spine (as usual)
$25 C/C
Caxton Press 1971, 208pp.
[#3374 ]
TAYLOR Nancy M.

The Journal of Ensign Best
1837-1843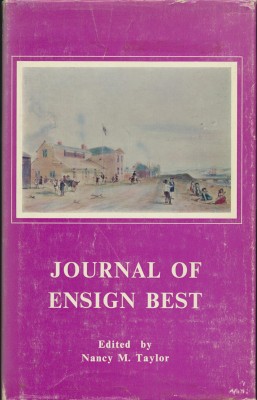 Taylor edits Best's personal Journal where he descirbes his time in New Zealand and Australia as an Army Officer serving onboard a convict ship. Includes observations of New South Wales, Norfolk Island, and New Zealand with observations on Maori and New Zealand settlements.

VG hardback in VG dust jacket with sunned spine
$30 B/D
Govt. Printer 1966, 465pp + plates.
[#1774 / 3375 ]




.

POWELL A.W.B.

Native Animals of New Zealand
Auckland Museum Handbook of Zoology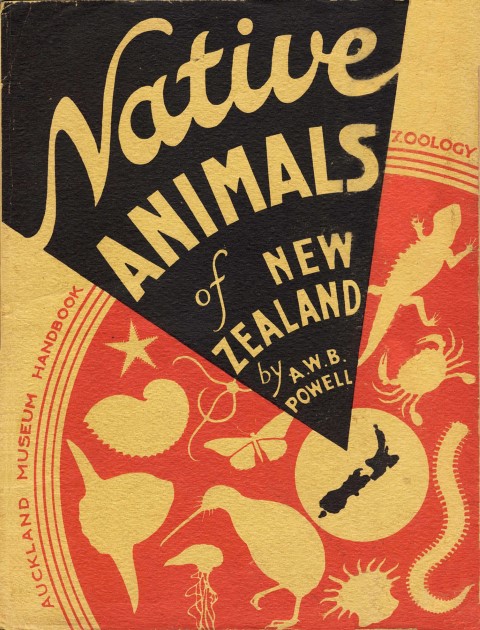 A nice copy of this authoritative handbook. Line illustrations throughout to help identify New Zealand wildlife. Includes mammals, birds, reptiles, but the bulk focuses on seashore life such as molluscs, crustaceans and fish.
VG- softback, minor soiling to covers.
$15 B/B
Auckland Institute and Museum 1975, 96pp.
[#3376 ]
BARNZ Billy

Raising the Bar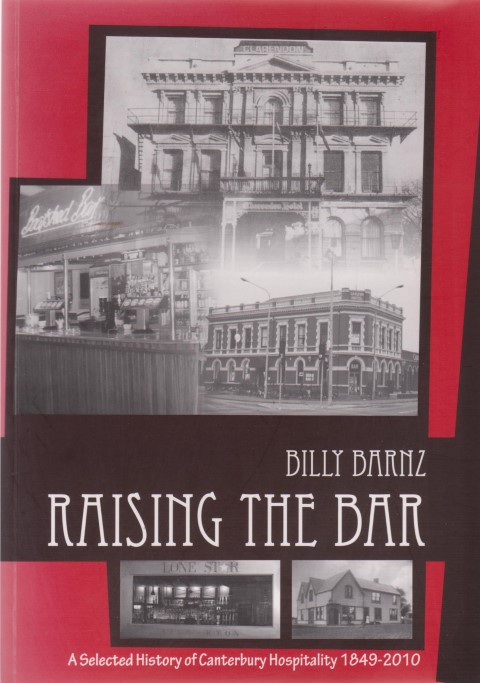 A selected history of Canterbury hospitality 1849-2010. The history and legends of the hotels, bars and publicans of Christchurch. The whole nature of liquor licensing and licensed premises in Canterbury is covered. Many of the hotels and bars have now been destroyed due to the 2010 and 2011 earthquakes.
ISBN9780473198008
VG softback THIS COPY is signed "To the Mighty Quinns" by the author to title page.
$40 B/D
Hospitality Association of New Zealand (2011), 324pp.
[#3377 ]
FRAME Janet

The Lagoon and other stories
Illustrated by Karin van Roosmalen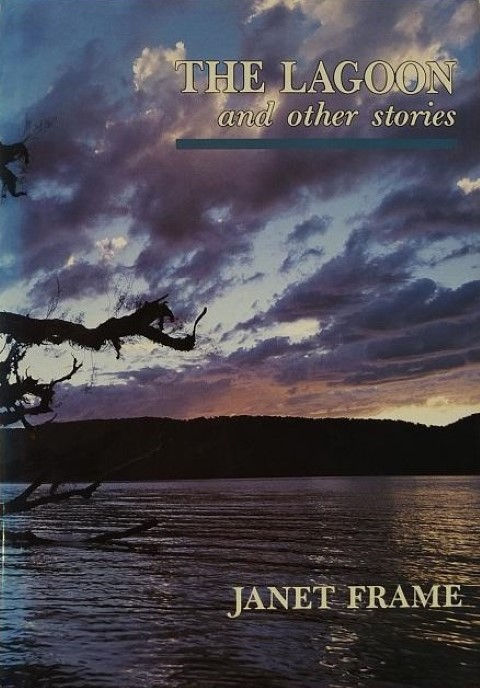 Fortieth anniversary publication, with pencil illustrations.
ISBN9781869410759
VG- hardback in VG- dust jacket. A gift inscription has been blacked out to free end paper. Dust jacket sun faded to rear panel.
$15 B/C
Random Century 1990, 98pp.
[#3378 ]
SCOTT Dick

Stock in Trade
Hellaby's First Hundred Years 1873-1973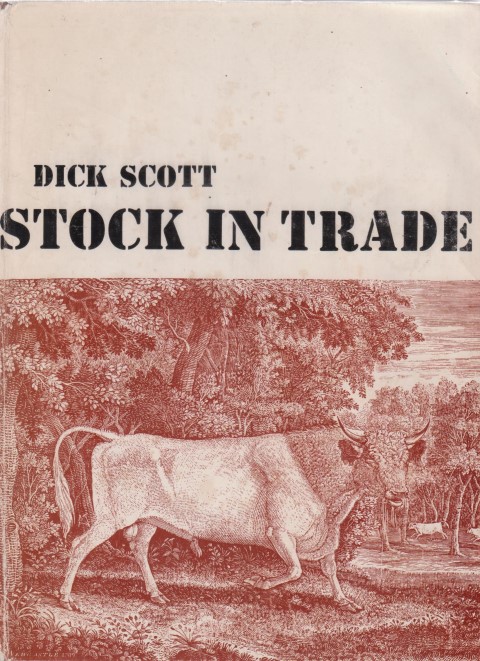 History of R and W Hellaby Ltd. from beginnings in 1873 as a butchery with two brothers, to a fmeat processing freezing works and an international exporter.
VG- hardback with G+ dust jacket. Jacket has been pasted to the book endpapers by the flaps.
$10 B/C
Southern Cross Books 1973, 176pp.
[#3379 ]
POPE Diana and Jeremy

Mobil New Zealand Travel Guide
South Island, Stewart Island and the Chatham Islands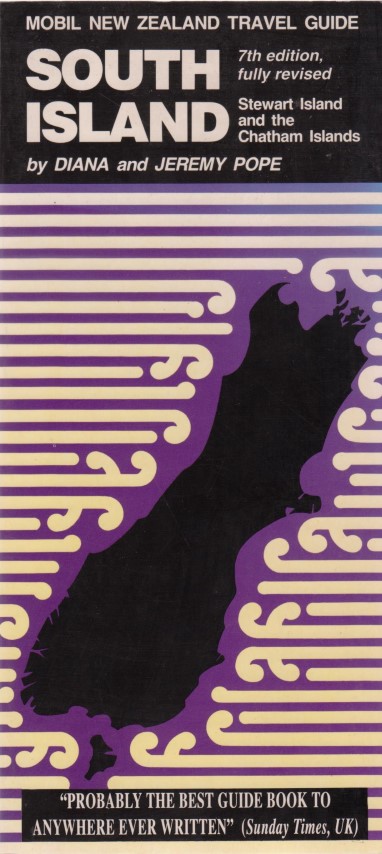 One of the best travel guides to New Zealand, with detailed historical information as well as current points of note. Valued by tour guides for the local history notes.
ISBN9780790004358
VG+ softback
$20 B/C
Reed 1995 7th edition fully revised, 422pp.
[#3380 ]
ROCHE Stanley and Grace Morton

Foreigner, the Story of Grace Morton (nee Botham)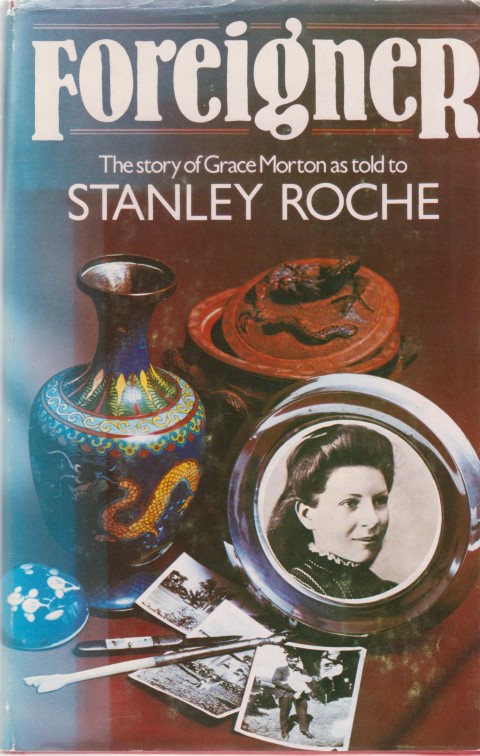 Memoir/ biography. Raised in China by Missionary parents. Eucated at Cambridge to teach. With her husband she was in Czechoslovakia during the Nazi Occupation and for eight months helped to smuggle Jews out before fleeing and settling in New Zealand.
ISBN0195580443
VG hardback in VG- sun faded dust jacket.
$20 C/C
Oxford University Press1979, 215pp.
[#3381]
OGONOWSKA-COATES Halina

Krystyna's Story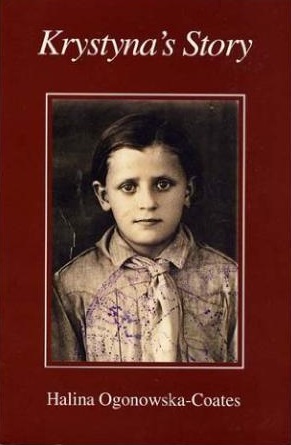 The author has written an account based on the experiences of the many dispossed Poles who made it to New Zealand after being expelled by the Soviets. Krystyna is one of 732 'Polish children' who survived forced deportation to the Soviet Union and was given a home in New Zealand in 1944. Her remarkable story, a composite portrait drawn from interviews with Polish survivors, begins in a peaceful Polish village and follows her family's harrowing journey to a labor camp in Siberia, the terrible flight to freedom, and Krystyna's lonely voyage to a safe refuge in New Zealand
ISBN0908704852
VG softback, some pencil notes inside rear cover
$10 C/B
Shoal Bay Press 1998, 156pp.
[#3382 ]
JOYCE James edited by Neri Johnson

Dubliners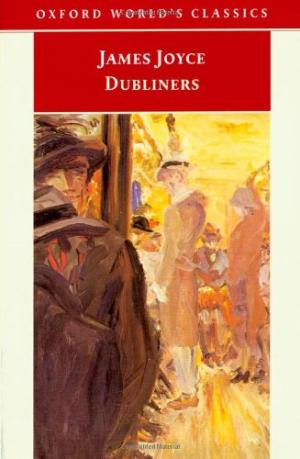 Complete edition with introduction, bibliography, appendices, maps and explanatory notes.
ISBN0192839993
VG paperback
$8 C/B
Oxford World's Classics 2000, lx+279pp.
[#3383]
KING Stephen

Firestarter
first edition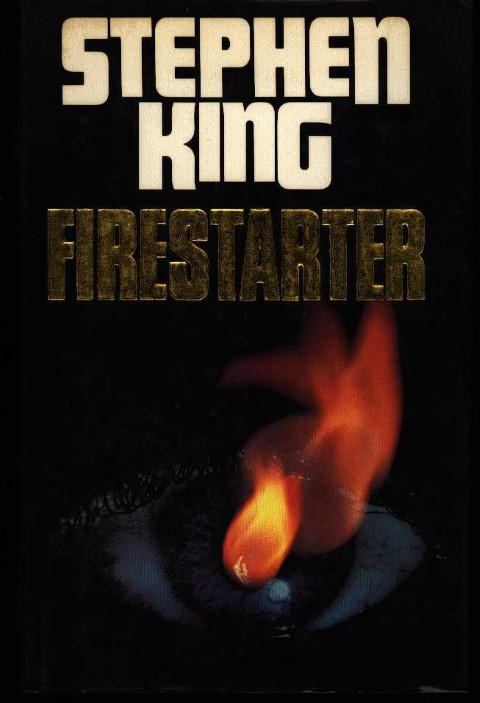 Good copy of the first UK issue of this Stephen King thriller. Paper stock age browned as usual for this publication.
ISBN0354045253
VG- hardback in VG- unclipped dust jacket with minor handling wear.
Minor dust soiling to book boards.
$45 B/C
MacDonald1980, 428 pages.
[#3384 ]
SATCHELL William

The Land of the Lost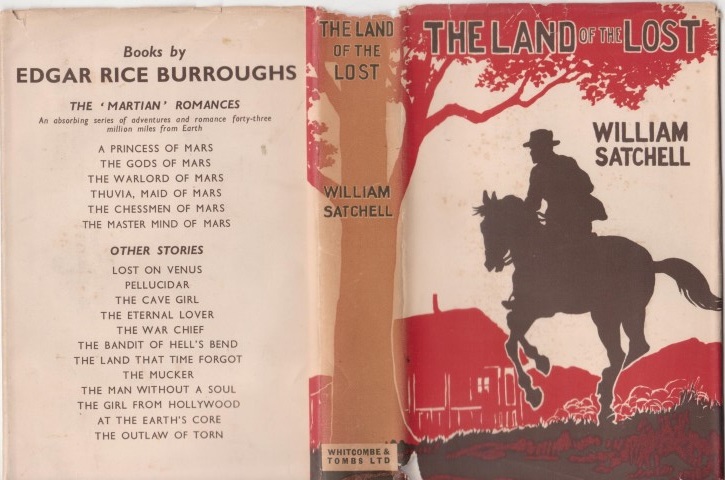 A Tale Of The New Zealand Gum Country in the far North at the turn of the 20th century.
VG hardback in VG- dust jacket with some minor chipping loss and archival repaired edge tears. With the book label of Sadie Balkind.
$25 C/C
Whitcombe and Tombs 1939 Third edition, 310pp.[#3386 ]
SAUNDERS Larry

The Canterbury Rugby History 1879-1979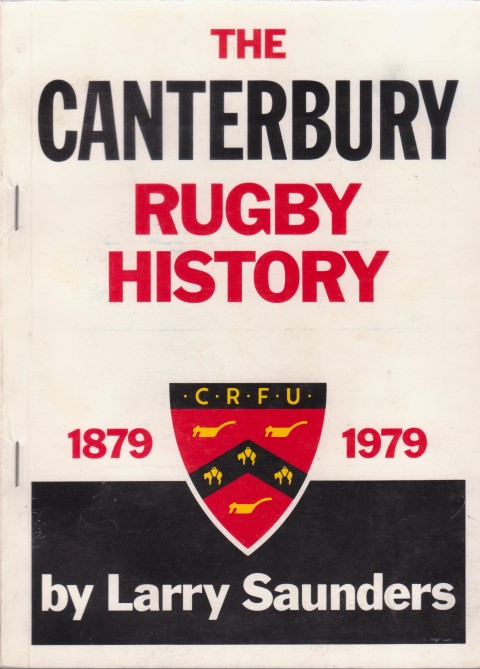 Centennial publication of the C.R.F.U. recording the history of the club. Chronological history plus records and staistics.
VG softback
$20 C/B
Canterbury Rugby Football Union 1979, 144pp.
[#3387 ]
MULCOCK Anne

Landscape With Figures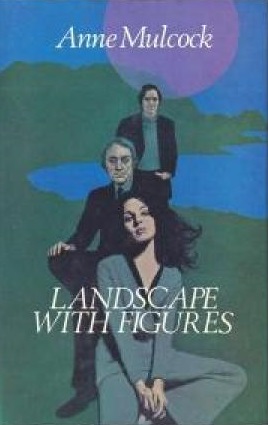 A restless High Country farmer's wife takes up painting as an escape from monotony and embarks on an affair.
ISBN070912947X
VG+ hardback in VG+ dust jacket
$15 C/B
Whitcombe and Tombs 1971 FIRST EDITION, 239pp
[#3392 ]
STRANGE Glyn and Traduction per Pierre Daprini

No Glory Without Effort
Pas de Gloire Sans Effort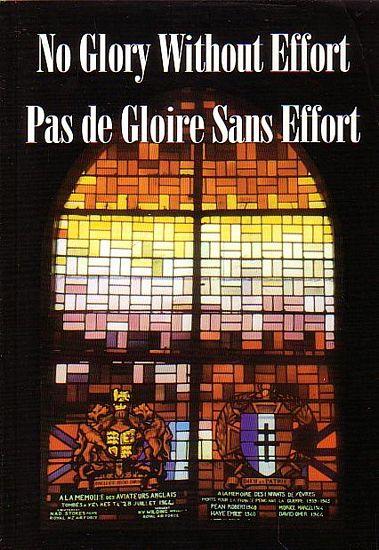 RAF Lancaster Bomber NE148 "howzat" AA-H of RAF 75 (NZ) squadron - was downed on a bombing raid to Stuttgart on 29th July 1944. Pilot Noel Alfred Deale Stokes lost his life while piloting the aircraft away from the French village of Yevres. This is an account of the incident and the survival of his crew members, aided by french civilians.
ISBN0958220158
VG softback
$20 B/A
Clerestory Press, (2004) 2010 reprint, 56pp.
[#3393 ]
ST ANDREWS COLLEGE

St Andrews Collegian 1965
Issue XLVII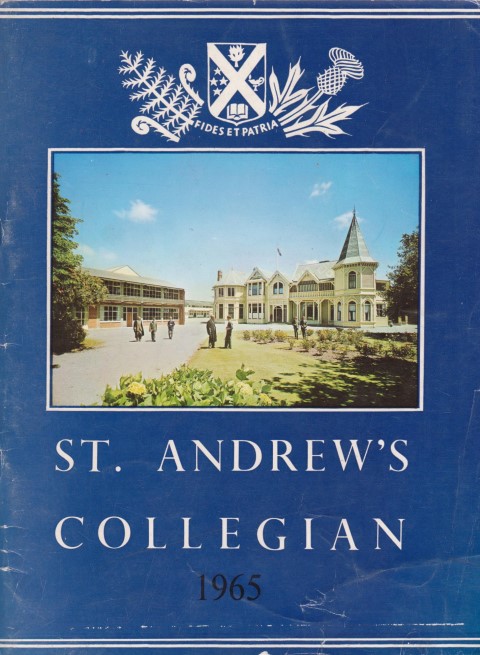 School magazine/ yearbook for 1965.
VG- paper cover
$15 B/B
St Andrews College 1965, 84pp.
[#3394 ]
SHIPTON Eric

That Untravelled World
An autobiography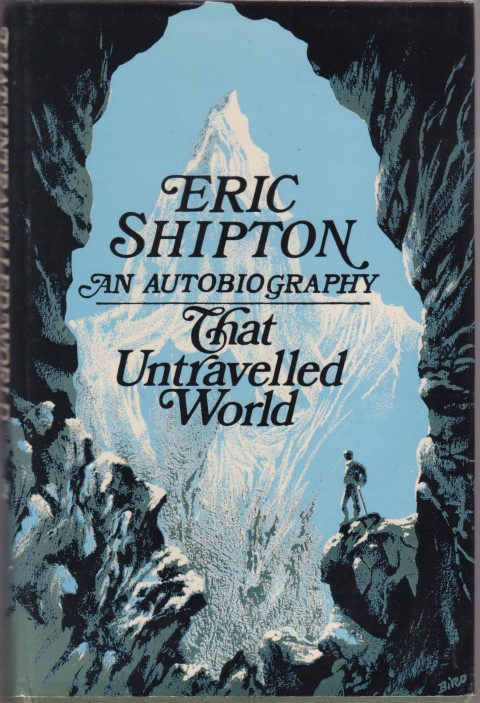 Autobiography of one of the most important 20th century Himalayan explorers. Shipton was involved with most of the Everest expeditions during the 1930s and later, and continued exploring and climbing including the Karakoram, Tierra del Fuego, Patagonia and China.
ISBN0340043301
G+ hardback in G+ dust jacket. Ex-Library with stamps and issue slips etc. Some tape rust to reverse of dust jacket.
$15 C/C
Hodder 1970286pp + maps and plates.
[#3395 ]
WETERING Janwillem van de

The Empty Mirror
Experiences in a Japanese Zen Monastery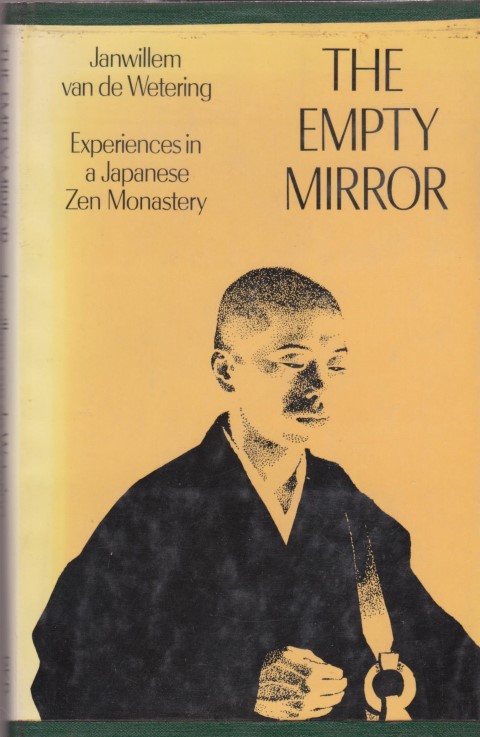 The memoir of a young Dutch student—later a widely celebrated mystery writer—who spent a year and a half as a novice monk in a Japanese Zen Buddhist monastery.
ISBN0710075782
VG- hardback in VG- dustjacket with sun faded spine. Minor foxing to closed edges. Name to fep.
$25 C/B
Routledge and Kegan Paul 1973 First English edition, 145pp.
[##3396]
WILLIS H. A.

Bad Blood
The Story of Stanley Grahame
original title Manhunt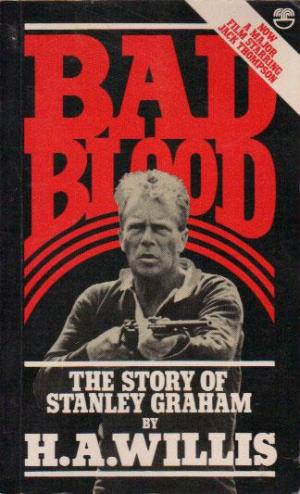 Belligerent Hokitika farmer Stan Graham refused to hand in his rifle for the war effort, and combined with financial strain and arguments with his neighbours he later shot and killed a total of seven people before being killed by an armed Home Guard search party. Made into a film in 1981.
ISBN0006349250
VG+ softback
$10 A/A
Fontana/ Collins 1981, 224pp illustrated.
true crime, westland
[#3397 ]
ELFORD George Robert & Hans Josef Wagemueller

Devil's Guard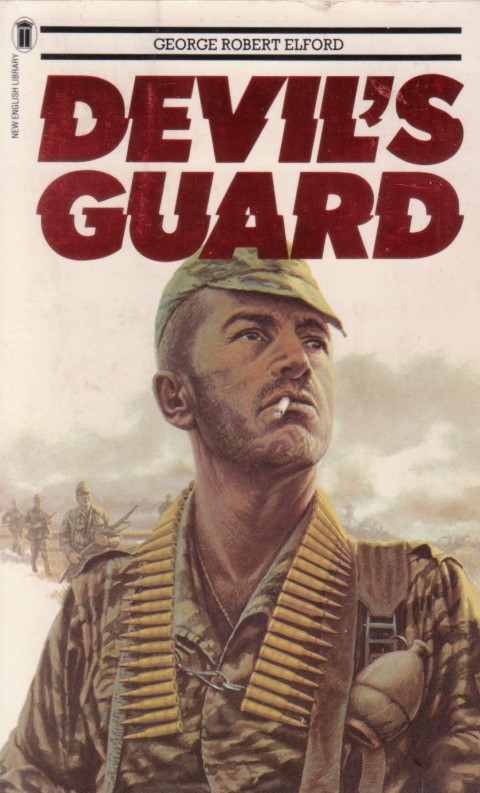 Recounts the experiences of German soldiers who, fleeing Soviet gulags after the defeat of the Reich, join the French Foreign Legion and fight in Indochina. The ghost-written memoirs of Hans Josef Wagemueller
ISBN0450013367
VG- paperback
$20 A/B
New English Library 1984, 349pp.
[PB1541 ]
de CREVECOEUR J. Hector St John edited by Albert E Stone

Letters from an American Farmer
and
Sketches of 18th-Century America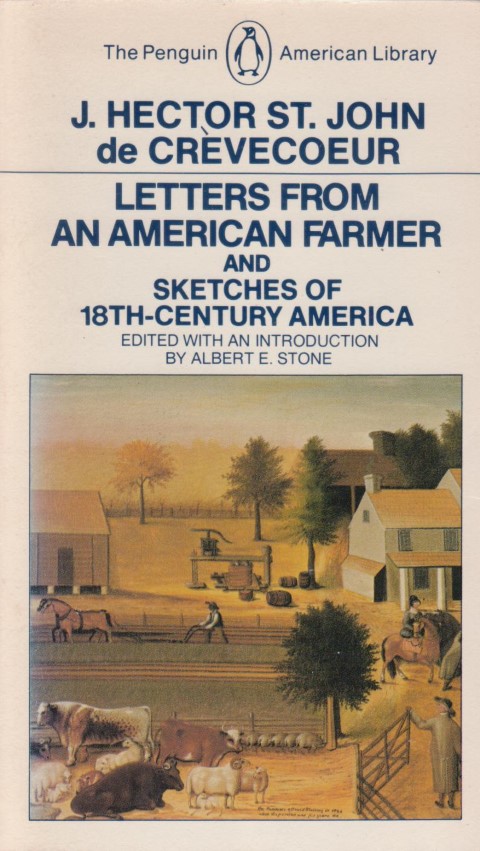 An account of the pre-Revolutionary and Revolutionary era, followed by a description of the physical setting in which American settlers created their history.
ISBN0140390065
VG paperback
$8 A/B
Penguin 1981, 491pp.
[PB1542 ]
BURKE Edmund and Thomas PAINE

Reflections on the Revolution in France
The Rights of Man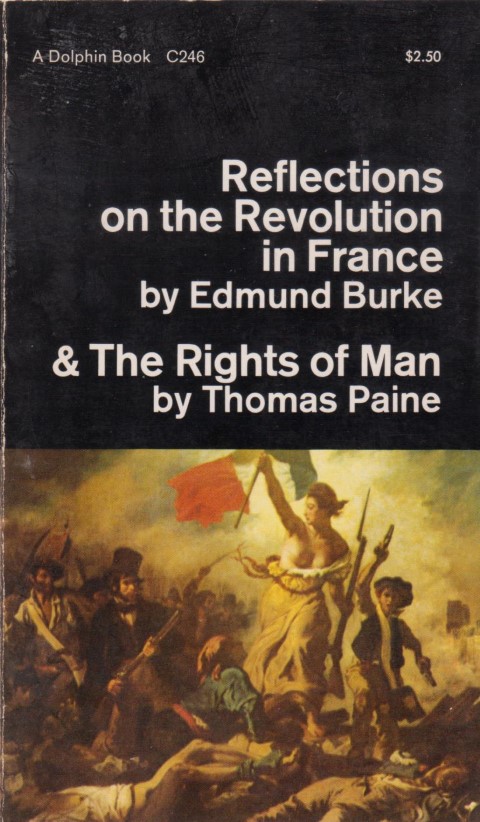 Two great writers with opposing views on the French Revolution. In his work on The Rights of Man Paine refutes Burke's assertions that the Revolution was corrupting.
VG paperback
$8 A/B
Dolphin Books C264 (Doubleday) 1961, 515pp.
[PB1543 ]
BERKELEY Anthony

Trial and Error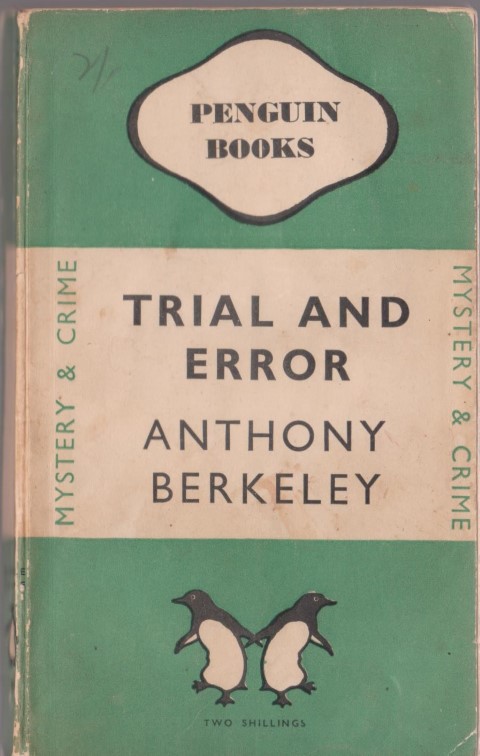 "A complex storyline explores the implications of two men being tried independently for the same crime, both facing separate juries, and both being found guilty."
Penguin 590
G+ paperback with roll to spine, sewn binding.
$10 A/A
Penguin 1947 FIRST PENGUIN EDITION, 309pp.
[PB1544 ]
CHRISTIE Agatha

Death Comes as the End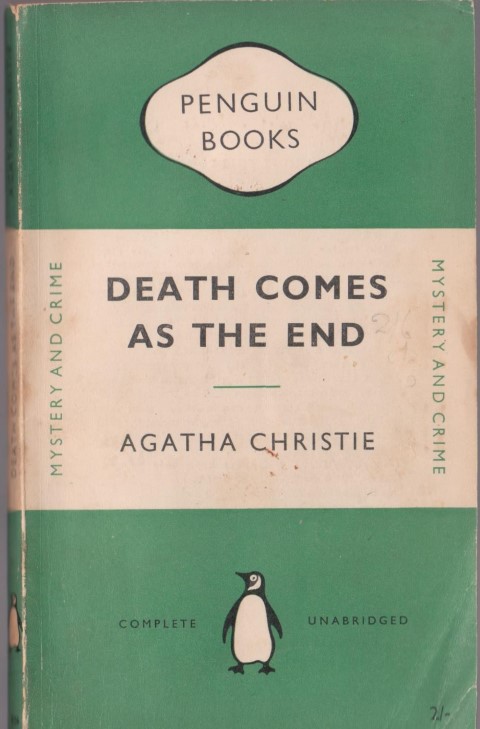 A historical whodunit/ detecive novel set in Ancient Egypt.
Penguin 926
VG- paperback, name to inside of front cover.
$8 A/A
Penguin 1953 FIRST PENGUIN EDITION, 189pp
[PB1545 ]
26/6/2017 ev
HYDE Robin with Derek Challis and Linda Hardy

Dragon Rampant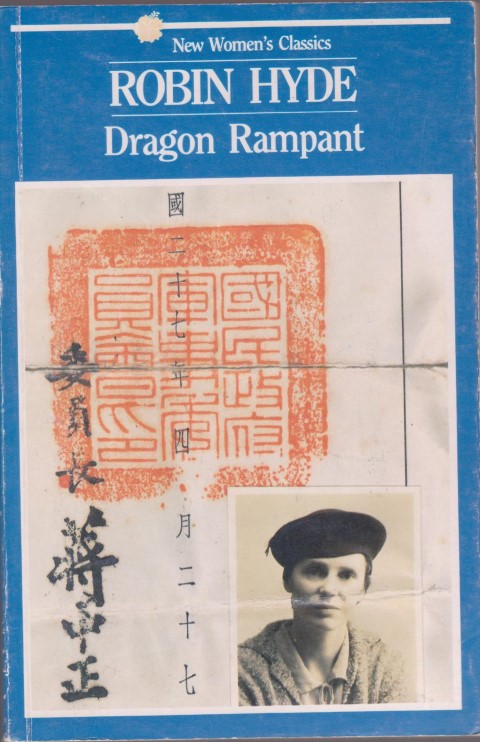 First thus reissue of 1939 work with introduction by Challis and critical note by Hardy. Hyde travels in China during the late 1930s as a journalist and comments on Sino-Japanese War etc.
ISBN0908652070
VG- softback
$30 C/C
New Women's Press 1984, xviii 318pp.
[#3340 ]
MALING Peter Bromely edits Charles Obins Torlesse

The Torlesse Papers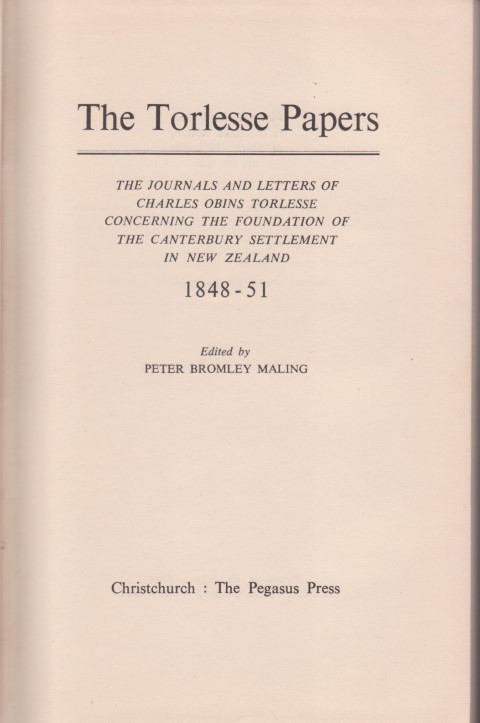 The Journals and letters of Charles Obins Torlesse concerning the foundation of the Canterbury Settlement in New Zealand 1848-51.
VG quarter cloth hardback with no dust jacket
$30 C/C
Pegasus Press 1958, First Edition limited to 750 copies, 238pp + plates.
[#3341 ]
MALING Peter Bromely edits Charles Obins Torlesse

The Torlesse Papers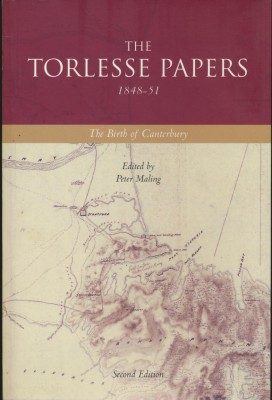 The Journals and letters of Charles Obins Torlesse concerning the foundation of the Canterbury Settlement in New Zealand 1848-51.
ISBN0908563981
VG softback.
$35 C/C
Caxton Press 2003, Second Edition limited to 750 copies, 255pp + plates.
[#3342 ]
TUWHARE Hone

Piggy-back Moon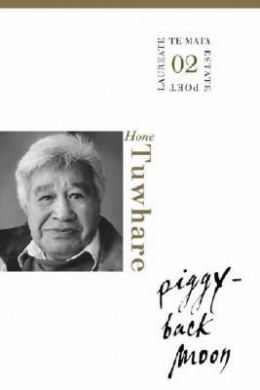 Issued when Tuwhare was the Te Mata Estate Poet Laureate. Frontispiece by Ralph Hotere
ISBN1869620771
VG hardback in VG dust jacket
$95 C/B
Godwit 2001, 78pp. First edition limited to 2000 numbered copies.
[#3343 ]
ROBERTS Barbara B.

A History of the Belfast Schools 1859-1978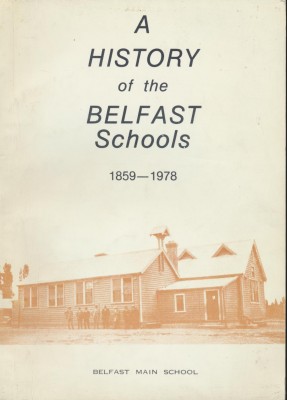 Belfast schools in Christchurch, the story of the establishment, development, staff, pupils and community involvement. Illustrated.
VG- softback.
$20 C/B
Belfast School Centennial Committee 1978, 120 pp
[#3344 ]
CRUMP Barry

Bullock Creek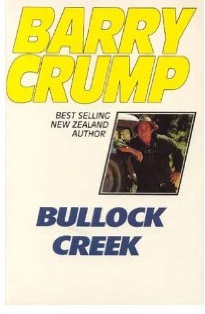 Barney Carter over-winters Bullock Creek Station in the high-country of the Southern Alps and has to use all his ingenuity and tenacity to get himself, the stock and the widow though the worst winter on record alive.
ISBN0908968027
VG softback
$8 C/B
Barry Crump Associates 1993 new edition, 185pp. Illustrated by Kerry Emerson.
[#3345 ]
VG- softback with some writing inside rear cover
$8 C/B
ISBN0959789715
[BOX#10]
GOULD Charles

Mythical Monsters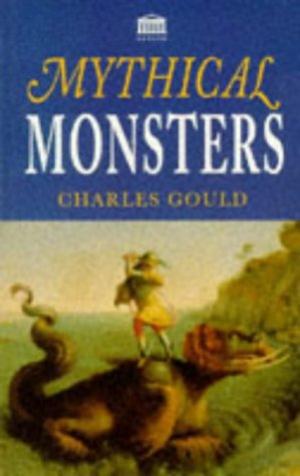 An important work on cryptozoology. Includes suppositions on the antiquity of man, the Deluge, extinction of species. Chapters on Chinese and Japanese dragons, the sea-serpent, the Unicorn, the Chinese Phoenix. This is a facsimile reprint of 1886 edition.
ISBN1859581781
VG softback
$10 C/B
Senate 1995, 407pp.
[SUP 3 ]
GOULD Charles

Mythical Monsters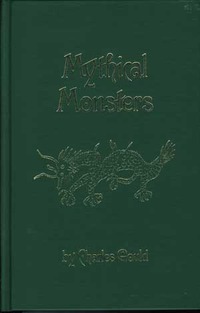 An important work on cryptozoology. Includes suppositions on the antiquity of man, the Deluge, extinction of species. Chapters on Chinese and Japanese dragons, the sea-serpent, the Unicorn, the Chinese Phoenix. This part of the Secret Doctrine Reference Series has an added index, notes, and page references to Blavatsky's Secret Doctrine which cites Gould's work. This is a facsimile reprint of 1886 edition.
ISBN0913510386
VG- cloth hardback with pen inscripion to inside of the front cover.
$25 C/C
Wizards Bookshelf 1981, 407 pp.
[#3346 ]
De CAMP L. Sprague

Lost Continents
The Atlantis theme in History, Science and Literature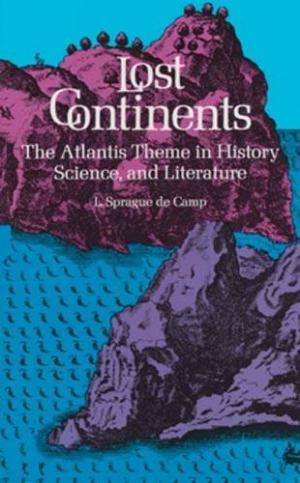 From Plato to Sir Thomas More's Utopia, the Lemurian Continent theory, K. T. Frost's equation of Atlantis with Crete, and many other citations of Atlantis in science and literature. Includes accounts of expeditions searching for the sunken continent and attempts to prove its existence through comparative anatomy and zoology.
ISBN0486226689
VG- softback. Sewn folded sheets on quality paper ( earlier Dover printing). The publishers plastic lamination is starting to peel on back cover.
$15 C/B
Dover Publications 1970, 348 pp.
[#3347]
McNEISH James

Lovelock, a novel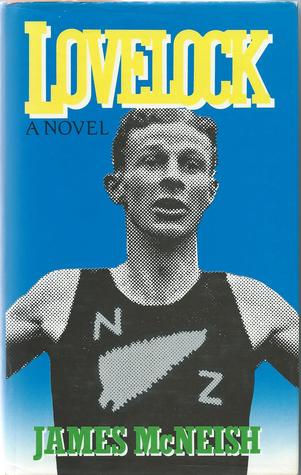 The story of Jack Lovelock who won the 1500 metres at the 1936 Berlin Olympic Games. He was a Rhodes Scholar and a research doctor in New York where he mysteriously fell in front of a train and was killed.
ISBN0340364300
VG hardback in VG dust jacket . Small gift inscription to top edge of front free end paper.
$15 C/C
Hodder 1986 first edition, 399pp.
[#3348 ]
DICK Betty

High Country Family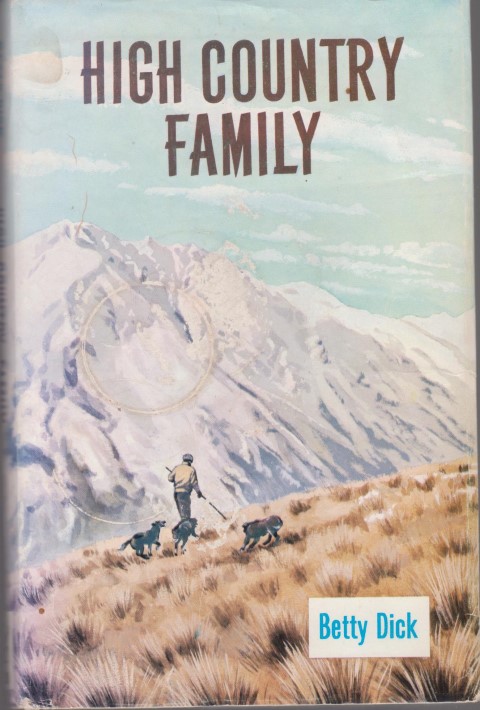 Betty recounts her time life in the high country at Lilybank Station at the head of Lake Tekapo in the McKenzie country. With her family she left the high country when her husband became a Member of Parliament.
VG hardback in G+ dust jacket with a small cup-ring to the front.
$10 C/B
Reed November 1964 first reprint, 146pp + plates.
[#3349 ]
CASEY Maie with Joan Lindsay, D A Casey, J R Freeman, T D Freeman and A R Henderson

Early Melbourne Architecture 1840 to 1888
A Photographic Record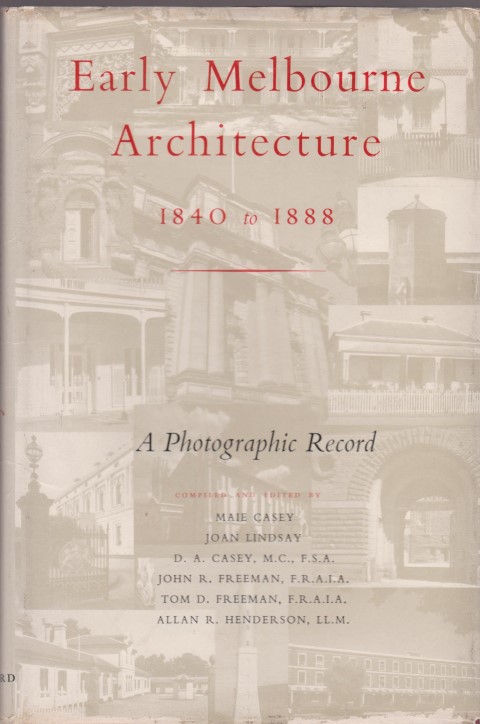 Photographs with informative captions of hundreds of historic Melbourne buildings, many now demolished.
G+ hardback in G+ dust jacket. Ex-library copy with some stamps and tape marks etc.
$15 C/C
Oxford University Press 1963 Second Edition, 184pp. Many photographs.
[#3350 ]
McDONNELL Geoff H.

The Decadent and the Damned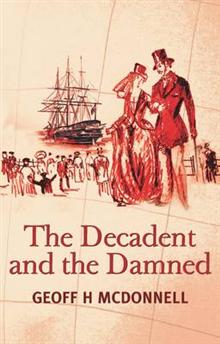 In 1850, scandal, desperation and ambition create an upheaval in the lives of many English people. Some are encouraged to leave England and seek a new life in New Zealand. On arrival in the new colony, old habits die hard. In the mad scramble for fame and fortune, huge risks are taken, morals are compromised and those in authority hoodwinked. The Maori are ostracised and the religious ideals of the colony's founders ignored. Men spare no quarter to outwit their rivals in a race for fame and fortune. The struggle for survival of Patrick and Josephine Mahoney and their feud with Humphrey and Emma Robinson who are obsessed with wealth and power, is an inspiring human drama set amid the birth of a great nation. Wool becomes king and the new rich build their opulent mansions. The foundations of a nation are laid and the resilient and triumphant character of its people evolves. Today, their descendants live on, embracing their ancestral philosophies while facing trials and tribulations their forebears could never have envisaged.
ISBN9780473187811
VG softback
$15 A/B
McDonnell Publishing Company 2011, 398pp.
[#3351 ]
ROXBURGH Irvine

Wanaka Story
Otago Centennial Historical Publication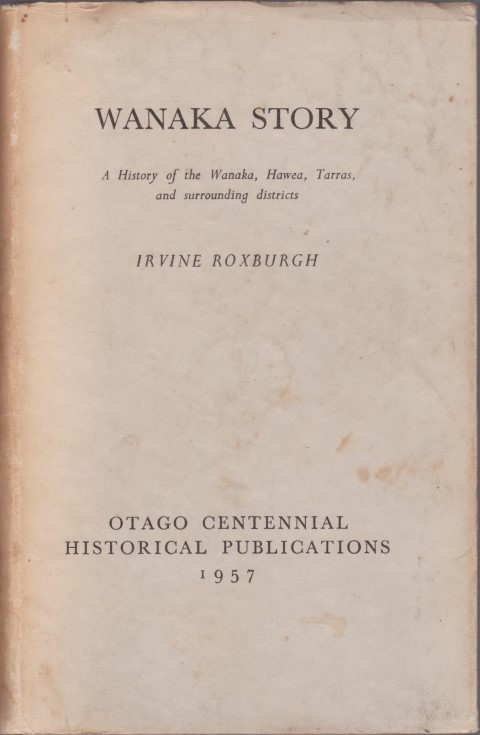 An illustrated history of Wanaka, Hawea, Tarras, and surrounding districts of Otago.
VG- hardback in VG- dust jacket. Small area stained to top edge of rear book board and top margin of a few pages. Dust jacket has an age browned spine and some handling soiling. Owner's inscription to fep dated 1958.
$45 C/C
Otago Centennial Historical Publications 1957 first edition, 274pp + plates.
[#3352]
KNOX G. A. (editor)

The Natural History of Canterbury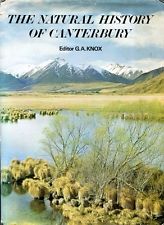 36 authors, each a specialist, contributes work on a specific aspect of Canterbury's natural environment. A completely new work which superceded the similarly titled work from 1927.
VG- hardback in G+ dust jacket with some edge wear and short edge tears.
$25 B/D
Reed 1969 first edition, 620pp + plates.
[#3354 ]
SARGESON Frank

The Stories of Frank Sargeson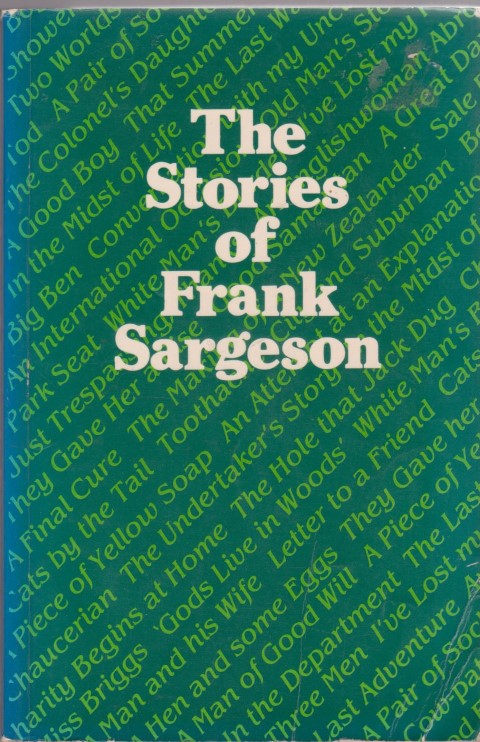 Collection of 46 short stories. Includes a biboliography of the stories collected here. ISBN0582717221
G softback with reading wear and some minor insect damage to edge of first few pages.
$8 C/B
Longman Paul 1980, 351pp [#3355 ]
SWAINSON William

Auckland, the Capital of New Zealand, and the Country Adjacent
Including some account of the Gold discovery in the Coromandel.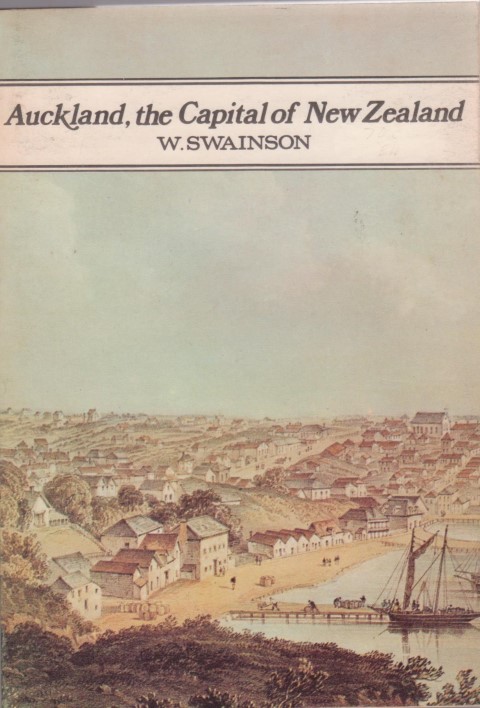 Swainson was the second, and last, Attorney-General of the Crown colony of New Zealand and was instrumental in setting up the legal system. He was the first Speaker of the New Zealand Legislative Council. He published this work anonymously, intending it as a guide for new colonists. It is a rare record of early Auckland and surrounds at a time when few accounts were being made of the rapidly changing times.
A Facsimile of 1853 Edition
VG+ softback
$10 C/A
Wilson and Horton, 163pp.
[#3356]
SLATTER Gordon

One more river
The final campaign of the Second New Zealand Division in Italy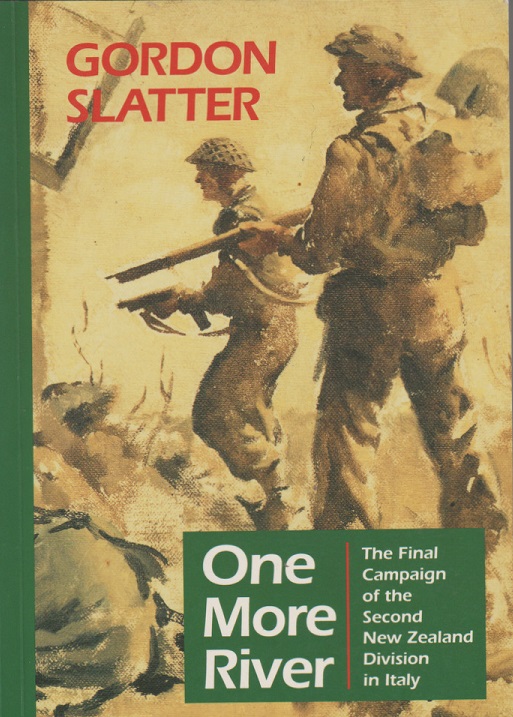 Memoir by Gordon Slatter, from schoolboy when war was declared in 1939, to 2NZEF infantry private on the banks of the Senio River, in 1944, and beyond. Here Private Slatter recounts the battles where half the New Zealand infantry were young men facing their first action. He also tells of the tensions in Trieste at war's end, and of his return journey years later across the battlefields of his youth.
ISBN0908990251
VG softback
$30 C/B
David Ling 1995 first edition, 175pp + plates.
[#3357 ]
MARDEN Orison Swett

The Miracle of Right Thought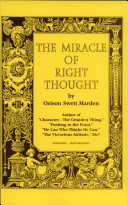 Facsimile of the first edition of 1910. Marden discusses why success and happiness are your destiny, how to expect great things of yourself, how to encourage yourself through self-suggestion, why wallowing in 'the blues' is a 'crime,' how fear paralyzes us, and avoiding the kind of thinking that mentally poisons us. Marden (1850-1924) was born in New England and studied at Boston University and Andover Theological Seminary. In 1897, he founded Success Magazine. A New Thought classic.
ISBN0895403110
VG+ softback
$15 C/C
Sun Books 1996, 339pp + adverts.
[#3358 ]
GREY Zane

Angler's Eldorado
Zane Grey in New Zealand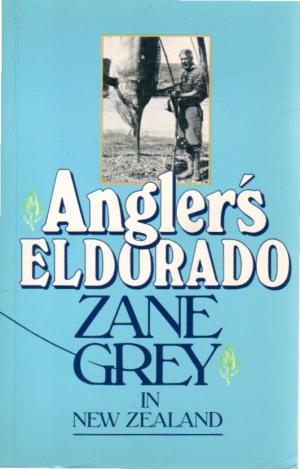 Zane Grey describes his thrilling encounters with swordfish, marlin, and mako sharks in the big-game fishing waters of New Zealand. Previously unpublished account of his trips to Mercury Bay, combined with his deep-sea fishing yarns from Tales of the Angler's Eldorado, New Zealand.
ISBN0790001608
VG softback
$25 C/B
Heinemann Reed 1990, 152pp+ plates.
[#3359 ]
DEE Ian

Duck Fever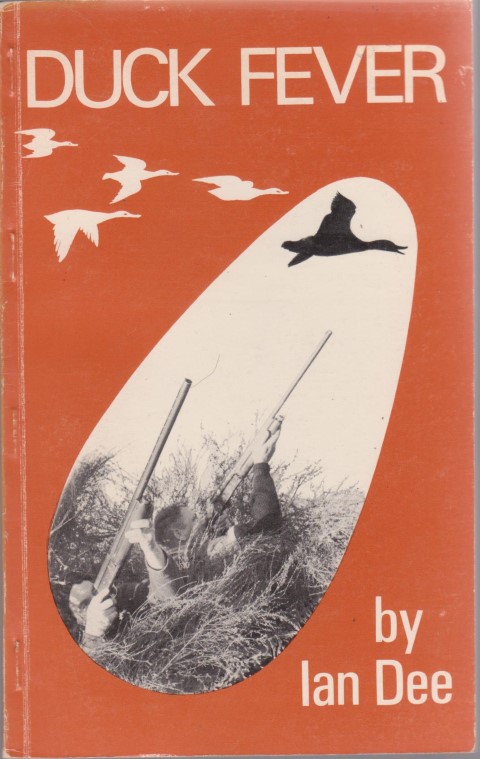 A guide to gamebird and waterfowl shooting in New Zealand. With idenification of species, protected species, gear, choosing a gun-dog, cartridge loads etc.
VG softback
$10 C/A
A Tackle House Publication 1974, 80pp.
[#3360 ]
KELLY Greg

Gun in the Hills
A sportsman's adventures, mostly in New Zealand
Kelly was a police ballistics expert, and he has combined this knowledge with his pastime as a hunter and outdoorsman. Tales of deer, pig, geese, duck and pheasant. Illustrated by Peter McIntyre.
ISBN0340109807
VG hardback in VG dust jacket
$25 C/C
Hodder 1968 first edition, 159pp+ plates.
[#3361 ]
JOLL Gary

Big Game Hunting in New Zealand
A complete guide to hunting in New Zealand. From selecting your equipment and firearm, to the various species of big game, and their habits and habitat.
VG hardback in VG- dust jacket with some surface rubbing
$30 C/C
Whitcombe and Tombs 1968 first edition, 218pp + plates.
[#3362 ]
BRADWELL Cyril

85 Years in Linwood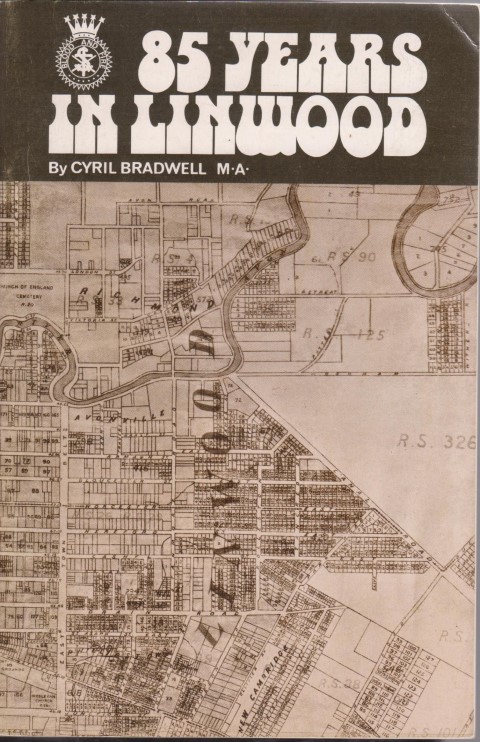 A history of the Salvation Army Linwood Citadel Corps through eighty-five years 1888-1973.
VG stapled softback
$15 C/ letter rate overseas
Linwood Citadel Corps Council 1973, 75pp.
[#3363 ]
MEURANT Ross

The Red Squad Story
Policing the 1981 Springbok Tour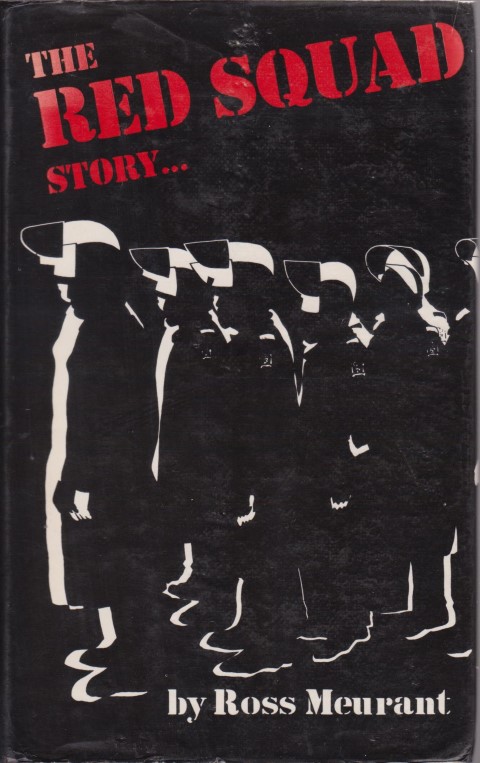 Author was second in command of the Red Escort Group ( police riot squad) battling the anti-tour protesters and communist insurgents within the movement. With illustrations in the text.
ISBN0908630069
VG hardback in VG dust jacket
$20 C/C
Harlen 1982 first edition, 216pp.
[#1367 ]
VG- hardback in G+ dust jacket
$15 C/C
Harlen 1982 first edition, 216pp.
[#3364 ]
CROWE Desmond T.

Beyond the Beat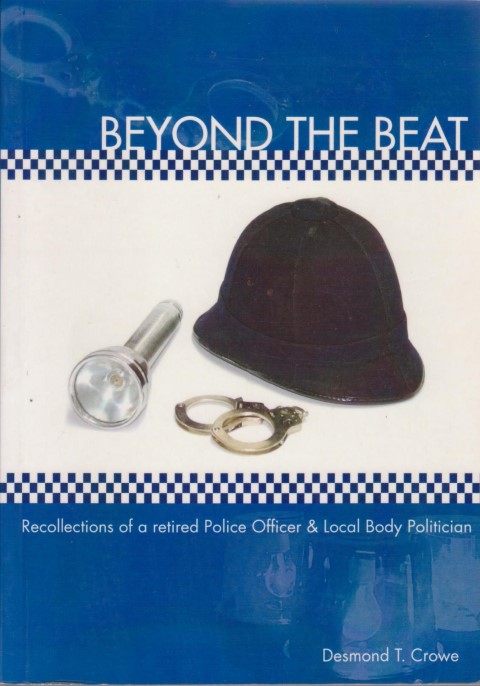 The recollections Desmond Crowe, a retired Police Officer and Local Body Politician. During his service in the police he had some unique experiences. He began his training at the Police Training School at Lyttelton in 1954.
ISBN9780473107666
VG softback
$20 C/B
Desmond T. Crowe 2005, 184pp.
[#3365 ]
MOORE Thomas

Care of the Soul
How to Add Depth and Meaning to Your Everyday Life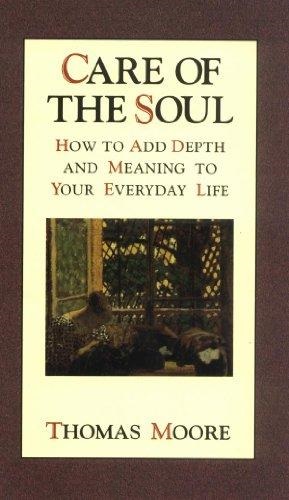 A powerful book which offers a new way of thinking about daily life - its problems and its creative opportunities. It offers a therapeutic programme bringing the soul and spirituality back into your life, and helps you to look more deeply into emotional problems and sense sacredness in ordinary things - real friends, satisfying conversation, fulfilling work, and experiences that stay in the memory and touch the heart. Moore draws on his own life as a therapist practising "care of the soul", his studies of the world's religions, his teaching of Jungian psychology and art therapy, and his work in music and art to create an inspirational guide that examines the connections between spirituality and the problems of individuals and society.
ISBN0749911689
VG softback
$15 C/C
Piatkus 1994, 312pp.
[#3366 ]
MILLS A. R. with W V McIntyre and S F Herbert

A Practical Guide to Handling Dogs and Stock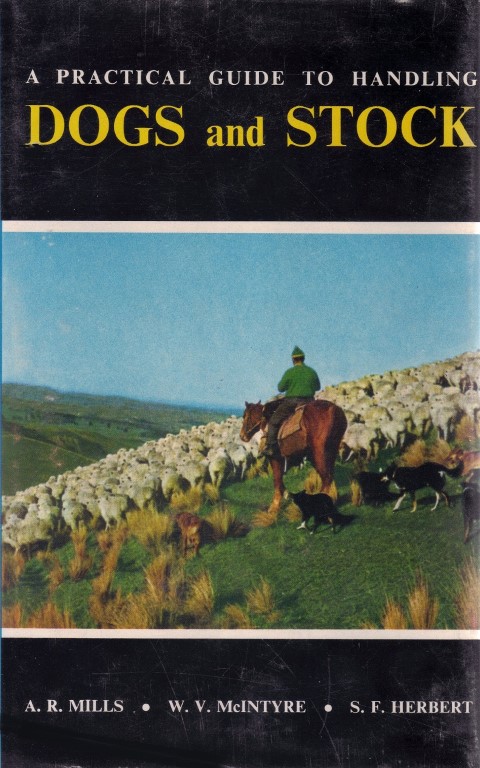 One of the best guides to handling stock with shepherding dogs. Selecting and training a pup, the Huntaway, working with sheep and cattle, working in yards, mustering etc.
VG hardback with VG dust jacket.
$35 C/C
Reed 1966 first reprinting, 125pp.
[#3369 ]
G hardback with G chipped and rubbed dust jacket, inscription to paste down
$20 C/C
Reed 1964 first edition, 125pp.
[#NZ41 ]
PATTERSON Robin S.

A Sock in my Stew
Memories of Dick Morris and the Deer Cullers.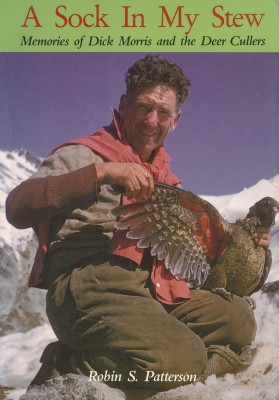 More than 70 people were interviewed for this account of a man's life in the North Canterbury High Country where he observed, studied and protected the wildlife in the Lake Sumner and Lewis Pass area.
ISBN0473013924
VG+ softback.
$45 C/C
Robin Patterson 1992 second printing, 289 pp + folding maps and photos.
[#3372 ]
19/6/2017 ev
ATKINS Susan with Bob Slosser

Child of Satan, Child of God
Charles Manson's Woman, from Helter Skelter to her miraculous rebirth.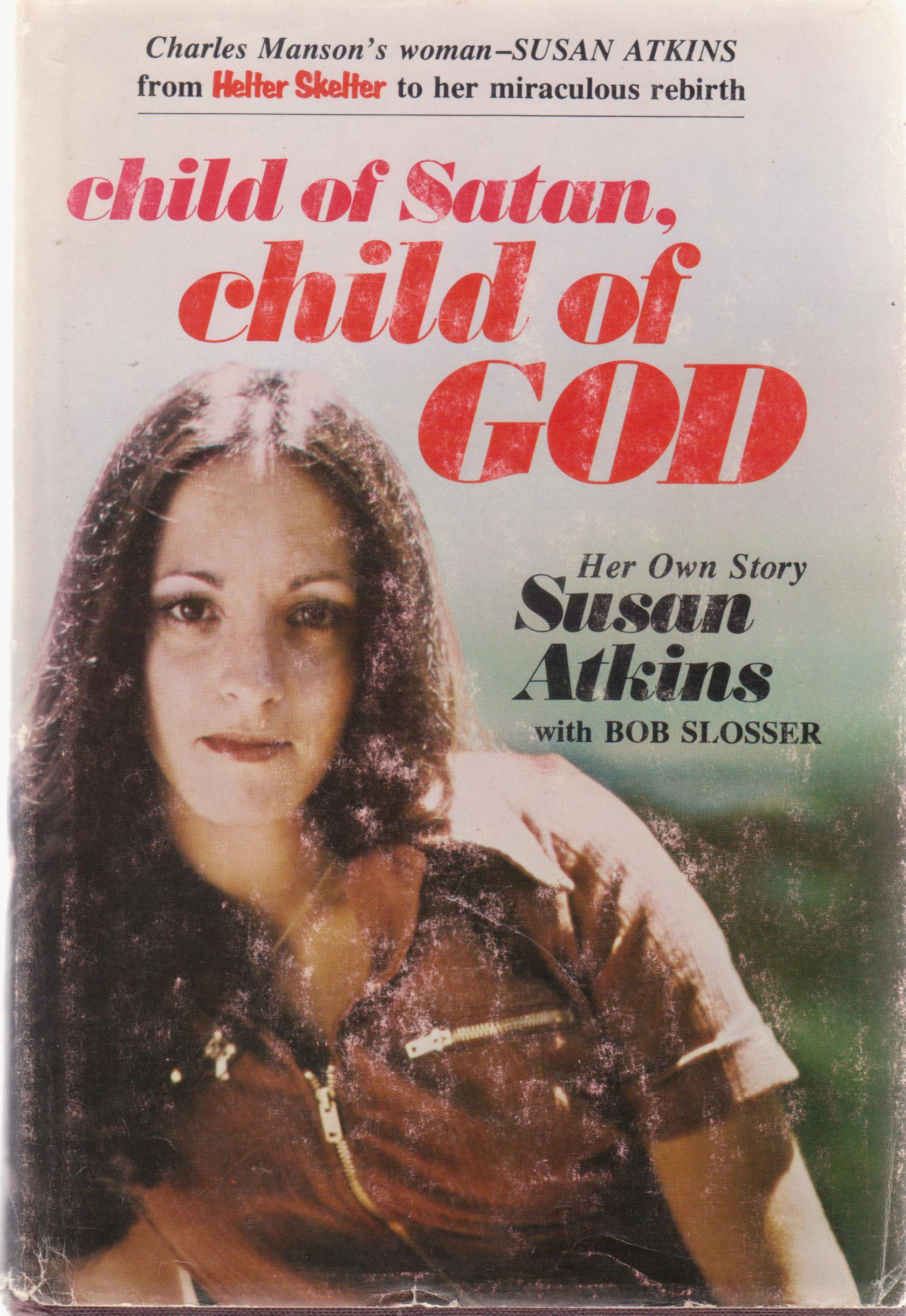 Atkins relates her childhood, time with the Charles Manson clan at Spahn Ranch, the 'Helter Skelter' killing spree, and her conversion to Born Again Christianity while on Death Row.
ISBN0882702297
VG hardback in G+ price clipped dust jacket with rubbing and edge wear. Inscription to front end paper.
$25 C/C
Logos International 1977 first edition, 290 pages.
[#3328 ]
CAMPBELL Ian editor

History Now
Te Pae Tawhito O Te Wa Volume 6 Number 2, September 2000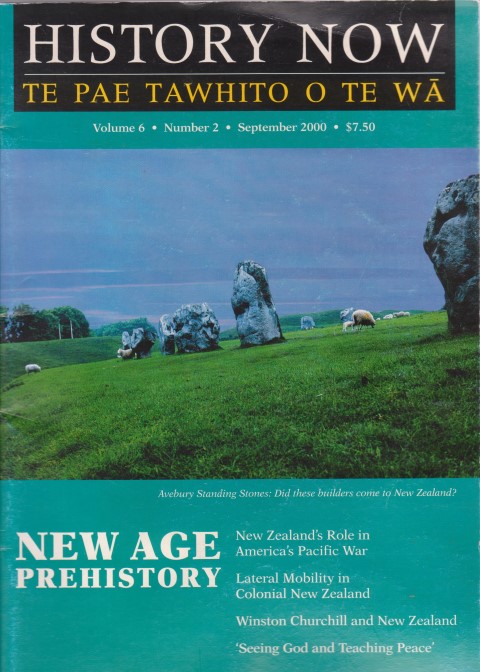 Periodical issued by the History Department of the University of Canterbury, Christchurch, New Zealand. This issue includes a discussion of the New Age Prehistory of New Zealand area of research as pioneered by Barry Brailsford and others who posit an Ancient Celtic, Portugese, Chinese or other early contact with New Zealand.
ISBN0909049378
VG- staple bound magazine
$10 B/B
Department of History, University of Canterbury (NZ) 2000, 48pp.
[#3330 ]
HILL Ernestine with a foreword by Alex F. Bell.

Water into Gold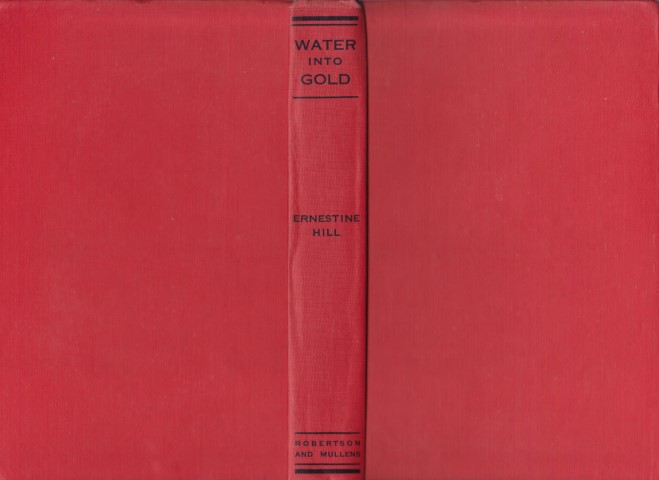 This revised edition issued to commemorate the golden jubilee of the Dried fruits industry in Australia. The pioneers of the Murray River Valley in N.S.W. and S.A. Includes George (1848-1932)., William Benjamin and the Chaffey family. Agriculture and irrigation along the river. Renmark, Mildura etc. Maps on end papers. Includes index.
Tenth edition
VG hardback with no dust jacket.
$15 C/C
Robertson and Mullens 1954, 334pp + plates.
[#3331 ]
McHARDY Emmet edited By Eileen Duggan

Blazing the Trail in the Solomons
Letters from the North Solomons of Rev. Emmet McHardy S. M.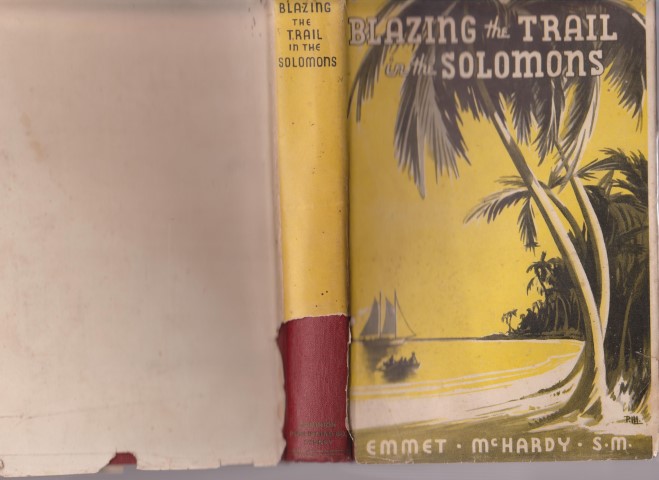 New Zealand born Catholic missionary to Tunuru, Northern Solomon Islands, he returned to Wellington to die of illness contracted in the Solomons, the letters cover 1929 to 1932.
G+ hardback in G dust jacket with edge wear and loss of lower half of spine. Book pages edges dust soiled and slightly foxed.
$20 C/C
Dominion Publishing Company 1935, 170pp + plates.
[#3332 ]
CHARLTON Rob

The History of Kapunda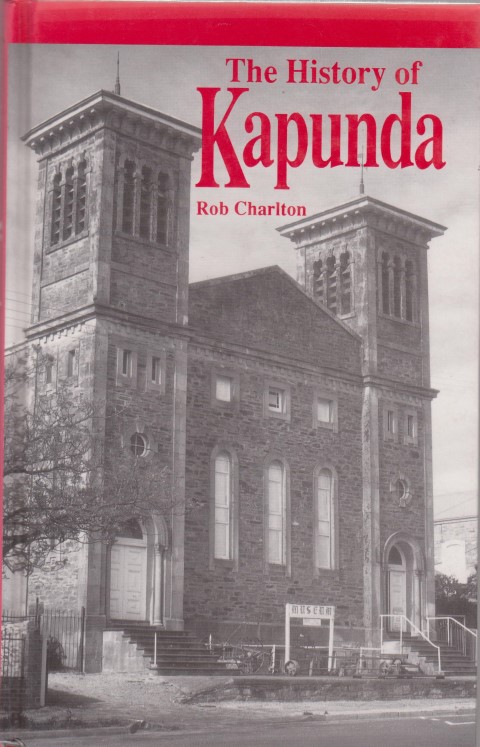 A history of Kapunda from earliest days in 1836 nd the discovery of Copper. Social and economic growth etc.
ISBN0731684168
VG- hardback with no dust jacket. Cancelled ex-library with a few stamps and a presentation plate.
$20 C/C
Lutheran Publishing House 1990, 170pp + plates.
[#3333 ]
DIXON Jeane as told to Rene Noorbergen

My Life and Prophecies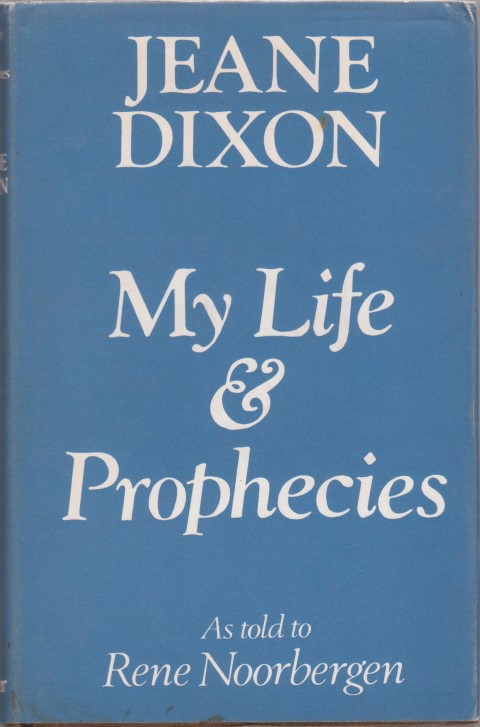 A biography of one of the 20th century's most well known psychics. Her predictions regarding US politics brought her to prominence.
ISBN0584101929
VG hardback in VG price clipped dust jacket.
$20 C/B
Frederick Muller 1971 first UK edition, 224pp.
[#3334 ]
HUTTON J. Bernhard

The Subverters of Liberty
The first full exposure of the Communist plot to undermine the Western way of life.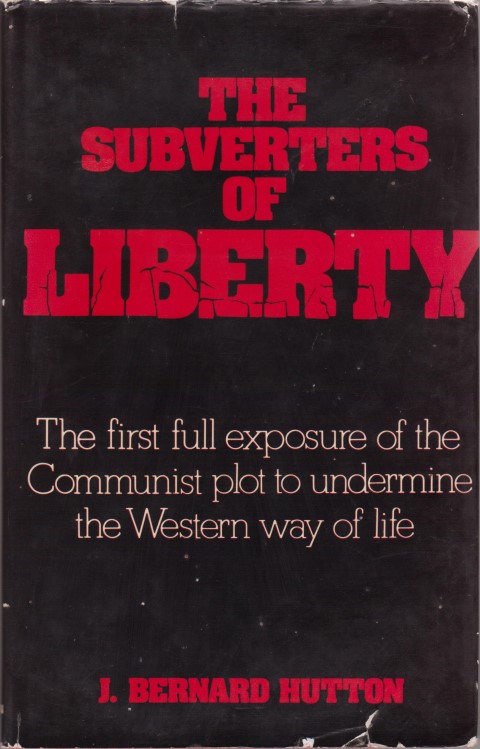 Describes the Communist system of subversion from within to destroy capitalism and democracy around the world by political agitation and social unrest.
ISBN0491002092
VG hardback in G+ dust jacket with some edge tears.
$10 C/C
W H Allen 1972, 266pp + plates.
[#3335 ]
HEAD Joseph and S L Cranston (editors)

Reincarnation: The Phoenix Fire Mystery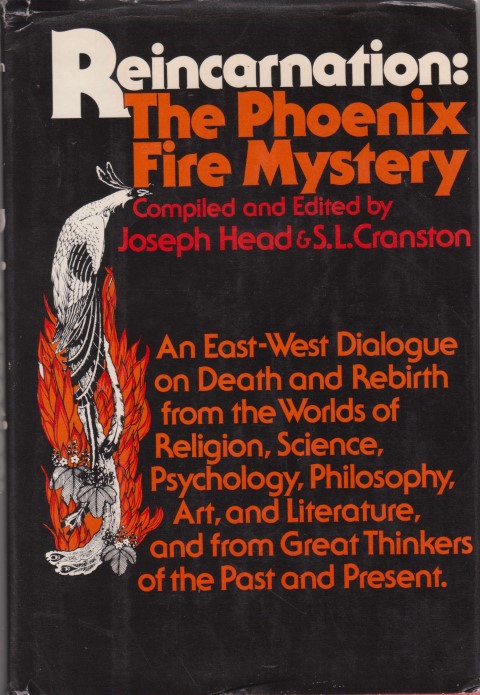 An East-West Dialogue on Death and Rebirth from the Worlds of Religion, Science, Psychology, Philosophy, Art, and Literature, and from great thinkers of the past and present. A very comprehensive work.
ISBN0517528932
VG quarter-cloth hardback in VG dust jacket. Some minor instances of red biro underlining.
$20 D/D
Julian Press/Crown 1977, 620pp
[#3336 ]
WELLS Rodney and Vicky HEWARD

Christchurch Heritage Houses
Signed copy.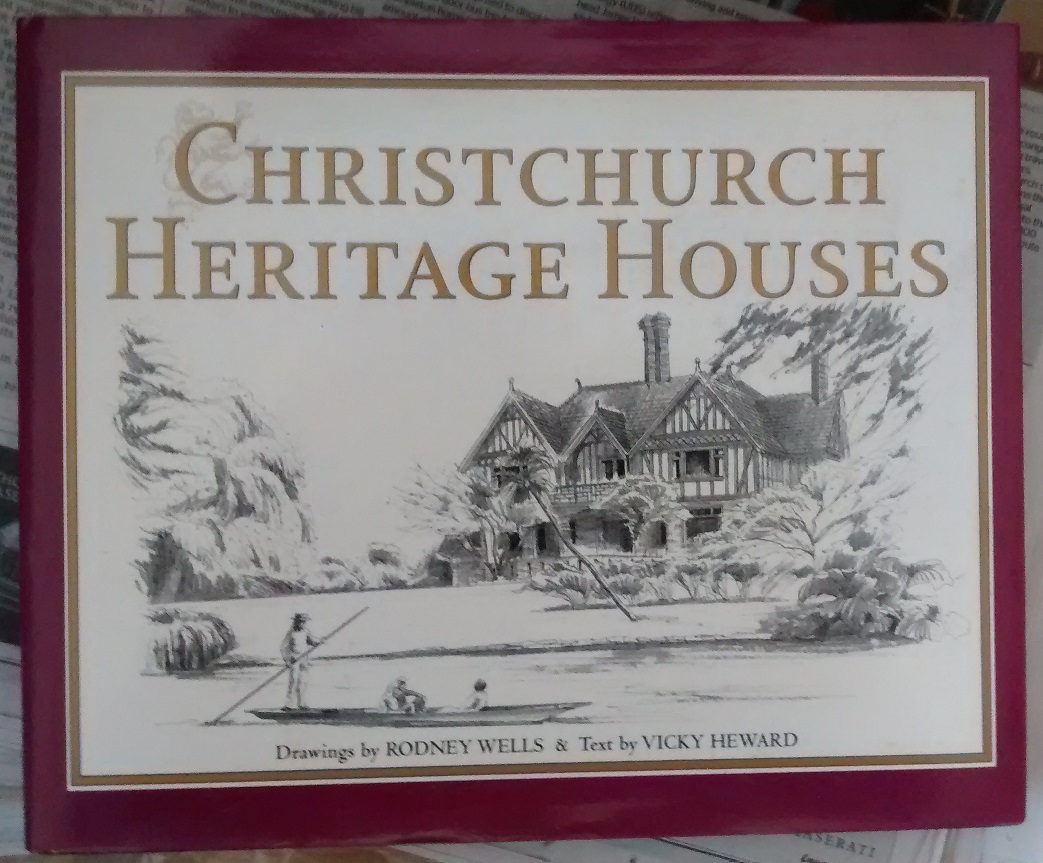 70 iconic Christchurch heritage houses illustrated in pen and ink drawings by Rodney Wells with accompanying text by Vicky Heward.
ISBN0908563965
VG+ hardback in VG+ dust jacket.
$85 D/D
Caxton Press 2004 first edition, unpaginated.
[#3337 ]
OGILVIE Gordon

The Port Hills of Christchurch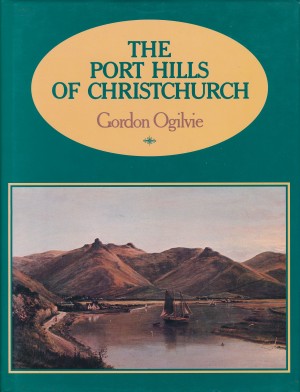 A history of the Port Hills recording the geography, botany and history of each settlement.
ISBN0790002450
VG+ Hardback with VG+ dust jacket. SIGNED BY THE AUTHOR.
$40 B/C
Philip King 1991, 246 pages. [#3338 ]
VG+ Hardback with no dust jacket. SIGNED BY THE AUTHOR.
$20 B/C
Philip King 1991, 246 pages. [#2589 ]
CANNON Dolores

Jesus and the Essenes
Fresh insights into Christ's Ministry and the Dead Sea Scrolls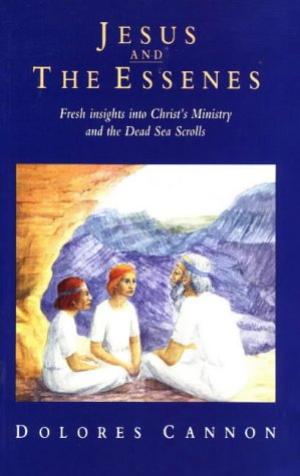 Insight into the mission of Jesus via far memory and past life regression to one who witnessed the events as they occurred. Gives a detailed account of Jesus as a person and his acts, and of the daily realities of Israel of that time. This book gives a full description of the nature and purpose of the Qumran Essene community, and the birth and upbringing of Jesus and John the Baptist. Also, it gives Essene renderings of Key Old Testament stories, concerning Moses, Ezekiel, Daniel and others, plus startling insights into ancient history. This extraordinary document represents a new form of historical research, and straightens out many open questions and misinterpretations. It takes the form of direct dialogues between a modern researcher and a member of the Qumran Essene community, alive around the time of Christ, through a person who has accessed far memory, through regression into a former life. New Age Christianity.
ISBN0946551928
VG softback
$15 C/B
Gateway Books 1998, 272pp.
[#3339 ]
© 2015 by Fortuna Books (NZ).