Minimum order $20 value excluding postage.
LATEST ARRIVALS, RECENT LISTINGS

Some of these items may have been sold, as this list is an indication of our new stock entries only and is not updated when items are sold until we delete old entries quarterly.

All these fortunabooks.com prices are in New Zealand dollars, and there is a minimum order required of NZD$20 excluding postage.
Recent uncataloged stock CLICK HERE
Some non-book items (board games, movies) CLICK HERE
04/02/2023ev
[FIJI] DERRICK R. A.

A History of Fiji, Volume One 1 I.
Discovery, first Europeans, Cakobau, Tongans, Foreign affairs etc.
Contrary to apperances there was only one volume ever issued.
VG hardback, red cloth, corners bumped, small pen name to fep.
$20 C/C
Suva: Printing and Stationery Department 1950 second revised edition, vii 250 xxviii pp +plates.
[#5644 ]
[NEW PLYMOUTH] St. Mary's Church New Plymouth

A Poem in Stone, St. Mary's Church New Plymouth 1843-1952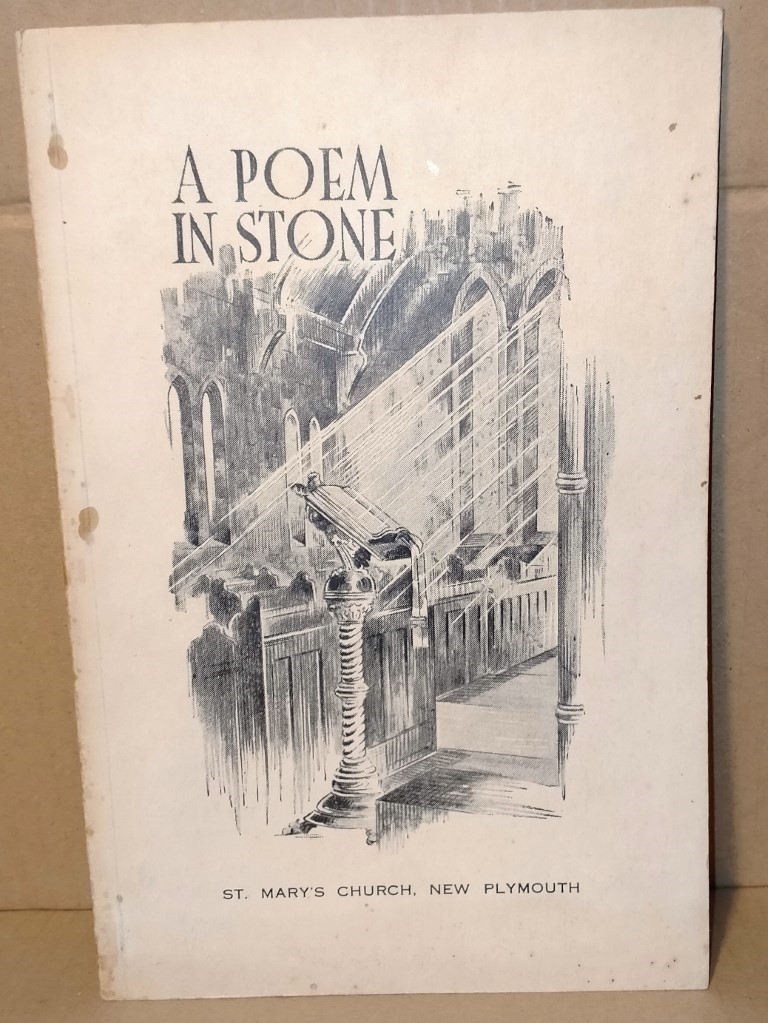 A Brief History of Saint Mary's Church and Parish, New Plymouth, During Its First 100 Years of Service and After.
Church of England, Anglican, Bishop Selwyn
VG softback stapled in pictorial wrappers.
$15 C/B
St Mary's Parish, 1952. Fourth edition, 44pp + plates.
[#5645 ]
WILKINS Harold T.

Flying Saucers on the Moon
'UFO' sightings since dawn of time, including signs in the skies etc., but more specifically focused on the spate of sightings in the early 1950s.
Foo Fighters, South America, Britain, USA
Very Good hardback with no Jacket.
Black cloth with dulled titling to spine, age toned fep, small pen scribble to fep, light scattered foxing to closed edges.
$20 C/C
Peter Owen, 1954. First Edition, 329pp + plates
[#5646 ]
[VIETNAM WAR] HUDSON E R.

Another look at Vietnam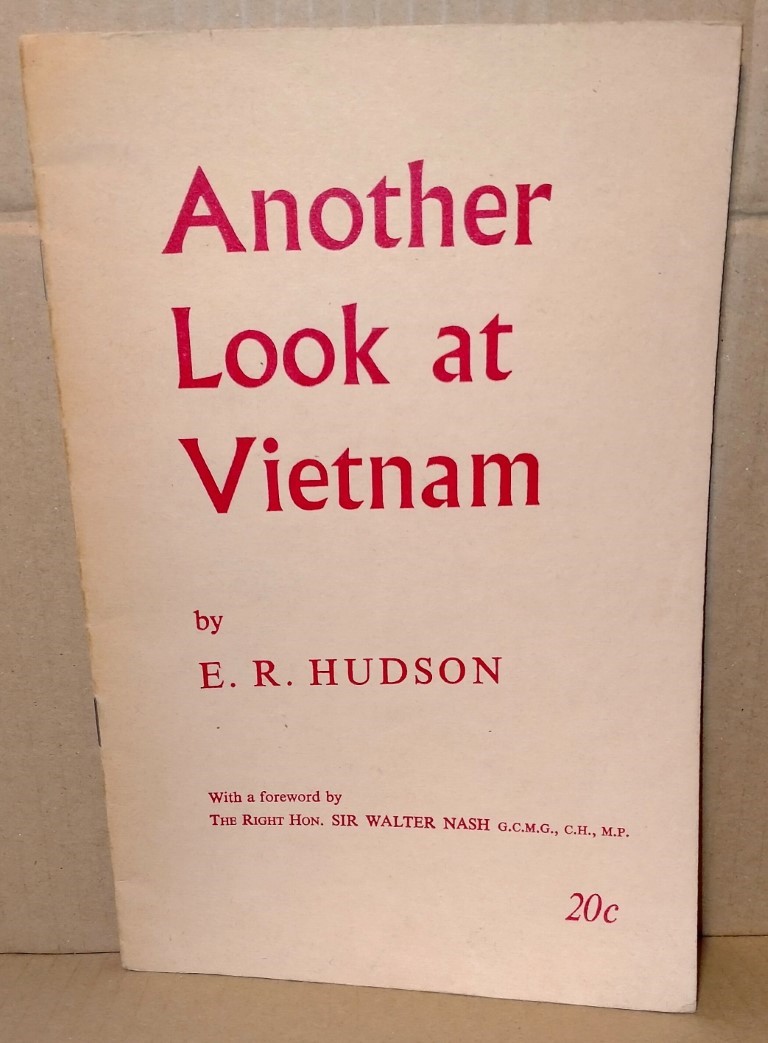 Author calls for fair treatment of the Viet Cong side in the war and withdrawal of NZ military support.
Foreword By the Prime Minister, Sir Walter Nash
pacifism, politics, new zealand anti-war publication
VG stapled warppers with 'support slip' slipped in at front.
$15 C/A
Caxton, 1967. First Edition, 14pp.
[#5647 ]
[GENEALOGY] GUEST W J D.

Rolleston House University Of Canterbury Register 1869-1969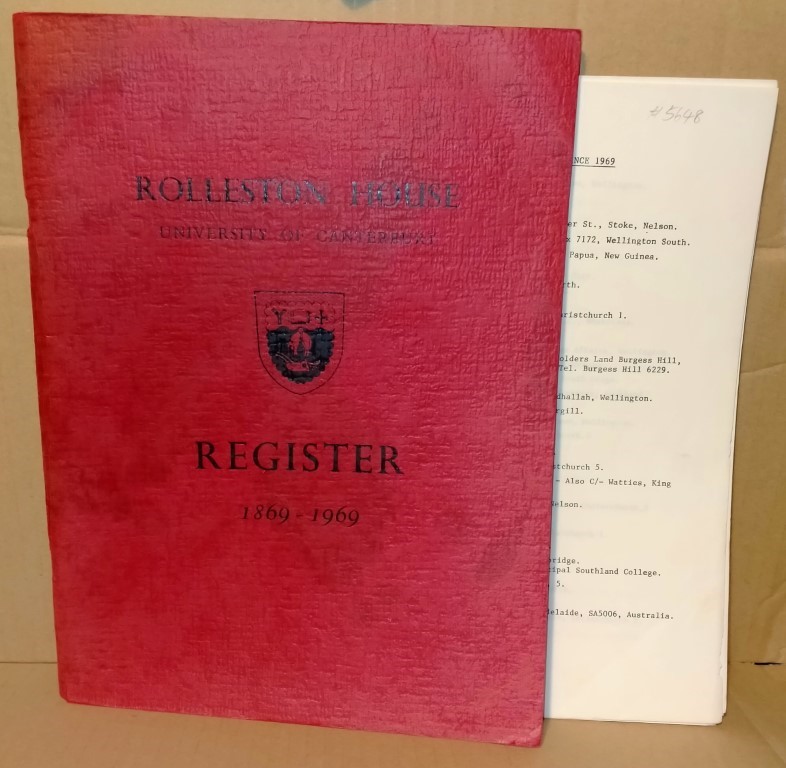 Register of Rolleston House College with known address as well as employment and military service history etc.
Includes 7pp history of Rolleston House before the register and also slipped in 8pp of address changes brought to notice since 1969 and 7pp list of housemen 1970-1974.
genealogy, enrolment
VG softback, saddle stapled sheets in printed paper wrappers, some soiling to covers.
$20 C/B
Caxton Press 1969 First Edition, 56pp
[#5648 ]
[subject] MINISTRY OF WORKS

Marlborough a Regional Survey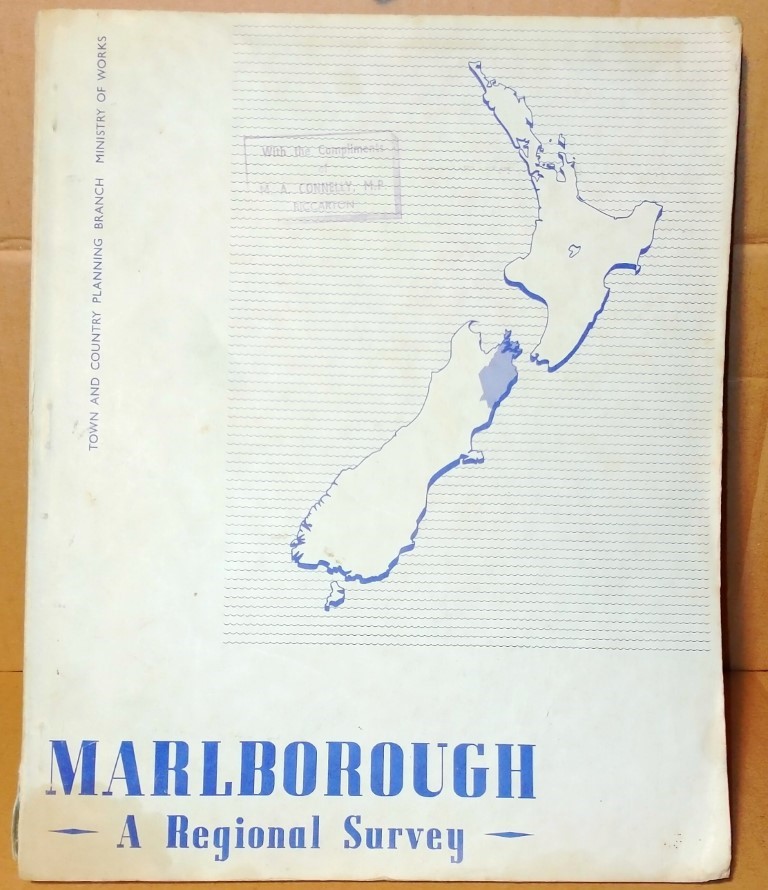 A brief survey of present resources and future potential for the Marlborough region of New Zealand.
Kaikoura, Blenheim, geology, geography, economics, planning
VG softback, stapled sheets in printed wrappers, rubber stamp to cover and title page, discolouring to rear cover.
$30 B/C
Town and Country Planning Branch Ministry of Works, Wellington 1962 First Edition,127pp +10pp plates+ folding map.
[#5649 ]
[HOKIANGA] ANCOTT-JOHNSON Barbara

Nurse in the North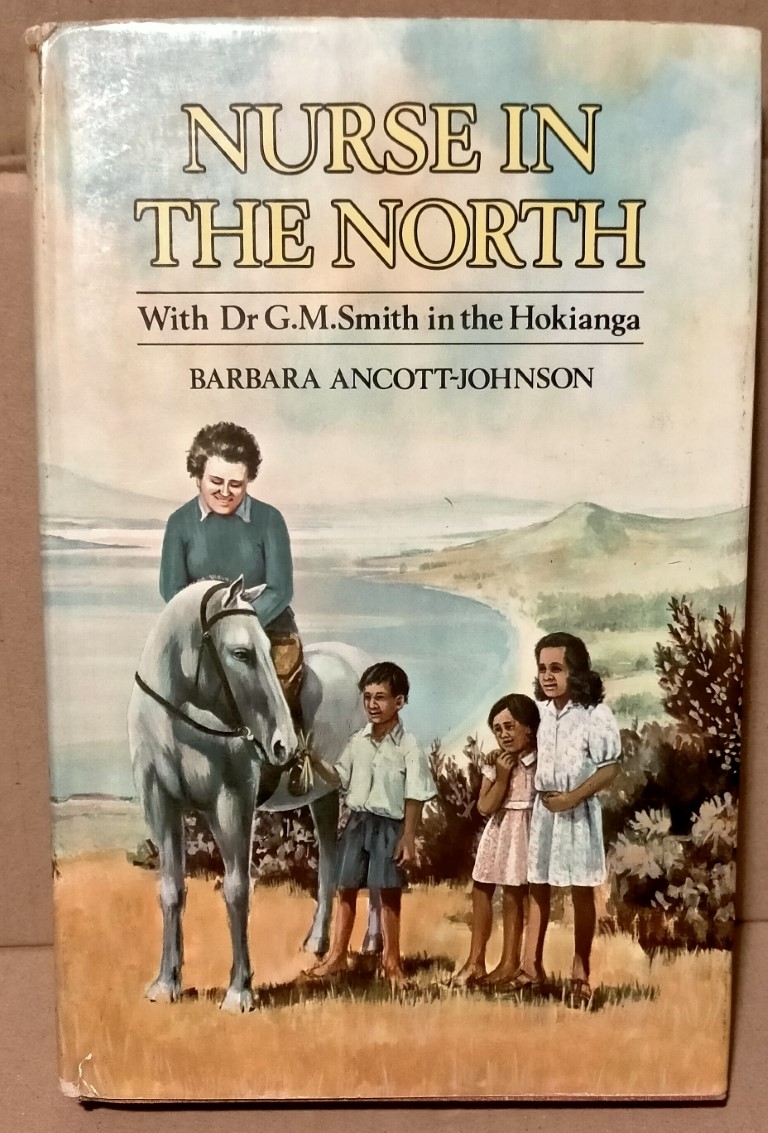 The author recalls her early days of medical practice amongst Maori of the Hokianga, with Dr G. M. Smith.
ISBN 0723303754
1940s Northland, Waipoua Forest, Doctor Jock Smith, Maori community
VG hardback in VG- dust jacket with light wear to dust jacket.
$20 C/B
Whitcombe and Tombs 1973 First Edition, 163pp + plates.
[#5650 ]
[SPIRITUAL HEALING] SANFORD Agnes

The Healing Light.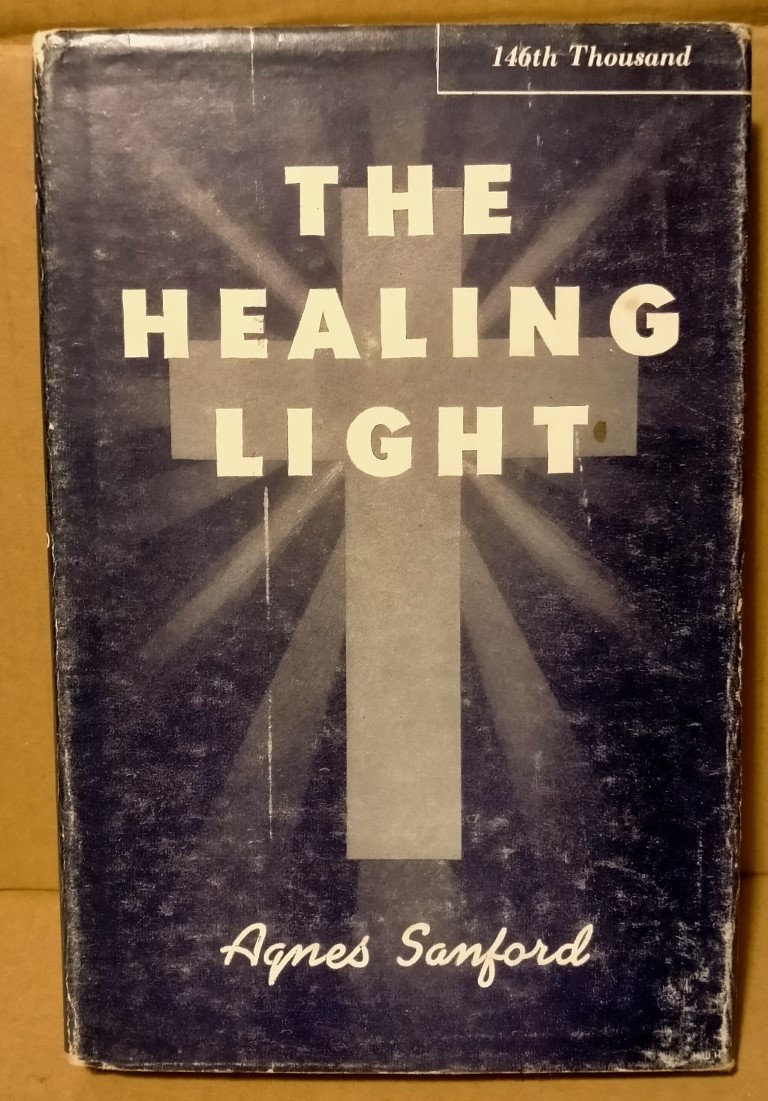 The author's approach to a practice of Christian spiritual healing.
ISBN 0853051003
VG hardback in VG dust jacket with minor wear, name to fep.
$15 C/B
Arthur James 1976 reprint, 218pp.
[#5651 ]
SUMMERS John

O Darkly Bright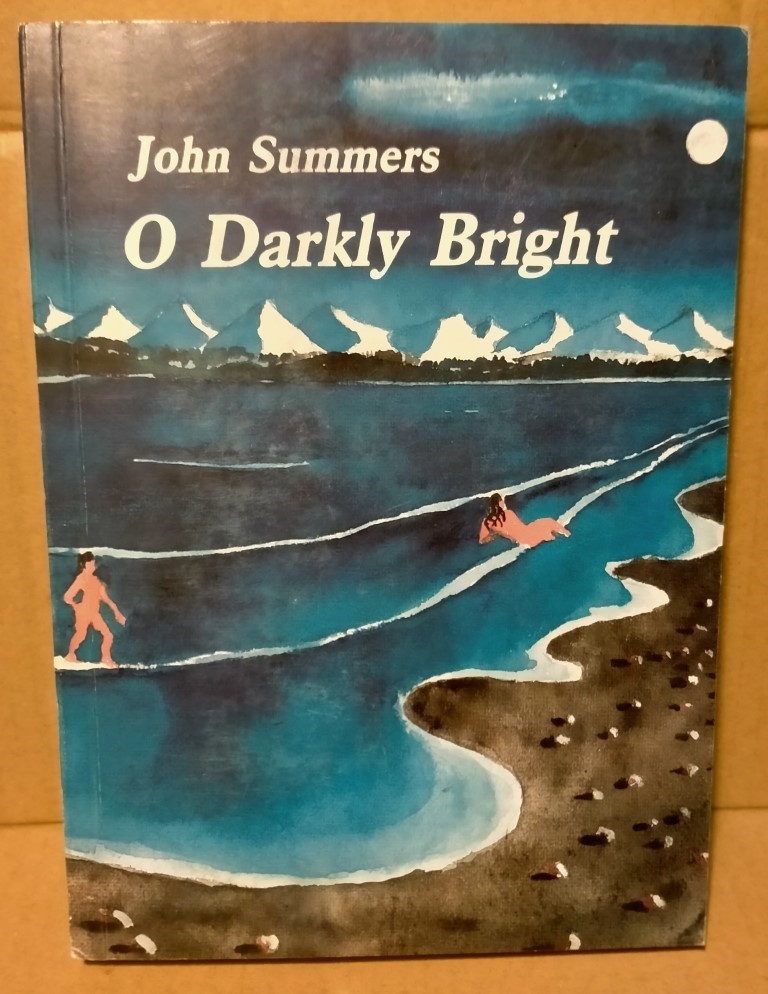 ISBN 0959781358
new zealand fiction
VG card covered
$15 C/C
Pisces Print 1974 first edition, 306pp
[#1415/5652 ]
[MOSGIEL] KIRK W R

Pulse of the Plain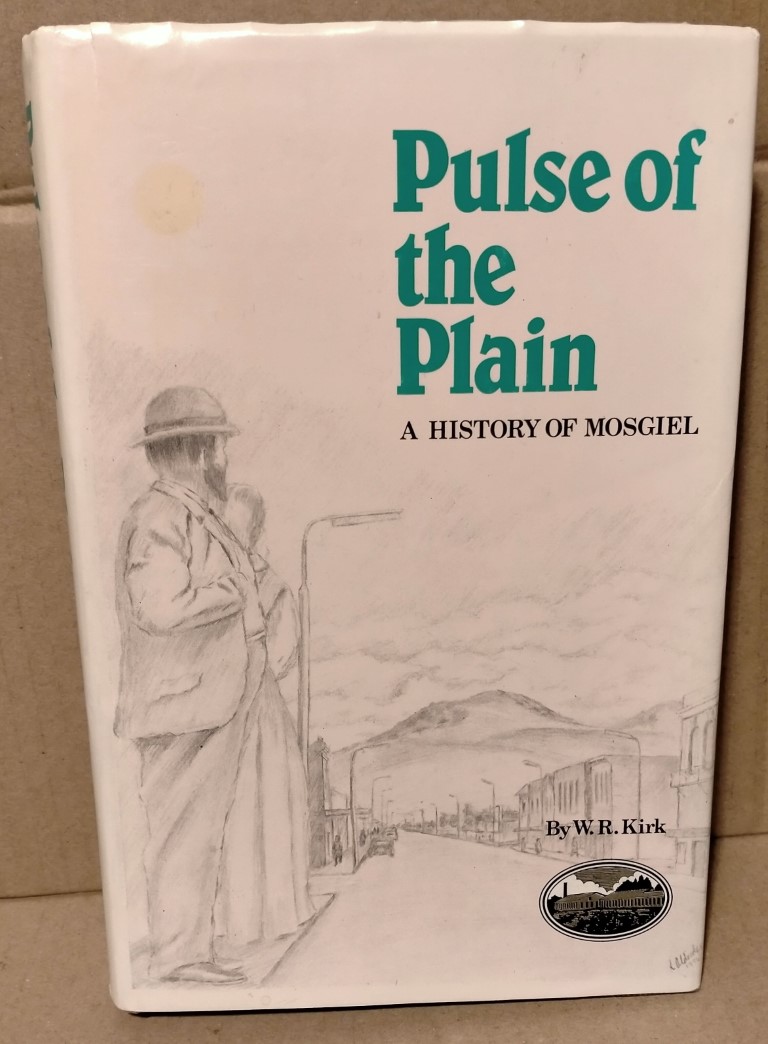 A regional History of Mosgiel with many historic photographs throughout.
ISBN 0959775501
Taieri, Waihola, Silverstream, Melville Park
VG hardback in VG dust jacket.
The slightly sun-faded dust jacket has small tear at top of front panel, gift inscription to fep otherwise tidy copy.
$35 C/C
Mosgiel Borough Council 1985 First Edition, xv 408pp.
[#5653 ]
[YUGOSLAVIA] ROGERS Lindsay

Guerilla Surgeon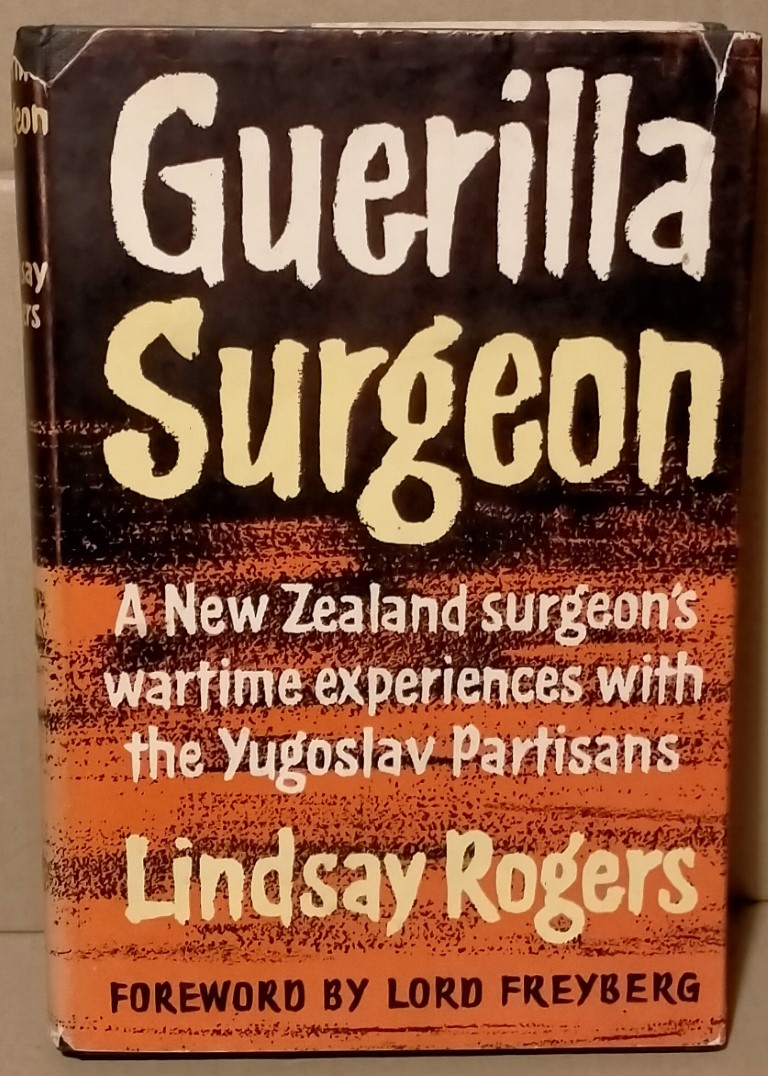 New Zealand surgeon's wartime experiences with the Yugoslav Partisans
Dalmatia, Croatia, Bosnia, communists, Tito
Hardback with dust jacket.
Some age spotting to page edges and title, unclipped dust jacket some chipping loss to head and tail of spine, foxed rear panel of dust jacket.
$20 C/C
Collins 1957 First Editionthird impression (September), 254pp.
[#5654 ]
[PSYCHIC QUESTING] GOODMAN Jeffrey

Psychic Archaeology, Time Machine To the Past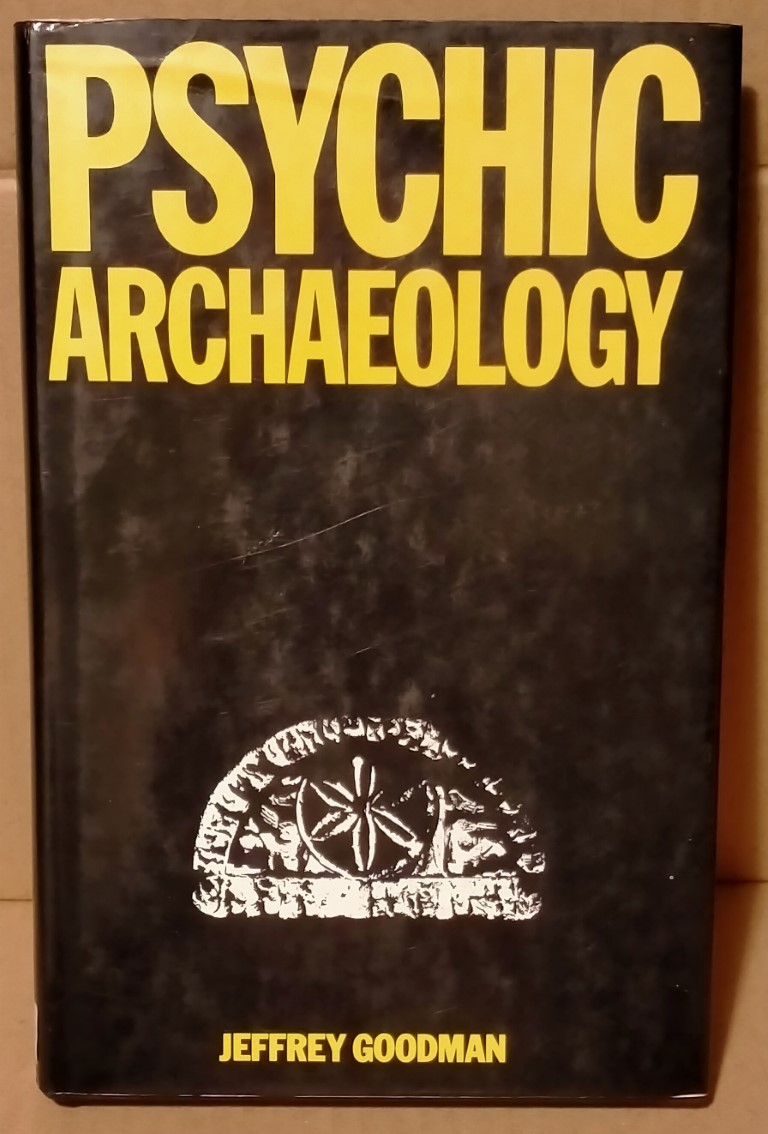 Traces the roots of psychic arcaheology including the Psychometry of Stefan Ossowiecki, Frederick Bligh Bond and Glastonbury Abbey, Edgar Cayce etc
ISBN0704503409
North American prehistory, far seeing, clairvoyance,
VG hardback in VG dustjacket.
$35 C/C
Wildwood House, 1978. First Edition, 223pp
[#5655 ]
15/12/2022ev
[CLYDE HYDRO SCHEME] POWELL Paul.

Who Killed the Clutha?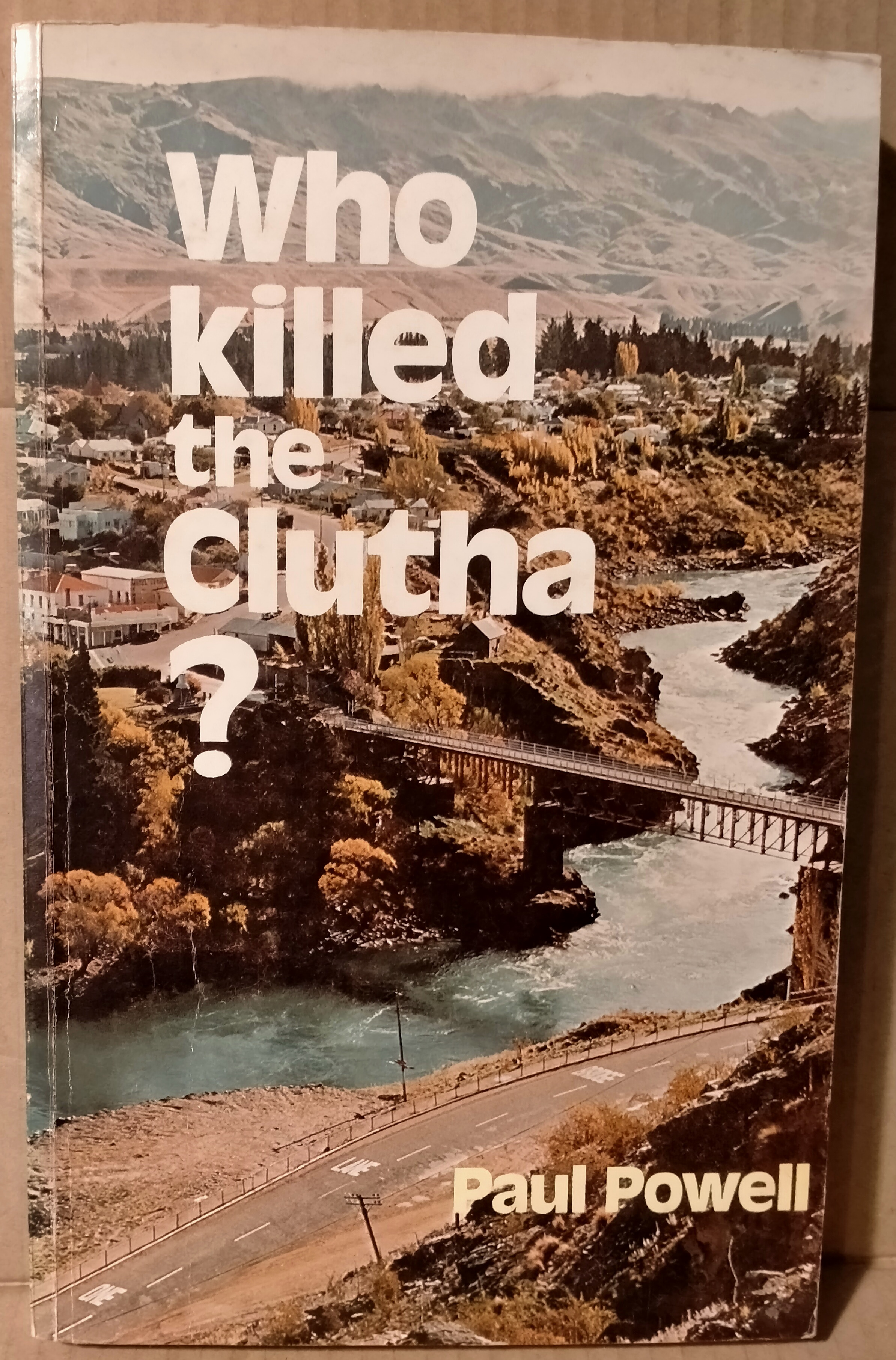 An overview of the history of the area that was to be developed for the Clyde hydro-electric power dam, and the political and social aspects leading up to the decision to go ahead with the scheme.
ISBN 0908565569
Cromwell, Lake Hawea, Lake Wanaka, hydro-electrical power,
VG softback with pictorial card wrappers lightly faded, SIGNED by author to title page

$35 C/C
John McIndoe 1978 First Edition, 250pp + plates.
[#5643 ]
[ARCHETYPAL PSYCHOLOGY] CHRISTOU Evangelos

The Logos of the Soul.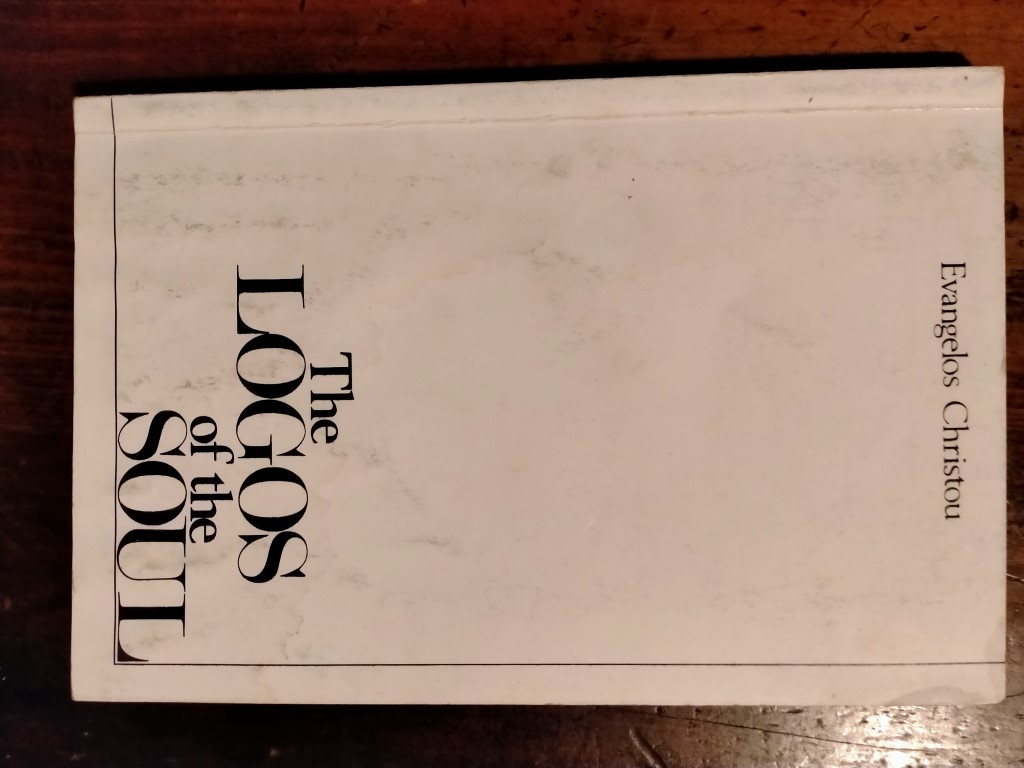 Jungian analytical psychology and theory of the nature of the soul etc.
"outlines a fundamental logic for psychotherapy that is distinct from that of the natural sciences or philosophy, [and that it has] its own legitimate area of activity and that its rights are based on the soul".'
ISBN 088214202X
G+ softback, faint waterstain to lower front cover and first few pages.
$10 C/B
Spring Publications 1976 photo offset from 1963 edition, 104pp.
[#5633 ]
[ARCHETYPAL PSYCHOLOGY] BERRY Patricia

Echo's Subtle Body, contributions to an Archetypal Psychology.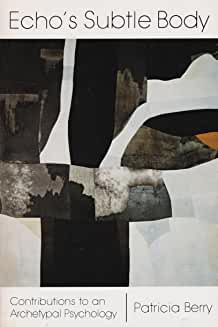 Collects all of Patricia Berry's writings between 1972 and 1982, which together develop a style of psychotherapy that is based on the primacy of the image in psychical life.
One of the best introductions to the practice of Jungian analysis.
Of special interest to psychotherapists and to all concerned with myth, dream, and feminine studies.
Chapters include Woman, Dream, Poetics, Shadow.
ISBN 0882143131
VG softback
$15 C/C
Spring Books 1982, 198pp.
[#5634 ]
[REINCARNATION] BERNSTEIN Morey.

The Search for Bridey Murphy.
Famous case of possible past life regression under hypnotism as evidence for reincarnation.
hypnosis, past lives
VG hardback, lacking a dust jacket, name to first page.
$15 C/C
Hutchinson 1956 First Edition, 256pp.
[#5635 ]
AULT H. F.

The Nelson Narrative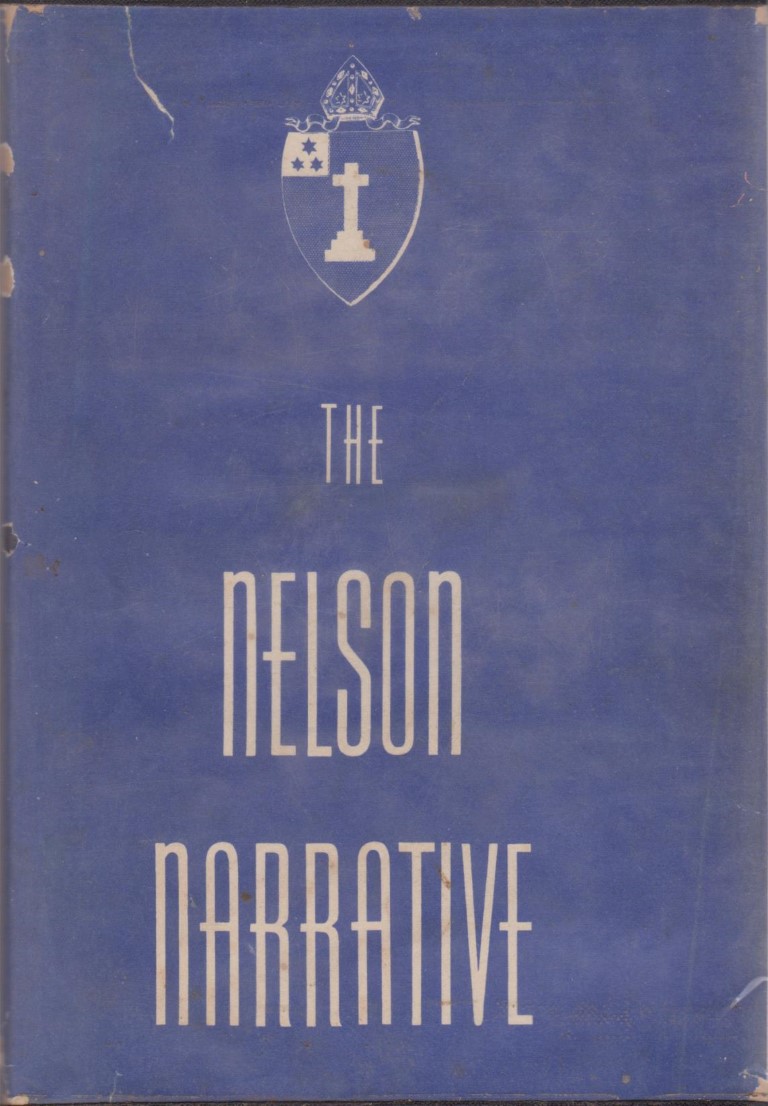 The Story of the Church of England in the Diocese of Nelson, New Zealand 1858 to 1958.
Includes includes accounts of the Nelson area from 1842-1857, and the settlers of the third of the NZ Company's settlements.
local history, church centenary, Edmund Hobhouse, Andrew Burn Suter, Charles Oliver Mules, church institutions, Whakarewa School
VG- cloth hardback with no dust jacket.
The book lacks the free end-paper.
$20 C/C
Diocese of Nelson 1958 first edition, 384pp + plates
[#4632 ]
VG- cloth hardback with G+ dust jacket.
Jacket has some chipping and tears with large area chipped to the fold of the rear flap, and is split along the lower fold.
SIGNED to the free end-paper by the author and the Bishop of Nelson Francis [Oag Hulme-Muir].
Book spine is sun faded.
$55 C/C
Diocese of Nelson 1958 first edition, 384pp + plates
[#5636 ]
NEW ZEALAND ALPINE CLUB

New Zealand Alpine Journal 1978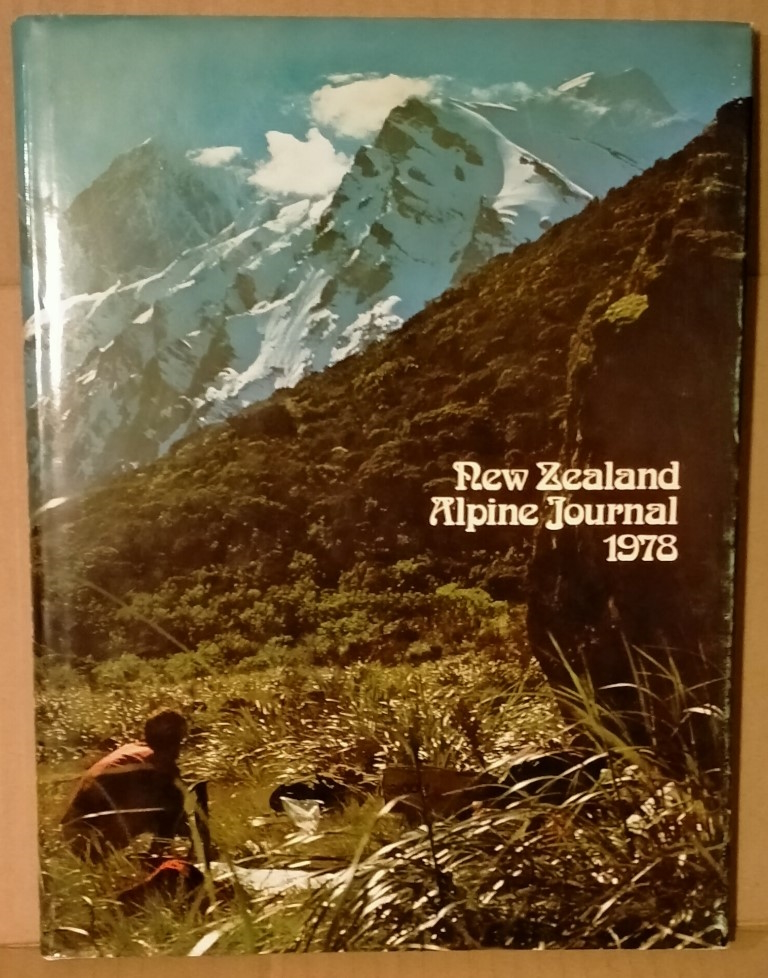 Vol 31
ISSN 01101080 -31
Alpine Mountaineering Climbing
VG hardback with VG dust jacket.
$20 C/C
New Zealand Alpine Club 1987 First Edition, 4to, 144pp
[#5637]
NEW ZEALAND ALPINE CLUB

New Zealand Alpine Journal 1987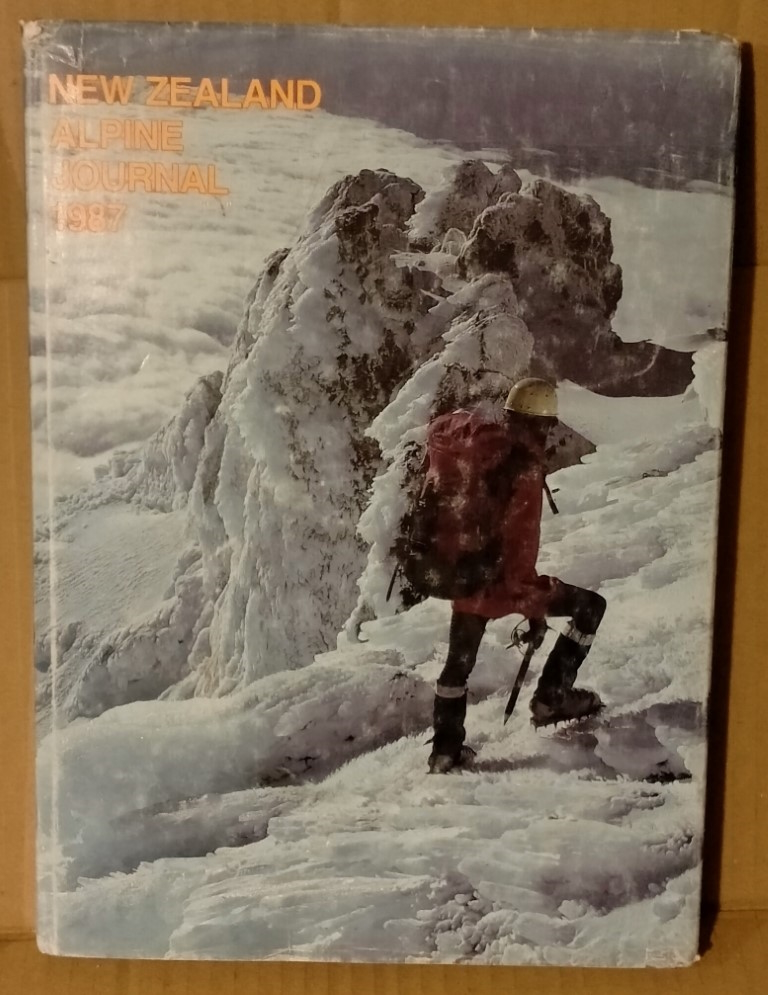 Vol 40
ISSN 01101080 -40
Alpine Mountaineering Climbing
VG hardback with VG- dust jacket with mild wear.
$20 C/C
New Zealand Alpine Club 1978 First Edition, 4to, 144pp
[#5637]
[FALKLANDS] THOMPSON Julian (Major-General

No Picnic 3 Commando Brigade in the South Atlantic; 1982.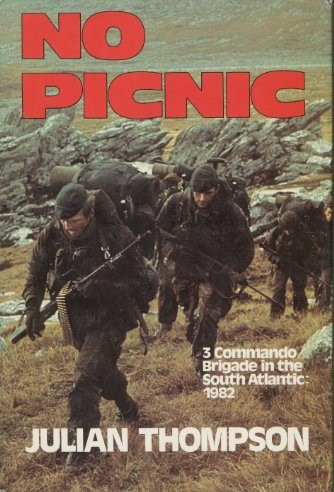 Falklands War between UK and Argentina as seen by 3 Commando Brigade, of which the author was the commanding officer.
[ISBN 0436520524]
Goose Green, Port STanley, British forces
VG+ hardback in VG+ dust jacket
$15 C/C
Guild Publishing/ Book Club Associates 1985, 201pp + plates in colour and black and white, map endpapers.
[#5638 ]
[LESBIANISM] HASSELRODT. R Leighton.

Twilight Women Around the World.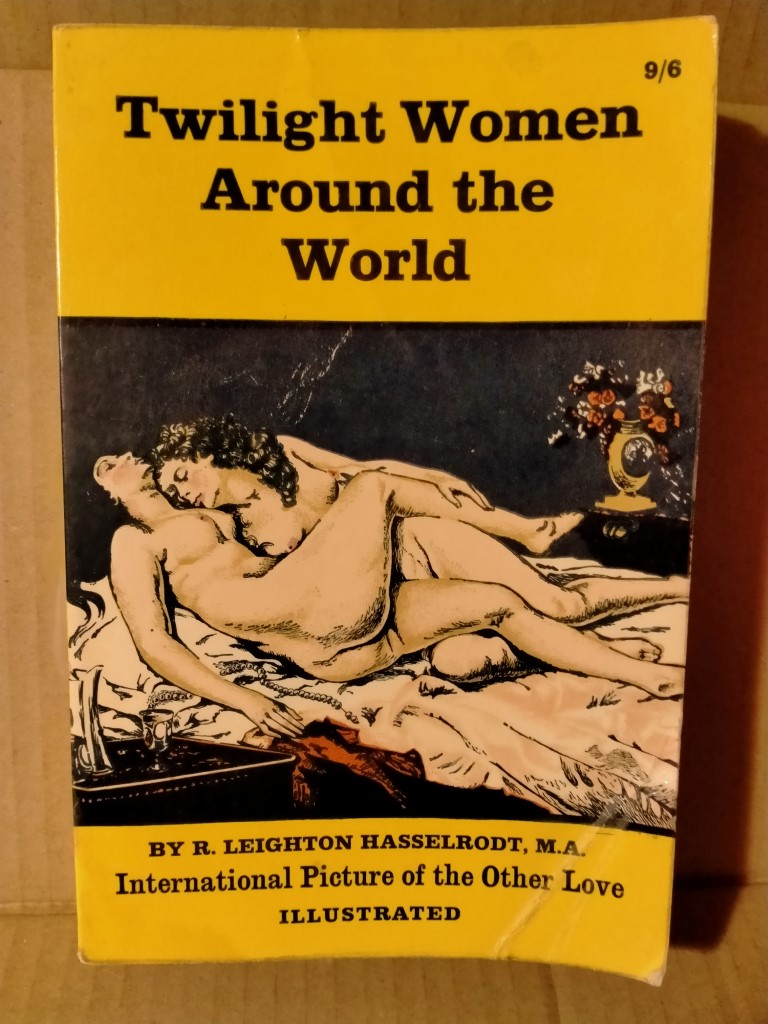 International Picture of the Other Love.
Chapters include; The Four F's of Homosexuality:Fable , Fiction, Fancy - and Fact / The In-Between In-Betweens; Girls attending boarding schools, women in the armed forces, call girls and prostitutes, women in correctional institutes . Also studies of lesbians in various European and Asian countries.
gay, homosexual, lesbian, pulp
Good softback with distinctive publisher's yellow wrapper with lamination.
Some insect damage to margins of a few pages at front and rear, and the lamination is peeling on the spine.
$15 C/B
Luxor Press 1965 first thus edition, 192pp + 4 plates at centre.
[#5639 ]
CROWLEY Aleister edited by John Symonds and Kenneth Grant

The Complete Astrological Writings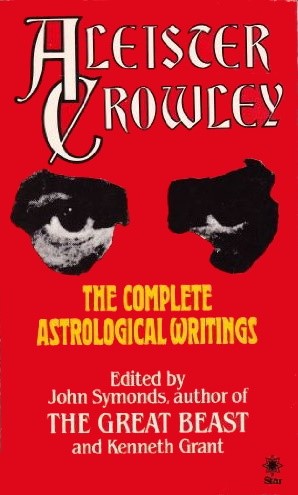 Crowleys Liber 536, a treatise on astrology including Neptune and Uranus as well as How horoscopes are faked and Batrachophrenoboocosmomachia, useful intro and footnotes by Grant and Symonds.
ISBN 0352320206
KEYWORDS
VG mass market paperback with remainder stripe to closed bottom edge.
$35 A/A
Star 1987 reprint, 235pp.
[#5640 ]
[GRAIL] Emma JUNG and Marie-Louise VON FRANZ

The Grail Legend
Two leading women of the Jungian school of psychology present this legend as a living myth that is profoundly relevant to modern life.
Jungian approach which includes discussions of; Perceval, Grail Castle, the properties of the Grail, Robert de Borons Roman de'l Estoire dou Graal, Merlin, the Alchemical Mercurius. Very interesting and well researched.
English translation by Andrea Dykes which includes a bibliography.
ISBN 0340106247
jungian psychology, archetypes, european myth, christian
VG- hardback, black cloth with minor spotting/ rubbing, former owner symbol to top corner paste down, booksellers label base of fep, lacks a dust jacket.
$45 C/C
Hodder 1972 Second Impression, 452pp+plates.
[#5641 ]
[PALMISTRY] BENHAM William G.

The Laws of Scientific Hand Reading.
A practical treatise on the art commonly called palmistry.
Originally issued in 1900, this edition has over 800 illustrations from life ( photographs).
Printed on sized paper throughout.
Hand analysis, palm reading, chiromancy, chirology, cheirology
Very Good hardback with No Jacket. Spine lean, name blanked out to fep.
$45 C/C
Putnam 1958 reprint of 1946 revised edition, 644pp including plates in text.
[# 5642]
27/11/2022ev
CRUMP Barry

The life and times of a good keen man.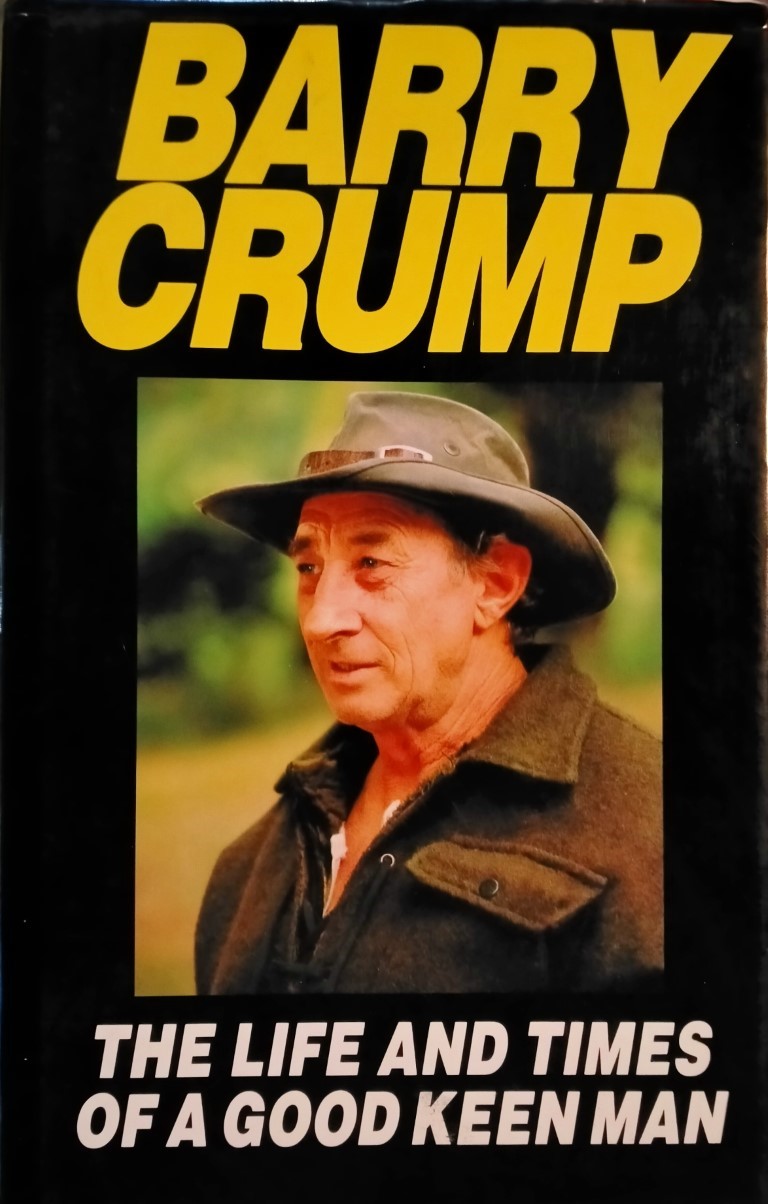 First edition of the first of an intended trilogy, only one written before his death.
One of New Zealands most popular 'popular' authors, a real outdoorsman and 'kiwi joker'.
ISBN 0959789774
autobiography
VG+ hardback in VG+ dust jacket.
$20 C/C
Barry Crump Associates 1992 First Edition, 237pp.
[#5621 ]
JONG Erica

Witches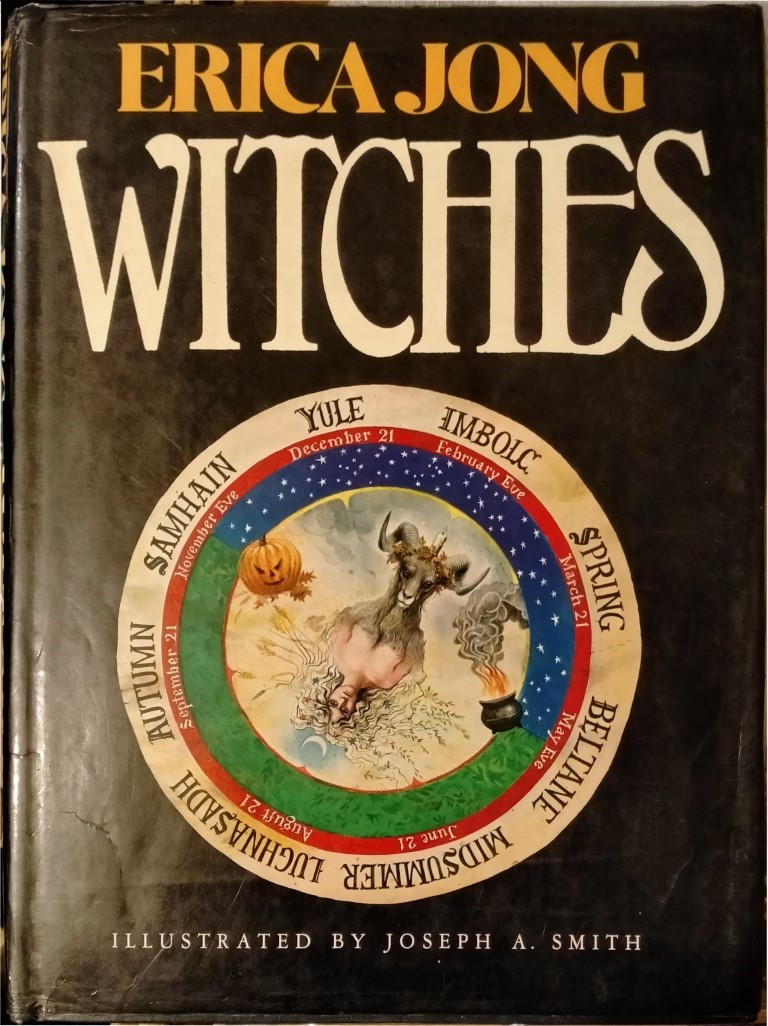 A creative look at witchcraft from history, myth and the modern reality of the feminist wiccan movement.
Includes chants, charms, poems, potions and spells.
Full page full colour illustrations by Joseph A. Smith and a good bibliography.
ISBN 0246118059
witch burnings, wicca, witchcraft
VG- hardback with VG- dust jacket.
Binding loosening at spine, corners lightly rubbed, price clipped jacket with light handling wear showing as creasing at edges, no tears.
Navy leatherette boards with silver occult symbol, titled spine.
$25 D/D
Granada 1982 First Edition, 176pp.
[#5622 ]
[HOMESTEADS OF NEW ZEALAND] TAIT G. A.

Farms and Stations of New Zealand 3 Volumes.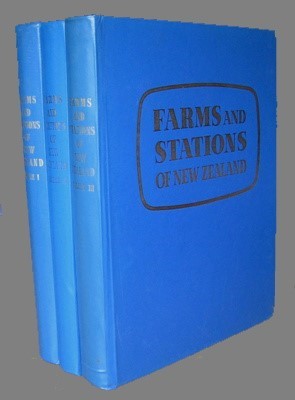 3 vols cover the whole of New Zealand with hundreds of farm estates mentioned with background, history and photographs, a record of New Zealand farms, stations and stock agents from the middle of the 20th century.
VG hardbacks with no jackets.
With a name to feps, blue leatherette with gilt to spine and cover, slightly sunned spines.
VOL 1 has a few leaves loosening at rear.
$195 heavy large parcel at 4kg, please enquire for a postal quote.
Cranwell Publishing 1957 First Edition, approx 1000pp.
[#5623 ]
[MINING] CHANDLER Ed. C.

Waiuta Ghosts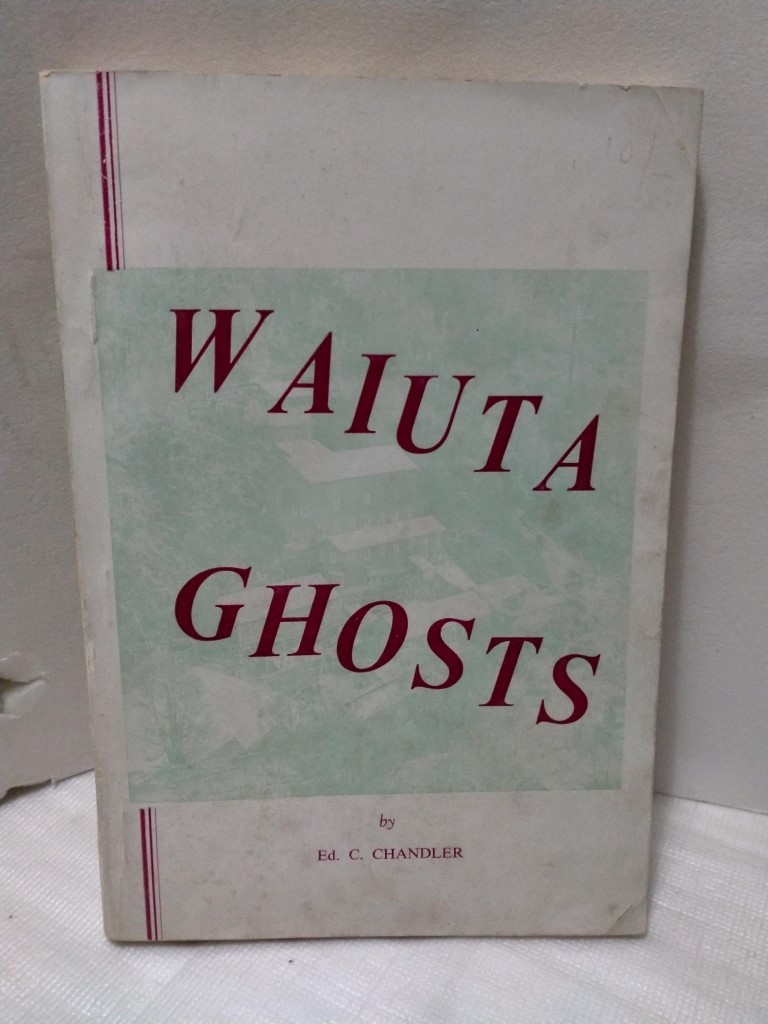 Reefton / Inangahua, quartz mining, a full on personal and general history of the Waiuta area and the mining and miners. this is the original edition
Westland, West Coast
VG softback, paper covers over stapled pages.
$75 C/B
Privately published 196. First Edition,158pp
[#5624 ]
VG softback, paper covers over stapled pages, staples rusting.
This copy is signed at foot of title [best wishes | from | Ed C Chandler].
$95 C/B
Privately published 196. First Edition,158pp
[#5625 ]
[FINLAND] KIRBY W F.

Kalevala, the land of heroes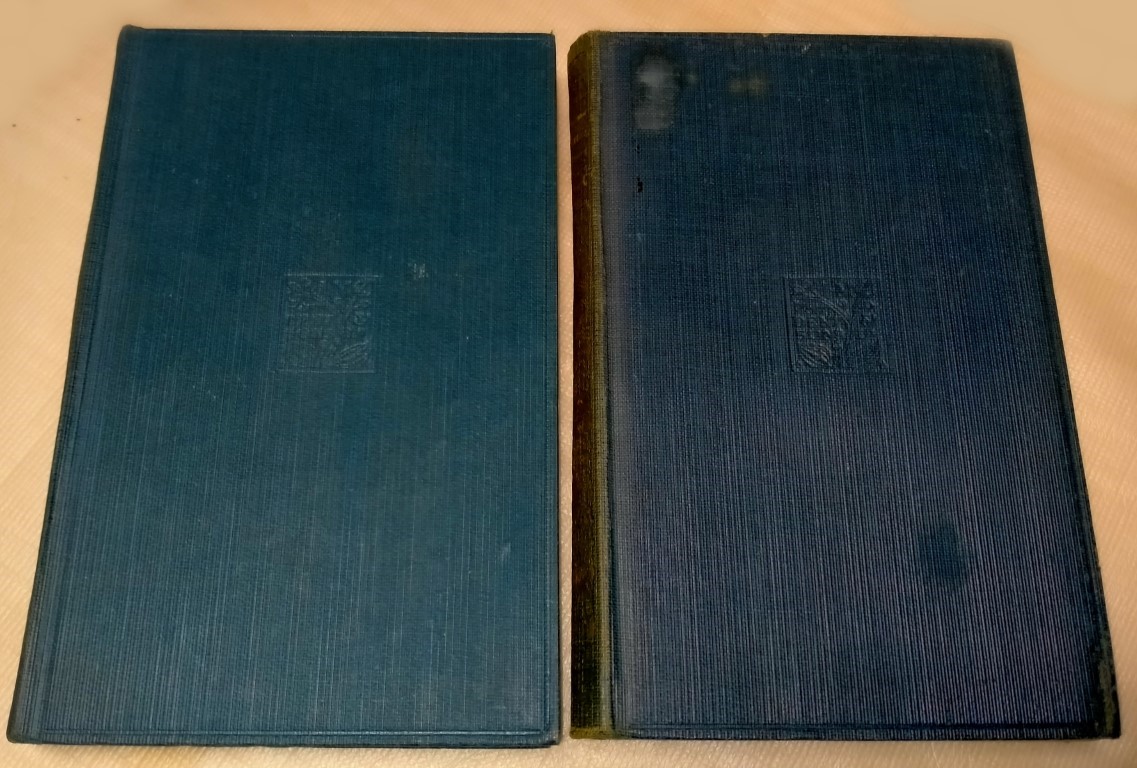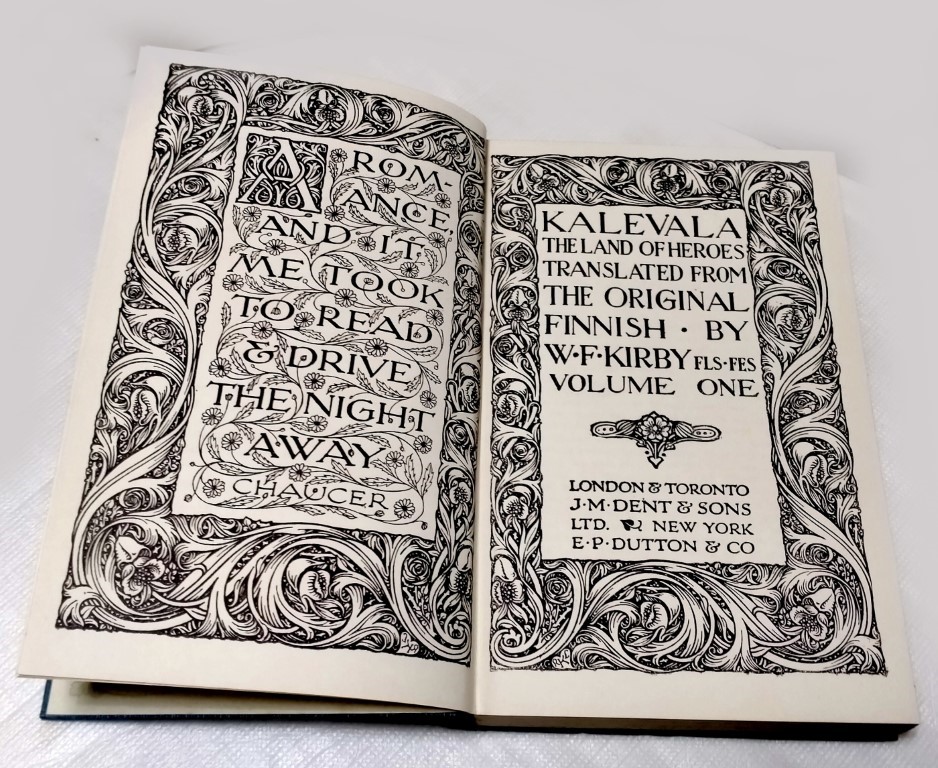 The Folklore and mythology and national epic of the Finnish lands. Lapps etc.
Everyman edition translated W F Kirby in 2 vols.
VG blue cloth gilt spines dulled, 12mo.
Vol. two has small spot to cover and shop stamp to foot of fep. both very clean internally.
$35 C/C
Dent 1923 and 1925 printings of the 1907 edition, xvi 327 +viii 285pp.
[#5626 ]
[CRYPTOZOOLOGY] BORD Colin and Janet

Alien Animals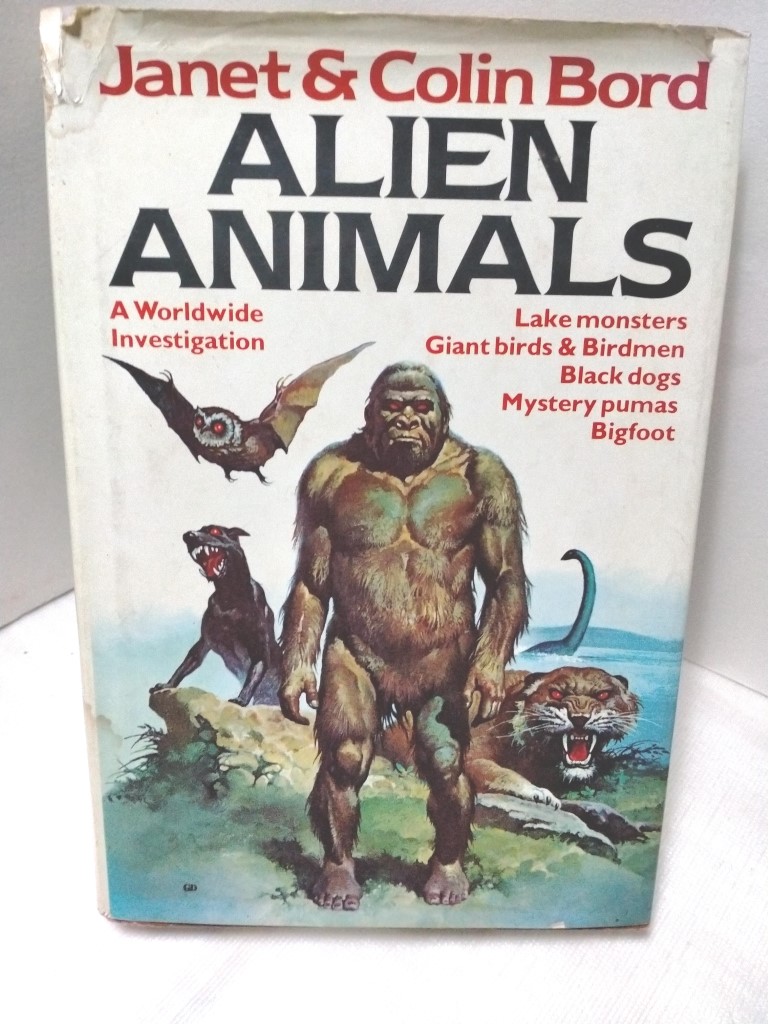 A Worldwide investigation of Lake Monsters, Giant Birds and Birdmen, Black Dogs, Mystery Puma, Bigfoot and other 'monsters' etc.
ISBN0811700887
sasquatch, yeti, nessie, mothman, supernatural encounters
VG- hardback in G+ dust jacket with some edge wear repaired edge tears and minor staining to the reverse.
Glued binding is opening at hinges in places but pages still intact.
$30 C/C
Stackpole Books 1981 first edition, xiv 258pp.
[#5627 ]
HELINE Corinne

Beethoven's Nine Symphonies Correlated with the Nine Spiritual Mysteries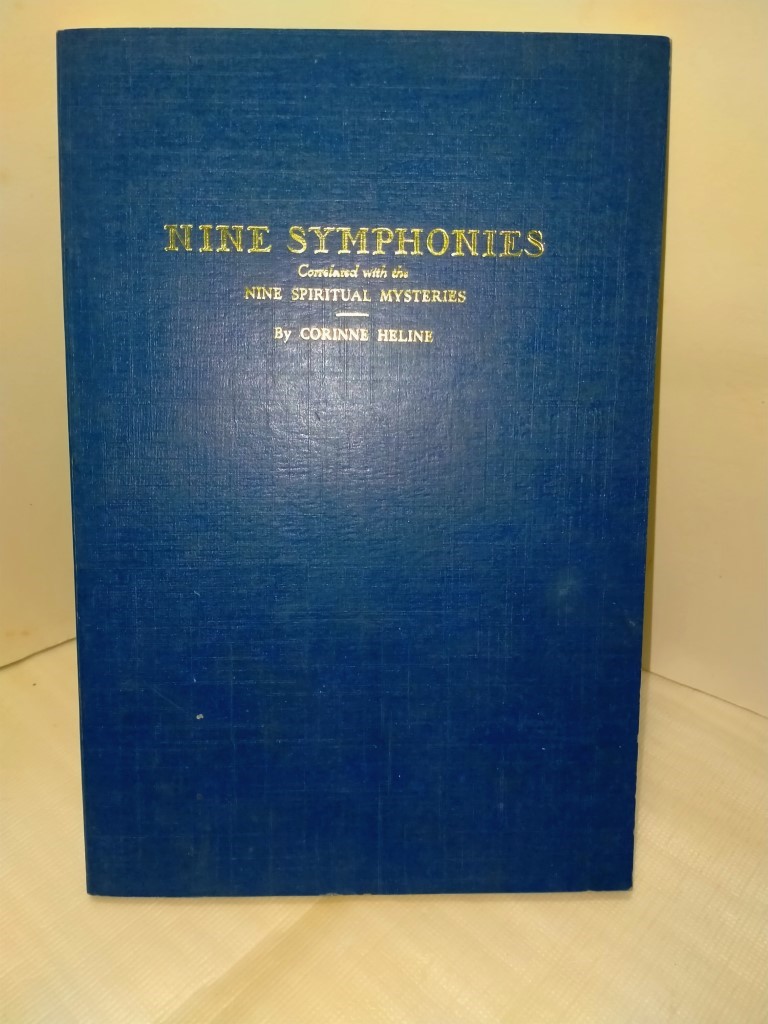 VG softback, blue stiff wrappers with gilt titling, bookseller stamp at foot of fep, minor age spotting.
$25 C/B
New Age Press 1971 Second Edition, 78pp.
[#5628 ]
KINSKY F.C., ROBERTSON C.J.R. illustrated by Janet MARSHALL

The Fiat Book of Uncommon Birds in New Zealand 3.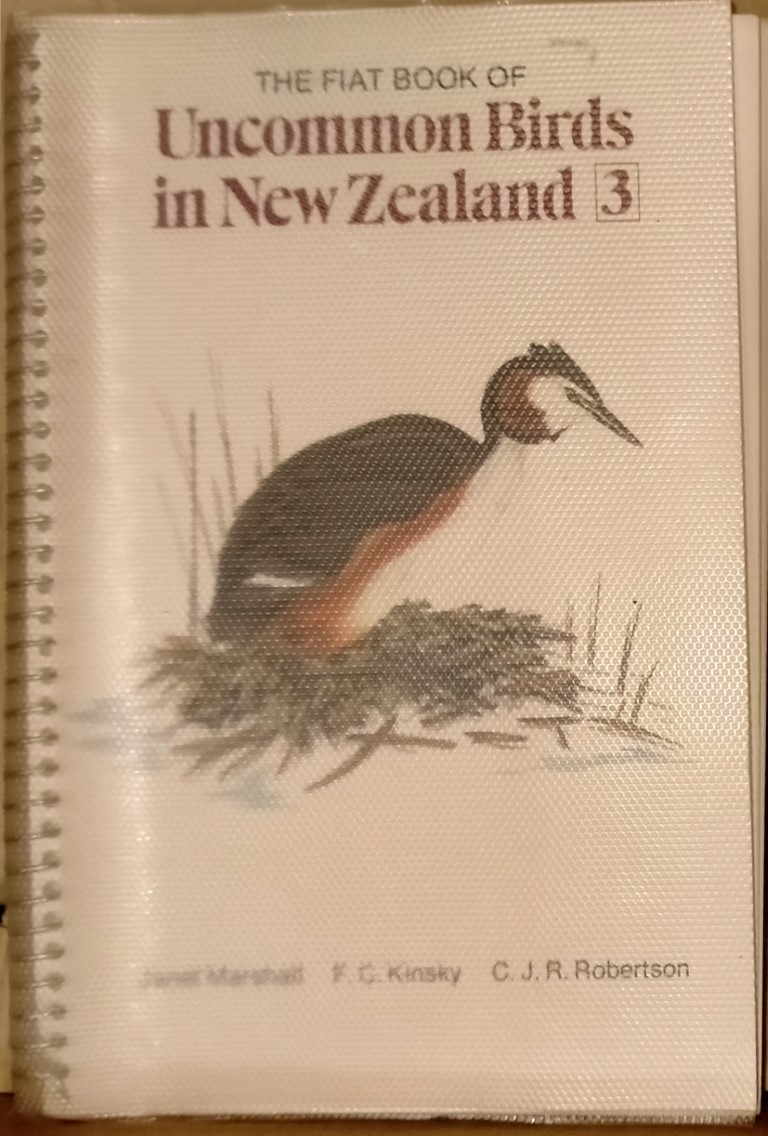 Precursor to the Mobil New Zealand Nature Series.
ISBN 0589009419
ornithology, birdwatching, native
VG softback
$9 A/B
Reed 1977 reprint, 93pp.
[#5630 ]
WATERS S. D.

The Royal New Zealand Navy
Official History of New Zealand in the Second World War 1939-45.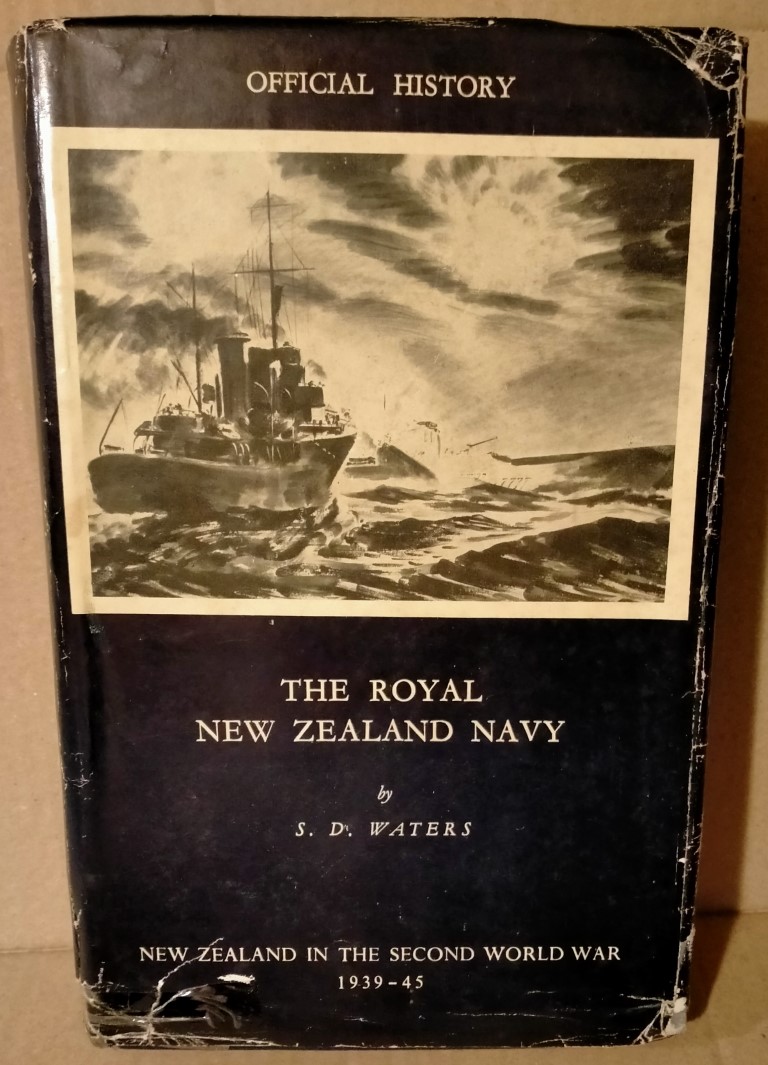 VG hardback in VG- dust jacket
Tidy copy with the presentation slip to a sailor of the HMNZS Tamaki dated 1959.
Jacket has wear and tear to the corners, and a bit of tape at the tail of the spine (on the outside) and along the bottom edge of the rear panel ( on the reverse side), generally complete and intact but with some crease lines at the base of the lower panel.
$245 C/D
War History Branch Department of Internal Affairs 1956 first edition, xvi, 570pp + frontispiece, plates, maps and charts etc.
[#5631 ]
17/09/2022ev
[NEW ZEALAND] DYKES Mervyn

Strangers in Our Skies, UFOs Over New Zealand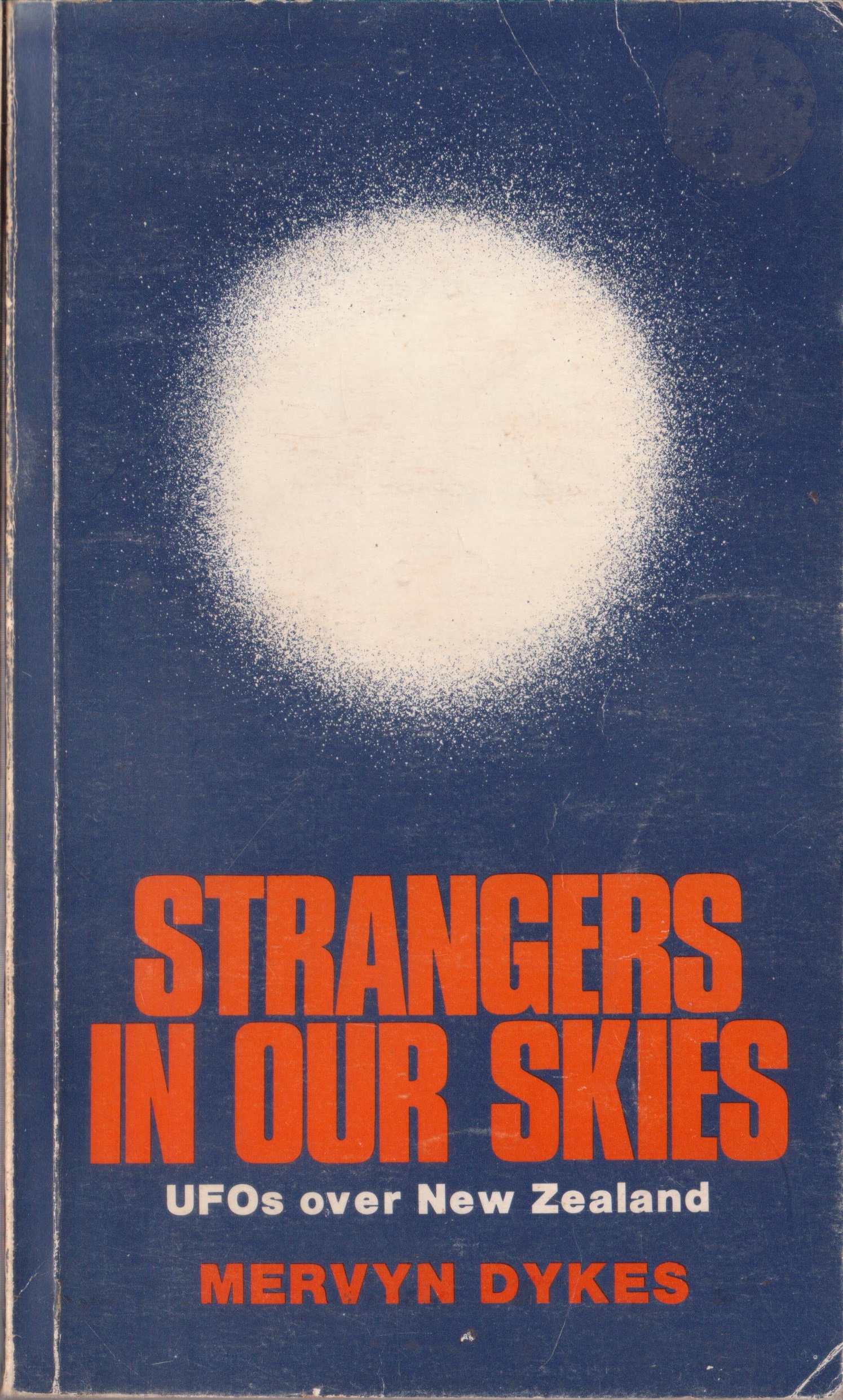 A rare book that recounts the Airship scare of 1909, Kaikoura UFO sighting filmed by journalists aboard airliner, plus many less well known New Zealand sightings and encounters.
Includes a few illustrations.
ISBN 0864640048
close encounters, Argosy, Captain Startup
VG softback with light rubbing to wrappers.
$45 C/B
INL Print 1981 First Edition, 192pp.
[#5615 ]
MCQUEEN Cilla

Homing In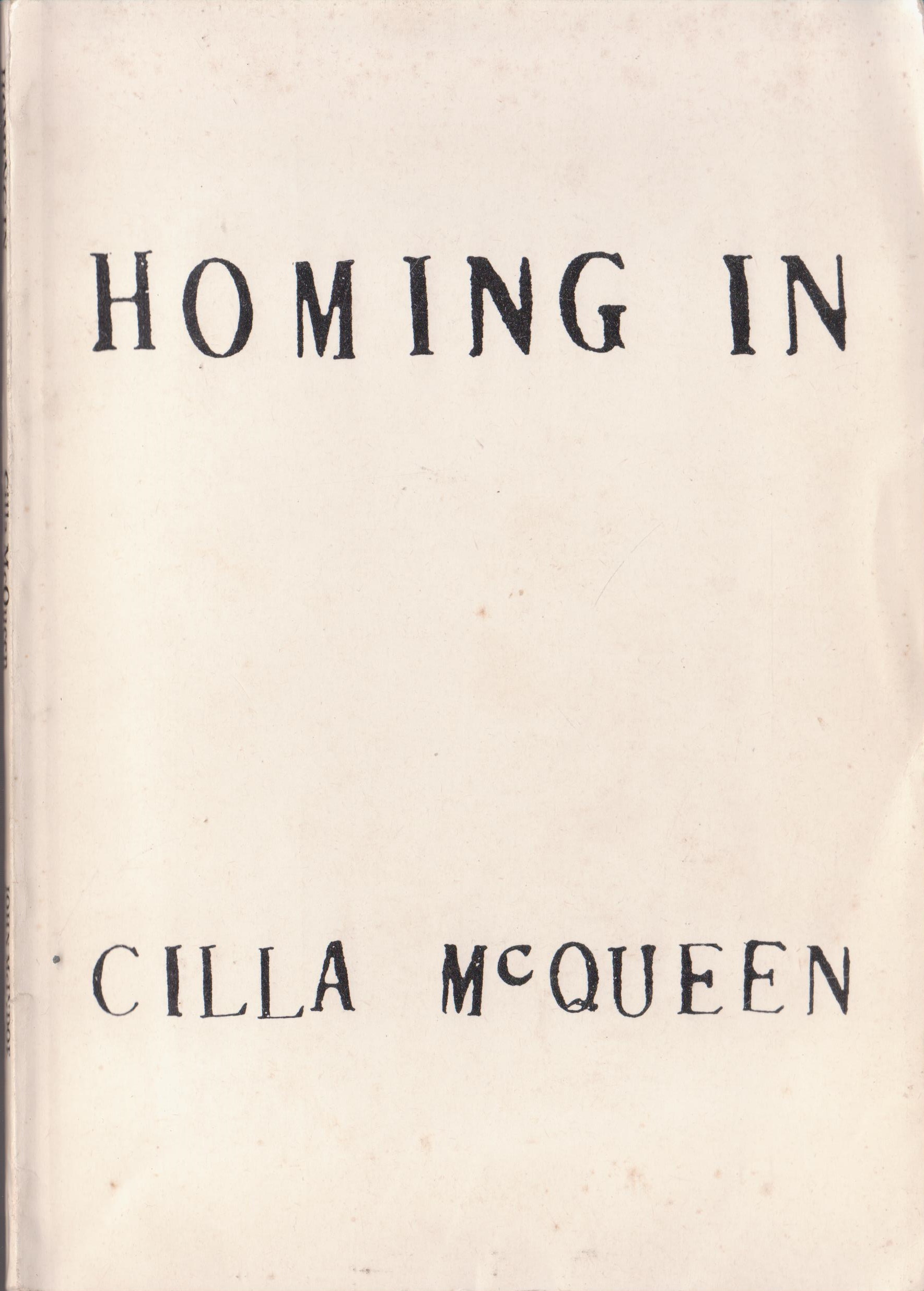 Poetry
ISBN 0868680516
VG softback, name blacked out to fep.
$10 C/B
John McIndoe 1983 reprint, 56pp.
[#5616 ]
SMITHER Elizabeth

Shakespeare Virgins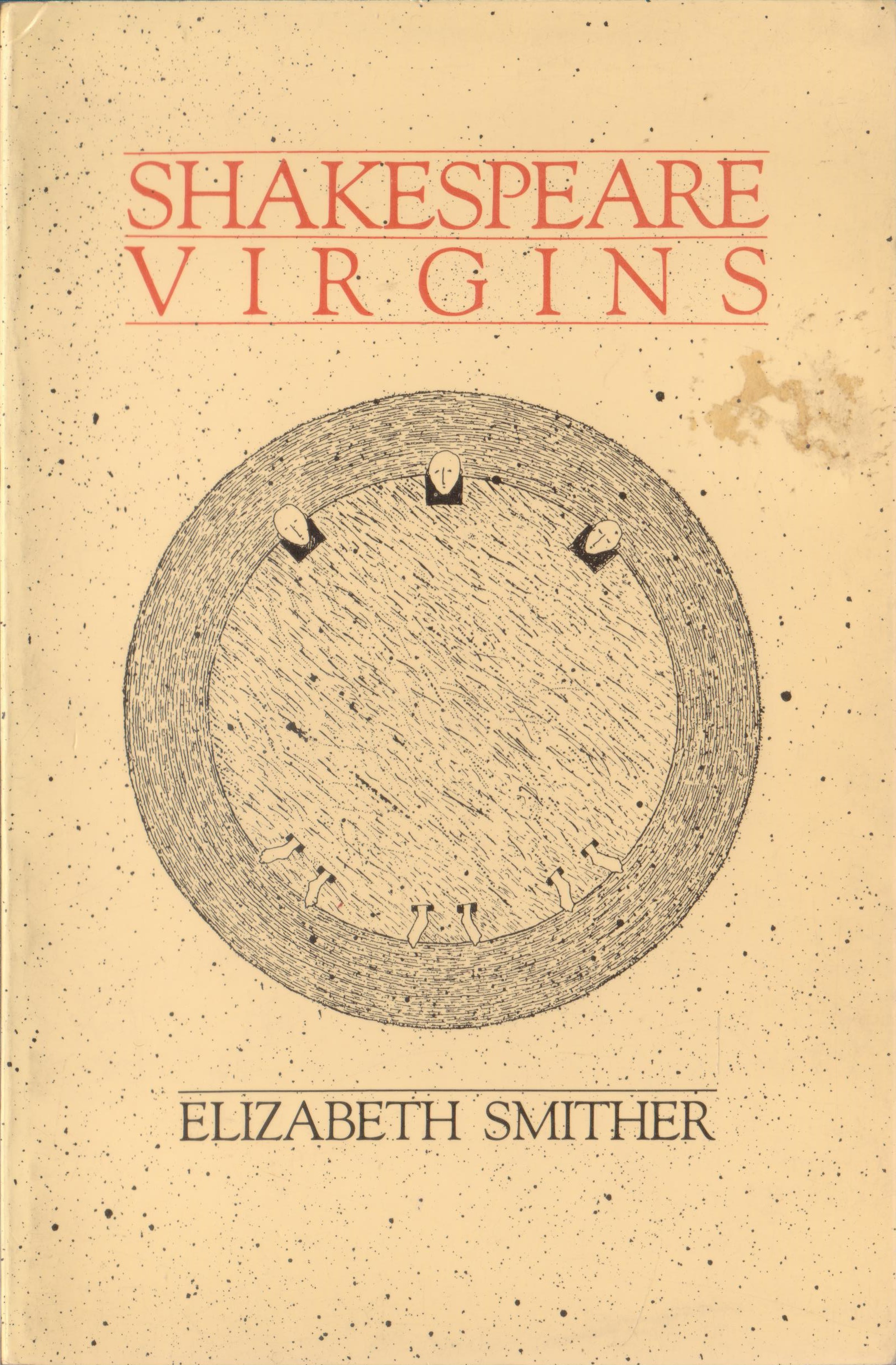 Poetry
ISBN 0196480264
VG- softback.
$10 C/B
Auckland University Press and Oxford University Press 1983 First Edition,61pp.
[#5617 ]
MORELAND John illustrated by Eric Heath

Marine Fishes 1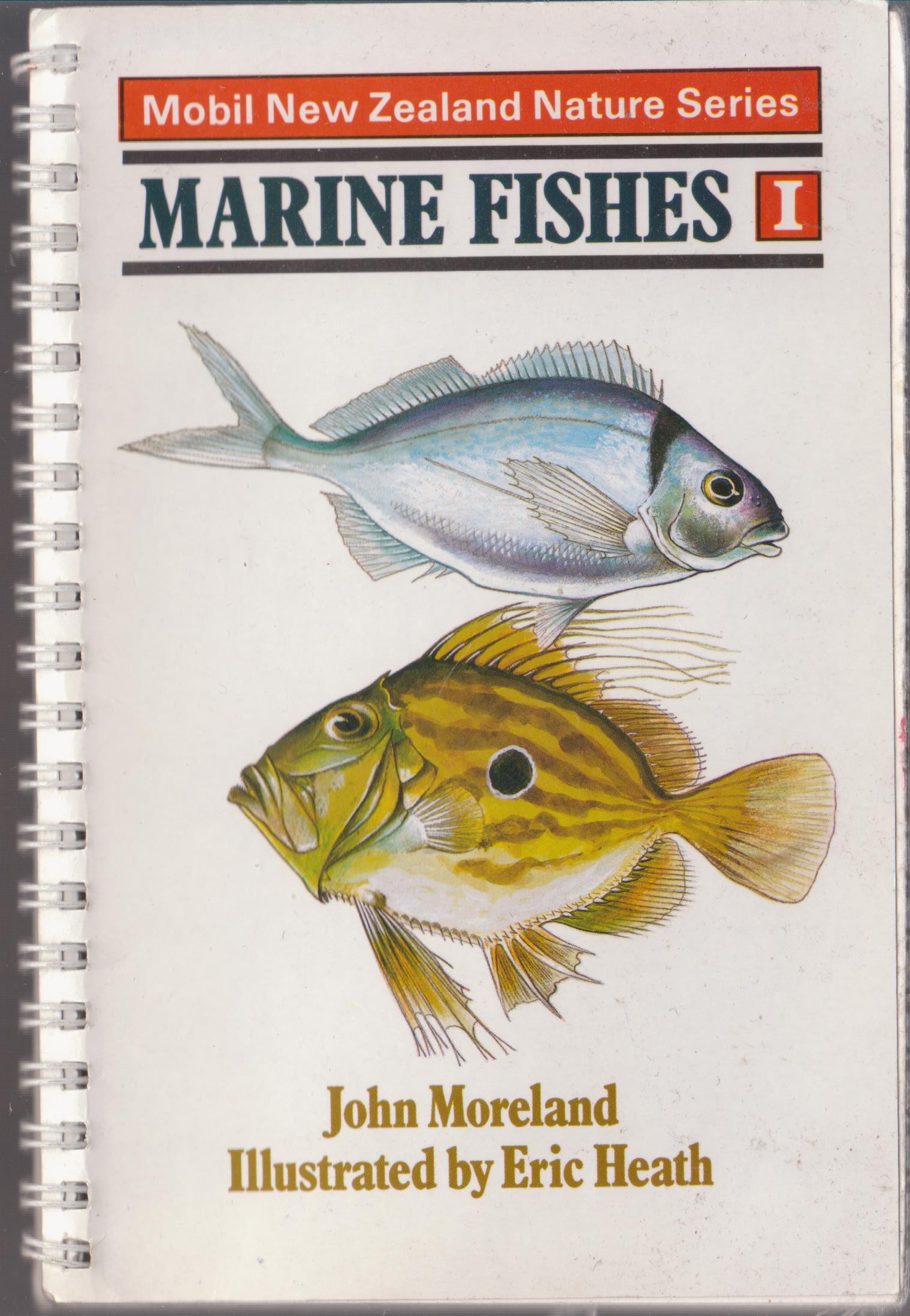 Mobil New Zealand Nature Series.
ISBN 0589014676
fisheries, identification, ocean
VG wire bound softback.
$12 A/B
Reed 1983 first edition, 79pp.
[#5618 ]
PAUL Larry illustrated by Eric Heath

Marine Fishes 2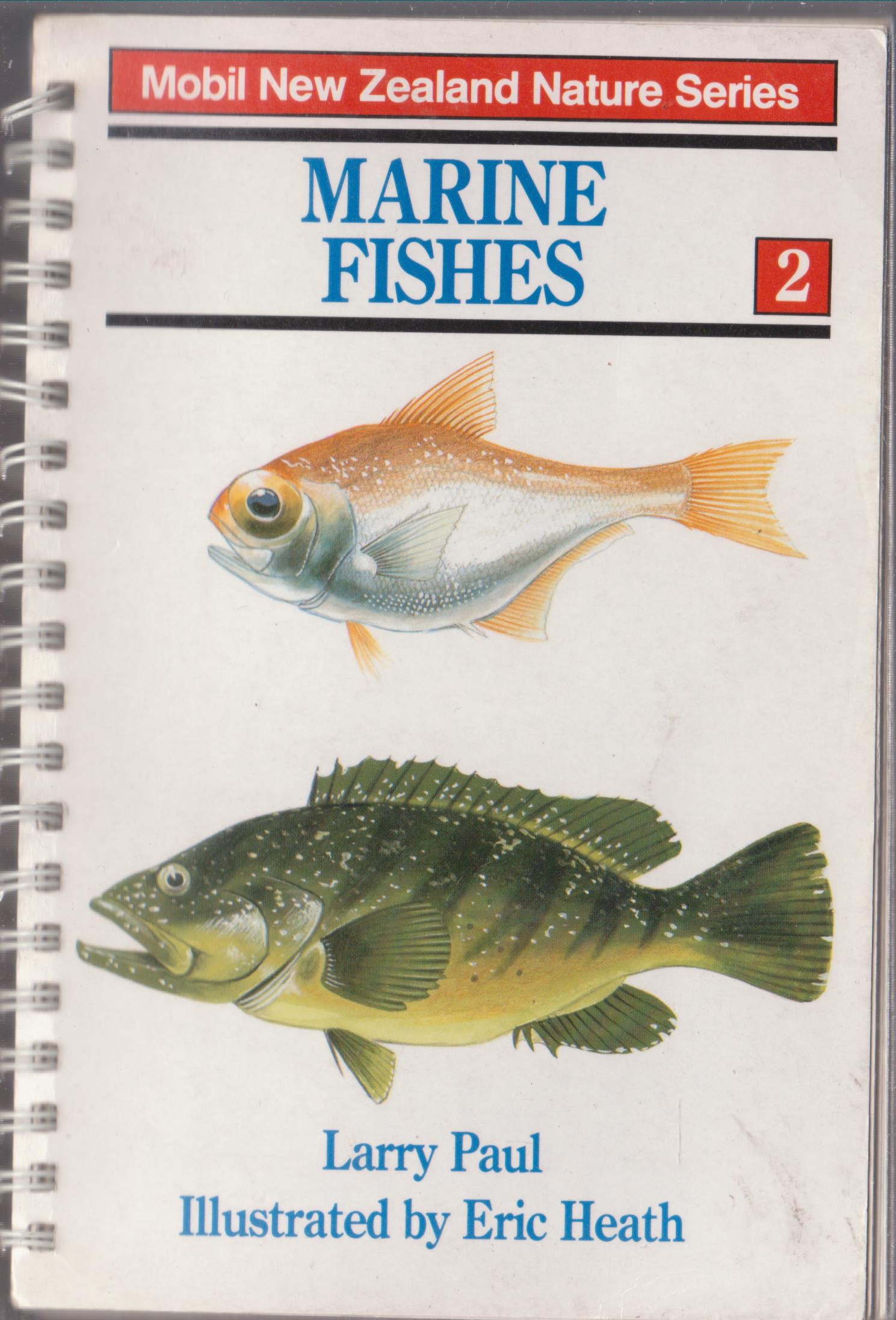 Mobil New Zealand Nature Series.
ISBN 04740001024
Mobil New Zealand Nature Series.
VG wire bound softback.
$12 A/B
Reed 1985 first edition, 80pp.
[#5619 ]
[NEW BRIGHTON] OAKES Peter J.

100 Summers of Service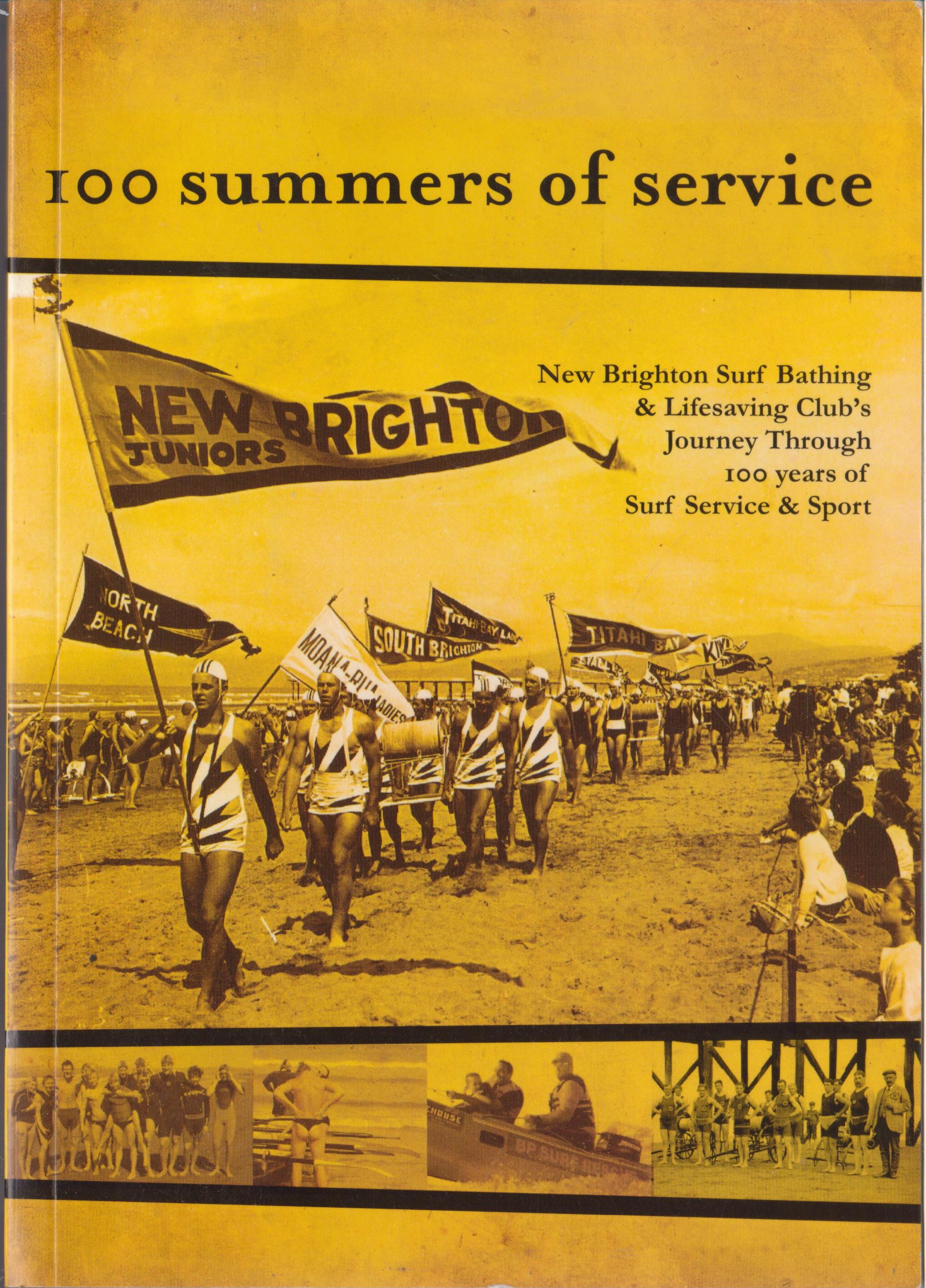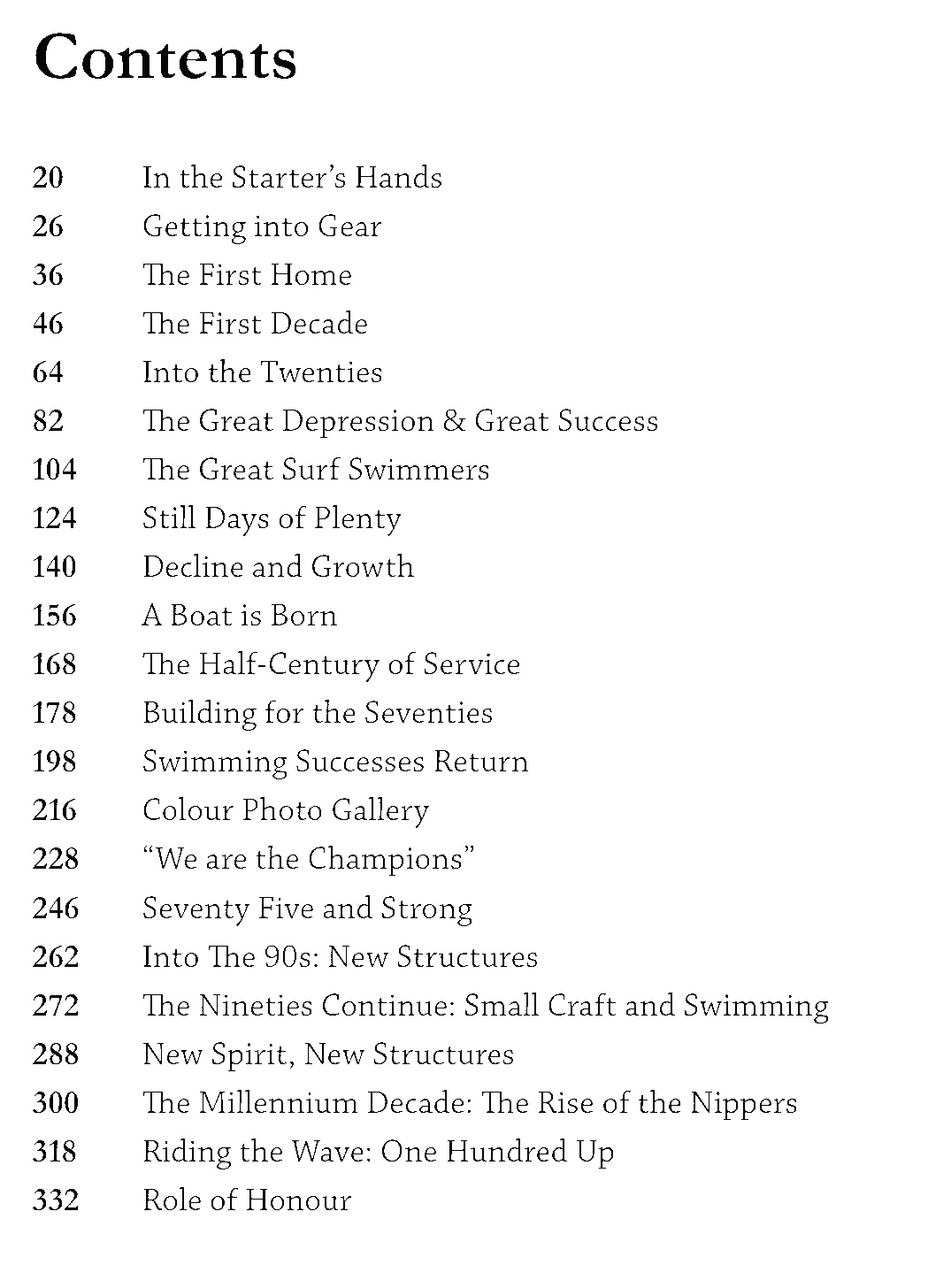 New Brighton Surf Bathing & Lifesaving Club's Journey Through 100 Years of Surf Service and Sport, 1910-2010.
ISBN 9780473712350
Well illustrated throughout.
VG+ softback.
$75 C/C
New Brighton Surf Bathing and Life Saving Club (2010) first edition, 360pp.
[#5620 ]
12/09/2022ev
RUDD Steele (A.H. Davis)

From Selection to City, and, On an Australian Farm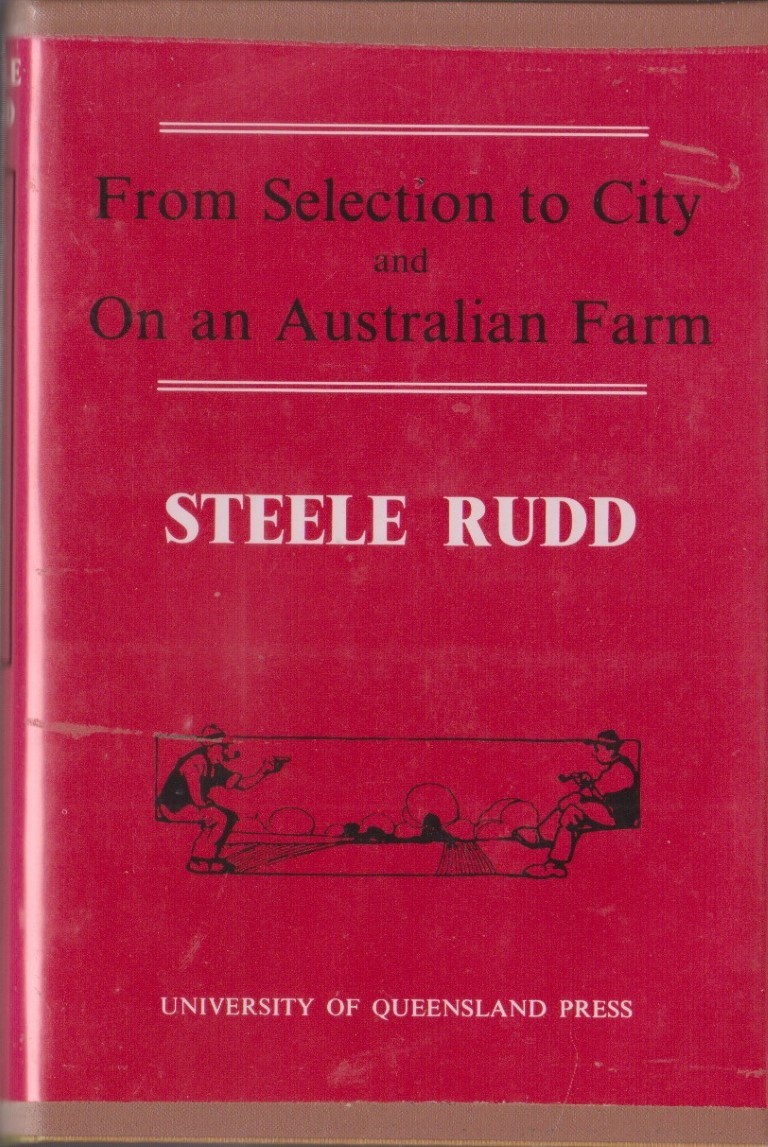 Facsimile of two works bound as one, reprints original artwork as well.
humour, satire
Illustrated by Lionel Lindsay, Ben Jordan.
VG+ hardback with VG+ dust jacket under library style plastic cover spine may be trifle faded.
$15 C/B
University of Queensland Press, 1969 reprint, 106+104pp.
[#5594 ]
RUDD Steele (A.H. Davis)

Stocking Our Selection, and, The Book of Dan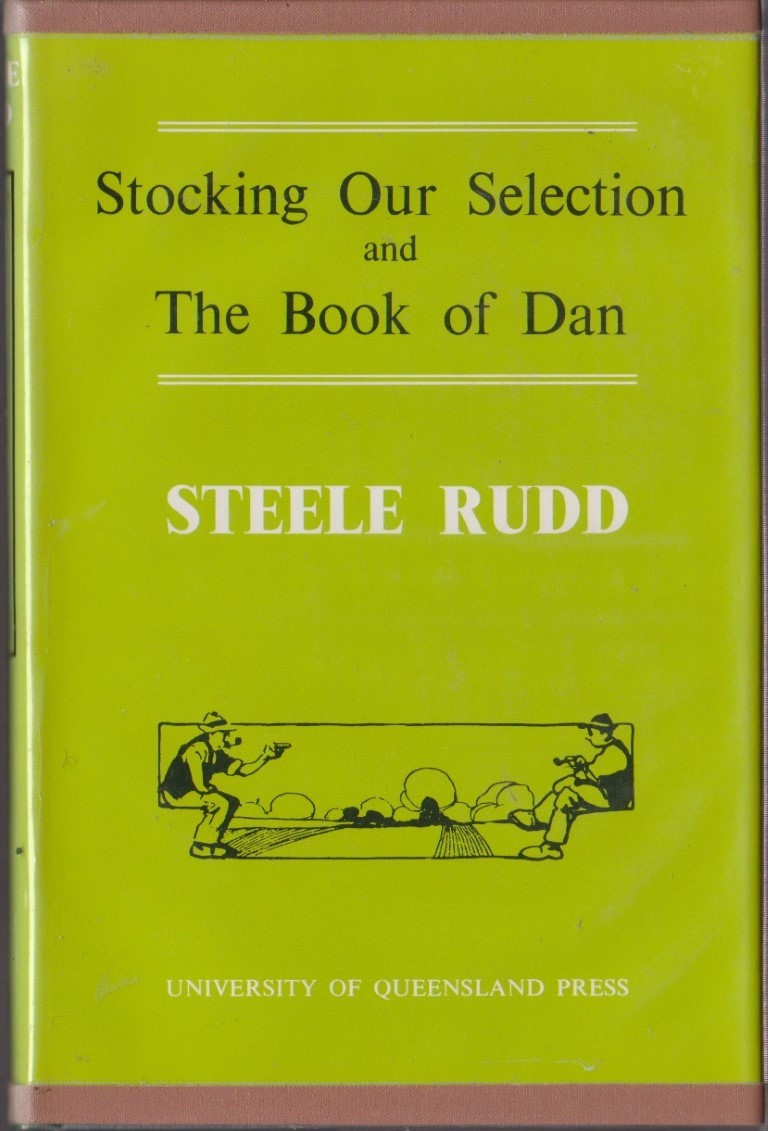 Facsimile of two works bound as one, reprints original artwork as well.
humour, satire
Illustrated by A.J. Fischer, A.H. Fullwood, Norman Lindsay.
VG+ hardback with VG+ dust jacket under library style plastic cover spine may be trifle faded.
$15 C/B
University of Queensland Press 1970 reprint, 110+100pp.
[#5595 ]
[ANGLICAN] EVANS John H.

Southern See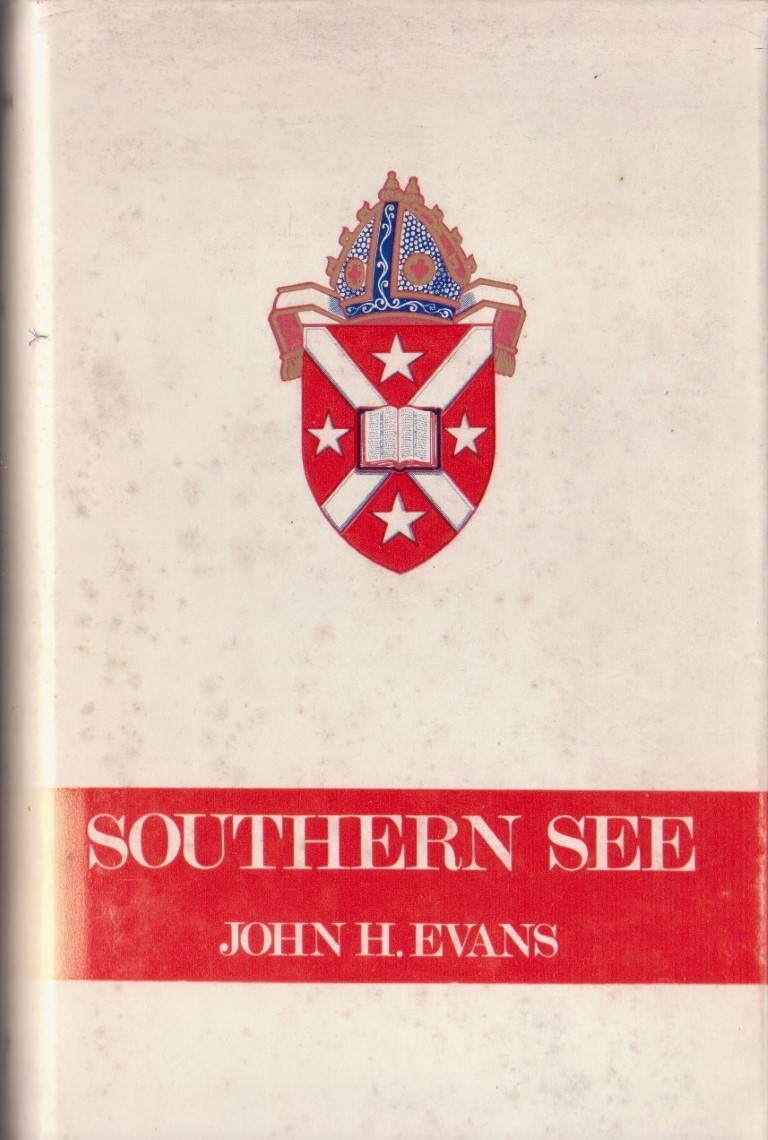 The Anglican Diocese of Dunedin New Zealand.
THIS COPY includes a laid in letter of two leaves from Ngaere Evans asking someone (illegible) to do some calligraphy on a certificate including the arms of the diocese, they were obviously sent this book as the template for reproducing the arms which appear on the cover of the DW. The letter is sent from the Vicarage and dated 1978.
otago, anglican, history
VG hardback in VG- dust jacket.
Full blue leather with titled spine. Owners name and date to free end paper.
$30 C/C
John McIndoe 1968 First Edition, 325pp + plates.
[#5596 ]
HUTTON F W and DRUMMOND James.

Animals of New Zealand, an account of the colony's air-breathing Vertebrates.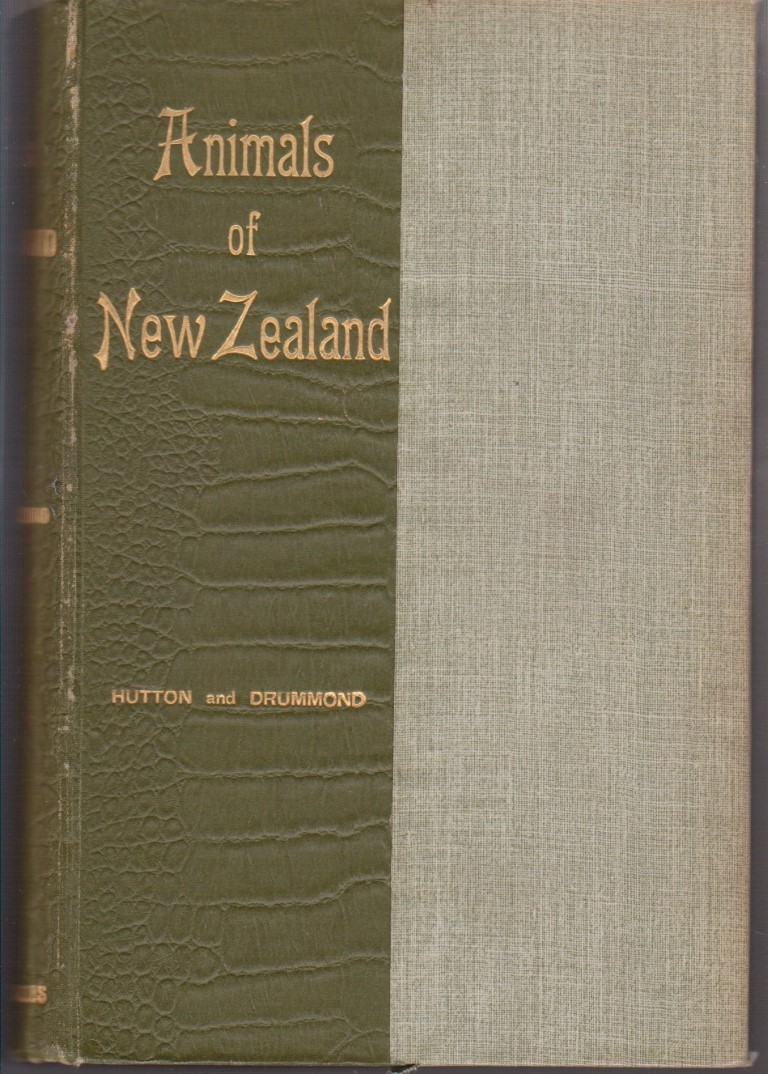 Mainly refers to birds although mammals and reptiles feature as well as the New Zealand frog.
fauna, wildlife, conservation
VG hardback in imitation crocodile skin quarter green cloth spine titled gilt to cover and spine, pale green cloth boards.
Some rubbing to spine ends, cover cloth starting to lift along join to spine cloth. Ink name to title dated 1904.
$75 C/D
Whitcombe and Tombs 1904 First Edition, xiv+ (15)-381pp. printed on gloss sized paper throughout. 147 illustrations in text.
[#5597 ]
WHITING Charles (Leo Kessler).

Werewolf, the story of the Nazi resistance movement.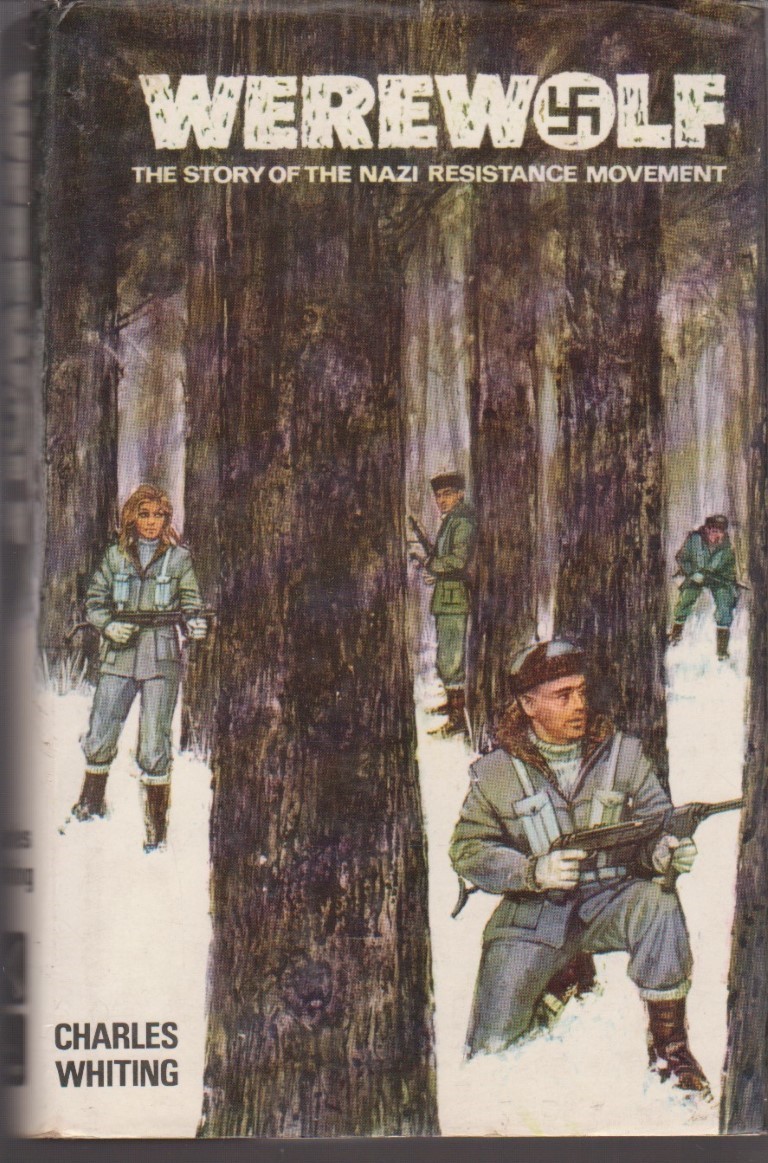 Non fiction piece on the Nazi resistance (to Allied forces) movement named Unternehmen werwolf (werewolf) and who carried out attacks designed to harry the occupation forces in the hope of a national-socialist counterstrike.
Explains how a team of five men and a woman was chosen for "Operation Carnival", which was a plot to kill Franz Oppenhoff, the new mayor of Aachen, who the Germans saw as an American stool-pigeon and traitor.
Whiting is well known as Leo Kessler as well as writing other novels under this name and non-fiction as well.
ISBN 0850520975
guerilla, special forces
VG hardback in VG dust jacket, some mild foxing to closed page edges.
$25 C/C
Leo Cooper, 1972 First Edition, 209pp+plates.
[#5598 ]
MULGAN Richard

Politics New Zealand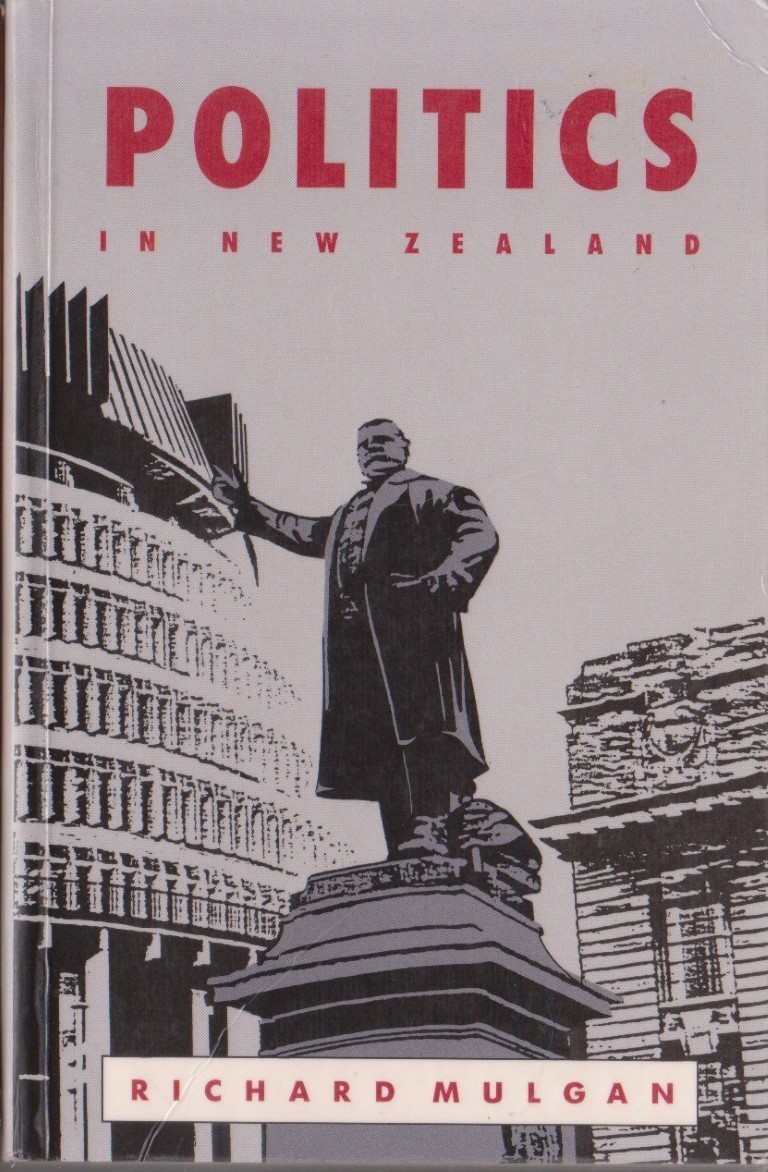 A comprehensive academic study of New Zealand politics.
Explains the main political institutions in the context of New Zealand society, and the general theories of the state, including pluralism, public choice market liberalism, and Marxism.
ISBN 9781869400934
VG- softback with some highlighting.
$10 C/C
Auckland University Press 1994, 324pp.
[#5599 ]
[VAMPIRES] BARBER Paul

Vampires, Burial, and Death; Folklore and Reality.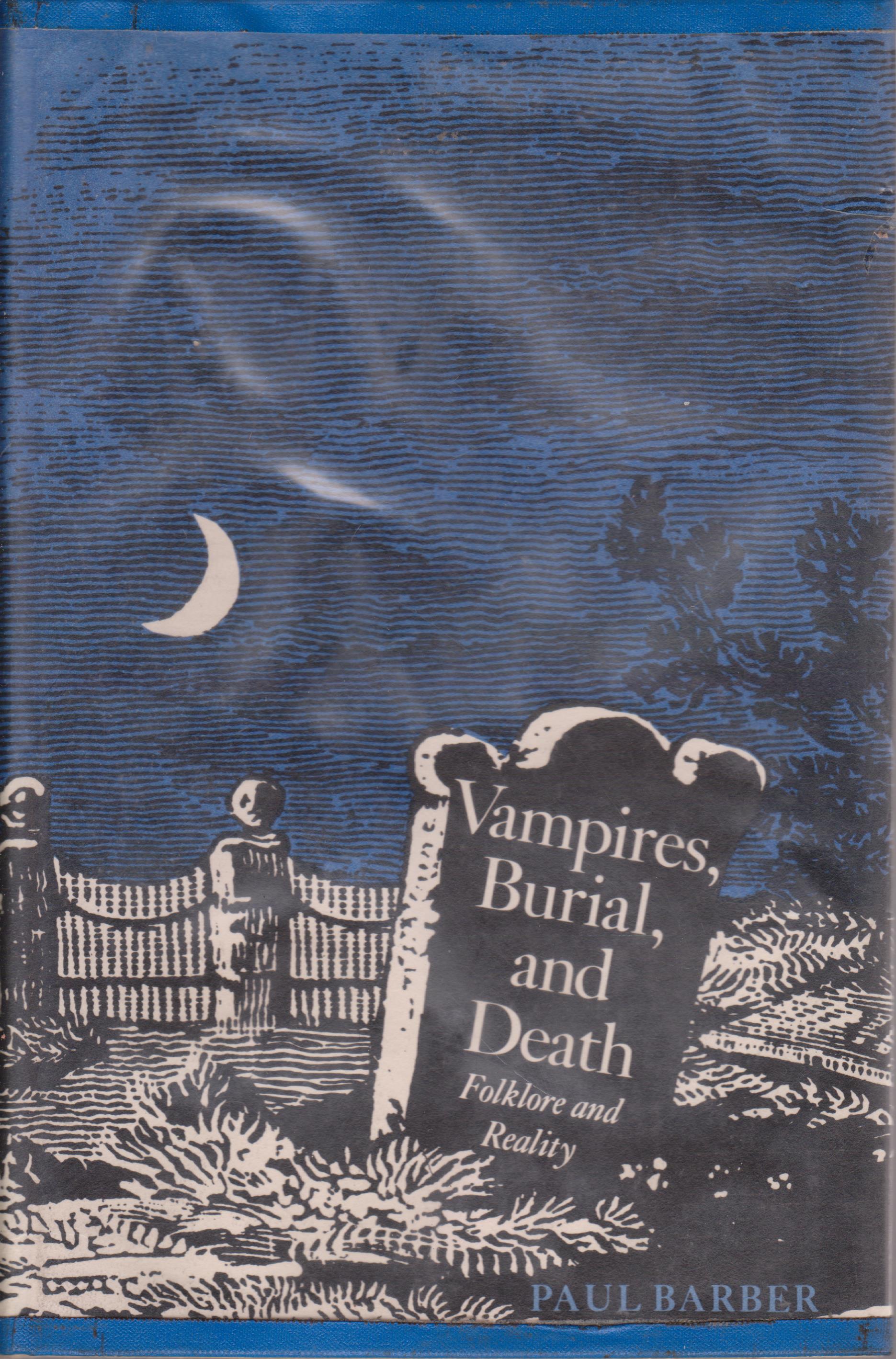 An excellent survey of the folklore of the undead.
By studying the historic and folkloric accounts of vampirism and revenants, in the light of modern knowledge, the author accounts for the vampire myth as an elaborate folk-hypothesis to account for the natural phenomena associated with death and decomposition.
ISBN 0300041268
Undead, Supernatural, Mythology, Historical Accounts of Vampirism, Superstition
G+ hardback in G+ dust jacket.
Ex-library, dust jacket under plastic sleeve with tape onto the boards, minor stamps, call number to dust jacket spine, labels to rear panel of dust jacket may not be removable.
$15 C/C
Yale University Press 198. First Edition, viii 236pp.
[#5600 ]
WAITE John C.

Dear Mr Booth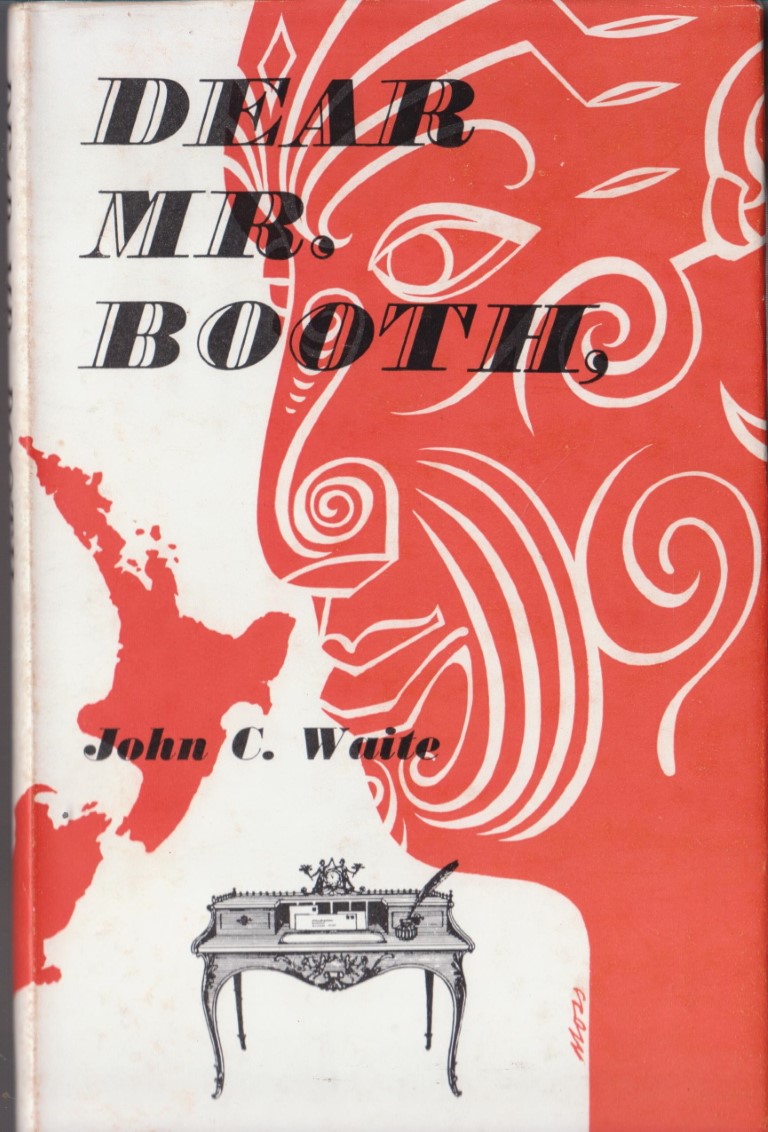 An introductory history to the movement in New Zealand.
religion, christian, charitable, crusade, salvationist
VG hardback in VG dust jacket
$15 C/B
Salvation Army (1963) first edition hard cover, 84pp + plates
[#967/5602 ]
ANDERSON Len.

Coaches North, the Story of the Hawke's Bay Motor Company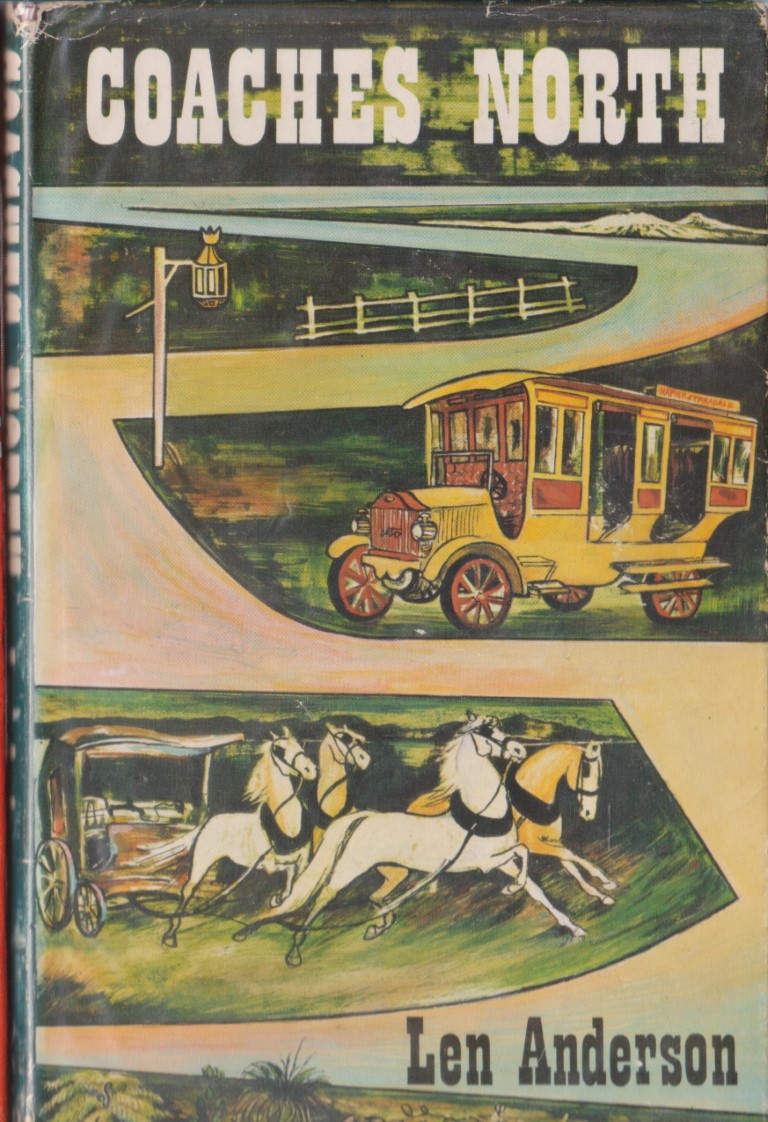 Passenger, Coaching, Bus Service, Company History
VG hardback in VG dust jacket SIGNED BY the author Len Anderson and the Managing Director of the Company Arthur Giles.
$45 C/B
Reed 1967 First Edition, 124pp + plates.
[#5603 ]
[WIGRAM] NOBLE L. M.

Sir Henry Wigram a Pioneer of Aviation in New Zealand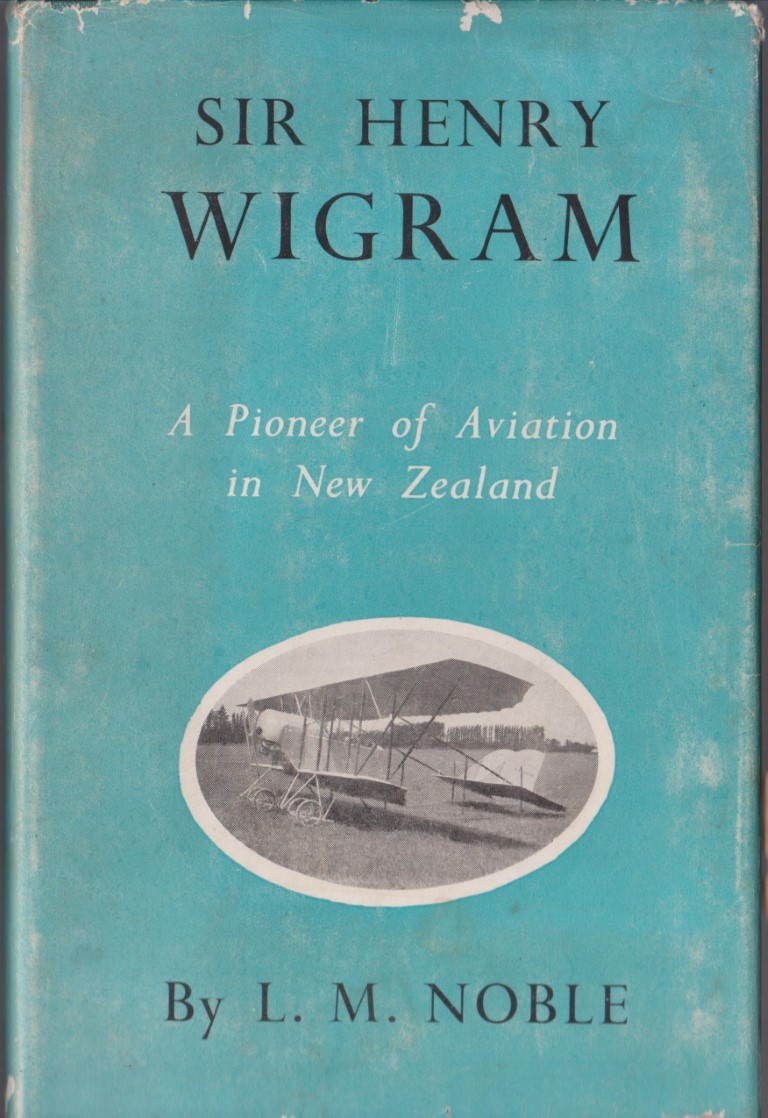 A biography of the man responsible for New Zealand's Air Force, and the whole of New Zealand's Civil Aviation set up.
Canterbury, Flying, Aeroplanes
VG hardback in VG- dust jacket.
Pen name to fep, jacket with some rubbing fading to blue colour, light edge wear with some minor chipping loss to extremities.
$45 C/C
Whitcombe and Tombs 1952 First Edition, xiv 145pp.
[#5604 ]
[BUSHRANGING] WHITE Charles

History of Australian Bushranging, Volume One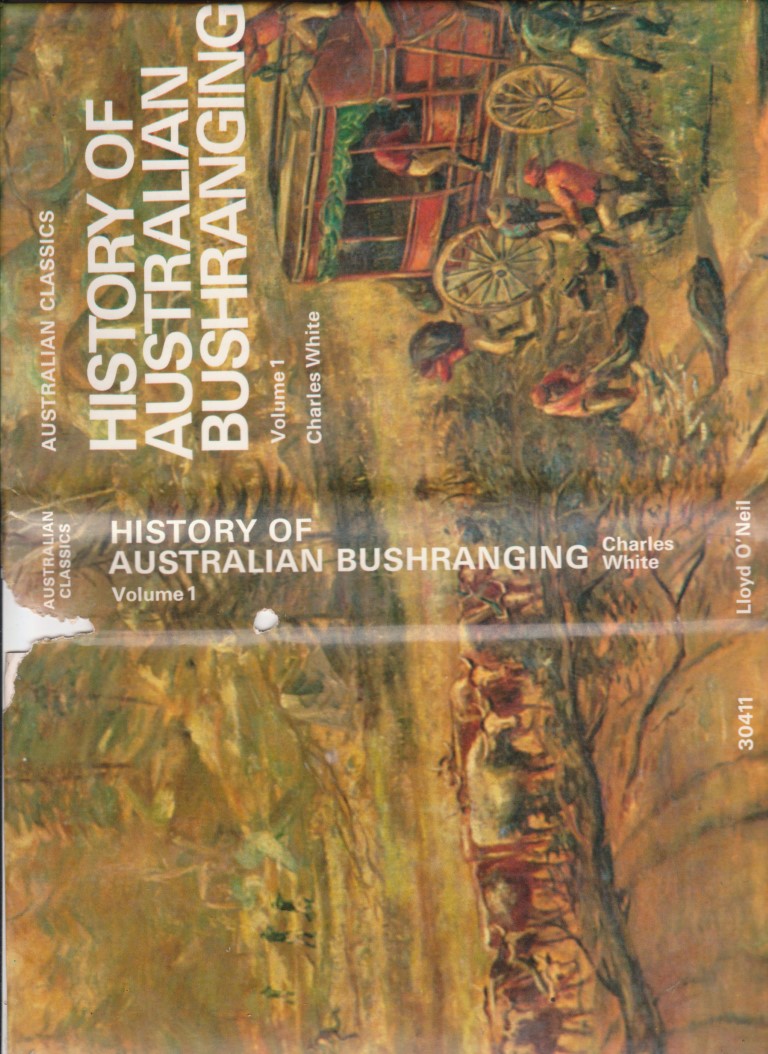 Volume 1 only, facsimile of original .
crime, outlaws, colonial australia
VG- hardback in VG- dust jacket, unclipped dust jacket has some chipping loss to head of spine and lower joint, small arae at top of book spine worn away.
$20 C/C
Lloyd O'Neil, 1970. First Thus edition, 385pp.
[#5606 ]
[HAUNTINGS] HOLE Christine

Haunted England, a Survey of English Ghost-lore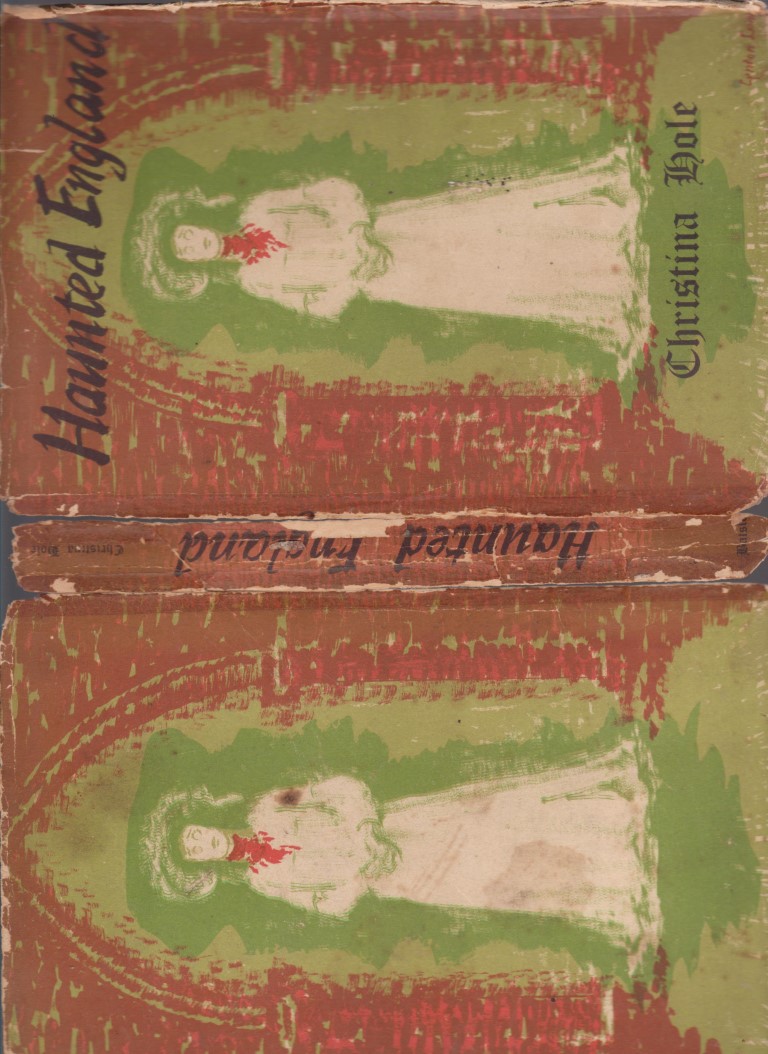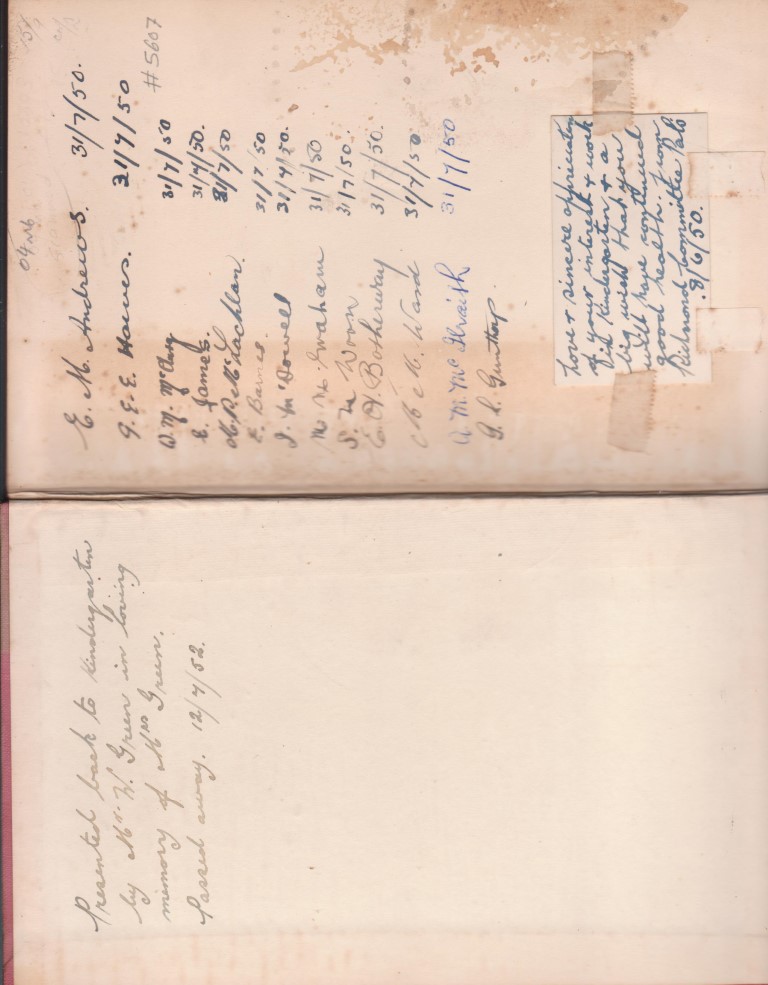 A survey of English ghosts and hauntings.
Illustrated by John Farleigh.
Britain England Ghosts Supernatural Haunting Paranormal Non-Fiction
Good hardback with fair dust jacket.
Red cloth handling soiled, price clipped dust jacket is complete but split down the lower fold, all edges rubbed with minor chipping, tape rust to verso.
Book paste down and fep have presentation inscription with 13 signatures of the Richmond Committee (Kindergarten) dated 8/6/(19)50, the presentation on the paste down states it was given back to the kindergarten in memory of Mr Green who passed away 12/7/(19)52, some minor foxing.
$20 C/C
Batsford 1950 second edition, 184pp.
[#5607 ]
[PURVES Daphne] ANDERSON Molly

Nothing Like a Dame, A Biography of Dame Daphne Purves.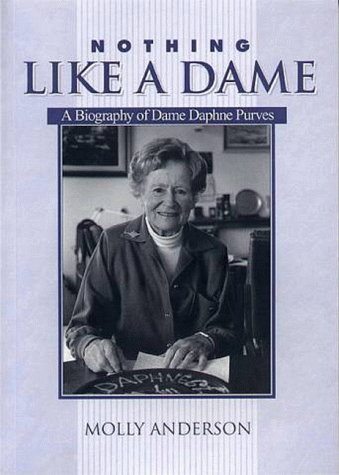 An extensively illustrated biography of an important participant in New Zealand education and teaching, with connections to Waitaki Girls High School, Otago Girls High School, Otago Boys High School and Dunedin Teachers College.
In 1977 Dame Purves was elected the World President of the International Federation of University Women.
ISBN 9781877161506
Otago, Dunedin, IFUW, women in education
VG+ softback
$15 B/B
Hazard Press 1998 First Edition, 167pp.
[#5609 ]
POPE Diana and Jeremy

Mobil New Zealand Travel Guide
South Island, Stewart Island and the Chatham Islands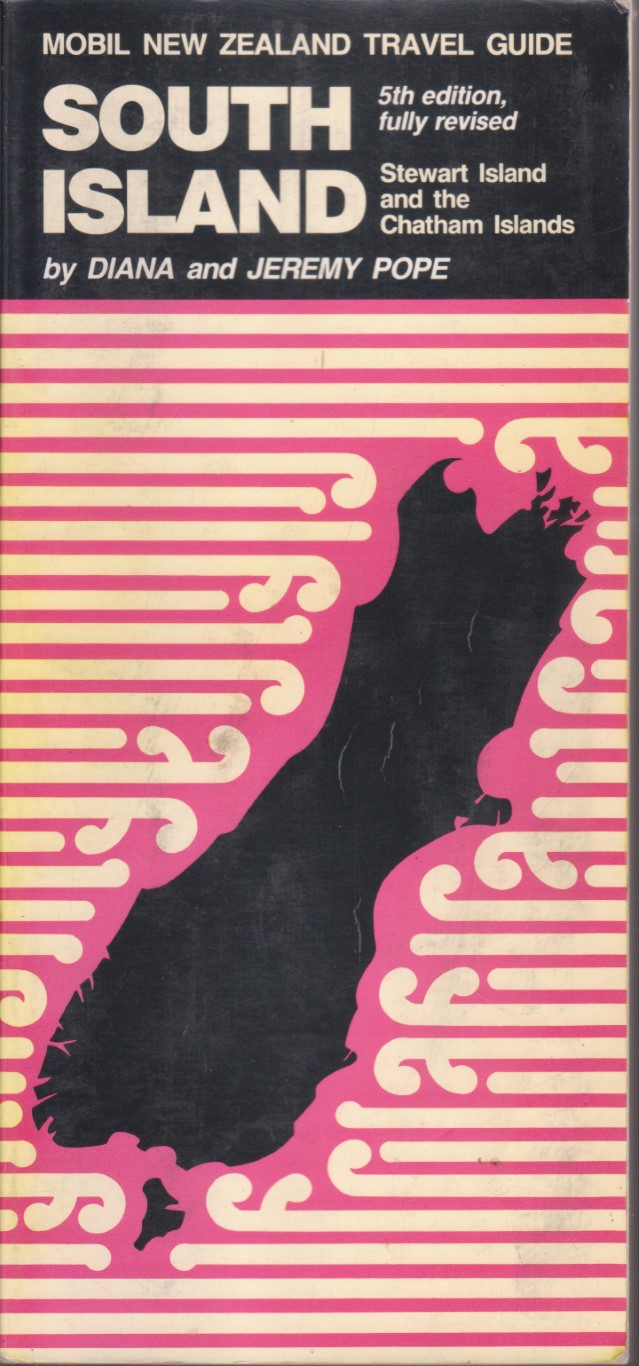 One of the best travel guides to New Zealand, with detailed historical information as well as current points of note. Valued by tour guides for the local history notes.
ISBN 9780790001005
VG softback
$30 B/C
Reed 1990 5th edition fully revised, 422pp.
[#5610 ]
CROSS Ian

After Anzac Day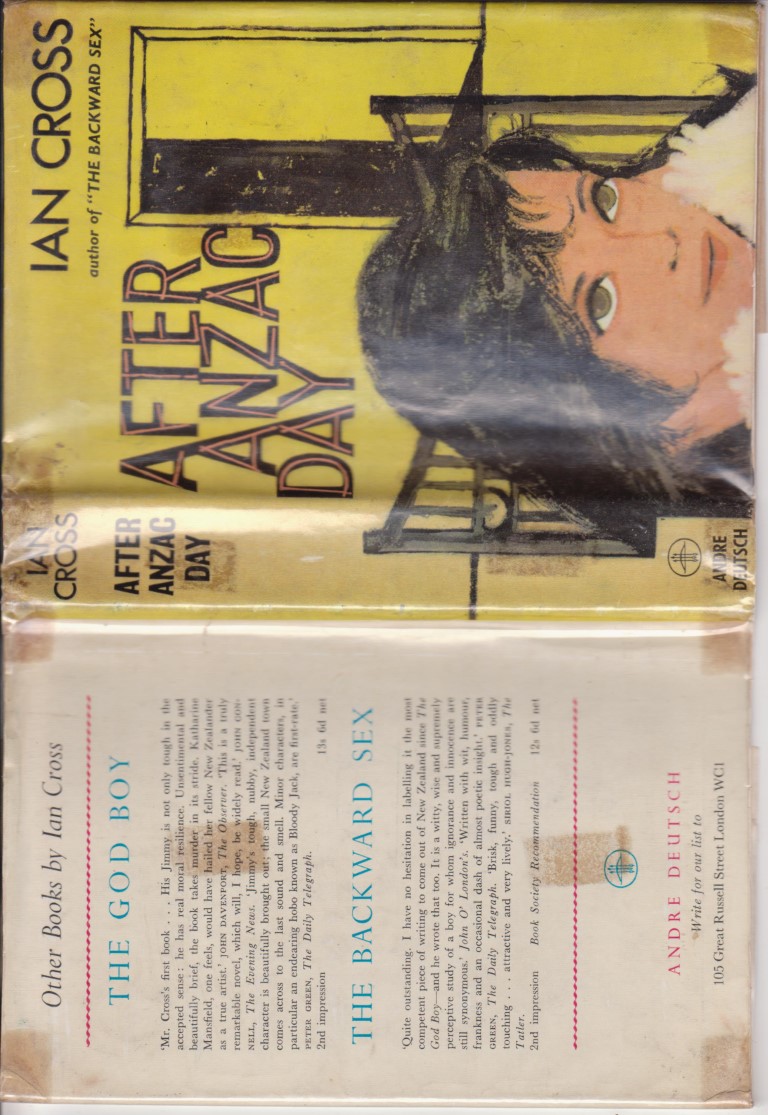 An unconventional domestic situation is approached through the minds of the four occupants of a Wellington household- four very different characters in age and outlook.
The first edition, printed in the UK, thiswas 18 years before the first New Zealand edition.
VG- hardback in VG - dust jacket.
Unclipped dust jacket has some tape stains, some tape stains top of boards and endpapers.

$10 C/B
Andre Deutsch, 1961. First Edition, 236pp. [#5611]
[CONTACTEE] BROWNELL Winfield S.

UFOs Key to Earth's Destiny!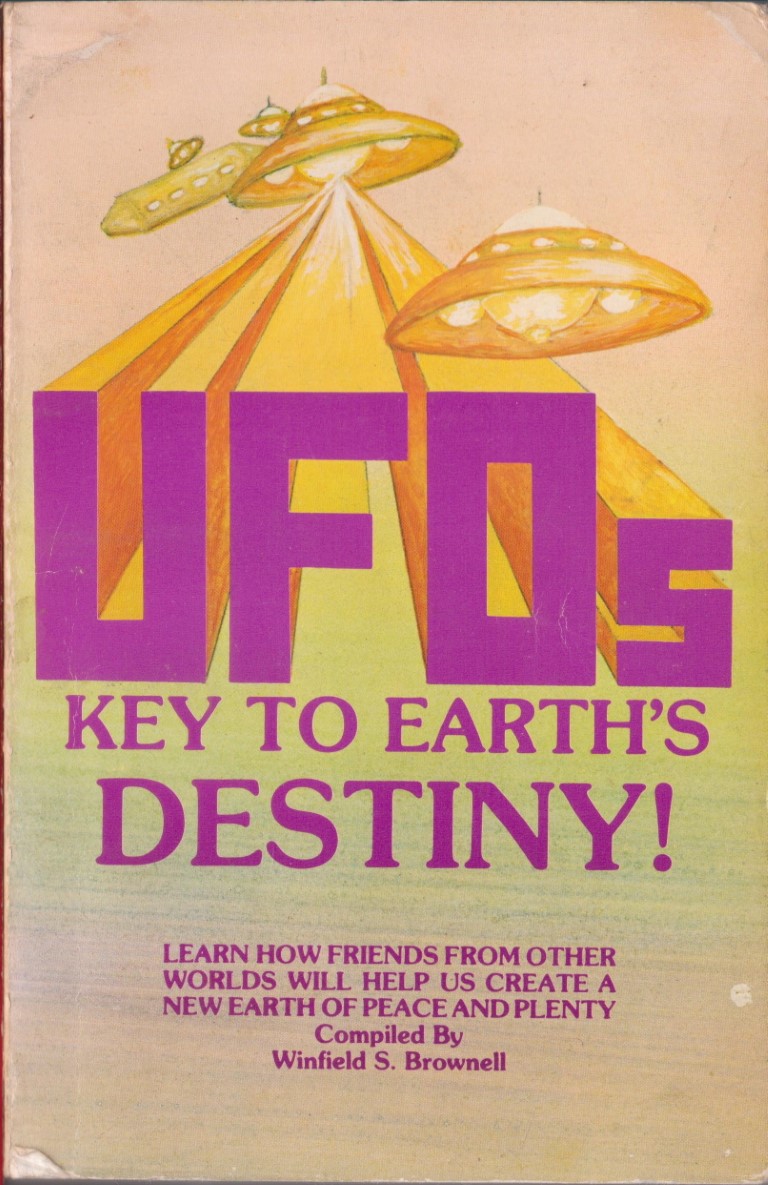 Contains compiled information on various well known contactees and ufology organisations etc.
includes mimeographed sheet with new address for Dr. Daniel W. Fry ( contactee, now residing near White Sands New Mexico).
ISBN 0960447806
VG- softback.
$15 C/B
Legion of Light 1980 First Edition,vii 214pp.
[#5612 ]
[GENEALOGY] CRESSWELL Douglas

Early New Zealand Families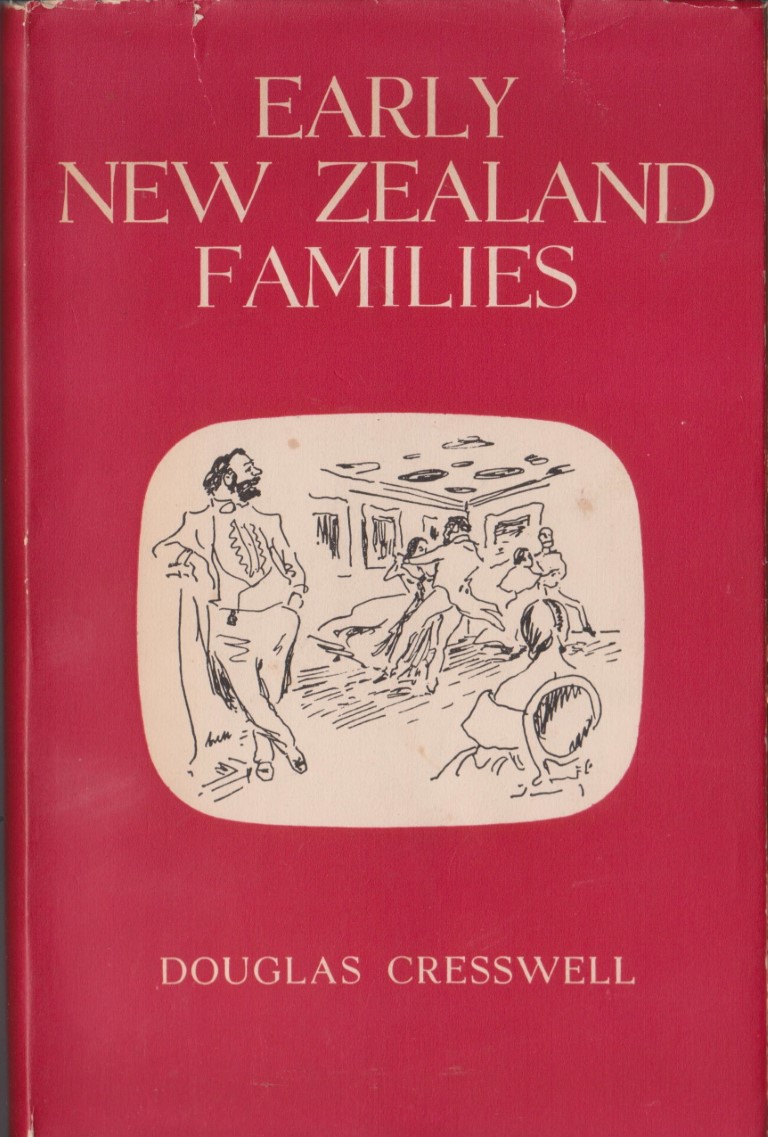 The history of the preeminent founding families of the South Island.
Rhodes of Purau and the Levels, Johnny Jones of Waikouaiti, Williams of Te Aute, Deans of Riccarton, Clifford of Stonyhurst, Bidwill of Pihautea, Morrison of Blairlogie, Robinson of Cheviot, McLean of Marae-Kakaho, Wilson of Rangitikei, Moore of Glenmark, Cracroft Wilson of Cashmere, Grigg of Longbeach, Teschmaker of Otago, Holden of Tikokino, Elworthy of Holme Station, Tripp of Orari Gorge, Westenra of Camla and Fitzgerald of the Springs
A limited edition of 800 copies.
VG hardback in VG dust jacket with two short closed tears at head of front panel, mild rubbing, mild foxing to closed edges.
$25 C/B
Pegasus Press, 1949. First Edition, 140pp.
[#5613 ]
[TRAMPING] MOIR George with W.S. Gilkison and A.H. Hamilton

Extract from Moir's Guide Book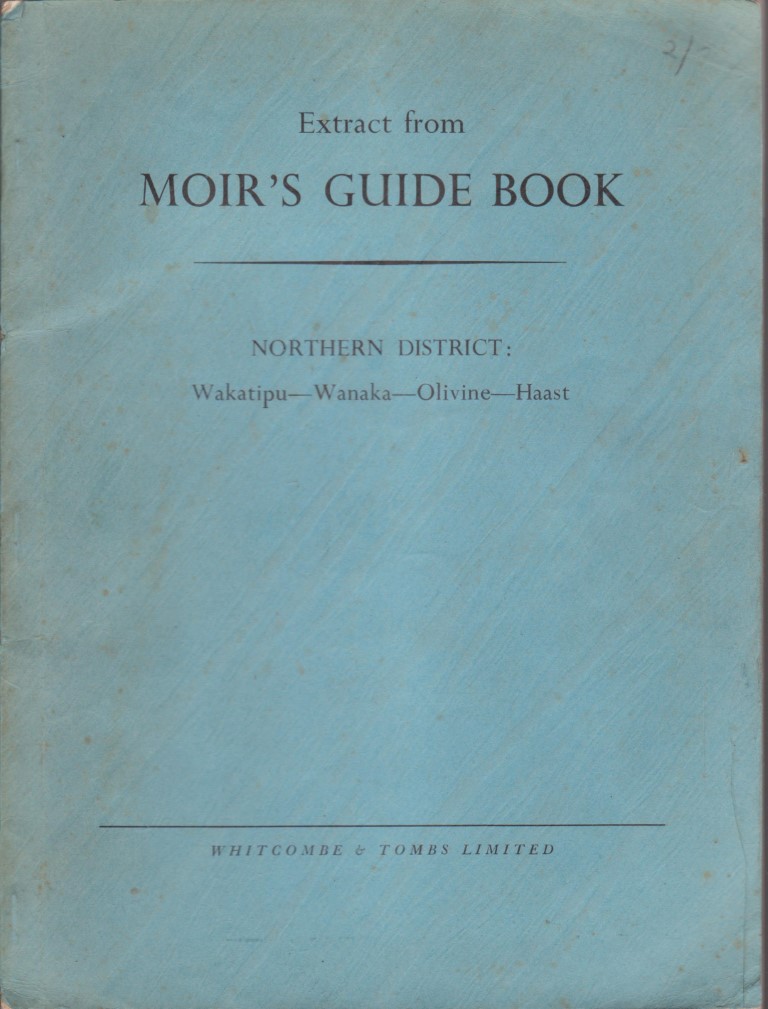 Moir's Guide Book to the Tramping Tracks and Routes of the Great Southern Lakes and Fiords of Otago and Southland, an extract covering the Northern District:Wakatipu-Wanaka-Olivine-Haast.
VG- stapled softcover.
$12 B/B
Whitcombe and Tombs Ltd. 1950, 40pp + one plate.
[#5614 ]
8/08/2022ev
[SURVEYING] EASDALE Nola

Kairuri: The Measurer of the Land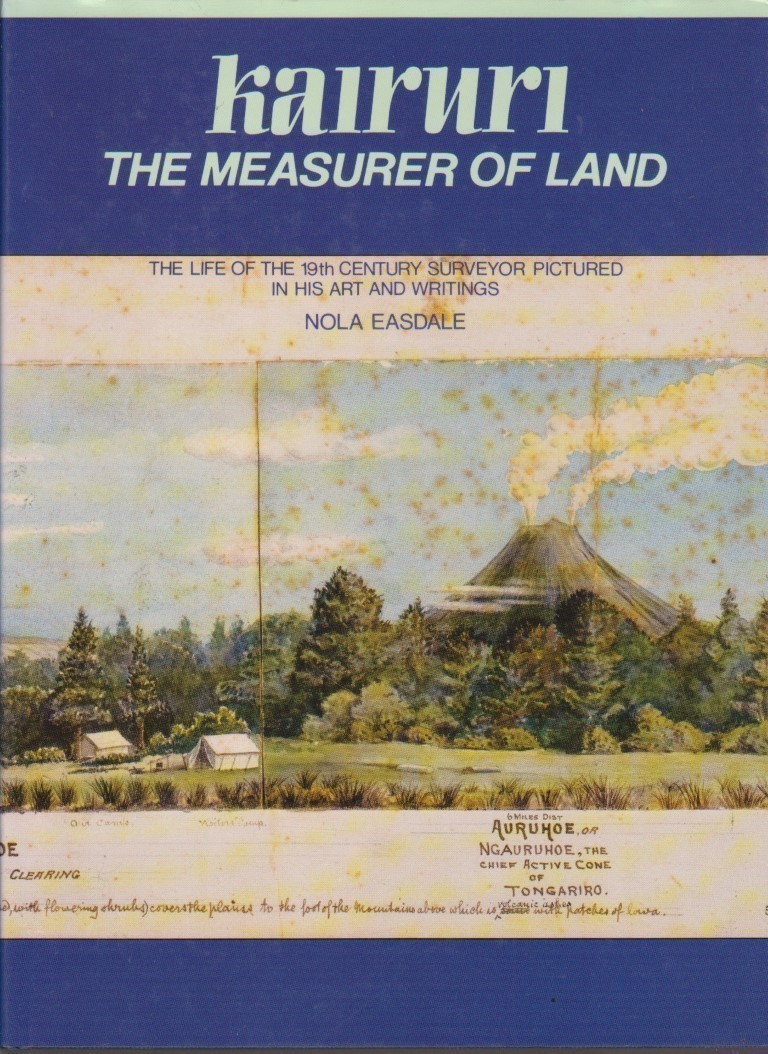 The Life of the 19th Century Surveyor Pictured in his Art and Writings, an account of the exploration and settlement of New Zealand, seen through the eyes of men whose curiosity and spirit drove them into the unknown.
Published for the New Zealand Institute of Surveyors.
ISBN 9780705514026
Contents: The surveyor as an artist / Introducing the colonial surveyor / Getting there and back / The survey camp / Cadets, chiefs, bosses, cooks and chainmen / Out in the field / Kai living off the land / Diversion /About the coasts / Around the towns / Out from the towns / Minerals and mountains / Tarawera, the Volcanic Plateau and Waitomo / Troubles / A toast to wives and sweethearts.
VG Hardback in VG dust jacket.
$45 C/C
Highgate/Price Milburn 1988 First edition, 175pp.
[#5587 ]
[METHODISM] CARTER George G.

A Family Affair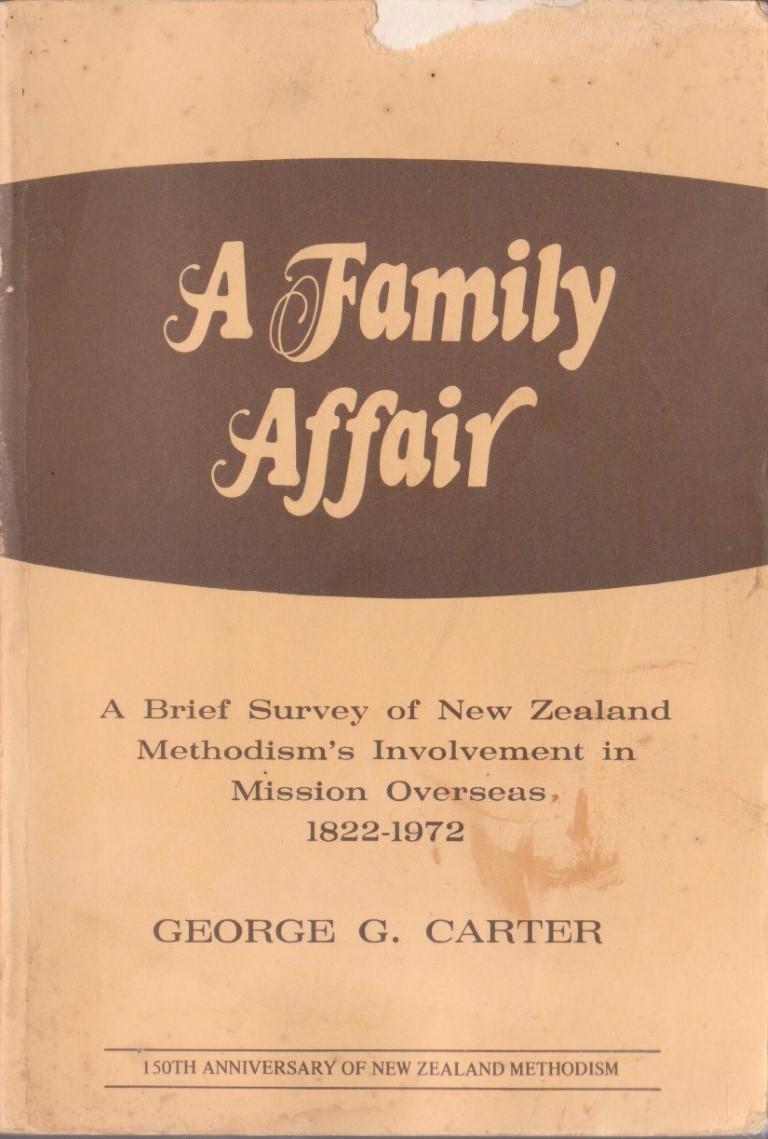 A Brief Survey of New Zealand Methodism's Involvement in Mission Overseas, 1822-1972.
christian, church history, missionary
G+ softback with sewn sheets, lightly soiled with piece chipped from top edge of cover.
$30 C/C
Wesley Historical Society 1973 First Edition, viii 245pp + plates and appendices.
[#5589 ]
[DRUGS] HENWOOD C. R.

A Turned on World, Drug Use in New Zealand.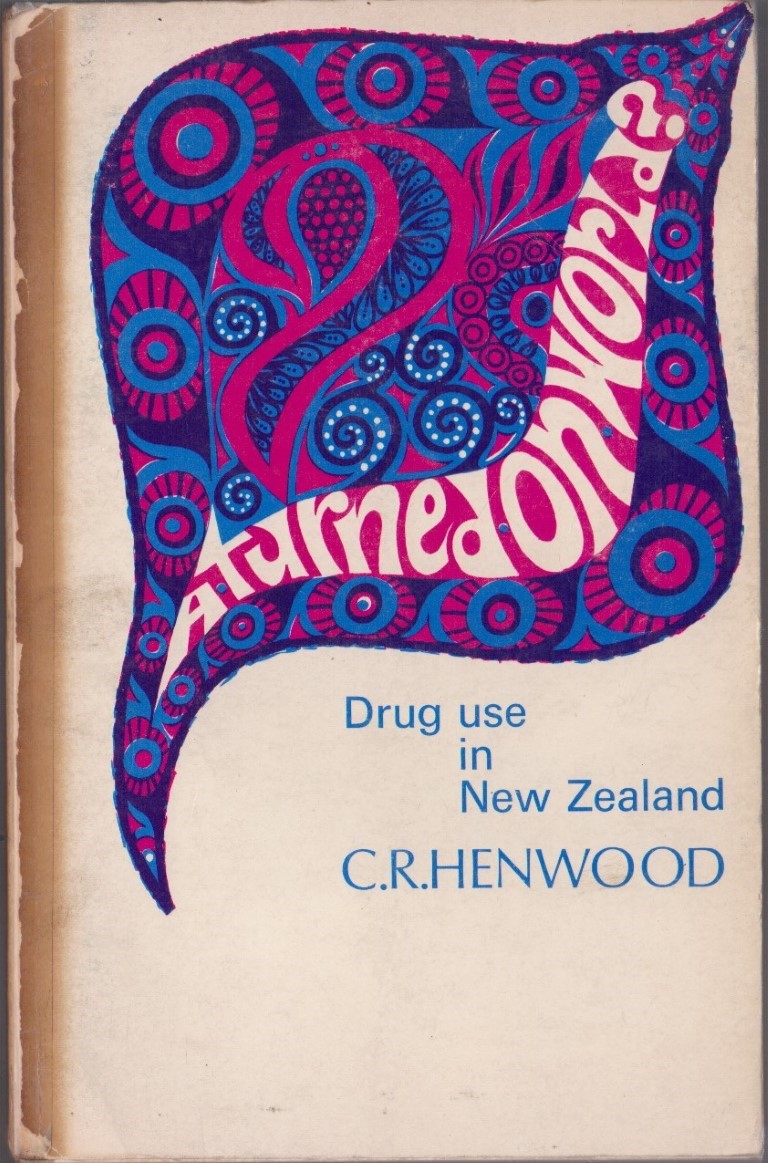 Written by a DSIR toxicologist, this includes a history of non-medical drug use and an overview of the various drugs used in New Zealand.
ISBN 0456009000
drugs, psychedelics, social history
G softback.
Backstrip browned under clear tape, title page taped along spine edge to the front cover, front cover and title detached from book but held to it by tape, otherwise tidy copy,
$45 C/B
Hicks Smith and Sons 1971 First Edition, 106pp.
[#5590 ]
[KAIAPOI BOROUGH SCHOOL] WARD Patricia B.

One Hundred Years Learning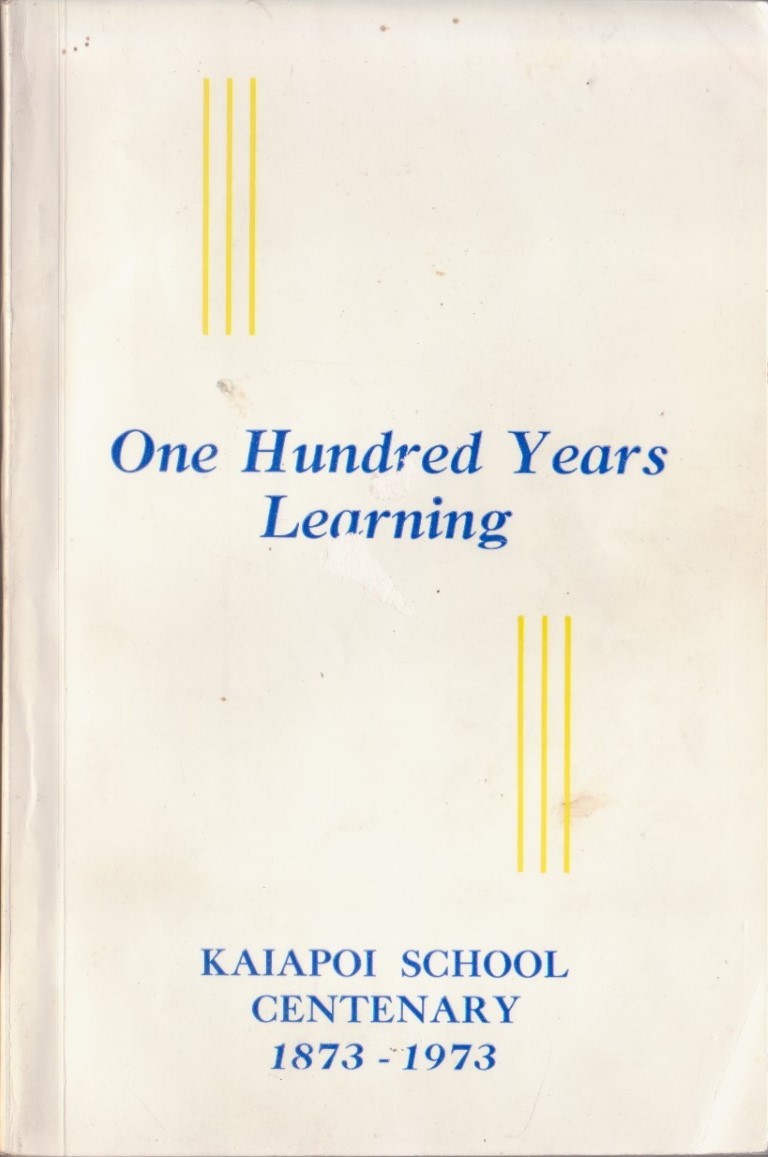 Kaiapoi School Centenary 1873-1973
VG- softback, small scuff to cover and pen number to title page.
$20 C/B
Centennial Committee 1973 first edition, 102pp, illustrated.
[#5591 ]
[HISTORIC PLACES TRUST] CATTELL John

Historic Buildings of Canterbury and South Canterbury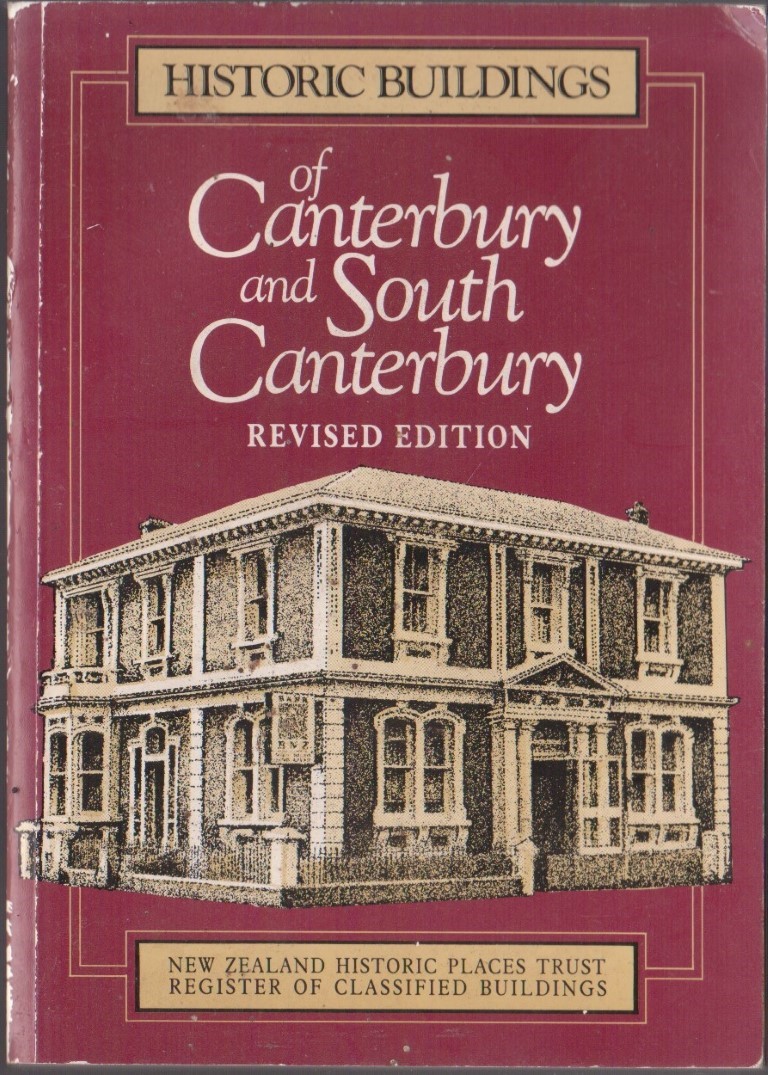 A register of notable and imoportant buildings classified by the Historic Places Trust with a photograph and details of their significance.
Some have since succumbed to the effects of the 2010-2011 earthquakes.
ISBN 9780477013291
heritage buildings, south island, architecture
VG- softback with light wear to covers.
$15 C/B
New Zealand Historic Places Trust 1988 second revised edition, 76pp illustrated.
[#5592 ]
[REFLEXOLOGY] Gaston Saint-Pierre and Debbie Boater

The Metamorphic Technique: Principles and Practice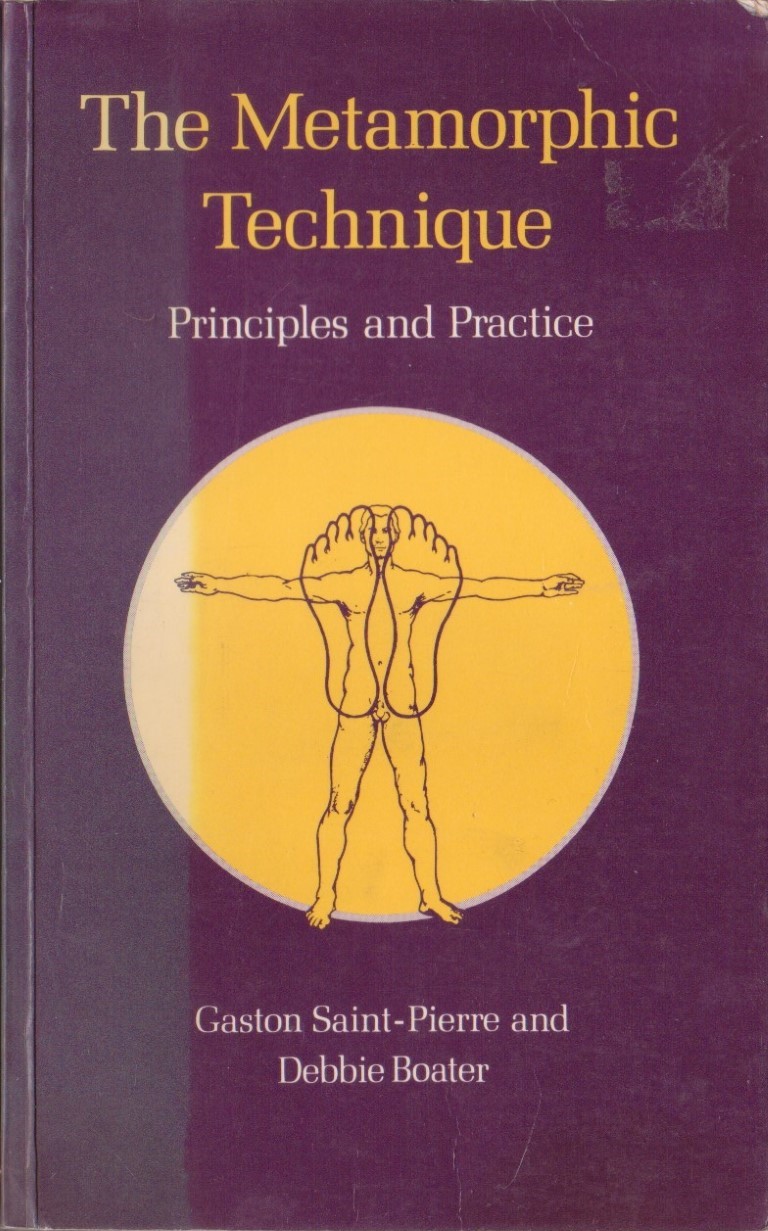 The basis for this healing technique is that during the nine months preceding birth all our physical, mental, emotional and behavioural structures are formed.
Working on the spinal reflexes of the feet, hands and head refocuses on this formative period, thus allowing healing to take place.
ISBN 0906540208
energy healing, naturopathy, reflexology
VG- softback, some cover fading.
$15 C/B
Elelment Books 1982 first edition, 124pp.
[#5593 ]
7/06/2022ev
HALL-JONES John

Fiordland Explored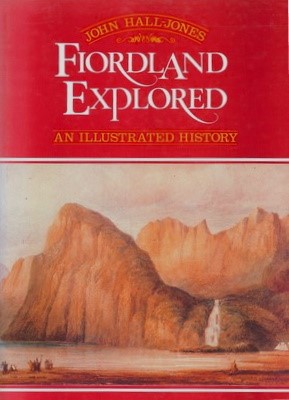 An illustrated history of the pioneering explorers in New Zealand's Fiordland, location of the earliest European settlement and the realm of Moa and Lost Tribes.
ISBN 0589009737
Doubtful Sound, Dusky Sound, Preservation Inlet, Acheron Survey, Martins Bay, Wreck of the Waikare, Gold rush, Milford Sound, Richard Henry of Resolution Island, Donald Sutherland the hermit of Milford Sound
VG hardback in VG dust jacket.
THIS COPY SIGNED BY AUTHOR TO TITLE PAGE
$65 B/C
Reed 1976 first edition, 148pp.
[#5581 ]
HALL-JONES John

The South Explored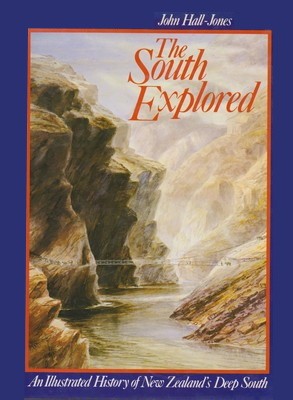 An illustrated history of New Zealand's Deep South.
ISBN 0589012568
Southland, Foveaux Strait, Acheron surveyTuhawaiki, Bloody Jack, Bluff, Wohlers, Kelly of Inverkelly, whaling, whalers, Invercargill
VG hardback in VG dust jacket. Jacket has tape staining on reverse of jacket which shows through faintly.
THIS COPY SIGNED BY AUTHOR TO TITLE PAGE
$65 B/C
Reed1979 first edition, 165pp.
[#5582 ]
WRIGHT Matthew

Man of Secrets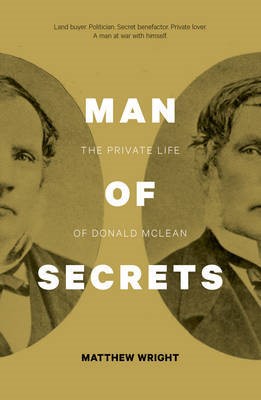 The Private Life of Donald McLean.
A biography of this hard-tempered Scot whose policies shaped New Zealand's colonial-age race relations, and gave rise to grievances that echo into the twenty-first century.
A government official who used his position to get land for his personal ventures, provoking war between Maori along the way.
He may even have used his power as Minister of Defence to order the shooting of his own illegitimate son; the right-hand man of Te Kooti.
McLean's role as the powerhouse behind some of the dodgiest land controversies of settler-era New Zealand is well known.
Here Wright delves into the private Donald McLean, a man dogged by his upbringing, wrestling with his insecurities, a devout and fearful man who felt himself inadequate before God and who never recovered from the loss of his young wife.
ISBN 9780143572213
New Zealand, politics, colonial, history
VG softback
$25 C/C
Penguin 2015 first edition, 256pp.
[#5583 ]
DAVIN Dan edited by Janet Wilson

The Gorse Blooms Pale, Dan Davin's Southland Stories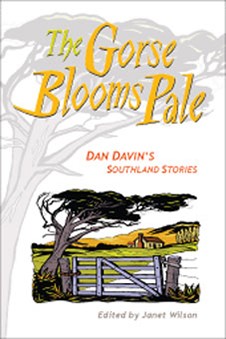 Collects stories from The Gorse Blooms Pale, Breathing Spaces, and six previously uncollected stories.
ISBN9781877372421
VG hardback with no jacket as issued.
$25 C/C
Otago University Press 2007 new edition, 312pp.
[#5584 ]
[ST ALBANS] NZFUW Canterbury

St Albans, From Swamp to Suburb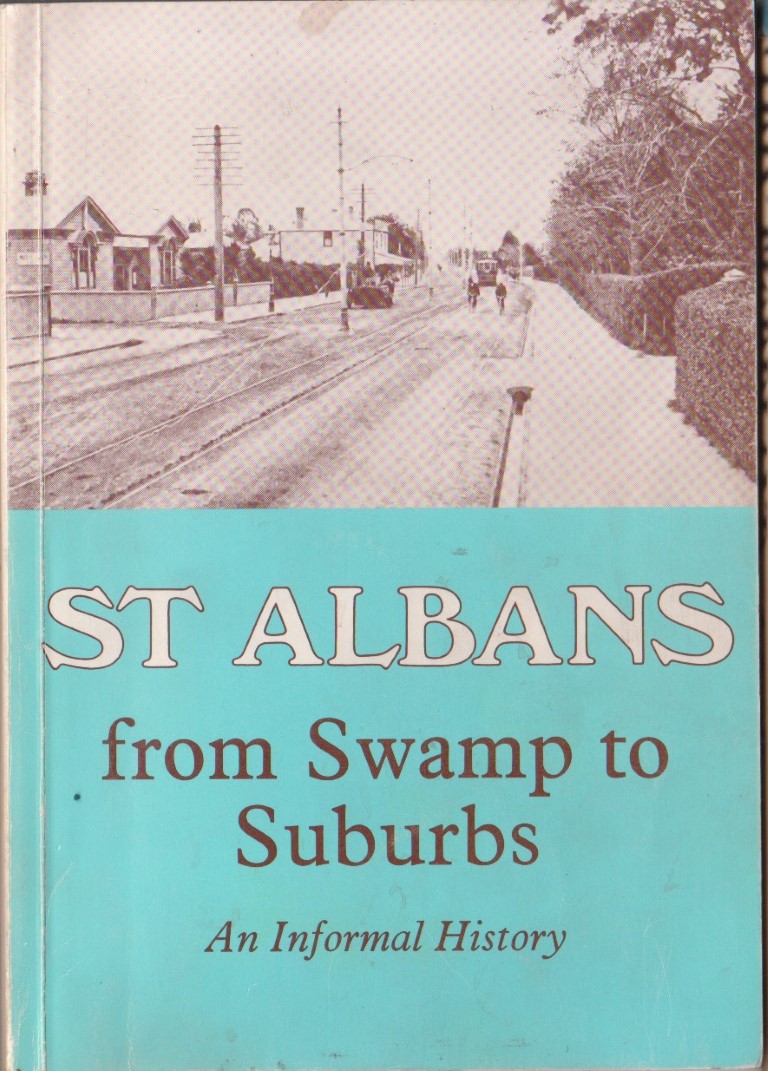 An informal history of the suburb which began life as rural sections, before subdivision and development transformed it into one of Christchurch city's residential suburbs.
ISBN0473006936
christchurch, canterbury history
VG softback
$30 C/B
New Zealand Federation of University Women, Canterbury Branch, 1989 frst edition, 184pp.
[#5585 ]
HALL-JONES John

Early Fiordland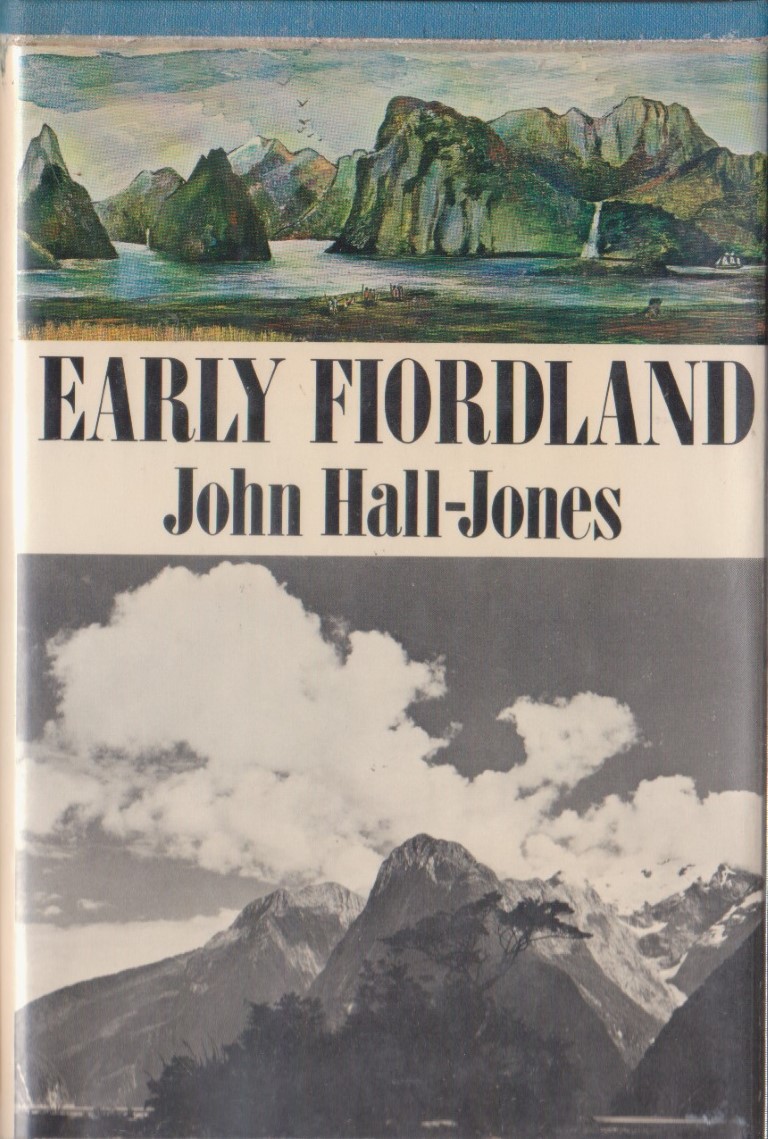 From the time of the Maori, early surveyors and runholders, to the townships that sprung up during the Preservation goldrush.
Milford Sound, Preservation inlet, Reischek, Richard Henry, Mackinnon
VG hardback in VG dust jacket.
THIS COPY SIGNED BY AUTHOR TO TITLE PAGE
$55 C/C
Reed 1968 first edition, 199pp+ plates.
[#5586 ]
2/06/2022ev
FINDLAY Arthur

The Psychic Stream, or, The source and growth of the Christian faith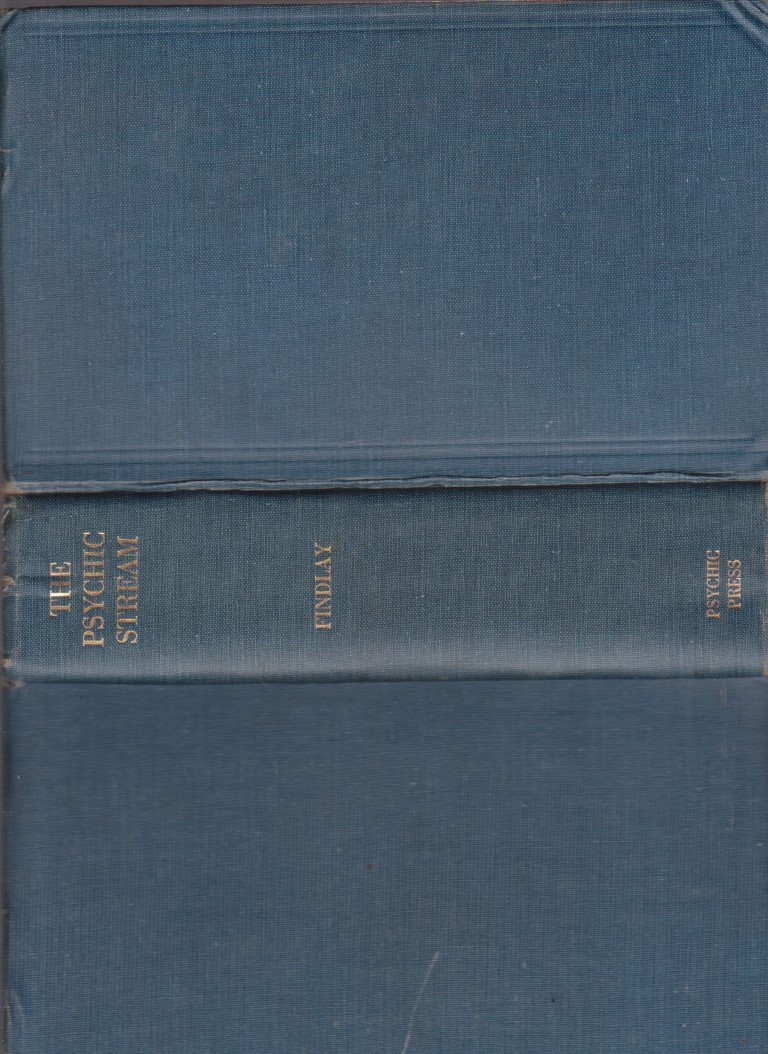 Massive in scope and length, complete investigation of the cult of Christianity, from it's predecessors and influences to it's development and consolidation in the Fourth Century e.v.
Shows the prescence of mediumship and spiritualism, in these phases of religion and the development of Christianity which originally practiced mediumship during their worship services.
Chapters cover animism, Pagan Saviour-gods Bel, Osiris, Prometheus, Mithra, Krishna, the Mystery Religions, Jesus, Paul (Saul), the Life and Death of Jesus, and the cult of Christ.
spiritualism, etheric
VG cloth hardback with no jacket.
Corners and edges bumped, spine ends worn, private library stamp to rear free end paper.
$55 C/D
Psychic Press October 1939 second impression of first edition, 1200 pages
[#5564 ]
STOCKHAM Alice Bunker

Tokology: A Book for Every Woman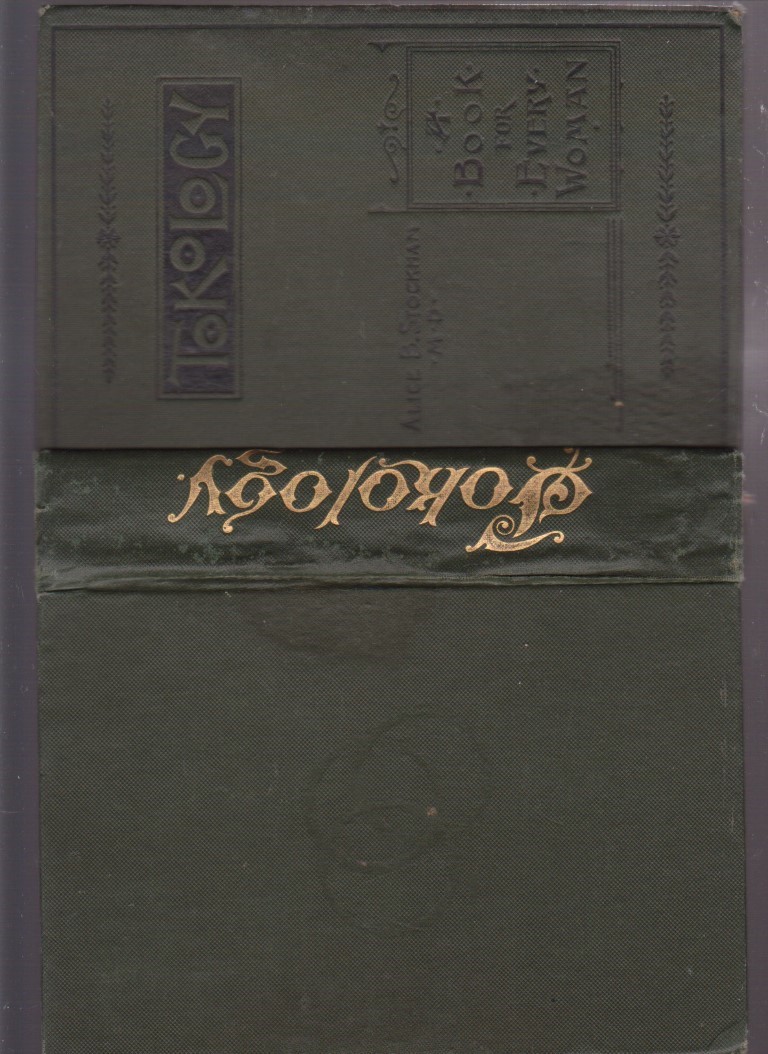 Tokology refers to the study of childbirth, midwifery, and obstetrics.
This book gave women knowledge about issues related to childbirth and helped them understand their own bodies and how they could optimize their own health.
Describes female anatomy and physiology during various stages in life in understandable terms with advice and tips on how to remain healthy throughout each stage.
Concentrates on conception, fetal development, pregnancy, and childbirth. Explains pregnancy in detail from a medical perspective, with chapters on how to remain hygienic and comfortable during pregnancy.
With chapters about caring for infants and diseases of infants, chapters on menstruation and menopause, and pages of diet advice and healthy recipes.
obstetrics, home-birth
VG- decorated cloth hardback, no jacket, booklet of gynaecological plates at rear.
$30 C/C
Butler & Tanner revised edition (1907), 368pp.
[#5565 ]
HILLARY Edmund

High Adventure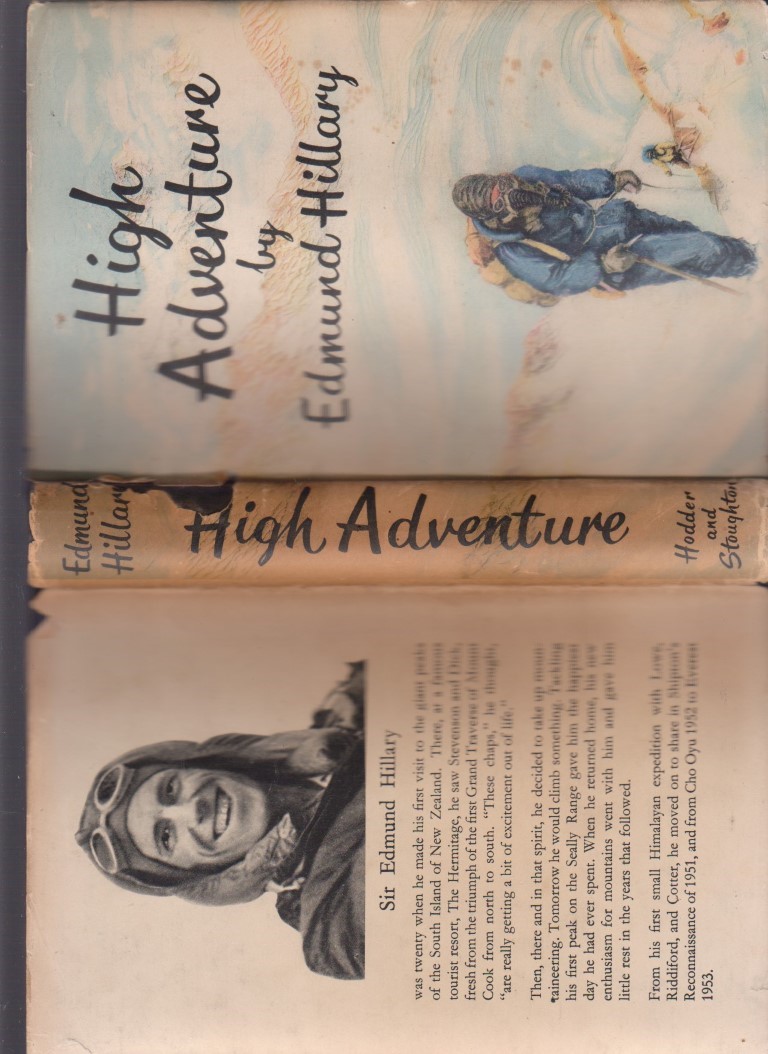 Edmund Hillary's own account of the first ascent of Mount Everest.
VG hardback in VG- dust jacket.
Jacket is tidy and unclipped but does have some chipping loss to top of the spine fold ( see image).
Two small peices of tape hold jacket down to the paste downs.
$35 C/C
Hodder August 1955 second impression (after July) of First Edition, 224pp + plates.
[#5566 ]
INGALESE Richard

The History and Power of Mind.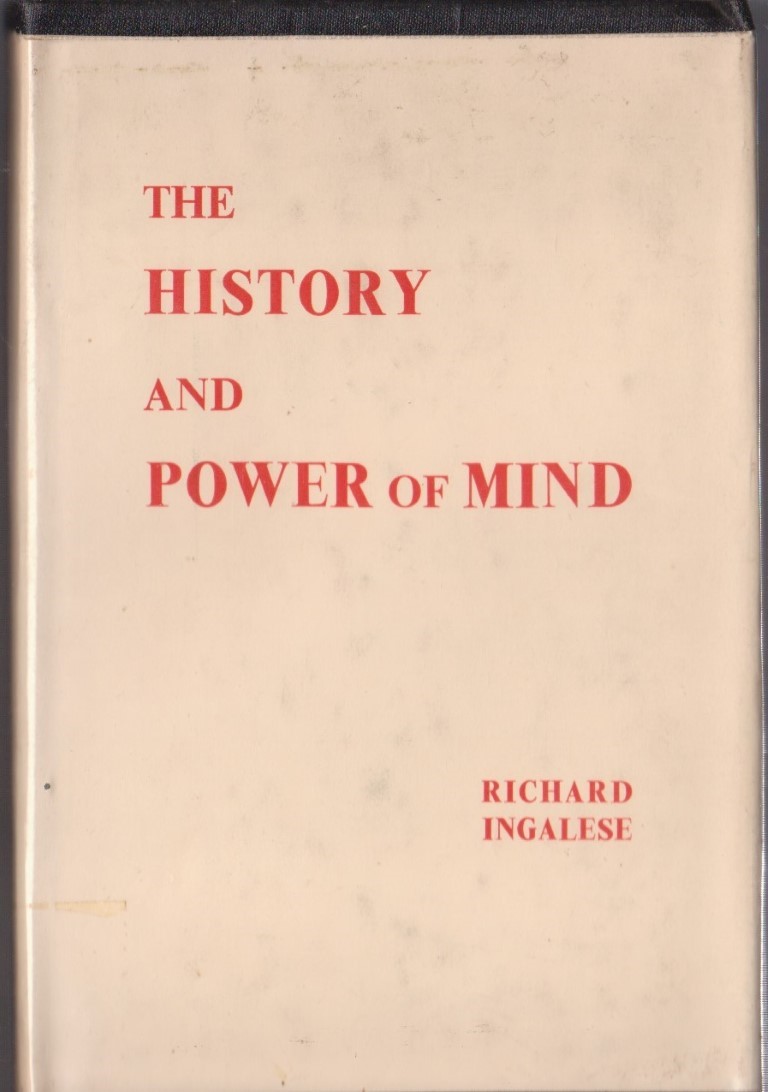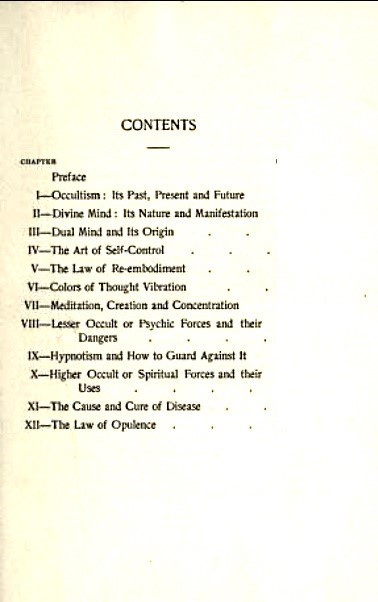 The occult Science of Mind, taken from the author's personal notes and lectures.
occultism, hypnotism, meditation
VG hardback in VG dust jacket under a plastic sleeve.
$35 C/C
Fowler 1971, 226pp.
[#5567 ]
HEINDEL Max

Gleanings of a Mystic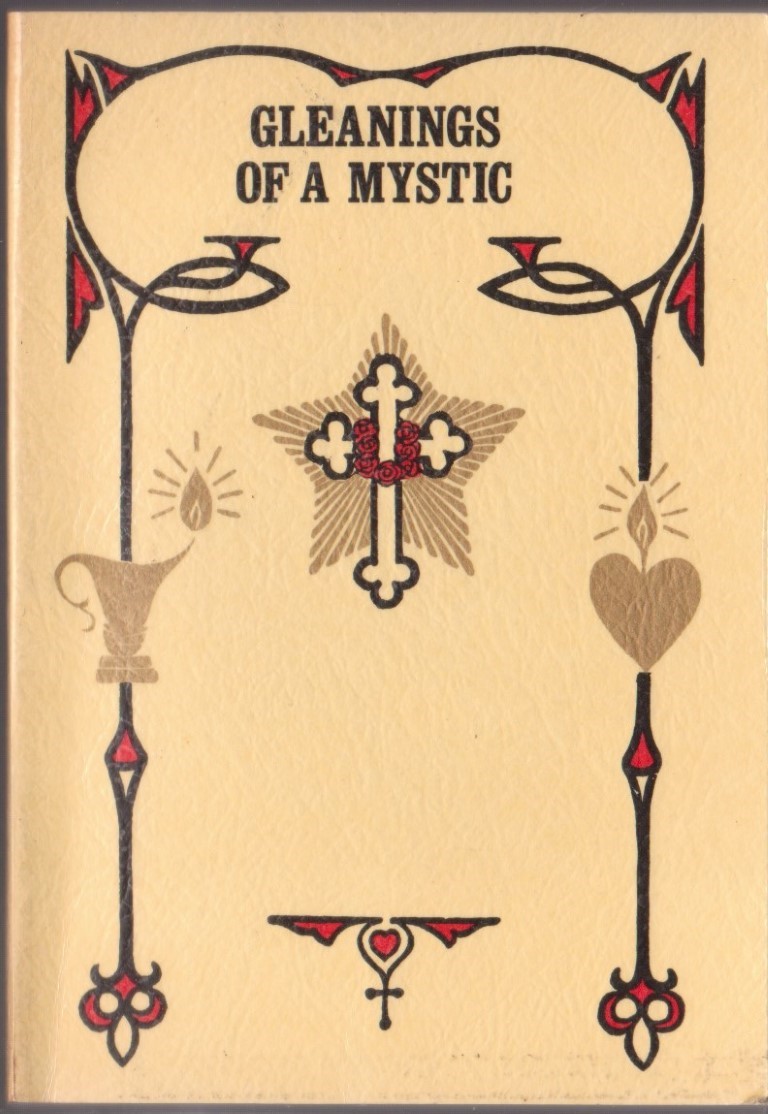 A Series of Essays on Practical Mysticism
Contents: Initiation: What It Is and Is Not, The Sacrament of Communion, The Sacrament of Baptism, The Sacrament of Marriage, The Unpardonable Sin and Lost Souls, The Immaculate Conception, The Coming Christ, The Coming Age, Meat and Drink as Factors of Evolution, A Living Sacrifice, Magic, White and Black, Our Invisible Government, Practical Precepts for Practical People, Sound, Silence, and Soul Growth, The "Mysterium Magnum" of the Rose Cross, Stumbling Blocks, The Lock of Upliftment, The Cosmic Meaning of Easter, The Newborn Christ, Why I am a Rosicrucian, The Object of the Rosicrucian Fellowship.
VG+ softback
$20 C/B
Rosicrucian Fellowship 1977 first softcover edition (after 1922 original), 196pp.
[#5568 ]
HEINDEL Max

The Rosicrucian Cosmo-Conception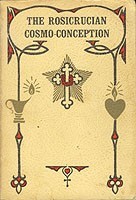 Or, Mystic Christianity, An Elementary Treatise Upon Man's Past Evolution, Present Constitution and Future Development.
The evolution of man and the universe in correlation to science and Christian mysticism.
This provides the fundamentals of Esoteric Christianity from a Rosicrucian perspective.
VG+ softback
$25 C/C
Rosicrucian Fellowship 1977, 610pp.
[#5569 ]
[ RUMI ] WHINFIELD E. H.

Teachings of Rumi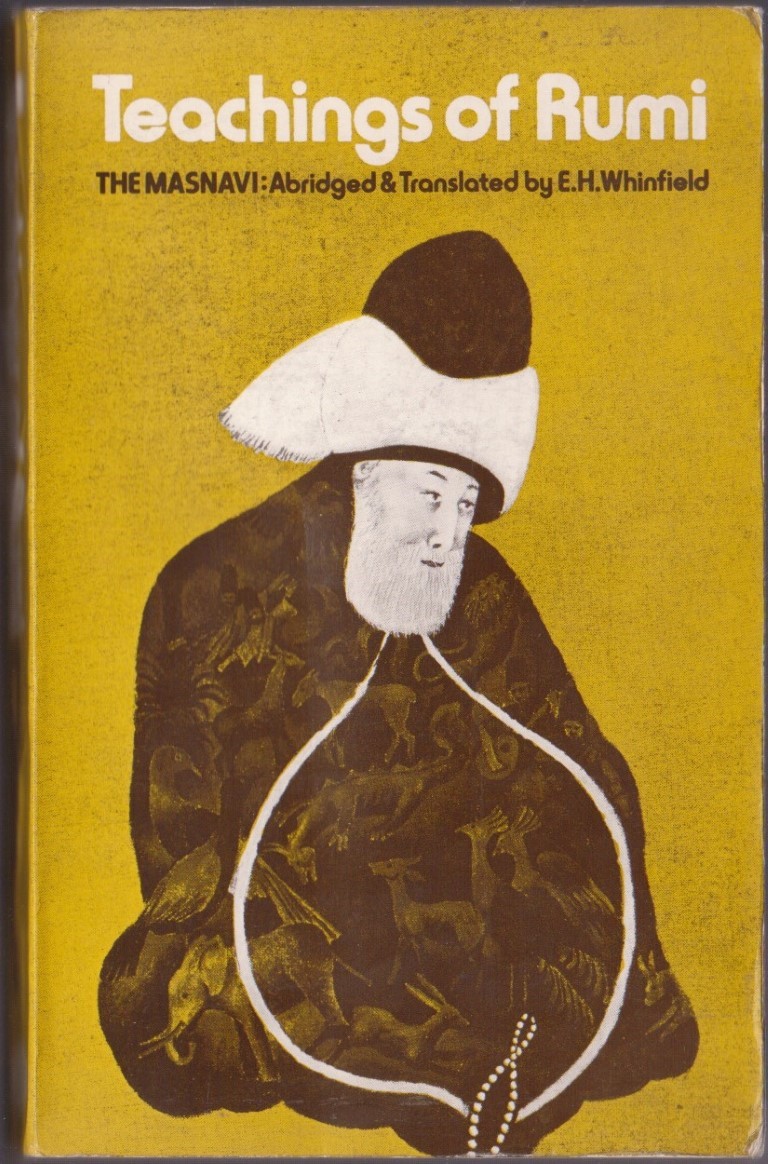 The Masnavi abridged and translated.
Masnavi I Ma'Navi, the Spiritual Couplets of Maulana Jalalu-D-Din Muhammad I Rumi.
ISBN 0900860200
sufi, sufism, mystical literature, islam, muslim, Jalaluddin Rumi, Iran, Persia, dervish
VG- softback, sewn binding.
$15 C/C
Octagon Press 1973 first thus, 330pp.
[#5570 ]
HODSON Geoffrey

The Christ Life from Nativity to Ascension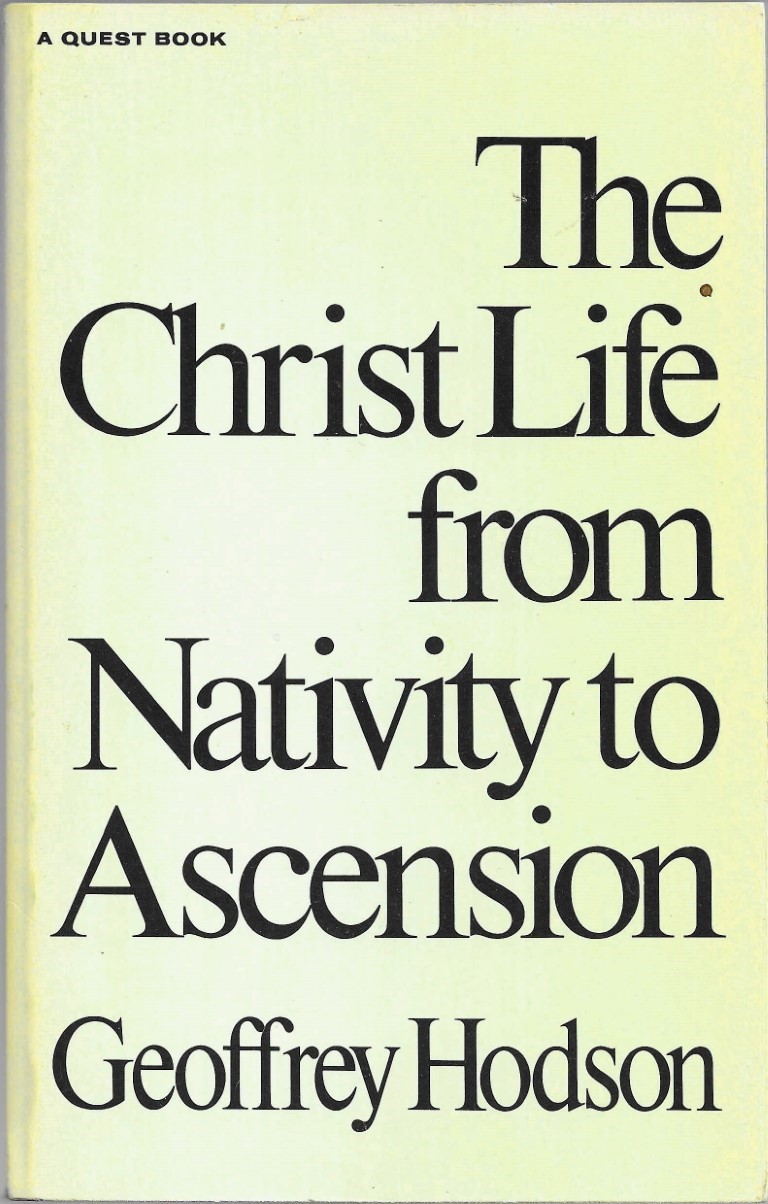 Hodson, a noted occultist, medium and scholar, comments on the occult and spiritual meaning of the New Testament, interpreting the four accounts, or Gospels of the life of Christ, as put down in the King James version of the Bible.
Hodson asserts that the Bible should be considered in both its historical and its allegorical significance.
"Ever must it be remembered that the wondrous story (of Jesus the Christ) was never intended to be read as a record of external events alone, but rather as a revelation of the divine within man."
ISBN 0835604675
theosophy, mystical christianity, spiritualism,
VG softback
$55 C/C
Theosophical Publishing House Quest Book 1975, 460pp.
[#5571 ]
HODSON Geoffrey

Meditations on the Occult Life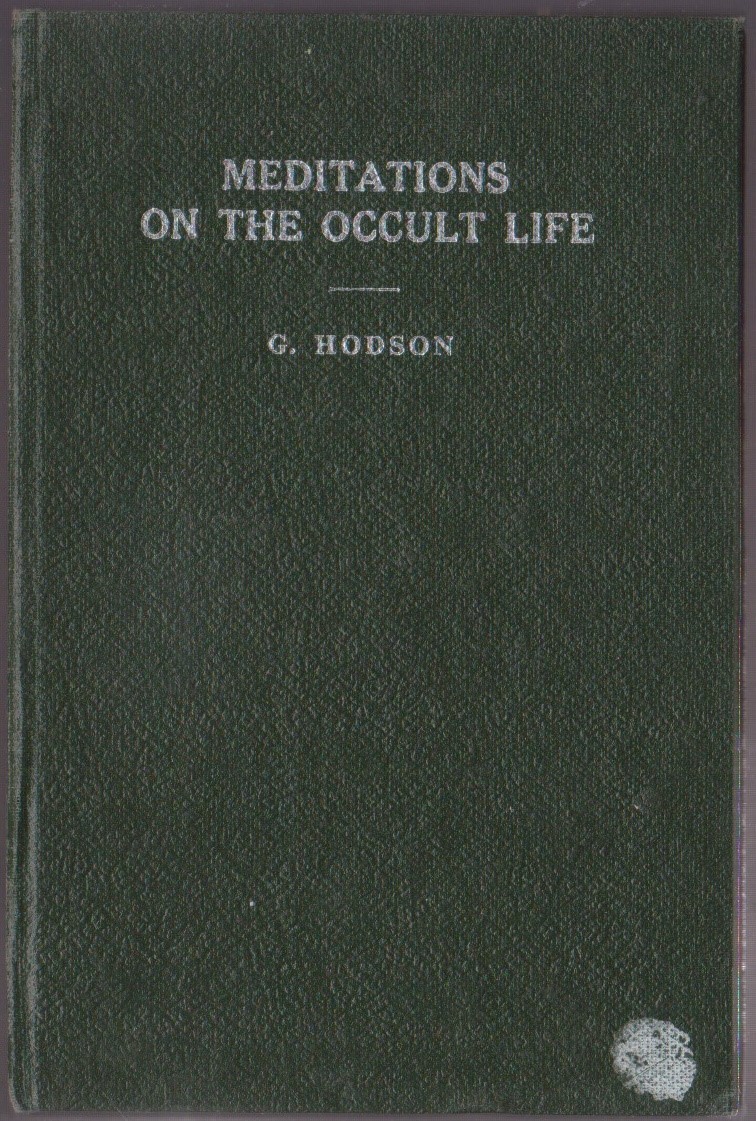 Hodson insists that "we can begin to be occultists wherever we are, whatever we are doing, however much we may seem immersed in the trivialities, even in the sordidness of material living."
ISBN
meditation, Great White Brotherhood, initiation, angels
VG hardback with no jacket.
$35 C/B
Theosophical Publishing House 1953 second edition (after 1937), xvi 136pp
[#5572 ]
HODSON Geoffrey

Man's Supersensory and Spiritual Powers.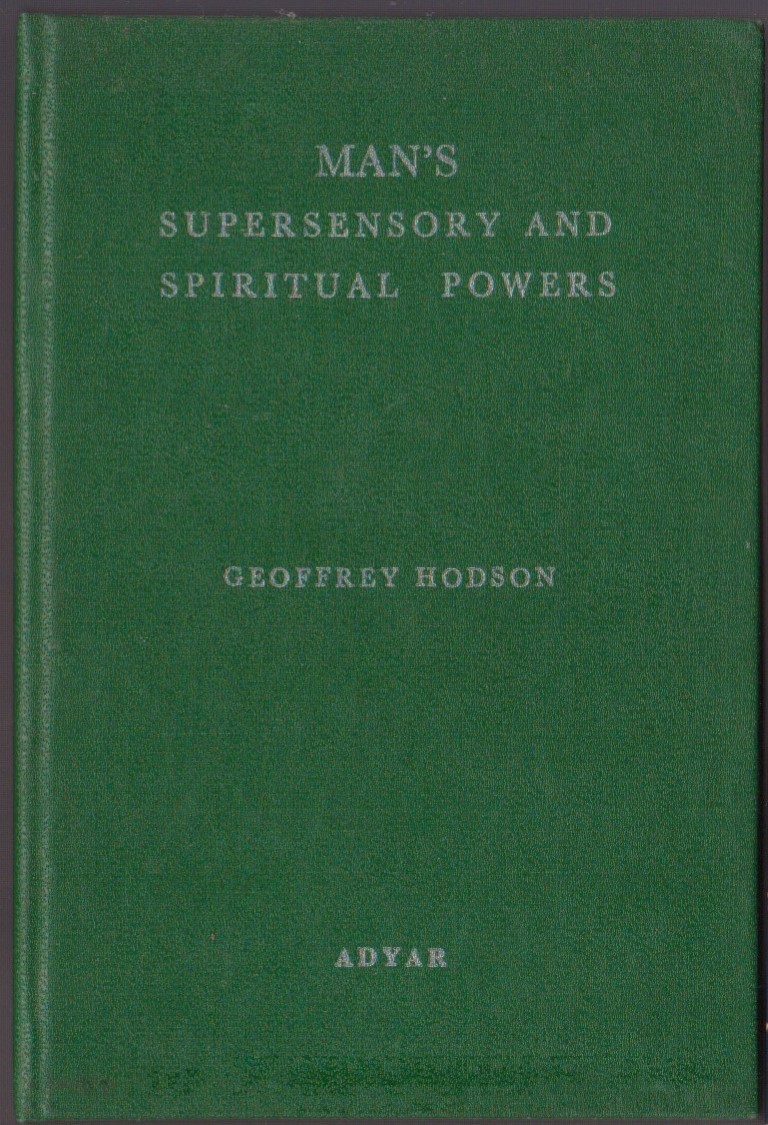 Supersensory Powers, Their Nature And Application To Human Problems; The Nature And The Practical Value Of Supersensory Powers; Mind Reading And Telepathy; Self-training For Health, Happiness And Spiritual Unfoldment; Thought-powers And Thought-forms; Man, A God In-the-becoming; Supersensory Powers As Means Of Gaining Knowledge; Fourth Dimensional Consciousness; Angels And Archangels As Great Realities; The Hosts Of The Angels As Allies Of Man; The Normal And The Enforced Development Of Supersensory Powers; The Nature And The Destiny Of Man; The Pathway To Power And Peace; Spiritual Alchemy; Discipleship And How It May Be Attained; The Neophyte Finds His Master; The Spiritual Powers Of Man, Their Awakening, Unfoldment And Culmination; The Bible As A Source Of Secret Knowledge; The Mystery Drama Of The Christ Life; The Christmas Of The Soul; Christianity As A Power For Progress; The Way To Health And Happiness; Does Justice Rule The World?; The Origin And Nature Of True Love; The Assurance Of Happiness In Love.
theosophy, occult
VG hardback with no jacket.
$35 C/B
Theosophical Publishing House 1969 third printing, xxvii 199pp.
[#5573 ]
STEINER Rudolf

Knowledge of the Higher Worlds and Its Attainment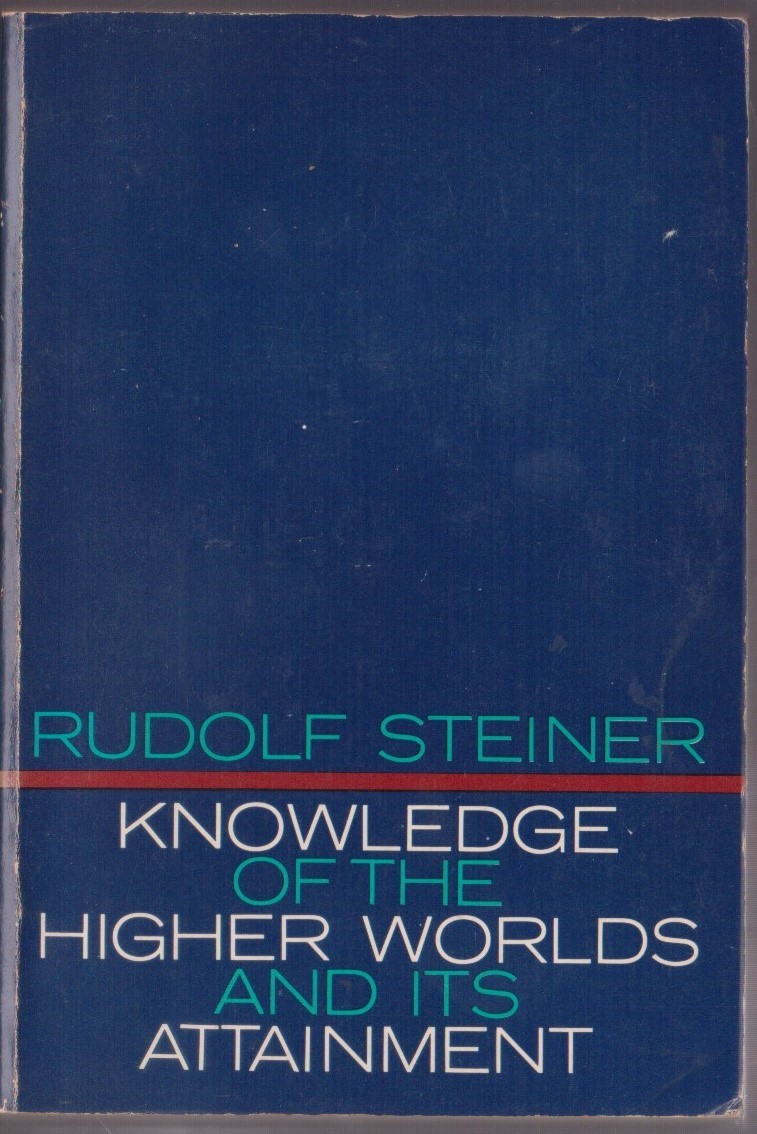 How Is Knowledge of the High Worlds Attained? - The Stages of Initiation - Initiation - Some Practical Aspects - The Conditions of Esoteric Training - Some Results of Initiation - The Transformation of Dream Life - The Continuity of Consciousness - The Splitting of the Human Personality during Spiritual Training - The Guardian of the Threshold - Life and Death, The Greater Guardian of the Threshold - Appendix.
VG- softback, sewn binding.
$15 C/B
Anthroposophic Press (later printing of 1947 third edition), xv 272pp.
[#5574 ]
LEADBEATER C. W.

The Hidden Side of Things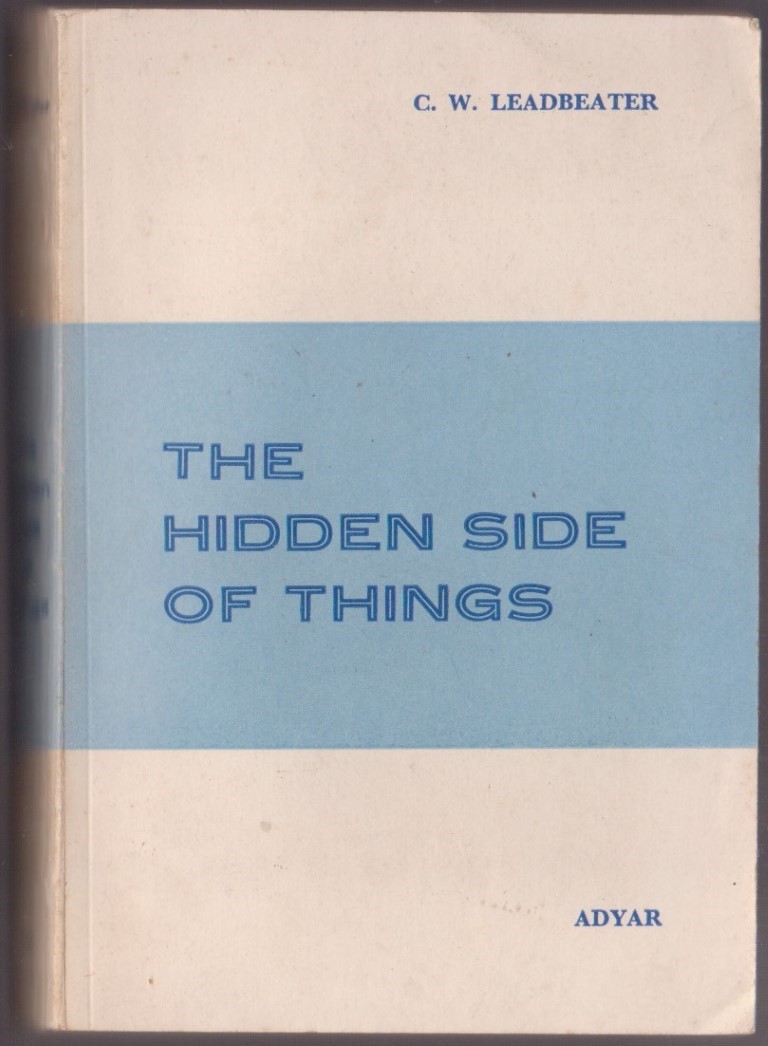 How the unseen energies of others, of nature, of the buildings we inhabit, of the rituals we perform, and of our own habits and thoughts have on us, on every level.
ISBN 0835670074
theosophy,
VG- softback, sewn binding.
$35 C/C
Theosophical Publishing House 1974 (eighth edition of 1913 original), xvi 619pp.
[#5575 ]
BANKS Natalie N.

The Golden Thread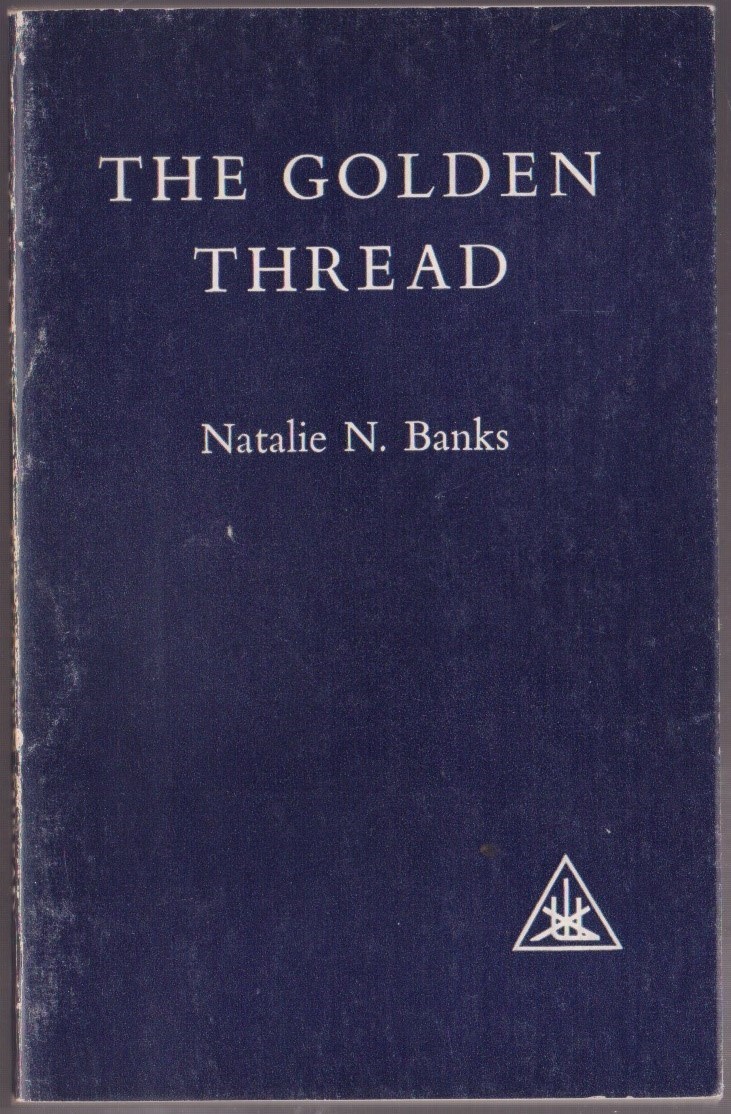 The Continuity of Esoteric Teaching.
The constant reappearance of the Ancient or Ageless Wisdom, that body of inner or esoteric teaching handed down from remote times in a form suitable to the period, has always attracted the minds of thoughtful people.
VG- softback
$8 C/A
Lucis Press 1972, 96pp.
[#5576 ]
BATHGATE John

Bathgate Expeditions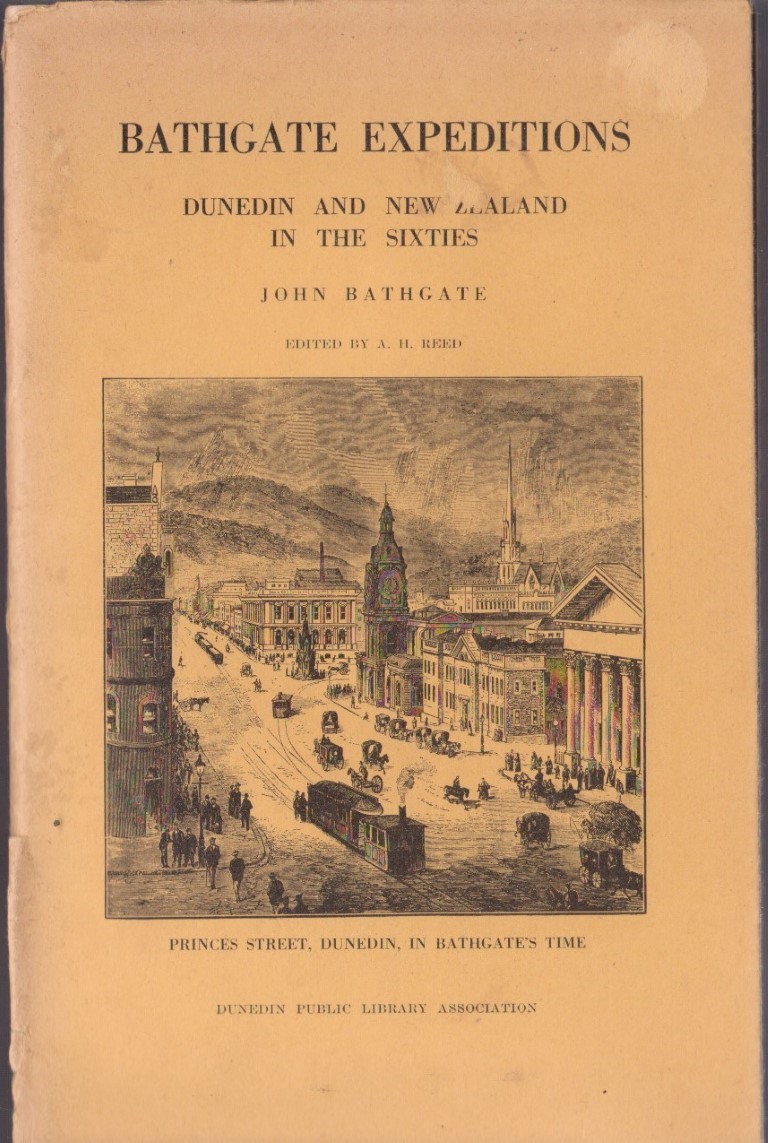 Dunedin and New Zealand in the Sixties.
Eyewitness account of the Dunedin and surrounds of the 1860s.
Illustrated.
otago history
VG softback with dust jacket.
$25 C/A
Reed for the Dunedin Public Library Association 1952 first edition, 36pp.
[#5577 ]
[AESOP] DETMOLD Edward J.

The Fables of Aesop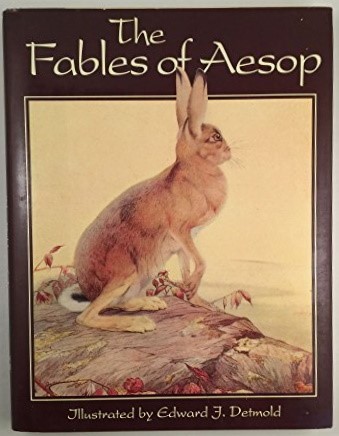 An illustrated collection of more than 300 fables first told by the Greek slave Aesop.
ISBN 9780517100837
23 colour illustrations.
VG quarter-cloth hardback in VG- dust jacket.
$20 C/C
Gramercy 1994 (reprints 1909 original), 174pp.
[#5578 ]
FEIST Raymond E.

Krondor the Betrayal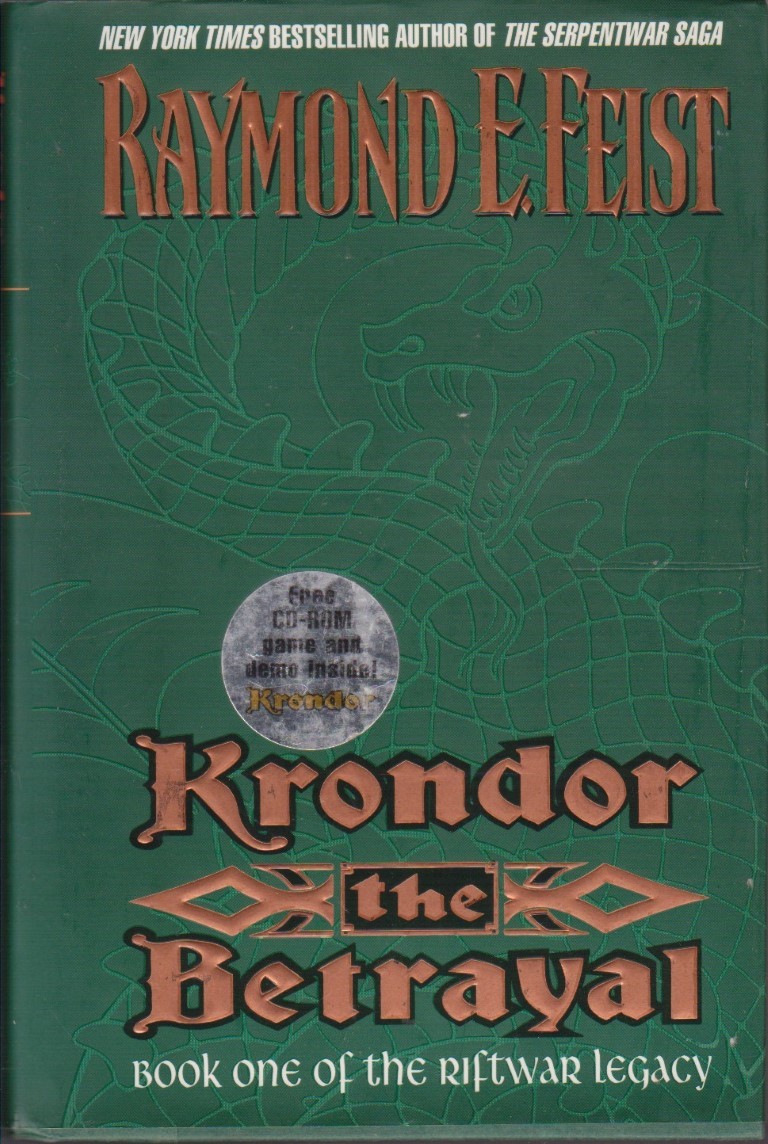 RiftWar Legacy Book One.
ISBN 9780380977154
VG hardback with VG dust jacket with small tear at head of spine.
$15 C/C
Avon Books 1998 first edition, 376pp. INCLUDES CD-ROM game and demo.
[#5579 ]
LEWIS Margaret

Ngaio Marsh A Life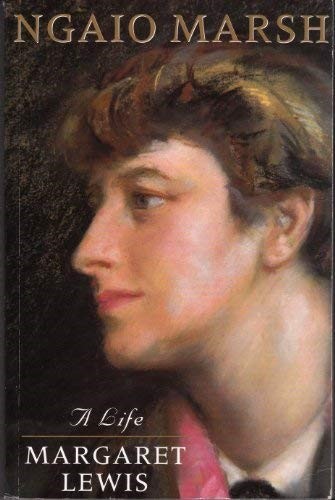 A biography of the famous New Zealand crime writer and theatrical producer/ director.
ISBN 0908912064
Dame Ngaio Marsh, Christchurch drama, theatre
VG- softback
$9 C/C
Bridget Williams Books 1991 first edition, x 276pp + plates.
[#5580 ]
6/04/2022ev
ROBERTS Neil

Leonard Booth 1879-1974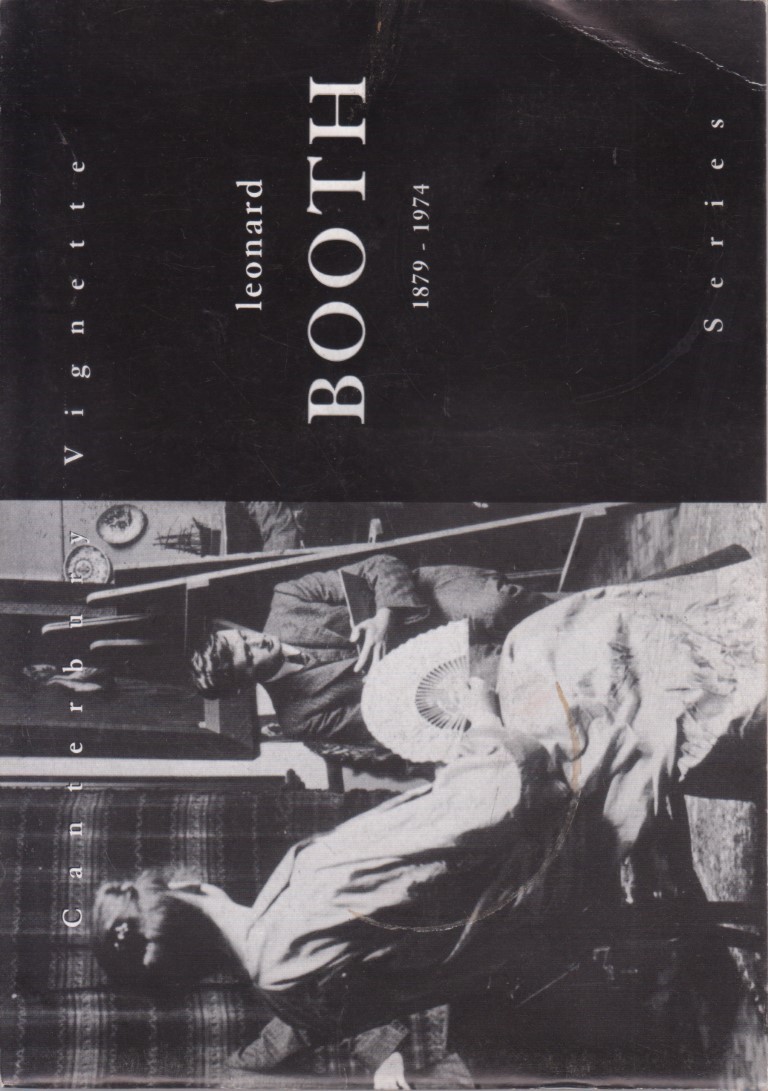 An exhibition catalogue and monograph on Leonard Booth, an early Twentieth Century New Zealand book illustrator and artist.
ISBN 0908874871
Canterbury Vignette Series, Cartoon, Caricature, Drawing
VG folded sheets in stapled wrapper.
$15 C/A
Robert Mcdougall Art Gallery 2000 First Edition, 32pp.
[#5553 ]
CHASE James Hadley

I'll Bury My Dead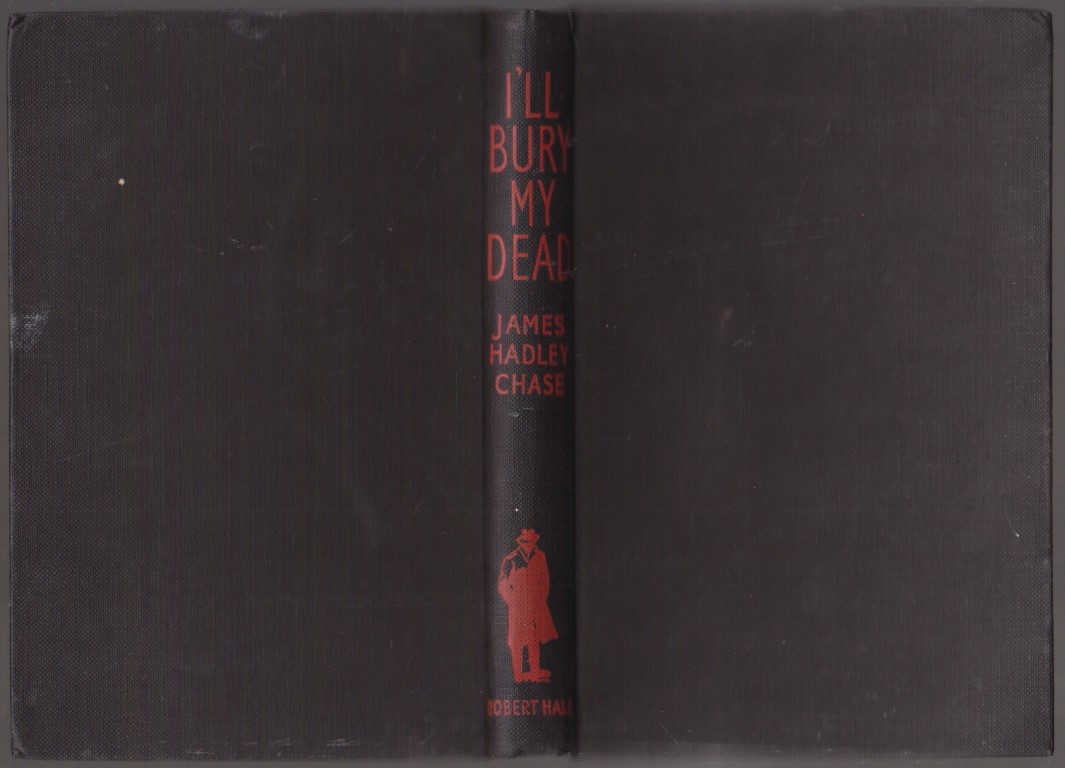 VG- hardback with no jacket.
Foxing to closed edges and into margins, faint soiling to boards.
$10 C/B
Robert Hale 1953 First Edition, 256pp.
[#5554 ]
CHASE James Hadley

Just Another Sucker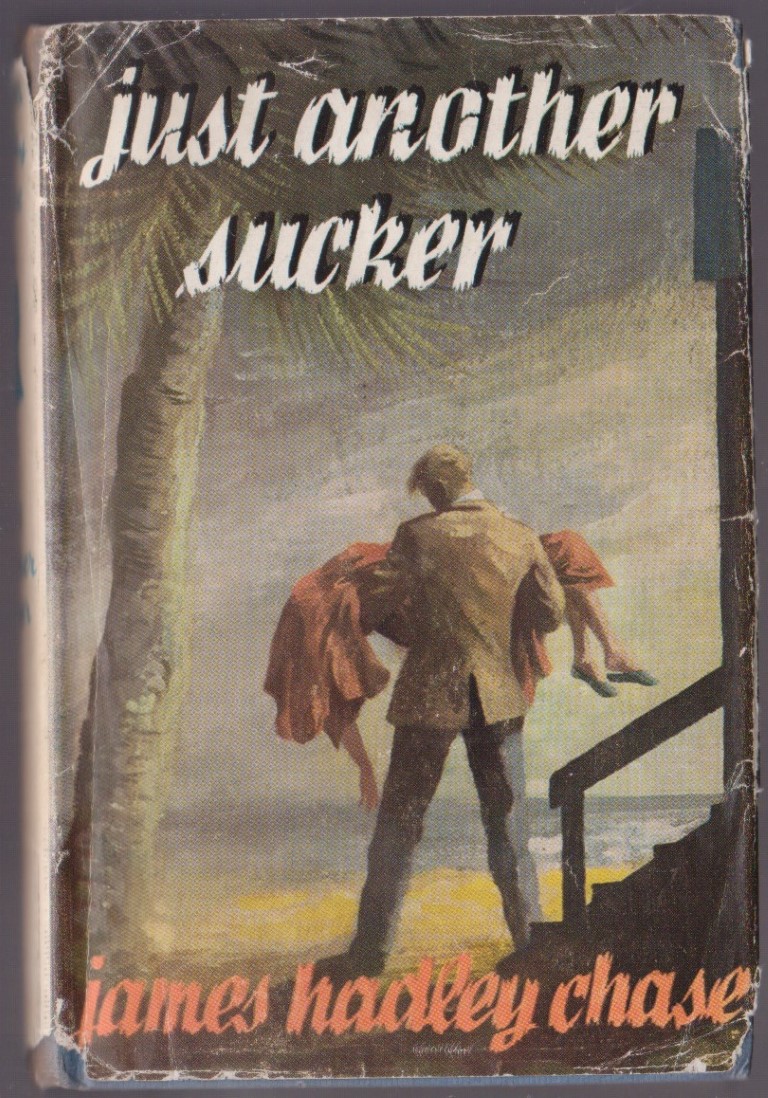 VG hardback in G dust jacket.
Jacket rubbed to surface and edges, tears and chipping to spine ends and corners, light foxing to closed page edges.
$15 C/B
Thriller Book Club 1961 First Edition thus, 190pp.
[#5555 ]
BRAZIL Angela

The New Girl at St Chad's, a Story of School Life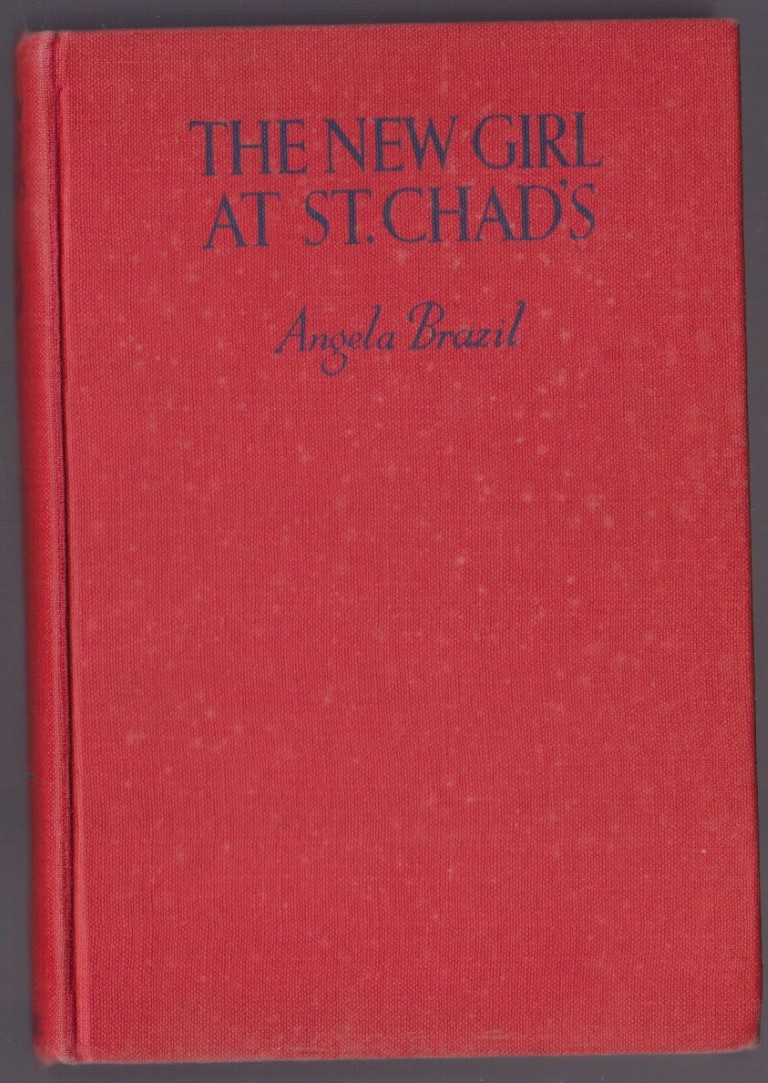 Illustrated by W. M. Spence.
War Economy Standard Production so post 1940.
schoolgirl story, boarding school,
VG hardback with no jacket.
Faint spotting to boards, fep cut out, light foxing to prelims and closed edges.
$15 C/B
Blackie undated, 288pp + frontis and 3 plates.
[#5556 ]
MacDONALD Robert

The Fifth Wind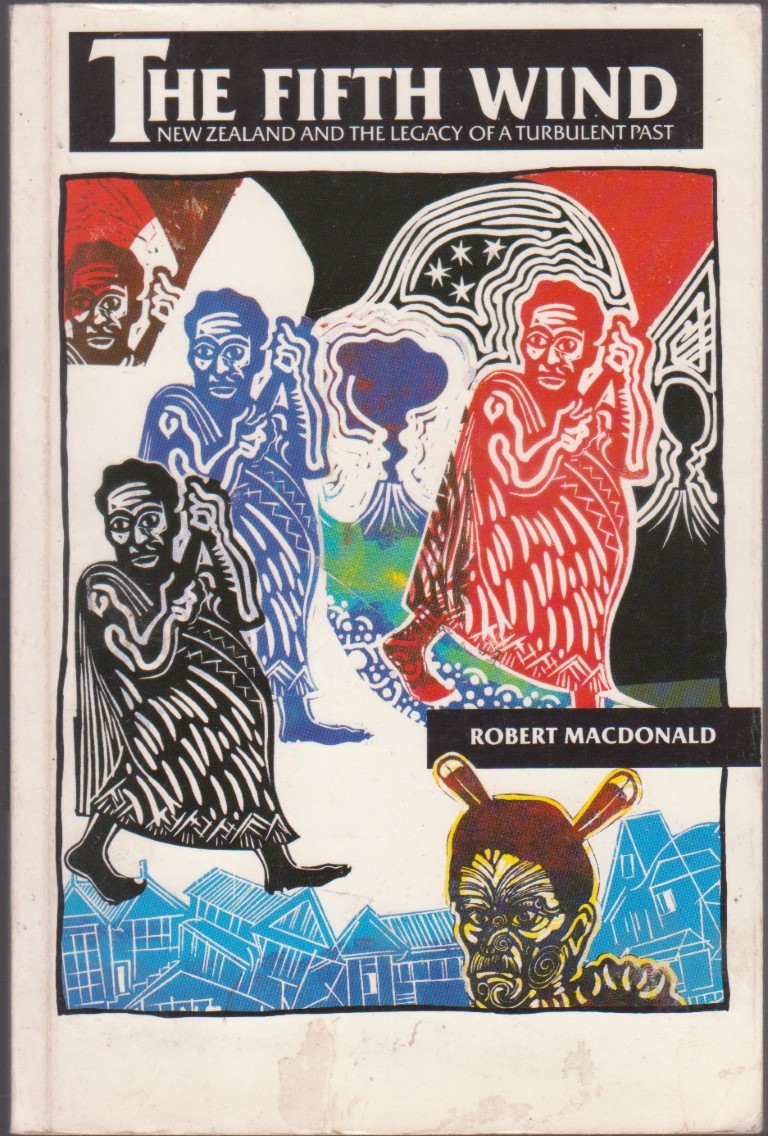 New Zealand and the Legacy of a Turbulent Past.
MacDonald discusses the new political assertiveness amongst young Maoris he encountered in 1984 where young militants joined with their tribal elders to march to Waitingi to demand that the New Zealand Government and Crown honour the Treaty.
He writes of his experiences accompanying the Maoris on this march, and examines the background of unrest that has generated the new turbulence in New Zealand's race relations.
ISBN 9780340495834
treaty of Waitangi, grievances, maori politics, history
VG softback.
$30 C/C
Hodder 1989, 313pp.
[#5557 ]
BERLITZ Charles

Without a Trace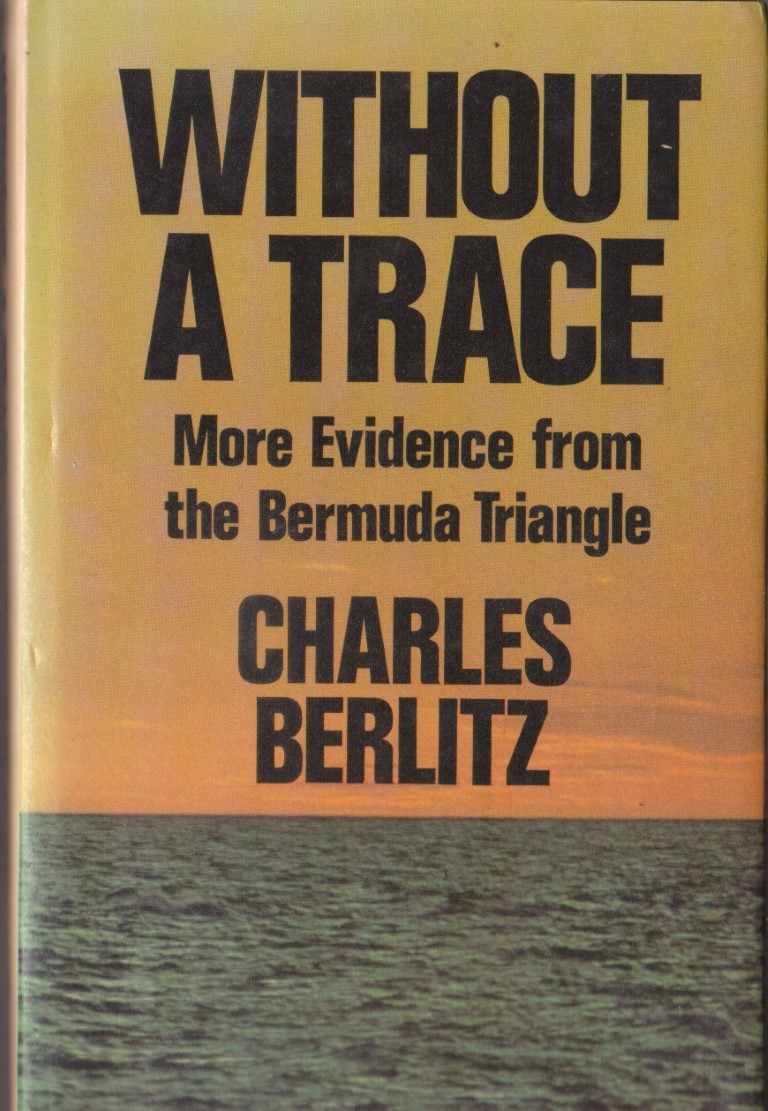 More evidence from the Bermuda Triangle
Discusses weather and geo-magnetic anomalies over the Triangle, as well as the hypothesis that Atlantis is sunk beneath the seas in the area.
ISBN 0285622862
Atlanteology, Bahama Banks, UFO
VG hardback in VG- dust jacket.
Sunned spine, small taped tear at head of upper joint.
$10 C/C
BCA 1977, 180pp + plates.
[#452]
VG hardback in VG dust jacket.
$15 C/C
Souvenir Press 1977, 180pp + plates.
[#5558]
VG- paperback with crease to cover, aged paper stock.
$5 A/B
Granada 1981, 222pp + plates. ISBN 0586045503
[PB930]
HADJIPATERAS C. N. and M. S. FAFALIOS

Crete 1941 Eyewitnessed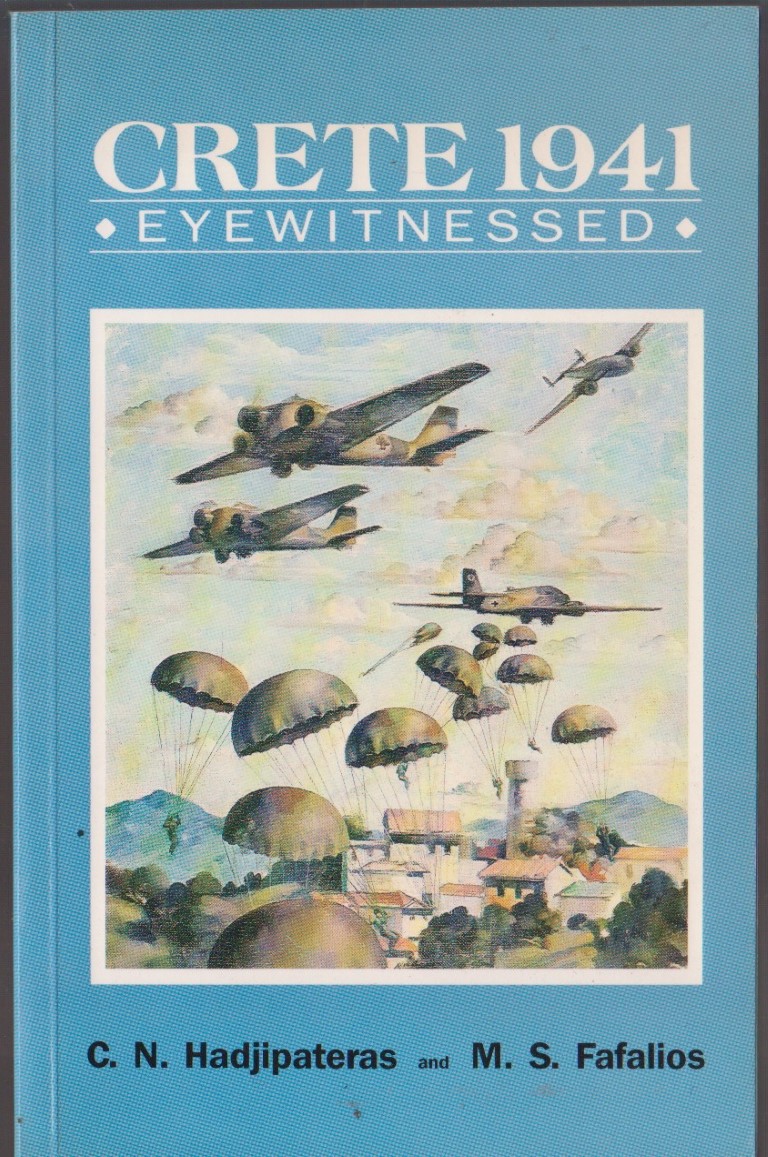 Authentic testimonies from Australian, New Zealand, British, Cretan, Greek and German participants in the Battle for Crete.
From the airborne invasion, to the surrender of the German Garrison.
ISBN 9781869411152
Kreta, fallschirmjaegar,
VG softback
$20 C/C
Random Century 1991, 328pp.
[#5559 ]
MOOREHEAD Alan

Gallipoli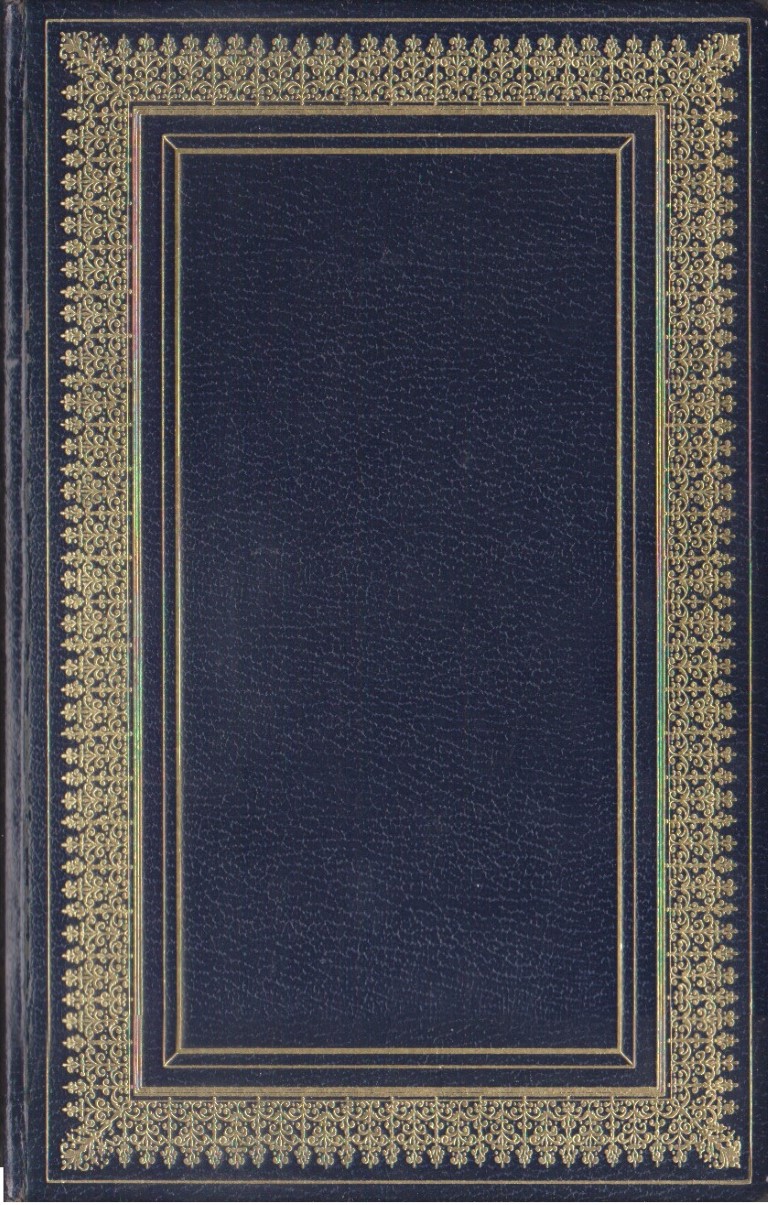 Moorehead revealed that the Gallipoli campaign should not be regarded as a blunder or a reckless gamble, but the most imaginative conception of the war, with potentialities almost beyond reckoning.
Still regarded as the best and definitive account of the Gallipoli campaign.
Later during WWII Gallipoli was a mine of information about the complexities of the modern war and the combined operation by land and sea and sky.
Correction of the errors made at Gallipoli was the basis of the victory of D-Day in 1945.
anzac, ww1, wwi, deluxe, Turkey
VG+ decorative leatherette hardback.
$20 C/C
Heron Books undated (1970s), 382pp + plates.
[#5560 ]
WOLFE Richard

All Our Own Work - New Zealand's Folk Art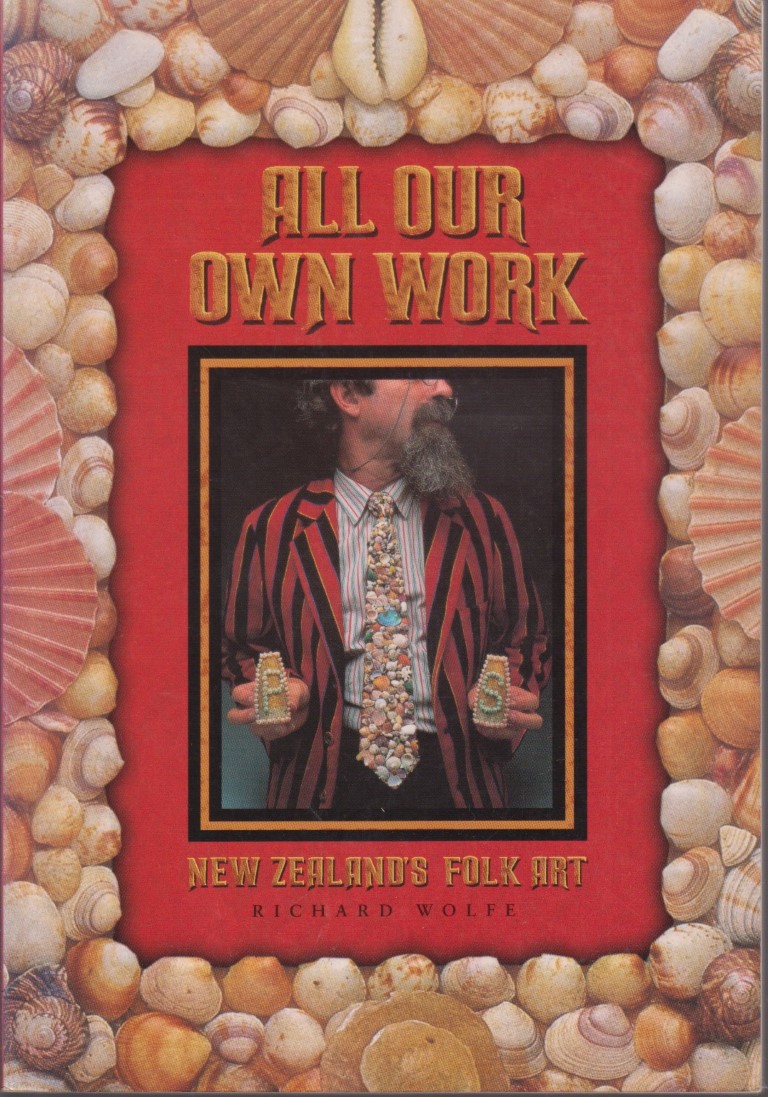 A history of New Zealand handmade folk art and artifacts.
Colour and black and white photos.
ISBN 9780670875511
toys, carving, tapestry, kiwiana, craft, domestic
VG- softback, top corner of first two page clipped off.
$20 B/C
Viking 1997 first edition, 152pp.
[#5561 ]
BRYANT G.

Where the Prize Is Highest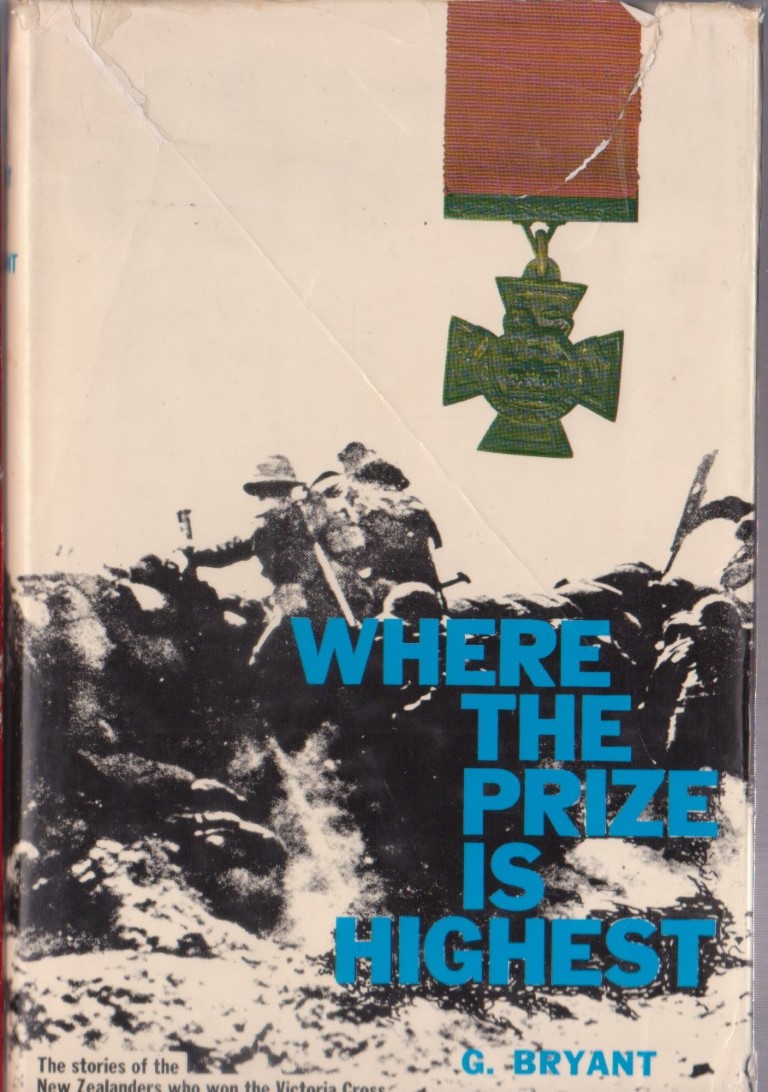 The Stories of 28 New Zealanders Who Won the Victoria Cross.
From Charles Heaphy in the Colonial Wars through the First and Second World War winners.
anzac, valour, decoration, military medals, awards
VG- hardback in G+ dust jacket with a few closed tears.
$15 C/C
Collins 1972 first edition, 181pp.
[#5562 ]
FOLEY Charles

Commando Extraordinary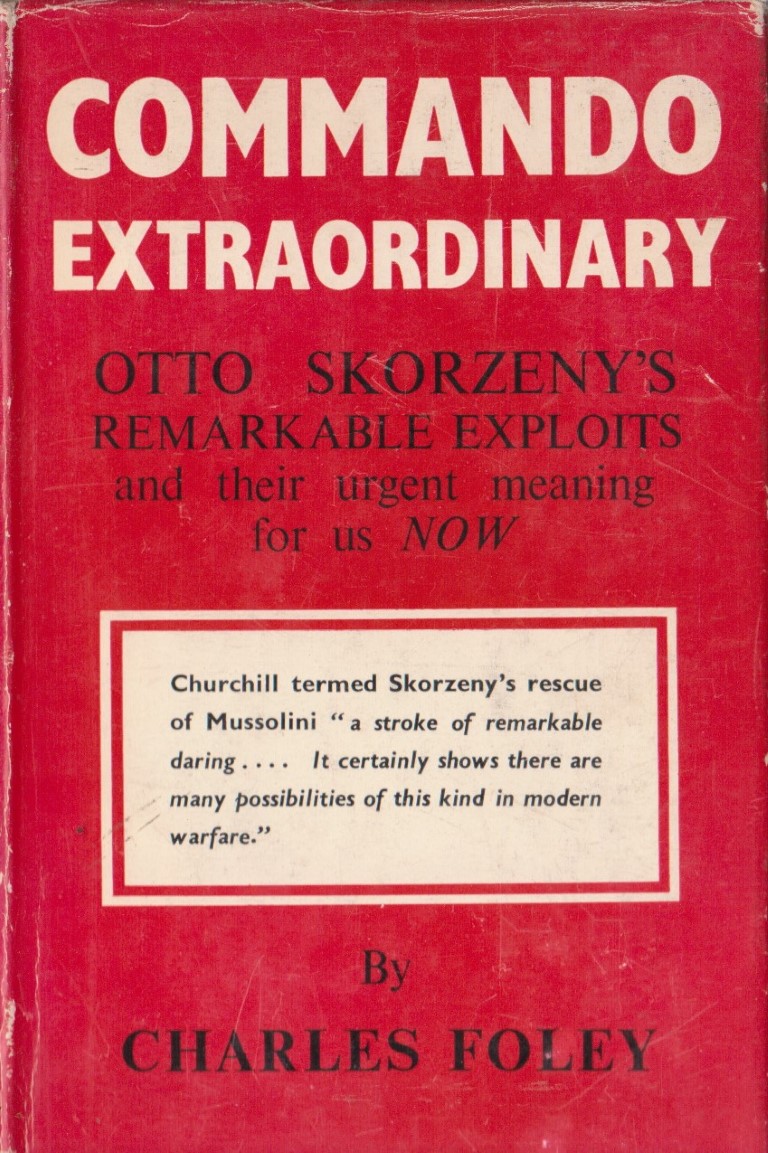 Otto Skorzeny was Hitler's go to man for special missions, infamously rescuing Mussolini with a daring glider operation.
wwii, SS, special operations, commando raids, nazi hero
VG hardback in VG- dust jacket.
$15 C/C
Longmans 1954, 232pp + plates
[#1981/5563 ]
G+ paperback with cover wear.
$5 A/B
Great Pan GP52 1956 first edition paperback, 251pp + plates.
[PB1289 ]
24/03/2022ev
CHRISTCHURCH HIGH SCHOOL OLD BOYS ASSOCIATION.

The Christchurch High School Old Boys' War Memorial Magazine 1939-1945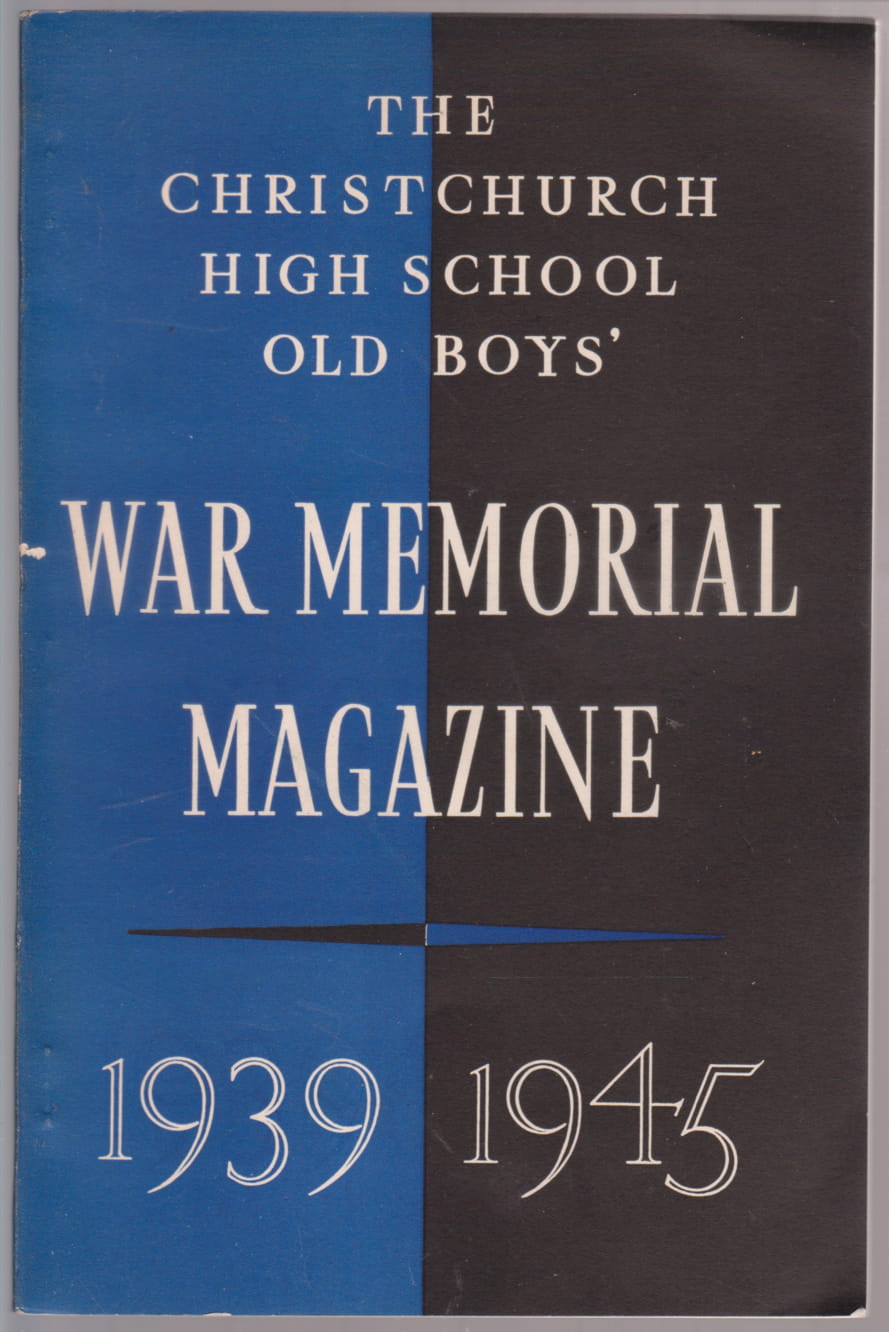 Fifteen short pieces by CBHS Old Boys on their war time experiences followed by roll of honour, with photo portraits of those killed in action or as result of wounds sustained, sewn sheets on quality sized paper in stiff paper wrappers
With foreword by Kippenberger.
wwii, ww2, war memoirs, new zealand
VG in original paper covers.
$55 C/B
Christchurch Boys High School Old Boys Association 1945 First Edition, approx 120pp.
[#5546 ]
WHITLOCK Ralph

Here be Dragons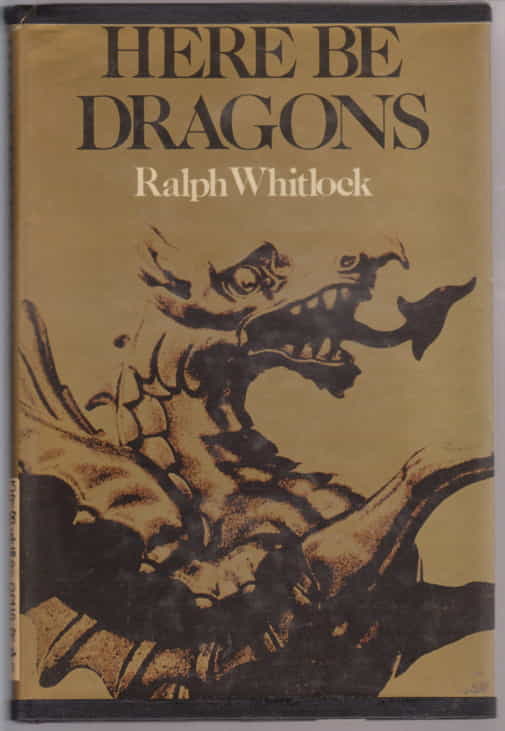 An illustrated, exhaustive overview of dragon sightings and myths in the British Isles (excludes Ireland).
Includes sea monsters, Nessie etc, historical, mythical and recent.
ISBN 0043980074
Dragons, Ley Lines, Earth Energy, Energies, Mythology, Folklore, Britain, Celtic, Anglo Saxon
VG-/VG- hardback.
Tidy cancelled ex-library with stamps and issuing slip residue, plastic sleeve taped down to endpapers, call number on label to spine.
$15 C/B
George Allen 1983 First Edition, 164pp.
[#5547 ]
LEONIS Sheila (Mrs B Downes)

Maut, A Story of Ancient Egypt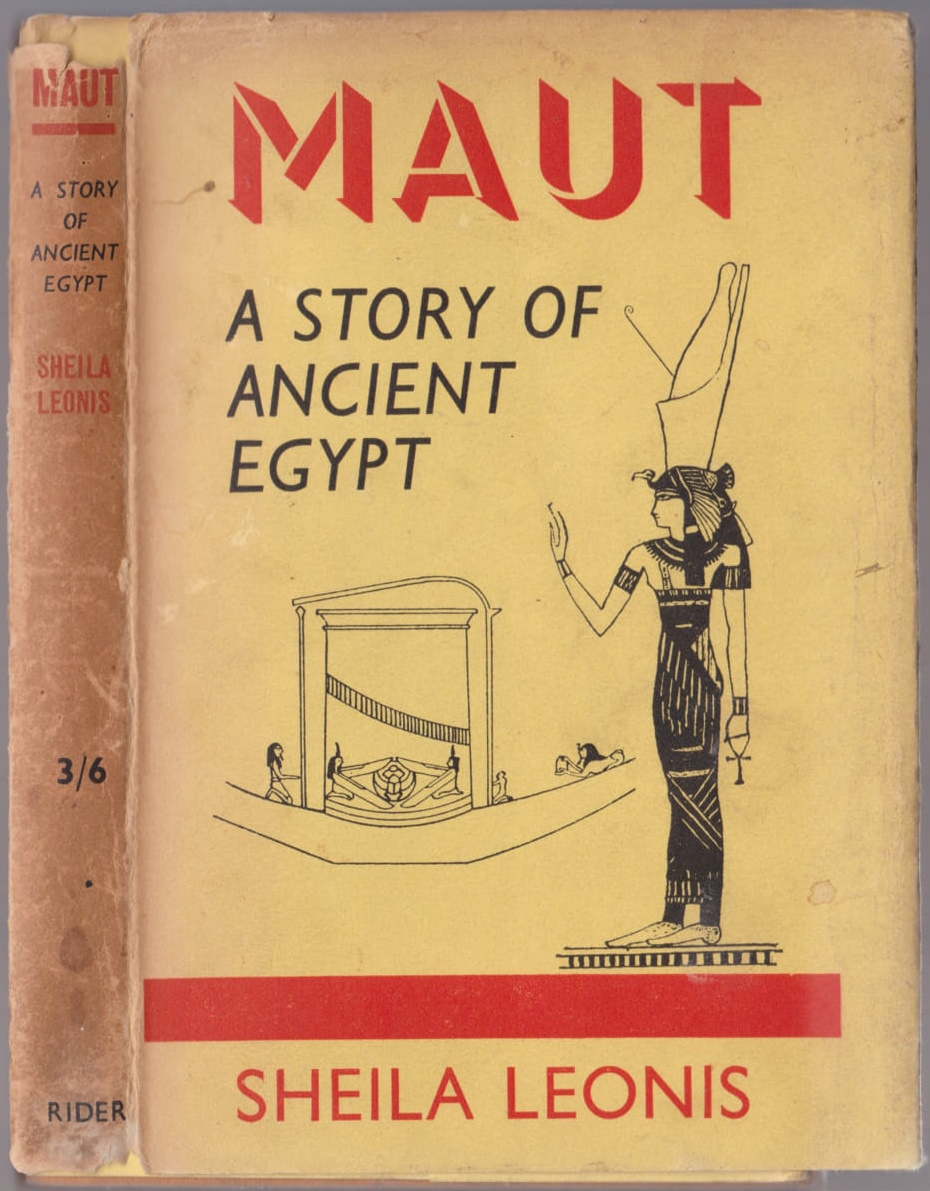 The author of The Mystery of Iusa and A Thread in The Maze brings a tale of a vision of the Temple of Maut in Pharaonic times in Egypt.
The author, a New Zealander, has written other books on metaphysical themes so this has similar ideas within the story.
VG hardback in G+ dust jacket.
Jacket dust soiled through handling, spine edge rubbed with chipping to head and tail, spine is browned and with a short tear.
$30 C/B
Rider undated first edition (pencil date 1940 at front), 96pp.
[#5548 ]
COSTELLO Peter

In Search of Lake Monsters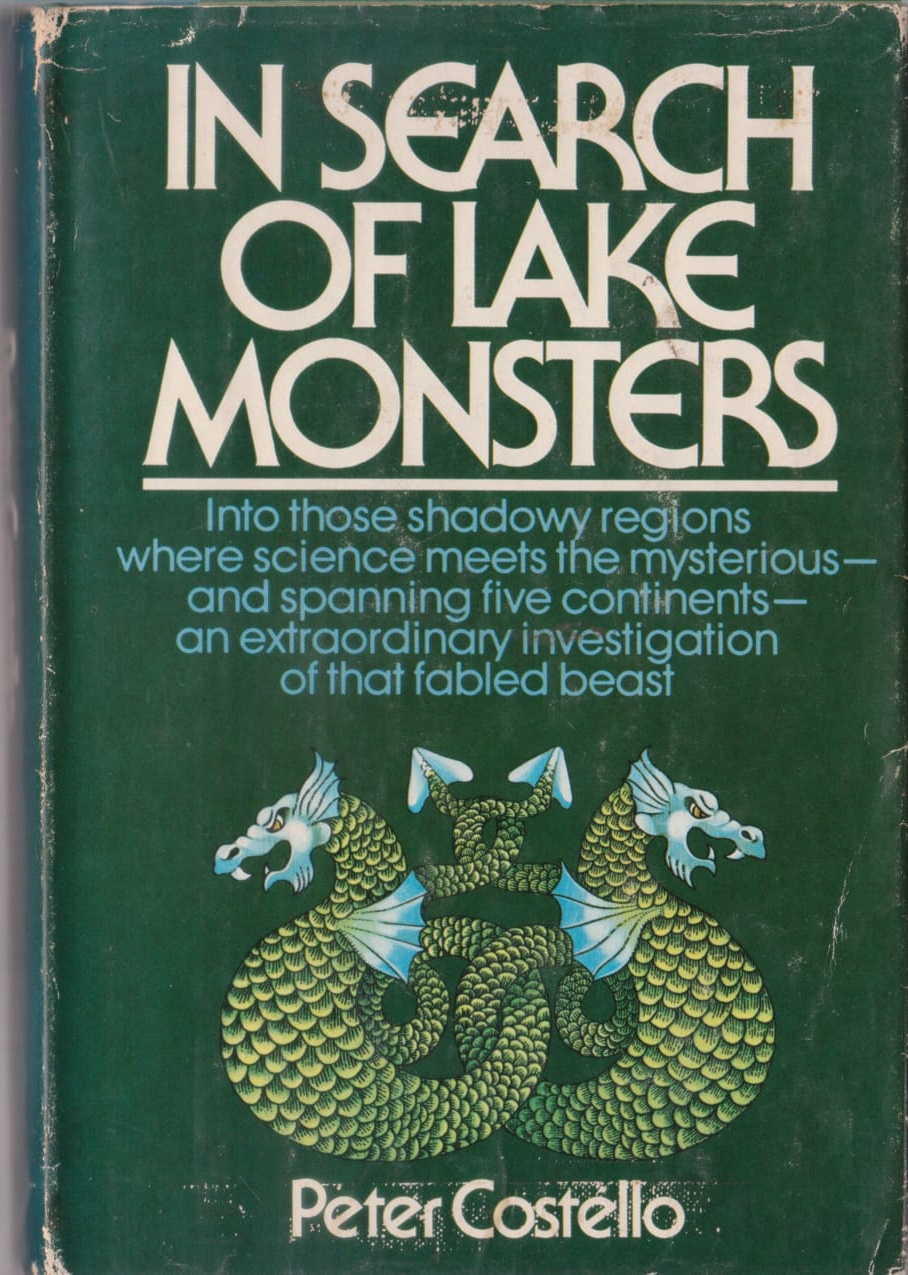 Uncommon book that investigates fresh water 'monsters' from around the world, past and present, includes much on Loch Ness monster.
ISBN 069810613X
lake monsters, dragons, cryptozoology
VG hardback in VG dust jacket. Quarter cloth.
Small gift inscription, jacket unclipped and lightly rubbed.
$65 C/C
Coward McCann & Geoghegan 1974 First Edition, 354pp + plates
[#5549 ]
[HYPNOTISM] CANNON Alexander

The Science of Hypnotism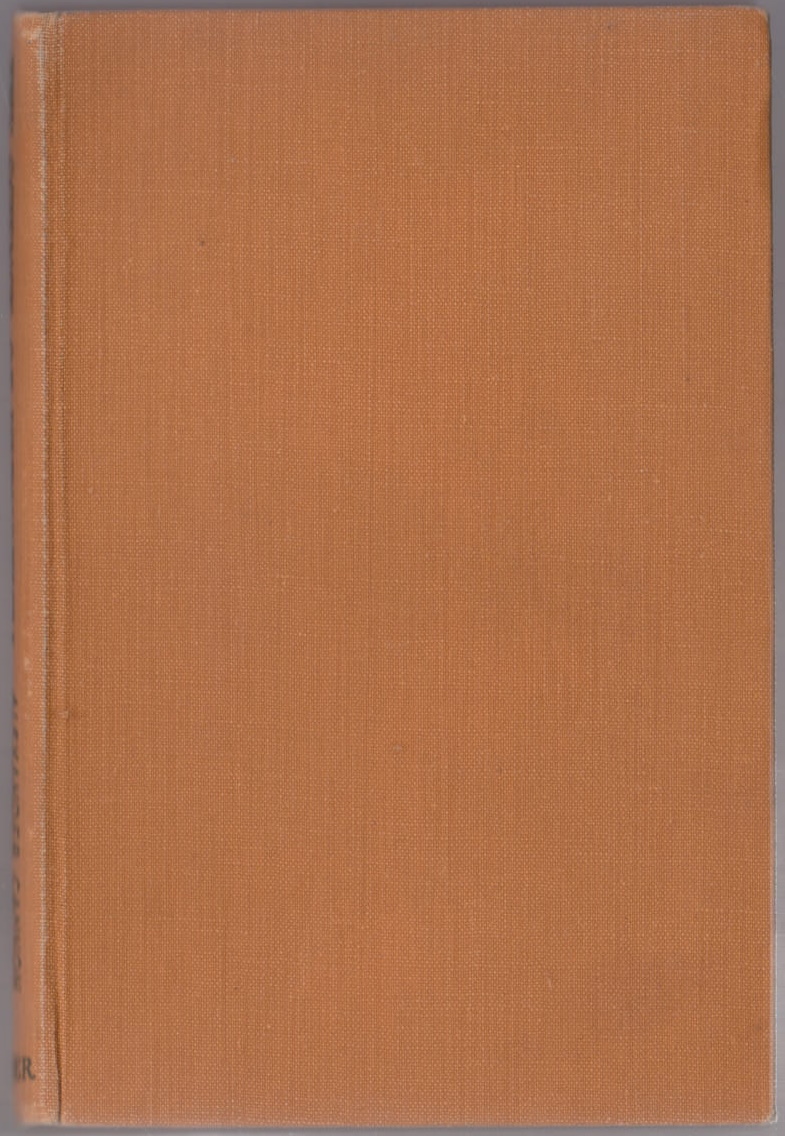 The theory and methods of hypnotism includingtherapeutic use and Hypnotic Colour Science.
Originally published 1936.
Good hardback with no jacket, light foxing, underlining, some of it in heavy pen.
$12 C/B
Rider 1950, 126pp + adverts.
[#5550]
BROOKS C Harry

The Practice of Autosuggestion By the Method of Emile Coue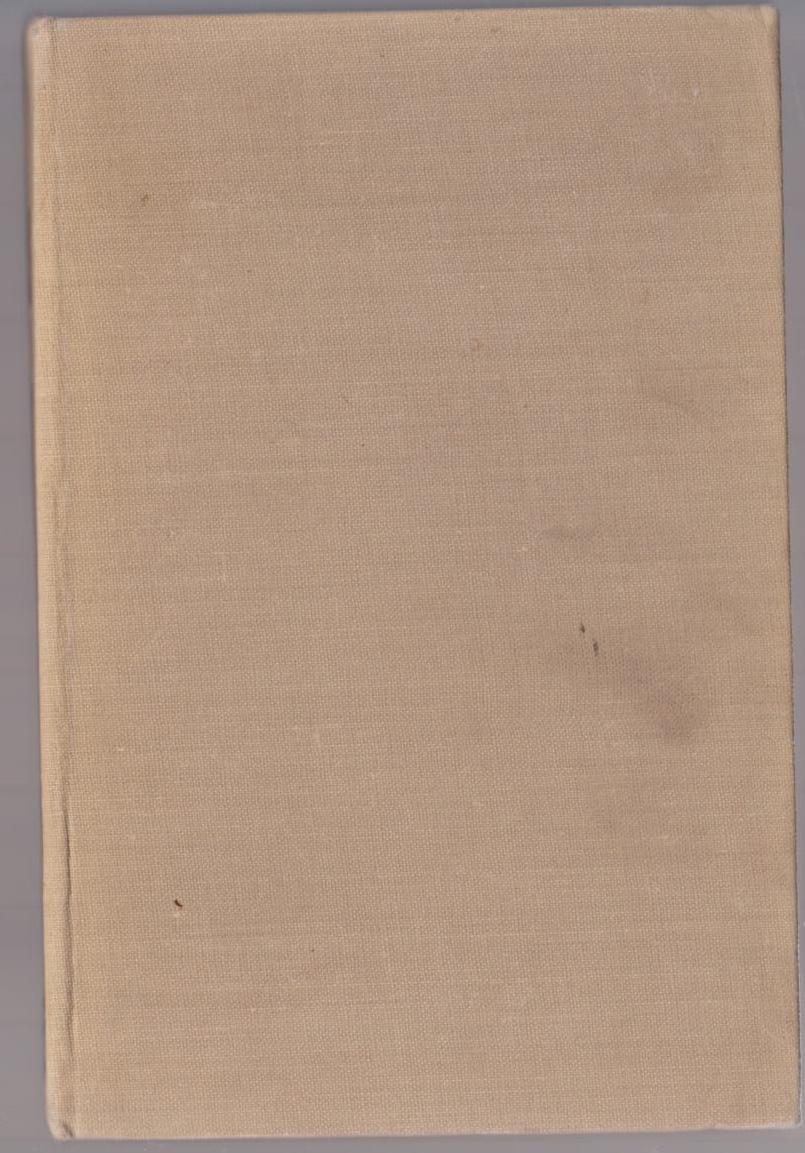 Description of Coue's method of therapeutic hypnotism.
Originally published 1922.
VG hardback with no jacket, light soiling to cloth, one page has a few lines of pencil.
$10 C/B
George Allen 1949, 124pp + adverts.
[#5551]
GRAHAME Kenneth

Dream Days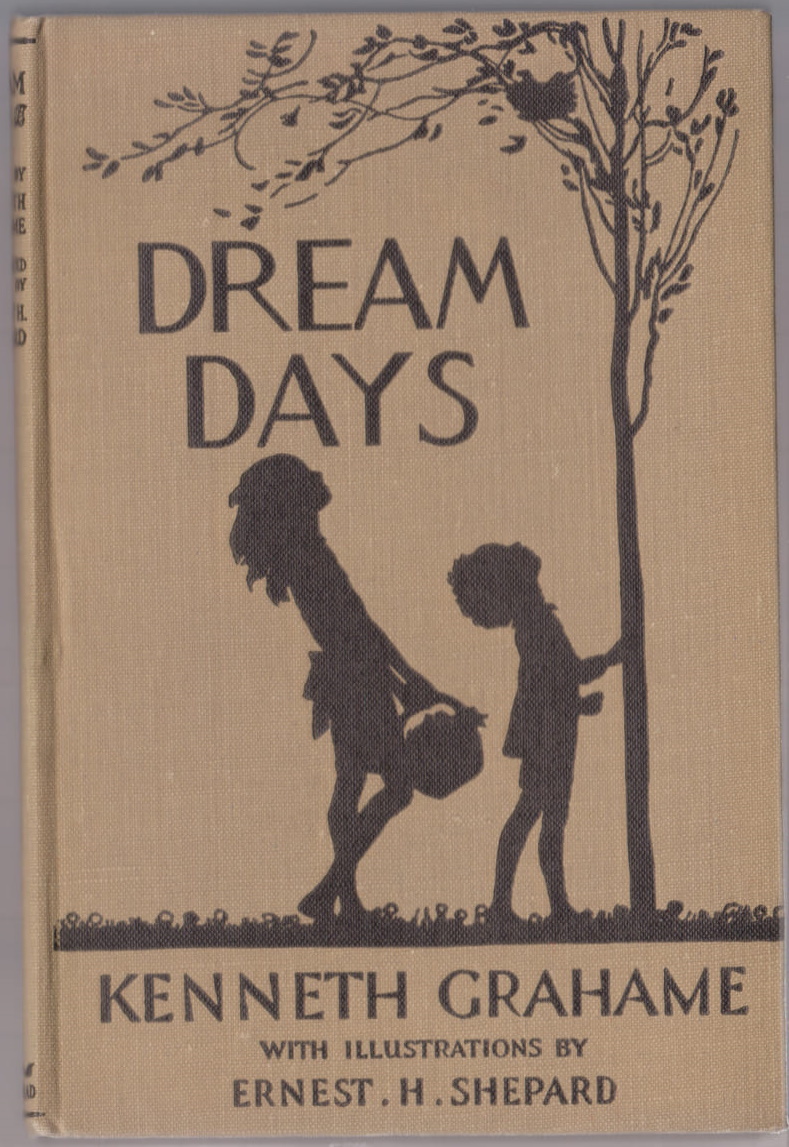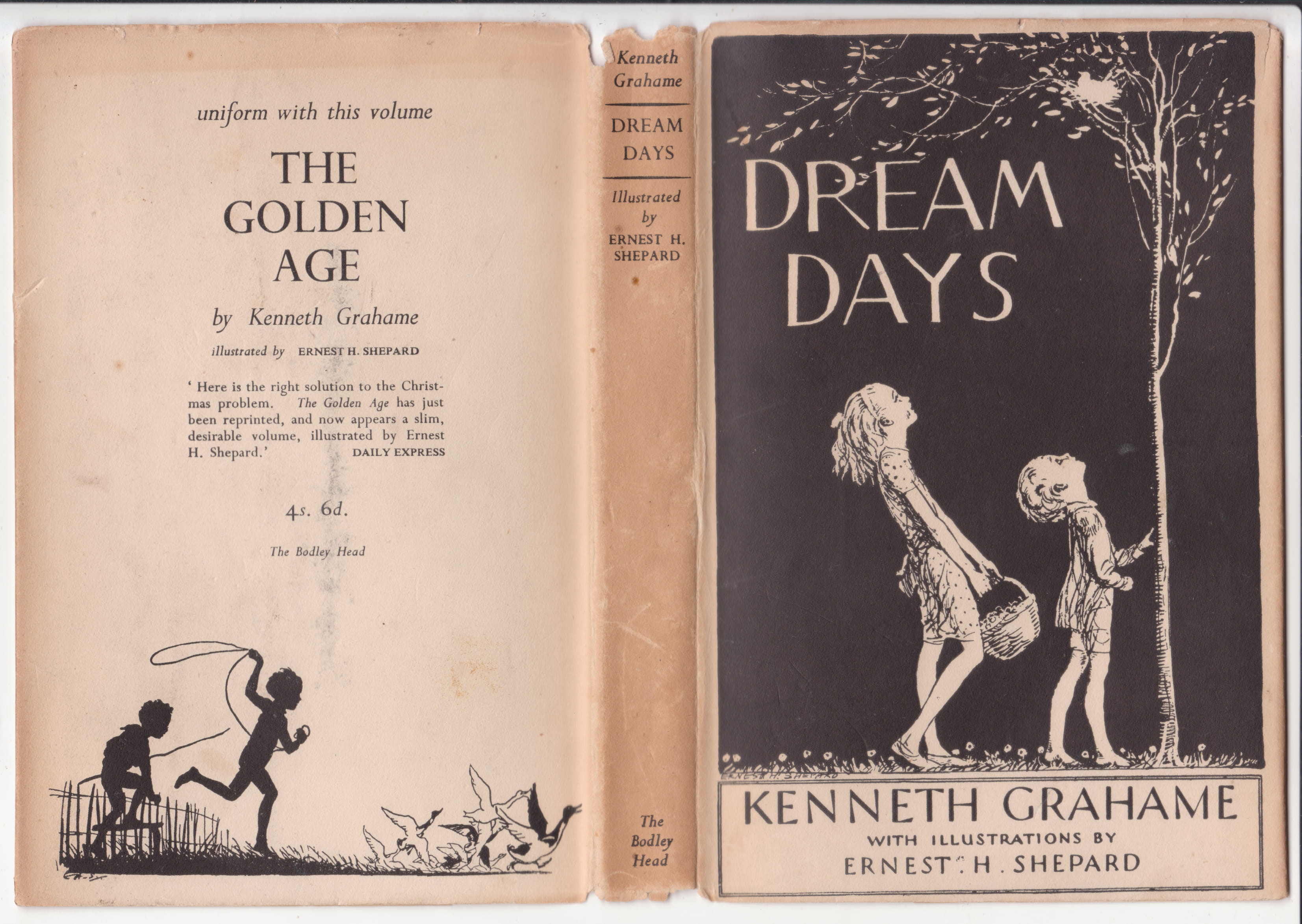 Illustrated by E H Shepard.
VG hardback in VG dust jacket.
Lacks free end paper, price clipped jacket withlight edge wear, mild chipping to spine ends and corners, faintly browned.
$15 C/B
Bodley Head 1945 reprint, 168pp.
[#5552 ]
COLLINS Andrew

The Second Coming, a Terrifying True Story.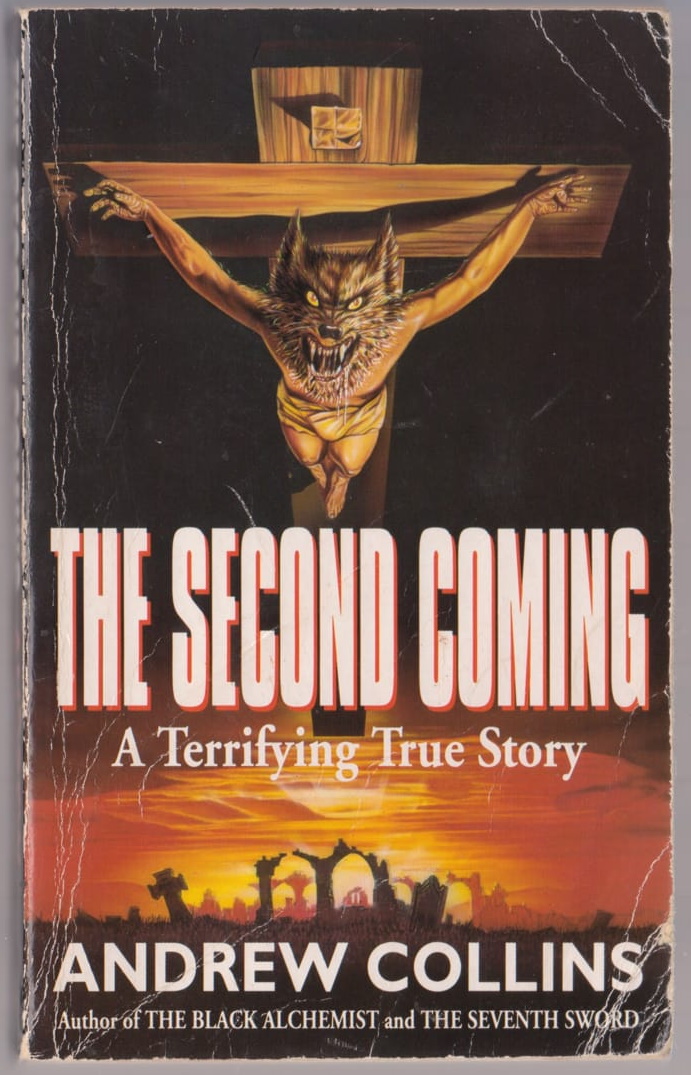 Chronicles the activites of the Black Alchemist and the Friends of Hekate coven who are systematically defiling the sacred places of Britain.
Part of the psychic archaeology history by Andrew Collins following dark occult conspiracy threatening to seize power, involving a sinister network of extreme right-wing politics, American fundamentalist groups, the police and big business.
Includes black-magic rituals, supernatural battles and ritual murder.
ISBN 0099251515
psychic questing, Meonia
G+ paperback, wrappers lightly worn, bookseller label to first page.
$25 A/B
Arrow 1994 First Edition, 336pp + plates.
[PB1730 ]
24/03/2022ev
CHURCH Ian N.

Opening the Manifest on Otago's Infant Years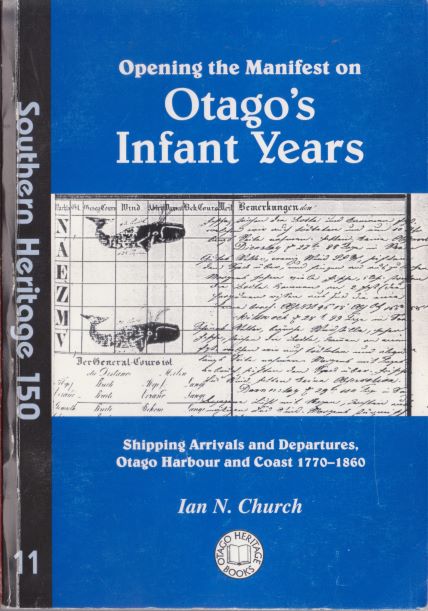 Shipping Arrivals and Departures, Otago Harbour and Coast 1770-1860.
ISBN 9780908774678
Southern Heritage 150 series Number 11.
genealogy, immigration, history, records, shipping manifests
VG softback.
$25 C/B
Otago Heritage Books 2002 first edition, 272pp
[#5541 ]
[LYTTELTON] NORRIS Baden

Blackboards and Ships' Masts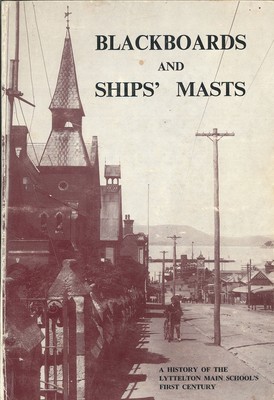 A history of the Lyttelton Main School's first Century with all the expected lists of staff, pupils, notable happenings, and photos.
Christchurch, school history
VG softback
$25 C/B
The Lyttelton Main School Centennial Committee 1975, 128pp
[#5542 ]
[SHIPWRECK] DUNN R. J.

Niagara Gold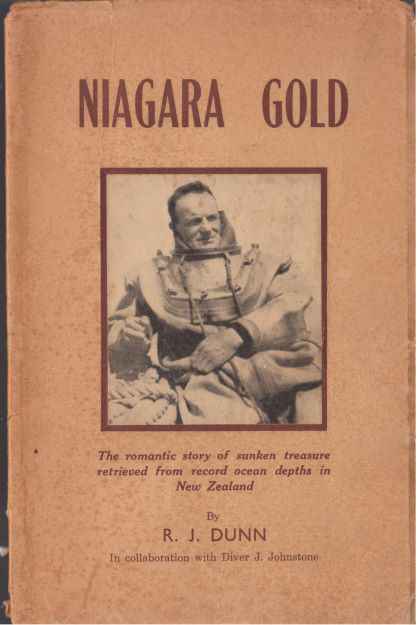 The true story of how an Australian and New Zealand crew salvaged eight tons of gold from a ship sunk in the midst of a German laid minefield in the Tasman Sea in the midst of the Second World War.
The scarce war-time printing of this fascinating story.
Claymore, Niagara, shipwreck, deep sea diving, John Johnstone
VG- softback, folded sheets stapled in paper wrappers with photo of diver J Johnstone on front.
From the Kelly Tarlton Shipwreck Museum, with pen inscription and stamp to title page.
$75 C/B
Reed 1943 second printing after 1942, 51pp.
[#5543 ]
[SHIPWRECK] MAYNARD Jeff

Niagara's Gold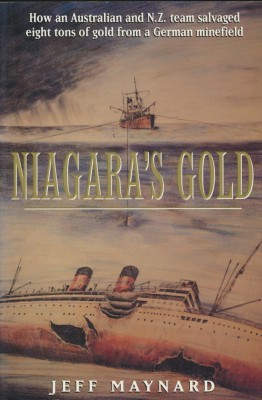 The true story of how an Australian and New Zealand crew salvaged eight tons of gold from a ship sunk in the midst of a German laid minefield in the Tasman Sea in the midst of the Second World War.
ISBN 9780864177667
Claymore, Niagara, shipwreck, deep sea diving, John Johnstone
VG softback
$20 C/B
Kangaroo Press 1996, 160pp.
[#5544 ]
HARRISON Raymond J.

Ebb and Flow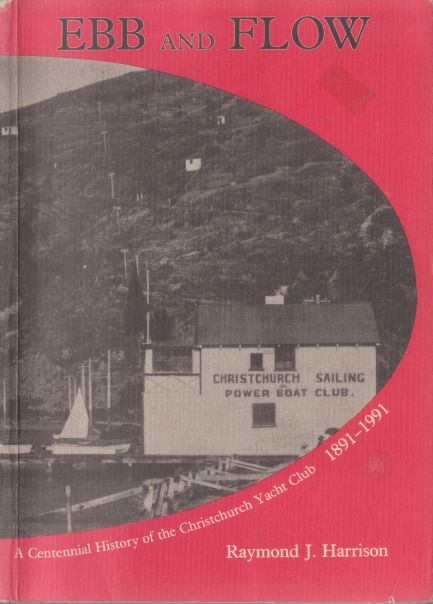 A Centennial history of the Christchurch Yacht Club 1891-1991.
ISBN0473012758
sport, local history, Christchurch Estuary, sailing
VG- softback, name to inside of cover.
$30 C/B
Christchurch Yacht Club 1991 first edition, 188pp + map, frontis.
[#5545 ]
11/03/2022ev
BUTTON John

South Canterbury Tales
More South Canterbury Tales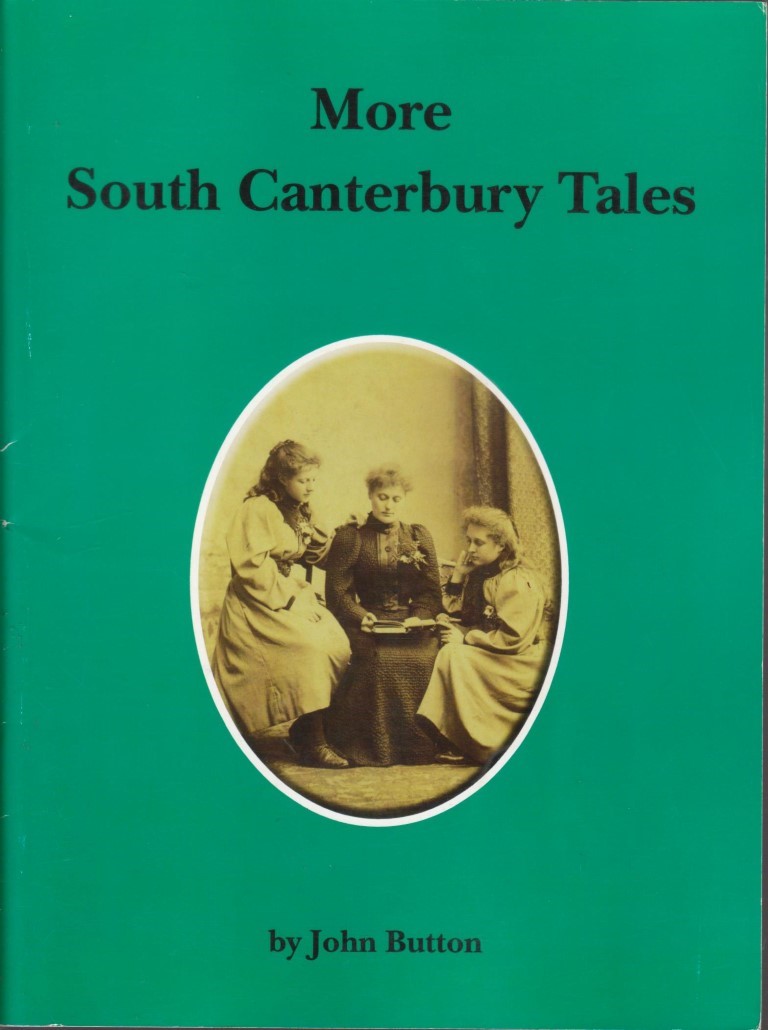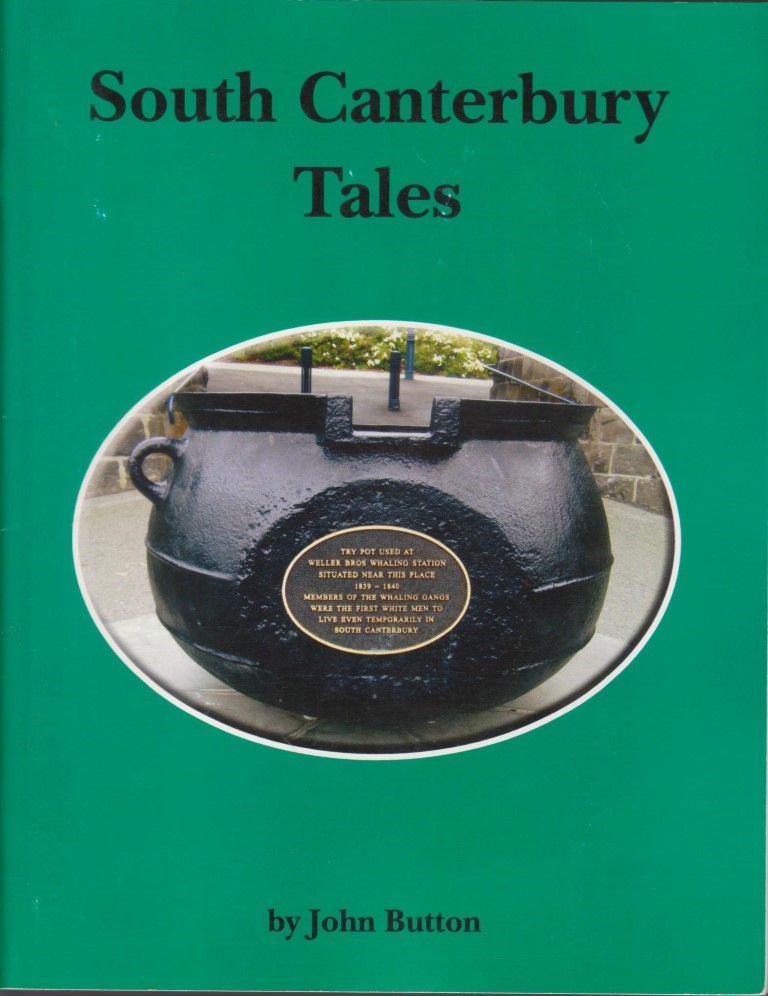 Succinct, informative one page articles on various aspects of the early days of colonial life in South Canterbury, with reference to early settlers and the individual immigrant ships that carried them.
ISBN 9780473173302 ISBN 9780473179007
history, Timaru, Le Cren, Rhodes, James McKenzie, The Shiner Slattery, sport
VG softbacks, staple bound
$30 B/B
Caroline Shoestring Publications 2010, 56 + 62pp.
[#5530 ]
McKENZIE Alan

Timaru at Last!
South Canterbury's Strathallan Immigrants.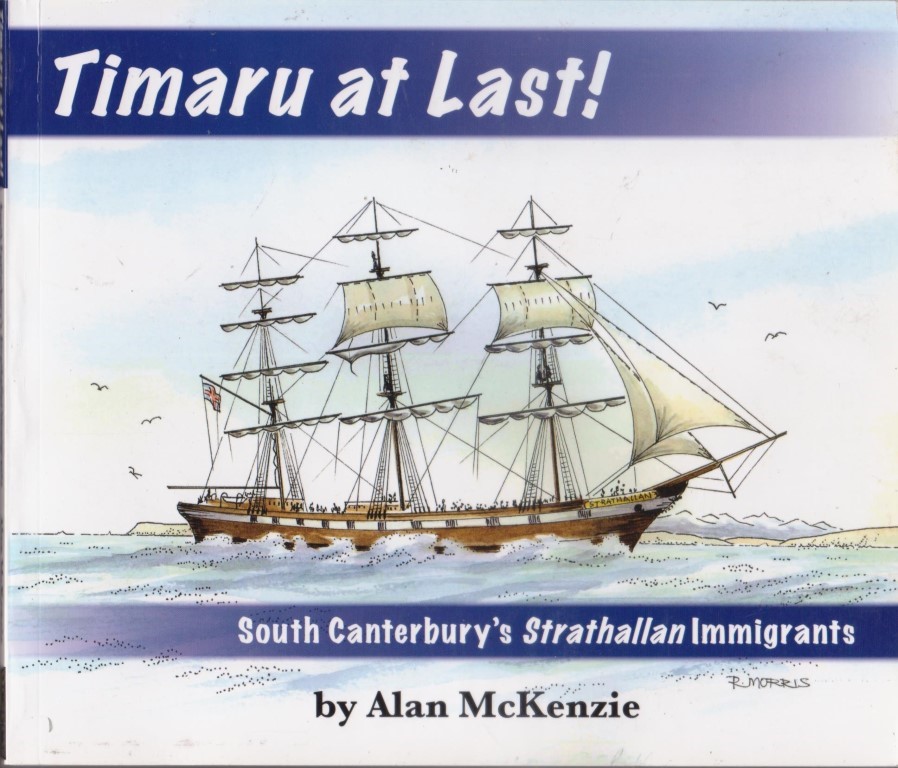 Written by a local genealogist and historian researching the lives of the immigrants who first settled Timaru.
Includes a detailed account of the voyage and biographical notes about the migrants.
ISBN 9780473136949
South Canterbury, colonial, settlement, genealogy
VG softback
$45 B/C
South Canterbury Museum 2008 first edition, 176pp.
[#5531 ]
HAMILTON Jack and Keith BARTHOLOMEW

The Streets of Timaru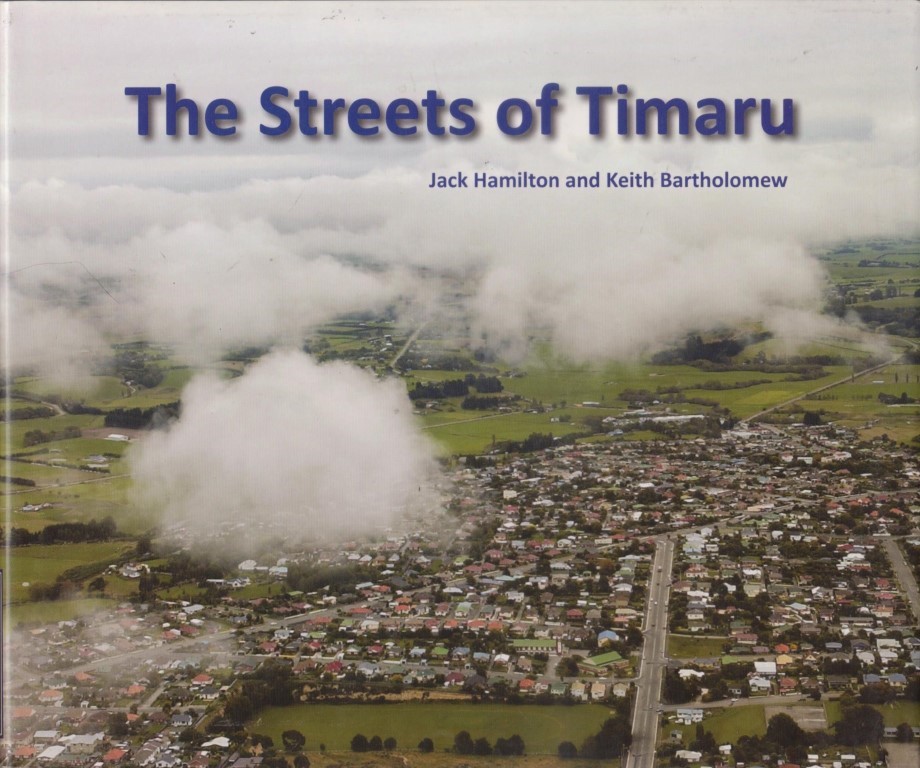 A well illustrated gazetter of the streets of Timaru with the history behind the naming and subsequent residents etc.
ISBN 9780473191801
Timaru, history, municipal, street names
VG hardback in VG dust jacket, with the loose Street Map included.
THIS COPY signed by K Bartholomew to title page.
$45 B/D
South Canterbury Museum 2011 revised and updated edition, 176pp.
[#5532 ]
WARD Gerald

Early Fruitgrowing in Canterbury New Zealand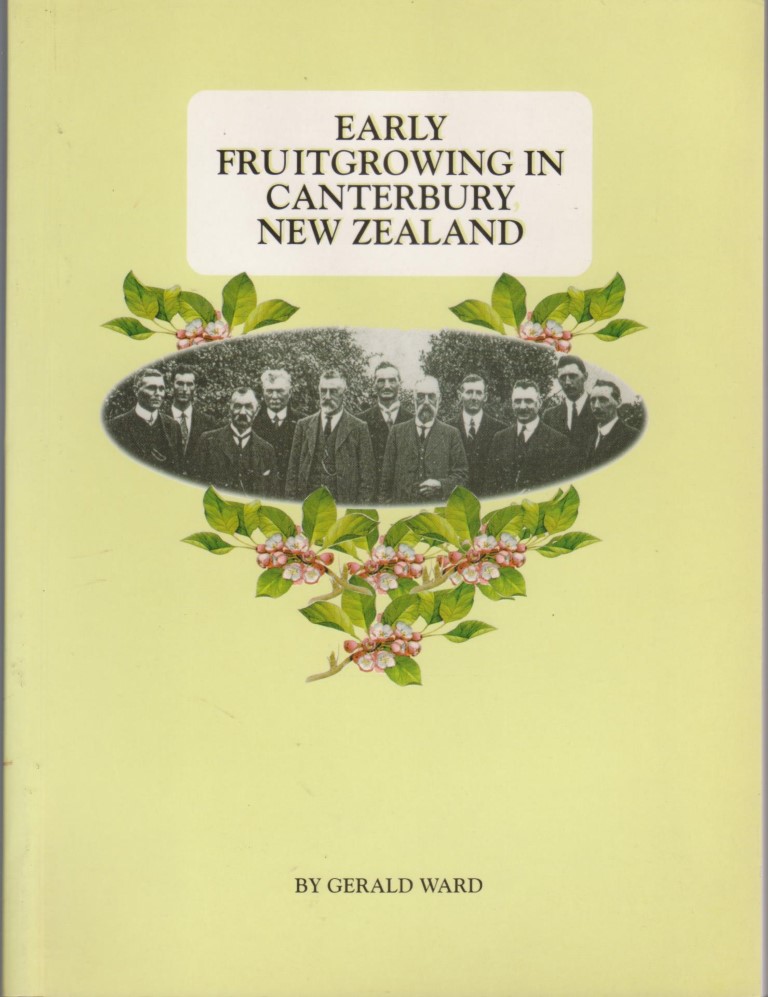 The story of fruitgrowing in Canterbury with chapters on prominent hortucultural families and the pre-eminent growing regions (suburbs etc).
ISBN 0473035855
horticulture, Stanley, Bishop, Sisson, Frederick Wilding
VG- softback, some minor historic damp rippling to top of some pages, no water-stains.
$25 B/C
The Spotted Shag Press 1995 FIRST EDITION, 168PP.
[#5533 ]
[CHARLES MANSON] STATMAN Alisa and Brie TATE

Restless Souls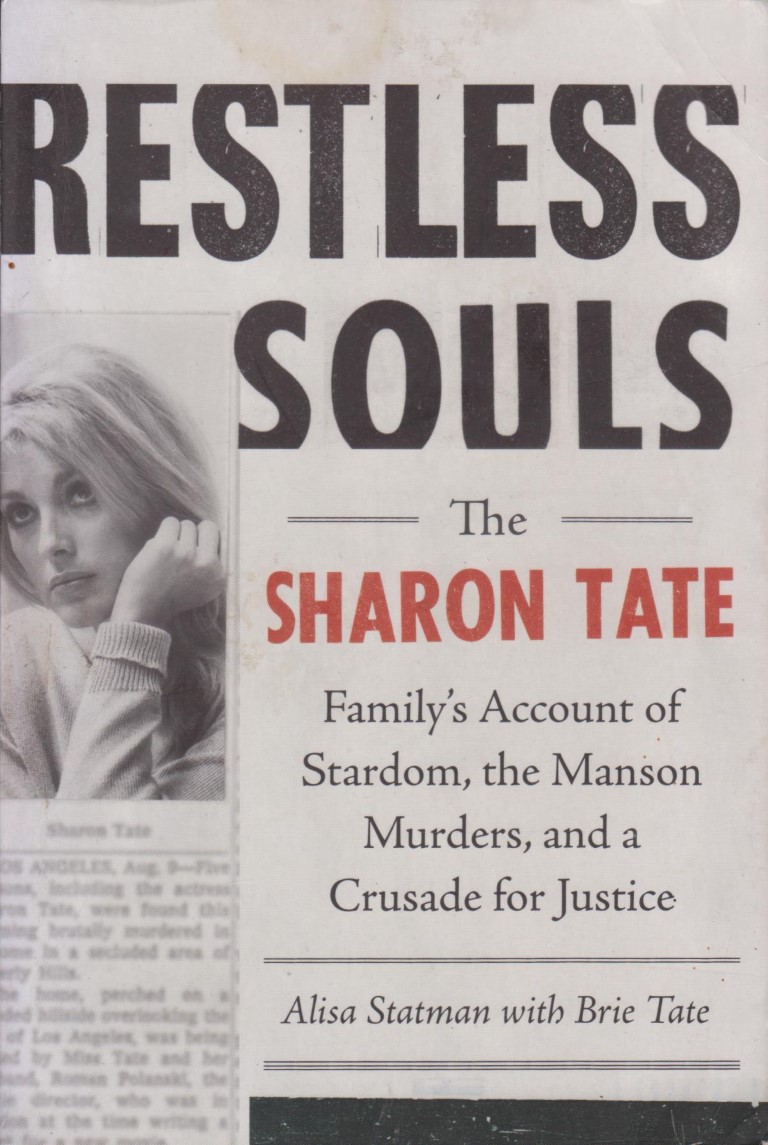 The Sharon Tate Family's Account of Stardom, Murder and a Crusade for Justice.
Statman and Tate tell the Tate family's story in this rare glimpse at the post-trauma survival of a family, and how they have struggled to ensure the perpetrators are neither glorified or released from prison.
ISBN 9780062131867
manson murders, helter skelter, polanski,
VG softback
$12 C/C
HarperCollins 2012 first edition, 380pp + plates
[#5534 ]
TAYLOR W. A.

Lore and History of the South Island Maori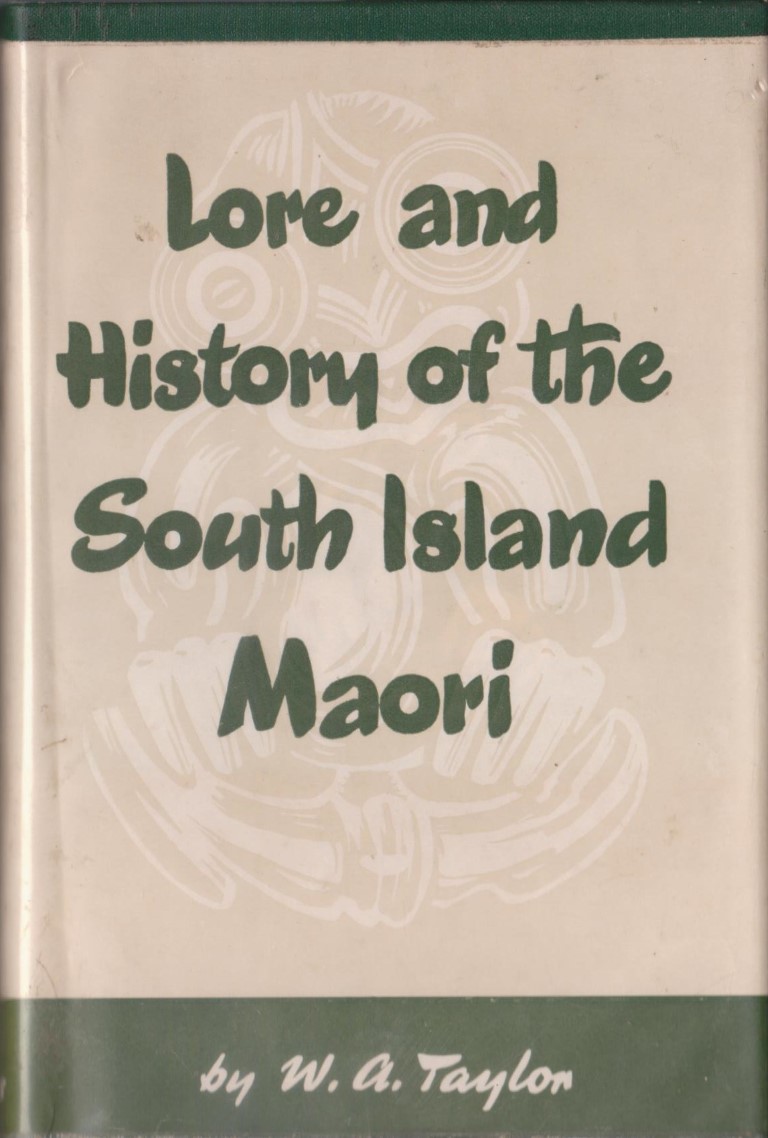 Information on the people, settlements and history and myth of the various South Island Maori communities in the 19th/20th century.
Ngai Tahu, westland, otakou, otautahiMurihiku, Rakiura
VG hardback in VG dust jacket.
Jacket under removable plastic sleeve, name to free endpaper, one small pencil note to contents and on pp88.
Old tape residue to paste downs, a tidy copy.
$150 C/C
Bascands Ltd (1950) first edition, 196pp + plates complete.
[#5535 ]
SALMOND Anne

Between Worlds, Early Exchanges Between Maori and Europreans 1773-1815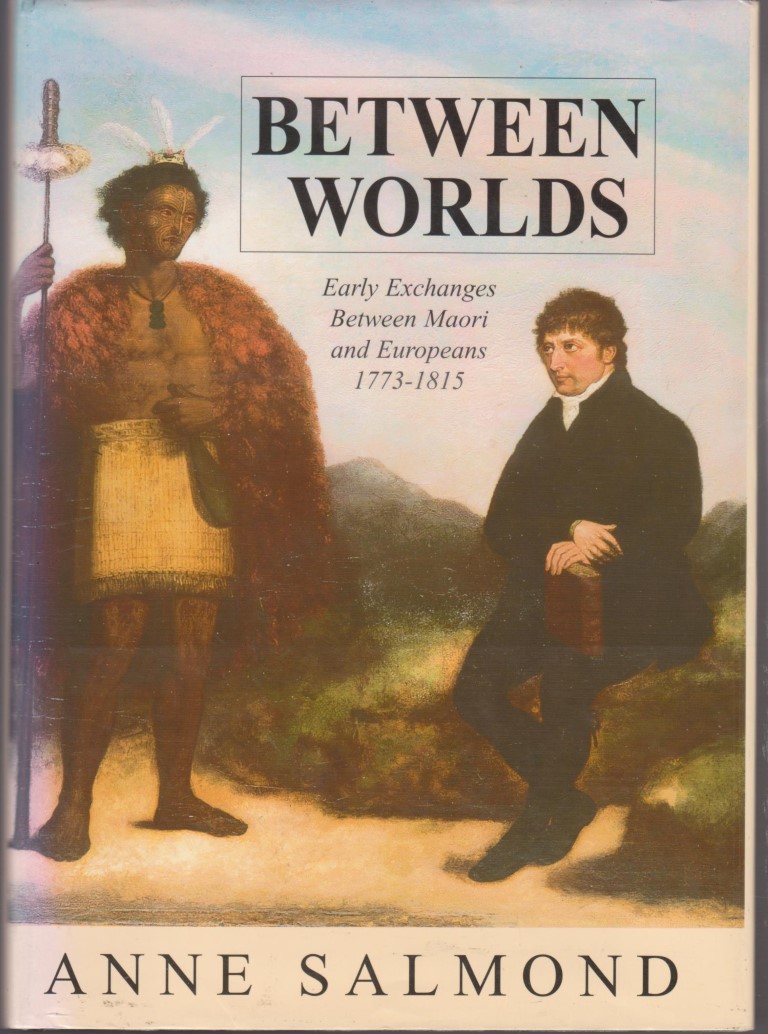 Describes Cook's second voyage to New Zealand and the subsequent interactions between Maori and Pakeha.
Discusses first white settlers who often joined Maori communities becong 'Pakeha Maori'.
Also details the early visits of the missionaries Marsden and Kendall.
The companion to Two Worlds.
ISBN 9780670877874
VG hardback in VG dust jacket
$150 D/D
Penguin / Viking 1997 first edition, 590pp.
[#5536 ]
EVISON Harry C.

Te Wai Pounamu - The Greenstone Island - A history of the southern Maori during the European colonization of New Zealand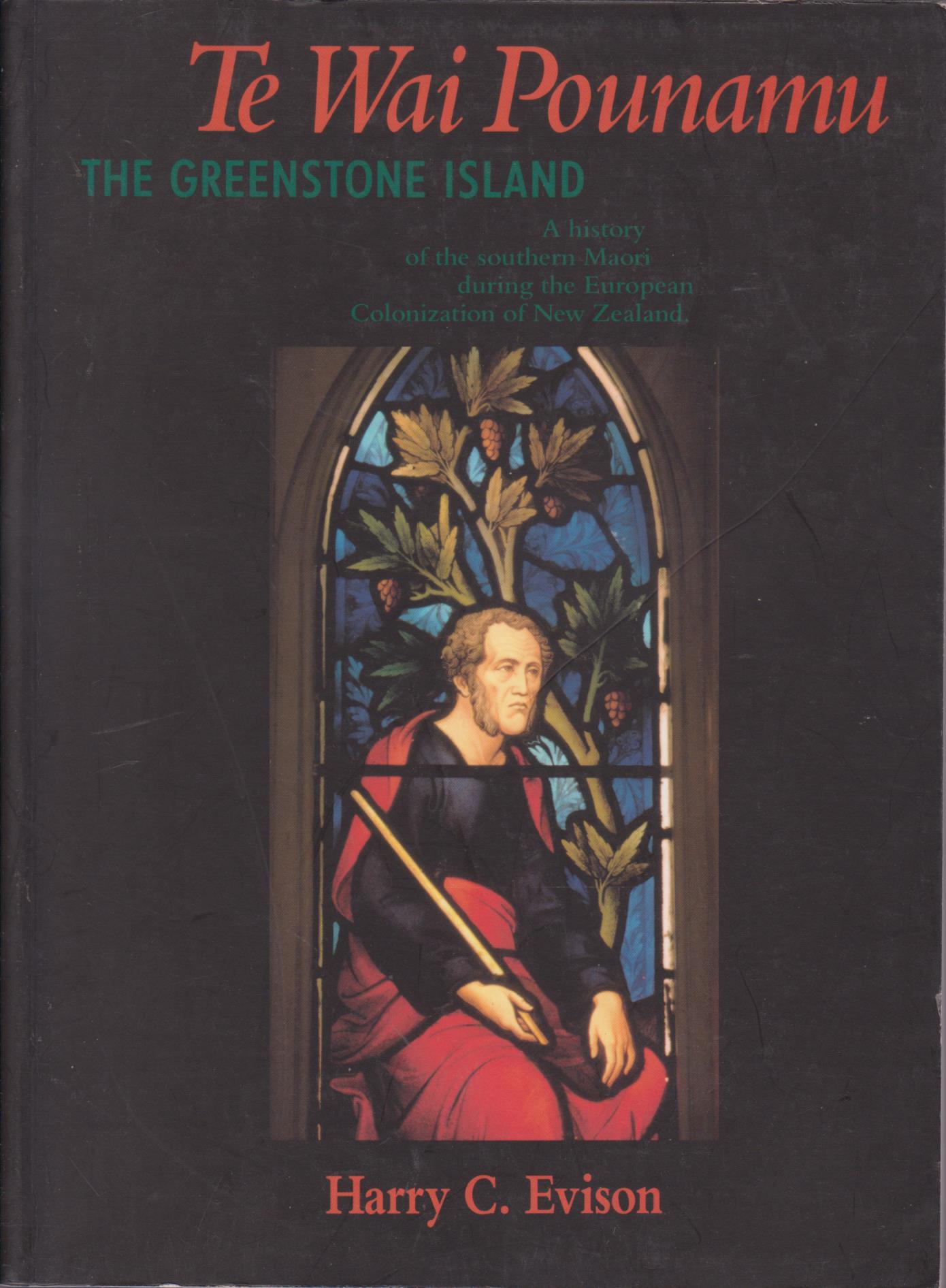 The previously untold story of the 19th century penetration, annexation and colonization of southern New Zealand by Europeans, as it affected the local Maori inhabitants.
Based on contemporary primary sources it is a compelling narrative in which traders, sealers, whalers, missionaries, naval officers, Maori chiefs, colonists, government officials, Governors, judges, Royal Commissioners, politicians, ordinary Maoris, academics, and the modern Waitangi Tribunal all have their say.
A rare title.
ISBN 0908925077
Kemp purchase, Deans lease, Ngai Tahu, Maori reserves
VG softback
$95 D/D
Aoraki Press 1993 first edition, 582+ xxiii pp
[#5537 ]
KINSKY F.C., ROBERTSON C.J.R. illustrated by Janet MARSHALL

Common Birds in New Zealand 1, Town, Pasture and Freshwater Birds.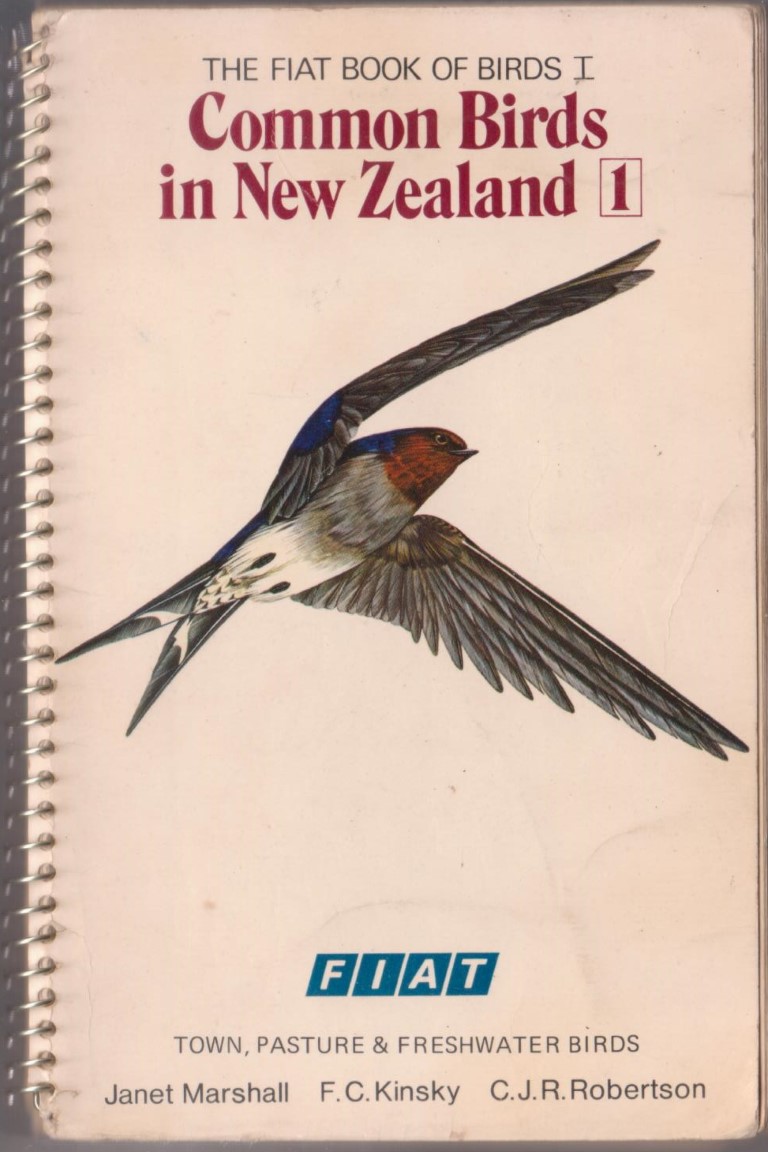 Published as The Fiat Book of Birds 1, which later became the Mobil New Zealand Nature Series.
ISBN 0589002300
ornithology, birdwatching, native
VG soft back
$8 A/B
Reed 1974 reprint, 96pp. Illustrated.
[#5538 ]
06/02/2022ev
KISLER Mary

Angels and Aristocrats: Early European art in New Zealand public collections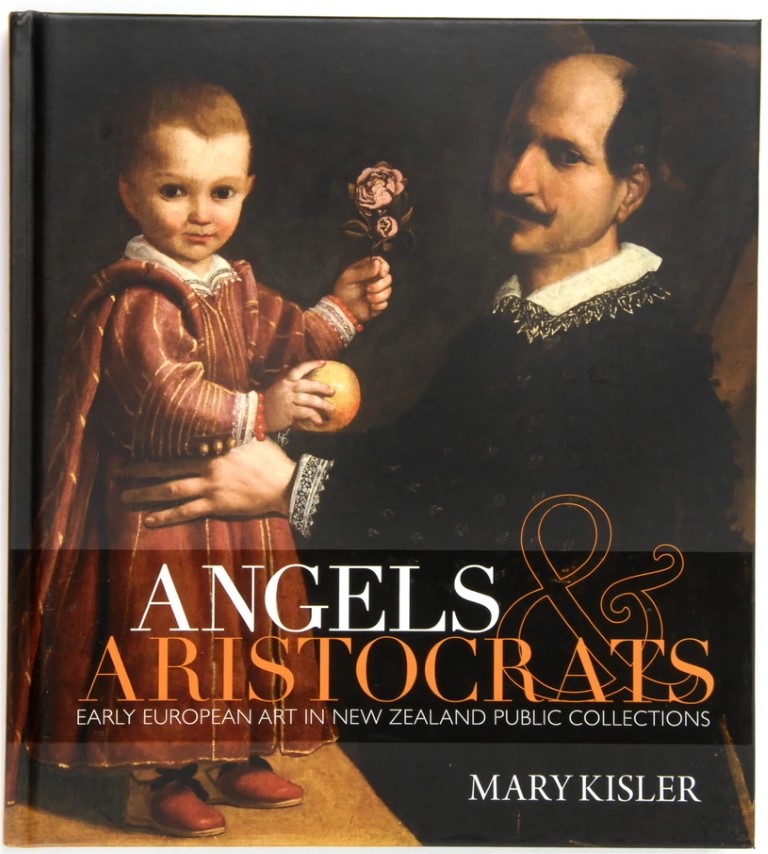 Auckland Art Gallery Senior Curator Mary Kisler celebrates the many European treasures held in New Zealand public art galleries.
Companion to the exhibition of the same name, complementing the audience's understanding of the European sensibilities found in the collection of works scattered throughout New Zealand collections, which was grouped into religion, history, landscape and portraiture.
"an engrossing and wide-ranging narrative of the history of European art on display in New Zealand. It is the type of volume that is indispensable to museum-goers in that country, and indeed in Australia." Anne Kirker, Adjunct Associate Professor at the Queensland College of Art.
ISBN 9781869621353
Due to the quality of the sized art paper used this is a very heavy book.
European art in New Zealand, art history, art collections
VG+ hardback with no jacket as issued.
THIS COPY is signed to the half-title by the author Mary Kisler.
$55 D/D
Random House 2010 first edition, 399pp
[#5522 ]
BRADSHAW Julia

Golden Prospects: Chinese on the West Coast of New Zealand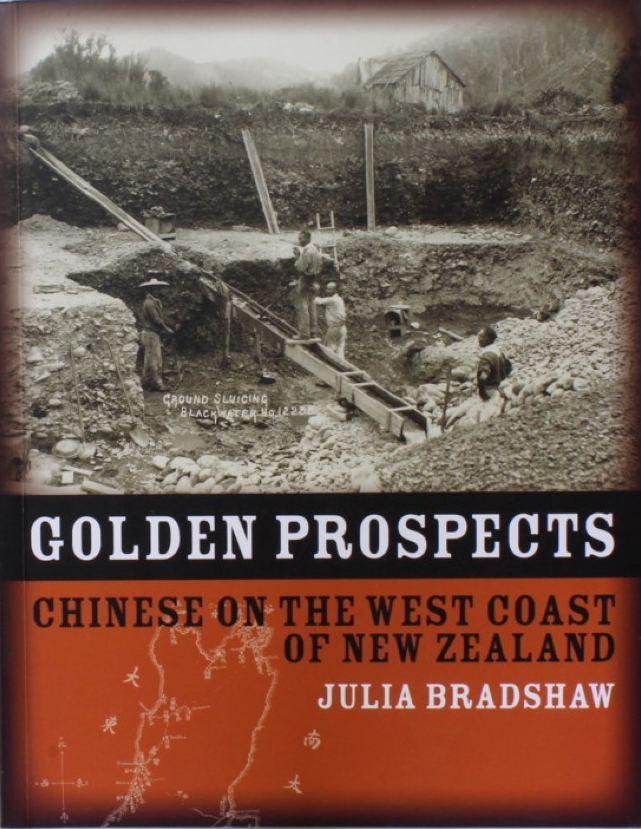 A scarce history of the Chinese who came to the West Coast of New Zealand during the gold-rush in the late 1860's and later.
Describes the experiences and contributions they made as gold-miners, merchants, cooks, market gardeners, and even as missionaries, to the West Coast's history and development.
Accounts of Chinese women, inter-cultural marriages and the achievements of individual Chinese.
ISBN 9780473155469
westland, china, chinese, chinese kiwis
VG+ softback
$75 B/C
Shantytown (West Coast Historical & Mechanical Society Inc.) 2009 first edition, 294pp.
[#5523 ]
CLAASEN Adam

Fearless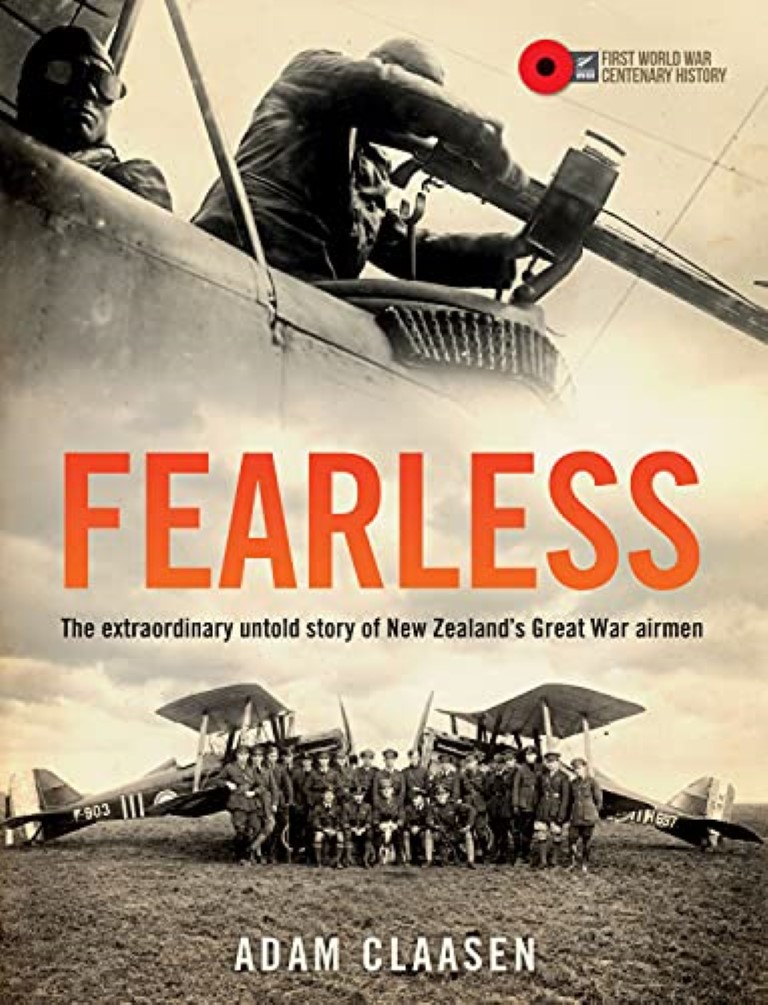 The extraordinary untold story of New Zealand's Great War airmen.
During the 1914-1918 war, New Zealanders were keen participants in the new field of military aviation with 850 men, and a small number of women, held positions in the British and Australian air services.
Drawing on archival material from New Zealand, Australia and Britain, historian Dr Claasen explores the challenges facing the establishment of local flying schools and the journey undertaken by the New Zealanders from their farms and towns to the battlefields of the Great War.
In spite of modest numbers the New Zealanders' wartime experiences were incredibly varied; New Zealand aviators could be found flying above the sands of the Middle East and Mesopotamia, the grey waters of the North Sea, jungles of East Africa, the sprawling metropolis of London and the rolling hills of northern France and Belgium.
Flying the open cockpit wood-and-wire biplanes of the Great War, New Zealanders undertook reconnaissance sorties, carried out bombing raids, photographed enemy entrenchments, defended England from German airships, strafed artillery emplacements and engaged enemy fighters.
By the time the war ended many had been killed, others highly decorated, some elevated to 'ace' status and a handful occupied positions of considerable command.
ISBN9780994140784
wwi, ww1, aviation, fighter pilot, RFC
VG+ hardback with no jacket as issued
$55 D/D
Massey University Press 2017 first edition, 496pp
[#5524 ]
McPHERSON Suzanne

Keith Harper Man with a Mission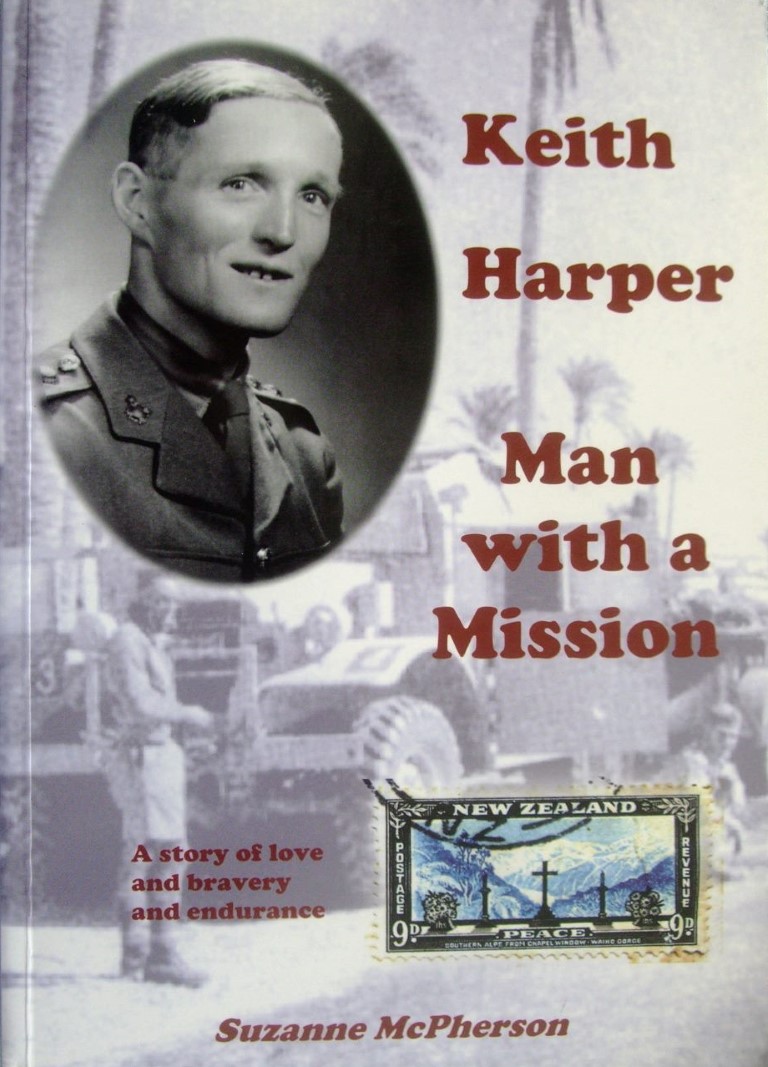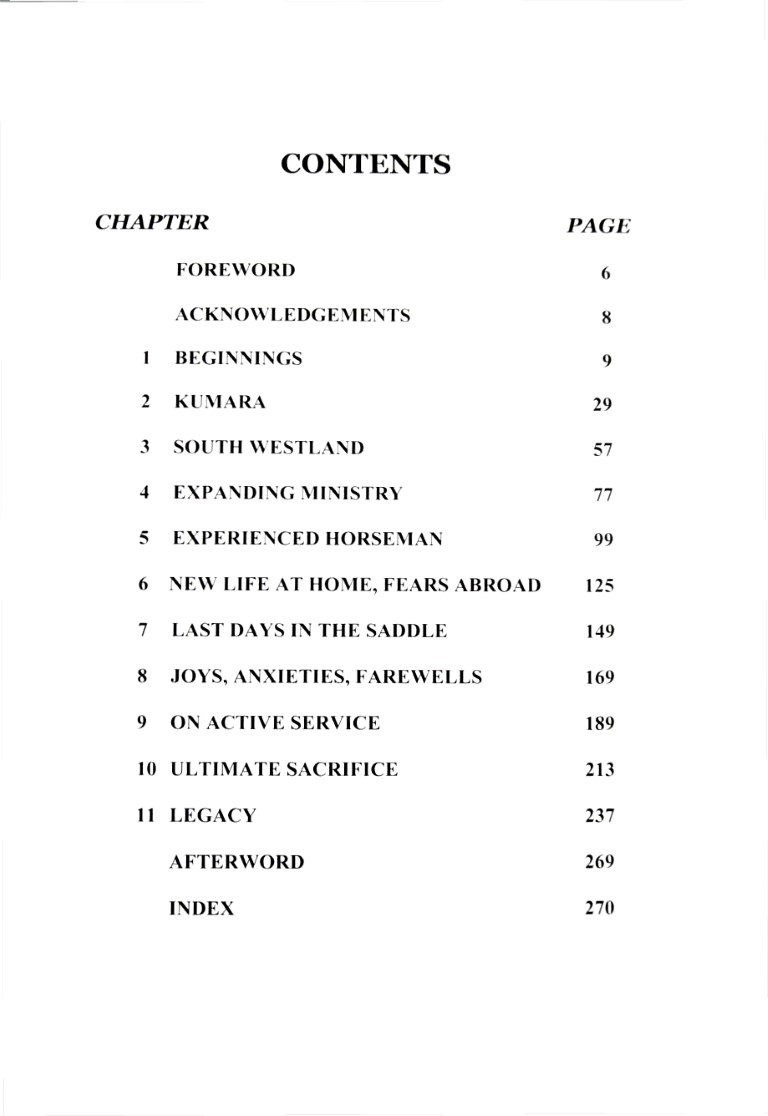 A story of love and bravery and endurance.
"From the sheltered precincts of an English Public School to New Zealand's rugged Westland as a preacher in the country's remotest and wildest parish... to the life of a chaplain at the battlefront in the theatre of war in North Africa and then Italy...Keith Harper was a man who relished adventure with all its risk and challenges.
What motivated him to live this way? His own words as realted in this story provide the answer."
ISBN 9780473210892
ww2, wwii, Cassino, anglican church, Kumara, South Westland, A C K Harper (38853), 4 Regt 2NZEF, Padre Jack Harker
G+, glue has perished and some pages detaching, otherwise a tidy clean copy.
$20 B/C
McPherson 2012 first edition, 271pp
[#5525 ]
DARI Willie and Solange Petit-Skinner

Fijian Protocol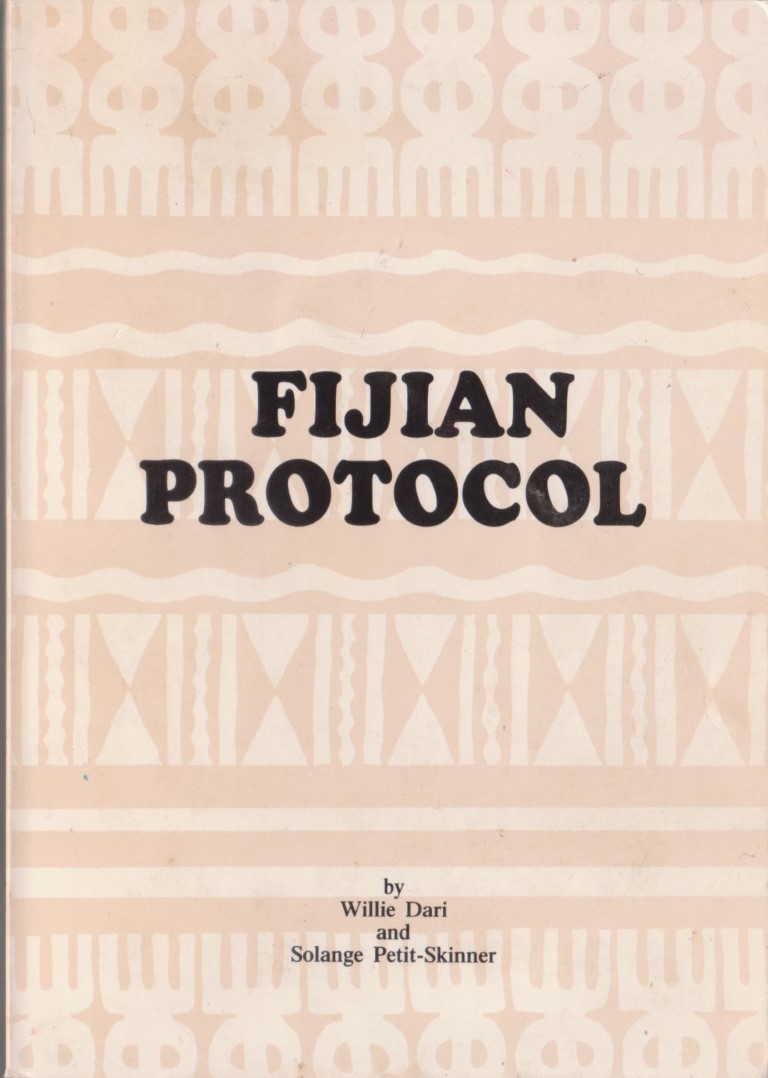 A record of traditional Fijian, social and ceremonial protocols.
ISBN 0960627219
polynesia, etiquette, traditions, ceremony, melanesia
VG softback
$20 C/B
MacDuff Press 1985, 142pp
[#5526 ]
MARCINIAK Barbara

Bringers of the Dawn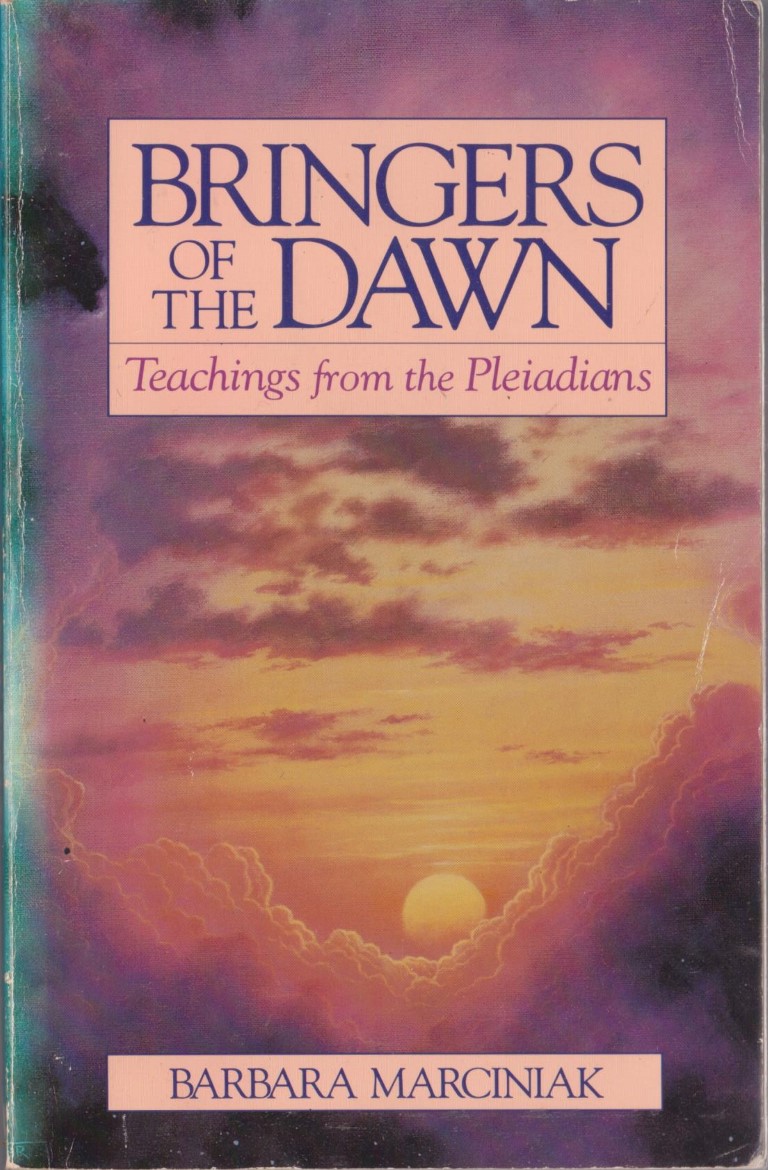 Teachings from the Pleiadians.
Compiled from hundreds of hours of channeling, Barbara reveals the wisdom of the Pleiadians, a group of enlightened beings who have come to Earth to help us discover how to reach a new stage of evolution.
They advise us to become media free, to work in teams, and to eliminate the words should and try from our vocabularies.
We learn how to go beyond fear, how the original human was a magnificent being with twelve strands of DNA and twelve chakra centers, and who our gods are.
Startling, intense, intelligent, and controversial, these teachings offer essential reading for anyone questioning their existence on this planet and the direction of our collective un/consciousness.
By remembering that we are a Family of Light and that we share an ancient ancestry with the universe around us, we become bringers of the dawn, consciously creating a new reality, a new Earth.
ISBN 9780939680986
new age, channelled teaching
VG- softback.
Sunned spine, former owner name label to first page.
$10 C/B
Bear & Co.1992, 246pp
[#5527 ]
BEHN Aphra

Oroonoko, or, The Royal Slave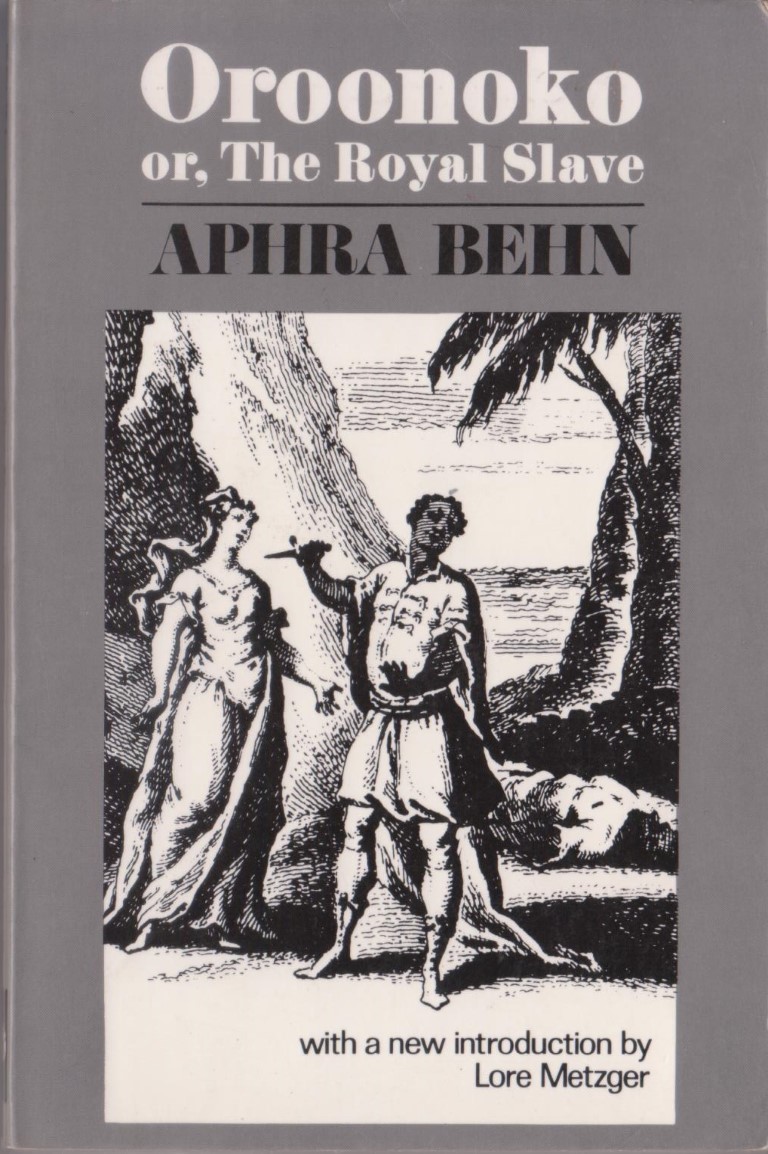 Spy, traveller and pioneering female writer Aphra Benn's story of an African prince sold into slavery is considered one of the earliest English novels (1688).
With an informative introduction by Lore Metzger.
ISBN9780393007022

VG softback
$8 A/B
WW Norton (1973), xv 78pp
[#5528 ]
LIVY

The Early History of Rome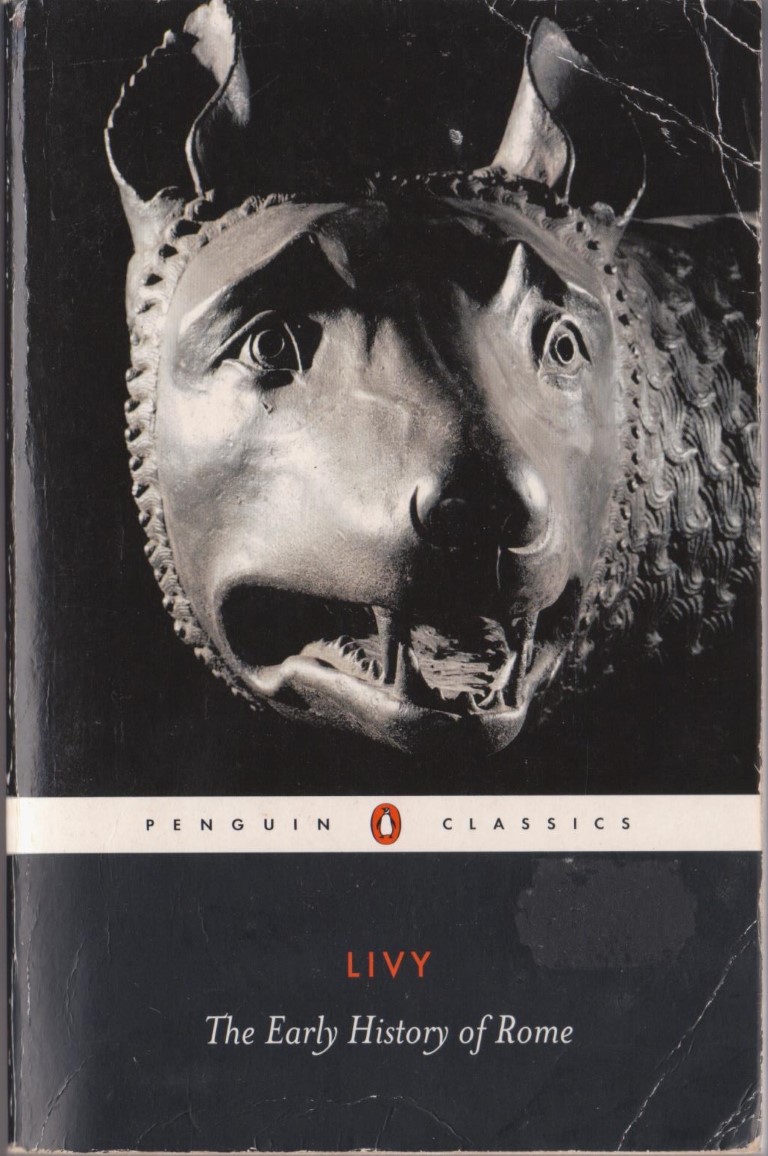 The first five books of Livy's History of Rome from the founding of Rome to the Gallic invasion in 386 BC, an era that witnessed the establishment of the Republic, unrest and brutal conflict.
Translated by Aubrey De Selincourt , Introduction by R M Ogilvie , Preface by Stephen Oakley
ISBN9780140448092
ancient history, Roman, Rome, pagan
VG- paperback with minor cover wear
$10 C/B
Penguin 2002, vii 488pp
[#5529]
24/01/2022ev
RAND Ayn

Atlas Shrugged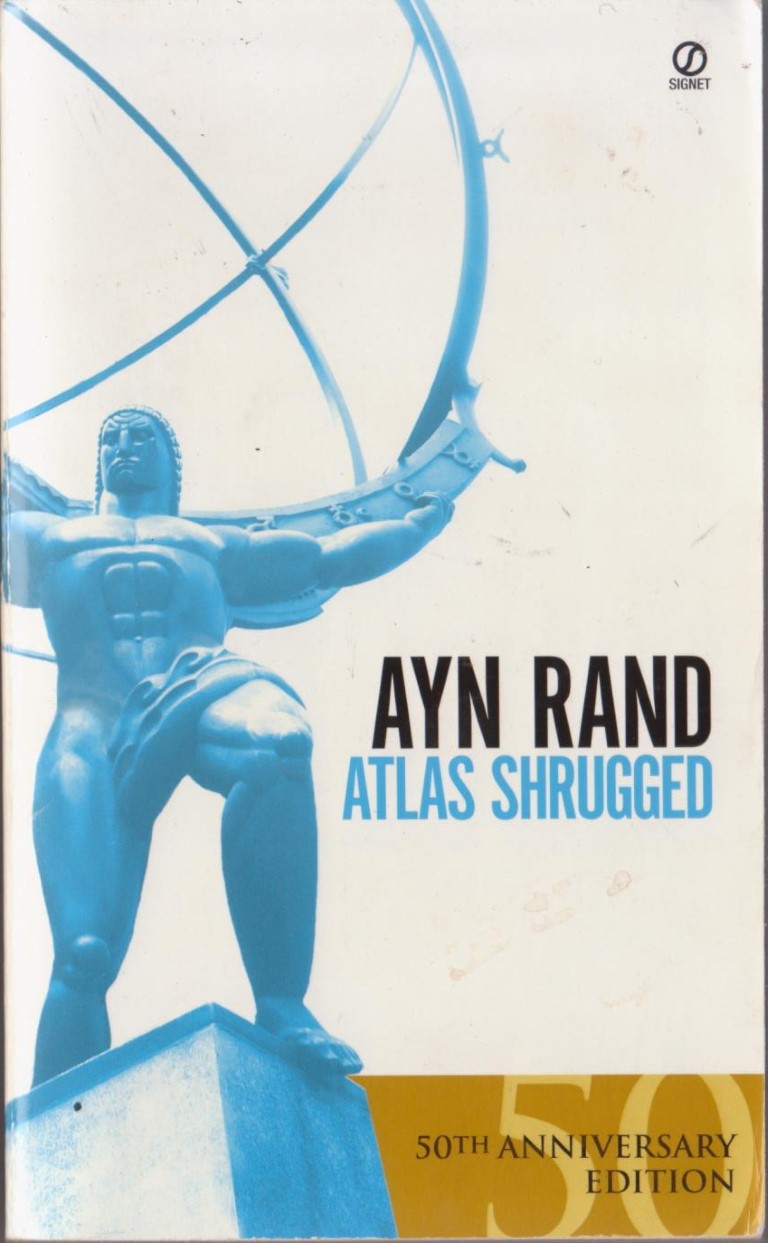 In this novel Ayn Rand dramatizes her unique philosophy through an intellectual mystery story that integrates ethics, metaphysics, epistemology, politics, economics, and sex.
Peopled by larger than life heroes and villains, charged with towering questions of good and evil, Atlas Shrugged is a philosophical revolution told in the form of an action thriller.
ISBN 9780451191144
objectivism, philosophy, John Galt
VG paperback
$9 A/B
Signet 1996, introduction by Piekoff, 1079pp.
[PB1727 ]
RAND Ayn

For the New Intellectual; The Philosophy of Ayn Rand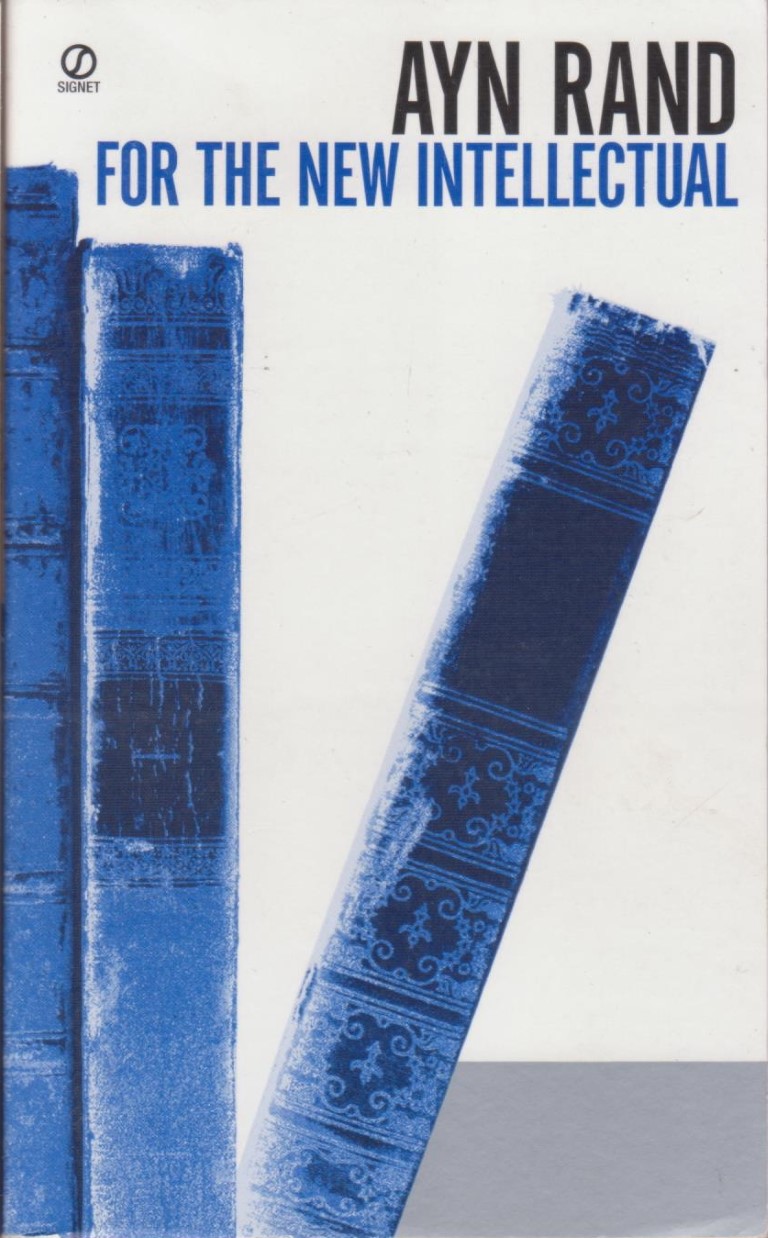 Ayn Rand's first non-fiction work, a challenge to the prevalent philosophical doctrines of our time and the 'atmosphere of guilt, of panic, of despair, of boredom, and of all-pervasive evasion' that they create.
As incisive and relevant today as it was sixty years ago, this book presents the essentials of Ayn Rand's philosophy 'for those who wish to acquire an integrated view of existence.'
ISBN 9780451163080
objectivism, philosophy,
VG paperback
$8 A/B
Signet undated 216pp.
[PB1728 ]
RAND Ayn

Philosophy, Who Needs It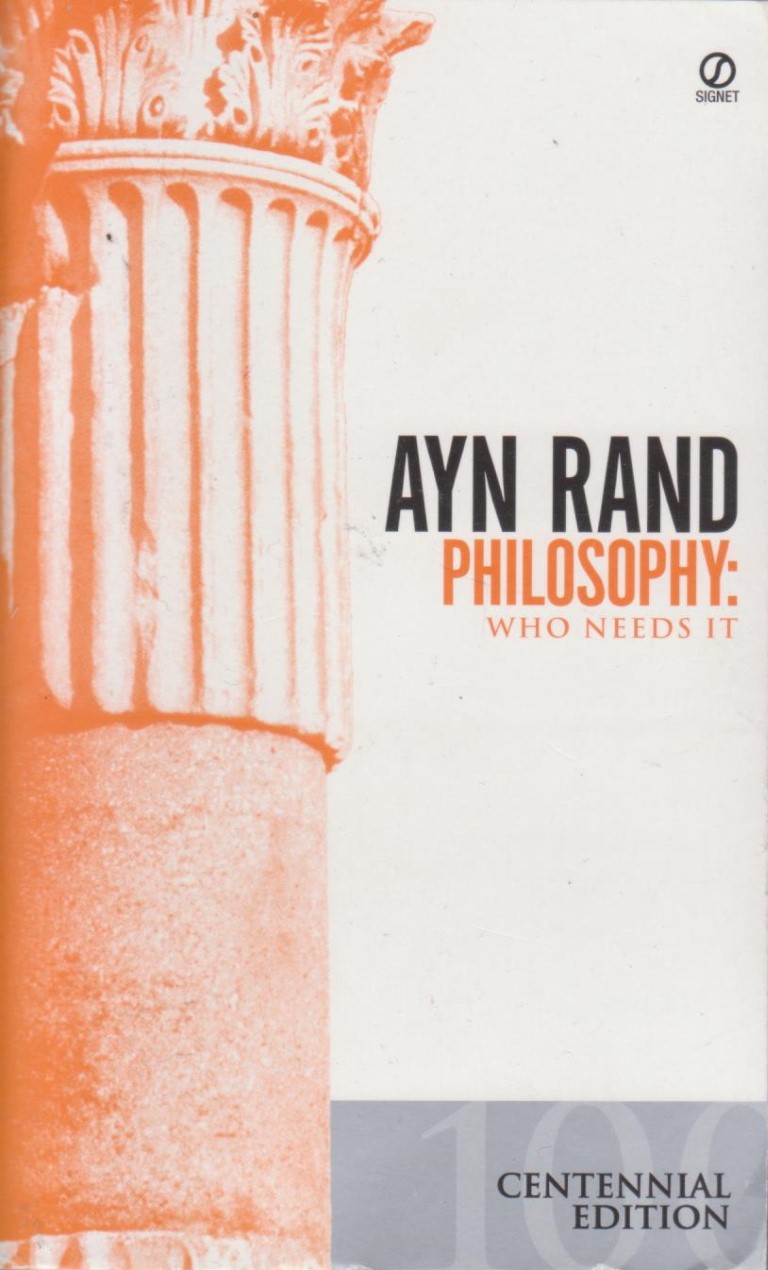 This collection of essays was the last work planned by Ayn Rand before her death in 1982.
In it, she summarizes her view of philosophy and deals with a broad spectrum of topics.
According to Ayn Rand, the choice we make is not whether to have a philosophy, but which one to have: rational, conscious, and therefore practical; or contradictory, unidentified, and ultimately lethal.
Written with all the clarity and eloquence that have placed Ayn Rand's Objectivist philosophy in the mainstream of American thought, these essays range over such basic issues as education, morality, censorship, and inflation to prove that philosophy is the fundamental force in all our lives.
ISBN 9780451138934
objectivism, philosophy,
VG paperback
$8 A/B
Signet undated, introduction by Piekoff, 308pp.
[PB1729 ]
SITCHIN Zecharia

The Earth Chronicles Expeditions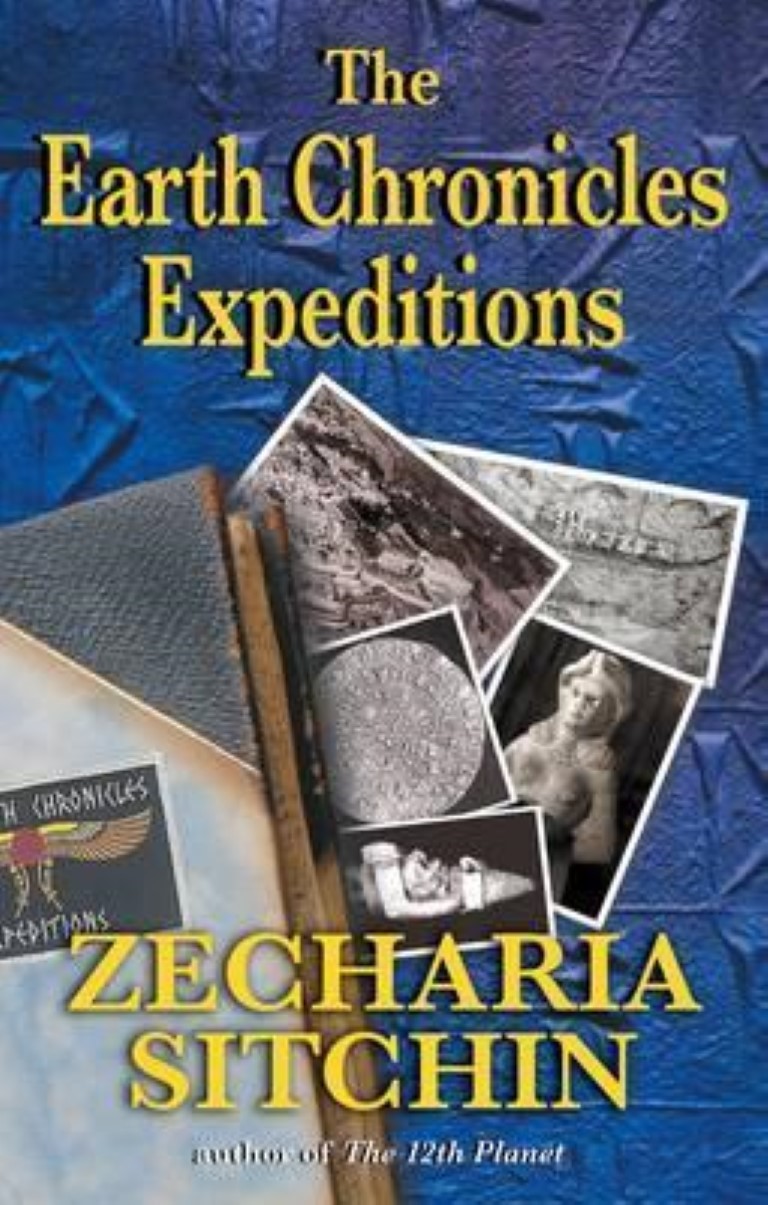 Zecharia Sitchin reveals the foundational research and the adventurous expeditions that resulted in his writing the bestselling The Earth Chronicles series.
These expeditions amazing discoveries unmasked established fallacies, detected the fate of mysterious artifacts, and revealed ancient connections to modern space facilities.
Sitchin shares his encompassing knowledge of antiquity and his field experiences, as well as the concrete evidence for his conclusions that ancient myths were recollections of factual events, that the gods of ancient peoples were visitors to Earth from another planet, and that we are not alone in our own solar system.
ISBN 9781591430766
alternate history, archaeology, ET, extra terrestrial, space gods
VG softback
$15 C/B
Bear and Company 2007 first paperback edition, 243pp + plates.
[#5515 ]
TAYLOR William

Telling Tales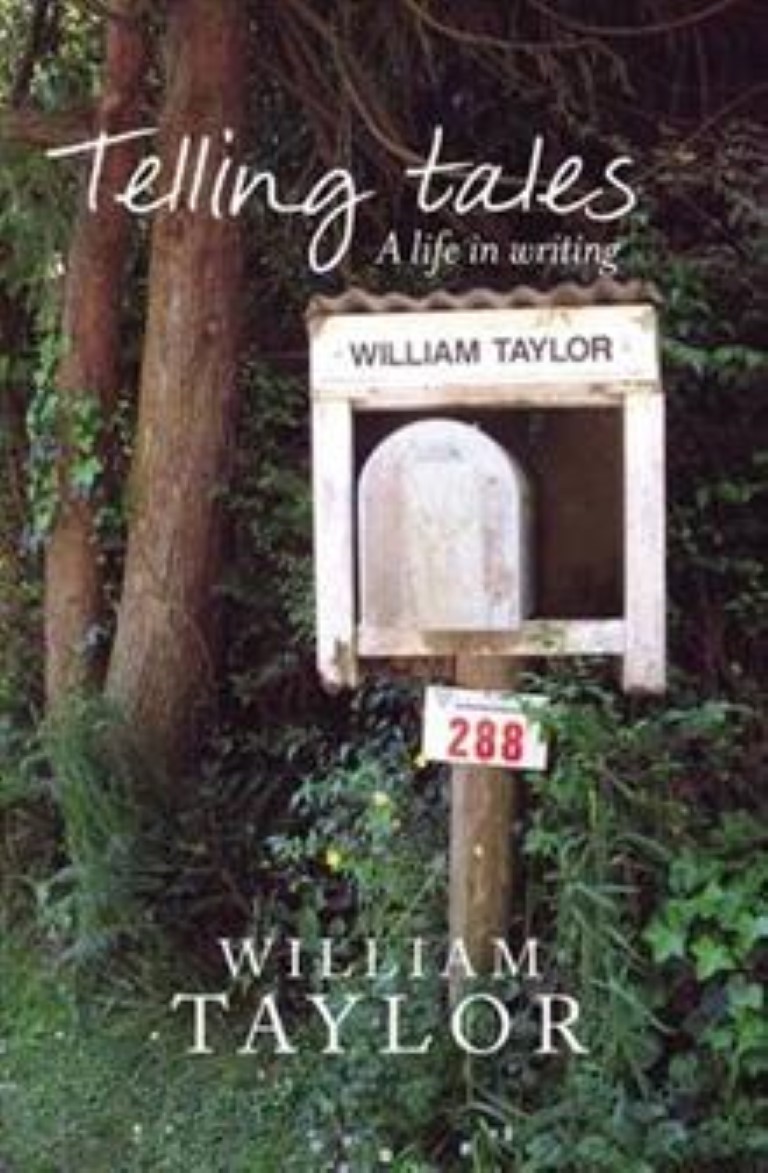 Memoirs of a leading children's author who writes engagingly about life as a writer, teacher and solo father.
William Taylor taught for many years in the Central and the Lower North Island, where he was Principal of Ohakune School and the town's Mayor.
ISBN 9781869508371
autobiography, memoir, new zealand writing,
VG softback.
$25 C/C
HarperCollins 2010 Uncorrected Proof of the first edition, 322pp.
[#5516 ]
KEMSLEY Gary

Landbased Saltwater Game Fishing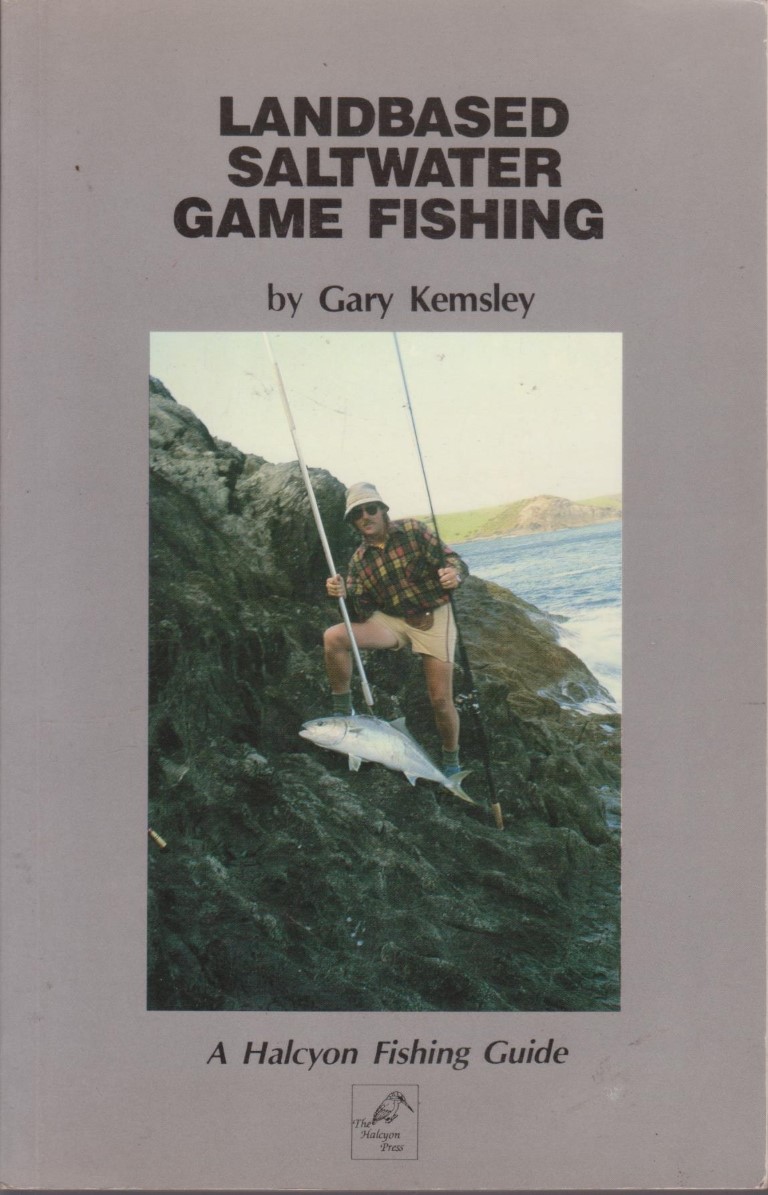 Excellent guide to fishing off the coastal rocks of New Zealand, including fly-fishing.
ISBN 0908685262
angling, kai moana, new zealand fishing, rock fishing, coastal angling
VG softback
$10 C/B
Halcyon Press 1988 first edition, 90pp.
[#5517 ]
[IRELAND] De BREFFNY Brian

Irish Family Names, Arms, Origins and Locations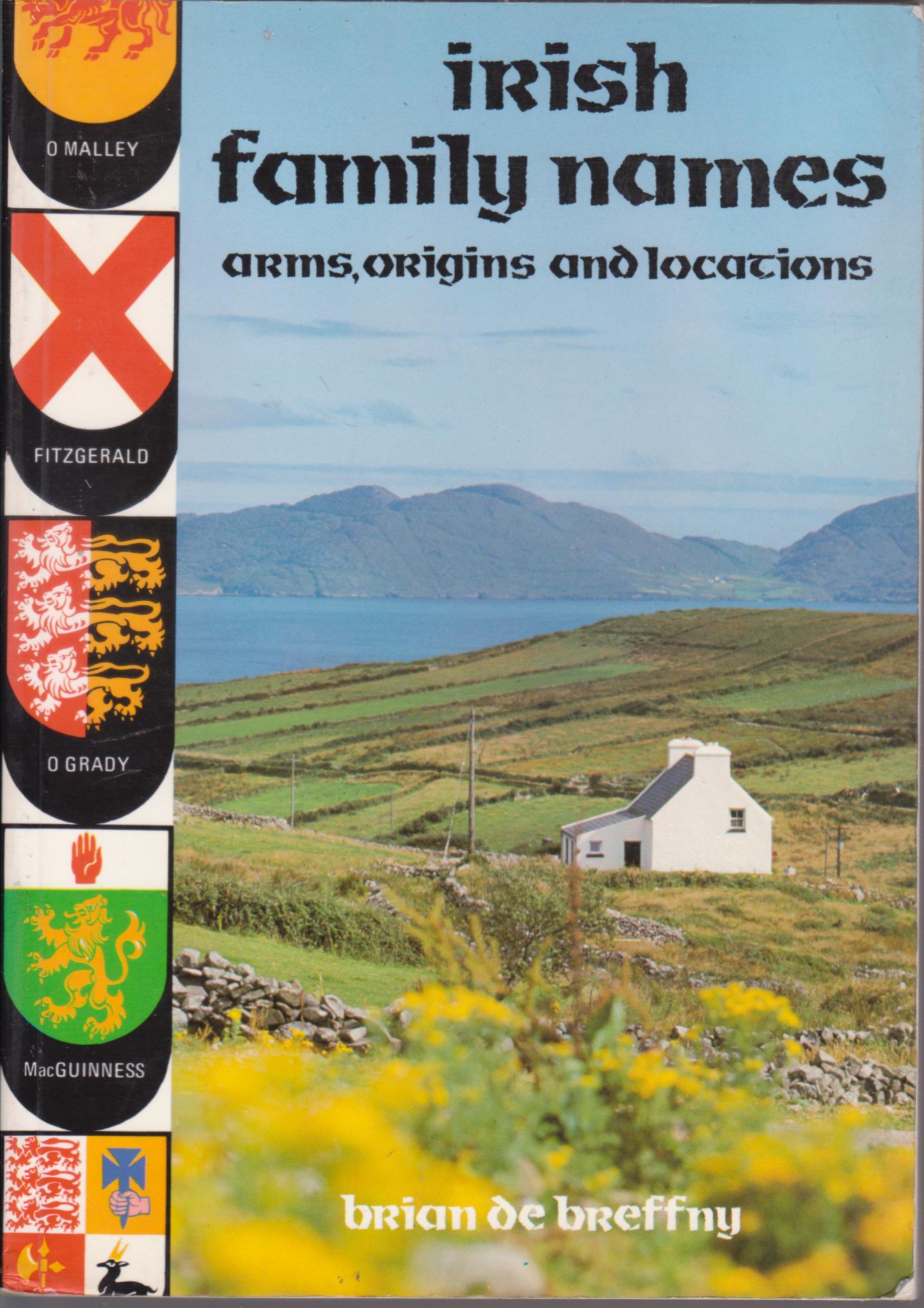 This illustrated guide decribes the history of the hundred most numerous surnames in Ireland, as well as listing over 1000 others.
An overview of each County is also included.
Illustrated with colour photographs.
ISBN 071711225X
celtic, gaelic, genealogy, Irish history
VG softback
$20 C/C
Gill and MacMillan 1985, 192pp
[#5518 ]
STEWART Di

The New Zealand Villa Past and Present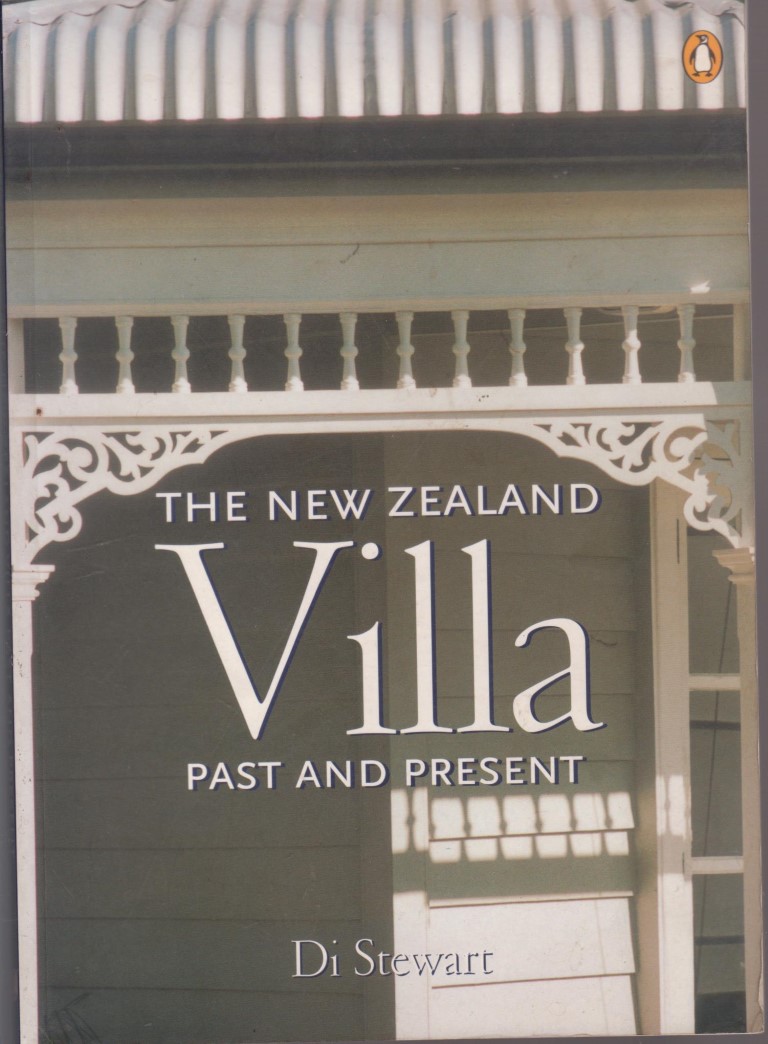 The history of the development of the New Zealand Villa style house.
With chapters on conservation and restoration.
ISBN 9780141004747
architecture, building, historic buildings
VG softback
$20 B/B
Penguin Books 2002 Revised and Updated Edition, 104pp
[#5519 ]
SIMPSON Adrienne and Peter DOWNES

Southern Voices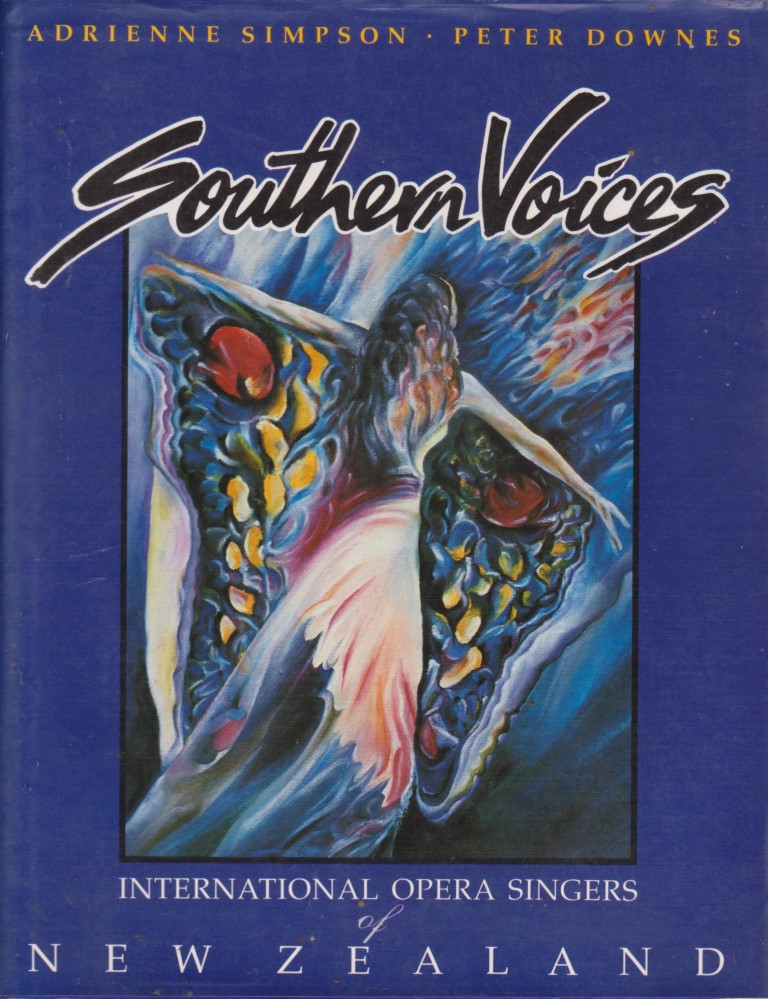 International Opera Singers of New Zealand.
A detailed study of world renowned singers and the roles they have performed in, including how they made their mark on the world stage of opera.
ISBN9780790002255
performing arts, music, opera, singing, biographies
VG softback with VG dust jacket.
$15 B/C
Reed1992 first edition, 283pp
[#5520 ]
THORNTON Geoffrey

Worship in the Wilderness Early Country Churhces of New Zealand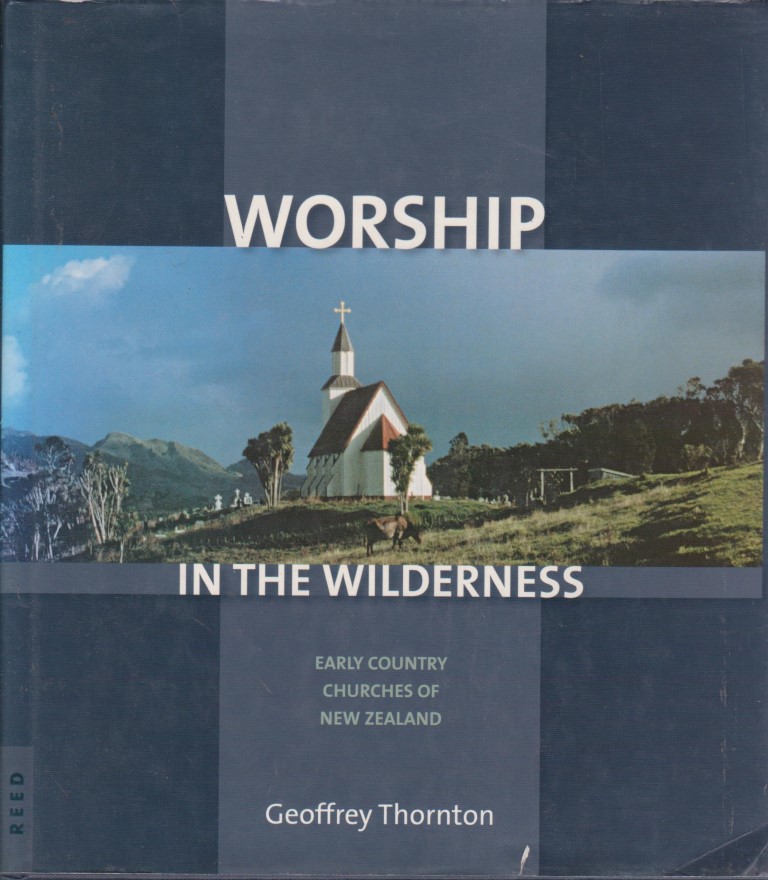 Nearly 50 early examples of Church buildings from the length of New Zealand, described and photographed, with their histories.
ISBN 9780790008929
architecture, historic buildings, religious,
VG hardback in VG- dust jacket.
Jacket has repaired tear to fold.
$20 B/C
Reed 2003 first edition, 183pp.
[#5521 ]
20/12/2021ev
ROHMER Sax

Re-Enter Fu Manchu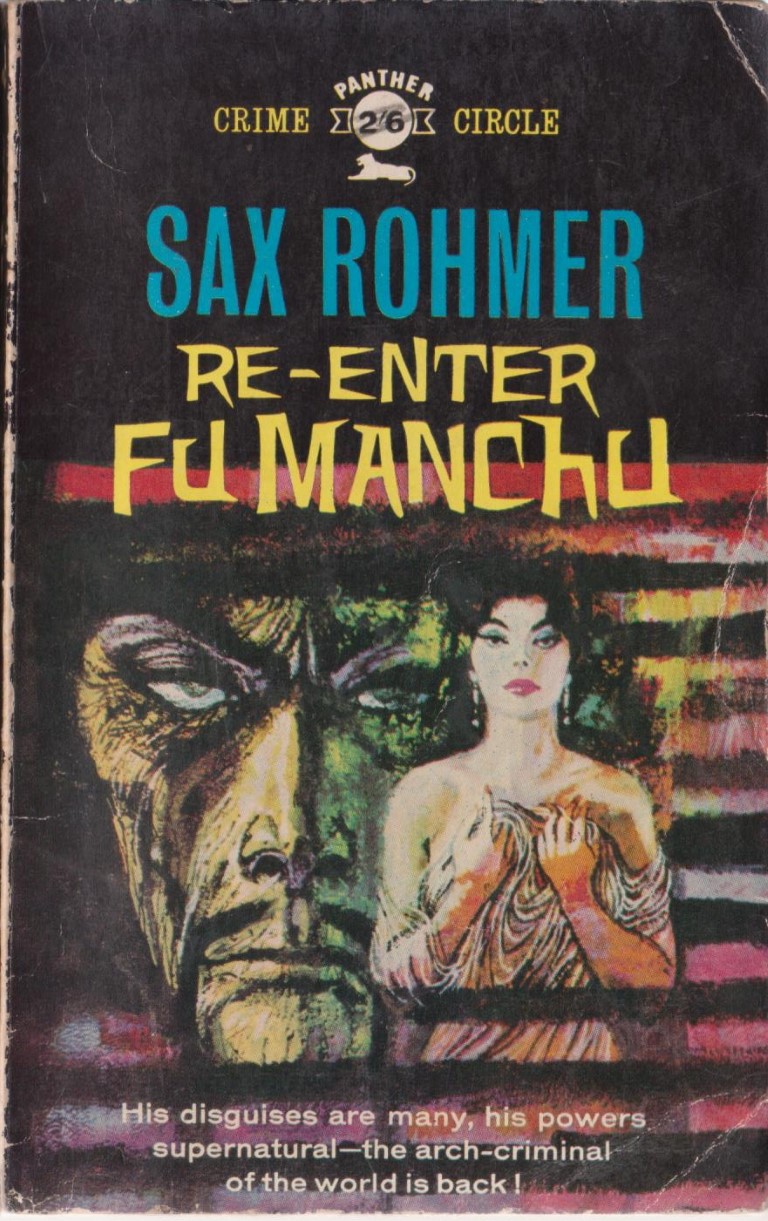 His disguises are many, his powers supernatural - the arch-criminal of the world is back!
Panther 1084
G+ paperback, spine leans, rubbing wear to edges, small inscripion to inside cover.
$8 A/A
Panther 1960 first paperback edition, 158pp + 2pp adverts.
[PB1724 ]
McGUIRE Christine and Carla NORTON

Perfect Victim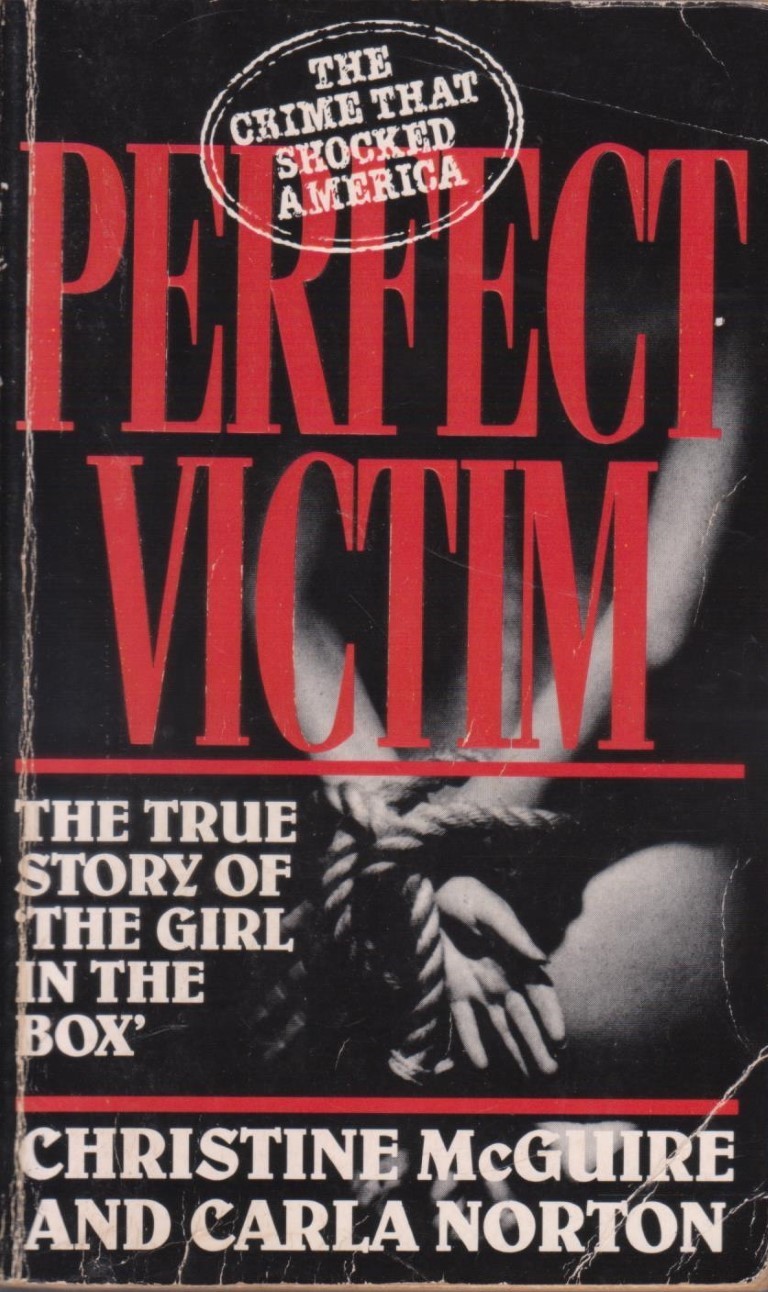 The true story of 'The Girl in the Box'.
Colleen Stan was a twenty-year-old when she set out to hitchhike from her home in Washington to Southern California.
Seven years later she emerged from hell, the victim of a bizarre and chilling crime.
Cameron and Janice Hooker had literally made her their slave, forced her to endure twisted sexual perversions.
During these seven years the Hookers had two children, entertained their friends at home and held down jobs, all while Colleen was held captive in a coffin-like box under their bed.
Christine McGuire, the young, inexperienced deputy district attorney who prosecuted Cameron Hooker for kidnapping, explains why Colleen, waiving numerous chances to escape, stayed captive for so many years.
G+ paperback with reading wear, name at front.
$8 A/B
Star/ W H Allen 1990 first UK edition, 404pp + plates.
[PB1725 ]
FULLER John G.

The Airmen Who Would Not Die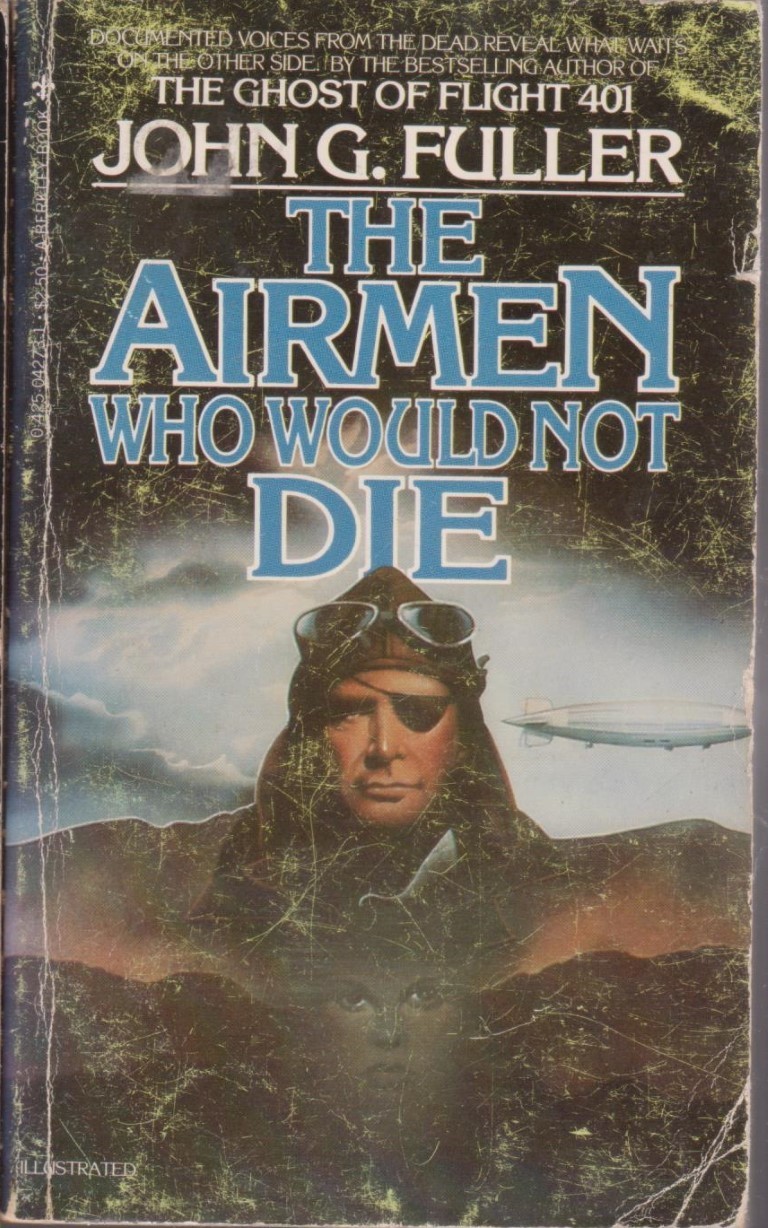 Recounts the circumstances around the R-101 tragedy, and how medium Eileen Garrett's premonition of a dirigible tragedy, a fearful warning from a recently deceased airman to another mystic, Mrs. Earl, failed in delaying the much-publicized takeoff of the R-101 for India.
Finally, in a séance that included both mediums and the world-famous author and spiritualist Arthur Conan Doyle, deceased airman Captain Hinchliffe warned the navigator of the R-101 of its various structural problems.
All these spiritualist received warnings were ignored, and the airship broke up in flames as predicted.
ISBN0425042731
spiritualist, survival, mediumship, afterlife, aviation
G+ paperback with rubbing to covers.
$9 A/B
Berkley 1980 first thus paperback edition, 373pp + plates.
[PB1726 ]
RICE Geoffrey

Black November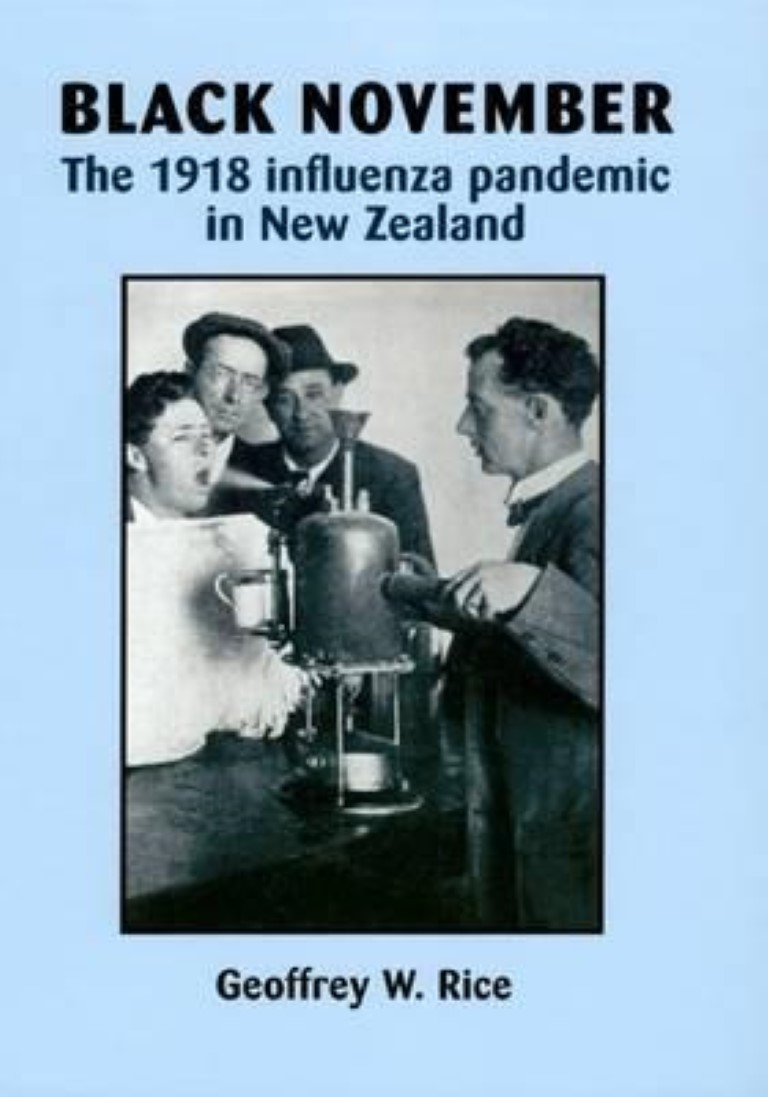 The 1918 Influenza Pandemic in New Zealand.
This book details New Zealand's worst public health crisis, with over 8,500 New Zealanders dead from influenza and pneumonia in just six weeks.
Nearly a quarter of the victims were Maori, who died at seven times the death rate of European New Zealanders.
This book answers many questions about the November 1918 'Spanish' influenza pandemic.
First published in 1988, this edition has three new chapters, over forty first-hand eyewitness accounts, and over 200 photographs and cartoons, many here published for the first time.
ISBN 9781877257353
VG+ hardback with no dust jacket as issued.
$65 B/D
Canterbury University Press 2005 Revised and Enlarged Edition, 327pp.
[#5508 ]
HUNTER Ian

Age of Enterprise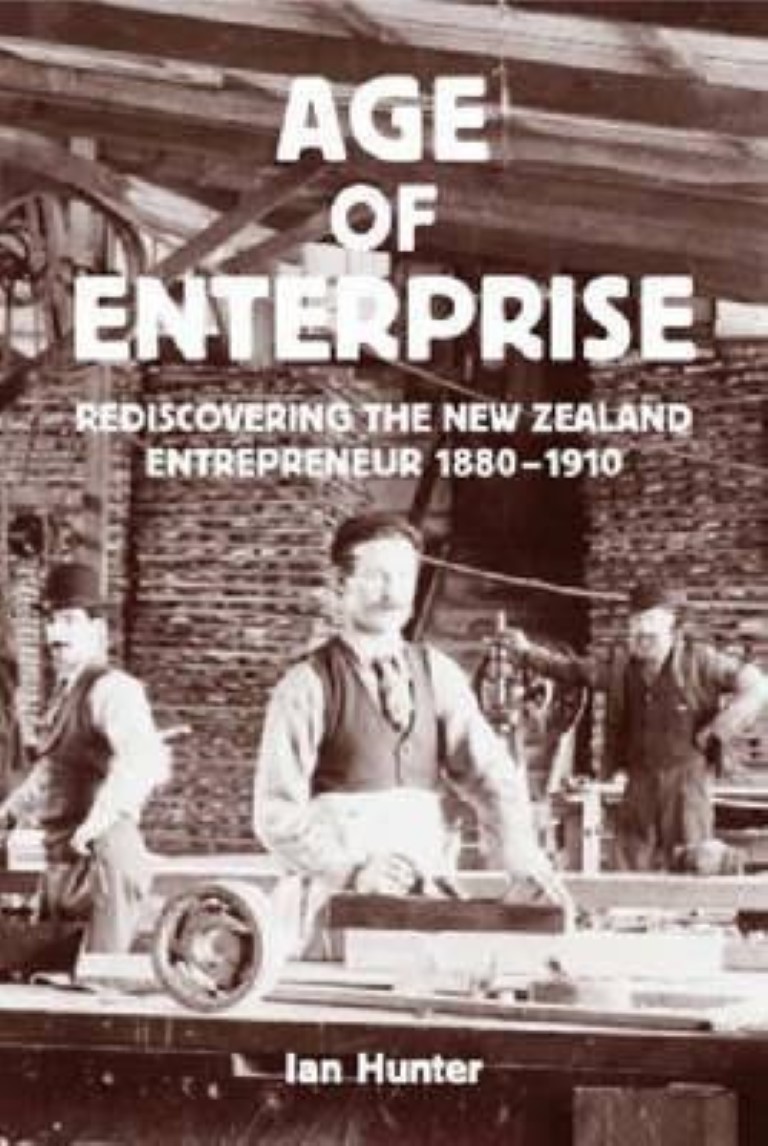 Case studies and historical evidence show that the small, yet rapidly expanding firm, was a potent force in New Zealand's growth, and its entrepreneurship and innovation transformed the New Zealand economy in the late 19th century.
ISBN 9781869403812
capitalism, industry, colonial
VG+ softback
$25 B/C
Auckland University Press 2007 first edition, viii 280pp.
[#5509 ]
WRIGHT Matthew

The New Zealand Experience at Gallipoli and the Western Front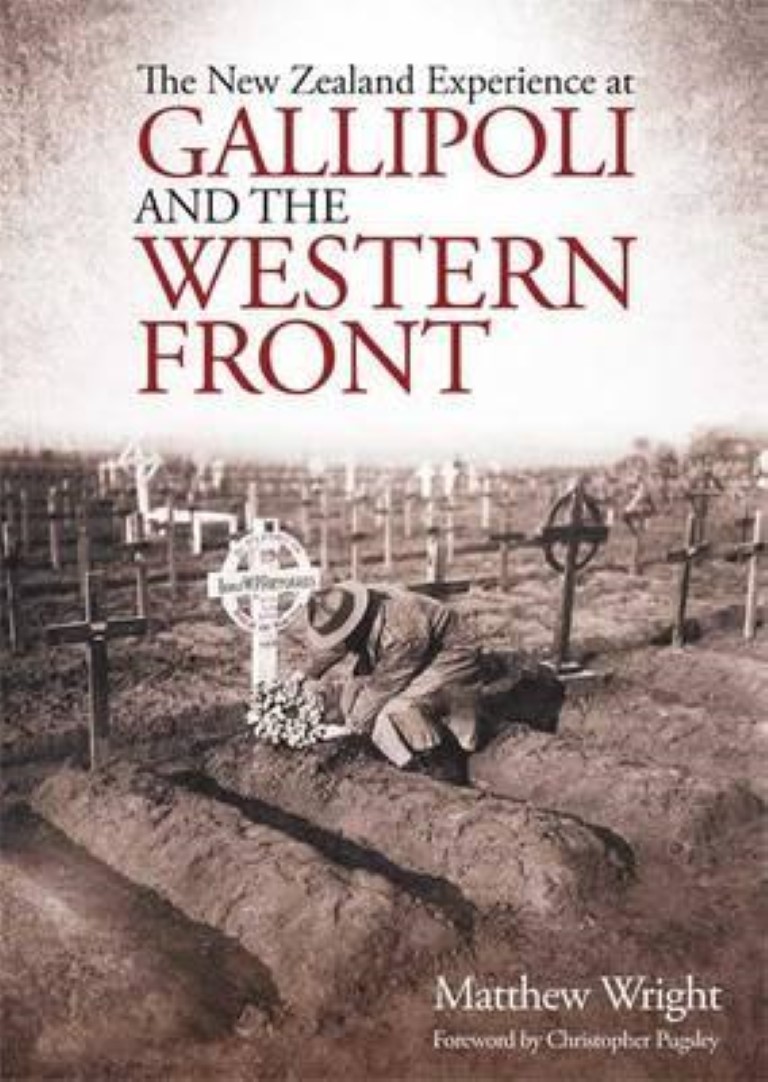 This book analyses what it was like for New Zealand soldiers at the two main battle fronts where they fought, Gallipoli in the Dardanelles and the Western Front, and the social repercussions back home.
ISBN 9780947506193
wwi, ww1, anzac, sociology
VG+ softback
$30 B/C
Oratia Books 2017 first edition, 390pp.
[#5510 ]
ORBELL Margaret

The Illustrated Encyclopedia of Maori Myth and Legend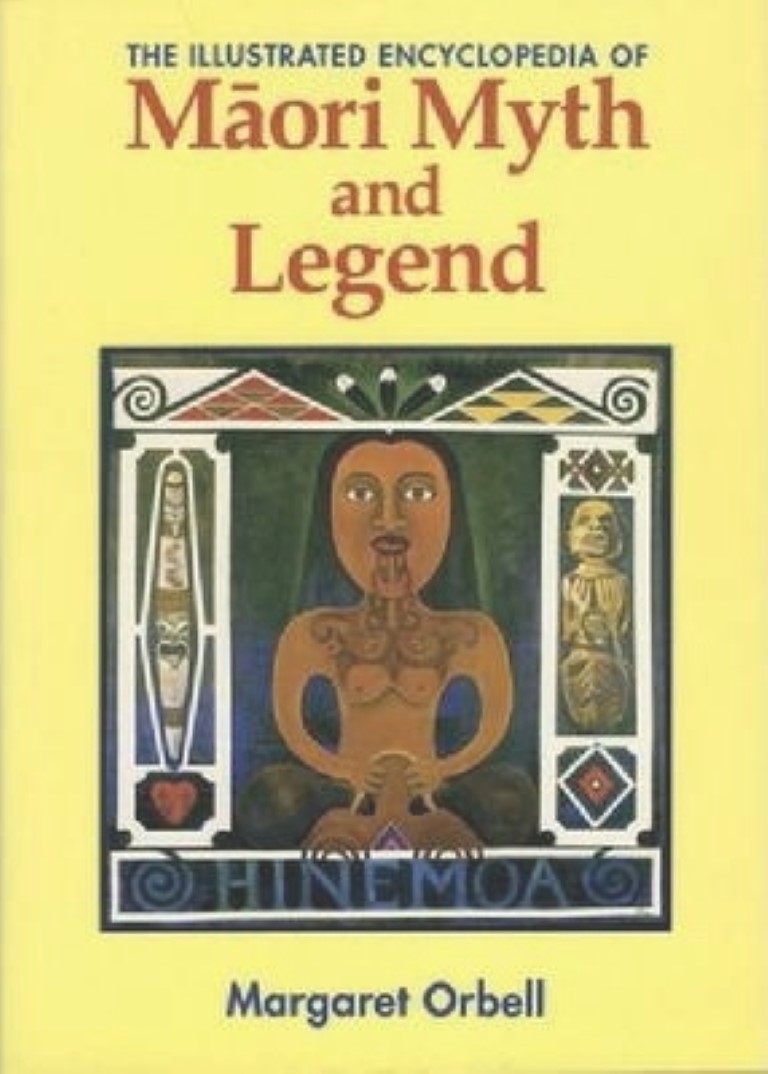 A detailed guide to Maori myths and legends, religious beliefs, folklore and history.
Arranged alphabetically, this work reveals the subtlety and complexity of the traditional Maori view of the world.
ISBN 9780908812479
maoritanga, tikanga, taonga, illustrated
VG- softback, some cover wear and edge soiling.
$25 B/C
Canterbury University Press 1996, 274pp.
[#5511 ]
TURNER Jim

The RAAF at War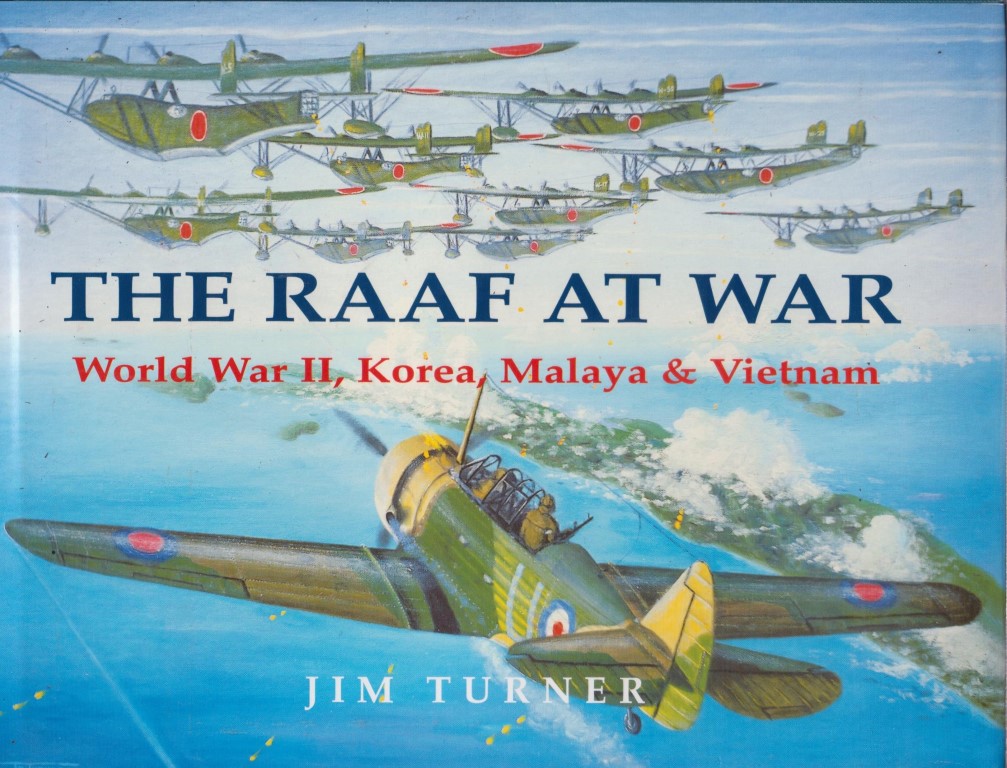 Based on interviews with veterans of World War II, Korea, Malaya and Vietnam.
Written, edited and illustrated by Turner, this history is well augmented by pastel illustrations as well as photographs.
ISBN 9780864178893
Royal Australian Air Force, aviation memoirs, pilots
VG hardback in VG dust jacket.
$30 B/C
Kangaroo Press 1999 first edition, 208pp.
[#5512 ]
17/12/2021ev
AMODEO Colin and Ron CHAPMAN

Forgotten Forty-Niners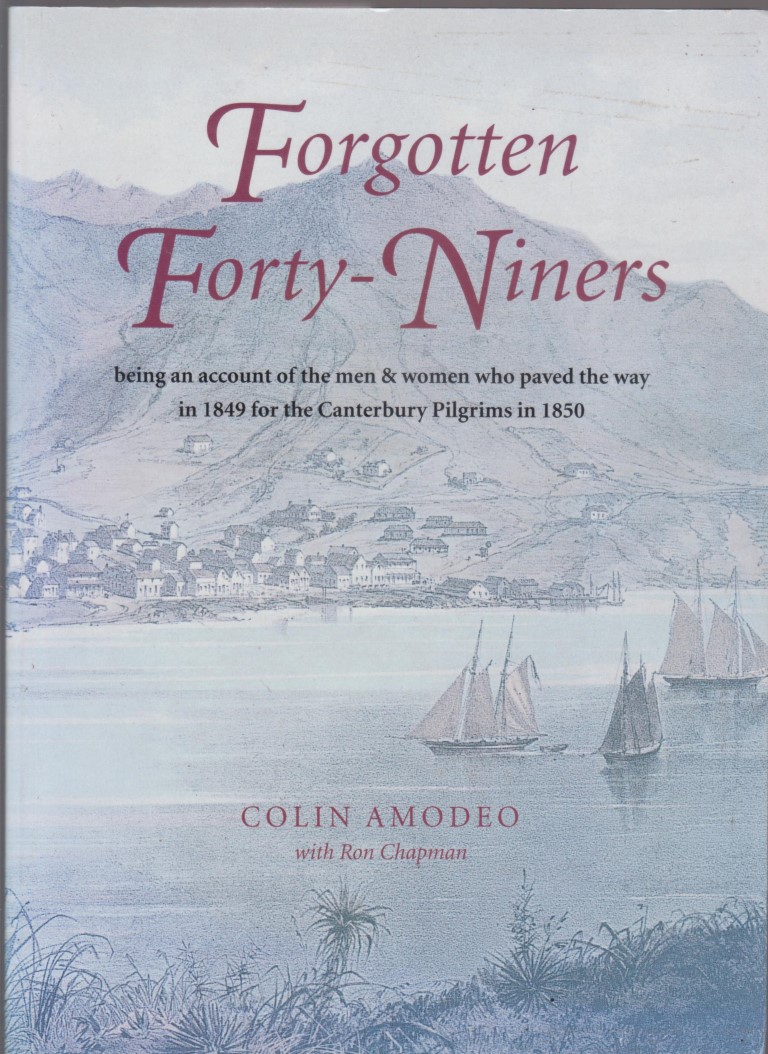 Being an Account of the Men and Women Who Paved the Way in 1849 for the Canterbury Pilgrims in 1850.
ISBN9780908563951
colonial history, first four ships, Christchurch, Otautahi, Captain Joseph Thomas, Canterbury Association, Lyttelton, Survey
VG+ softback in card covers with french flaps.
THIS COPY signed to half title by Colin Amodeo.
$95 B/C
Caxton Press 2003 first edition, xii + 236pp, illustrated.
[#5500 ]
[CHARLES MANSON] O'NEILL Tom with Dan Piepenbring

Chaos; Charles Manson, the CIA and the Secret History of the Sixties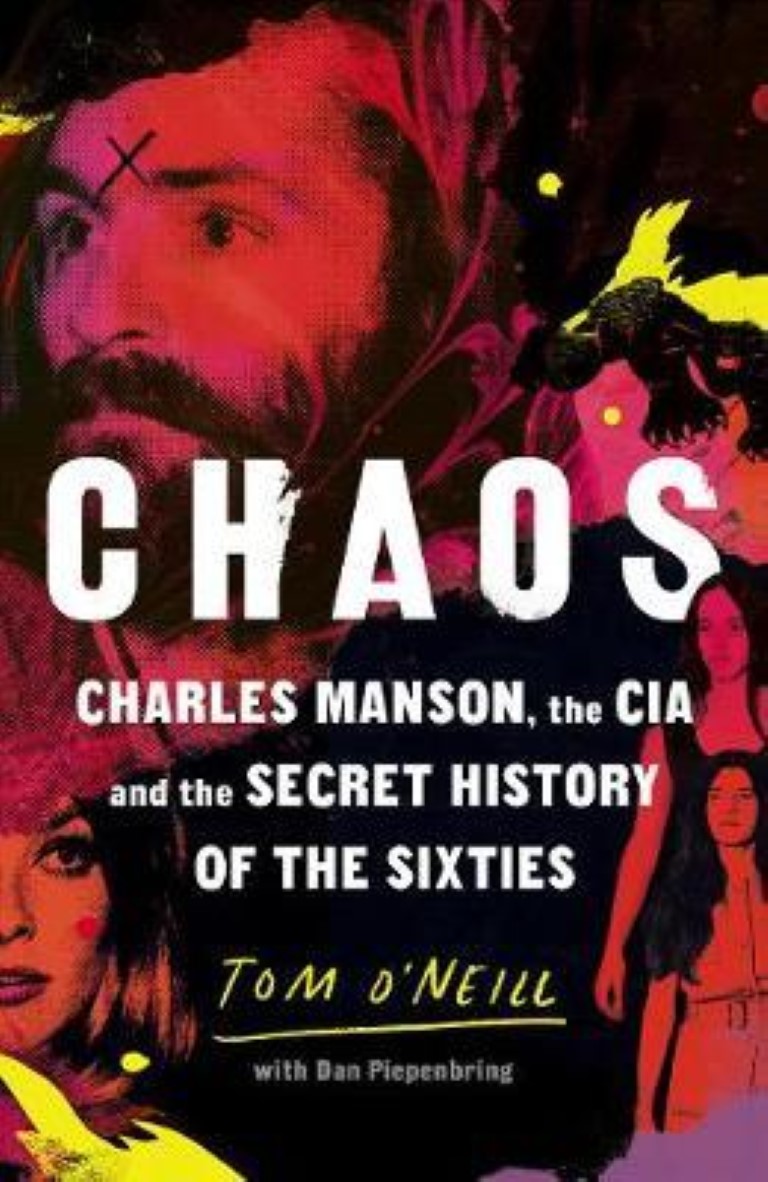 A journalist's twenty-year obsession with the Manson murders leads to new theories about the FBI's involvement in one of the most infamous cases in American history.
When assigned a magazine piece about the thirtieth anniversary of the Manson murders, O'Neill found holes in the prosecutor Vincent Bugliosi's narrative, long enshrined in the bestselling Helter Skelter.
During his twenty-year effort to rebut the 'official' story behind Manson, O'Neill finds law enforcement inaction and ties to the CIA's mind-control experiments, MKULTRA.
ISBN9781785152085
Spahn Ranch, conspiracy, Roman Polanski, Sharon Tate, Bobby Beausoleil, COINTELPRO, hippies
VG+ trade paperback, top cm of first page trimmed off.
$20 C/C
Heinemann 2019 first edition,
[#5501 ]
[BAIN MURDERS] McNEISH James

The Mask of Sanity; The Bain Murders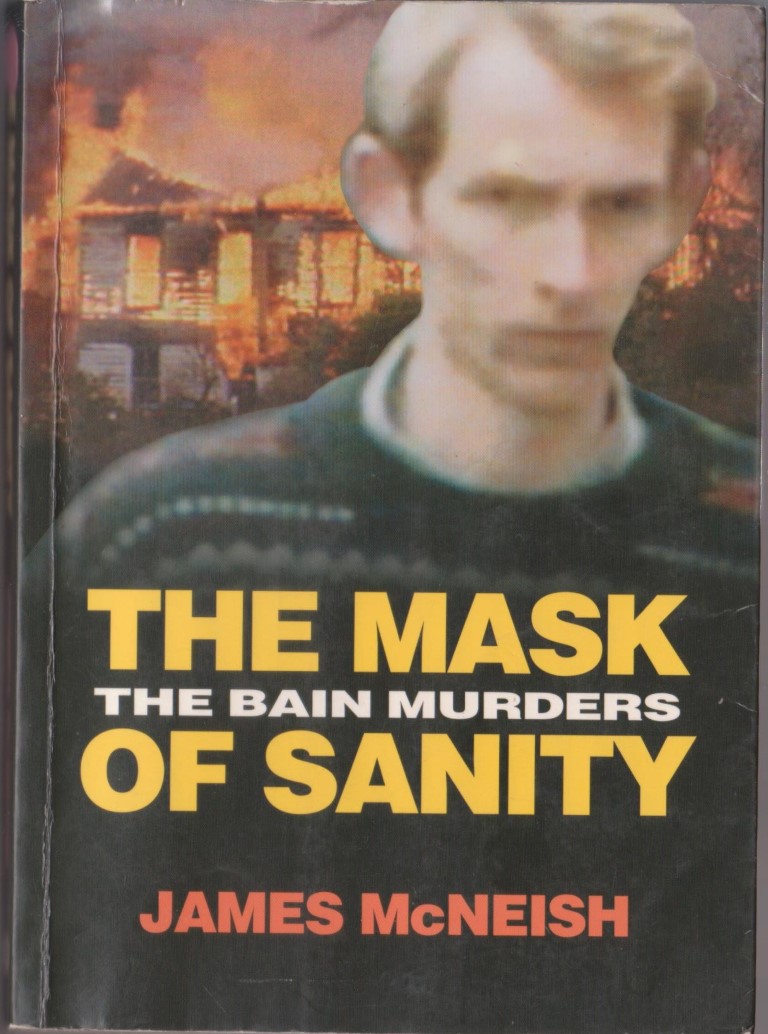 McNeish covered the trial of David Bain for killing his complete nuclear family in Dunedin in 1994.
This book gives the details of the crime, the parties invovled, and the evidence of the crime scene, and finds that david was indeed the culprit, not the father as has been put forward by many.
ISBN 0908990464
true crime, spree killer, Dunedin
VG softback, name to first page.
$15 C/B
David Ling 1997 first edition, 281pp + plates.
[#5502 ]
MOON Paul

The Voyagers: Remarkable European Explorations of New Zealand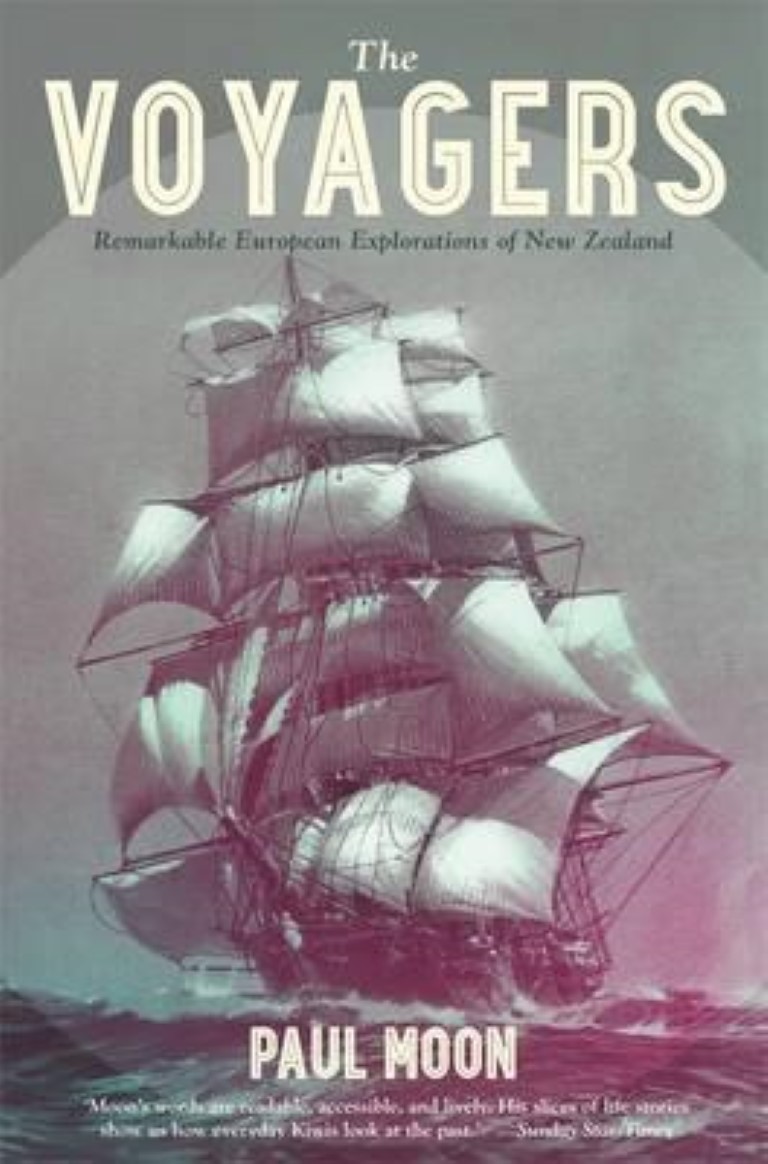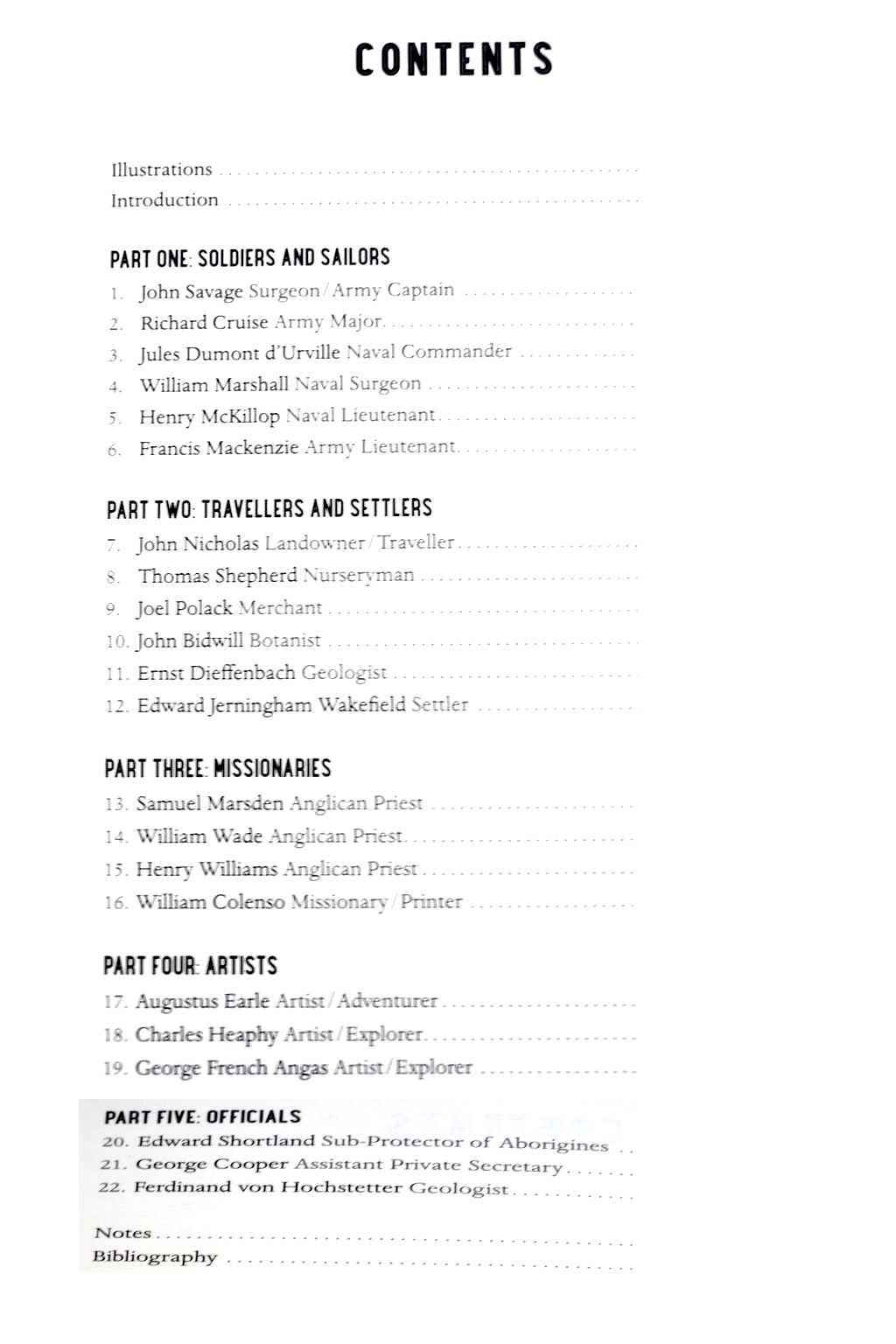 dramatic stories of Europeans discovering and exploring New Zealand during the first half of the 1800s.
Ocean adventures, cross-country trekking, imperial and spiritual conquests, first contacts with Maori, artists seeking the 'sublime', scientific discovery and commercial pursuits all intertwine to form a fascinating portrait of a land undergoing immense change.
ISBN 9780143570554
Jules Dumont d'Urville, Samuel Marsden, Ferdinand von Hochstetter, Charles Heaphy
VG softback, name to first page.
$20 C/C
Penguin 2014 first edition, 251pp + plates.
[#5503 ]
LUNAN Duncan

Man and the Stars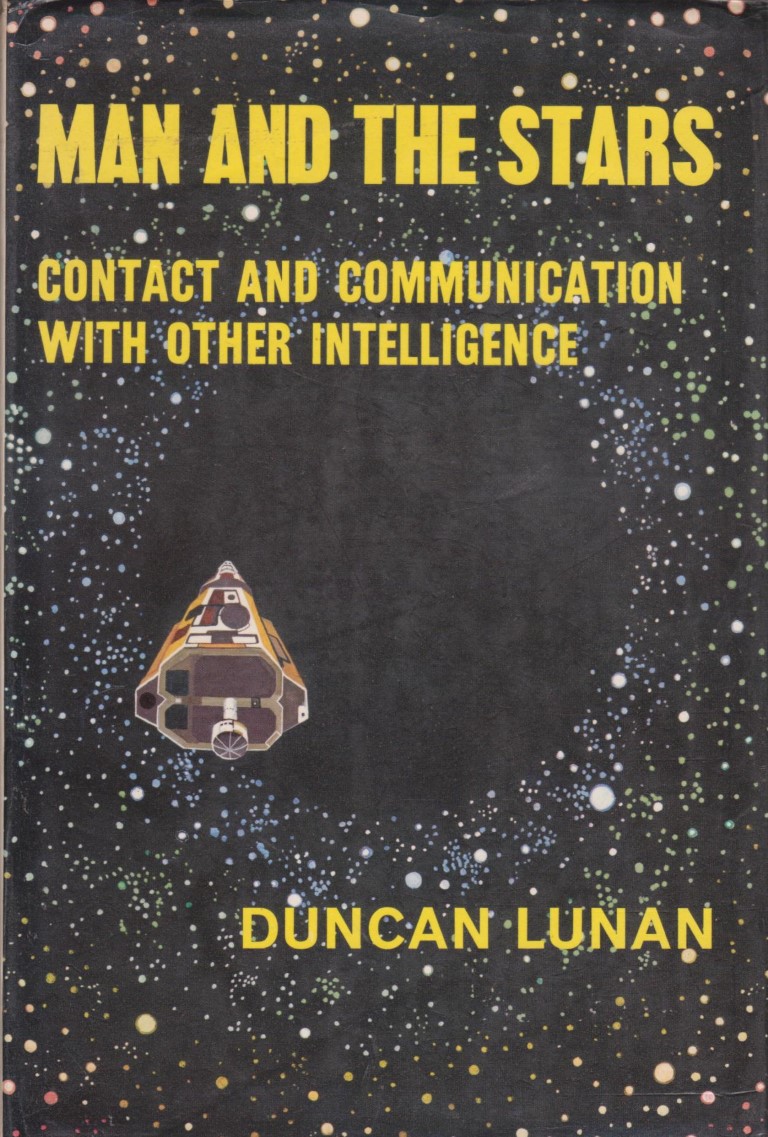 Contact and Communication with Other Intelligence.
Based on deciphering radio signals, the author believes he has found strong evidence of extra terrestrial contact, and/ or visitation in our recent past.
http://www.duncanlunan.com/manandthestars.asp
Illustrated by Ed Buckley and Gavin Roberts.
ISBN0285621297
Epsilon-Bootis, UFO, E.T., Search for Extraterrestrial Intelligence
VG hardback with VG dust jacket.
$20 C/C
Souvenir Press 1974 first edition, x 324pp + plates.
[#5504 ]
SIMS Andrew

Symptoms in the Mind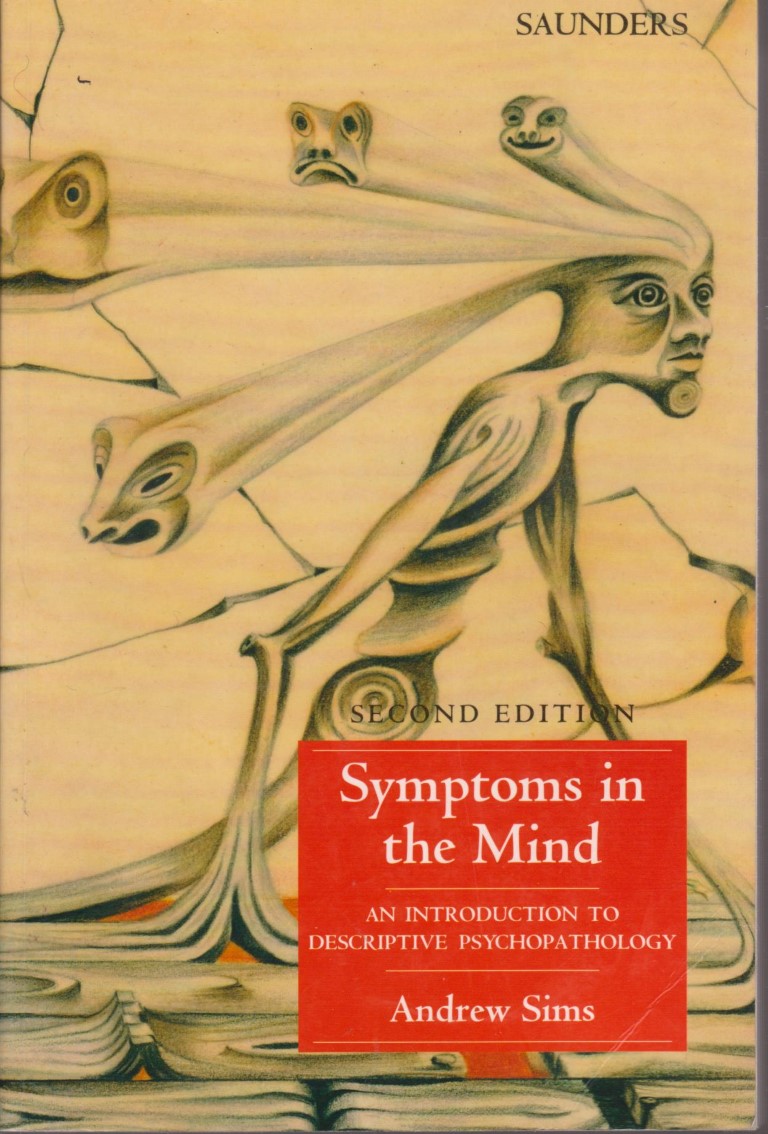 An introduction to Descriptive Psychopathology - the basis of clinical psychiatry.
This standard text in the field concentrates on the psychopathological disorder of function rather than disease category.
ISBN 9780702017889
Table of contents:
Fundamental Concepts of Descriptive Psychopathology. Consciousness and Disturbed Consciousness. Attention, Concentration and Orientation. Disturbance of Memory. Disorder of Time. Pathology of Perception. Delusions and Other Erroneous Ideas. Disorder of the Thinking Process. Language and Speech Disorders. Disorder of Intellectual Performance. The Disordered Self. Depersonalisation. Disorder of the Awareness of the Body. Disorders of Gender and Sexuality. The Psychopathology of Pain. Affect and Emotional Disorders. Anxiety, Panic, Irritability, Phobia and Obsession. Urge, Drive and Will: Disturbance of Volition. Impulsive and Aggressive Acts. Disturbance of Movement and Behaviour. Psychopathology of Neurotic Disorders. The Expression of Disordered Personality. Eliciting the Symptoms of Mental Illness. Psychopathology and Diagnosis.
VG softback
$30 B/C
W B Saunders 1999 fifth rpinting of second edition, viii 422pp.
[#5505 ]
ANDERSEN J. C.

Old Christchurch
In Picture and Story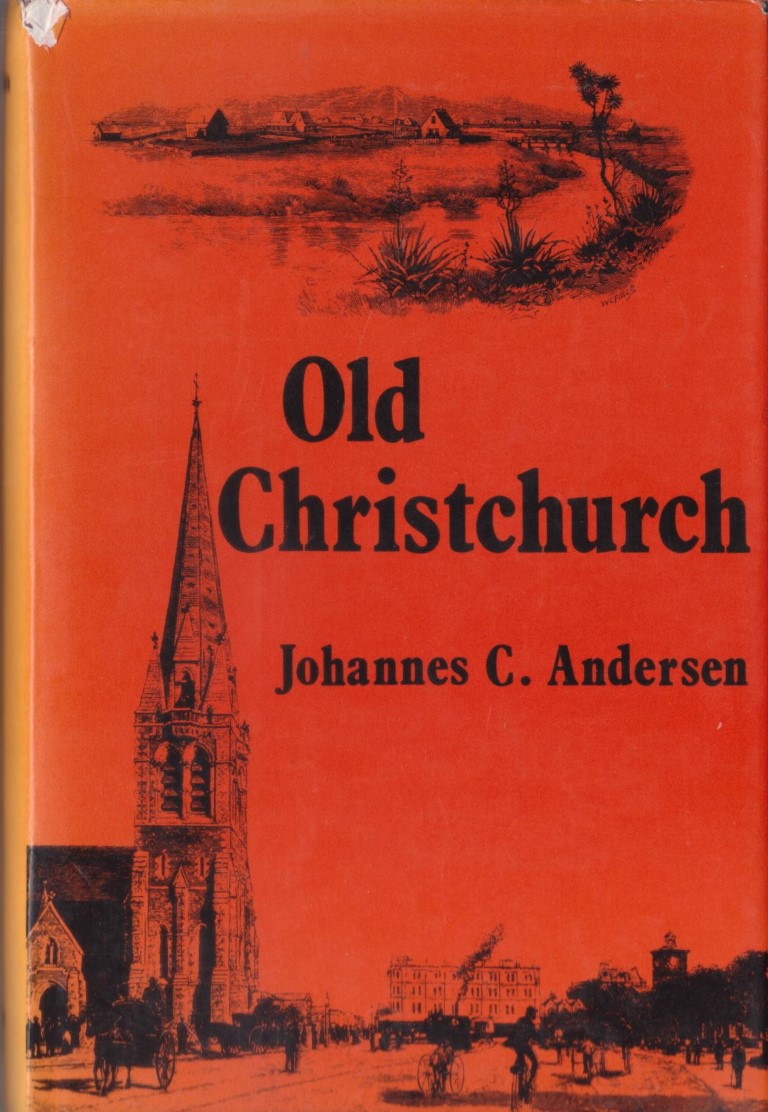 History of the city and environs from the earliest Pakeha settlers Price and the Deans, to the coming of the Canterbury Colony and the establishment of the city. Mainly an account of the municipal developments.
Canterbury Association
VG hardback with VG- dust jacket.
Gift inscription to free end paper and the blank fly, small chip head of jacket spine, jacket spine sun faded.
$45 C/C
Capper Press 1975 facsimile of 1949 edition, xii 499pp.
[#5506 ]
BALLARA Angela

Taua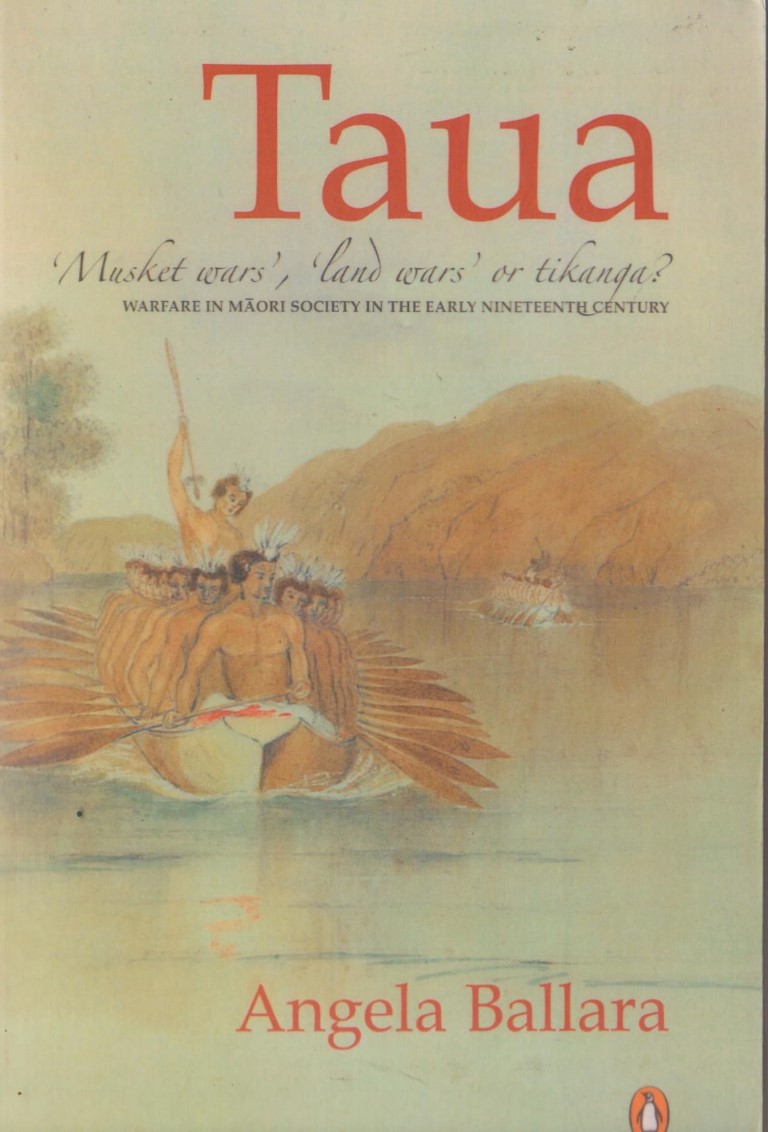 Musket wars, land wars or tikanga?
Warfare in Maori society in the early Nineteenth Century.
ISBN 9780143018896
VG+ softback
$25 C/C
Penguin 2003, 543pp.
[#5507 ]
14/12/2021ev
[ASTRONOMY] HYDE Vicki

Godzone Skies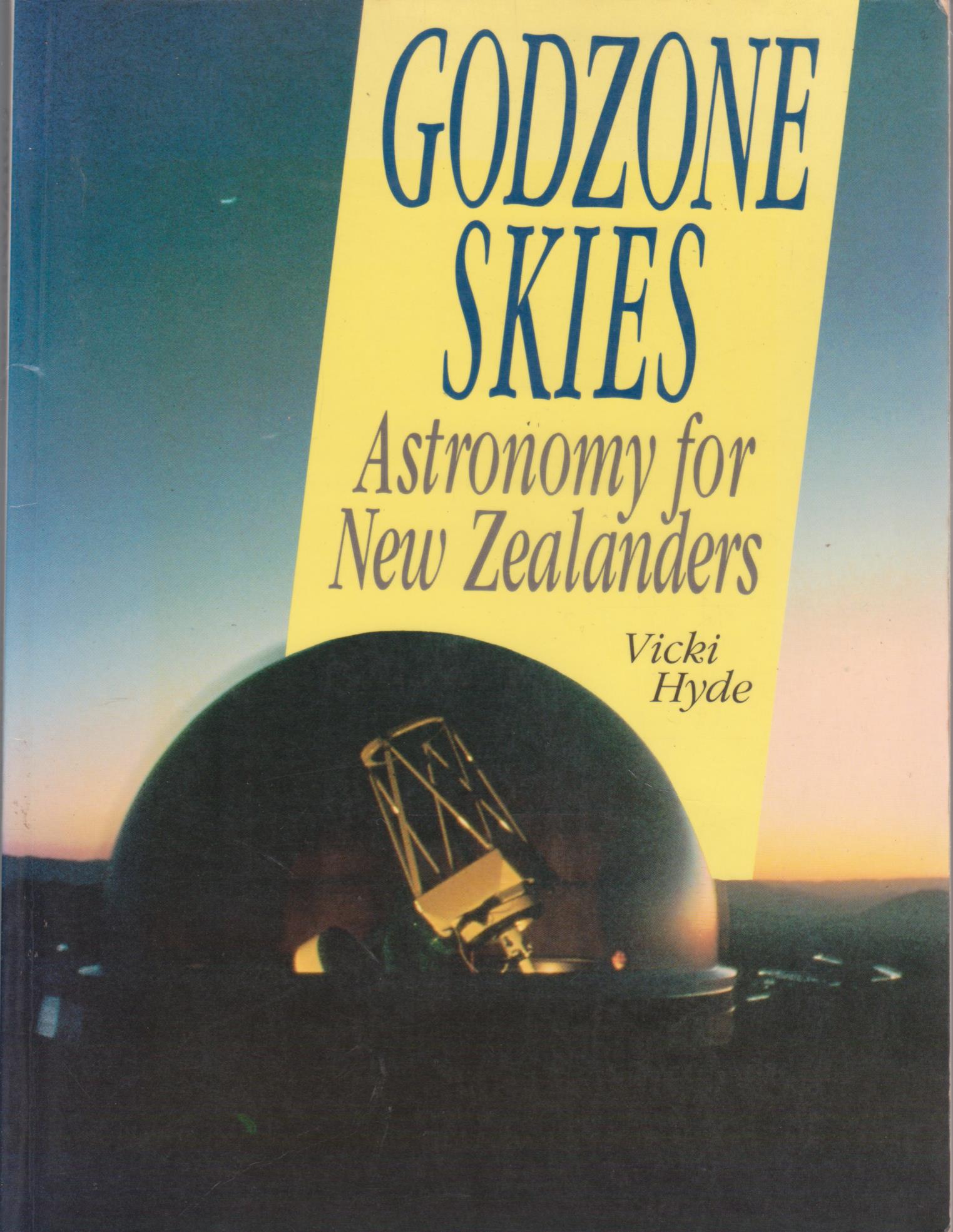 Astronomy for New Zealanders.
ISBN 9780908812196
32 pages of colour photographs, with 80 other photos and illustrations.
Polynesian astronomy, sky watching, southern hemisphere
VG softback.
$25 B/B
Canterbury University Press 1992 first edition, 80pp.
[#5484 ]
HOBSON Wendy

The Angel Oracle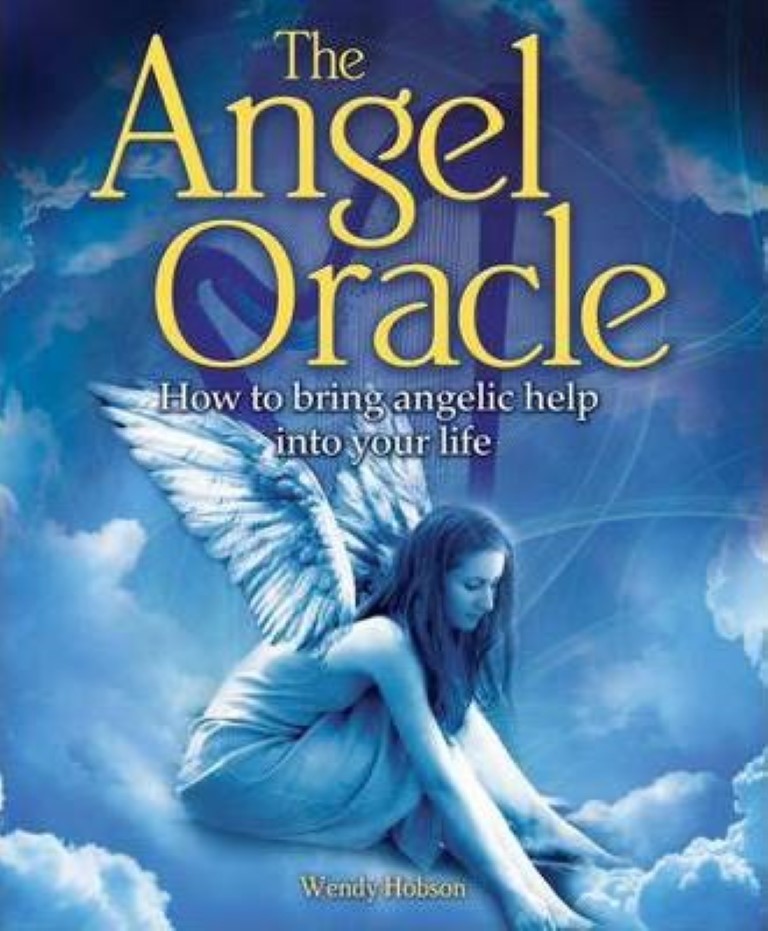 How to bring Angelic help into your life.
Includes correspondences for the Archangels, chakras, how to use angel cards, personal growth.
ISBN 9781743081525
divination, spirituality, angelology
VG+ softback
$20 B/C
Hinkler Books 2012, 208pp.
[#5485 ]
JONES Gladys V.

The Flowering Tree.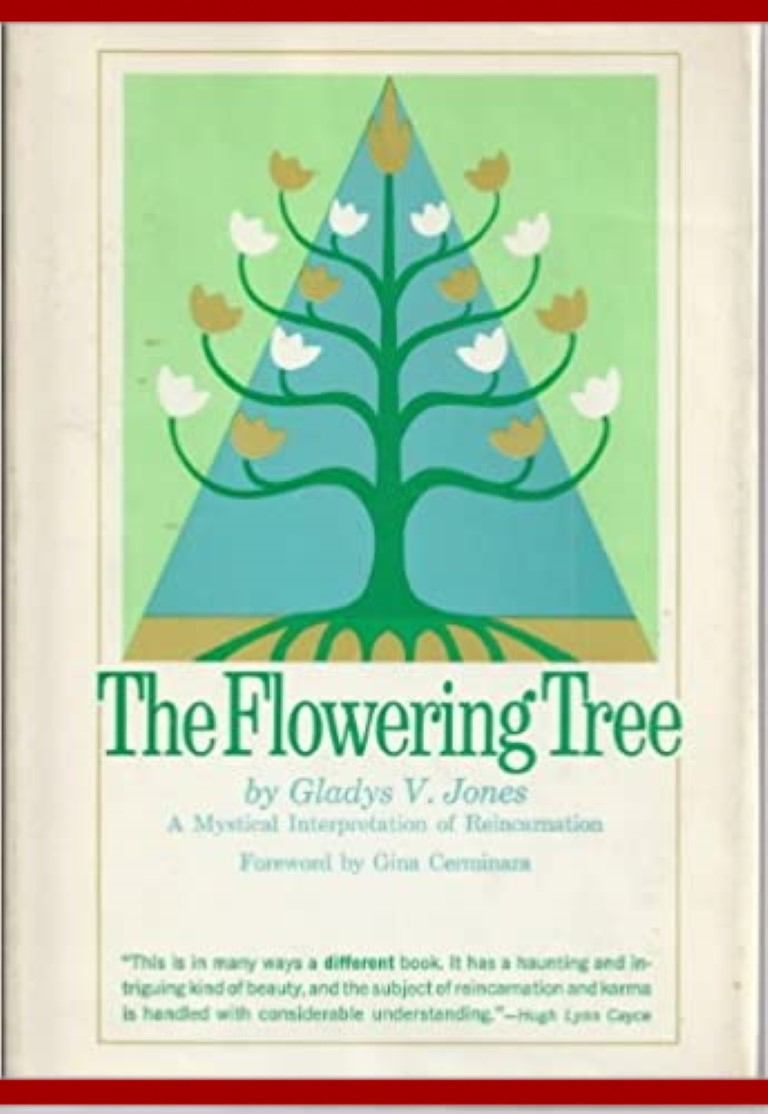 A Mystical Interpretation of Reincarnation
A psychic's clairvoyant reading of the soul and reincarnation, including her readings for some of her clients.
survival, spirituality
VG hardback in VG dust jacket under plastic sleeve.
$25 C/C
New Age Press 1965 first edition, 316pp.
[#5487 ]
ALLAN H. H.

New Zealand Trees And Shrubs And How To Identify Them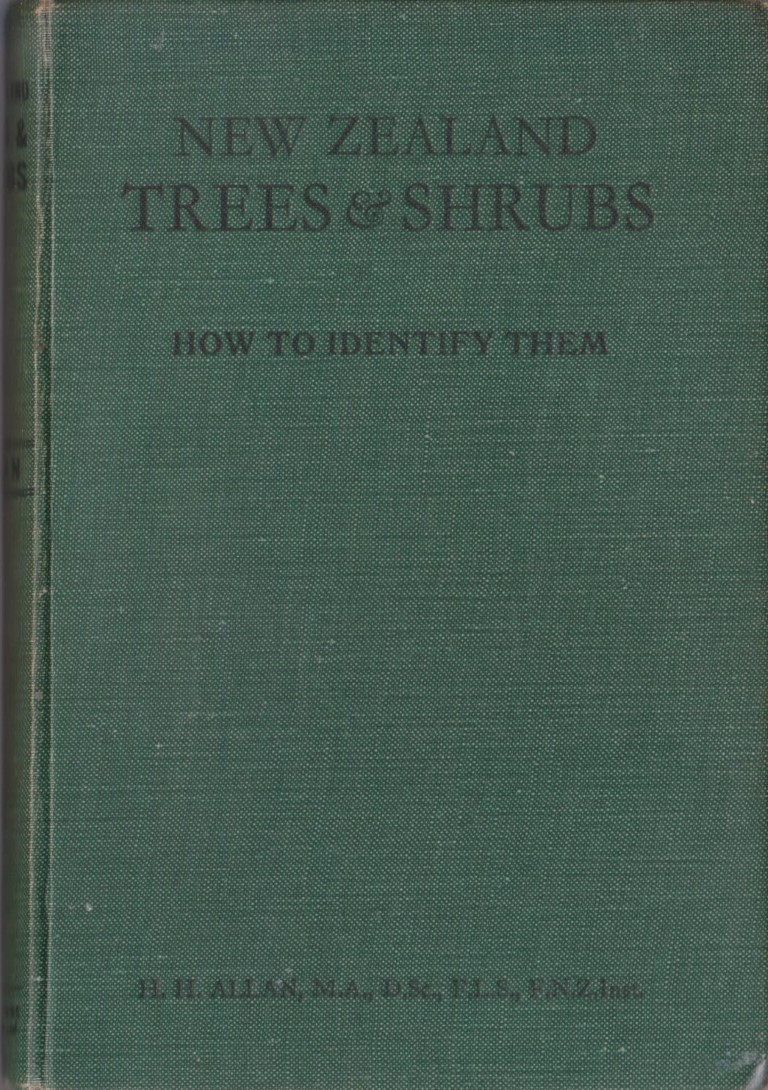 An early textbook of New Zealand plant identification.
flora, botany
VG cloth hardback with no jacket.
$20 B/B
Whitcombe and Tombs Ltd. [1928] first edition, 188pp, + plates and map endpapers.
[#5488 ]
WHITE Unk and M. H. Holcroft

Christchurch Sketchbook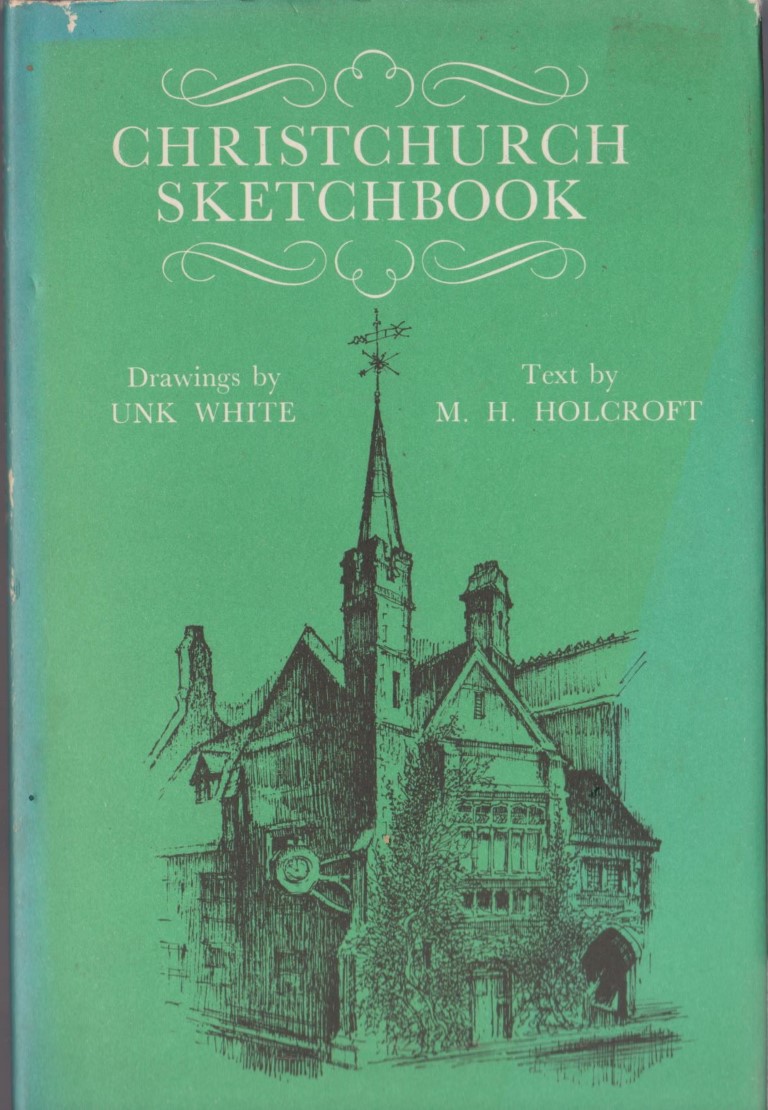 Ink sketches with accompanying text descriptive of notable Christchurch landmarks, some now destroyed.
Christchurch history, architecture, sketchbook series
VG+ hardback in VG+ dust jacket.
$15 C/B
Rigby 1968 first edition, 62pp.
[#5489 ]
HANKIN Cherry A.

Life in a Young Colony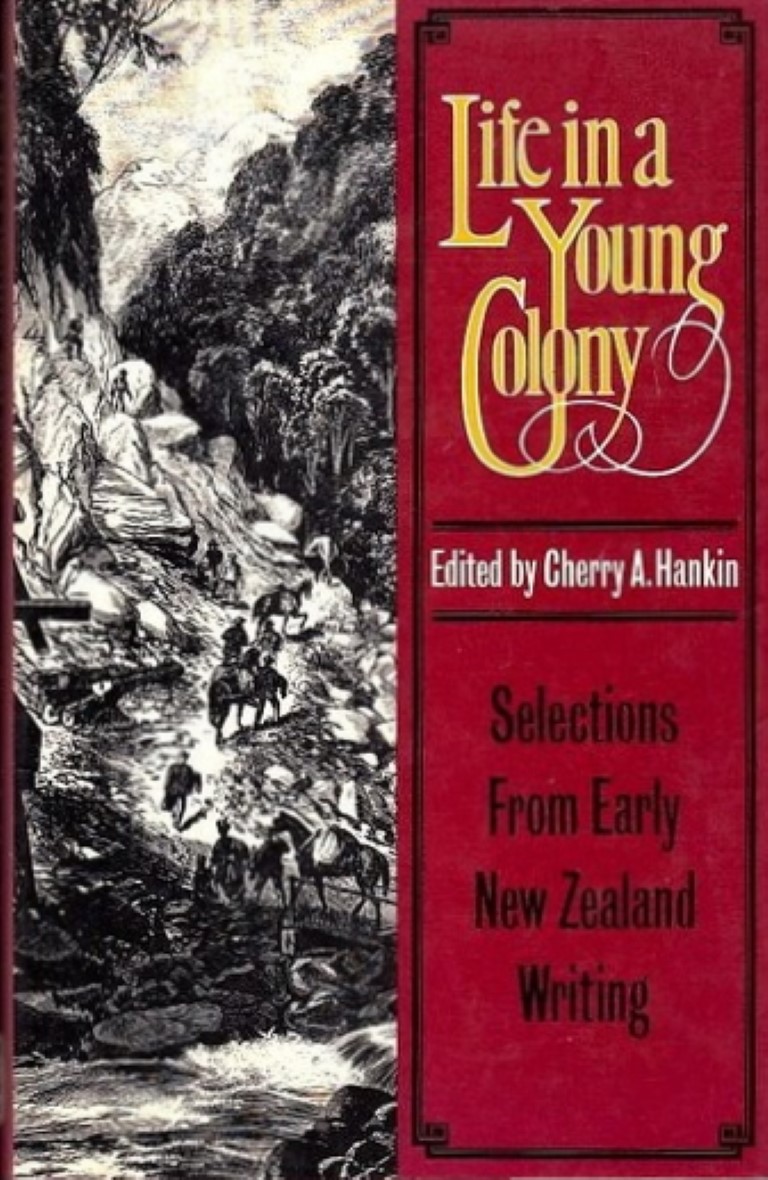 Historical accounts selected from early New Zealand writing.
ISBN 9780723306573
Contents; The decision to colonise / Purchasing land / The Maori as warrior / Town and country / Practical Christianity / Man against nature / Colonial types / Women's work / Farming and business.
VG hardback in VG- dust jacket.
$20 C/C
Whitcoulls 1981 first edition, 287pp illustrated.
[#5490 ]
COOKSON John and Graeme DUNSTALL (editors)

Southern Capital, Christchurch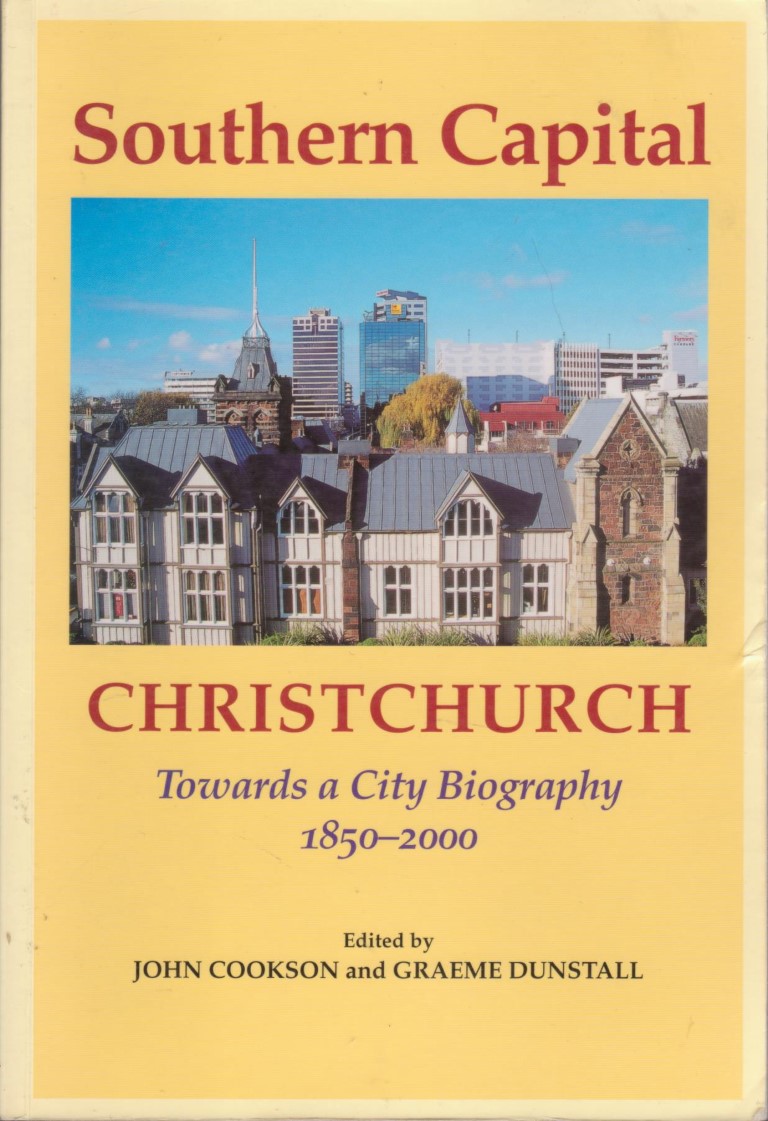 Towards a City Biography, 1850-2000.
Fourteen essays on the history and development of Christchurch city, New Zealand.
ISBN 9780908812875
Ngai Tahu, economics, settlement, colonial
VG softback
$30 B/C
Canterbury University Press 2000 first edition, 395pp.
[#5492 ]
VG softback, signed by John Cookson, Peter Perry and two others to half-title page.
$35 B/C
Canterbury University Press 2000 first edition, 395pp.
[#5493 ]
DEYO Stan

The Cosmic Conspiracy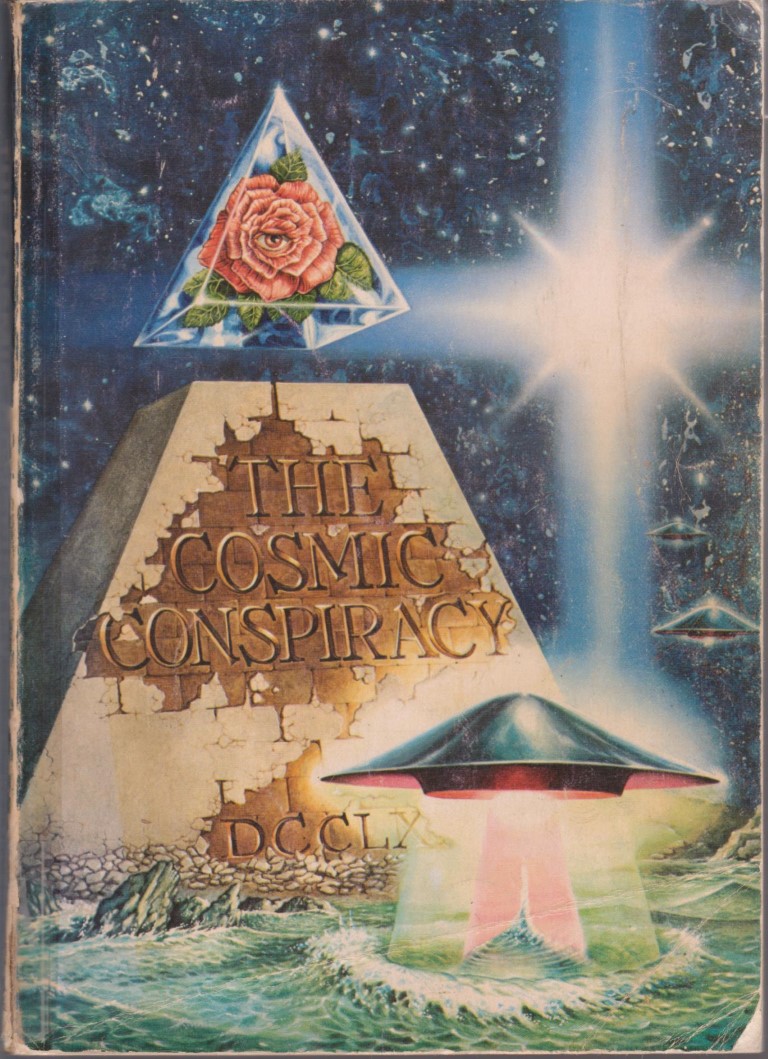 Recruited by the Illuminati, Stan Deyo was taken secretly to Australia in 1971 to design "flying saucer" propulsion systems with Edward Teller, father of the hydrogen bomb, and learned shocking secrets that send people to an early death.
Thirty years later he was able to recover his passport with help from powerul government contacts and return to his native America.
The stories he tells of his "time away" are truly extraordinary, and after literally running for his life Deyo reveals why "they" keep the alien/UFO agenda from the public, and that soon you will know who "they" are.
Many have investigated this huge conspiracy from the outside looking in; but only one has come forward from an insider's perspective.
Described is a world of black budgets, super advanced technology, and flying saucers.
ISBN 0908477007

Table of Contents
SECTION I: Flights of Reasons
CHAPTER 1 – Sightings and Suspicions
CHAPTER 2 – Electro-Gravitic Propulsion
CHAPTER 3 – Constructs of Reality
CHAPTER 4 – Radiant Genius: Tesla
CHAPTER 5 – Effecting Weather Warfare
CHAPTER 6 – The 1982 Alignments
SECTION II: Mysticism And Numerology: Mystery Babylon
CHAPTER 1 – Centuries Of Darkness
CHAPTER 2 – Orders of Illuminism
CHAPTER 3 – Seal of Deception
CHAPTER 4 – Model For 'Peace'
CHAPTER 5 – It's All Happening
CHAPTER 6 – Circles of Illuminati
SECTION III: Not Of Earth: Ichthus
CHAPTER 1 – In the Beginning
CHAPTER 2 – Conflicts Bear Witness
CHAPTER 3 – How to Survive
CHAPTER 4 – Taken to Safety
CHAPTER 5 – Horror With Grace
CHAPTER 6 – Until Sin Dies
CHAPTER 7 – Spread the Word
'Survival Kit': Reading List For Section III
Appendix No. 1 – New York Herald Tribune articles
Appendix No. 2 – Interavia Electro-Gravitics article
Appendix No. 3 – The Gravitics Situation (Gravity Rand Ltd.)
Appendix No. 4 – Copies of the Maxfield-Teller letters
Appendix No. 5 – Einstein's Relativity Error
Appendix No. 6 – Electrodynamic Propulsion
Appendix No. 7 – Regionalized and Adaptive Model of the Global World System

G+ softback, spine taped.
$45 B/C
West Australian Texas Trading 1979 second printing completing 19,000 copies. 200pp.
[#5494 ]
WATSON Chris and Roy SHUKER

In The Public Good? Censorship in New Zealand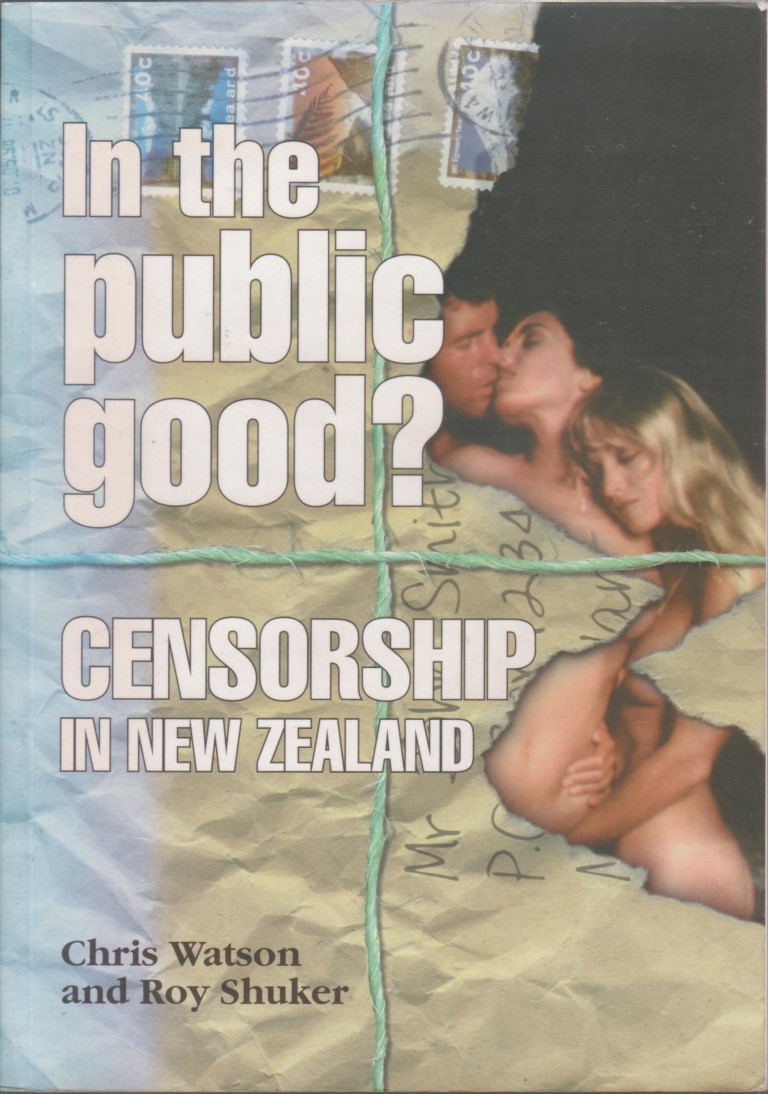 A history of censorship and changing mores in New Zealand.
From literature to pornography in print, film and music, and the growing challenge of objectionable material on the new medium of The Internet.
ISBN 9780864693051
1993 Films, videos and Publications Act, Offic of the Censor, video nasties, banned books, film classification
VG softback.
$25 B/C
Dunmore Press 1998 first edition, 220pp.
[#5495 ]
CARSON Terry

Built for Justice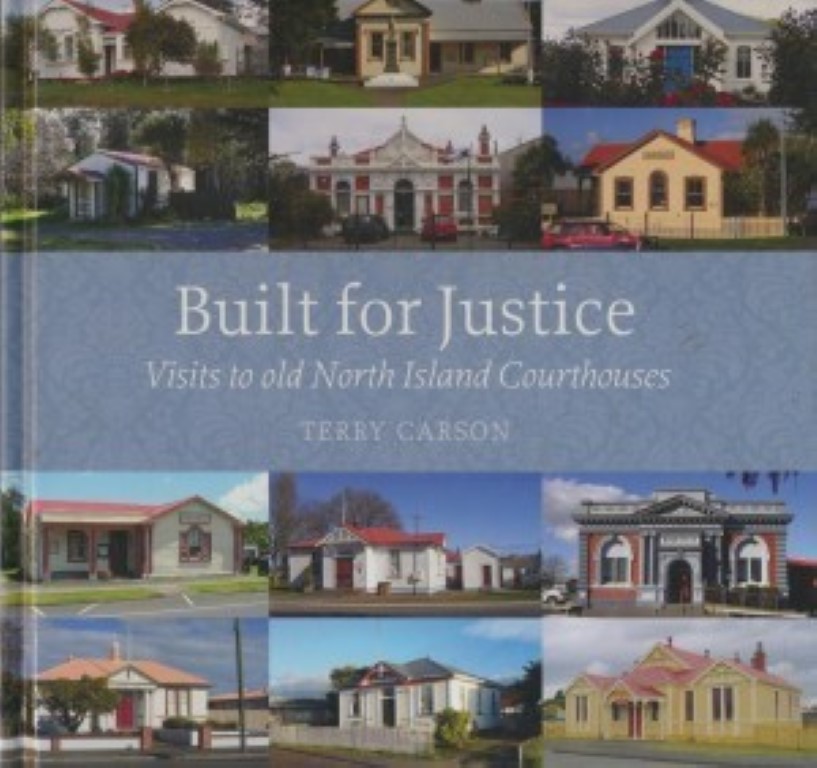 Visits to old North Island Courthouses.
The author, a retired lawyer, visits nearly 100 courthouses in the North and has photographed and described their histories.
Many are now being used as Community Centres or for other purposes.
ISBN 9780473230821
architecture, regional, judiciary, law and order, historic buildings
VG hardback with no jacket as issued.
$30 B/C
Alibi Press 2013 first edition, 176pp.
[#5496 ]
RIDGE Antonia

For the Love of a Rose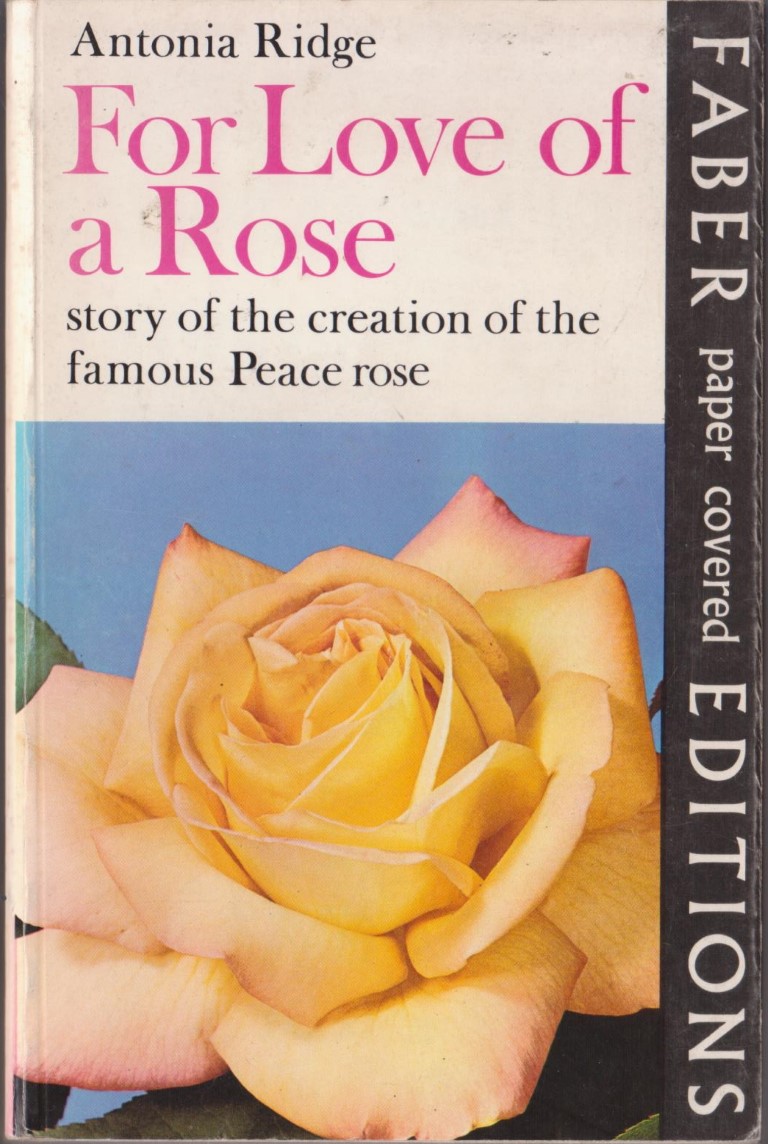 The story of the creation of the famous Peace Rose.
ISBN 0571101186
roses, cultivation, Peace rose, Baccara rose
VG paper covered sewn binding on quality paper.
Title to spine faded away.
$15 C/B
Faber 1972 first edition thus after the hardbound, 254pp + plates.
[#5497 ]
LEWIS David

Ice Bird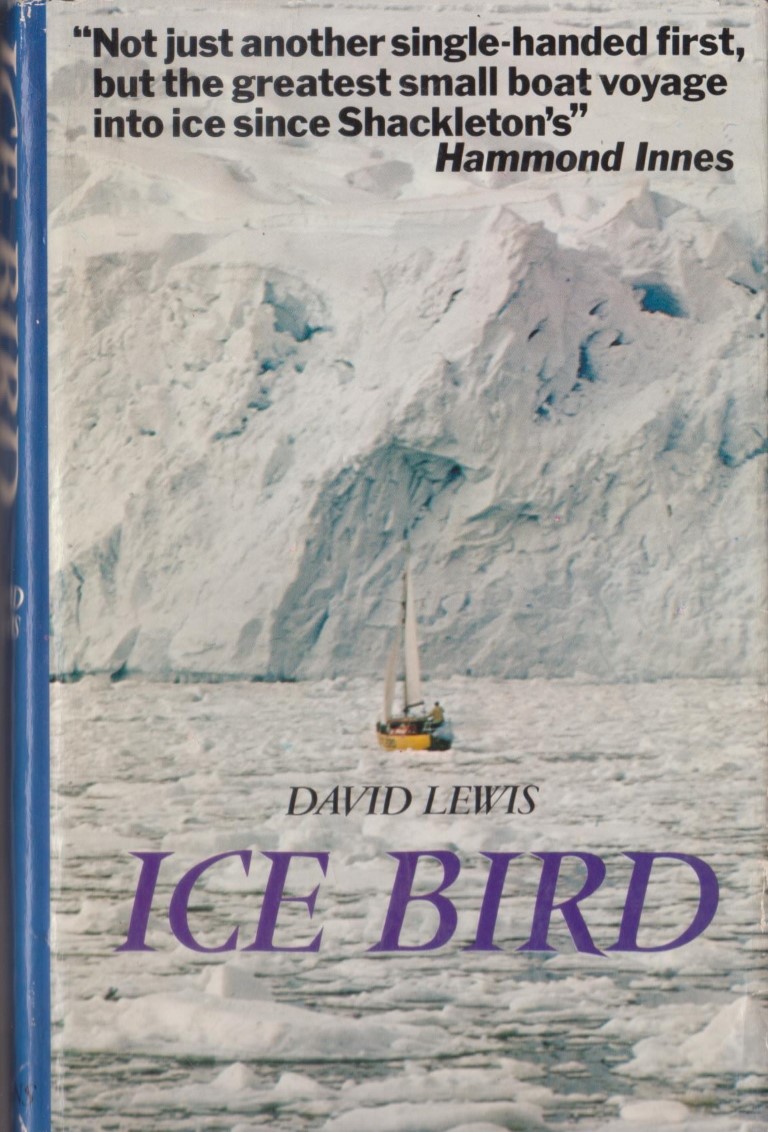 The First Single-Handed Voyage to Antarctica.
ISBN0002117371
keywords
VG hardback in VG- dust jacket with some edge wear.
$15 C/C
Collins 1975 first edition, 223pp + plates, map endpapers.
[#5498 ]
CAMPBELL Joseph

The Hero with a Thousand Faces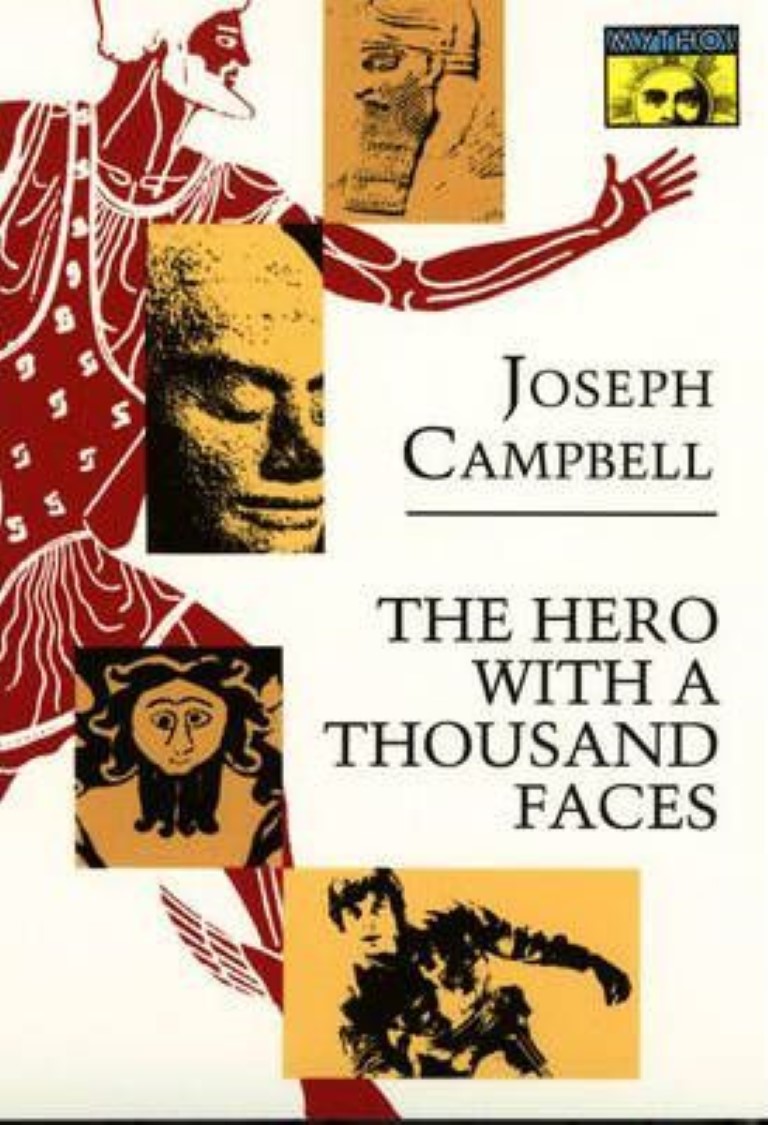 A cross-cultural study of the hero's journey.
The first popular work to combine the spiritual and psychological insights of modern psychoanalysis with the archetypes of world mythology, which, by examining heroic myths in the light of modern psychology, considers not only the patterns and stages of mythology but also its relevance to our lives today.
According to Campbell, Myth is the projection of a culture's dreams onto a large screen.
ISBN 9780691017846
religion, culture, archetypes
VG+ softback
$25 C/C
Princeton/Bollingen 1973, xxiii 416pp.
[#5499 ]
15/11/2021ev
LITCHFIELD Lois

Marree and the tracks beyond in black and white.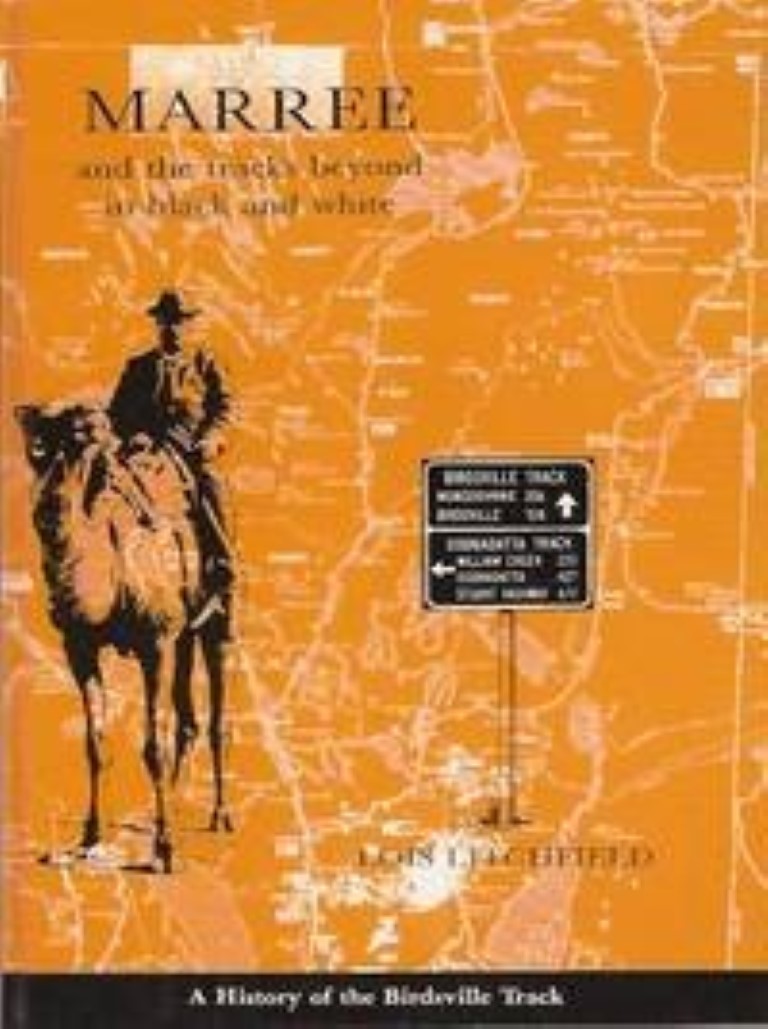 A history of the Birdsville Track, commemorating the Centenary of Marree 1883-1983.
Photographic illustrations throughout.
Kujani aboriginal tribal territory.
ISBN 0959173900
Dulkaninna, Eradunna, Mulka, Mungerannie, Cowarie, Kalamurina, Mirra Mitta, Clifton Hills, Pandi Pandi, Callanna, Muloorina, Finnis Springs, Innamincka, Moomba, Nappa Merrie
VG laminated pictorial covers.
$30 B/C
Privately Published 1983 second printing, x 198pp
[#5434 ]
STEELE J. G.

The Brisbane River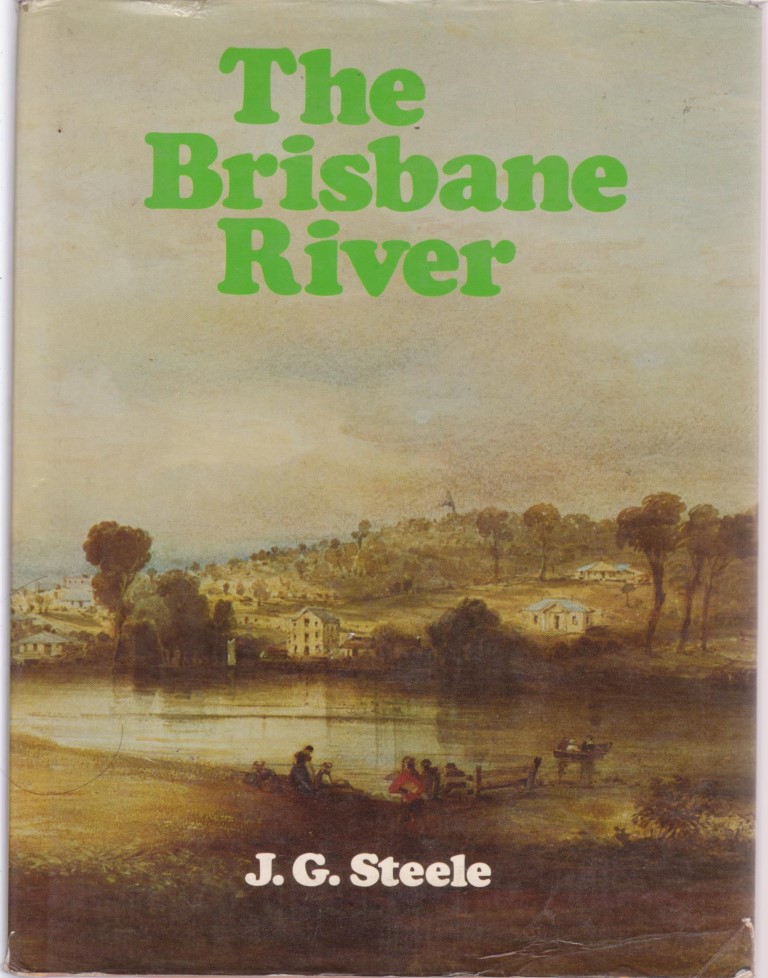 ISBN 0851799124
Part of Rigby's pageant of Australia series.
VG hardback in VG- dust jacket with edge wear and small tears to corners.
$15 B/B
Rigby 1976 first edition, 63pp + 2pp col plates, black and white illustrations.
[#5435]
WEBBY Elizabeth

Early Australian Poetry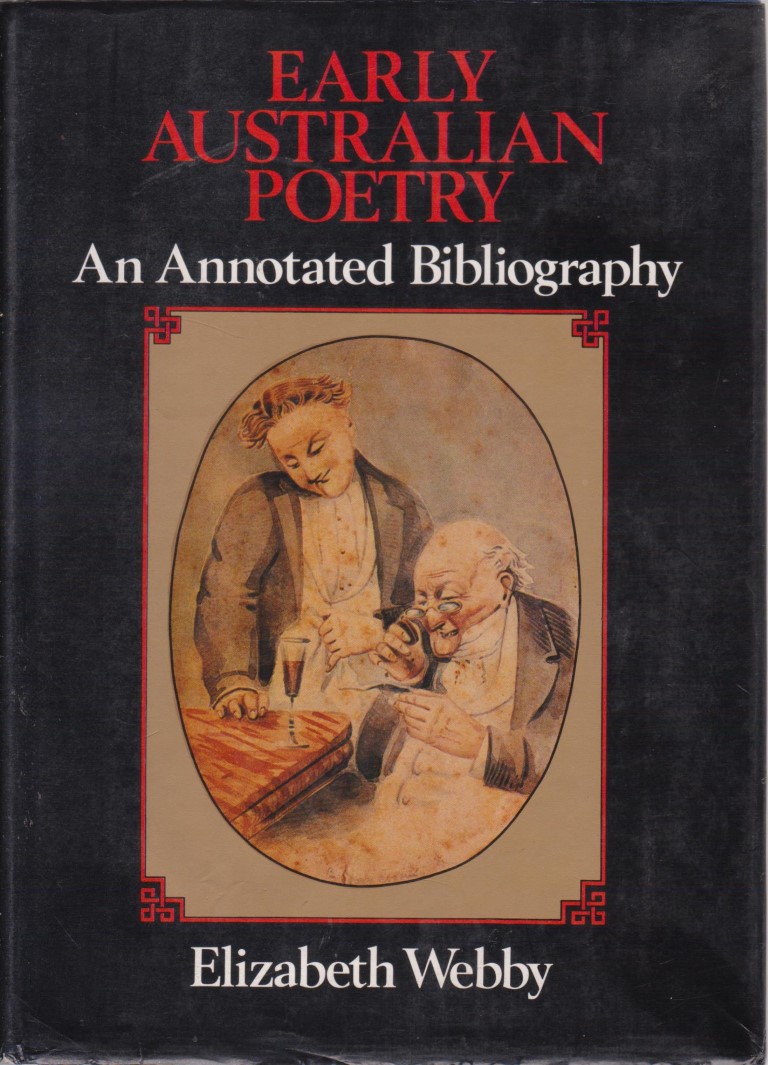 An annotated bibliography of original poems published in Australian newspapers, magazines and almanacks before 1850.
ISBN 0908094914
literature, georgian, victorian, ephemera
VG hardback in VG dust jacket.
$30 C/D
Hale and Iremonger 1982 first edition, 334pp + plates.
[#5436 ]
WHITE J. W. R.

Morgan Centenary 1878-1978
Commemoration Book
ISBN 0959636102
South Australia, Murray River, local history
VG+ hardback in laminated pictorial board.
$25 C/B
Morgan Centenary Committee 1977 first edition limited to 3000 copies, 136pp illustrated with black and white photos throughout.
[#5437 ]
POLLACK Michael

Sense and Censorship, commentaries on censorship violence in Australia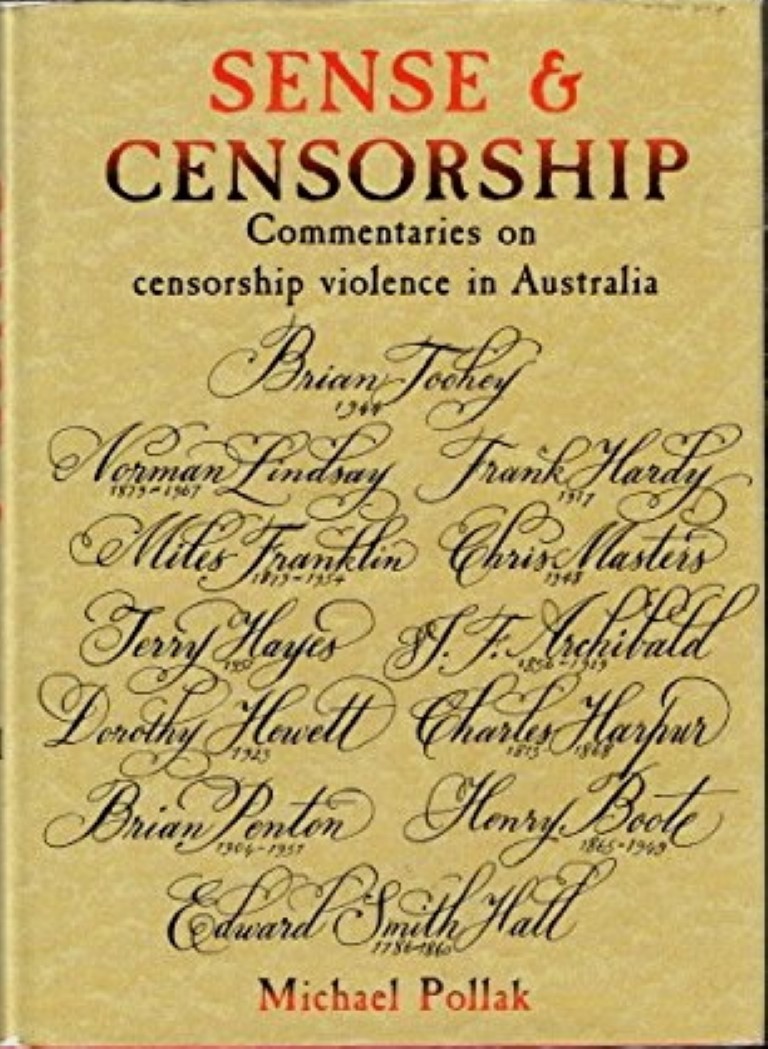 Twelve prominent Australian writers who struggled with censorship are treated by the author.
ISBN 0730102696
Edward Smith Hall/ Charles Harpur / J F Archibald / Miles Franklin / Henry Boote / Norman Lindsay / Brian Penton / Frank Hardy / Dorothy Hewett / Terry Hayes / Chris Masters / Brian Toohey.
VG hardback in VG dust jacket
$30 B/C
Reed 1990 first edition, 399pp with illustrations.
[#5438 ]
WILSON H. H.

Gateways to Gold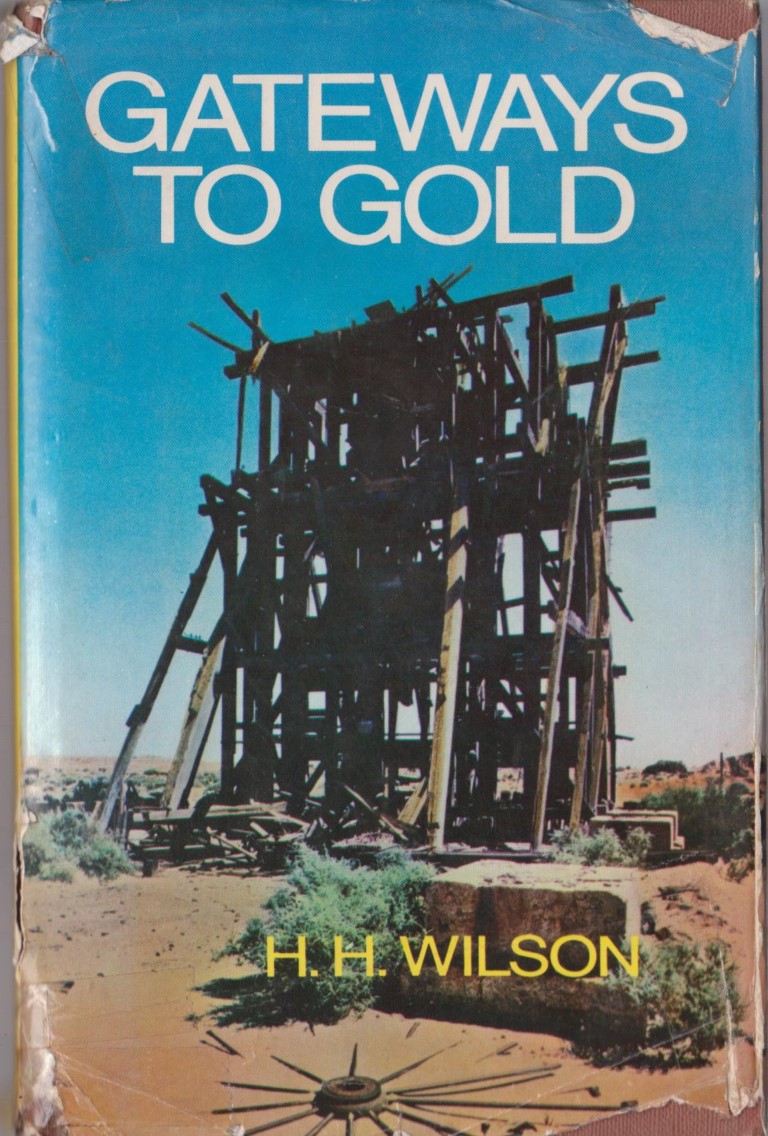 The history of gold prospecting and mining in the Murchison goldfields of Western Australia.
Meekatharra, Peak Hill, Mt Magnet, Annean Station, Byrah Station
VG hardback in G but torn and chipped dust jacket.
Inscription to half title with a single 'cancelled' stamp.
$15 C/B
Rigby 1969 first edition, 169pp + plates.
[#5439 ]
HARTLEY Wesley

Methodism in the Municipality of Randwick 1858-1973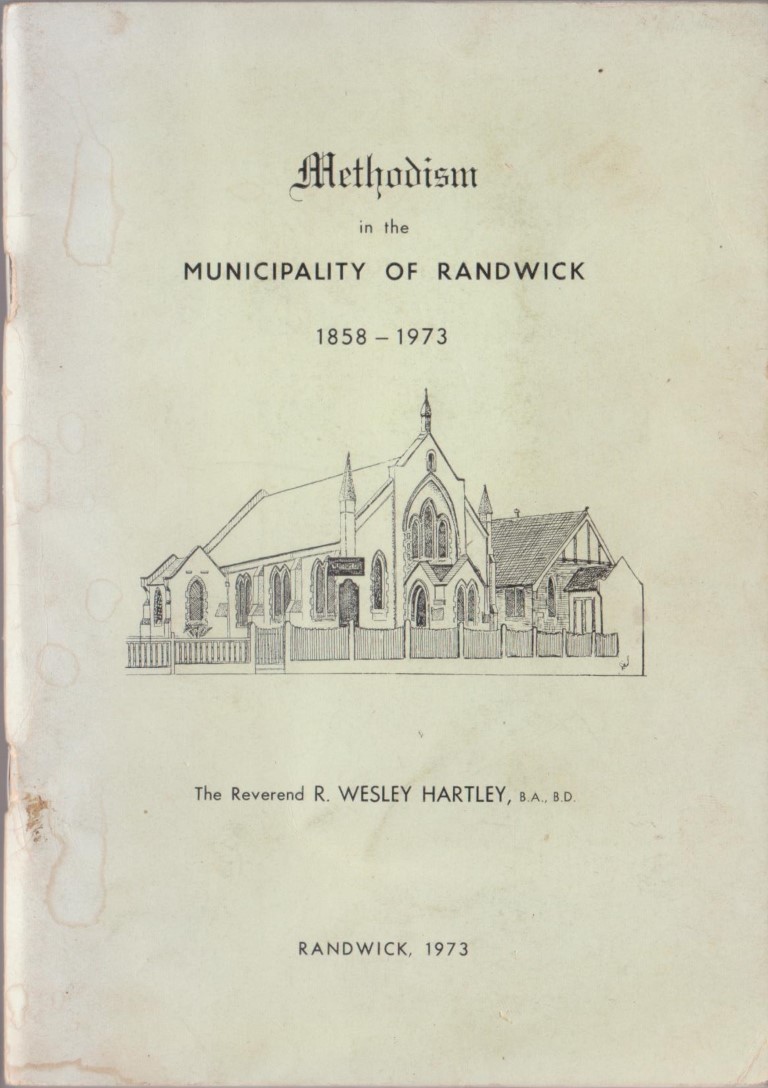 Australian Church history.
With black and white photos.
NSW, Methodist Church in Australia
VG stapled wraps with light soiling and fading.
$30 C/B
Randwick 1973 stapled sheets in card wrapper, 47pp.
[#5440 ]
MILLS Jenny

The Timber People a history of Bunnings Limited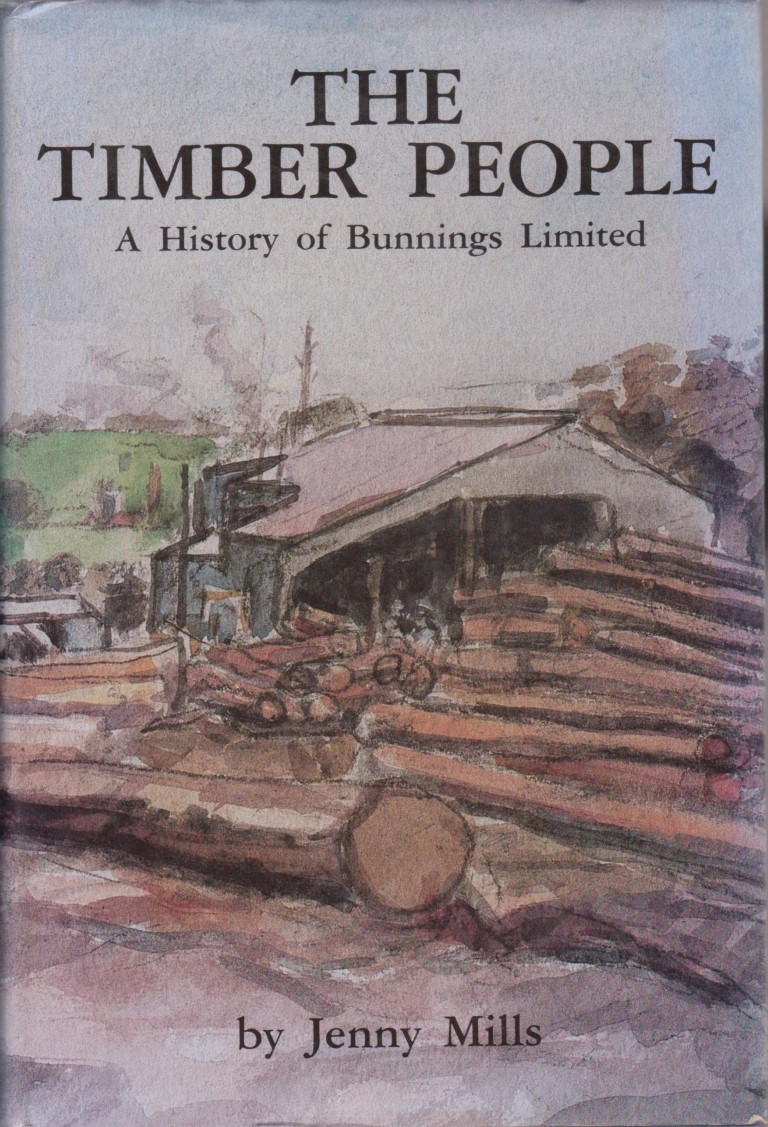 A history of Bunnings Limited, the Western Australian timber and hardware merchants.
ISBN 0958910804
Bunning Brothers Limited, Robert and Arthur Bunning, company history
VG hardback in VG dust jacket.
$25 C/C
Bunnings Ltd 1986 first edition, xii 296pp.
[#5441 ]
STEVENSON Robert Louis

Vailima Papers (Tusitala edition)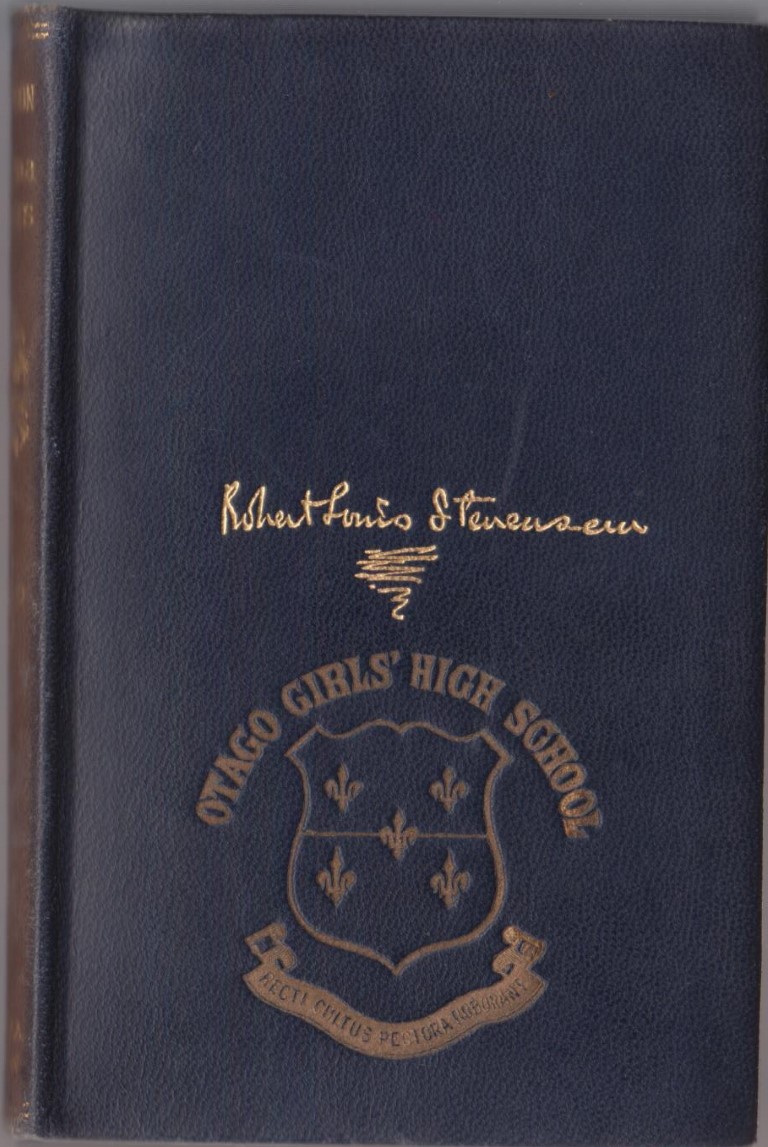 Writings from Stevenson's time in Samoa and the Pacific.
Includes Tutuila, Prayers for daily use at Vailima, Father Damien, A footnote to history, Letters from the South Seas.
Samoa, Lazaretto, politics, history
VG leather hardback with Otago Girls' High School arms embossed to cover, spine lightly sunned.
$10 C/B
Heinemann 1924 first edition thus as vol xxi in Tusitala edition of the works of RLS, 16mo 341pp blue leather top edge gilt and gilt to spine and cover.
[#5442 ]
SHARLAND Michael

Stones of a Century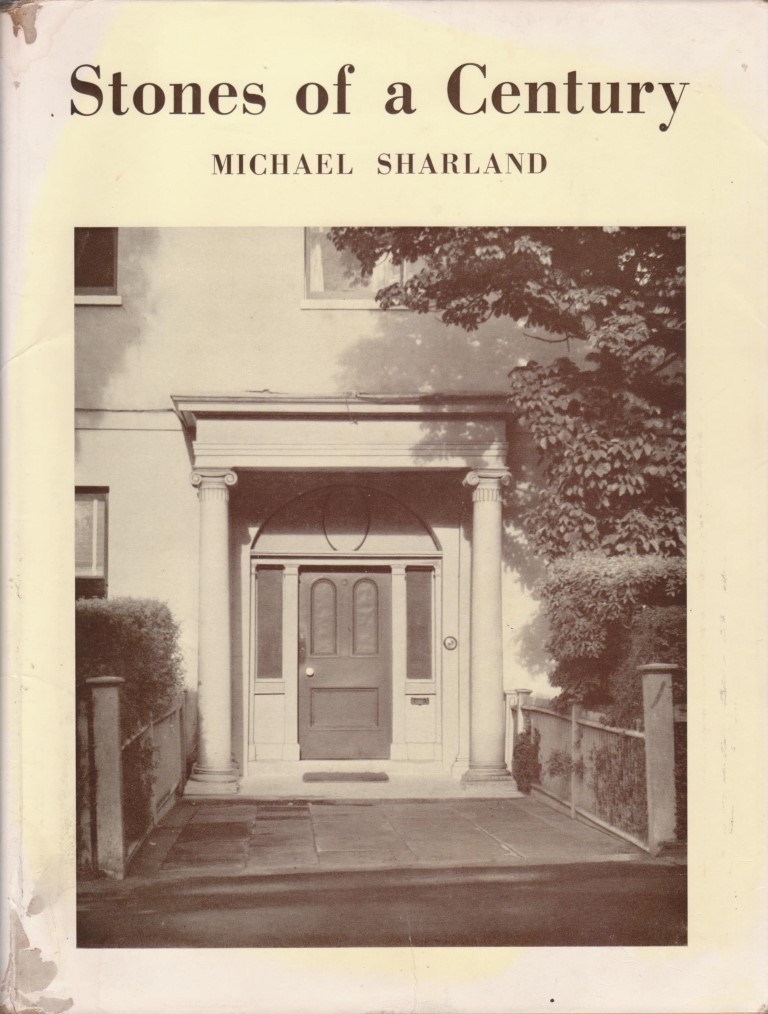 A collection of many photographs of the architectural antiquities of Tasmania, beautiful Georgian buildings etc.
Australian architecture historic buildings photographic
VG- hardback in VG- dust jacket.
Slight faint watermark top edge of a few pages at front, wear to spine ends.
Dust jacket with sunned spine and loss of title and some staining to spine ends, tape rust to fold in flaps, closed edges dusty.
Internally tidy copy.
$30 B/C
OBM Hobart 1969 second edition, xii 78pp + plates.
[#5443 ]
WILKIE A. A. W. and OSBORN A. R.

Almost Human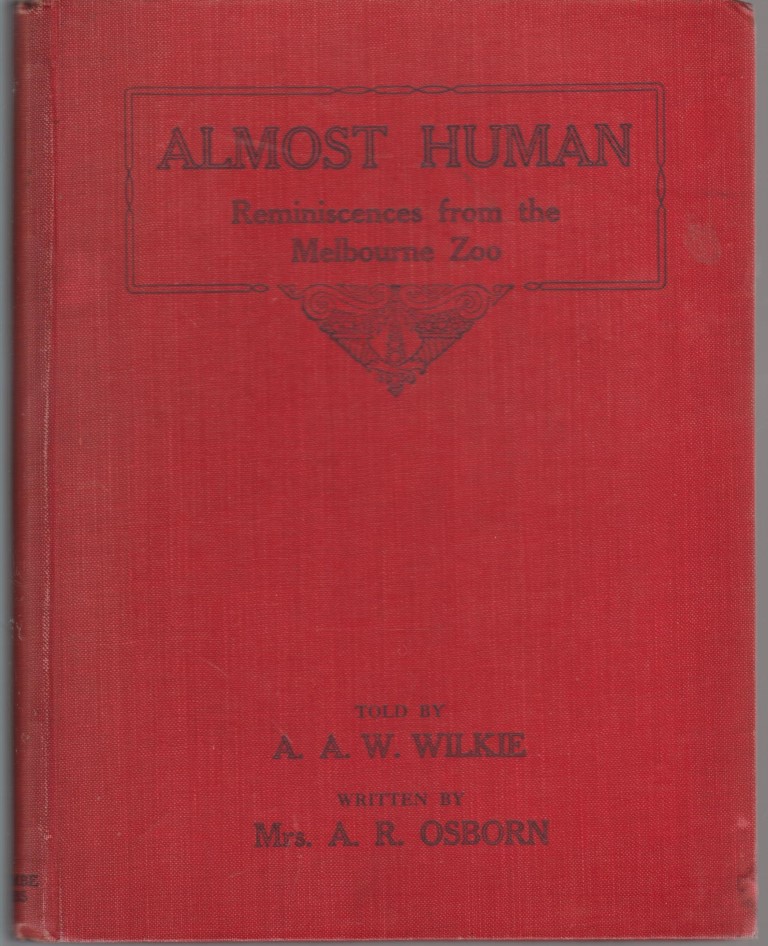 Reminiscences from the Melbourne Zoo
Melbourne zoological gardens.
VG cloth hardback.
Minimal foxing, small tear fore edge title page.
$75 B/C
Whitcombe and Tombs nd (1918) printed red cloth, (xiv) 237pp + frontis.
[#5444 ]
9/11/2021ev
SUTCH W. B.

The Quest for Security in New Zealand 1840-1966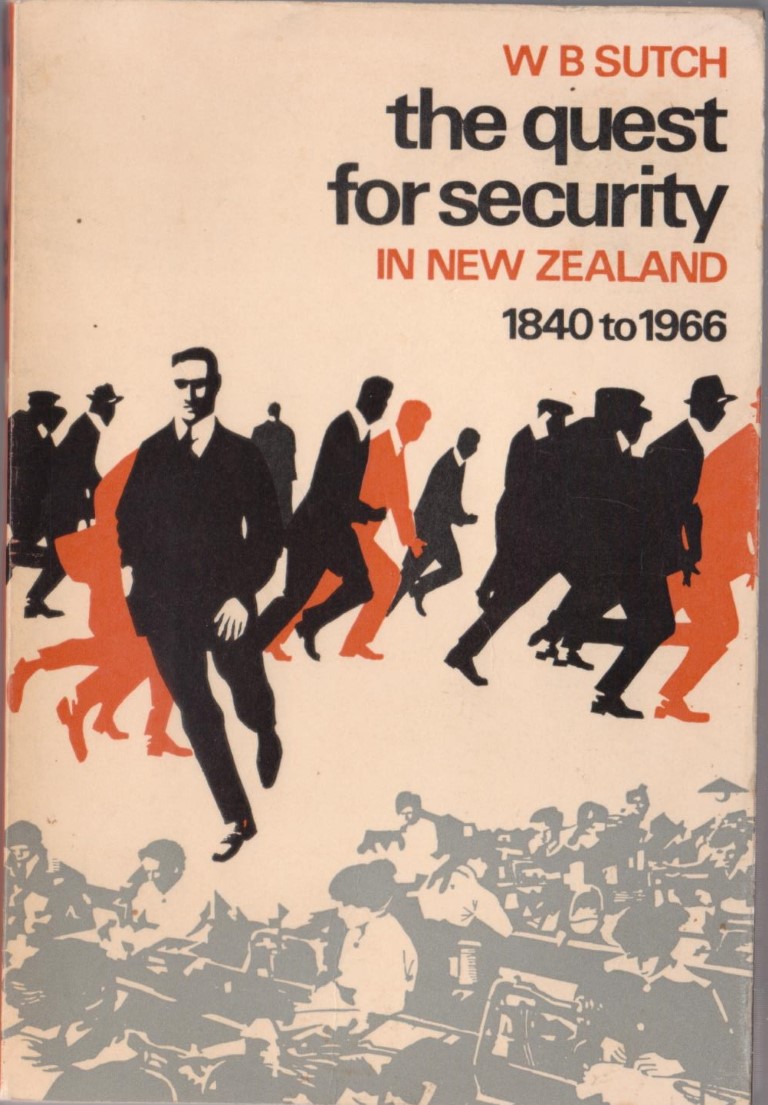 The struggle for social and economic security in the face of poverty, unemployment and depression.
Originally published in 1942 this has been augmented by two-thirds extra material.
Labour, socialism, New Zealand political history, politics
VG sewn binding in stiff card covers, name to half title, minor pencil underlining.
$15 C/B
Oxford Univ. Press 1966 first edition, xvi 512pp.
[#5423 ]
[Bishop SELWYN] EVANS John H.

Churchman Militant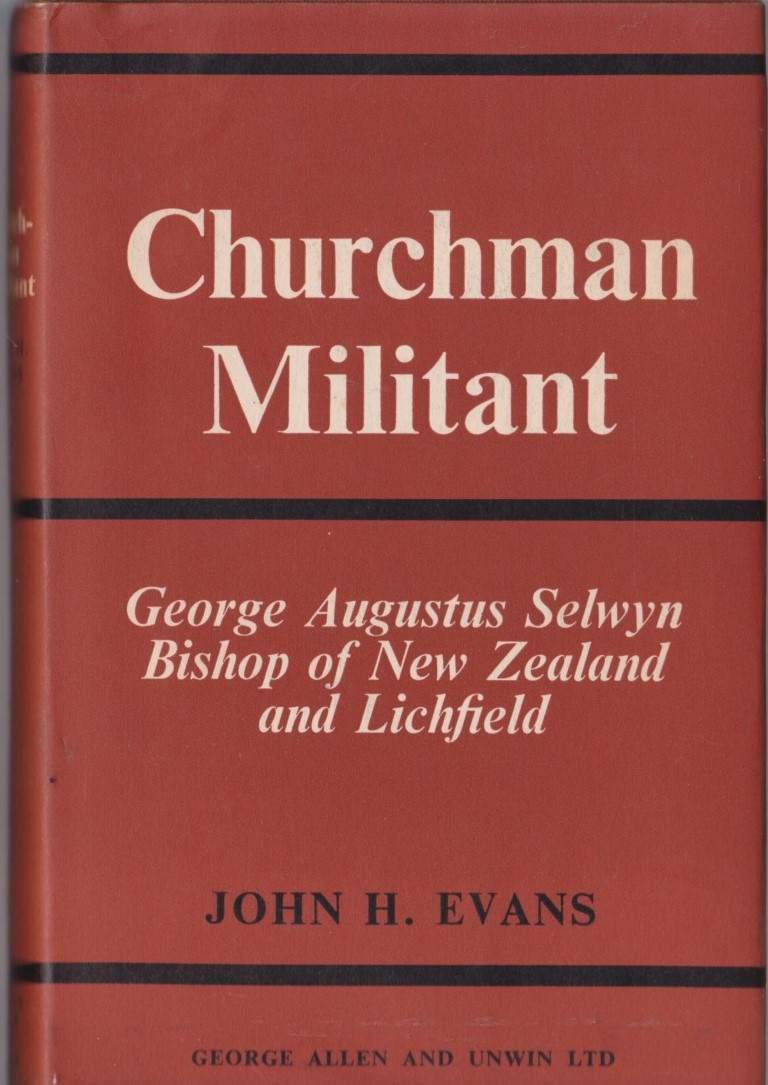 A biography of George Augustus Selwyn, Bishop of New Zealand, Melanesia and Lichfield.
Anglican Church, Maori Wars, colonial, missionary
VG hardback in VG dust jacket.
Top of blank fly leaf clipped.
$30 C/C
George Allen Unwin 1964 first edition, 298pp + plates and adverts.
[#5424 ]
BALLARD Frank

Why not Eddyism? miscalled 'Christian Science'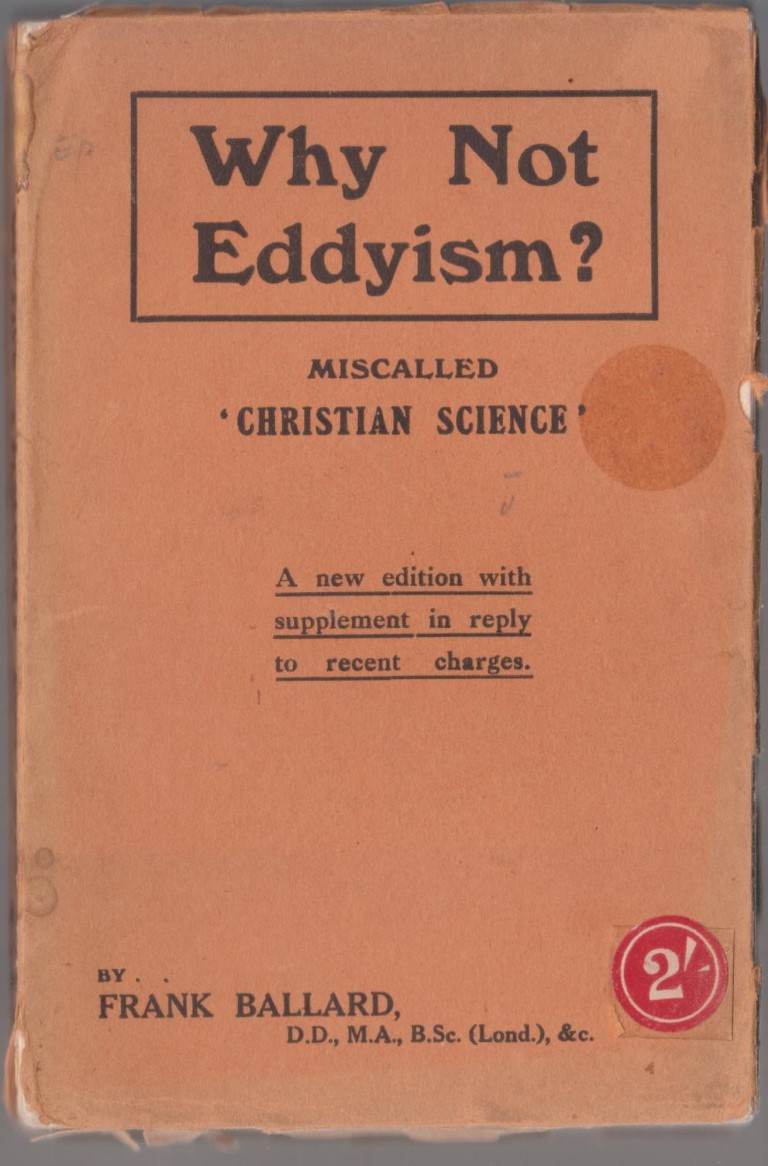 'With supplememnt in reply to recent charges'.
One of a series of books published to answer the question why to choose Christianity over various other faiths.
Refutes the Philosophy, Science and Religion of 'Eddyism'.
Mary Baker Eddy, nrm, cult
Good only softback with chipped yapped edges to wrappers, ex library stamps to feps, shelf mark to spine.
$7 C/B
Epworth Press undated (1920s), 96pp
[#5425]
Good only softback with brown paper pasted over original wrappers, some pen underlining.
$7 C/B
Epworth Press undated (1920s), 96pp
[#5301]
TROYES Chretien de trsl D. D. R. Owen

Arthurian Romances (including Perceval)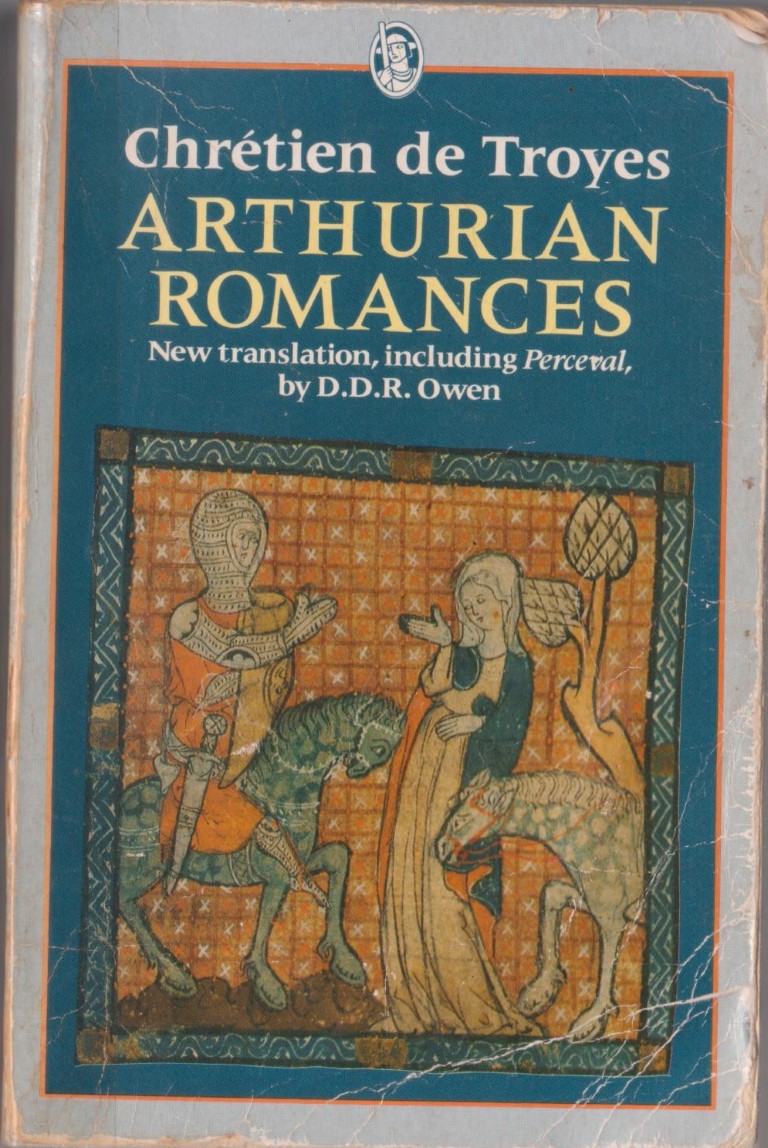 Includes introduction, bibliography, glossary.
ISBN 0460116983
grail king arthur celtic myth romance
G+ softback, archival taped spine, light staining to prelims, worn wraps.
$9 C/C
Dent Everymans 1988, xxvi 526pp
[#5427 ]
SWEDENBORG Emanuel

Heavenly Secrets (Arcana Caelestia) Volume 1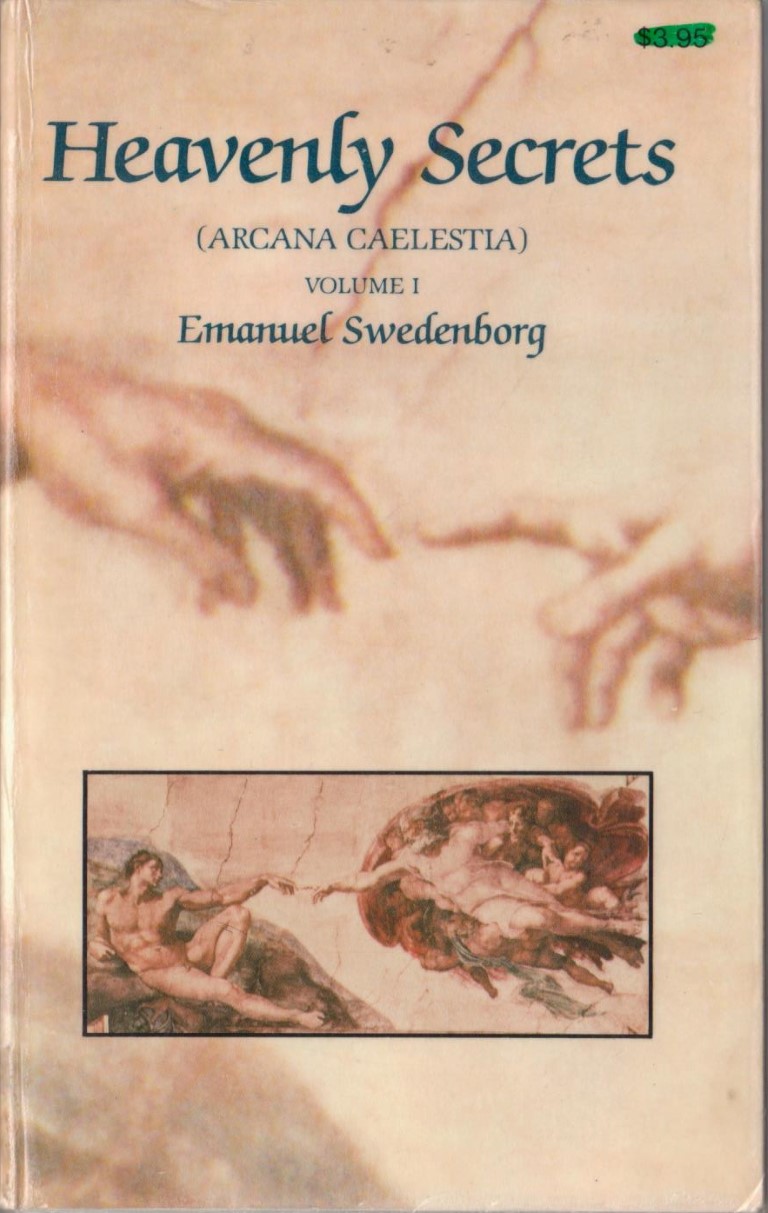 Starts at title page which has some library notes to it.
Covers Genesis chapters I-VII.
Metaphysical Bible interpretation.
ISBN 0877850534
G+ tidy ex private library, contact sealed covers.
$15 C/C
Swedenborg Foundation New York 1985 reprint of 1813 English translation, 540pp
[#5428 ]
CHETWYND Tom

A Dictionary of Symbols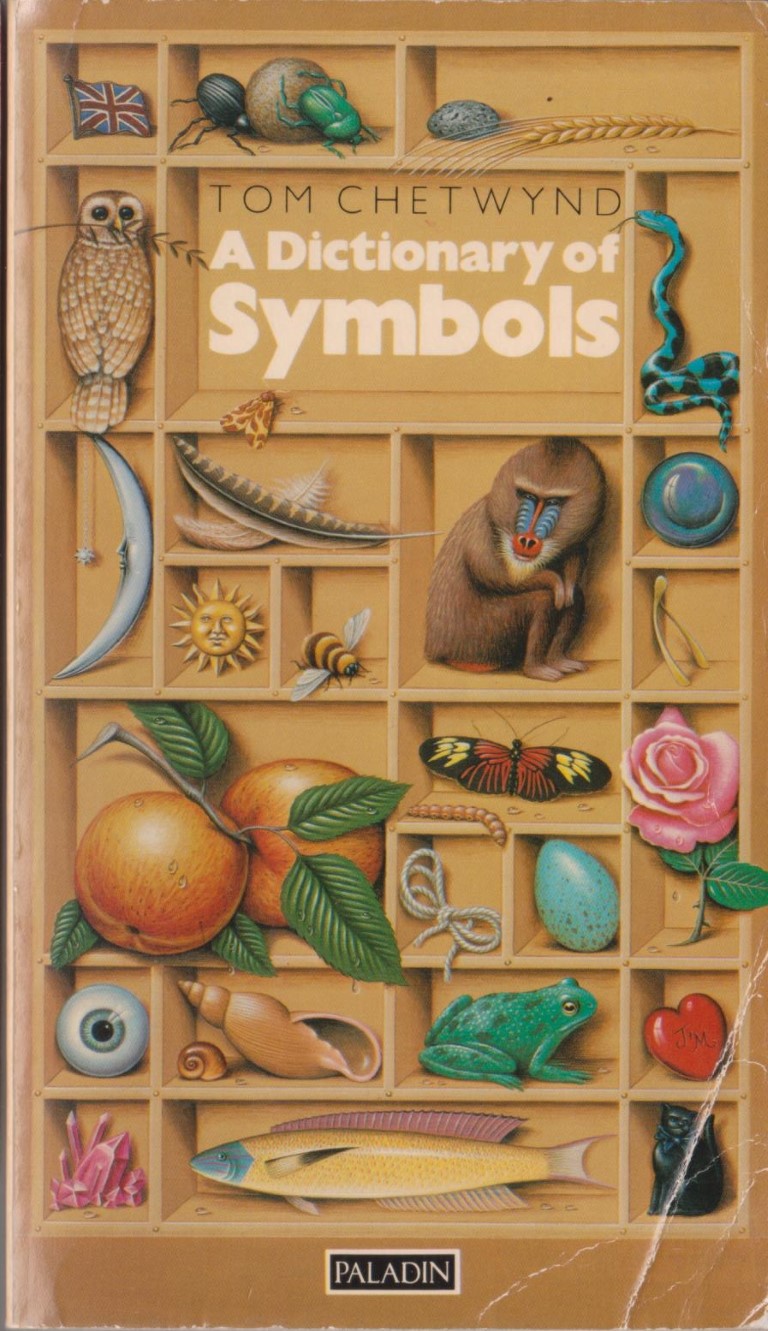 Intended to be used to interpret the symbology encountered in dreams, this relies heavily on Jungian symbolism.
ISBN 0586083510
VG- softback with crease to cover corner.
$15 C/B
Granada Paladin 1982, xv 459pp.
[#5429 ]
[GRIMM ] Illustrated by Ruth Moorwood and Harry Rountree

Grimm's Fairy Tales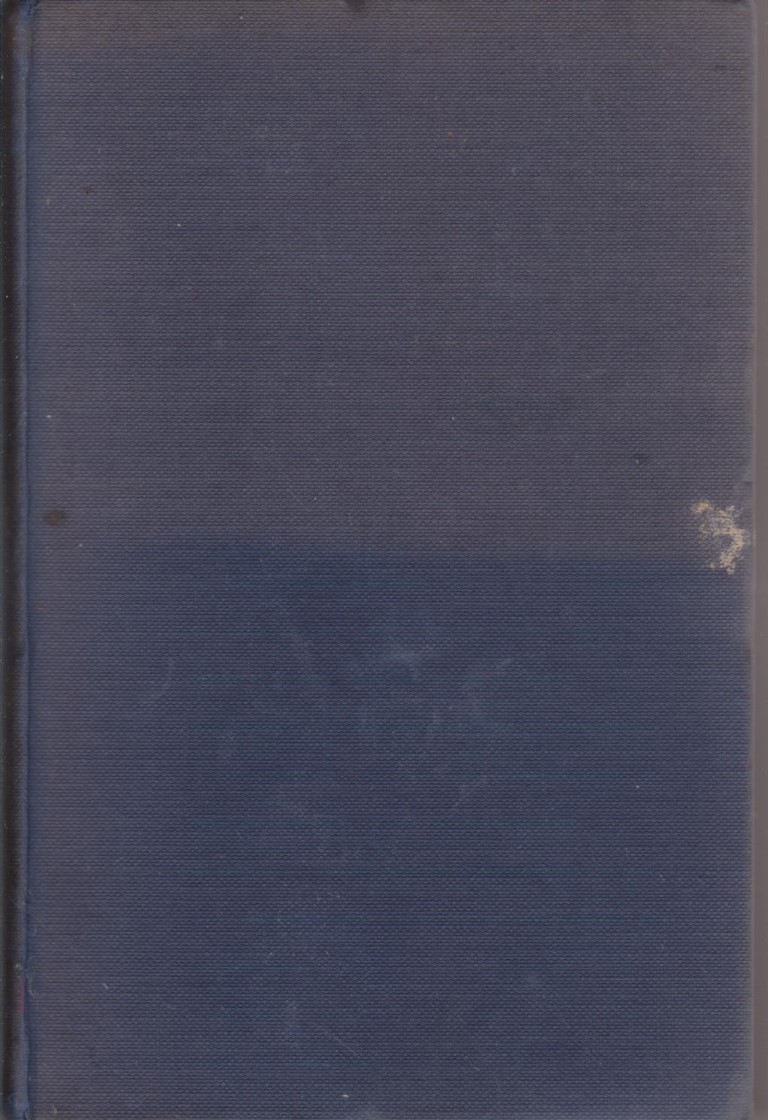 68 tales.
Unsure of edition used for the stories.
G+ hardback with no jacket.
The contents pages have minor edge tears to margin, title starting to detach at top.
$9 C/B
Thomas Nelson undated hardcover 364pp + col frontis.
[#5430 ]
24/10/2021ev
COHN Norman

Europe's Inner Demons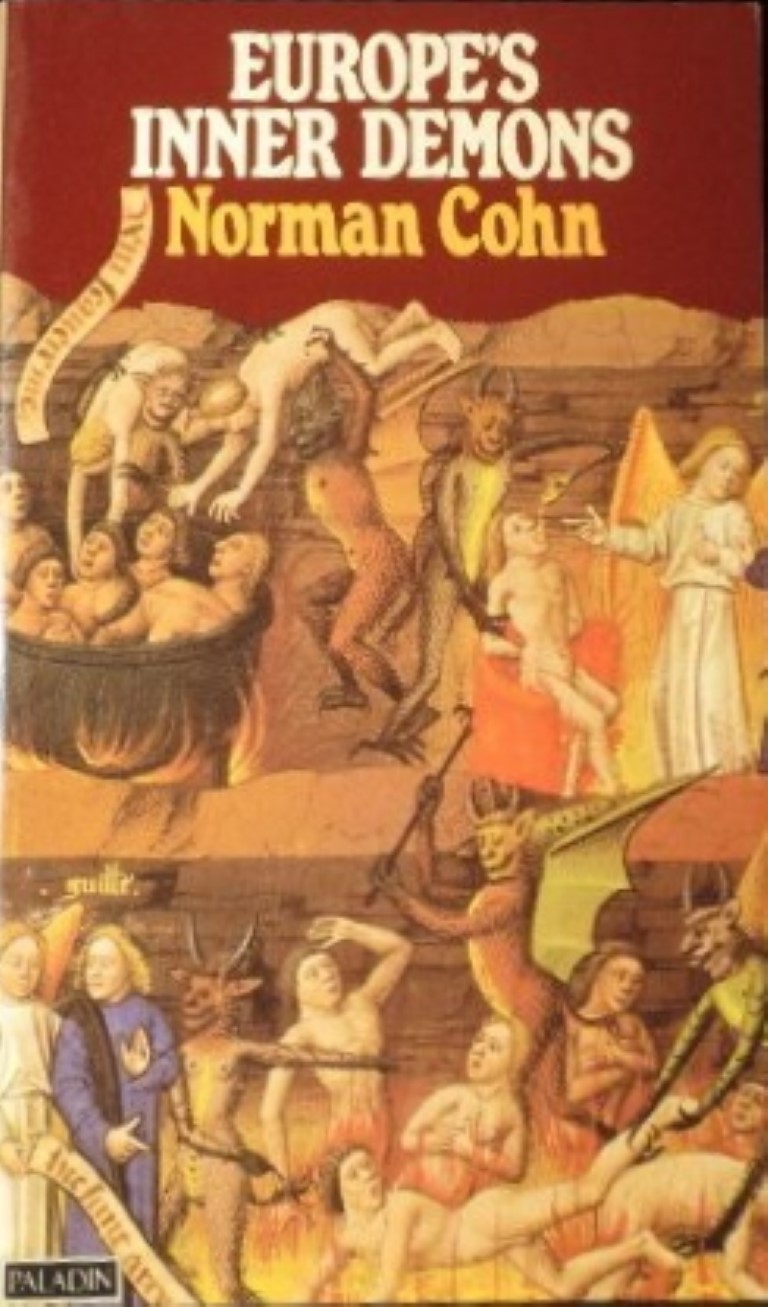 An Enquiry Inspired by the Great Witch-Hunt.
A study of medieval heresies including the Knights Templars, witches and the witch trials, magic, sorcery and maleficium.
ISBN 0586082352
witchcraft, buning times, mass hysteria, sociology
VG paperback with small nick from spine, remainder striped
$15 C/B
Paladin 1975 first thus paperback, 302pp+ plates.
[#5400 ]
SARUP Madan

Marxism and Education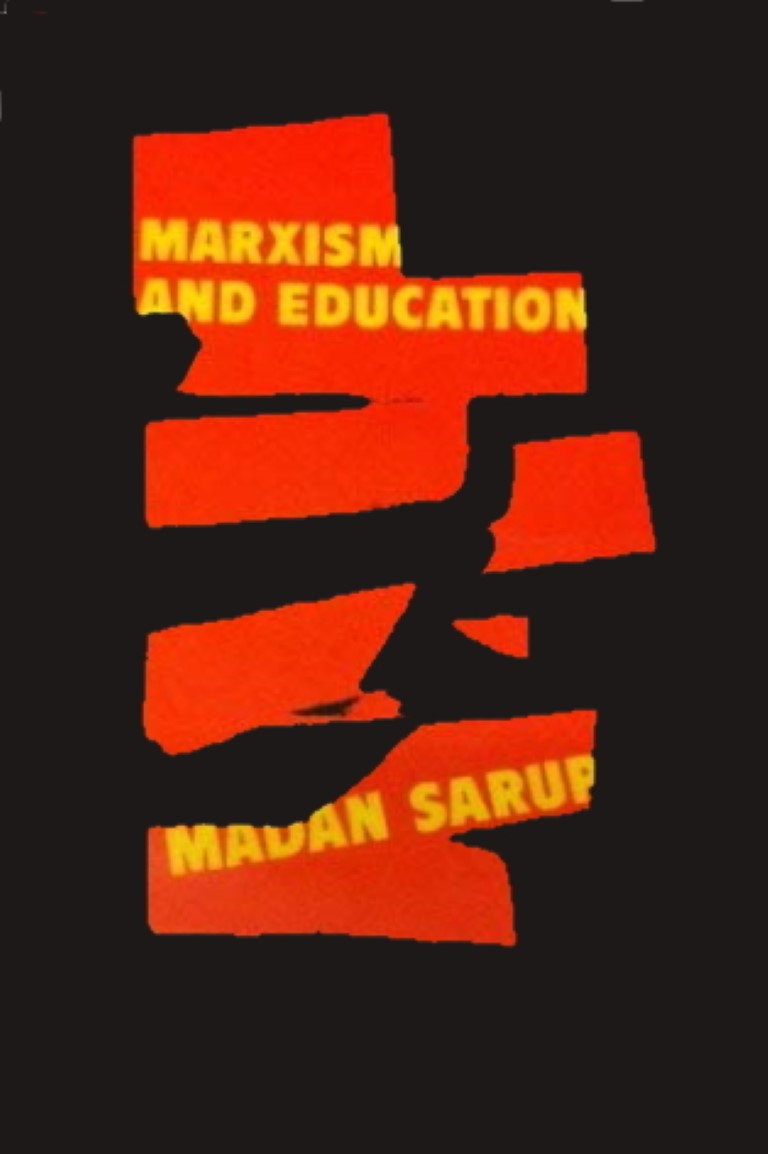 A Study of Phenomenological and Marxist Approaches to Education.
ISBN 0710089449
Marxist Sociology of Education.
VG- softback with minor underlining/ highlighting.
$8 C/B
Routledge 1979, 224pp.
[#5401 ]
PEARSON David

Johnsonville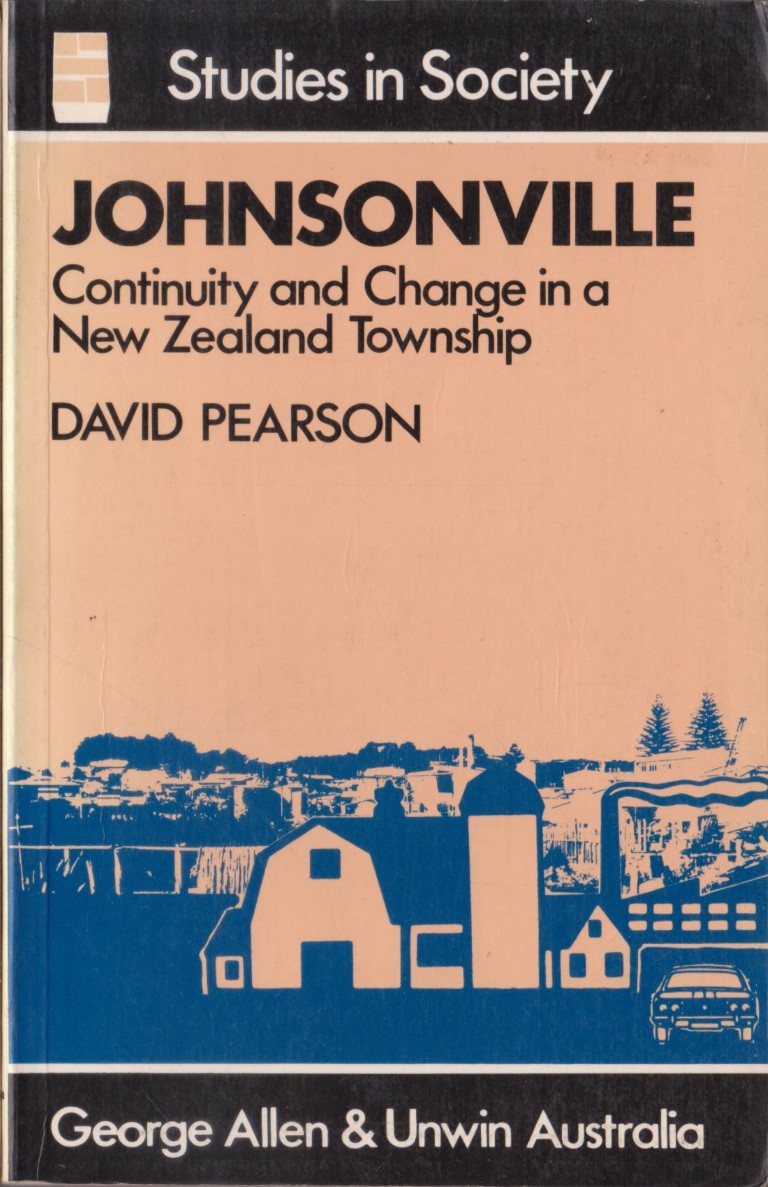 Continuity and change in a New Zealand Township.
ISBN 0868612898
sociology
VG soft cover, sunned spine, minor pencil underlining.
$15 C/B
George Allen Unwin 1980 first edition, 204 pp.
[#5402 ]
McINTYRE W.D. and W. J. GARDNER

Speeches and Documents on New Zealand History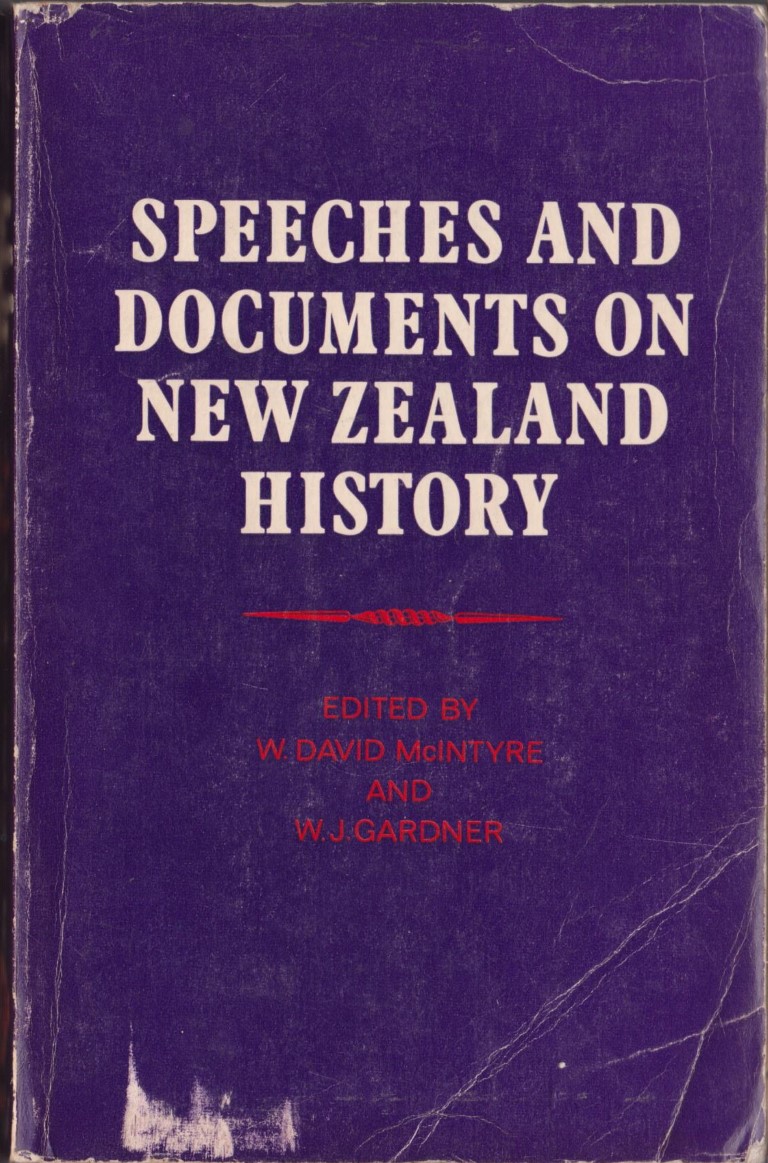 Collection of historical documentation from New Zealand history.
ISBN 198730101
G+ softback, covers creased and lightly worn.
$15 C/C
Oxford University Press 1971, xxix 489pp.
[#5403 ]
PETERSEN Diana illustrated by Rich Richardson

Pippa The Fairy Penguin
A New Zealand Golden Book.
Well illustrated with full page colour by Richardson.
VG+ hardback with no dust jacket.
$15 B/B
Golden Press 1976 first edition pictorial boards, approx 36pp.
[#5405 ]
LASENBY Jack illustrated by Nancy Finlayson

Rewi the Red Deer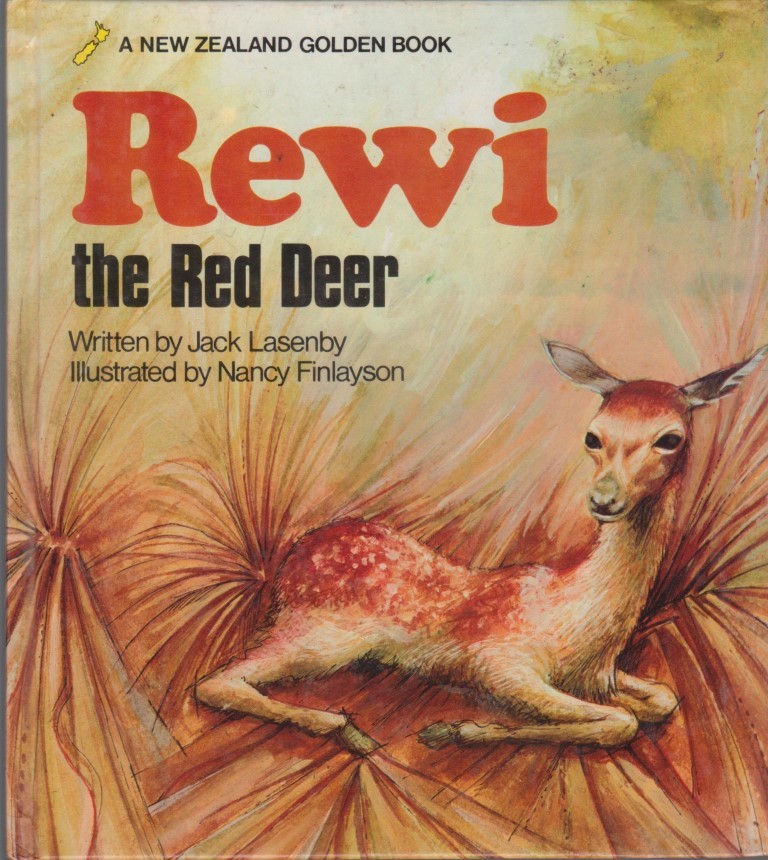 A New Zealand Golden Book.
ISBN 0855583320
Well illustrated with full page colour by Finlayson.
VG+ hardback with no dust jacket.
3 letter initials to paste down.
$15 B/B
Golden Press 1976 first edition pictorial boards, approx 36pp.
[#5406 ]
WILLIAMS Kit

Untitled book known as The Bee Book or The Bee on the Comb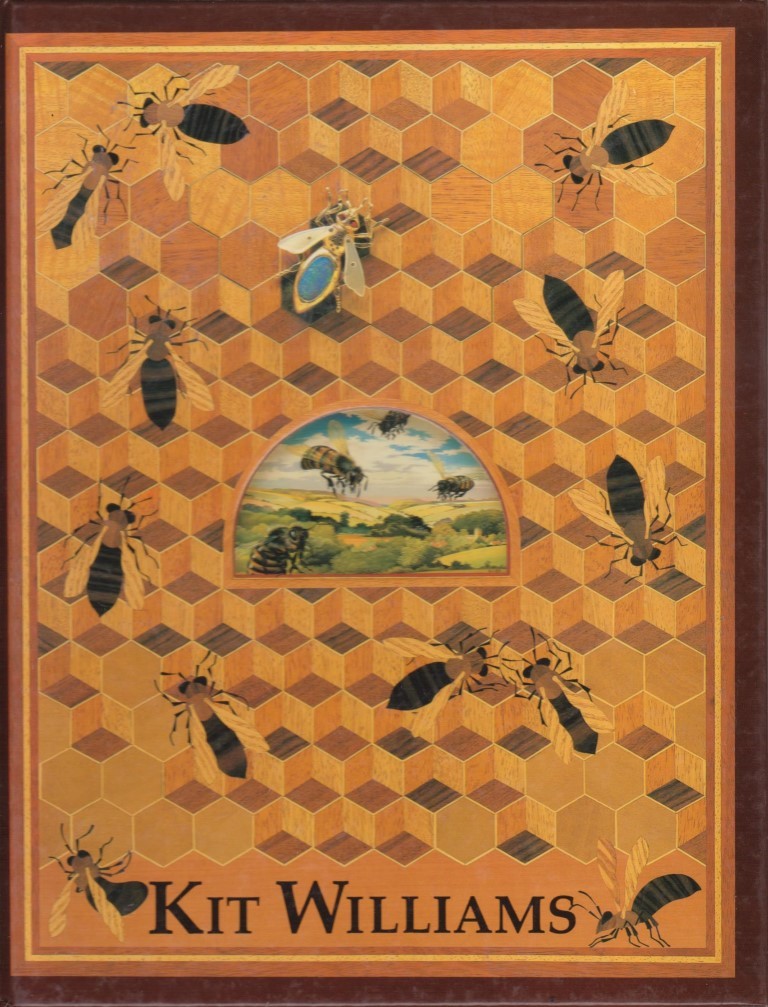 By the author of Masquerade, an illustrated riddle book with full and double page art throughout in colour, with the title of the book hidden in clues in the text.
ISBN 0224019066
puzzle, quest, illustrated
VG+ hardback with pictorial boards, spine sunned to backstrip only.
$20 B/B
Cape 1984 first edition.
[#5408 ]
[Von DANIKEN Erich] KRASSA Peter

Disciple of the Gods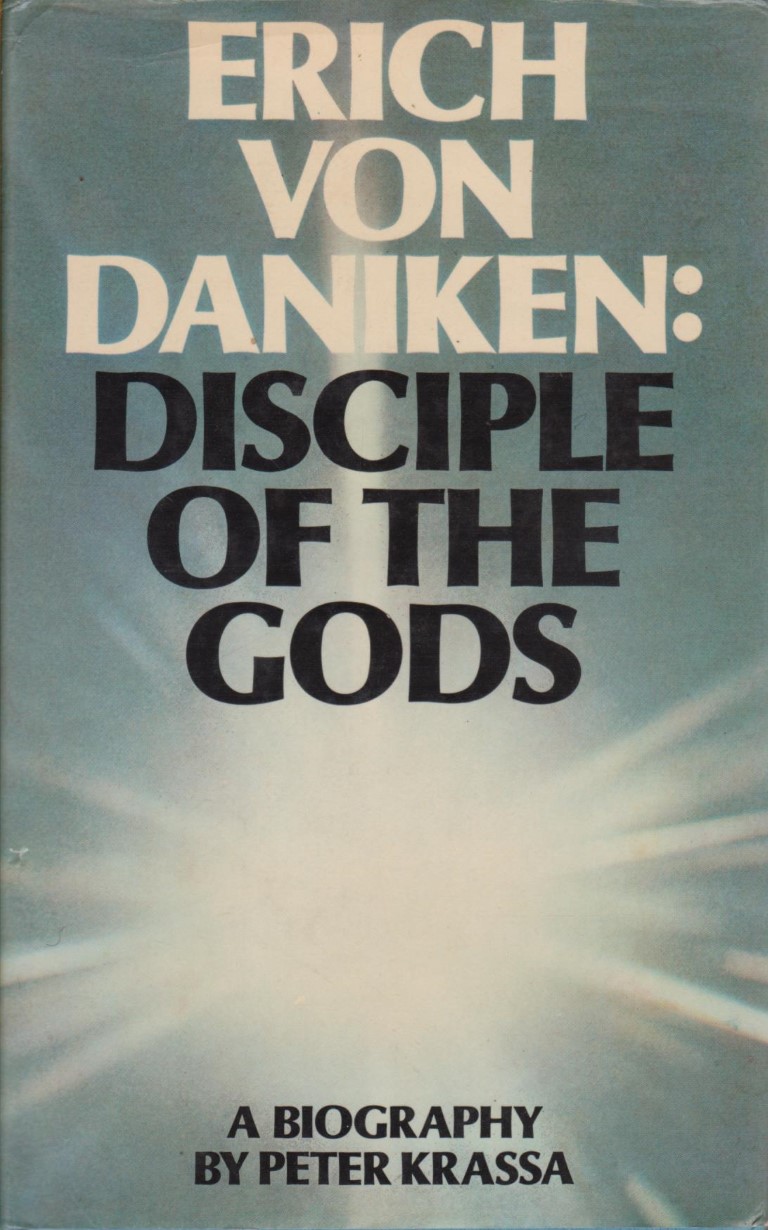 A Biography of Erich von Daniken
ISBN 0491023235
VG hardback in VG dust jacket price clipped with sunned spine.
Name to free end paper.
$20 C/B
WH Allen 1978 first edition hardcover, 158pp + plates.
[#5409 ]
SHAW Bob

Warren Peace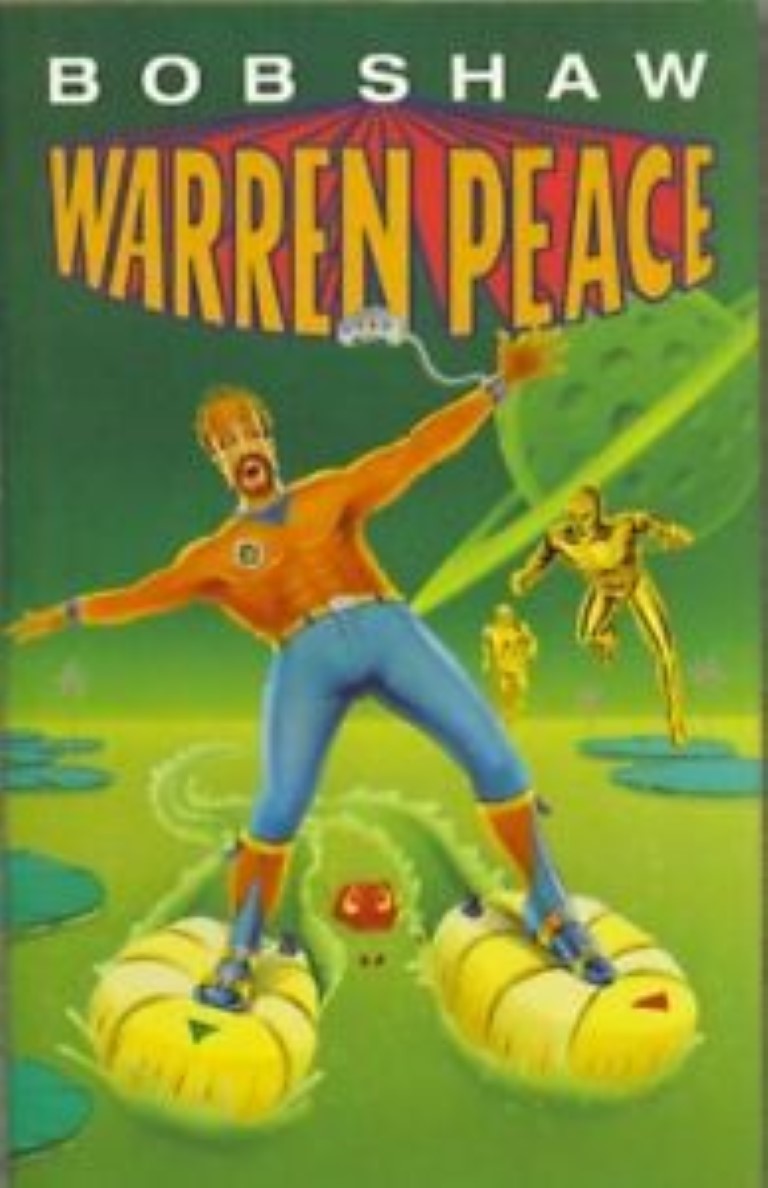 ''Warren embarks on a new career as a galactic troubleshooter. His first mission takes him to a water planet where a company producing a mind-blowing drug is having trouble with its alien workforce''.
ISBN 0575049189
The sequel to Who Goes Here?
VG+ hardback in VG+ dust jacket.
Iinscription to free end paper.
$20 C/B
Gollancz 1993 first edition hardcover, 217pp.
[#5410 ]
MORRIS David

The Masks of Lucifer, Technology and the Occult in Twentieth-Century Popular Literature.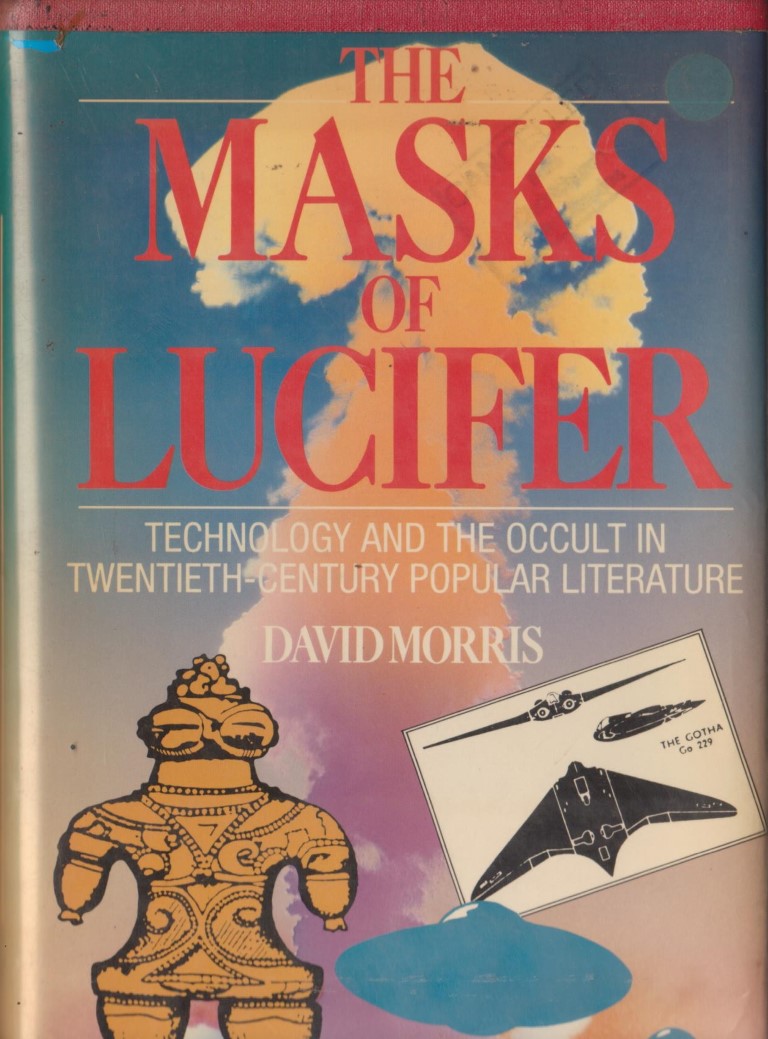 Theosophy and Romantic Occultism / Velikovsky and Incipient Catastrophism / Flying Saucers / Von Daniken phenomenon.
Also Occult Nazism, a good appendix of UFO researchers, societies and contactees, and a good bibliography.
'Examines how nineteenth century occultism, particularly theosophy has been revitalised in the guise of scientific speculation.
ISBN 0713467061
VG- hardback in VG- dust jacket.
Ex-library, one cancelled stamp to fep, shelf mark to imprint, stamp top edge.
Labels and stamps to dust jacket which is under a plastic sleeve.
$20 C/C
Batsford 1992 first edition hardcover, 223pp.
[#5411 ]
[STONEHENGE] NEWALL R.S.

Stonehenge, Wiltshire; Department of the Environment Official Handbook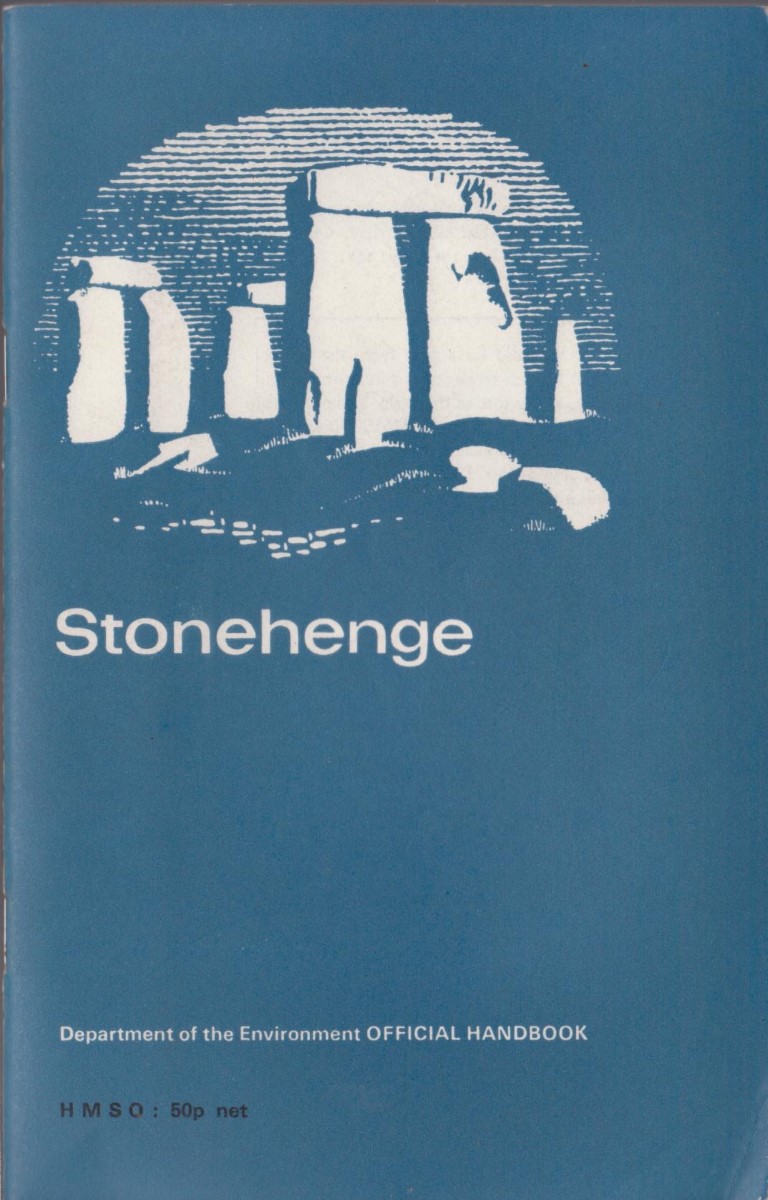 History and physical properties of the Stonehenge stone circle.
ISBN 0116700688
VG stapled wrappers
$10 C/B
HMSO 1977 stapled wrappers, 35pp + large folding plan map at rear, illustrated.
[#5412 ]
8/10/2021ev
WESTON Percy

Cancer: Cause & Cure. A 20th Century Perspective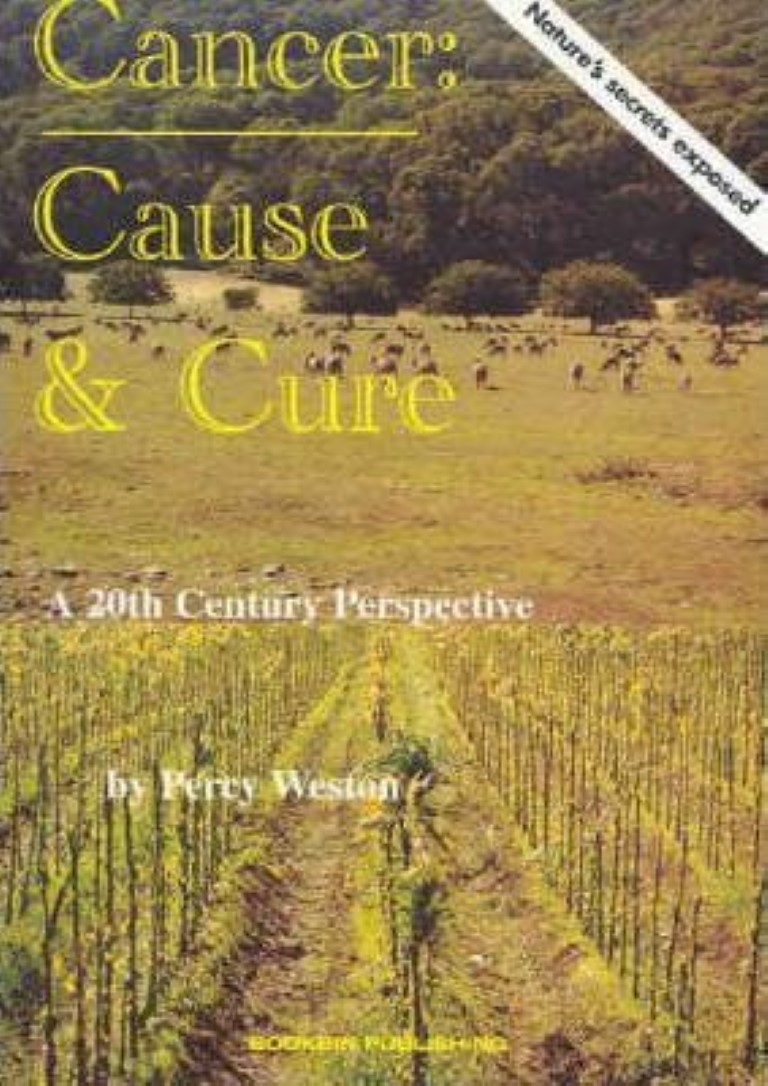 Weston explains how anyone can beat cancer and arthritis without expensive drugs, hospitalization, and doctors, just as he did.
Based on his own experiments with crops and animals, his conclusions have led to remarkable cures.
ISBN 9780646403137
naturopathy, mineral supplements
VG softback
$20 C/B
Bookbin publishing 2003, 161pp.
[#5386 ]
ANSLEY Bruce

Stoned on Duty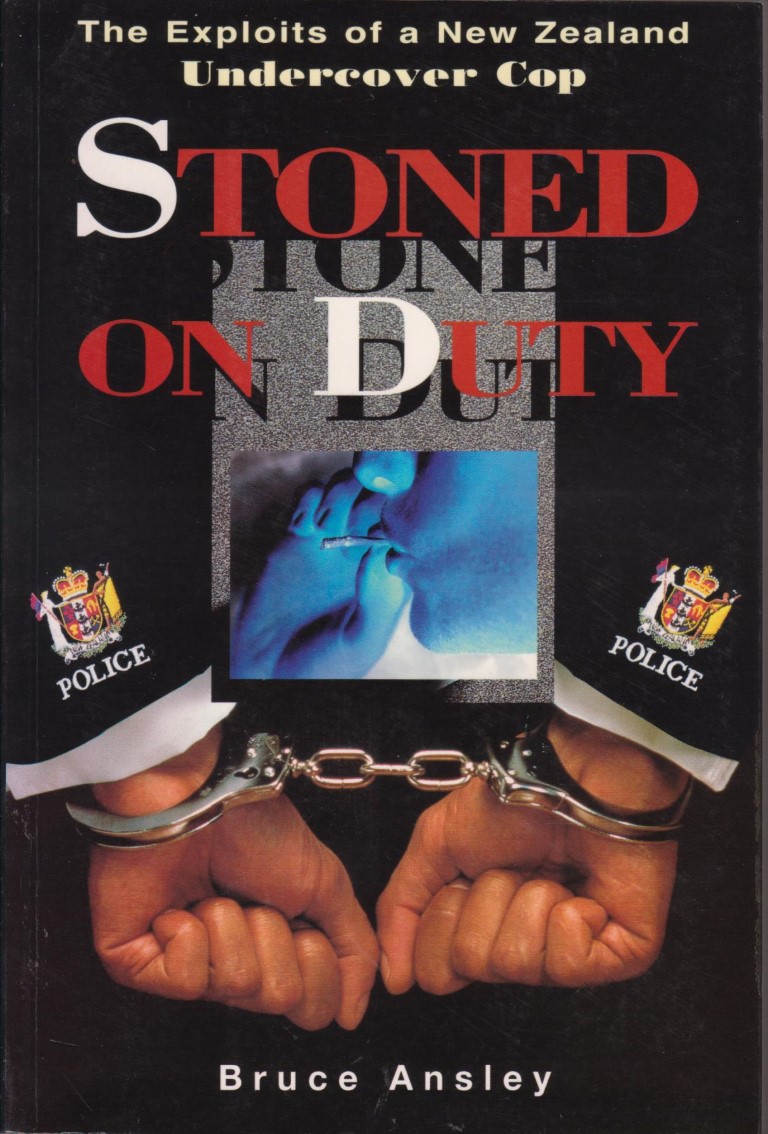 The exploits of Peter Williamson, a New Zealand undercover cop.
ISBN9781869581947
true crime, justice, non-fiction
VG+ softback
$20 C/B
Hodder 1995 first edition, 239pp
[#5387 ]
IHIMAERA Witi

Nights in the Gardens of Spain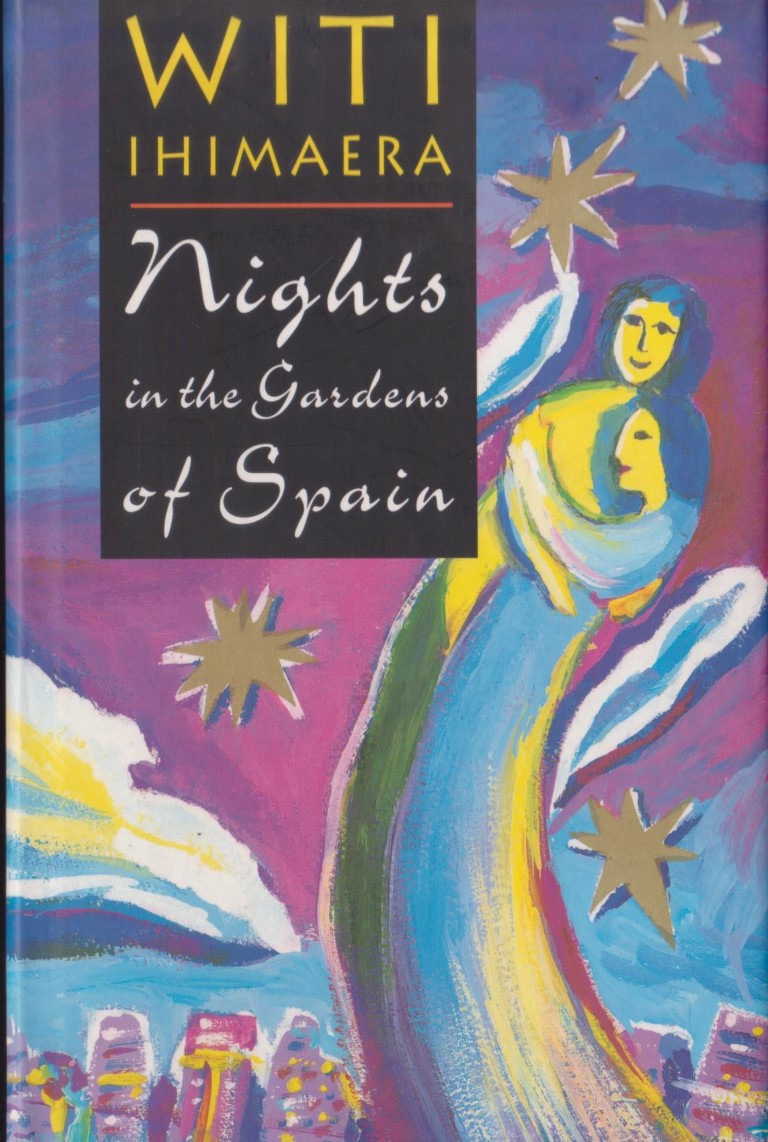 A novel about a successful academic married father, who cruises the gay underworld at night.
ISBN 9780790003825
new zealand literature, maori, queer, gay
VG+ hardback in VG+ dust jacket.
$35 C/C
Secker and Warburg 1995 first edition, 304pp.
[#5388 ]
PRICE Harry

The Most Haunted House in England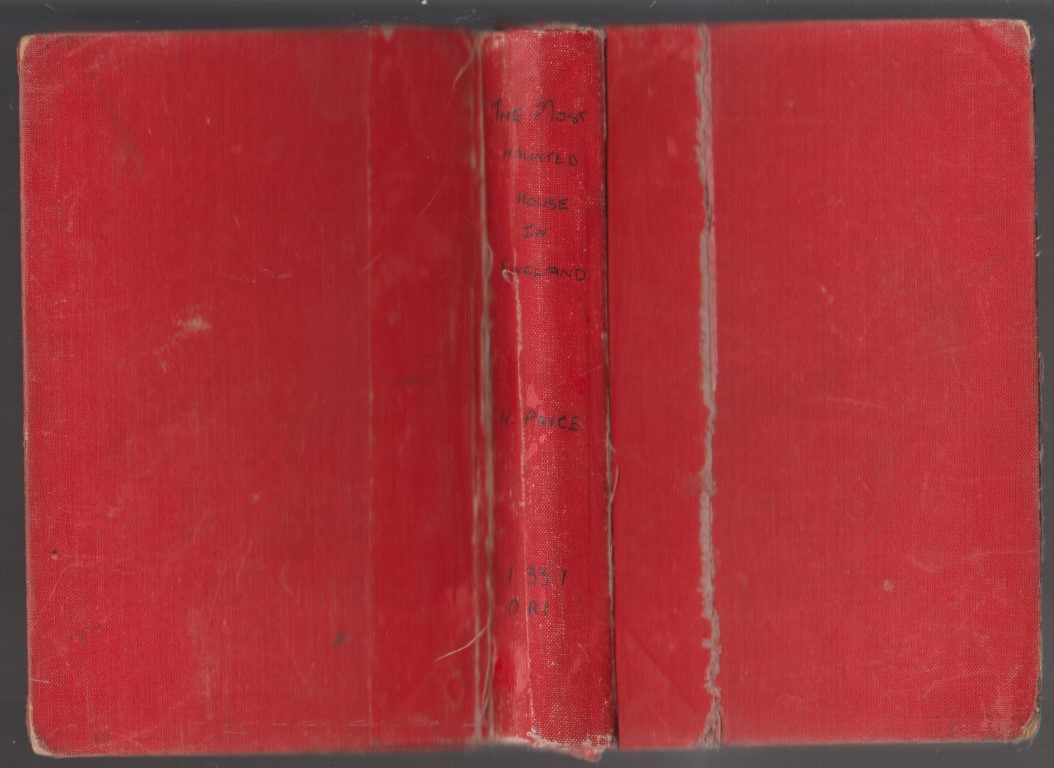 Ten Years' Investigation of Borley Rectory.
ghosts, hauntings, poltergeists, British
G- reading copy, ugly worn library cloth rebind.
Internally reasonably tidy with minor library marks.
$15 C/C
Longmans 1940 first edition hard cover, x 255pp + plates.
[#5389 ]
BLACK Helen

Sunshine and Shadow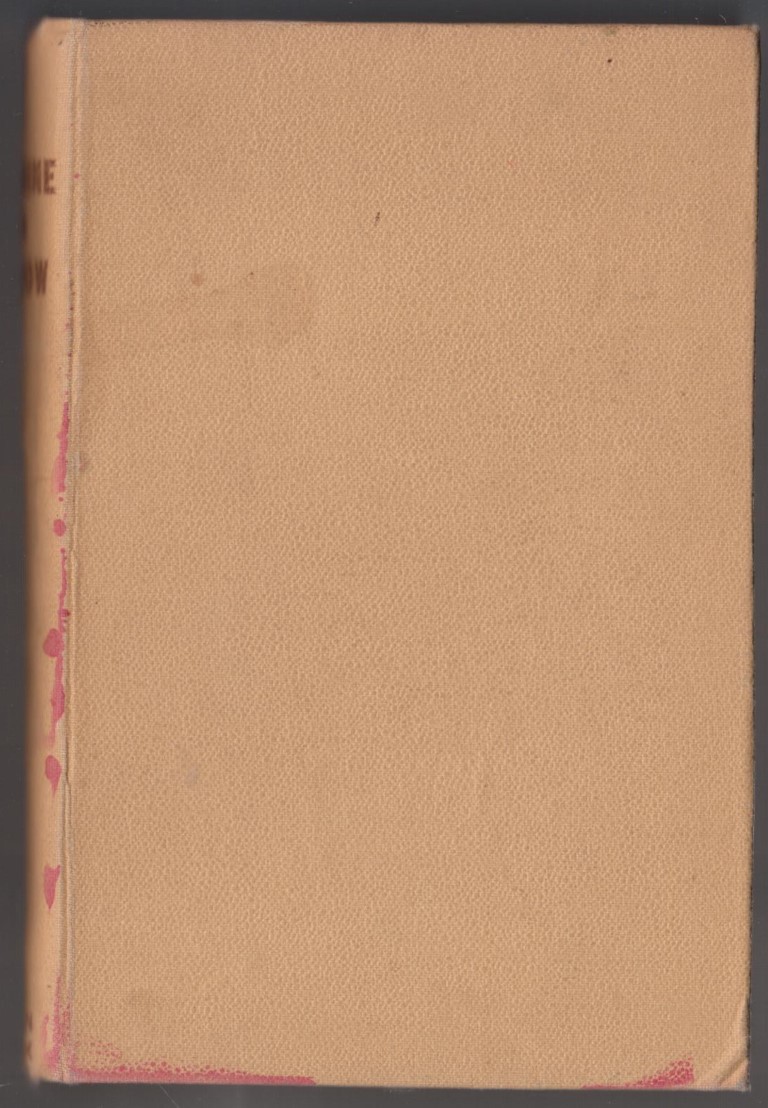 Reminiscences of a former Mayoress of Dunedin including the first frozen meat shipment aboard the 'Dunedin' which her father participated in.
Much of her world wide travels and political career.
politics, travel, otago, high society, memoir, New Zealand women
G+ hardback with no jacket.
A small amount of red staining to the upper joint and lower fore edge board, signed across frontis by the author, minor foxing to closed edges.
$30 C/B
John McIndoe 1947 first edition cloth, 284pp + plates.
[#5390 ]
CHRISTIE Agatha

Hickory Dickory Dock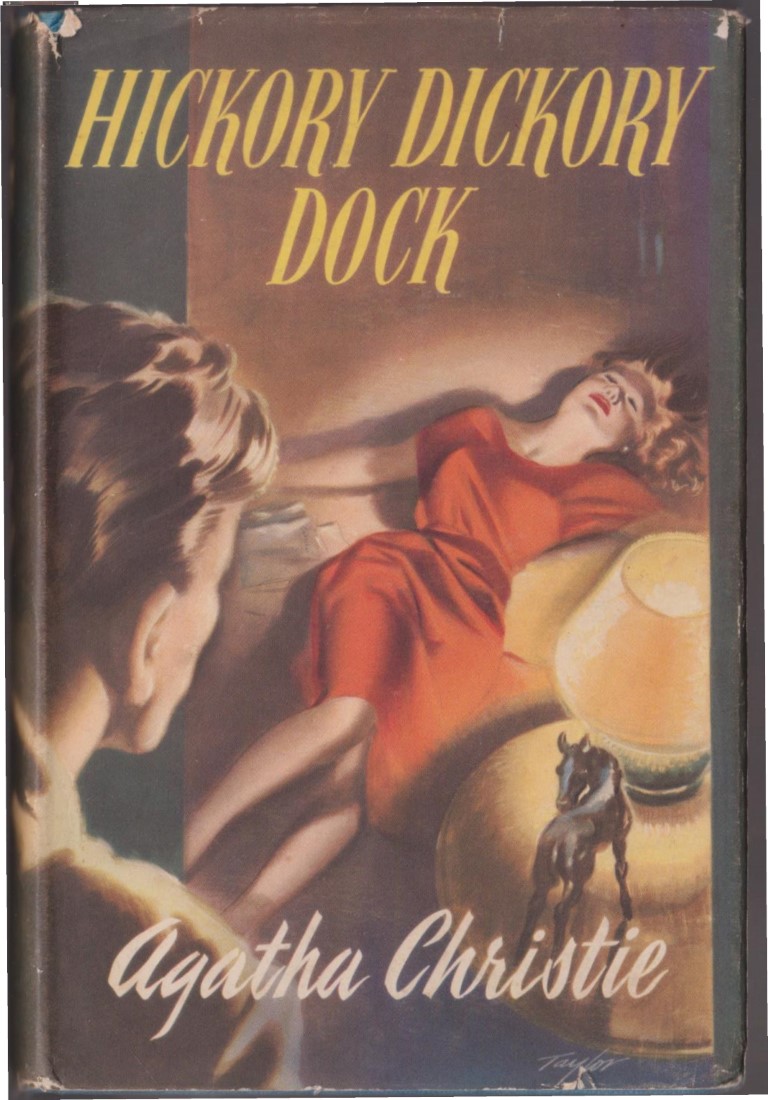 A Hercule Poirot story.
VG hardback in VG- dust jacket.
Jacket minor edge chipping with some mild soiling to the rear panel, minor spotting to closed edges.
$10 C/B
The Book Club 1956 first thus edition, 192pp.
[#5391 ]
ALLARDYCE Paula

Witches' Sabbath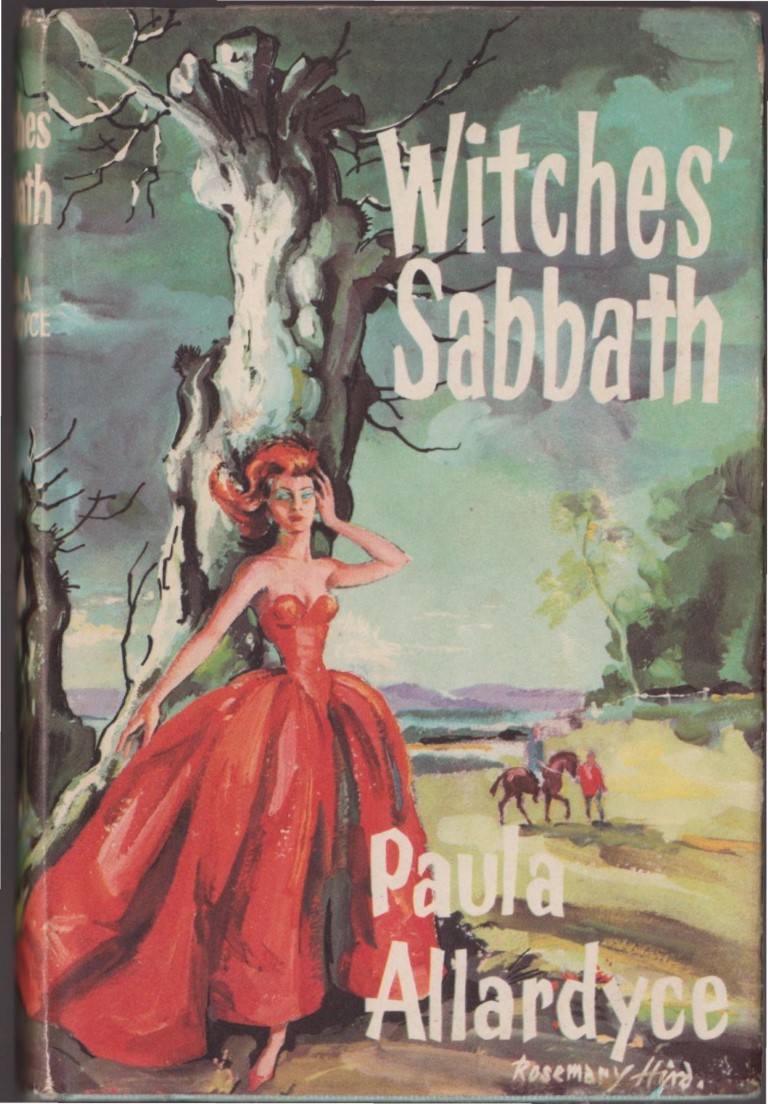 VG hardback in VG dust jacket with small tear to bottom edge of front wrapper.
$20 C/B
Romance Book Club edition 1961 first thus, 190pp.
[#5392 ]





6/10/2021ev




SMYTH Piazzi

Our Inheritance in the Great Pyramid


One of the founding works of pyramidology, this study includes Geography and the exterior of the pyramid / the history and the interior of the pyramid / the link between the national systems of weights and measures and those of the Great Pyramid / sacred cubit and the Egyptian wisdom.
Has been in print in various revisions since publication.
Charles Piazzi Smyth (1819–1900) was the Astronomer Royal for Scotland and Regius Professor of Astronomy at Edinburgh University.


SMYTH Piazzi

Our Inheritance in the Great Pyramid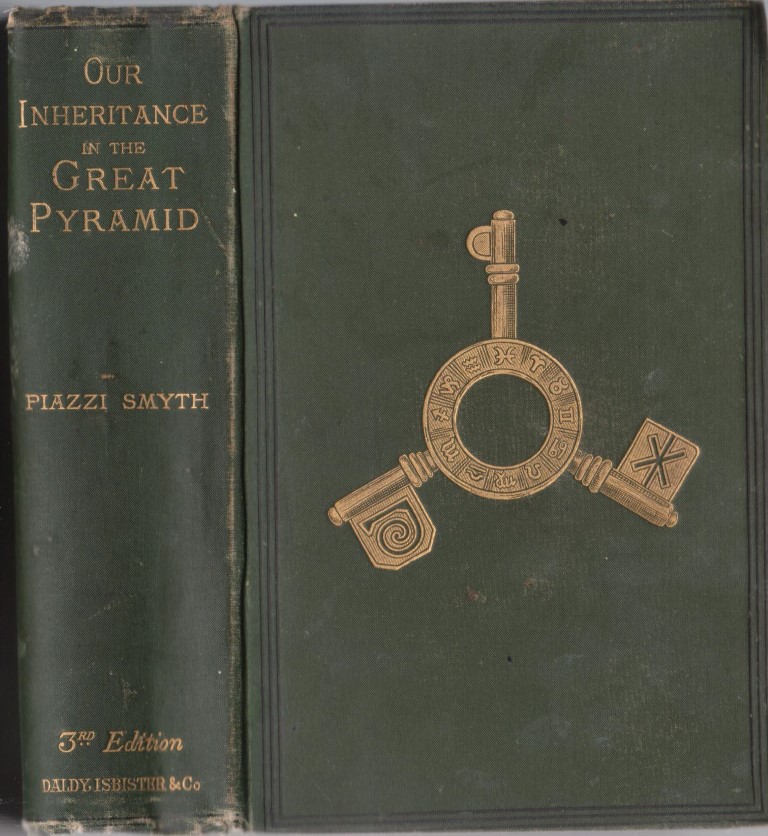 Third and much enlarged edition including all the most important discoveries up to the time of publication, with twenty-four explanatory plates, giving maps, plans, elevations, and sections.
Formerly belonged to Thomas [Dyke] Acland, 1846-1892, with his ink copperplate name and address to the half-title.
It seems upon Acland's death the book passed to L. Morrow, who has penned his name dated 1892.
VG- rubbed joints, spine ends and corners starting, blind embossed bookseller stamp to fep, 3 copperplate owners details to half title, one marginal pen line noted.
$175 C/C
Daldy Isbister & Co 1877, third revised edition, green cloth with gilt decoration and titling, xviii 626 +4pp adverts + plates.
[#5306 ]
BARRETT William and Theodore BESTERMAN

The Divining Rod an Experimental and Psychological Investigation.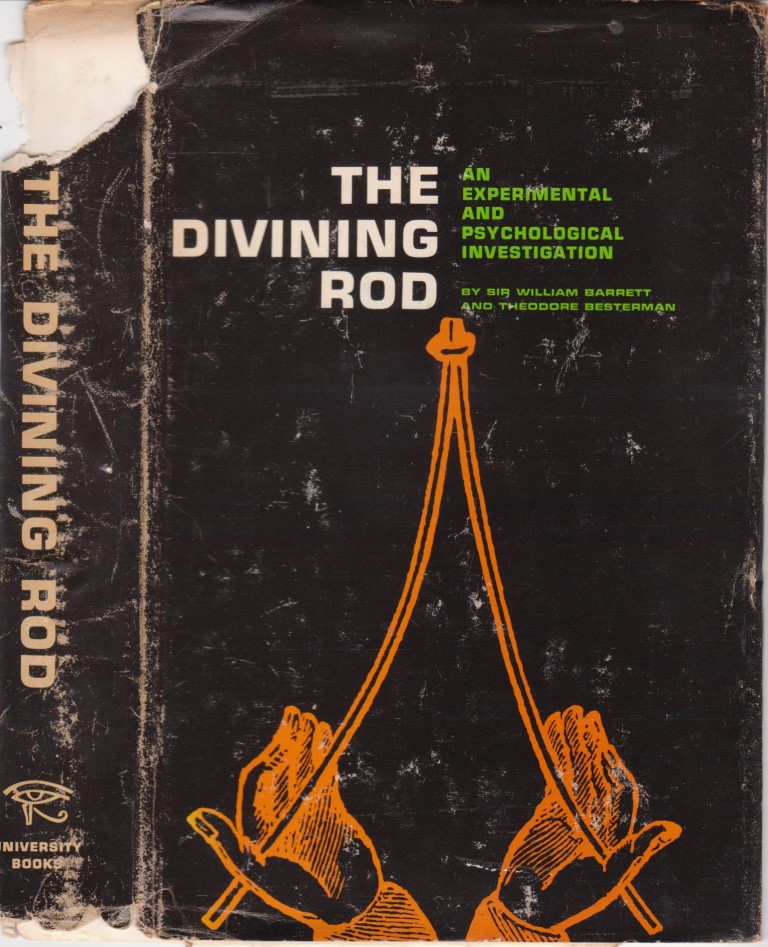 A level headed investigation of dowsers and dowsing.
Well illustrated reprint of 1926 edition.
radiesthesia, dowsing, water diivining, earth energies

VG hardback in G+ dust jacket with piece missing from head of spine, rubbed to edges.
$35 C/C
University Books 1968 cloth, xxv 336pp.
[#5307 ]


BILLING Graham

South; Man and Nature in Antarctica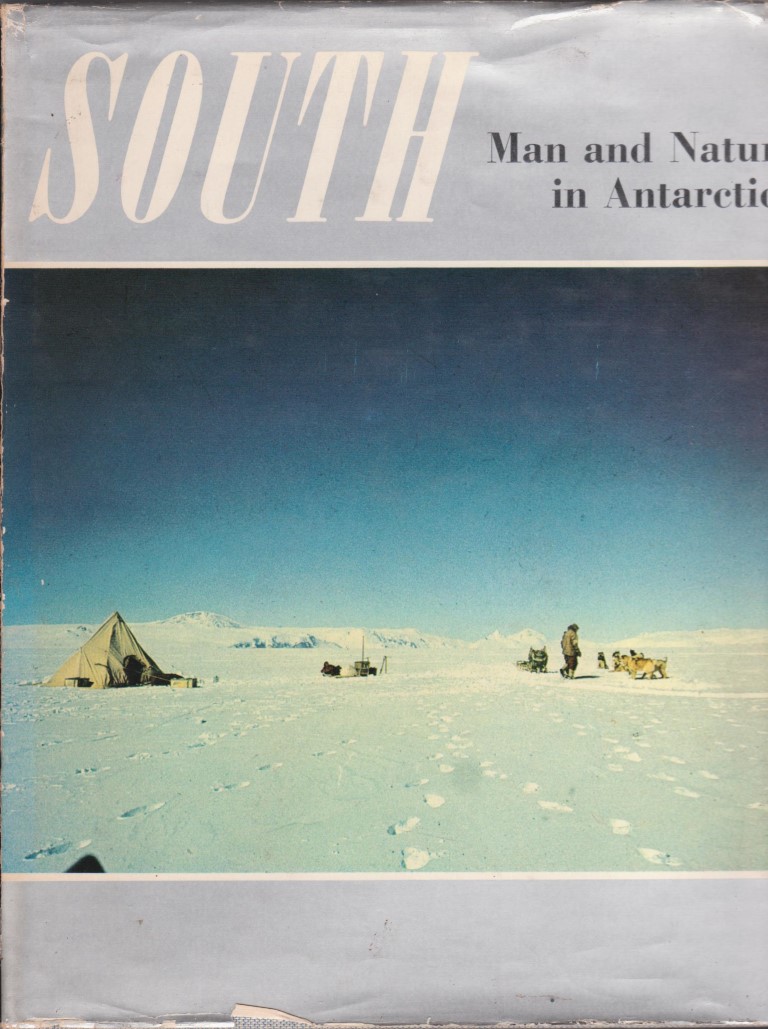 A record of the New Zealand Antarctic Research Program, in images and text.
Scott Base, McMurdo Sound, Ross Ice Shelf
VG hardback in VG dust jacket with minor edge chipping or short tears.
$20 C/D
Reed 1964 first edition, 90pp + 207 photos, map end papers.
[#5308 ]
BOWMAN Gerald

From Scott to Fuchs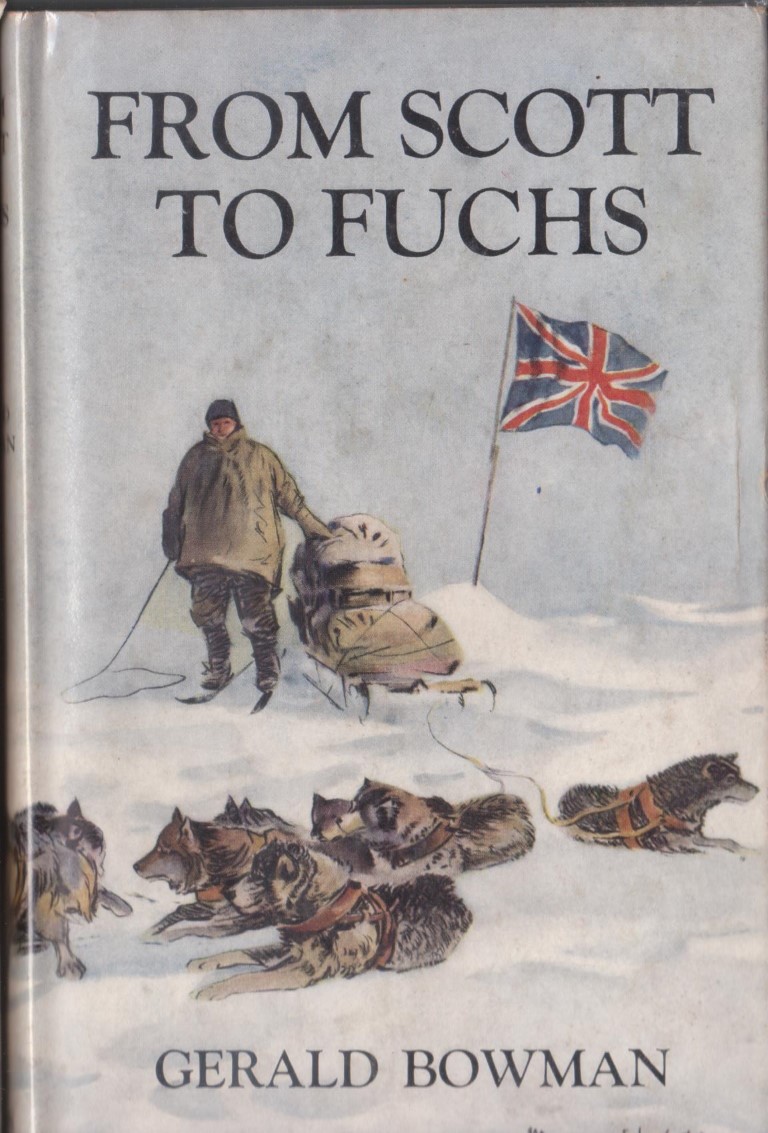 Five chapters on the greats of Antarctic exploration; Scott, Amundsen, Shackleton, Byrd, Fuchs and Hillary.
antarctica, south pole, expeditions
VG hardback in VG dust jacket.
Name to fep, price clipped jacket, faint foxing to prelims and closed edges.
$30 C/B
Evans 1958 first edition, 191pp + plates.
[#5309]
BREWSTER Barney

Antarctica; Wilderness at Risk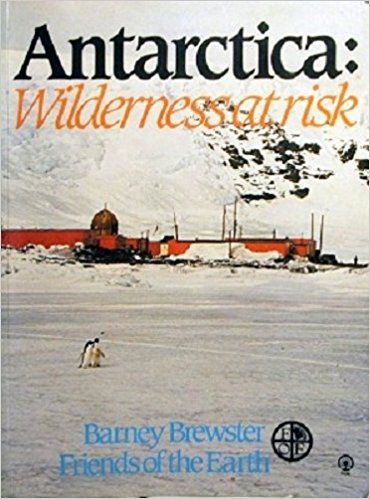 A study of the ecological risk to Antarctica and the conservation of its natural resources.
ISBN0725103906
antarctica, ecology, conservation, south pole, wildlife
VG softback
$15 B/C
Sun Books 1982 first edition, 125pp + plates in colour.
[#5310 ]
BROWN Nan

Antarctic Housewife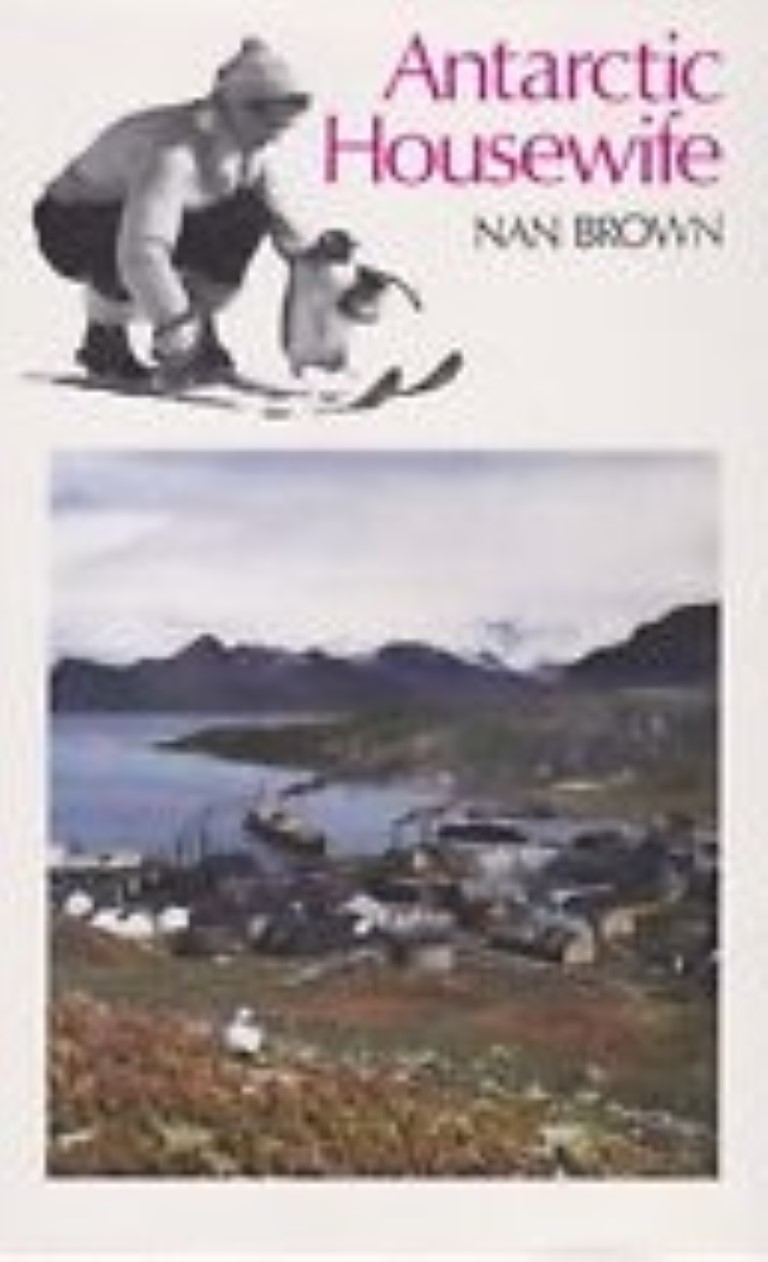 An account of two and a half years spent on the sub-arctic island of South Georgia in the Falklands.
ISBN 0091085101
Grytviken, King Edward Cove, arctic circle, north pole, polar
VG hardback in VG dust jacket. Name to fep.
$30 C/C
Hutchinson 1971 first edition, 190pp + plates & colour frontis.
[#5311 ]
COLEMAN-COOKE John

Discovery II in the Antarctic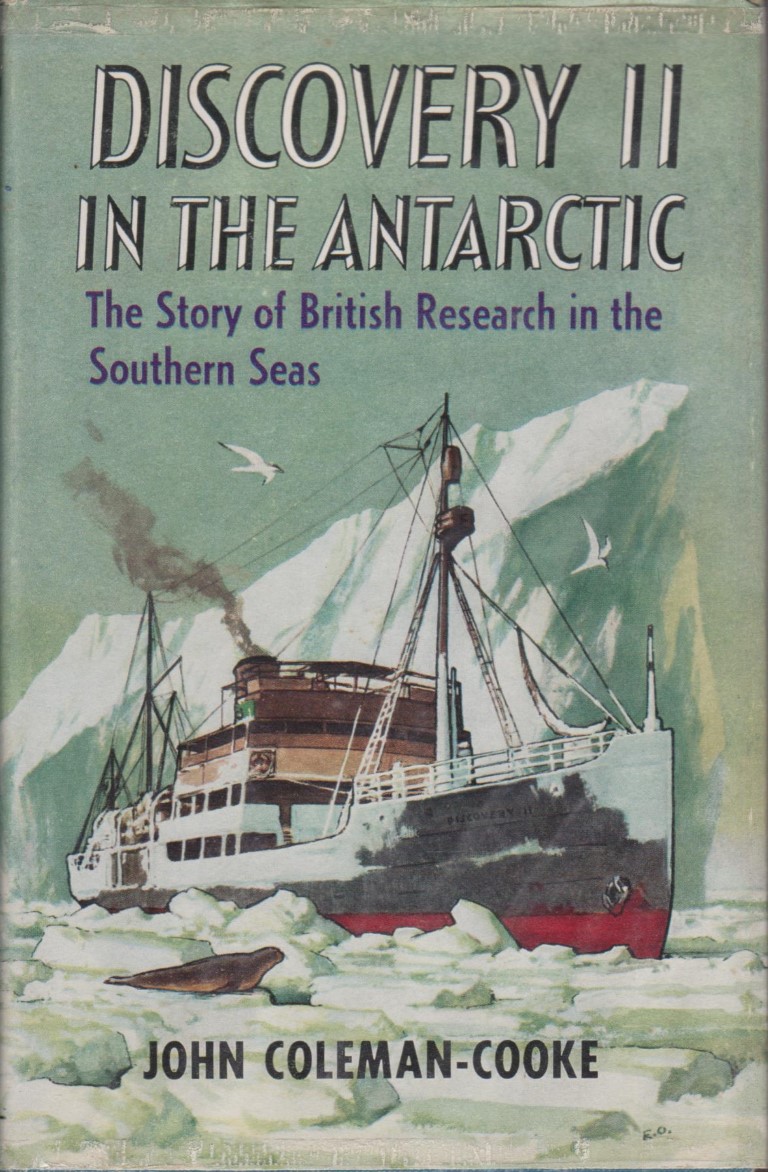 The Story of British Research in the Southern Seas.
antarctic circle, exploration, subantarctic
VG hardback in VG dust jacket with light surface insect damage to cloth, name to fep.
$45 C/C
Odhams 1963 first edition, 255pp+ plates.
[#5312 ]
GEORGIA

An Arctic Diary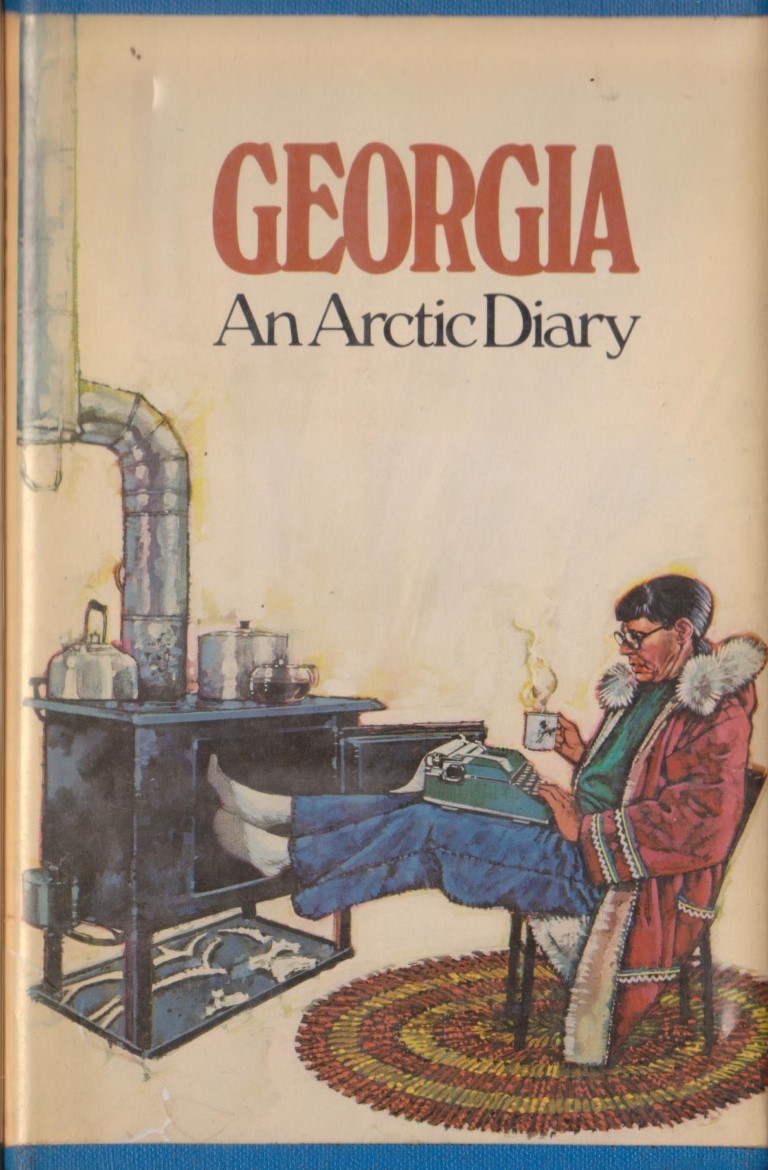 Reminiscences of the years activities in Repulse Bay and Igloolik in Canada's Arctic circle, amongst the Inuit eskimo.
ISBN 0888302258
VG- hardback in VG dust jacket.
Library stamps to title and verso only, one leaf starting to detach, minor tape mark to lower board.
Dust jacket under plastic sleeve with sunned spine and shelf mark.
$10 C/B
Hurtig 1982 first edition hardcover, 192pp, photos in text, map endpapers.
[#5314 ]
HAYTER Adrian

The Year of the Quiet Sun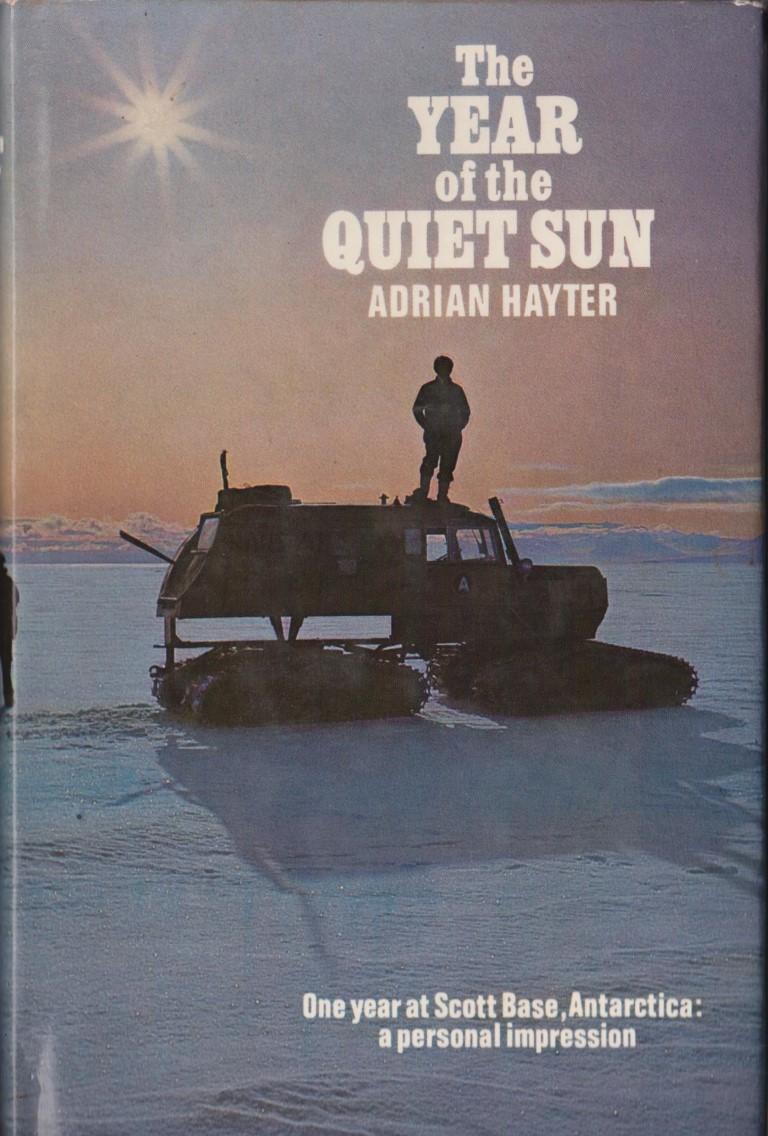 One year at Scott Base, Antarctica: a personal impresson.
new zealand, south pole
VG hardback in VG price clipped dust jacket with slight fade to spine.
$20 C/C
Hodder 1968 first edition, 191pp + plates, map endpapers.
[#5315]
HILLARY Edmund

No Latitude for Error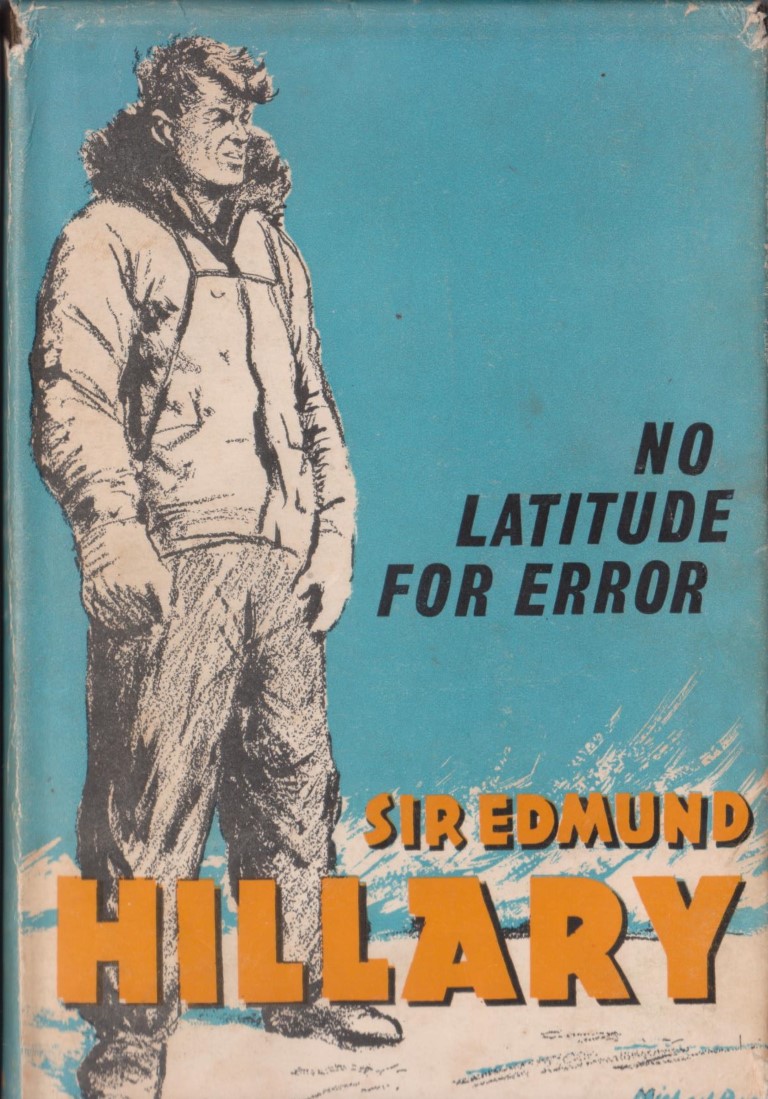 Edmund Hillary's own account of his Transantarctic Expedition.
antarctic, south pole, crossing the pole
G+ hardback in G+ dust jacket, lightly creased front board, inscription to fep, dust jacket price clipped with chipping loss at head of spine and corner tips.
$20 C/C
Hodder 1961 second impression of first edition, 255pp + plates.
[#5316 ]
KNIGHT Stephen

Icebound; the Greenpeace expedition to Antarctica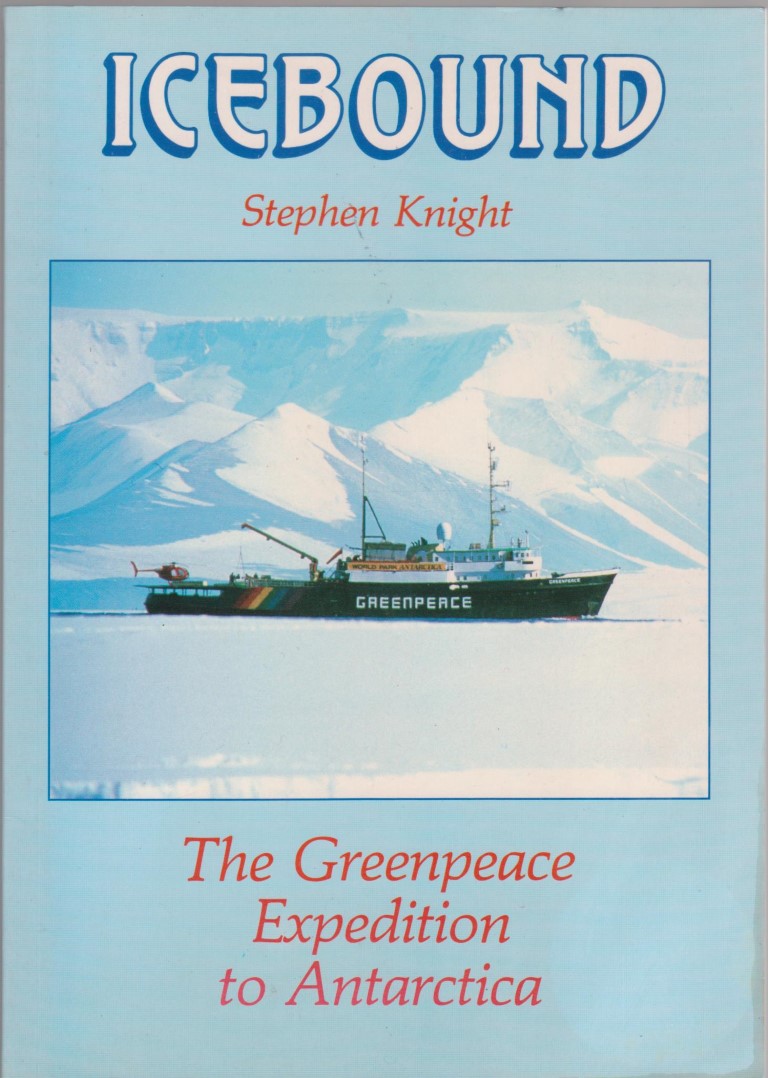 The MV Greenpeace expedition to monitor the ecological balance in Antarctica, totally unsupported by any of the Governmental outposts on the continent
ISBN1869410203
VG+ softback
$20 B/C
Century Hutchinson 1988 first edition, 126pp + colour plates.
[#5317 ]
LEWIS David

Voyage to the Ice; the Antarctic Expedition of 'Solo'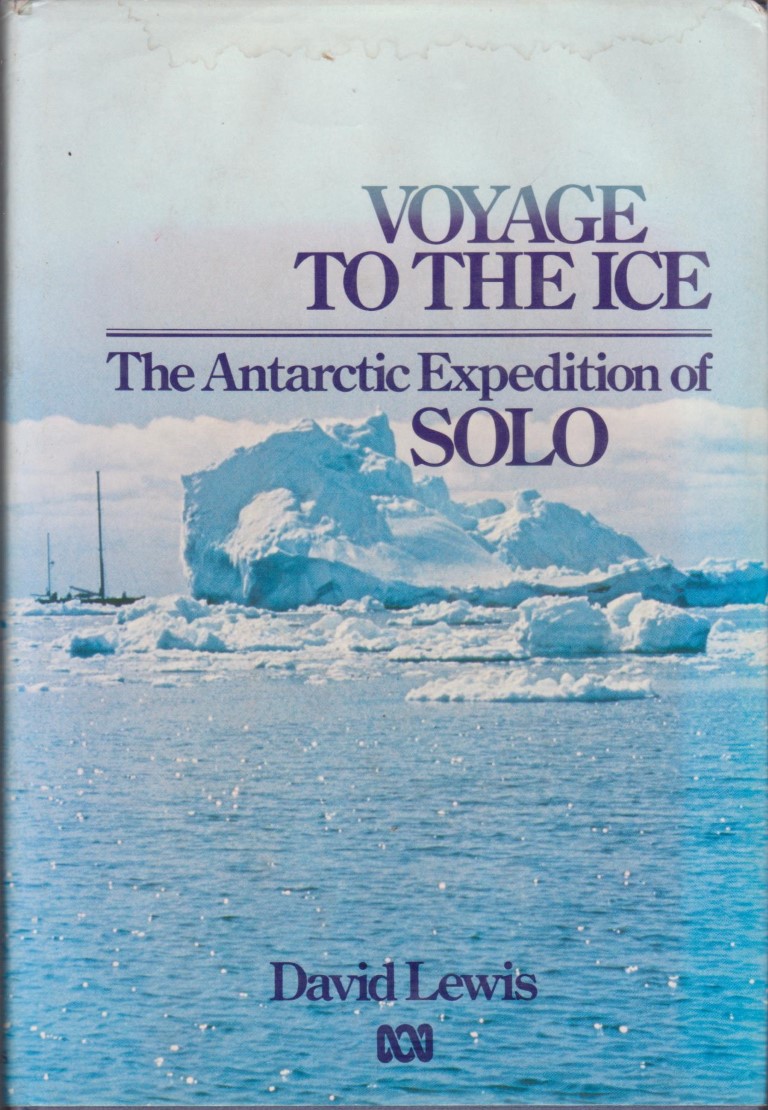 The yacht Solo's expedition for the Oceanic Research Foundation to the Antarctic Balleny Islands and Cape Adare.
ISBN 0002166720
VG hardback in G+ dust jacket which is lightly watermarked to top edges.
$20 C/C
Collins 1979 first edition, 144pp + colour plates.
[#5318 ]
MACKERSEY Ian

Rescue Below Zero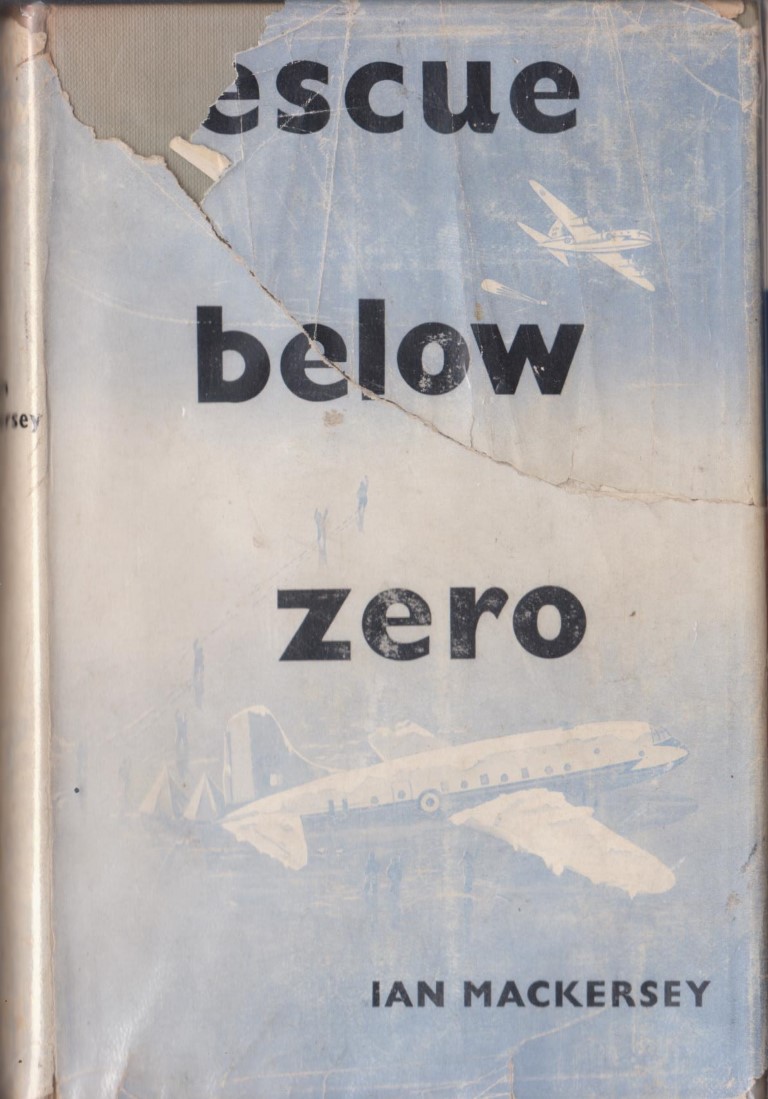 "An arctic expedition, disaster, heroic rescue, and escape from the frigid,desolate desert that is Greenland's great ice cap."
ISBN
keywords
VG- hardback in G- dust jacket with sunned spine, large chip top left front panel with a tear across the front, rear panel with tears and some small loss.
$20 C/C
Robert Hale & Co. 1954 first edition,155pp + plates.
[#5319 ]
MIGOT Andre

The Lonely South; Kerguelen and the Antarctic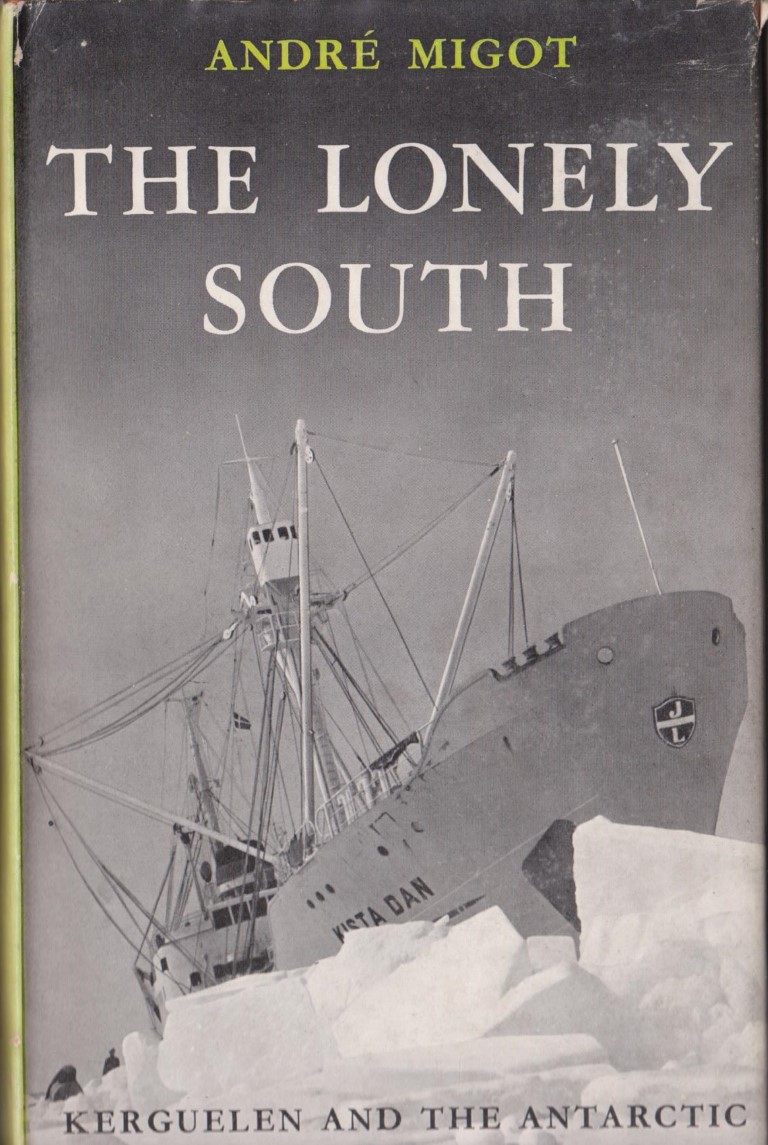 Translated from the French by Richard Graves.
VG hardback in VG dust jacket.
Free end paper clipped, light foxing to prelims.
Dust jacket with lightly soiled lower panel and short edge tears to joints.
$20 C/C
Travel Book Club undated, first thus, 206pp + many plates.
[#5320 ]
NATIONAL SCIENCE FOUNDATION

Antarctic Journal of the United States October 1977 Vol. XII No. 4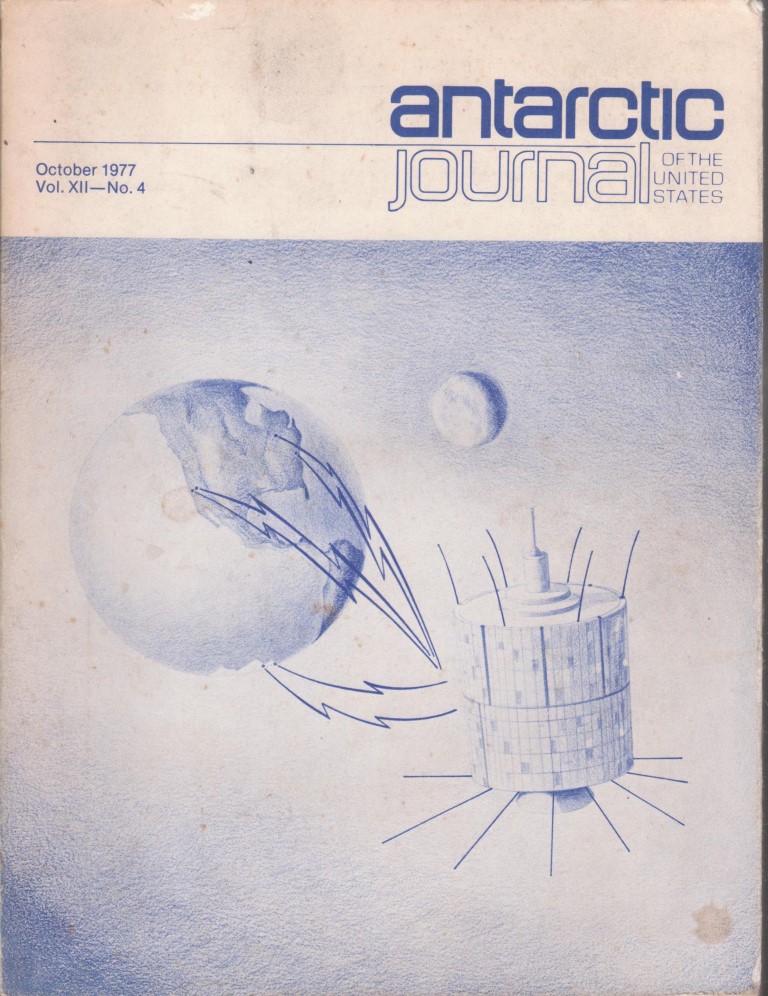 U.S. Antarctic Program USA, antarctica, biology, oceanography, marine geology, geophysics, geology, meteorology
VG- softback with lightly soiled wraps.
$20 B/C
National Science Foundation 1977, 216pp.
[#5321 ]
PONTING Herbert G.

The Great White South
or,
With Scott in the Antarctic
An account of experiences with Captain Scott's South Pole Expedition and of the nature life of the Antarctic
One of the fullest accounts of Scott's expedition.
G+ hardback.
Spine edges and corners rubbed and frayed, front hinge reinforced with pasted paper, lacks prelims, starts with frontis, minor foxing, rear hinge cracked, some plates have small rubber stamp to blank margins or are detached.
A good reading or reference copy.
$30 C/C
Duckworth September 1935 reprint, cloth with printed cover, xxvi 305 (+1) pp+ plates.
[#5322 ]
VG- hardback, cloth rubbed and lightly soiled, small fray head of spine, foxed prelims.
$35 C/C
Duckworth September 1949 reprint, xviii 300pp+ CXXXII plates.
[#5323 ]
PRYDE Duncan

Nunaga, ten years of Eskimo life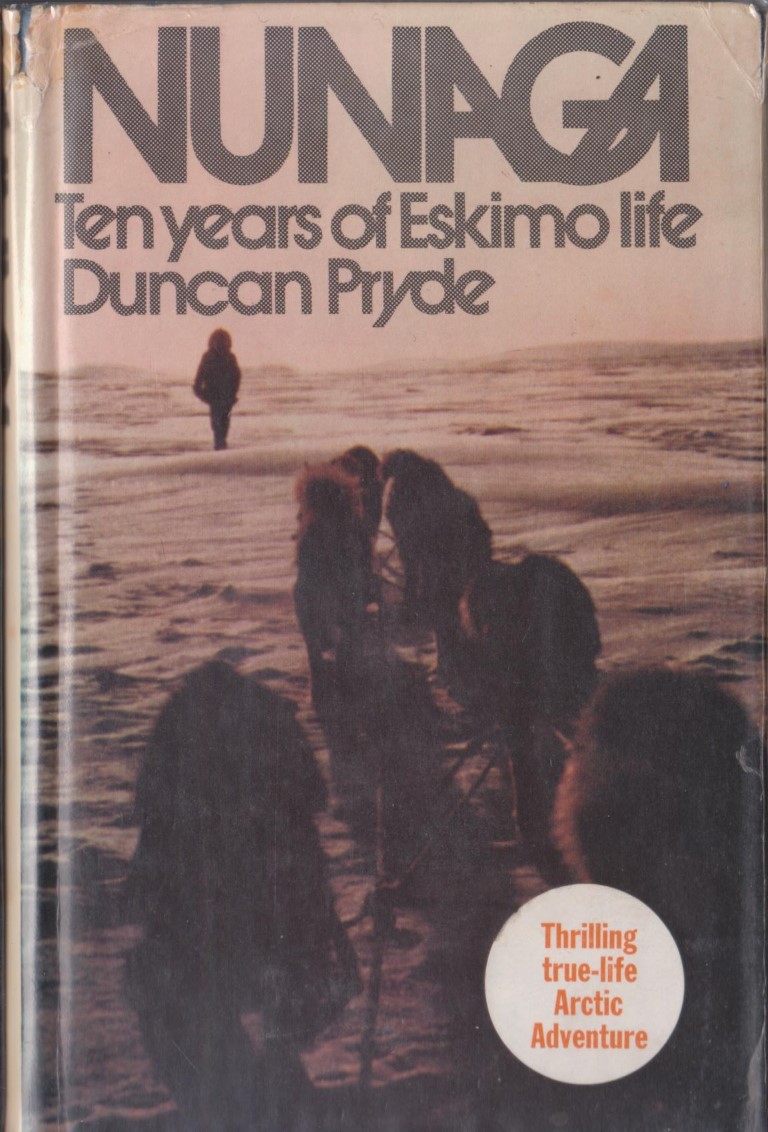 A Glaswegians ten years as a fur hunter in Canada's north amongst the Eskimos.
ISBN 0261100122
Inuit, Franklin, Perry Island, Canadian northern provinces, anthropology
G+ hardback in G+ dust jacket.
Hinges loose, jacket has splits at joint and corner ends, some tape oxide to endpapers, some foxing.
$15 C/C
MacGibbon & Kee 1972 first edition, 285pp + colour plates.
[#5324 ]
SMOLKA H. P.

Forty Thousand against the Arctic, Russia's Polar Empire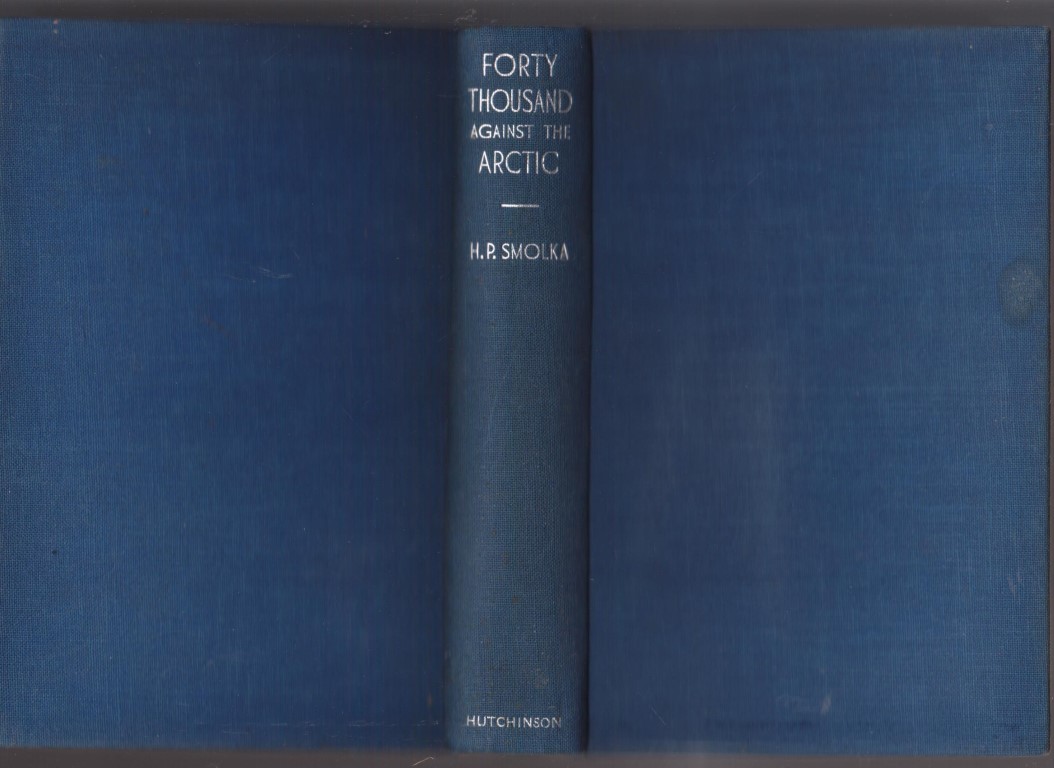 Surveys the life and work of Russians within the Arctic areas of the (former) Soviet Union, including a chapter on the Gulags.
USSR, CCCP, history
VG hardback with no dust jacket.
$30 C/C
Hutchinson 1937, 288pp + plates + folding maps + adverts at rear, decorative endpapers.
[#5325 ]
THOMSON Robert

The Coldest Place on Earth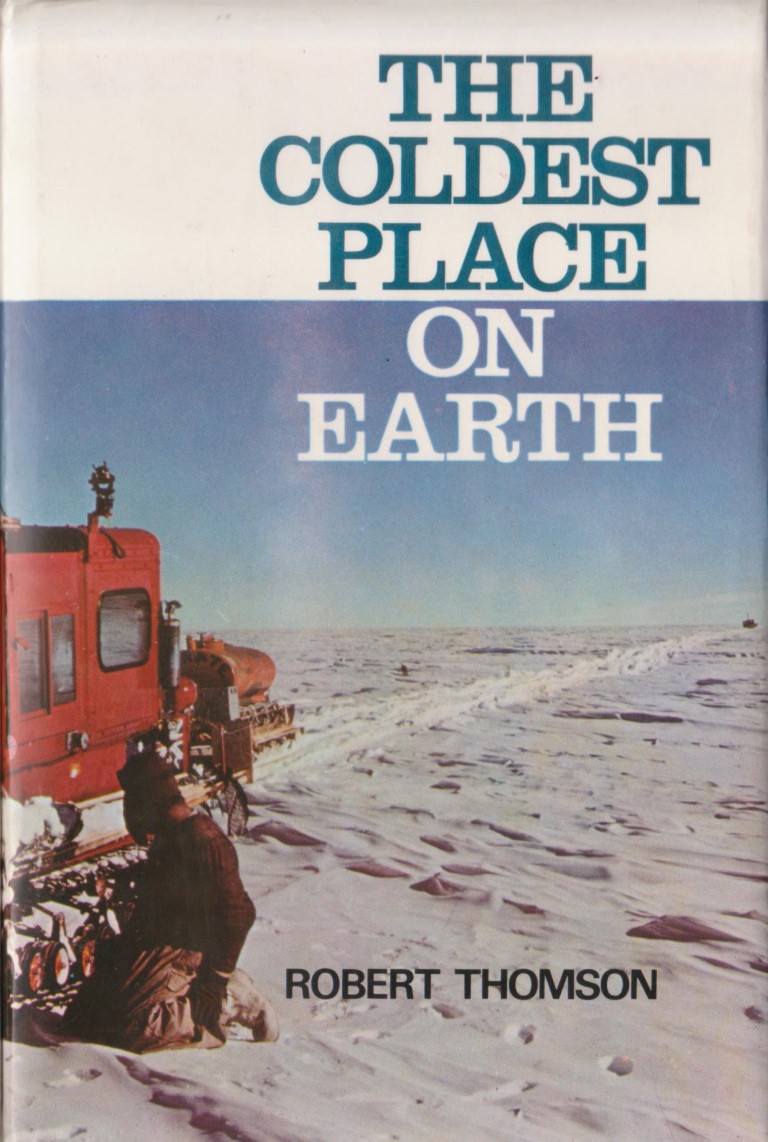 A travel to Vostok, the Russian base at the Southern Geomagnetic Pole, from the Australian base at Wilkes.
antarctic, antarctica
VG hardback in VG dust jacket.
$35 C/C
Reed 1969 first edition, 192pp + plates.
[#5326 ]
[Spanish] TURNBULL Eleanor L. and Pedro Salinas

Ten Centuries of Spanish Poetry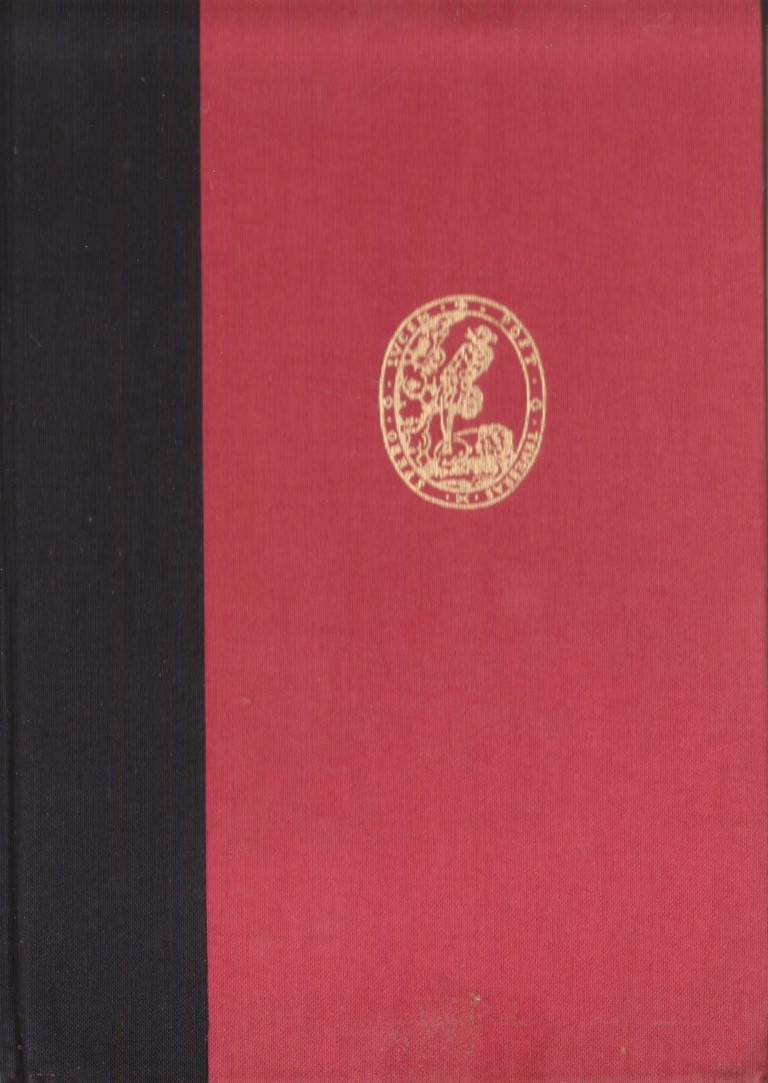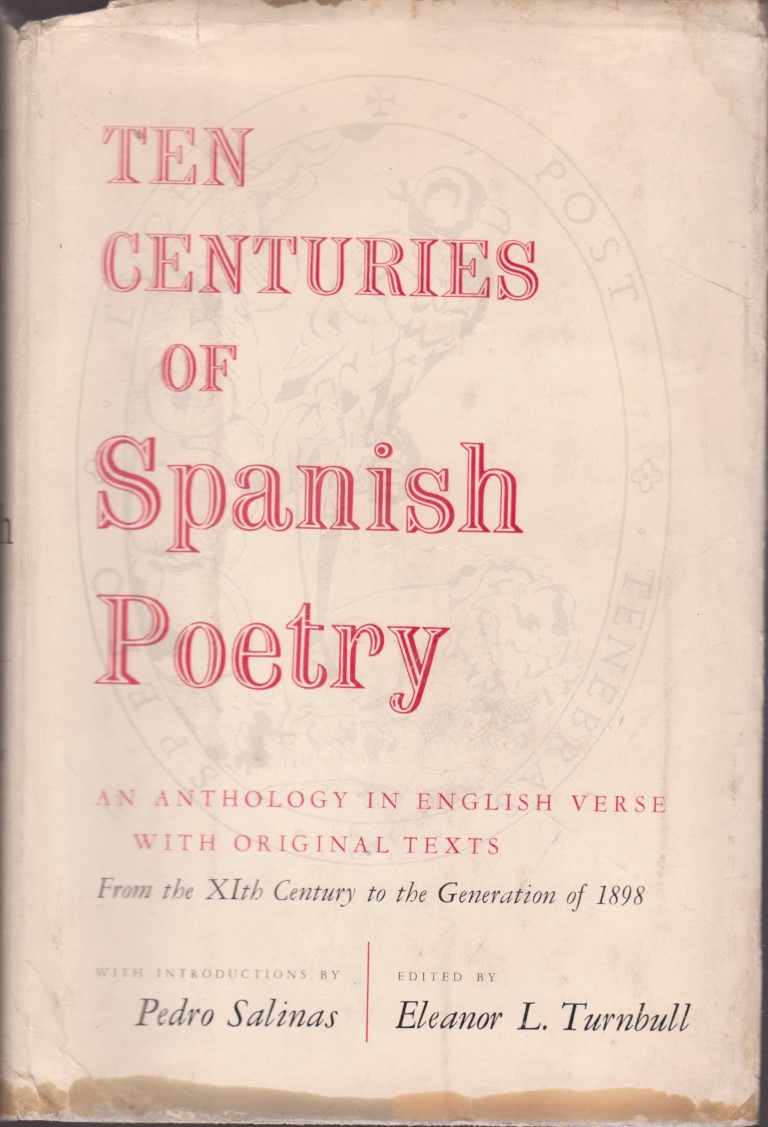 Ananthology in English verse with original texts, from the 11th Century to the generation of 1898.
English and Spanish facing text.
european culture, literature, espanol
Good cloth hardback in Good dust jacket.
Ex-library with cancellation, stamps etc.
Dust jacket has edge wear and tears.
$10 C/C
The Johns Hopkins Press 1955 first edition, 452pp.
[#5327 ]
[Ephemeris] ROSICRUCIAN FELLOWSHIP

Simplified Scientific Ephemeris 1940-1953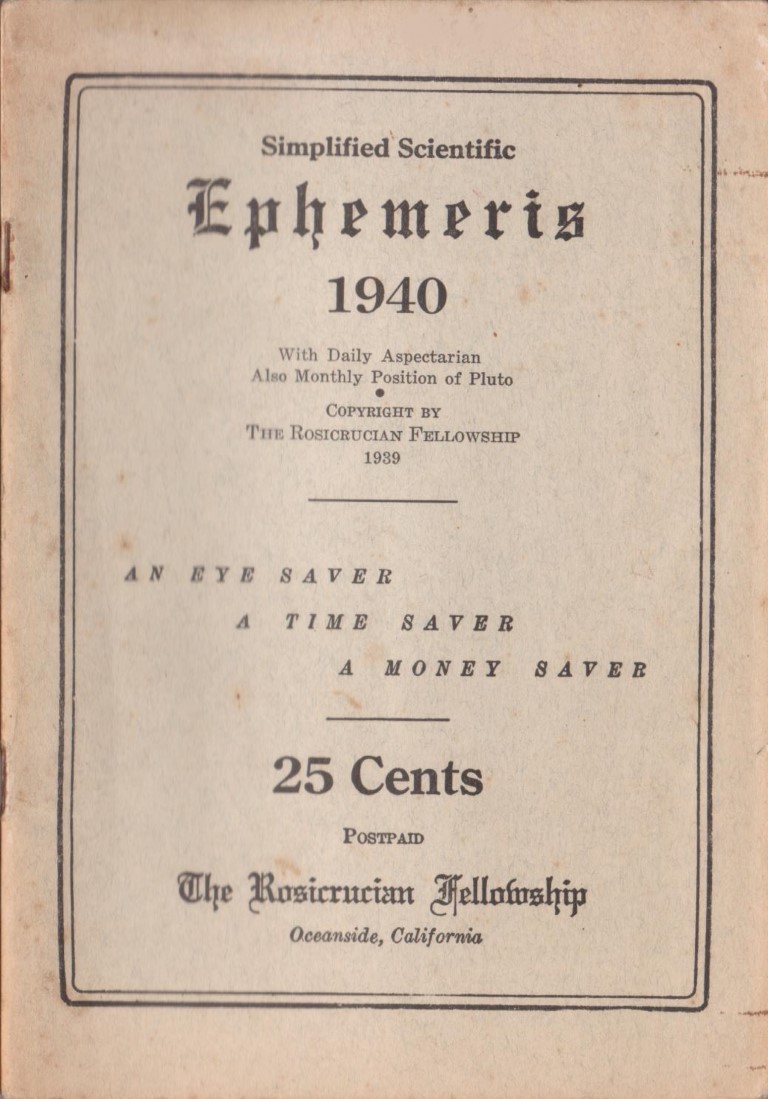 With daily aspectarian also monthly position of Pluto.
12 issues, for 1940, 1941, 1942, 1943, 1944, 1946, 1948, 1949, 1950, 1951, 1952,1953.
With advertising for Max Heindel Rosicrucian publications.
astrology, reference
G+ softback/ wrappers.
Staples rusted, a few covers are stained and/ or silverfished.
$35 C/C
Rosicrucian Fellowship California stapled wrappers, 36pp each.
[#5328 ]
LOW Albert

Practical Feng Shui for your workplace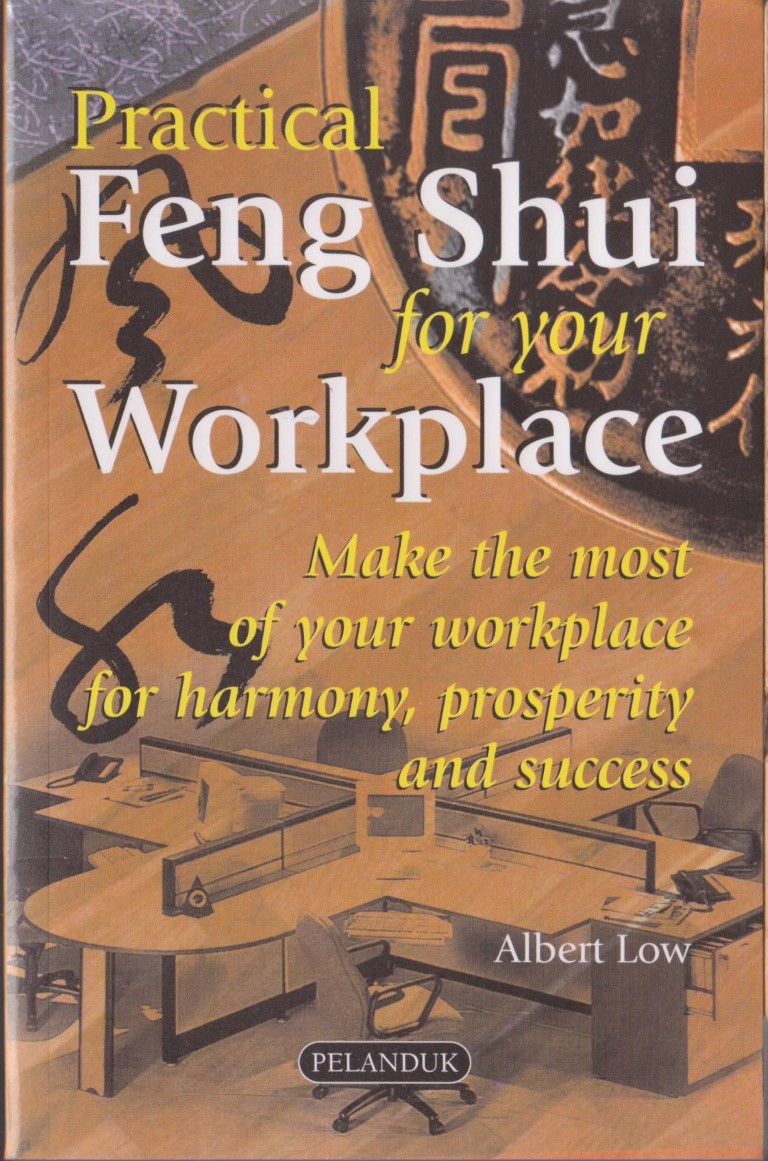 make the most of your workplace for harmony, prosperity and success by utilising the ancient science of Feng Shui.
ISBN 9679786889
geomancy
VG+ softback
$10 C/B
Pelanduk 1999, 273pp.
[#5329 ]
FERRES Arthur

His First Kangaroo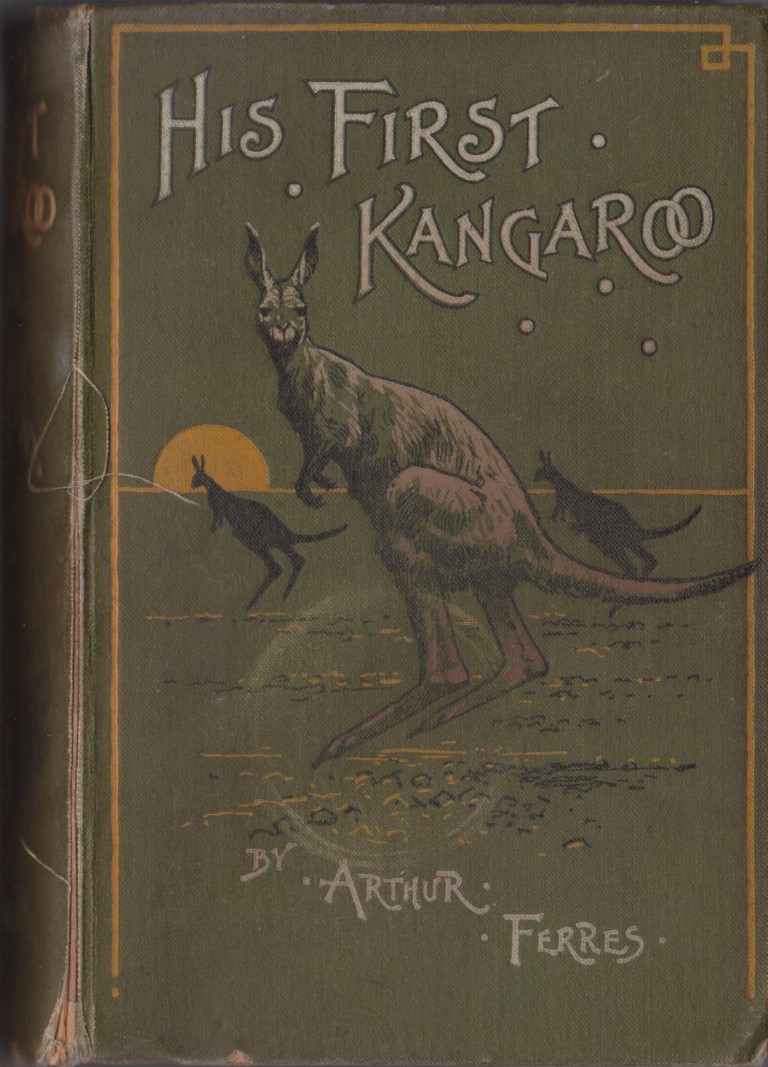 Late Victorian Australian young adults fiction.
Plates by Percy F. S. Spence.
VG- decorated cloth, upper joint split, corners frayed, internally clean.
$20 C/C
Blackie undated, 288pp +6 plates and 32pp adverts.
[#5330 ]
IDRIESS Ion L.

Flynn of the Inland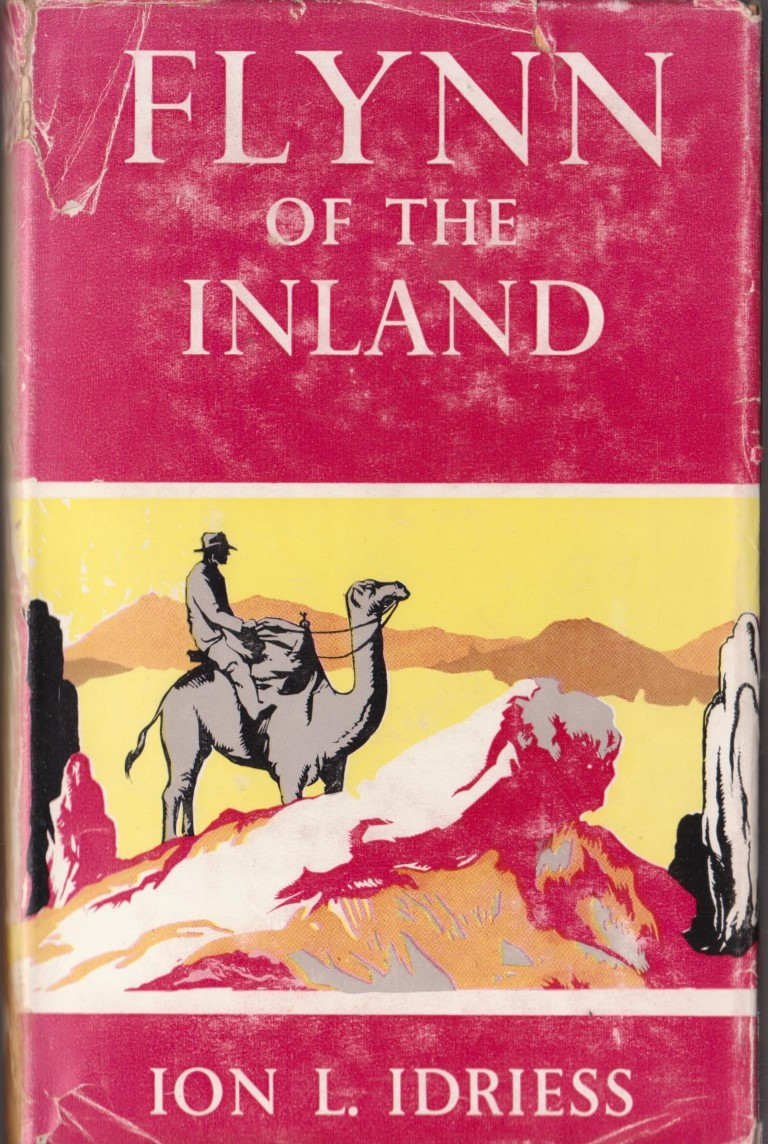 The Story of John Flynn of the Australian Inland Mission in the great outback of Australia.
ISBN
A.I.M.
VG hardback in G+ dust jacket with edge tears, chipping, creasing, some loss, and faded spine.
$15 C/C
Angus and Robertson 1959 reprint of the New Edition, xii 244pp+ plates, map endpapers.
[#5331 ]
WILSON H. H.

Westward Gold!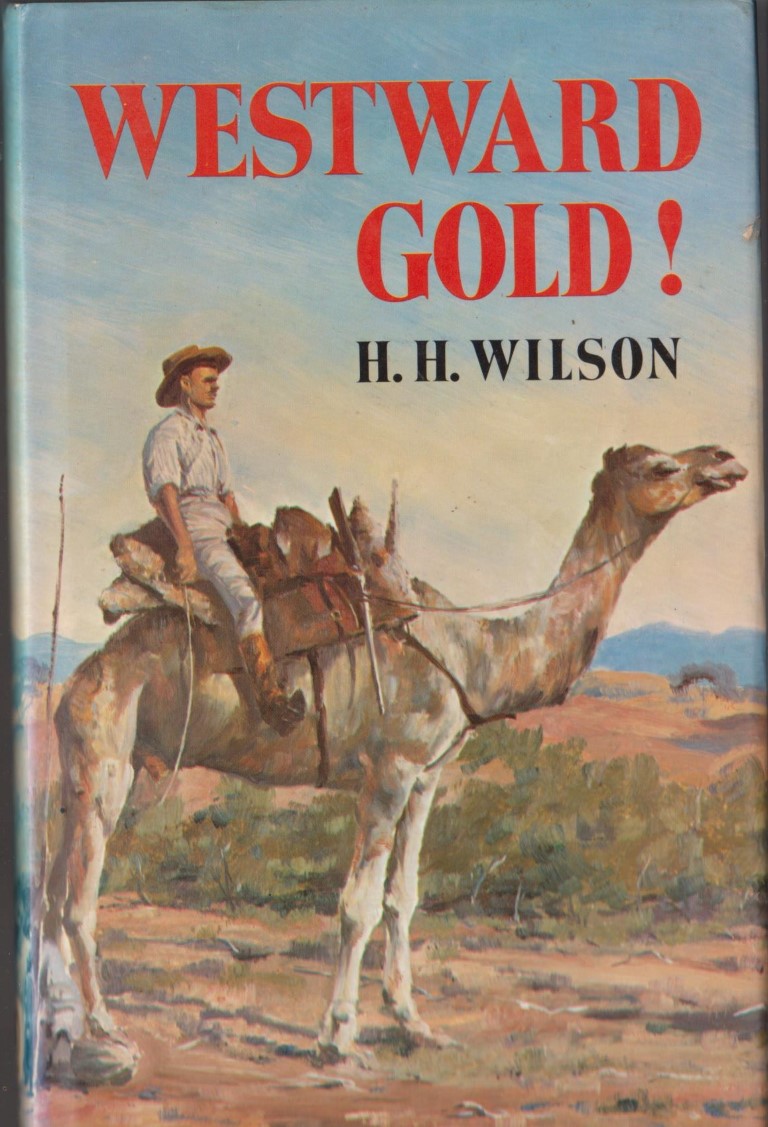 Western Australian gold rush centred on Perth at the turn of Twentieth Century.
Also Gold and Opal mining.
ISBN 0851794920
VG hardback in VG dust jacket with sunned spine.
$25 C/C
Rigby 1973 first edition, 185pp +plates.
[#5332 ]
SHARP Andrew

Adventurous Armada, the story of Legazpi's Expedition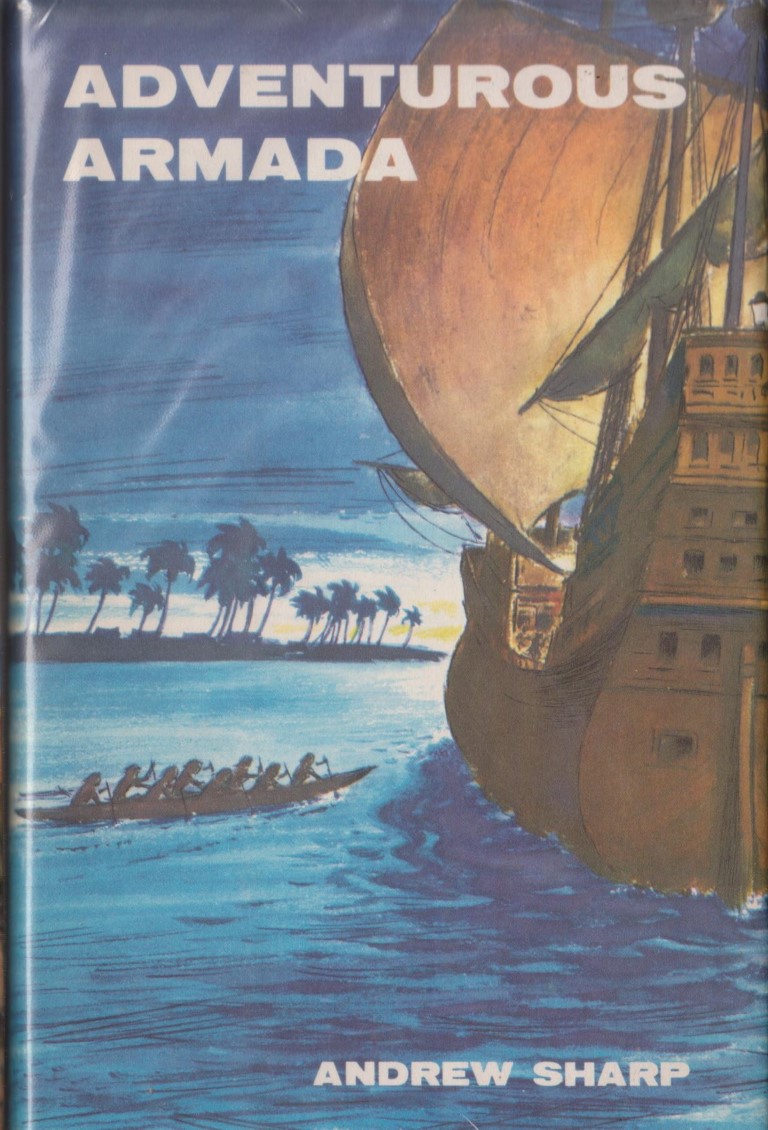 Miguel Lopez de Legazpi's 16th century expedition to the Phillipines.
Spanish empire, exploration, nautical, Pacific exploration
VG+ hardback in VG+ dust jacket.
$25 C/B
Whitcombe & Tombs 1961 first edition, 214pp + frontis.
[#5333 ]
WERE Jonathan Binns

A Voyage from Plymouth to Melbourne in 1839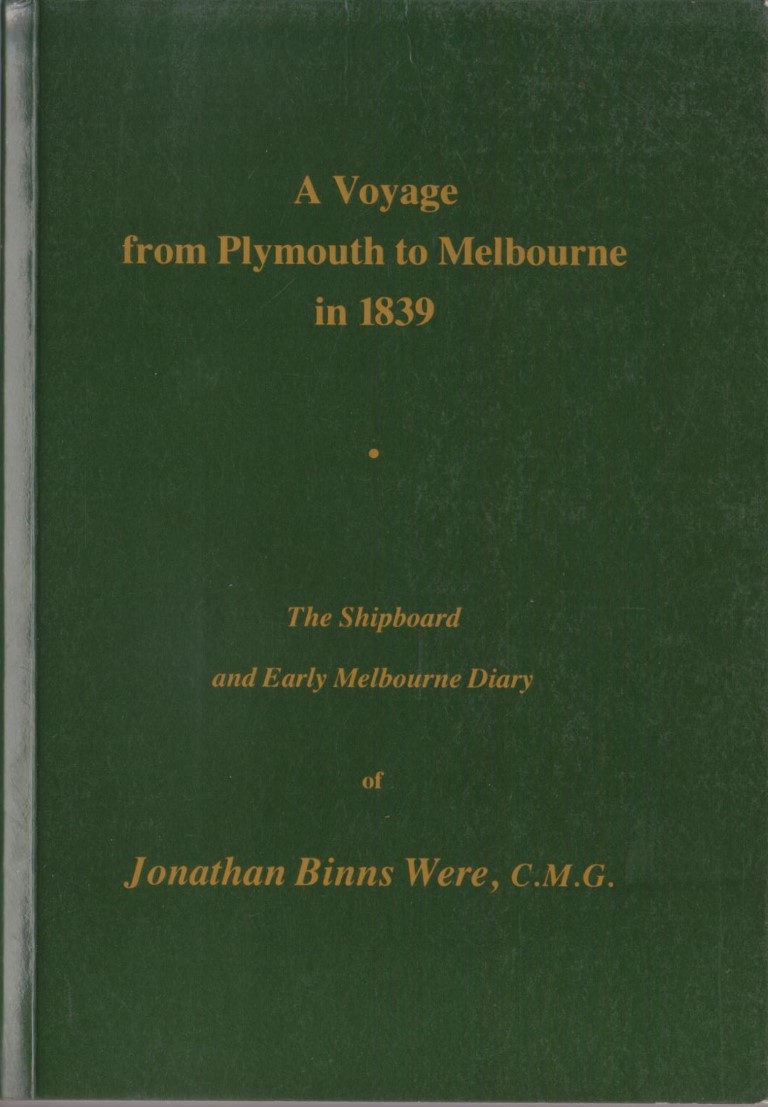 The Shipboard and Early Melbourne Diary.
An early Australian colonial diary in facsimile of original faced by type.
Illustrated.
ISBN 0646002287
australian colonial history, primary source, reference
VG softback
$25 C/B
J. B. Were 1990, xviii 309pp.
[#5335 ]
CARTER Jeff

People of the Inland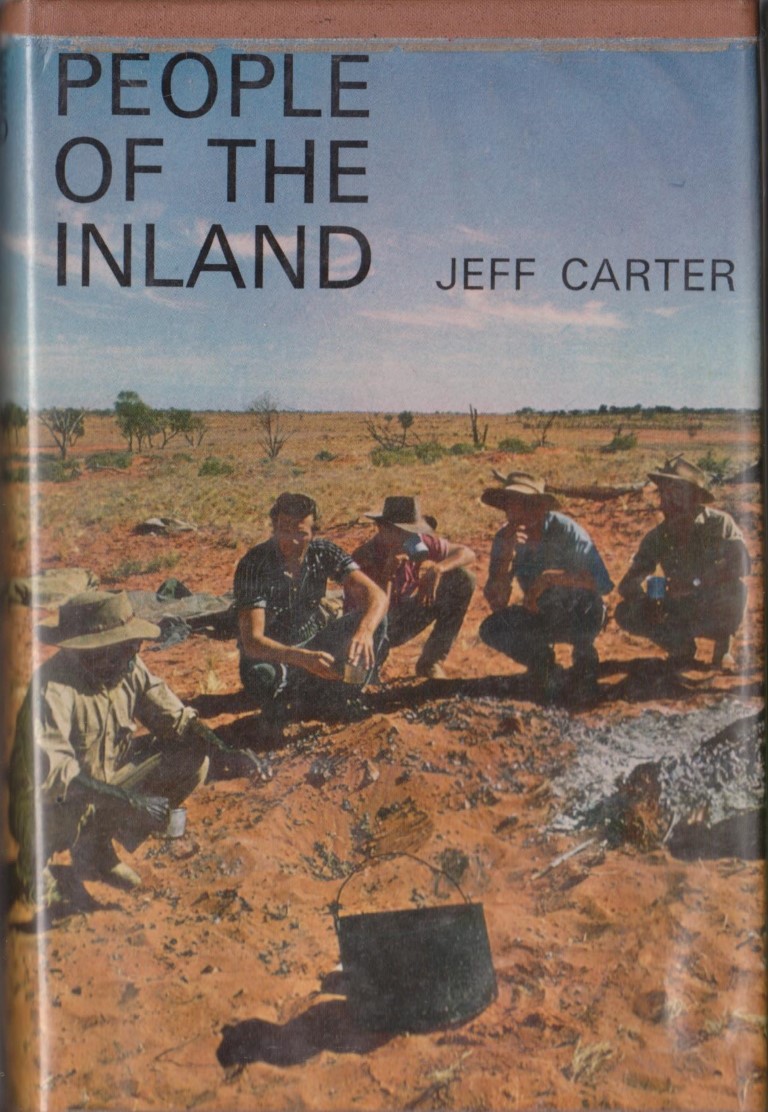 The men and the women of the Australian outback, both black and white and the lives they lead.
aboriginals, australian sociology, history
VG hardback with VG dust jacket.
Lacks free end paper otherwise tidy.
$15 C/C
Rigby 1966 first edition, 295pp + plates.
[#5336 ]
IDRIESS Ion L.

In Crocodile Land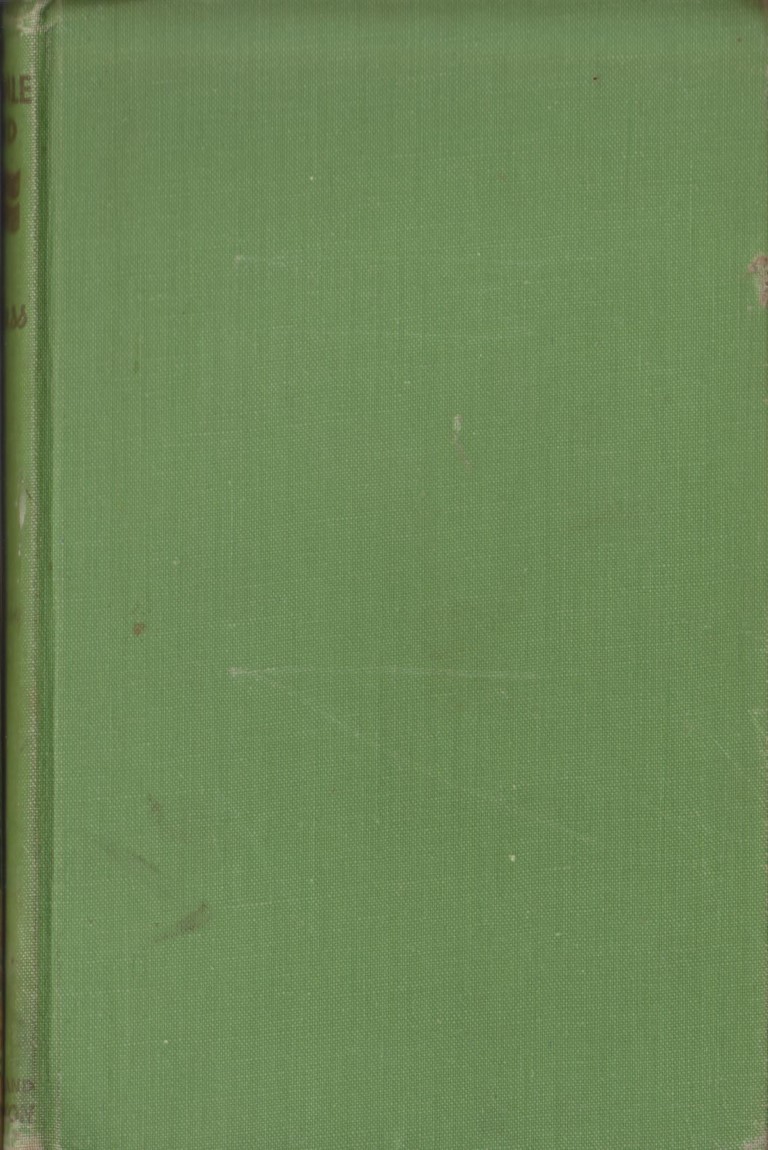 Wandering in Northern Australia, encountering Crocodiles, Buffalos, and Aboriginals in the Northern Territories.
G+ hardback with rubbed joints and edges, inscription to free end paper.
$15 C/C
Angus and Robertson 1952, ix 241pp + plates.
[#5337 ]
RABONE Harold R.

Lord Howe Island, It's Discovery and Early Associations 1788-1888.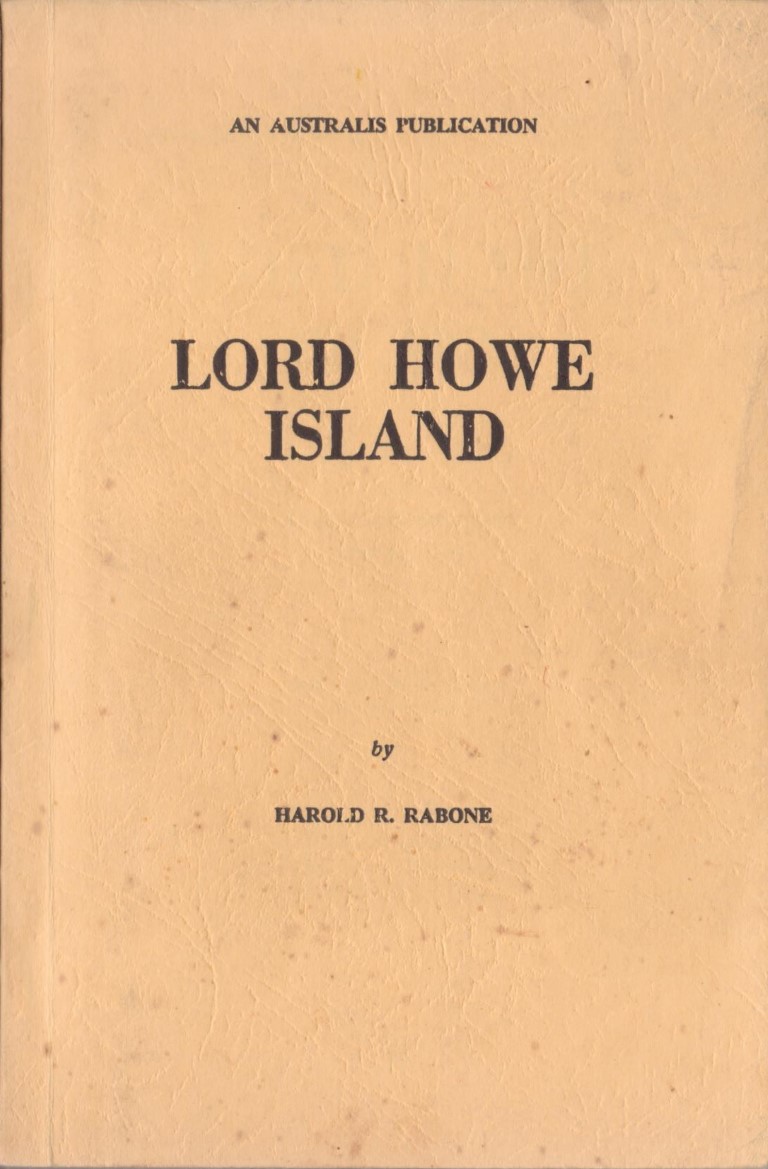 Probably intended for visitors to the island as a guide, this is a history and gazetter of the islands places and resources.
Reprint of 1940 edition.
Slipped in is a three page letter from a resident of the island.
VG softback with a few minor spots to some margins, foxing to wrappers.
$15 C/B
Australis 1972 edition, 54pp + plates.
[#5338 ]
SHUTLER Richard and Mary Elizabeth

Oceanic Prehistory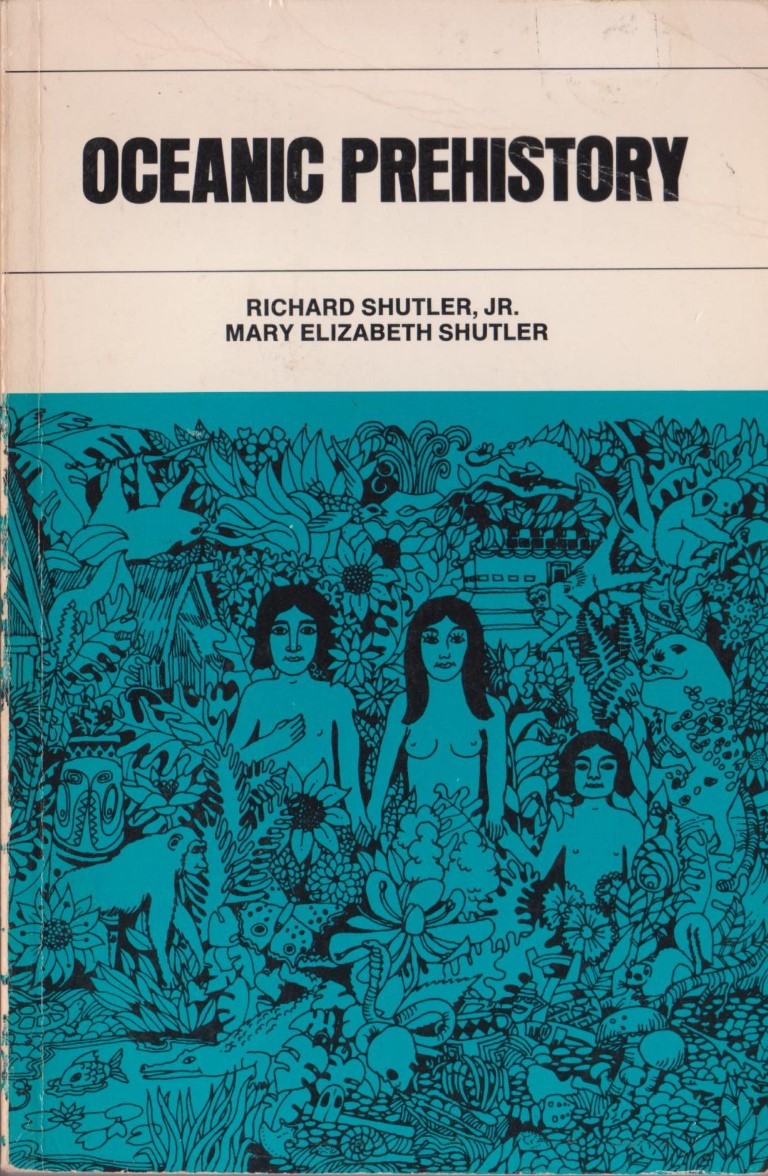 A text book for Oceanic studies.
Covers Australia, Melanesia, Polynesia, Micronesia and South East Asia.
Illustrated with examples of stone tools etc.
ISBN 0846519380
pacific
VG- softback
$10 C/B
Cummings 1975 first edition, 125pp.
[#5339 ]
HILL Ernestine

The Great Australian Loneliness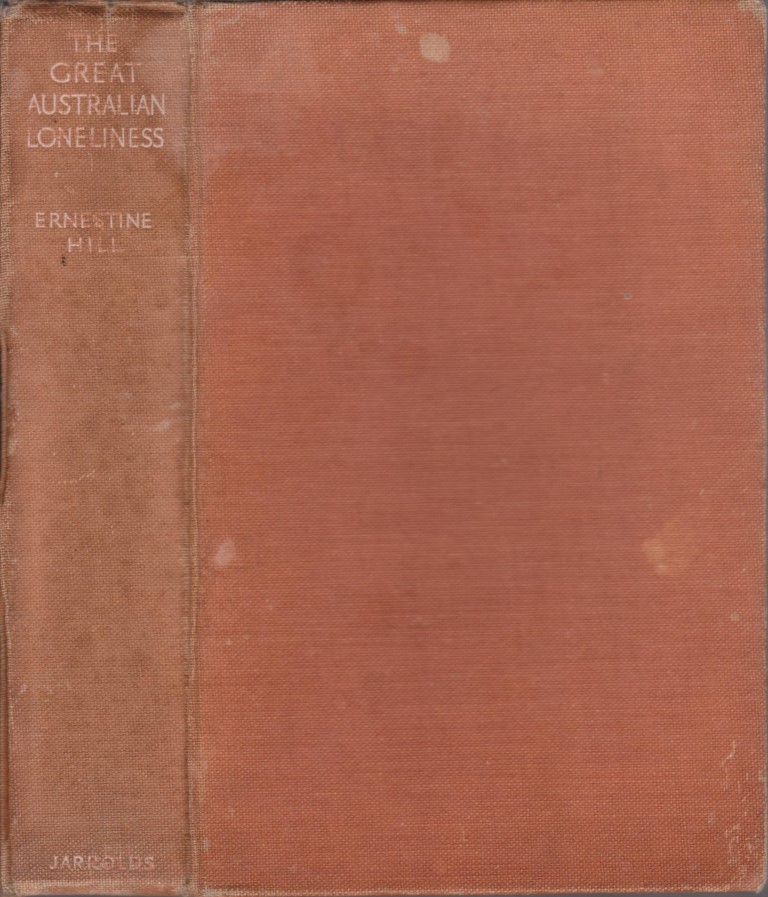 A journalists reports of travel about the entirety of Australia, from coast to 'red centre', tropics to the south.
Australian travel, history, first edition, outback
Good hardback with no dust jacket.
Rubbed cloth, lightly foxed throughout, mainly to margins, binding open at frontis, name to fep.
$25 C/C
Jarrolds 1937 first edition, buckram 8vo, 334pp +64pp adverts, plates and map end papers.
[#5340 ]
ANNABELL Ross

The Uranium Hunters
Uranium and other radioactive minerals prospecting in the Australian outback.
ISBN 0851791522
mining, nuclear fuel, geology,
Good hardback with no jacket.
Reading copy.
Ex-library with stamps and slips and shelf mark to spine in white ink.
$10 C/B
Rigby 1971 first edition, 172pp + plates.
[#5341 ]
FENTON Clyde

Flying Doctor
Flying doctor in the Northern Territory and Indonesian archipelago.
medicine, outback doctor,
Good hardback with no jacket.
Worn and rubbed cloth, name to title page.
$15 C/C
Georgian House 1948 reprint, 261pp + plates, map endpapers.
[#5342 ]
IDRIESS Ion L.

Man Tracks, with the Mounted Police in Australian Wilds.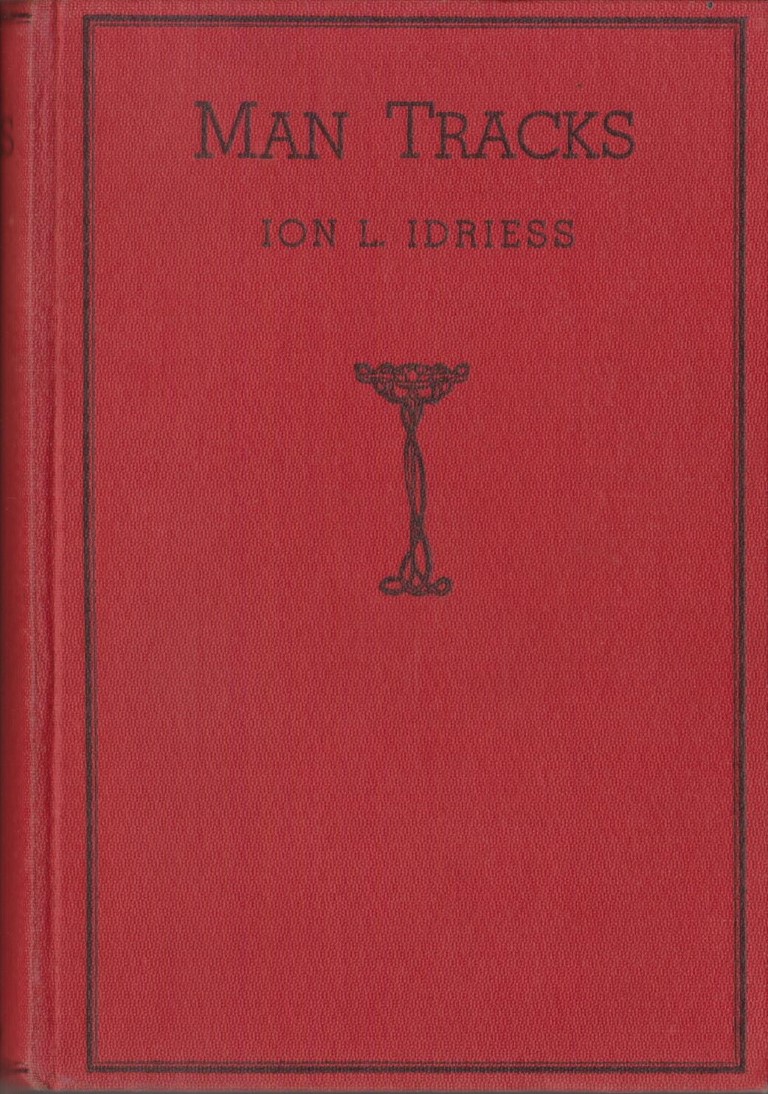 The story of the white police and aboriginal trackers in the North West territories.
Idriess rode with the men he writes about, as well as the aboriginal criminals they were hunting.
crime, judiciary, mounted police, aboriginal trackers
VG hardback with name to paste down, light foxing to prelims.
$35 C/C
Angus and Robertson 1936, 9th edition cloth, 330pp + plates and adverts.
[#5345 ]
VG+ hardback with no jacket.
Faint name to closed fore edge of pages.
$15 C/C
Angus and Robertson 1956, reprint of new edition, 272pp + plates.
[#5343 ]
HILL Ernestine

The Territory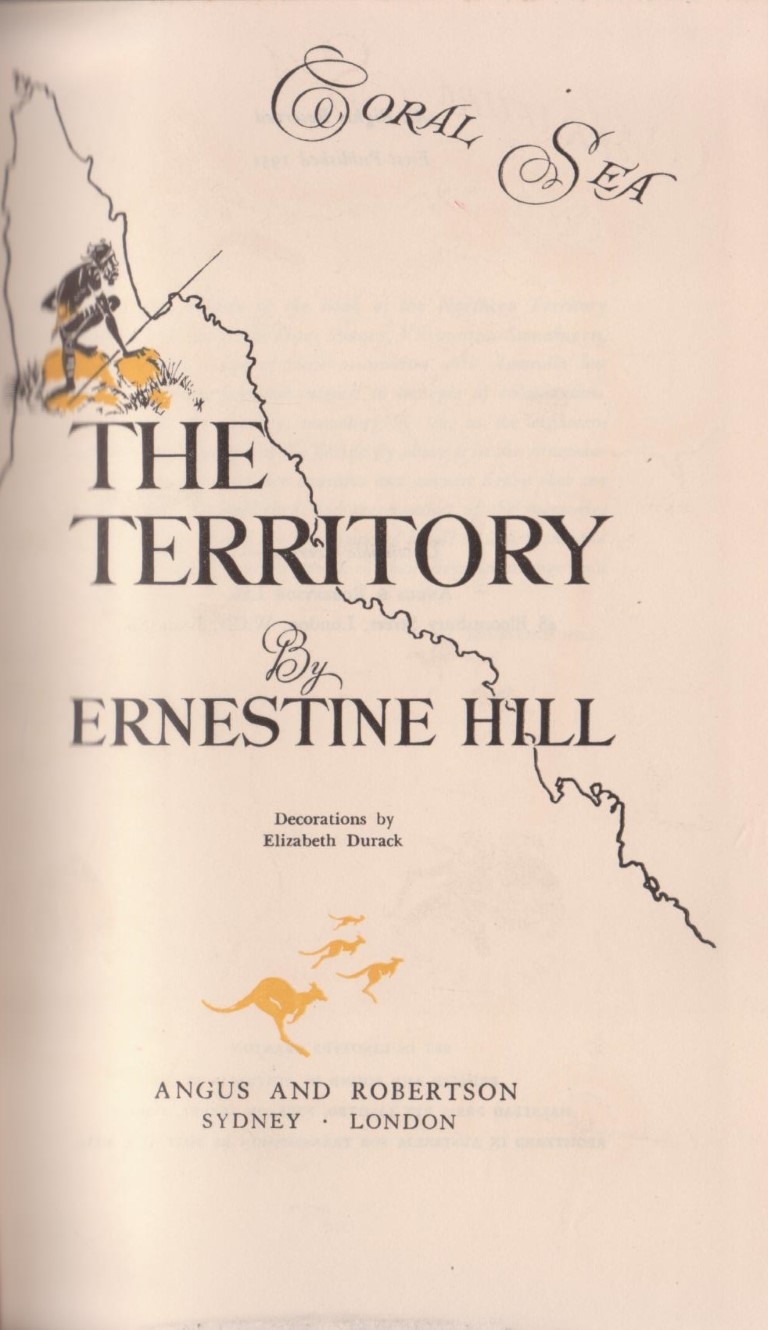 An account of Australia's far north.
The story of the first hundred years of white exploration, pioneering, and settlement in the tropic north, based on first-hand knowledge and experience.
Cattle-droving over wilderness, encounters with Aborigines, the efforts to establish settlements that were inevitably covered by the relentless growth of vegetation, the first crossing of the continent, the building of the Overland Telegraph Line, and the incredible lives of men and women of three generations.
VG- cloth hardback, with no dust jacket.
$15 C/C
Angus and Robertson 1951 first edition, 454pp.
[#5344 ]
VOYCE A H

Peacemakers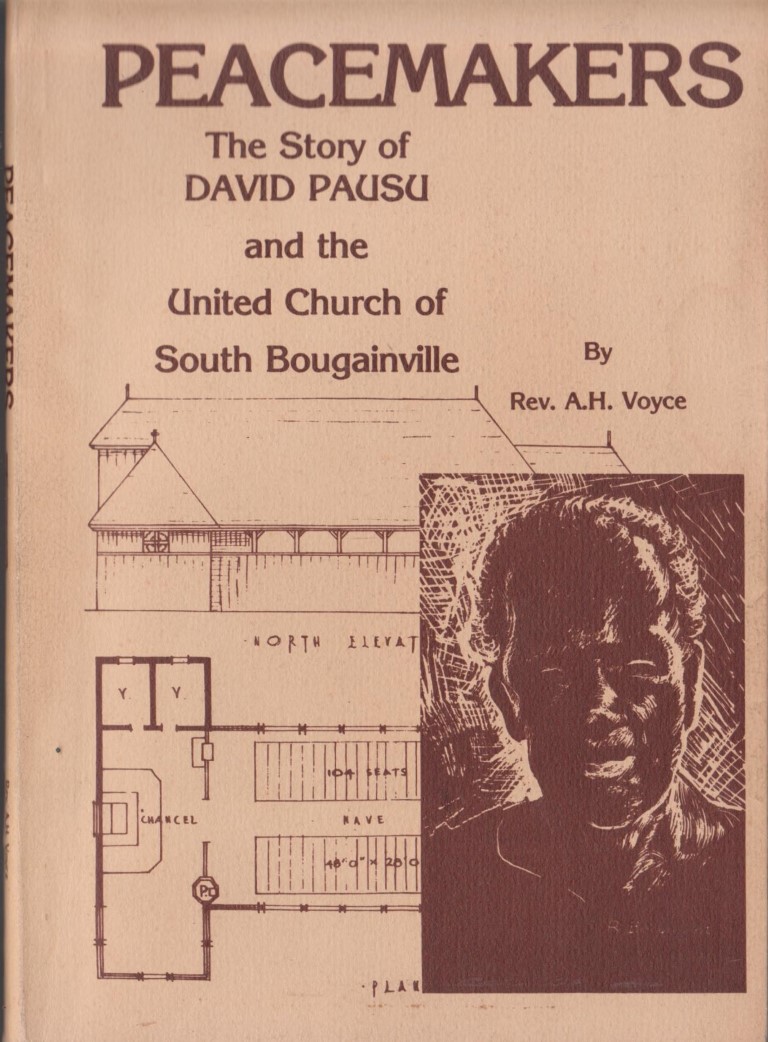 The Story of David Pausu and the United Church of South Bougainville.
Includes some local legends as well as an account of the area during the Second World War.
Photo offset with poor quality photos in the text.
ISBN 0473001691
WWII, US, GI, Pacific
VG stapled softcover in dust jacket.
$25 C/B
Coroprint 1979 second edition, 95pp.
[#5346 ]
IDRIESS Ion L.

Lightning Ridge, The Land of Black Opals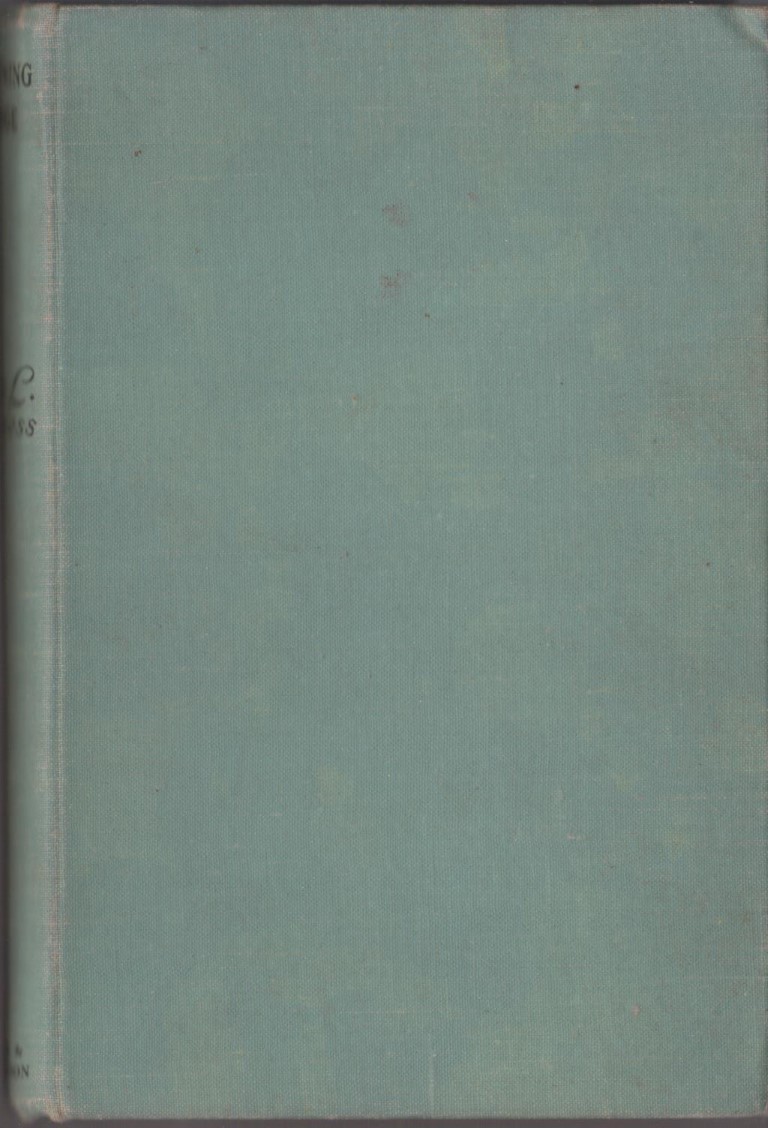 An account of the early days of Opal Mining at Lightning Ridge, north of Sydney/
gemstones, mining, history
VG- hardback with no jacket.
Spine leans, bumped corners.
$15 C/C
Angus and Robertson April 1948 reprint, 234pp+ plates
[#5347 ]
[COOK Captain James] SPARRMAN Anders (translated BEAMISH & MACKENZIE-GRIEVE)

A Voyage Round the World with Captain James Cook in H.M.S. Resolution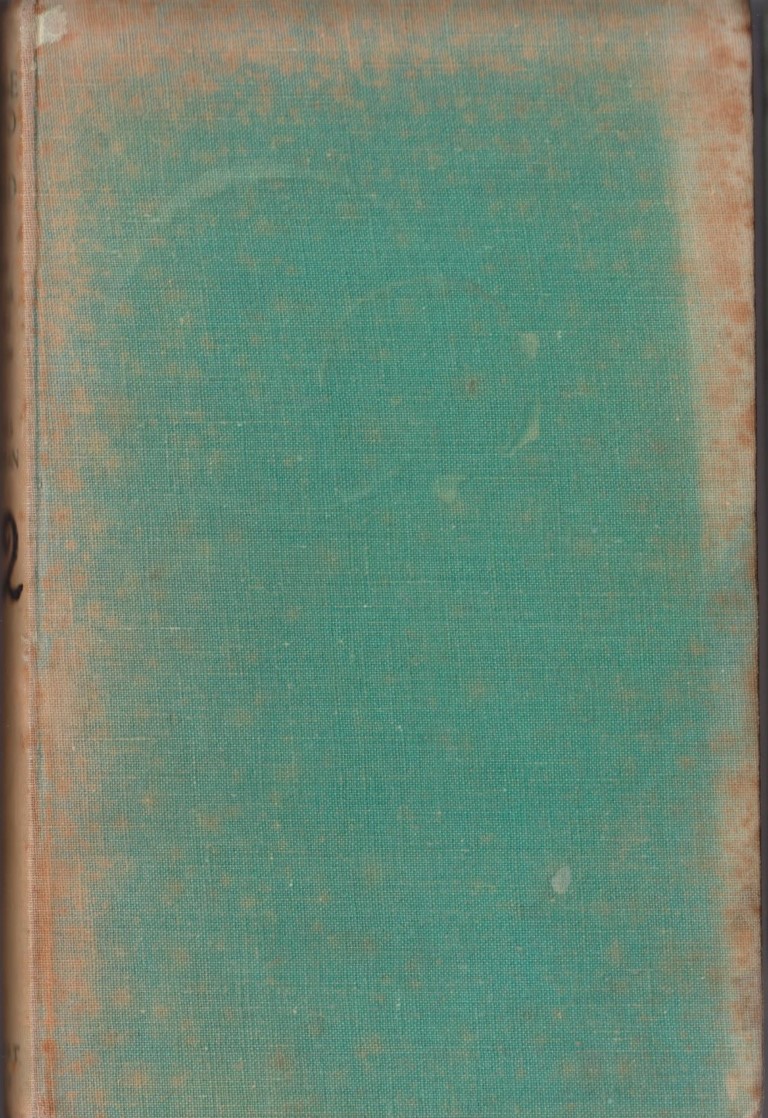 Encompasses Cook's explorations to Antarctica, New Zealand, Fiji, Easter Island etc.
Illustrated with woodcuts by C W Bacon.
exploration, nautical, pacific
Good hardback reading copy.
Ex-library, cloth sunned and faded, shelf mark [12] to spine in marker, stamps to endpapers, title page and some page margins, covers and stamps only faults.
$45 C/C
Robert Hale 1953 first thus after Golden Cockerel limited edition, cloth, xx 214pp + folding map at rear.
[#5348 ]
TOWNSEND G. W. L.

District Officer, from untamed New Guinea to Lake Success 1921-46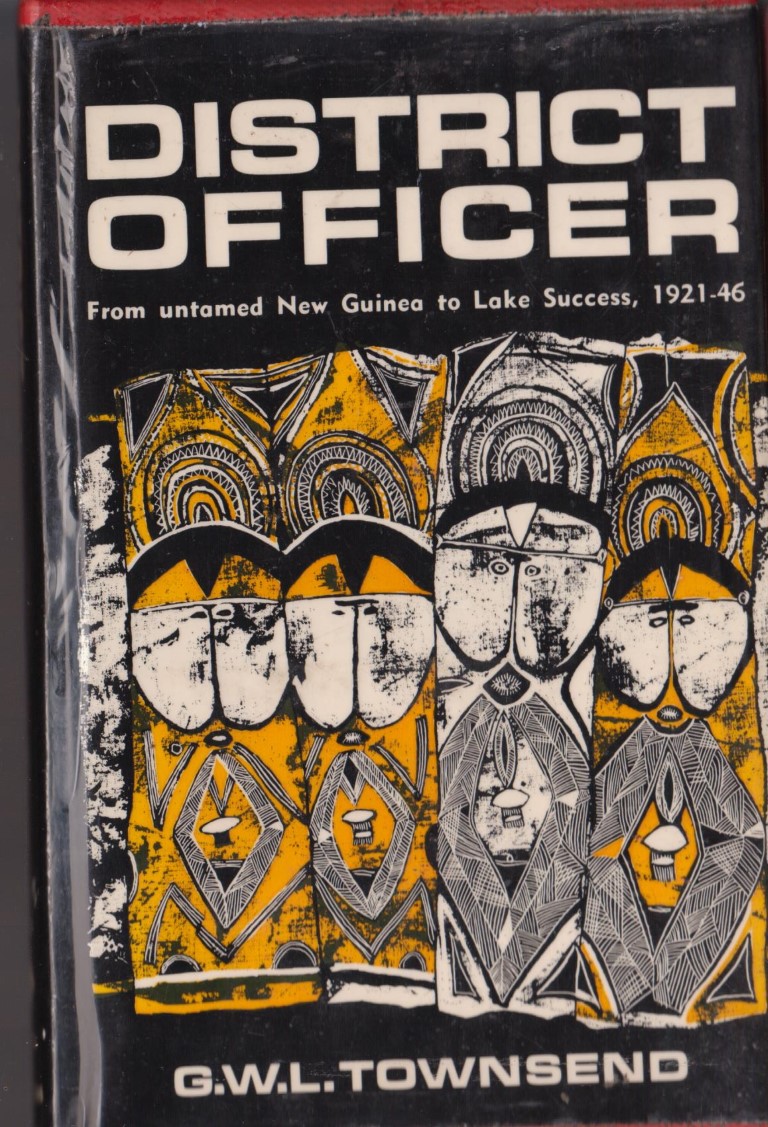 An autobiography of a patrol officer in New Guinea, includes Sepik river head-hunters, and Second World War service.
Kassa Townsend, Japanese, WWII, Pacific
VG hardback in VG dust jacket under plastic sleeve.
Ex-library with stamps etc.
$25 C/C
Pacific Publications 1968 first edition cloth, 271pp + plates, map endpapers.
[#5349 ]
LAMBERT S. M.

A Doctor in Paradise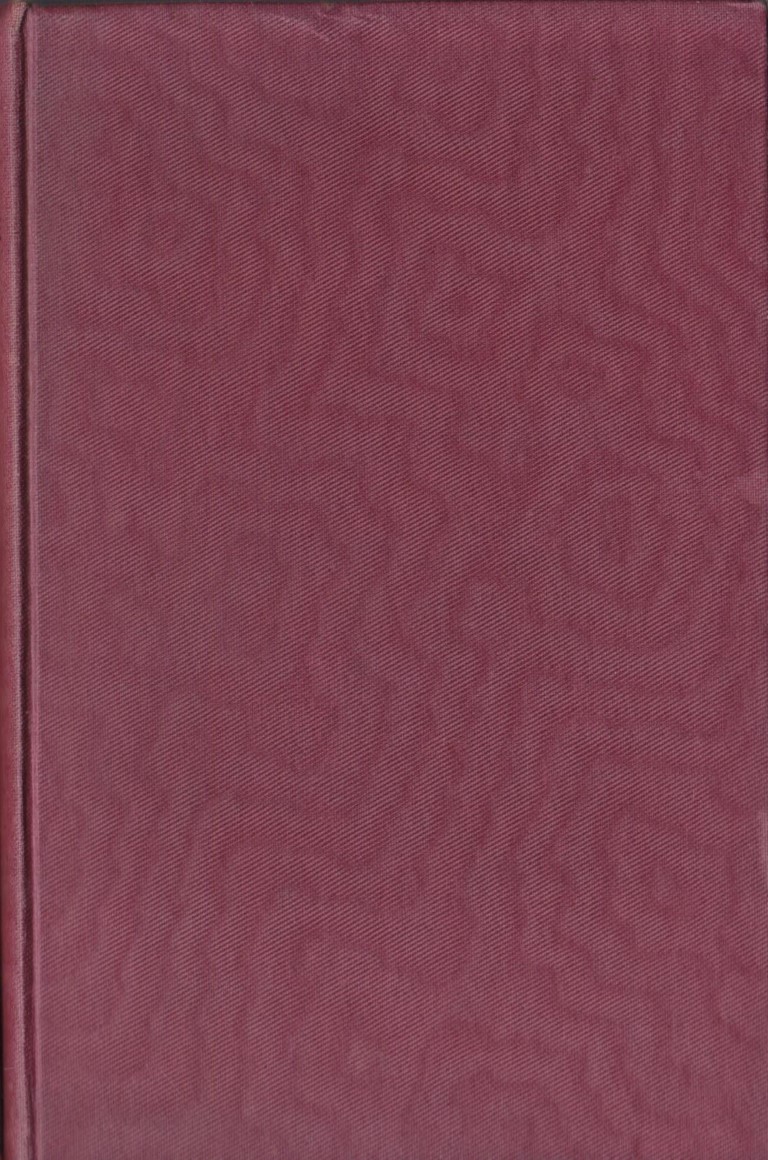 Autobiography of a doctor in the Pacific Islands between the World Wars.
New Guinea, Fiji, Solomons, Gilbert and Ellice Islands.
VG hardback, textured cloth, no jacket.
Gift inscription to half-title.
$25 C/C
Dent / Jaboor 1943 third edition, 421pp+ plates
[#5350 ]
CAREY Hilary

Truly Feminine, Truly Catholic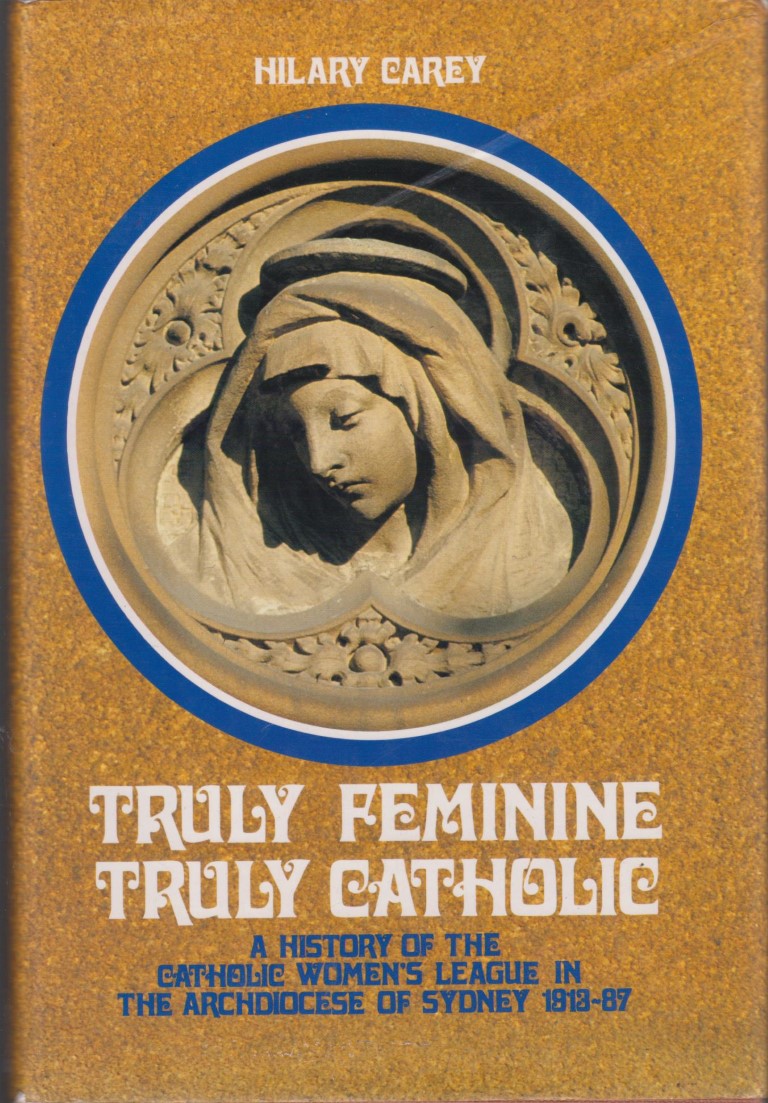 A history of the Catholic Women's League in the Archdiocese of Sydney 1913-87.
ISBN 0868402583
religious organisations, Australia,catholicism, social history
VG hardback in VG dust jacket with light crease.
Inscription to half title, and errata slip.
$25 B/C
New South Wales University Press 1987 first edition, x 218pp
[#5351 ]
DOAK Wade

Islands of Survival, Pacific wanderings of the El Torito Family.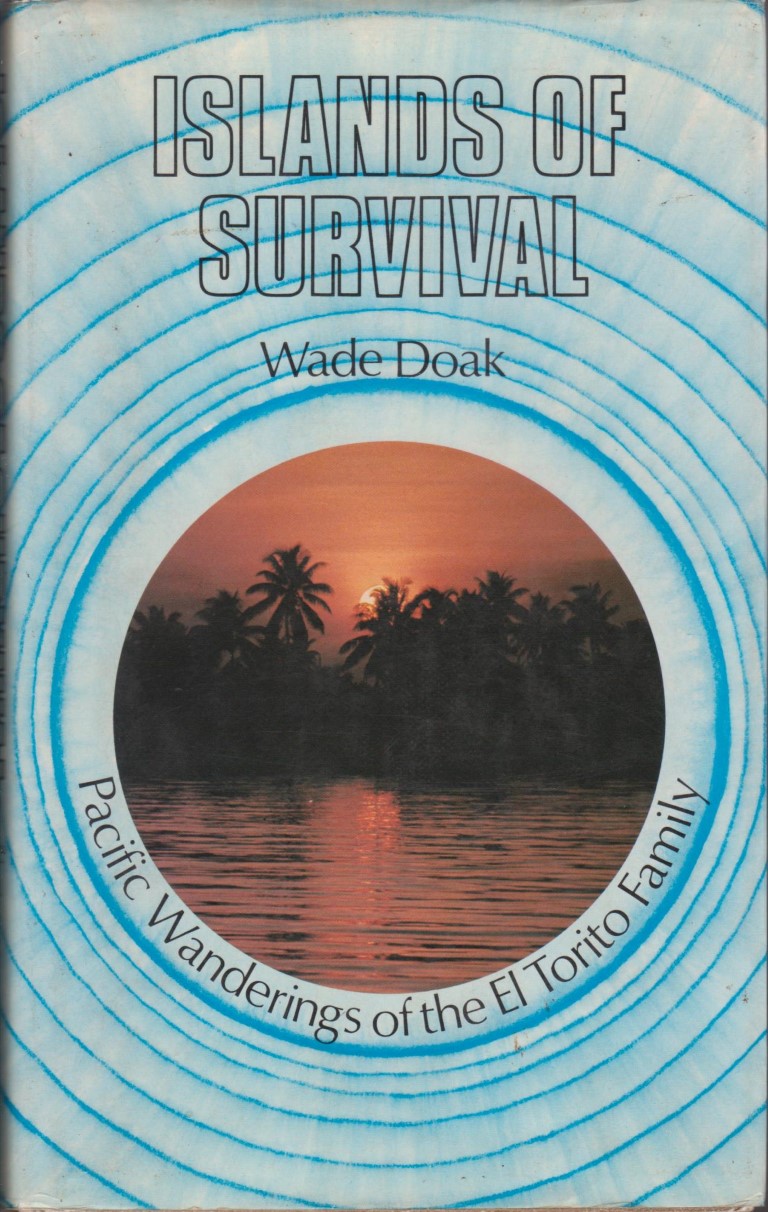 Wade Doak and his families boat travels about the Pacific, includes Solomon Islands, New Hebrides, diving expeditions etc.
ISBN 0340214511
marine biology, sea, ocean, yachting
VG hardback in VG dust jacket.
Gift inscription to half title, small chip head of jacket spine.
$20 B/C
Hodder 1976 first edition, 200pp + colour plates.
[#5352 ]
FLEMING Ian

The Spy Who Loved Me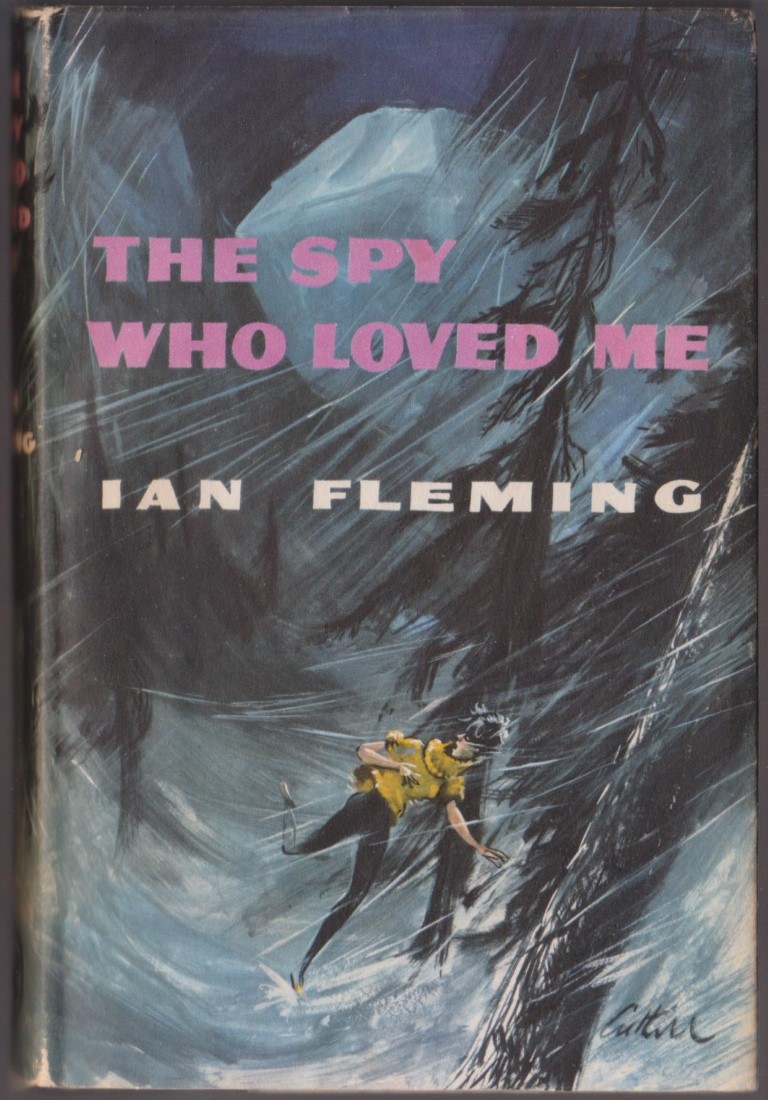 Woman fleeing in dark forest cover art.
James Bond first edition.
VG hardback in VG- dust jacket with light rubbing to the edges, short splits to corners.
$25 C/B
The Book Club1962 first thus edition, 189pp.
[#5356 ]
FLEMING Ian

Dr No (Doctor No)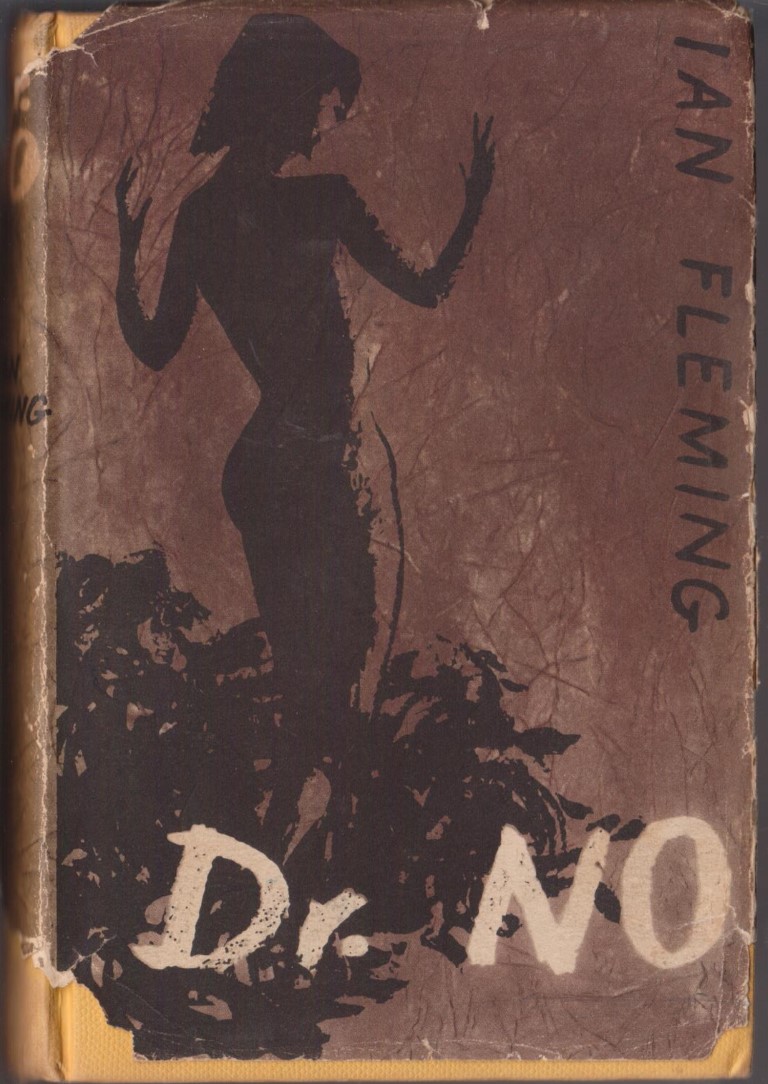 Naked woman with arms raised cover art.
James Bond first edition.
VG- hardback in G- dust jacket with large chips/ loss to spine ends, only half of 'Dr' to spine present, rear panel chipping loss to top corners, splits to joints, book boards a little bumped, dust soiled closed edges.
$20 C/B
The Book Club1958 first thus edition, 248pp.
[#5357 ]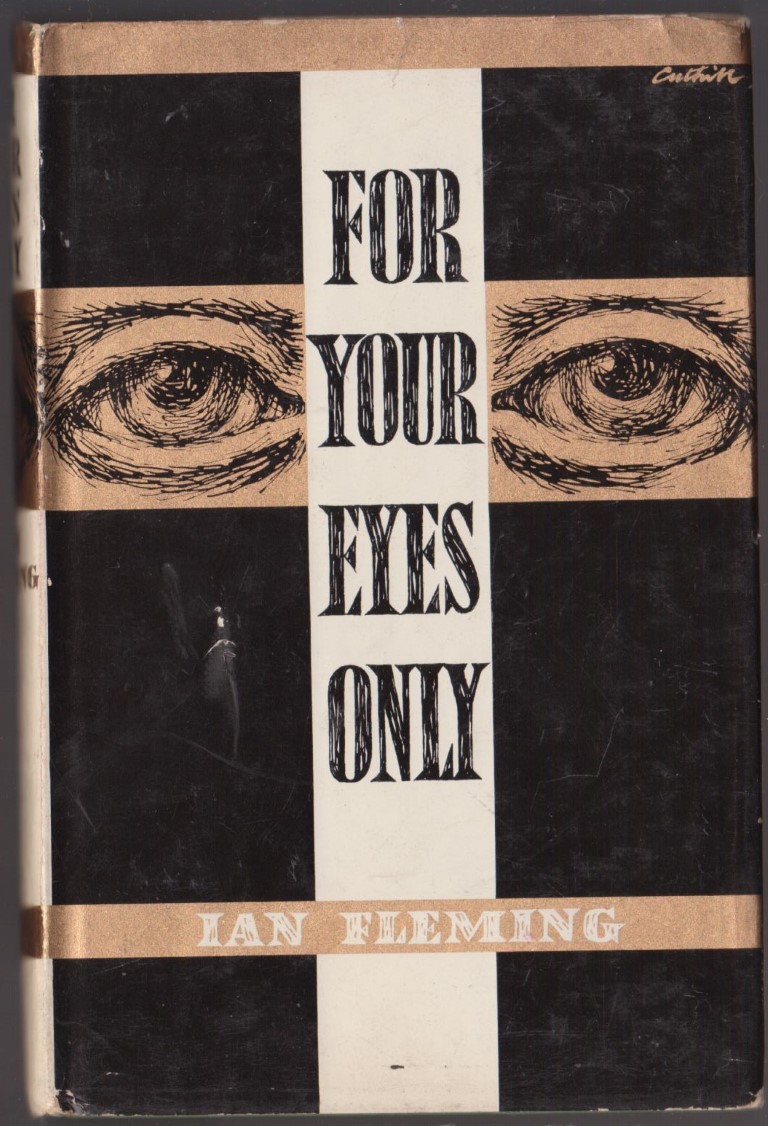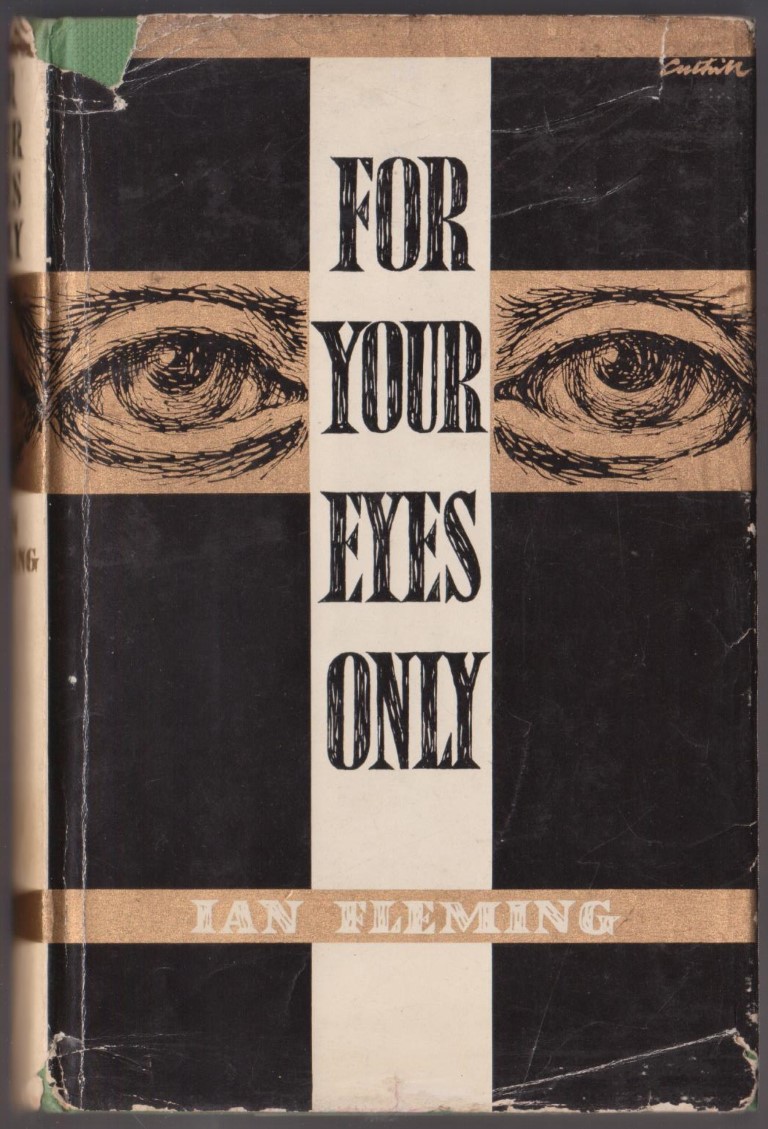 FLEMING Ian

For Your Eyes Only, Five Secret Occasions in the Life of James Bond
Black, white and gold design with eyes cover art.
James Bond first edition.
VG hardback in VG- dust jacket.
Light foxing to closed edges, light wear and tiny edge splits or short tears to unclipped jacket.
$25 C/B
The Book Club1960 first thus edition, 192pp.
[#5359 ]
VG hardback in G+ dust jacket with light wear and edge splits or short tears.
Rubbed corners, chip from top left corner of front panel, chipped spine ends, name to fep dated July 1961.
$20 C/B
The Book Club1960 first thus edition, 192pp.
[#5360 ]
LETHBRIDGE Christopher

Sunrise on the Hills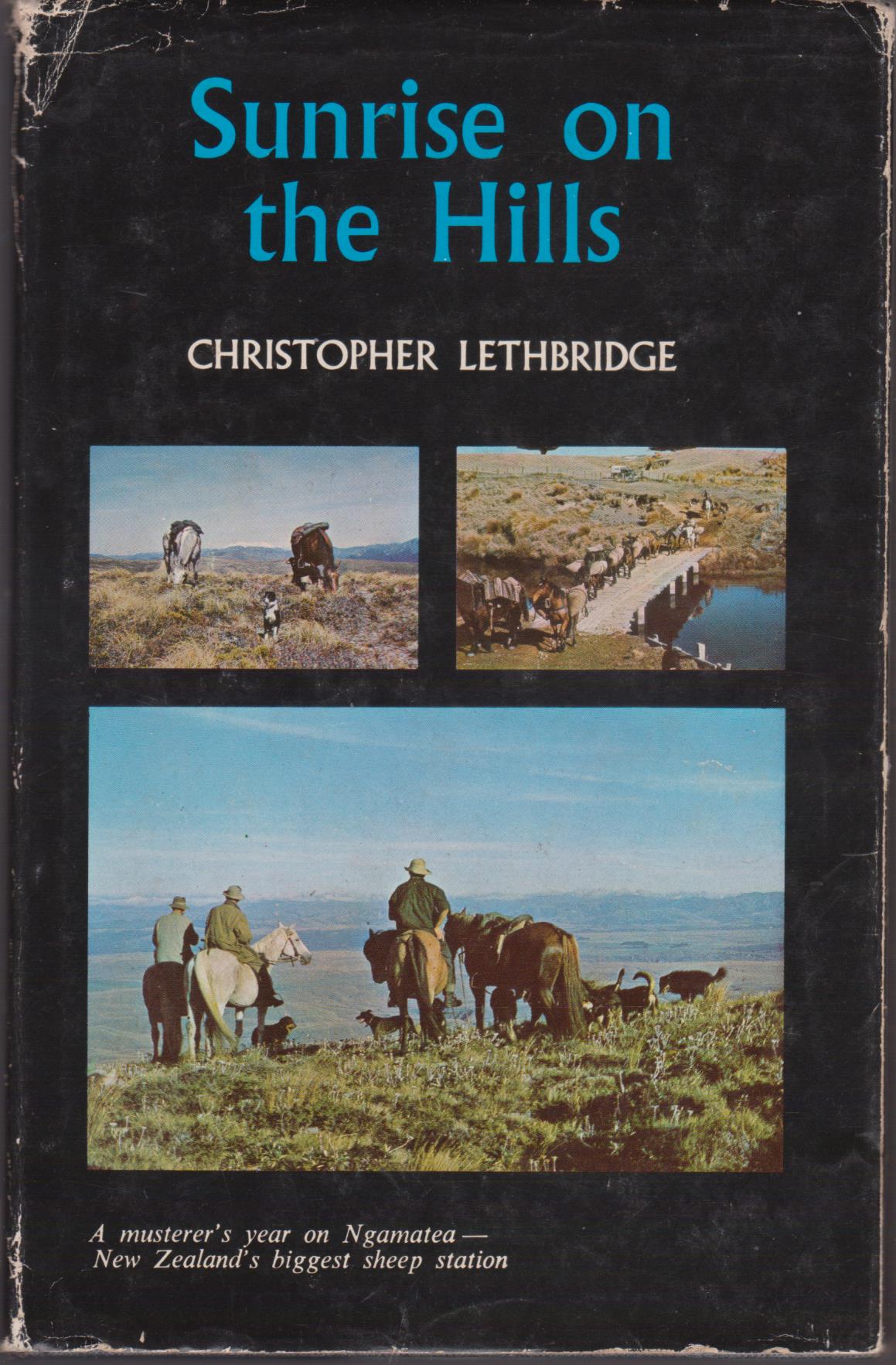 A Musterer's year on Ngamatea- New Zealand's biggest sheep station.
High country sheep farming, mustering in Hawkes Bay.
ISBN0340157763
VG hardback with VG dust jacket with light edgewear, inscriptions to fep, SIGNED by AUTHOR to half title dated 1971
$95 C/B
Hodder 1971 first edition, 176pp+ plates. [#5361]
VENKATESANANDA Swami

The Supreme Yoga; Yoga Vasistha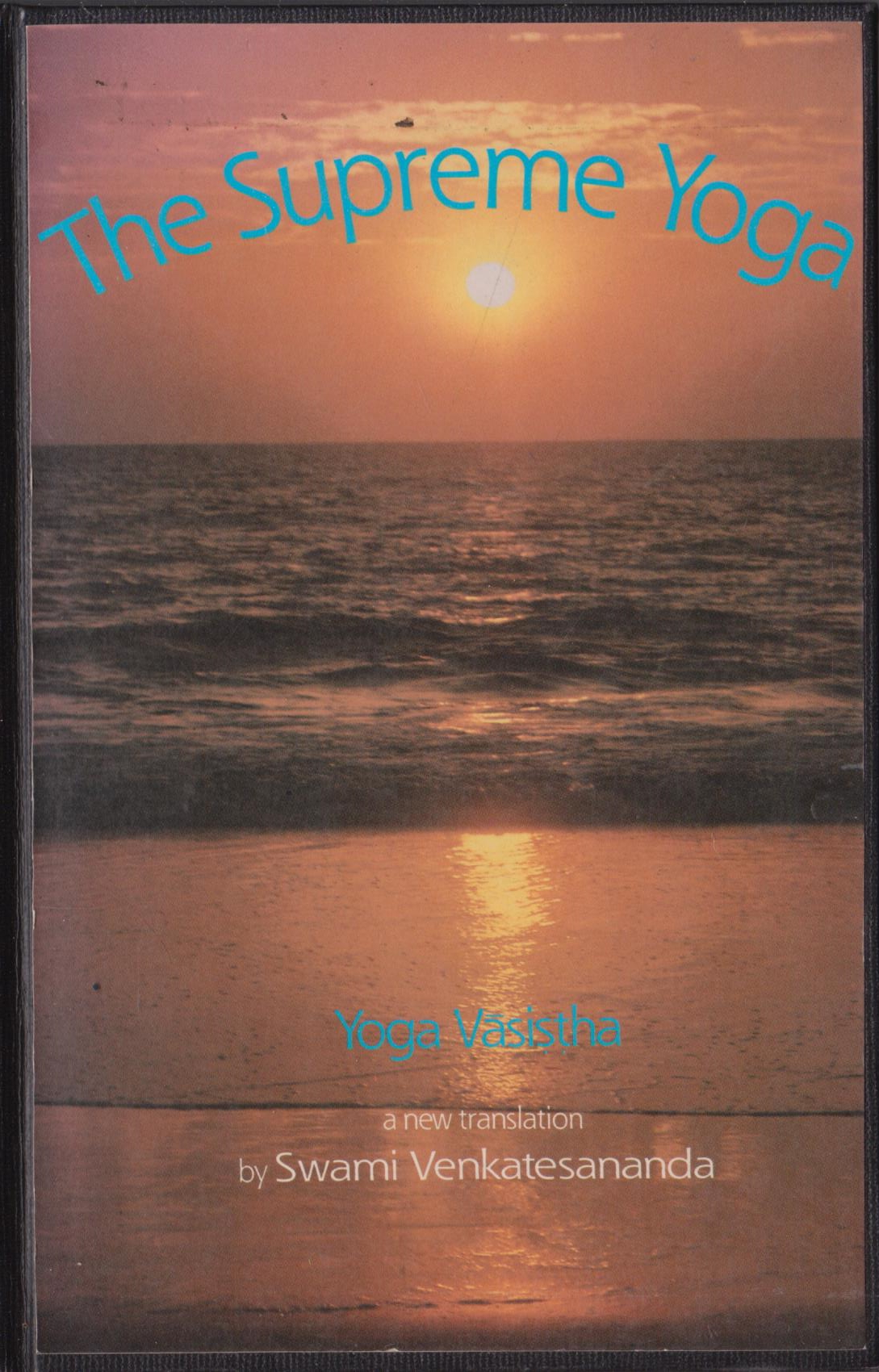 A new translation of a yoga classic.
Includes Vairagya, Mumuksu Vyavahara. Utpatti, Sthiti, Upasama, Nirvana Prakaranam.
ISBN 0959069003
hindu, indian, philoophy
VG+ hardcover, has been professionally rebound in a cloth case with illustrated covers laid down.
Gilt titled spine.
$45 C/C
Chiltern Yoga Trust 1984 third Australian edition, x 382pp.
[#5362 ]
BOUCHER Alan

The Hornstranders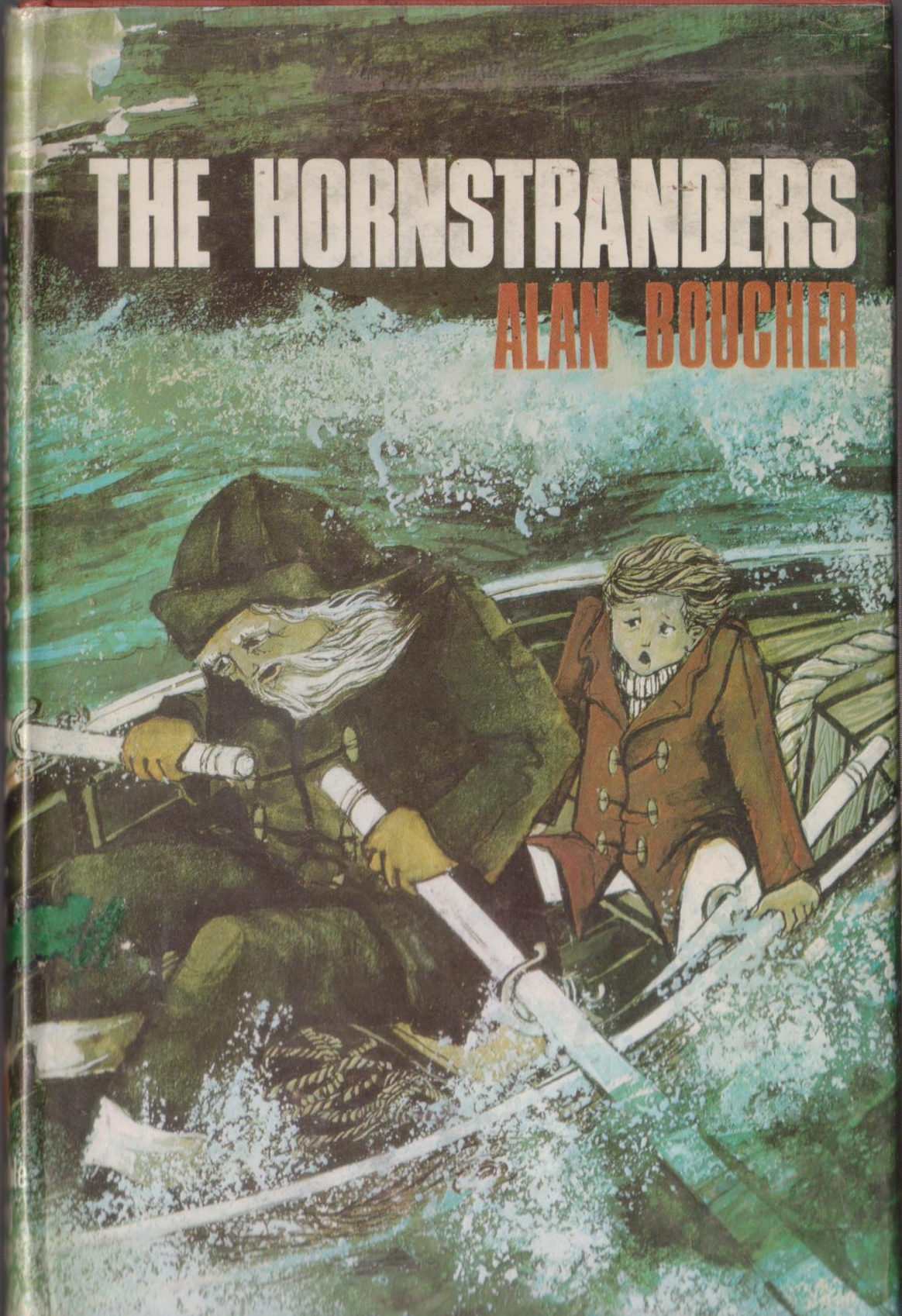 Young adult fiction set in modern Iceland.
Supernatural themes such as Trolls and Huldafolk.
G+ hardback in VG dust jacket.
Ex-library with stamps and tape etc.
Closed edges some foxing.
Price clipped jacket has small patch of discolouration to spine from label.
$15 C/B
Constable 1966 first edition, 144pp.
[#5363 ]
[ELIOT T. S.] DREW Elizabeth

T. S. Eliot, the design of his poetry.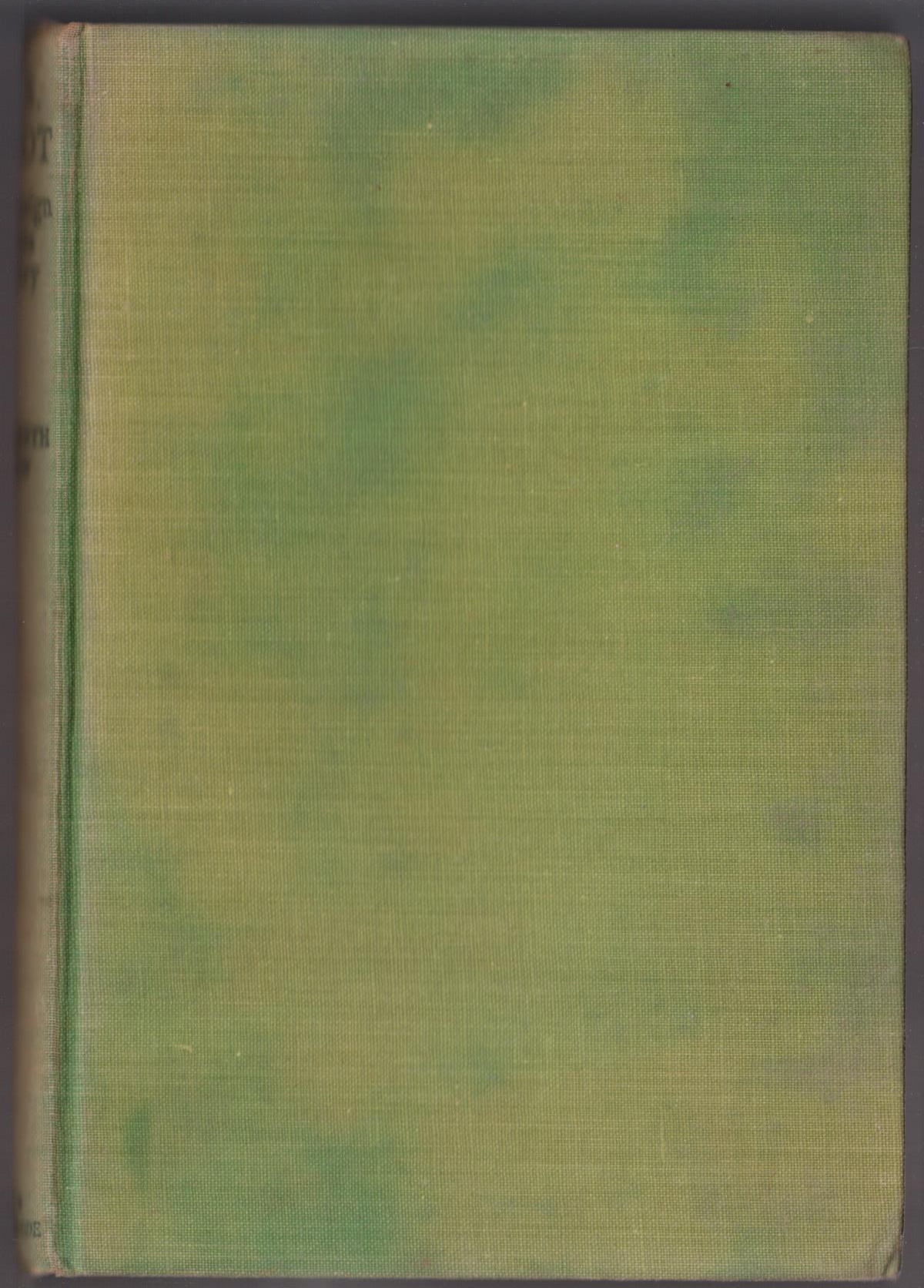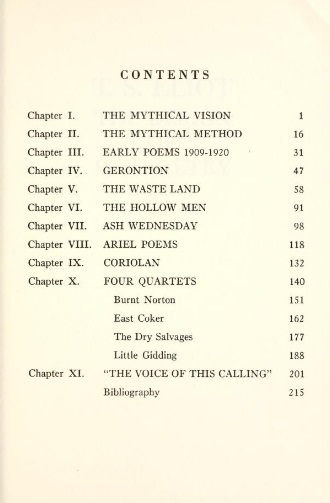 Jungian interpretation of Eliot's work.
Chapters: The mythical vision, The mythical method, Early poems 1909-1920, Gerontion, The waste land, The hollow men, Ash Wednesday, Ariel poems, Coriolan, Four quartets, "The voice of this calling."
British modern literature, criticism
G+ hardback with no jacket.
Discolouration to cloth boards, some mild foxing.
$15 C/C
Eyre and Spottiswoode 1950 first edition, 256pp.
[#5364 ]
WENTWORTH Patricia

The Listening Eye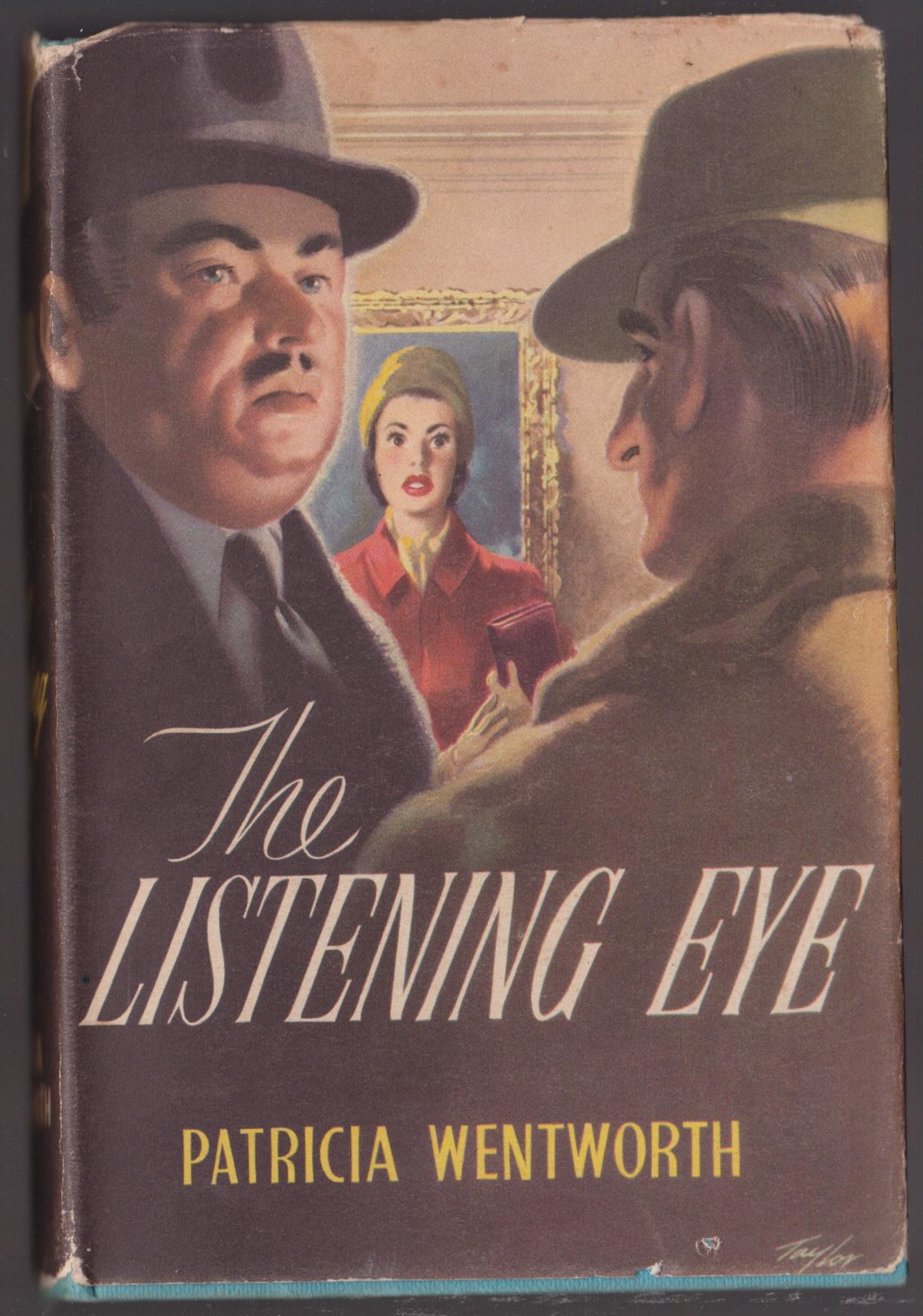 A Miss Silver Mystery.
Cover art by Taylor.
VG hardback in VG- dust jacket with some wear to edges and corners.
$10 C/B
Thriller Book Club undated, 255pp.
[#5365 ]
PREBBLE John

Mongaso, Man who is always moving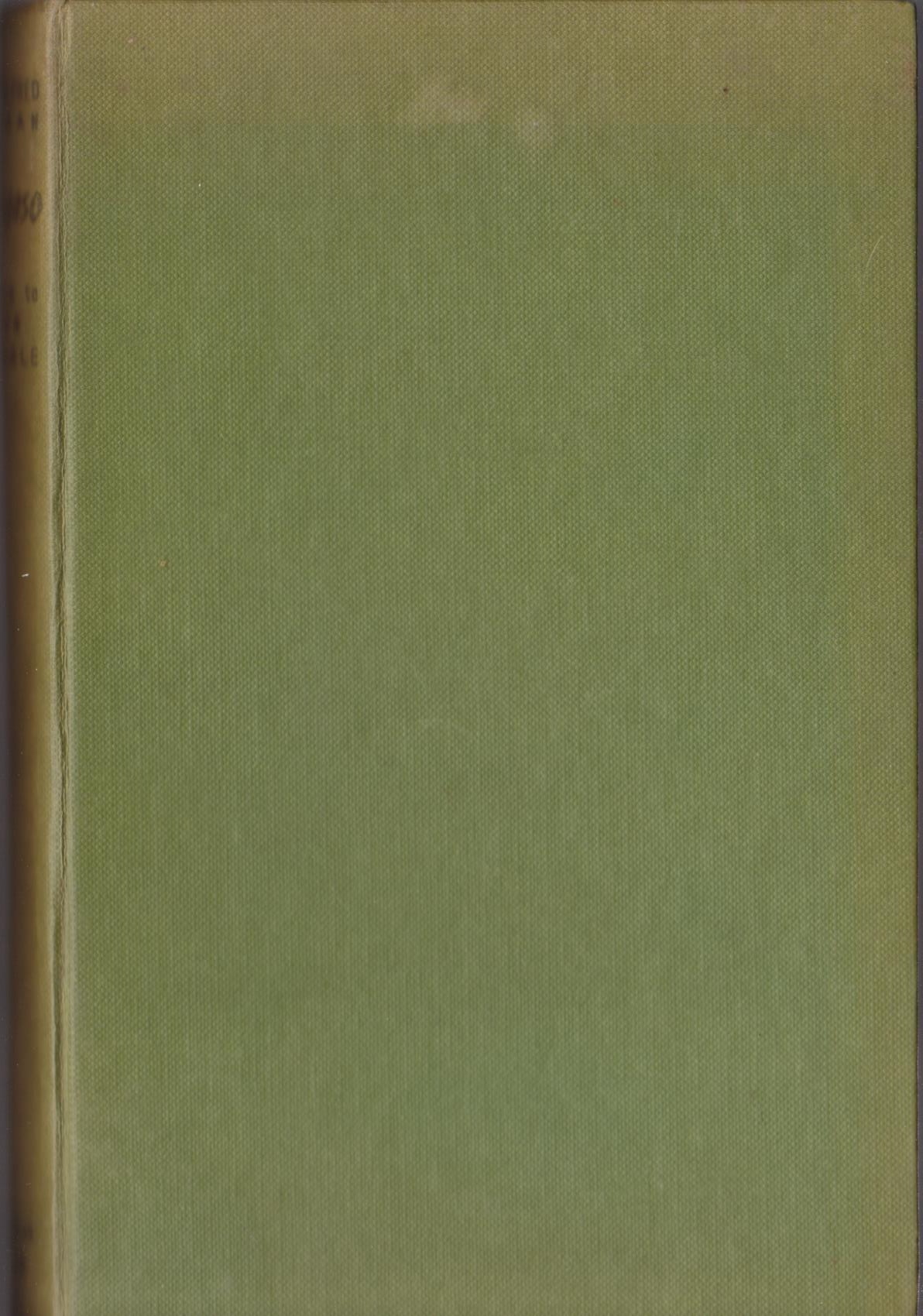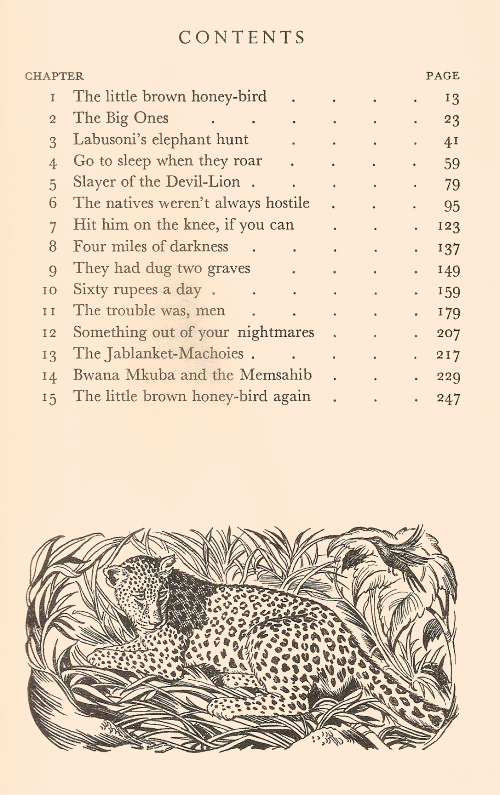 The Story of an African hunter, John Alfred Jordan.
Jordan started his African adventure before the Boer War, and hunted Elephant for ivory, and crocodiles for pleasure.
Uganda, Belgian Congo, natives
G+ hardback with no jacket.
Some minor foxing.
$35 C/C
Nicholas Kaye 1956 first edition, 248pp. Illustrated
[#5366 ]
HOWARD Hartley

Room 37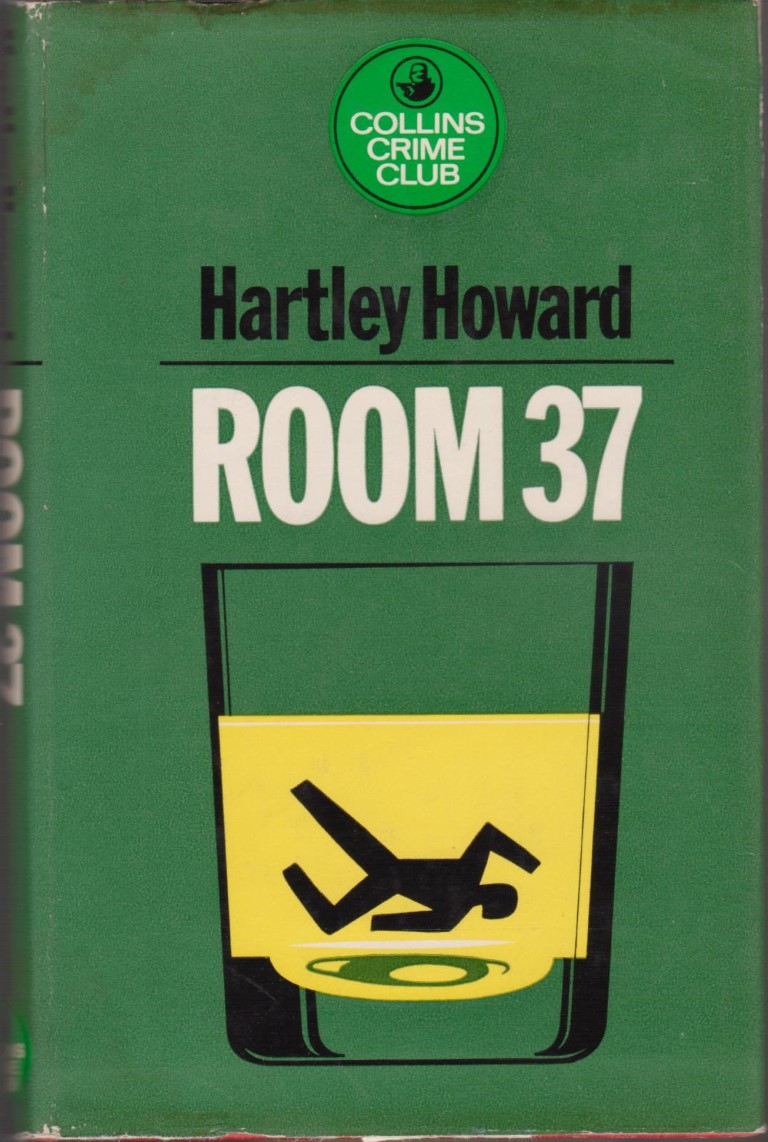 A Glenn Bowman thriller.
ISBN 0002317052
G+ hardback in VG- dust jacket.
Ex-library with stamps and issue slips etc.
Jacket price clipped.
$15 C/B
Collins 1970 first edition, 192pp.
[#5367 ]
LAW William

A Serious Call to a Devout and Holy Life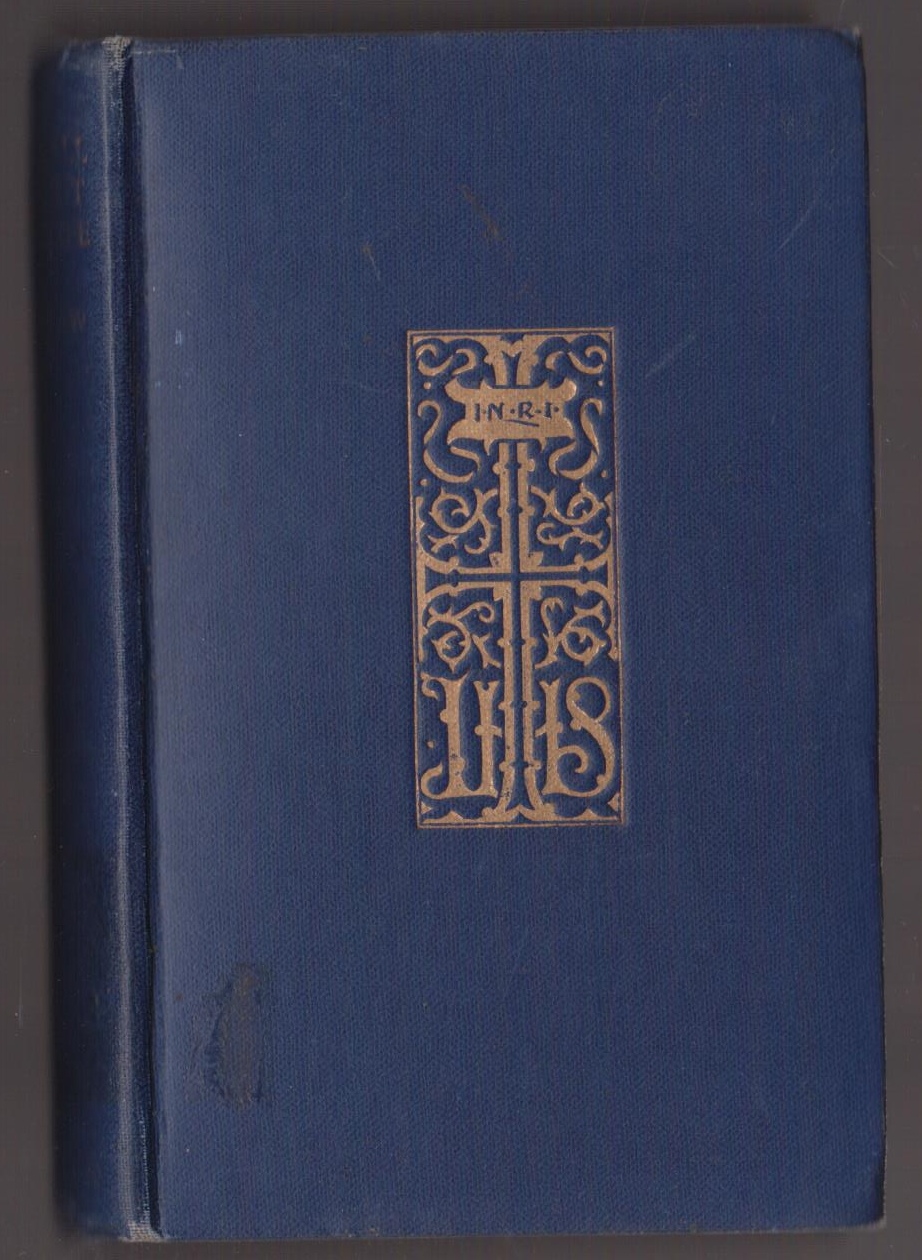 Adapted to the state and condition of all Orders of christians.
christian devotional
G+ hardback, creased lower board with cracked endpaper, name to fep, light foxing to endpapers.
$15 C/B
Methuen 1950 seventh edition, cloth 16mo, xliv 499pp.
[#5368 ]
WILLIAMS Francis

Magnificent Journey, The Rise of the Trade Unions.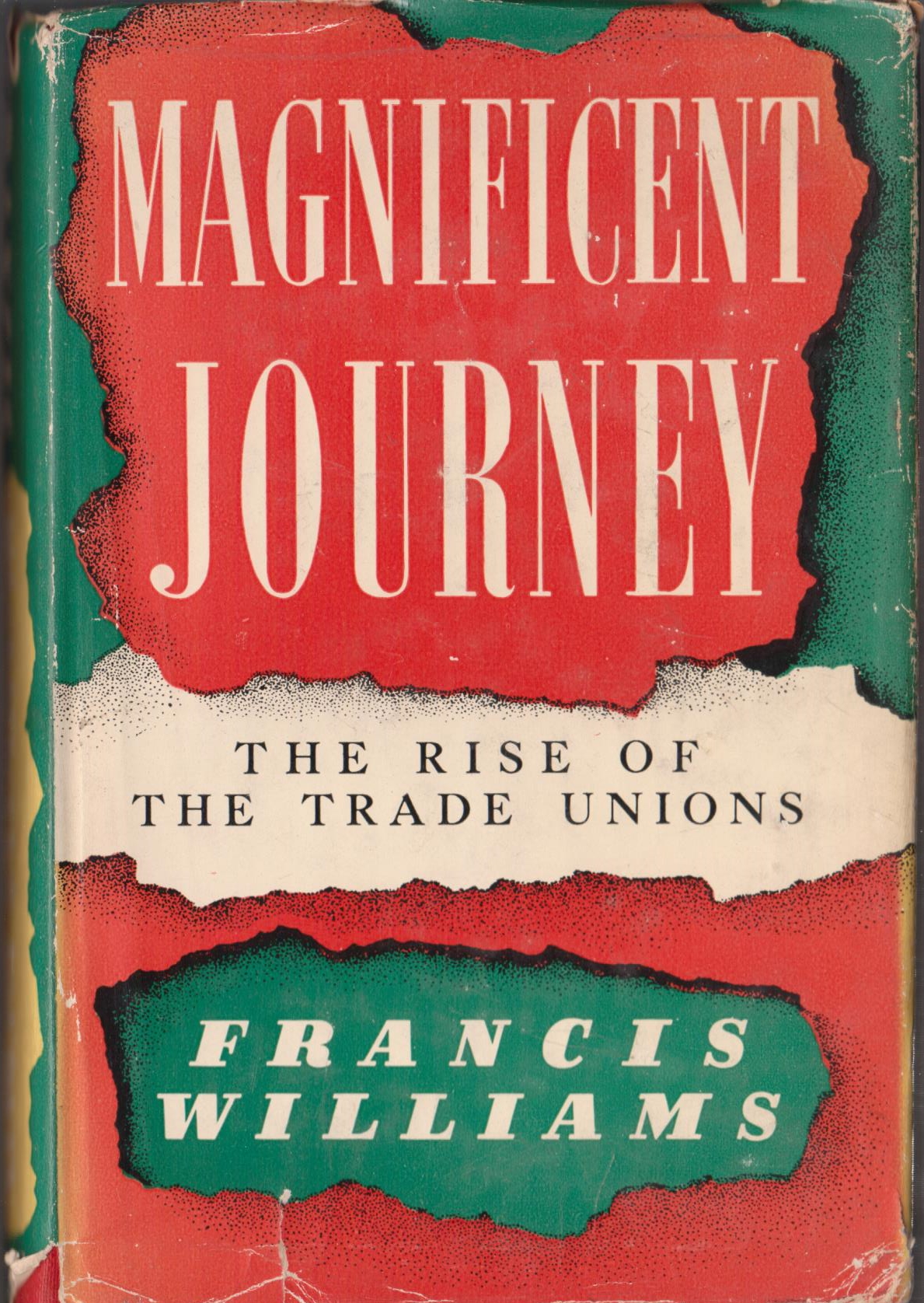 Complete history of the founding of the British Trade Unions, covering up to the 1950s.
employment, civil rights
VG- hardback in G+ dust jacket with edge wear and chipping .
Light foxing to book, soiled closed edges.
$25 C/C
Odhams 1954 first edition cloth, 448pp.
[#5369 ]
BROWN Carter

Curves for a Coroner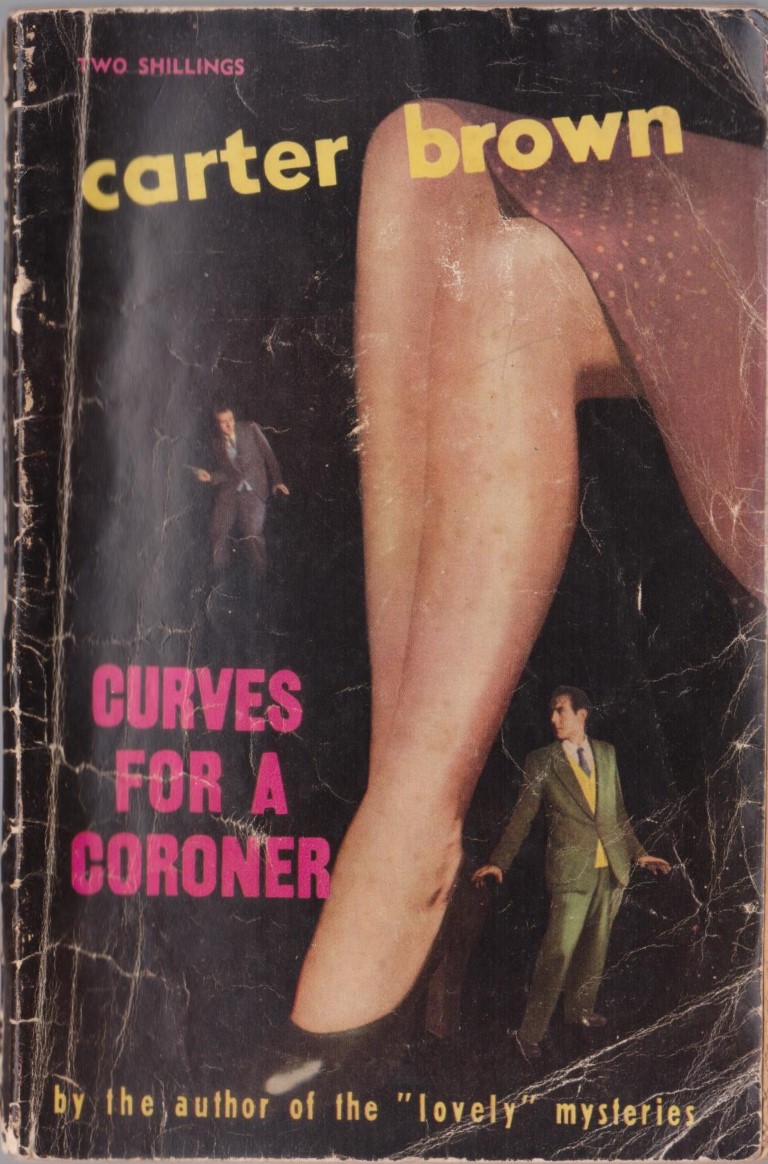 A "Lovely Mystery".
Eight other titles listed at the front.
G+ softcover digest, newsprint paper stock, some edge wear.
$75 C/B
Horwitz / Transport Publishing, Sydney, 1955 first edition(?), 98pp.
[#5370 ]
REA-TAYLOR Bruce

Corps Commander rules; OMG ( Operational Manoeuvre Group )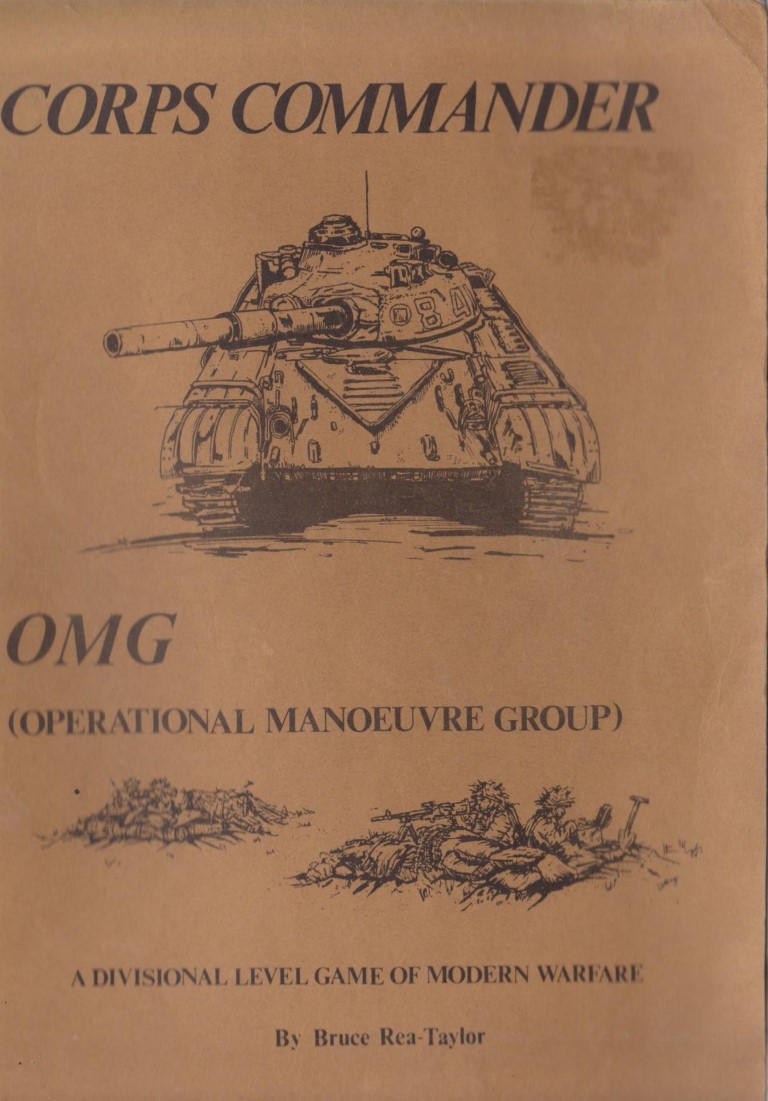 Wargaming rules book for a divisional level game of modern warfare.
Includes folding sheet of tables and charts.
wargaming, tabletop games
VG- softback.
$25 C/B
Self published by B. A. Rea-Taylor and A. Ashton 1986, stapled wrappers, 100pp.
[#5371 ]
REDFIELD James

The Celestine Prophecy, an adventure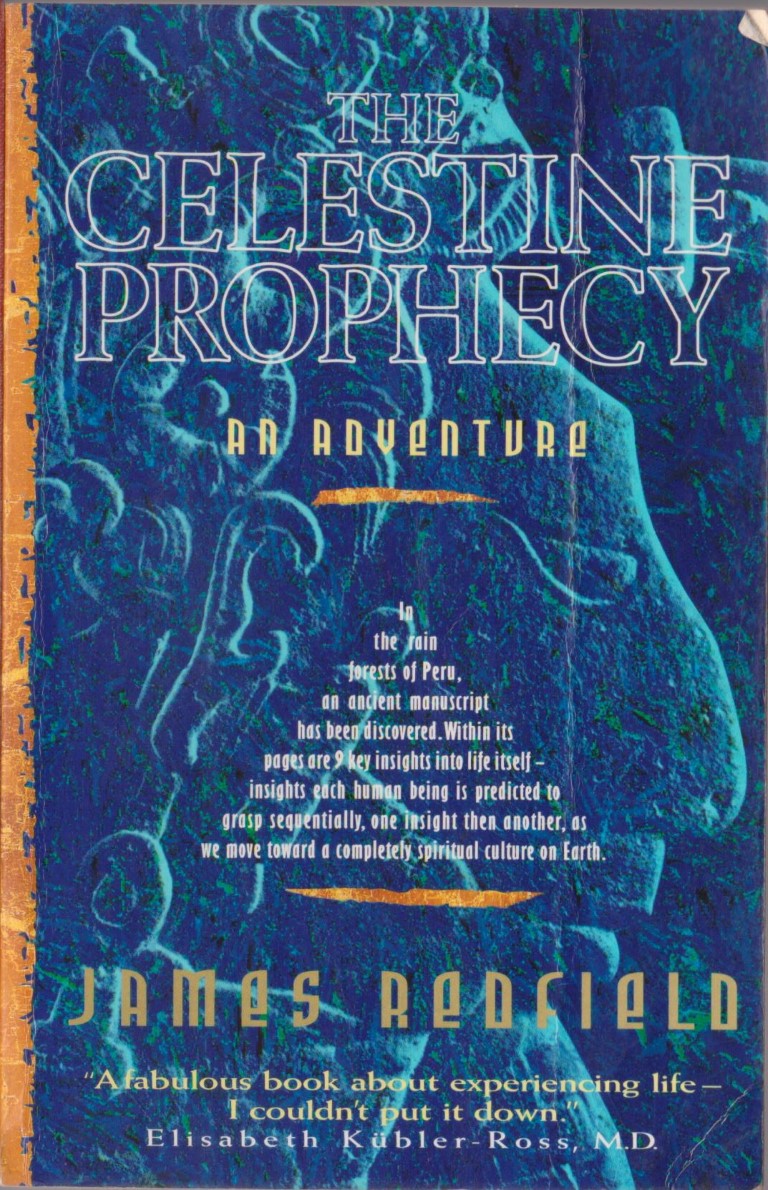 Drawing on the ancient wisdom found in a Peruvian manuscript, The Celestine Prophecy tells you how to make connections between the events happening in your own life right now...and lets you see what is going to happen to you in the years to come.
ISBN 1863593195
new age
G+ softback
$7 C/B
Bantam, 247pp.
[#5372/638 ]
[SPILSBURY] BROWNE Douglas G. and E. V. TULLETT

Bernard Spilsbury, His Life and Cases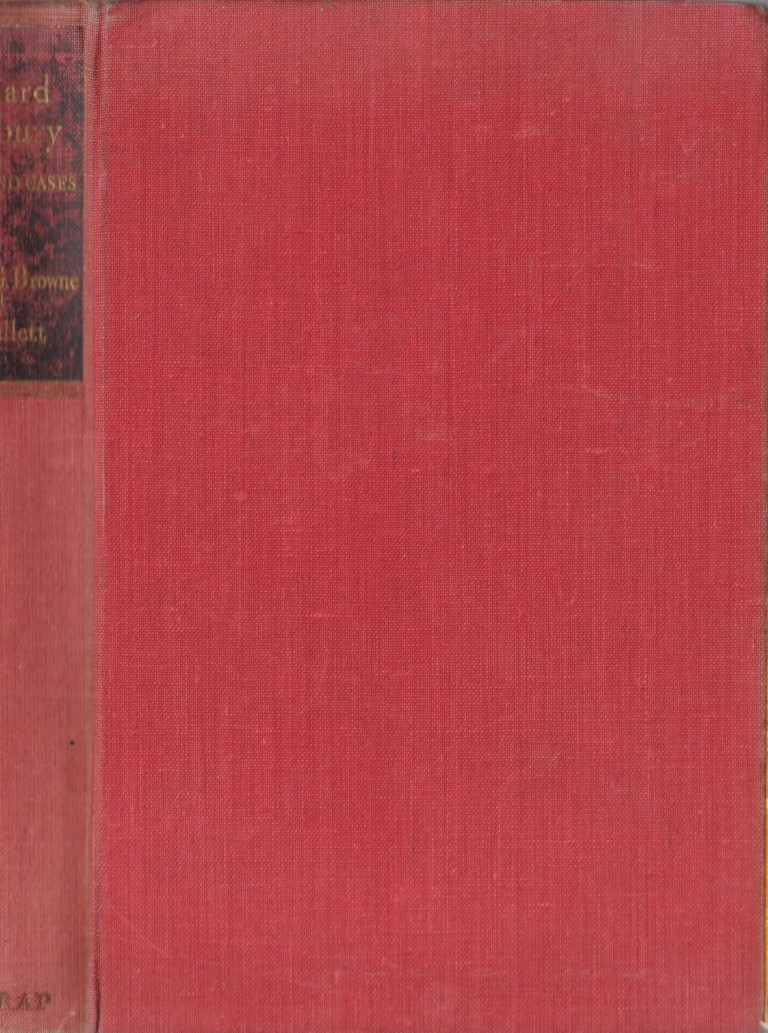 Biography and case studies of one of the foremost Criminal Pathologists of modern times.
Includes such infamous cases as; Hawley Harvey Crippen, The Brides in the Baths murders, Bonati Charing Cross Trunk case and more.
twentieth century, criminology, murder, pathology
G+ hardback with no jacket.
Rear hinge cracked, name whited out to free end paper, cloth boards rubbed, light spotting.
$20 C/C
Harrap 1951 first edition, 422pp + plates.
[#5373 ]
CASTANEDA Carlos

Tales of Power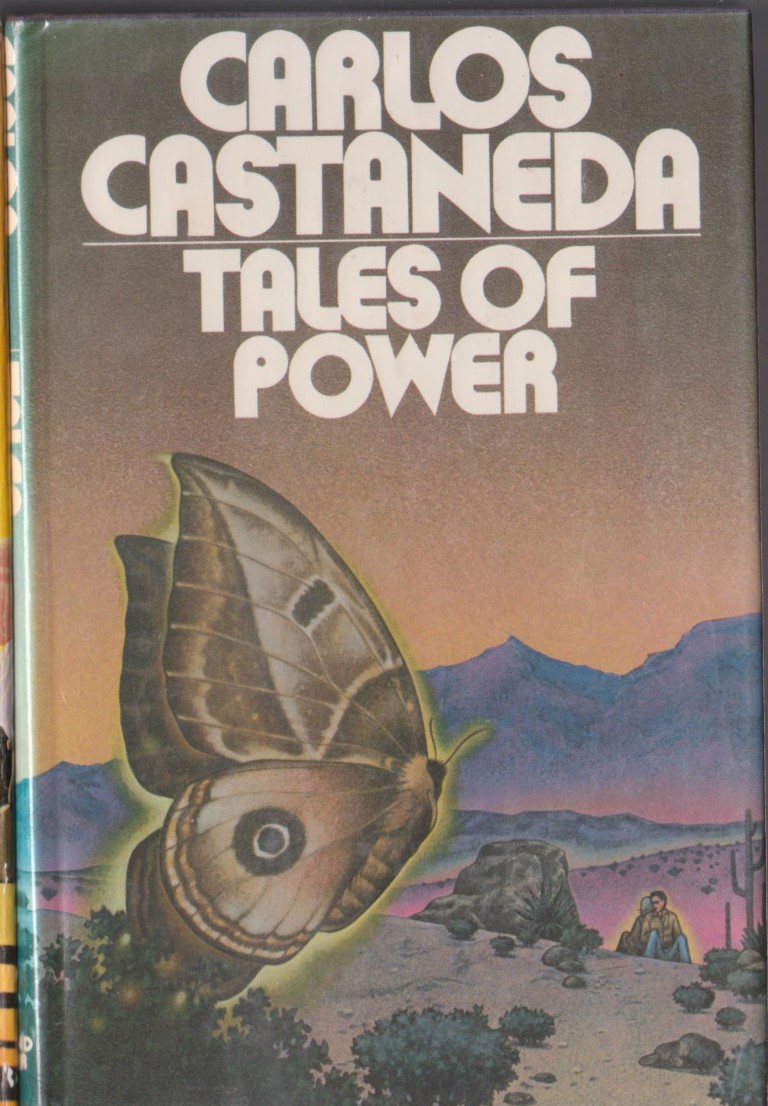 Yaqui shaman Don Juan divulges his teaching to Castaneda.
The main focus of this book, the fourth in Castaneda's Don Juan series, is the distinction between the sorcerer's world and the everyday world.
ISBN 0671218581
comparative religion, shamanism, amerindian
VG- hardback in VG- dust jacket with sunned spine.
Book has minor tape residue to paste downs and board edges, name stamp to fep and title.
$20 C/C
Simon and Schuster 1974 first edition, cloth, 287pp.
[#5374 ]
CASTANEDA Carlos

The Second Ring of Power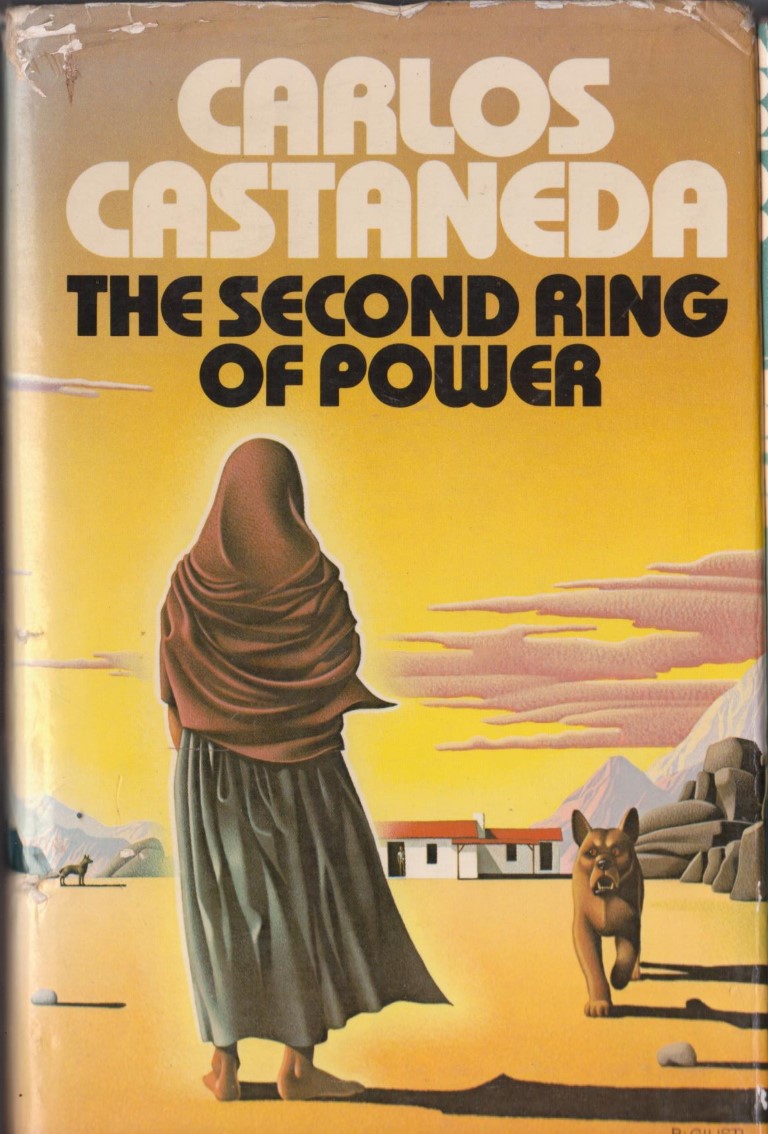 Yaqui shaman Don Juan divulges his teaching to Castaneda.
Teachings on religion and mythology and the use of hallucinogenic drugs in shamanic context.
ISBN 0340228350
comparative religion, shamanism, amerindian
VG hardback in a VG- price clipped dust jacket with some rubbing and chipping to top edge.
$20 C/C
Hodder 1978, 316pp.
[#5375 ]
SMITH P. R.

The Story of Australia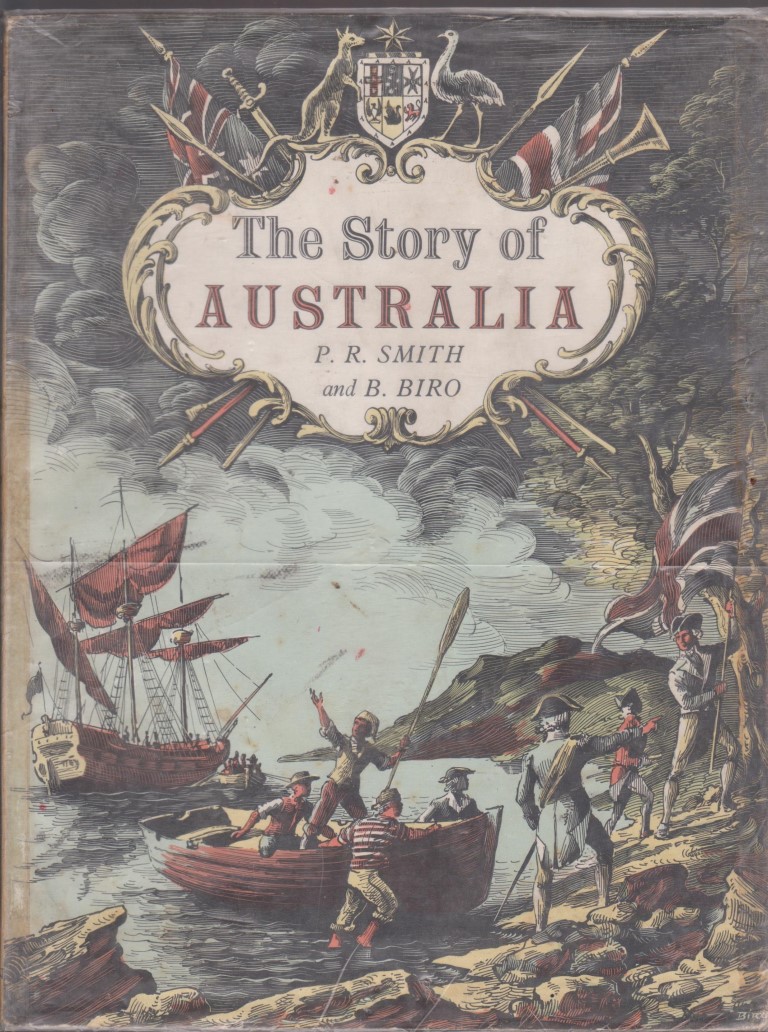 An introduction to Australian history and culture. Part of the Stories of the Commonwealth series.
Illustrated throughout and with the dust jacket by B. Biro.
keywords
G+ hardback in G+ dust jacket.
Book has foxed endpapers and prelims, offset tape stains to boards (minor), light bumping to bottom edge of boards.
Jacket has tape stains to verso and tape residue to spine and fore edge folds where tape has dried and flaked off, better than it sounds!
$15 B/C
Ernest Benn 1959 first edition 4to, 64pp.
[#5376 ]
SIEBEN Hubert (photographer)

Tahiti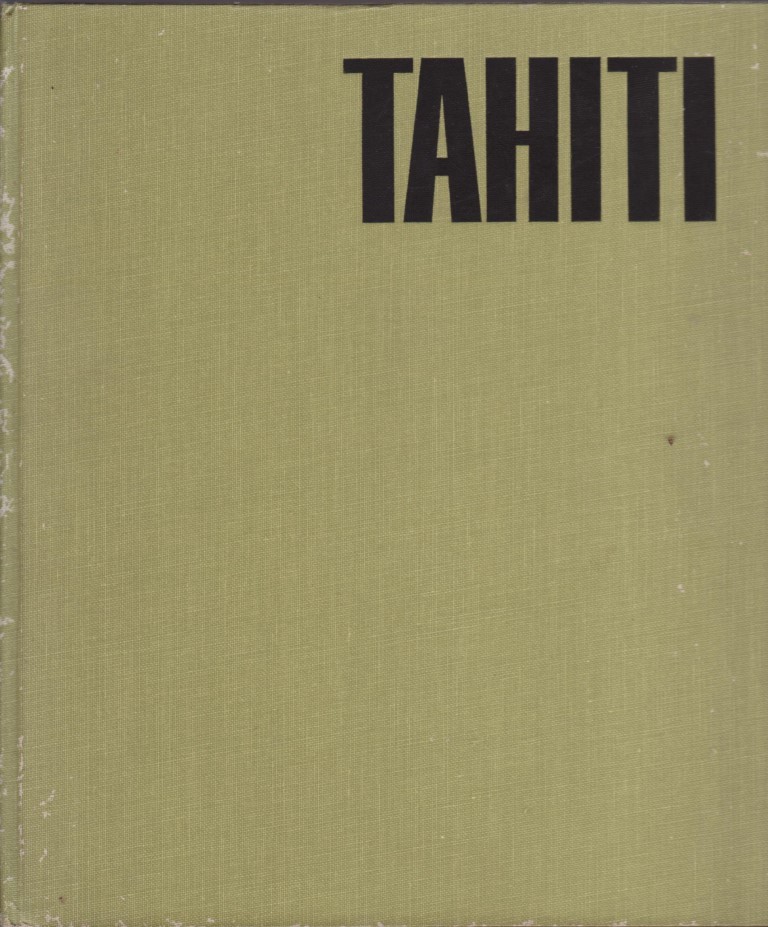 Consists mainly of full page full colour photographs with an emphasis on young Tahitian maidens unclothed.Probably intended as a souvenir for tourists.
polynesia, photography, french polynesia
G+ hardback with some silverfish surface damage to spine, no jacket.
$10 B/C
Seven Seas 1965 first edition, approx 120pp
[#5377 ]
BATESON Charles

Dire Strait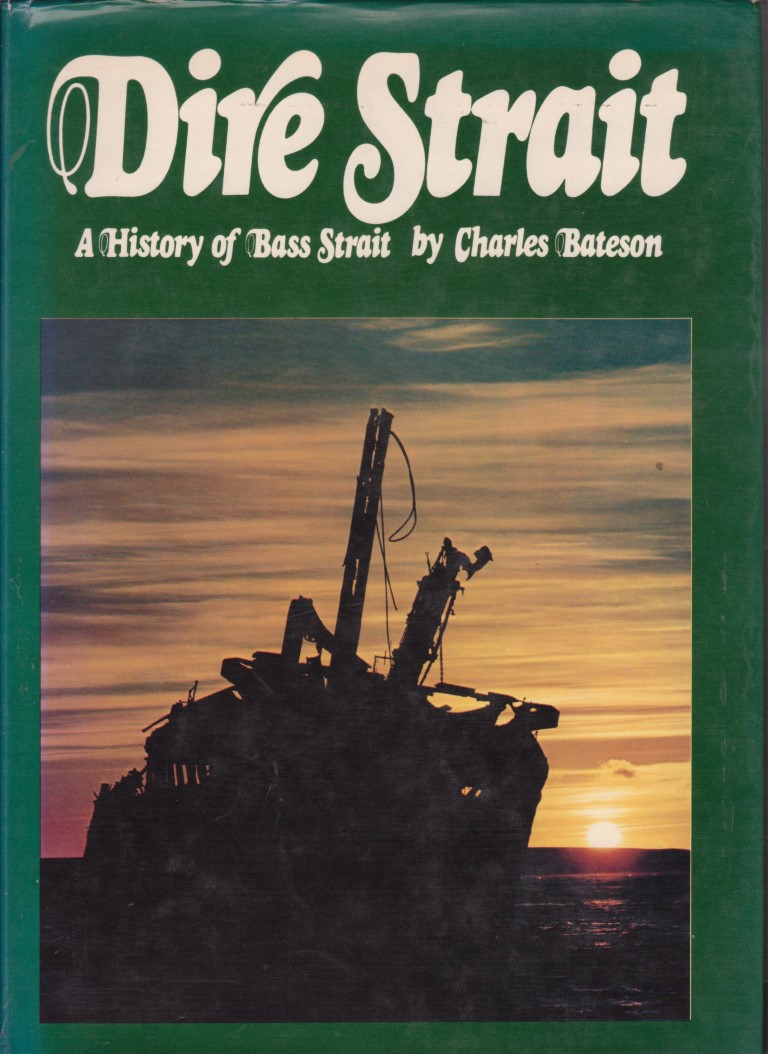 A history of Bass Strait, well illustrated with full colour full page photographs as well as historic paintings etc.
ISBN 0589071165
australasia, Broken Hill Propriety Company, BHP, Tasmania
VG hardback in VG dust jacket.
$15 B/C
Reed 1973 first edition 4to, 112pp
[#5378 ]
CLARKE Peter

Hell and Paradise, the Norfolk- Bounty- Pitcairn Saga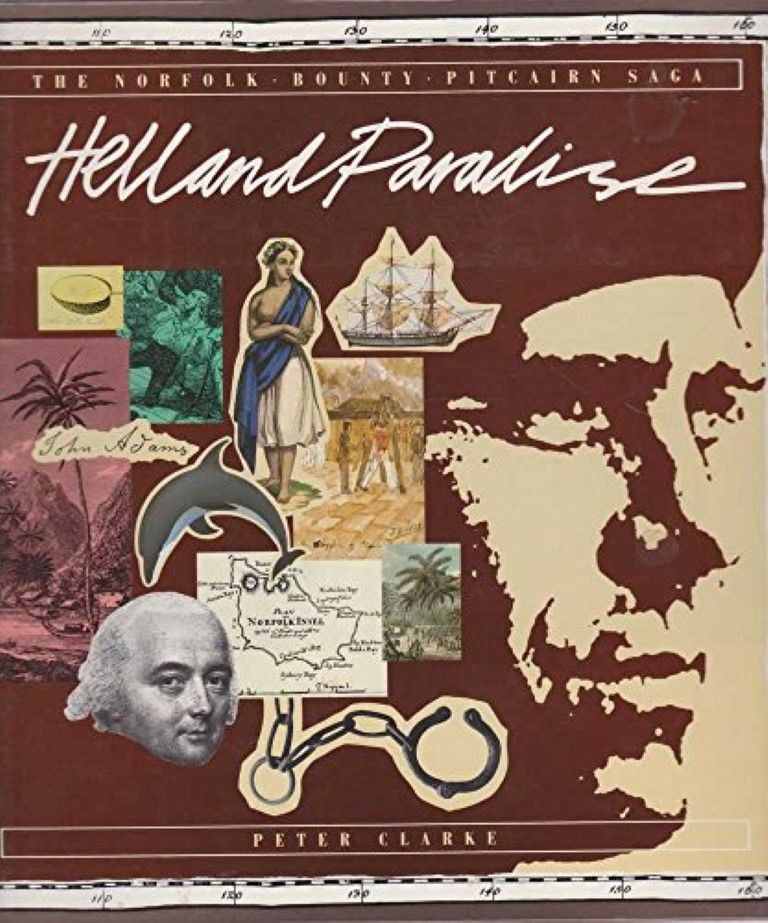 History of the island settled by the Bounty mutineers and their Tahitian concubines, and the convict island where Australia's worst were sent.
Fully illustrated throughout in colour and line.
ISBN 0670815217
Fletcher Christian, Admiral Bligh, pacific islands
VG hardback in VG dust jacket.
$20 B/C
Viking 1986 first edition 4to, 189pp.
[#5379 ]
HUTCHINS Maude

A Diary of Love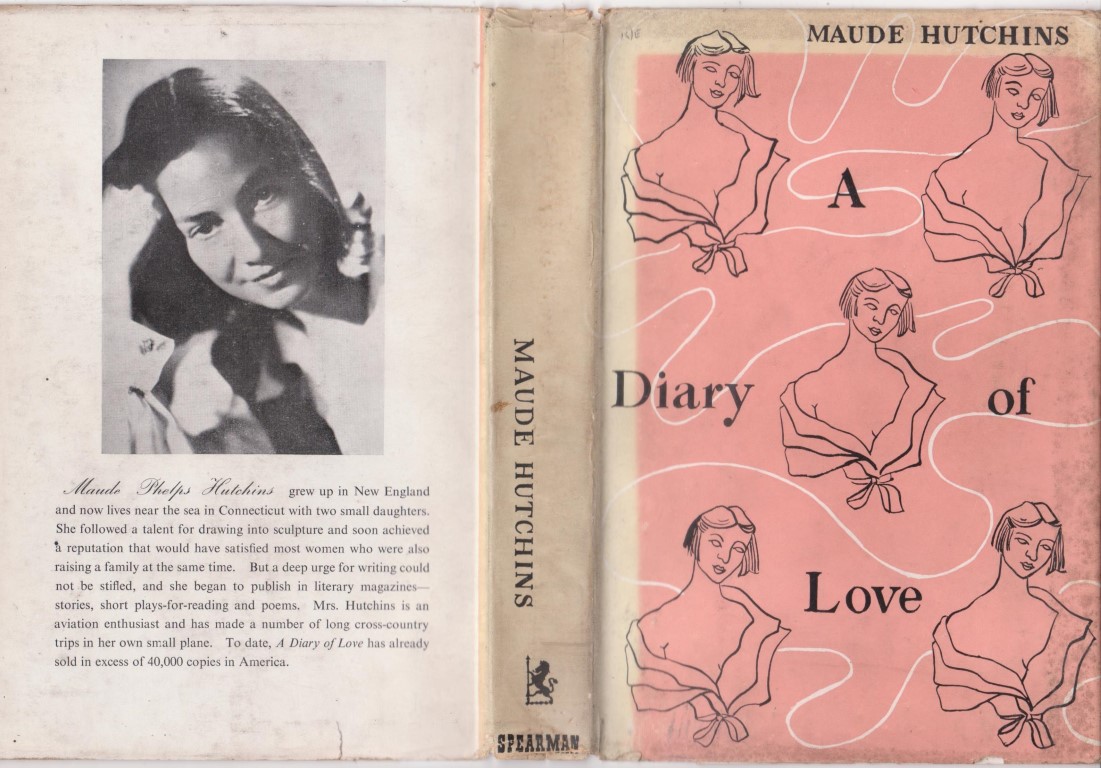 A coming of age novel concerning a young girl on a country estate.
VG hardback in G dust jacket with spine sunned, soiled, edge chipping, closed edges dusty.
$25 C/B
Spearmann 1953 first UK edition, 186pp.
[#5380 ]
COZZENS James Gould

By Love Possessed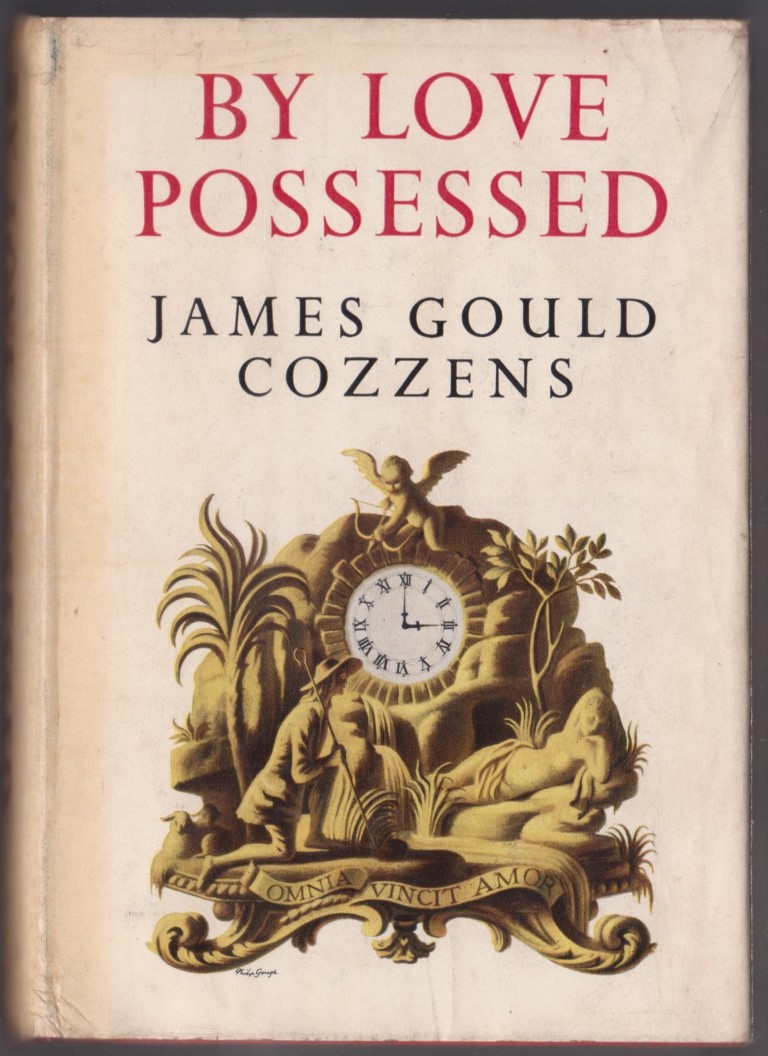 The story follows 49 hours in the life of a small town attorney.
This award winner was also nominated for a Pulitzer Prize.
Turned into a feature film in with Lana Turner.
VG hardback in VG- unclipped dust jacket, soiled to spine, light edgewear.
Book closed edges dusty.
$10 C/C
Longmans 1958 first UK hardcover, 570pp.
[#5381 ]
HIGH Philip E.

Invader On My Back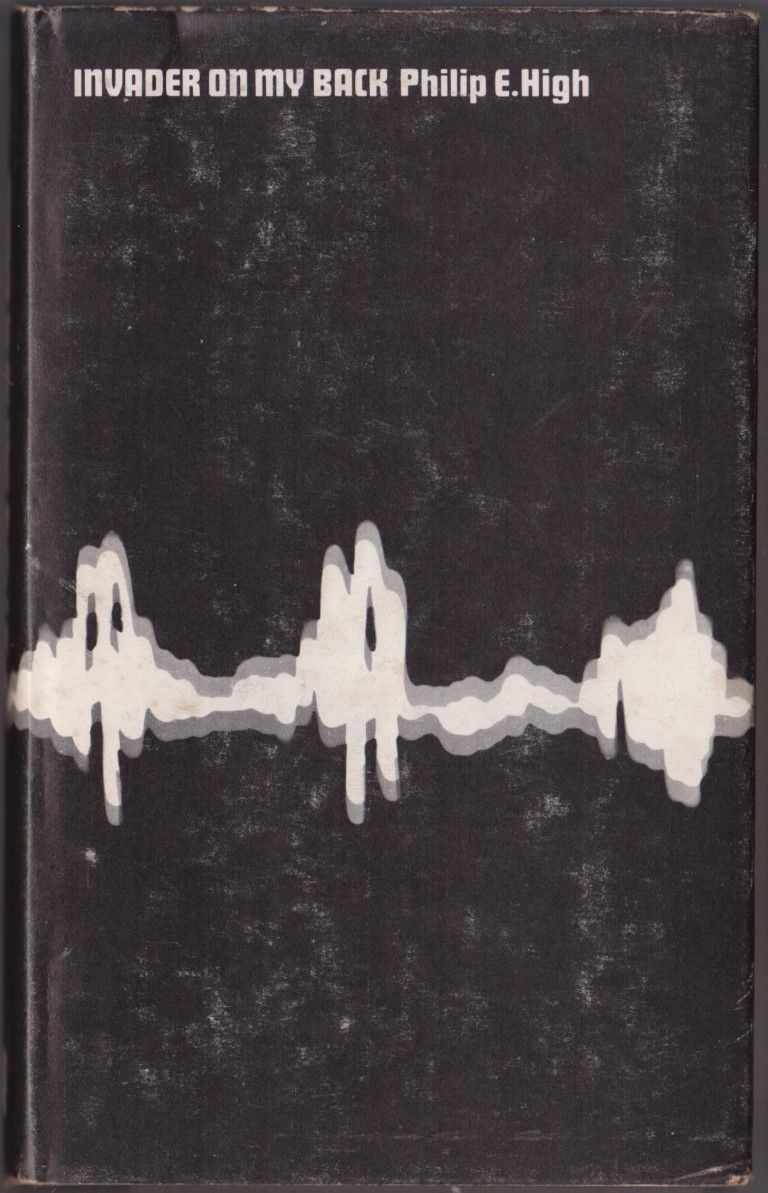 In a dystopian future, one man holds the key to remedy the ills that plague the society that has rejected him.
VG hardback with VG dust jacket.
Top of fep clipped, top edge foxed.
$10 C/B
Science Fiction Book Club 1969 first thus, 176pp.
[# 5382]
WRIGHT Lt Cmdr Bruce S.

The Frogmen of Burma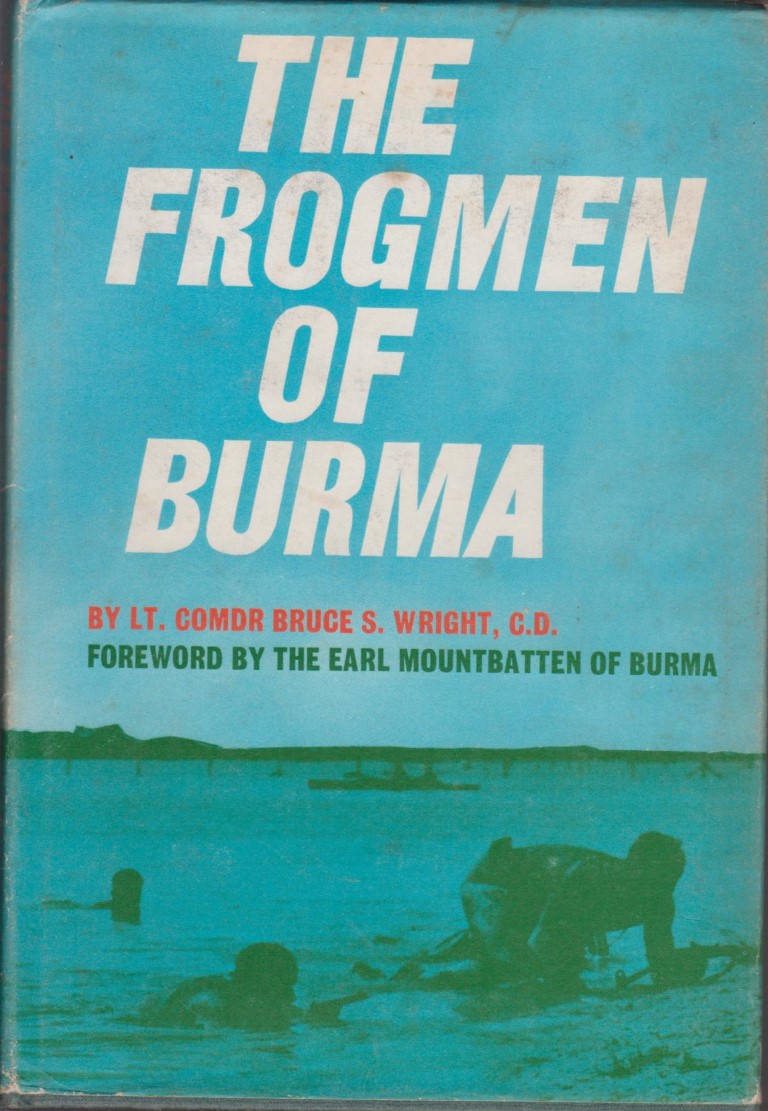 The Story of the Sea Reconnaissance Unit.
Second World War amphibious commandos against the Japanese.
WWII, Pacific, S E Asia
VG hardback with VG- dust jacket with light wear and soiling.
$20 C/C
William Kimber 1970 first edition hardcover, 168pp + plates.
[#5383 ]
© Fortuna Books (NZ).