Minimum order $20 value excluding postage.
LATEST ARRIVALS, RECENT LISTINGS

Some of these items may have been sold, as this list is an indication of our new stock entries only and is not updated when items are sold until we delete old entries quarterly.

All these fortunabooks.com prices are in New Zealand dollars, and there is a minimum order required of NZD$20 excluding postage.
Recent uncataloged stock CLICK HERE
Some non-book items (board games, movies) CLICK HERE
18/8/2019ev
PEACOCKE Isabel Maude

Sand Playmates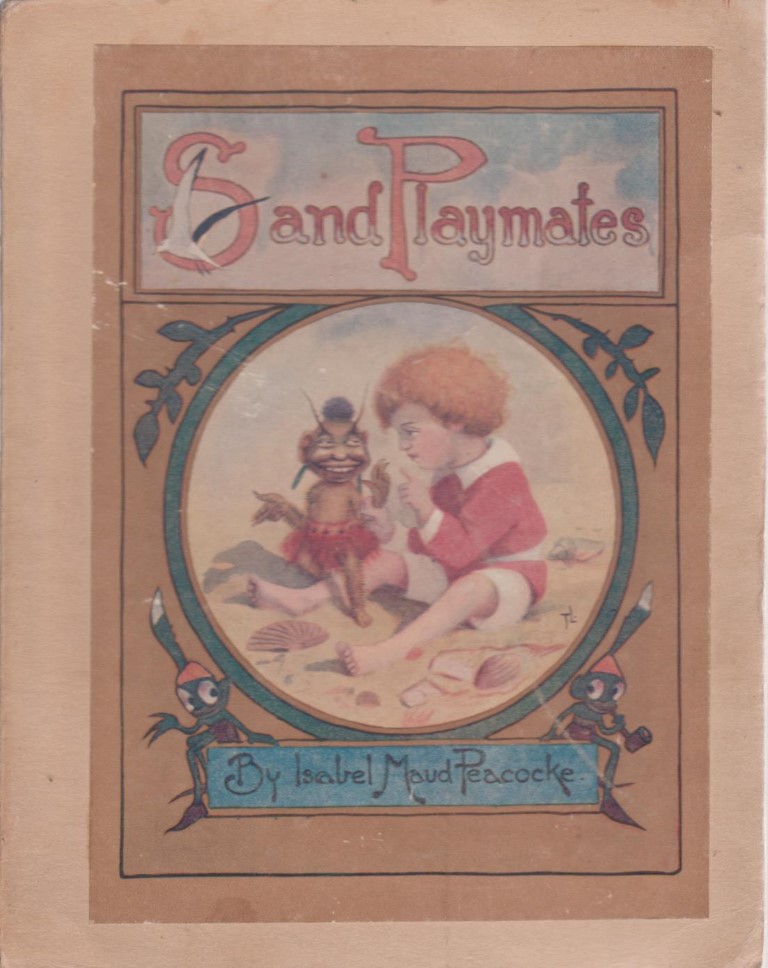 An illustrated children's story by Auckland born and raised author.
Illustrated in line and with colour and black and white plates by Trevor Lloyd.
new zealand, vintage, illustrated, collectable childrens book
VG softback, name to first page.
$45 C/A
Whitcombe and Tombs, (1921) First Edition, 51pp+ plates.
[#4158 ]
PEACOCKE Isabel Maude

The Sand Babies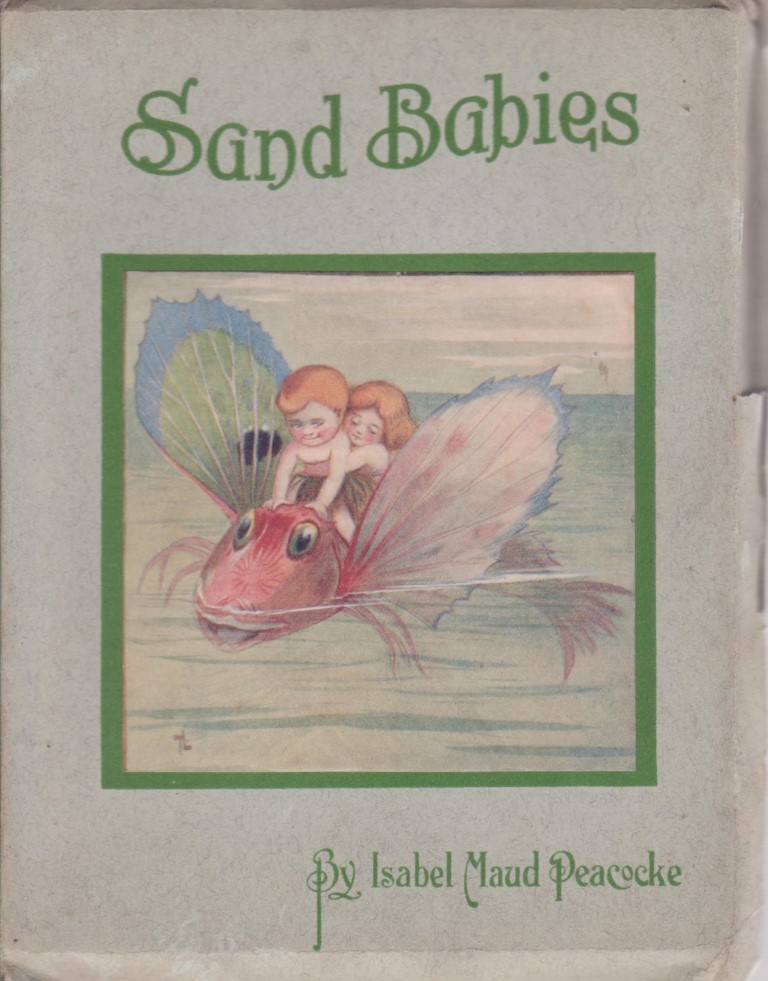 An illustrated children's story by Auckland born and raised author.
Illustrated in line and with colour and black and white plates by Trevor Lloyd.
new zealand, vintage, illustrated, collectable childrens book
VG softback, name to first page.
$45 C/A
Whitcombe and Tombs, (1921) First Edition, 44pp+ plates.
[#4159 ]
GLEN Esther

Twinkles on the Mountain.
In one of the two fantasy stories in this rare early New Zealand children's book, fairies wave banners of peace after the carnage of the First World War.
Illustrated in line and with colour plates by Daisy Osborn.
'Lady Gay', new zealand juvenile fiction
G- softback, with heavy silverfish wear to rear wrapper and spine and edges.
$45 C/A
L. M. Isitt (1920) first edition, 49pp+ plates.
[#4160 ]
McCLUNIE Alister

The Enchanted Packman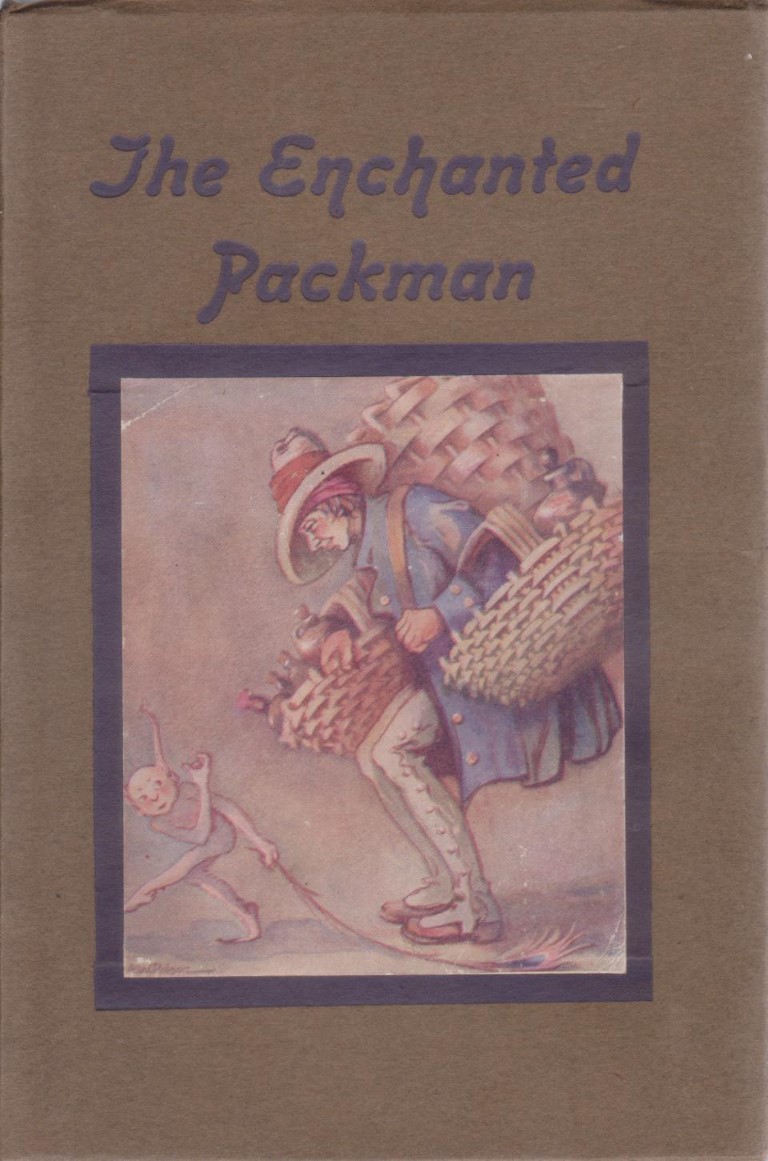 Fairys, Wizards, castles, romance and marriage.
Illustrated in line and with colour plates by Alice Polson.
fairy tales, new zealand, vintage, children's book
VG softback wirh card wrappers over card covers.
$45 C/A
Whitcombe and Tombs undated (circa 1920) First Edition, 127pp+ plates.
[#4161 ]
ELVY W. J.

Kei Puta te Wairau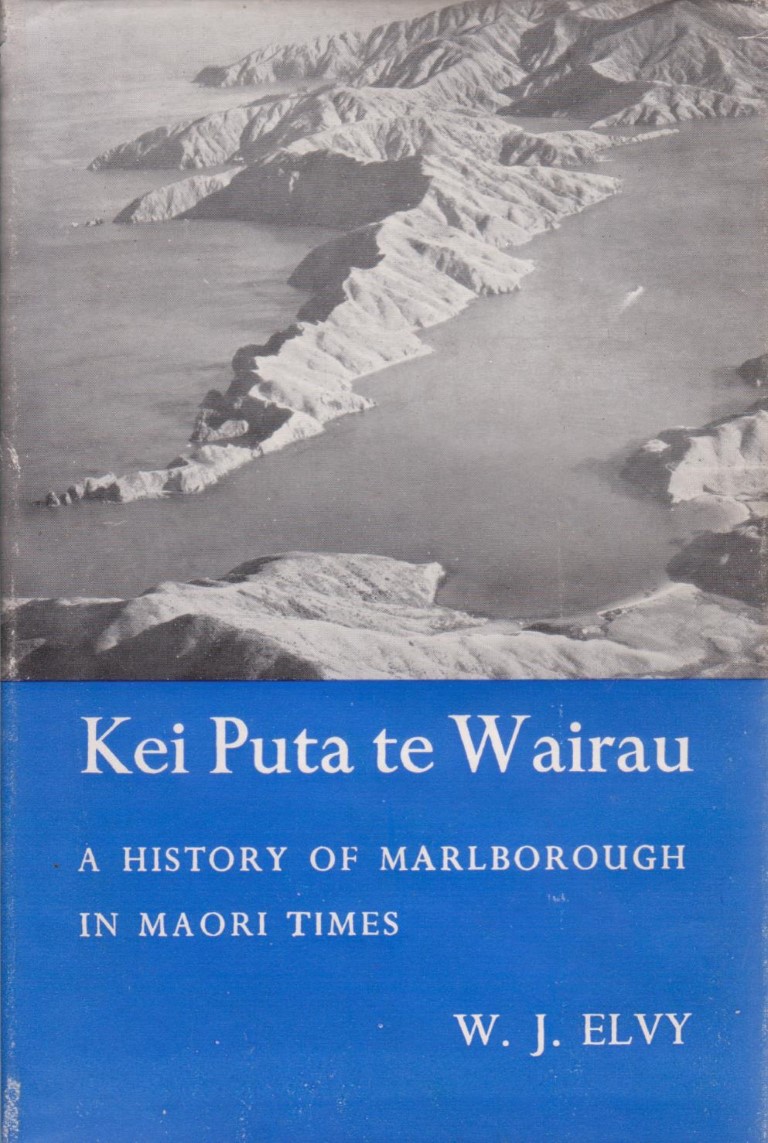 A History of Marlborough in Maori Times.
Tory Channel, Pelorus Sound, Titirangi, Quenn Charlotte Sound, Okiwi Bay, Tuna Bay
VG hardback in VG dust jacket
$45 C/A
Whitcombe and Tombs 1957 first edition, 120pp + plates.
[#4162 ]
NATUSCH Sheila

Hell and High Water
A German Occupation of The Chatham Islands 1843 - 1910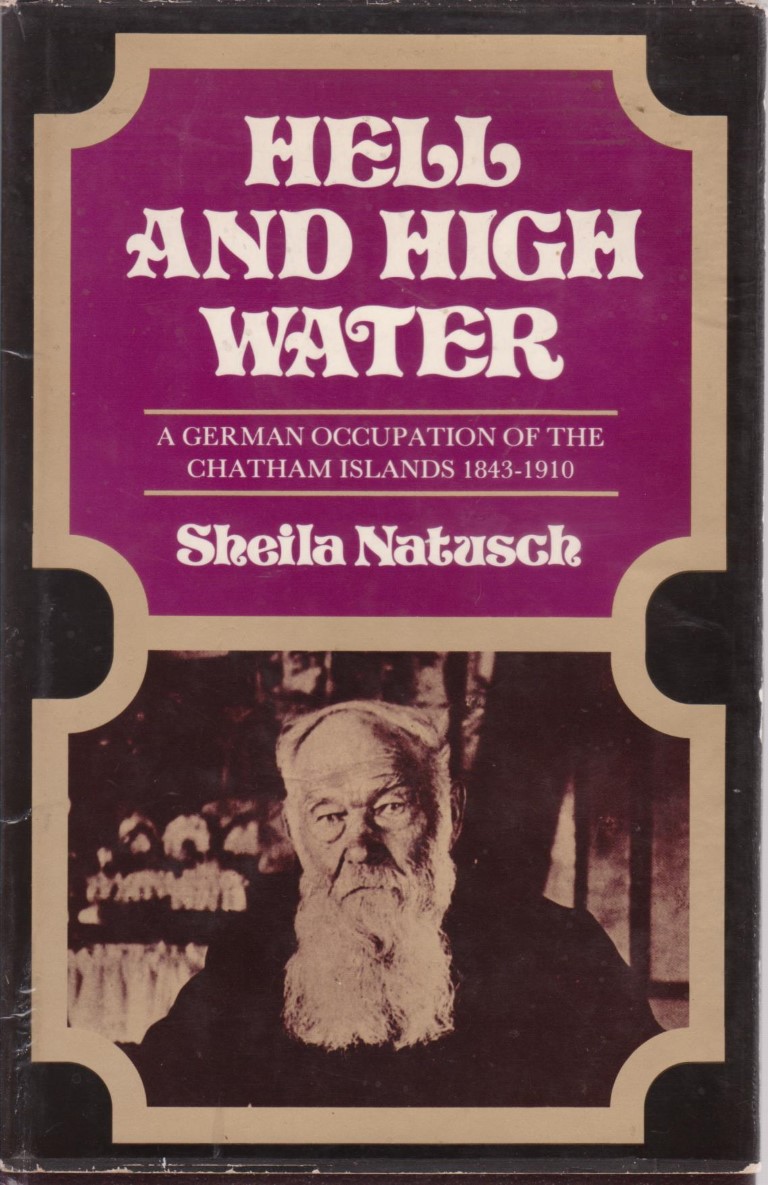 The story of German Missionaries on the Chatham Islands and their tribulations with the natives.
ISBN0908568037
Moriori, missionary, Te Kooti, Te Minita Tika, J H Baucke, Johan Gottfried Engst, Wharekauri, Hau-Hau
VG hardback in VG- dust jacket, with sunned spine.
$75 C/C
Pegasus Press 1977 first edition, 174pp + plates.
[#4163 ]
17/8/2019ev
MIGNOT Andre translated by Peter Fleming

Tibetan Marches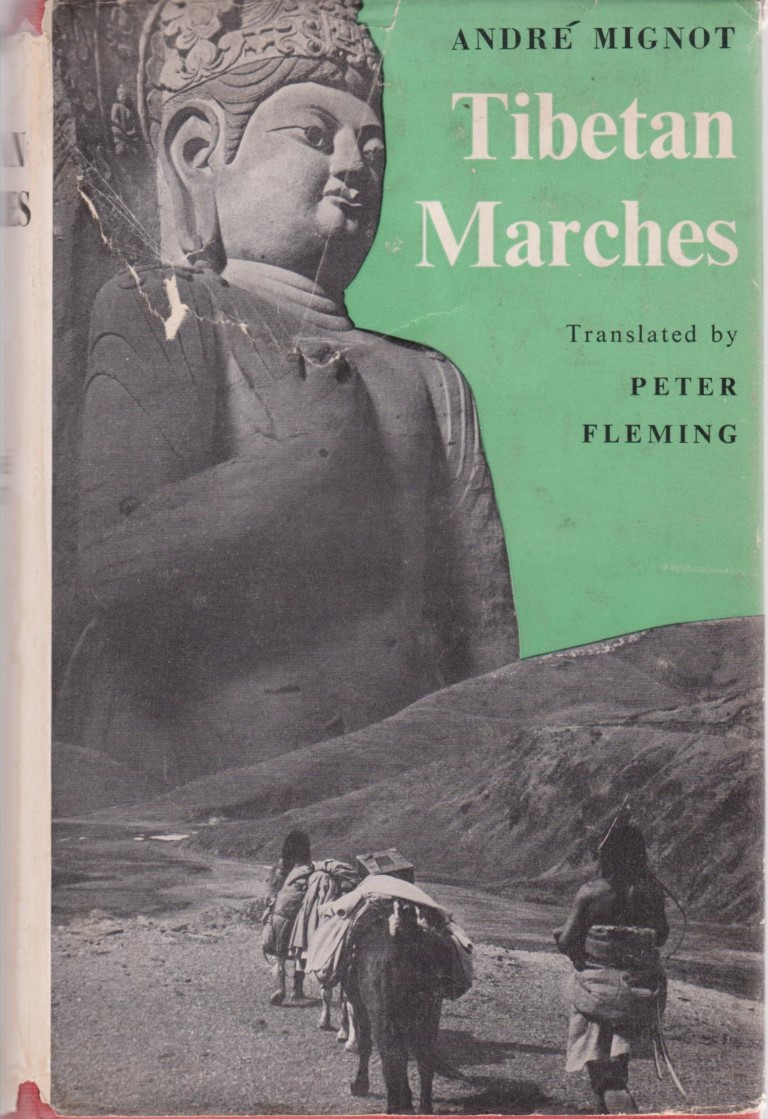 A french doctor in Indo-China sets off in 1946 to visit Lhasa, but is denied access.
He then heads east into Communist China to visit lake Koko-Nor.
Records the culture and history he encounters.
Himalaya, Nepal, Tibet, China, Peking
VG hardback in G dust jacket.
Jacket has closed tear and some wear and edge chipping.
$10 C/C
Travel Book Club (1955) first thus, 288pp + plates and maps.
[#4153 ]
PAISEY Alan

For Ever Valiant
Volume 1: United Kingdom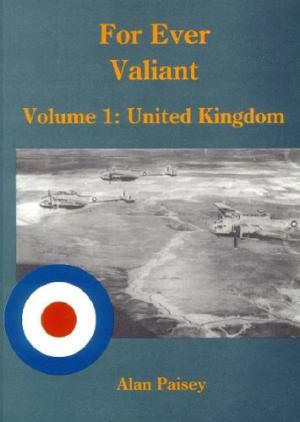 First hand accounts of service in the various arms of the RAF during the Second World War.
Pilots and aircrew recount their experiences in Fighter, Bomber, Coastal and Transport Commands.
At the rear of the book a section details the varied types of aircraft the interviewees utilised during the war.
ISBN9781900604246
ww2, wwii, RAF, primary source, memoirs
VG softback
$35 C/C
Compaid Graphics 2006 first edition, 392pp.
[#4154 ]
ALLEN Ralph

Native Plants of Dunedin and its environs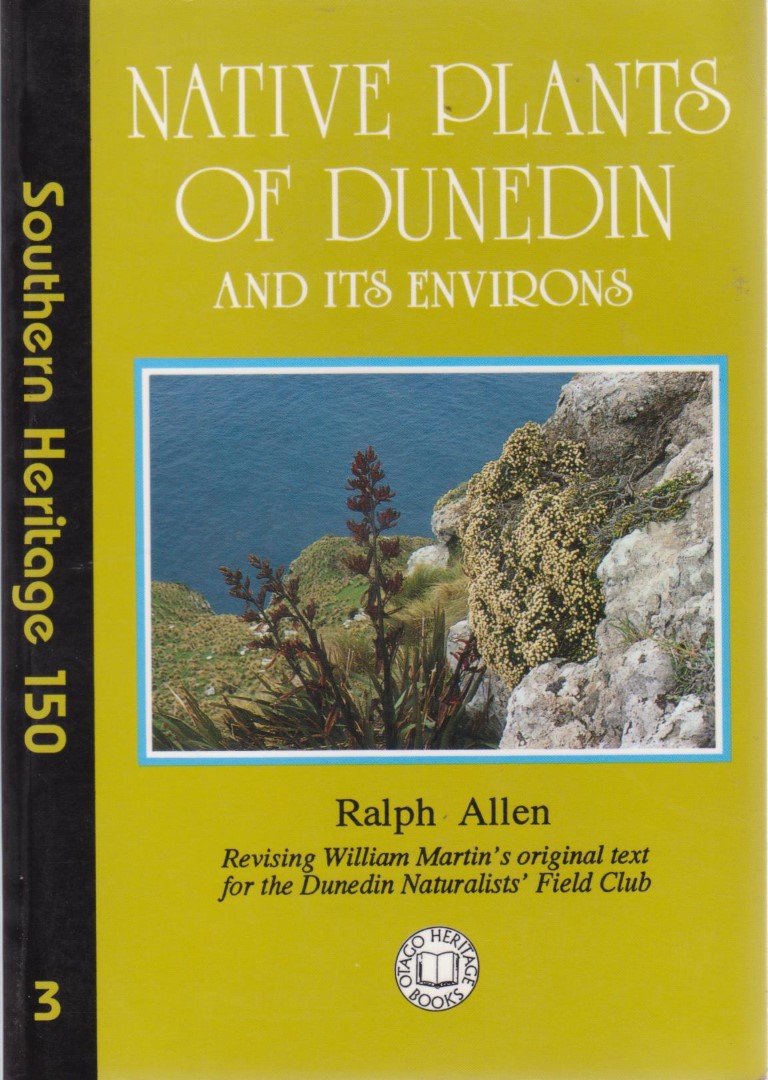 The native plant-life about Dunedin, described, and with colour photographs and line drawings.
A new work revising William Martin's original text for the Dunedin Naturalists' Field Club.
1. Salient features of the vegetation
2. How the plants speak
3. Plants of the sea coast
4. Plants of swamp and marsh
5. Plants of bogs and peaty soils
6. Herbaceous plants of the uplands
7. Rushes, sedges and grasses
8. Herbaceous plants of the forest floor
9. Climbers, scramblers, perchers and parasites
10. The shrubs
11. The trees
12. The ferns and lycopods
ISBN0908774028
Southern Heritage 150 #3, natural history, endemic, botany, Otago
VG softback
$25 C/A
Otago Heritage Books 1994, 80pp.
[#4155 ]
BRADWELL Cyril R.

Symphony of Thanksgiving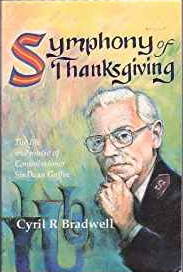 The Life and Music of Commissioner Sir Dean Goffin.
Goffin was a Bandsman on Crete during the invasion of 1941 and disposed himself efficiently assuing command of the Concert Party in the action at Galatas in action as infantry.
From a Salvationist family he led a notable life in the Salvation Army organisation and Brass Band competitions.
Details of his military life during WW2 with the NZ Division, as well as his religious and musical career.
ISBN0473028476
Wellington, biography, music
VG softback
$35 C/C
New Zealand and Fiji Territory of The Salvation Army 1994 first edition, 275pp.
[#4156 ]
BAXTER James K.

Letter to Peter Olds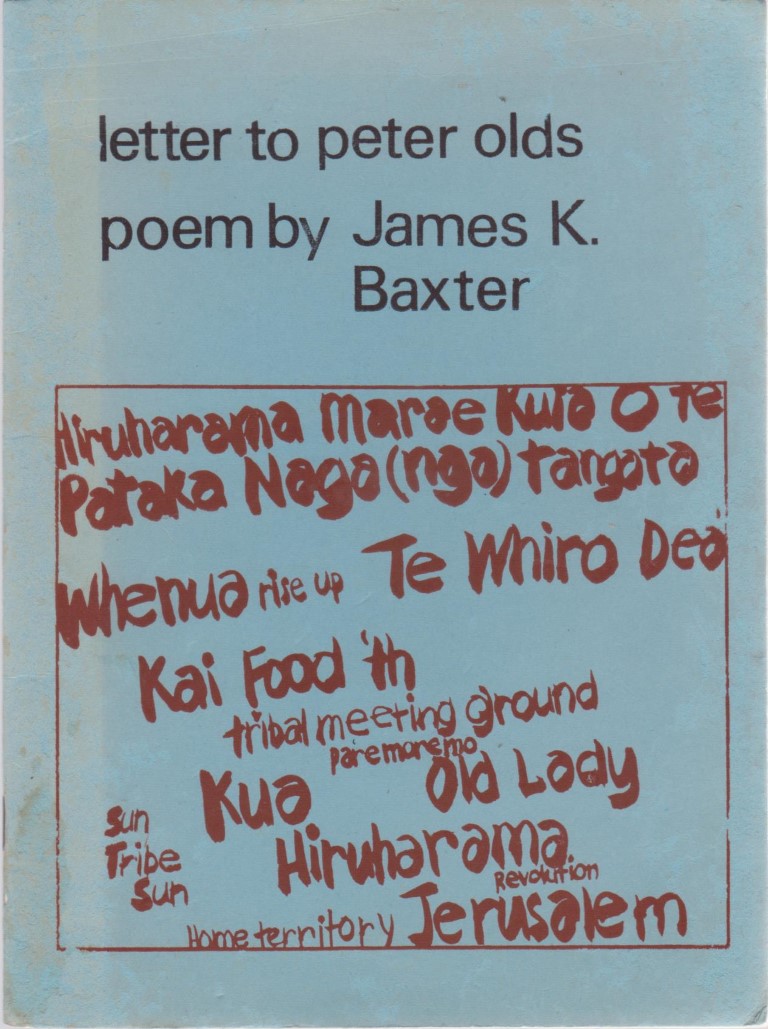 A poem by Baxter, published in small numbers twice before, still uncommon in this third printing.
Limited edition of 240 copies.
poetry, verse, private press
G softback, stapled into card wrappers with some surface wear, small pen name to title page.
$35 C/A
Caveman Press 1973, third printing, 8pp.
[#4157]
YOUNG Lailan

Secrets of the Face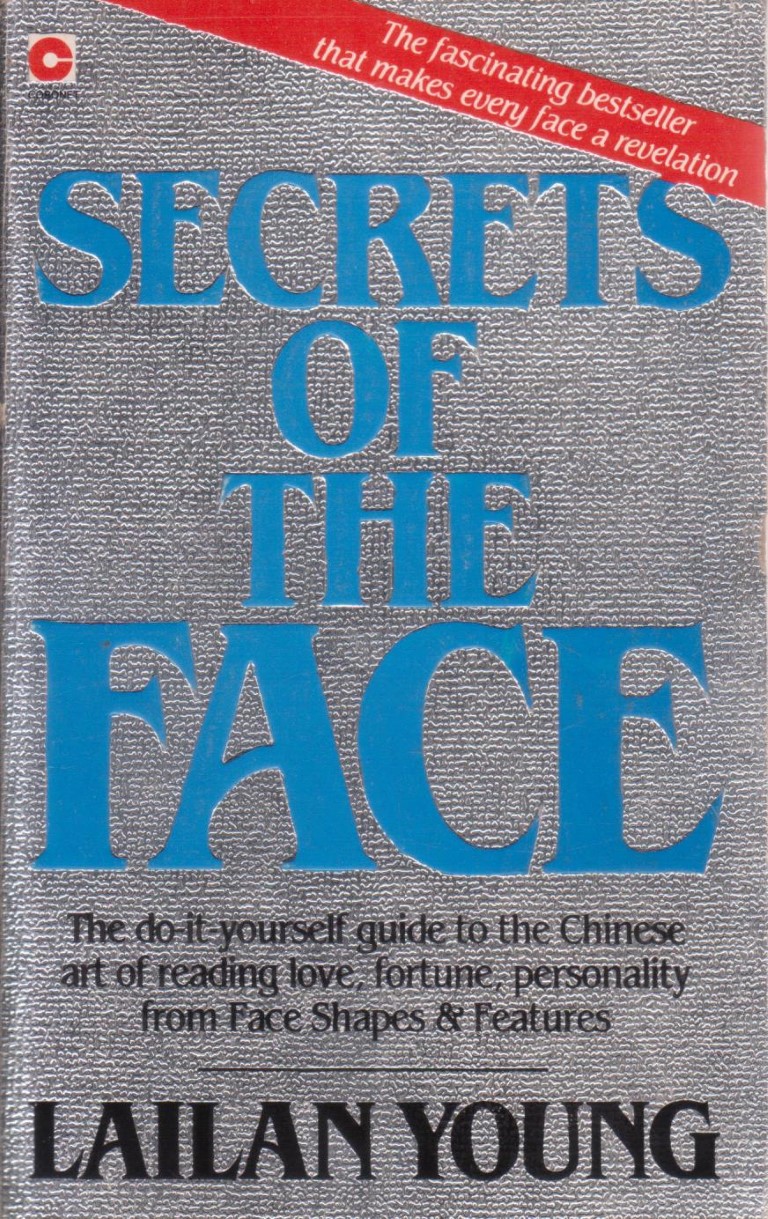 Do it Yourself Guide to the Chinese Art of Reading Character from Faces.
How to read a persons character from facial features such as spacing of eyes, shape of ears, placement of moles etc, with photos to illustrate examples.
ISBN0340349077
divination, cold reading, fortune telling, body language, physiognomy
VG- paperback, first page top corner trimmed, foxed closed edges.
$12 A/A
Coronet 1984 First Edition, 234pp.
[PB1601 ]
12/8/2019ev
LINDGREN Astrid

Pippi Goes Aboard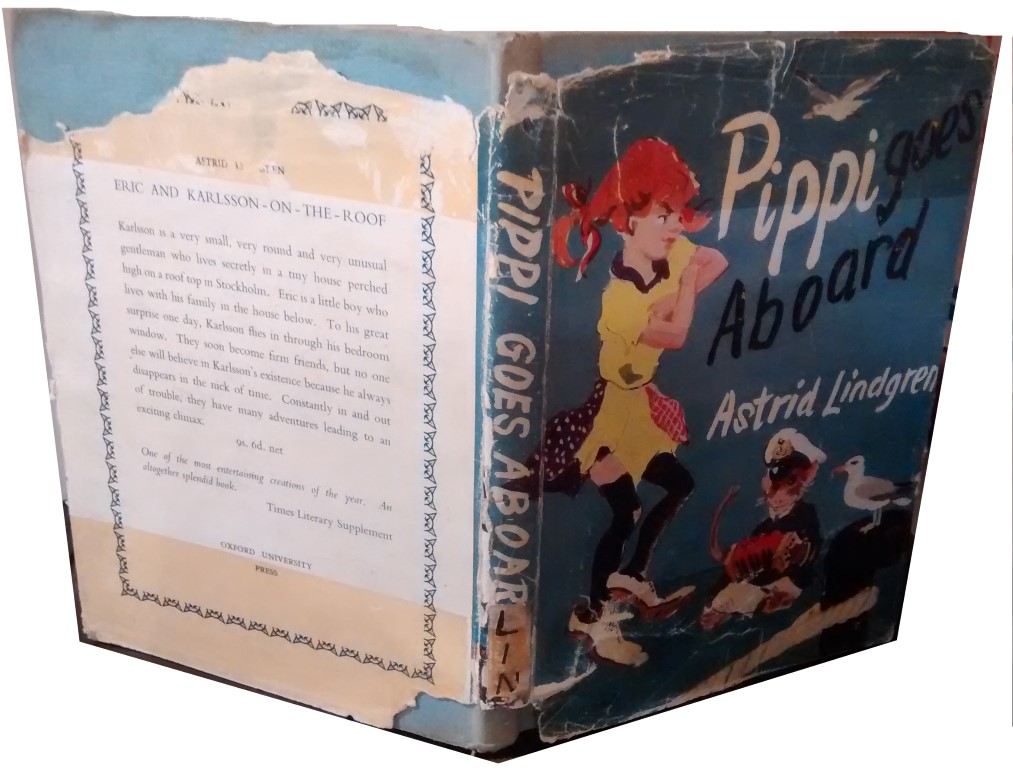 The second Pippi Longstocking story.
Translated by Marianne Turner, illustrated in line by Richard Kennedy.
children's fiction, european classic, translated to English, precocious child
VG- hardback with G- dustjacket.
Hard cover rubbed to edges, front hinge cracked, paper remains of label to rear end paper. Jacket good only with some tape staining and lots of rubbing wear with loss to spine ends and corners.
$20 C/B
Oxford University Press 1959 reprint, 119pp
[#4141 ]
HAWKER Enid (editor)

Maruia, Random Reflections
Published for the 1980 Jubilee, this book celebrates 75 years of settlement and 60 years of education in the Maruia Valley, Buller.
Inclues recollections of Warwick Thomson, W. Blackadder, pioneer women, the Post office and other community institutions.
With photographs.
Shenandoah Highway, local history, school, education,
G+ softback with wear to spine.
$30 C/A
118pp
[#4142 ]
BESANT Annie

Reincarnation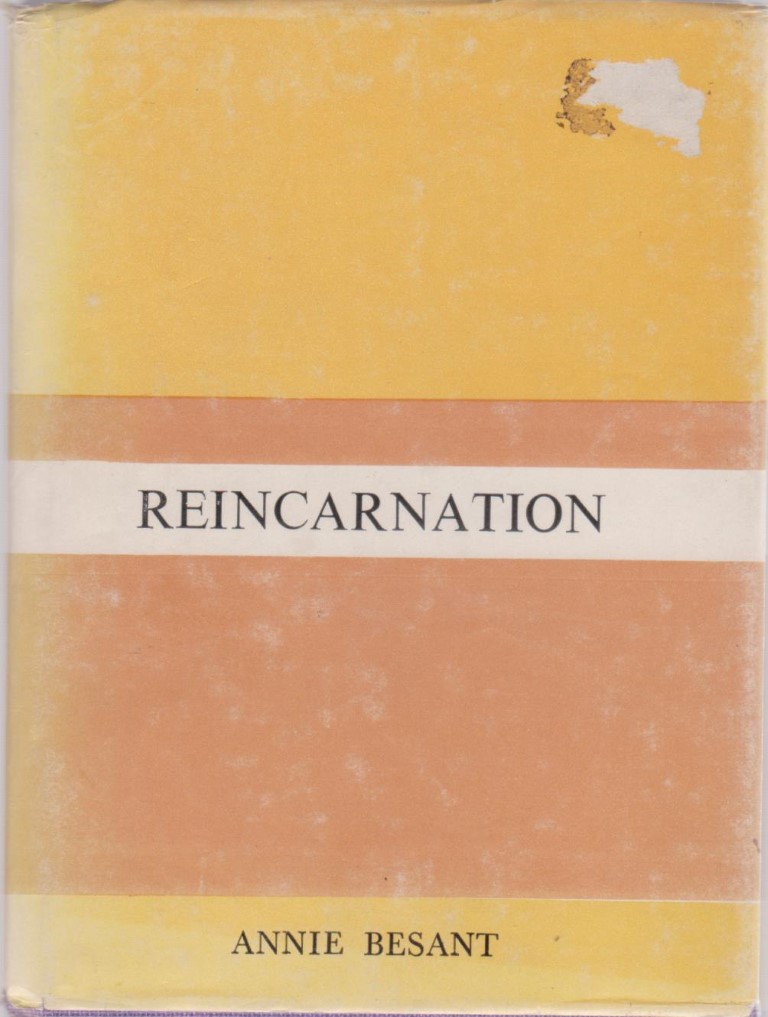 Theosophical understanding of the nature of reincarnation through successive lives.
What does and does not Reincarnate; the Method and Object of Reincarnation; Cause and Proofs of Reincarnation; Objections to Reincarnation.
ISBN0835670198
theosophy, vedic, survival
VG hardback in G+ dustjacket with label lift to top corner.
$10 A/A
Theosophical Publishing House 1985 reprint, 95pp.
[#4143 ]
MacDIARMID D. N.

Ship Ahoy and Hallelujah!
or from Fo'c'sle to pulpit.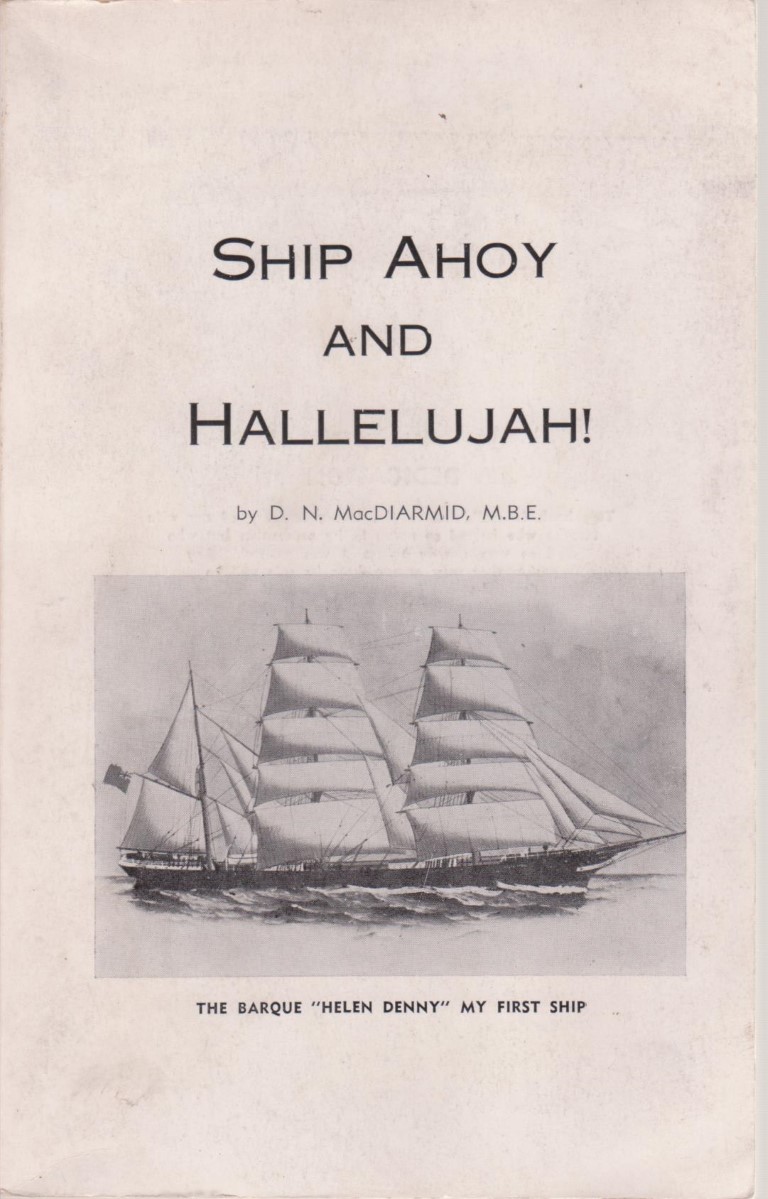 The Rev. Donald Neil MacDiarmid (1886-1971) was a missionary with the Sudan United Mission 1902-1930 and a Presbyterian minister from 1931-1957.
This autobiography recalls his days as a merchant seaman, sailing on the Helen Denny, Margarita and Itata, and his missionary and religious career.
missionary, sailing, ships,
G+ softback
$20 C/A
D N MacDiarmid 1968, 188pp.
[#4144 ]
BEYNEN Ray Van

Zero-Alpha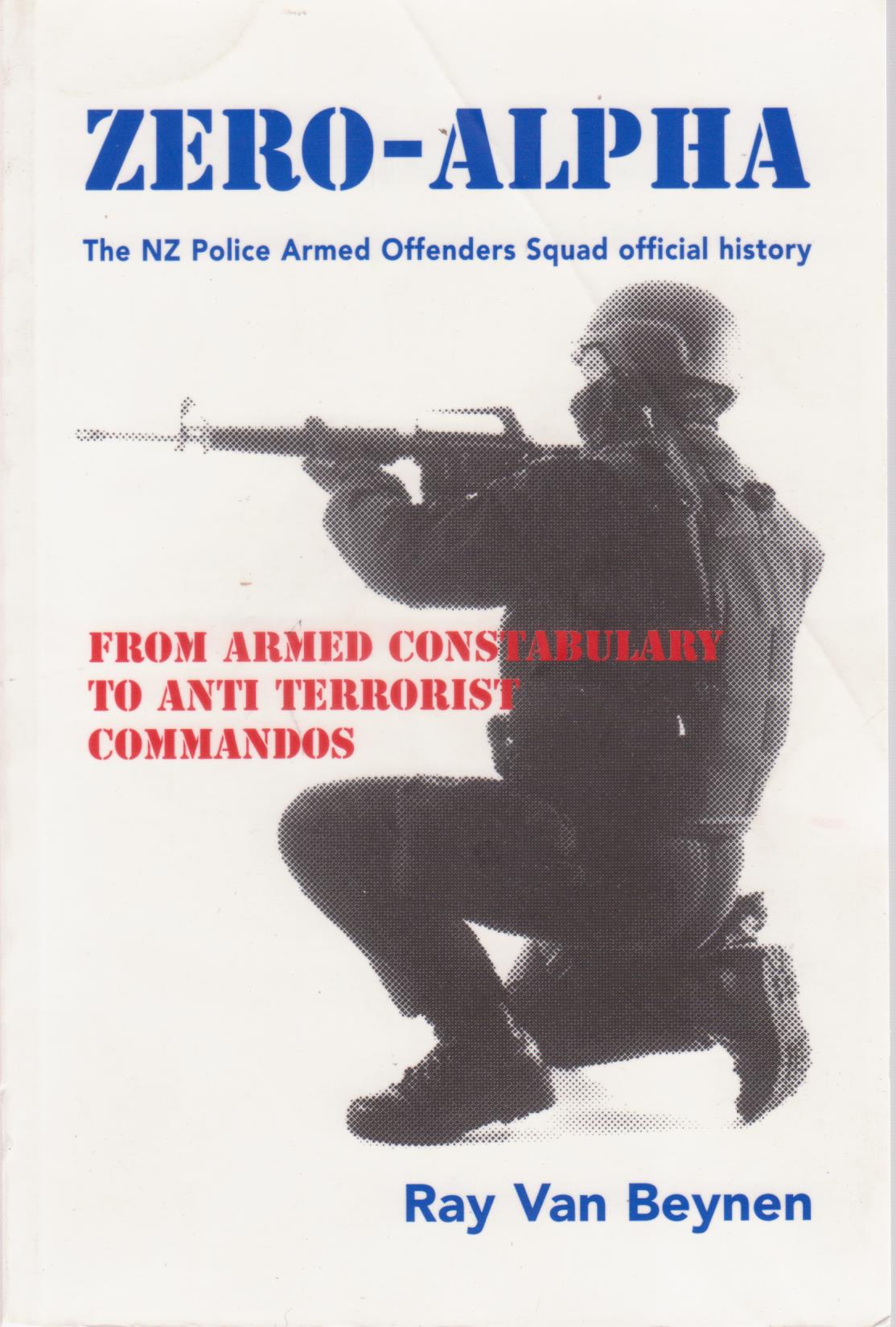 The New Zealand Armed Offenders Squad official history.
From Armed Constabulary to anti-terrorist commandos.
ISBN9780958371742
police, crime, law enforcement, AOS
VG softback with a minor crease to the cover.
$20 C/B
Howling At The Moon Productions Ltd. 1998 first edition, 244pp.
[#4145 ]
BUTCHERS A. G.

A Centennial History of Education in Canterbury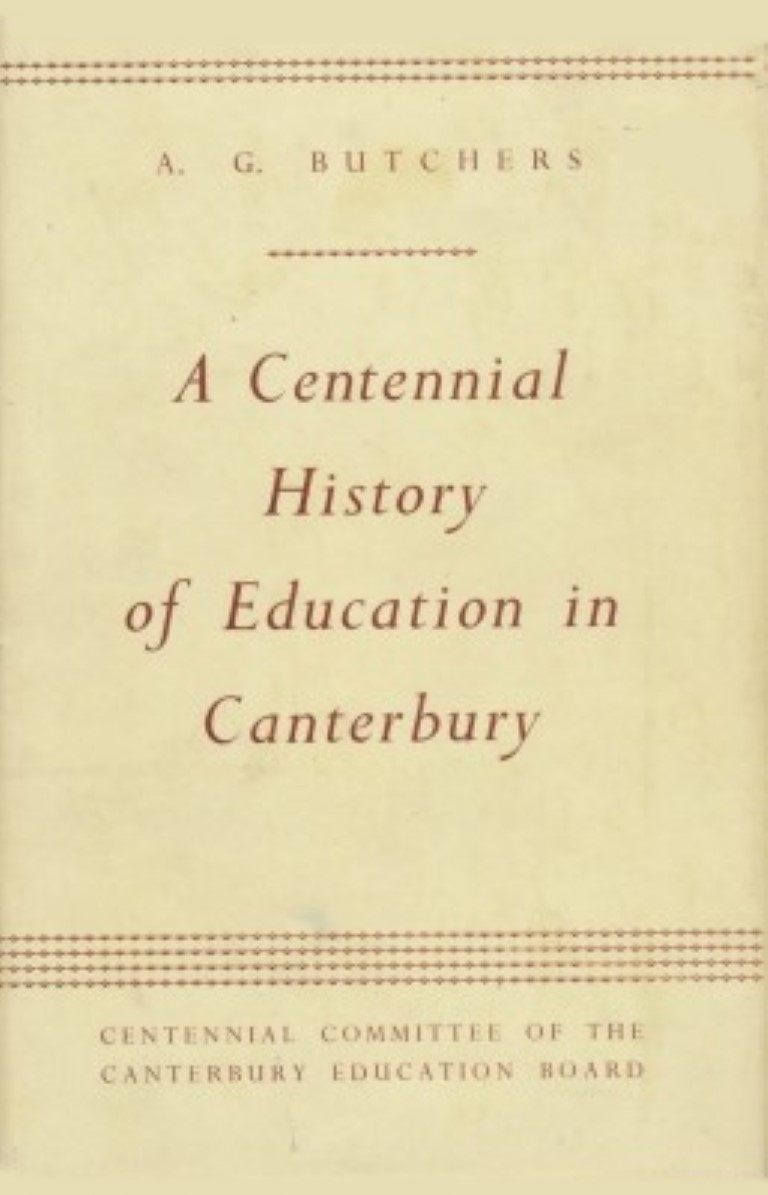 The story of organised education in Canterbury from first settlement.
Covers Church and State Schools, District Schools, Maori Schools and other educational services provided to the public by official or private groups.
new zealand, christchurch, high school, college
VG hardback in VG dust jacket.
$30 C/C
Centennial Committee of the Canterbury Education Board 1950, 301pp.
[#4146 ]
NAIPAUL V. S.

An Area of Darkness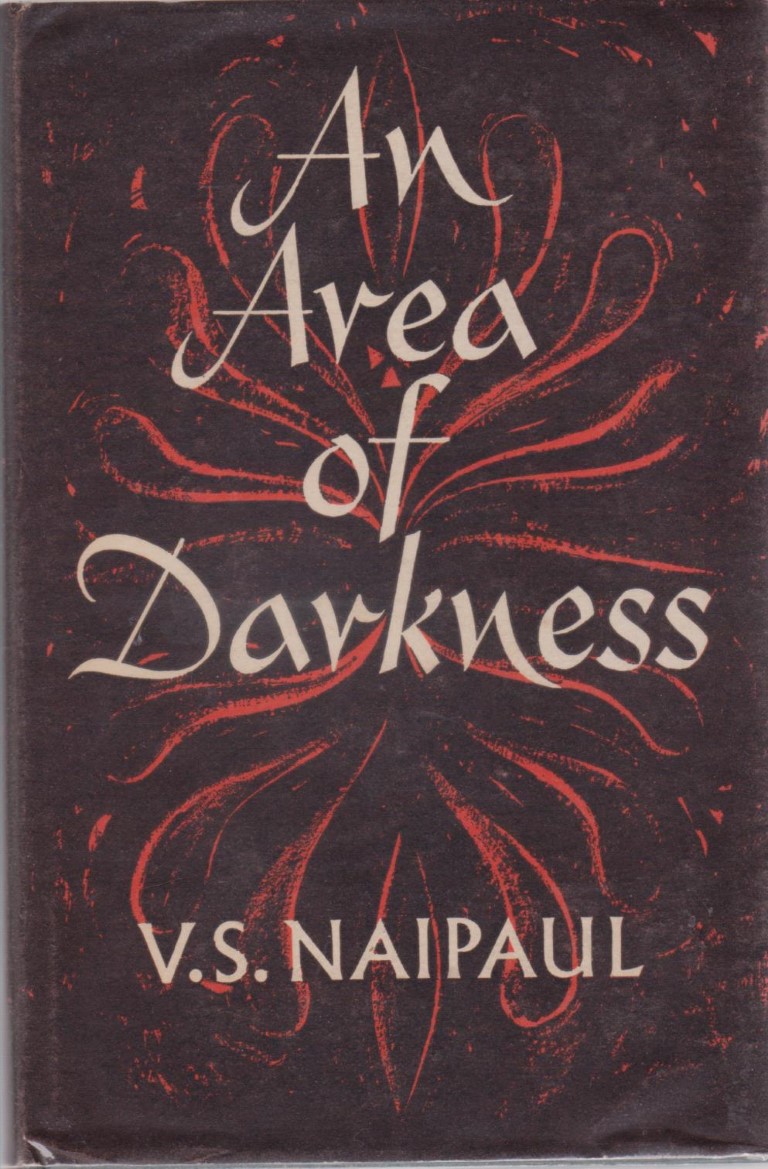 Naipaul's travelogue conveys the disillusionment which he experienced on his first visit to his ancestral land.
Naipaul was a british Hindu, and the book was banned in India for its negative portrayal of India and its people.
british hindu literature, india, travel
VG hardback in VG dust jacket. Minor foxing to closed edges.
$9 C/B
The Reprint Society 1964, 288pp.
[#4147 ]
CROWLEY Aleister

Magick in Theory and Practice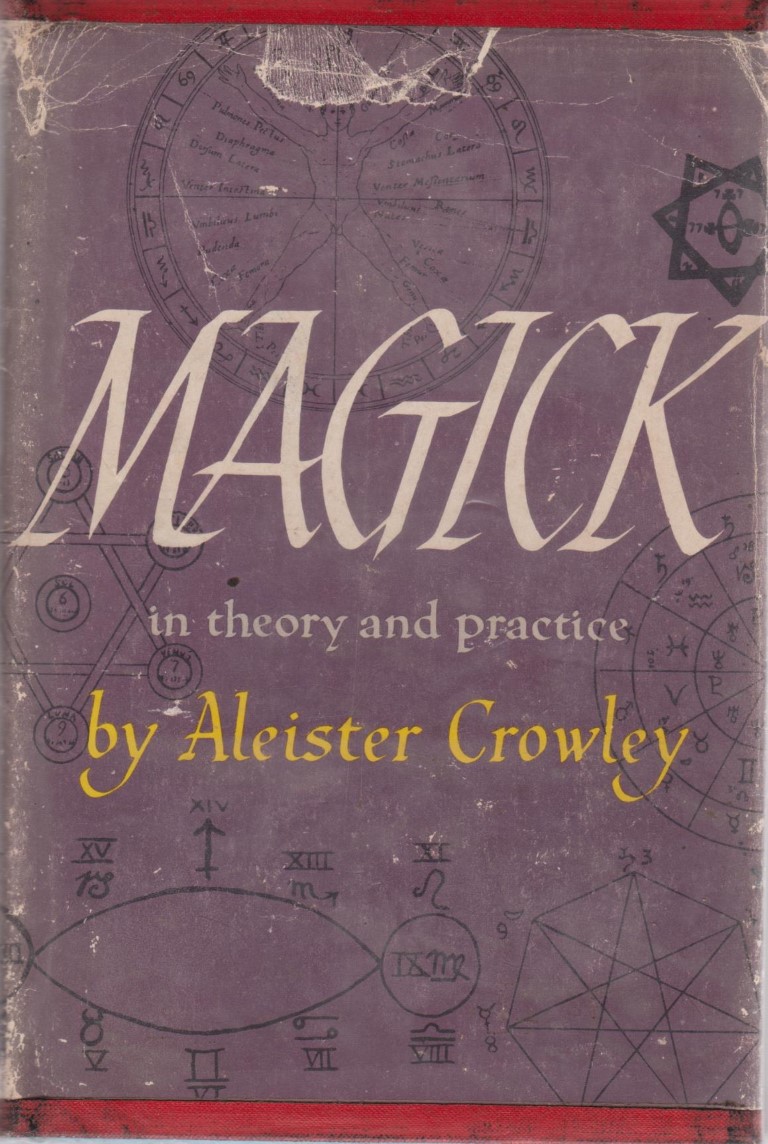 Castle books facsimile of the original first Subscribers edition sheets.
Undated but research leads me to believe this is the 1961 first edition by this publisher due to the publishers price of $10 on the dust jacket flap.
oto, thelema, ritual magic, occult
G+ hardback in G+ dust jacket.
Light blue papered boards. Complete dust jacket is purple with black and white designs etc. worn, with some closed tears, now under a plastic sleeve.
A bookshop stamp to fep, two pages (pp 383 & 384) have pen notation one minor the other has the blank bottom half of a page filled with the explanation of ARARITA in pen, the other note seems to be revising the lesser hexagram ritual to southern hemisphere use.
$90 C/C
Castle Books (1961) first thus printing, xxvii 436 pp.
[#4148 ]
CROWLEY Aleister ; John Symonds and Kenneth Grant

The Magical Record of the Beast 666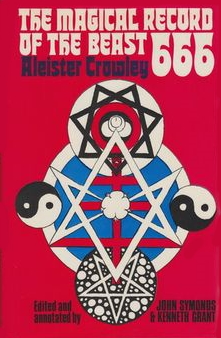 The Diaries of Aleister Crowley 1914-1920, edited and annotated by John Symonds the literary executor, and Kenneth Grant, the unofficial successor as head of the OTO in Britain.
Iincludes REX DE ARTE REGIA, Crowley's record of Sex Magic workings 1914-1918.
The first reissue after the 1972 first edition, red stiff paper wrappers with the unicursal hexagram and Star of Babalon design.
ISBN0715612085
Ordo Templi Orientis, OTO, O.T.O., Thelema, Occult
FINE softback.
Quality (not news print) paper, folded, sewn and perfect bound, suitable for binding into custom case as the sheets have not been trimmed at the spine.
$175 C/C
Duckworth London 1983 second edition, xv, 326pp.
[# 4149]
5/8/2019ev
CARROLL Lewis

Alice's Adventures in Wonderland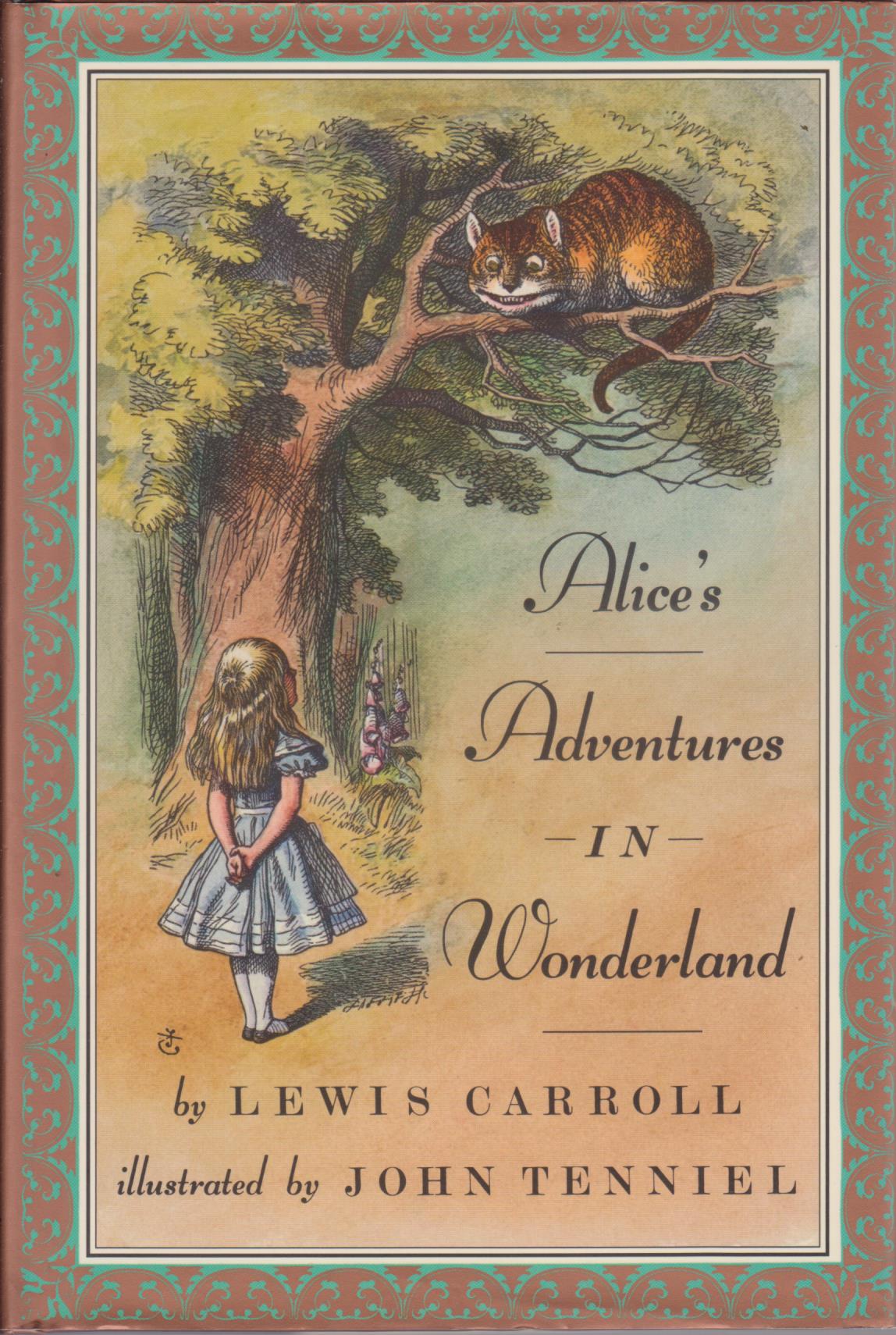 In earlier editions the illustrations are reproduced from steel engravings taken from the master woodblocks.
These were thought lost, but they resurfaced in 1985.
The steel plates wore out with each printing, losing clarity and detail.
This edition now reproduces 42 black and white illustrations in the text reproduced from these original woodblock engravings made from John Tenniel's illustrations.
Printed on quality sized paper, will all page edges gilt. With the book cover replicated on jacket design.
ISBN9780688110871
Lewis Carroll, original illustrations, John Tenniel, Alice in Wonderland, children's classic
VG+ pictorial hardback in VG+ dust jacket. Near new condition.
$30 C/B
Books Of Wonder 1992, 196pp.
[#4138 ]
CARROLL Lewis

Alice's Adventures in Wonderland
Children's Edition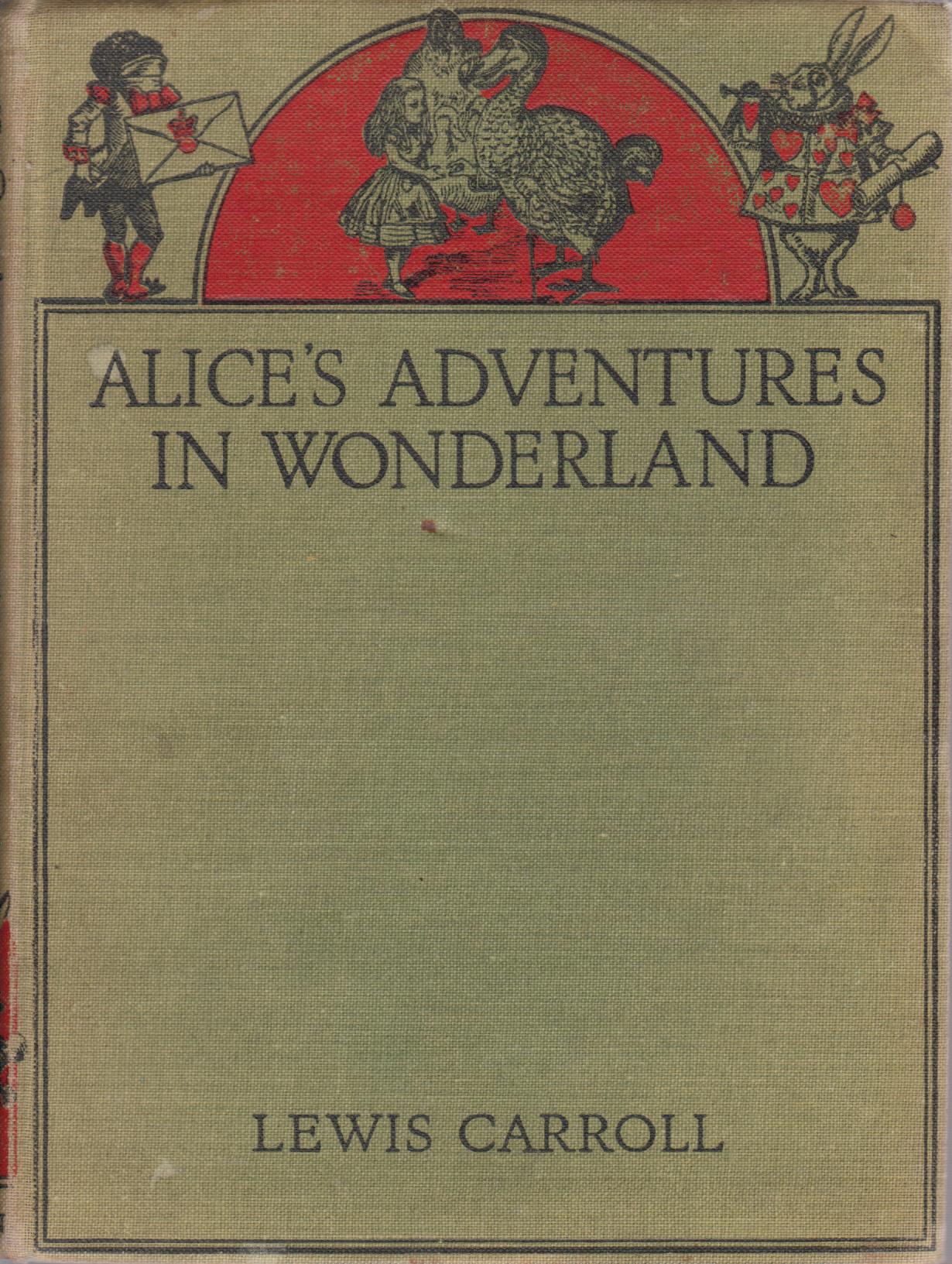 With Tenniel's illustrations including 16 colour plates.
Pictorial endpapers.
Reprint of the 1927 Children's Edition.
Lewis Carroll, John Tenniel, Alice in Wonderland, children's classic
G+ hardback with no dust jacket.
Some fading to green cloth, hinges weakened, spine leans.
Name whited out at head of title page.
$30 C/C
MacMillan 1942, 206pp +2pp adverts.
[#4139 ]
NIN Anais, edited by Gunther Stuhlmann

The Diary of Anais Nin (Vols. 1-4)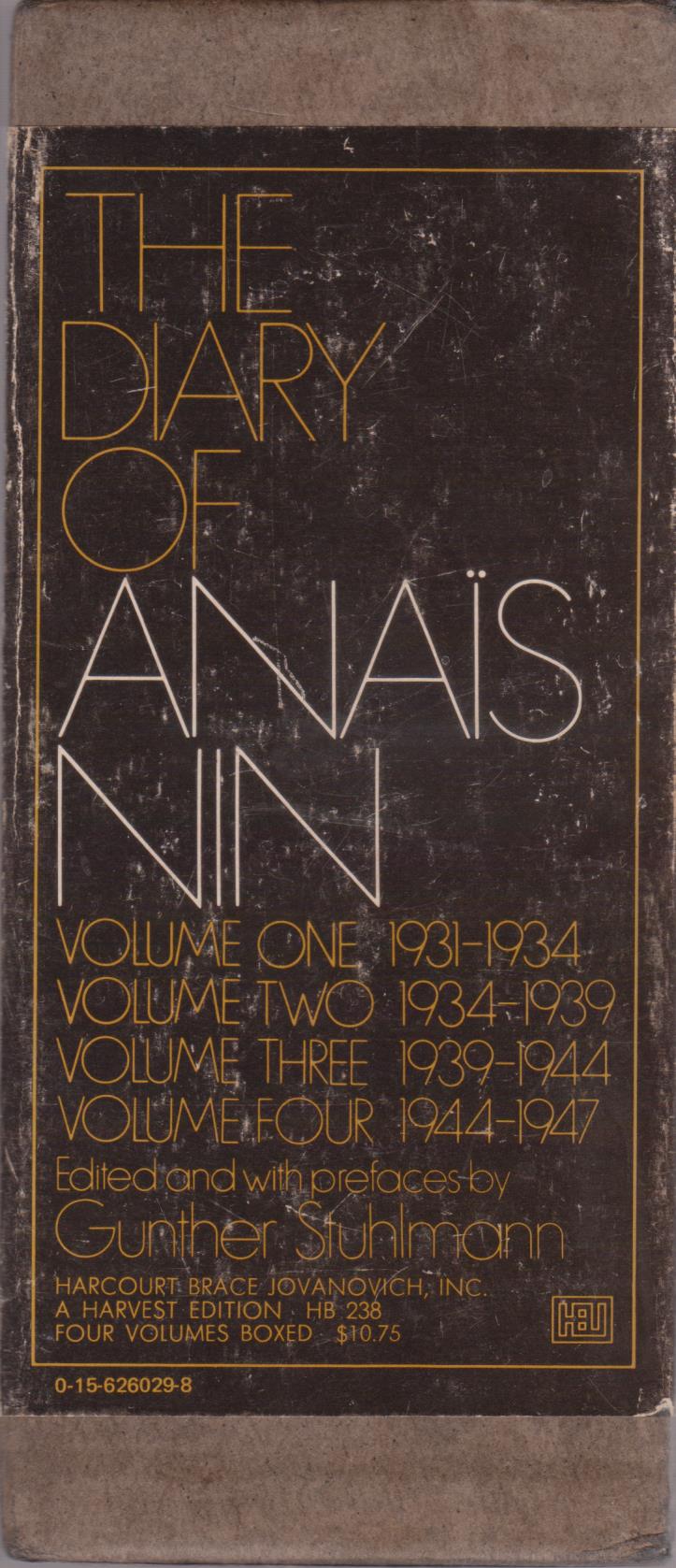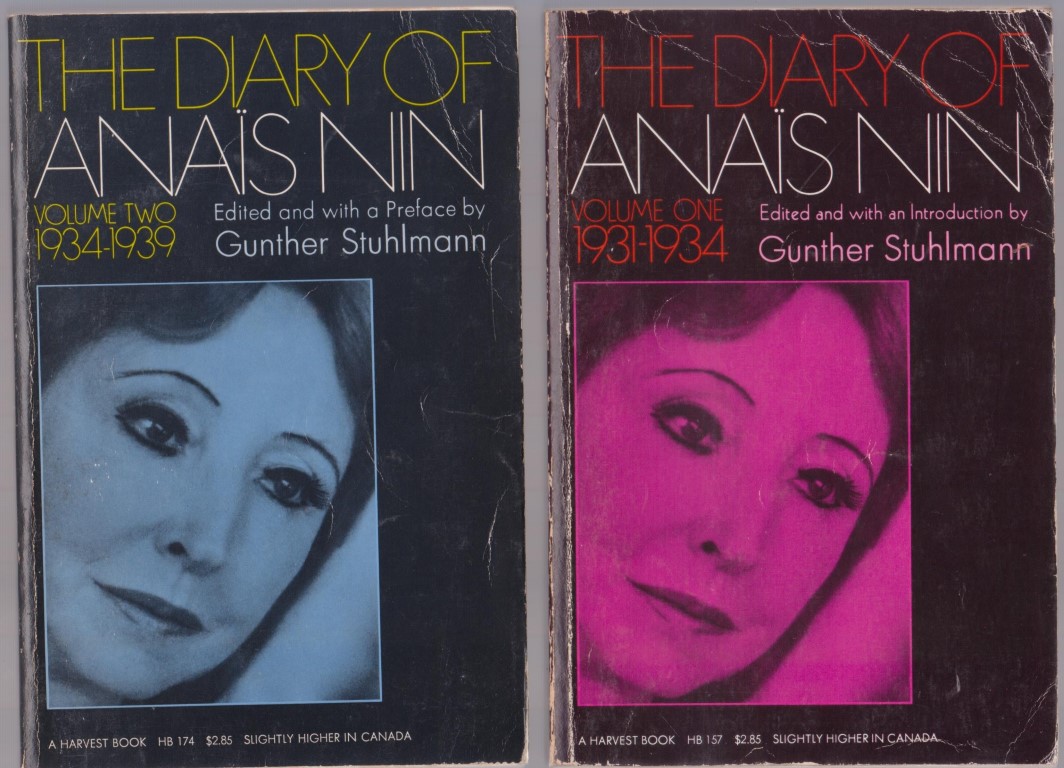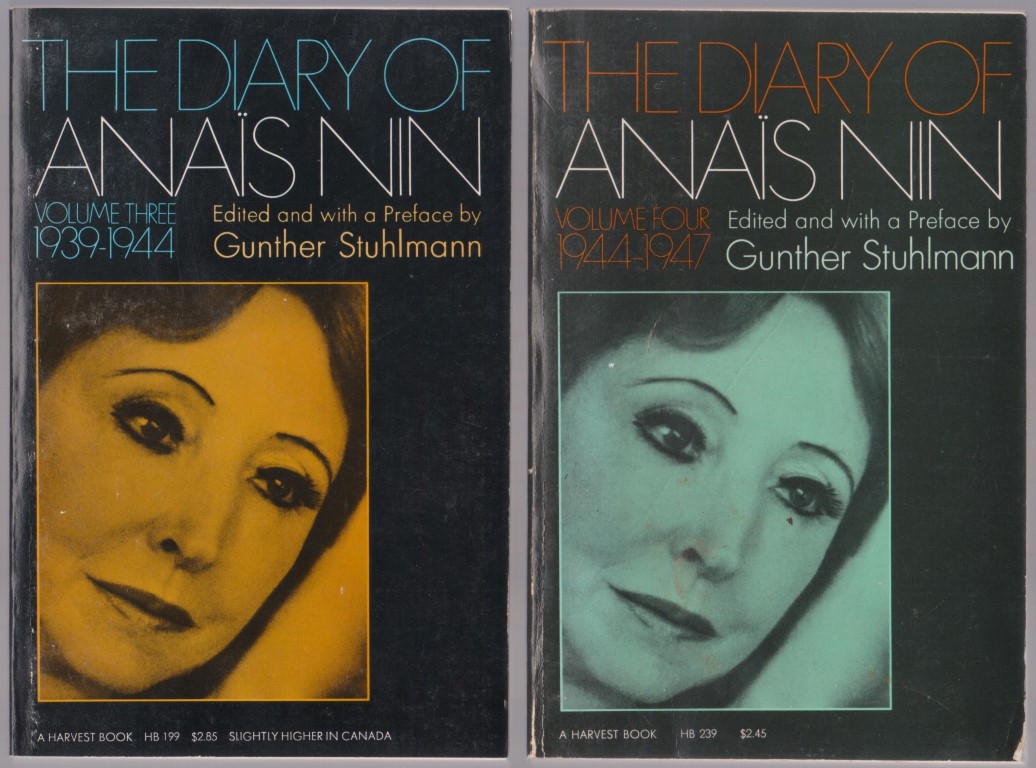 Nin's personal diaries where she explores her friendships, writing, and personal life and difficulties.
Includes Henry Miller and his wife June, and Anais discusses her psychoanalytic sessions.
These expurgated diaries cover; Volume I (1931–1934), Volume II (1934–1939), Volume III (1939–1944), Volume IV (1944–1947).
ISBN0156260298
Anais Nin, Paris, Left Bank, Henry Miller, women's writing, 1930s, 1940s, avant garde, bohemia, feminism
G+ softbacks in slip case.
Some reading wear and minor soiling.
$55 D/D
Harvest Books 1966-1971 (maybe later printings). 369+357+327+235pp.
[#4140 ]
3/7/2019ev
DOYLE Arthur Conan

The New Revelation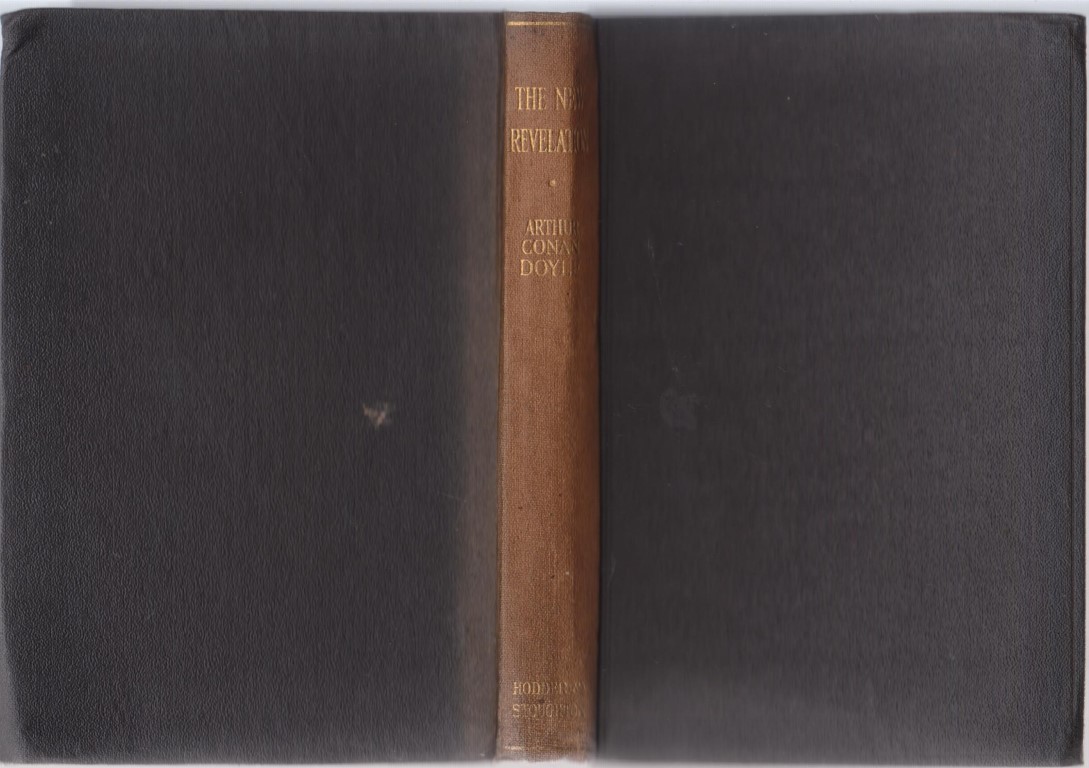 The author of Sherlock Holmes was a believer in Psychical Research and such phenomena as automatic writing and spiritualist seances and here he writes on his experiences of these things.
spiritualism, psychical research, survival after death, ghosts, afterlife, seance
VG- hardback with no dust jacket.
Spine sun faded to light brown whereas boards are navy.
Inscription to free end paper, owners neat stamp to free end paper, half-title and title.
Age toned paper. Date stamp to rear paste down.
name in ink to closed fore edge.
$120 C/B
Hodder 1918 first edition, 170pp.
[#4125 ]
MELVILLE John

Crystal Gazing and the Wonders of Clairvoyance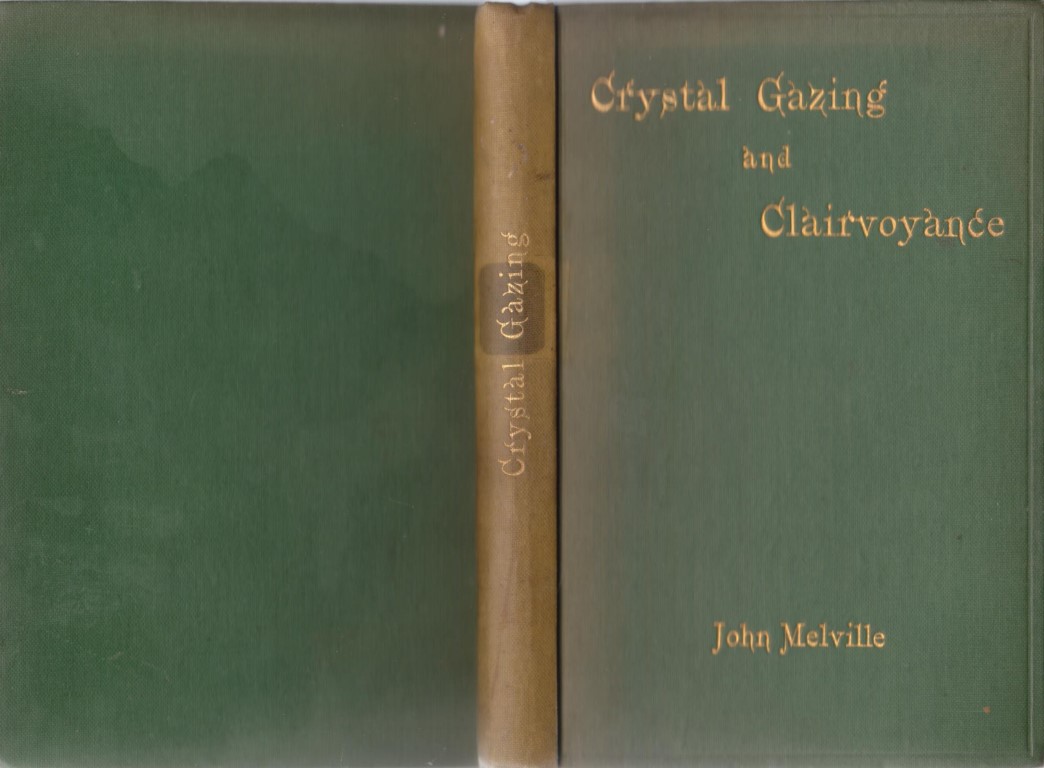 Practical instructions in the Art, History, and Philosophy of the ancient Science of Clairvoyance through crystal gazing.
Includes instructions for the use of Magical Circles and Lamens, as well as prayers and incense etc.
Diagrams throughout.
beryl, crystal, occult, spiritualism, survival, seance
VG hardback, cloth sun-faded to spine, and a Spiritualist Church stamp to paste down and half-title.
No other marks.
$35 C/B
W. Foulsham and Co. Ltd. undated 'New and Revised edition', 98pp.
[#4126 ]
26/5/2019ev
LAMB R. C.

Early Christchurch: The Beginnings of Municipal Government 1862-1868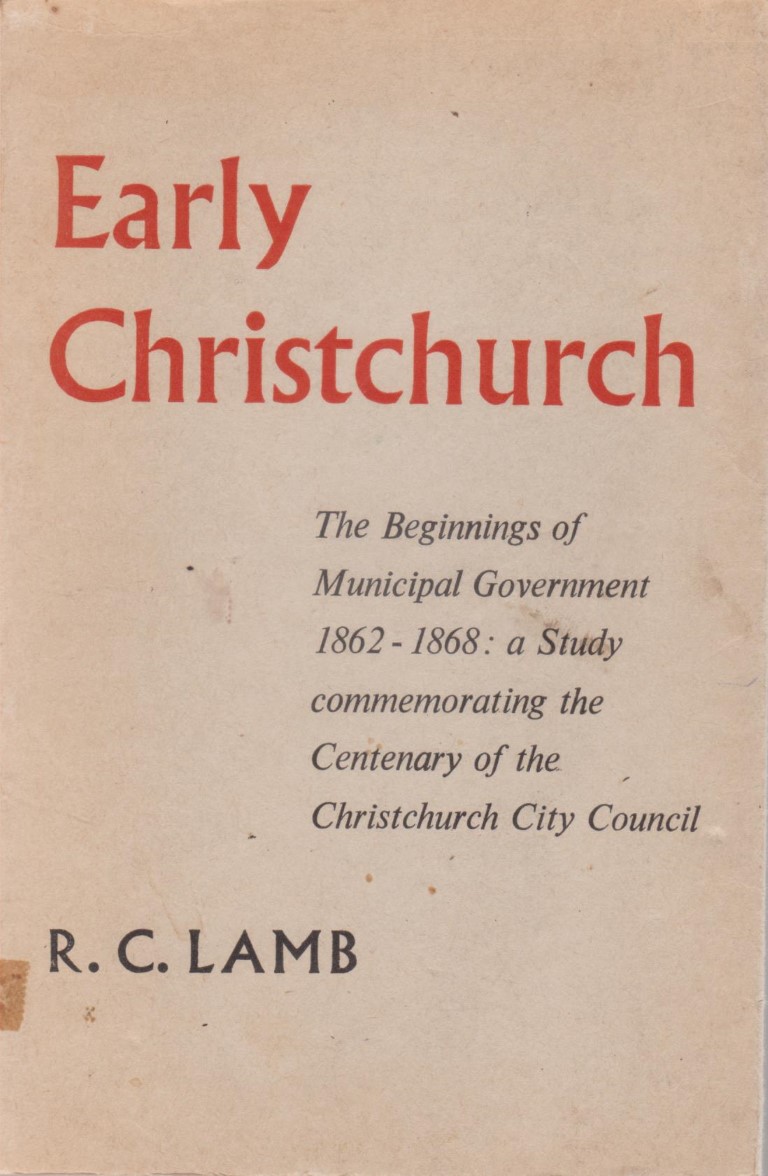 A study commemorating the Centenary of the Christchurch City Council.
An interesting account of the state of the city in the 19th century at the time of colonial settlement and development.
CCC, christchurch city
VG- softback with paper wrapper over card covers
$25 C/B
Canterbury Public Library 1963 first edition, 102pp + plates.
[#4115 ]
CARROLL Lewis

The Adventures of Alice in Wonderland and Through the Looking-Glass
Illustrated by Philip Gough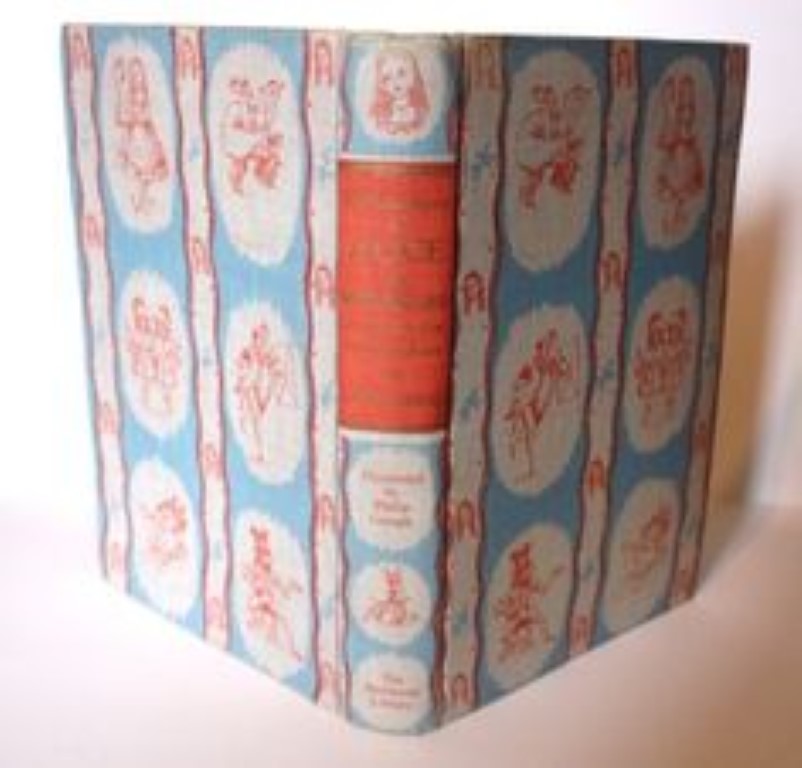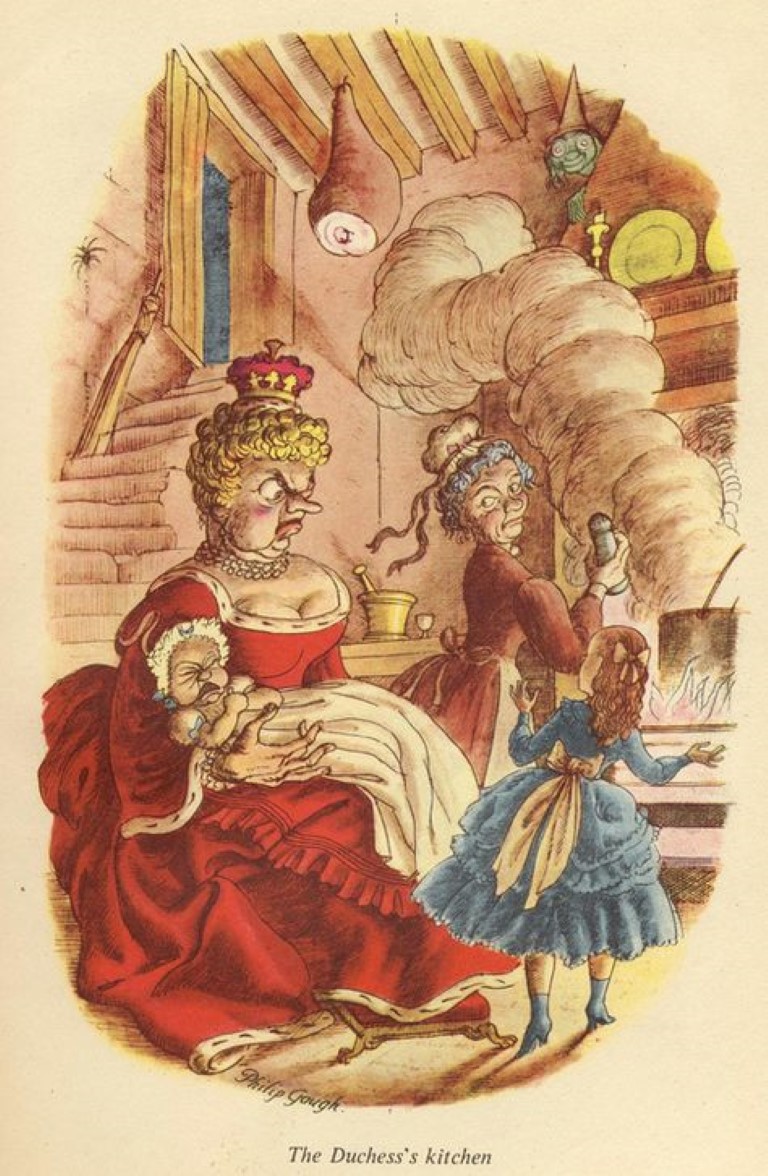 First published in this form in 1949 with an all new style of illustrations, this reprint is a tidy copy with line illustrations throughout as well as the colour plates.
mad hatter, illustrated alice, collectable
VG- hardback with no jacket, name blacked out to endpaper.
$35 C/C
Heirloom Library 1954, 287pp + 8 colour plates.
[#4116 ]
WILSON John

The Canterbury Provincial Council Buildings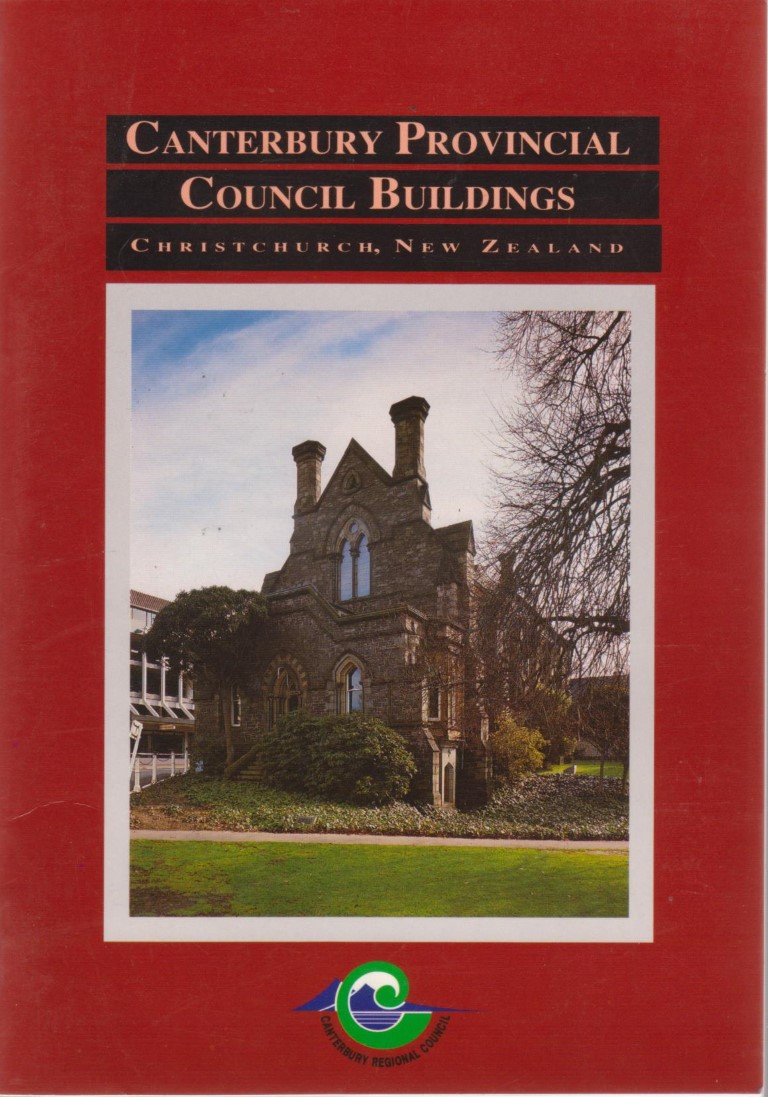 A history of and guide to the B W Mountfort designed Gothic Revival style buildings, which were used by the Provincial Council until the abolition of the Provinces in 1875.
ISBN1869371356
christchurch heritage buidlings, new zealand
VG stapled softback, name at front.
$10 C/A
Canterbury regional Council (NZ) 1991, 40pp.
[#4117 ]
CARROLL Lewis

Alice's Adventures in Wonderland and Through the Looking-Glass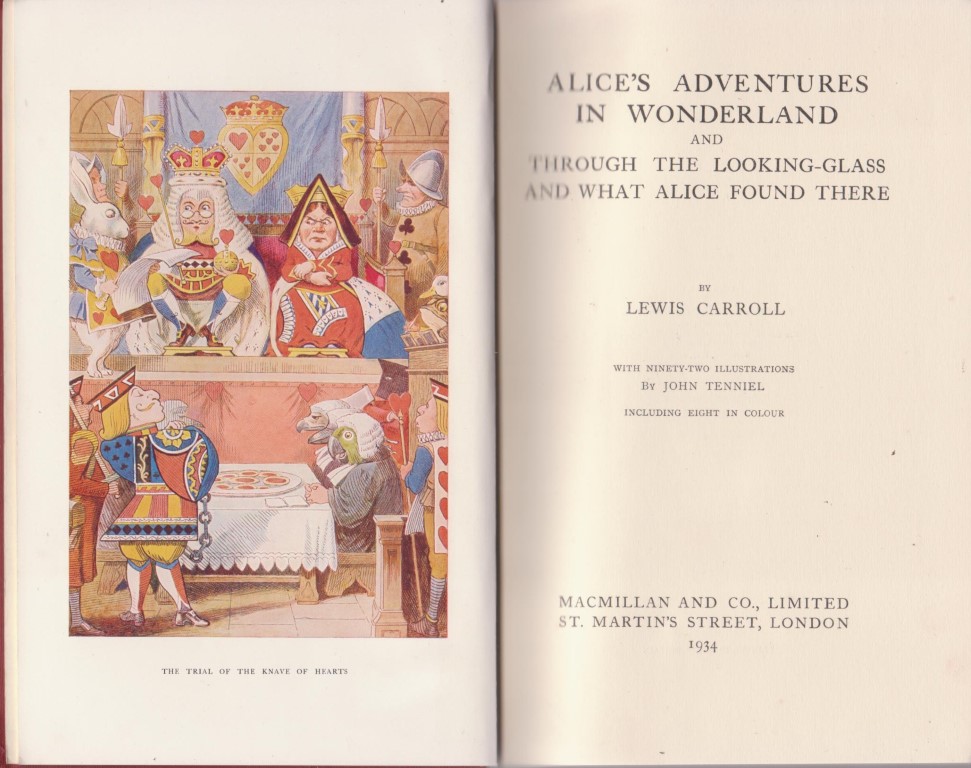 Two works in one book, with 92 black and white illustrations in the text and 8 colour plates by John Tenniel.
Tenniel's Alice in Wonderland
VG red cloth hardback with no dust jacket, small name blacked out to free end paper.
$45 C/C
MacMillan and Co. 1934 reprint of the New Edition of 1921, 299pp +8 col. plates.
[#4118 ]
22/5/2019ev
NEWTON Peter

Five Hundred Horses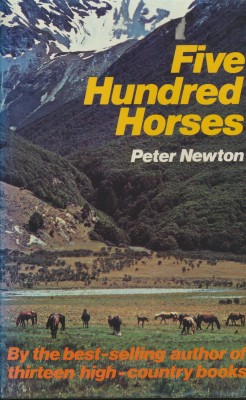 Fond memories of working horses by a man who spent a lifetime in the High Country as musterer and station manager.
Stories from Lake Coleridge Station, Arthurs Pass, Banks Peninsula, Broken River, Castle Hill, Grasmere Station, Mesopotamia Station, Porters Pass and Springfield etc.
ISBN0589011251
equine, horses, hacks, pack horse
VG hardback in VG dust jacket.
Has a birthday gift inscription on the half-title page.
$25 C/C
AH and AW Reed 1978, 139pp.
[#4105 ]
ROSS J.O'.C.

This Stern Coast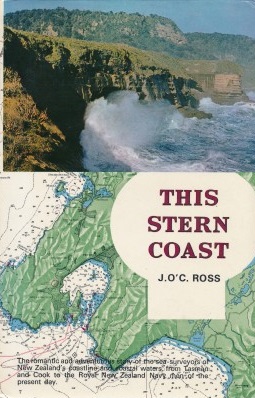 The story of the charting of the New Zealand coast, from Tasman and Captain Cook, to the Royal New Zealand Navy and modern times.
marine, nautical, mapping, hydrographic, survey, charts
VG- hardback in VG dust jacket.
Some minor humidity rippling to rear few pages, but NOT waterstained except for the last blank endpaper)
$25 C/C
AH and AW Reed 1969 first edition, 277pp.
[#4106 ]
MULLER Adrian

Quake Part Two: The Aftermath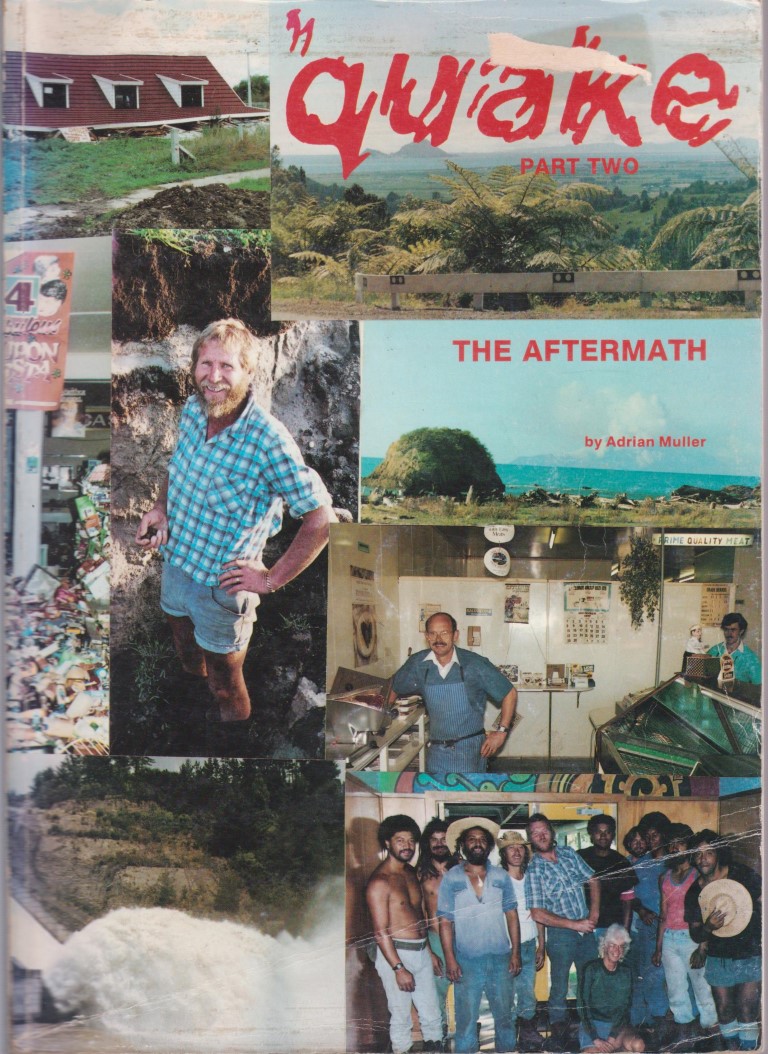 The 2nd March 1987 earthquake in the Eastern Bay of Plenty which caused damage and distress on the Rangitaiki Plains.
The author was a guidance counsellor at Edgecumbe College.
He produced this himself and it has a variety of different typesets, with photos and diagrams throughout.
seismic, natural disaster, community response, Matata, Thornton, Edgecumbe Fault, Te Teko, Kawerau
G+ softback with minor crease and surface wear to cover.
Foolscap size.
$35 B/C
Adrian Muller (1987?), 223pp.
[#4107 ]
BARLEY Alan Vernon

Child of the Depression
The autobiography of a chap born in Hastings in 1922.
Includes his early life in the hard times, and his military service during WWII with the 1st Canterbury Battalion.
In training his platoon traversed the Southern Alps with the noted hunter and mountian man Dick Morris, which is mentioned in the book A Sock in my Stew
The Battalion never saw service and Alan ended up in the Navy.
Most of the book is about his family, career and sporting achievements.
new zealand, biography, teacher, Alan Vernon Barley
VG+ softback with wire coil binding, foolscap, signed at front by Alan.
$40 B/C
Alan Barley 2010, 181pp.
[#4108 ]
LIVERPOOL Lord Russell of

The Scourge of the Swastika
A Short History of Nazi War Crimes.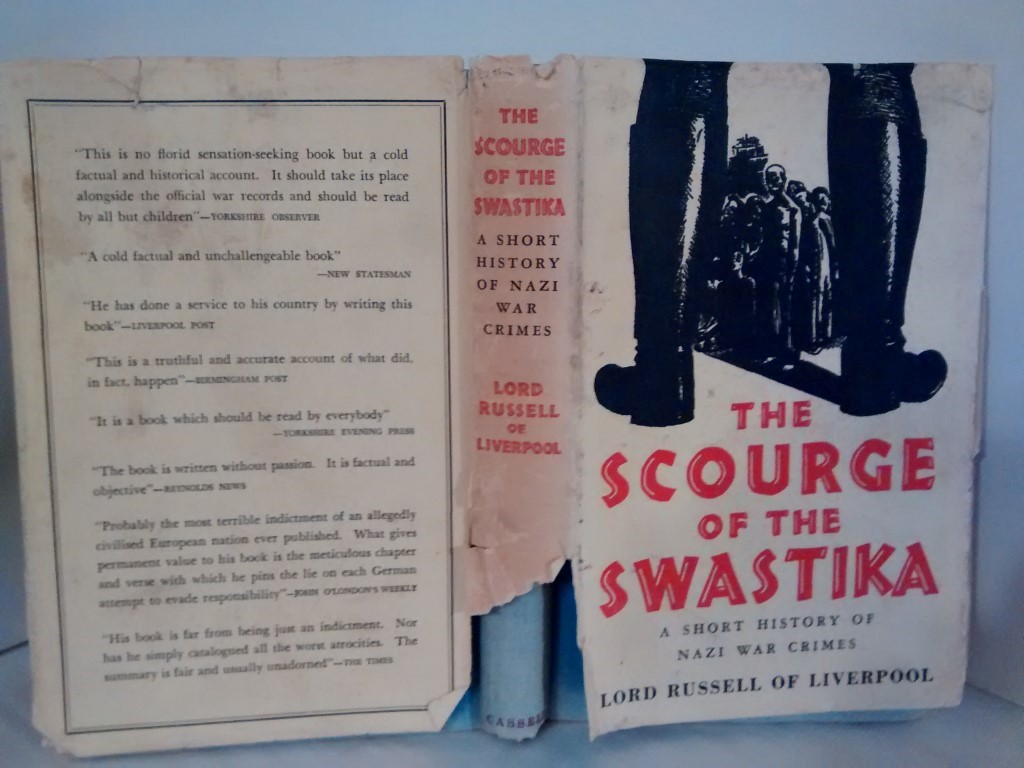 A sensational account, possibly inaccurate, of the alleged and proven atrocities commited by the Third Reich.
Includes piracy, treatment of captive civilian populations, partisans, slave labour, concentration camps and final solution of the jewish problem
ww2, wwii, nazi, Hitler, Himmler, IMT, nuremberg
G+ hardback in G- dust jacket which is worn and lacks lower half of spine
$25 C/C
Cassell 1954 stated first Australian Edition, 259pp + plates.
[#4109 ]
SCHNEIDER Duane

An Interview with Anais Nin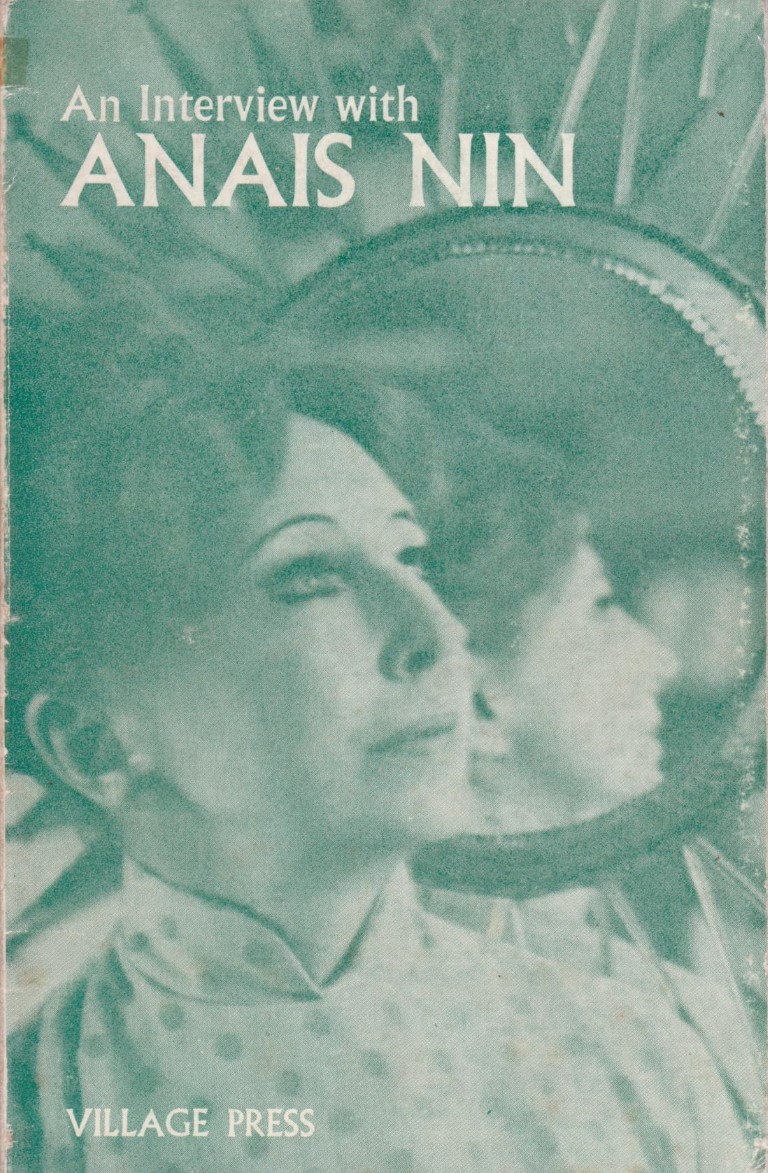 Transcript of an interview with Anais Nin, where she speaks of her work, and her mentors.
Henry Miller, Left Bank, Literature, Avant Garde, Feminist
G+ softback
$15 C/A
Village Press 1973 first UK edition, 35pp.
[#4110 ]
BISHOP R. A.

The Book of the Morris Ten
Pitman's Motorists' Library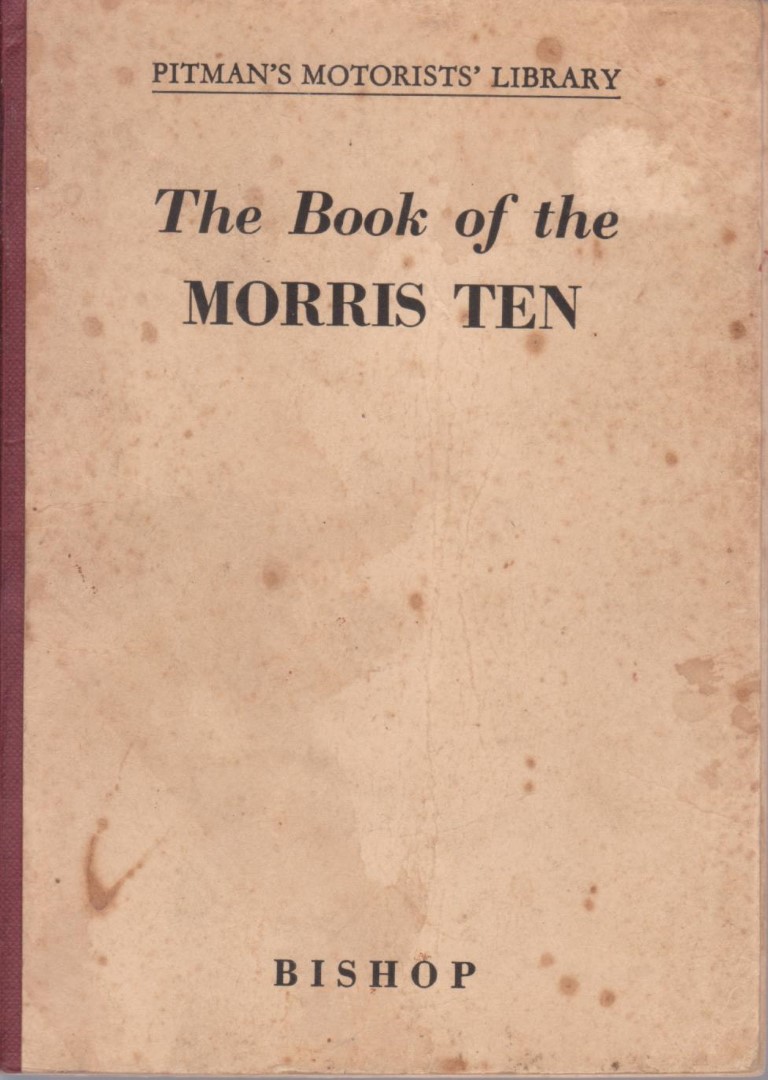 A maintenance and overhauling workshop manual for owners of all Morris Ten models from 1933 to 1948.
Wolseley, Automanual, Motoring, Mechanics, model 10
G+ softback in limp card covers with red papered spine
light crease to cover which is a little grubby
$15 C/A
Pitman and Sons 1958 second edition, 81pp.
[#4112]
16/5/2019ev
TROTTER Michael and Beverley McCulloch

Prehistoric Rock Art of New Zealand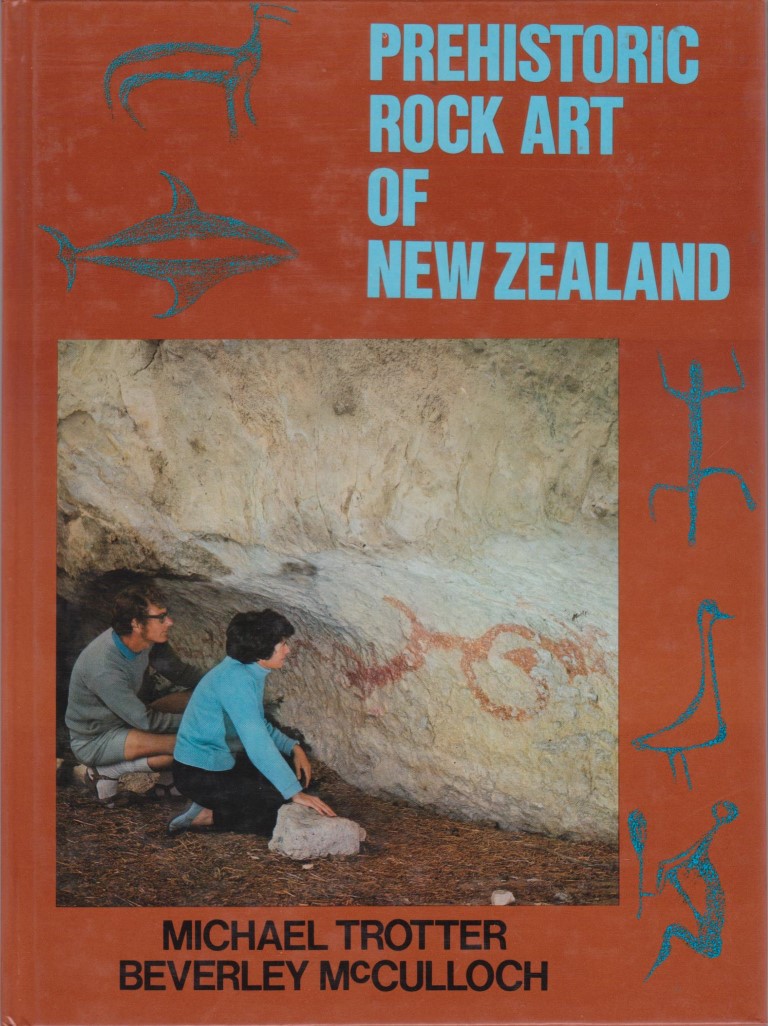 A study of pre-European Maori drawings left on rock and trees and in caves throughout New Zealand.
Includes North and South Islands and examples from the Chathams.
Charcoal and pigment work as well as incised designs.
Discussion of the cultural context.
ISBN0589006487
Maori, Moriori, Waitaha, Cave Paintings, Tribal Art, Archeology, Prehistory
VG+ hardback with pictorial covers and no dust jacket
$30 B/B
Reed 1971 first edition, 87pp.
[#4103 ]
COWAN James

The Tongariro National Park, New Zealand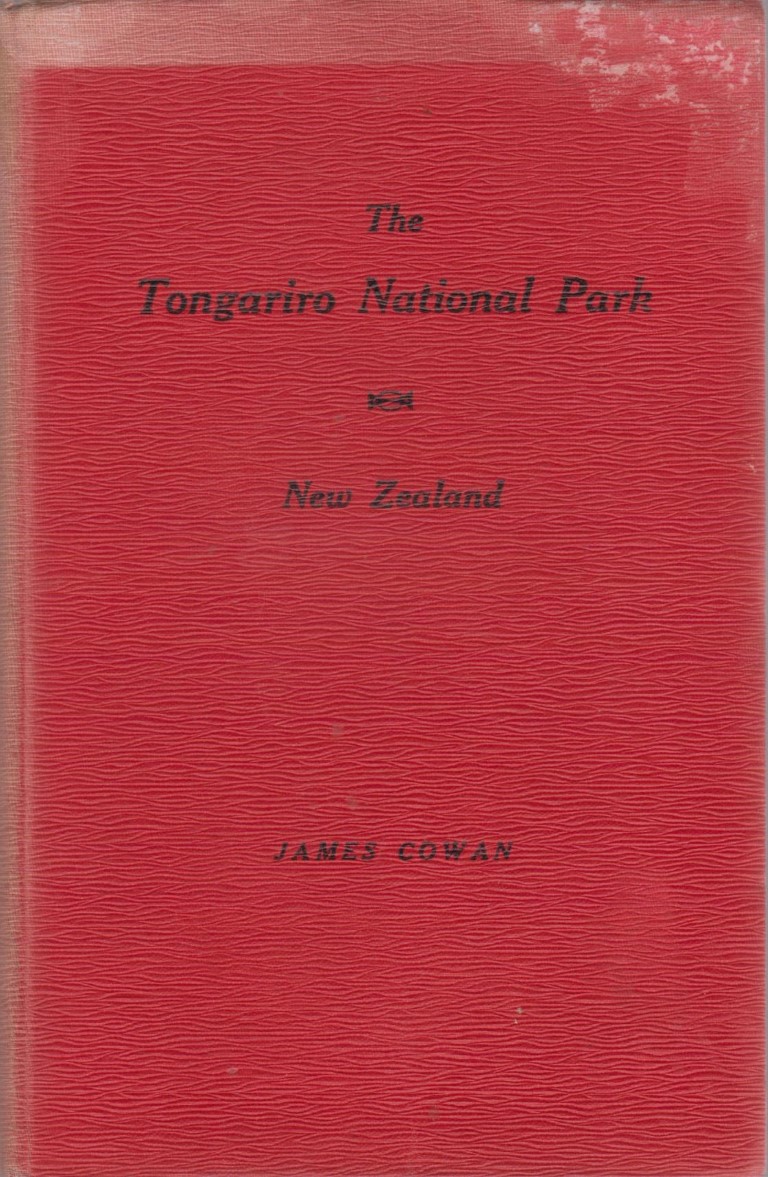 A survey and history of this gift to the Nation by Ngati Tuwharetoa, who began transferring title to the Crown in 1887.
The site of the famed Tongariro Alpine Crossing, it also includes the tapu (sacred) volcanic mountains Ruapehu and Ngauruhoe.
Covers topography, geology, history and Maori folk-lore of the area.
Te Heuheu Horonuku, Bidwill, Otukou, Papakai, Ketetahi, Onetapu, Taranaki, Te Porere, Nga-puna-a-Tama
VG- softback in limp cloth binding with some sun-fading.
Lacks the folding map.
$45 C/B
Tongariro National Park Board 1927 156pp + 39 plates
[#4104 ]
8/5/2019ev
BLAKE Ken

The Professionals
Television series novelisations.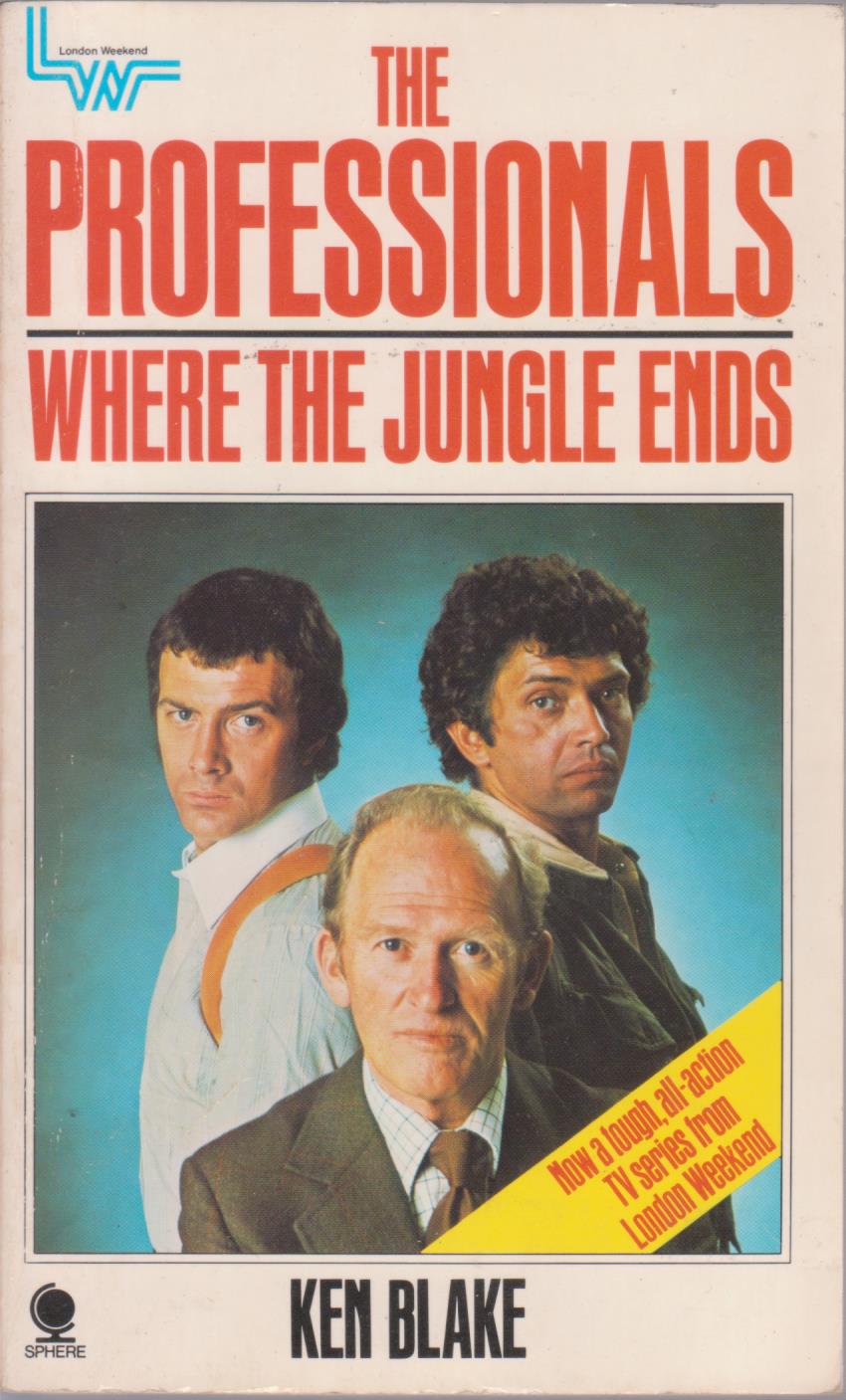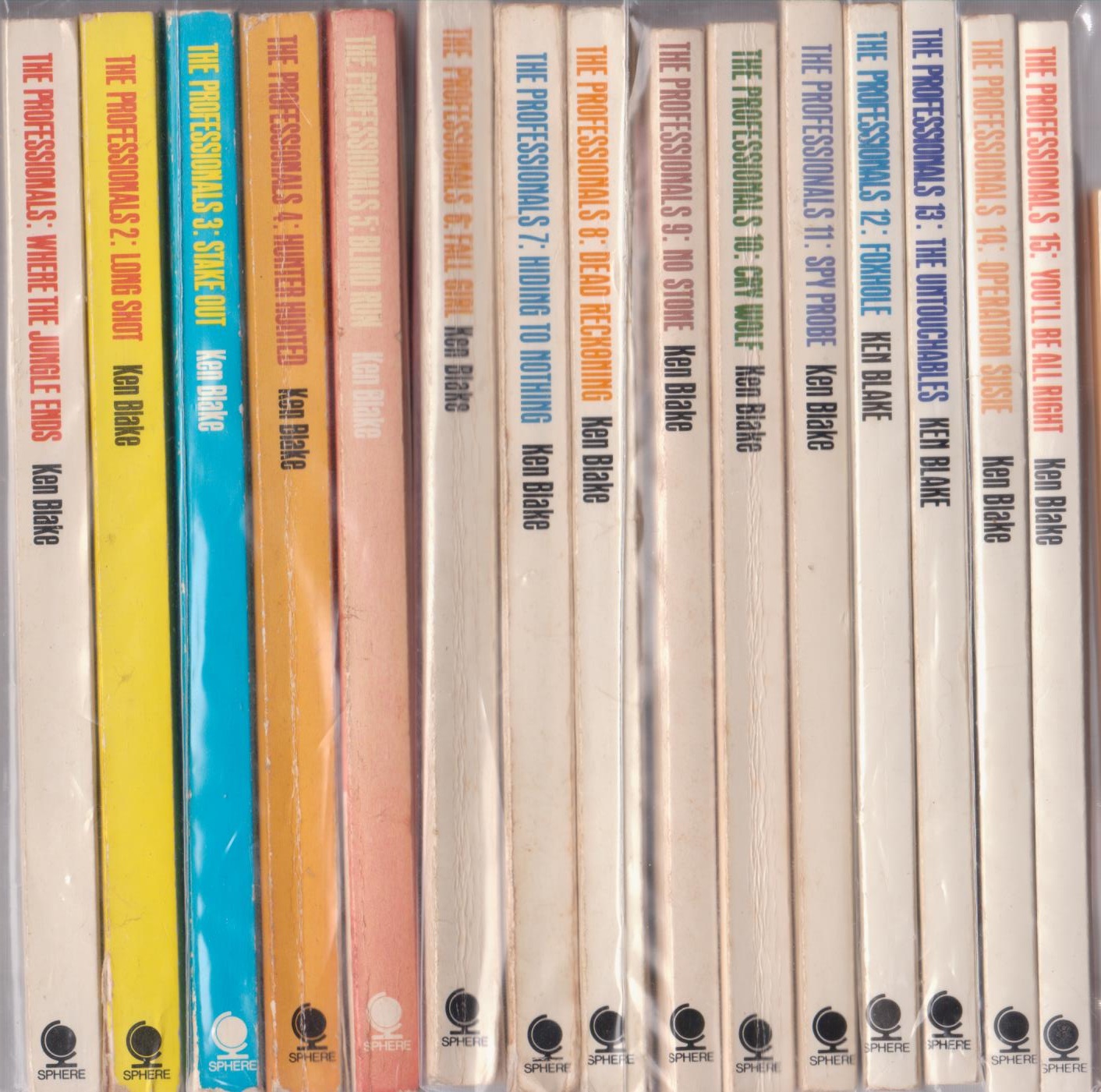 All 15 parts in the novelisation of the LWT series based on the fictional exploits of the British Criminal Investigation Branch, CI5, headed by George Cowley, and following the chalk and cheese duo of Bodie and Doyle.
London Weekend Television, tv tie-in, British television show, crime drama, thriller
VG paperbacks
$150 D/D
Sphere 1978-1982 first editions, approx 160pp each.
[#4094 ]
BLAKE Ken

The Professionals 12
Foxhole.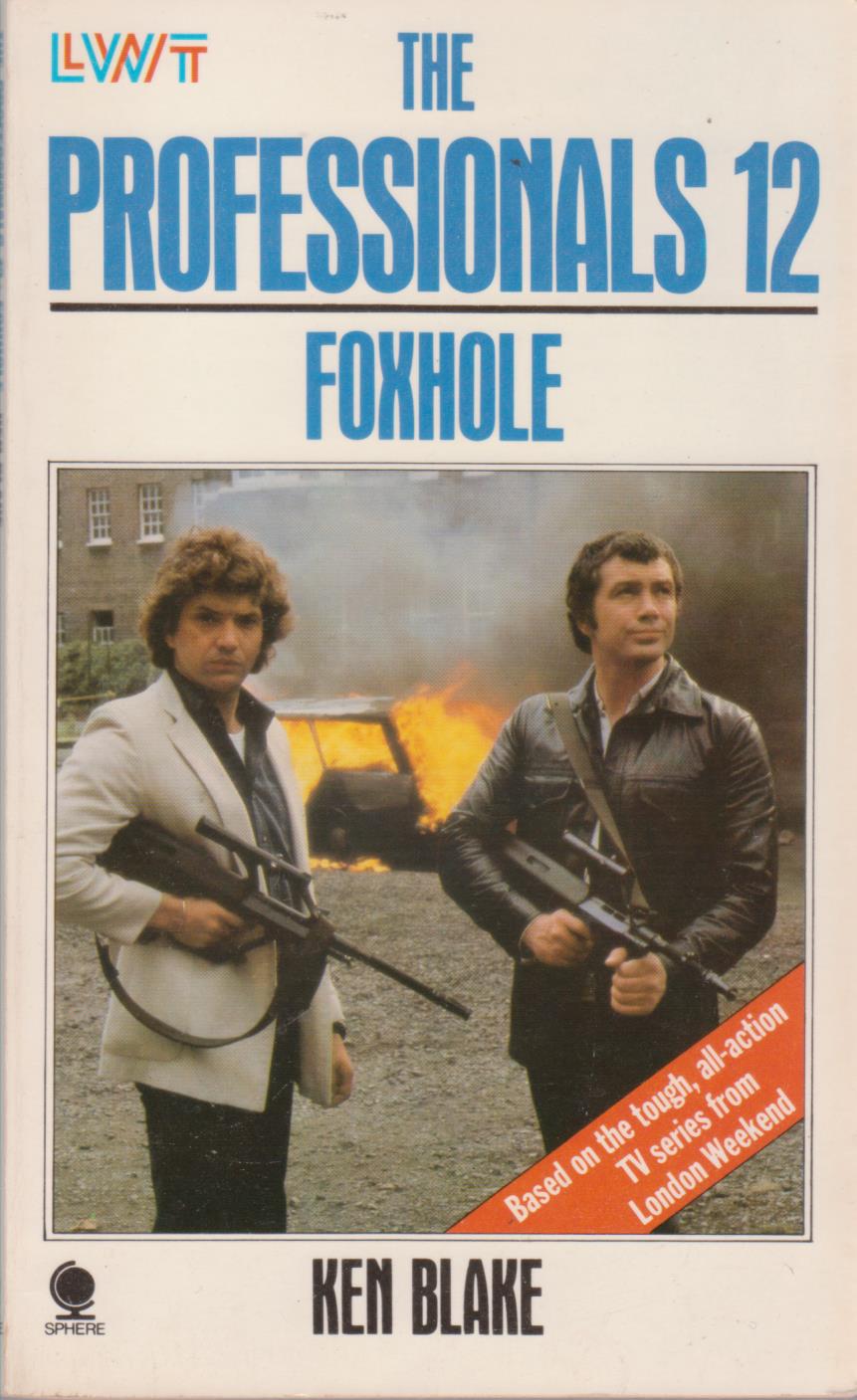 part 12 of the novelisation of the LWT series based on the fictional exploits of the British Criminal Investigation Branch, CI5, headed by George Cowley, and following the chalk and cheese duo of Bodie and Doyle.
London Weekend Television, tv tie-in, British television show, crime drama, thriller
VG paperback
$10 A/A
Sphere 1982 first edition, approx 119pp each.
[#4095 ]
ASHCROFT-NOWICKI Dolores

The Shining Paths
An Experimental Journey Through the Tree of Life
Magical pathworkings based on the thirty-two paths of the Qabalistic Tree of Life.
Each working is preceded by a discussion of the individual path and of the experiences, correspondences and symbolism associated with it.
ISBN9780850303476
occult, kabala, magic
G+ softback, surface loss to cover, name blacked out to first page, sun-faded spine.
$20 C/B
Aquarian press 1985 reprint, 240pp.
[#4096 ]
STEINER Rudolf

Theosophy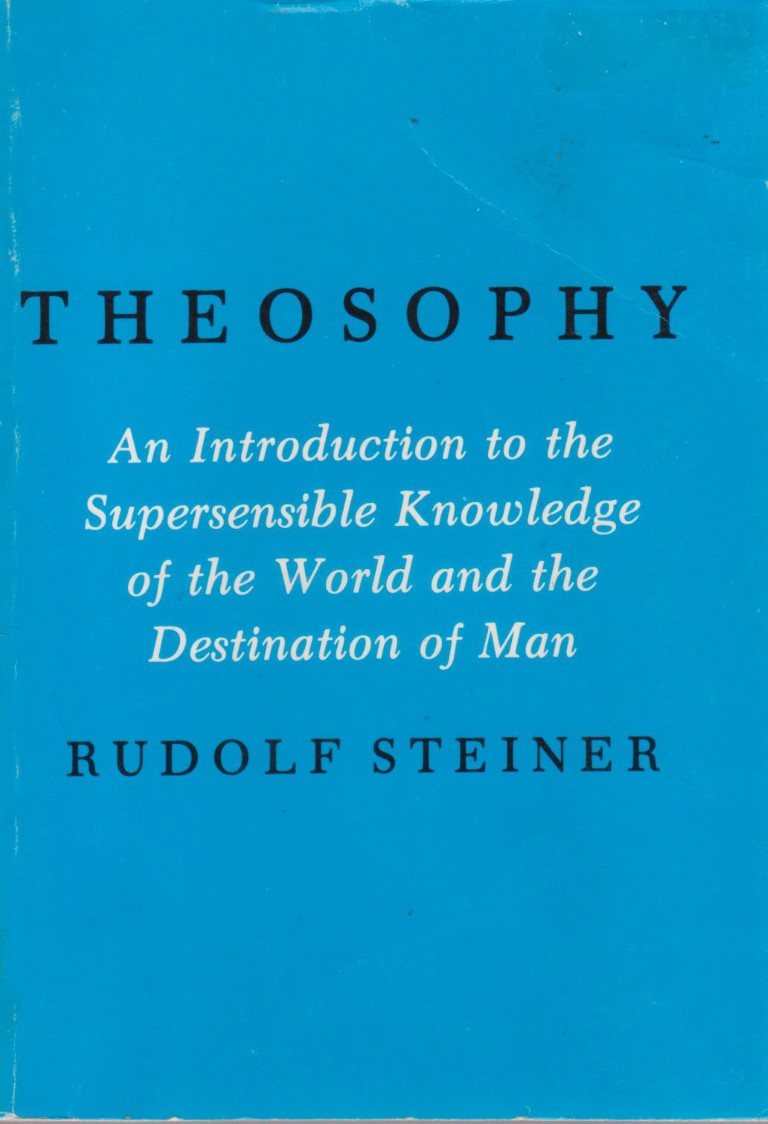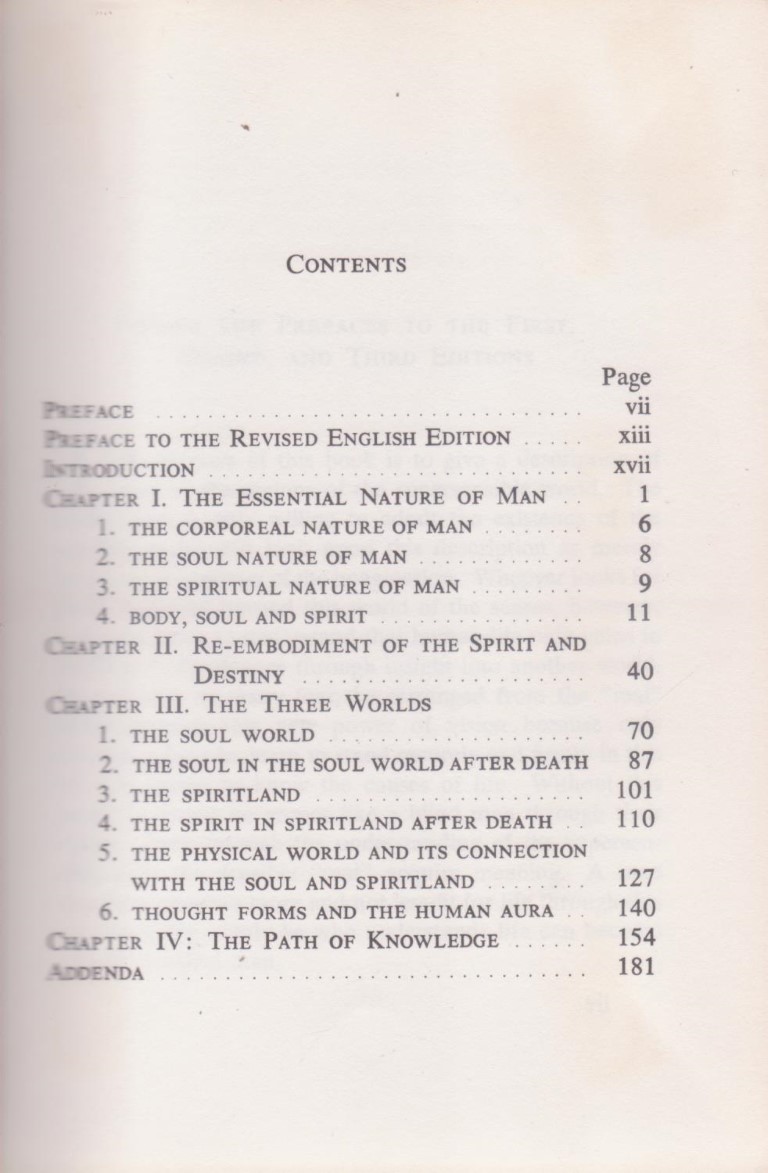 An introduction to the Supersensible Knowledge of the World and the Destination of Man.
ISBN
theosophy, anthroposophy, occult, spirituality
VG- softback,
$10 C/B
Anthroposophic Press 1971, xxiii 195pp.
[#4097 ]
STEINER Rudolf

Occult Science, an outline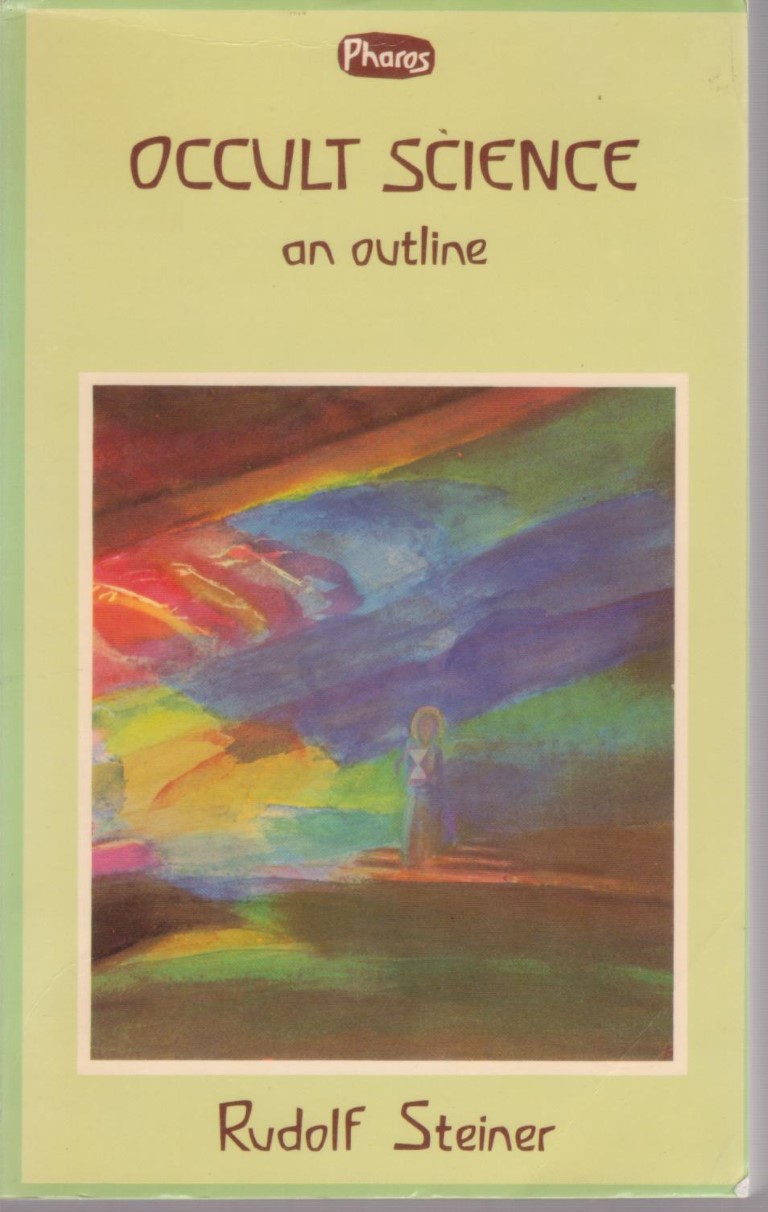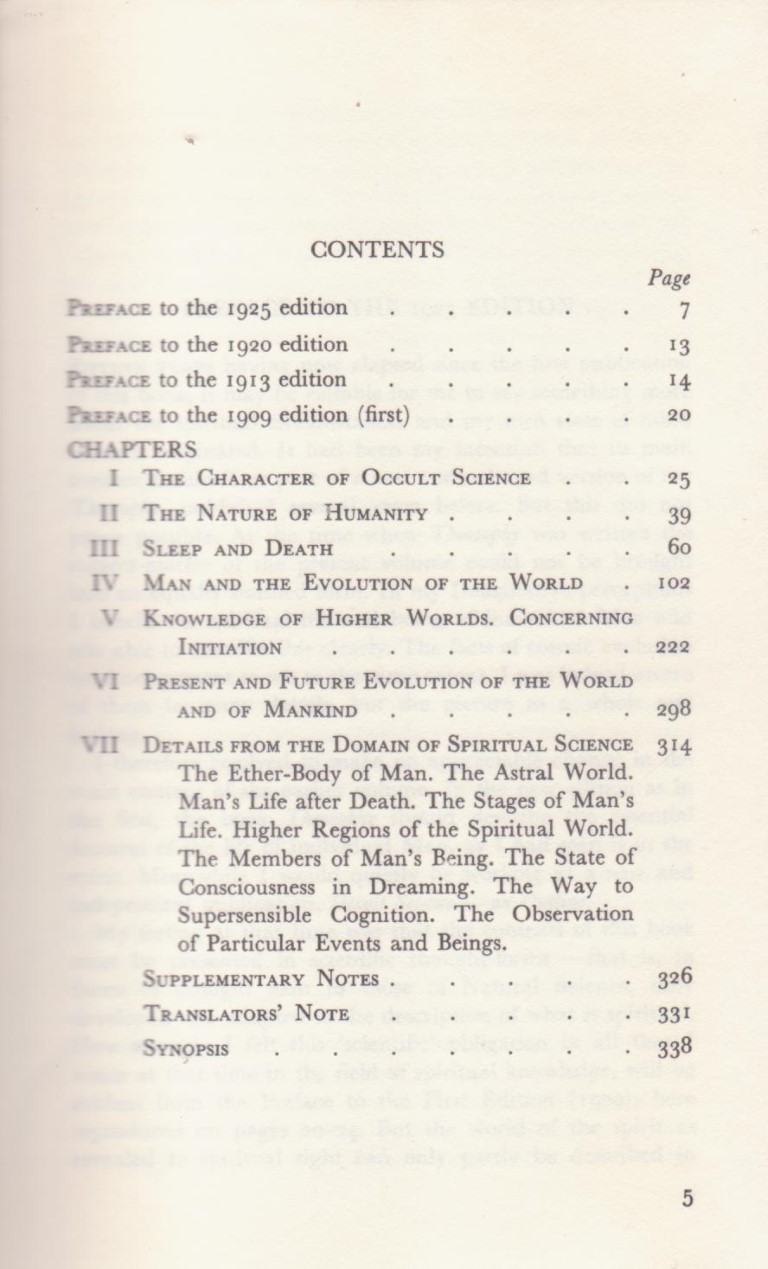 In a systematic way, Steiner lays out fundamental facts concerning the nature and constitution of the human being and, in chronological order, the history of the universe and humankind.
ISBN0854403493
anthroposophy, occult, spirituality
VG- softback
$15 C/B
Pharos/ Rudolf Steiner Pres 1979, 350pp.
[#4098 ]
FIELD A.N.

The Truth about New Zealand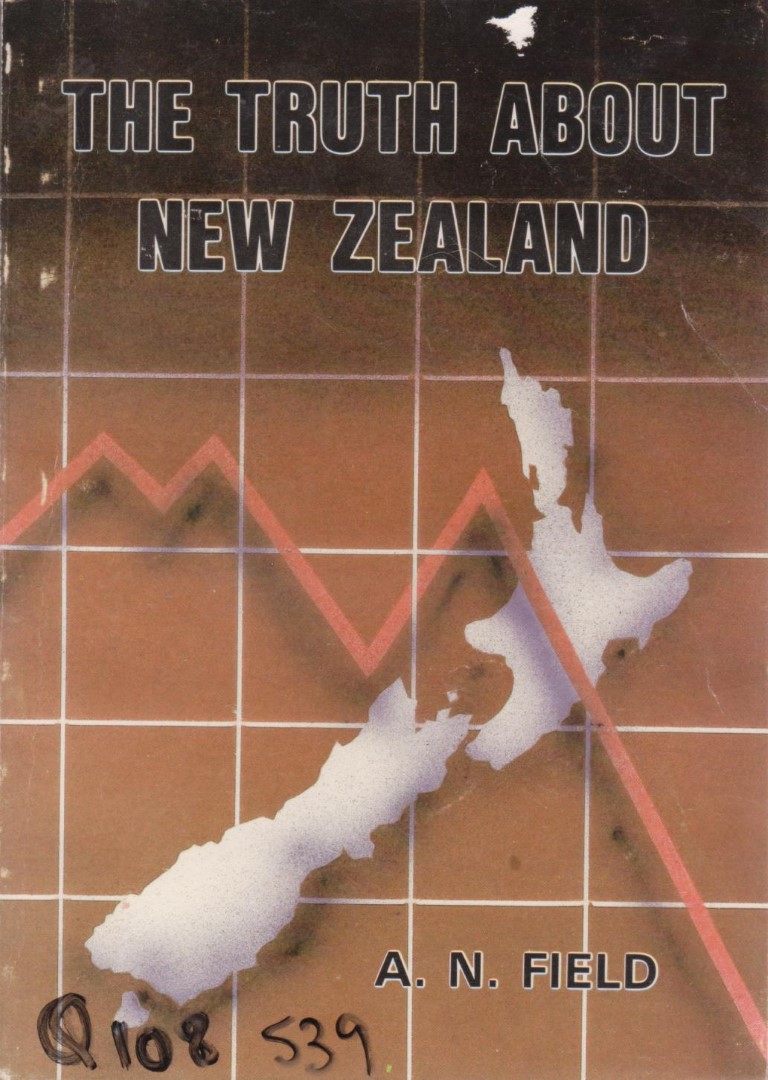 A book about the hidden hand behind politics by an influential right-wing theorist, prominent in Australia and New Zealand.
"Kiwi theoretician of the Australian Radical Right", Field's books are rarely found in circulation.
ISBN0947117407
politics, marxism, marxist, communism, new zealand, sovereignty, globalism, nationalsim
VG- with some private library marks.
$65 C/B
Veritas Publishing Company 1987, third printing, 171pp.
[#4099 ]
MACDONALD Andrew

On My Way to the Somme
New Zealanders and the Offensive of 1916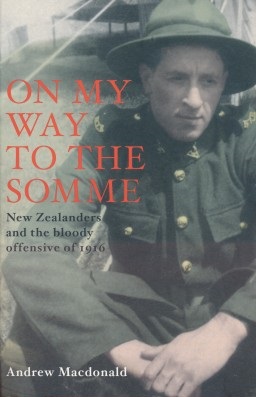 A complete history of the New Zealand effort on the Somme in the First World War.
From a new perspective, and illustrated with photographs.
Includes studies of command, training, discipline, morale, environment, and tactics of the day, as well as the role of Maori in the Somme offensive.
ISBN9781869505547
ww1, wwi, anzac, western front, military history
VG softback
$35 C/C
Harper Collins 2005, 335pp.
[#4101 ]
DICK Philip K.

Do Androids Dream Of Electric Sheep?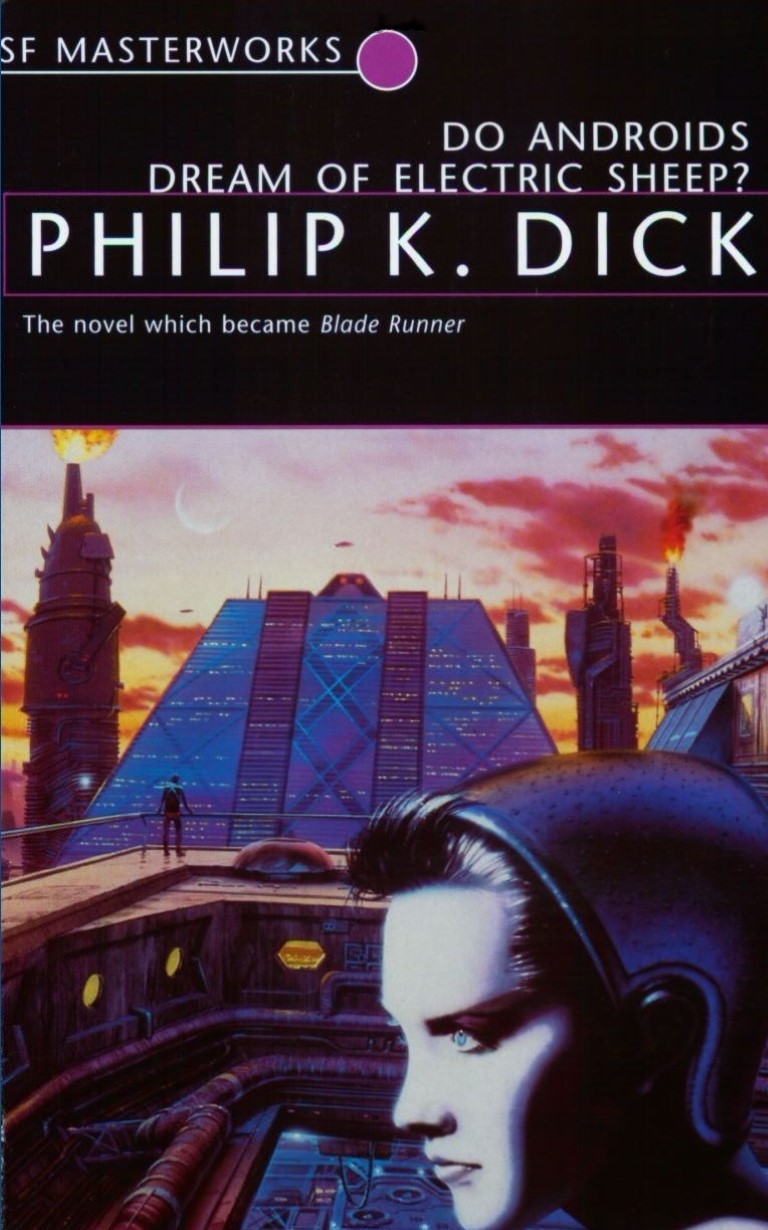 World War Terminus had left the Earth devastated. Through its ruins, bounty hunter Rick Deckard stalked, in search of the renegade replicants who were his prey.
The original story that was made into the film Blade Runner.
S.F. Masterworks 4
ISBN9781857988130
Nexus-6, Philip K Dick, film, movie
VG paperback
$10 A/B
Orion/ Gollancz 1999, 210pp.
[#4102 ]
29/4/2019ev
BAUMANN Hans illustrated by Ulrik Schramm.

Angelina and the Birds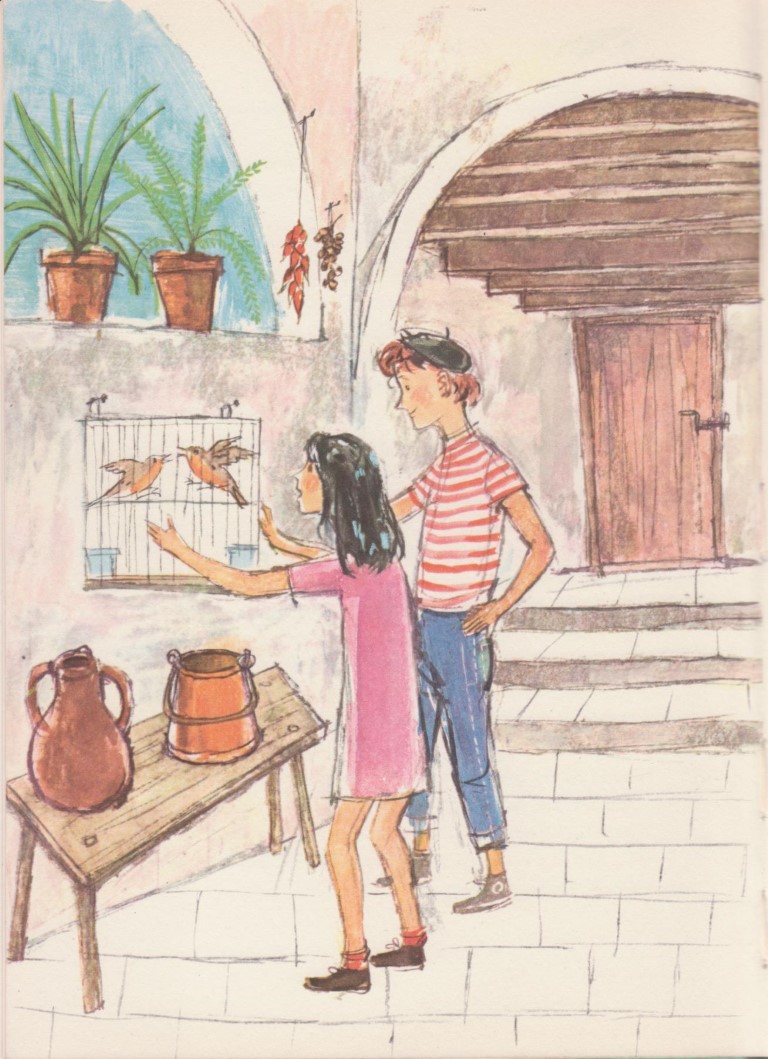 Illustrated children's fiction set in a small Italian lakeside village.
A girl prays to St Francis to help rescue birds from birdcatchers.
Translated by Katharine Potts from the original Kleine Schwester Schwalbe.
modern first edition, children
VG hardback with no dust jacket.
$10 B/B
Oxford University Press 1959 First edition, 63pp.
[#4091 ]
WALSH D. S. & Bruce Biggs

Proto-Polynesian Word List 1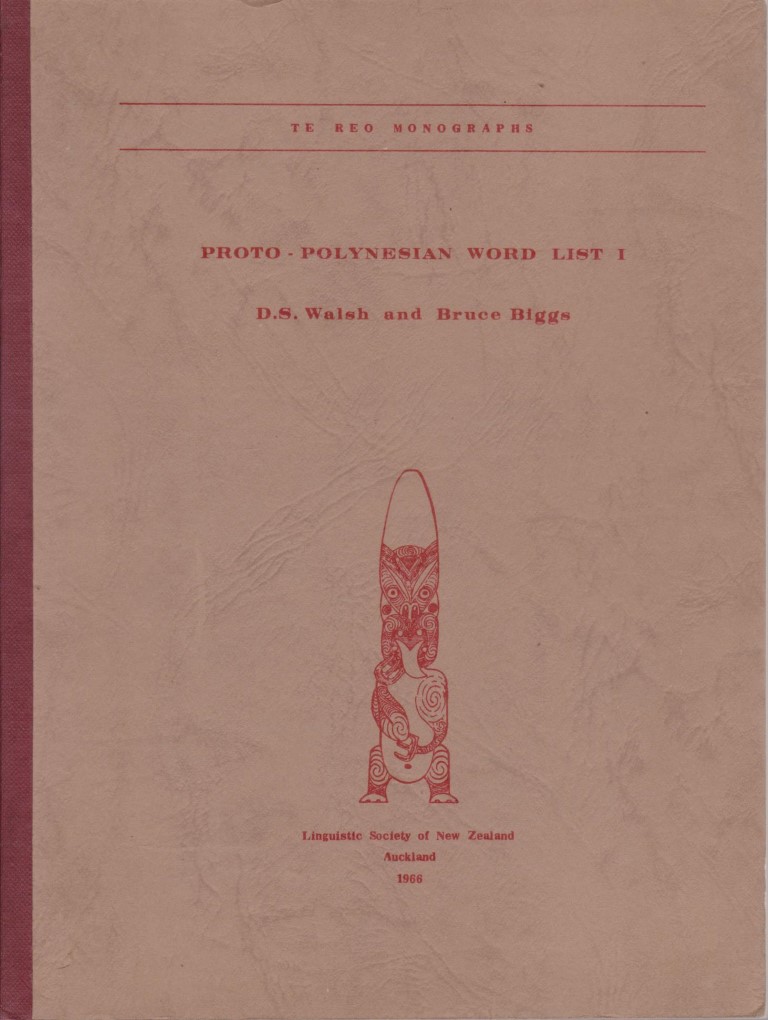 Contains word lists with correlation between the various Pacific and Polynesian languages that stem from these Proto-Polynesian roots.
maori, pasifika, te reo
VG+ softback with cloth spine over printed stiff paper wrappers.
$65 B/C
Linguistic Society of New Zealand 1966, xv 133pp.
[#4092 ]
WILSON Colin & John Grant

The Directory of Possibilities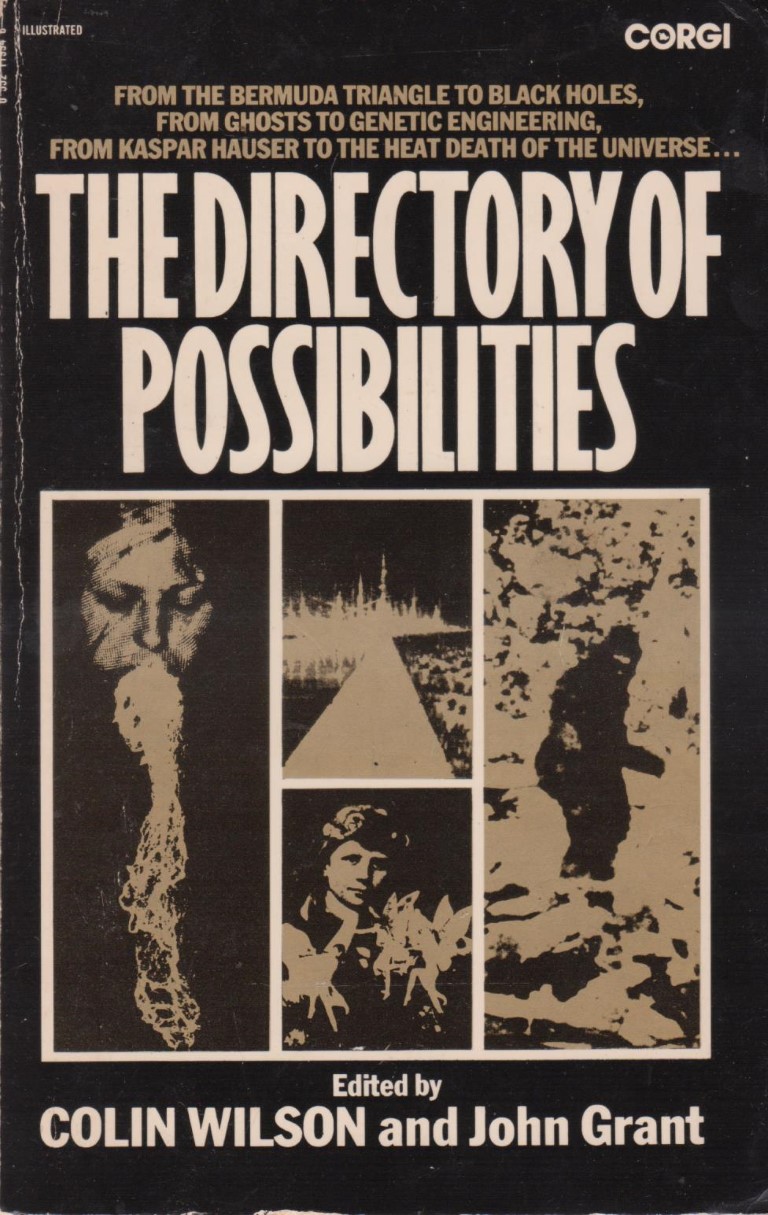 A collection of essays on varied supernatural and occult subjects.
Includes illustrations by Steffi Grant, and two works by A O Spare including a portrait of Aleister Crowley.
ISBN0552119946
VG hardback in VG- dust jacket with sunned spine.
$15 C/C
BCA 1981, 255pp + plates.
[#1008 ]
G+ softback
$10 C/B
Corgi 1982, 303pp + plates. ISBN0552119946
[#4093 ]
14/4/2019ev
WILLIAMS Ulric

Hints on Healthy Living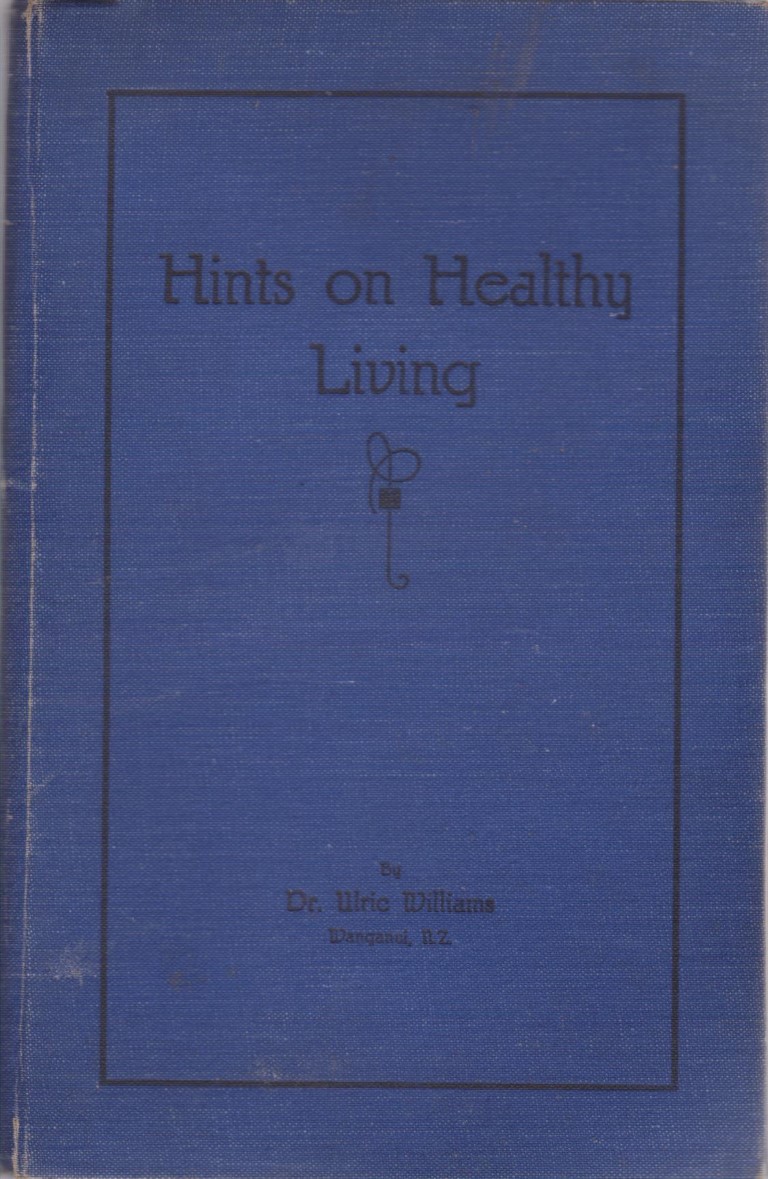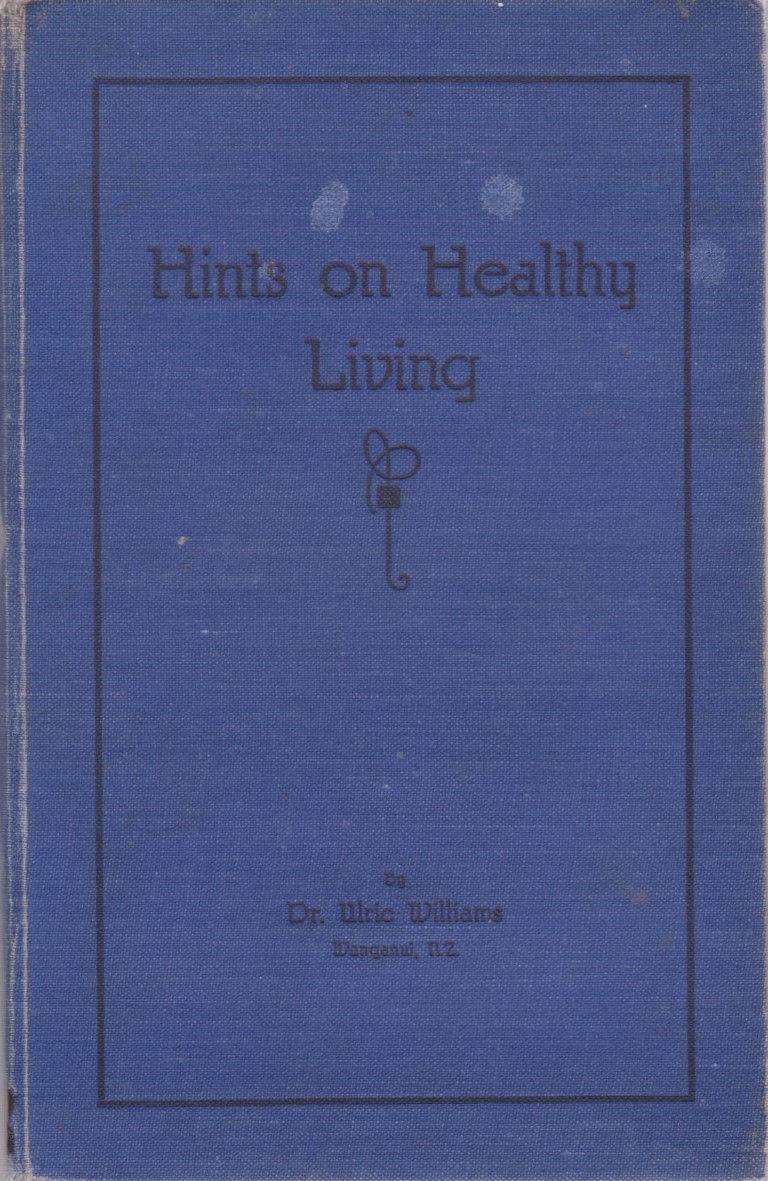 A health by natural therapy book, mainly being dietary recipes and rules.
Williams practised conventional medicine before becoming interested in naturopathy in 1933.
He believed that ill-health was the consequence of disobeying natural law, the law of God, and advocated healthy habits of living.
fasting, enema, disease, natural health, new zealand, diet
VG- hardback with no jacket.
The hinges have been strengthened with archival linen tape.
$45 C/B
Wanganui Chronicle Company/ South's Book Depot undated Third Edition, 135 (+3)pp.
[#4069 ]
G+ hardback with no jacket.
The hinges have been strengthened with archival linen tape.
There is a marker pen call number to the spine and to the first blank page.
$45 C/B
Wanganui Chronicle Company/ South's Book Depot undated Third Edition, 135 (+3)pp.
[#4070 ]
KEMPE Margery, edited and translated by Barry Windeatt

The Book of Margery Kempe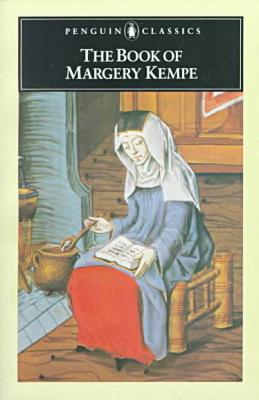 The life of Margery Kempe (c.1373-c.1440) a wife, mother, businesswoman, pilgrim and visionary.
Translated into modern English, this is the earliest surviving autobiography of an English person.
ISBN9780140432510
autobiography, religious, christian, mediaeval, british
VG+ softback
$8 C/B
Penguin Classics 1985, 332pp
[#4072 ]
DOUGLAS, John E.

Mind Hunter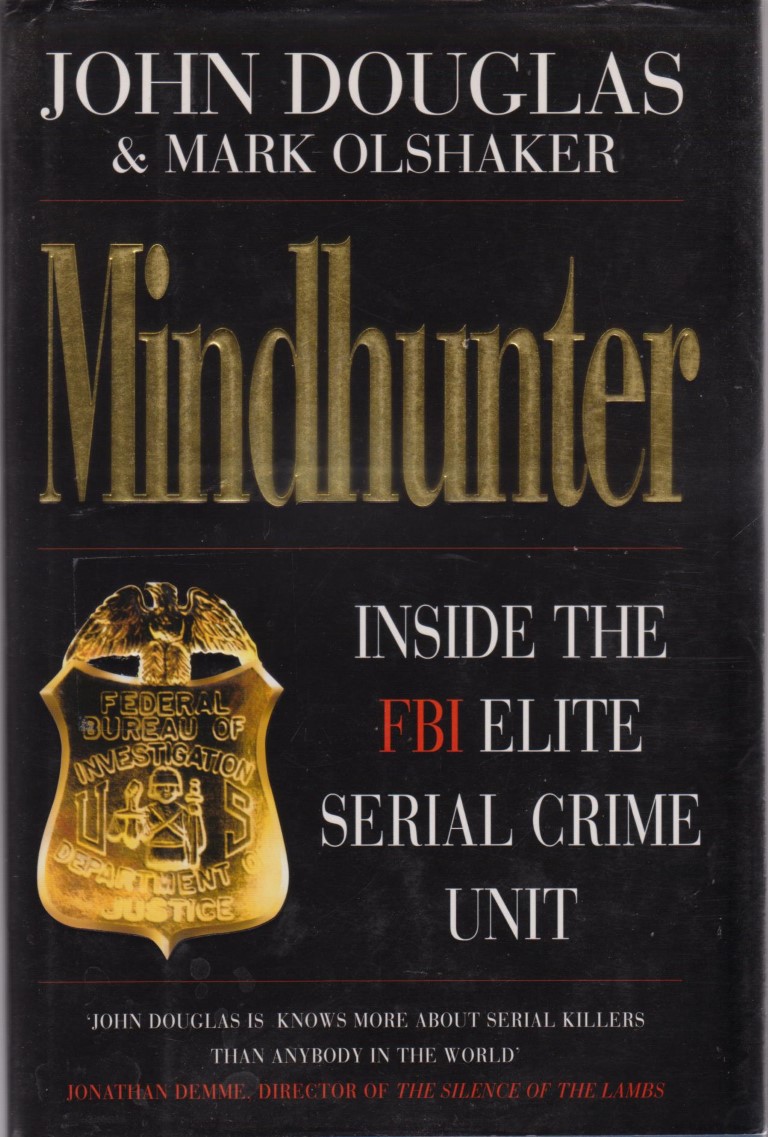 Inside the FBI's Elite Serial Crime Unit, who study crimes to build a profile of suspects.
The basis for the Netflix true crime series of the same name.
This copy is the US first edition by Scribner, but it has the UK dust jacket of the Heinemann edition.
ISBN0684803763
true crime, serial killers, criminology, behavioural science
VG hardback in VG dust jacket.
$15 C/C
Scribner 1995 first US edition, 384pp + plates.
[#4073 ]
REISCHEK Andreas

Yesterdays in Maoriland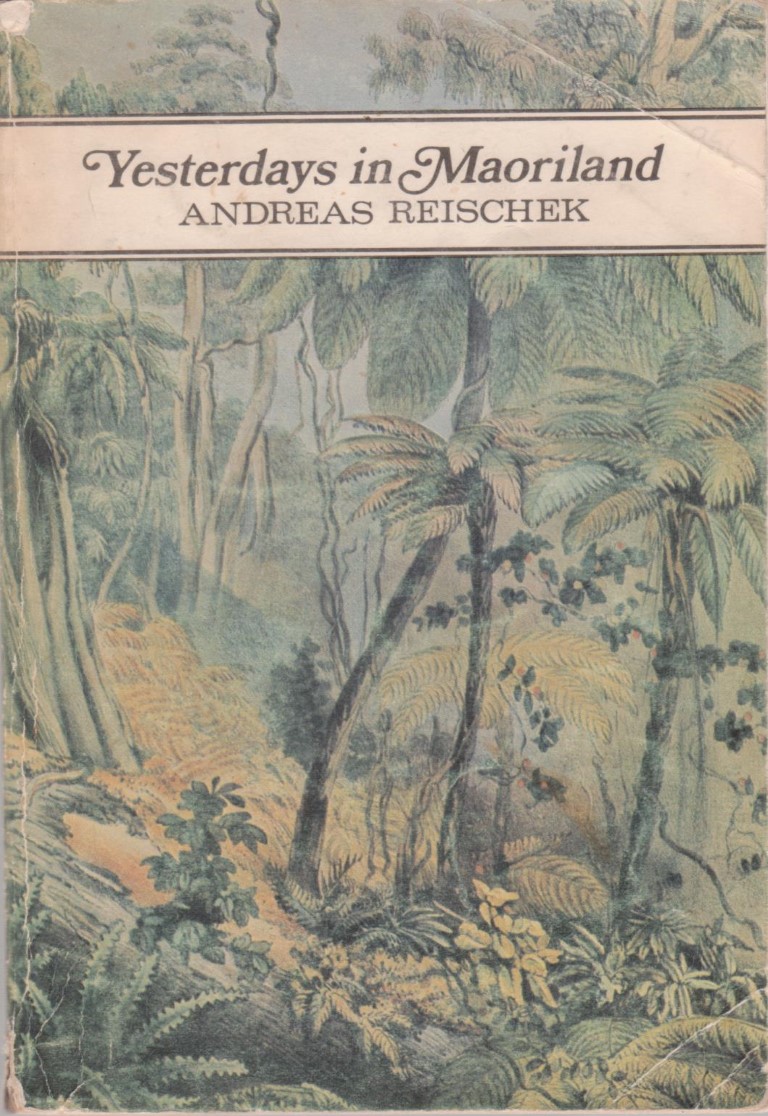 Memoir by this indefatigable nineteenth century Austrian naturalist, scientist, and explorer in New Zealand, who obsessively collected ornithological and other natural history specimens for foreign museums.
A facsimile of Cape original, printed on cheap newsprint stock.
new zealand, native birds, specimens, taxidermist,
VG- some wear or handling
$9 C/B
Wilson & Horton (1970), 312pp.
[#1961, 4074 ]
ADAMS Douglas

The Hitch Hiker's Guide to the Galaxy
A Trilogy in Five Parts.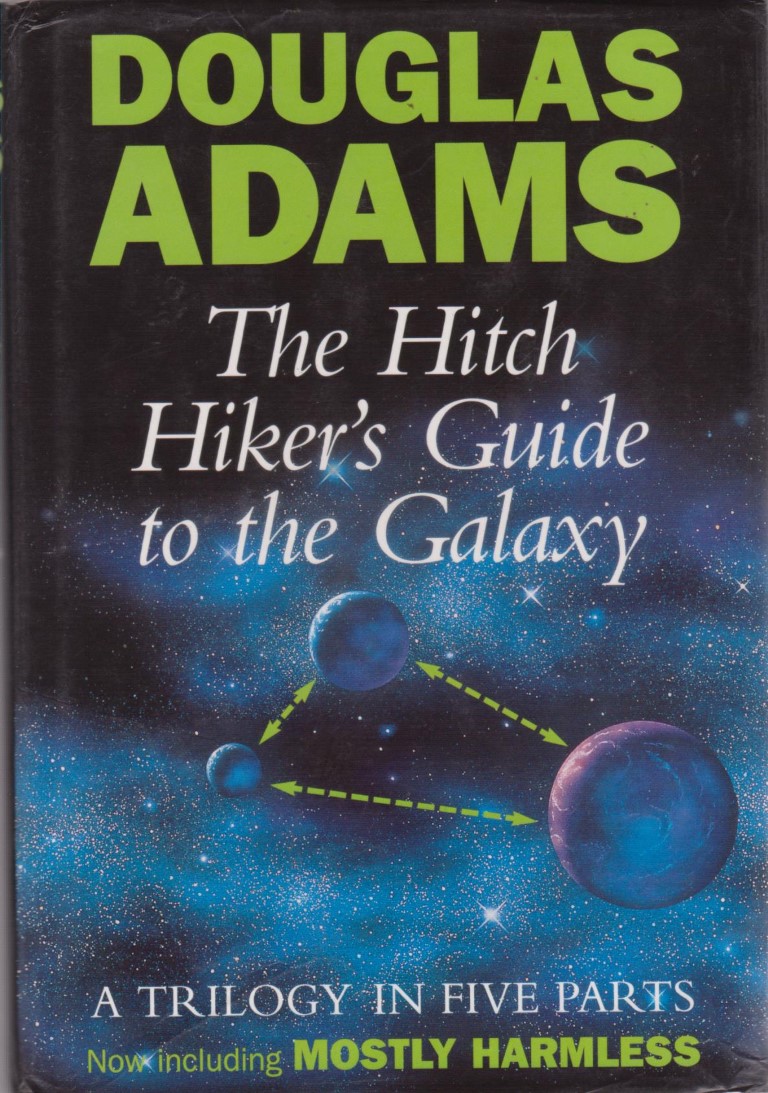 Omnibus collects the five works.
Includes The Hitch Hiker's Guide to the Galaxy, The Restaurant at the End of the Universe, Life, the Universe and Everything, So Long, and thanks for all the fish, Mostly Harmless.
ISBN9780434003488
british, humour, fantasy, scif fi
VG- hardback in VG dust jacket.
$25 C/C
Heinemann1996, 776pp.
[#4075 ]
WESTRA Ans, with introduction by James K BAXTER and Tim Shadbolt

Notes on the country I live in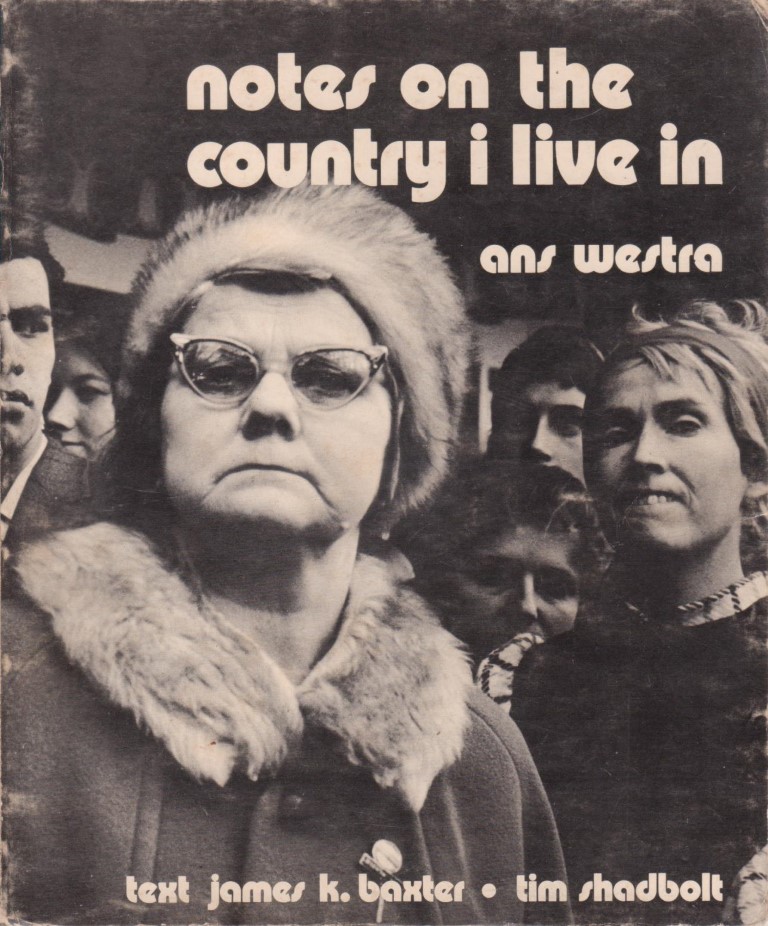 Westra captures New Zealand society at a time of great change from the old generation of the Depression and World War, to the burgeoning urban Maori and Pasifika migrants, and the youth movements of the Seventies.
photography, photojournalism, social commentary, history
VG softback, minor wear.
$45 B/B
Alister Taylor Publishing Ltd. 1974 First edition edition, 124pp
[#4076 ]
GREGAN Des

One Man in His Time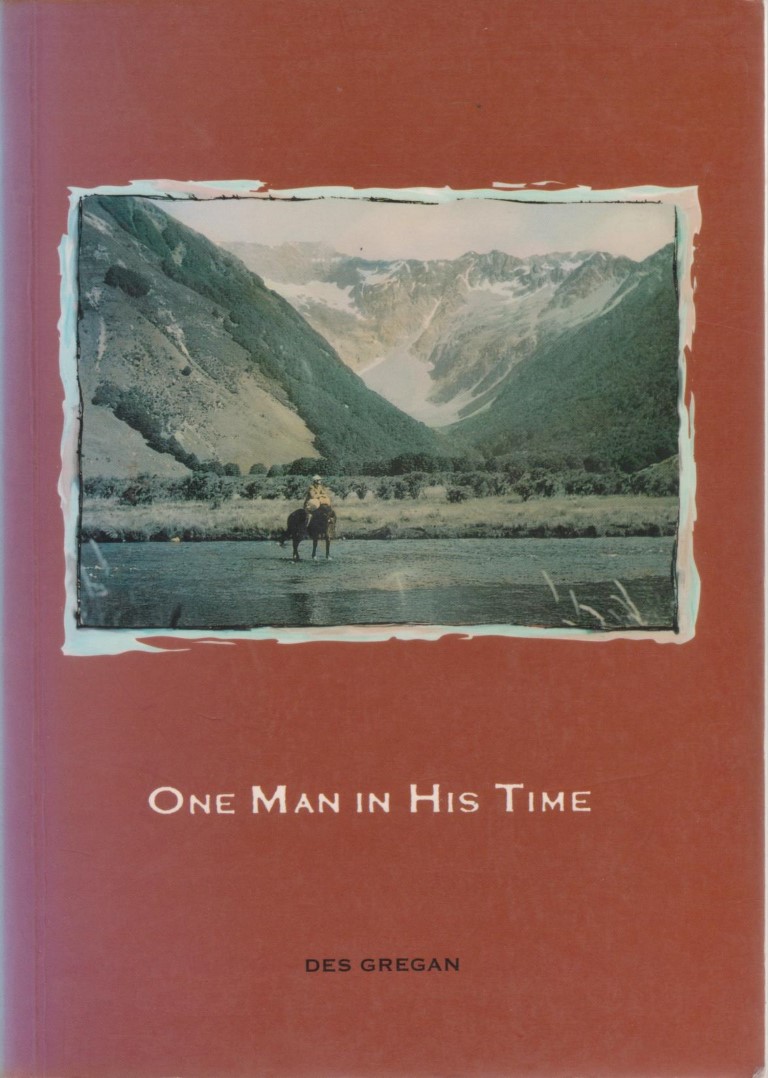 John Desmond Gregan had a career that included faming and land valuation and administration in both Canterbury and the West Coast.
He recounts his experiences at work and with his hobbies of drama, climbing and horse racing.
ISBN9416479000594
memoir, biography
VG softback, the spine is sun faded as usual.
Has a presentation inscription signed by Des.
$35 C/B
Des Gregan 1997, 192 pp.
[#4077 ]
MACDONALD-BAYNE Murdo

Divine Healing of Mind and Body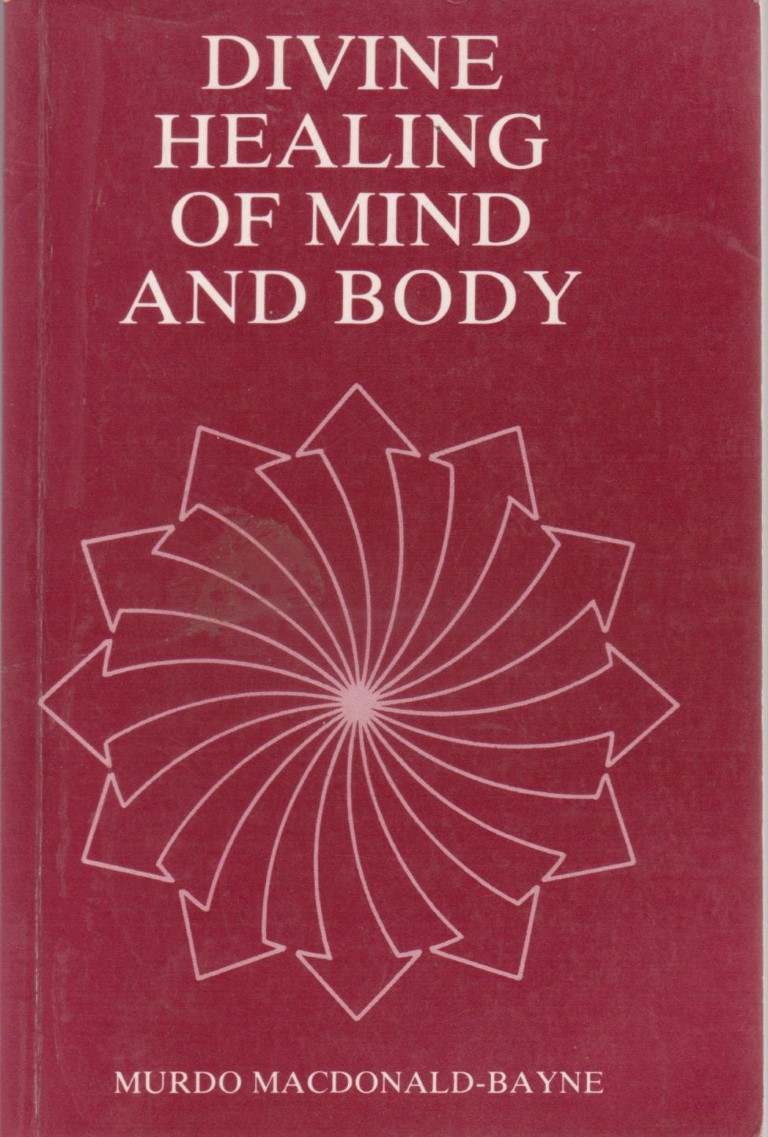 The Master Speaks Again in talks given by M MacDonald-Bayne.
Cosmic Christ consciousness etc.
Contains lectures of a Great Master, offering the highest spiritual growth and understanding.
Macdonald-Bayne himself describes how he became aware of sublime power, a conciousness far above his own.
ISBN0852430353
new thought, christian, spiritualist, mysticism
VG softback
$15 C/B
Fowler 1986, 215pp.
[#4078 ]
HARPER Barbara

Morrisons of Geraldine 1867-1967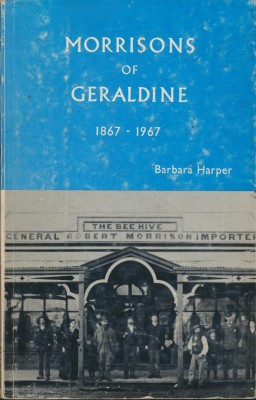 Centenary celebration publication gives the history of Morrison Brothers of Geraldine, also a good record of Geraldine's past.
south canterbury, history, mercantile, business
VG- hardcover with VG- dust jacket with surface rubbing.
$35 C/B
Morrison Brothers Ltd.(1967), 69pp + errata at rear.
[#4079 ]
STOKER Bram

Dracula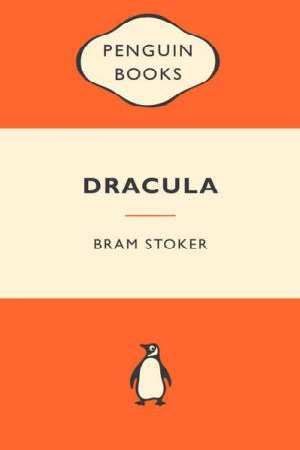 Published in 1897 Dracula is still regarded as a masterpiece of the macabre.
Count Dracula's castle is a hellish world where night is day, pleasure is pain and the blood of the innocent prized above all. Young Jonathan Harker approaches the gloomy gates with no idea what he is about to face. Later, back in England, eerie incidents unfold as strange puncture marks appear on a young woman's neck. Can Harker's fiancé Mina be saved?
ISBN9780141045221
horror, vampire, fiction
VG paperback
$7 A/B
Penguin, 402pp.
[PB1596 ]
THOREAU Henry David

Walden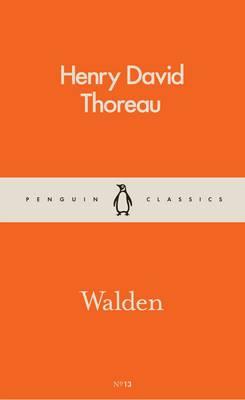 One man's attempt to live the simple life in the wilderness, which is regarded as the founding text for the environmental movement and the entire counter-culture of those "opting out" of the system.
ISBN9780241261859
Pocket Classics No13, philosophy, ecology, solitude, bucolic, american
VG paperback
$7 A/B
Penguin 2016, 323pp.
[PB1597]
LEE Harper

To Kill a Mockingbird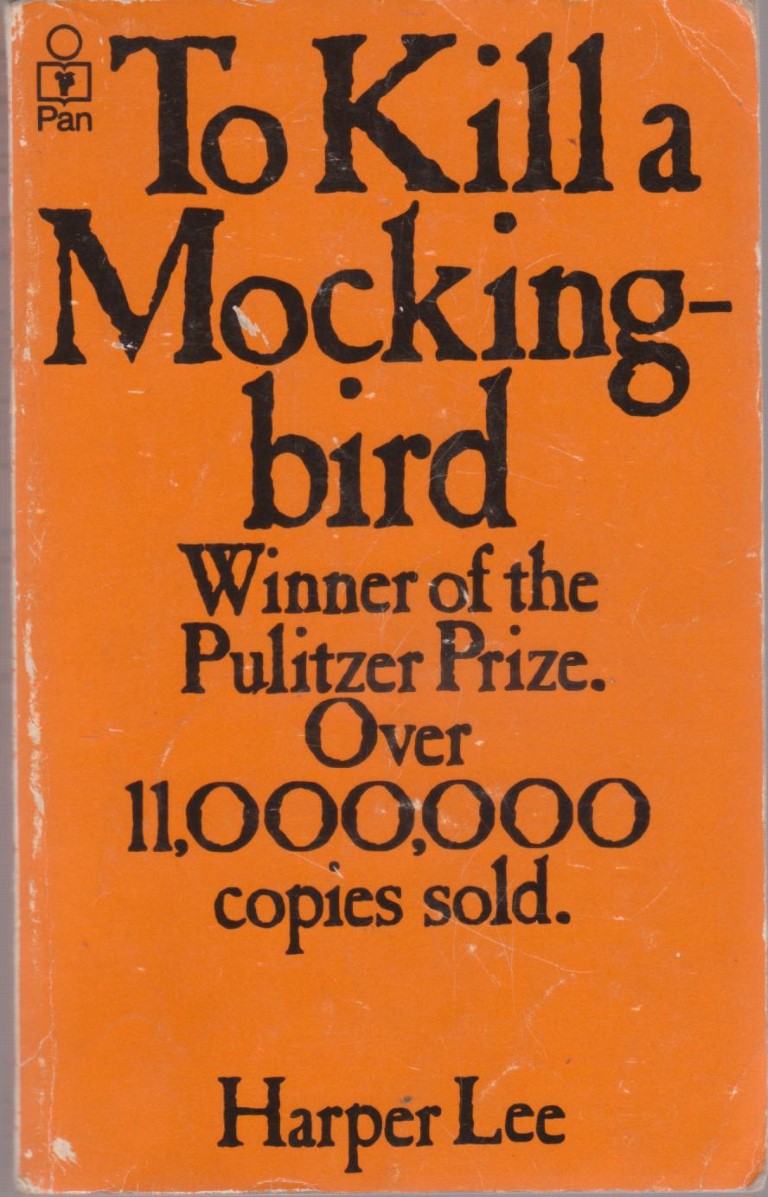 A classic novel set in the Deep South in the 1930s, in which lawyer Atticus Finch defends an innocent black man accused of raping a white girl.
ISBN0330241184
Pulitzer Prize, american literature,
G+ paperback
$7 A/B
Penguin 1974, 285pp.
[PB1598 ]
2/4/2019ev
MARCUSE F L

Hypnosis, Fact and Fiction.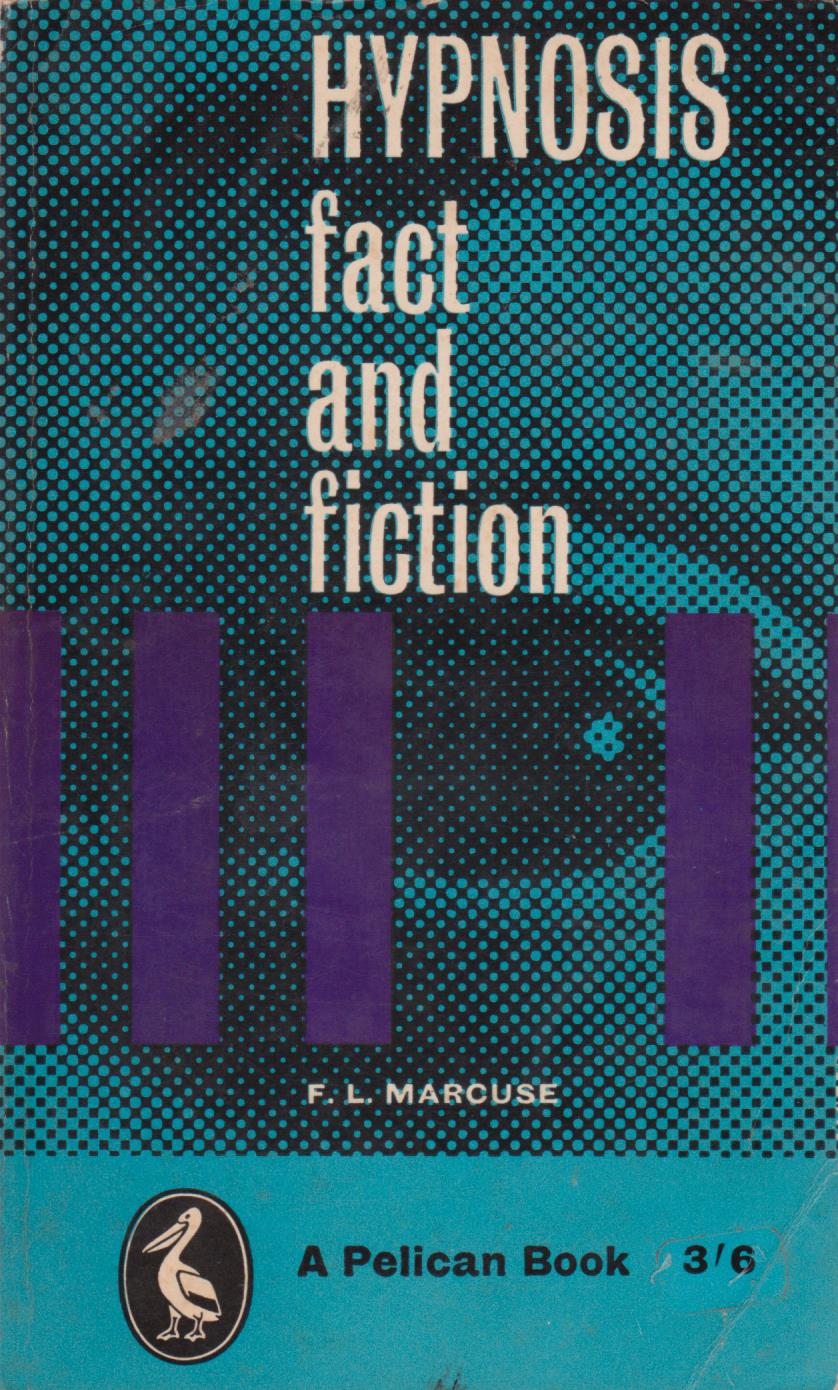 A full look at the uses and abuses of hypnosis in the medical and social fields.
Pelican A446
hypnotherapy, hypnotism, psychology, personality
VG paperback
$7 A/B
Pelican 1961, 224pp.
[PB1592 ]
SALINGER J.D.

Raise High the Roof Beam, Carpenters and Seymour, an Introduction
First Penguin edition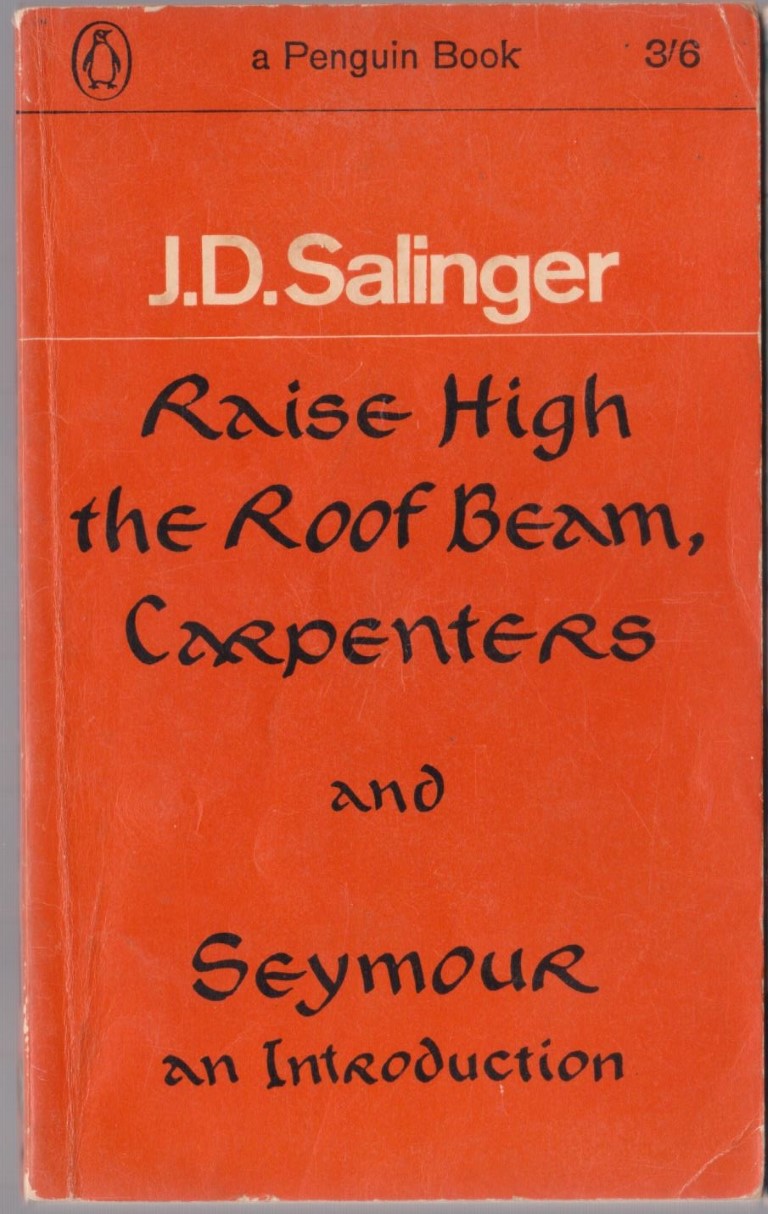 The first Penguin paperback printing in the year after the first UK edition was released by Heinemann.
american literature, modern fiction
G+ paperback with some mild foxing
$10 A/A
Penguin 1964 first edition thus, 157pp.
[PB1593 ]
MANN Thomas

The Magic Mountain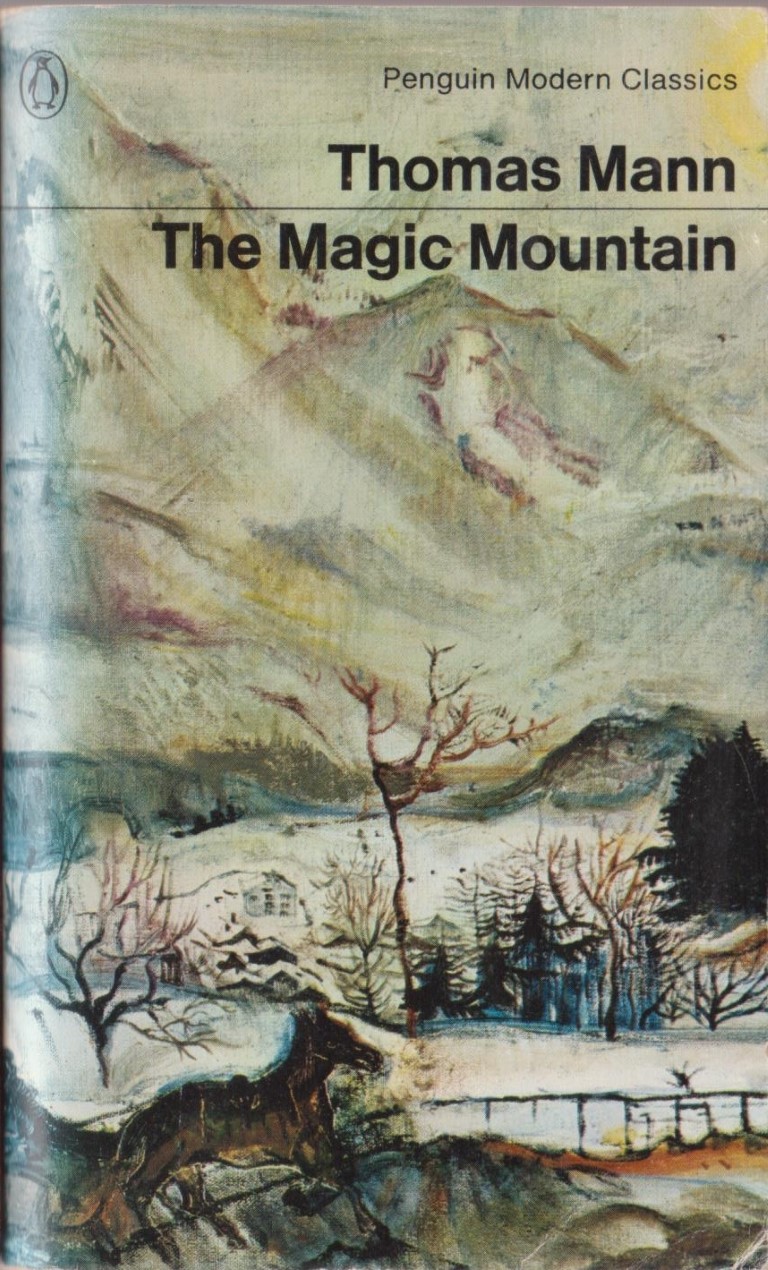 The Magic Mountain (Der Zauberberg) is a dialectic novel set in a sanatorium high in the Swiss Alps.
ISBN0140014756
German literature, modern fiction, Nobel prize for literature 1929
VG- paperback
$8 A/B
Penguin reprint, 716pp.
[PB1594, BOX#2]
CAVE Nick

And the Ass saw the Angel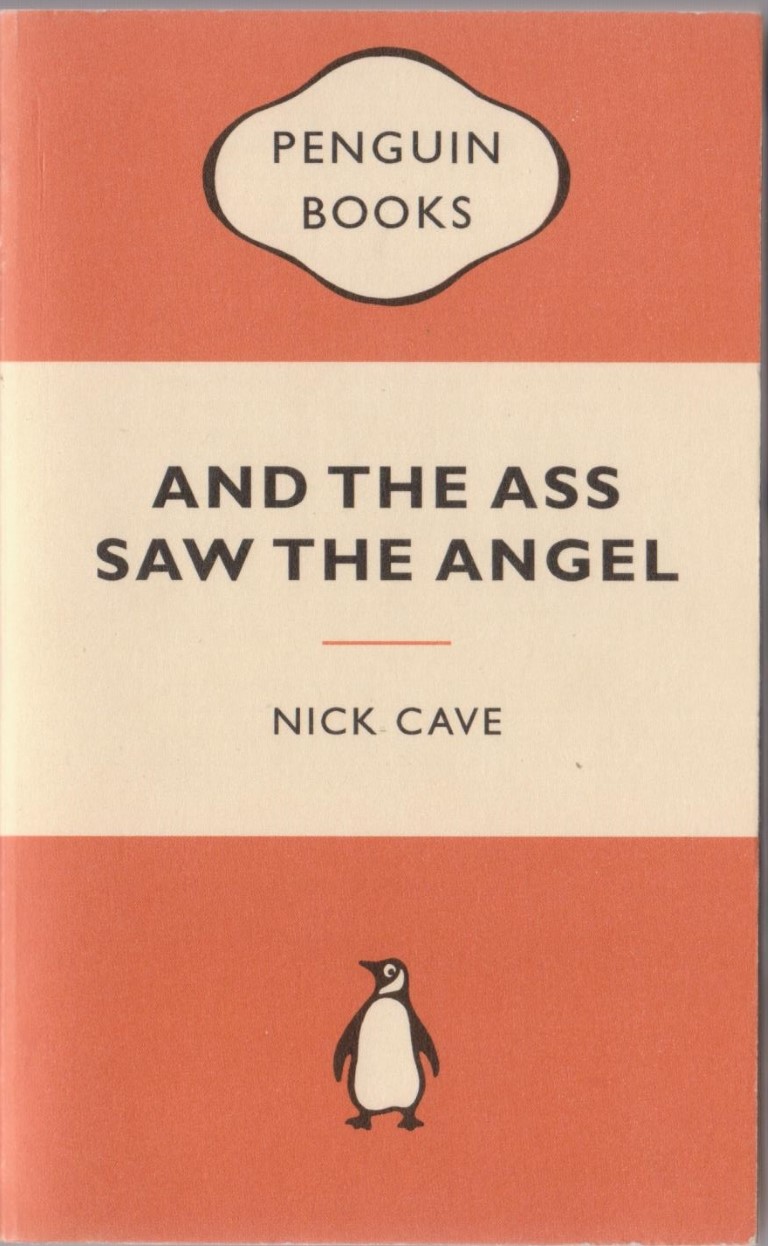 This first novel by acclaimed Australian songwriter and musician is a fantastic Gothic tragedy.
ISBN9780141045610
modern fiction, australian literature
VG paperback
$8 A/A
Penguin reprint, 312pp.
[PB1595 ]
EDWARDS Hugh

Kimberley
Dreaming to Diamonds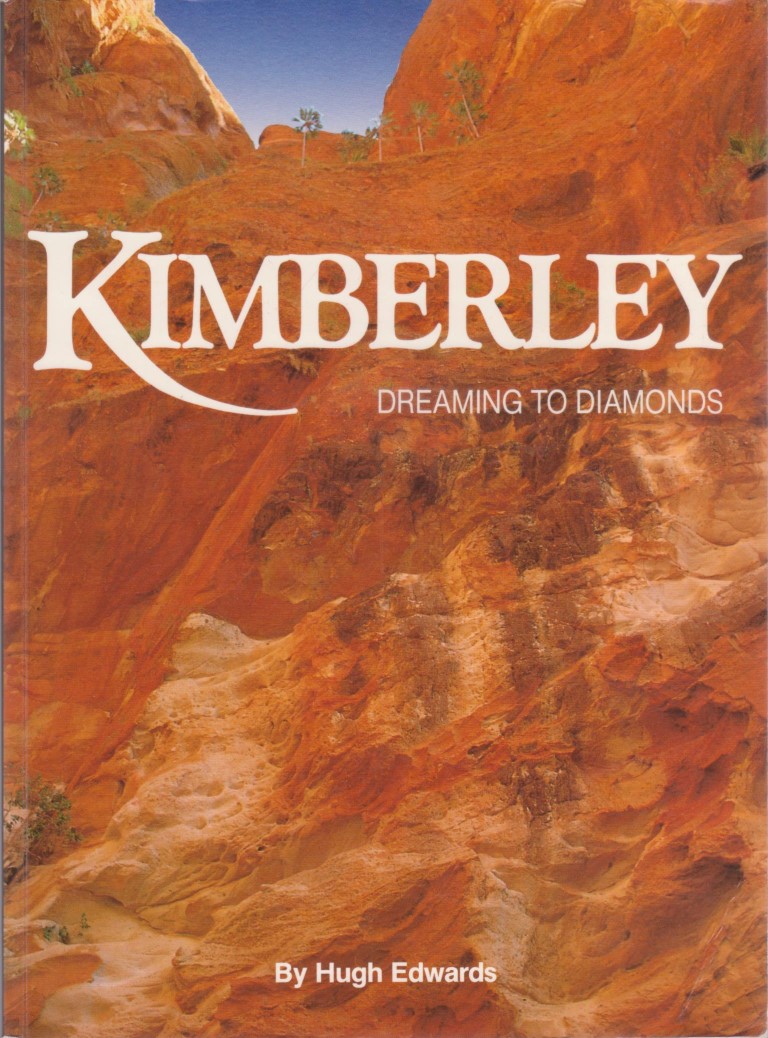 Stories from the past of the Kimberley.
Kingsford Smith and the Atlantis aviators.
Aboriginal peoples.
Diamonds and gold.
Sandamara of the Bunaba.
ISBN0646050303
Fitzroy, Kimberley, Broome, Kununurra, Wyndham, Kalumbruru
VG softback
$20 B/C
Hugh Edwards 1991, 251pp+ colour plates.
[#4060 ]
SEUSS Dr.

The Butter Battle Book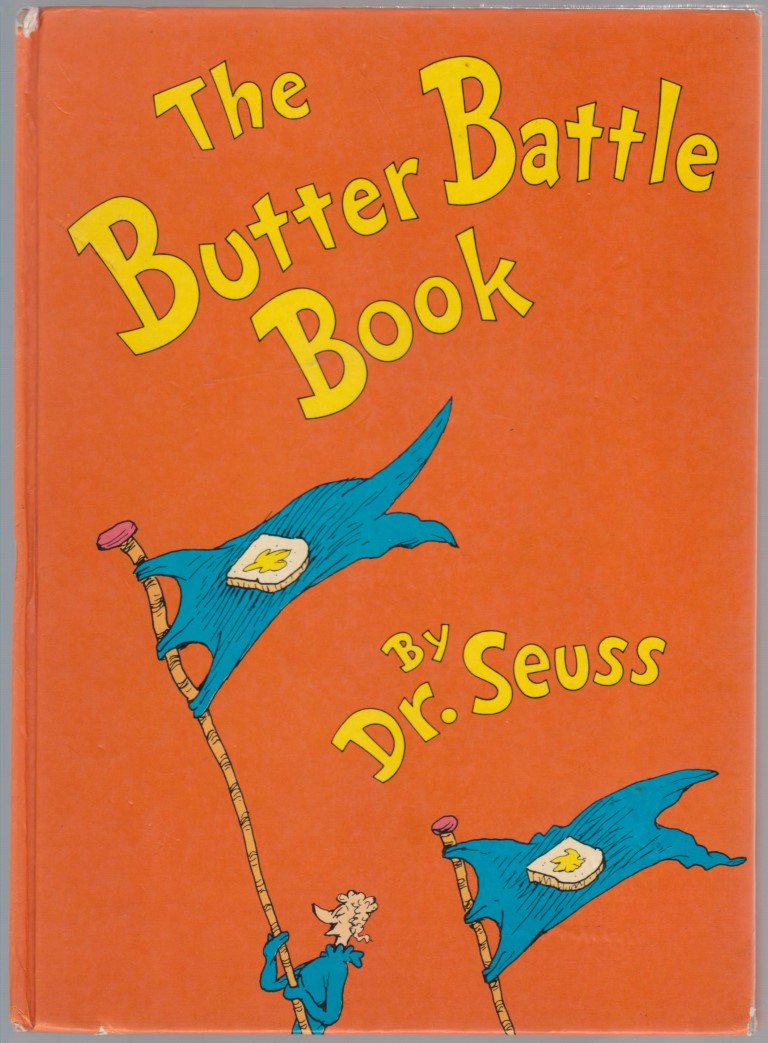 A rhyming anti-war story about arms races and mutually assured destruction by nuclear war.
ISBN0394865804
A. S. Geisel, illustrated
VG- hardback with no dust jacket.
Some wear to spine ends, name to dedication page.
$20 B/B
Collins 1984 first edition, approx 48pp.
[#4061 ]
MACKIE John

Captain Jack, Surveyor and Engineer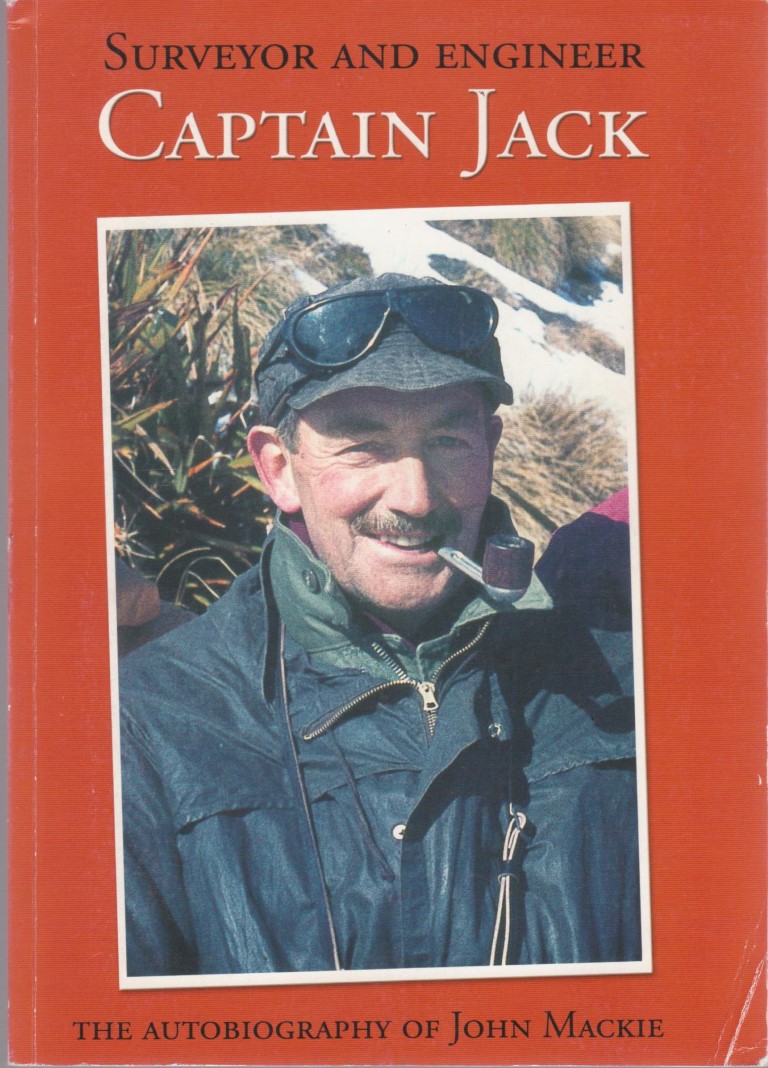 The autobiography of John Mackie.
He was Inspector of Mines in Malaya, and was interned by the Japanese in the Changi and Batu Lintang prison camps.
Post-war he taught Surveying at the University of Otago.
ISBN9582486643
WW2, Malaya, Singapore, POW, mining, surveying
VG softback
$55 B/D
Bateson Publishing Ltd. 2007 first edition, 444pp.
[#4062 ]
BUICK T. Lindsay

The Treaty of Waitangi
How New Zealand became a British Colony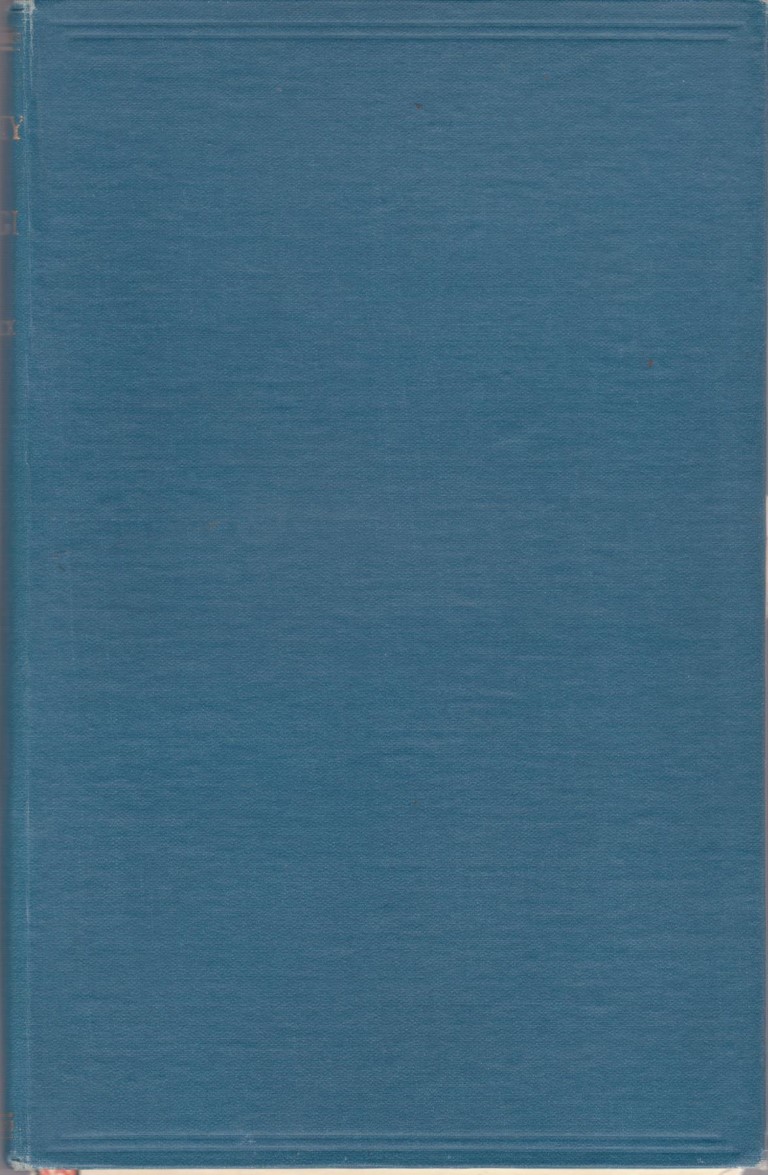 The history of the personalities and politics behind the coming together of the Maori and Pakeha leaders of the time and the agreement made where both became citizens under the laws of the British Commonwealth.
colonial, British Empire, politics, colonisation
VG hardback, only fragments of dust jacket present.
$40 C/C
Thomas Avery 1936 third revised edition, xxiii 393pp+plates
[#4063 ]
MASON Judy

A Venture of Faith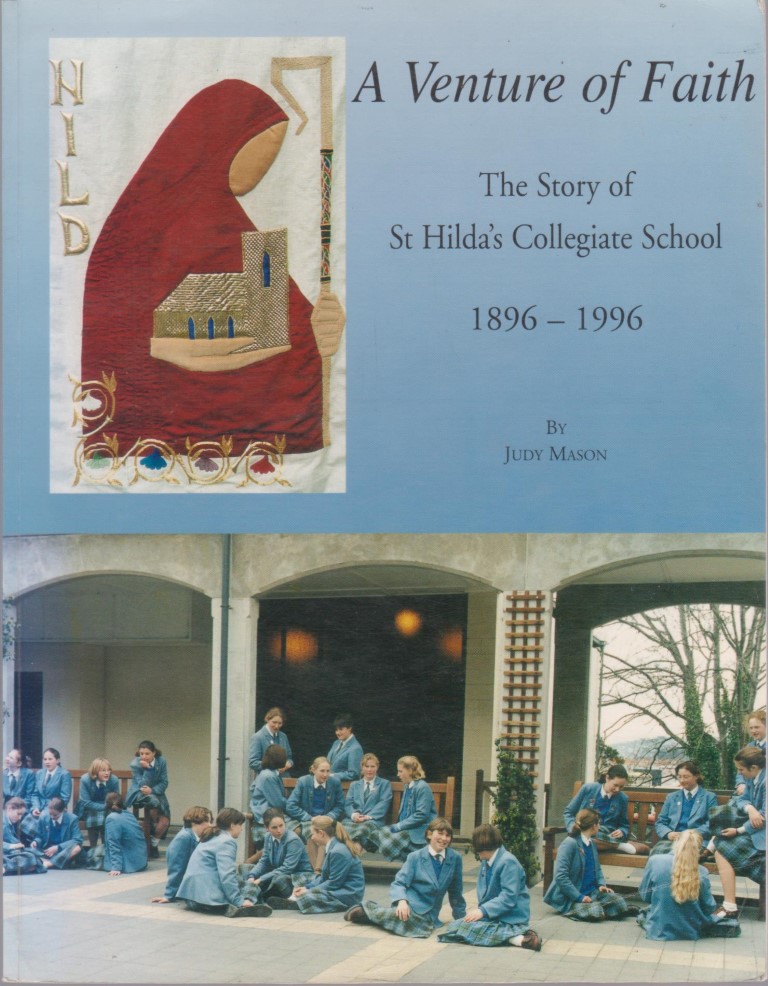 The story of St Hilda's Collegiate School 1896-1996.
Founded by the first Anglican bishop of Dunedin, Bishop Samuel Nevill and staffed by the Sisters of the Church.
The sisters withdrew from the school in the 1930s and is integrated into the state school system.
school, history, centenary publication, girls school
VG softback
$25 B/C
St Hildas Board of Trustees 1996, 221pp.
[#4064 ]
LOCKE Elsie

Line illustrations by John Shelley.
A Canoe in the Mist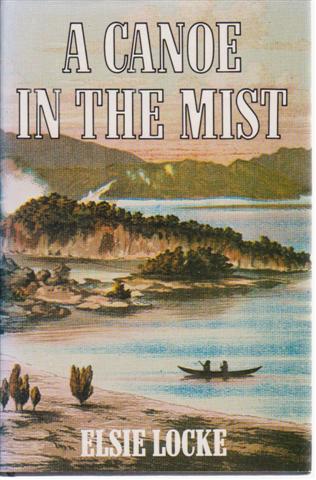 A ghostly canoe is seen on Lake Rotomahana prior to the Tarawera eruption.
ISBN0224022563
childrens fiction, Te Wairoa, Tama-o-hoi
VG hardback in VG dust jacket
$20 C/B
Jonathan Cape 1984 First edition, 202 pages.
[#2291, 4065 ]
HIGHT, STRAUBEL, PHILLIPS, MACMILLAN, GARDNER, & SCOTTER (editors)

A History of Canterbury
Vol 3-1876-1950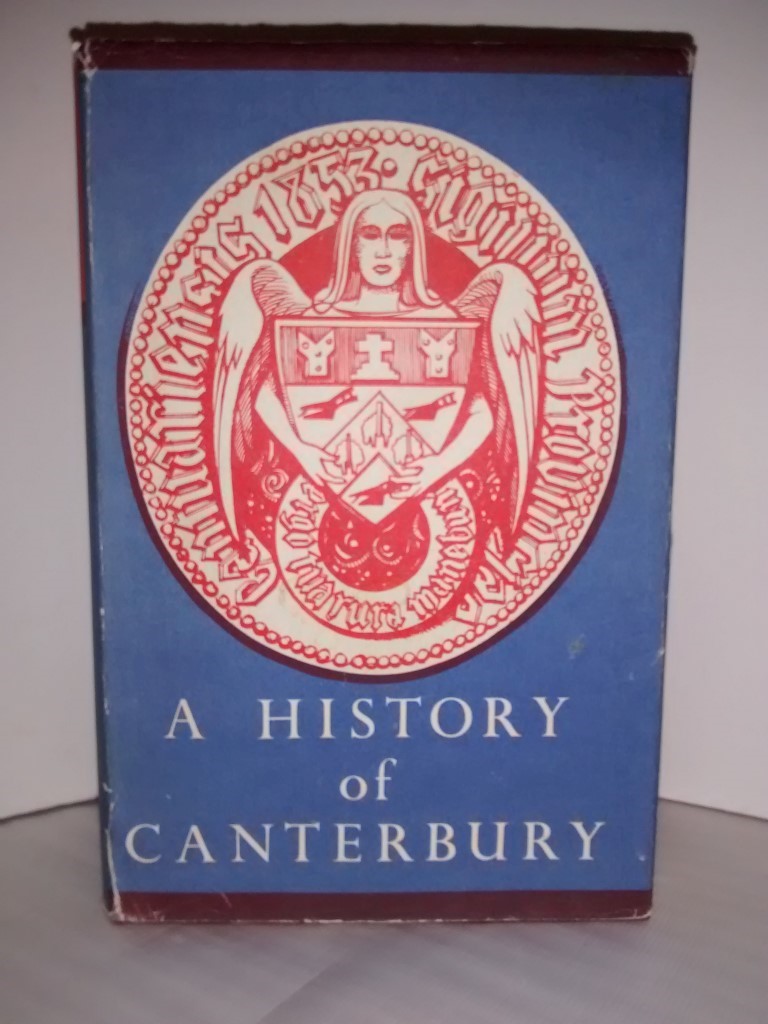 The definitive history of the founding and settling of Canterbury, this volume covers growth after the Canterbury Association's success.
Single volume.
VG hardback in VG- dust jacket with minor wear.
$45 C/C
Whitcombe and Tombs 1965, 547pp + plates.
[#4066 ]
MOMATIUK Yva and John EASTCOTT

High Country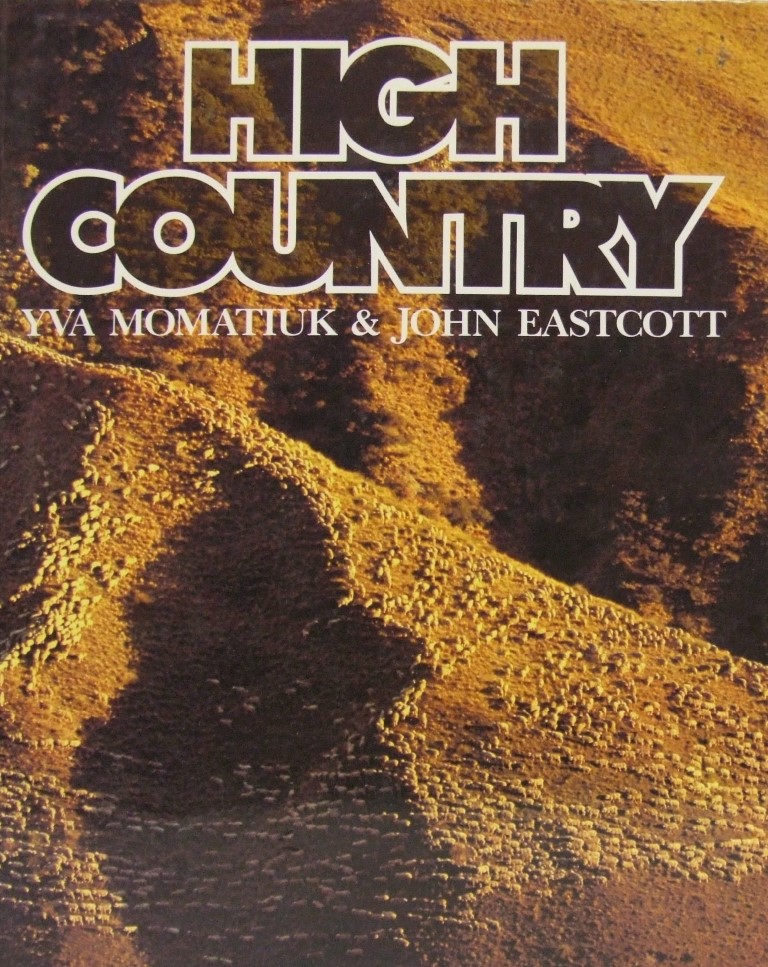 A beautiful book, consisting of mainly colour photos of the South Island High Country sheep farms of New Zealand and the people working them.
Uncommon in hard cover.
ISBN0589013211
landscape, farming, pictorial, Black Forest Station, Birchwood Station, Lake Hawea, mustering, Godley peaks, Glen Lyon, Omarama,
VG hardcover in VG dust jacket
$35 B/D
Reed 1980 first edition, 128pp.
[#1976 ]
VG- hardcover in VG- dust jacket with closed tears and sun-faded spine.
Gift inscription facing half-title page.
$25 B/D
Reed 1980 first edition, 128pp.
[#4067 ]
DICK Philip K.

A Scanner Darkly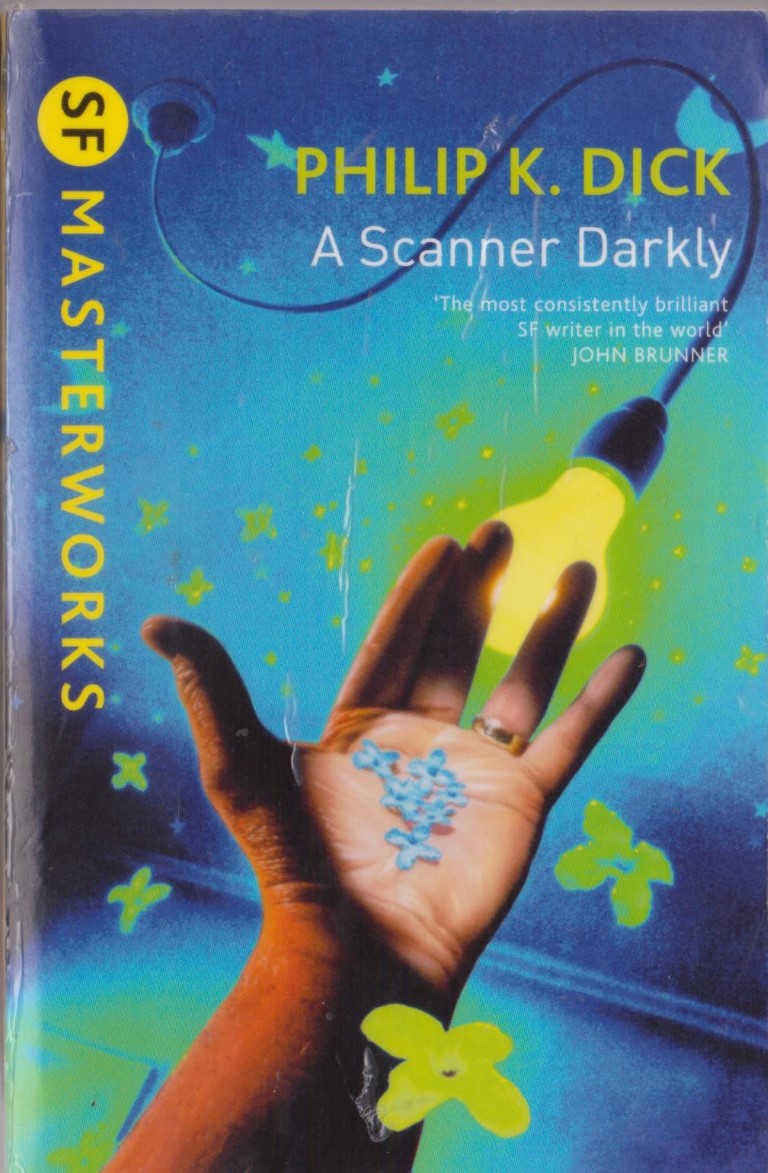 A narcotics agent must become a user to track down the source of Substance D, a deadly drug.
ISBN9781857988475
science fiction, blade runner, substance D
VG- but has been contact sealed
$9 B/B
Gollancz SF Masterworks reprint, 217pp.
[#4068 ]
23/3/2019ev
TAYLOR Clive Muscroft

From the Dales to the Downs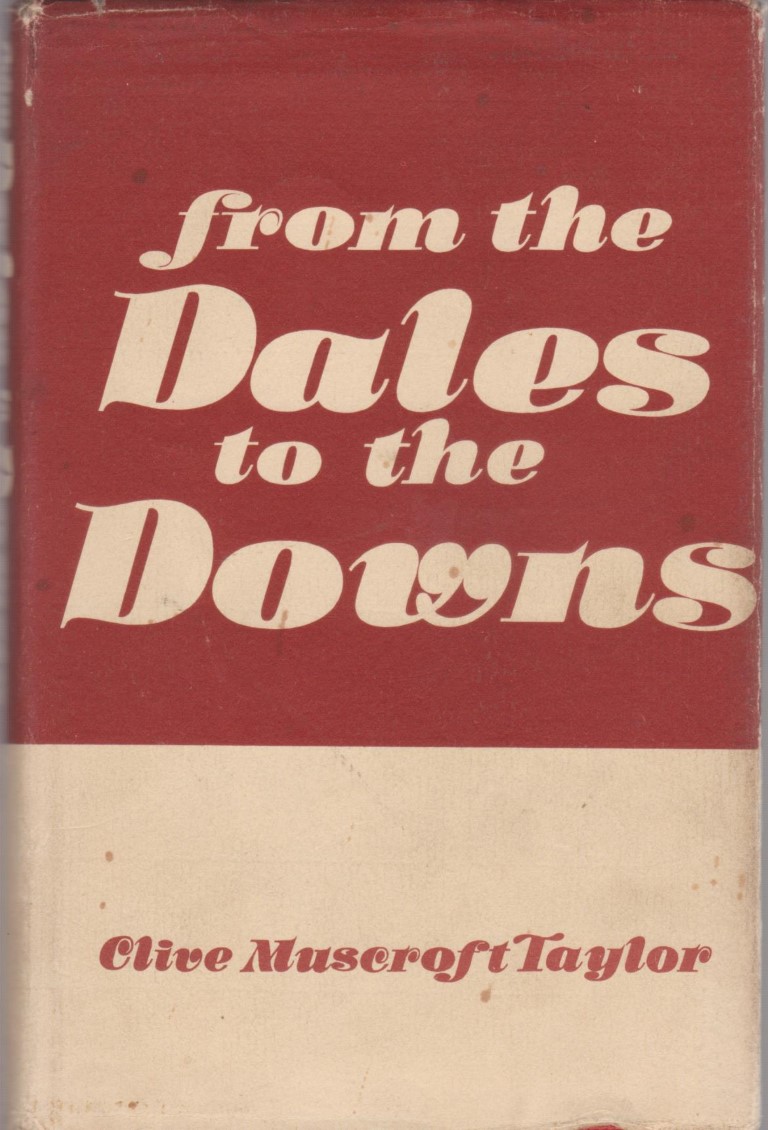 Autobiography of a resident of Geraldine who started off in Yorkshire, served in the Far East (Hong Kong) and India, as well as with the NZ forces during WWII.
biography, british military history, Kashmir, Indian mountain artillery, chamba, Jutogh, raincliffe
VG- hardback in VG- dust jacket with light wear and dust soiling.
Name to first page, review clipping pasted in at rear.
$20 C/B
John McIndoe 1976 first editon,176pp + plates.
[#4056 ]
GORDON Mona

Portrait in Mosaic of Ann Clifton Firth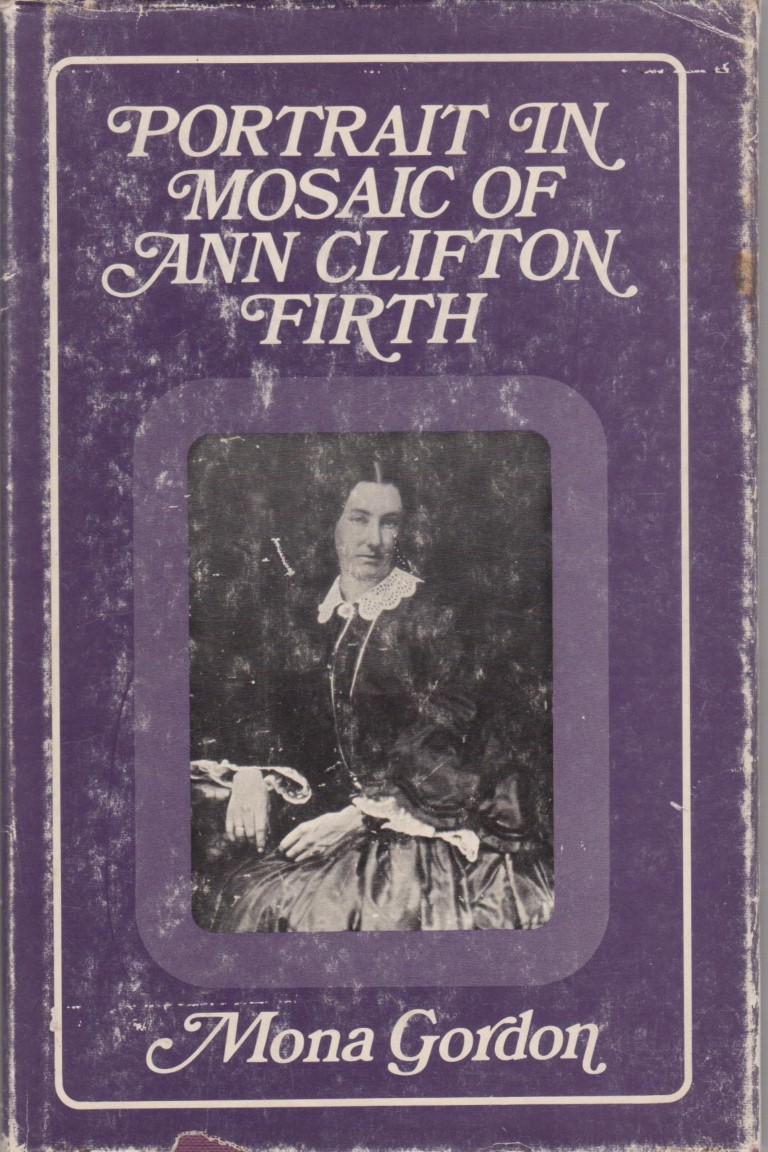 A biography of one of the Mt Eden Clifton Firth's with much on the rest of the family.
Victorian, New Zealand, biography, women's history, colonial, Auckland, Josiah Clifton Firth
VG hardback in G+ dust jacket that is well rubbed at edges and with minor edge chipping.
$20 C/B
Pegasus Press 1973 first edition, 114pp + plates.
[#4057 ]
MACKAY Margaret Elizabeth

Customers and Green Men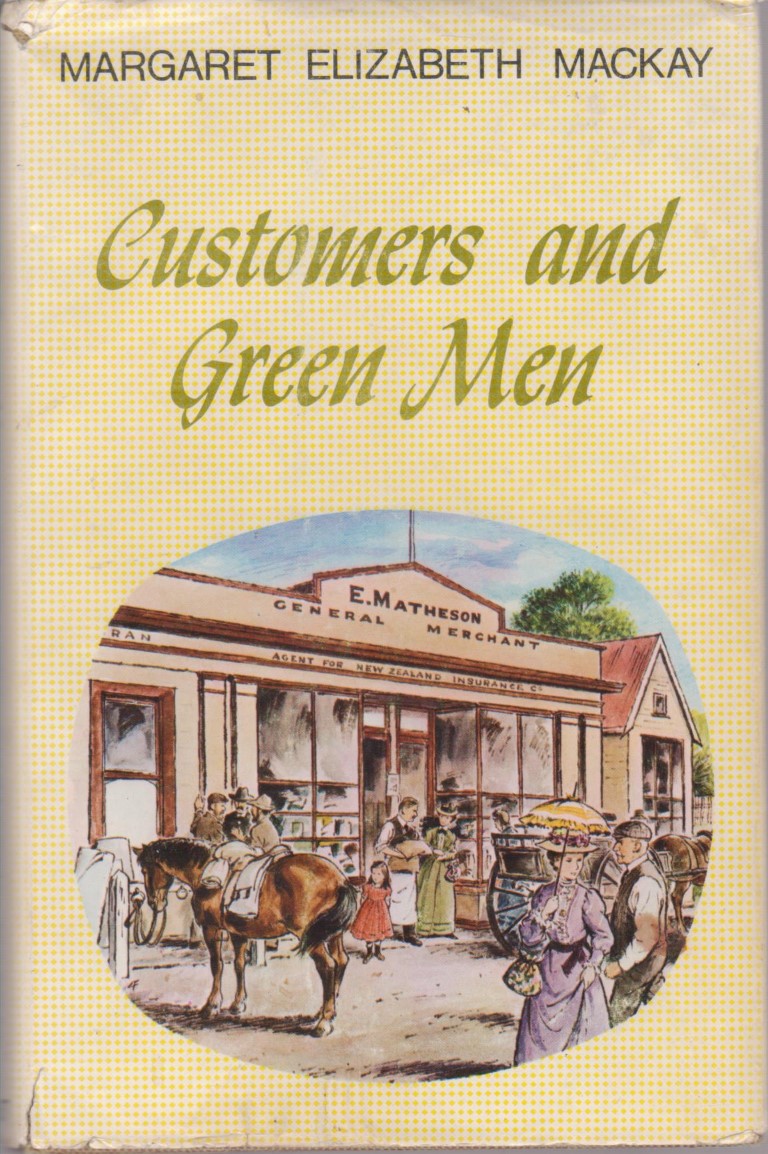 Memories from the author's life growing up in the General Store in Otautau in Southland.
Born at the end of the 19th century, she recounts her family and the wider community story in early New Zealand.
Takitimu, Orepuki, Ewen Matheson, flood
G+ hardback in VG- dust jacket with minor wear.
First blank page missing.
$20 C/B
Whitcombe and Tombs Ltd. 1967 first edition, 164pp+ plates.
[#4058 ]
18/3/2019ev
RAESIDE J. D.

Sovereign Chief
A Biography of Baron De Thierry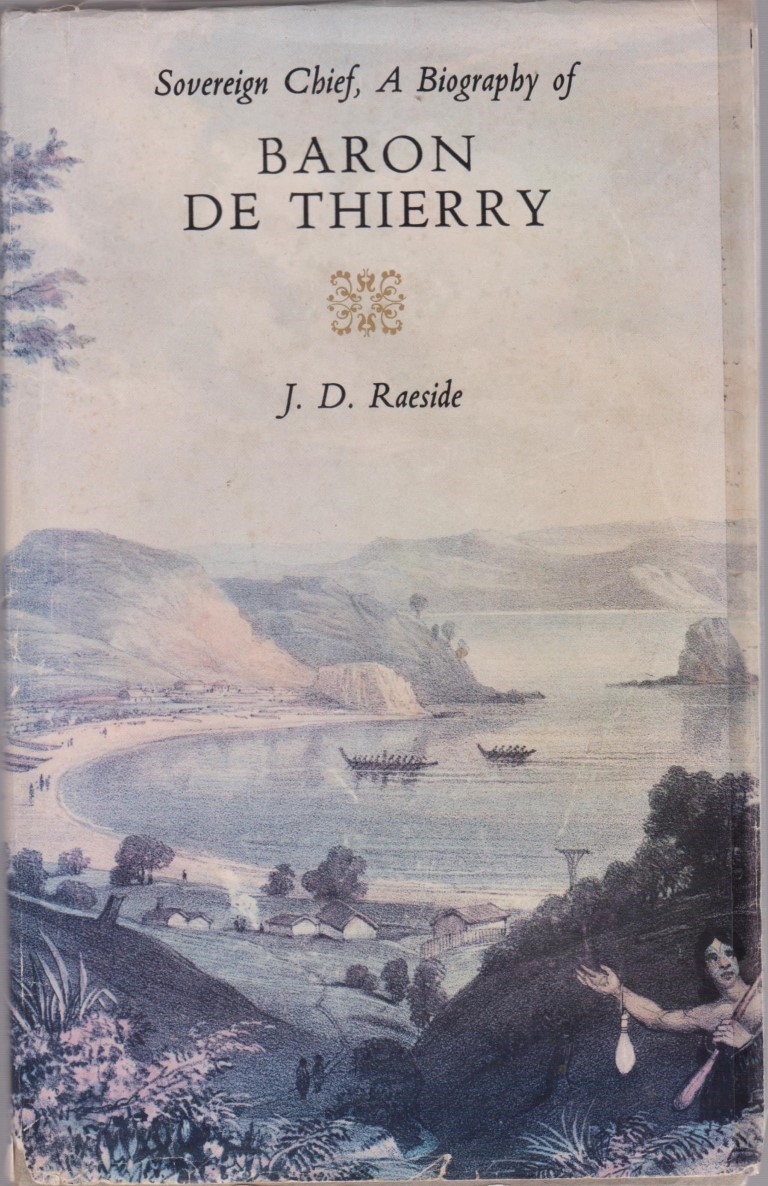 A biography of an aristocratic Frenchman who disputed the British Crown's right to land he had purchased from the Maori Hongi Hika who he met in England in 1820, prior to the signing of the Treaty of Waitangi.
Hika purchased 500 muskets with the proceeds of the land sale and embarked on what became the Musket Wars, which have been attributed with turning Maori opinion in favour of a Treaty with the British Crown.
Resident in Hokianga his grandiose plans failed yet he continued to agitate for the establishment of a French colony led by himself until the Treaty of Waitangi made this impossible.
One of the eccentrics of the colonisation of New Zealand.
ISBN0908563000
New Zealand Maori, Colonial History, King Nuku Hiva
VG softback in G+ dust jacket.
Proof copy in printed paper wrappers, dust jacket has fore edge taped and some short tears at spine ends.
Original folded and sewn sheets but not cased in a hard cover.
$30 B/C
Caxton Press 1977, 362pp + plates and maps.
[#4050 ]
SANSOM Olga

The Stewart Islanders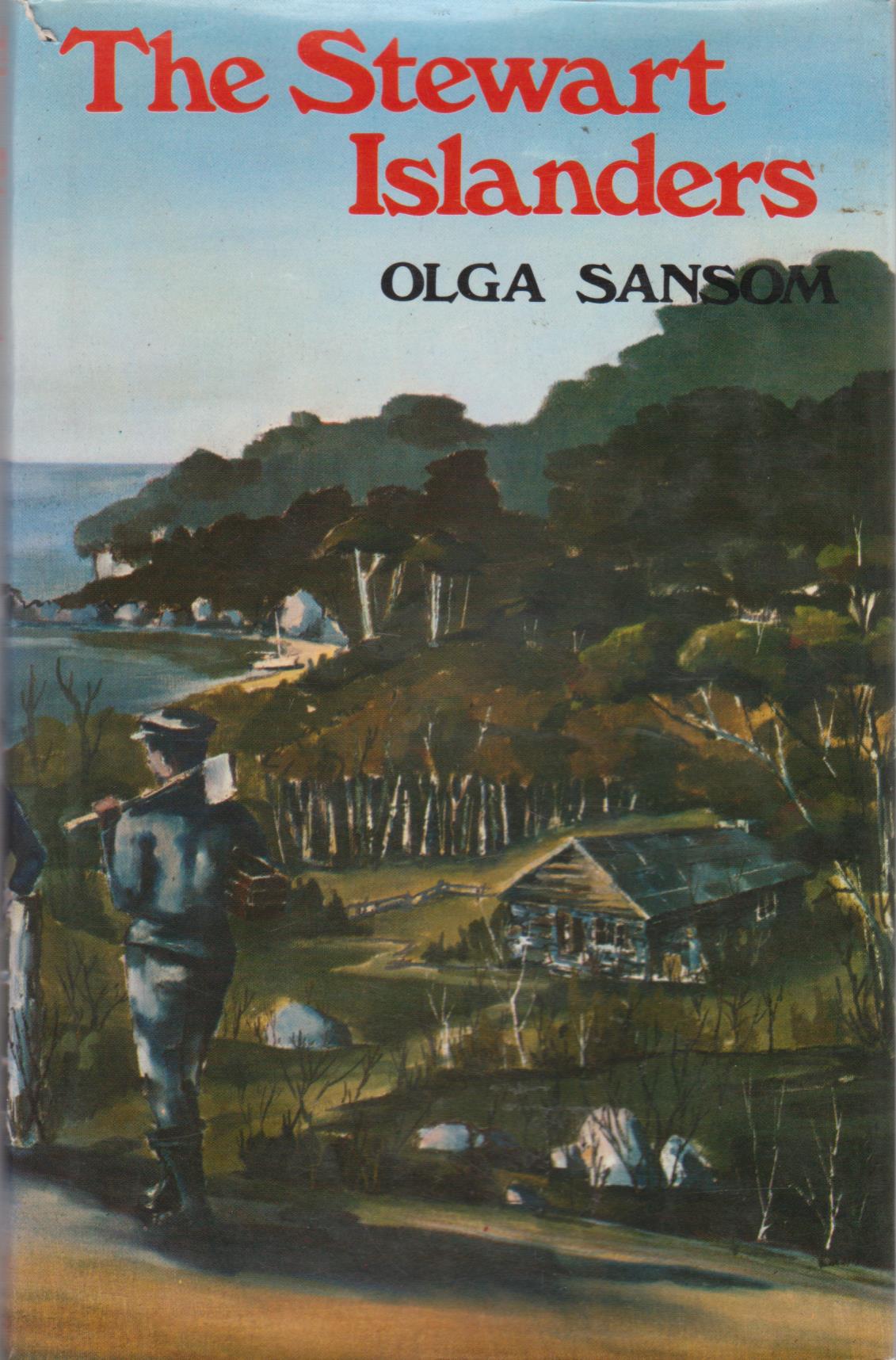 The story of the lives and families of the pioneers from the whaling days, when Maori and Pakeha joined together to build a community in this most southern New Zealand region.
ISBN0589004549
Foveaux Strait, Halfmoon Bay, Rakiura, Lewis Acker, John Kaiparohu Bragg, whaling, southland
VG hardback in VG dust jacket
$45 C/C
Reed 1970 first edition, 249pp + plates, map end papers.
[#4051 ]
WILLIS H. A.

Manhunt
The Story of Stanley Graham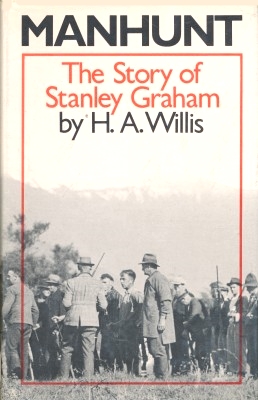 Belligerent Hokitika farmer Stan Graham refused to hand in his rifle for the war effort.
Later, combined with financial strain and arguments with his neighbours, he later shot and killed a total of seven people before being killed by an armed Home Guard search party.
Made into a film in 1981.
ISBN072330629X
true crime
VG+ hardback in VG dust jacket, some fading to red titling on the jacket spine.
$30 C/C
Whitcoulls 1979 first edition, 224pp illustrated.
[#4052]
KING Michael

The Penguin History of New Zealand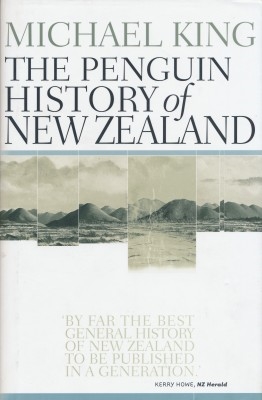 One thousand years of human settlement and cultural and social development in New Zealand.
One of the best current histories of New Zealand.
ISBN9780670045501
maori, pakeha, colonial, modern, history

VG hardback in VG dust jacket, name to first page, original price label to rear wrapper.
$35 C/C
Penguin 2004, 570pp.
[#4053 ]



28/2/2019ev



BROADHURST Francis J.

Prof. Bland Original Ink Portrait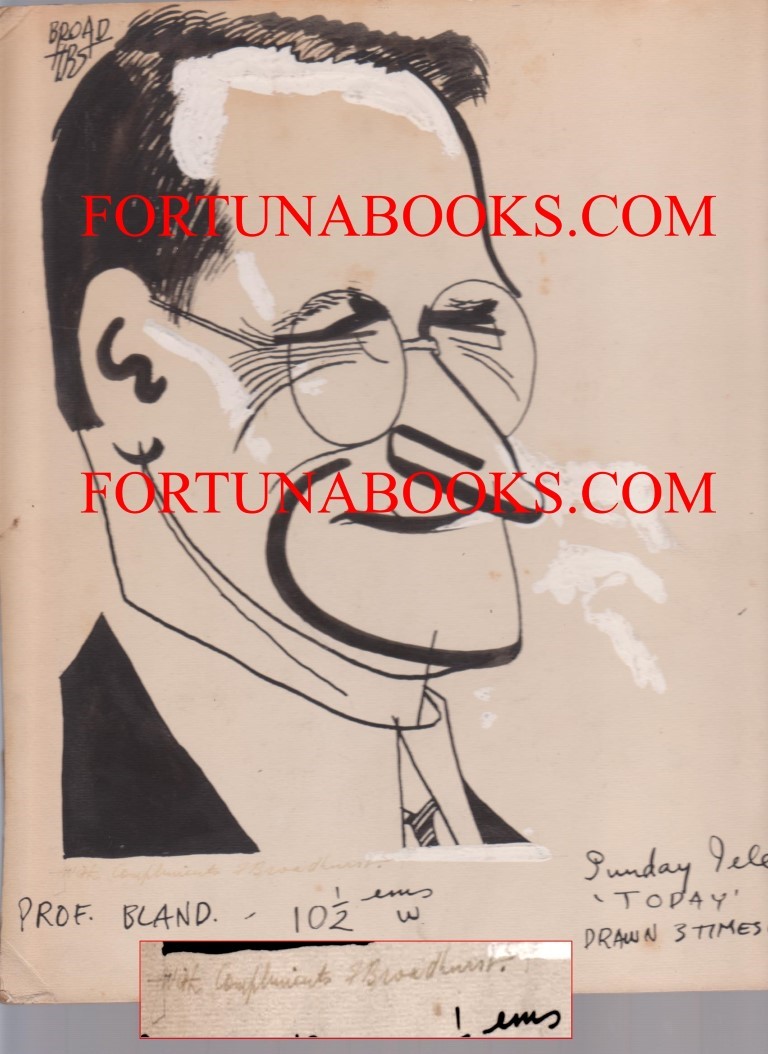 A Sketch for the Sunday Telegraph.
Done on card board with ink, a caricature sketch of Professor Bland by F Broadhurst, signed with monogram at top and with a faded ink 'with compliments F Broadhurst".
The caption reads 'PROF. BLAND.- 10 1/2 ems w Sunday Tele' 'TODAY' DRAWN 3 TIMES UP.
It has been corrected in some places with white out over the ink to mask the black, no idea of date probably pre- 1967 though.
It will need mounting and framing.
Francis J. Broadhurst was an illustrator and designer who trained for five years at Melbourne's National Gallery School under Napier Waller.
He is best known for his illustrations to Rabelais and The Decameron.
Prof. Bland, Francis Armand Bland, CMG (1882-1967) was a member of the Australian Parliament, he died in 1967.
Cartoon, Newspaper Caricature Portrait Illustration Original Artwork Professor Bland By F Broadhurst
VG sketch on board, 23x28 cm.
$125 B/B
circa 1960
[#4039 ]
LAW Phillip & John BECHERVAISE

ANARE Australia's Antarctic Outposts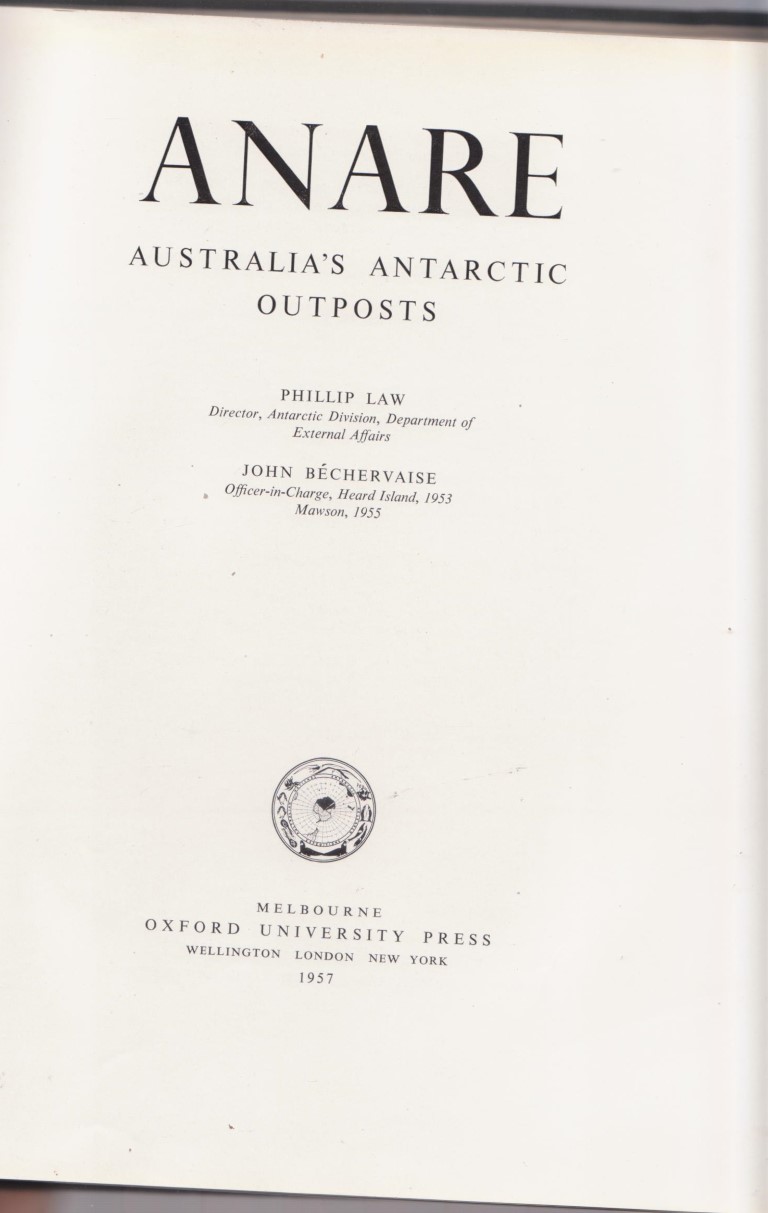 A study of the Australian Scientific Research Stations in Antarctica, and the work they conduct in the field.
Unmarked copy illustrated with b&w and colour photos.
Antarctic, South Pole, Polar, Geology, Balleny Islands, Vestfold, Wilkes Coast, Macquarie Island, Mawson Station, Heard Island, birds, animals, natural history
VG+ hardback in blue cloth, with no dust jacket.
$20 B/D
Oxford University Press1957 first edition, 152pp.
[#4040 ]
McDONALD Bryan

Home Landscaping in New Zealand
A Design Guide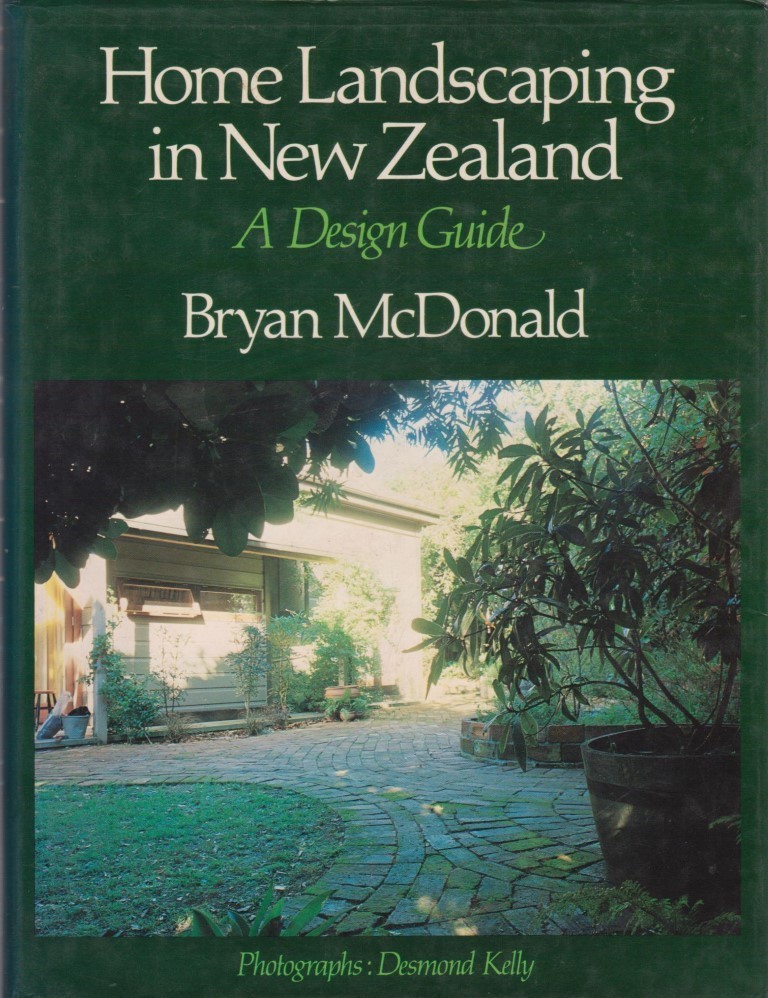 Landscape and Garden Design with a focus and man-made features such as pottery and walls and paths.
Some consideration of planting to ttract native birds.
With colour and black and white illustrations.
ISBN0002169789
gardening, landscaping, property,
VG hardback in VG dust jacket with chip from bottom right corner of rear cover taped in place.
$20 B/C
Collins 1980, 195pp.
[#4041 ]
FRY A. S.

The Aunt Daisy Story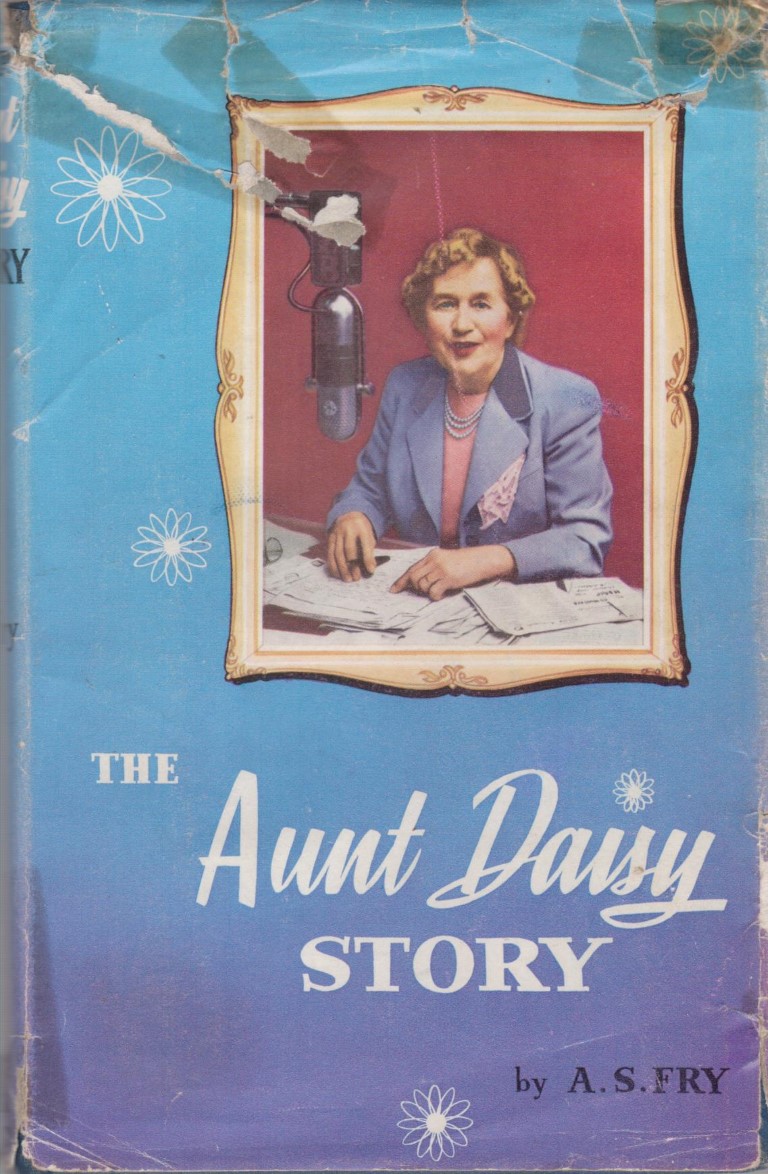 The story of the foremost New Zealand radio host of her time.
Maud Ruby Basham MBE (nee Taylor 1879-1963).
Aunt Daisy broadcast each morning to the women and housewives of NZ from 1930 to 1963.
Her half-hour morning show was to promote household products, and later boosted morale during WWII.
She also published seven cookbooks including "The Aunt Daisy Cookbook with Household Hints".
media, radio, broadcasting
VG hardback with Good dustjacket with edge wear, tears and chips.
Jacket has been taped on the reverse edge, complete but damaged.
Book is tidy, name to free end paper.
$20 C/B
Reed 1957 first edition, 131pp + plates.
[#4042 ]
PAPUS (Gerard Encausse) edited Arthur Edward Waite

The Tarot of the Bohemians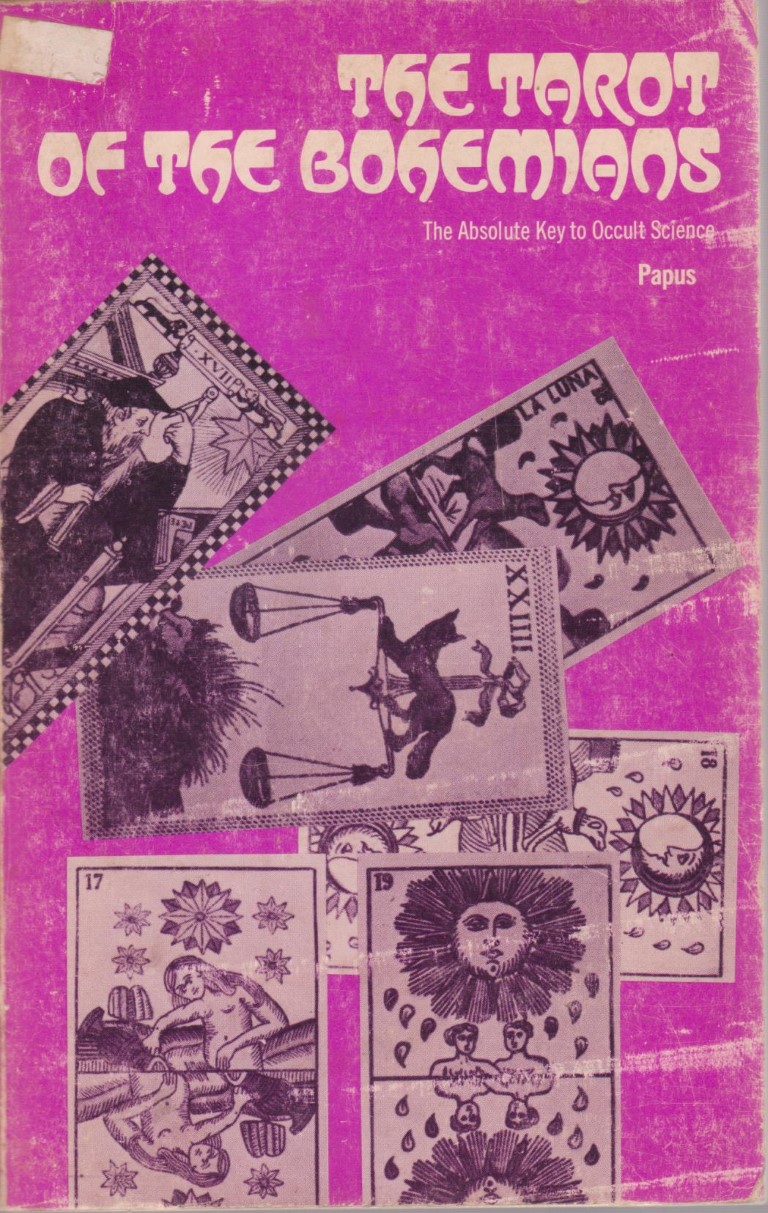 The Absolute Key to Occult Science
History and symbology of the Tarot including kabbalistic attributions.
Facsimile reprinting of the third revised edition of A E Waite's translation.
occult, rosicrucian, initiated
VG- softback with rubbed wrappers, Helios Book Service label to fep, soiled closed edges.
$25 C/C
Wilshire Book Company 1973 softcover, xxv 355pp
[#4043 ]
17/2/2019ev
BODDY Gillian

Katherine Mansfield, a Do You Remember LifeFour Stories With an Illustrated Introduction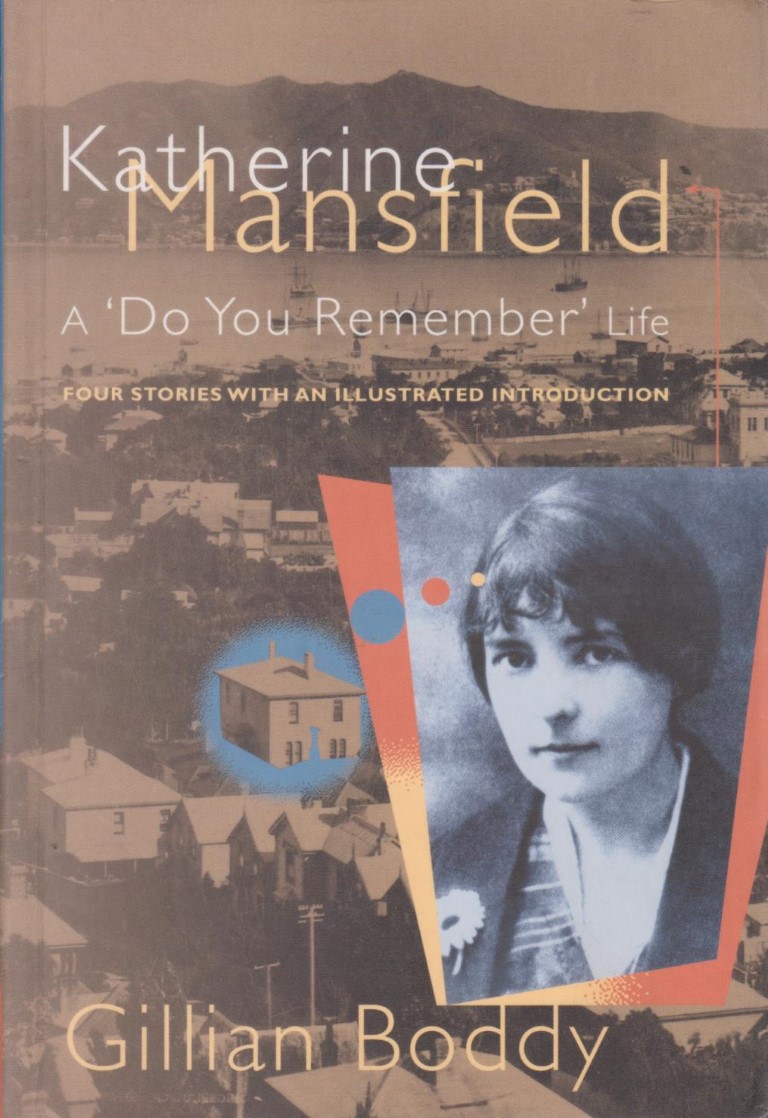 Four Stories With an Illustrated Introduction.
A Birthday, The Wind Blows, Prelude, The Doll's House.
Includes 56pp intro and also bibliography etc.
ISBN086473297X
new zealand literature, katherine mansfield
VG softback with pictorial card wrappers with flaps.
Katherine Mansfield Birthplace sticker to fep, signed by author to title.
$25 C/A
Victoria University Press 1996 first edition, 143pp.
[#4022 ]
BROWN Archdeacon A N

Brief Memorials of an Only Son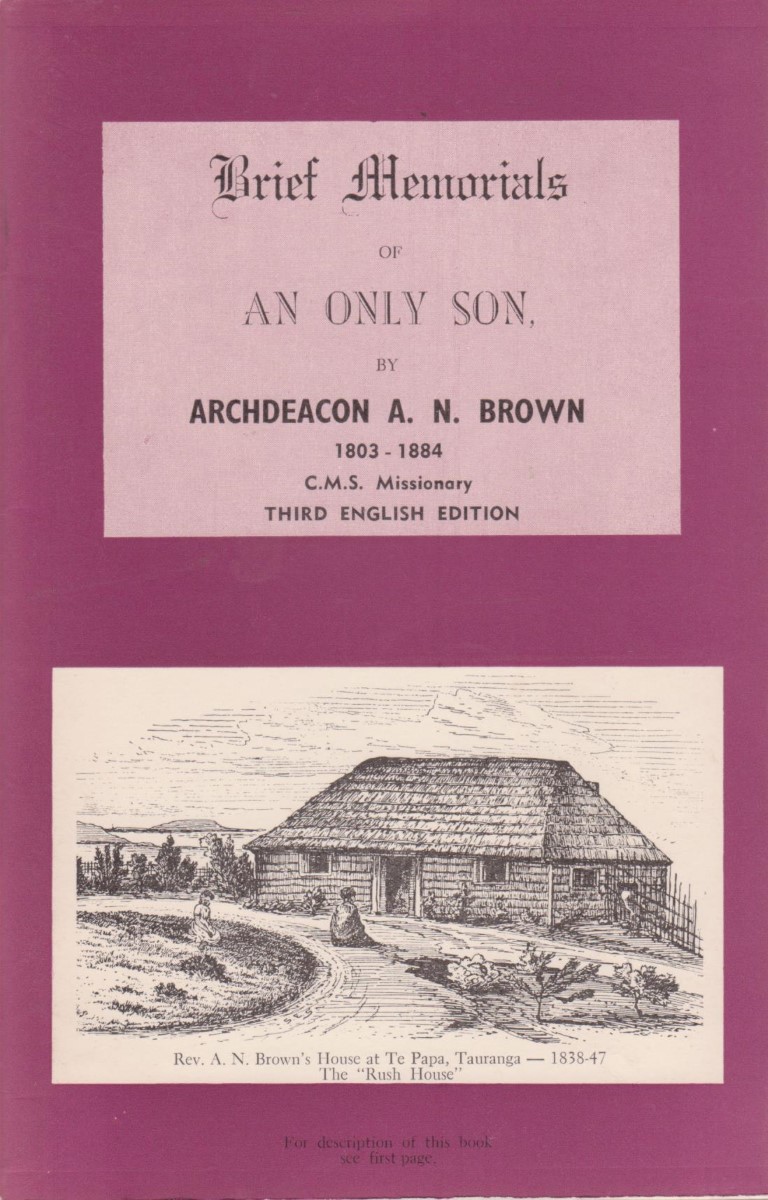 The only published work by the Tauranga based colonial Church Missionary Society missionary Archdeacon Alfred Nesbit Brown.
Inspired by the death of his son, Alfred Marsh.
Colonial History, Church Missionary Society, CMS, Tauranga, The Elms
VG+ softback stapled in pictorial card wrappers
$20 C/A
D H Maxwell (1964), 40pp + 12pp plates.
[#4023 ]
[G3746]

Fourth Progressive Primer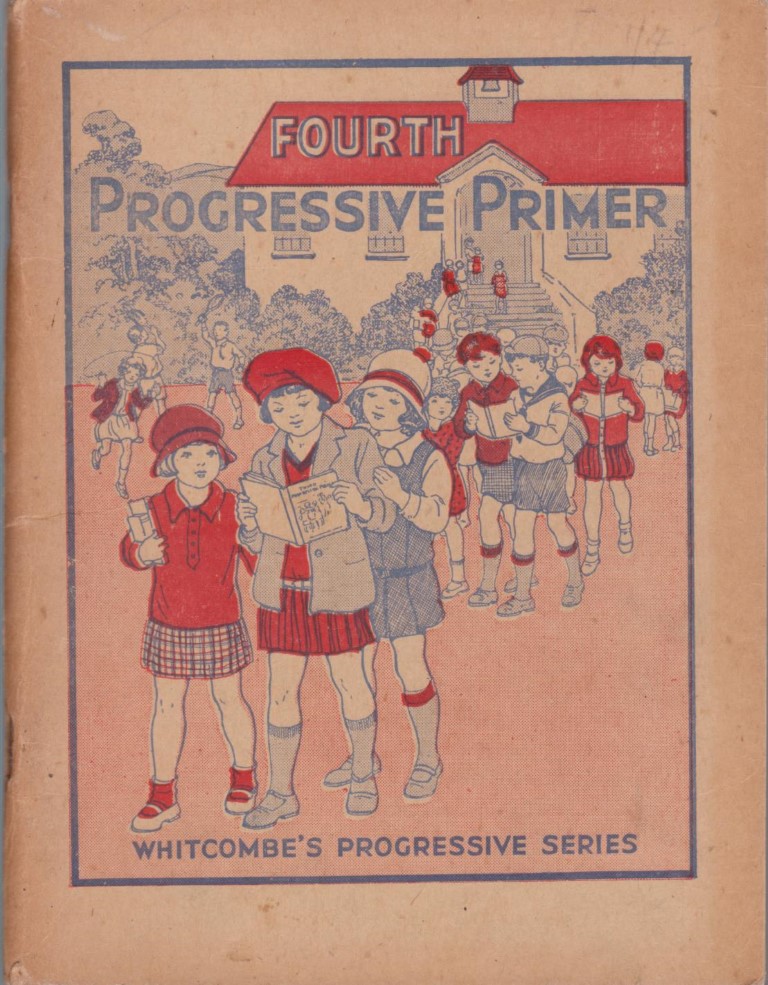 Whitcombe's Progressive Series school reader.
Illustrated in line and colour.
text book, vintage, school reader, new zealand
VG- softback with original stapled pictorial wrappers.
$25 C/A
Whitcombe and Tombs, 96pp
[#4024 ]
[G4885]

Sixth Progressive Primer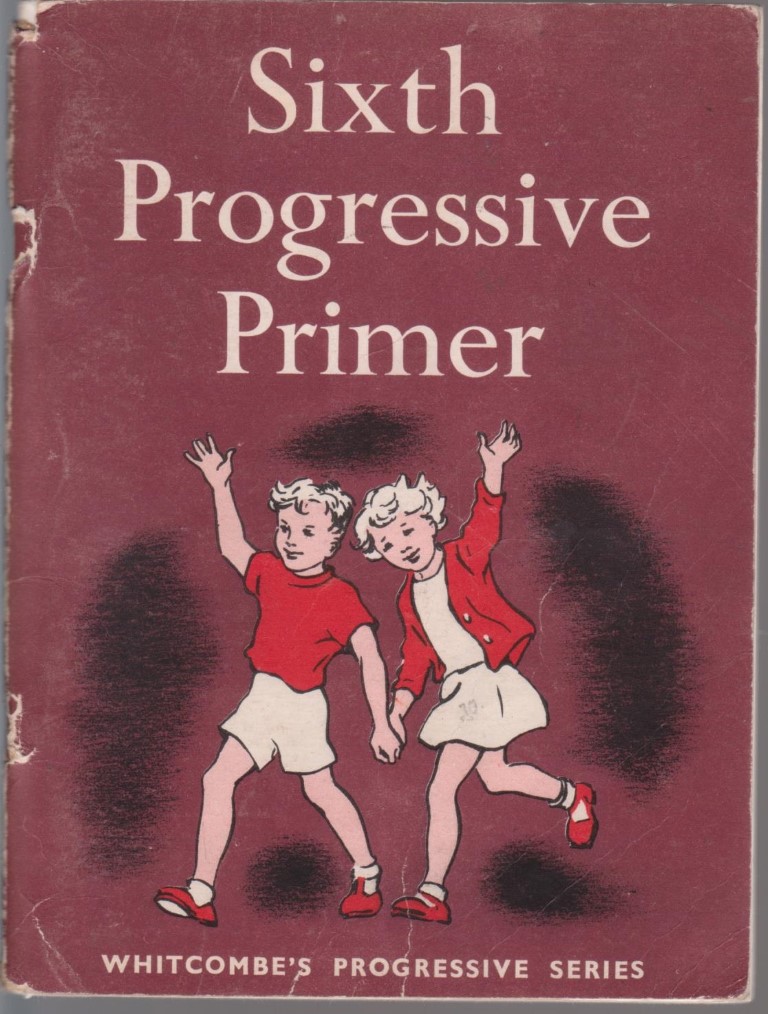 Whitcombe's Progressive Series school reader.
Illustrated in line and colour.
text book, vintage, school reader, new zealand
VG- softback with original stapled pictorial wrappers.
Some wear to spine and around staples, and school stamp to first page.
$25 C/A
Whitcombe and Tombs copyrighted 1931, 121pp
[#4025 ]
11/2/2019ev
HARKER Jack S.

HMNZS Achilles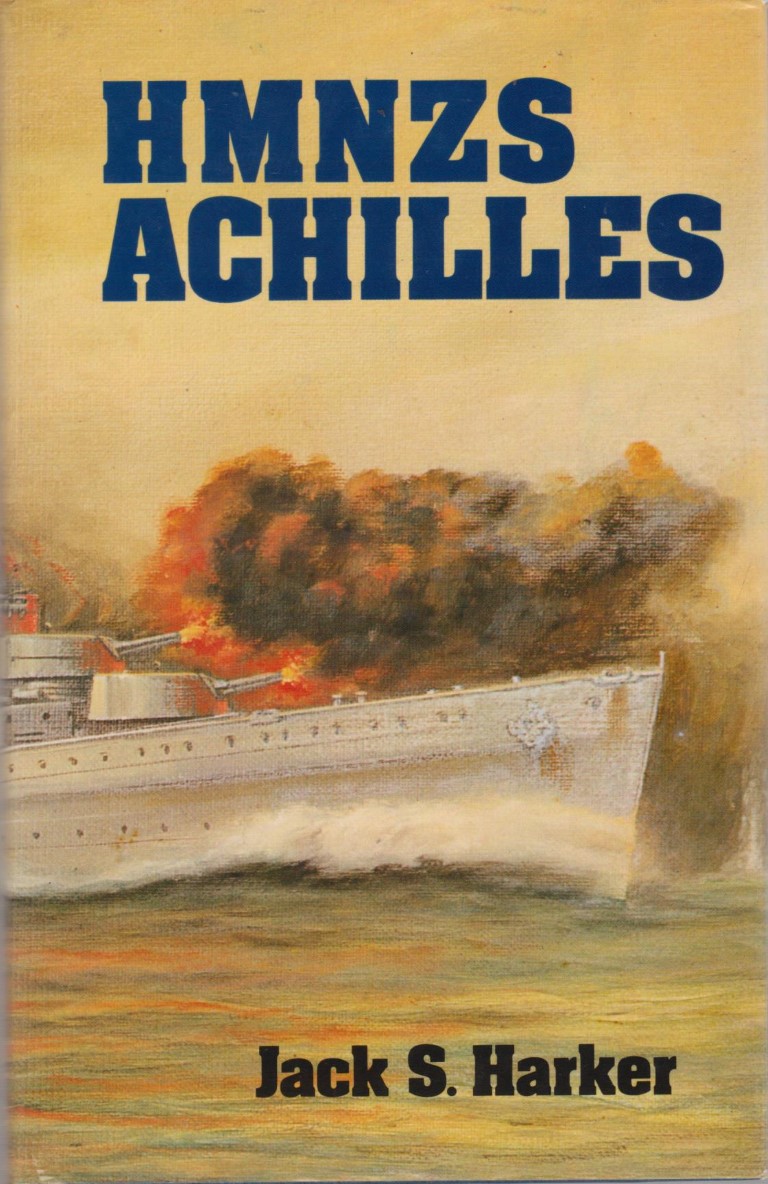 The New Zealand 7200 ton light cruiser which participated in the final encounter with the Graf Spee.
Achilles saw action at Guadalcanal (1943), Normandy (1944), and in the Pacific in 1945.
She served with the Indian Navy as the "Delhi" until being broken up in 1978.
The author served on the Achilles and her sister-ship Leander.
ISBN0002169614
ww2, wwii, RNZN, navy, naval, River Plate, Exeter, Ajax
VG+ hardback in VG+ dust jacket
$35 C/C
Collins 1980 first edition, 264pp + plates.
[#3996 ]
BUICK T. Lindsay

The French at Akaroa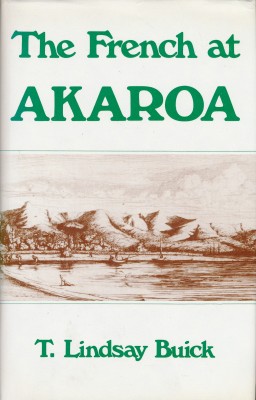 First published in 1928, this is the definitive history of the joint French/ German settlement of Akaroa, the first town in Canterbury.
banks peninsula, canterbury, akaroa, new zealand history
VG+ hardback in VG+ dust jacket
$50 C/C
Capper Press facsimile 1980, xvi 420pp + plates and folding map
[#3997 ]
10/2/2019ev
HOFFMAN Enid

Huna
A Beginners Guide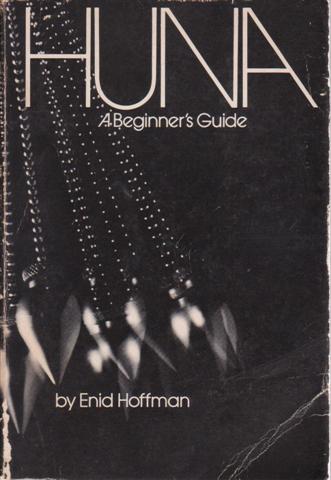 Introduction to the Huna magic of the Hawaiian Kahuna / Kuhuna magicians rediscovered by Max Freedom Long.
Includes use of the pendulum.
ISBN0914918036
new thought, magical practises, polynesian
G softback with light wear and creasing to covers.
$10 C/B
Para Research 1979 (third edition completing 12,000copies), 118pp.
[#2812, 3985 ]
BUTLER W. E.

Apprenticed to Magic
The path to magical attainment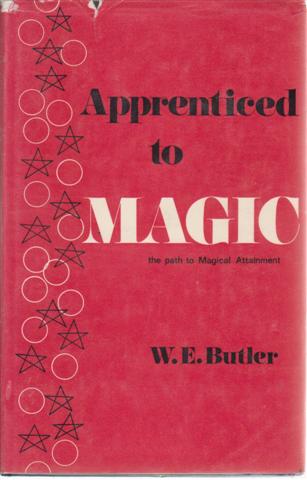 A series of dialogues between a master and his pupil on aspects of Western esoteric practise.
Based on the Tree of Life and kabala.
ISBN0850300401
occult, golden dawn, western magical tradition
VG hardback in VG- dust jacket with short edge tear to cover.
$25 C/B
The Aquarian Press 1972 third impression, 105pp
[#2768]
VG hardback in G+ dust jacket with short edge tears to cover.
Black marker to free end paper, name in pen to title page.
$25 C/B
The Aquarian Press 1972 third impression, 105pp
[#3986 ]
PEGASUS PRESS

Pegasus Press Advertising Brochure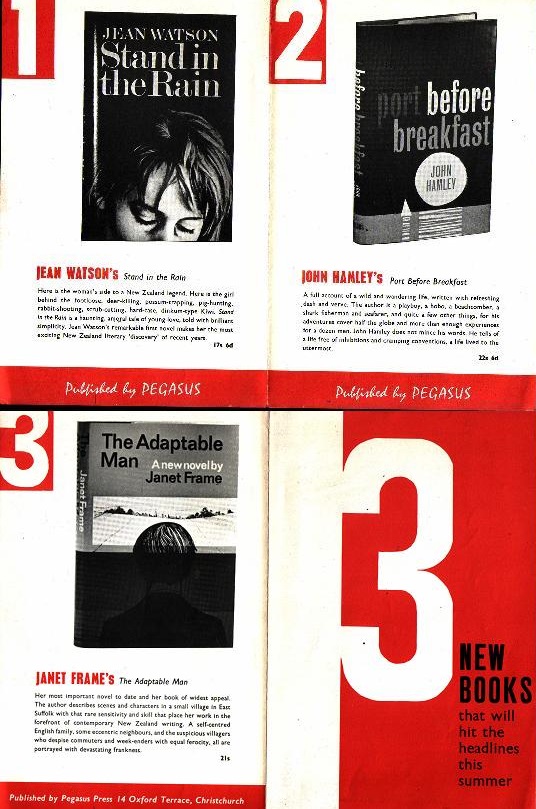 A printed flier advertising three recent release by the Christchurch artisan Pegasus Press.
Stand in the Rain by Jean Watson, Port Before Breakfast by John Hamley and The Adaptable Man by Janet Frame.
ephemera, printing,
A4 sheet folded once to make four pages, minor light crease otherwise tidy example
$30 C/ letter rate overseas.
Pegasus Press (1965)
[#3989 ]
SCOTT Captain R. F.
Text arranged by Leonard Huxley
Scott's Last Expedition (MacMillan's Empire Library)

Volume One is Scott's journals showing the human tragedy, while Volume Two has the Scientific Reports and Journals of Dr. E. A. Wilson and the other surviving members of this disastrous expedition to the South Pole.
south pole, antarctica, Robert Falcon Scott
G+ cloth bound set with decorative boards.
Some mild foxing, covers faded and slightly soiled.
Vol 1 lacks the rear folding map, but the one in Vol. 2 is present, with a repaired tear not affecting the printed map area.
$75 C/C
MacMillan 1913, first thus edition, xviii 497+ x 431pages + advertisements, plates and maps.
[#3990]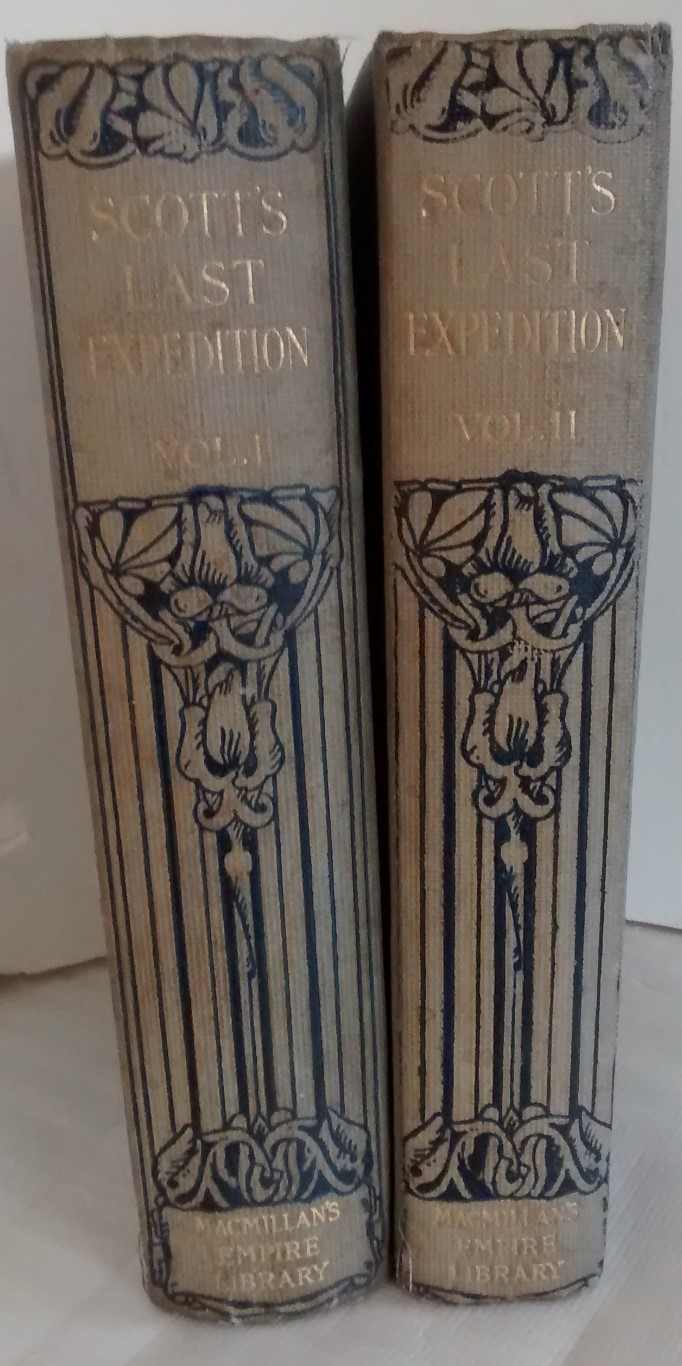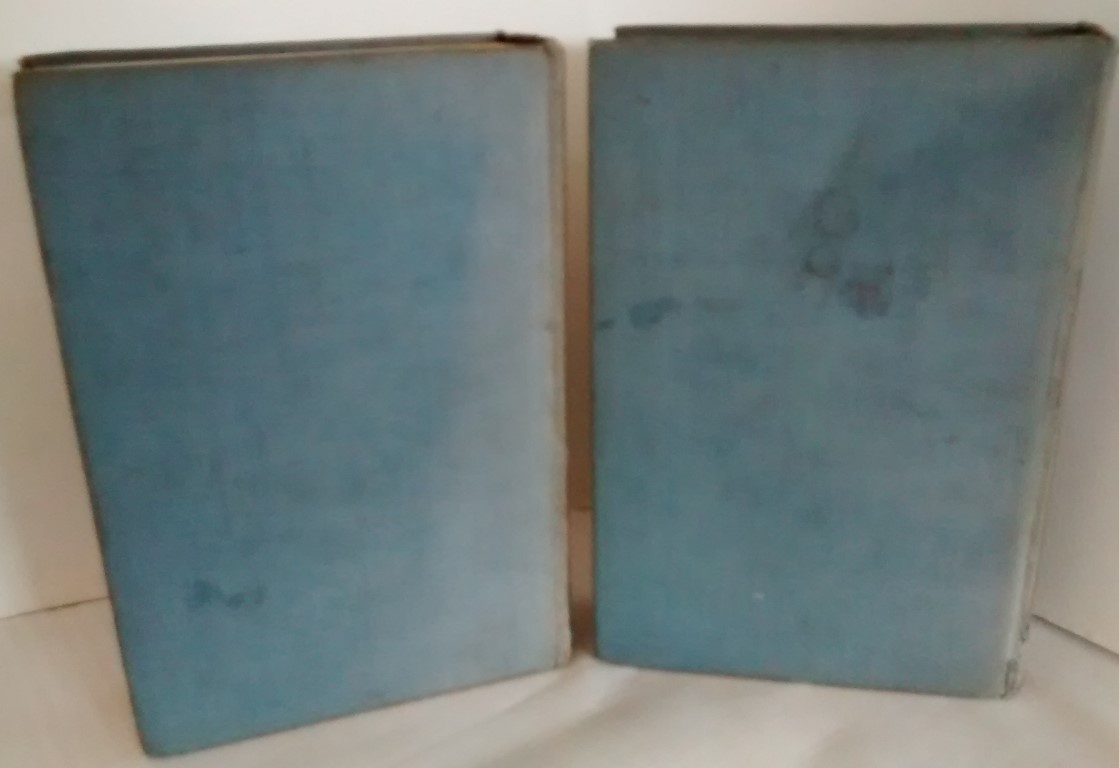 GRAHAM Peter

So Brilliantly Clever
Parker, Hulme and the murder that shocked the World.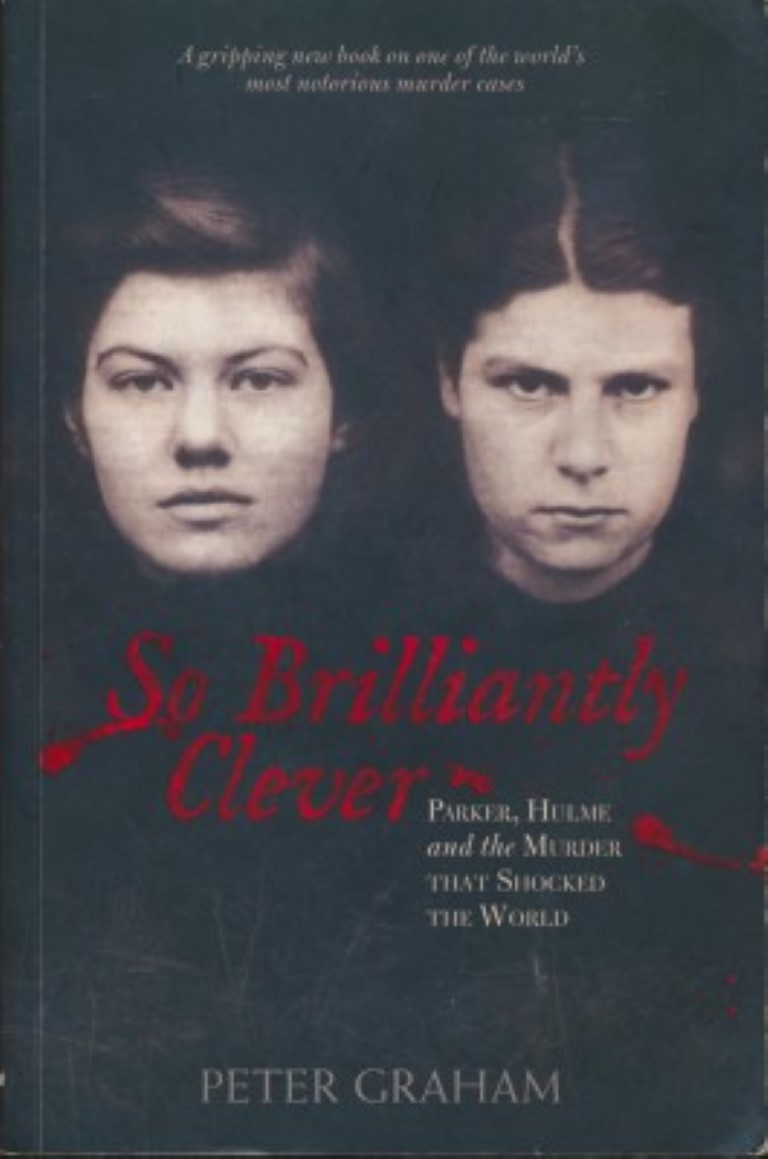 An excellent work on the most sensational and shocking murder of modern New Zealand times.
Written with an expert lawyer's insights, Graham explores the psychology of the relationship between Juliet Hulme (now writing as Anne Perry) and Pauline Parker.
The pre-meditated murder of Parker's mother, Honorah Rieper, on 22 June 1954 in Victoria Park, scandalised Christchurch and shocked the world, especially as there were hints the killers were a lesbian couple.
Graham details what happened to the murderers after their sentences were served.
ISBN9781877551123
true crime, Heavenly Creatures, Peter Jackson, Honorah Parker, Folie à Deux, matricide
VG softback
$35 C/C
Awa Press 2011 first edition, 341pp.
[#3991 ]
PONDER W.Frank

A Labyrinth of Waterways
The Forgotten Story of New Zealand's Marlborough Sounds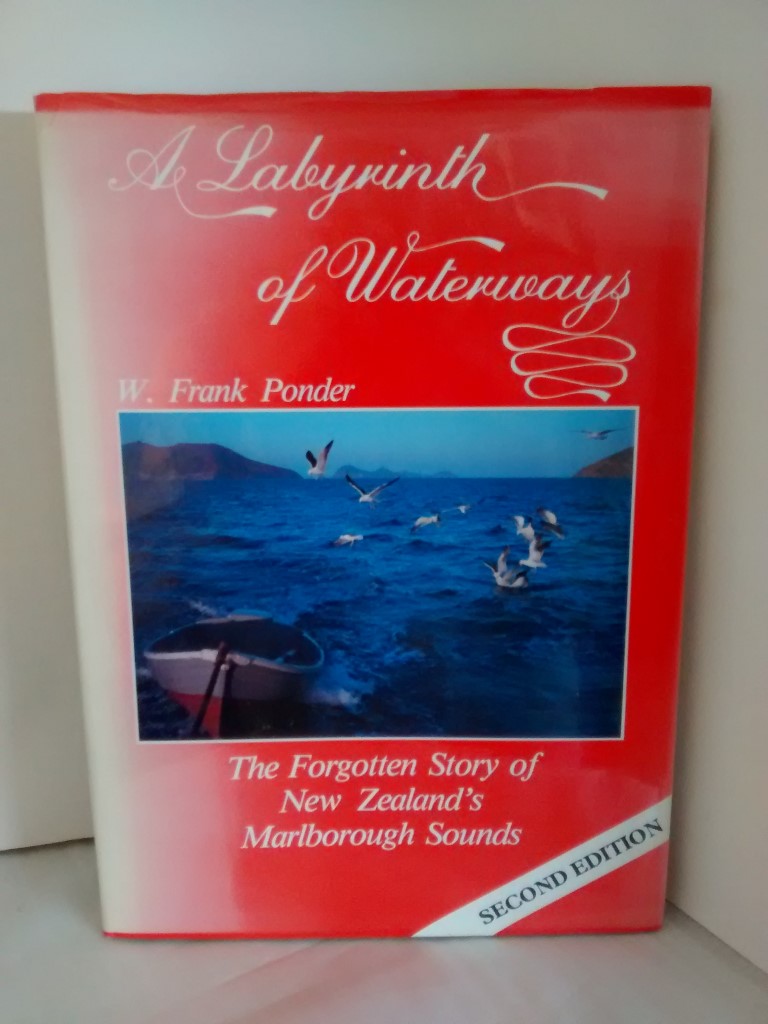 An excellent history and survey of the Marlborough Sounds.
Includes Maori history, European settlement in the 1840s, and modern developments.
Rare.
ISBN0473003562
Marlborough Sounds, New Zealand, History, Regional History, Maritime, Nelson, Maori, Whaling, Whalers, Marlborough Sounds Authority
VG hardback in VG- dust jacket.
Dust jacket is sunfaded (as usual with this sensitive red colour). Rear hinge strengthened with archival hinge-tape.
$125 D/D
Wenlock House 1986 second edition, vii 168pp + colour plates.
[#3992 ]

Swan Song for a Siren
Horwitz No 34. Third edition.
VG paperback, spine roll, mild rubbing or creasing.
$15 A/A
Horwitz 1960, 98pp. [PB1590]
PARRY Michael editor

The Rivals of Frankenstein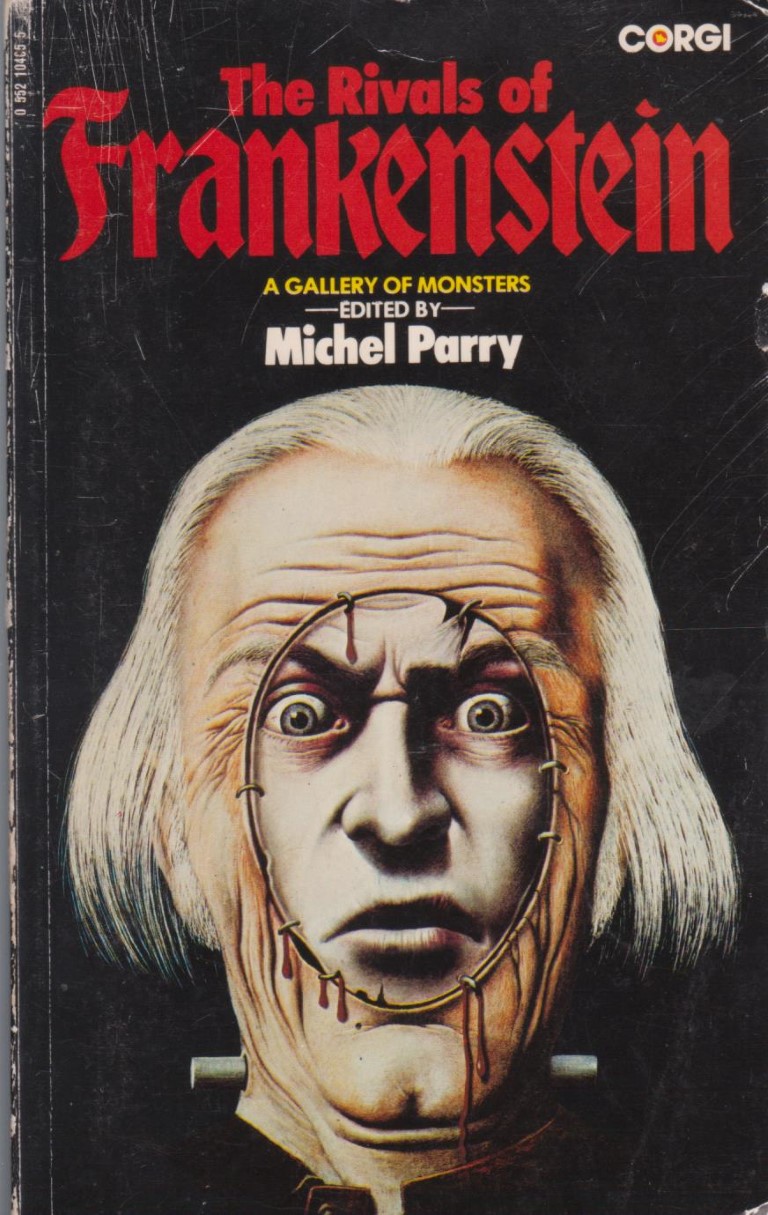 Anthology of classic moster stories.
Clark Ashton Smith ("The Colossus of Ylourgne"), Arnold Harvey ("The Last of the Daubeny-Fitzalans"), Jerome K. Jerome ("The Dancing Partner"), Ambrose Bierce ("Moxon's Master"), Donald F. Glut ("Dr. Karnstein's Creation"), Robert Bloch ("Almost Human"), D. Scott-Moncrieff ("Count Szolnok's Robots"), H.P. Lovecraft ("Herbert West, Reanimator"), Manly Wade Wellman ("Pithecanthropus Rejectus"), Fritz Leiber ("The Dead Man"), Eando Binder ("The Iron Man").
With a checklist of Frankenstein films at rear.
ISBN0552104655
VG- paperback, minimal cover wear, edges rubbed.
Small stain to closed top edge of pages.
$10 A/A
Corgi 1977 first paperback edition, 222pp.
[PB1591 ]
13/1/2019ev
DEE John
Translated and with commentary by J.W. Hamilton-Jones.
The Hieroglyphic Monad
The first English translation of "The Monad, Hieroglyphically, Mathematically, Magically, Cabbalistically and Anagogically Explained."
An exposition of the esoteric symbol invented and designed by John Dee, the Court Astrologer of Elizabeth I, which expresses the unity of the Cosmos and is a composite of various esoteric and astrological symbols.
The commentary attempts to explain the meanings of Dee's text.
Hamilton-Jones was a Freemason, Theosophist, member of the Societas Rosicruciana in Anglia (S.R.I.A.) and student of alchemy and hermeticism.
Monas hieroglyphica, Rosicrucian, Christian Rosenkreutz, alchemy, hermetic
VG- hardback in VG- price clipped dust jacket.
Some mild foxing to prelims, jacket edge wear and minor chipping or short edge tears, a little handling soiling.
Two leaves have some minimal tears to the fore edge.
$225 C/B
Watkins 1947 first edition this format, 76pp + frontis and 3 plates.
[#3981 ]
DOAK Wade

A PhotographicGuide to the
Sea Fishes of New Zealand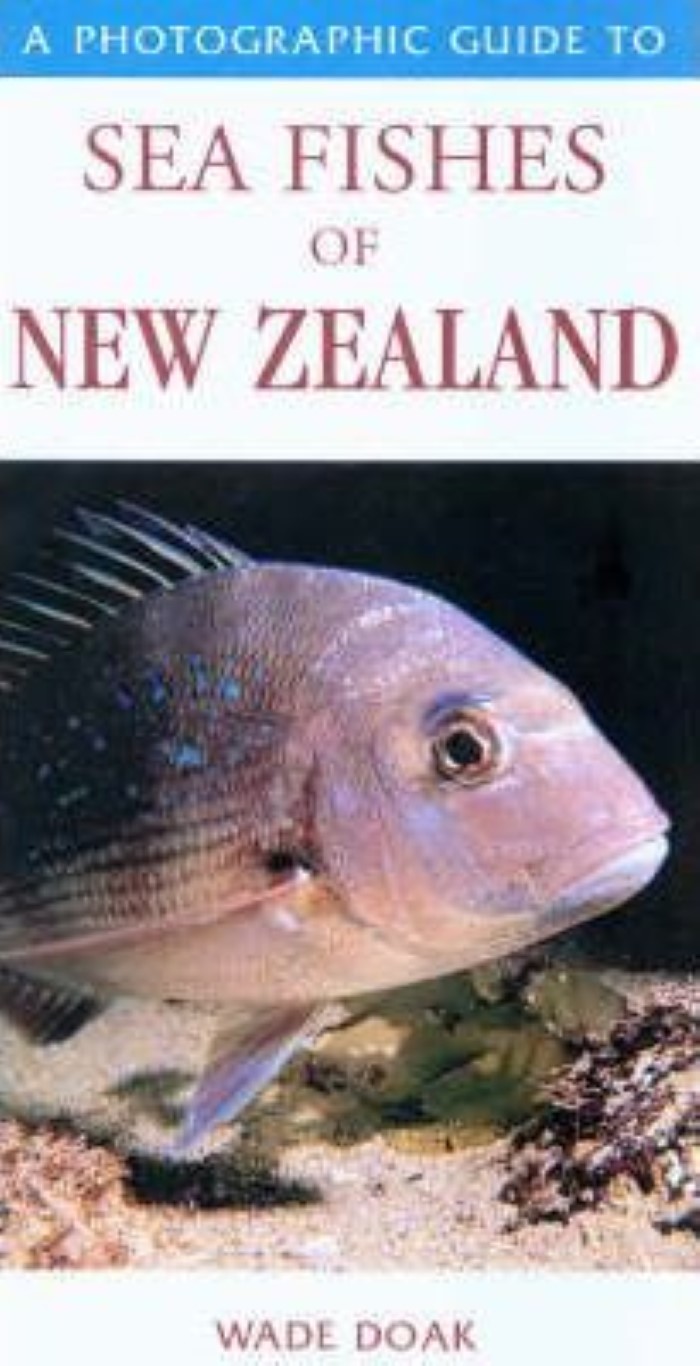 A pocket guide to the bony (teleostean) reef fishes belonging to the super class PISCES, class OSTEICHTHYES.
Their habits, modes of life, diet and relation to their surroundings.
Illustrated with full colour photographs.
ISBN9781877246951
new zealand, fish, marine biology, sea, diving, identification
NEW softback
$15 A/A
New Holland Publishers 2003, 144pp.
[#3982 ]
MOON Geoff

A PhotographicGuide to
Birds of New Zealand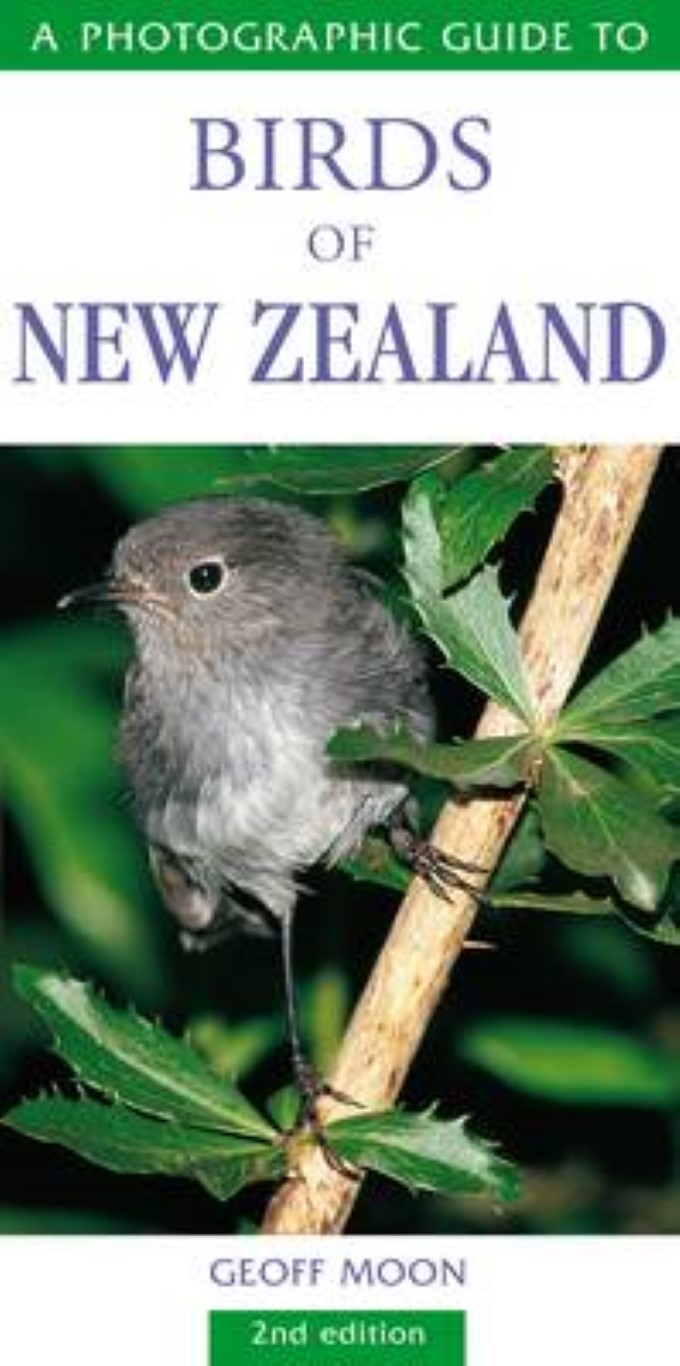 A pocket guide to New Zealand birds updated according to the 4th edition of the Ornithological Society's official "Checklist of the Birds of New Zealand"
Updates to classification, distribution and population status, and with Maori names added for all species, where applicable.
Illustrated with full colour photographs.
ISBN9781869663278
new zealand, ornithology, birds, wildlife, identification
NEW softback
$15 A/A
New Holland Publishers 2011, revised second edition, 141pp.
[#3983 ]
DOAK Wade

A PhotographicGuide to
Wildflowers of New Zealand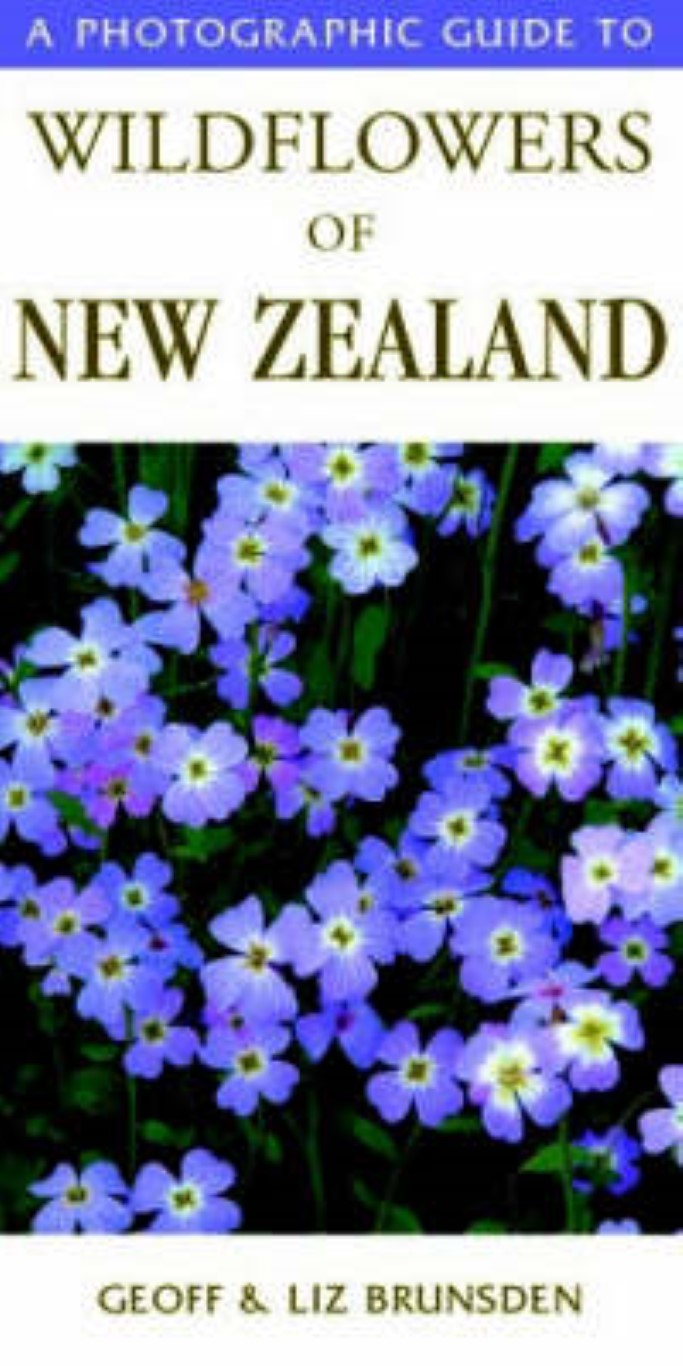 A pocket guide to wildflowers.
125 common species growing wild in accessible parts of New Zealand, with common native species, alongside introduced ones.
Each wildflower has descriptive information, habitat notes and distribution patterns.
Illustrated with full colour photographs.
ISBN9781869660475
new zealand, flowers, plants, botany, rambling, identification
NEW softback
$15 A/A
New Holland Publishers 2004, 142pp.
[#3984 ]
12/1/2019ev
SHARELL Richard

The Tuatara, Lizards and Frogs of New Zealand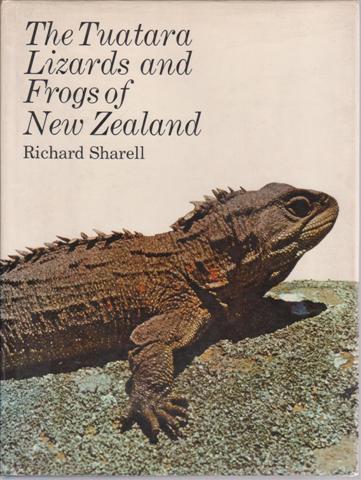 A detailed introduction to the lizards and amphibians of New Zealand.
Includes their place in Maori mythology and folklore.
Colour photographs.
Stephens Island, gecko, skink, reptiles, native
VG hardback in VG dust jacket
$20 B/C
Collins 1966, 94pp + plates.
[#2743, 3974 ]
STEWART Graham

The End Of The Penny Section
A history of Urban Transport in New Zealand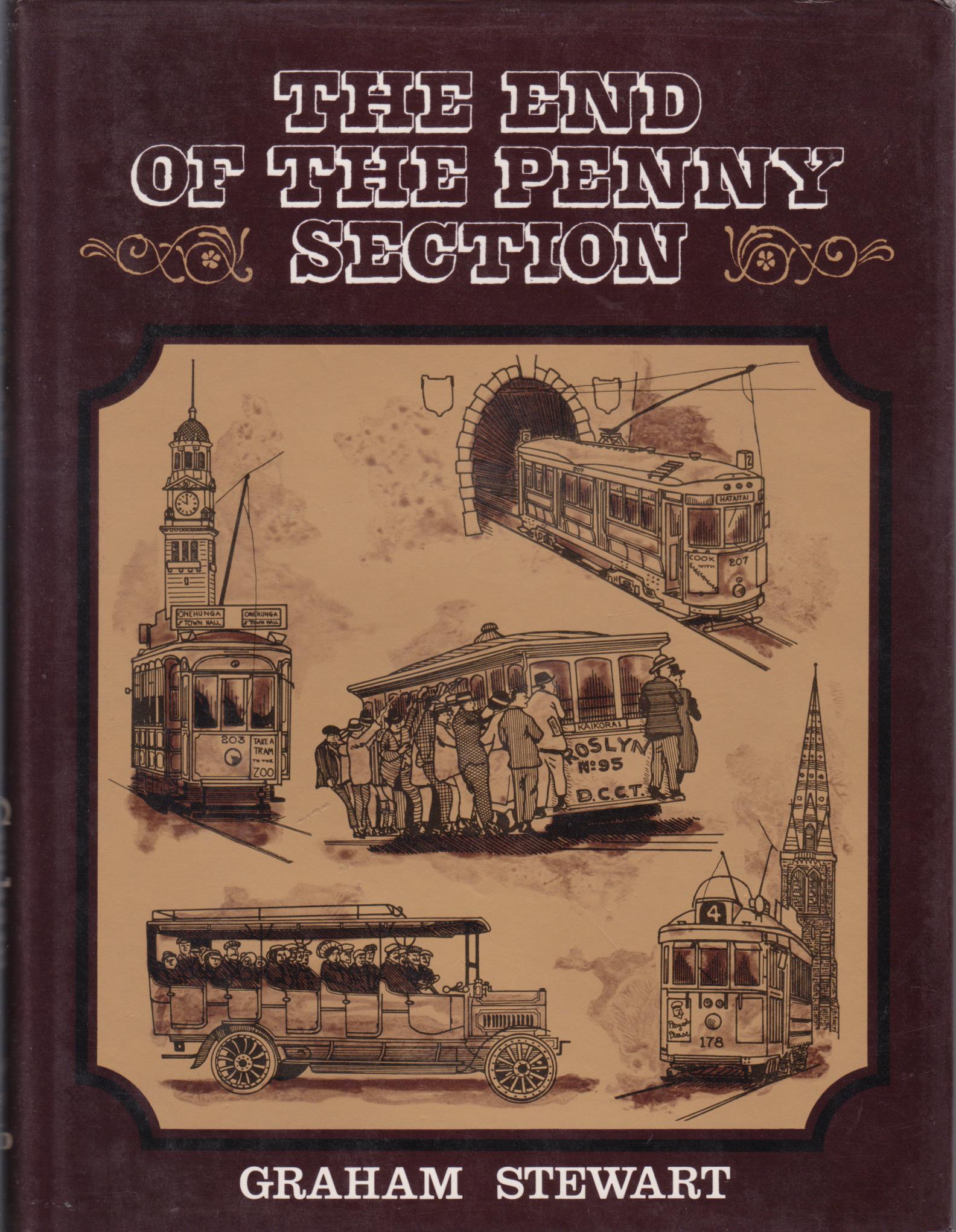 From carts and coaches, to trams and omnibuses.
Illustrated throughout with photos in the text.
ISBN0589007203
commuter transport, trams, cablecars, omnibus
VG+ hardback in VG+ dust jacket.
$30 B/C
Reed 1973 first edition, 221pp
[#3976 ]
CHAPMAN Lloyd

In a Strange Garden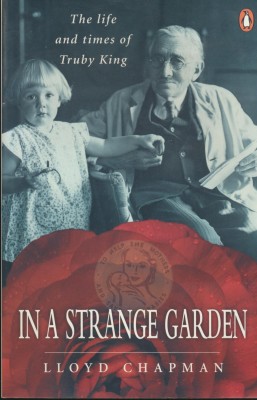 The life and times of Truby King
A biography of the founder of the Karitane Homes and the Plunket Society for child welfare.
ISBN9780143018797
domestic hygiene, childcare, Seacliff, Sir Frederic Truby King
VG softback
$20 C/C
Penguin 2003, 284pp.
[#3977 ]
BESANT Annie

Dharma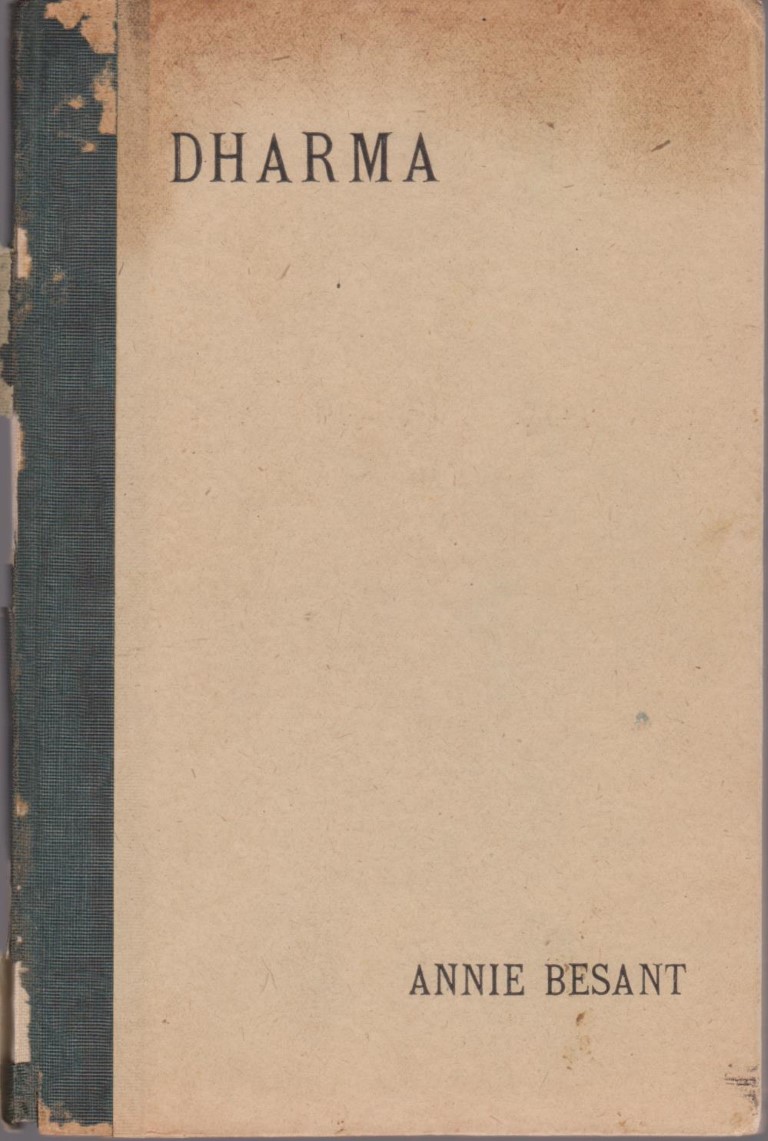 Hindu philosophical theories from three lectures delivered at the Eighth Annual Convention of the Indian Section of the Theosophical Society Held at Benares.
With references to Krishna and the Bhagavad Gita.
mahabharata, indian philosophy, ethics, morality
G- hardback with white boards with blue cloth spine which is chipped with some loss, name to endpaper, internally clean but aged browned paper stock
$20 C/A
Theosophical Publishing House 1918 fourth edition, 70pp.
[#3978 ]
COVENANT Peoples

These are Ancient Things, Selected Articles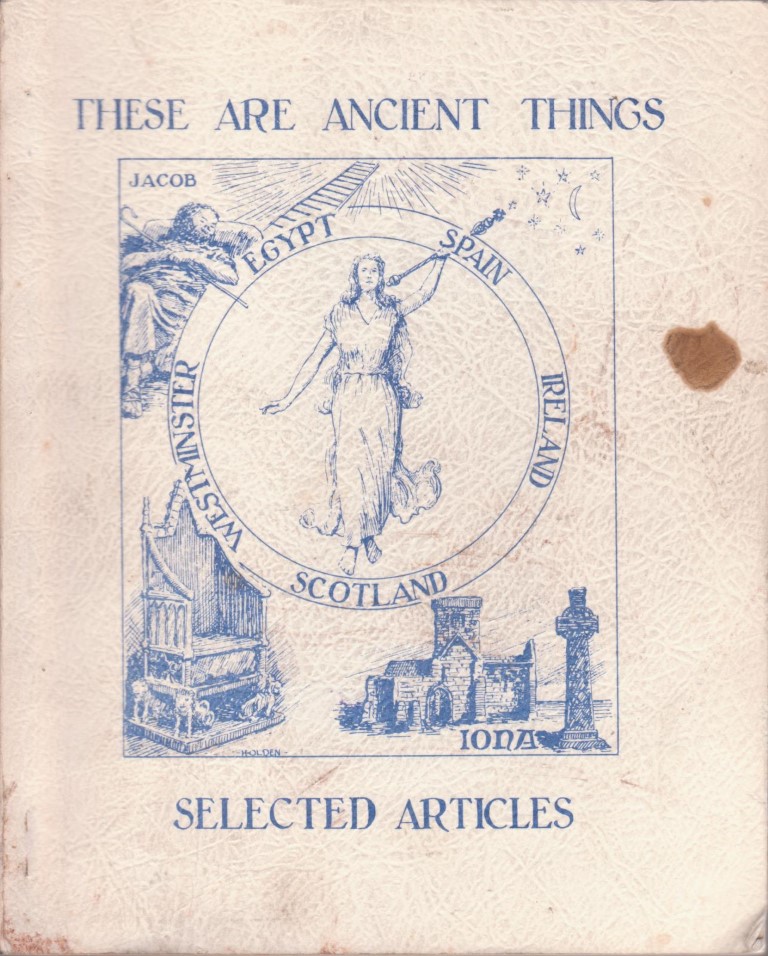 Reprints articles from various British Israelite sources, interesting material on early British history and christianity.
British Israelite, Aryan, Christianity, Christian Identity, Religion, History
G+ softback, soiled wrappers, name and price stamp to half title.
$30 C/B
Association of the Covenant People undated, 158pp.
[#3979 ]
SMITH Max

Champion Blokes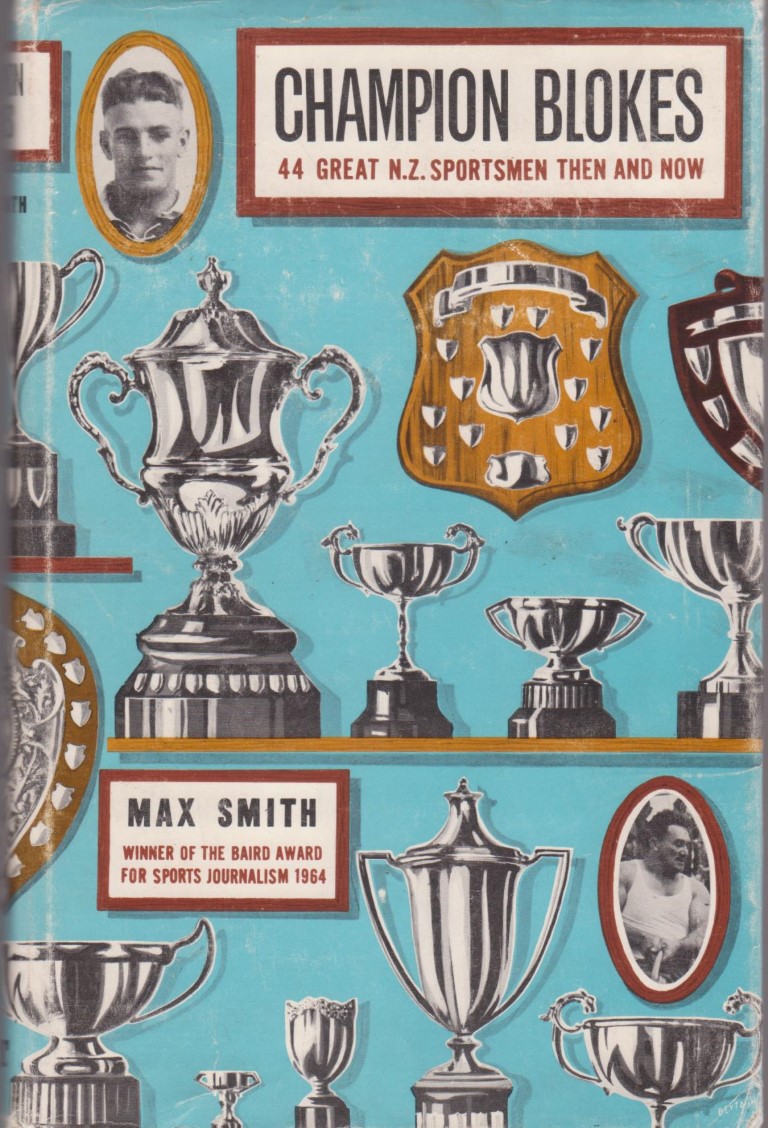 Biographies of 44 great New Zealand sportsmen then and now, from a variety of disciplines including jiu-jitsu, wrestling, wood chopping etc.
sport, new zealand, biography, history
VG hardback in VG dust jacket with light wear with splits to corners, minor mottling to cloth spine.
$20 C/C
Whitcombe and Tombs 1964 first edition cloth, 230pp+plates.
[#3980 ]
© 2015 by Fortuna Books (NZ).