Minimum order $20 value excluding postage.
LATEST ARRIVALS, RECENT LISTINGS

Some of these items may have been sold, as this list is an indication of our new stock entries only and is not updated when items are sold until we delete old entries quarterly.

All these fortunabooks.com prices are in New Zealand dollars, and there is a minimum order required of NZD$20 excluding postage.
Recent uncataloged stock CLICK HERE
Some non-book items (board games, movies) CLICK HERE
18/7/2021ev
MOORE, BROAD and DEVENISH

The Nelson College Old Boys' Register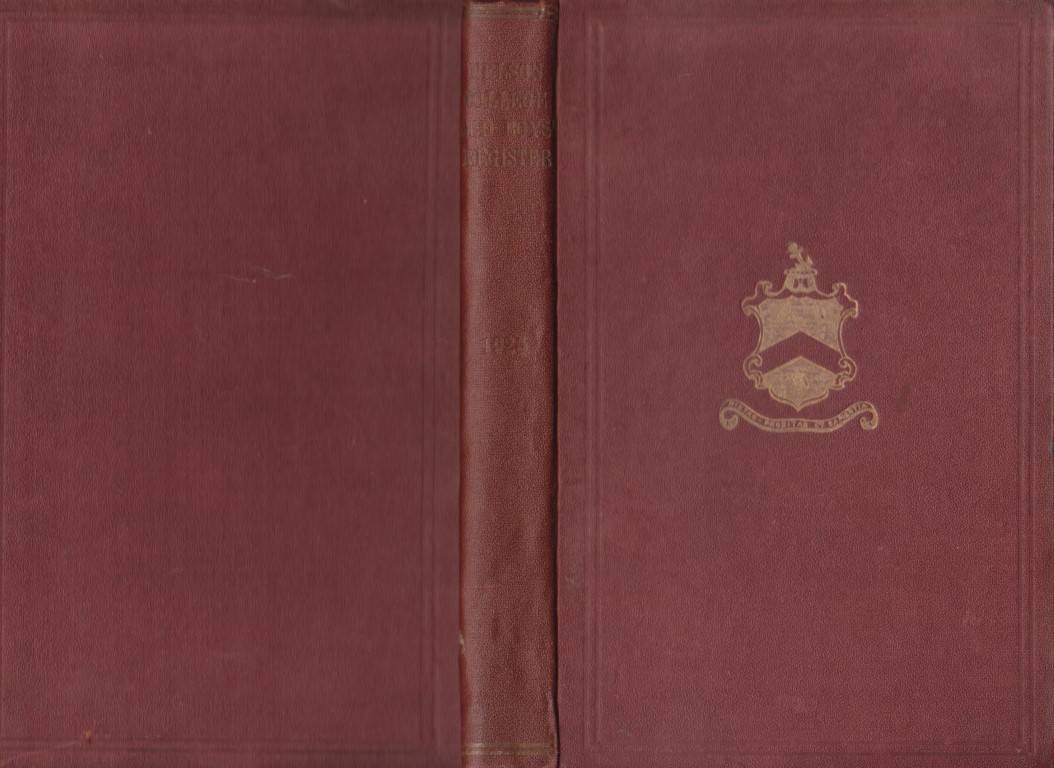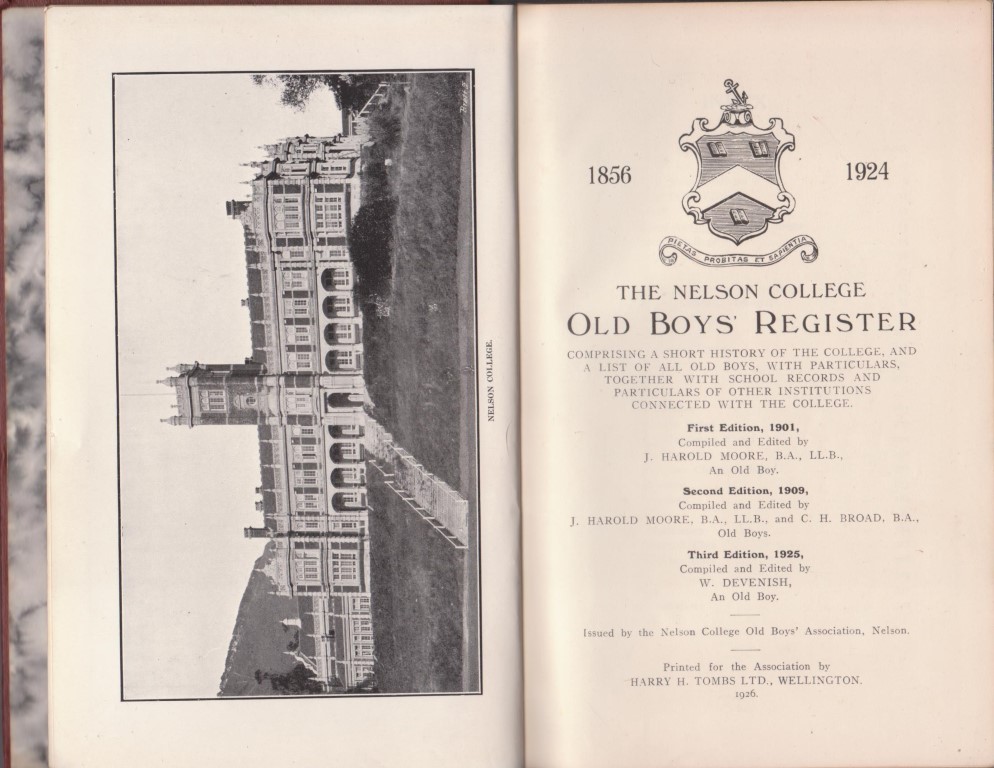 An attractive volume which includes a history of the school followed by the Register of staff and pupils from 1856 to 1926.
Marlborough, Tasman, genealogy, education
VG hardback with no dust jacket.
Red cloth with gilt arms, spine titling dulled, marbled endpapers.
$45 C/C
The Nelson College Old Boys' Association 1926 third edition, 334pp+ plates
[#5203 ]
BYRNE Lt. A. E.

Official History Of The Otago Regiment In The Great War 1914-1918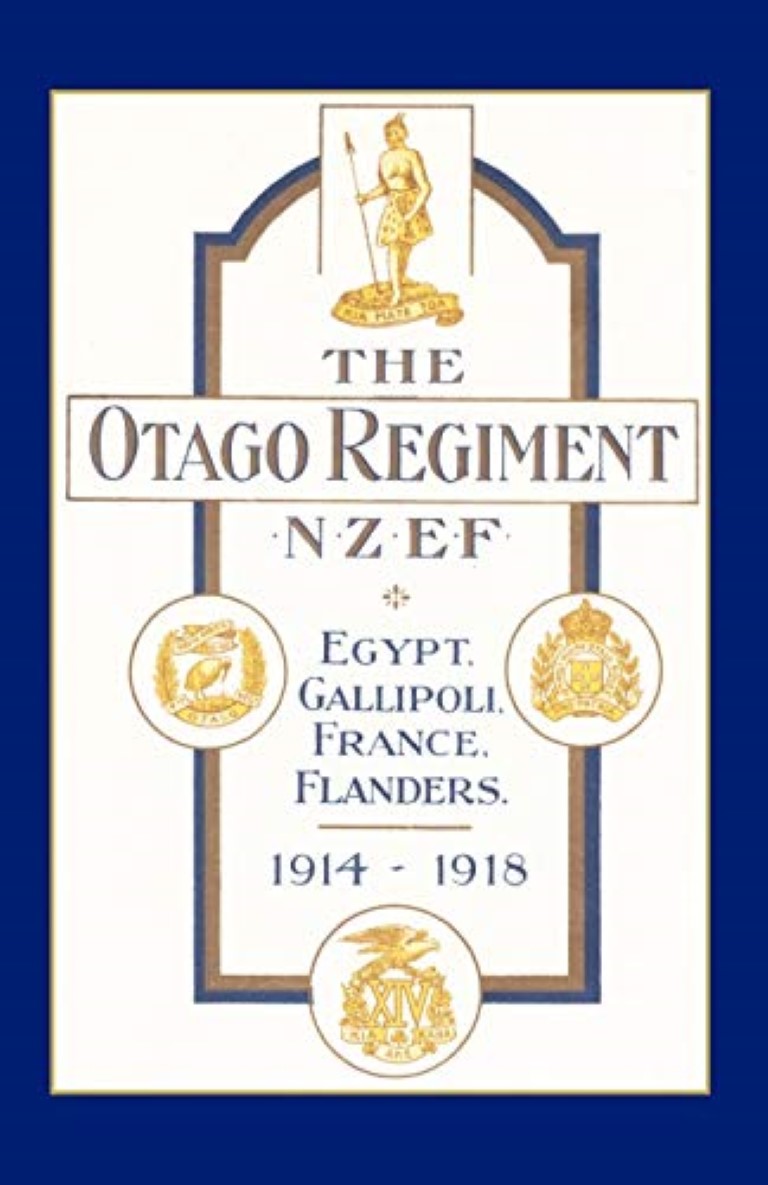 The Official History written to commemorate The Otago Regiment N. Z. E. F. in Egypt, Gallipoli, France, Flanders, 1914-1918.
Includes Gallipoli, the Somme, Messines, Third Ypres and the battles of 1918.
ISBN9781843425694
ww1, wwi, anzac, off hst, Otago, NZEF
VG+ softback
$52.50 C/C
Naval and Military Press 2009 reprint, 407pp + photos and maps.
[#5204 ]
BYRNE Lt. A. E.

Official History Of The Otago Regiment In The Great War 1914-1918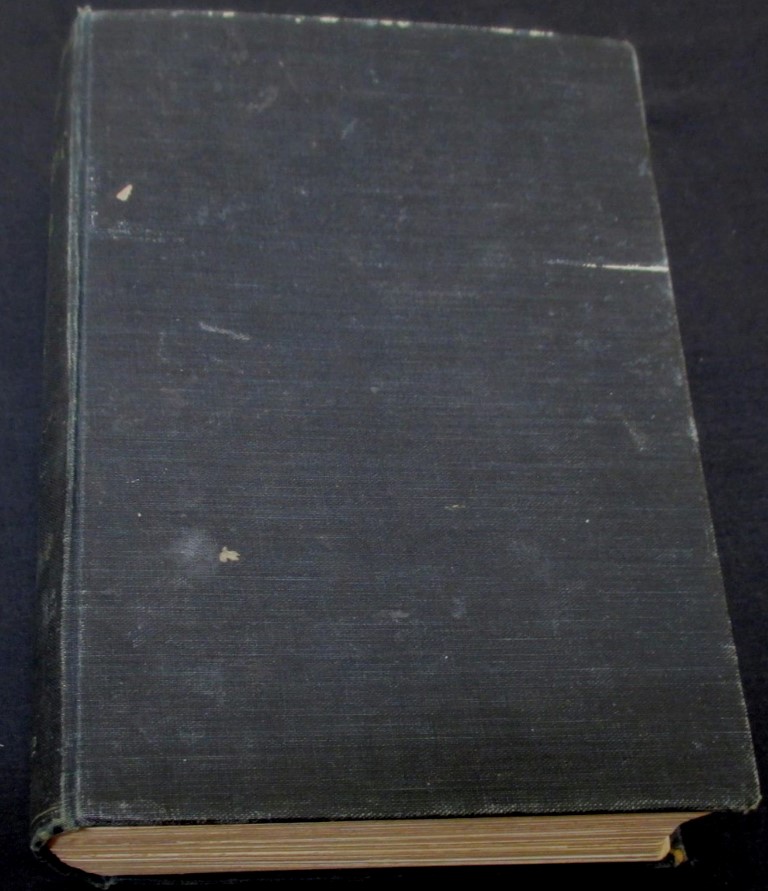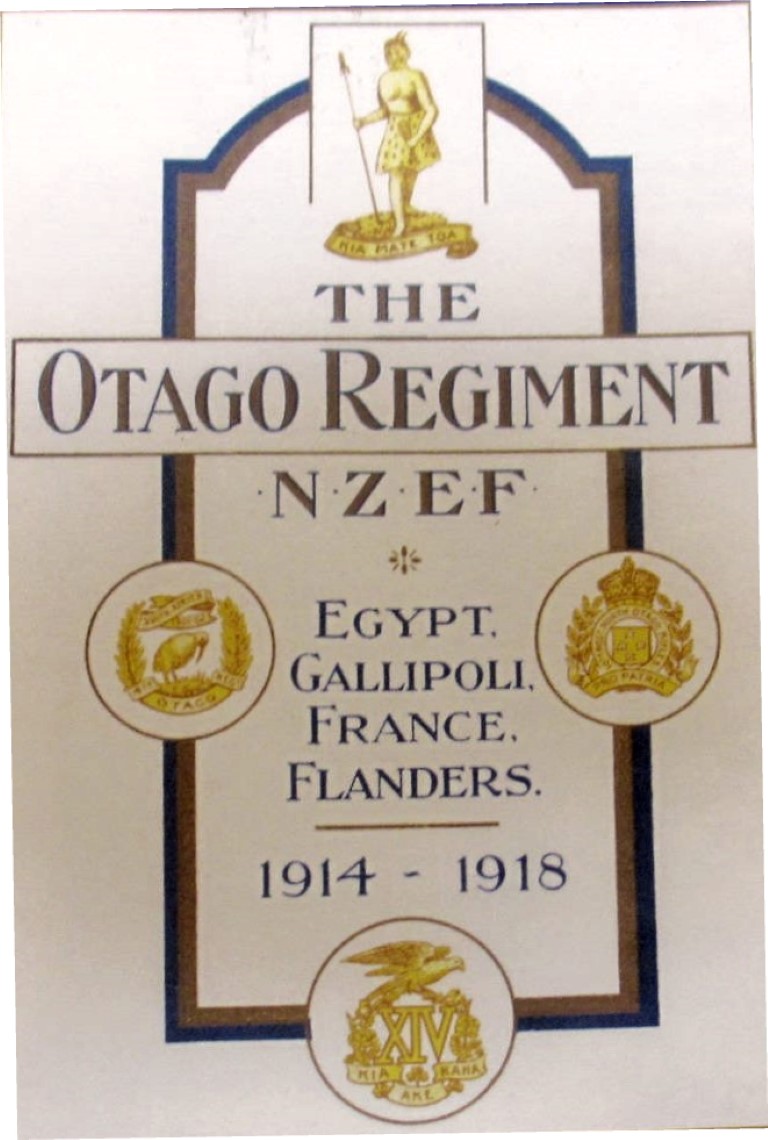 The Official History written to commemorate The Otago Regiment N. Z. E. F. in Egypt, Gallipoli, France, Flanders, 1914-1918.
Includes Gallipoli, the Somme, Messines, Third Ypres and the battles of 1918.
ww1, wwi, anzac, off hst, Otago, NZEF
G+ cloth hardback, soiled, rubbed covers.
Collated as complete, this copy is a bit tired with minor insect loss to free endpaper and split at the foot of the front hinge (inner).
Holds well on binding the cords/ tapes.
$125 C/C
Undated First Edition [1921], xvi + 407pp+ illustrated title page, plates and 11 folding maps.
[#5205 ]
ANDERSON Grahame

The Merchant of the Zeehaen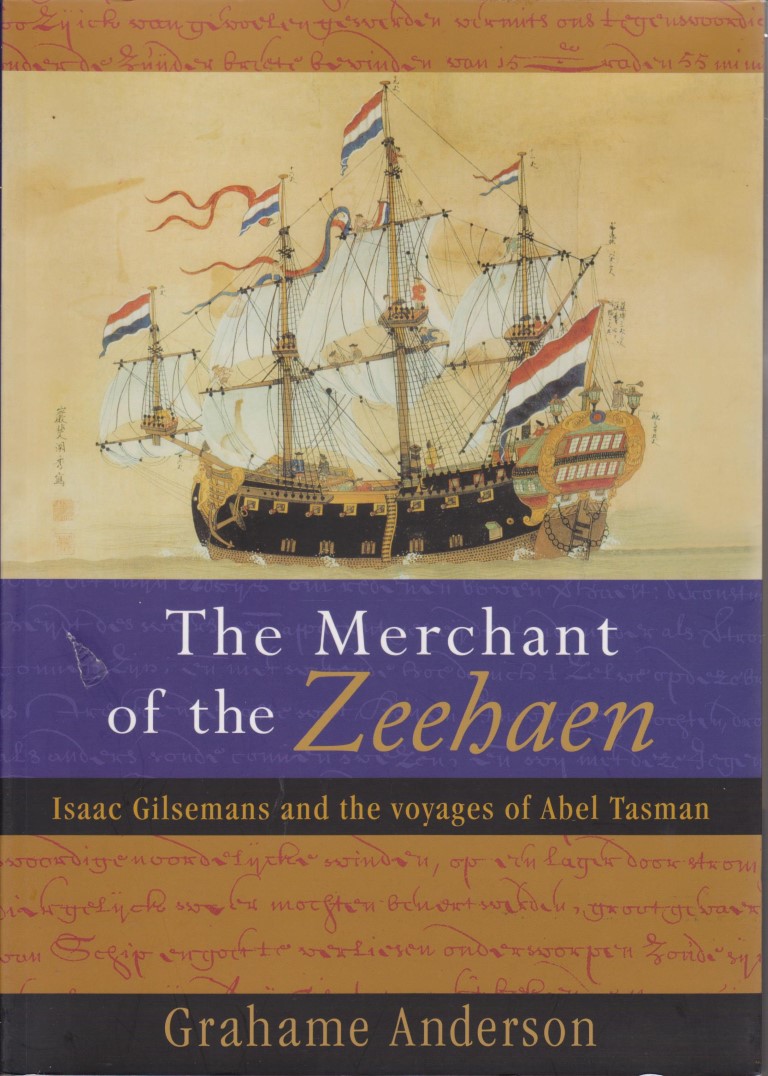 The story of Isaac Gilsemans, cartographer, illustrator and editor on the Dutch East India Company voyages of Abel Tasman 1642-3.
Anderson realised in 1985 that the illustrations by Gilsemans were accurate cartographic charts, rather than mere sketches.
Includes travel to Formosa, Japan, Tonga, Batavia, Tasmania and New Zealand.
ISBN9780909010751
Dutch, exploration, history, New Zealand, Maori
VG- softback, one small PUNCTURE to front cover (only).
$20 C/C
Te Papa Press 2001 first edition, 162pp+ plates.
[#5206 ]
NEXUS MAGAZINE

Nexus New Times Magazine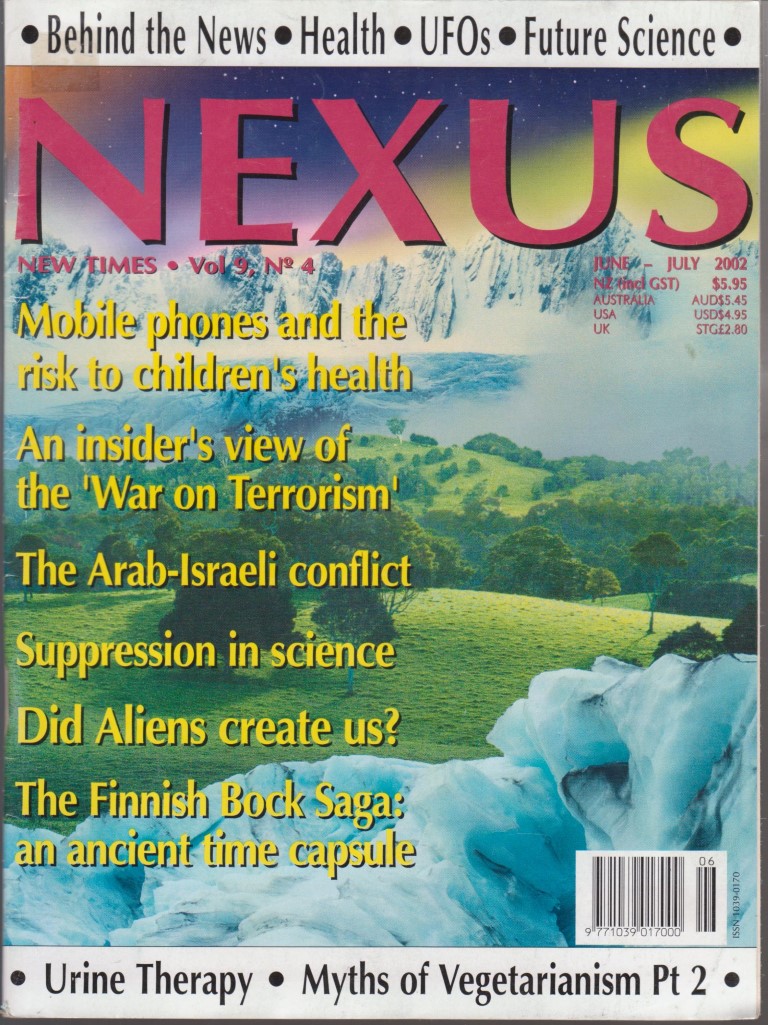 Volume 9 Number 4 June-July 2002
ISBN9771039017000
conspiracy, alternative science, new age
VG magazine, newsprint
$10 C/B
NZ/South Pacific edition, 71pp+ adverts.
[#5207 ]
CHASE James Hadley

Not Safe to be Free
First British issue of this hardboiled thriller, set in the Cote d'Azure at the Cannes Film Festival.
crime, fiction
VG hardback with no dust jacket
$15 C/B
Robert Hale 1958 first edition, 204pp + adverts.
[#5208 ]
Du MAURIER Daphne

The Scapegoat
A lonely academic Englishman meets and exchanges places with his double, a French aristocrat, while visiting France, finding himself caught up in the intrigues and passions of the complex French family.
G+ hardback with no dust jacket.
Closed edges browned.
$10 C/B
Victor Gollancz 1957 first edition, 368pp.
[#5209 ]
ROSE Joel

Kill The Poor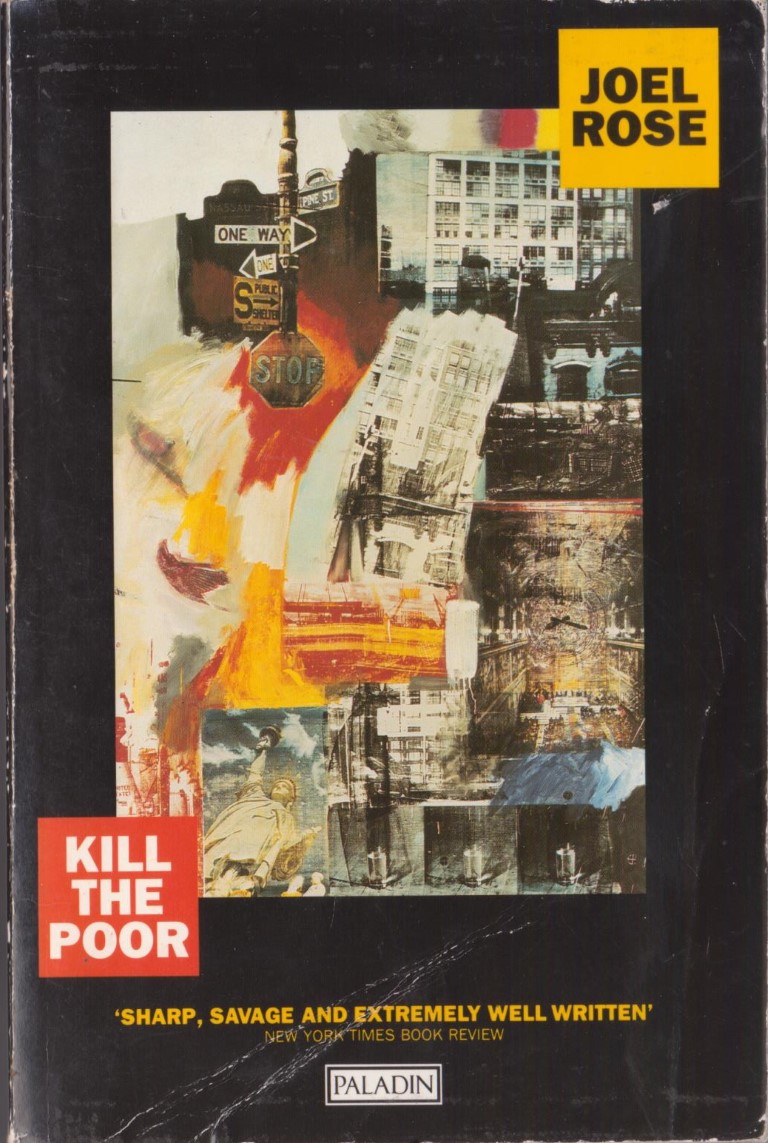 Jo-Jo Peltz and his wife move to Alphabet City, a slum on the Lower Eastside of Manhattan.
Returning to the same block where his grandparents lived in 1903, he finds the neighborhood drastically changed by gangs and random crime.
ISBN9780586089217
New York, fiction
G+ paperback, cover creased.
$7 C/B
Paladin 1990 UK paperback original, 285pp.
[#5210 ]
McCAULEY Sue

Bad Music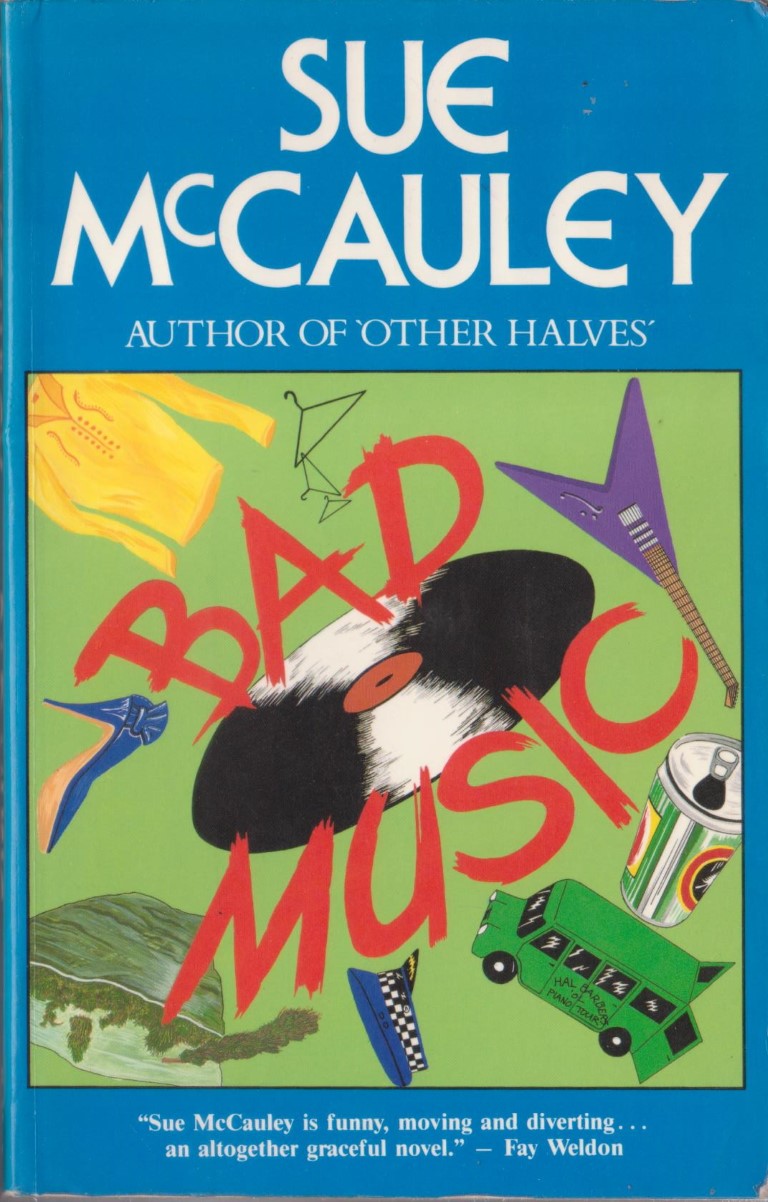 the author of Other Halves explores the special magnetism of the music that draws its energy from sources that are socially unacceptable; like sex, drugs and rock'n'roll.
It is also a story of growing older and new beginnings.
ISBN 9780340533192
new zealand fiction
VG softback, signed by the author to title page.
$15 C/B
Hodder and Stoughton 1990 first edition, 174pp.
[#5211 ]
JONES Colin

Jonesy's Deer Culling Days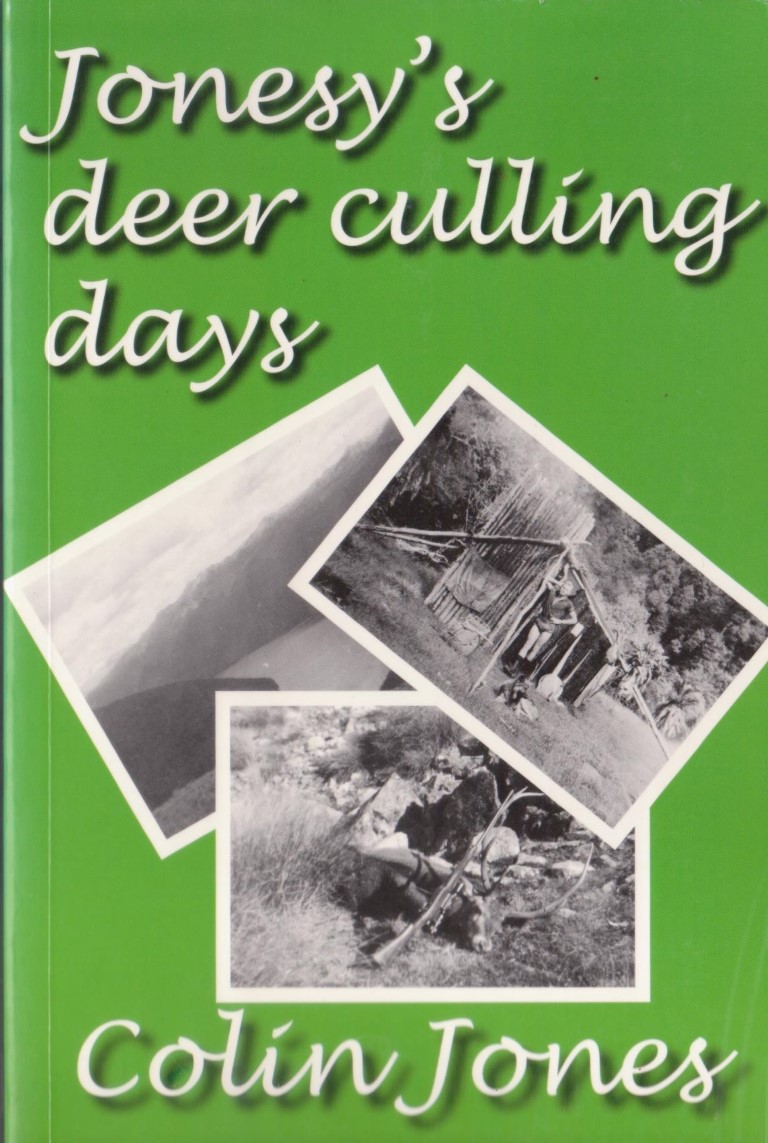 Jonesy was there in the earliest days of Government deer-culling, starting in Ruatahuna in 1954, as a government shooter.
Choppers had not been invented so it was tent camps, fixed wing airdrops four months apart, run out of anything and it was a long walk out for more supplies.
Four bob a tail for deer, three shillings and sixpence for pigs, seven quid a week retainer.
He was in the thick of it, trying hard to be good enough so he would not be shipped out, like so many were, that could not make the grade.
Learning his bush craft and the ways of deer and pigs, hunting from fly camps and department huts.
Spending his days in the bush hunting the elusive deer and pigs that he was paid to kill.
ISBN 9781877256660
hunting, deer stalking, deer cullers
VG+ softback, small name to inside of front cover.
$40 C/B
The Halcyon Press 2007 First edition, 200pp.
[#5212 ]
WILLIAMS Karen

Barrel Staves to Carving Skis - A Skierís Story: Walter Haensli of Klosters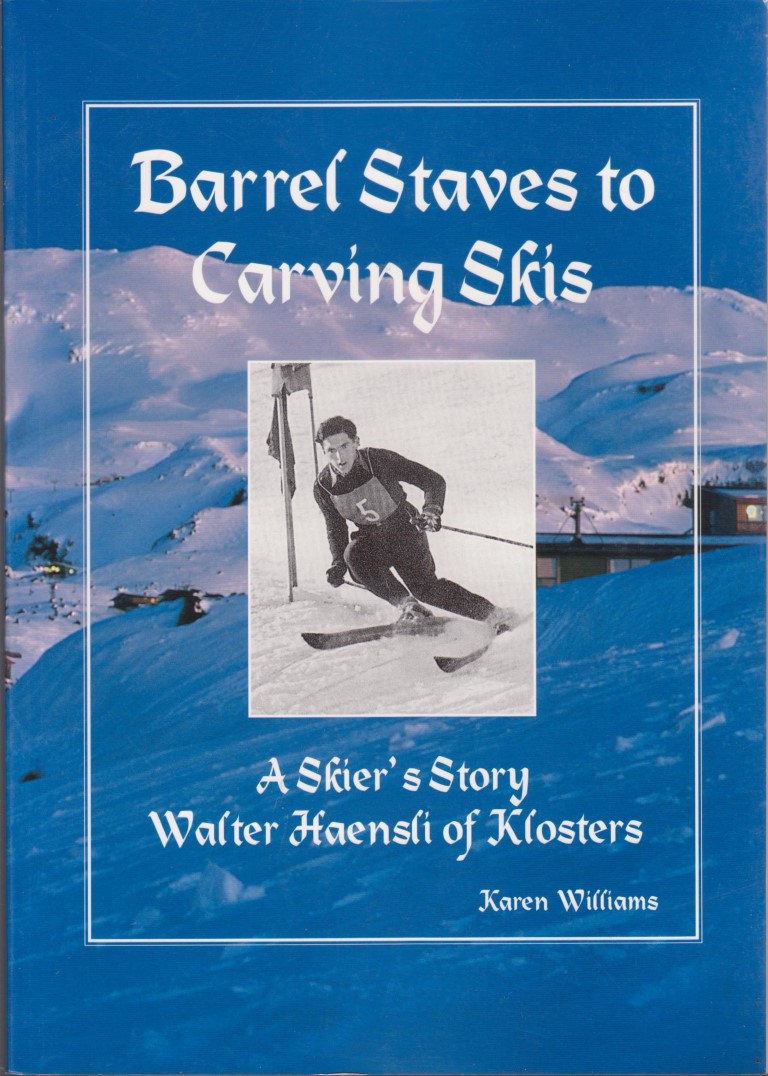 In 1949 Bryan Todd met Walter Haensli in Sun Valley Ski resort in the USA, and persuaded him to come to New Zealand to look for a skiing area.
Haensli recommended Mt Ruapehu and founded a ski club, ran a ski school at the Chateau Skifields (Whakapapa Ski Area) from 1949-51.
ISBN 0473060264
skiing, new zealand ski fields, Swiss, memoir, biography
VG softback SIGNED by author to title page.
$45 B/B
Fire and Ice Publications 1999 First edition, 86pp.
[#5213 ]
TOLKIEN J R R

The Lord of the Rings Trilogy
Second Edition, Revised
Vol. I - The Fellowship of the Ring, Vol. II - The Two Towers, Vol. III - The Return of the King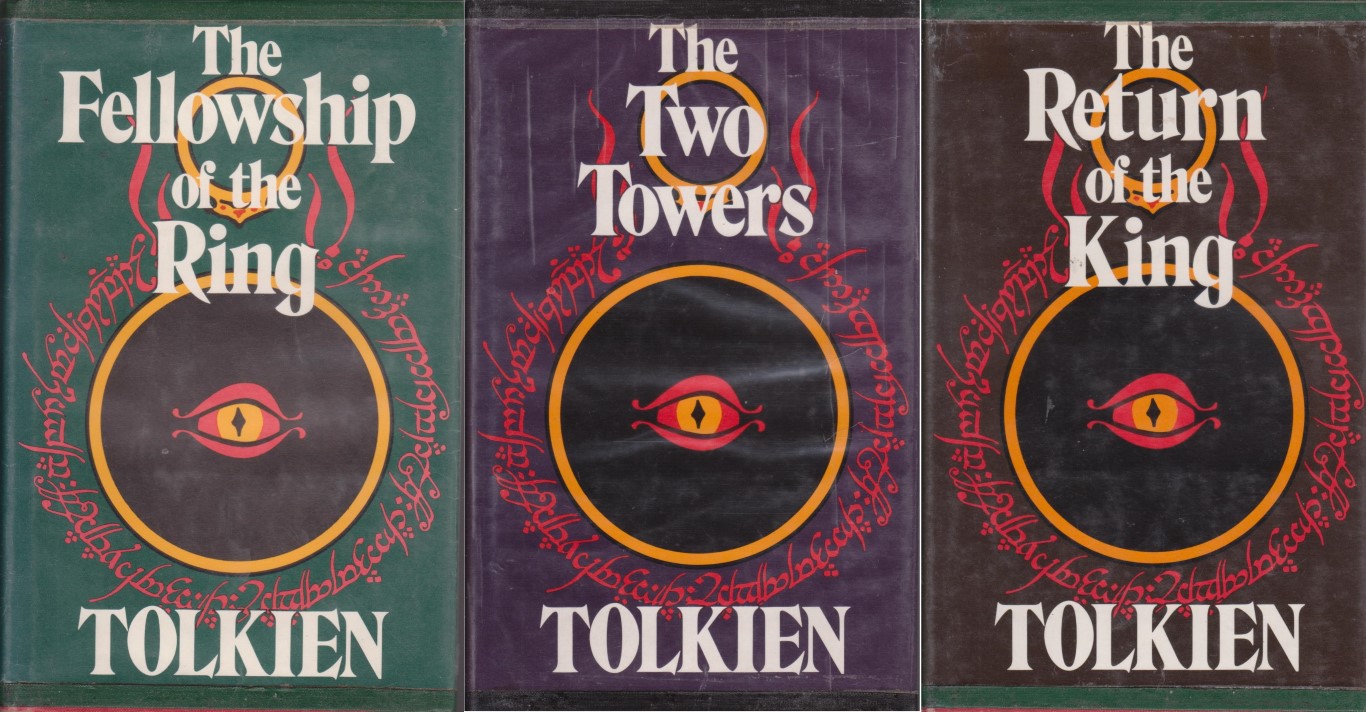 Complete LOTR 3 books in three volumes, this is the Unwin Second Revised edition.
Ninth Impression (vol1) and Eighth Impressions (vol 2 and 3).
ISBN0048230456 , ISBN0048230464, ISBN0048230472
LOTR, lord of the rings, 3 vols, complete, Set, Tolkien, Collectable, Unwin Books Edition, Second Edition, Hardcover Set, Middle Earth, Revised Second Edition
VG hardbacks in VG dust jackets with minor rubbing, all dust jackets are price clipped.
3 volumes uniform in red cloth with dust jackets with the Ring and Elvish script about the Eye of Sauron.
Small pen name top corner of free end paper first volume, and some adhesive residue offset from the plastic sleeves on to the book cloth edges.
$350 D/D
George, Allen and Unwin 1974, 423+ 352+ 440pp. Includes maps etc.
[#5214 ]
McLEAN Gavin and Pat Lewis

Take-Off: The Helicopters (NZ) Story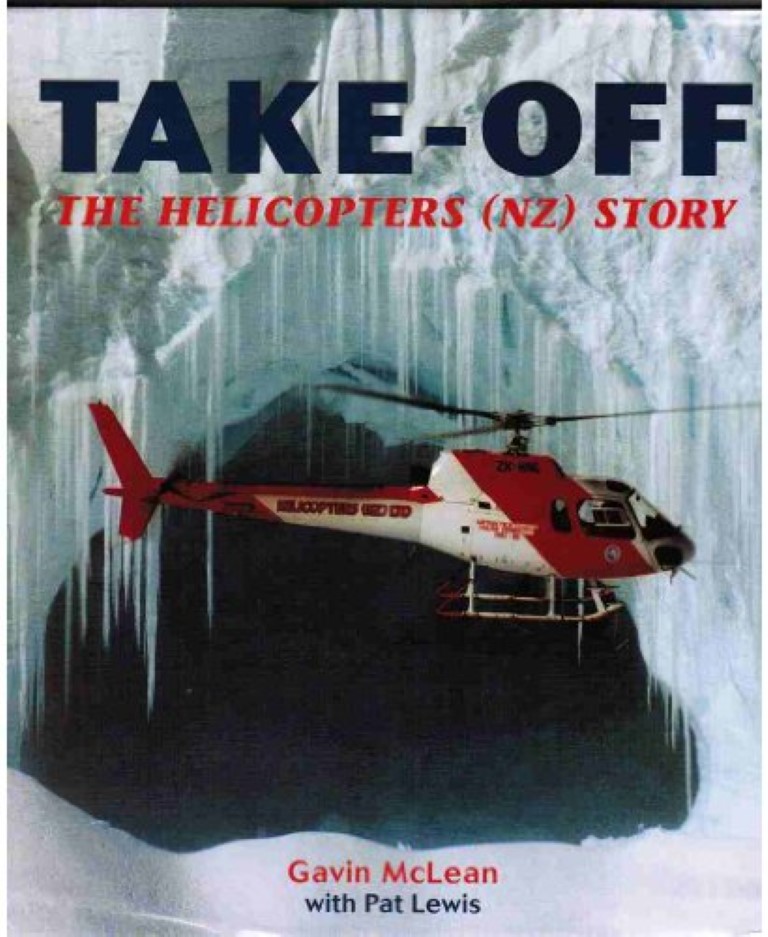 This history of Helicopters (NZ) Ltd. is also a history of the use of commercial helicopters New Zealand wide.
Founded in 1955 by Doug Shears, Allan Hubbard and others, the company soon expanded from mainly agricultural services to construction, delivery and disaster relief, as well as SAR and venison recovery.
ISBN 9781877393310
HNZ, choppers, commercial aviation, company history
VG hardback in VG dust jacket
$45 B/D
Hazard Press 2006 first edition, 222pp.
[#5215 ]
COHEN Leonard

Beautiful Losers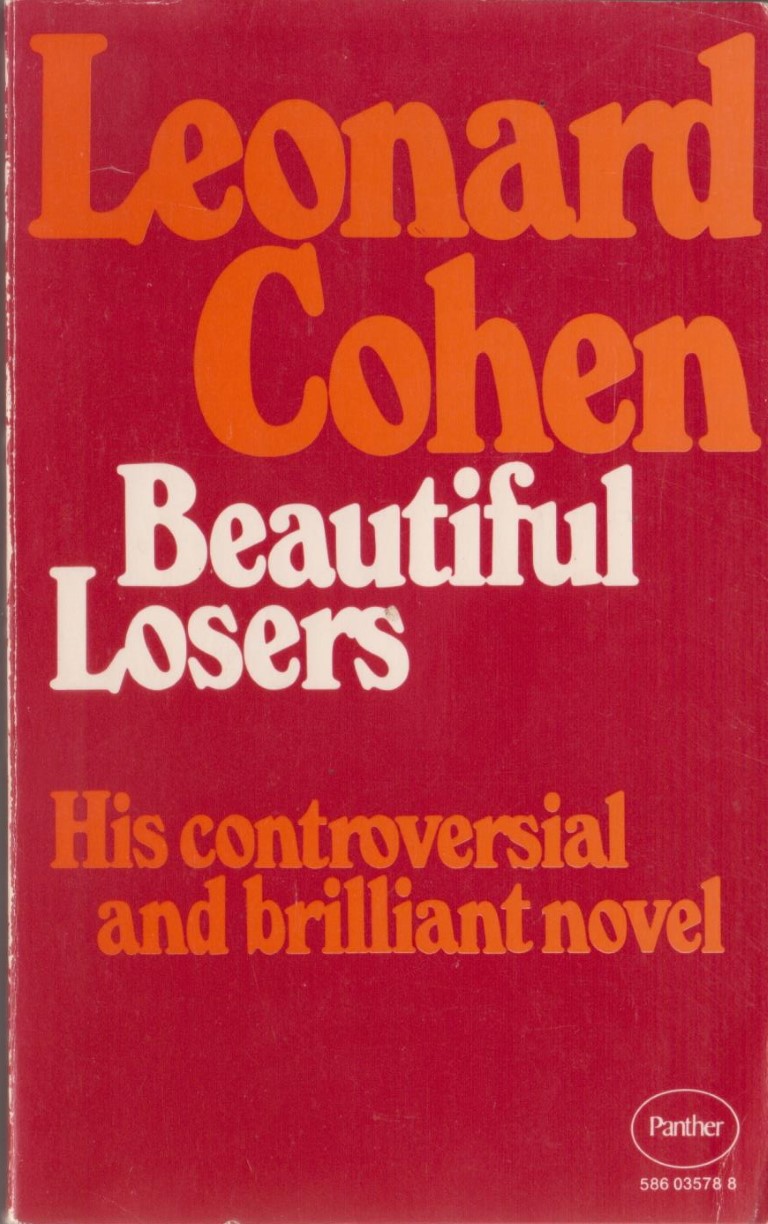 1960's experimental novel.
A vulgar, rhapsodic, and viciously witty novel which centres upon the members of a love triangle united by their sexual obsessions and by their fascination with Catherine Tekakwitha, a 17th-century Mohawk saint.
ISBN 0586035788
Early pulp edition.
VG paperback
$12 A/B
Panther 1973, 239pp.
[PB1707 ]
MAXWELL Trudi

Diary of a Female Wrestler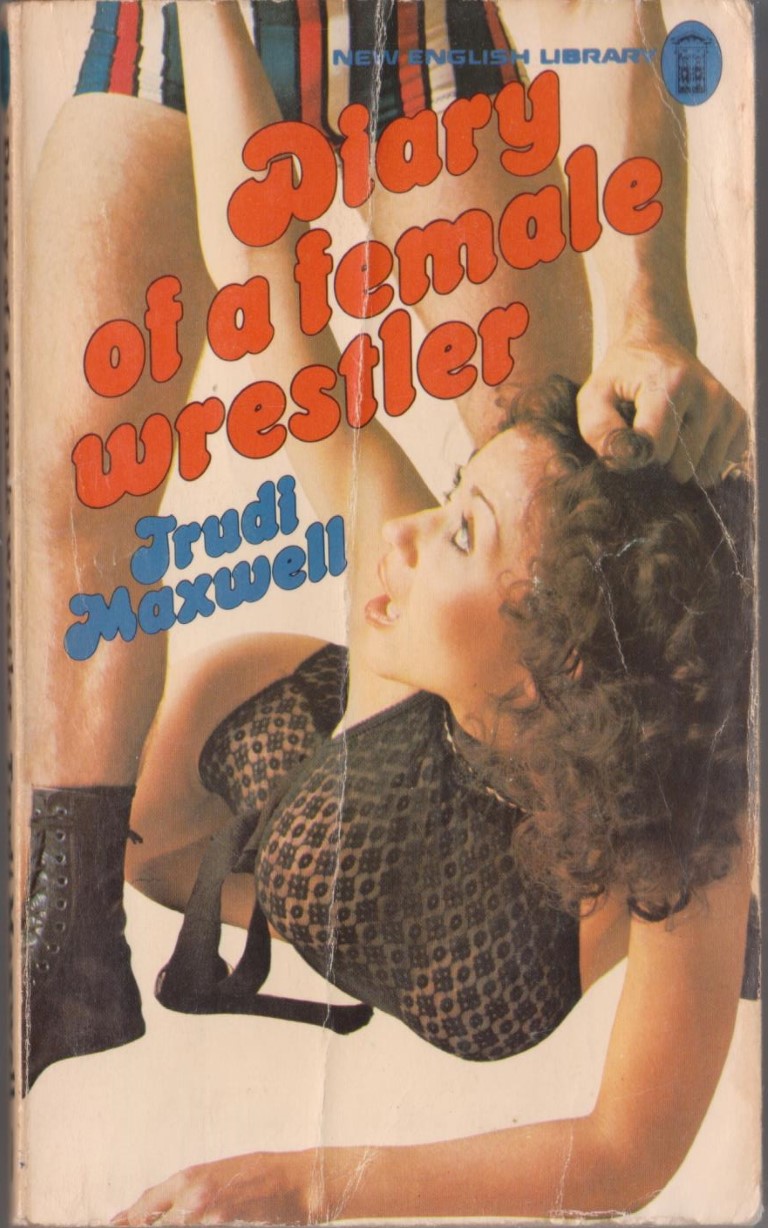 When her wrestler father left Trudi and her mother for another woman, Trudi had to take up where he left off, becoming a wrestler to support herself and her mother.
Here she recounts the seedy, predatory world of British wrestling, and her sexual experiences with the men and women she encountered.
ISBN 0450027686
British, female wrestler, memoir, pulp
G+ paperback
$20 A/B
New English Library 1976 first edition, 126pp.
[PB1708]
1/6/2021ev
STEVENS P. G.

John Grigg of Longbeach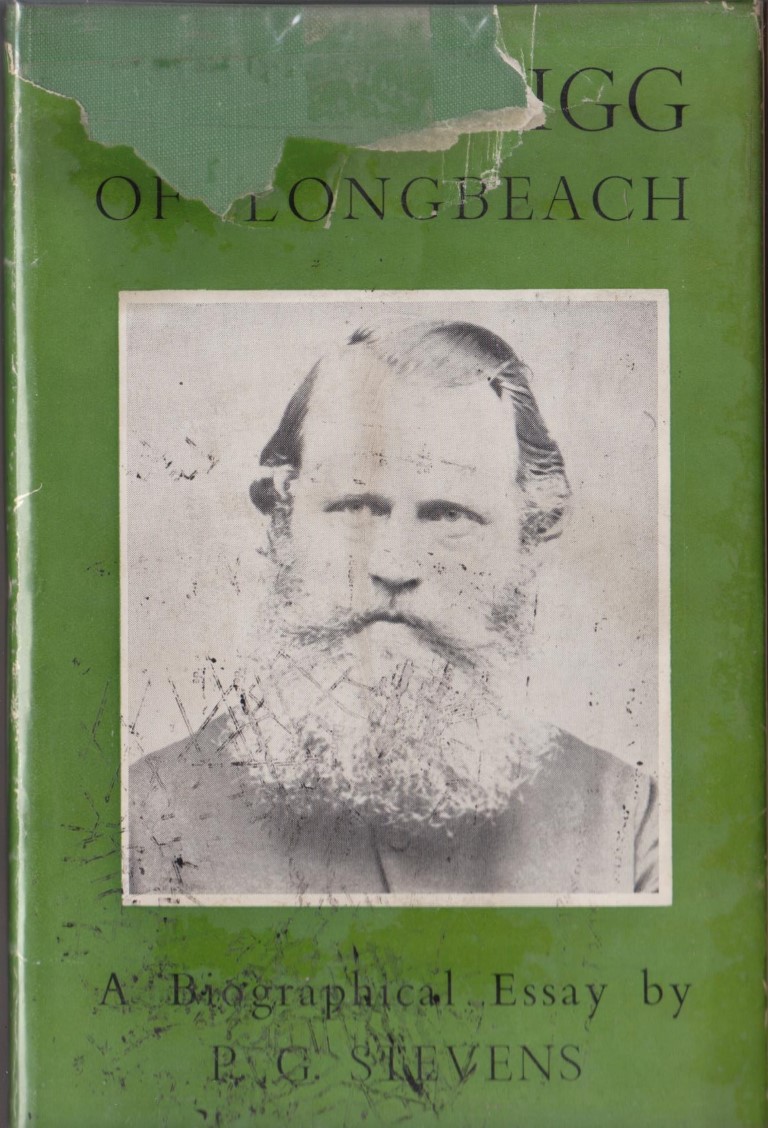 A Biographical Essay of this great pastoralist and farmer who transformed 30,000 acres of swamp between the Rangitata and Ashburton rivers to create his Model farm Longbeach, thought by some to have been the best in the world.
Ashburton, South Canterbury, farming, colonial, Cornwall, Cornish immigrant
VG- hardback in G- dust jacket.
Gift inscription to first page, tape rust from tape holding plastic sleeve to jacket offset to jacket and end-papers.
$20 C/B
Whitcombe and Tombs Ltd. 1952 first edition, 64pp + plates
[#5197 ]
CRAWFORD Sheila S.

Sheep and Sheepmen of Canterbury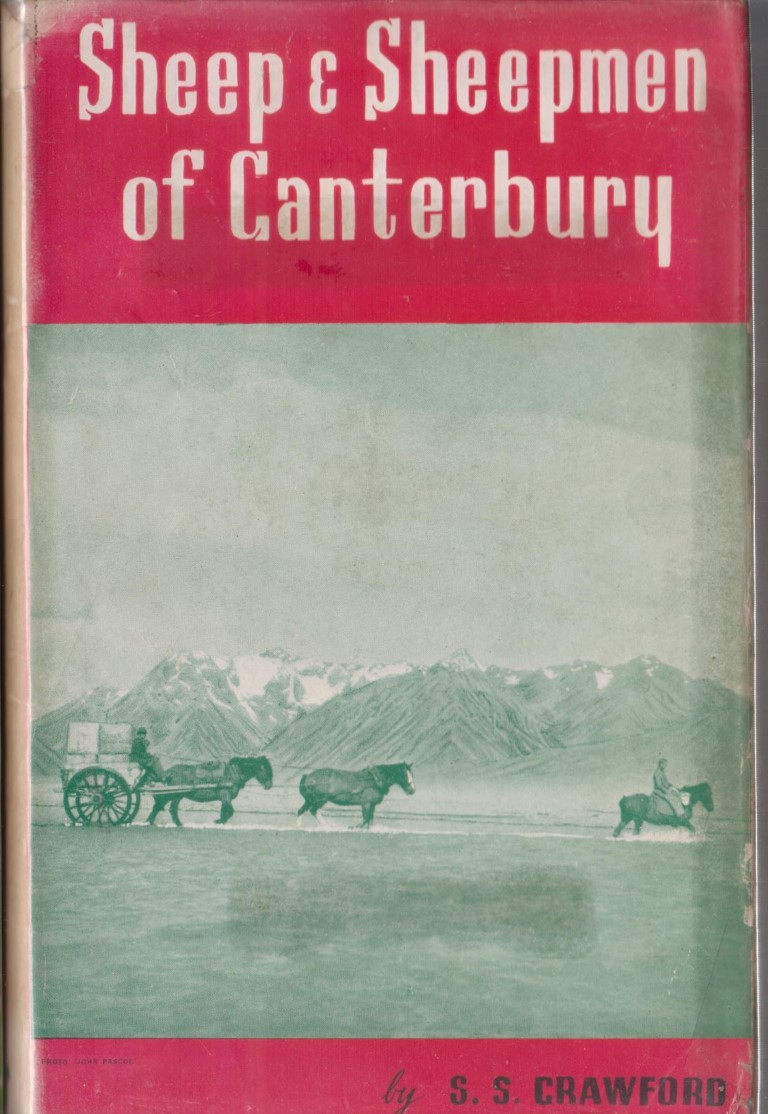 A fascinating and informative history of the settlement of the Canterbury farms by Colonial sheepfarmers, and the ups and downs of the meat and wool trade.
colonial, farming, Canterbury settlement, shepherds, frozen meat exports, Canterbury runs, pastoral lease
VG- hardback in G- dust jacket.
Tape rust from tape holding plastic sleeve to jacket offset to jacket and end-papers.
$30 C/B
Simpson and Williams 1949 first edition, 158pp + plates and maps.
[#5198 ]
GRAHAM G.W. and L. J. B. Chapple

Ellesmere County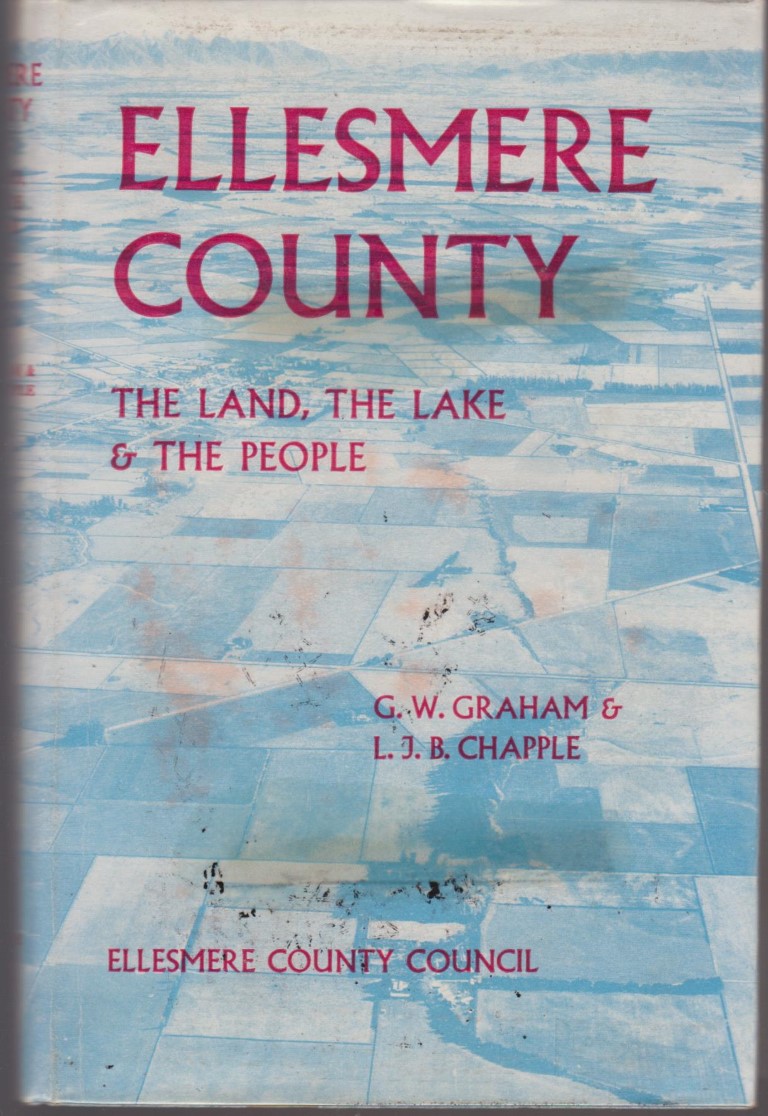 A centennial history of the land, lake and people of Ellesmere on the East Coast of Canterbury, from 1864-1964.
Excellent reference on the Maori and European setllement and developmnt of the region.
Selwyn, Rakaia, Waihora, Kaitorete, Waikerikeri
VG hardback in VG- dust jacket.
Jacket under a plastic sleeve with tape holding it to the book, the tape having begun to perish leaving some marks to the jacket and endpapers.
$20 C/C
Caxton Press for the Ellesmere County Council1965 first edition, 221pp.
[#5199 ]
ADAMS Cecilia

The Hill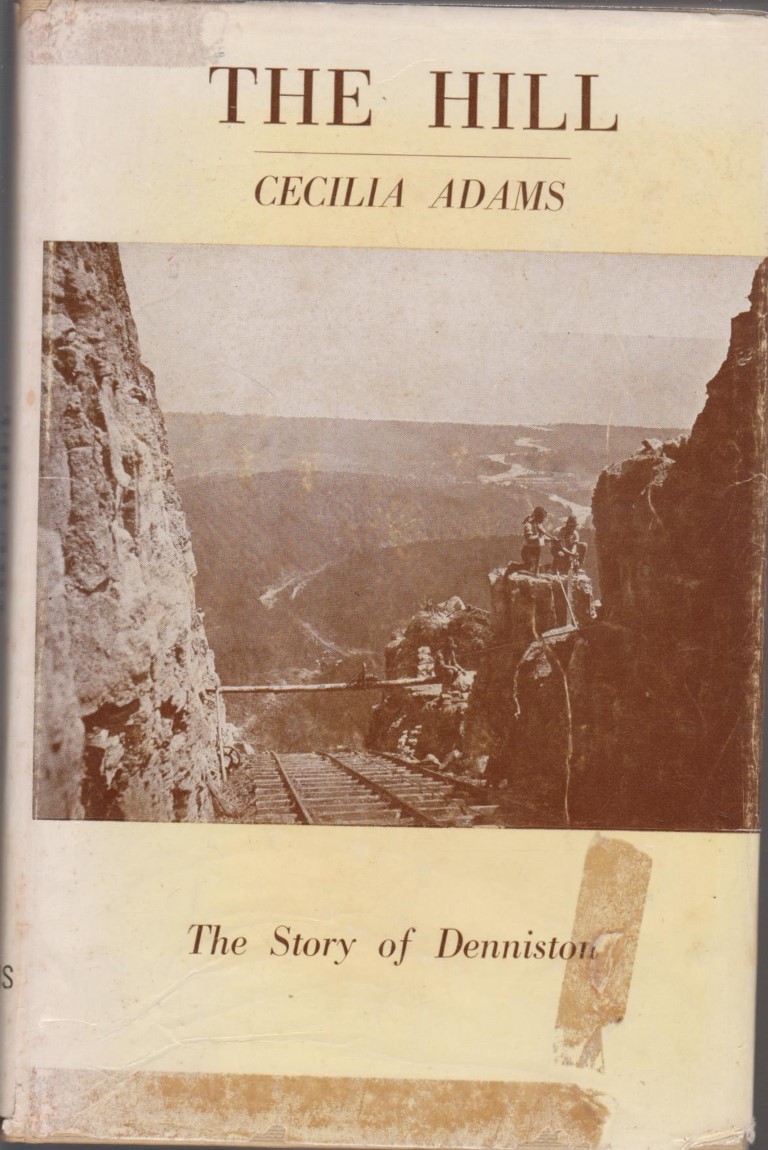 The Story of Denniston, a coal mining township on the West Coast of New Zealand
mining, Westland, history
VG hardback in G+ dust jacket.
Jacket has some tape rust and edge wear. Name stamp to first page.
$35 C/B
J.W. Baty Ltd.1971 first edition, 168pp + plates.
[#5200 ]
RANSOME Arthur

The Big Six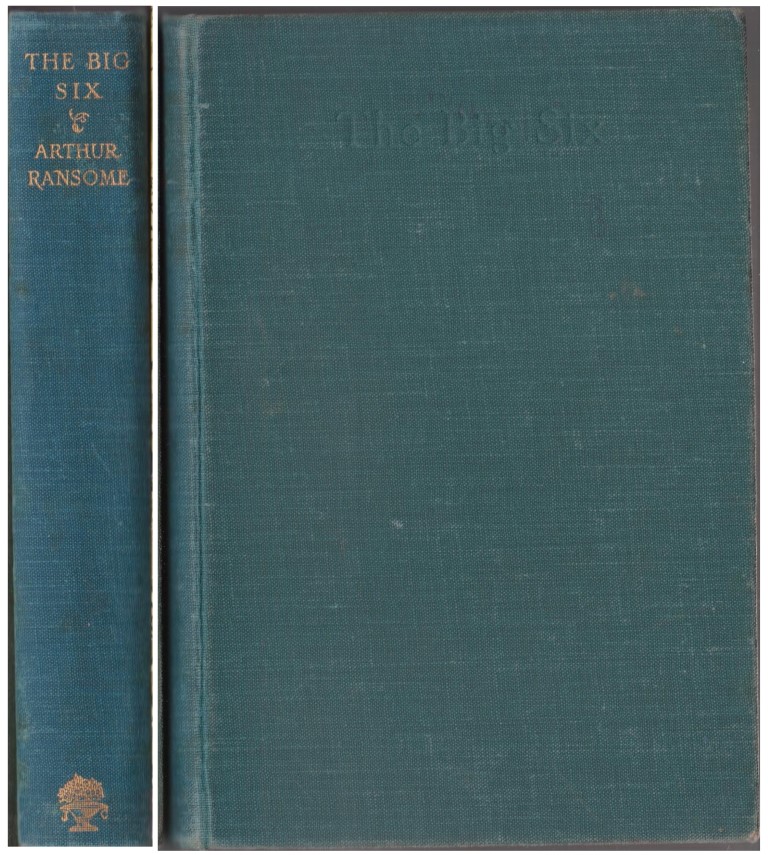 Swallows and Amazons
VG- cloth hardback with no dust jacket.
$15 C/C
Cape 1948, 399pp with illustrations and map endpapers.
[#5201 ]
RANSOME Arthur

Winter Holiday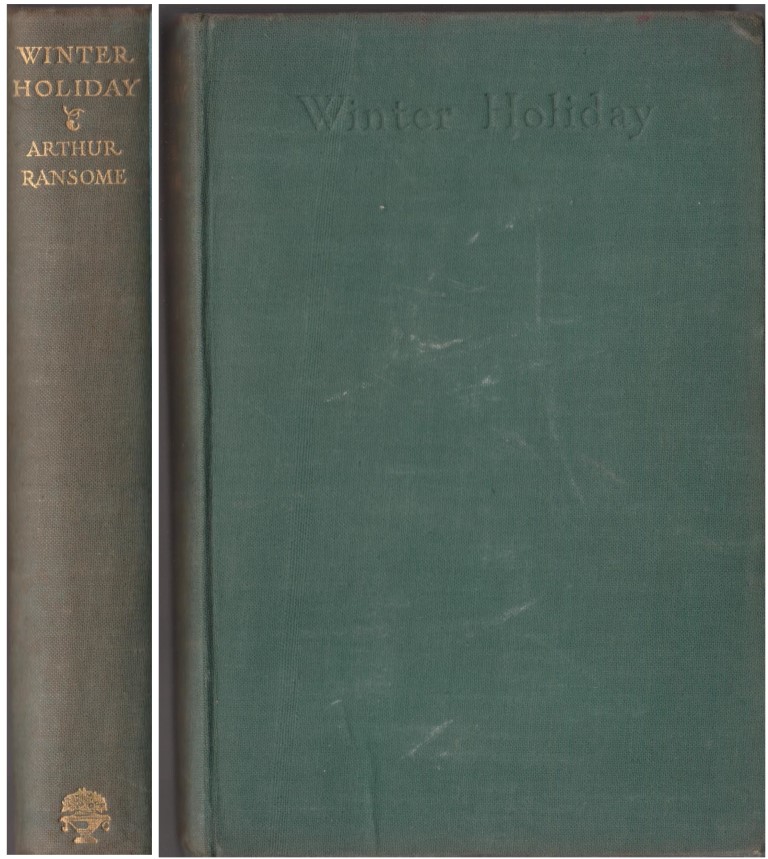 Swallows and Amazons
VG- cloth hardback with no dust jacket.
Inscription to blank free endpaper and half title page.
$15 C/C
Cape 1939, 360pp with illustrations and map endpapers.
[#5202 ]
29/5/2021ev
BROWN Margaret C.

Difficult Country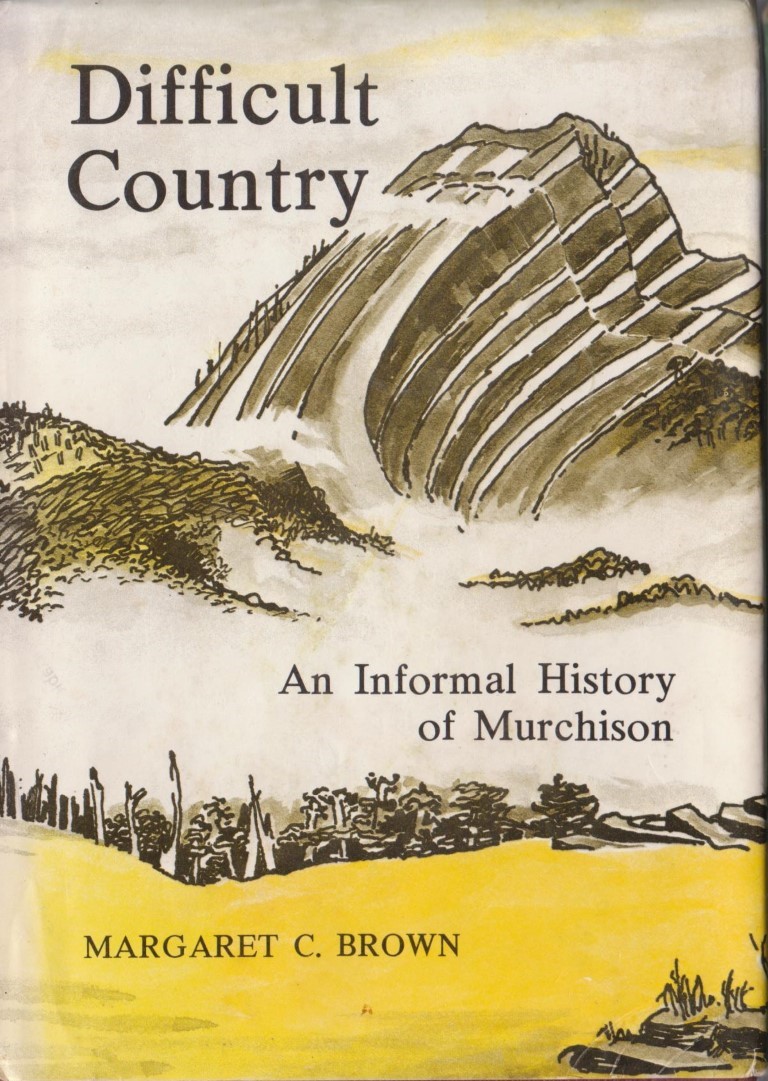 An informal history of Murchison, very well put together with good illustrations.
Covers early settlers, gold rushes, and later developments.
Published in an edition of 1500 copies only.
Tasman, Four Rivers Plain, Buller River, Matakitaki River, Mangles River, Matiri River, Maruia
VG- hardback in VG dust jacket.
Front few pages of book have some associated newspaper clippings taped in.
Title page has the author's signature, as well as former owner's details.
$30 C/C
Murchison Historical and Museum Society Inc. 1976 first edition, xvi 262pp.
[#5182 ]
LYDIARD Arthur and Garth GILMOUR

Run the Lydiard Way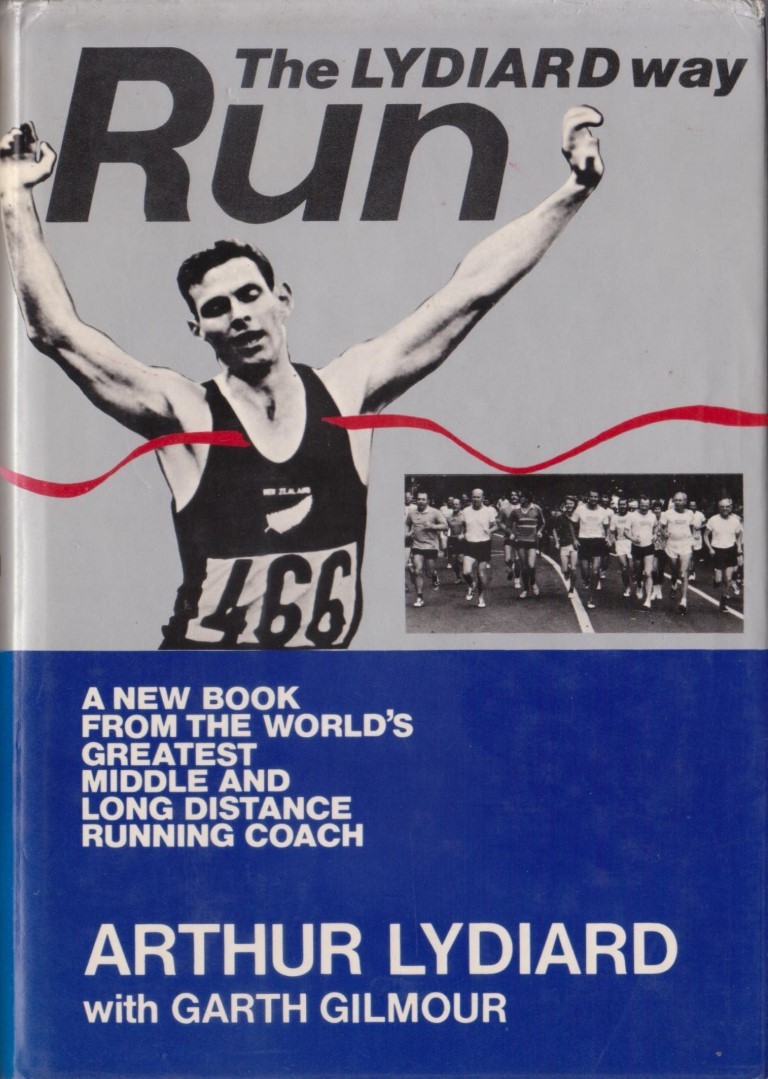 A new book from the World's greatest Middle and Long Distance running coach.
A total guide and training plan is given.
ISBN 0340224622
Athletics, track and field, running, coaching, technique
VG hardback with VG dust jacket.
$35 C/C
Hodder and Stoughton 1978 first edition, 249pp + plates.
[#5183 ]
ASHCROFT-NOWICKI Dolores

First Steps in Ritual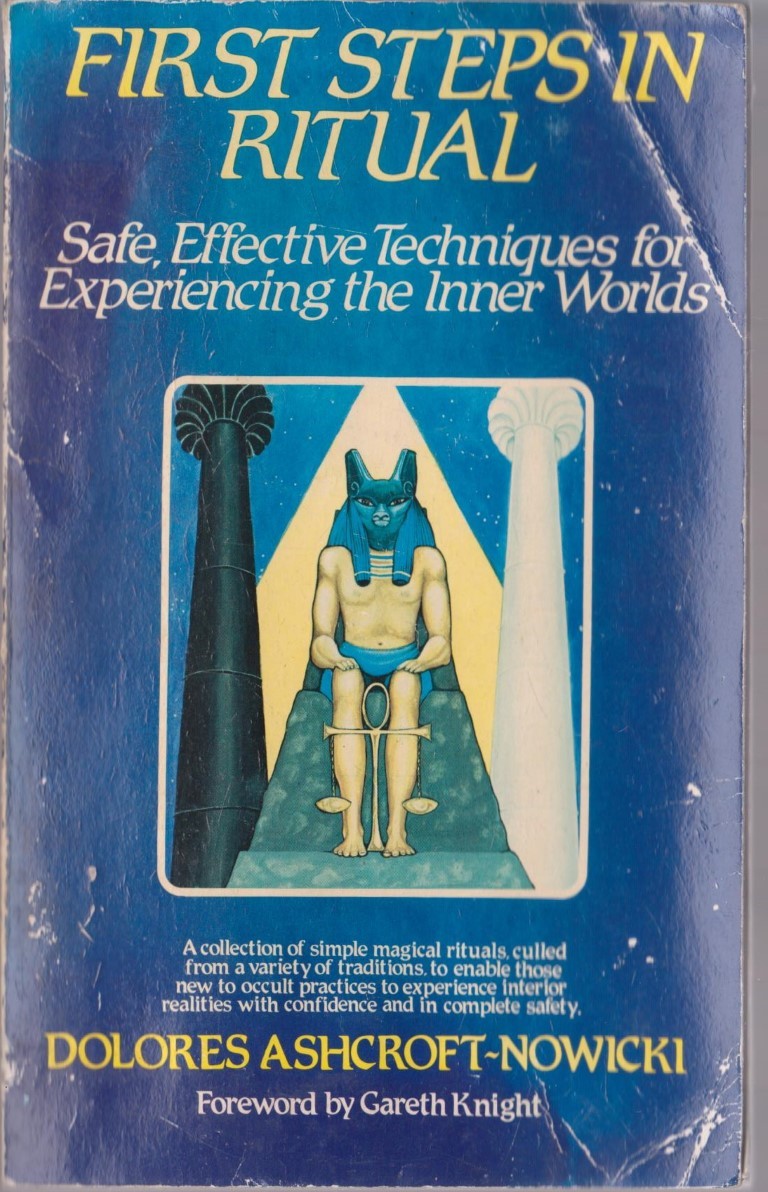 Safe, effective techniques for experiencing the Inner Worlds.
Simple magical rituals from a variety of traditions to enable the experience of interior realities safely.
Foreword by Gareth Knight.
ISBN 0850303141
Ritual magic, Qabalistic, Egyptian, Orphic, Celtic, Navaho, Chinese, Finno-Ugaric, Slavonic
Good only, with wear and sunfading to front cover.
$12 C/B
Aquarian Press 1982 first edition, 96pp.
[#5184 ]
[YETI] TCHERNINE Odette

The Snowman and Company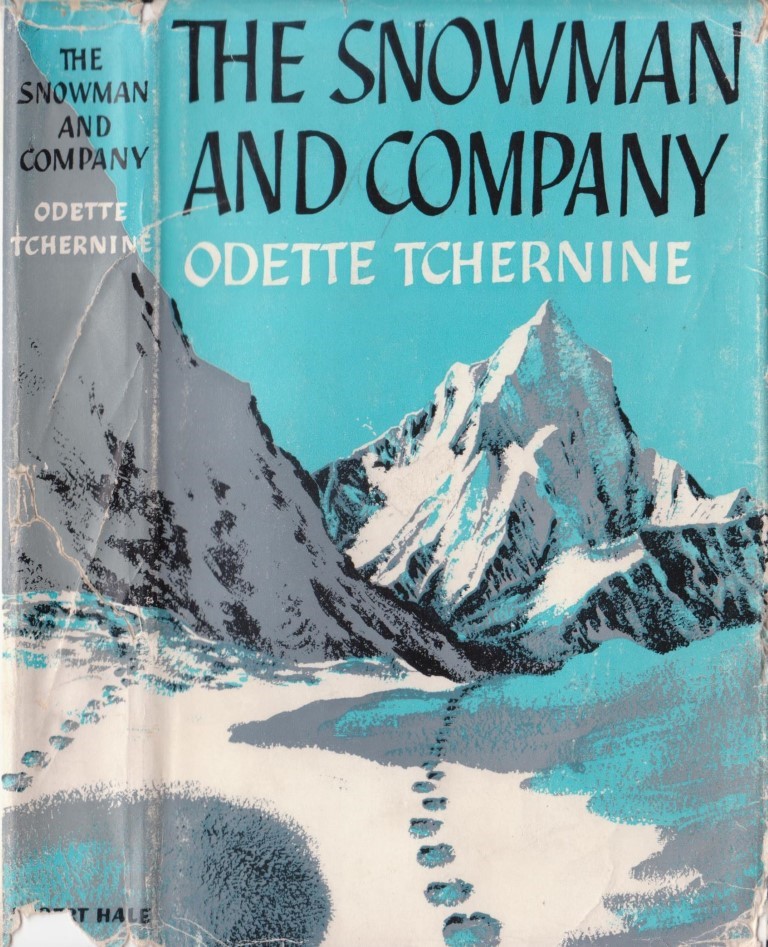 Research into the 'Abominable Snowman', including fantastical accounts as well as evidence backed reports.
Foreword by Eric Shipton, and a postscript by H. W. Tilman, both experts on the Himalayas.
cryptozoology, yeti, humanoid, Tibet, Nepal, Sasquatch, Dinanthropoides nivalis
VG- hardback in G+ dust jacket with repaired tear to the spine.
$40 C/C
Robert Hale 1961 first edition, 174pp + plates.
[#5185 ]
[YETI] IZZARD Ralph

The Abominable Snowman Adventure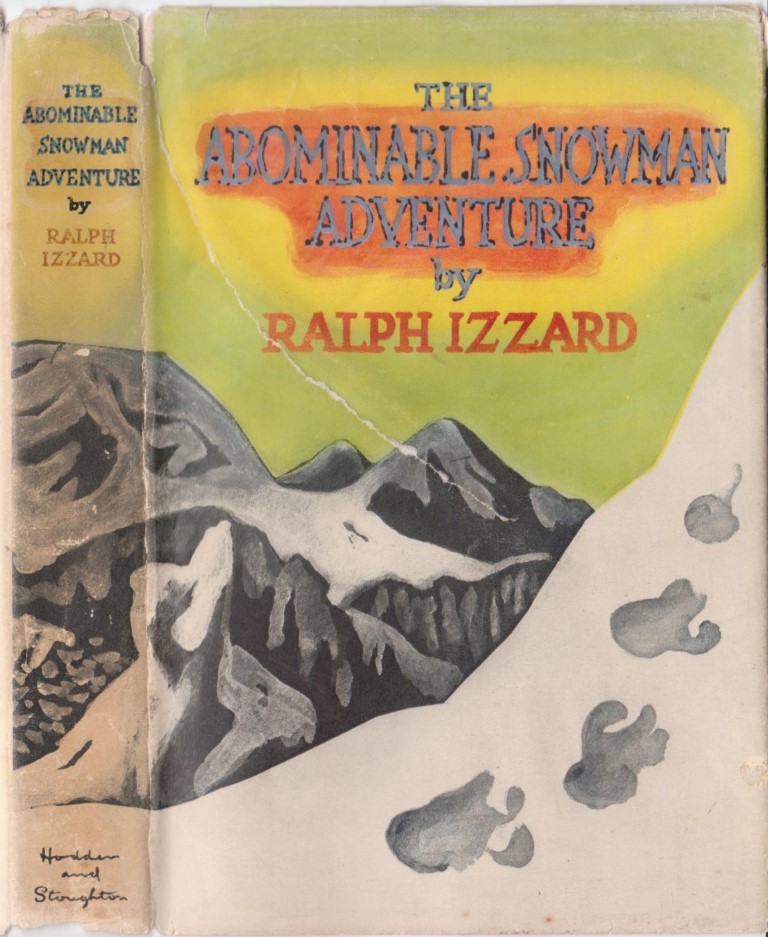 An account of the Daily Mail Himalayan Expedition of 1954, the intent of which was to gather evidence and material to investigate the existence, or not, of the Yeti.
Map endpapers.
cryptozoology, yeti, humanoid, Tibet, Nepal, Dinanthropoides nivalis
VG hardback with G+ dust jacket with a repaired tear across the front.
$35 C/C
Hodder and Stoughton 1955 first edition, 302pp + plates.
[#5186 ]
GLOVER Denis

Hot Water Sailor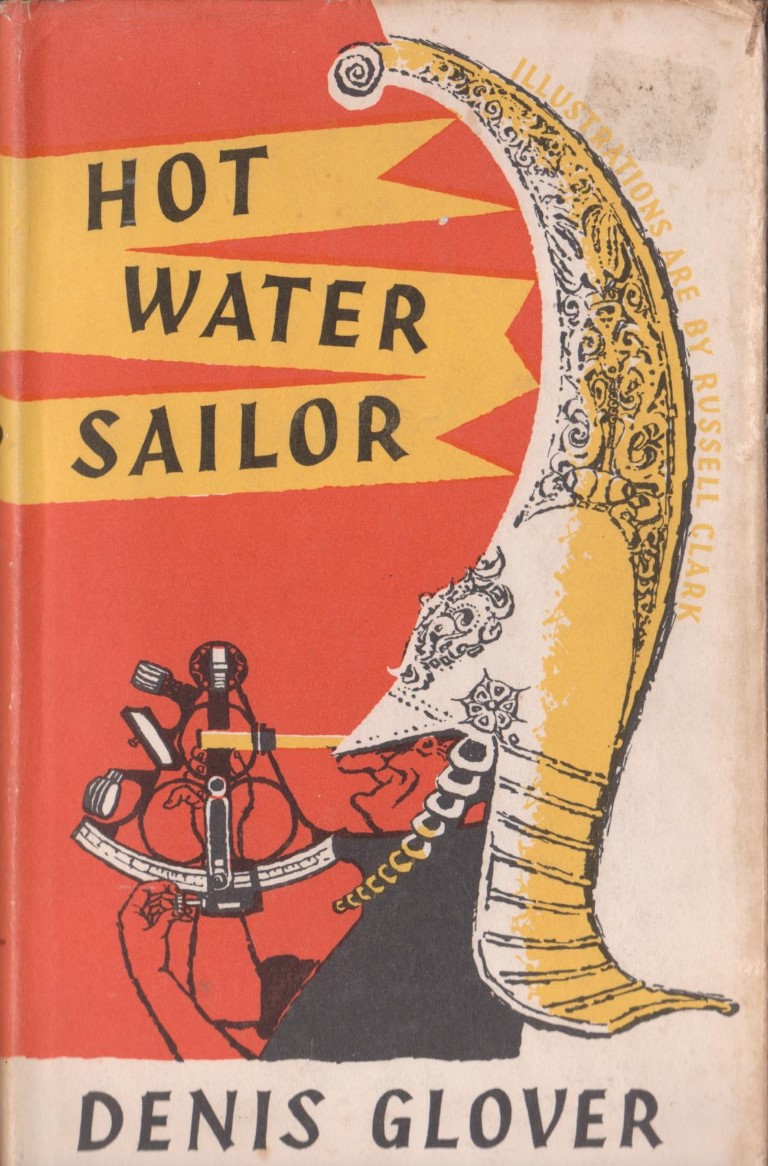 Humorous memoir by Glover, serving to give his telling of his adventurous life as a naval rating, journalist, poet, literary editor, writer and printer.
Illustrated by Russell Clark
Denis James Matthews Glover, Caxton Club, Caxton Press
VG hardback in VG dust jacket, former owner details to first page.
$15 C/B
Reed 1962 first edition, 200pp.
[#5187 ]
PASCOE John revised by Graham Langton

Mr Explorer Douglas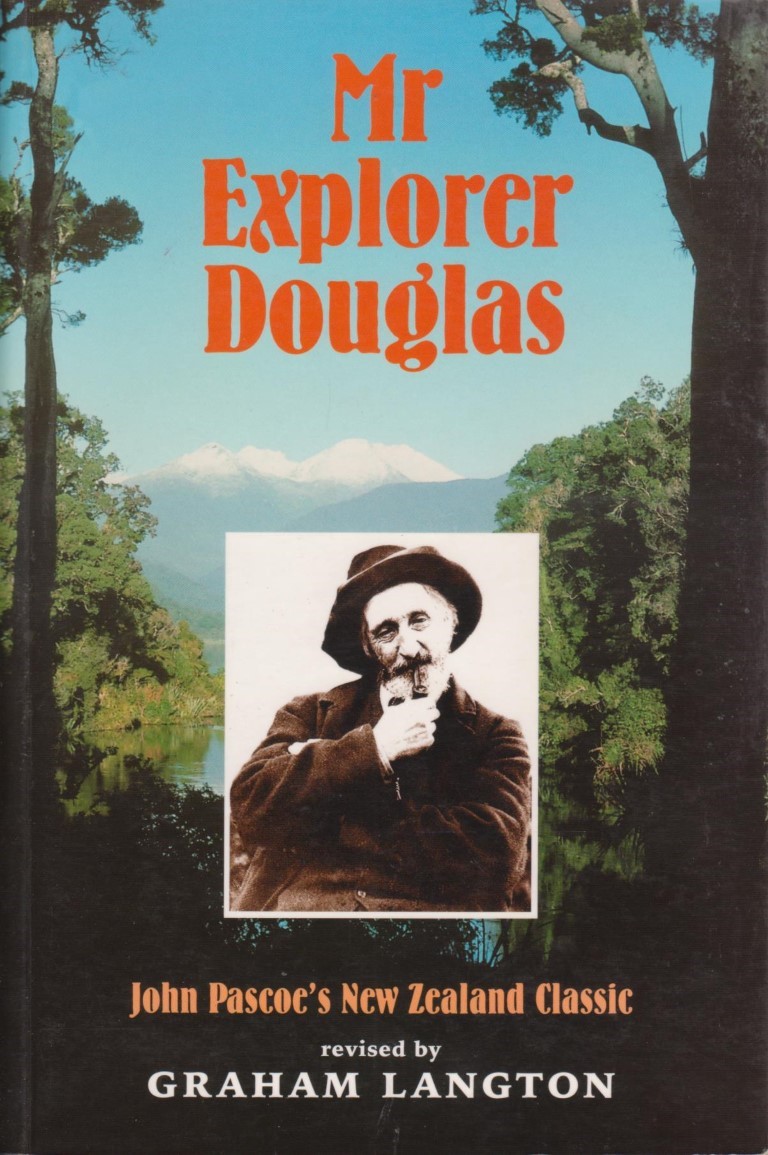 Scottish-born Charlie Douglas was one of the great early European explorers of New Zealand.
From 1867 to 1916 he recorded the geography and topography of South Westland, as well as its ecology and wildlife, at a time when this was largely unknown.
New, revised edition of Pascoe's 1957 classic.
One third details Douglas' life and the rest presents his journals and sketches.
ISBN 9780908812950
Fiordland, Southland, Westland, exploration, 19th century, Gerhard Mueller, Harper, Harris
VG softback, small pen gift inscription at head of first page.
$35 C/C
Canterbury University Press 2000 first printing of this edition, 320pp + plates.
[#5188 ]
BILLION Anna

Kundalini: Secrets of the Ancient Yogis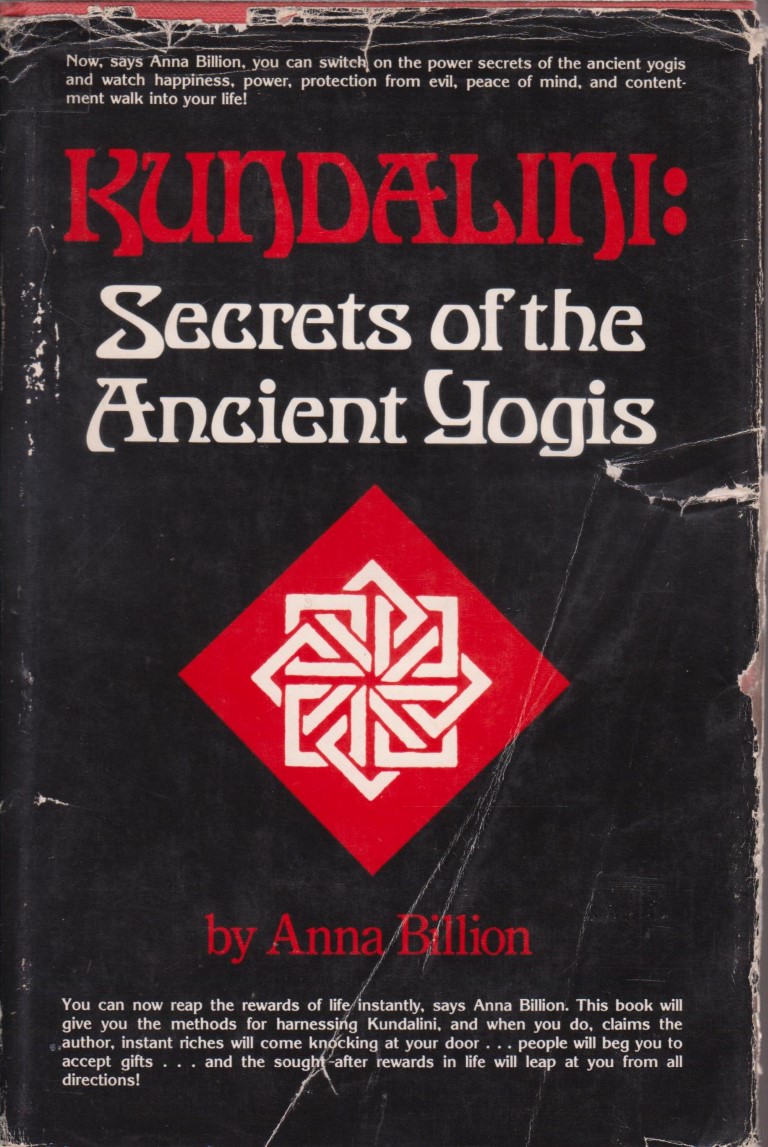 How to use Kundalini Power to draw the good things in life to you, and change your life in any way that you wish!
A New Thought style self-help work with exercises and meditations which show how to use Kundalini power to better your life.
ISBN 0135167817
prana, kundalini
VG hardback in G- dust jacket with some repaired tears and edge wear.
$20 C/C
Parker Publishing 1979 first edition, 239pp.
[#5189 ]
SILK Don

From Kauri Trees to Sunlit Seas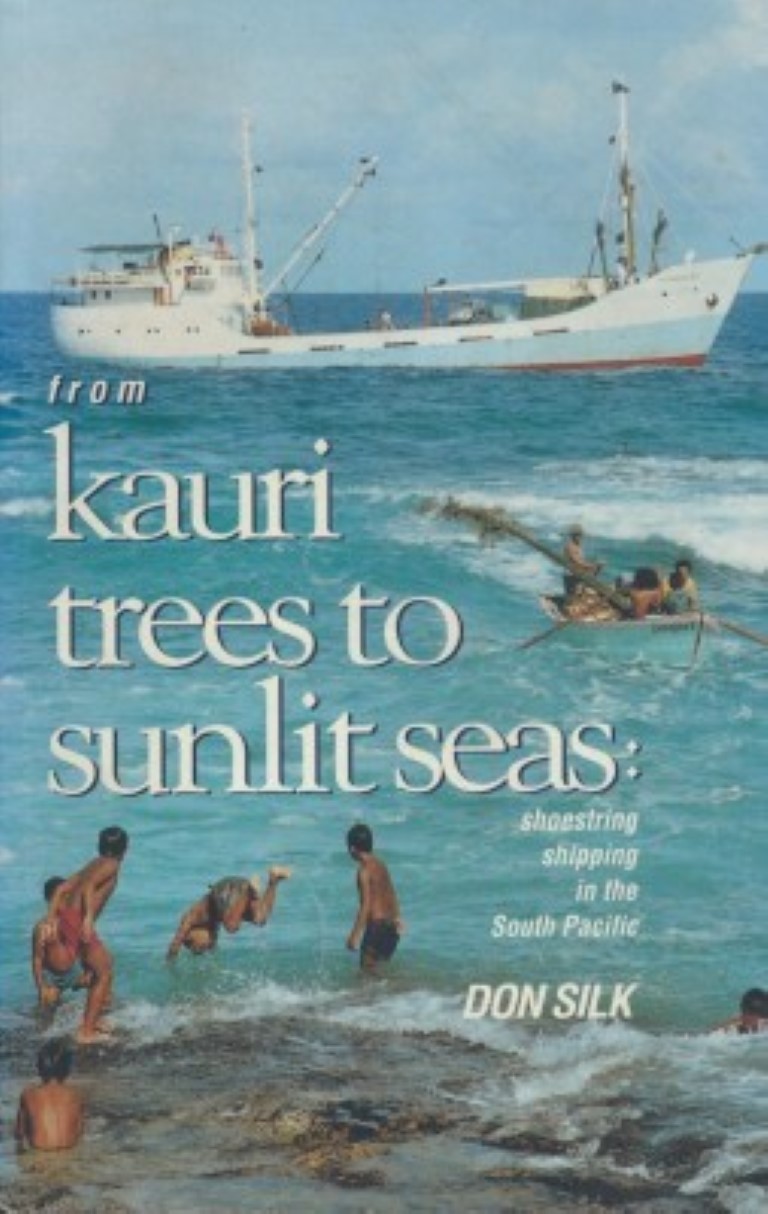 Shoestring Shipping in the South Pacific.
As a partner in the Silk and Boyd company of cargo carriers, Don recounts his life sailing the trade routes of the Pacific.
ISBN 9780908877492
maritime, shipping,transportation, merchant marine
G+ softback with minor wear, two digit number in pen inside front cover and to first page.
$20 C/B
Godwit Publishing 1994 first edition, 244pp.
[#5190 ]
WAUGH Brian

Turbulent Years, A Commercial Pilot's Story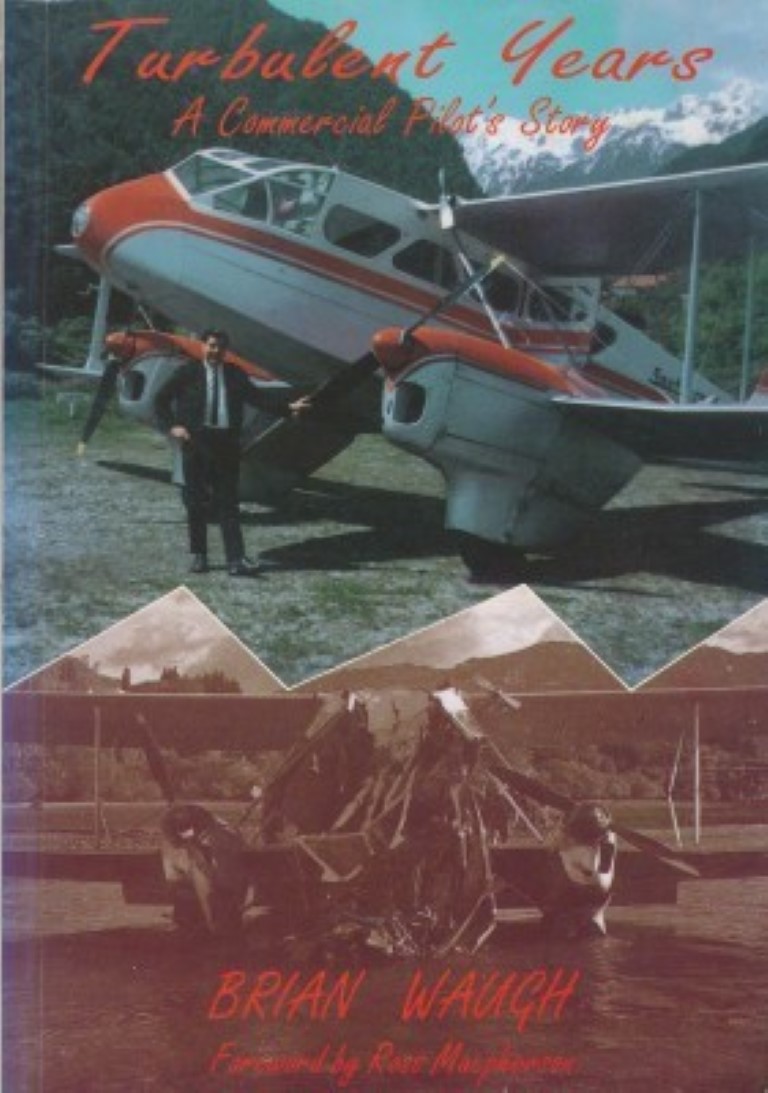 The story of the early regional airlines, South Island Airways, Trans Island Airways and West Coast Airways and the maverick pilots who flew the rugged south island landscape.
ISBN 0908790317
aviation, commercial, flying, New Zealand
VG- softback
$20 C/B
Hazard Press 1991 first edition, 229pp.
[#5191 ]
STEVENS Graeme

New Zealand Adrift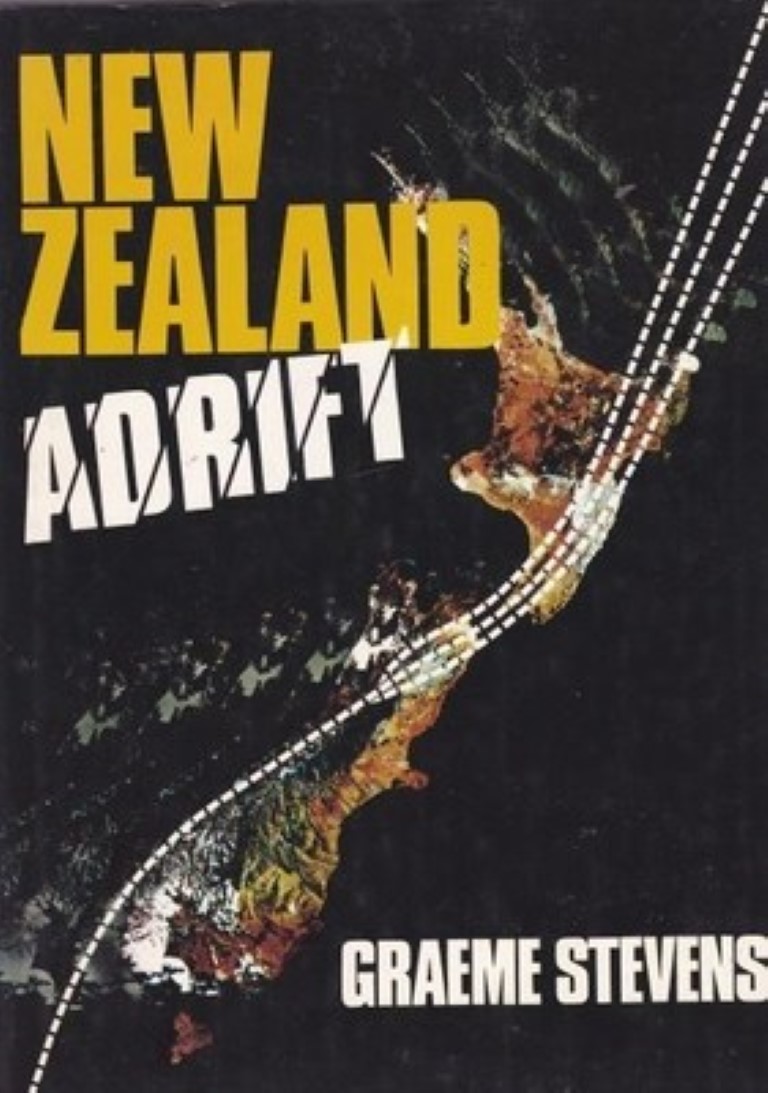 Rethinking of New Zealand geological science in line with the acceptance of the theory of continental drift.
ISBN 0589011847
geology, seismic, tectonics
VG hardback in VG dust jacket, pencil name at front.
$30 C/D
Reed 1980 first edition, xxii 442pp.
[#5192 ]
McGILL David

The Guardians at the Gate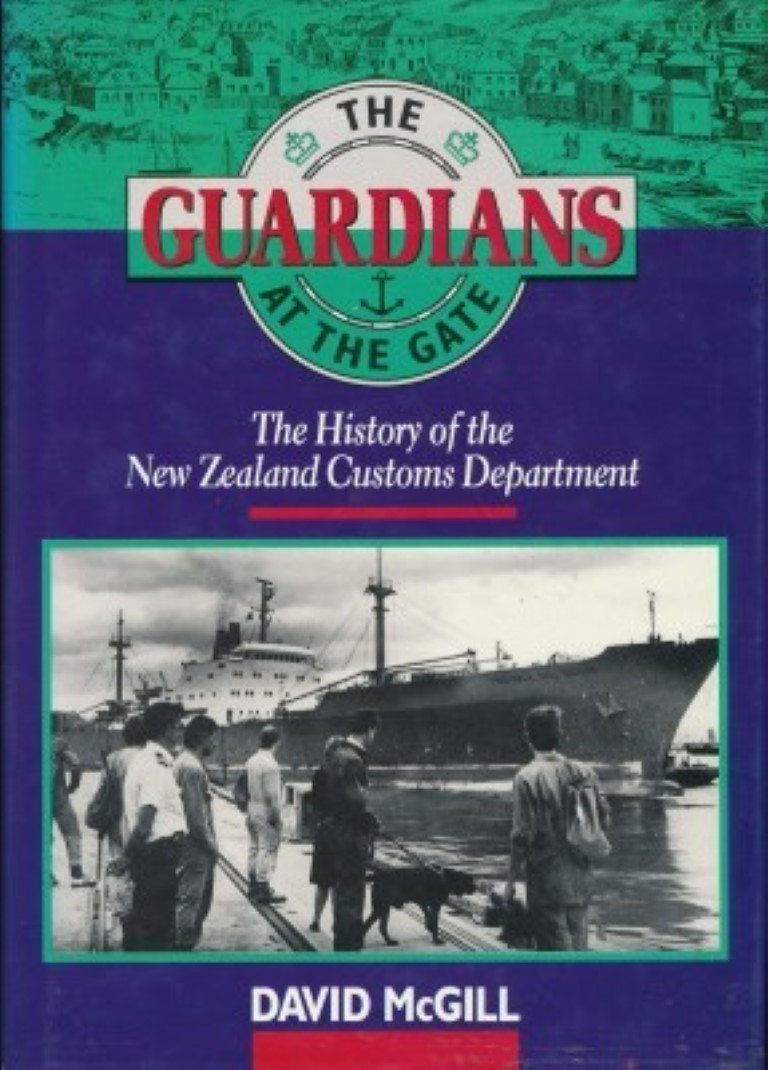 The History of the New Zealand Customs Department.
ISBN 0959797904
customs and excise, border security, smuggling, government department, border control
VG hardback in VG dust jacket.
$30 C/C
Silver Owl Press / New Zealand Customs Department 1991 first edition, 207pp.
[#5193 ]
TROTTER Michael and Beverley McCulloch

Unearthing New Zealand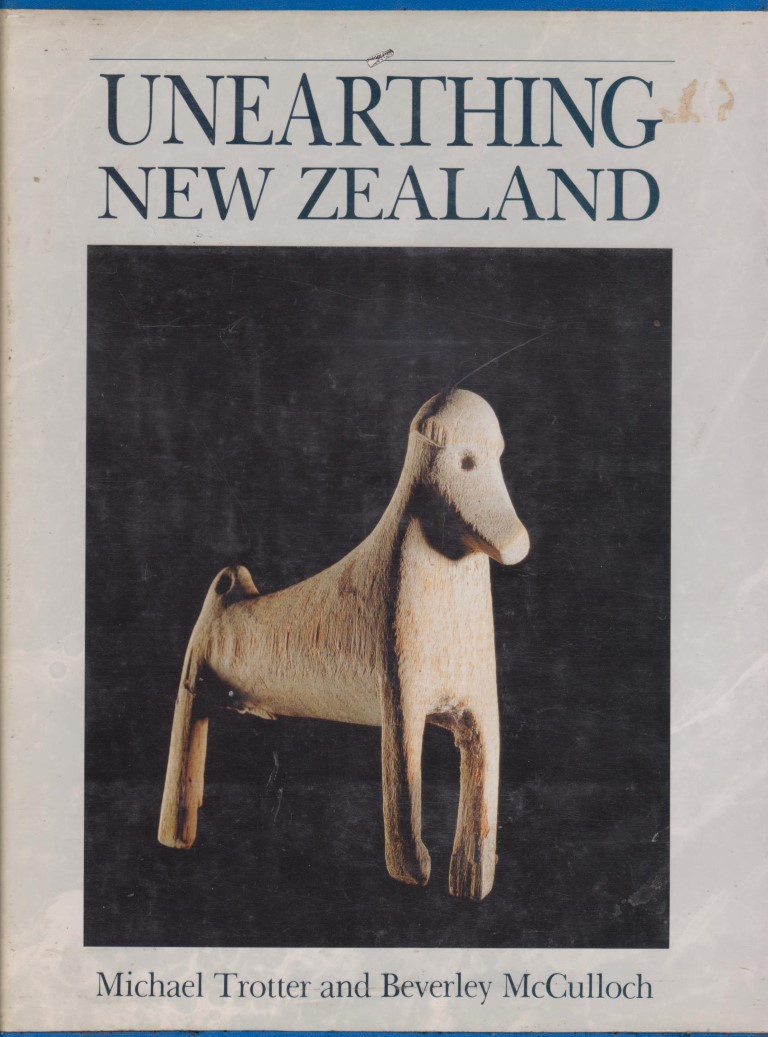 The archeology of New Zealand, from early polynesian history through to the artifacts of the first European settlers.
ISBN 9780477014571
Maori material culture, new zealand history, evidence, taonga
VG hardback in VG dust jacket under removable plastic sleeve.
$35 B/C
GP Books 1989 first edition, 128pp.
[#5194 ]
GORDON John

Three Sheep and a Dog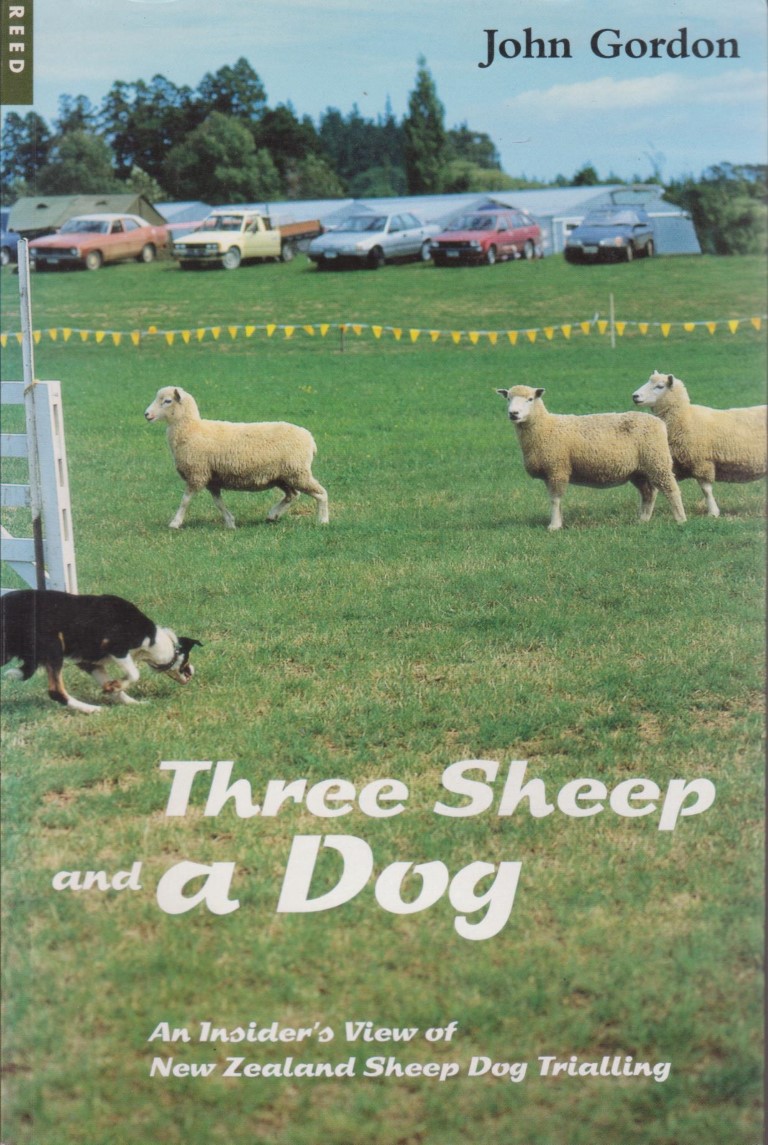 An insider's view of New Zealand Sheep Dog Trialling competitions and culture.
The author is well known as the presenter of Country Calendar and A Dog's Show.
ISBN 9780790006246
rural life, shepherding, mustering,
VG softback
$15 C/B
Reed 1998 first edition, 228pp.
[#5195 ]
ALLAN H. H.

Flora of New Zealand Vol 1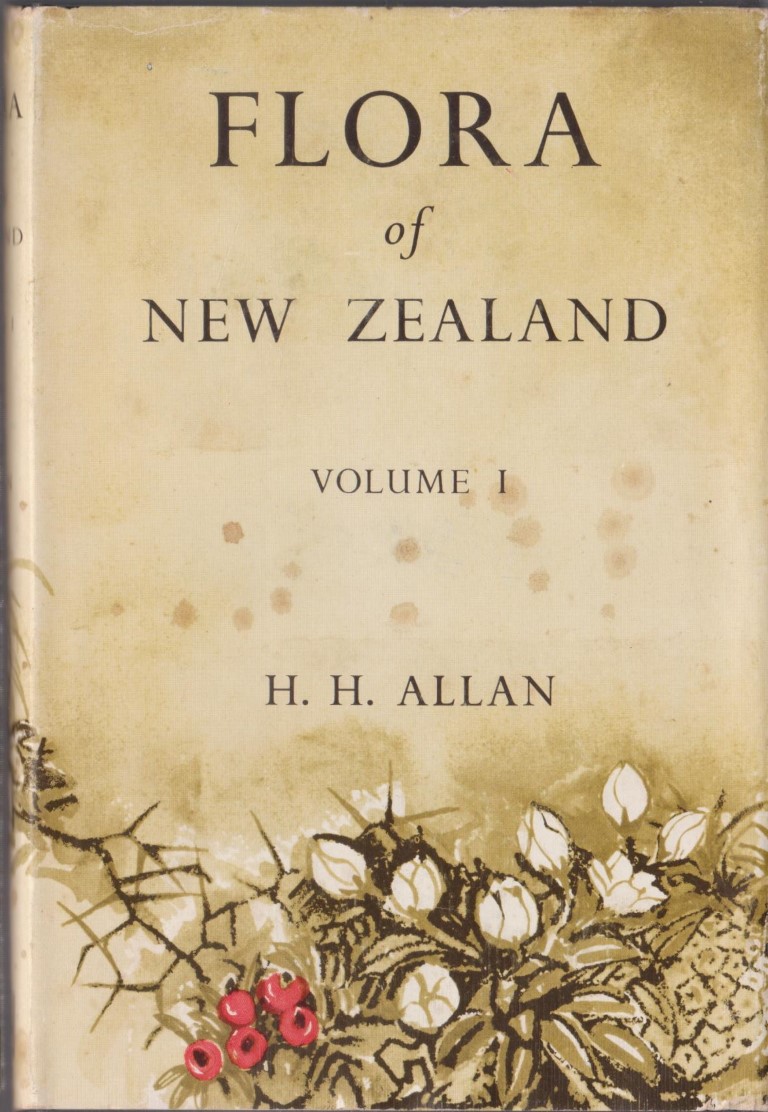 Indigenous Tracheophyta, Psilopsida, Lycopsida, Filicopsida, Gymnospermae, Dicotyledones.
Rice paper edition.
New Zealand plants, taxonomy, reference, research, ferns, conifers
VG hardback in VG dust jacket.
$30 C/C
Government Printer 1961, liv 1085pp.
[#5195 ]
MOORE L.B. and E. Edgar

Flora of New Zealand Vol 2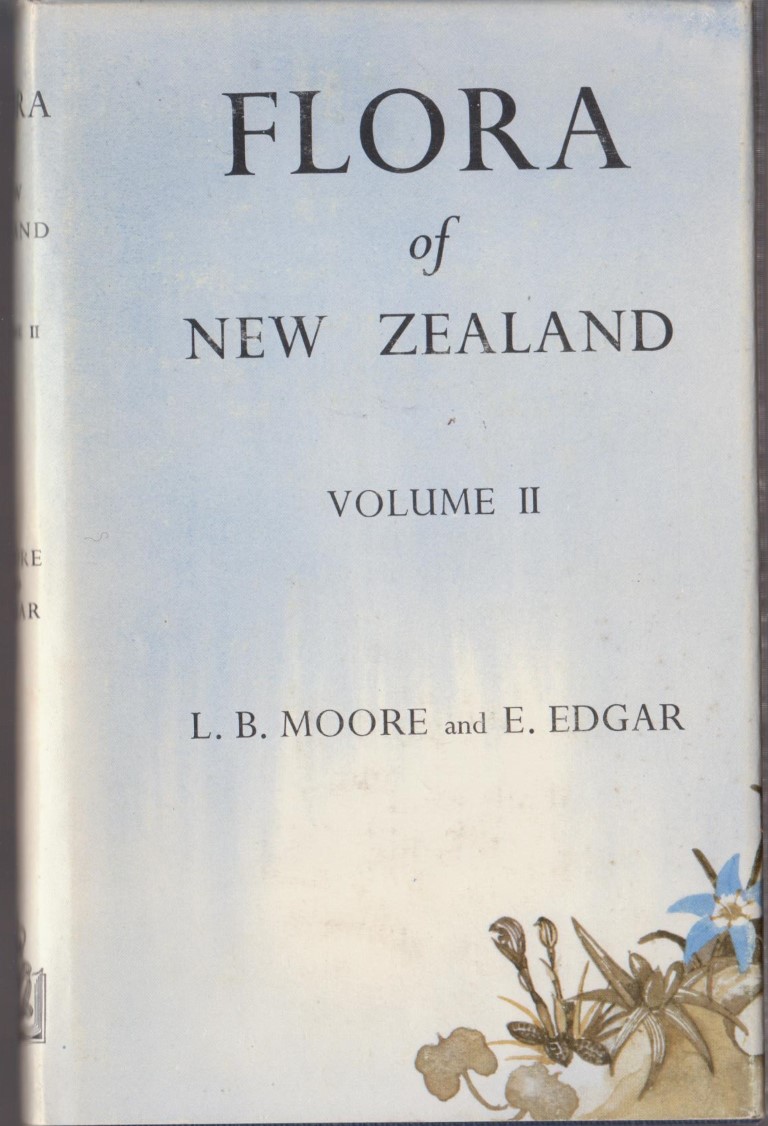 Indigenous Tracheophyta, Monocotyledones except Graminae.
New Zealand plants, taxonomy, reference, research, grass, grass-like flowering plants
VG hardback in VG dust jacket.
$30 C/C
Government Printer 1970, xl 354pp.
[#5196 ]
21/5/2021ev
STEWART W.W.

When Steam Was King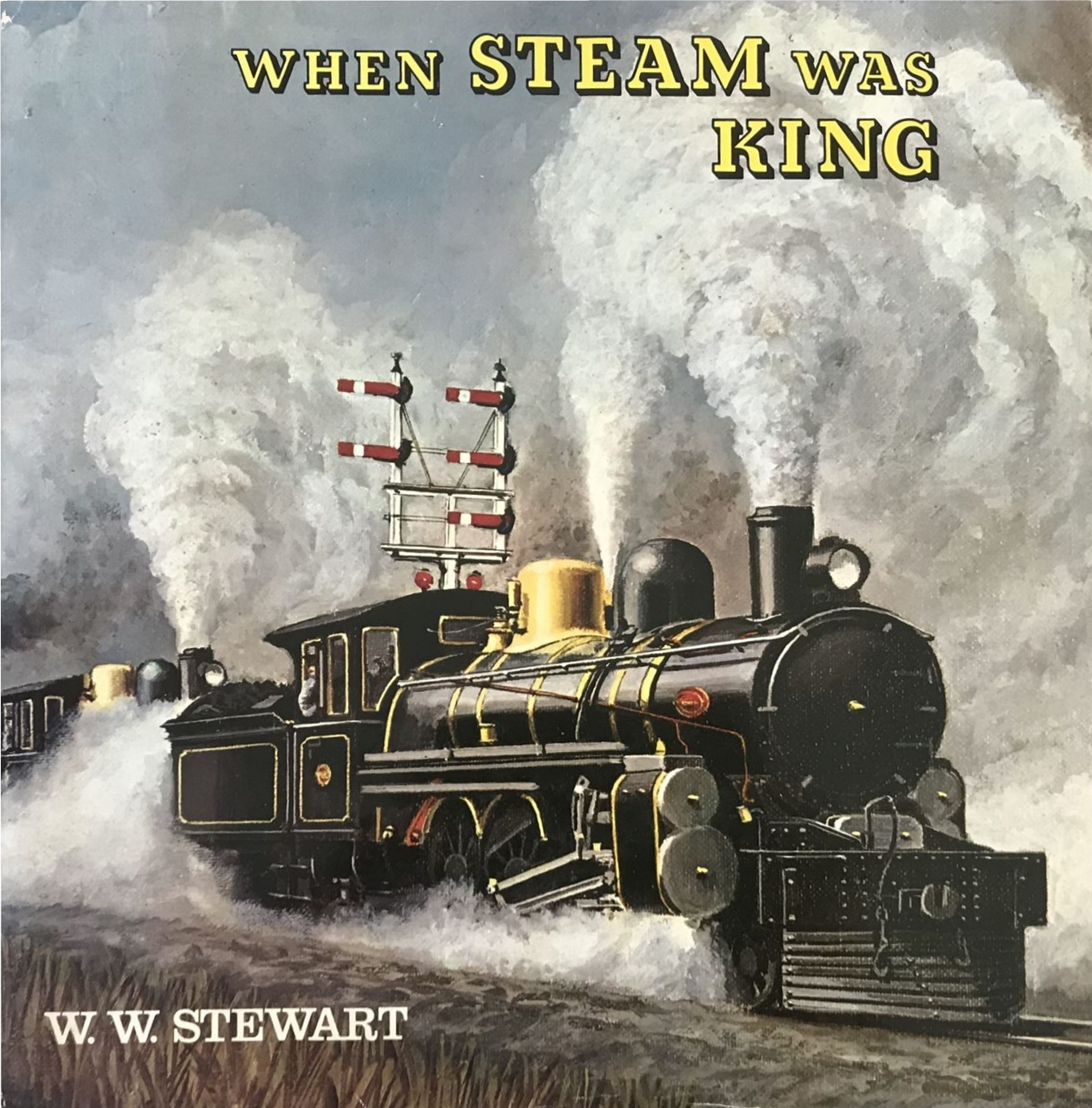 Social and technical history of the steam era of New Zealand railways.
Well illustrated with b/w photographs, diagrams and colour paintings.
ISBN 0589003828
railways, steam locomotives, transport, new zealand
VG hardback in VG dust jacket.
$25 B/D
Reed 1974 reprint, 143pp.
[#5174 ]
MORRIS Rod and Hal Smith

Wild South
Saving New Zealand's Endangered Birds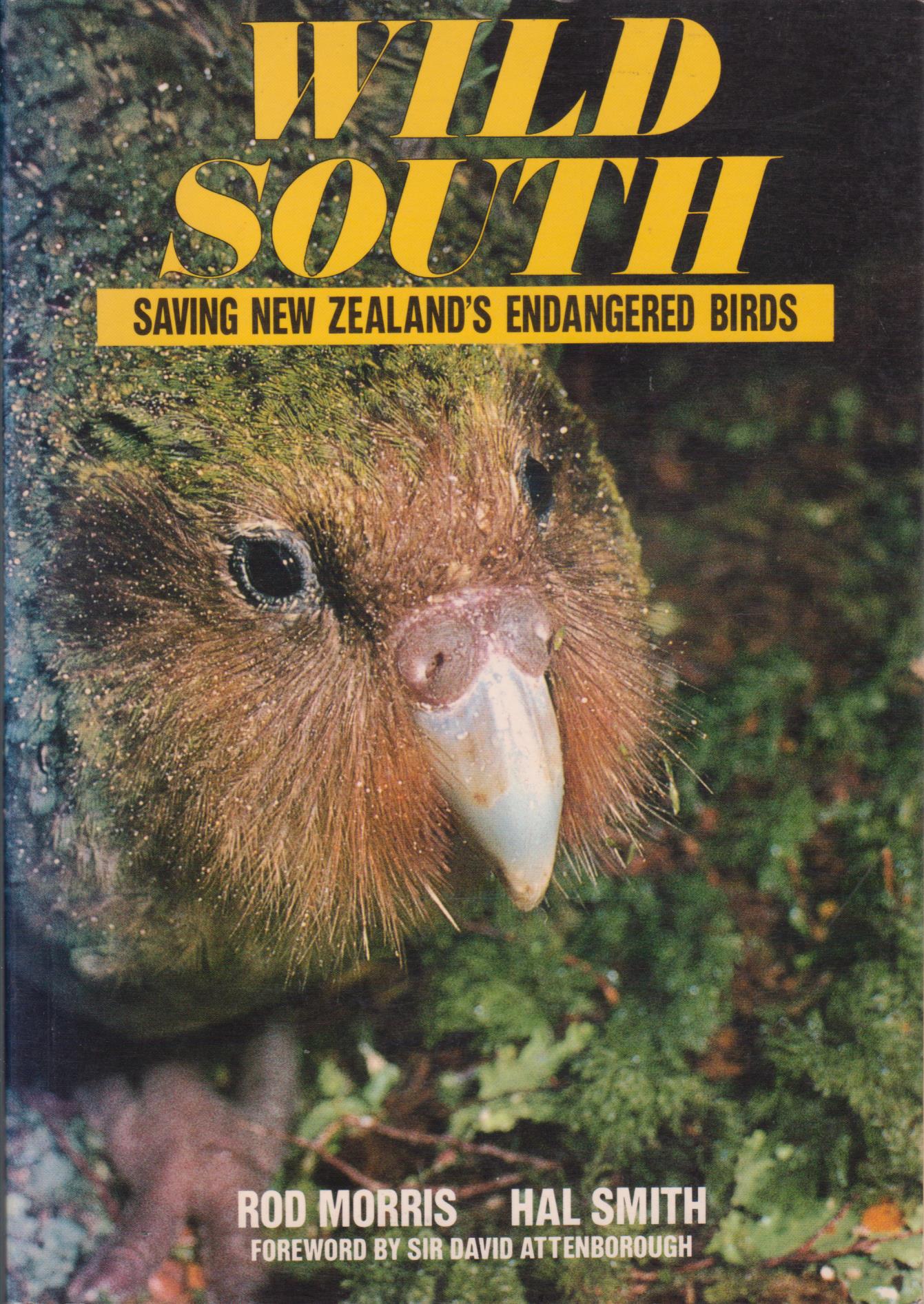 The background to the conservation efforts to save New Zealand native birds, as well as an account of the extinct Moa and Huia.
With mentions of those who helped bring species back from the edge of extinction.
Includes Kea, Kiwi, Takahe, Black Stilt, Saddleback, Kakapo, Black Robin, Yellow-eyed Penguin, Kokako.
ISBN9781869410438
VG softback.
$20 B/C
TVNZ / Century Hutchinson 1989, 234pp.
[#5175 ]
JONES Bob

'80s letters (Eighties letters)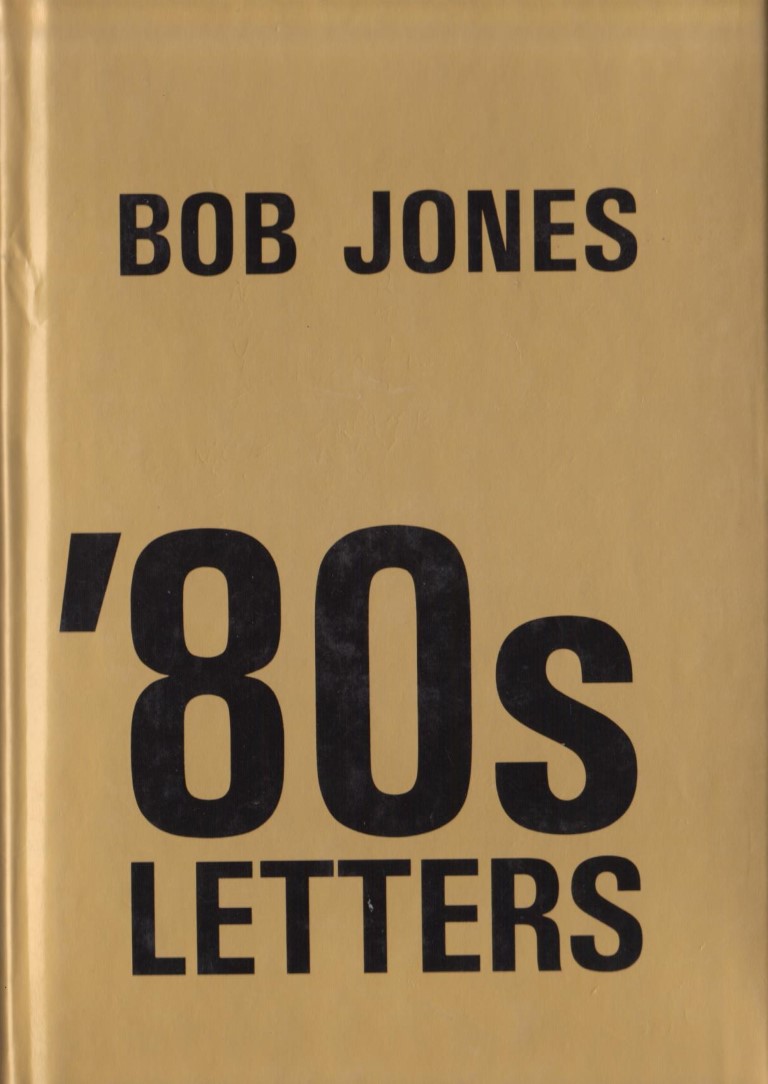 Collection of letters between Jones and others through the 1980s.
ISBN 1869530195
politics satire signed raconteur belles lettres
VG hardback with VG dust jacket. Name at head of title page.
$15 C/C
Bateman 1990 first edition hardcover, 200pp.
[#1688 ]
VG hardback with VG dust jacket. Signed 'Bob Jones' to title page.
$30 C/C
Bateman 1990 first edition hardcover, 200pp.
[#5176 ]
[MANING Frederick Edward] A Pakeha Maori

Old New Zealand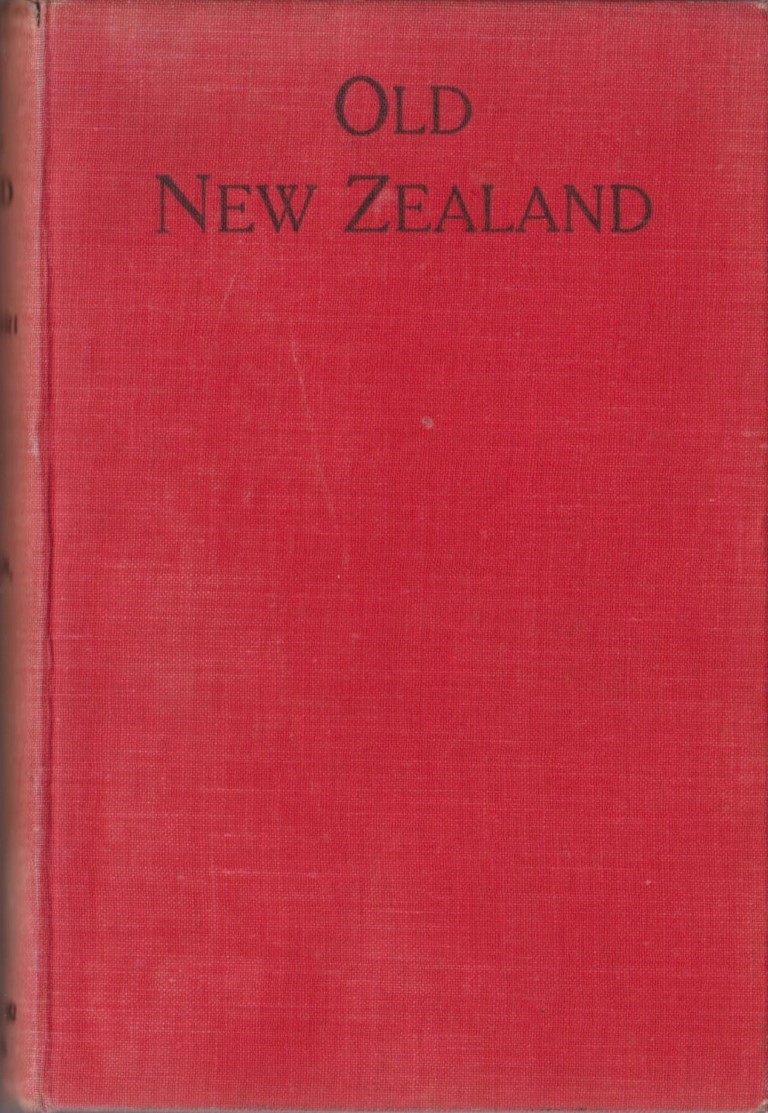 A Tale of the Good Old Times, together with a History of the War in the North of New Zealand against the Chief Heke in the year 1845 as told by an Old Chief of the Ngapuhi Tribe. Also Maori traditions.
VG- hardback with no dust jacket.
Name and some mild foxing to endpapers.
$30 C/C
Whitcombe and Tombs 1930, xxxviii 386pp +plates.
[#5177 ]
CLARK T. A.

The Sea is My Neighbour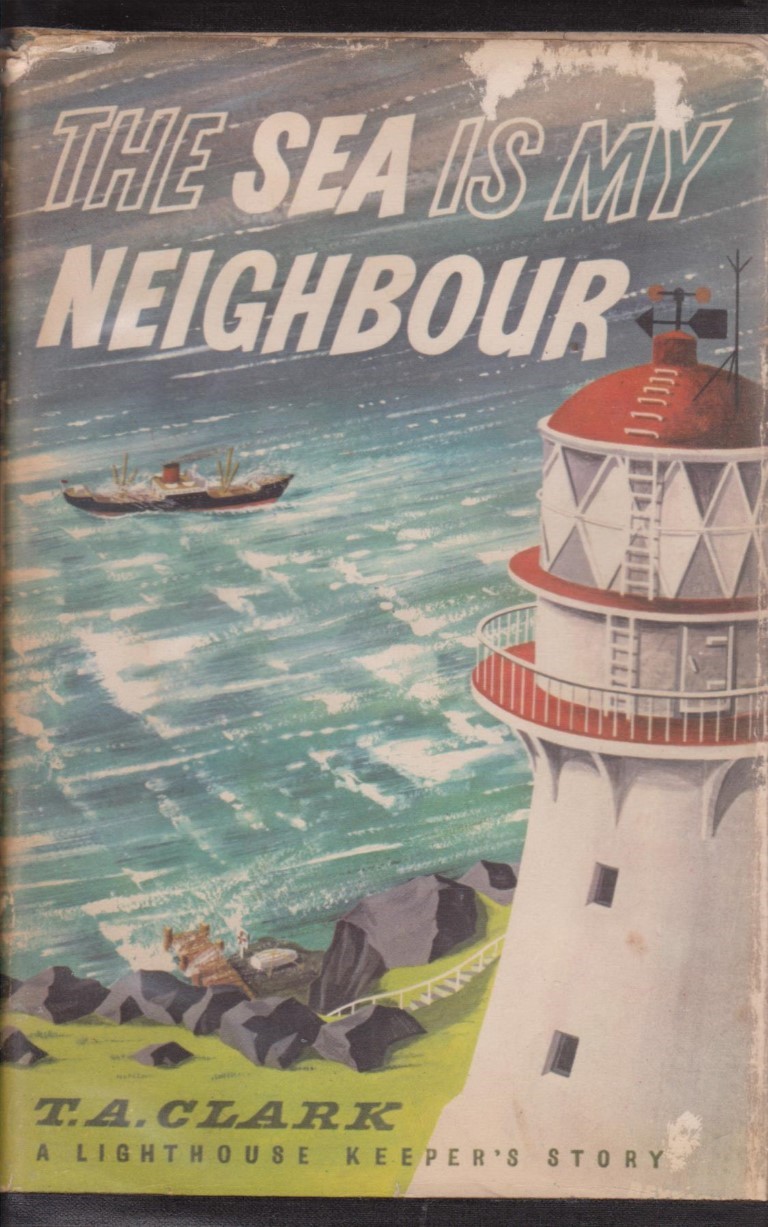 Autobiography of a light house keeper and the times the family had manning New Zealand light houses.
maritime, shipping, Tiritiri, Akaroa, East Cape, Nugget Point, Cape Palliser, Cape Saunders, Stephens Island, Waipapa Point, Pencarrow Head, Puysegur Point, Cape Egmont, Cape Reinga
VG- hardback with VG- dust jacket.
Book boards and dust jacket have some surface wear or soiling.
$20 C/C
Whitcombe and Tombs 1964 reprint, 152pp.
[#5178 ]
HUNT Christine

Speaking A Silence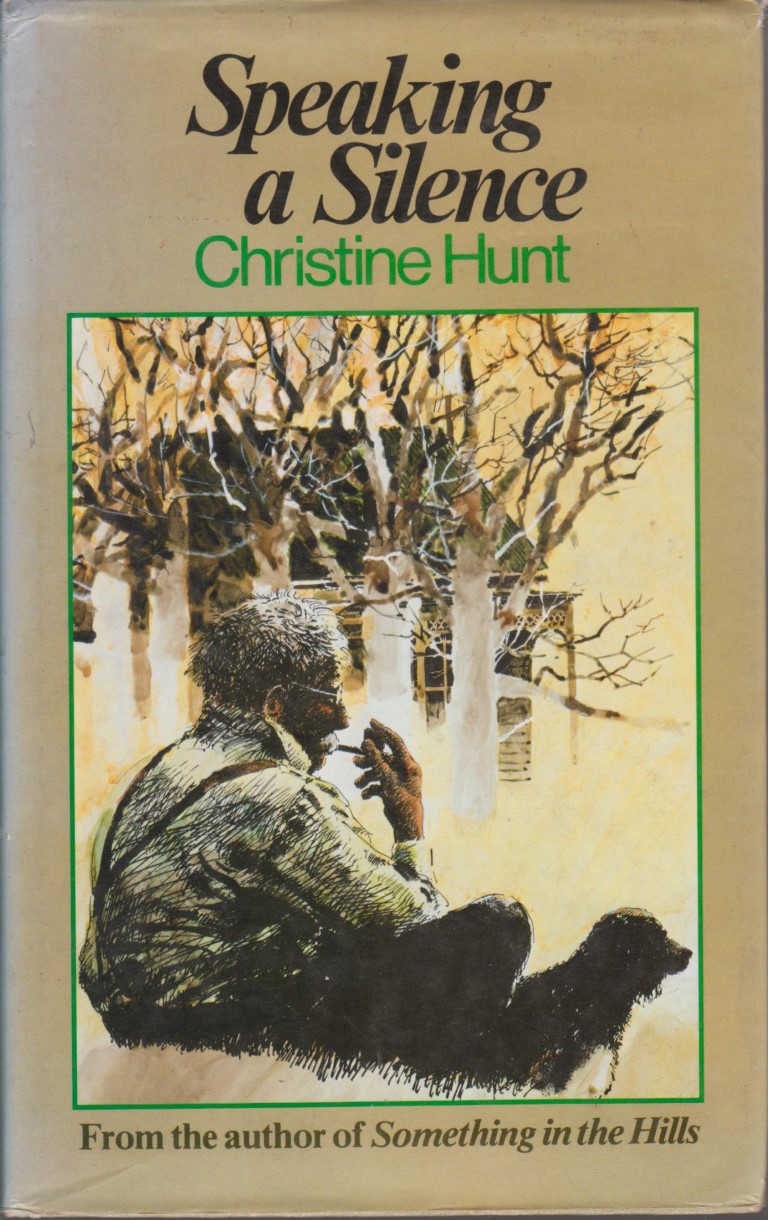 Transcripts of interviews Hunt made with the older generation still living in an isolated Golden Bay rural community.
ISBN 0589013599
Golden Bay, Nelson, Marlborough, social history, oral history, early settlers
VG hardback in VG dust jacket.
Spine lightly faded, gift inscription to free end paper.
$15 C/C
Reed 1981 first edition, 146pp.
[#5179 ]
HICKSON Ken

Flight 901 to Erebus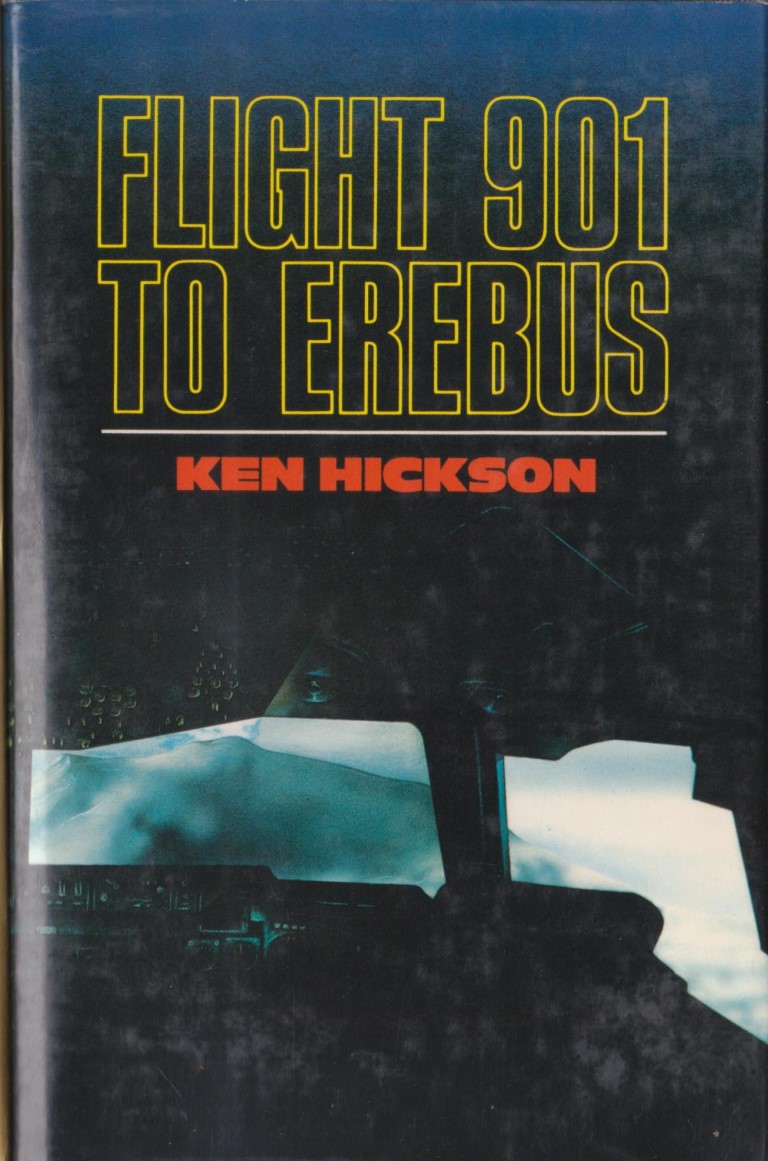 The only authoritative account by an experienced aviation writer of the Air New Zealand Erebus tragedy.
ISBN 0723306419
Antarctic, aviation disaster, Mt Erebus, DC-10
VG+ hardback in VG+ dust jacket
$30 C/C
Whitcoulls 1980 first edition, 278pp + plates.
[#5180 ]
8/5/2021ev
BAGLEY Desmond

The Spoilers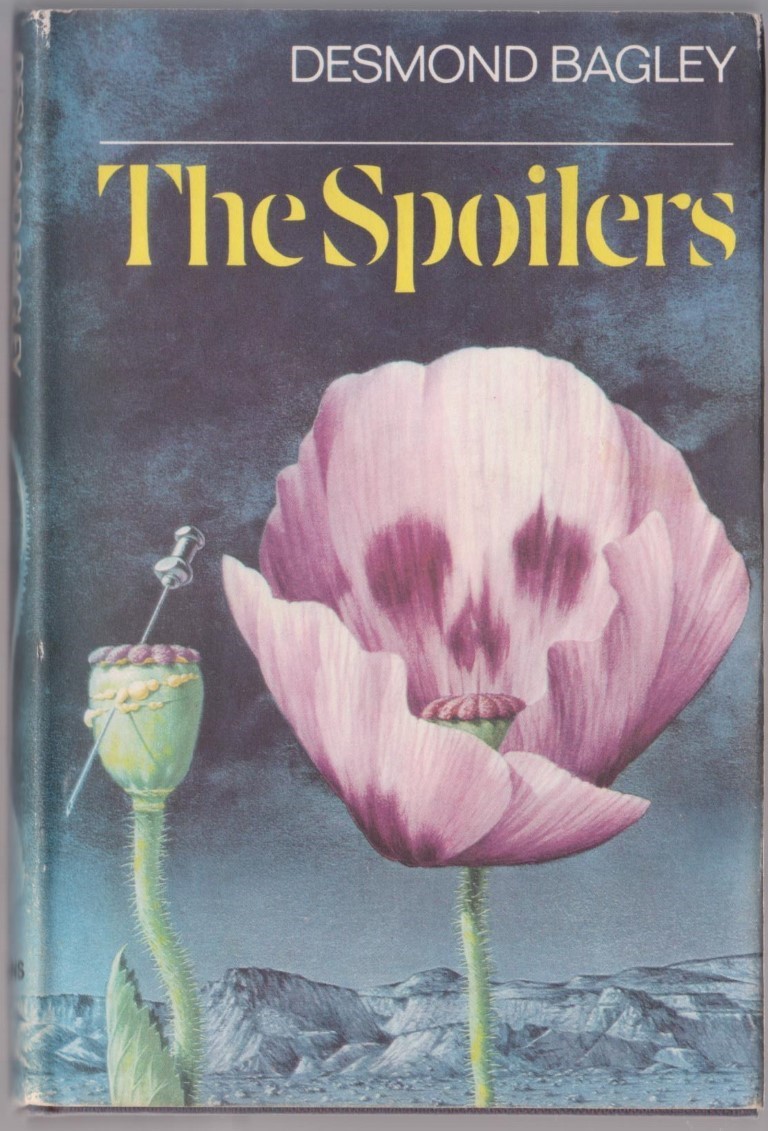 When a millionaire film tycoon learns his daughter has died from an overdose of heroin he goes after the head of the international trade in the Middle East.
Jacket art by Norman Weaver
thriller, crime, heroin trade
VG+ hardback in VG price-clipped dust jacket with very minor edge wear.
$15 C/B
Collins 1969 first edition, 317pp.
[#5166 ]
SANDYS Cynthia and Rosamond LEHMANN

The Awakening Letters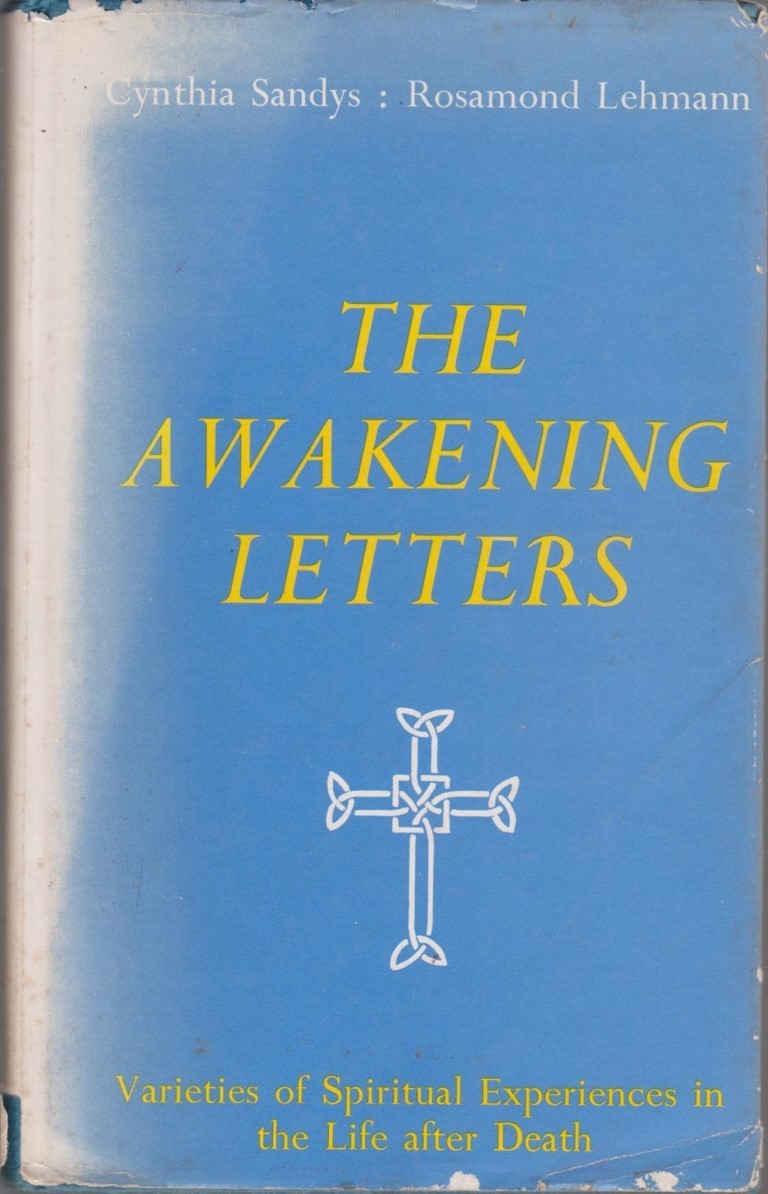 For over thirty years Cynthia Lady Sandys has received clairaudiently these 'letters' from the other side of death.
With the assistance of Rosamond Lehmann she has collected these writings into this book.
ISBN 0859780333
survival, spiritualism, mediumship, life after death
VG hardback in G+ dust jacket.
Jacket has severley sun-faded spine,and book has inscription to free end paper.
$45 C/C
Neville Spearman 1978 first edition, 189pp.
[#5167 ]
MUFF Dudley edited by Simon Pollard.

Dear Alison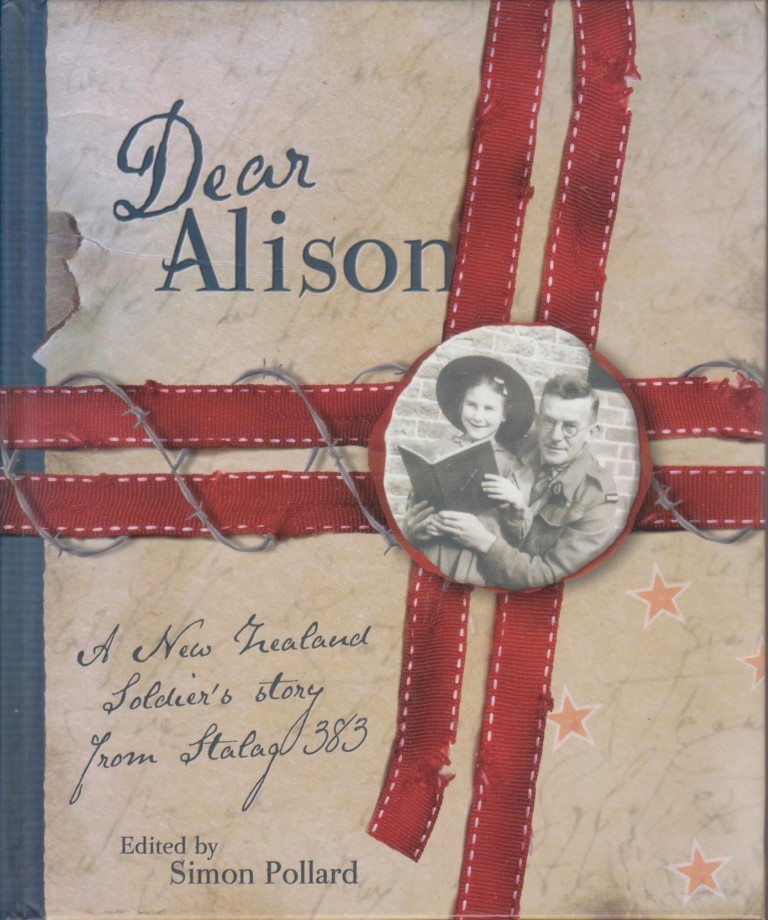 A New Zealand soldier's story from Stalag 383.
An account of captivity in Germany during the Second World War.
Dudley Muff (20th Battalion) was a POW 1941-45 in Stalag XVIIIB in Germany, and wrote this while incarcerated, for his niece in Timaru.
Originally printed by Bruce McLeod in the mid-1960s, this is a new edition edited and with an introduction by Pollard.
With a facsimile of Dudley's original illustrated notebook.
Written for a young child but with interesting information on daily life in a Stalag.
ISBN 9780143304609
VG hardback with no dust jacket.
$20 B/B
Penguin 2009 first thus, (x) 55 (iv)pp. [#5168 ]
WEBSTER Nesta H.

The French Revolution, A Study in Democracy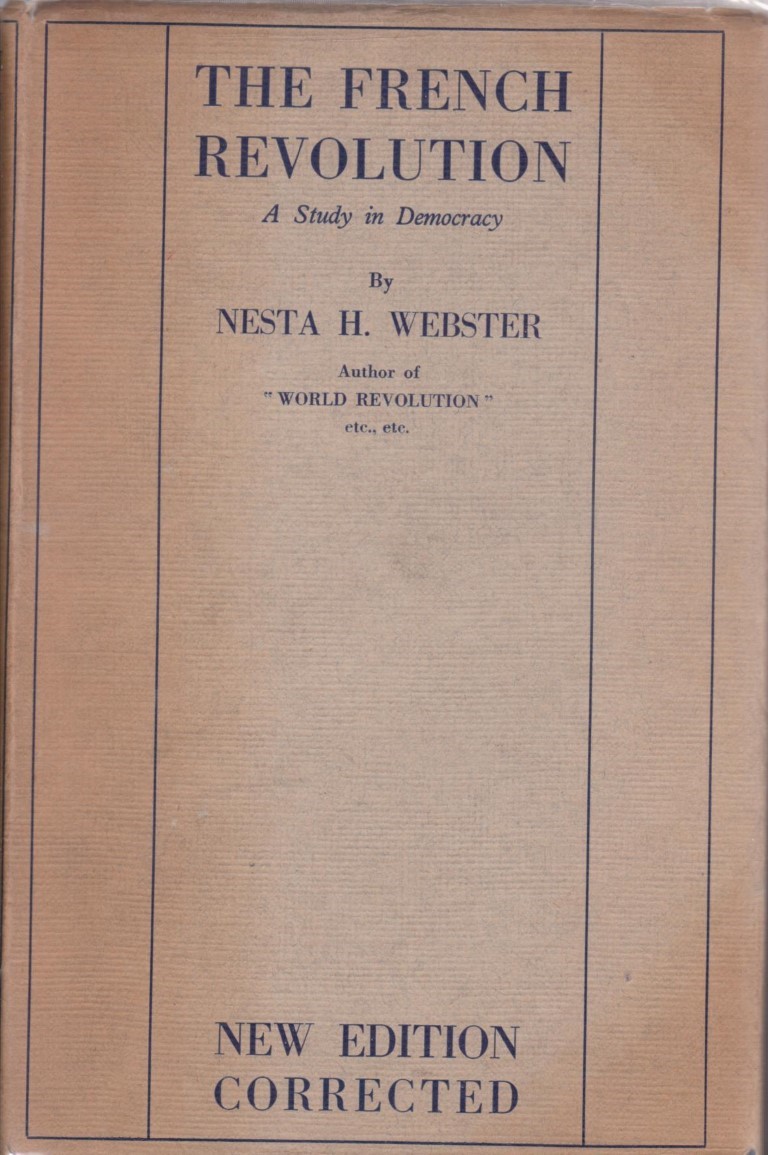 A historio-political study of the Reign of Terror, the Communes, and the French Revolution.
Kropotkin wrote that the Revolution "was the source and origin of all the present communist, anarchist and socialist conceptions."
The author was noted for her research into secret societies and subversive movements, now characterised as the New World Order.
Illuminati, Secret Societies, Freemasonry, Jacobins, French Revolution, Communism, Atheism, Occultism, Grand Lodge, Illuminism, One World Government, NWO
VG+ cloth hardback in VG dust jacket.
$125 C/C
Constable 1926 New and Corrected Fourth Edition, xv 519pp + 3 maps.
[#5169 ]
LANGE David

My Life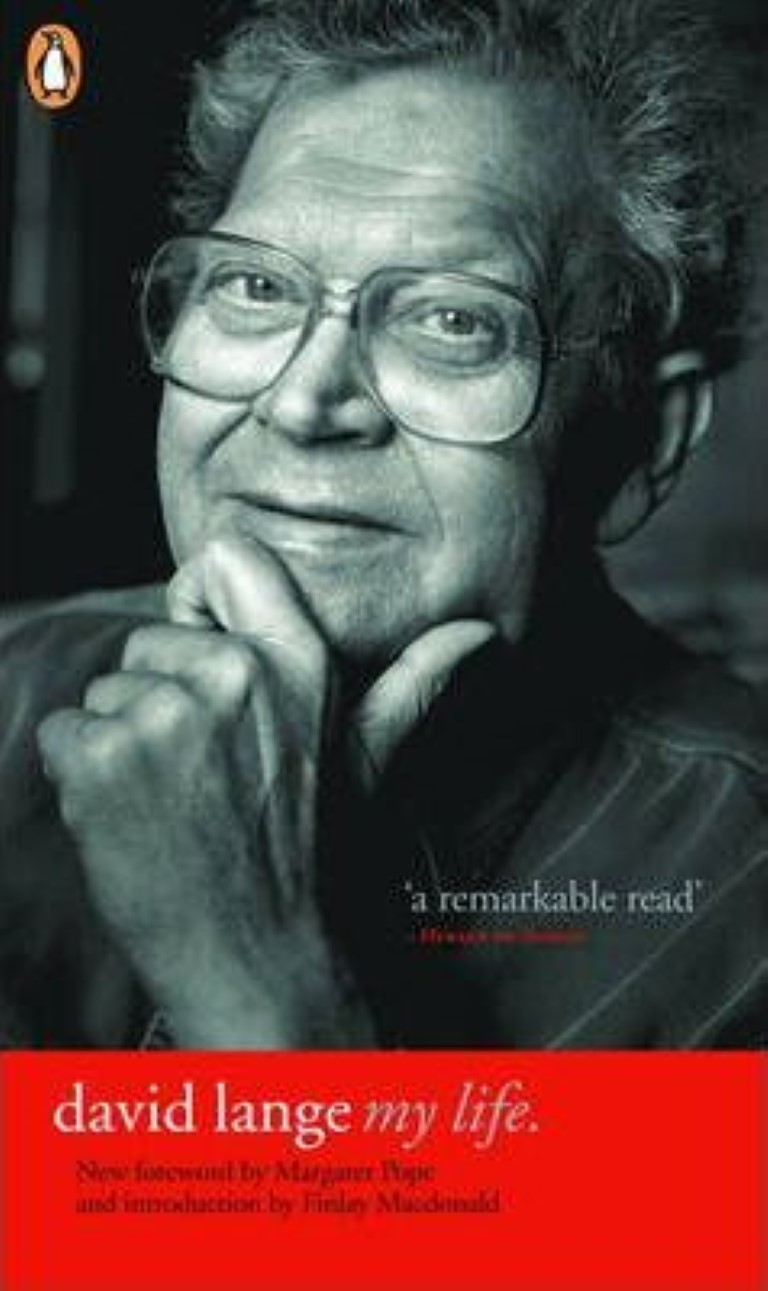 Foreword by Margaret Pope, Introduction by Finlay MacDonald.
Autobiographical memoir by the Labour Prime Minister of New Zealand from 1984 to 1989.
Lange championed a nuclear-free policy during the last days of the Cold War, negotiated with the French over the punishment of the Rainbow Warrior bombing agents, and struggled with his cabinet over economic policy.
ISBN 9780143020875
politics, biography, memoir
VG+ softback
$15 C/C
Penguin 2006, 316pp.
[#5170 ]
FOSTER B. A.

The Marine Fauna of New Zealand: Barnacles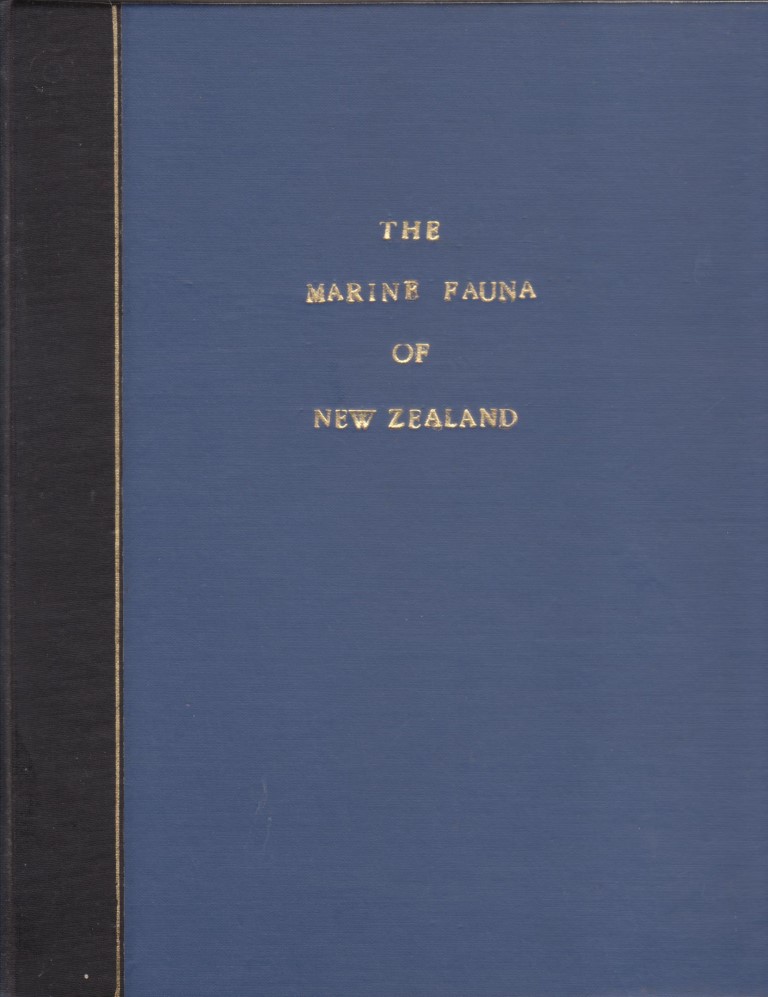 All the known species of barnacles from New Zealand waters are described and illustrated.
ISSN 0083-7903
Cirripedia, Thoracica, New Zealand Oceanographic Institute Memoir 69
VG hardback, inscription to free end paper.
$45 B/C
New Zealand Oceanographic Institute 1978 First Edition, 160pp. col frontis, 14 b/w plates, 74 figures.
[#5171 ]
TRUSSELL Denys

By Sea Mouths Speaking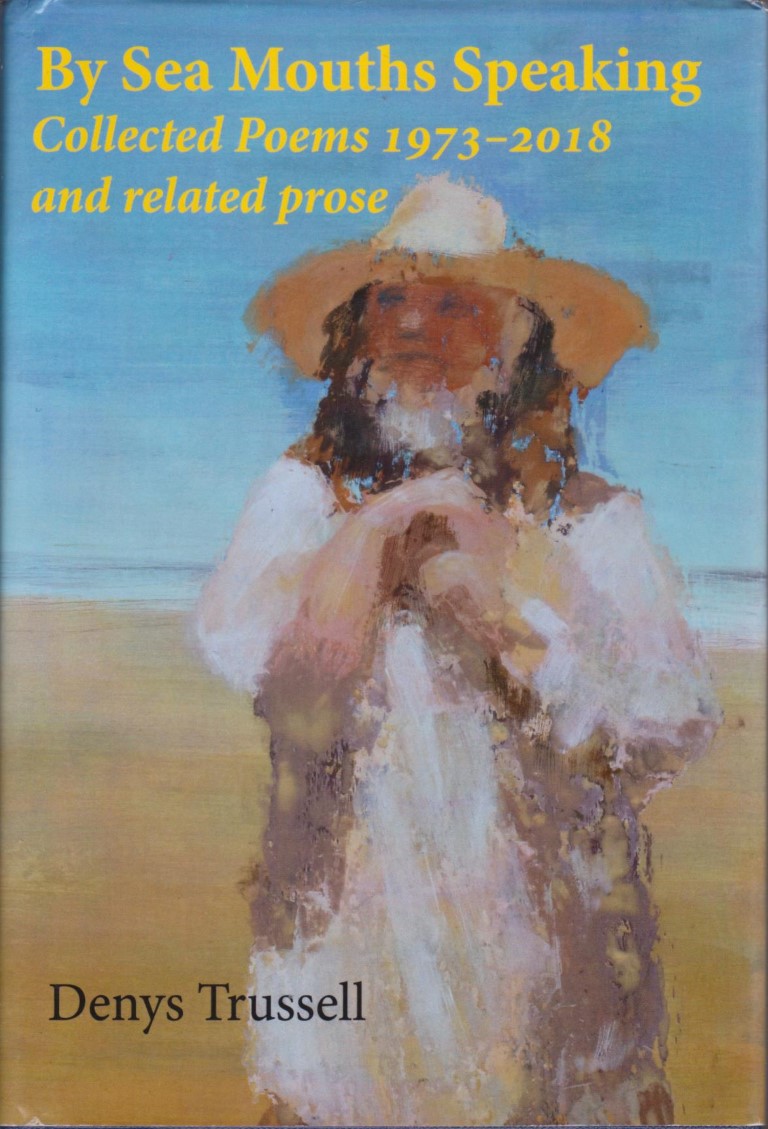 Collected Poems 1973-2018, and related prose.
Denys has worked as a poet, biographer, essayist, editor and environmentalist.
Published in France, Germany, the UK, India, Australia and the USA.
In New Zealand he won the PEN Best First Book of Prose Award (1985) and was short-listed in the Montana New Zealand Book Awards in 1999 for the poetry book,Walking Into The Millennium.
ISBN 9780908595891
new zealand literature, verse, poetry
VG+ hardback in VG+ dust jacket.
$55 C/D
Brick Row Publishing Company 2019 First Edition, x 784pp.
[#5172 ]
A COURSE IN MIRACLES [SCHUCMAN Helen]

A Course in Miracles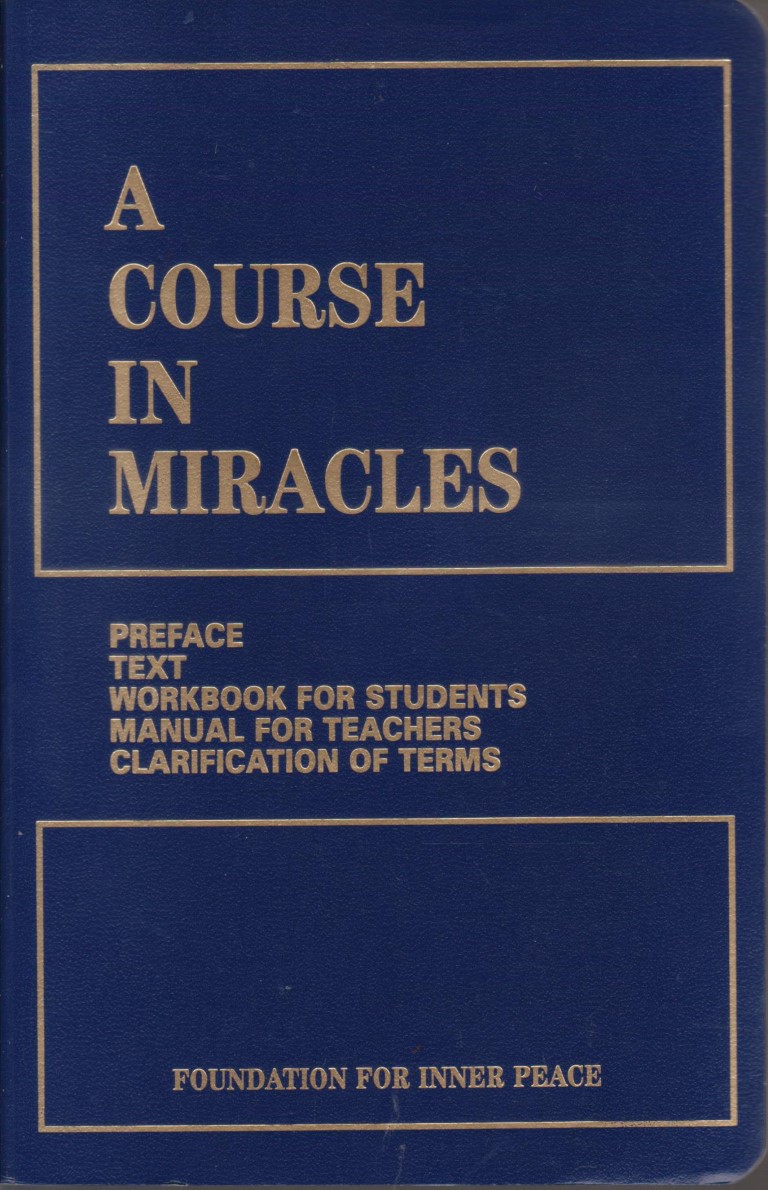 Channelled teachings received by Schucman, allegedly direct from Christ.
Combined 3 Volumes with Preface, Text, Workbook for Students, Manual for Teachers, Clarification of Terms.
ISBN 0960638881
new thought, self improvement, spirituality
VG+ softback
$35 C/D
Foundation for Inner Peace 1992 Second Edition, x 667 + xiii 488 + iv 92pp.
[#5173 ]
24/4/2021ev
RAIN Mary Summer

Daybreak : The Dawning Ember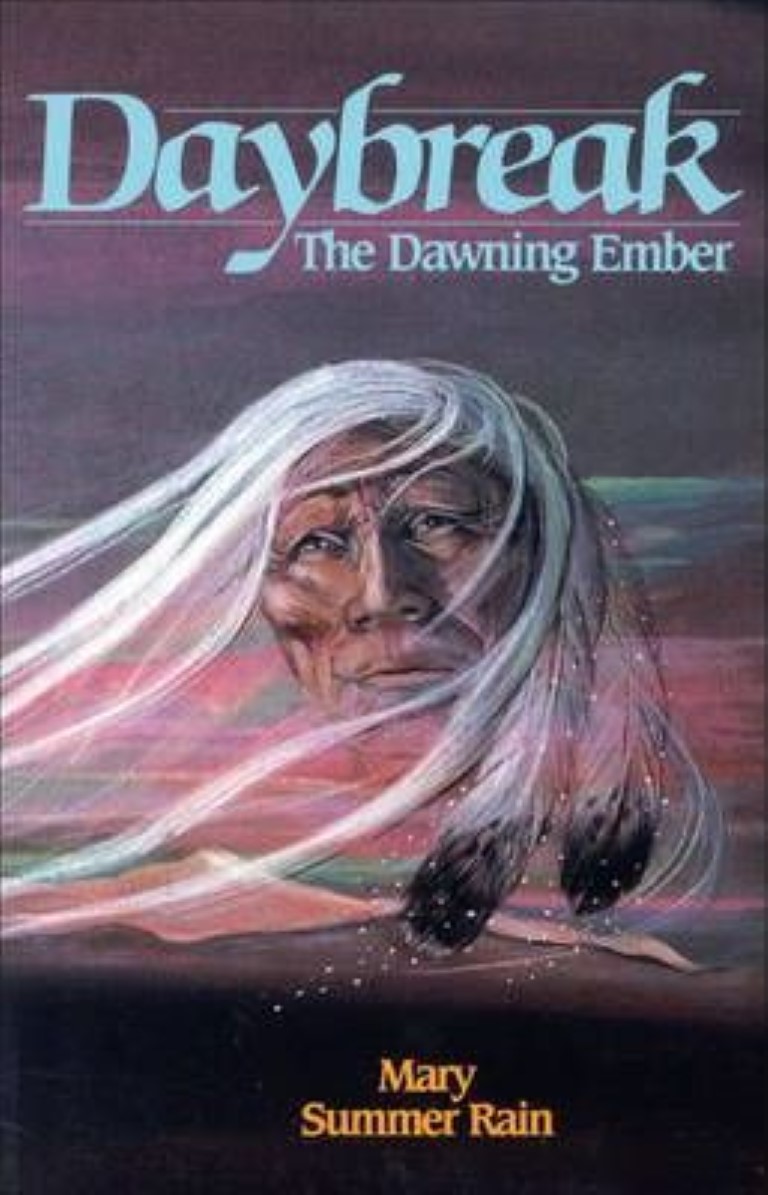 The sixth book in the No-Eyes series, based on the visions of her Indian shaman teacher in Colorado.
Mary answers reader's questions about prophecy, Native American history, and metaphysics.
Extensive information on dream symbol interpretations, as well as The Phoenix Files a list of 'end-times' dangerous facilities and installations in the USA.
ISBN 9781878901149
new age, channelled teachings, pole-shift
VG softback
$12 C/C
Hampton Roads Publishing Co. 1991, 619pp.
[#5160 ]
HENSLEY Gerald

Final Approaches, A Memoir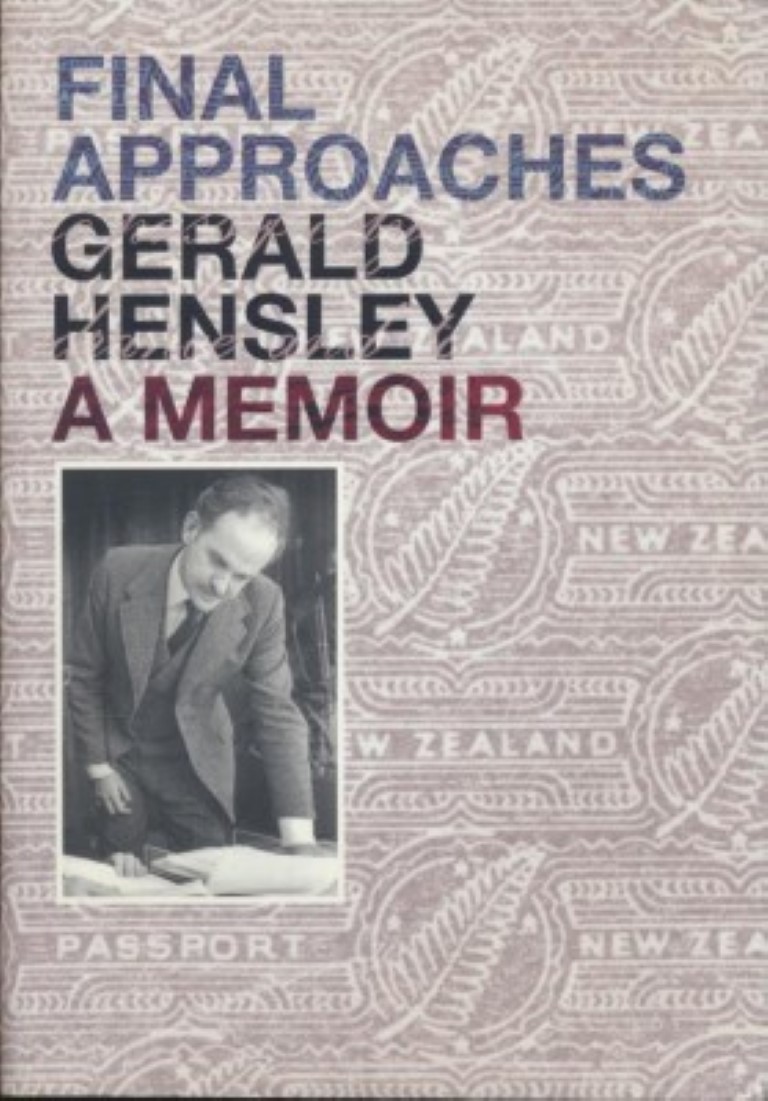 The Memoirs of Gerald Hensley, a long-term New Zealand diplomat.
He was the head of the Prime Minister's Department under Muldoon and Lange, and was Secretary of Defence from1991 to 1999.
ISBN 9781869403789
politics, biography, David Lange, Robert Muldoon, civil service
VG softback
$30 C/C
Auckland University Press 2006 first edition, 320pp.
[#5161 ]
HELINE Corrine

New Age Bible Interpretation
New Testament volume 4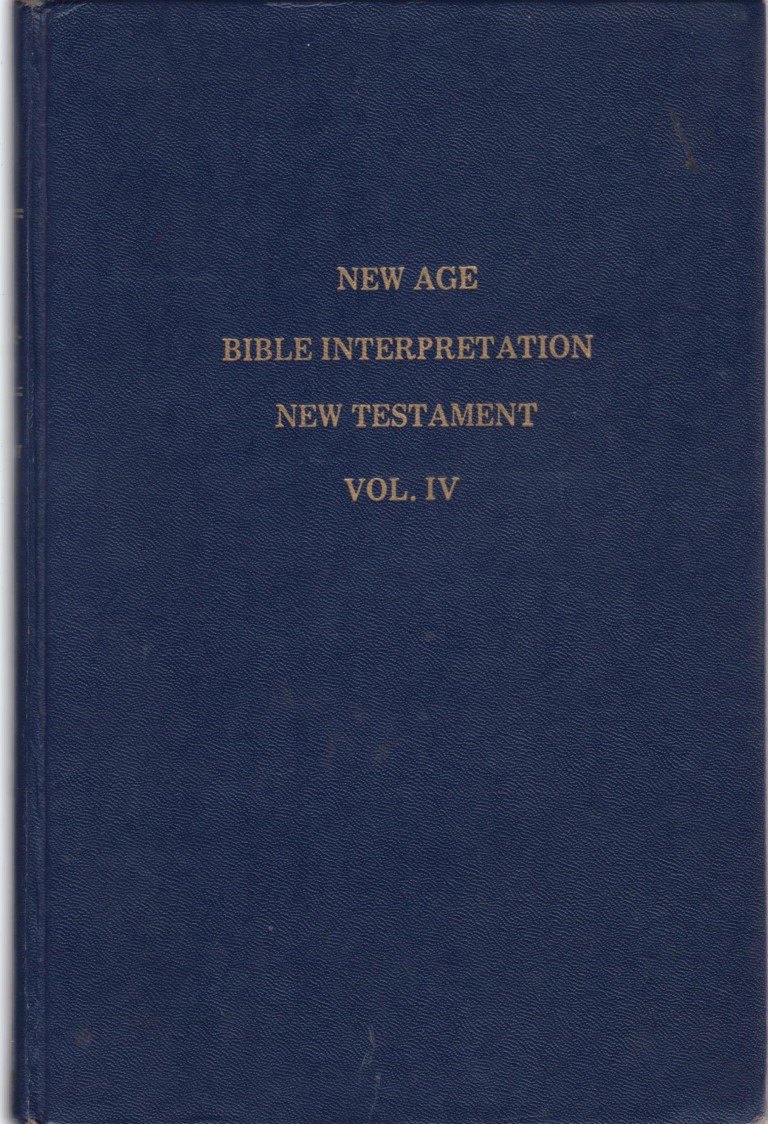 Christian New Age mysticism interprets the New Testament chapter by chapter unveiling the occult truths behind the allegories.
occult
VG- hardback with no dust jacket.
This copy has stamps from the library of the Christchurch Societas Rosicruciana In Anglia, donated by Athol Lightfoot.
$40 C/C
New Age Press 1969 third edition revised, 139pp.
[#5162 ]
GOLDSMITH Joel

Consciousness Unfolding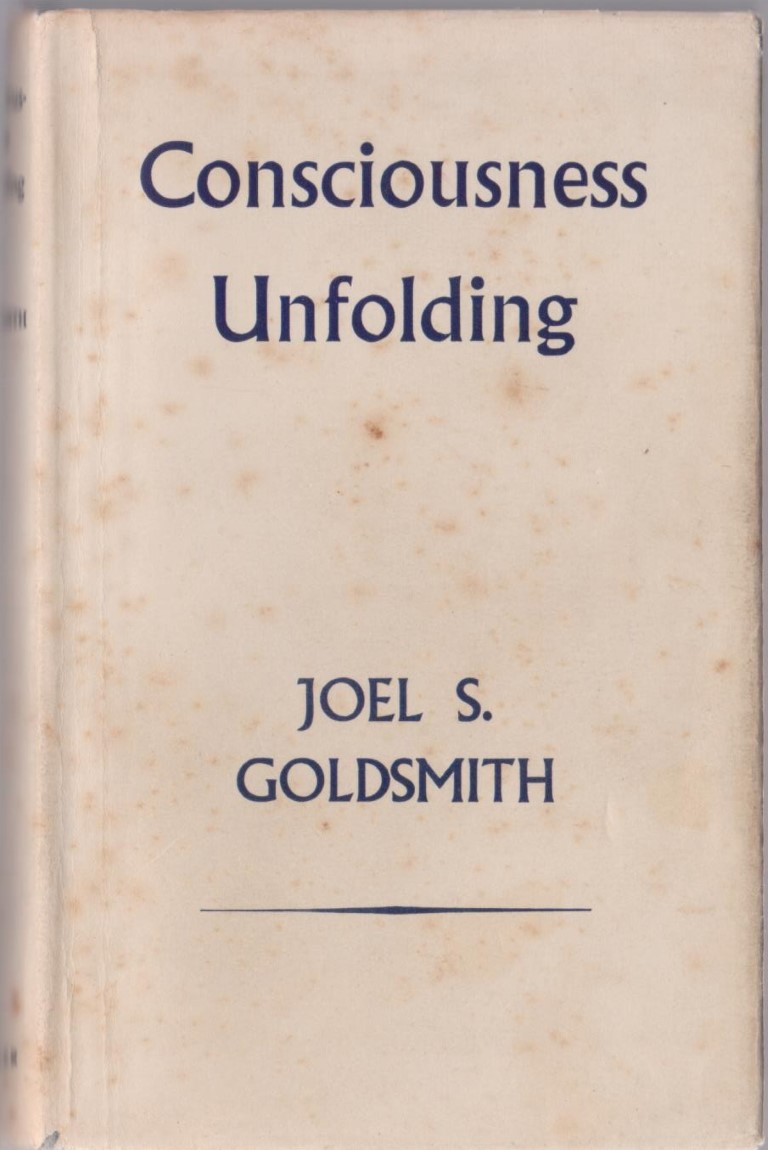 Joel Goldsmith takes the reader deep into the principles of The Infinite Way, "the unfolding of consciousness. Our premise is that God, divine Consciousness, is unfolding, revealing, disclosing, and manifesting Itself as your individual being and as mine."
Goldsmith gives the foundation required for understanding how meditation and contemplation of scriptural truth help one come to the realisation that God is truly unfolding, revealing, and disclosing Itself as your individual being, and that you can trust that every issue of life - health, wealth, home, business, profession and relationships - will flow forth harmoniously.
new age, new thought, spirituality, christian mysticism
VG hardback in VG dust jacket.
minor foxing to dust jacket and to the book's closed edges and endpapers.
A few minor instances of pencil underlining.
$35 C/B
Fowler 1959 second impression of first edition, 269pp.
[#5163 ]
BROWN Gordon H.

Visions of New Zealand
Artists in a New Land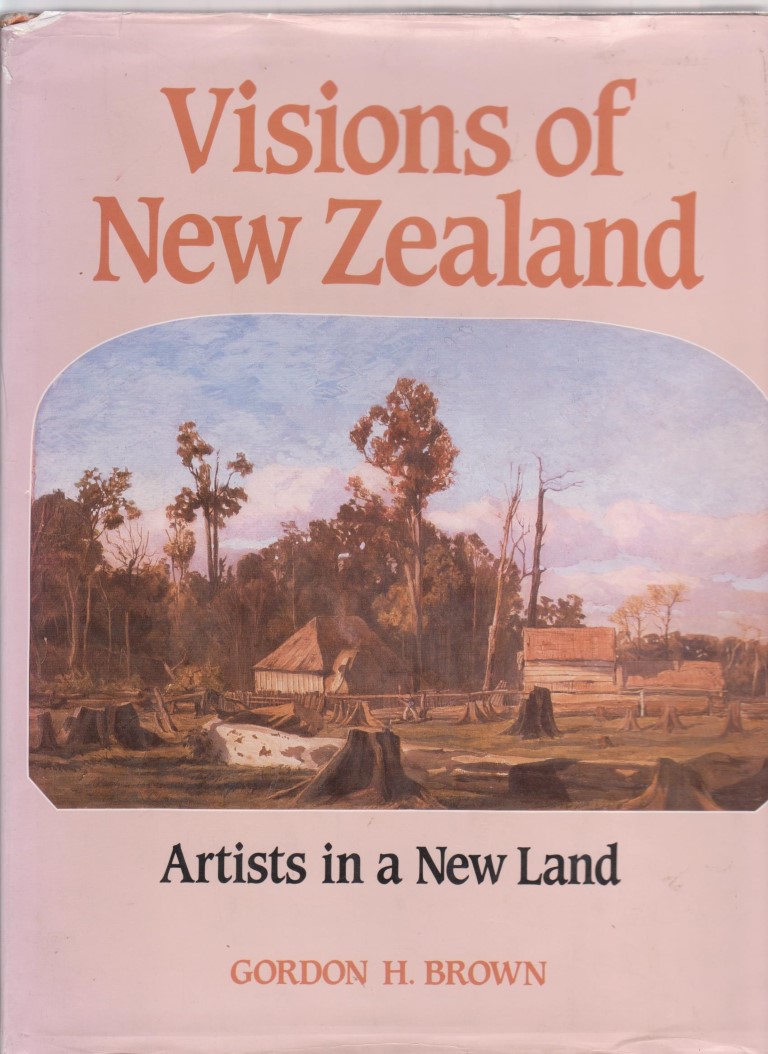 A survey of historically informative early art relating to New Zealand and its inhabitants, both Maori and Pakeha settlers.
190 illustrations including 56 in colour.
ISBN 0908610750
new zealand art, artists, colonial, pre-colonial, victorian, nineteenth century
VG- hardback in G+ dust jacket with some wear and tears.
Small name blacked out to free end paper.
$20 C/C
David Bateman 1988 first edition, 192pp.
[#5165 ]
12/4/2021ev
FRANQUIN

The Eyes Have It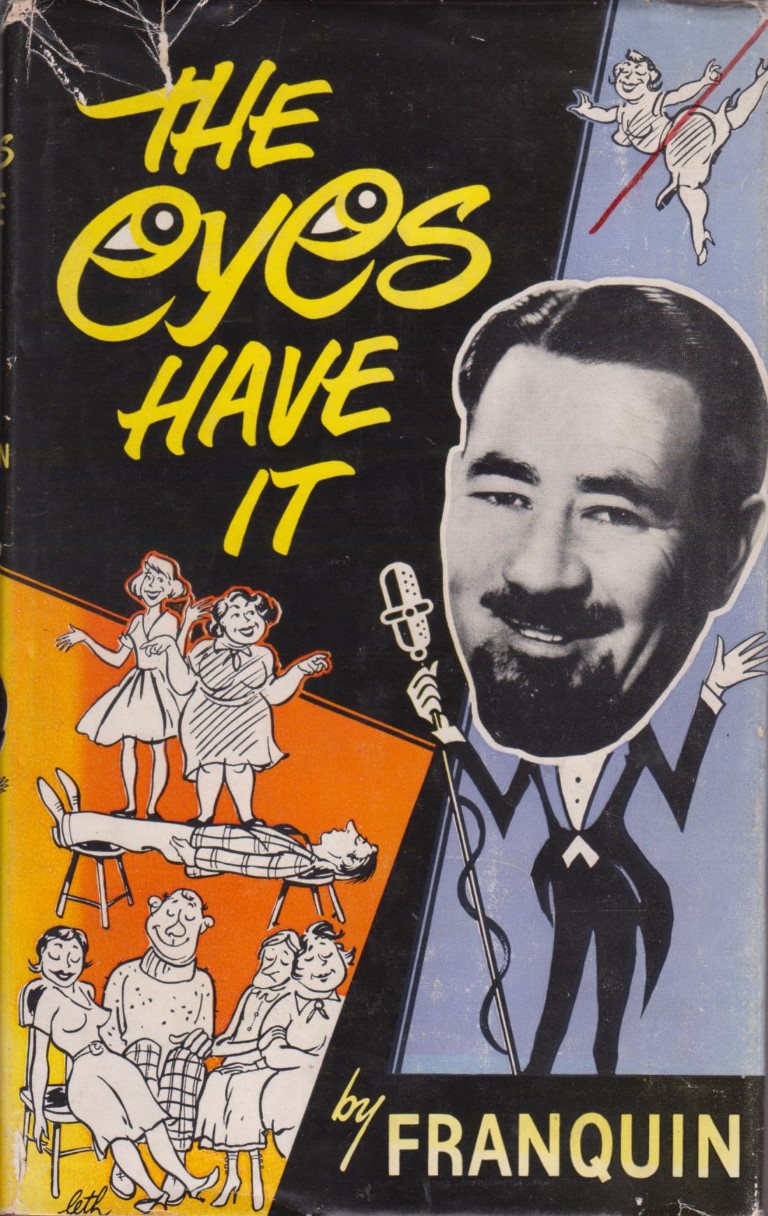 Autobiographical memoirs by the famous Australasian stage magician, who also wrote a book on how to beat insomnia.
stage magician, magic, entertainment, Australia
VG- hardback in VG- dust jacket.
Dust jacket has a few minor edge tears and small red marker stripe at top right corner.
First two pages of book clipped at top corner and with red marker stripe showing to corner of first page and corner of title page.
$15 C/B
Angus and Robertson 1957 First Edition, 206pp
[#5151 ]
BARRAR Daniel

Dad's Story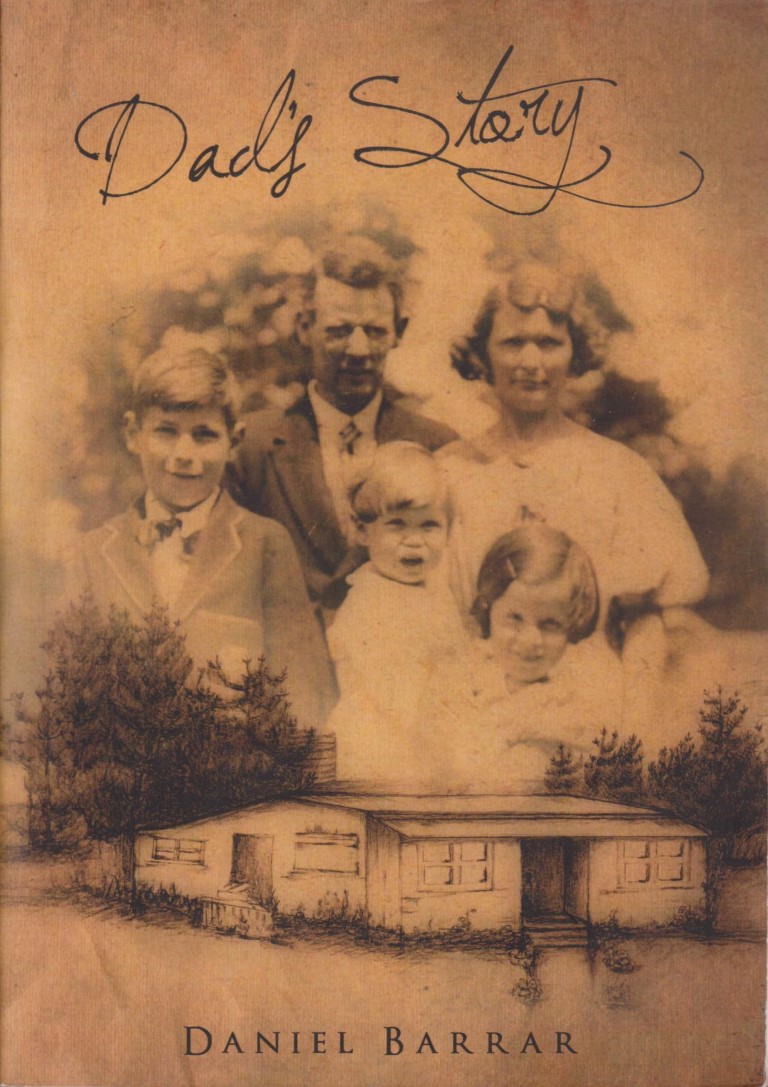 A biographical memoir of the Reverend Edward Francis Barrar (1903-2004) by his son.
A very interesting family history, concerning the full stretch of the author's fathers life across a whole century.
The family moved about Canterbury and South Canterbury farming, as well as material on Adventist Church involvement.
This includes a lot of the history of his forebears and descendents.
James Thomas Barrar and Elizabeth Sarah Hill are the earliest ancestors mentioned.
Timaru, Fairlie, Avoca, Gebbies Pass, Seventh Day Baptist Church
VG+ softback
$45 C/C
Self-Published 2011 first edition, 280pp.
[#5152 ]
Le COUTEUR Claire

Tonsils To Toenails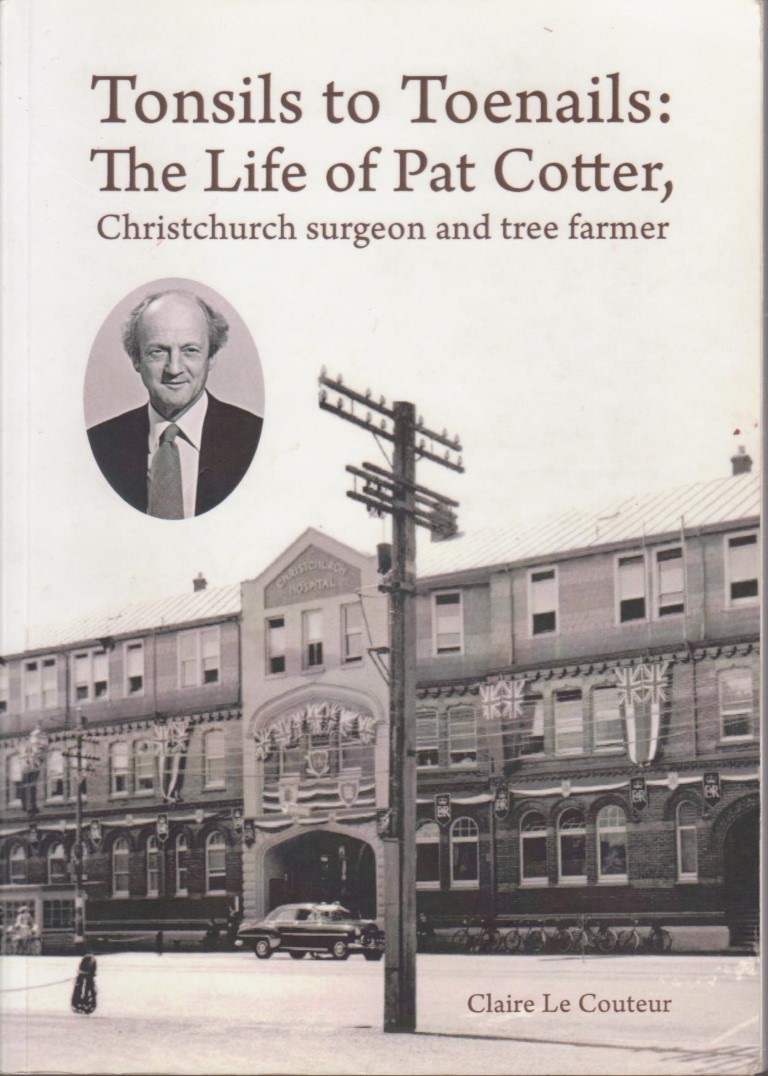 The Life Of Pat Cotter, Christchurch Surgeon and Tree Farmer.
More than just a biography of a remarkable man, this also has details of early New Zealand doctors and medical practce, Pat's own grandparents life as colonial settlers, the Otago Medical School and its lecturers in the 1940s, and the Christchurch surgical scene from the 1950s to the 1970s.
Includes photos of Patís friends and colleagues, and the buildings where he worked.
In retirement he began growing trees in various locations for investment purposes, setting up a company.
ISBN 9780473371357
medicine, surgery, silviculture, Banks Peninsula, Charteris Bay, Pigeon Bay, Seskin Farm, Canterbury Medical Library
VG- softback, gift inscription to title page.
$25 C/B
The Cotter Medical History Trust 2016 first edition, 245pp.
[#5153 ]
ROSE Tui

Silica Savvy Solutions for Healthy Living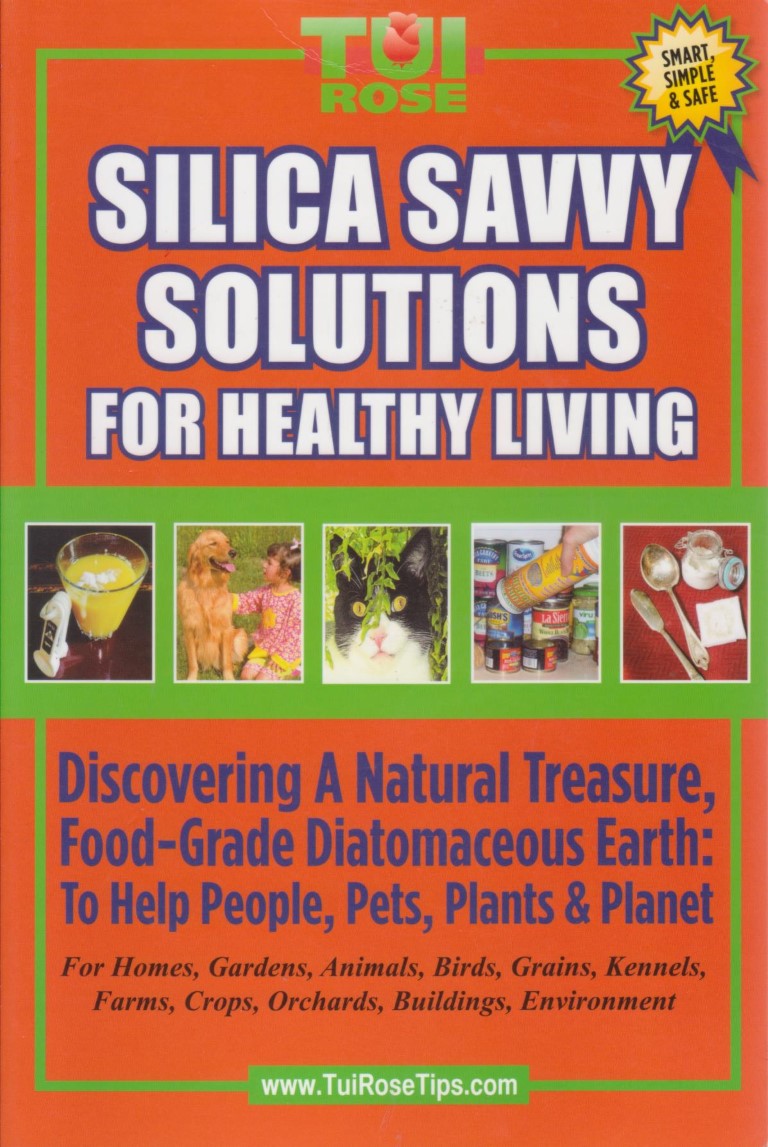 Discovering A Natural Treasure, Food-Grade Diatomaceous Earth, describes many uses of this mineral to Help People, Pets, Plants and the Planet.
For Homes, Gardens, Animals, Birds, Grains, Kennels, Farms, Crops, Orchards, Buildings, and the Environment.
ISBN 9780986043109
dinosaur dust, natural remedies, natural therapy, holistic health
VG+ softback
$20 C/C
Green ECO Inc. 2013 new edition, xv 414pp.
[#5154 ]
BLATE Michael

Advanced G-Jo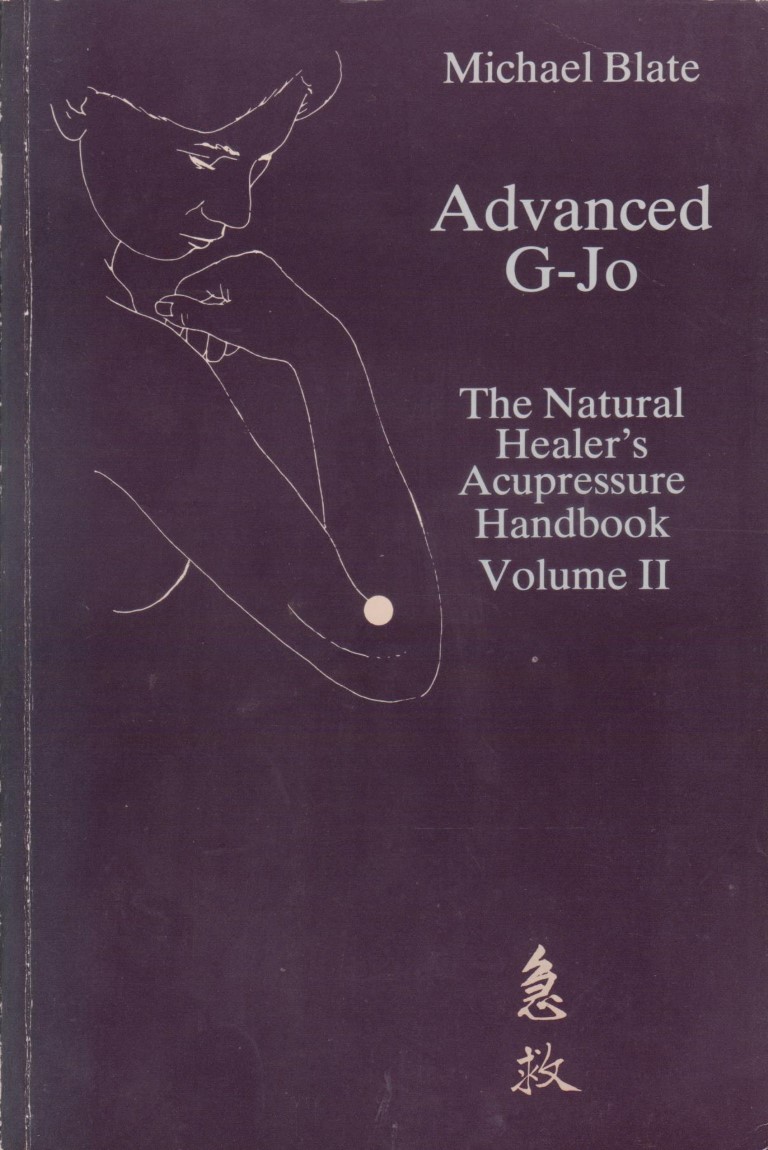 The natural healer's acupressure handbook Volume II.
Expands on authors first book with a method for finding and healing your own "root organs."
According to doctors of acupuncture, these malfunctioning organs are the true causes of disease and sufferning.
ISBN 071009535X
acupressure, health, healing, chinese, natural therapy
VG softback
$20 C/C
Routledge Kegan Paul 1983, xvi 248pp.
[#5155 ]
OLSSEN Erik

A History of Otago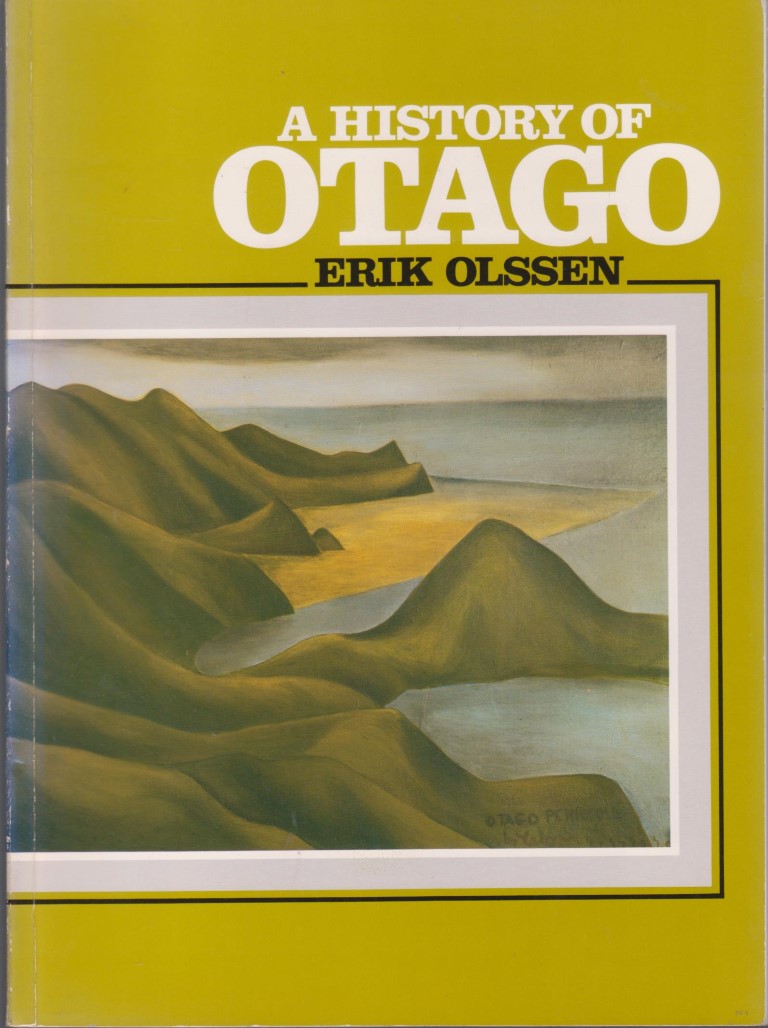 This work focuses on the complex issue of provincial identity to show what is unique about Otago and it's people.
Reissued in softcovers.
ISBN 0868680931
Murihiku, Scottish in New Zealand, colonial
VG softback
$40 B/C
John McIndoe 1983 reprint, xv 270pp.
[#5156 ]
CHALLINOR Deborah

Grey Ghosts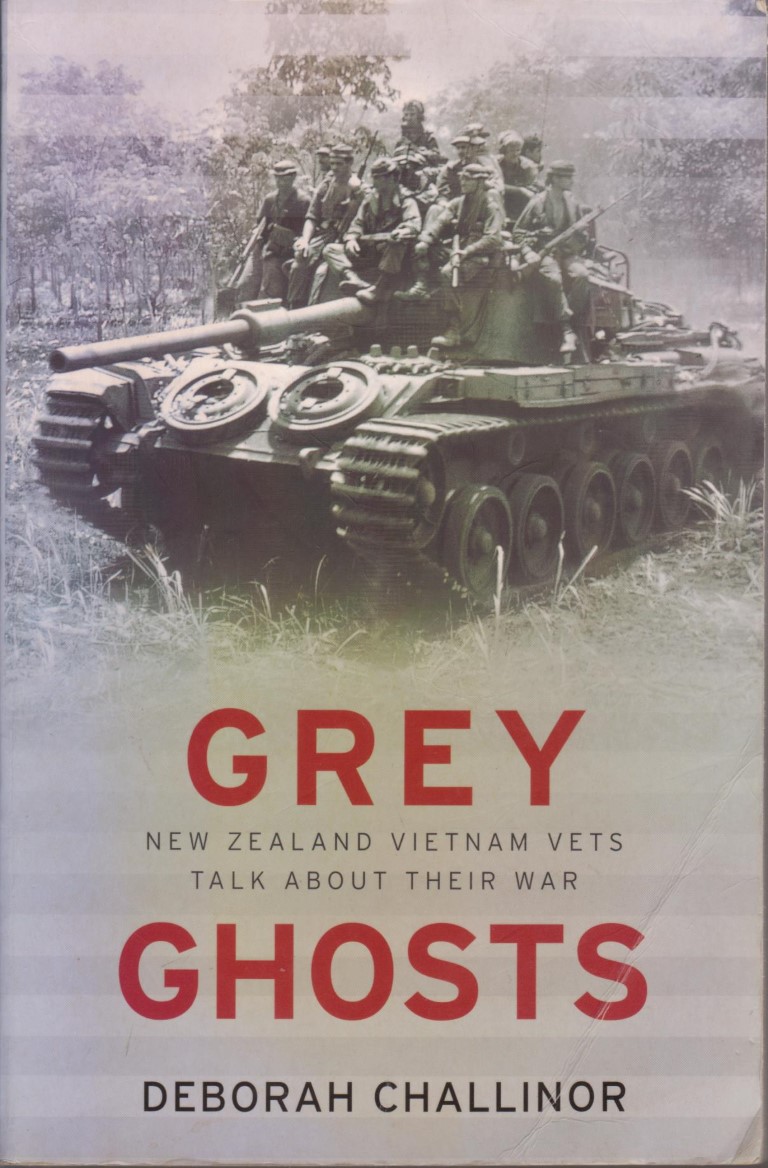 New Zealand Vietnam vets talk about their war in oral interviews with Challinor.
Personal accounts of their time on active service as well as the ongoing legacy in their later lives.
Includes the Flinkenberg List, a nominal roll of New Zealand personnel that served in Vietnam, and is as complete a list as is possible from surviving records.
ISBN 9781869507718
vietnam, agent orange, war veterans, RNZIR, 161 Battery
VG- softback
$12 C/C
Harper Collins 2009, 304pp + plates
[#5157 ]
GREENE Grahame

The Quiet American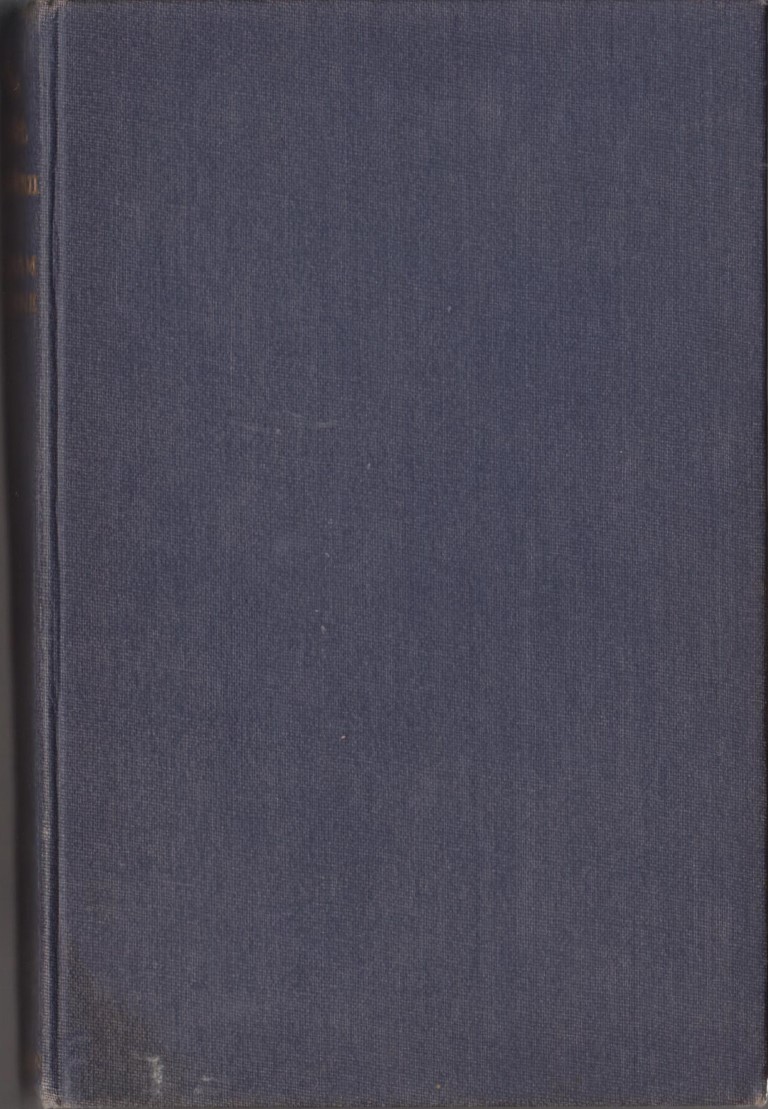 Green's famous novel set in Vietnam.
G hardback with no dust jacket, the page with printed quotes also has another handwritten in ink.
Some sporadic pencil notes in text.
$8 C/B
Heinemann 1956 third printing, 247pp.
[#5158 ]
(ELRIC HOOPER association)
BENNETT Arnold
The Old Wives Tale
Nice reissue of this classic tale, formerly in the collection of the actor Elric Hooper.
association copy, theatre, literature
VG hardback in VG- dust jacket.
Jacket has soiling and edge wear with splits.
Free end paper has rubber stamp for Smith's Bookshop, 103 Manchester Street, and 'Elric James Hooper', the noted Christchurch actor.
$30 C/C
Hodder May 1948 reprint, 544pp.
[#5159 ]
5/4/2021ev
New Zealand Government

Maori Affairs Act 1964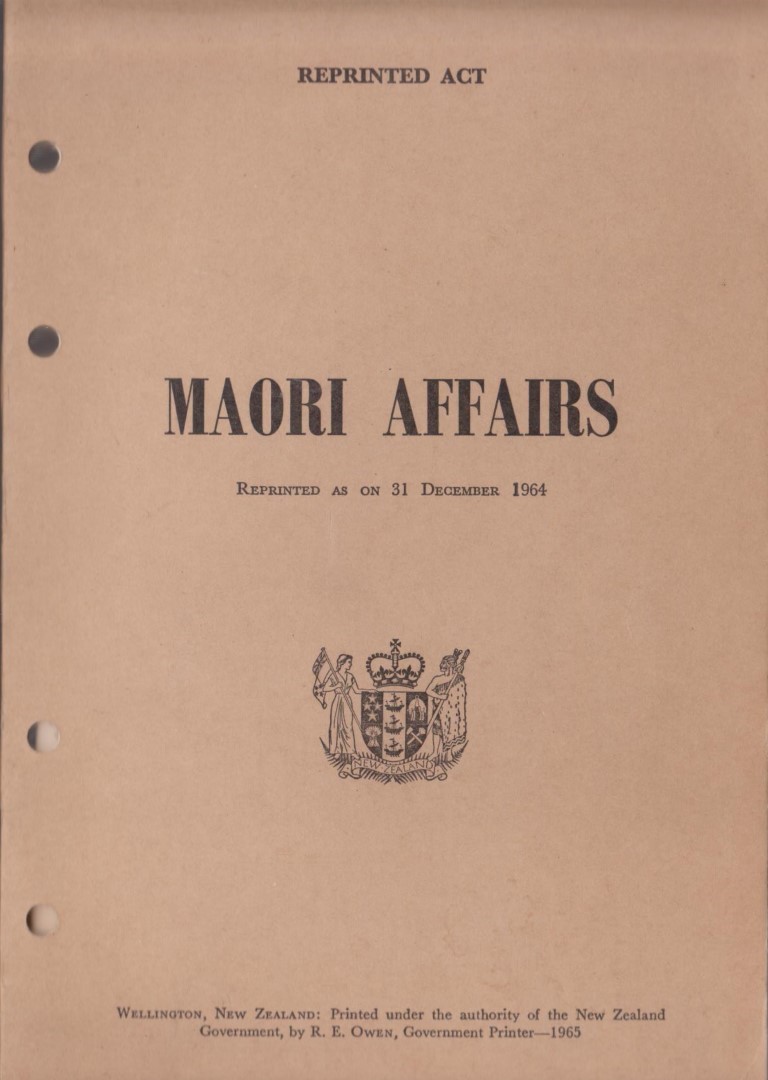 A collection of Official Government Acts relating to Maori Affairs, especially pertaining to Maori Lands and Reserves.
Reprinted as on 31 December 1964
land courts, land rights, waitangi
VG softback with brown paper wrappers with titling and Arms of the Crown, hole punched for ring binder by publisher.
$20 C/C
Government Printer 1965 reprint, 275pp.
[#5141 ]
DOUGLAS C. H.

The Monopoly of Credit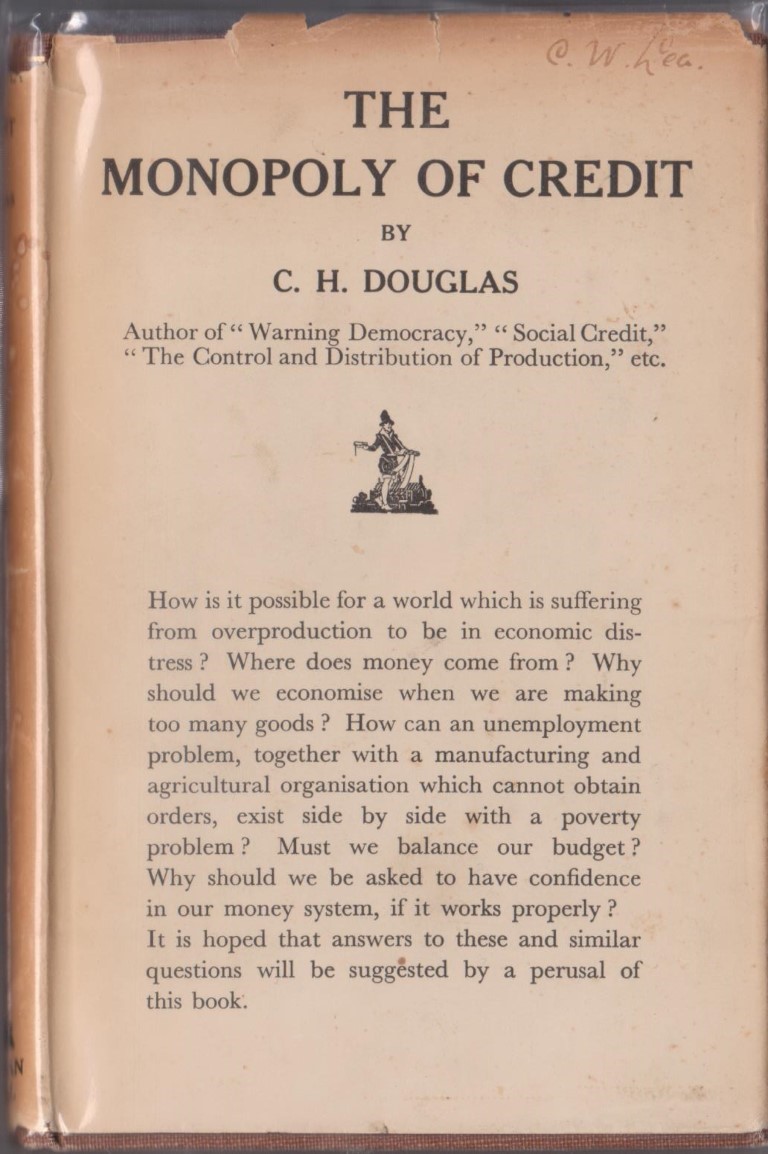 How the banking system is a scam, and how economies are doomed to recession following the current capitalist system.
By the founder of the Social Credit movement.
Economics, Social Credit, Bank System, Usury, One World Government, Socialism
VG hardback in VG- unclipped dust jacket browned to spine with light chipping top and bottom edges.
Small ink name top of front panel and repeated to fep, partially split lower joint.
$35 C/B
Chapman and Hall 1931 First Edition, 128pp.
[#5142 ]
HARRISON R. T.

How to Become a Champion at Bowls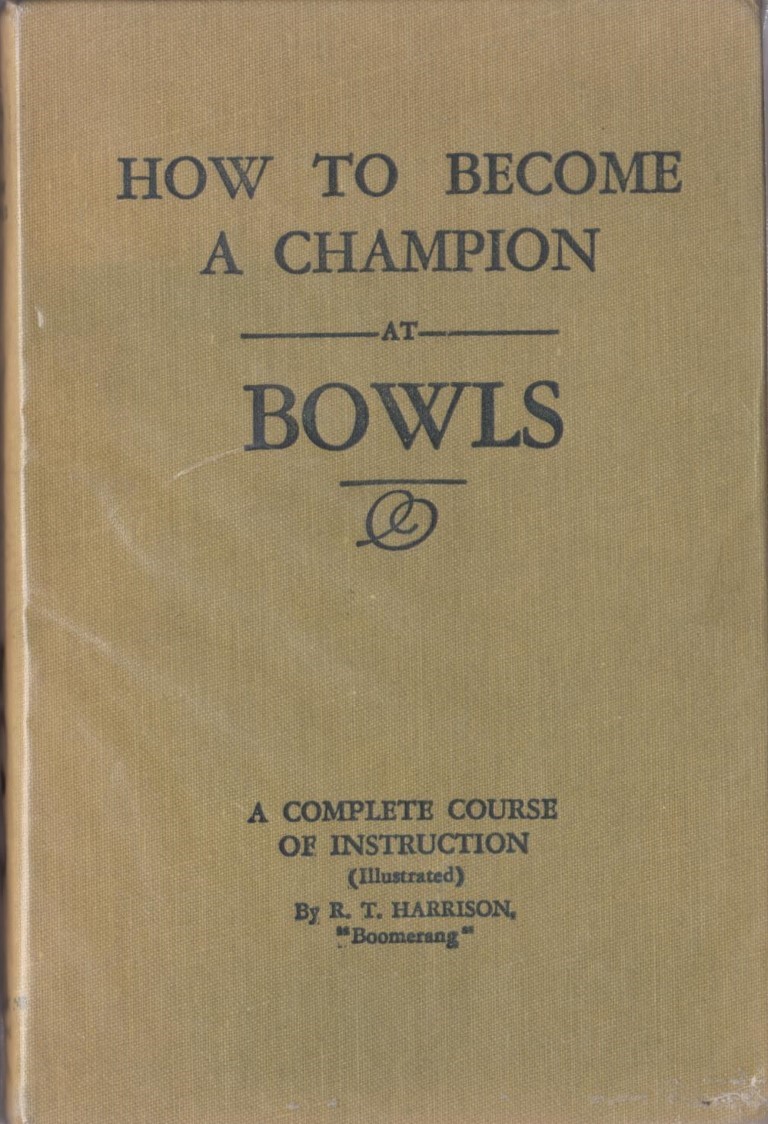 Written by the famed Australian lawn bowls champion Dick "Boomerang" Harrison.
'Accepted text book in greater demand than any treatise ever written on the game; a complete course of modern instruction.'
Boomerang, lawn bowls, how to play, techniques
VG hardback with no dust jacket.
Cloth faded, a few tidy pen bracket notations to margin.
$20 C/B
R. W. Hensell and Sons 1956 ninth edition, 220pp with plates.
[#5143 ]
HOUSE L. C. Lesley.

The Wyching Hour a Selection of Short Poems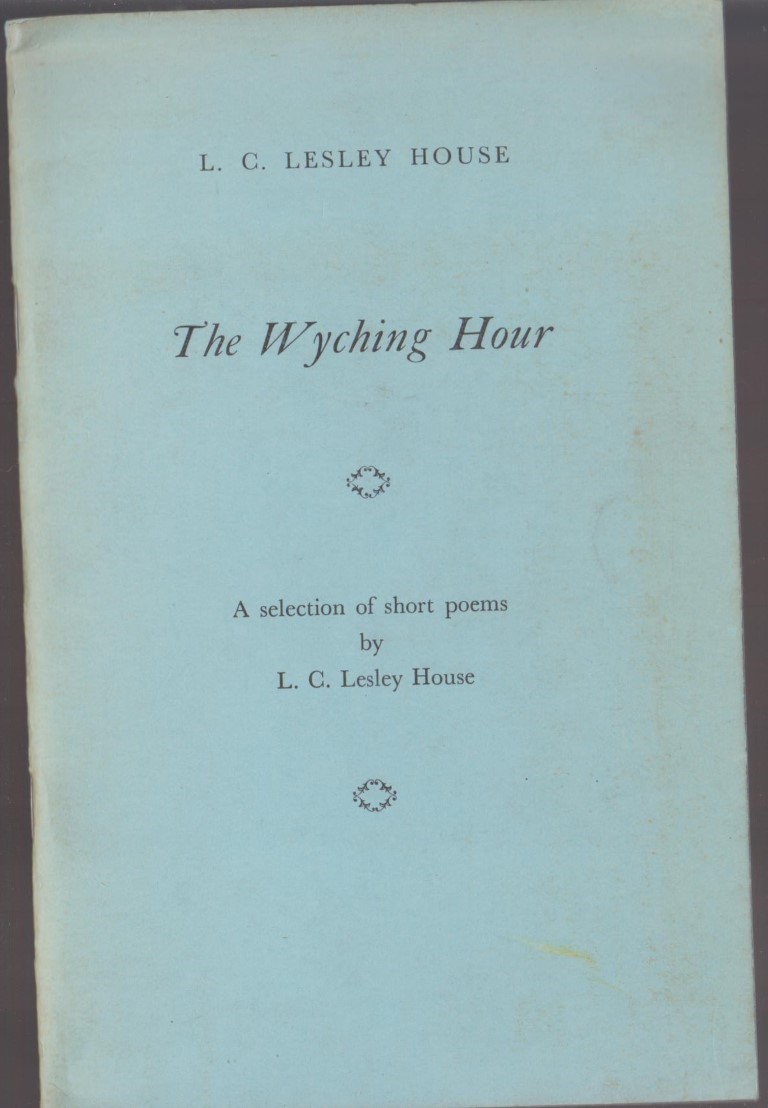 A volume of poetry, from a prolific if often self published amatuer writer from Christchurch New Zealand.
Signed in pencil in a shaky hand L C Lesley House ChCh
VG softback with sheets folded once and stapled through spine, printed stiff paper wrapper.
$25 C/B
L. C. Lesley House undated about 1960? First Edition, 24pp.
[#5144 ]
BLAINEY, MORRISSEY and HULME

Wesley College the First Hundred Years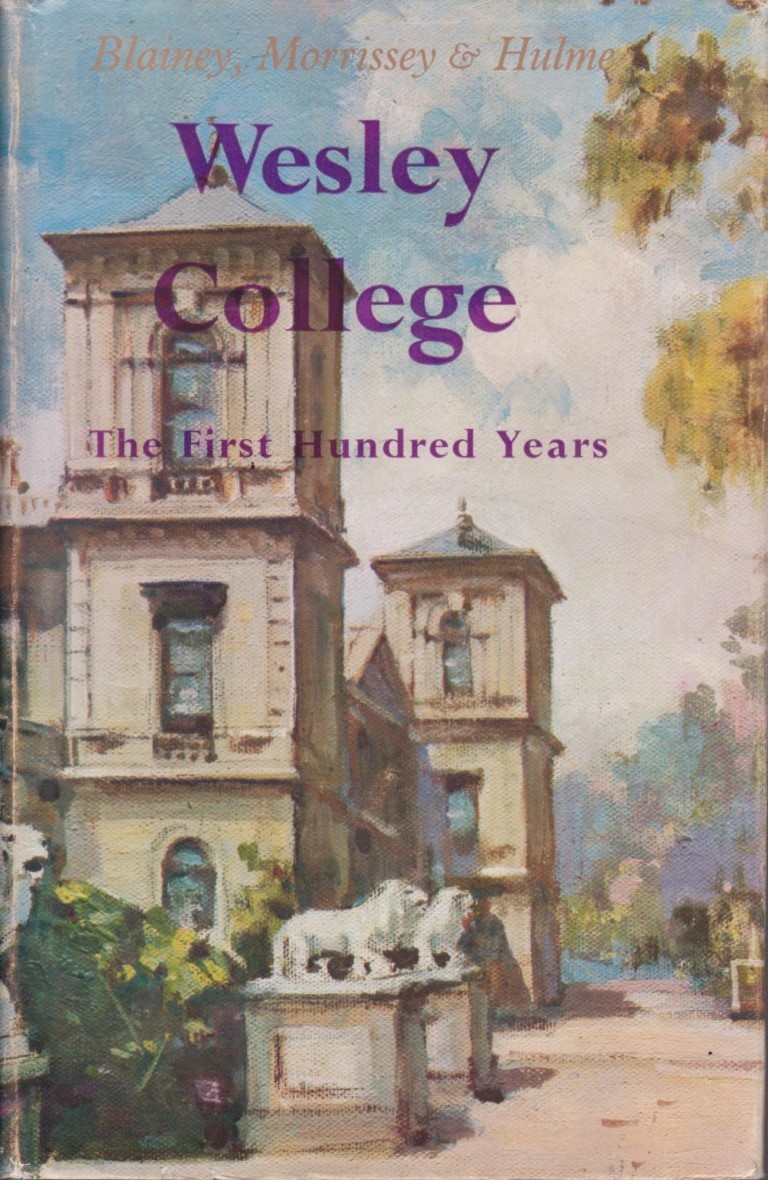 A history of Melbourne's Wesley College, published for the centenary.
ISBN
Australian School History, Education, Old boys, Wesley College Melbourne
VG- hardback in VG dust jacket.
Top corner of half title removed, short inscription to the bottom corner.
$20 C/C
Wesley College, Melbourne 1967 First Edition, 240pp + plates.
[#5145 ]
GREAVES Helen

Testimony of Light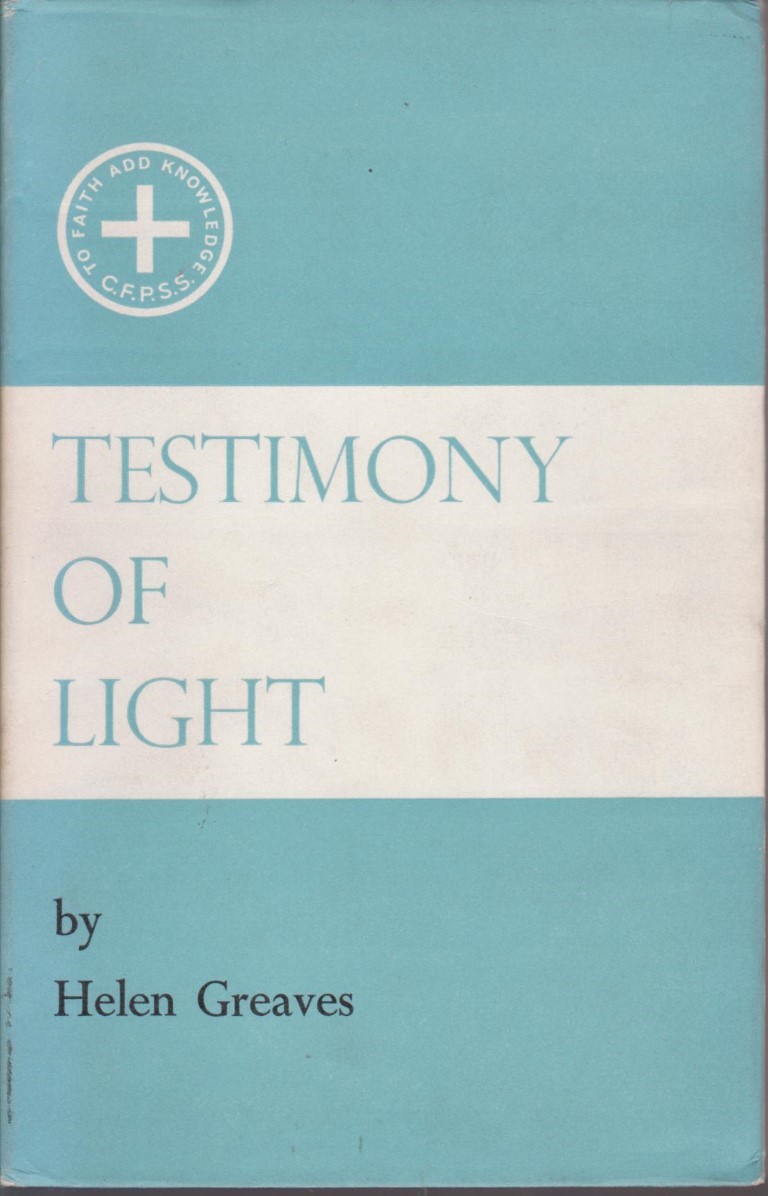 "An outstanding example of communion between the minds of two close friends on either side of the veil"
spiritualism, survival, christian spiritualist, Churches' Fellowship for Psychical and Spiritual Studies.
VG- hardback in VG- dust jacket with a few tiny holes at head of spine.
Book has some minor pen notations to a few pages, clipped top corner of first blank page.
$20 C/B
The World Fellowship Press 1971,145pp.
[#5146 ]
ORCZY Baroness

Adventures of the Scarlet Pimpernel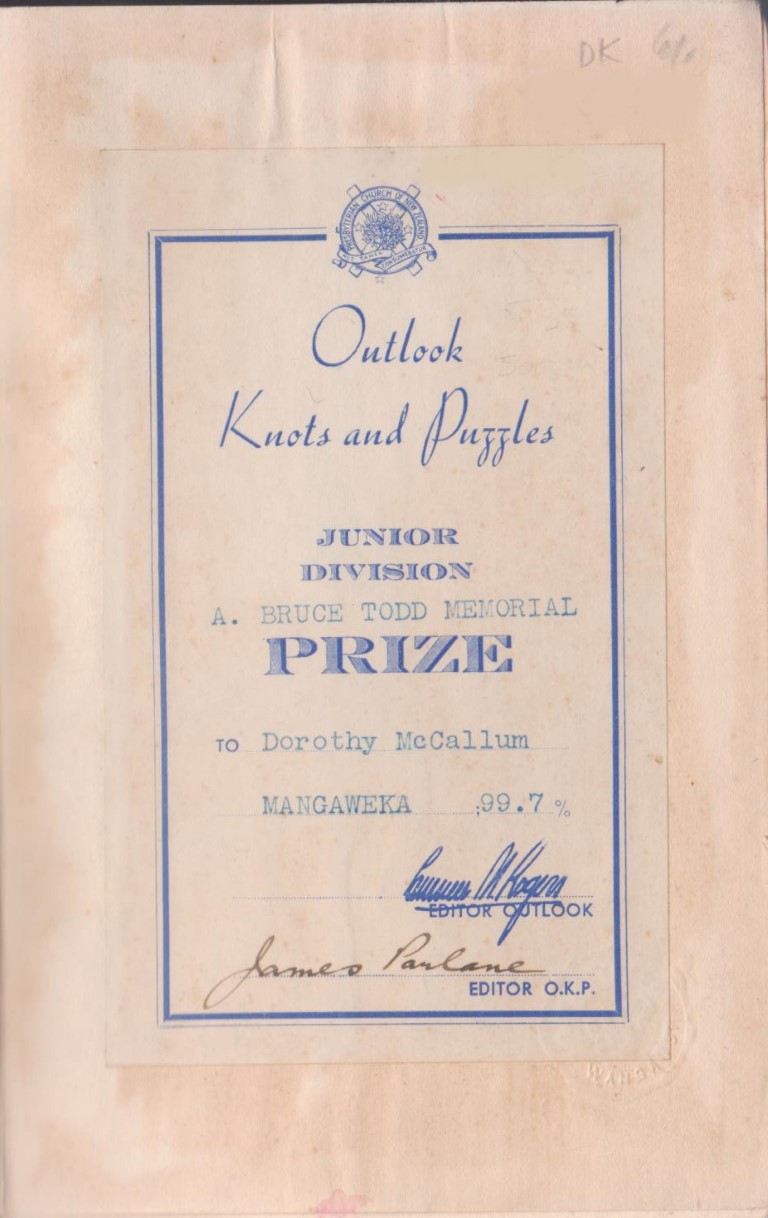 This copy is the bearer of a Presbyterian Church Prize Plate pasted to first page, awarded to Dorothy McCallum of Mangaweka.
Good hardback with no jacket.
Sunned and rubbed spine, corners worn, some soiling, titling flaking, front hinge cracked and loose.
$20 C/B
Hutchinson 1929 reprint, 288pp + 16pp adverts for Spring 1929.
[#5147 ]
BROGAN Hugh

Alexis de Tocqueville : A Life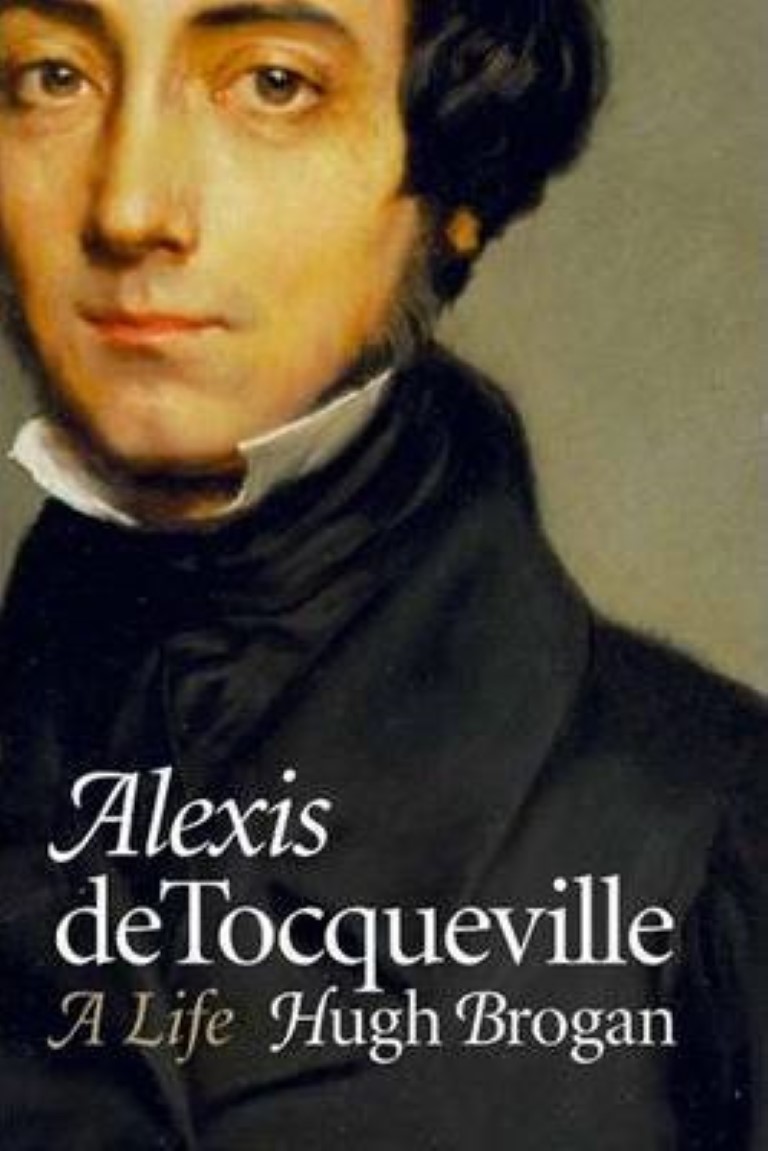 A new biography of one of the greatest political thinkers of all time.
A French aristocrat who lost nearly his entire family in the Reign of Terror, de Tocqueville spent most of his adult life struggling for liberty under the unsuccessful regimes of nineteenth-century France.
When he was twenty-five he travelled to America, encountering democracy for the first time, the experience contributing to his incisive writing on liberty and democracy.
His Le ancien regime launched the scholarly study of the French Revolution, and Democracy in America remains the best book ever written by a European about the United States.
ISBN 9780300136258
enlightenment philosophy, political theory, USA, history, biography
VG softback
$25 C/C
Yale University Press 2007, 724pp.
[#5148 ]
BASSETT Michael

Working with David
Inside the Lange Cabinet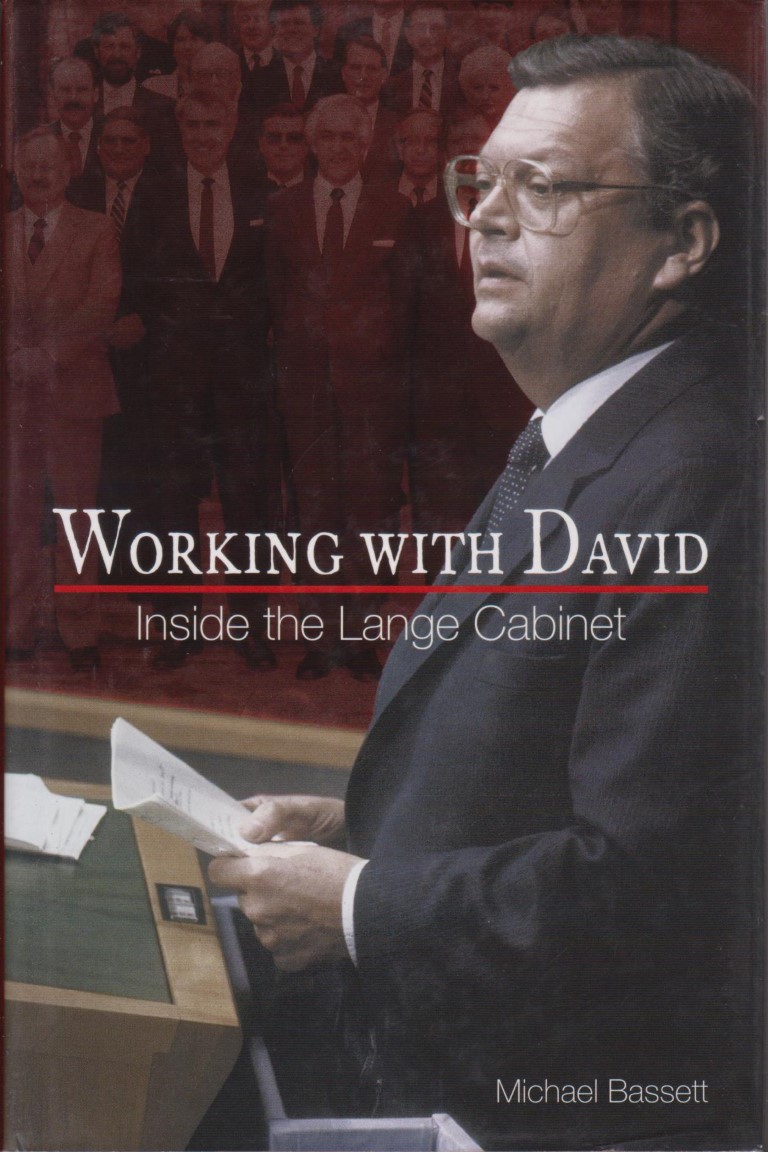 This biography of David Lange is written by his cousin, who was a senior cabinet minister in his Government, and gives the inside story of some of the most heady and turbulent times in New Zealand political history.
Bassett writes of the real David Lange, a hugely gifted but hugely flawed politician.
Based on diaries, private papers, and extensive interviews.
ISBN 9781869710941
new zealand political history, Fourth Labour Government, ANZUS, Mururoa tests, Oxford Union debate, Roger Douglas, Rogernomics, 1984 election
VG hardback in VG dust jacket.
$30 C/D
Hodder Moa 2008 first edition, 648pp.
[#5149 ]
DOAK Wade

The Elingamite and its Treasure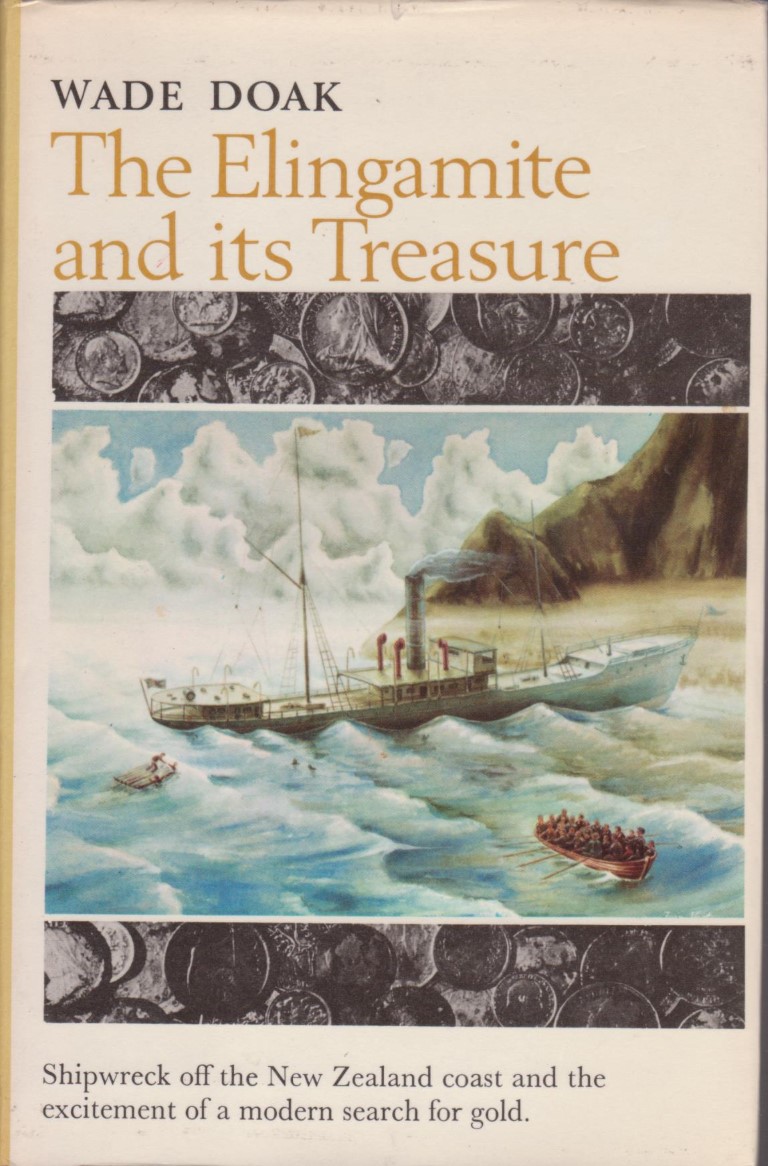 The history behind the loss of the Elingamite in 1902 north of New Zealand.
In 1968 a syndicate led by Wade Doak and Kelvin (Kelly) Tarlton suceeded in salvaging gold and silver from the wreck.
ISBN 0340107774
salvage, shipwreck, bullion, Kelly Tarlton,
VG hardback with VG dust jacket.
$20 C/B
Hodder 1969 first edition, 192pp + plates.
[#5150 ]
15/3/2021ev
MORRIESON Ronald Hugh
The Scarecrow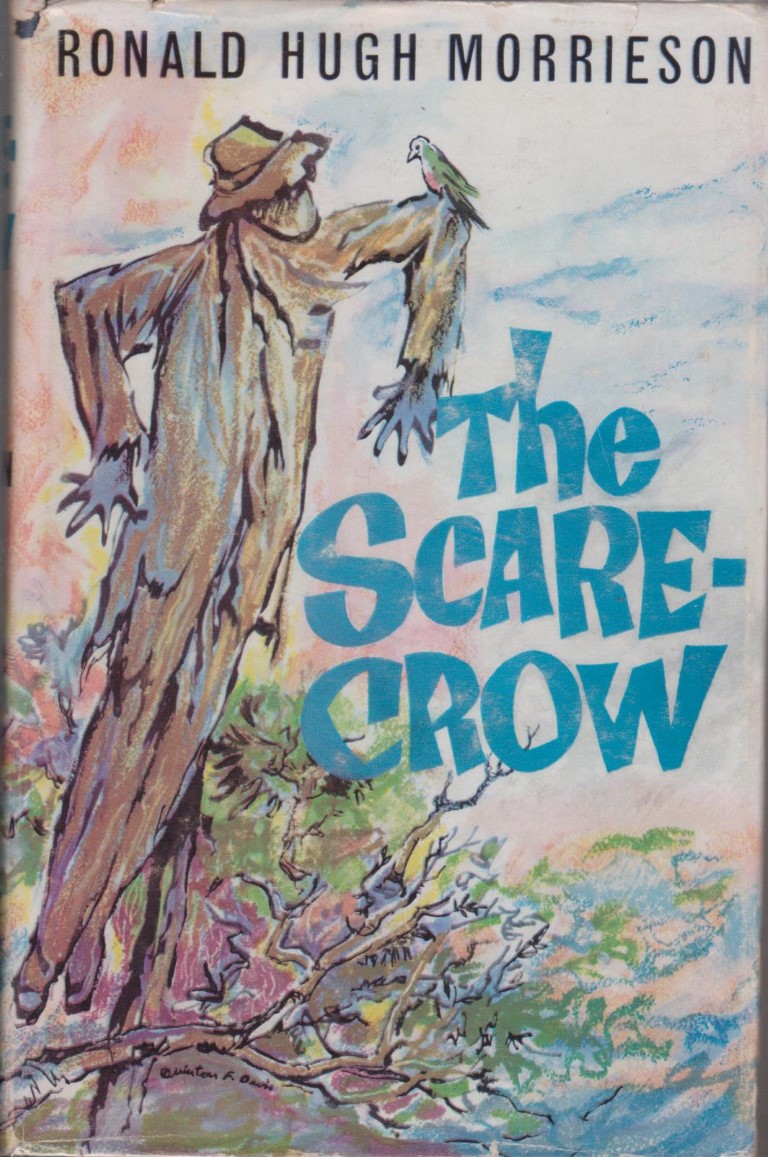 "Fourteen-year-old Neddy and his mate Les take swift revenge on the chicken-rustling Lynch Gang, but things turn sinister when vulture-like Hubert Salter stalks into town. There's a sex killer on the loose, and Neddy is in fear for his sister's safety."
The scarce first edition printed by Angus and Robertson.
VG hardback in VG price clipped dust jacket with minor wear or short edge splits or chips.
$60 C/C
Angus and Robertson 1963 First Edition, 211pp. [#5136 ]
FARMER Philip Jose

The Magic Labyrinth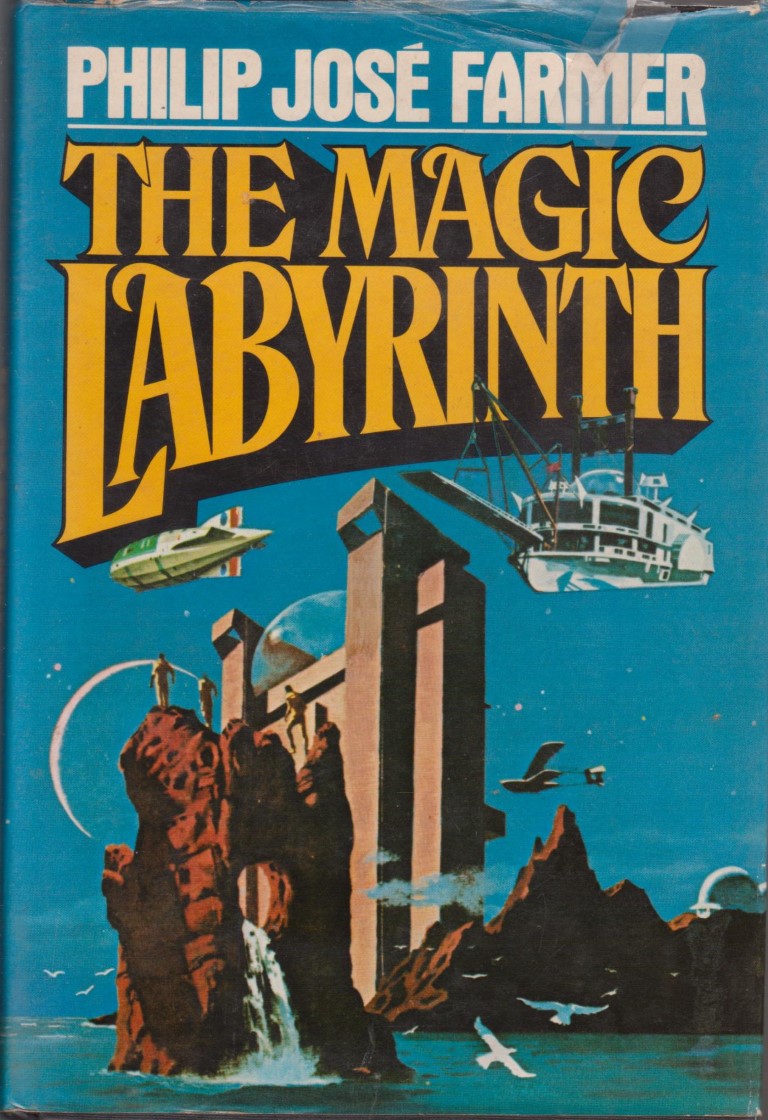 The Fourth Riverworld Novel
ISBN 0399123814
VG hardback in VG- dustjacket with short tear with associated crease to top edge, same on the back panel
$20 C/C
Putnam 1980 First Edition, 339pp.
[#5137 ]
CARMAN Arthur H.

The Rugby Almanack of New Zealand 1976.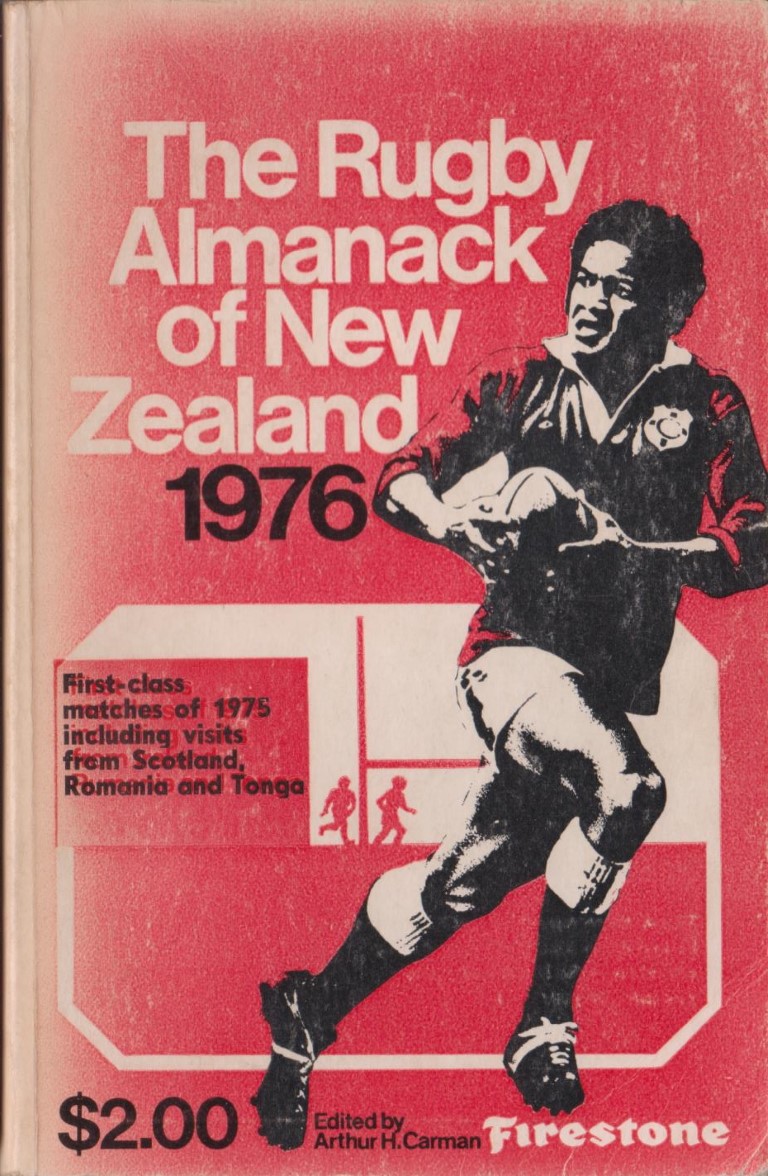 Covers first class matches of 1975 including visits from Scotland, Romania and Tonga.
rugby, nzfru, statistics, history
VG- Red card covers sunned to spine (faded to white with no title visible).
$10 C/B
Sporting Publications 1976 First Edition, 209pp + plates.
[#5138 ]
CARMAN Arthur H.

The Rugby Almanack of New Zealand 1977.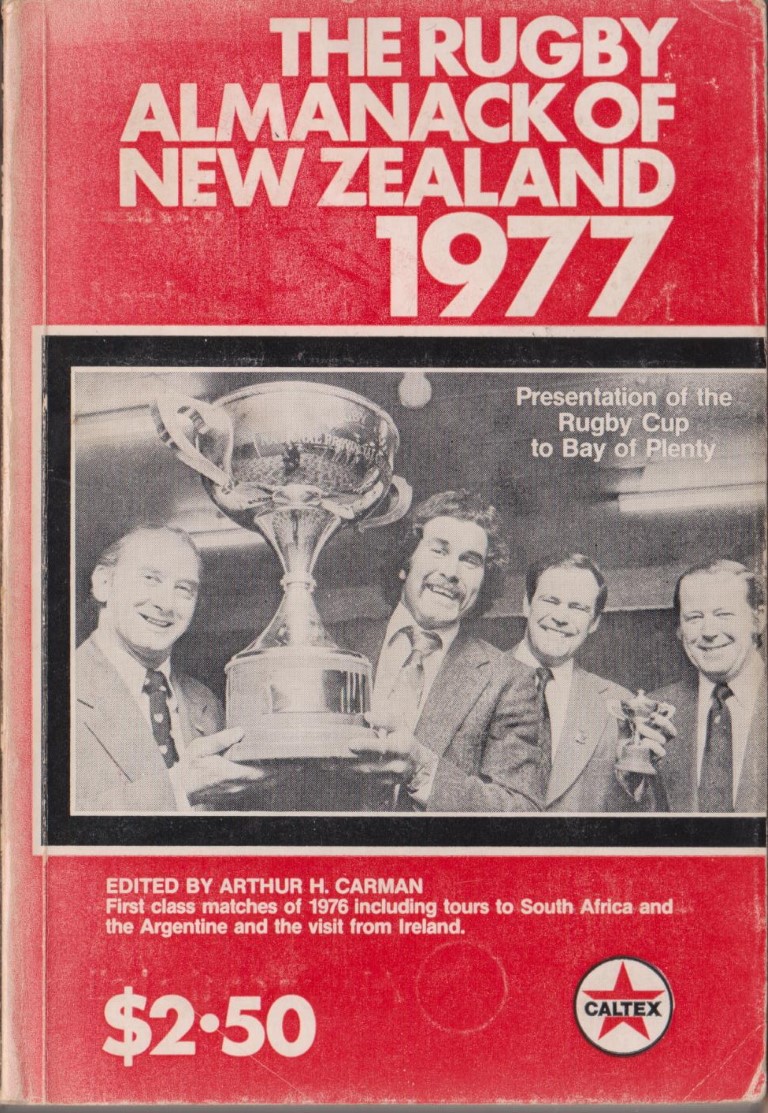 Covers first class matches of 1976.
rugby, nzfru, statistics, history
VG- Red card covers rubbed to spine edges.
$10 C/B
Sporting Publications 1976 First Edition, 228pp + plates.
[#5139 ]
CARMAN Arthur H.

The Rugby Almanack of New Zealand 1978.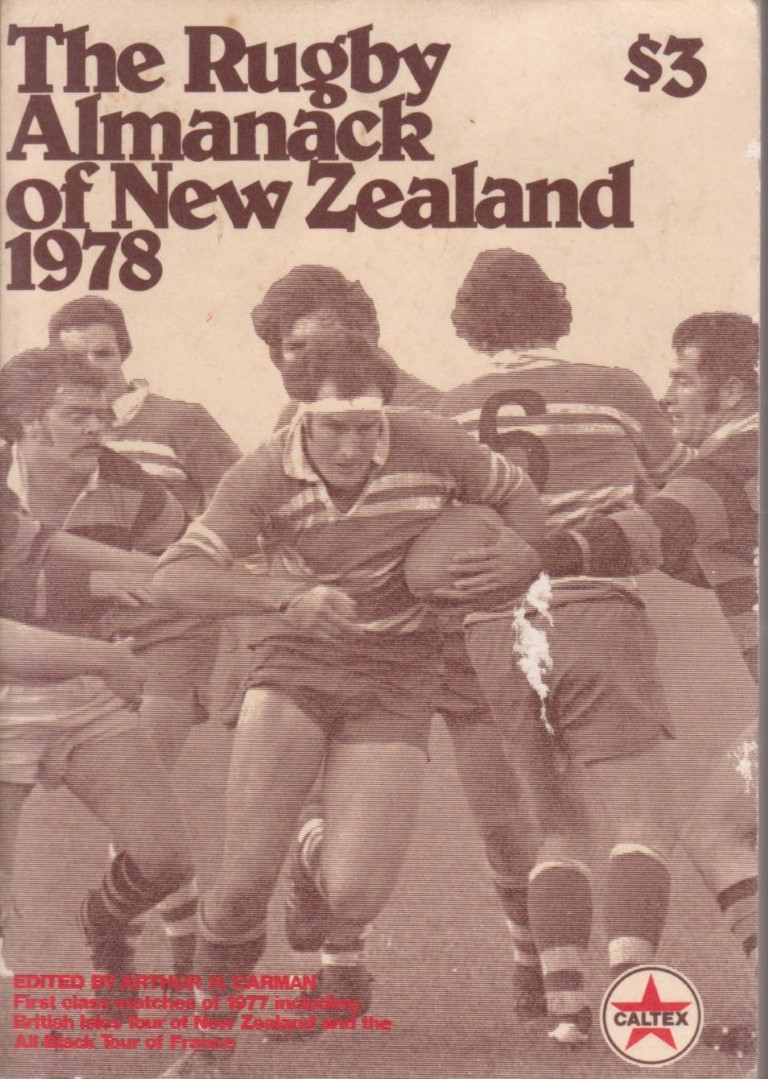 Covers first class matches of 1977.
rugby, nzfru, statistics, history
VG- Card covers with small amount of insect damage to surface of cover.
$10 C/B
Sporting Publications 1978 First Edition, 226pp + plates.
[#5140 ]
6/3/2021ev
WILLIAMSON Henry

The Pathway
Reissue of this novel first issued in 1928.
G+ brown cloth hardback with no dust jacket, name stamp to free end paper.
$10 C/B
Faber 1944 reprint (first thus), 418pp.
[#5128 ]
BELL Leonard

Colonial Constructs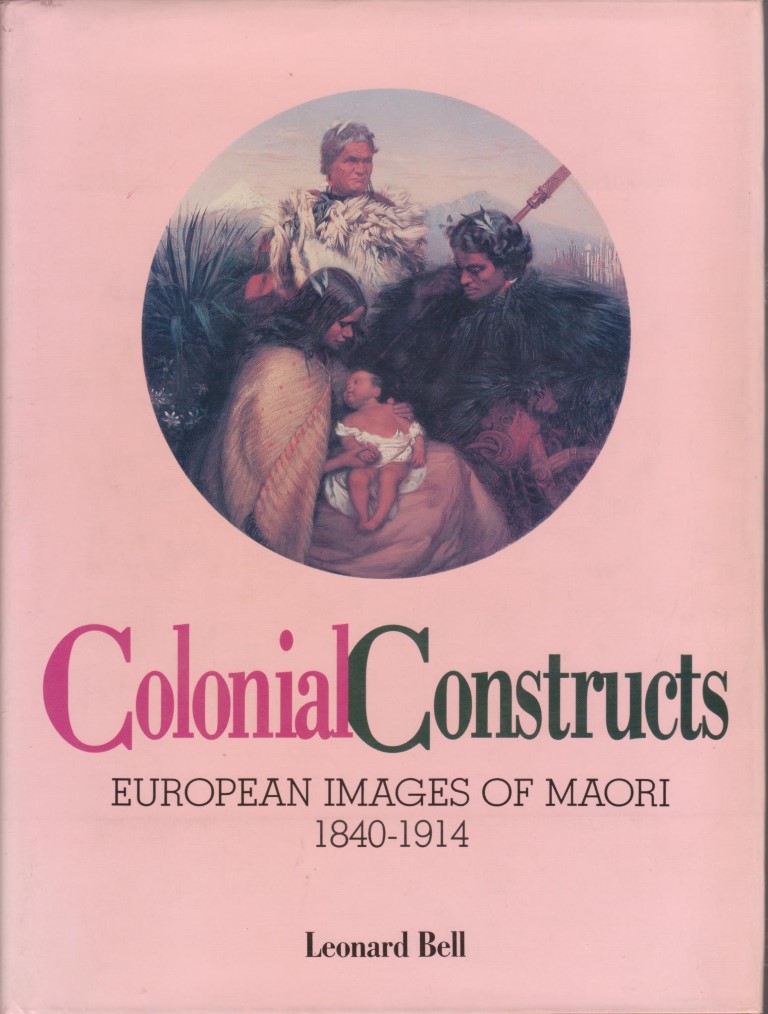 European Images of Maori 1840-1914 with illustrations throughout in black and white and colour.
ISBN 1869400623
colonial art, first contact, depictions of Maori, painting, drawing, sketches
VG hardback in VG dust jacket, slight soiling to surface, lightly faded upper panel, small circular stain to free end paper.
$55 B/C
Auckland University Press 1992 First Edition, xvi, 291pp.
[#5129 ]
DOUGLAS Roger and Louise Callan.

Toward Prosperity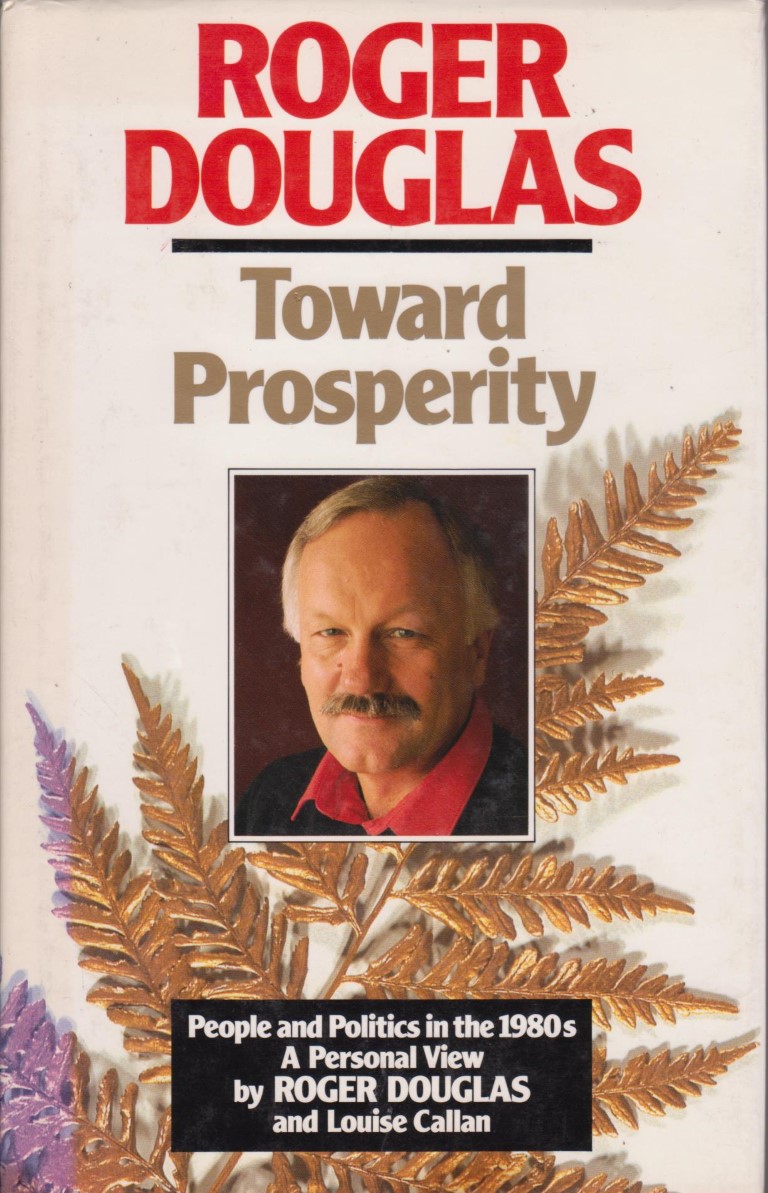 People and Politics in the 1980s.
A personal view by Roger Douglas, mastermind of Rogernomics and the open market in New Zealand.
ISBN 090861070X
economics, new zealand economy, eighties, society, politics, history
VG hardback in VG dust jacket, slight fade to spine.
SIGNED BY Roger Douglas to title page.
$30 C/C
David Bateman 1987 First Edition, 256pp + plates.
[#5131 ]
MCCRAE Ensign Alexander edited by Frederick Revans Chapman and notes by J. C. Andersen

Journal kept in New Zealand in 1820... together with relevant Documents.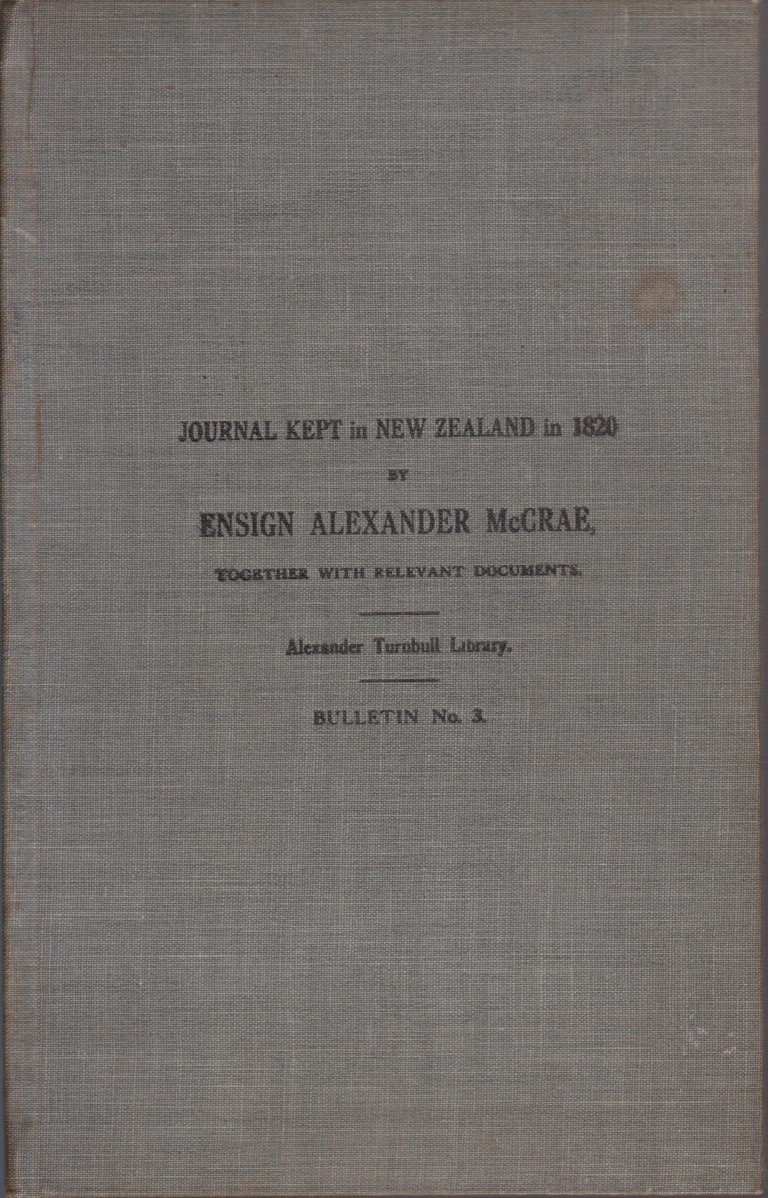 Ensign Alexander McCrae; Alexander Turnbull Library Bulletin Number 3.
3 b/w reproductions of paintings - a portrait of Tooi (Tuai), a portrait of Teeterree (Titeri or Titari), and a group: Waikato, Hongi and missionary Thomas Kendall, all painted by James Barry.
A plate with list of Turnbull bulletins fixed to paste down by publisher.
VG Grey cloth with black lettering. Brown floral-patterned endpapers, very minimal soiling to the cloth.
$75 C/C
Alexander Turnbull Library 1928 First Edition, 33pp.
[#5132 ]
28/2/2021ev
MACCARI Daniela Edited by Therese PICKARD

A Nun Always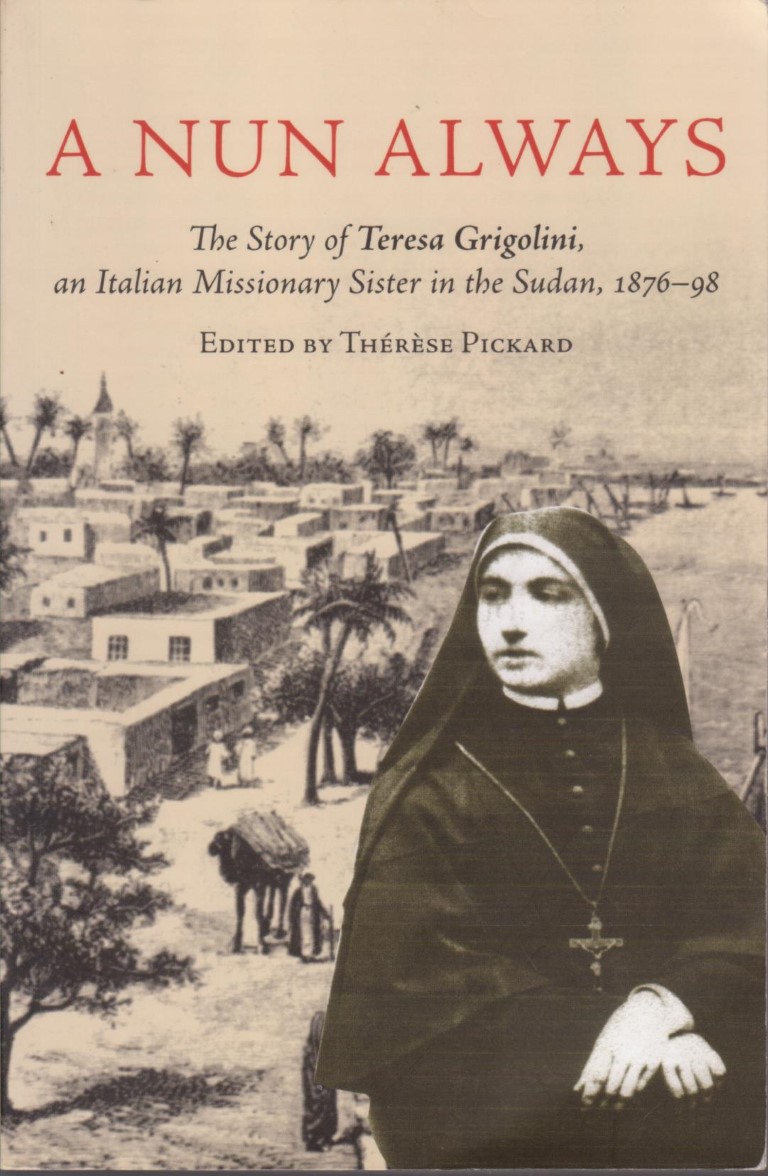 The Story of Teresa Grigolini, an Italian Missionary Sister in the Sudan, 1876-98.
Sister Teresa Grigolini was captured by the Islamist Mahdists in 1882, and with others of her community became a slave, constantly abused and threatened with death.
Some of them died in these appalling conditions, but no threat could persuade them to give up their faith as was demanded constantly of them.
The personal and tragic life events of Teresa Grigolini occur at the time of the rise of the Mahdists against the long and oppressive rule of the Sudan by Egypt, supported by English colonial interests, the 1885 fall of Khartoum, and eventually the Battle of Omdurman in 1898, and the re-taking of Khartoum and the Sudan by Kitchener's Anglo-Egyptian army.
In 1898 the remaining few of the missionary captives were freed after sixteen years in captivity, but life for Sister Teresa had changed forever.
Her story has been pieced together from her own and other letters, documents which enchant, edify, shock and sadden, but ultimately leave the reader with spirits raised for the love, strength and commitment of a remarkable woman.
ISBN 9781877399640
Originally published as: Tutti sapevano che ero stata suora.
19th century, catholicism, missionaries, Mahdi, islam, jihad, slavery, Women missionaries, El-Obeid, Rahad
VG softback
$45 C/B
Dunmore Publishing Limited 2012 first edition, 214pp.
[#5120 ]
LAMBERT Max

Night After Night: New Zealanders in Bomber Command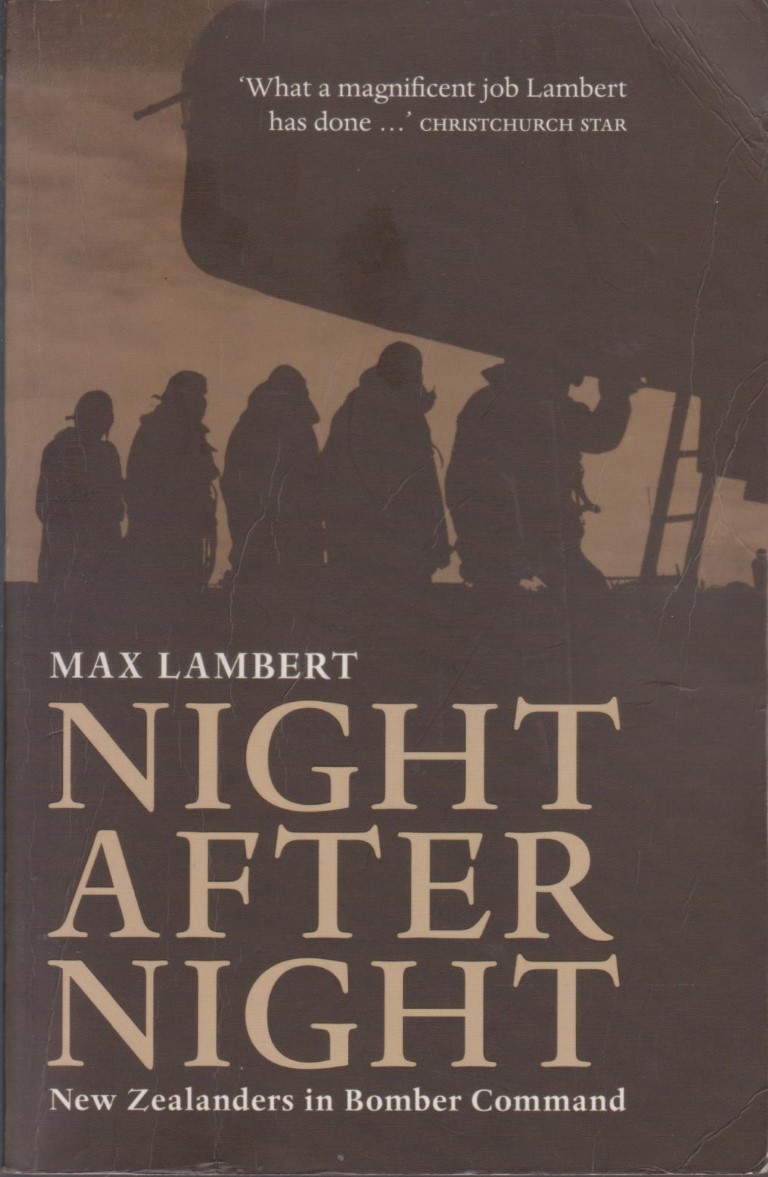 An enthralling account of the experience of New Zealand aircrew flying bombing raids with the RAF.
1850 Kiwi airmen were killed serving in Bomber Command.
ISBN 9781869506445
75 squadron, 408 squadron, ww2, wwii
VG- paperback
$25 C/C
HarperCollins 2007 reissue without the index, 528pp.
[#5121 ]
LAMBERT Max

Day After Day: New Zealanders in Fighter Command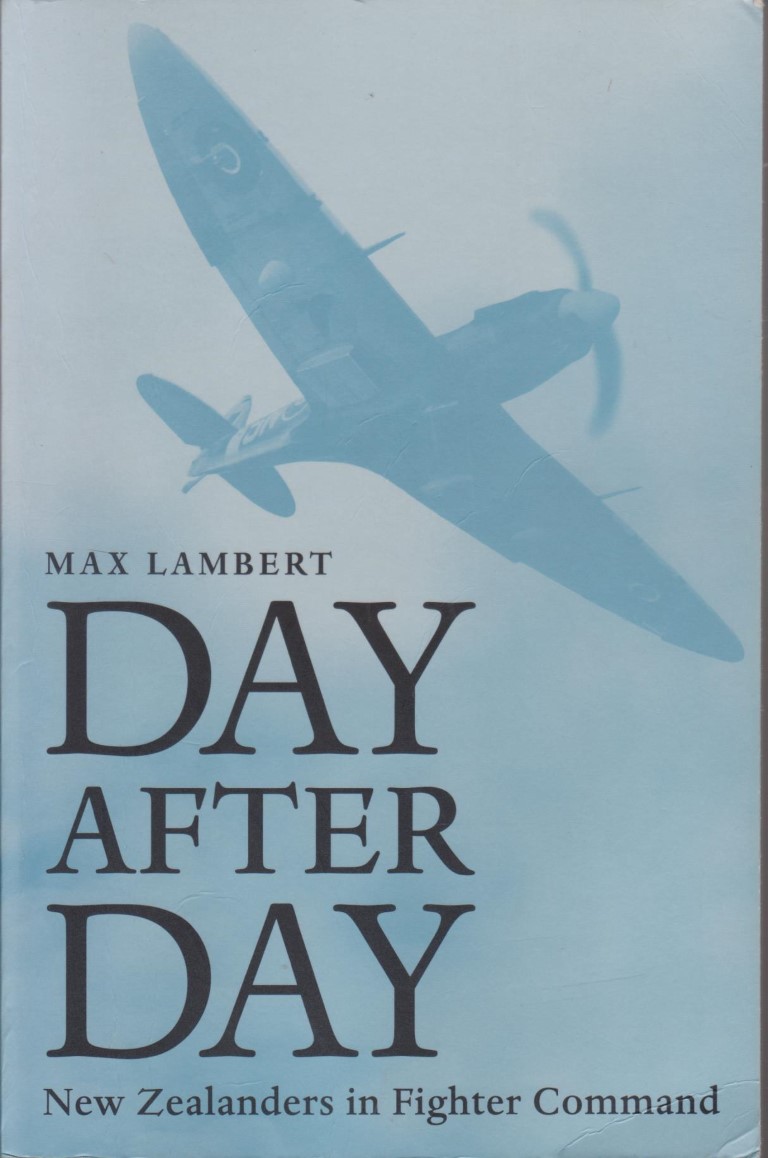 New Zealand participation in Fighter Command and later in the Second Tactical Air Force (2TAF).
Kiwis served in the Royal Air Force and the Royal New Zealand Air Force.
ISBN 9781869508449
ww2, wwii, aviation, rnzaf, raf
VG softback
$35 C/C
HarperCollins 2011 first edition, 368pp.
[#5122 ]
CERVANTES (Miguel de Servantes Saavedra) translated by MOTTEUX

Adventures of Don Quixote de La Mancha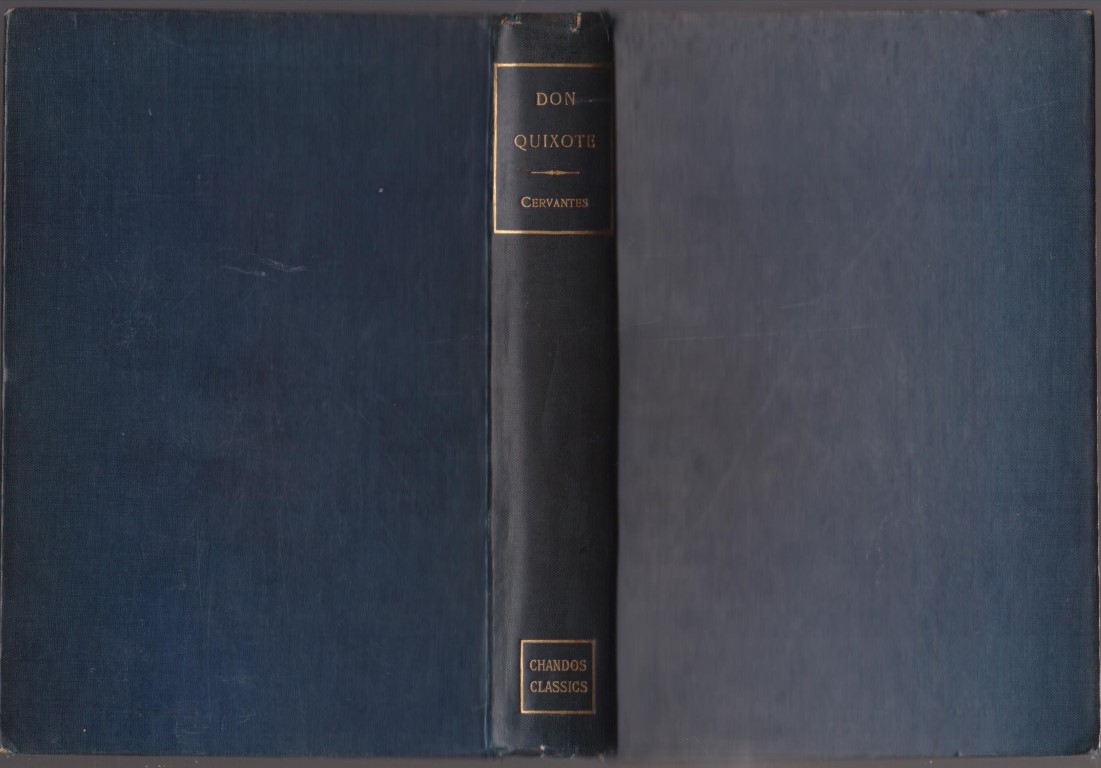 Nicely bound in linen with gilt to spine, but on reasonably cheap paper.
Still a nice copy for the collection.
Spanish literature, Chandos Classics,
VG cloth hardback with no dust jacket.
$20 C/C
Frederick Warne, London, undated ( c. 1900), xxxvi 567+4pp adverts.
[#5123]
DEIGHTON Len

Game, Set & Match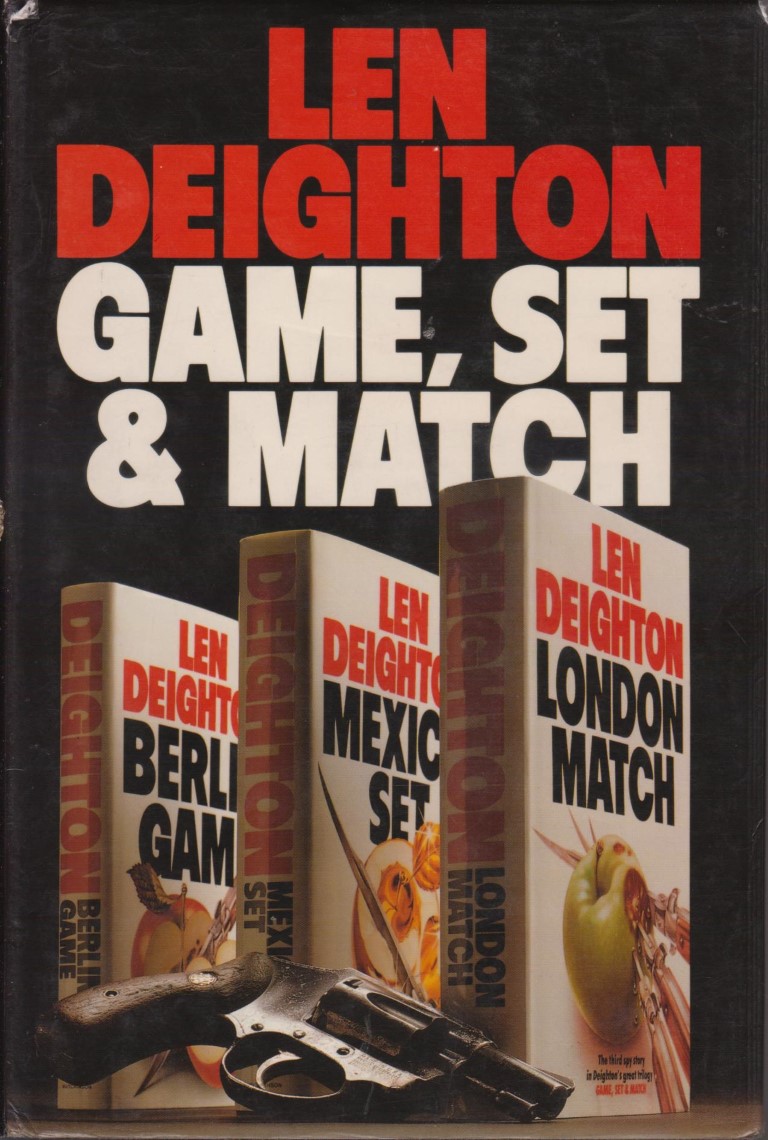 Omnibus 3 in 1, first thus issue of the complete trilogy of Berlin Game, Mexico Set and London Match.
ISBN 0091677009
espionage, thriller, spy, fiction
VG hardback in VG dust jacket.
Jacket price clipped with minor chipping loss to corner tips, short split at head of upper joint, book tidy with map endpapers.
$30 D/D (2kg)
Hutchinson 1986 first edition, 857pp.
[#5125 ]
SHUKER Roy

The One Best System?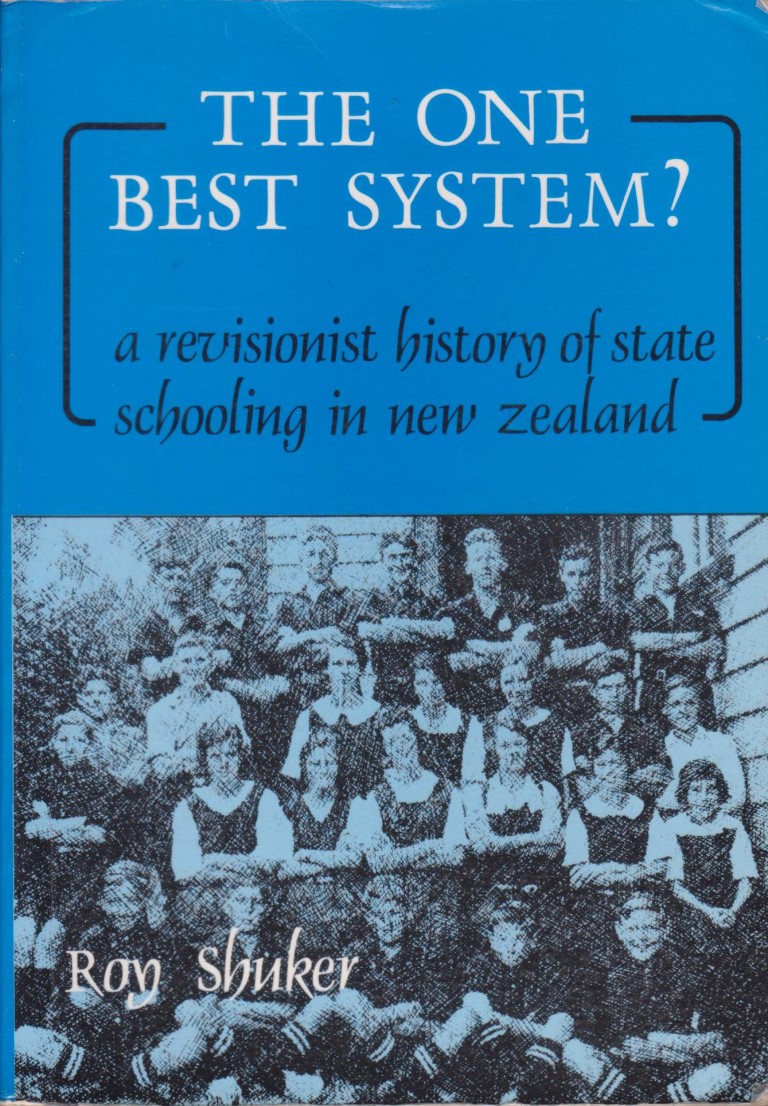 A revisionist history of state schooling in New Zealand.
ISBN 0864690649
Education, Schooling, Academic Training, State School
VG softback, used copy with wear to cover edges.
$25 C/C
Dunmore Press 1987 First Edition, 298pp.
[#5126 ]
BOURNE Wilfrid H.

Preparation for Christian Healing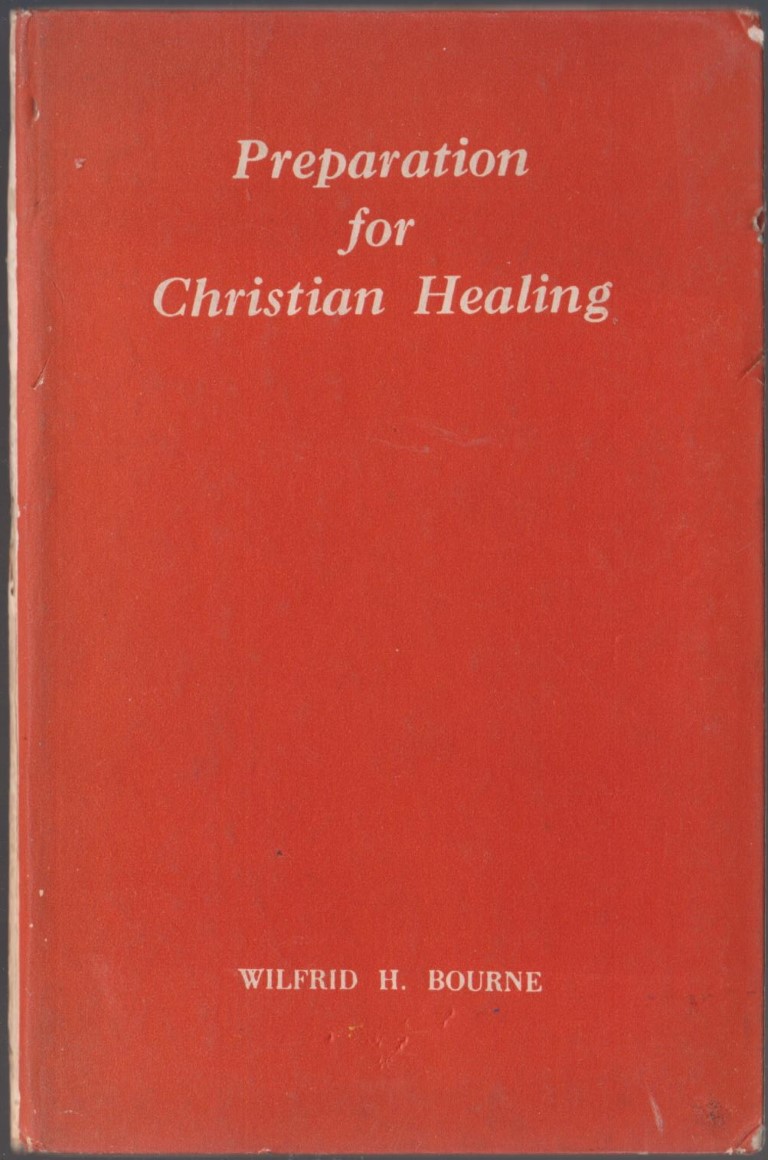 Christian spiritual and faith healing.
G+ hardback with no jacket.
Papered boards dust soiled, some minor pen underlining, light foxing.
$10 C/A
Epworth Press 1952 First Edition, 23pp.
[#5127 ]
26/1/2021ev
TOLKIEN J. R. R.

The Hobbit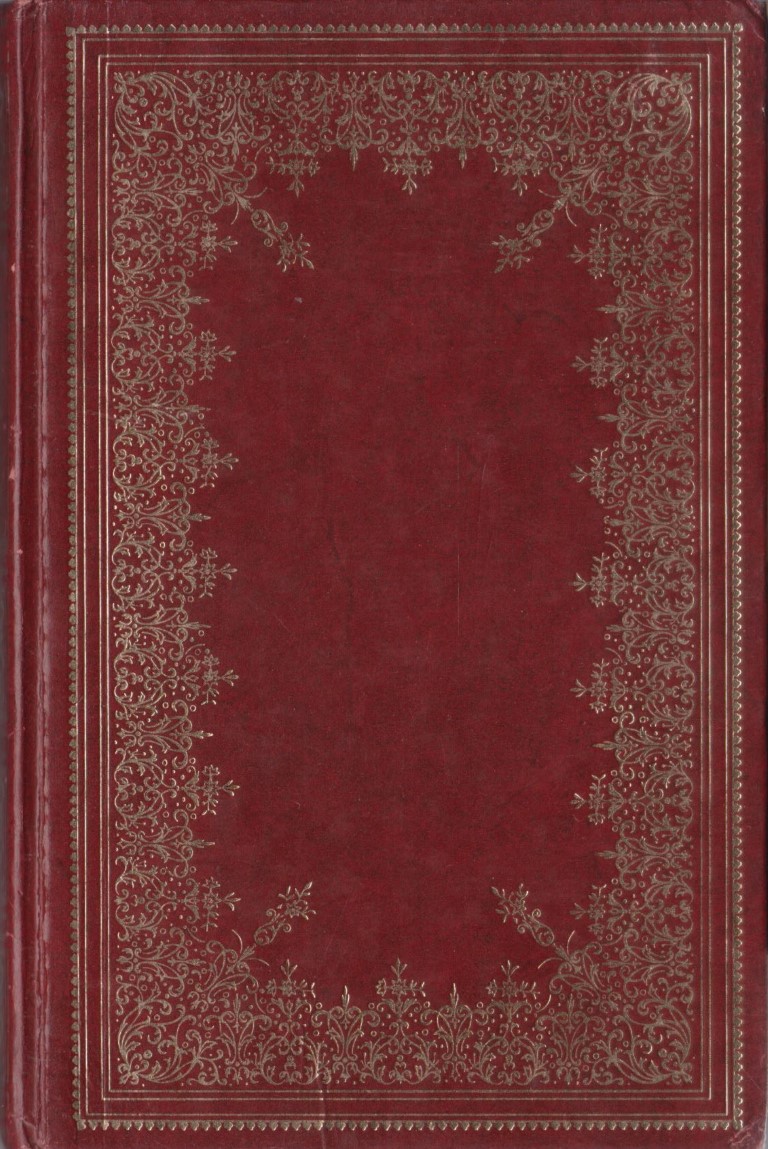 Distinctive Guild Publishing issue of the Allen and Unwin Fourth Edition.
With red leatherette hard covers with faux silver filleting.
Includes the maps and illustrations from the original.
LOTR, vintage, retro, first thus
VG- hardback with no dust jacket as issued, age browned paper, light wear and rubbing to cover corners and spine ends.
$30 C/B
Guild Publishing London 1978, 256pp
[#5115 ]
SEUSS Dr.

If I ran the Circus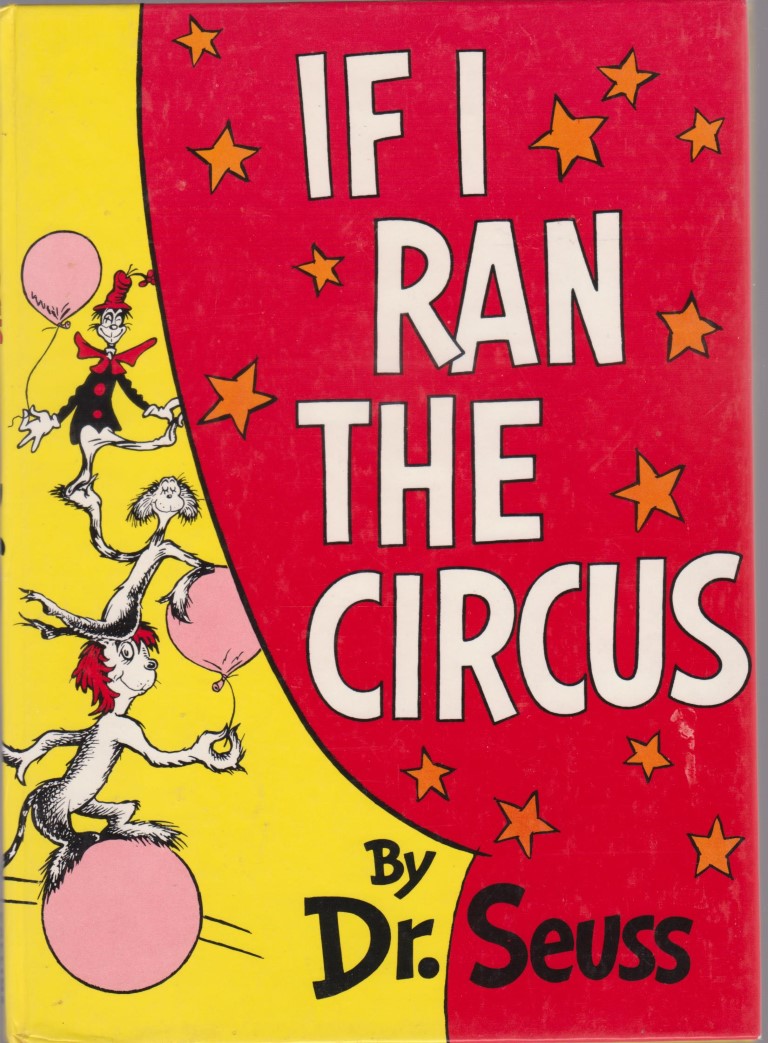 First British edition of this crazy illustrated story.
ISBN 0001953516
Theodore Geisel, Collectable Modern First Edition
VG hardback with no dust jacket, a clean copy.
$30 B/C
Collins 1969 first UK edition.
[#5116 ]
SARGENT Winston

The Palms Bend Down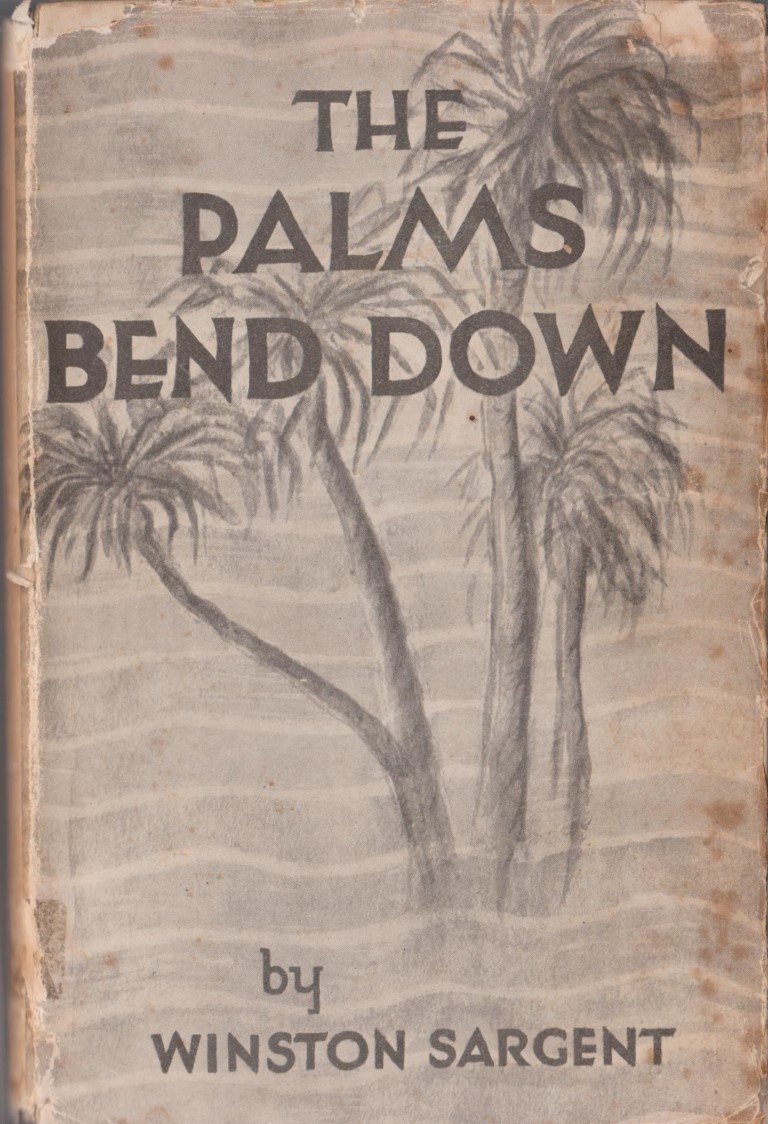 From a soldiers diaries and letters the author has created a vivid picture of the experience of a member of the NZ Division from the beginning of the war to the end of the North African Campaign.
Greece and Crete, Rommel etc.
Author served with 1st Echelon.
ww2, wwii, nz
G+ hardback in G dust jacket.
Book has lost 2 cm from tail of spine, foxed boards, jacket is rubbed chipped and foxed to edges.
$35 C/B
Privately Published (printed by Caxton Press New Zealand) undated (late 1940s) first edition, hardcover, 254pp.
[#5117 ]
HORTON D. C.

Fire Over the Islands, Coast Watchers of the Solomons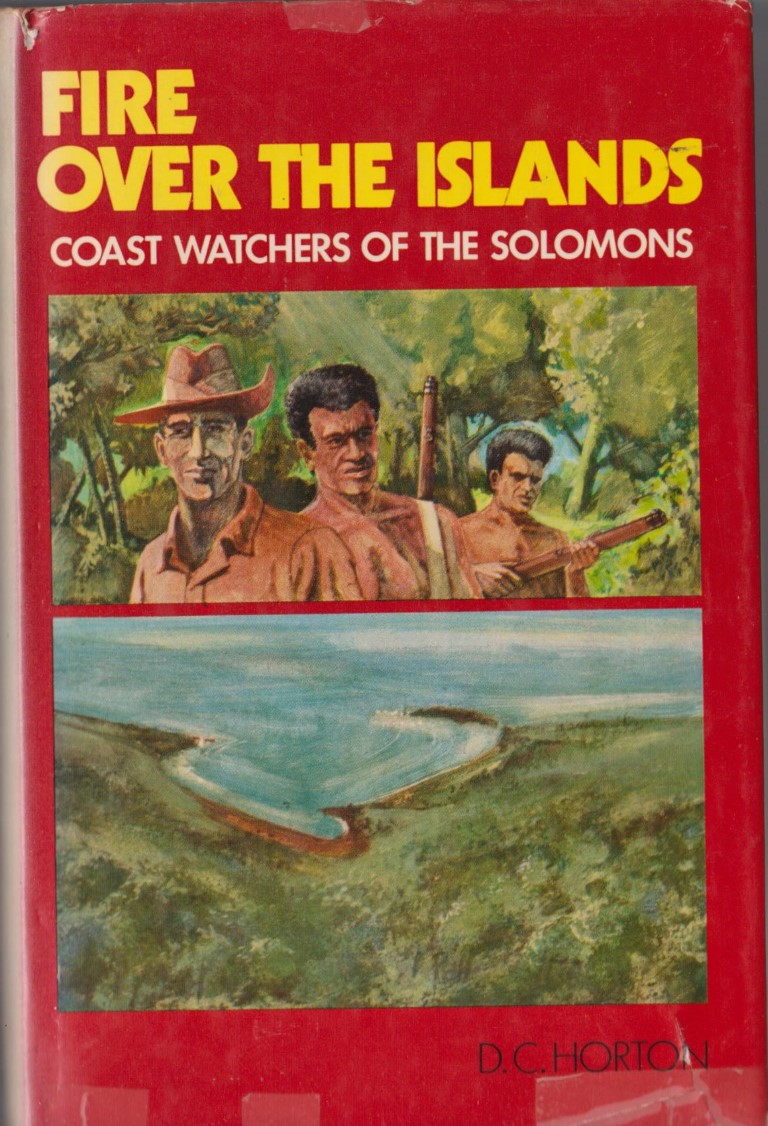 Second World War in the Pacific, Australian Naval Volunteer Reserve coast watchers at Guadalcanal and the Solomons.
Includes the rescue of John F. Kennedy from PT 109 by the author.
ISBN 0589070894
VG hardback in G+ dust jacket, sunned spine and a few short taped edge tears.
$25 C/C
Reed 1970 first edition, xiv 256pp + plates.
[#5118 ]
11/1/2021ev
STOCKER Mark

Angels and Roses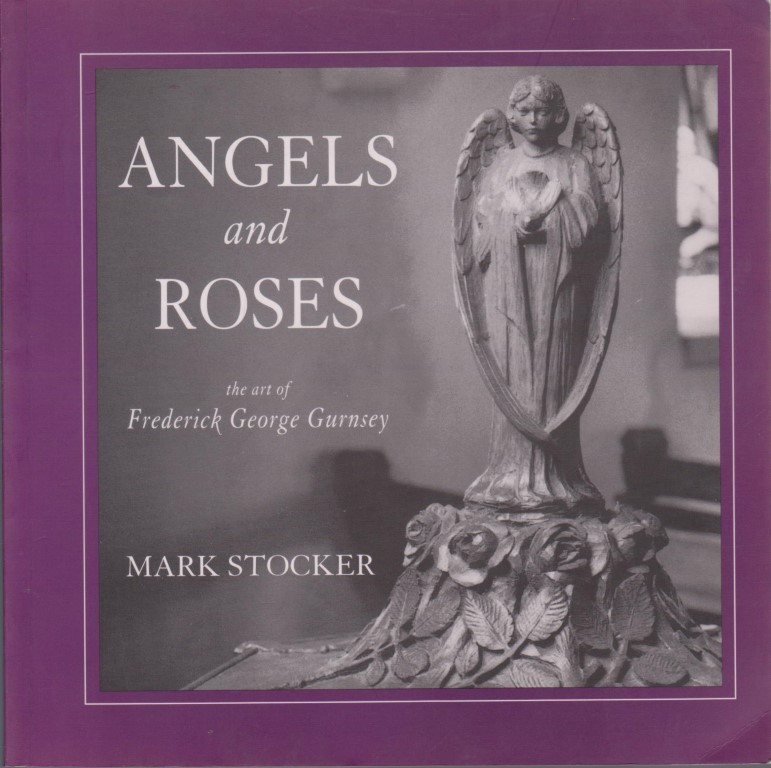 The art of Frederick George Gurnsey, sculptor in wood and stone, most of his work being for religious/ church patrons.
ISBN 9780908812554
carving, wood carving, sacred art, canterbury, plastic arts
VG softback
$25 B/B
Canterbury University Press 1997 first edition, 84pp.
[#5101 ]
MOGFORD Janice C.

Onehunga, a Brief History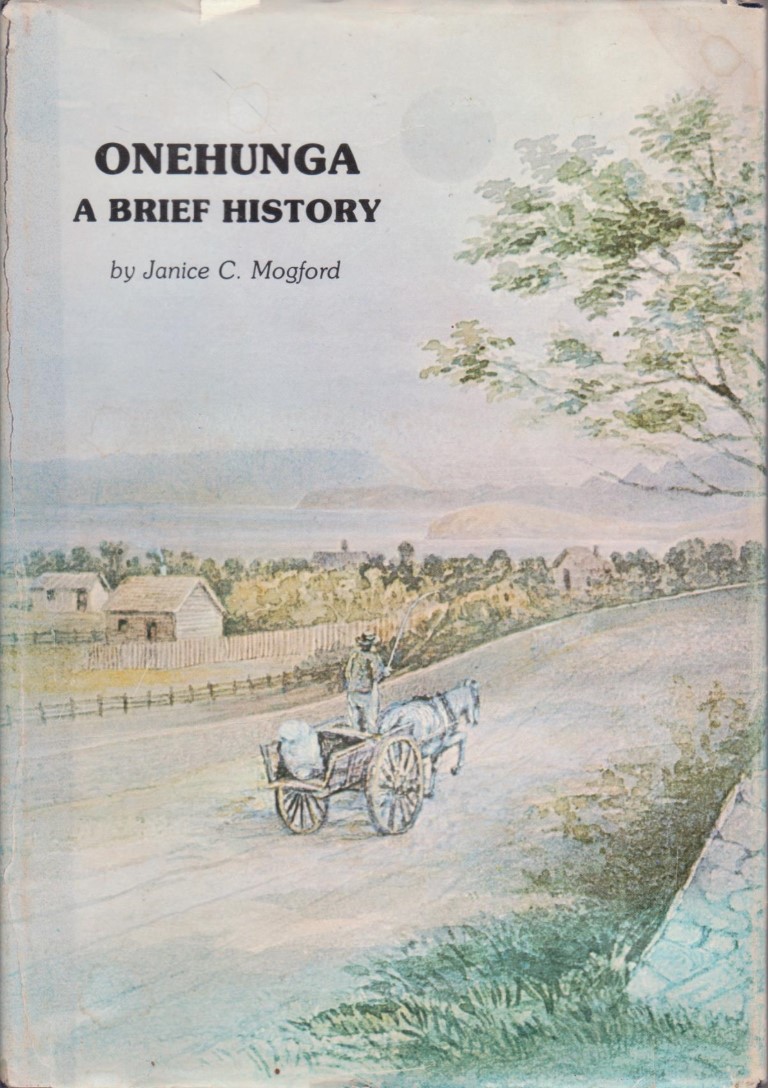 Centennial history of the Borough.
Black and white and colour photos throughout.
Manukau harbour, Maungakiekie, Fencibles,
VG hardback in G dustjacket with edge wear and tape repaired tear to spine.
$25 C/B
Onehunga Borough Council 1977 first edition, 104pp.
[#5102 ]
NIETZSCHE Friedrich trsl by A. Tille, revised by M.M. Bozman

Thus Spake Zarathustra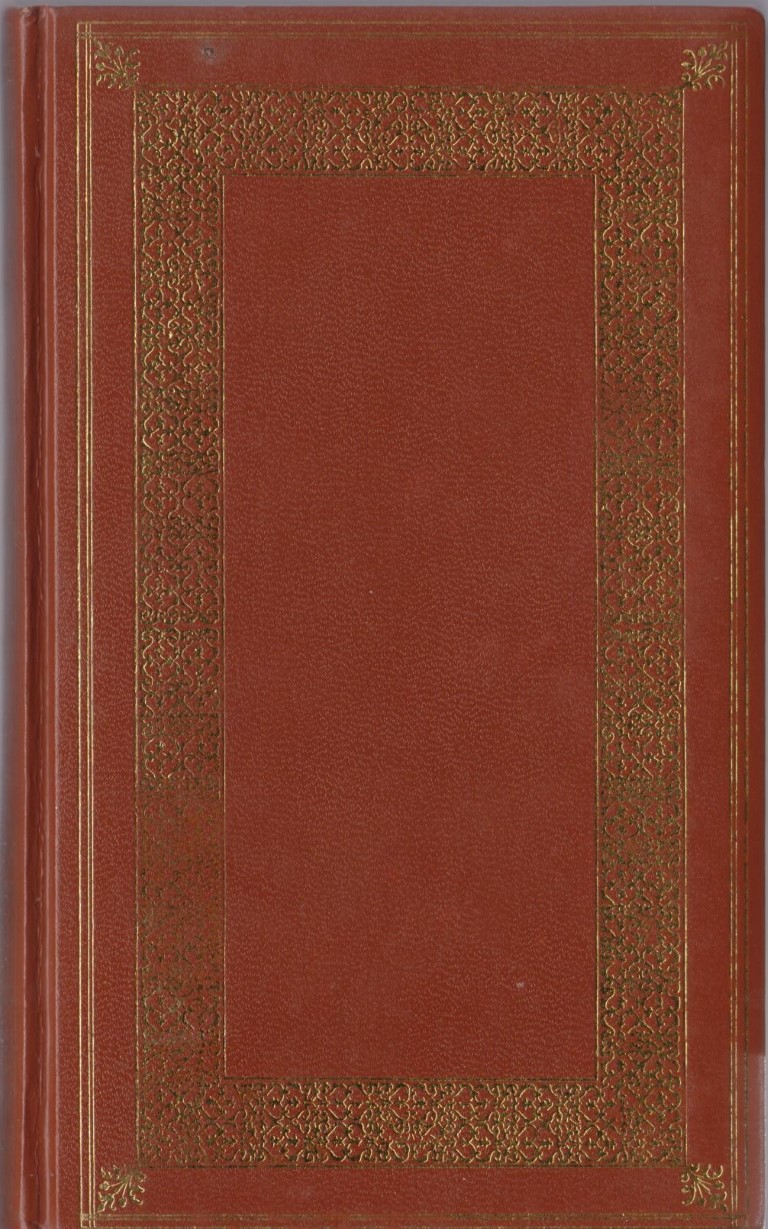 VG hardback with no jacket.
$12 C/B
Heron Press undated (1970s) gilt decorated leatherette, xxiii 288pp
[#5103 ]
BACON Francis edited G. W. Kitchin

The Advancement of Learning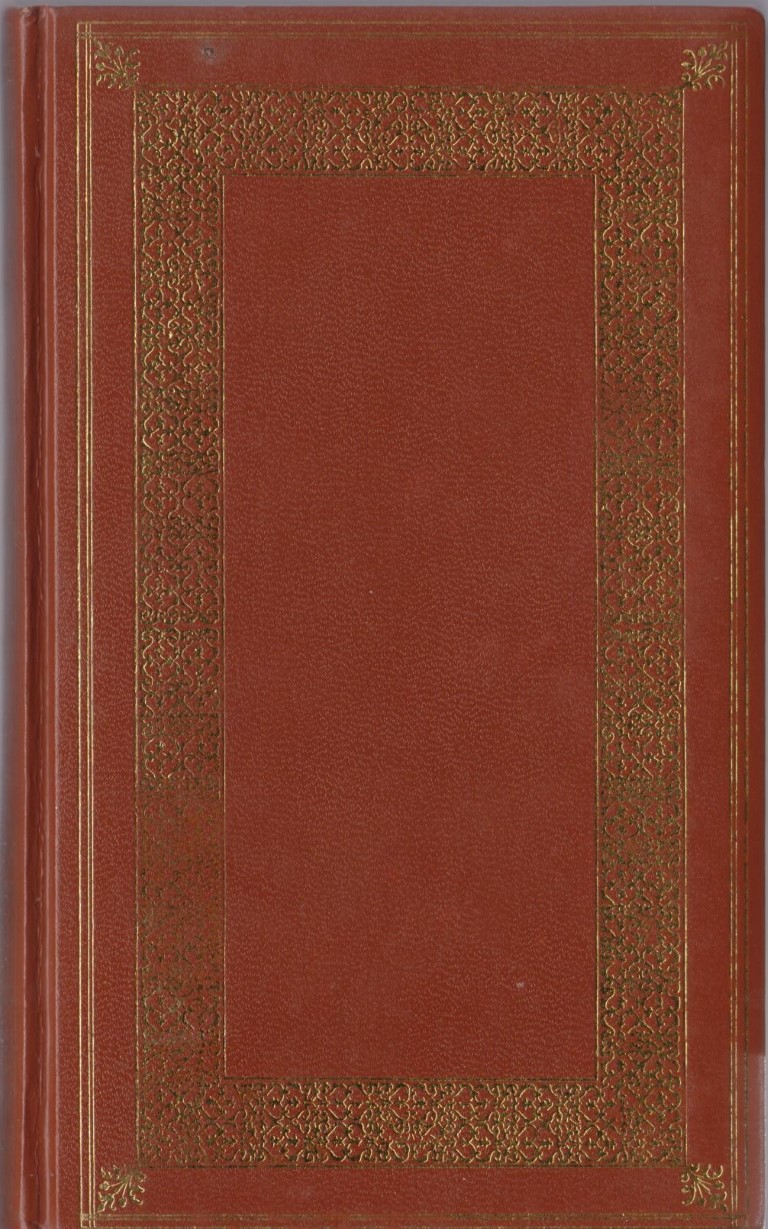 Considered the first major philosophical book written in English (1605).
Bacon discusses scientific learning, knowledge, obstacles to its progress, and his own plans for revitalization of schools and universities.
Bacon considers science as intended for 'the relief of man's estate.'
enlightenment philosophy, classical ideals
VG hardback with no jacket.
$12 C/B
Heron Press undated (1970s) gilt decorated leatherette, xiii 246pp
[#5104/PP31 ]
DOWNES Peter and Peter Harcourt

Voices in the Air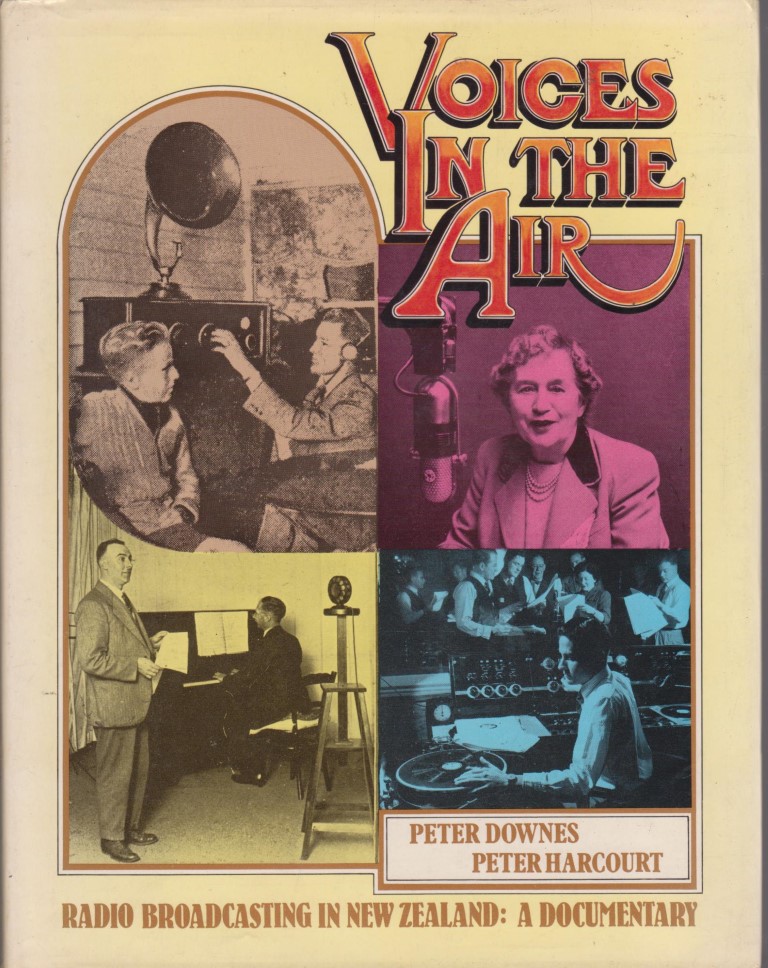 Radio broadcasting in New Zealand; a documentray.
A full history of the people, the stations, and the technology that brought radio programming to the widely spread and often remote and isolated settlements of New Zealand, helping to build the national identity.
Illustrated throughout.
ISBN 0868651001
media, RNZ, commercial radio, social history
VG hardback in VG- dust jacket with some soiling or sun-fading.
With 45 rpm disc at rear with sound samples related to the text.
$20 B/C
Methuen 1976 first edition, 174pp.
[#5105 ]
VG hardback in VG- dust jacket with some soiling or sun-fading.
LACKS the 45 rpm sample disc.
$15 B/C
Methuen 1976 first edition, 174pp.
[#5106 ]
[THOMAS Arthur Allan] Royal Commission report

Report of the Royal Commission to Inquire into the Circumstances of the Convictions of Arthur Allan Thomas for the murders of David Harvey Crewe and Jeanette Lenore Crewe.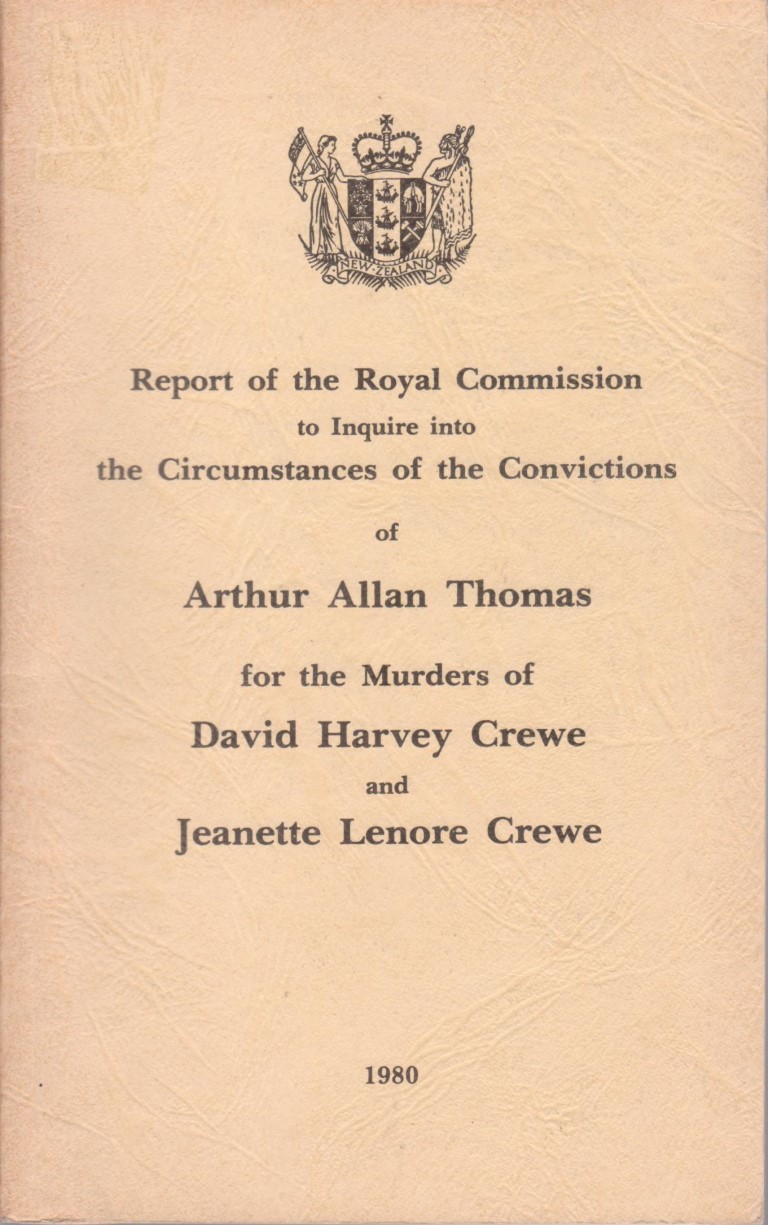 The report of the inquiry which found Thomas innocent and wrongfully convicted, and resulted in his Pardon and compensation.
Gives full details of the original criminal investigation, the uncovering of the planted (by Police) shell casing, and the subsequent efforts of Thomas' supporters to overturn his guilty verdict.
Gives the discussion and rationale for his compensatory payment.
justice, crime, pardon, police corruption, new zealand true crime,
VG+ softback
$25 C/B
Government Printer 1980 first edition, 125pp.
[#5108 ]
STEPHENSON Brian

LNER Album Volume Two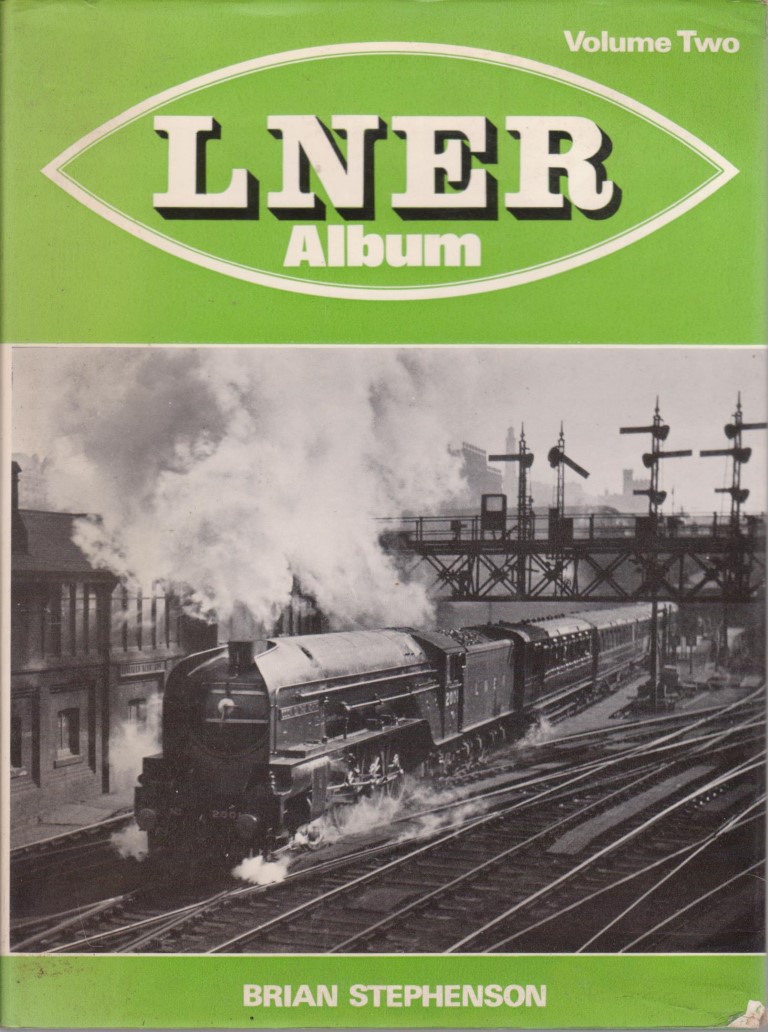 photographic survey of London and North Eastern Railways locomotives from the steam age.
Covers North Eastern and Scottish areas.
Black and white photos.
ISBN 0711001944
A1 Pacific, A3 Pacific, steam engines, railways, trains, British
VG hardback in VG dust jacket
$20 B/C
Ian Allan1974,112pp.
[#5109 ]
COSSONS Neil

The BP Book of Industrial Archaeology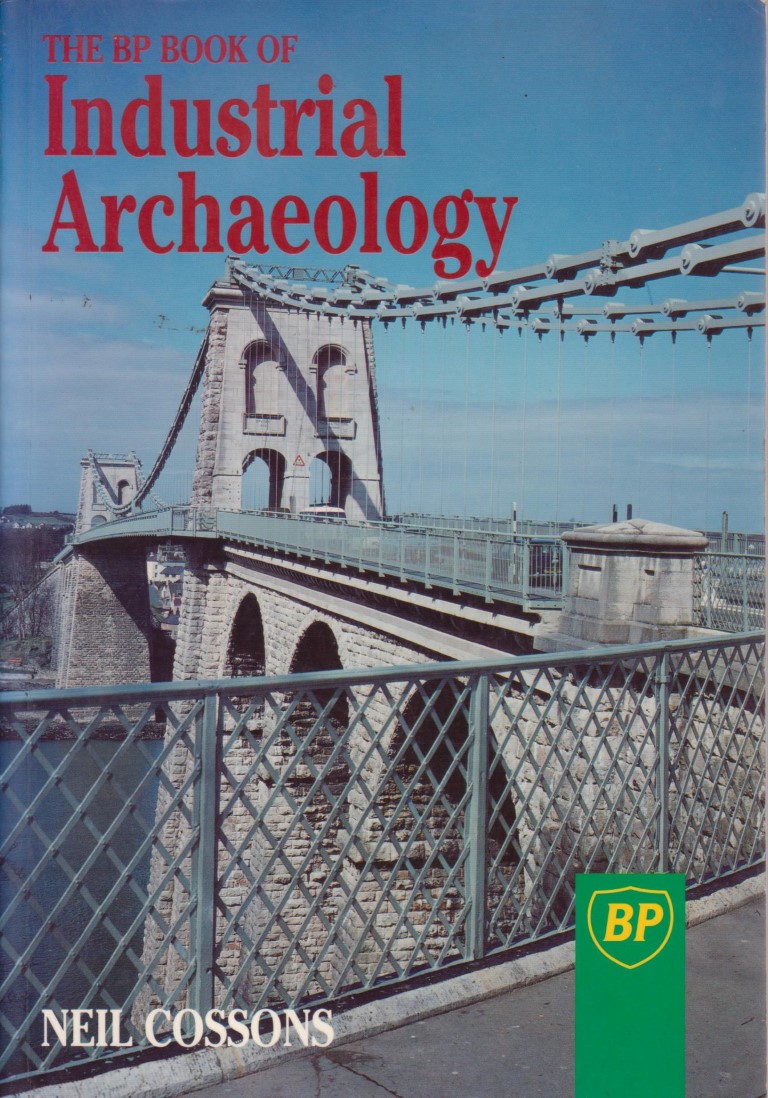 The Industrial heritage of Briatin, which, as the world's first Industrial Nation, has some of the oldest technological installations which show the history and development of the new technologies such as steam power, coal, iron and steel production and use in construction, textiles and pottery.
Illustrated with photographs and diagrams ( black and white).
ISBN 9780715301340
engineering, architecture, commerce, industrial revolution, United Kingdom
VG softback, gift inscription at front.
$20 C/C
David and Charles 1993 third edition, 384pp.
[#5110 ]
MARLOWE Christopher

Doctor Faustus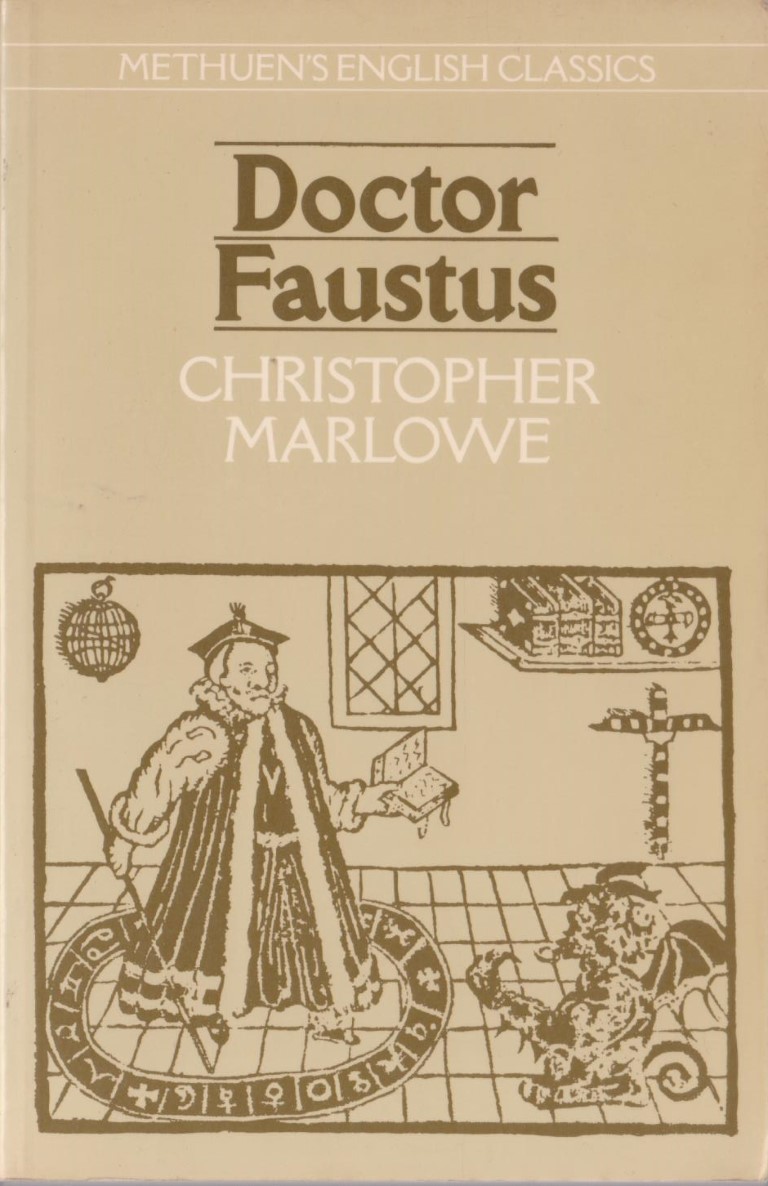 Edited by John D. Jump, with introductory essays before the text of The Tragical History of the Life and Death of Doctor Faustus.
ISBN0423757105
renaissance theatre, Mephistophiles, Mephostophilis, Mephistopheles, conjuring, theurgy, damned arts, grimoire, pact with the devil
VG softback, name at front.
$8 C/A
Methuen's English Classics 1986, 180pp.
[#5111]
MOIR George M.
Edited by Lawrence D. Kennedy
Moir's Guide Book
Moir's Guide Book to the Tramping Tracks and Routes of the Great Southern Lakes and Fiords of Otago and Southland. (Northern Section)
Reprint of the edition revised by Hall-Jones, Chandler and Keen.
new zealand, outdoors, tramping, sport, southland, fiordland
VG softback.
$20 C/B
New Zealand Alpine Club 1984 (5th 1977 edn revised), xiv 103pp + plates.
[#5112 ]
DUDER Tessa and James Norcliffe (editors)

The World's Steepest Street
Anthology of new writing from young New Zealand writers.
The 10th annual Re-Draft Collection.
ISBN 9780958288859
creative writing, anthology, fiction
VG softback
$10 C/B
Clerestory Press 2011, 152pp.
[#5113 ]
7/1/2021ev
ALDRIDGE Joseph

Beacon in the Harbour: The Living Springs Story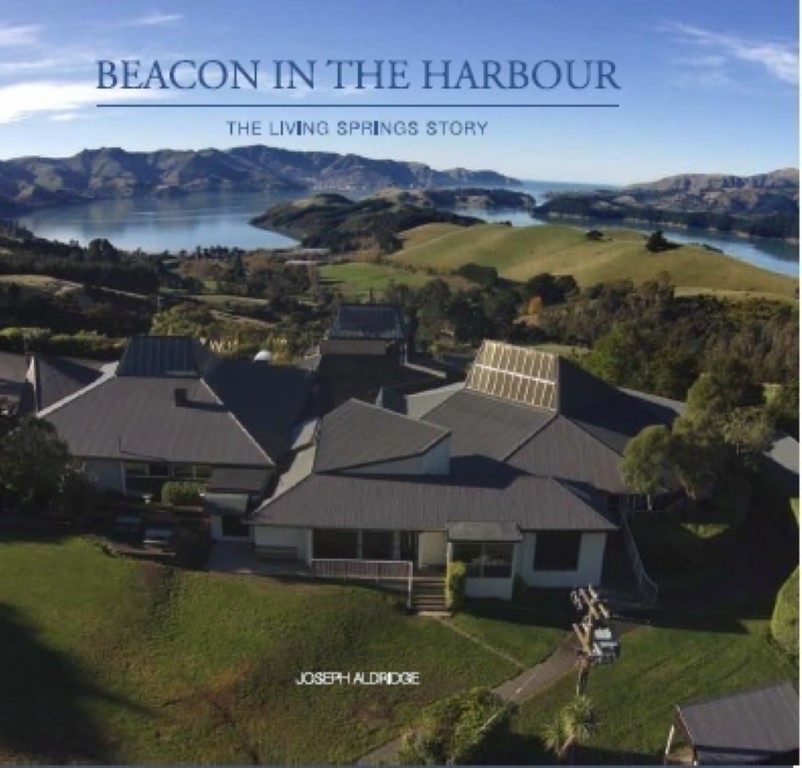 A history of the Living Springs Christian youth camp, established in 1972 in Allandale, Lyttelton Harbour.
With historical information about Allandale.
ISBN 9780473327866
banks peninsula, youth groups, social groups, venues
VG+ hardback with no jacket as issued.
$30 B/C
Davin Trust and Living Springs 2015 first edition, 173 pp.
[#5096 ]
WOODHAM Morrie

You need two lives... One to learn it - one to live it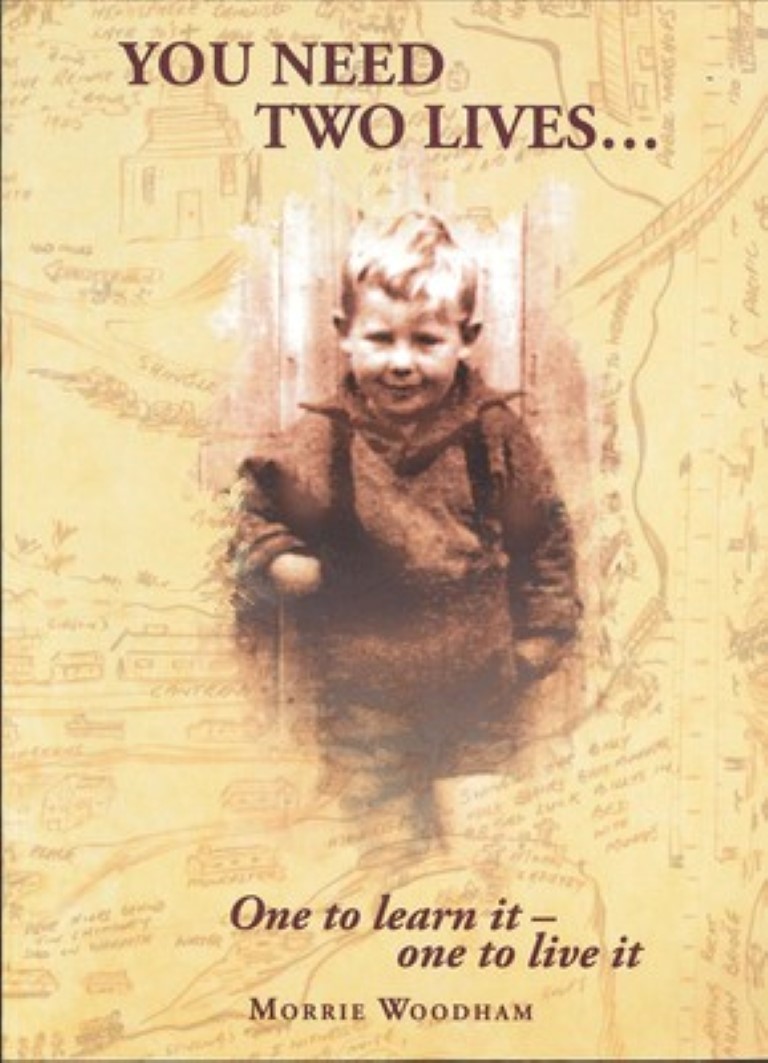 A fully detailed autobiographical memoir of Morrie, mainly relating to his life and extended family in Christchurch.
Some of his yarns are bloody funny too.
Black and white and colour photos throughout.
local history, family history, genealogy, canterbury, memoirs
VG+ softback with signed presentation inscription from Morrie dated 2013
$35 B/C
Morrie Woodham Christchurch 2013(?) first edition, 246pp.
[#5097 ]
[St. CLAIR LIFE SAVING CLUB] W.F. Kaler compiler

St Clair Surf Life Saving Club's Souvenir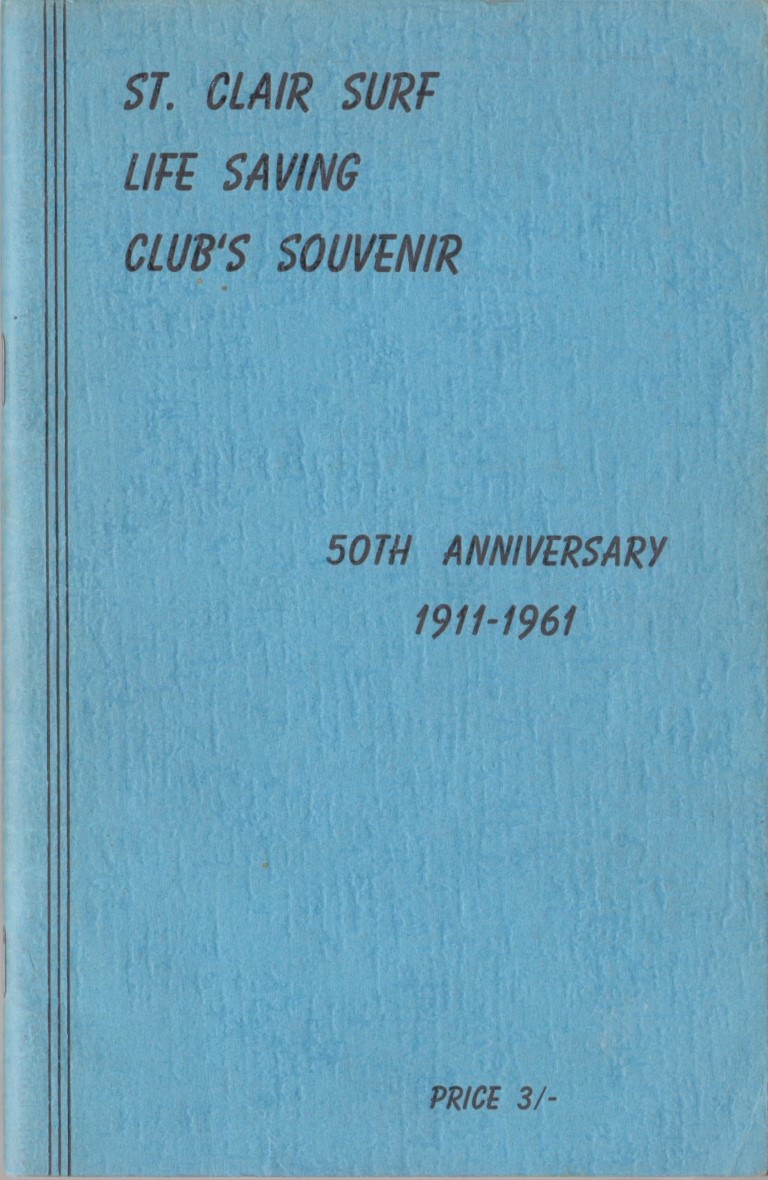 Souvenir booklet for the 50th Anniversary, 1911-1961.
With history of the club and its members, including photographs.
Dunedin, beach life, history, sports, social club, St Clair beach
VG stapled softback, name to first page
$35 C/A
St Clair Surf Life Saving Club / Otago Daily Times 1961, 64pp.
[#5098 ]
MARTYN E.W.

New Zealand Aviation - 100 years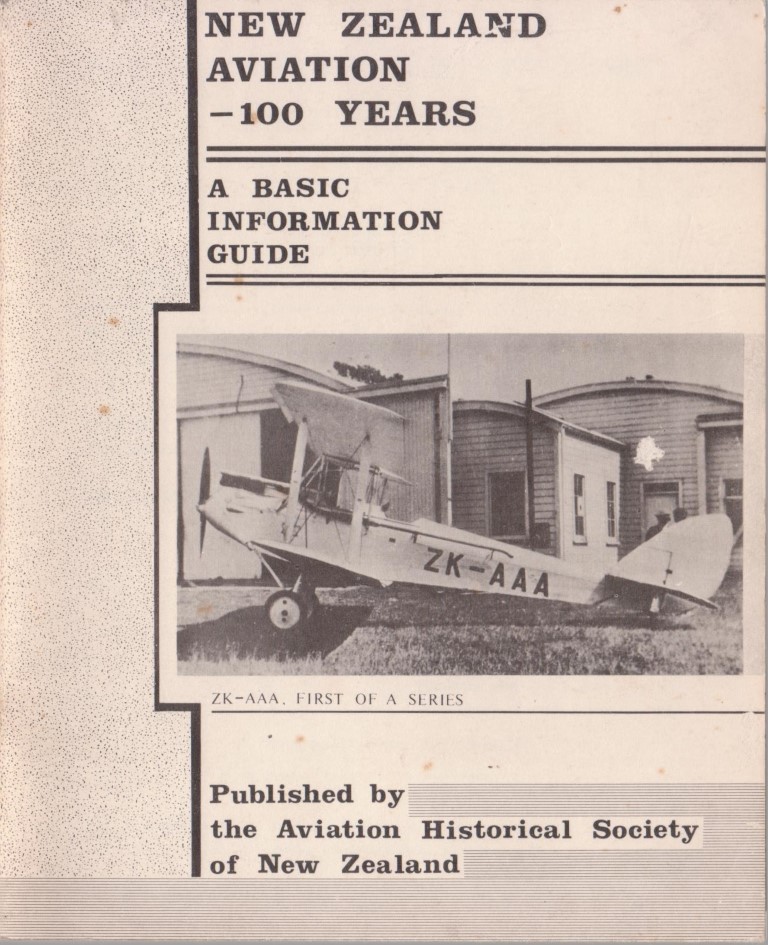 A basic information guide, mainly statistical and technical, with a bibliography.
aeroplanes, aircraft, rnzaf, nzpaf, cnzcr
VG stapled softcover
$15 C/B
Aviation Historical Society of New Zealand 1972, 56pp.
[#5099 ]
PRIME Mervyn W.

WA's Pearl Harbour, the Japanese raid on Broome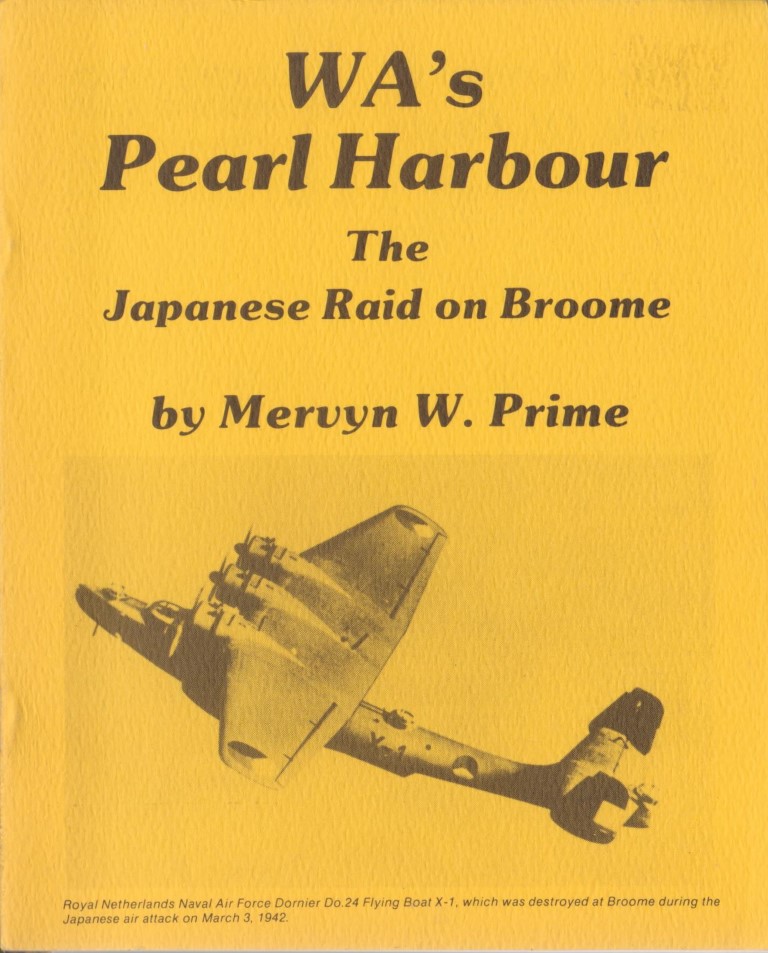 The Japanese air raid on Broome in March 1942 inflicted casualties on the Dutch and other Allied aircraft that were flying in refugees from the Dutch East Indies, which were under Japanese threat, as well as killing refugees and aircrew.
ww2, wwii, japanese air force, Carnot Bay
VG stapled softcover
$15 C/A
Royal Australian Air Force Association 1985, 32pp.
[#5100 ]
6/1/2021ev
WILSON Colin

The Age of Defeat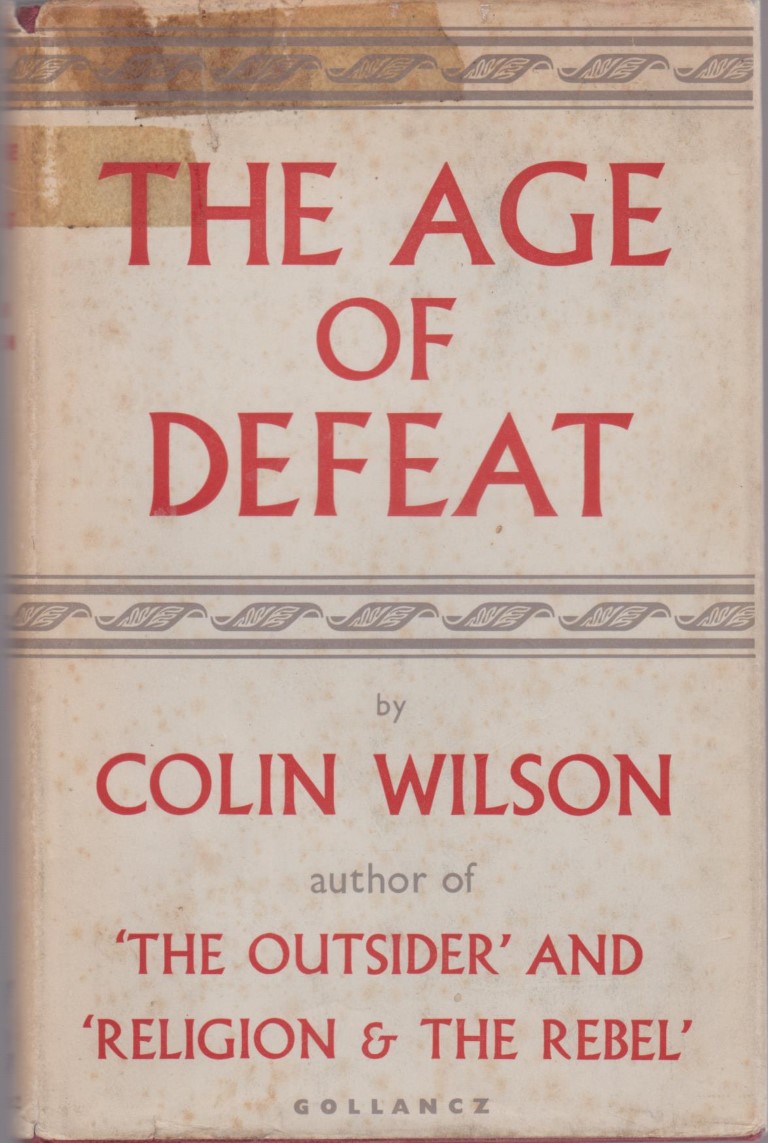 A sociological and literary study of the significance of the hero.
sociology, alienation, anomie, heroism, existentialism, existential psychology, Camus, Sartre, factor X, the will to power
VG- hardback in G+ dust jacket strongly sun faded and with tape staining and short tear.
$55 C/B
Victor Gollancz 1955 first edition, 157pp.
[#5090 ]
WILSON Colin

The Misfits, a study of sexual outsiders
Wilson expounds his theory that deviant sexual behavior is an effort to transcend normal consciousness into a higher reality.
Wilson uses the examples of sexual deviance and pornography from the Marquis de Sade (a complete chapter), Yukio Mishima, Lord Byron, James Joyce, T.E. Lawrence, Henry Miller, and others to support his theory.
ISBN 0246129743
Charlotte Bach, transvestism, deviance, gender, sexuality, trans sexual
VG- hardback with no jacket, boards handling soiled.
$20 C/C
Grafton 1988 first edition, 272pp.
[#5091 ]
WILSON Colin

Brandy of the Damned; Discoveries of a Musical Eclectic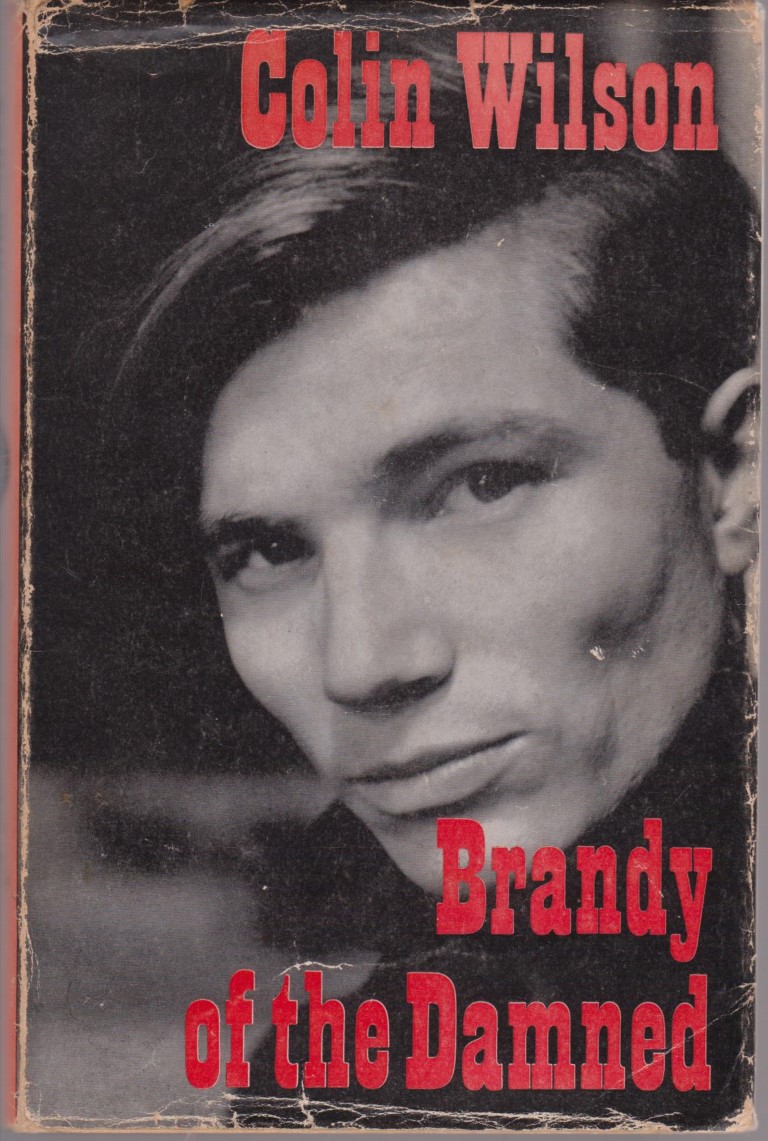 Colin Wilson's intellectual meditations on various musical works and composers, modern, classical, operatic and jazz.
Mozart, Beethoven, Schoenberg, Stravinsky, jazz
VG- hardback in VG- dust jacket. Edgewear to jacket. Minor pen and pencil to endpapers.
$35 C/C
John Baker 1964 first edition, 182pp.
[#5092 ]
[George Bernard SHAW] WILSON Colin

Bernard Shaw, a reassessment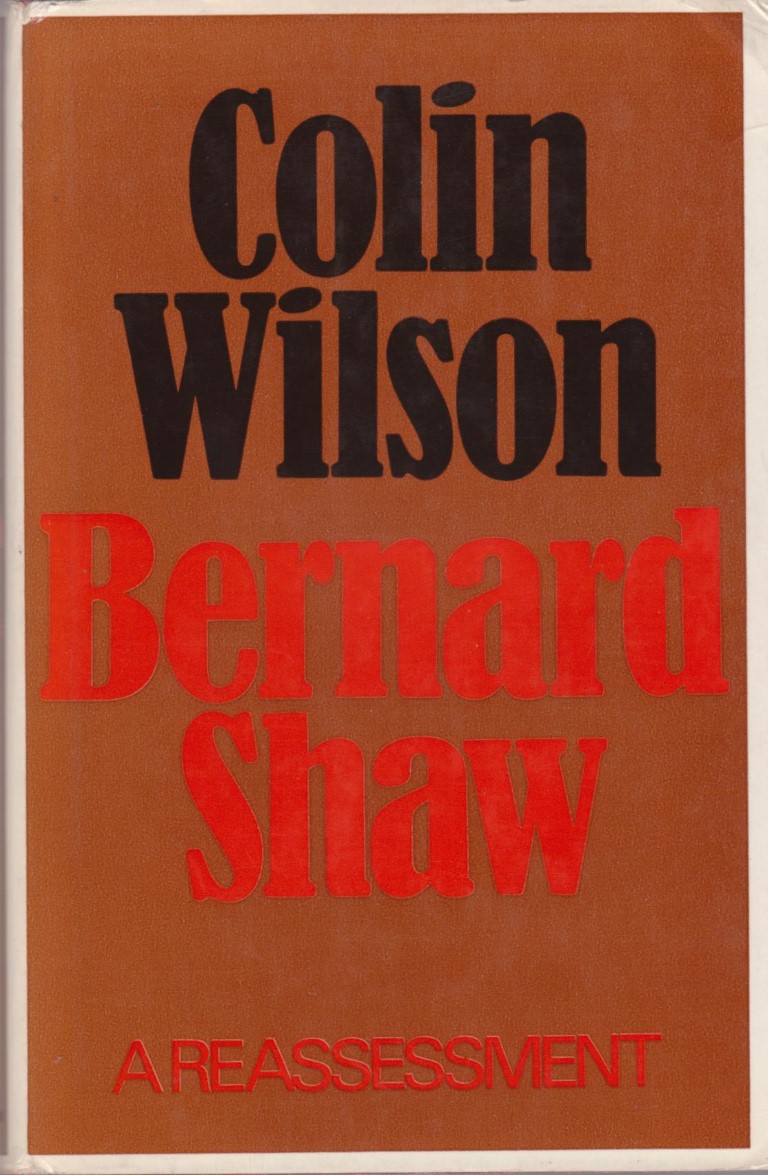 A biography of George Bernard Shaw the man, his ideas, his work and his influence.
ISBN 090980107
British literature, theatre, playwright, GBS, Irish, criticism
VG hardback in VG dust jacket.
$35 C/C
Hutchinson 1969 first edition, xiv 306pp.
[#5093 ]
WILSON Colin

Adrift in Soho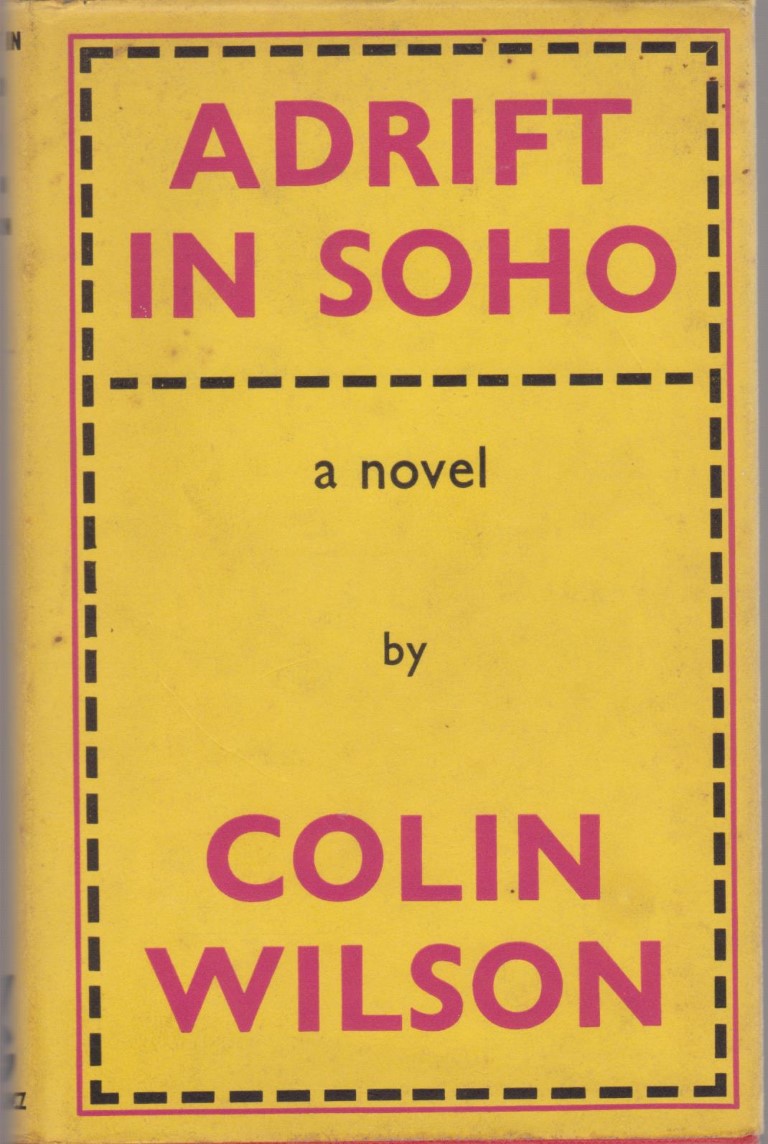 A novel in which Harry Preston (a thinly disguised Colin Wilson) moves to 1950s London looking for adventure.
Moving into the impoverished and seedy world of the emerging Beat Generation, he lives in bed-sits and associates with actors, prostitutes and assorted Soho Bohemians.
VG- hardback in VG dust jacket.
Jacket unclipped and tidy, slightly handling soiled. Book has minor foxing to closed edges.
$30 C/B
Victor Gollancz 1961 second impression before publication, 224pp.
[#5094 ]
WILSON Colin

Poltergeist! A Study in Destructive Haunting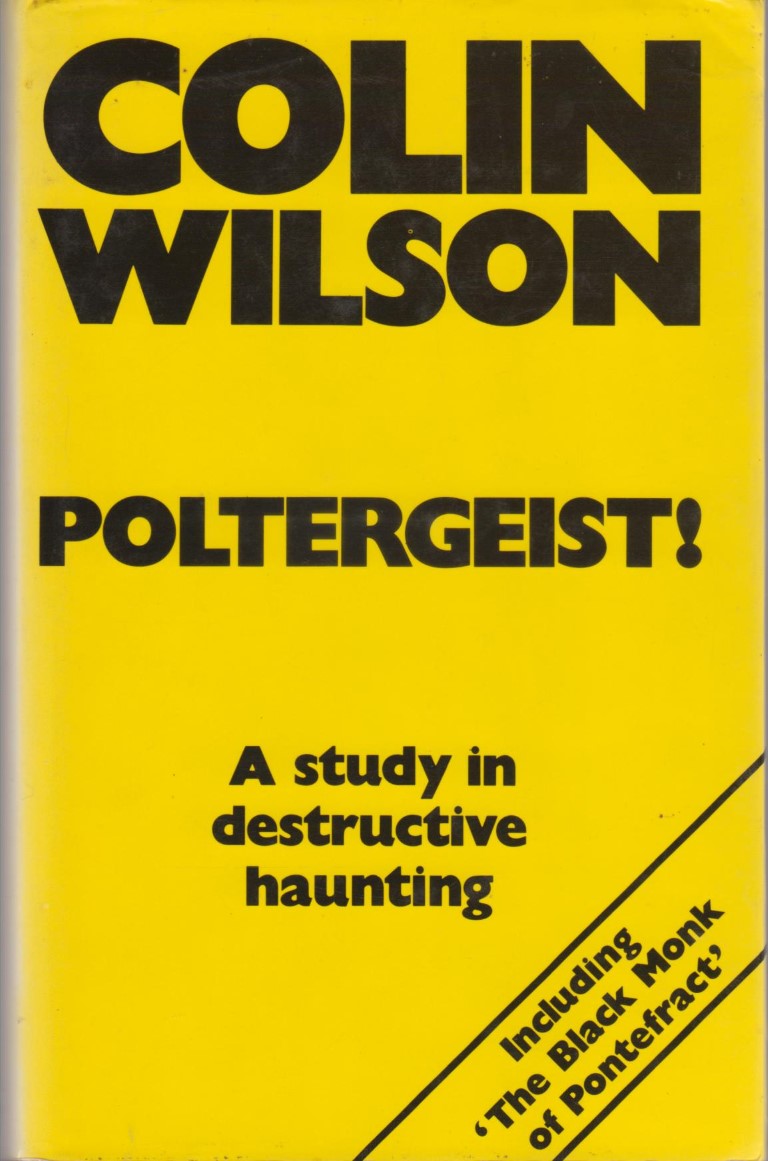 A study of malicious encounters with supernatural entities including fairies, elves and ghosts.
A chapter on The Black Monk of Pontefract.
Survival after death, mediumship, table rapping etc.
ISBN0450048 802
haunting, ghosts, supernatural, parapsychology, SPR, Society for Psychical Research
VG+ hardback in VG+ dust jacket
$25 C/C
New English Library 1982 second impression, 382pp.
[#5095 ]
4/1/2021ev
[KOONTZ Dean] Martin Greenberg, Bill Munster, Ed Gorman, editors.

The Dean Koontz Companion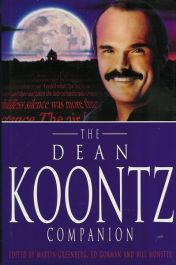 An interview with Dean Koontz, with evaluations of film versions of his novels, excerpts from some of his writings, and an annotated bibliography of his novels.
ISBN 9780747208303
horror, collecting Dean Koontz books, Leigh Nichols, K.R. Dwyer, Brian Coffey
VG+ hardback in VG+ dust jacket
$15 C/C
Headline 1994 first edition, 314pp.
[#5080 ]
SITWELL Gerard

Medieval Spiritual Writers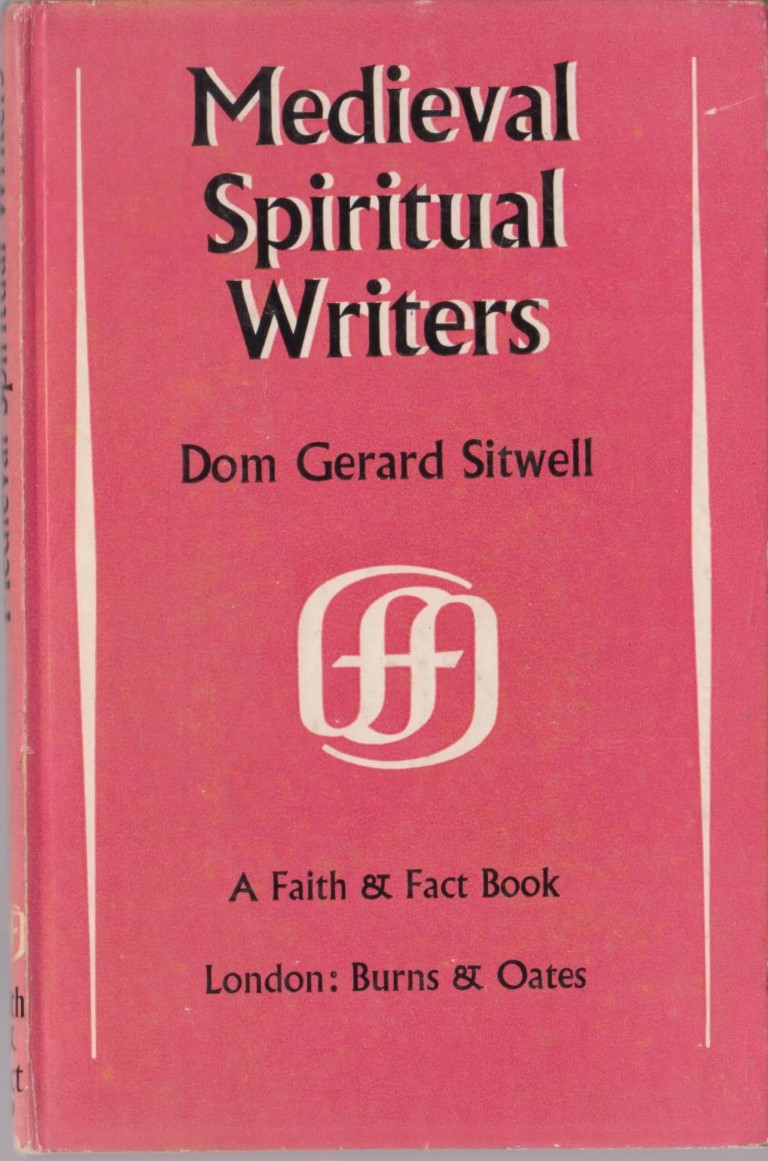 Christian mysticism, includes chapters on the Benedictines, Hermits, St Bernard, Cistercian, Hildegarde, Eckhart, Tauler, Suso, Ruysbroeck, The Cloud of Unknowing, Imitation of Christ etc.
Faith and Fact Books: 40
VG hardback with no jacket.
$10 C/A
Burns & Oates 1961, 144pp.
[#5081 ]
DAVIES A Emil

Foreign Investments
A look at the state of affairs in world markets and the opportunities for investing in them, from the perspective of the post-war period as at 1928.
finance, capitalism, investing, USA, Europe, United Kingdom, Canada
VG cloth bound hardback with no dust jacket.
$10 C/C
A W Shaw & Co 1928 first edition, vii 224pp
[#5082 ]
JACKSON Major General W. G. F.

The Battle for Rome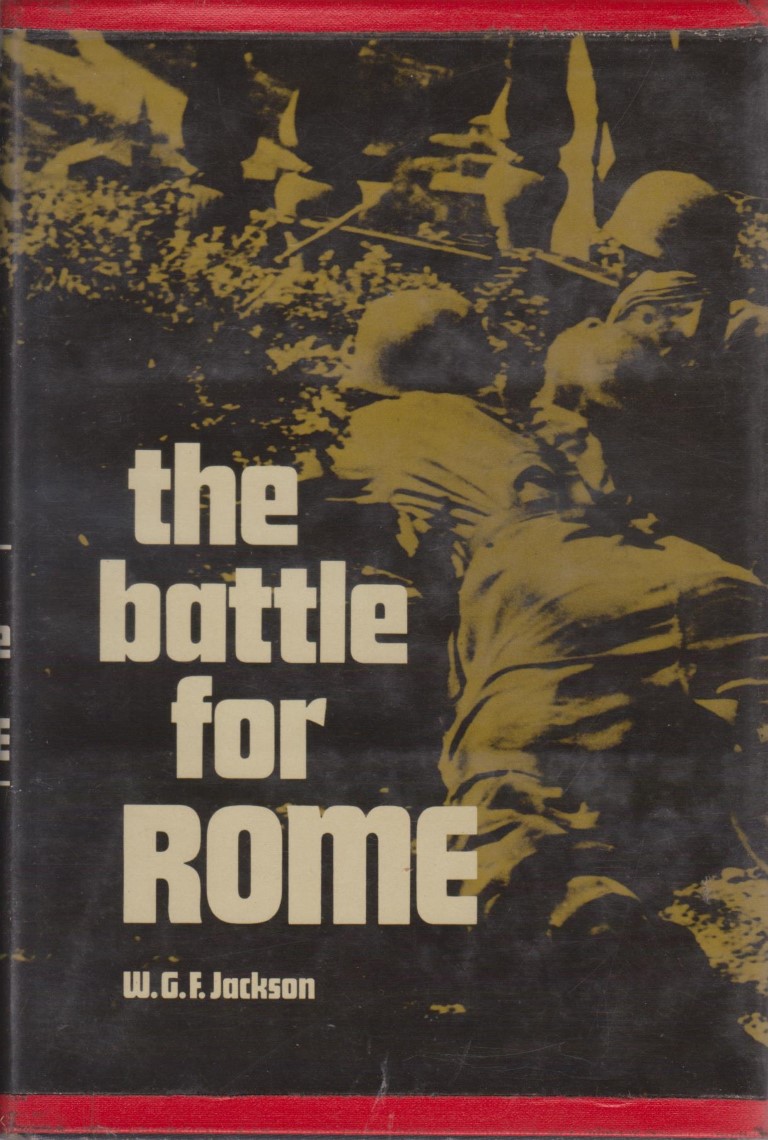 Account of Operation Diadem by one who took part, culminating in the Fall of Rome.
ISBN 071341152X
second world war, Italy, Italian campaign
VG hardback in VG price clipped dust jacket under plastic sleeve.
$15 C/C
Batsford 1969 first edition, 224pp + plates.
[#5083 ]
SMITH Colin

Carlos, Portrait of a Terrorist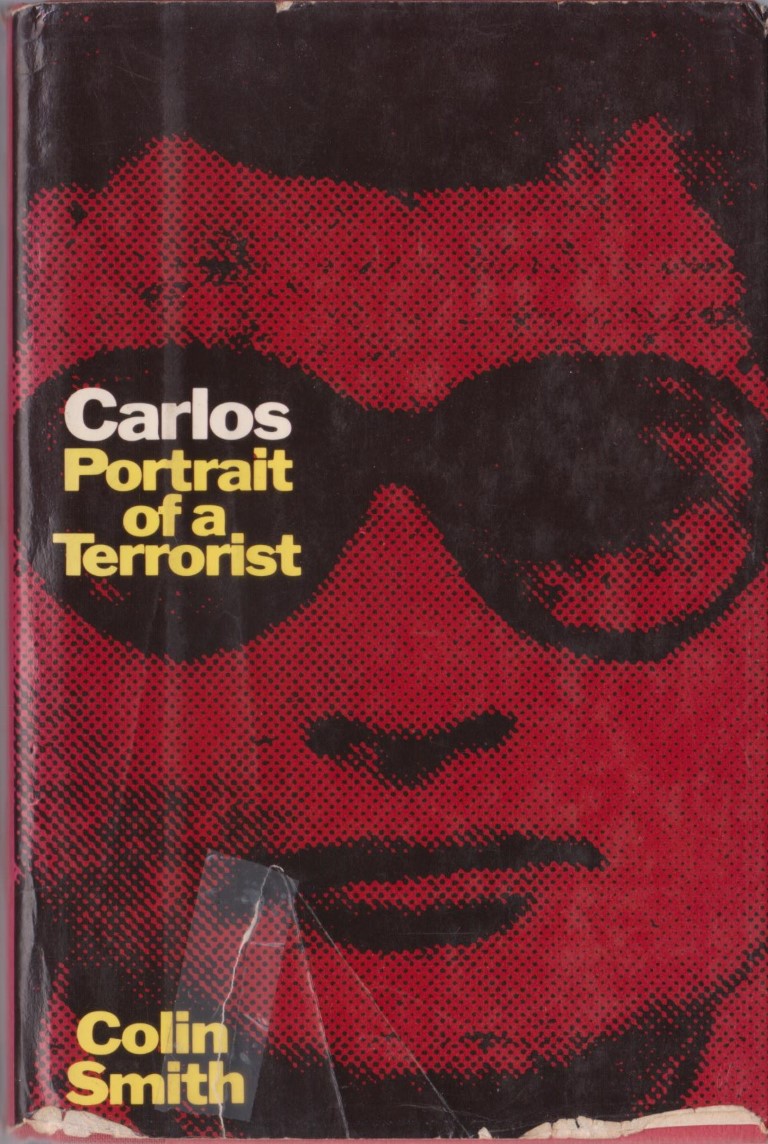 The story of The Jackal, a pro-Palestine terrorist active in Europe in the 1970s as a member of the Popular Front for the Liberation of Palestine.
Ilich Ramirez Sanchez, also known as Carlos.
Probably trained by the KGB, Carlos was involved in many of the 1970s worst terrorist incidents.
ISBN 0030194814
arab terrorism, Cold War, hijacking, Orly, Mohammed Boudia, Japanese Red Army, Black September, Munich olympics
VG hardback (but paper age browning) in G+ dust jacket with soem edge wear, chipping and short tears.
$10 C/C
Holt Rinehart 1977 first edition, 312pp + plates.
[#5084 ]
MORRIS Leon

The Cross in the New Testament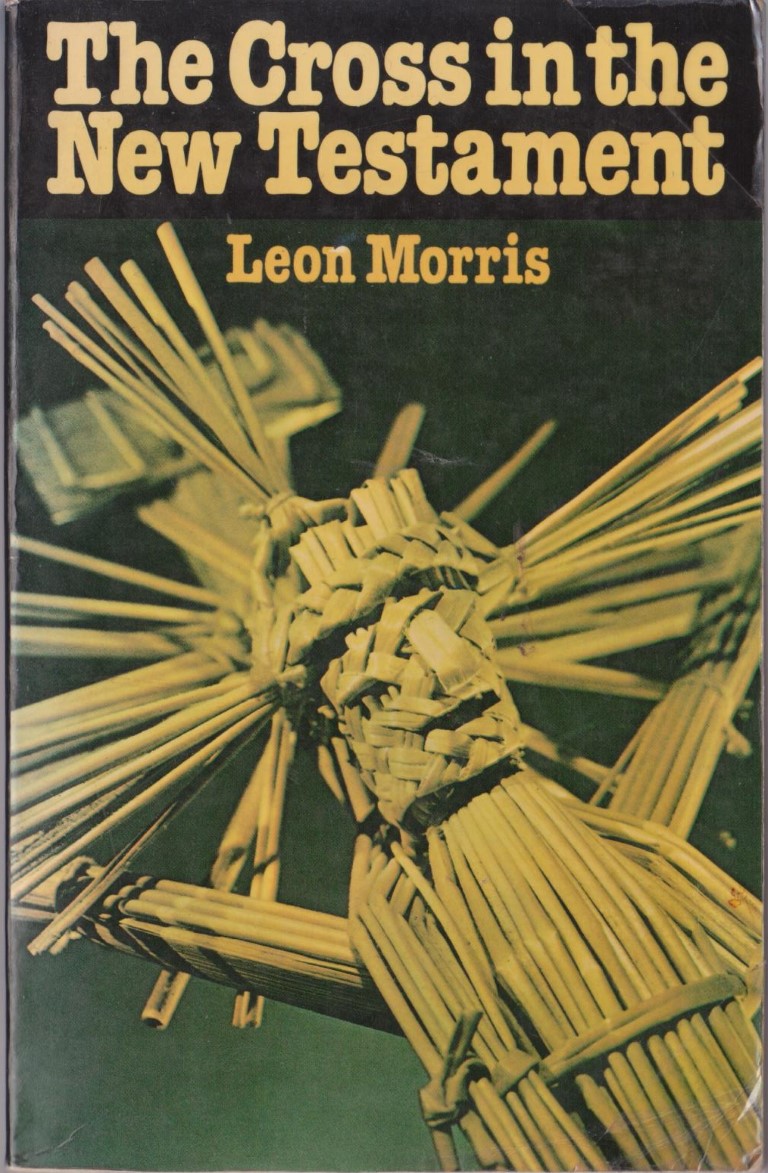 The importance of the Atonement in the Christian faith and theology.
ISBN 0853641765
christianity, the passion, soteriology, salvation
VG softback, corners have been tape strengthened.
$10 C/C
Paternoster Press 1979, 454pp.
[#5085 ]
3/1/2021ev
NIETZSCHE Friedrich trsl R.J. Hollingdale

Thus Spoke Zarathustra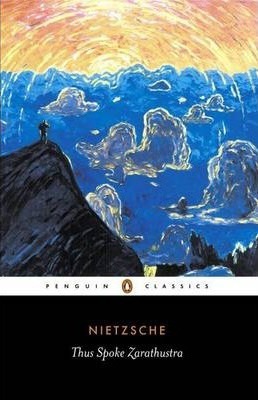 Nietzsche was one of the most revolutionary thinkers in Western philosophy, and Thus Spoke Zarathustra remains his most influential work.
The ancient Persian prophet Zarathustra descends from his solitude in the mountains to tell the world that God is dead and that the Superman, the human embodiment of divinity, is his successor.
With blazing intensity, Nietzsche argues that the meaning of existence is not to be found in religious pieties or meek submission, but in an all-powerful life force: passionate, chaotic and free.
Translated by R. J. Hollingdale
ISBN 9780140441185
philosophy, existentialist
G+ paperback, some reading creases to covers.
$9 C/B
Penguin Classics 2003, 343pp.
[#5073 ]
VIRTUE Doreen

The Healing Miracles of Archangel Raphael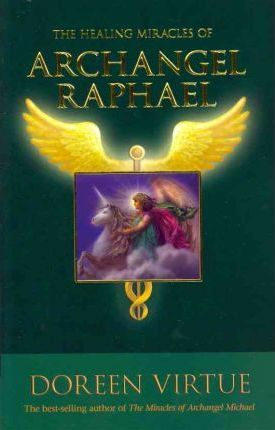 This book is all you need to know about getting in touch with Archangel Raphael, and outlines the many ways he can help you in your own life.
Virtue shows you why Archangel Raphael has long been regarded as the healing angel, a nondenominational miracle worker who helps everyone who asks.
Discover how Raphael guides current and aspiring healers, as well as how he can help your friends and loved ones
ISBN 9781401924737
faith healing, angels, light work, prayer, new age angel healing
VG softback
$15 C/B
Hay House 2010 first edition, 177pp.
[#5074 ]
MANGERE Historical Society

Watea to Airport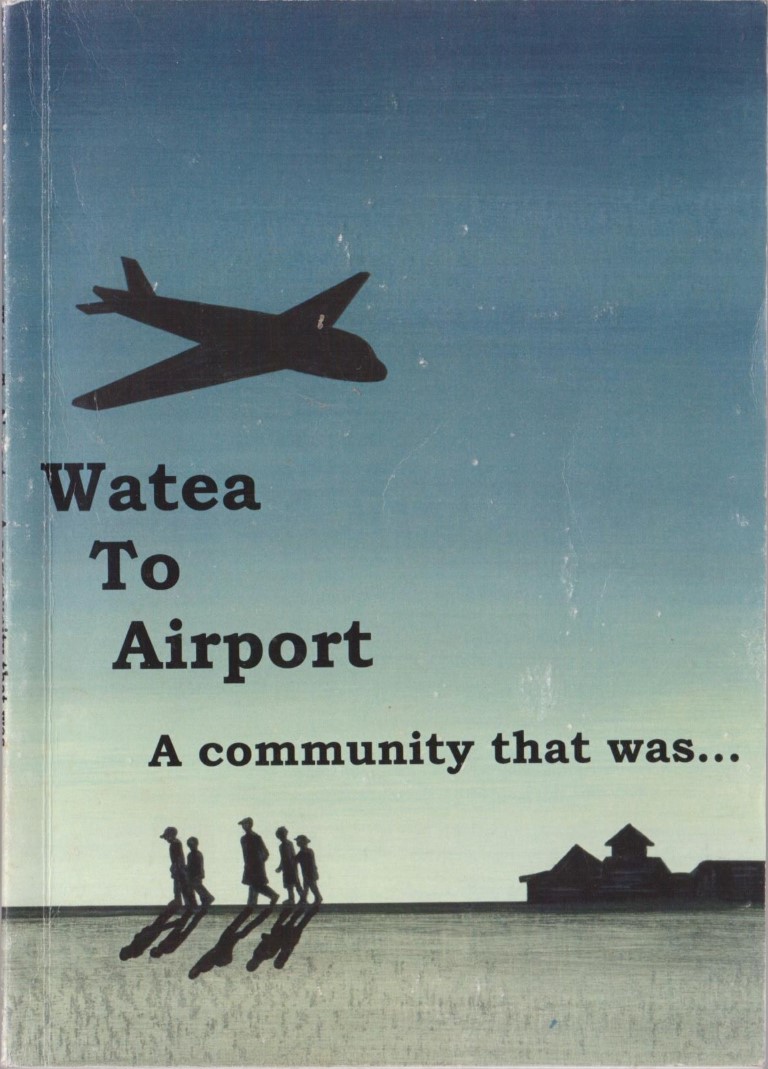 Watea Estate in the Manukau Harbour was absorbed by Auckland Airport in 1965, but before then was a community of farms situated near the Auckland Aero Club, Mangere Aerodrome and later RNZAF Mangere (1939-1944).
ISBN 0473102382
Westney, Te Wiroa Island, Westney Road Church, Noakes Homestead
VG softback
$25 C/A
Mangere Historical Society 2005, 62pp + folding photo at rear.
[#5075 ]
ANSON Harold

The Truth About Spiritualism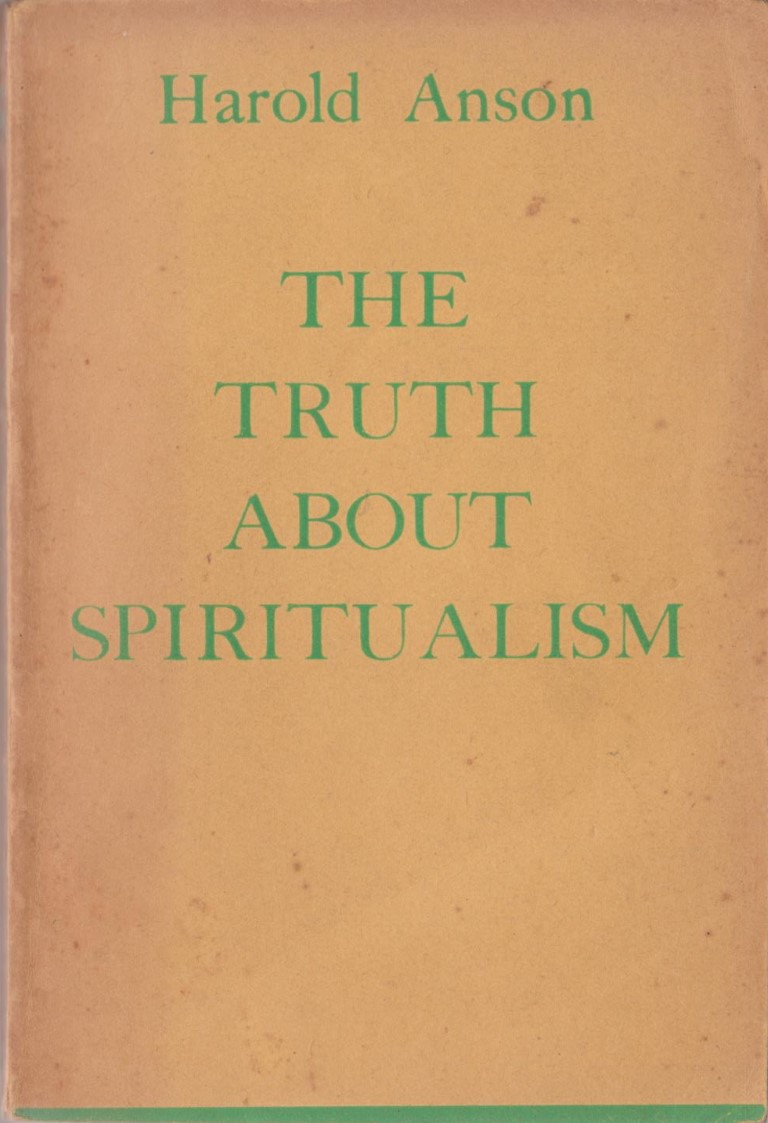 A measured Christian overview of Spiritualist beliefs including evidences for Survival, seances, and immortality from a Spiritualist and a Christian viewpoint.
G+ softback with age toned wraps, minor foxing, inscription to first page.
$10 C/A
Student Christian Movement 1941, 94pp.
[#5076 ]
HEALY Brian

A Hundred Million Trees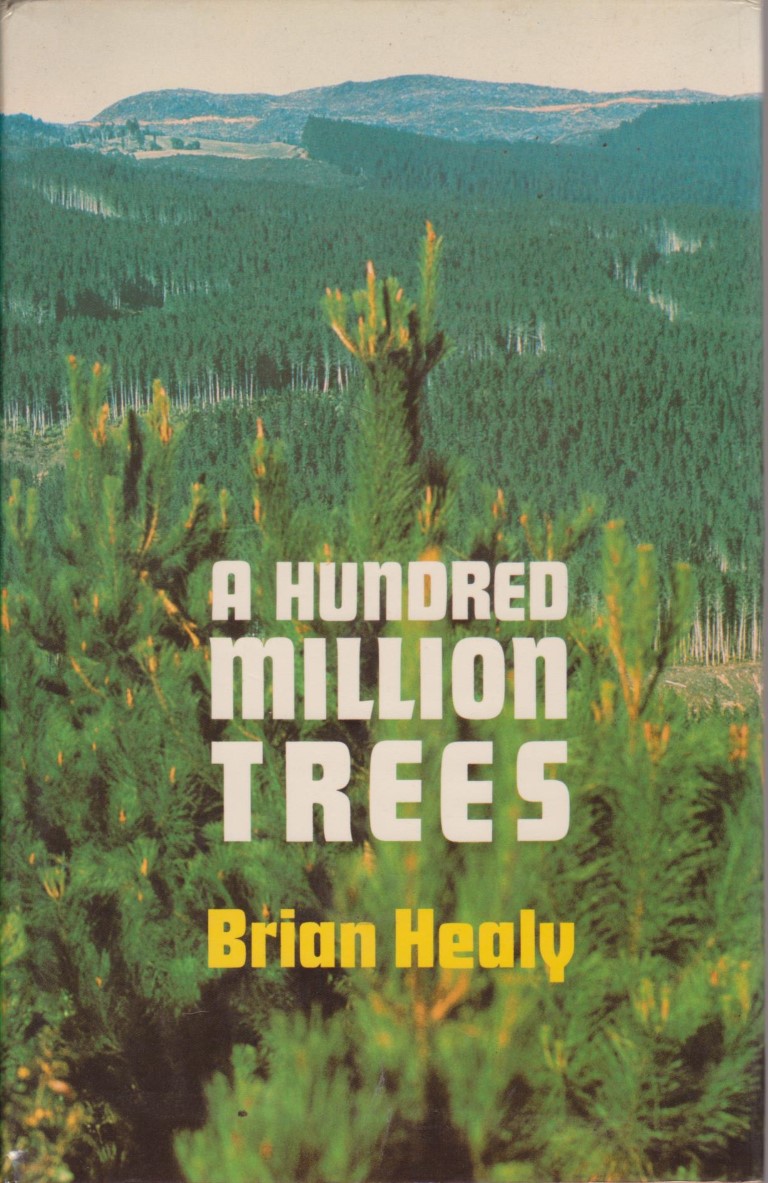 The Story of N.Z. Forest Products Ltd.
A Company history of the paper milling and wood products firm.
ISBN 0340245443
VG hardback in VG dustjacket, with name to fep.
$35 C/C
Hodder 1982 first edition, 219pp + plates.
[#5077 ]
BROWN B. M. editor

New Zealand in the Pacific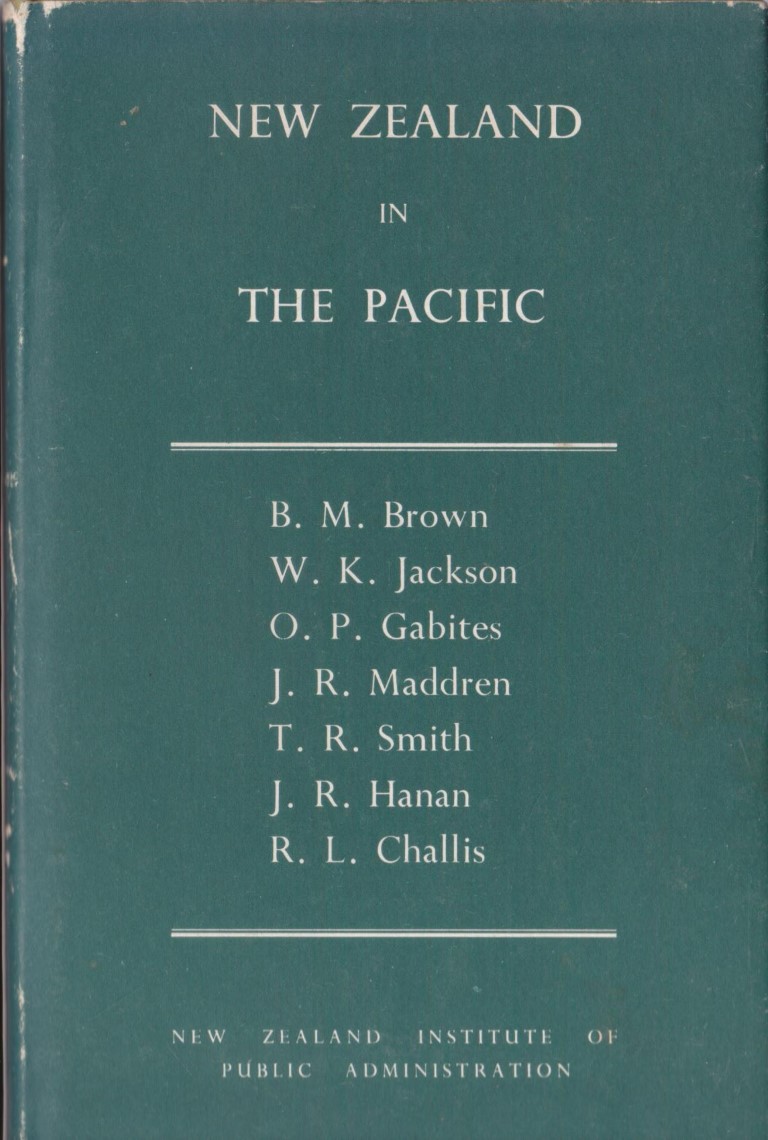 Studies in Public Administration No 16.
Essays on Pacific geopolitics etc.
politics, trade, foreign aid, development, pasifika, urbanisation
VG hardback in VG dust jacket with some wear
$15 C/B
New Zealand Institute of Public Administration 1970 first edition,125pp.
[#5078 ]
© Fortuna Books (NZ).