BIBLES, DEVOTIONALS AND PSALTERS etc

Christian devotional texts. Prayer books, hymn books, bibles, psalm books etc.

All these fortunabooks.com prices are in New Zealand dollars, and there is a minimum order required of NZD$20 excluding postage.
ALAND, BLACK, MARTINI, METZGER & WIKGREN
The Greek New Testament
VG presentation plate to blank fly.
$20 C/C [BIBLE 2]
United Bible Societies 1980 third edition, vinyl, lxii 918pp. Text is Greek. Fold-out card listing principal manuscripts and versions cited in the textual apparatus inlaid. Contains Introduction, full Text and Apparatus, Bibliography, Index of Quotations, Principal Symbols and Abbreviations. ISBN 3438051109
ANON
Hymns Ancient and Modern for use in the Services of the Church, Complete Edition
VG lightly rubbed joints, ink gift inscription dated 1909 to verso of fep.
$20 B/A [BIBLE 6]
W. Clowes and Son nd full leather, aeg. 95 x 57 x 15mm dimensions. iv 469pp. Very tidy copy.
---
anon
Memorable Events in the History of the Bible;
A Pictorial Sunday Book for the Young, New Edition with nearly Three Hundred Engravings.
G+ rebacked, rubbed cloth.
$40 C/B [Item# 20 Bible]
John Field London nd c 1850? rebacked blind embossed cloth, gilt titled cover and spine, 16mo. Old Testament= vi 97pp + many pages of engravings, New Testament= 97pp + many pages of engravings. Almost every second leaf is one containing three engraved scenes. All Edges Gilt. Starts with title page (i). Internally clean. Probably intended for Sunday Schools.
---
CATHOLIC ACTION
Holy Bible with the Confraternity Text
VG+ owners name to owners detail page at front and two entries in the family births section.
$100 [BIBLE 8]
Good Will Publishers 1961 large 4to full red leather blocked in gold with cross design and pannelled cross design to spine, filetted edges to end papers, all edges gilt, illustrated with decorative borders, coloured plates etc. xlviii, 834 (Old Testament), i, 236 (New Testament), 79pp. Weighs approx 10kg so ideally only local shipping or arrange to pick up.
---
CHURCH OF ENGLAND
The Book of Common Prayer and Hymns Ancient and Modern (Standard Edition)
and Administration of the Sacraments and other rites and ceremonies of the Church According to the Use of the Church of England, together with the Psalter or Psalms of David, pointed as they are to be sung or said in Churches, and the form and manner of making, ordaining, and consecrating of Bishops, Priests and Deacons.
VG name and date to verso of fep, slipcase a little bumped or worn.
$25 C/B [BIBLE 7]
Oxford University Press nd Bourgeois 32mo Clar. India Paper,large type, (HA7121/4) full leather with gilt cross to cover, aeg, marker ribbon, rounded corners. 696 + xi 719pp.
---
DUMMELOW J R editor
The One Volume Bible Commentary; The best one volume commentary on the Holy Bible for the Minister, Student and Layman.
VG VG- minor edgewear and chipping to corners. $20 C/Australia $20 rest of world $50 [Item# 358 BIBLE] MacMillan 1975 thirty-seventh printing, cloth 8vo. cliii, 1092pp. Large heavy book. Double column. Original publication was 1908.
JONES Alexander, editor.

The Jerusalem Bible
Reader's Edition, with abridged introduction and notes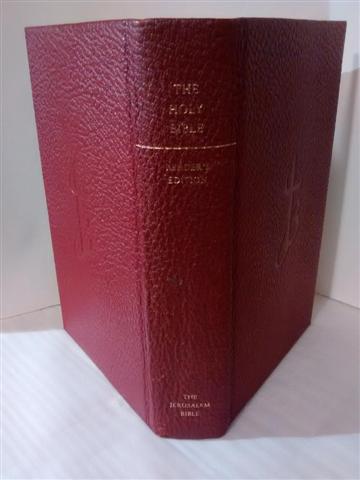 The Jerusalem Bible first appeared in 1966 and was the work of a team of scholars (including J. R. R. Tolkien) using the resources of the French Biblical School in Jerusalem. It was hailed as a masterpiece of textual accuracy and modern style, which kept as close as possible to the meaning of the ancient texts from which it had been translated. This abridged edition has removed some of the introduction and footnotes from the original edition which was intended for Biblical scholars, rendering the text easier to access for the layman.
VG+ leather hardback with all edges gilt and marker ribbons.
$45 B/D
Darton, Longman and Todd 1968, 1340 +358pp +maps.
[#3296 ]
KING JAMES VERSION
The Holy Bible containing the Old and New Testaments (authorised version)
new, slipcase stock label insect damaged
$20 C/B [BIBLE 1]
Cambridge University Press, limp leather 8vo with with red gilt edges and marker ribbon, includes colour maps and comes in a clam shell case.
---
MOFFATT
The Moffatt Translation of the New Testament (People's Edition)
VG G foxed endpapers, DW chipped head of spine and foxed.
$10 C/B [BIBLE 3]
Hodder 1953 revised edition hardcover, 388pp. 12mo. Aged but clean copy.
---
OSTERVALD J.F.
Le Nouveau Testament De Notre Seigneur Jesus Christ

G edges rubbed, starts at title, corners rounded, chipped tail of spine.

$125 C/A [BIBLE 4]

W. Clowes and Son 1860 full leather, aeg. Aux Frais De La Societe' Pour L'Impression De La Bible En Langue Anglaise Et En Langues Etrangeres. Unpaginated miniature book, French text, blind dec boards, gilt titled spine,




WESLEY John

A Collection of Hymns for the use of the people called Methodists

with a new supplement bound together with the King James old and New Testaments and a Dictionary of Scripture proper names.
VG- light rubbing to edges, light foxing of the map plates, free fly trimmed at top excising a name but leaving nice copperplate hand reading 'Christchurch New Zealand July 17th 1877'. Tips of corners just starting to wear through. $35 C/C Binding is Pearl 16mo full leather, 5 raised bands, gilt titled spine, gilt dentelles to inside edges, all edges gilt, Oxford University Press (Bibles undated but Wesley's Hymns dated 1876) 1000 +31 (dictionary) +254 (Hymns) pp, nice in the hand Victorian Bible and hymn book [#636 bible]




© 2015 by Fortuna Books (NZ).