WESTLAND and FIORDLAND HISTORY

Books on the history of Westland / Fiordland and the West Coast people and places.
Regional local history.

All these fortunabooks.com prices are in New Zealand dollars, and there is a minimum order required of NZD$20 excluding postage.
ANON

The Golden Coast
Descriptive of the Westland District, New Zealand. Its Forests, Lakes, Glaciers, and Mountain Passes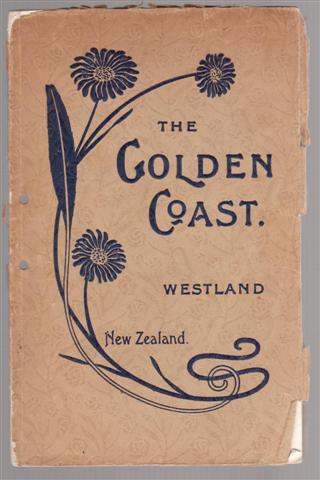 An early tourist publication for the Westland District.
Includes information on travel distances, itineraries for travellers and fares for public transport providers.
Fully illustrated throughout with photographs.
Includes how to get to Hokitika from Christchurch or Nelson, and then day excursions from Hokitika.
Focuses on the Franz Joseph and Fox Glaciers as destinations.
Describes the Haast Pass route to South Westland.
G+ softback in paper wrappers with some edge wear and minor chipping. Back of the spine has lost a good deal of the paper but the sheets are holding well. Recent gift inscription to title page.
$45 C/A
New Zealand Government Department of Tourist and Health Resorts 1906, 53pp
[#3069 ]
BAUGHAN B. E.

Forest and Ice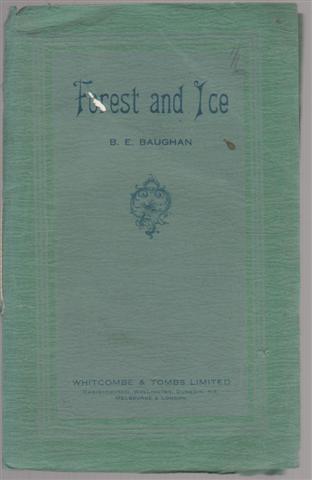 Early guide-book printed in the Whitcombe and Tombs Dainty Booklet Series covers the Southern Alps and Westland, including the Hermitage, Copeland Pass, Mount Cook, the Franz Josef and Fox Glaciers. Illustrated with photographs. Gives good information on the scenery to be encountered during a tour of the region.
Dainty Booklet Series 16.
G+ softback, sewn sheets in paper wrapper with small hole worn into cover.
$35 A/A
Whitcombe and Tombs undated (c.1910)
[#3068 ]
BISHOP Jane and Malcom Walker

Westland County
A Centennial Album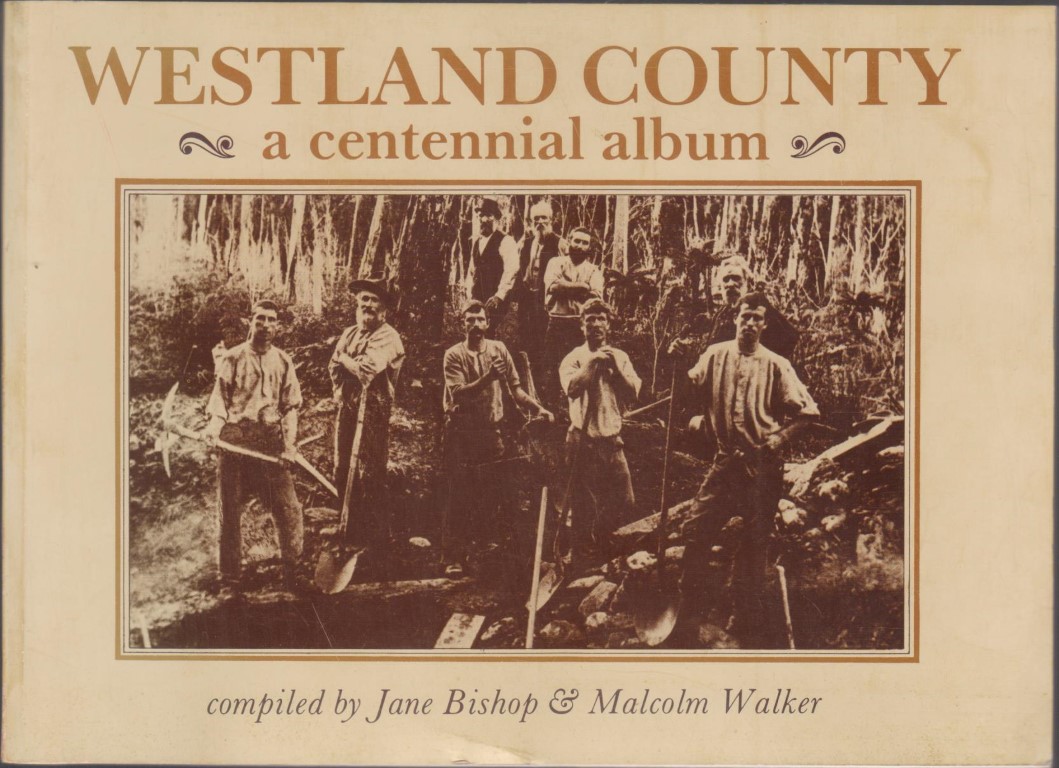 Published for the Westland Centenary in 1976. A history of the settlement and development of the West Coast and it's industries and personalities. With many historic photos.
Jackson's Bay, Westport, Arthur's Pass, Otira, Bealey, railway, Greymouth
VG softback
$30 C/B
Westland County Council with Pegasus Press 1977, 168p.
[#3471]
BURFORD John
The Coast and the Coasters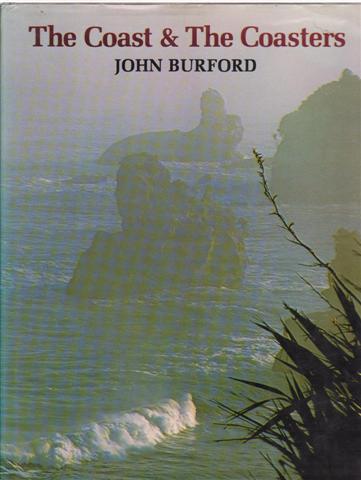 A colour photo-essay on the West Coast of the South Island of New Zealand. Images of the scenery and the people, with accompanying text. Includes Karamea, Westport, Greymouth, Jacksons etc.

VG hardback in VG dust jacket. White-out to end paper.
$20 B/C
Whitcoulls 1981, 80 pages. [#3258]

VG hardback in VG dust jacket
$15 B/C
Whitcoulls 1981, October reprint, 80 pages. [#2615]






DOUGHERTY Ian

Arawata Bill
The story of legendary gold prospector William James O'Leary.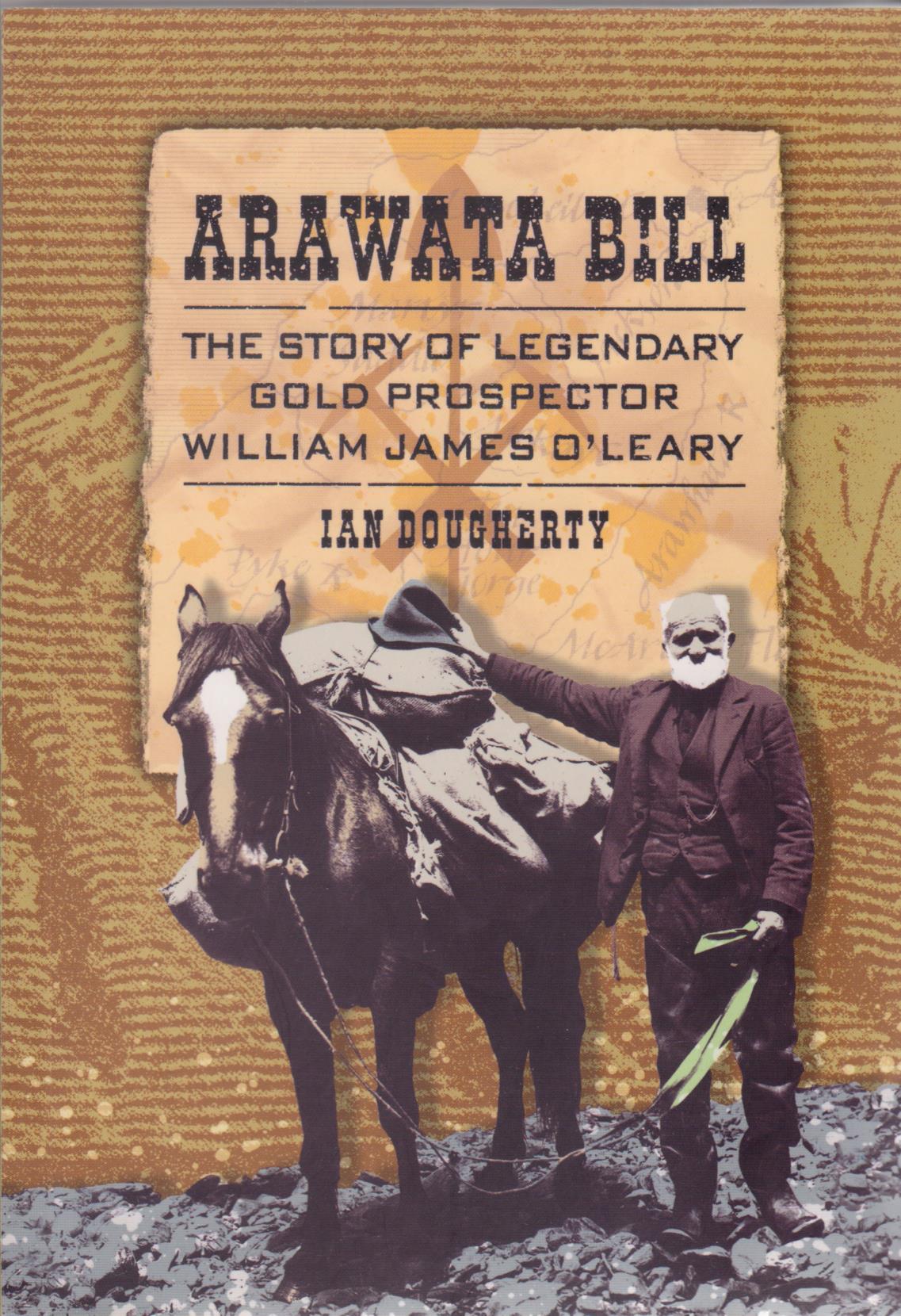 William James O'Leary (1865-1947) was a prospector for gold and other minerals in Otago and Westland, making new tracks in unexplored areas. His astonishing endurance, tenacity, and eccentricity captured the imagination of those who met and knew him, and those who have only heard his legend. Denis Glover immortalised him in his famous poem 'Arawata Bill'. This new edition includes information that has only recently come to light.
ISBN9780908988150
VG softback
$25 B/B
Exisle publishing 2005 New Revised edition, 196pp.
[#3407 ]
HARROP A. J.

The Romance of Westland
The Story of New Zealand's Golden Coast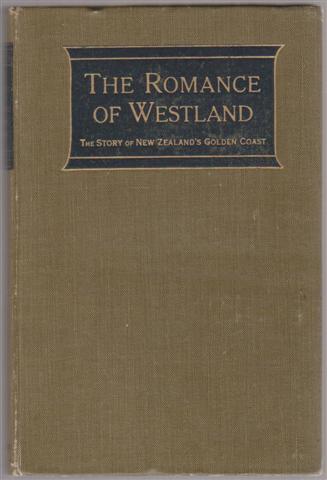 The political, social and economic history of Westland, with an account of pre-European Maori history on the Coast, and the earliest Pakeha explorers. The Gold Rush and growth of Hokitika as the service centre for the gold-fields.
VG cloth hardback with no dust jacket
$45 C/B
Whitcombe and Tombs 1923, 187pp + plates.
[#3066 ]
HAWKER Mr. and Mrs.

Historical Survey of the Grey County 1877-1960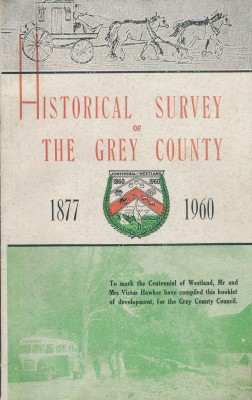 A survey of the colonisation and development of the Grey County on the West Coast. Includes details and statistics in relation to the Gold Rush, Coal Mining, development of infrastructure and the railways.
VG+ softback
$45 C/A
Greymouth Evening Star Print, 1960, 80pp.[#2937 history, westland ]
HAWKER Enid (editor)

Maruia, Random Reflections
Published for the 1980 Jubilee, this book celebrates 75 years of settlement and 60 years of education in the Maruia Valley, Buller.
Inclues recollections of Warwick Thomson, W. Blackadder, pioneer women, the Post office and other community institutions.
With photographs.
Shenandoah Highway, local history, school, education,
G+ softback with wear to spine.
$30 C/A
118pp
[#4142 ]
HENDERSON Bob

Friends in Chains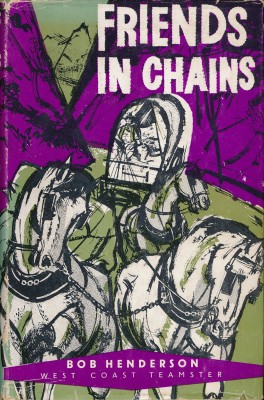 The memoirs of a West Coast teamster in the days when New Zealand was built through hard-slog and a team of good horses. Includes the Nelson region also.
VG hardback in VG dust jacket with light wear.
$40 C/C
Reed 1961 first edition, 190pp + plates.[#1856, 3388 ]
Westland, Waitahu Sawmill, Newman Brothers, Takaka, Murchison, Teamster
HOBBS Leslie

The Wild West Coast
Stories and historical anecdotes about the West Coast and it's remarkable people.
westland, coasters, history
G+ hardback with soiled cloth, no dust jacket, light aging
$8 C/B
Whitcombe and Tombs 1960 cloth, 158pp.
[#1642 ]
VG hardback in G+ dust jacket, gift inscription to fep, jacket rubbed to edges with some tears along folds.
$10 C/B
Whitcombe and Tombs 1959 cloth, 158pp.
[#1763 ]
HOLMES Leonard John Kearton

The Great White Road
Reminiscences of a West Coast Surveyor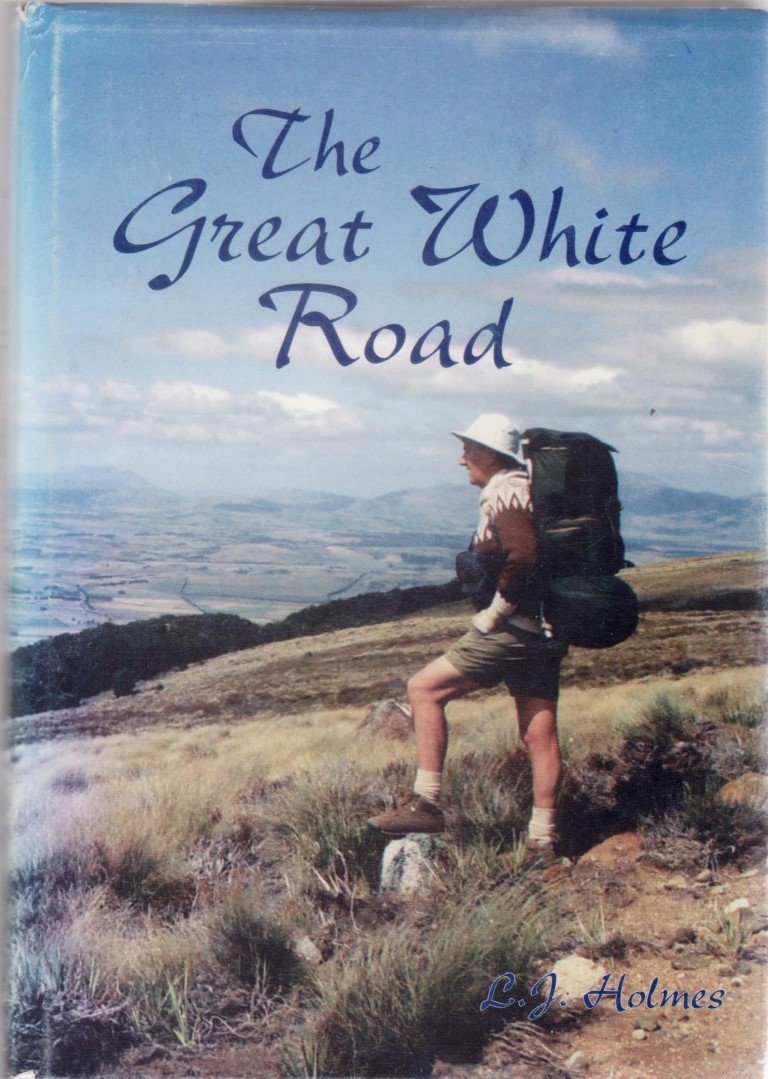 An autobiography by Leonard John Kearton Holmes, F.N.Z.I.S.
Len was raised on the West Coast and had a career as a surveyor, and his company Cowan and Holmes helped develop the Coast infrastructure.
The Surveyors Monument Reserve at Kakapotahi has a memorial to him.
ISBN0473046083
Kaiata, hunting, Savage Club, Survey Board, Reid Cowan, Len Holmes, Westland, Fox Glacier
VG hardback in VG dust jacket, name to first page.
$65 C/C
Ann Holmes 1997 first edition, 231pp.
[#3674 ]
HOUGHTON Philip

Hidden Water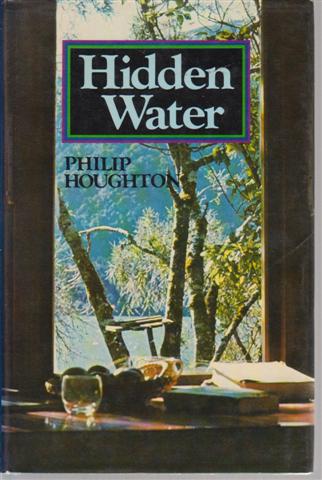 A mix of history and the author's thoughts on abandoned Fiordland settlements near Milford and Waihuna.
ISBN034017739X
Big Bay, South Westland
VG hardback in VG dust jacket
$25 C/C
Hodder 1979 first edition, 152pp + plates.
[#2741 ]
KERRIDGE Peter (compiler)

Glimpses of Greymouth and District 1868-1993 (125th Jubilee of the Grey District)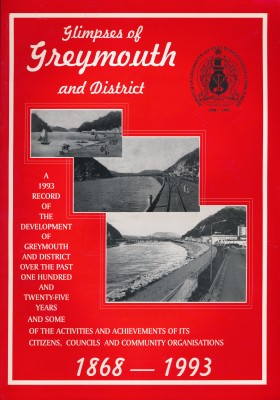 A 1993 record of the development of Greymouth and district and some of the activities and achievements of its citizens, councils and community organisations.
ISBN0473023679
VG softback, signed to first page 'Best regards' with a squiggle. Stapled above this is Tony Kokshoorn's business card as Mayor
$30 B/C
Greymouth Evening Star 1993. 160pp. [#2908 regional history, west coast ]
LORD E. Iveagh

Old Westland
A story of the Golden West Coast of New Zealand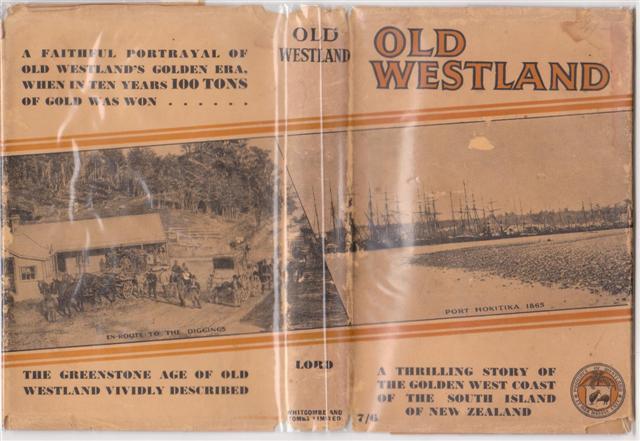 The history of Westland including Maori, Captain Cook, Brunner, Heaphy, Gold fever.
Published for Westland Centennial

VG hardback with original green cloth with gilt to upper board, in Good+ dust jacket with some wear and soiling.
$75 C/B
Whitcombe & Tombs 1939 first edition, 258 pages plus Roll of Honour memorial to rear.
[#2481 ]
MAY Philip Ross (editor)

Miners and Militants
Politics in Westland 1865-1918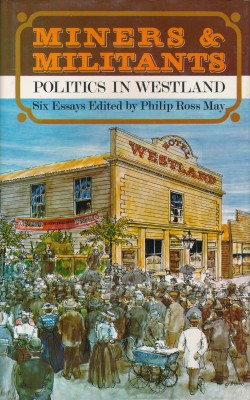 Six essays on socio-political aspects of Westland.
Includes the politics of the railway Midland Line, and friction over conscription of Coalminers during the First World War.
ISBN0900392215
mining, west coast, socialism, Seddon, politics
VG hardback in VG dist jacket.
$25 C/C
Whitcoulls 1975 first edition, 174 pp + plates.
[#3646 ]
McGILL David

The Lion and the Wolfhound
The Irish Rebellion on the New Zealand Goldfields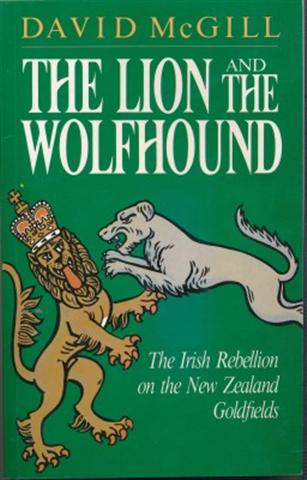 On 8 March 1868 a priest and an editor led a mock funeral of Irish miners into Hokitika cemetery to plant a Celtic cross honouring the 'Manchester martyrs', three Fenians hanged in Britain the previous November.
The procession confirmed the worst fears of the British authorities, that Fenian agitation to free Ireland had been imported into New Zealand. News that a Fenian had shot the Duke of Edinburgh in Sydney threw the Government into a panic. The procession's ring-leaders were arrested on charges of inciting riot and publishing seditious libel and troops were sent in to help local volunteer militia maintain law and order.
The Irish made up a good quarter of the 26,000 miners on the lest Coast goldfields, and they were certainly among the most riotously visible in the numerous pubs and casinos where the drink was cheap and the dance floor girls were pretty. The Protestant merchants who ran these boom towns welcomed excessive profits but not adversarial politics. When loyalists returning from celebrating the Duke's survival in Westport were attacked by Irish miners at Addison's Flat, it looked as if the Irish had boiled over. The Hokitika authorities prepared for war.
From newspaper and official accounts, from coded Government cables and correspondence, and with a selection of fascinating illustrations, David McGill has recreated those stirring times when the West Coast was a powder keg of conflicting Ioyalties and the authorities seemed determined to ignite it.
The Lion and the Wolfhound also recounts the splendidly Iibellous and vitriolic newspaper war between the Celt and the West Coast Times and describes the Hokitika trial of the Fenians, who were defended by Australia's most famous criminal lawyer, the colourful R.D. Ireland.
The events of 1868 are set in the context of the Irish cause in New Zealand, both then and now. The legacy of those heady months remains, not least in the mythology of the Coast, where they still tell the story of the Battle of Addison's Flat and recall the days when gold brought to Westland a rollicking prosperity and romance never again seen in this country.
ISBN1869340191
VG softback.
$20 C/C
Grantham House 1990 first edition, 178pp. [#756, 2753, 3585 ]
MITCHELL G G M

Maori Place Names in Buller County
A study of current and former names of various places in the West Coast region of Buller.
With background history and an explanation of the place names.
maori, toponomy
G hardback, stapled at spine, library rebound into hardcover, minimal stamps.
$15 C/B
Reed 1948 first edition, 59pp.
[#3885 ]
MORELAND A. Maud

Through South Westland
A Journey to the Haast and Mount Aspiring, New Zealand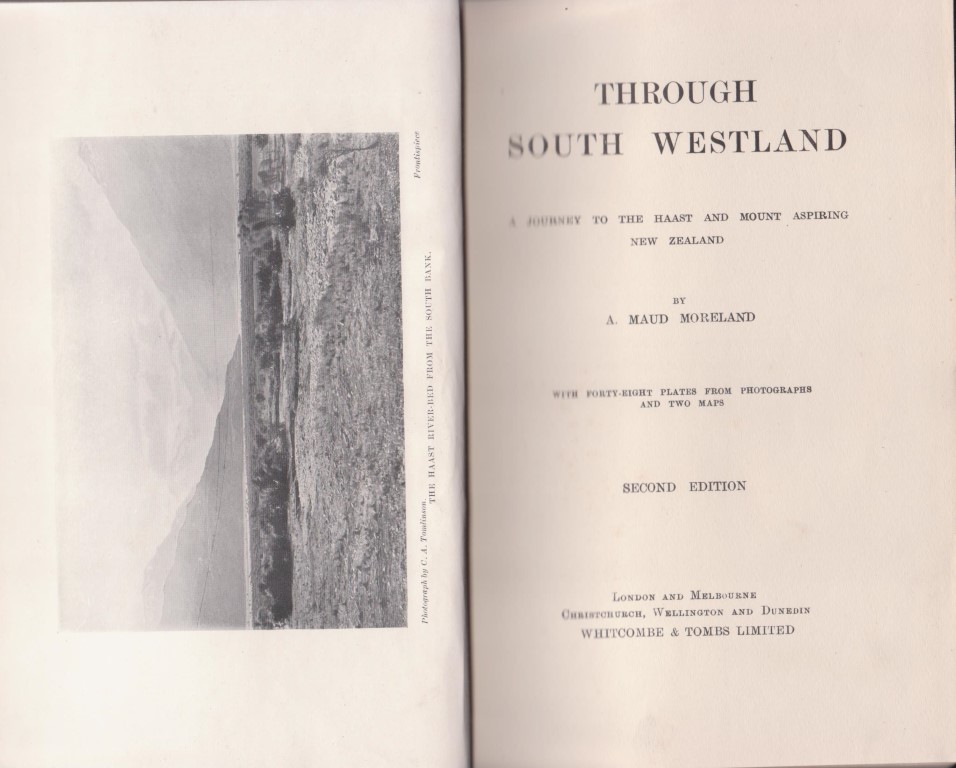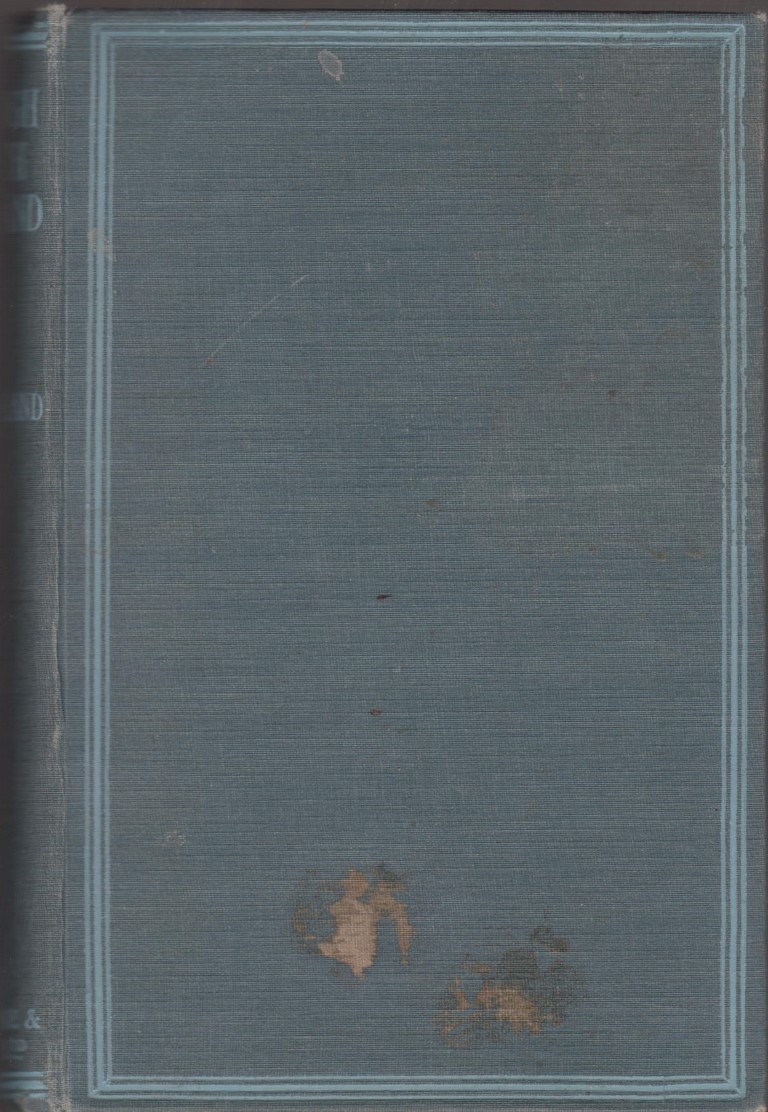 Maud travelled through Arthur's Pass and Otira, through Hokitika and south to Haast, where she went inland to Lake Wanaka and hawea, visited Mt Aspiring, then back to Christchurch via the Lindis Pass and lakes Tekapo and Pukaki. She recounts the scenery as well as the people she met.
'This is the story of a ride - of a five weeks' wandering in the Back-blocks of a land still in the making - a land whose conditions, even to-day, are often primitive. Properly speaking, there is no story - only impressions, gathered in those wanderings: things I saw, things I heard, in isolated settlements, where the men and women, living face to face with Nature, seem to show a readier kindness; where the robuster virtues still thrive, and the heart of the race is young. Looking back now from under English skies, surrounded by sights and sounds of an English summer, it seems very far away: a land apart - a people who belong almost to another world. An enchanted land of cool, dim, forest aisles of lonely snow-peaks filling the end of some purple gorge: of rushing, hurrying streams: of untouched solitudes, where one goes all day long in wondering worship.'- Maud Moreland's preface.
travel, Matukituki, Franz Josef, Fox Glacier, Haast, mountaineering
VG- hardback with no dust jacket, free endpaper has been removed and there is some soiling or rubbing to the covers.
$45 C/C
Whitcombe and Tombs undated (1916) second edition, (xx) 219 (2)pp + plates and two folding maps.
[#3533 ]
NATHAN Simon

Through the eyes of a miner
The photography of Joseph Divis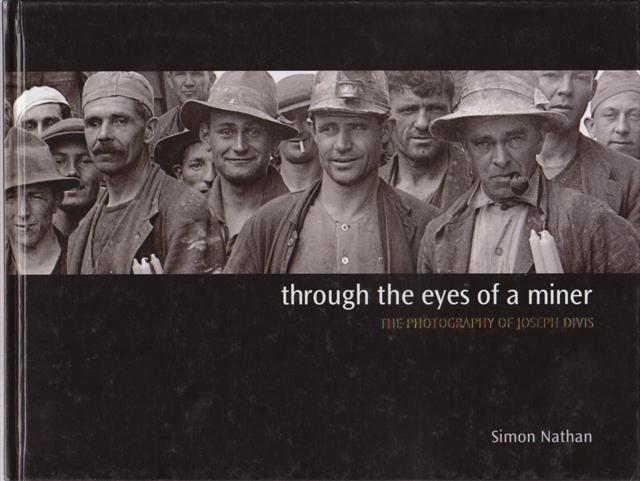 Historic photography of the Westland mining community, including Waiuta, Blackwater Mine and Reefton
ISBN9781877448942
VG hardback with no dust jacket as published.
$35 B/C
B/C Steele Roberts Publishers 2010, first edition. 112 pp.
[#2249 ]
PASCOE John

The Haast is in South Westland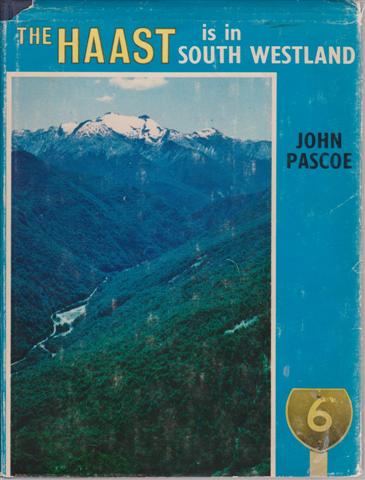 The history of the Haast Pass and local areas, including Jackson Bay, Maori times, early settlers, the Haast road.
Surveyors, engineers and workmen.
VG hardback in VG- dust jacket with a small chip and a closed tear to rear panel.
$30 B/C
Reed 1966 first edition, 116pp + plates.
[#2713 ]
VG hardback in VG dust jacket. Name at top of title page.
$30 B/C
Reed 1968 reprint, 116pp + plates.
[#3744 ]
PEAT Neville

Cascade on the Run
A Season with the Whitebaiters of South Westland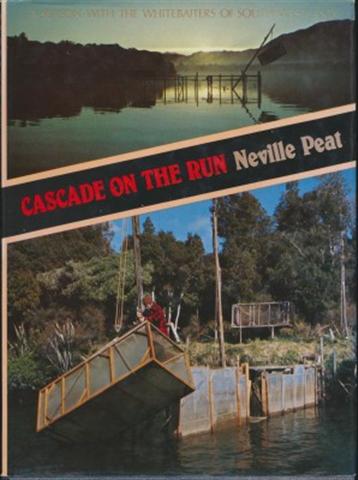 A look at Westland's Cascade River during the run of whitebait. A period of three months of whitebaiting and the characters camped out for seasons catch.
ISBN0723306168
South Westland, Cascade River, whitebait
VG hardback in G- dust jacket with a tape repaired tear to the front cover and some edge loss.
$20 B/B
Whitcoulls 1979 first edition, 126pp. [#2974]
VG hardback in VG dust jacket.
$30 B/B
Whitcoulls 1979 first edition, 126pp. [#3707]
POWELL Paul

Fishermen of Fiordland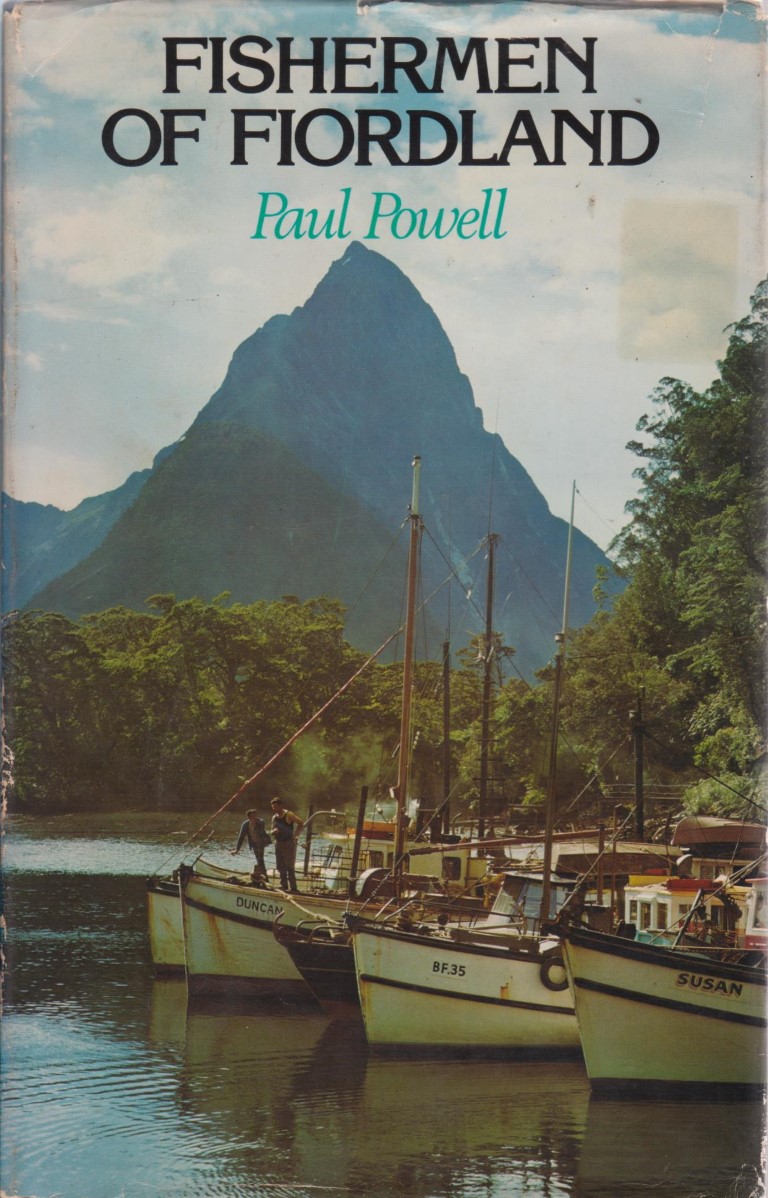 A first hand account of the fishermen of New Zealands deepwater Fiords, by one who has spent several seasons working with them.
With black and white and colour photos.
ISBN9780589009380
Puysegur Point, Milford Sound, Catseye Bay, Dusky Bay, trawling, commercial fishing, George Burnby, Bruce McKay
VG hardback in VG- dust jacket with some minor wear and repaired edge tears
$35 C/C
Reed 1976 first edition, 118pp+ plates.
[#4175 ]
ROGERS Anna

Illustrated History of the West Coast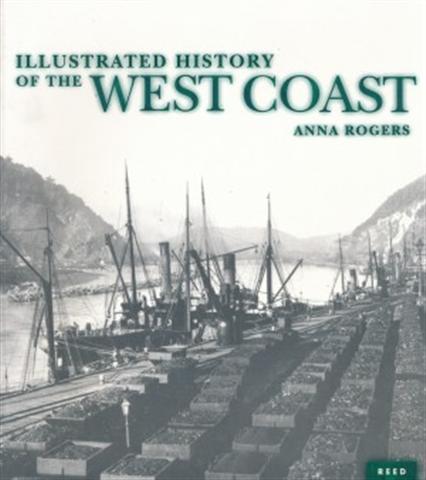 In words and photographs this lavish illustrated book traces the story of the Coast from its geological origins through Maori settlement, European exploration by Charles Heaphy, Thomas Brunner and others, the gold rushes, the coal industry and the emergence of railways., the rise of unionism, the effects of war and depression, the changing fortunes of forestry and the growth of conservation and tourism. ISBN9780790010229
VG+ softback
$35 B/C
Reed 2006 reprint, 184 pp. [#2711 ]
ROXBURGH Irvine

Jacksons Bay
A Centennial History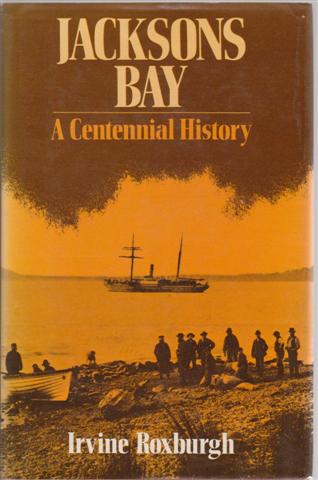 History of the West Coast Government founded and promoted settlement that foundered within the first ten years.
ISBN0589009192
VG hardback in VG dust jacket
$50 C/C
Reed 1976 first edition, 198pp. [#2960 ]
WILLIS H. A.

Manhunt
The Story of Stanley Graham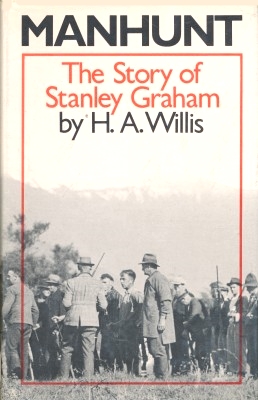 Belligerent Hokitika farmer Stan Graham refused to hand in his rifle for the war effort.
Later, combined with financial strain and arguments with his neighbours, he later shot and killed a total of seven people before being killed by an armed Home Guard search party.
Made into a film in 1981.
ISBN072330629X
true crime
VG+ hardback in VG dust jacket, some fading to red titling on the jacket spine.
$30 C/C
Whitcoulls 1979 first edition, 224pp illustrated.
[#4052]
WILLIS H. A.

Bad Blood
The Story of Stanley Graham
original title Manhunt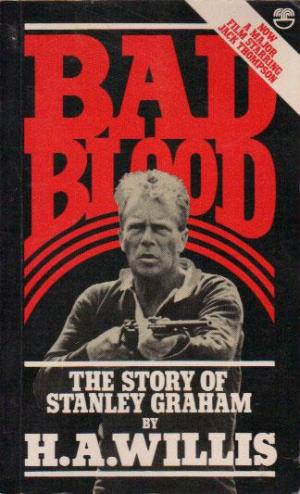 Belligerent Hokitika farmer Stan Graham refused to hand in his rifle for the war effort.
Later, combined with financial strain and arguments with his neighbours, he later shot and killed a total of seven people before being killed by an armed Home Guard search party.
Made into a film in 1981.
ISBN0006349250
new zealand, true crime, west coast
VG+ softback
$10 A/A
Fontana/ Collins 1981, 224pp illustrated.
[#3987]
© 2015 by Fortuna Books (NZ).