MARLBOROUGH and NELSON HISTORY

Books on the history of Marlborough people and places. Regional local history of the towns and cities in Marlborough Province.

All these fortunabooks.com prices are in New Zealand dollars, and there is a minimum order required of NZD$20 excluding postage.
AULT H. F.

The Nelson Narrative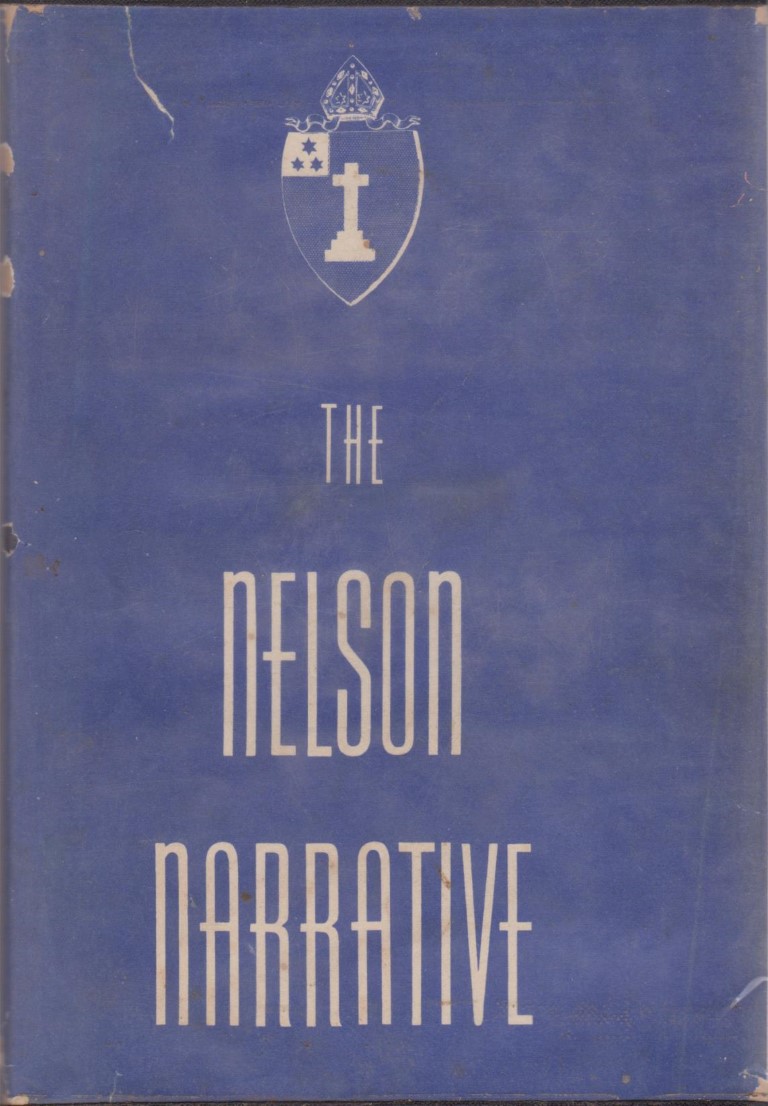 The Story of the Church of England in the Diocese of Nelson, New Zealand 1858 to 1958.
Includes includes accounts of the Nelson area from 1842-1857, and the settlers of the third of the NZ Company's settlements.
local history, church centenary, Edmund Hobhouse, Andrew Burn Suter, Charles Oliver Mules, church institutions, Whakarewa School
VG- cloth hardback with no dust jacket.
The book lacks the free end-paper.
$20 C/C
Diocese of Nelson 1958 first edition, 384pp + plates
[#4632 ]
VG- cloth hardback with G+ dust jacket.
Jacket has some chipping and tears with large area chipped to the fold of the rear flap, and is split along the lower fold.
SIGNED to the free end-paper by the author and the Bishop of Nelson Francis [Oag Hulme-Muir].
Book spine is sun faded.
$55 C/C
Diocese of Nelson 1958 first edition, 384pp + plates
[#5636 ]
BERRY Ken

Scrutiny on the County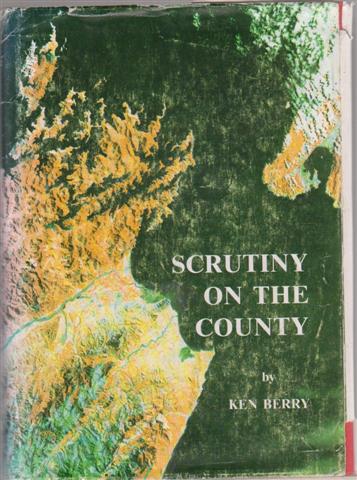 A history of Marlborough and the Marlborough City Council. From the Wairau massacre to 1985. THIS COPY has a signed presentation inscription by the author to the dedication page.
VG hardback in a G+ dust jacket with a few tape repaired tears to edges. Bottom rear corner of endpaper map has minor marker note over blank part of the map.
$30 C/C
Marlborough County Council 1986 first edition, 255pp.
[#2688]
BROWN Margaret C.

Difficult Country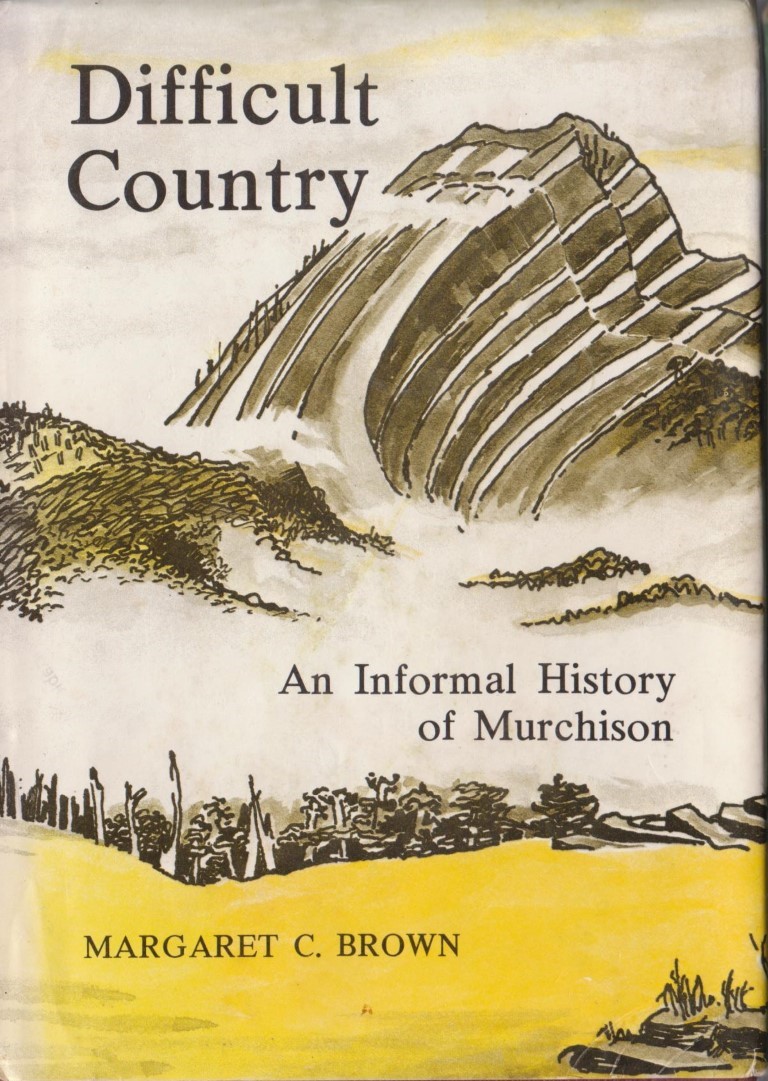 An informal history of Murchison, very well put together with good illustrations.
Covers early settlers, gold rushes, and later developments.
Published in an edition of 1500 copies only.
Tasman, Four Rivers Plain, Buller River, Matakitaki River, Mangles River, Matiri River, Maruia
VG- hardback in VG dust jacket.
Front few pages of book have some associated newspaper clippings taped in.
Title page has the author's signature, as well as former owner's details.
$30 C/C
Murchison Historical and Museum Society Inc. 1976 first edition, xvi 262pp.
[#5182 ]
BURTON David
Confessions of Richard Burgess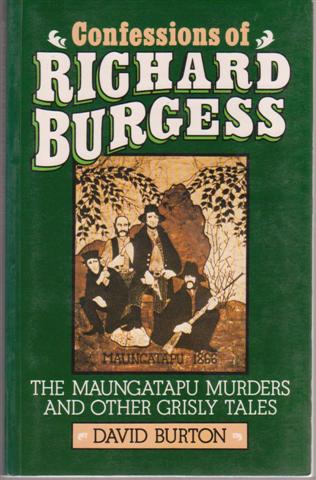 The Maungatapu Murders and other grisly tales from the gold rush period in Marlborough. New Zealand's own bushrangers.
VG+ softback with sewn binding. $30 C/B Reed 1983, 190 pages + plates. ISBN0589014609 [#2496 new zealand history marlborough ]
CROUCH Ewan

Nelson Lakes National Park Resource Manual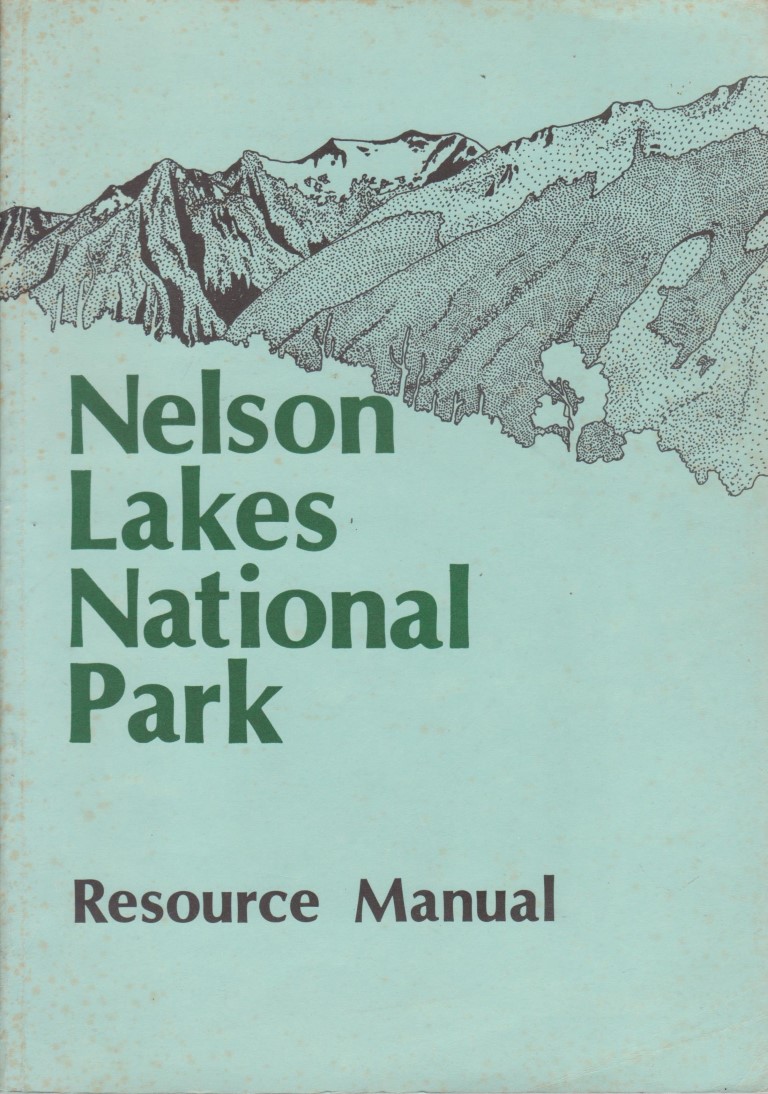 A survey of the region with information on meteorology, hydrology, gology, soils, botany, biology and zoology.
Also the social history of human activity in the 19th and 20th centuries.
ISBN0477061044
Rotoiti lodge workshop september 1978, conservation, statistics, survey, Tasman, St Arnaud
VG- softback
$45 B/C
Department of Lands and Survey 1981, 227pp.
[#4219 ]
GRADY Don

Guards of the Sea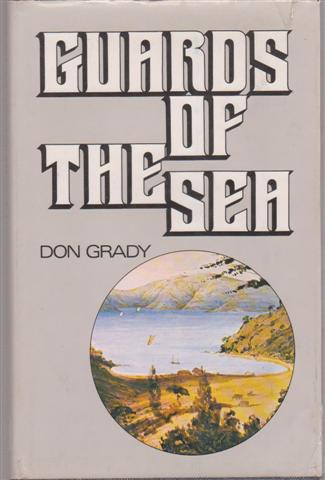 History of the Guard family in New Zealand which began when Jacky Guard began whaling from Te Awaiti in Tory Channel in 1831.
Resident in Port Underwood and Kakapo Bay, the family still work the sea in the Marlborough Sounds.
ISBN072330596X
whaling, marlborough sounds, cook strait, genealogy
VG hardback in VG dust jacket with some minor tape repaired tears along the dust jacket folds.
$65 B/C
Whitcoulls 1978 first edition, 192pp.
[#2689 ]
GREGORY Kenneth

Land of Streams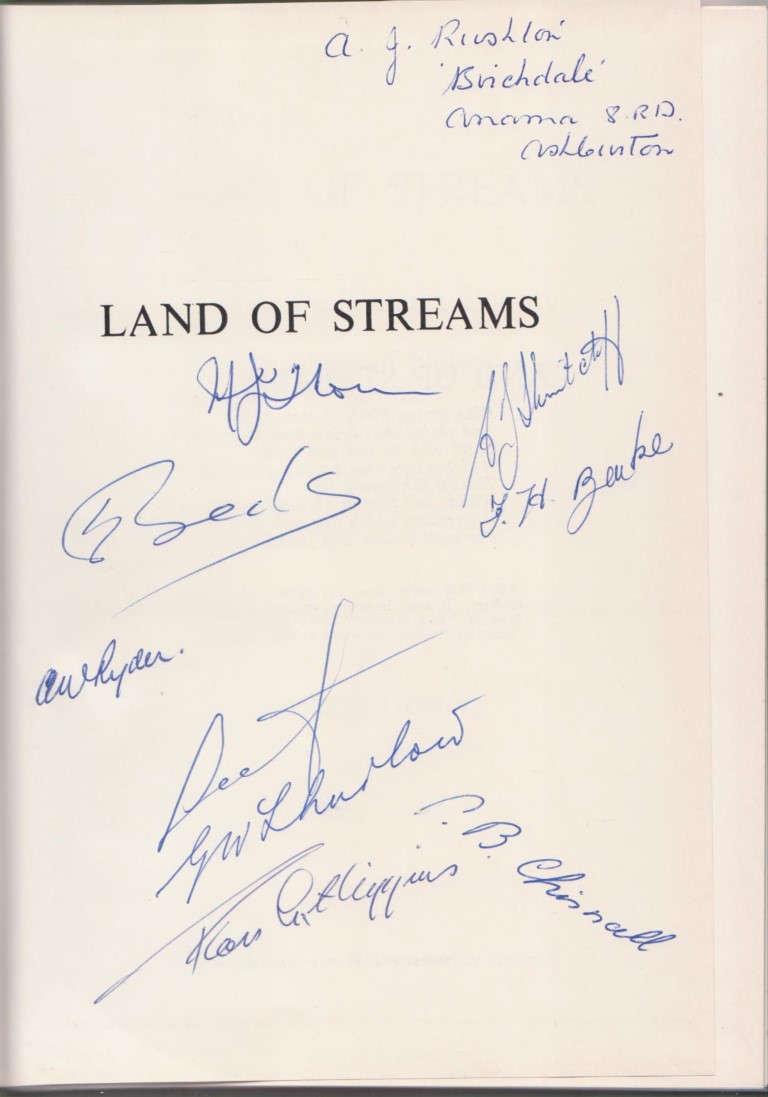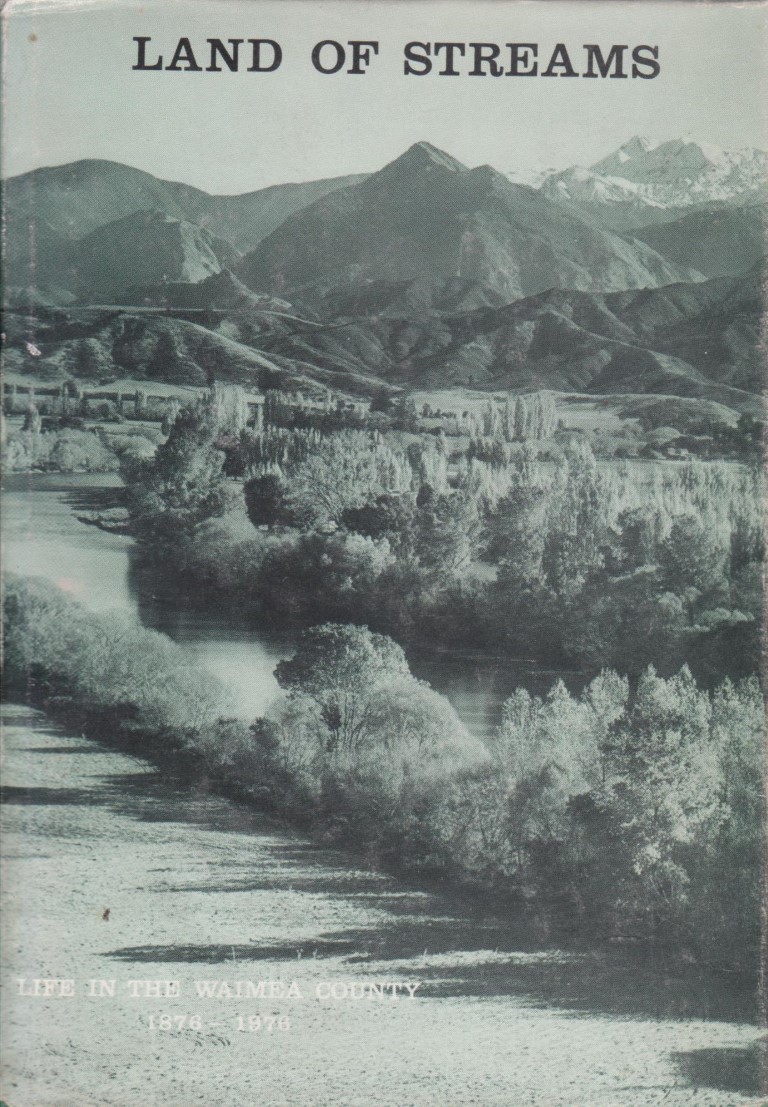 Life in the Waimea County Province of Nelson, 1876-1976.
Regional local history detailing colonial settlement and development.
VG hardback in VG dust jacket.
Half title page has multiple signatures of people mentioned in the index.
Nelson, Marlborough, Tasman
$30 C/B
Waimea County Council (1976) first edition, 135pp+ index.
[#4873 ]
HEBERLEY Heather

Last of the Whalers Charlie Heberley's Story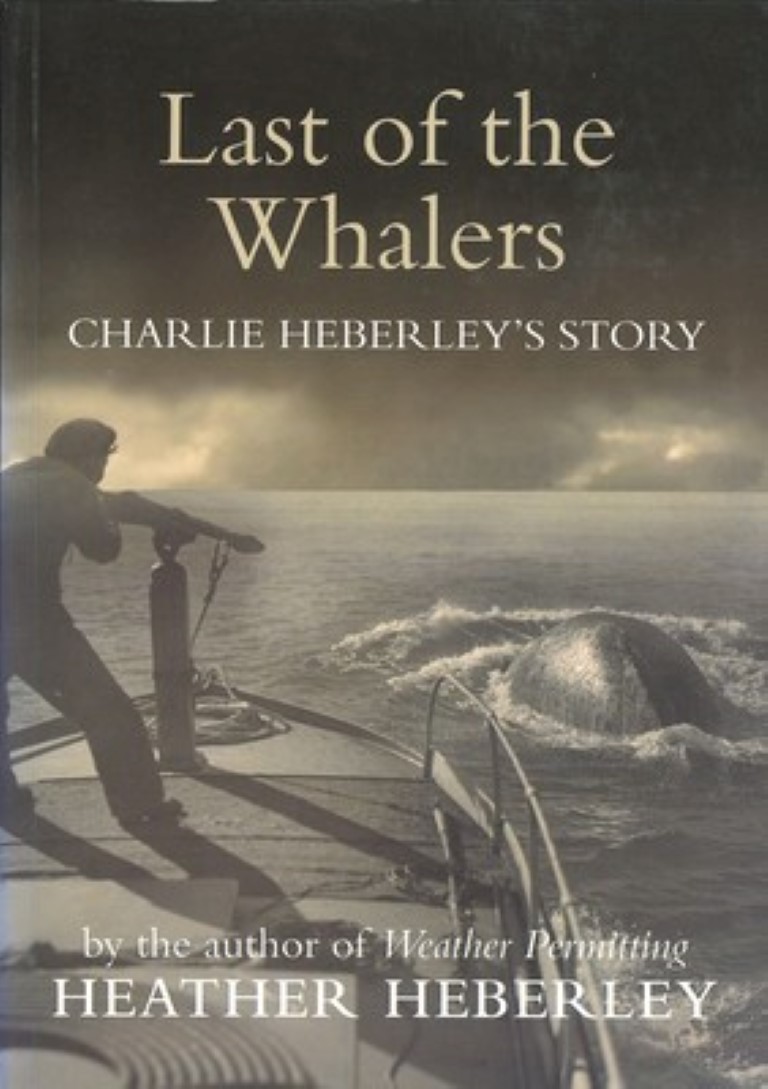 The story of Charlie Heberley of the whaling Heberley family of Tory Channel and Great Barrier Island.
ISBN 9780908561902
whaling, Perano, Worser Heberley, Marlborough
VG softback
$20 C/B
Cape Catley 2002 first edition, 212pp + plates.
[#4819 ]
HENDERSON Jim

The Exiles of Asbestos Cottage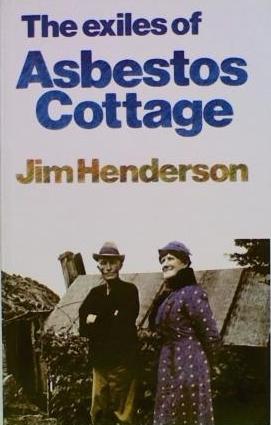 The romantic story of runaway lovers Henry and Ann Chaffey, who lived a lifetime in a remote Nelson cottage near the Cobb Valley.
Contents: Up, Up and Away, Woman Alone, The Noble Country, Asbestos Cottage, Chaffey Was A Wet Boot Man, Packmen and Trackmen, Meteor 20/6/619,
Annie and Chaffey Were Lovers, The Abominable Brew or The Worms Turn, Enter an Aussie, Cobb and Company, The Wolves of Winter, The Terrible Return.
ISBN0340265035
VG hardback in VG dust jacket with minor edge wear
$35 C/C
Hodder 1981 First edition, 248pp.
[#3010 ]
HUNT Christine

1893 Onwards....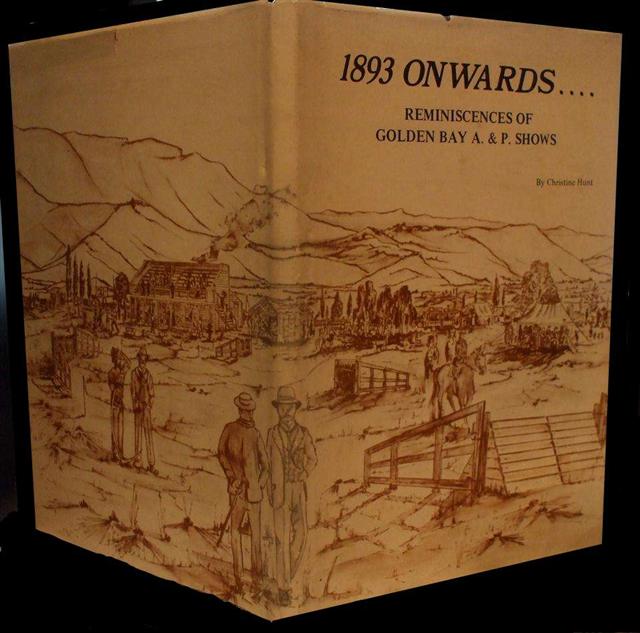 Reminiscences of Golden Bay A. & P. Shows. Illustrated with photos.
This copy is autographed by the author.
VG hardback in VG- dust jacket with minor wear.
$35 C/B
Golden Bay A&P Association 1979 (?) first edition leatherette, 80pp.
[#1912 ]
HUNT Christine

Speaking A Silence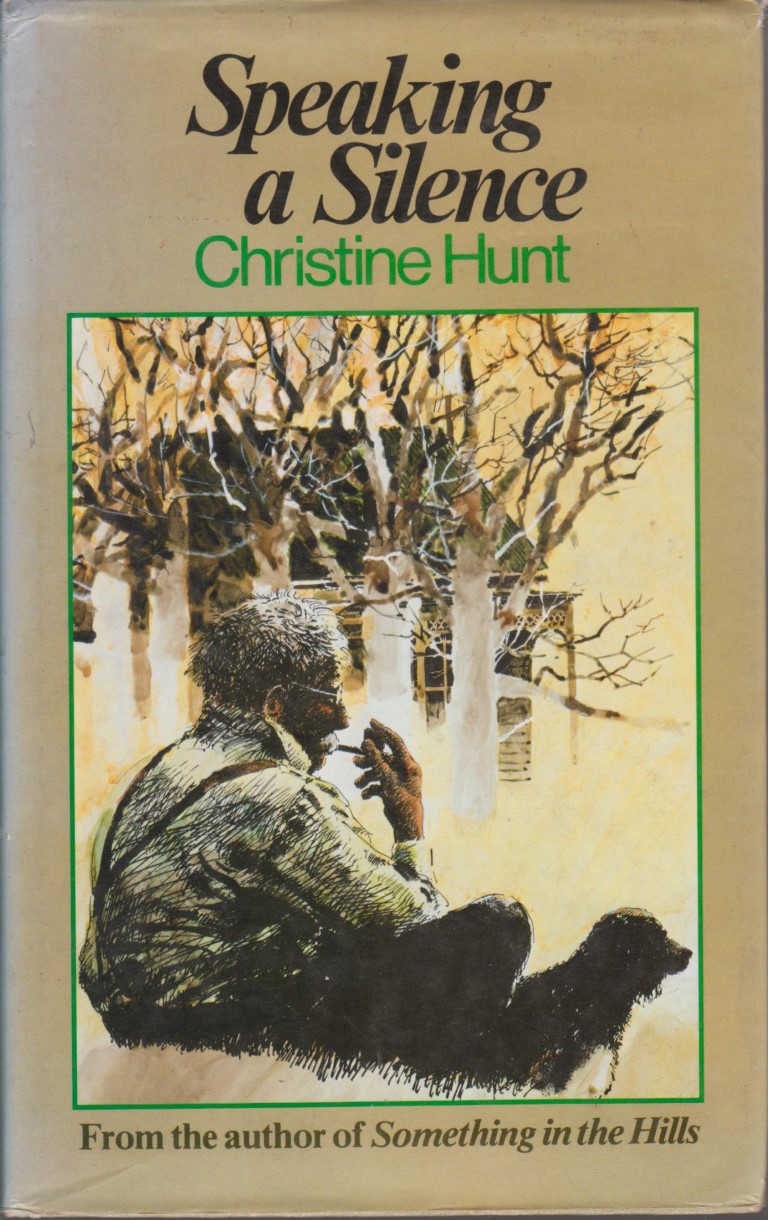 Transcripts of interviews Hunt made with the older generation still living in an isolated Golden Bay rural community.
ISBN 0589013599
Golden Bay, Nelson, Marlborough, social history, oral history, early settlers
VG hardback in VG dust jacket.
Spine lightly faded, gift inscription to free end paper.
$15 C/C
Reed 1981 first edition, 146pp.
[#5179 ]
KELLY Henry D.
As High as the Hills, the Centennial History of Picton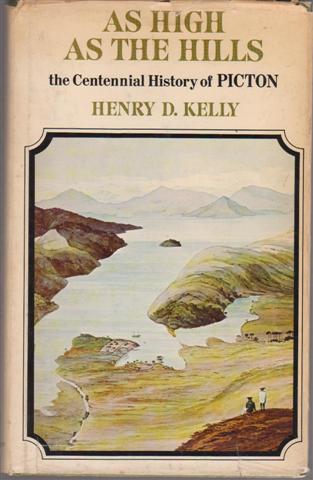 A full history of the settlement and development of Picton, including the surrounding areas of Queen Charlotte Sound, Tory Channel and the Waitohi Valley to the Para.
ISBN0908561008
VG hardback in VG dust jacket with some edge tears.
Signed by author.
$35 C/C
Cape Catley 1976, 262 pages + plates.
[#2522 ]
MANSON Lorna

Cockle Cove
Malborough Sounds Haven for Four Generations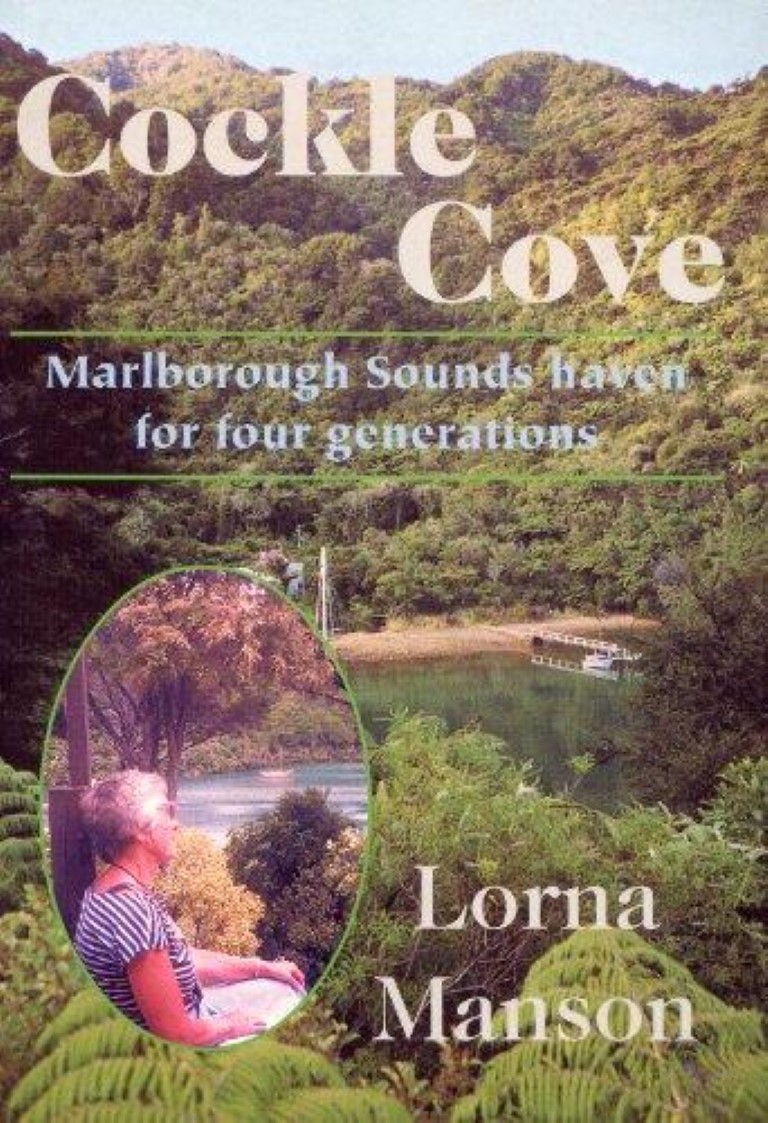 A family history firmly based in this small cove in the Sounds.
Cockle Cove in the Bay of Many Coves in the Marlborough Sounds, is accessible only by water. Lorna Manson's parents bought land there in 1925, when the area was being cleared for a dairy farm and when whaling still occurred in the outer Sounds.
Ada and Ernest Cull wanted to preserve the bush and bay as the haven it was and still is.
In her warm and well illustrated account, Lorna writes of the incidents, politics, wildlife and boats she's experienced, and the people who have dropped anchor in this small slice of paradise.
ISBN0908561792
Queen Charlotte Sound, biography, genealogy, Hindmarsh, Maddever, O'Callaghan, Manson
VG+ softback, signed by the author.
$25 C/C
Cape Catley Ltd 2000, 235pp.
[#3866 ]
MATTHEWS Prudence

Around St Arnaud
With pen and ink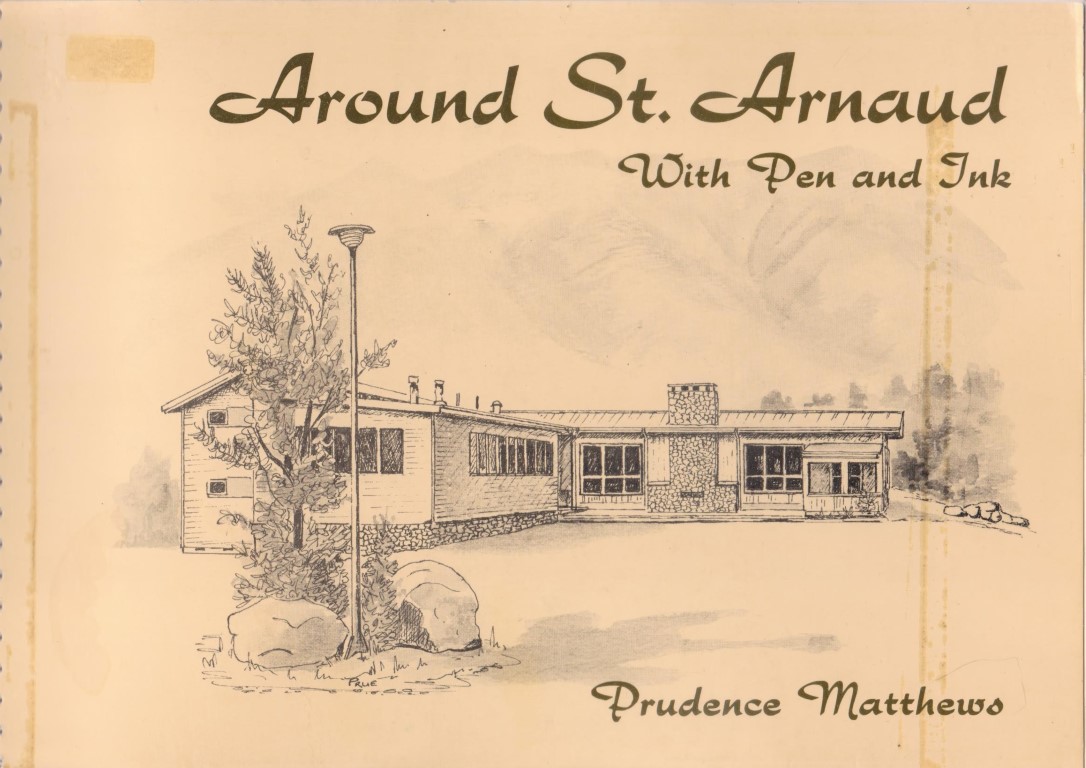 Prudence has collected her sketches of interesting places in the area around St Arnaud and Lake Rotoiti.
Her simple sketches are described with facing text.
Marlborough, art, historic buildings, Nelson Lakes National Park
VG- wire bound softback. Some tape marks to cover.
$45 B/B
Prudence Matthews 1982 first edition limited to 400 copies, 36pp.
[#3749 ]
McCASKILL L. W.

Molesworth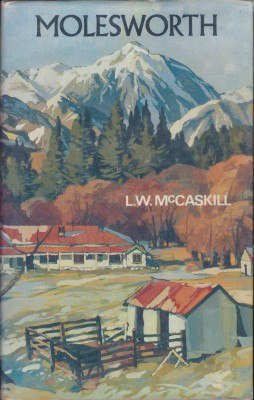 The history of the massive Molesworth High country sheep station, which straddles Canterbury and Marlborough provinces.
ISBN0589002236
sheep station, clarence, awatere, acheron, marlborough
VG hardback in G dust jacket with some loss at spine ends and corners, owner details in pen to half title.
$35 B/C
Reed 1969 first edition, 292pp + plates, map endpapers.[#2165/ 3937 ]
VG hardback in VG dust jacket with name in pen to half title.
$35 B/C
Reed 1969 first edition, 292pp + plates, map endpapers.[#4805 ]
VG hardback in VG dust jacket with name and address in pen to half title.
$45 B/C
Reed 1970 Second edition, 292pp + plates, map endpapers.[#5632]
MINISTRY OF WORKS

Marlborough a Regional Survey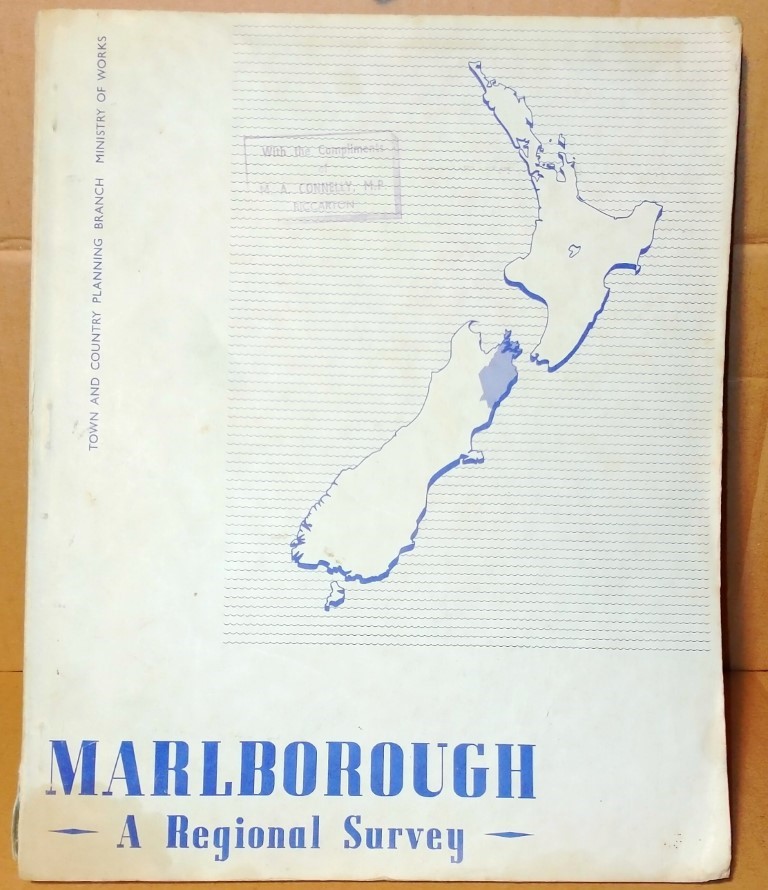 A brief survey of present resources and future potential for the Marlborough region of New Zealand.
Kaikoura, Blenheim, geology, geography, economics, planning
VG softback, stapled sheets in printed wrappers, rubber stamp to cover and title page, discolouring to rear cover.
$30 B/C
Town and Country Planning Branch Ministry of Works, Wellington 1962 First Edition,127pp +10pp plates+ folding map.
[#5649 ]
MOORE, BROAD and DEVENISH

The Nelson College Old Boys' Register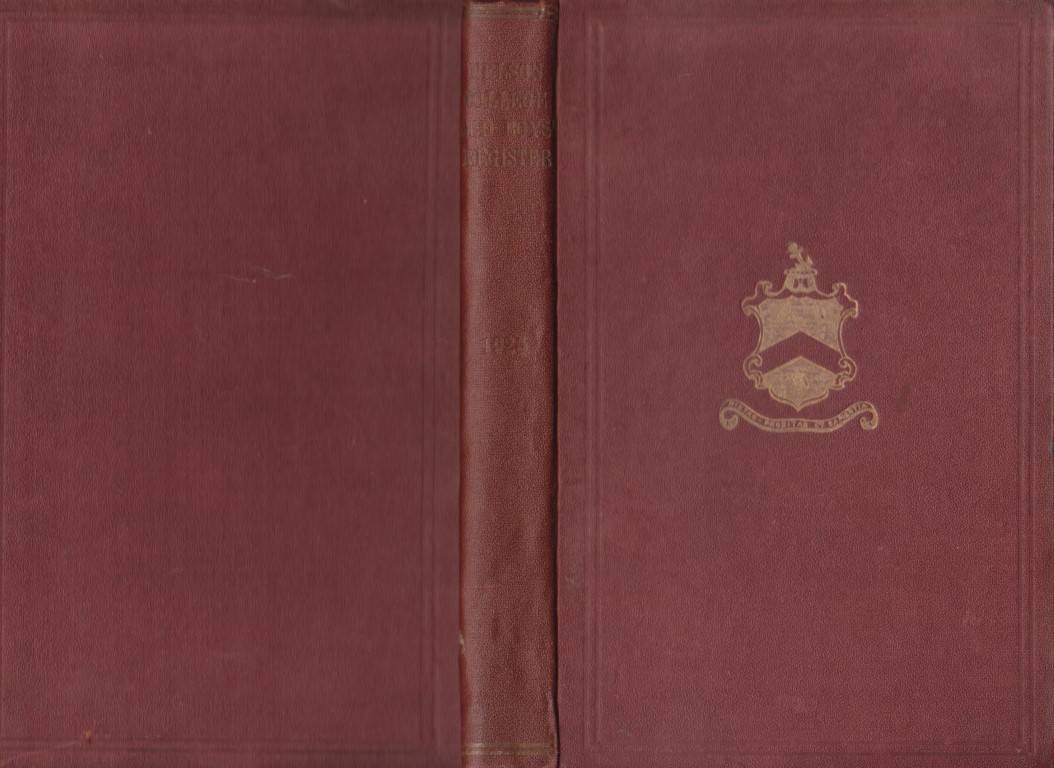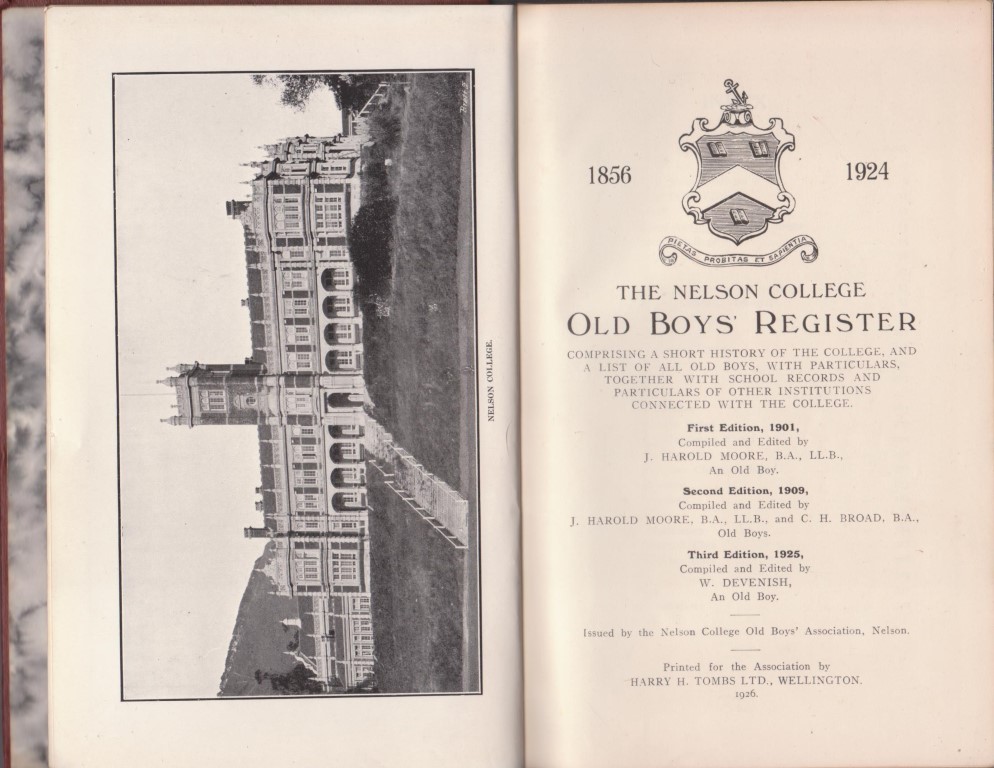 An attractive volume which includes a history of the school followed by the Register of staff and pupils from 1856 to 1926.
Marlborough, Tasman, genealogy, education
VG hardback with no dust jacket.
Red cloth with gilt arms, spine titling dulled, marbled endpapers.
$45 C/C
The Nelson College Old Boys' Association 1926 third edition, 334pp+ plates
[#5203 ]
MOORE John

From Pushchair to Railway Train
The Memoirs of a Marlborough Farmer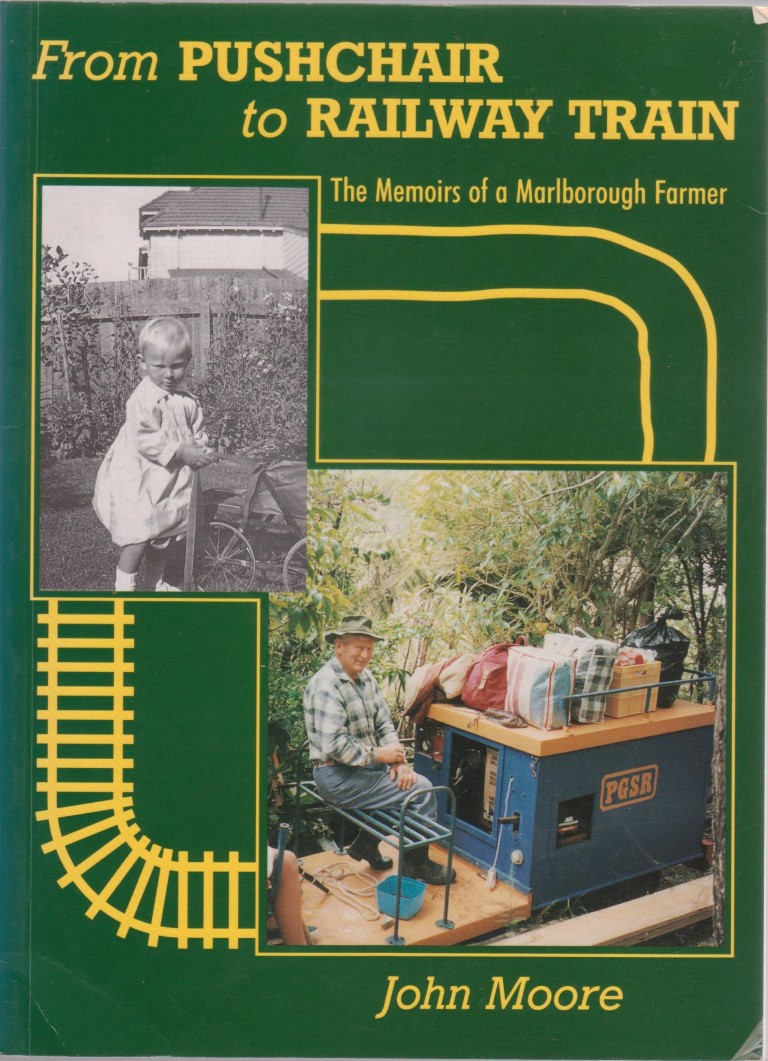 Moore relates his interesting life, including serving in the Pacific during WWII, farming, and working with the Marlborough Electric Power Board
ISBN0473037572
35th battalion, 2nzefip, pacific war, ww2, memoir, biography, John R E Moore, Glen Wye
VG softback
$35 B/B
Clerestory Publication Services 1996, ix 162pp.
[#3846 ]
NOLAN Tony

Historic Gold Trails of Nelson and Marlborough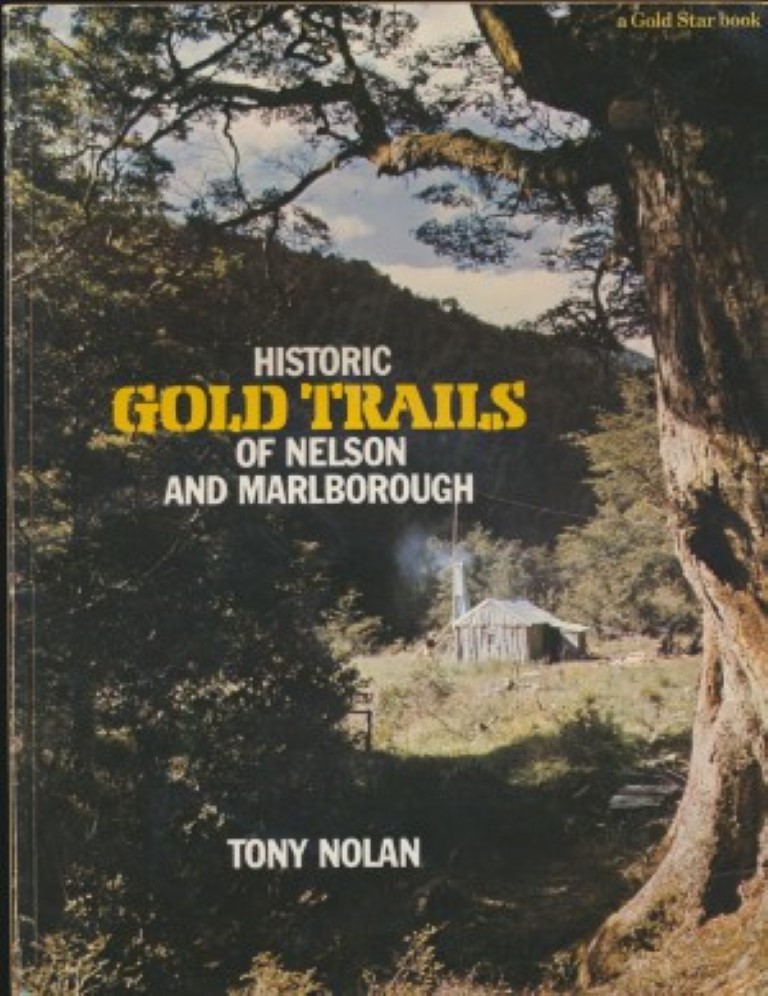 A history of the various aspects of gold mining in the Marlborough region.
Mining, panning, dredging, sluicing etc.
ISBN0589009699
picton, nelson, takaka, collingwood, maungatapu murders, murchison, prospecting, fossicking
VG softback
$25 B/B
Reed/ Gold Star Books 1978 reprint, 96 pp.
[#3894 ]
PARSONSON Denys

Before We Say Goodbye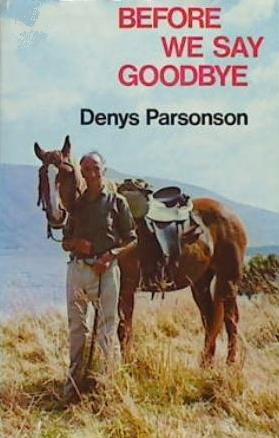 Pelorus Sound memoirs Resident in Pelorus Sound from after the Second World War, Parsonson gives an account of the people and events.
ISBN0723304297
VG hardback in VG dust jacket
$15 C/C
Whitcoulls 1975 first edition hardcover, 199pp+ plates. [#1269/1629/4422 ]
PONDER W.Frank

A Labyrinth of Waterways
The Forgotten Story of New Zealand's Marlborough Sounds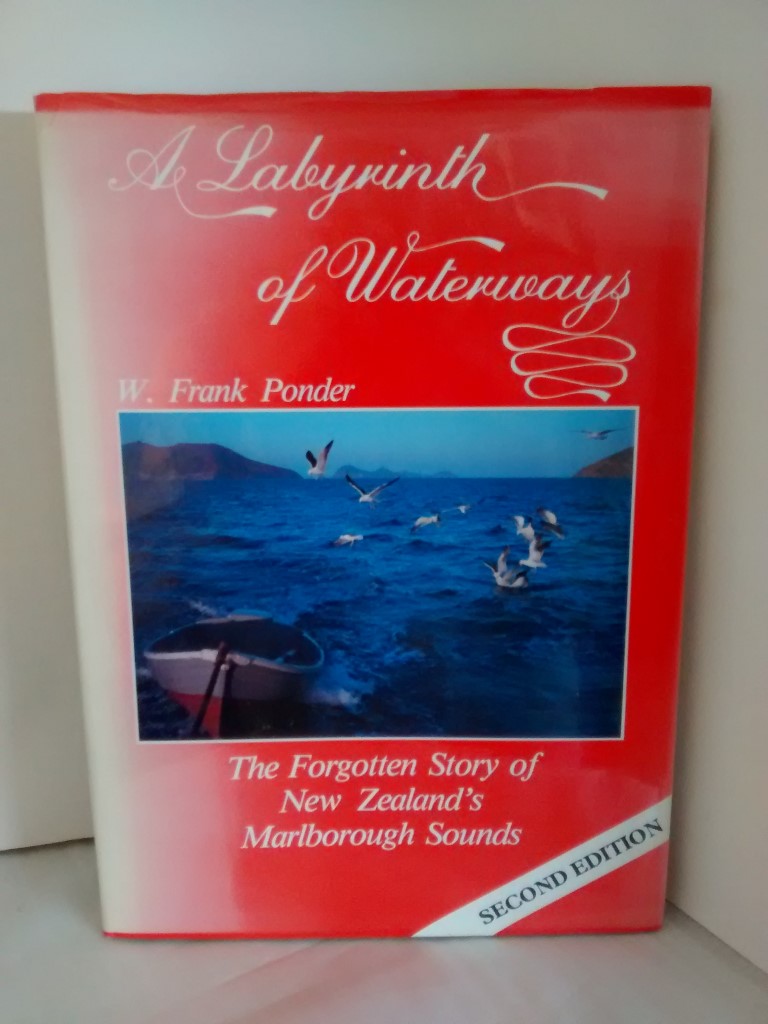 An excellent history and survey of the Marlborough Sounds.
Includes Maori history, European settlement in the 1840s, and modern developments.
Rare.
ISBN0473003562
Marlborough Sounds, New Zealand, History, Regional History, Maritime, Nelson, Maori, Whaling, Whalers, Marlborough Sounds Authority
VG hardback in VG- dust jacket.
Dust jacket is sunfaded (as usual with this sensitive red colour). Rear hinge strengthened with archival hinge-tape.
$125 D/D
Wenlock House 1986 second edition, vii 168pp + colour plates.
[#3992 ]
RAIN Lynn

Community, the story of Riverside 1941-1991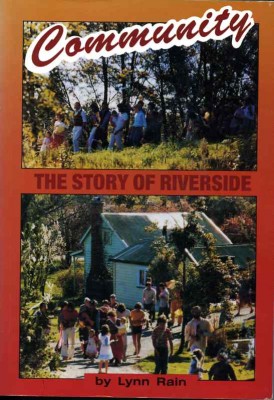 Riverside in Upper Moutere, is a community which started as a pacifist co-operative. This history shows how these ideals of non-violence and co-operation have shaped the community over 50 years.
VG softback
$25 C/B
Riverside Community 1991, 217 pp [#2797 new zealand, history, marlbourough ]
SUTHERLAND Temple

The Golden Bush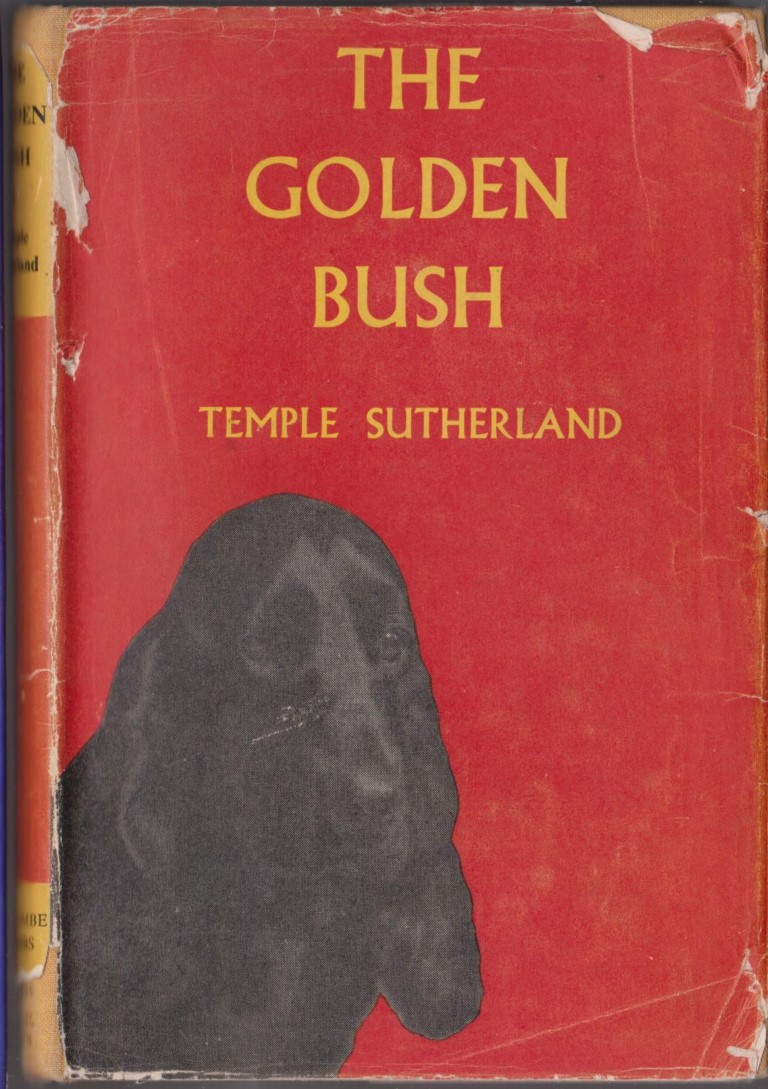 New Zealand pioneering yarn includes hunting and gold mining, and the authors friendship with his dog.
Motueka, Marlborough
VG- hardback in G+ dust jacket.
$15 C/C
W&T/ M Joseph 1956 third impression, cloth, 240pp + frontis.
[#1044 ]
TOMLINSON J. E.

Remembered Trails
Autobiography of a farmer and sometime soldier who lived and worked mainly in North Canterbury and Nelson/ Marlborough area.
Tarndale, Molesworth, Blue Glen Station, 10th Mounted Rifles, 27th Reinforcements, WW1, anzac, Kikawa Farm, hunting, home guard Hillesden Station
VG hardback with VG dust jacket.
$35 C/B
Timaru Herald 1976, first reprint, 132pp + plates.
[#5682 ]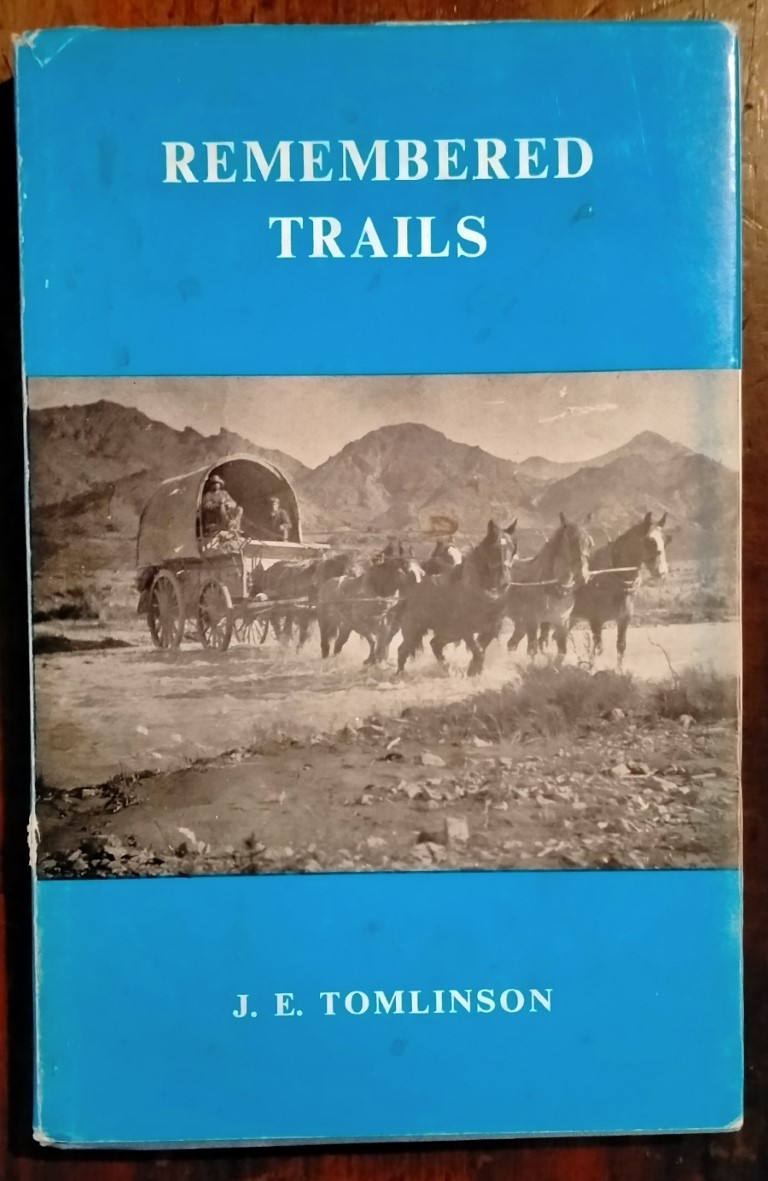 WATERS Lance

Mostly a Farmer, 80 Years of Living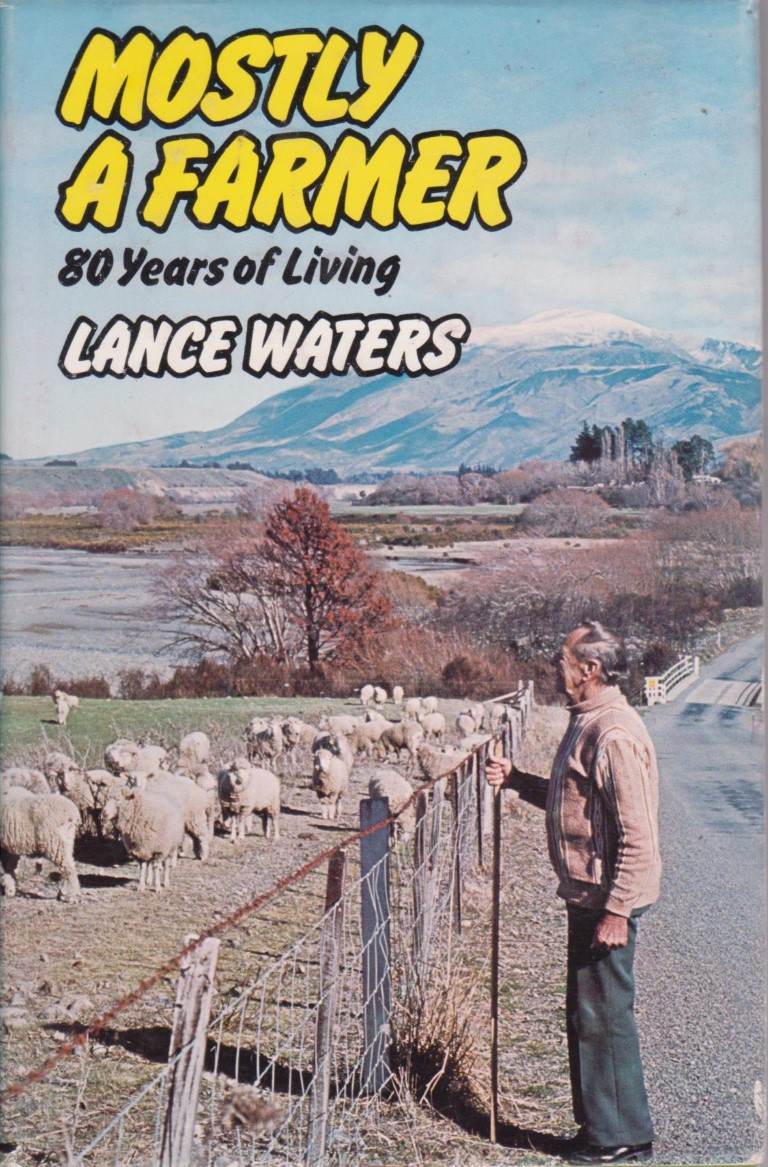 An autobiography by a farmer who has lived a long and interesting life, mainly in Marlborough.
He was there for the Murchison earthquake, and saw service overseas in WWI.
Good information on the social history of Murchison and surrounds.
ISBN0908561016
Awatere, Murchison, ww1
VG hardback in VG dust jacket
$30 C/C
Cape Catley 1976 First Edition, 193pp.
[#4339 ]
WOMEN'S DIVISION FEDERATED FARMERS

The Awatere Valley, Today and Yesterday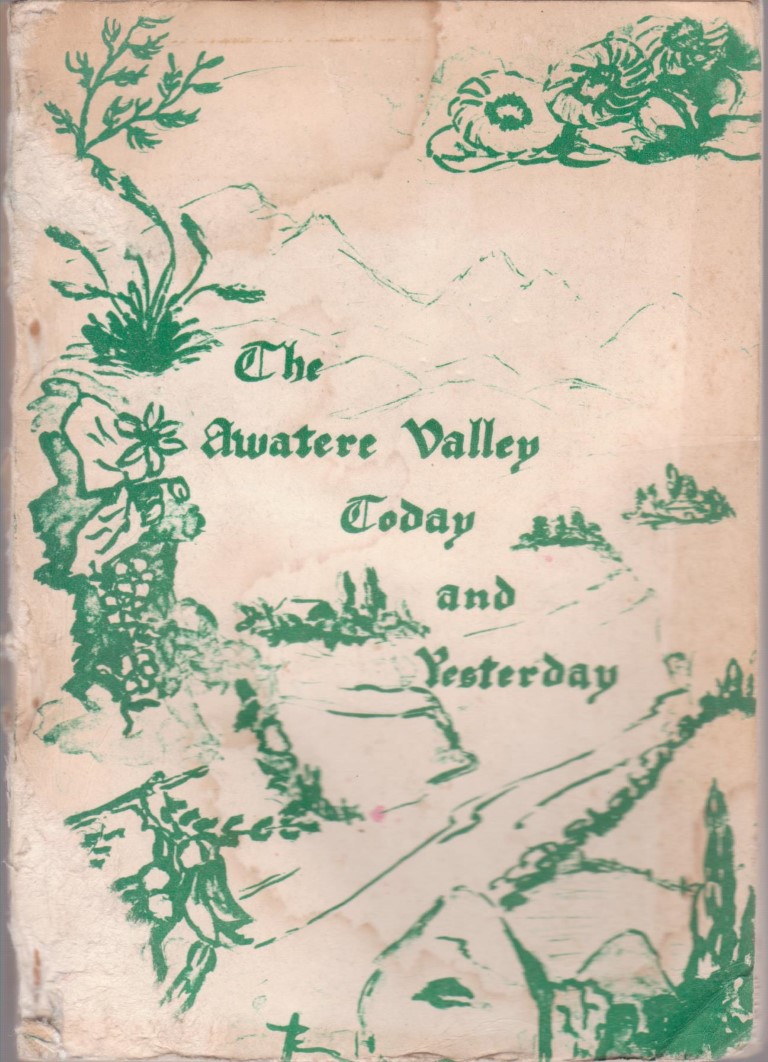 A gazetter of the sheep runs and stations in the Awatere Valley, from "Molesworth to the sea" with the history up to 1966 etc.
The photographs being photocopies are not of the best detail but they are informative.
An uncommon book.
Fair, water damaged paper wrappers, minor stain to some pages, still a good reference copy.
Xeroxed format with illustrated covers, staple bound, covers are well worn and rubbed and with rear wrapper damp stained, some minor water marking at top spine corner margin of pages.
$25 C/B
Awatere Valley Women's Division of Federated Farmers 1966, 190pp.
[#4914 ]
© 2015 by Fortuna Books (NZ).