MARIE CORELLI
Victorian romances with mystical and Rosicrucian themes.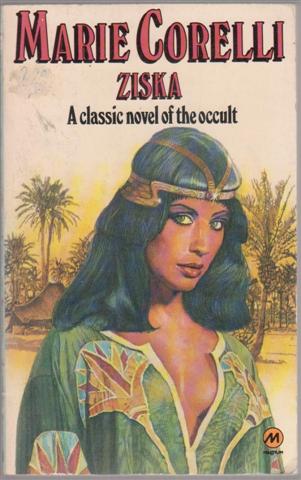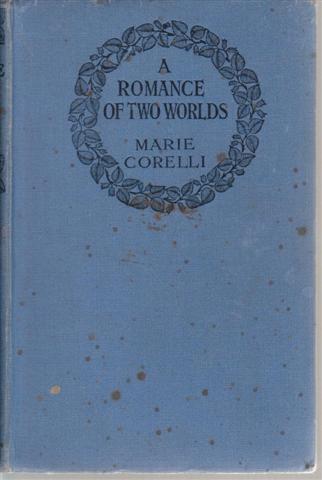 Marie Corelli was the pen-name of Mary Mackay (1855-1924), an English novelist who enjoyed a literary success from the publication of her first novel in 1886 until World War I.
Originally a musician giving piano recitals she adopting the stage-name Marie Corelli, which she retained when publishing her first novel, A Romance of Two Worlds, in 1886. She was one of the most popular authors of her time, outselling illustrious contemporaries such as Arthur Conan Doyle, H. G. Wells, and Rudyard Kipling, and was collected by the upper class as well as being a favourite of Queen Victoria, and the general public.
Corelli was associated with the Fraternitas Rosae Crucis; a Rosicrucian and mystical organization, and the esoteric philosophy in her novels attempts to reconcile Christianity with reincarnation, astral projection, and other mystical ideas.
Her book, The Life Everlasting, is claimed to be helpful to Rosicrucians.

In 2007 François Ozon directed the British film Angel, based on a book by Elizabeth Taylor, a thinly-veiled biography of Corelli.
Ozon stated, "The character of Angel was inspired by Marie Corelli, ...Queen Victoria's favourite writer... one of the first writers to become a star, writing bestsellers for an adoring public."

All these fortunabooks.com prices are in New Zealand dollars, and there is a minimum order required of NZD$20 excluding postage.



CORELLI Marie

Ardath, the story of a dead self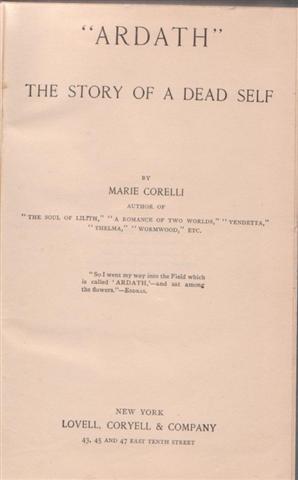 Based on the Book of Esdras, Theos Alwyn is transplanted into the city of Al-Kyris, in a bygone world, where he is supposed to have led a previous existence 5,000 BCE
VG hardback in green cloth, professionally rebound, some minor pencil marking.
Has bookbinder(?) label to front paste down of F Patarchi Torino.
$25 C/C
Lovell, Coryell & Co New York undated (early 1900s) cloth, 565pp + adverts.
[#2309 ]
CORELLI Marie

A Romance of Two Worlds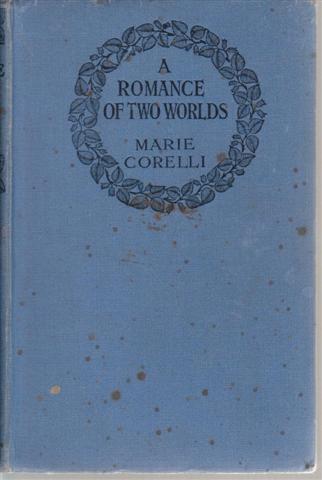 Marie Corelli's first novel referenced the contemporary (1886) debate between creationism and evolution, as well as supernatural and science fiction themes.
The mystic Cellini offers the heroine a potion which puts her into a trance where she experiences divine visions. Upon waking she craves more.
Later her guardian angel whisks her through infinite solar systems while human spirits fly by like gossamer silk, and shares the truth of religion and the secret of human destiny.
She comes to understand God as pure light and pure love, and seeks a oneness with God through a series of meditative disciplines while locked away in a monastery.
The Electric Principle of Christianity, in the novel is presented as something factual and after the publication of the book readers sought more information from Corelli about her experience.
The character of Heliobas may be based on the Count of St. Germain, although Rosicrucian authors identify him as an Illuminati hierophant, Count A. di Guinotti.
VG- hardback with light wear and spotting to covers, bottom corners starting to fray, two small pen names to fep, closed edges foxed.
$25 C/C
Methuen 1922 New Edition with preface, decorated cloth, xxviii 339pp + 8pp adverts.
[#2299 ]
Good only paperback with old marker price to cover, lightly soiled wrappers.
$10 A/B
Steiner Books 1973 first thus, 324pp. ISBN 083341737 [PB1387]
CORELLI Marie

God's Good Man, a simple love story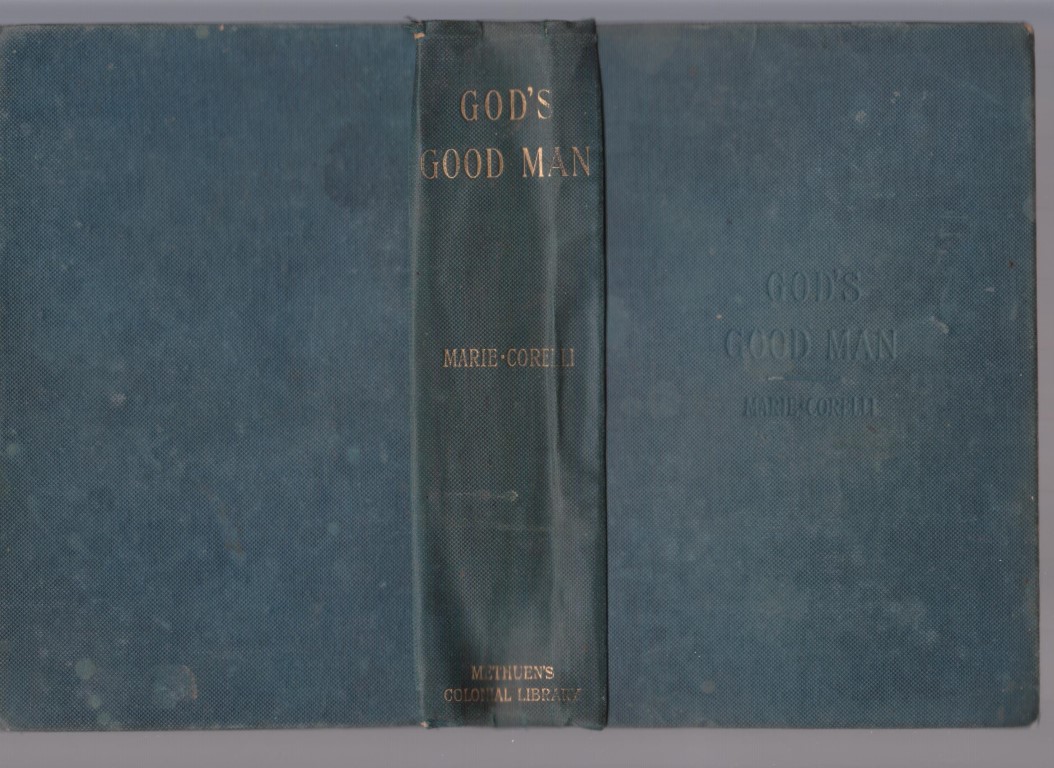 A humble clergyman who is content with his lot in life, until he is unexpectedly introduced to a fetching young woman from America.
romance
G hardback, boards soiled, pages foxed, copperplate name to half title.
$10 C/C
Methuen Colonial Library 1905, 611 + 40pp adverts.
[#4693 ]
CORELLI Marie

The Life Everlasting, A Reality of Romance
A world of past lives, mysticism, secret societies and twin souls against a backdrop of a true love based on the highest ideals.
The plot follows a heroine from a yachting trip around Scotland with eccentric characters, to the entering of a secret society of ancient mystics where she is determined to achieve initiation.
rosicrucian, mysticism
G+ paperback.
$7 A/B
Methuen 1964, 436pp.
[#1595 ]
CORELLI Marie

The Master-Christian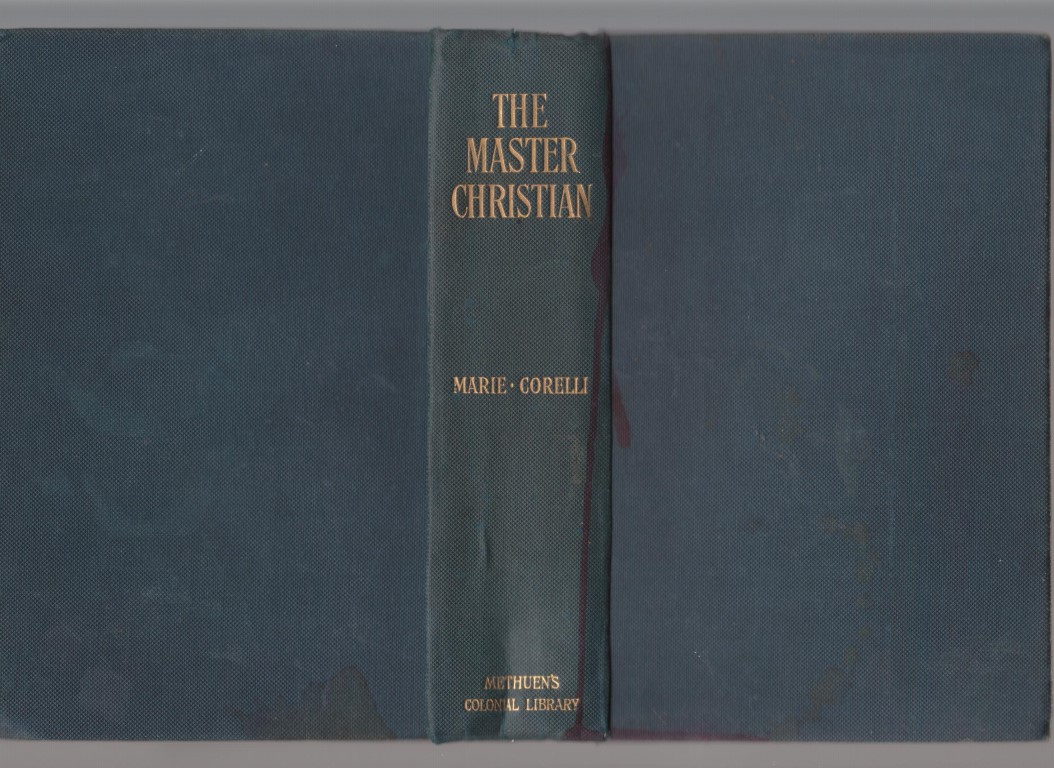 An arraignment of the ecclesiastical system and modern Christianity as typified by the Church of Rome and the Church of England.
Specifically the hypocrisy of the Roman church, the immoral lives of its priests and its successful attempt to encourage ignorance and superstition.
G+ hardback, boards soiled, page edges foxed, starts at title, name at head of title.
$10 C/C
Methuen Colonial Library 1901, 635pp.
[#4694 ]
CORELLI Marie

The Mighty Atom
Dennis Wheatley Library of the Occult 27
A story that exposes the evils of Atheism.
"To those self-styled 'progressivists', who by precept and example assist the infamous cause of education without religion, and who by promoting the idea borrowed from French atheism, of denying to the children in board schools and elsewhere the knowledge and love of God as the true foundation of noble living are guilty of a worse crime than murder."
ISBN0722125445

VG- paperback, bookseller stamp to first page, browned paper.
$7 A/B
Sphere 1975, 190pp.
[PB991 ]
CORELLI Marie

The Sorrows of Satan
Or the strange experience of one Geoffrey Tempest, millionaire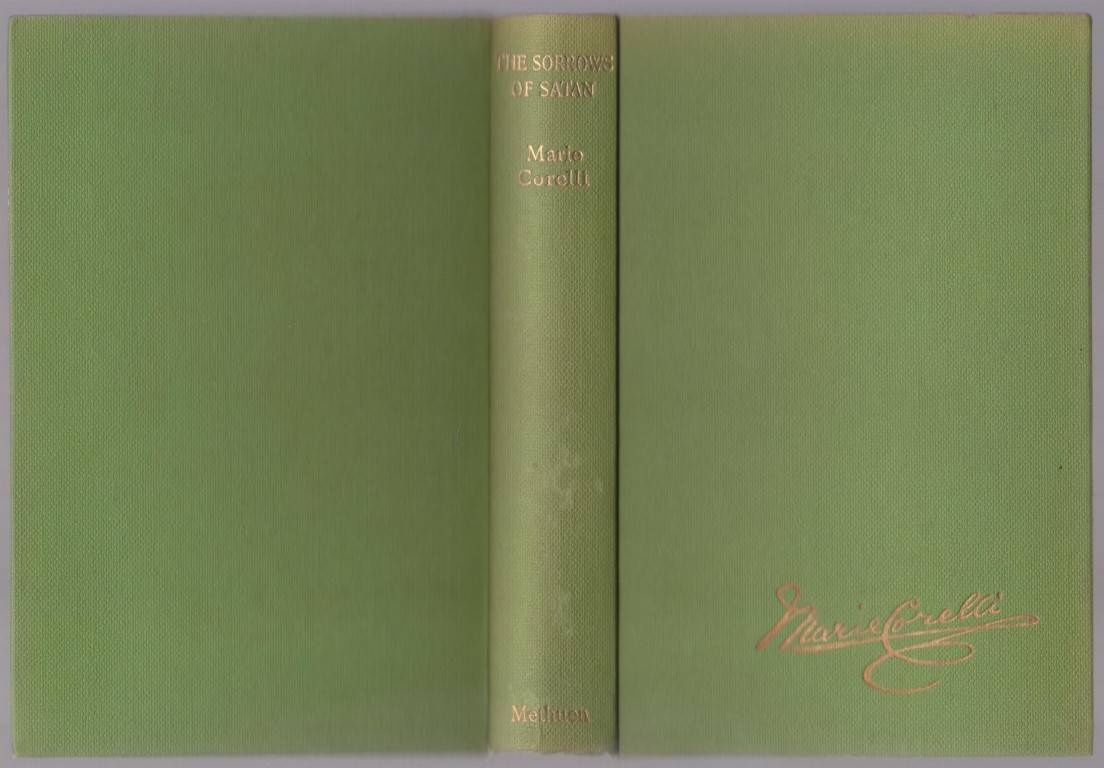 A Faustian novel, widely regarded as one of the world's first best-sellers, and an influential fin de siecle text.
The destitute author Geoffrey Tempest recieves an inheritance and is introduced to a foreign aristocrat called Lucio, who guides him in how best to use his newfound wealth.
Tempest is unaware, despite warnings from people he meets, that Lucio is the earthly incarnation of the Devil.
His wealth leads to misery, and eventually, when confronted with Lucio's true nature, Tempest renounces evil and returns to society penniless hoping to purify his soul.
Tempest is in many regards a secondary character to Lucio / Satan's yearning to achieve salvation, for he truly believes in the Gospel yet he is forbidden ever to partake of it.
Faustian literature, good and evil, morality
G+ hardback with boards rubbed to bottom fore edges, names and blacked out names to endpapers.
$10 C/C
Methuen 1956 reprint, 487pp.
[#4423 ]
VG- decorative cloth hardback, bumped edges, paper scar to half title and title, hinges cracked.
Minor discolouration to cloth in places.
Foxing to prelims and small pen date to rear free end paper.
$50 C/C
Methuen's Colonial Library 1895 first edition (Colonial), 487pp +adverts to endpapers.
[FCT19]
CORELLI Marie

Thelma, a Norwegian Princess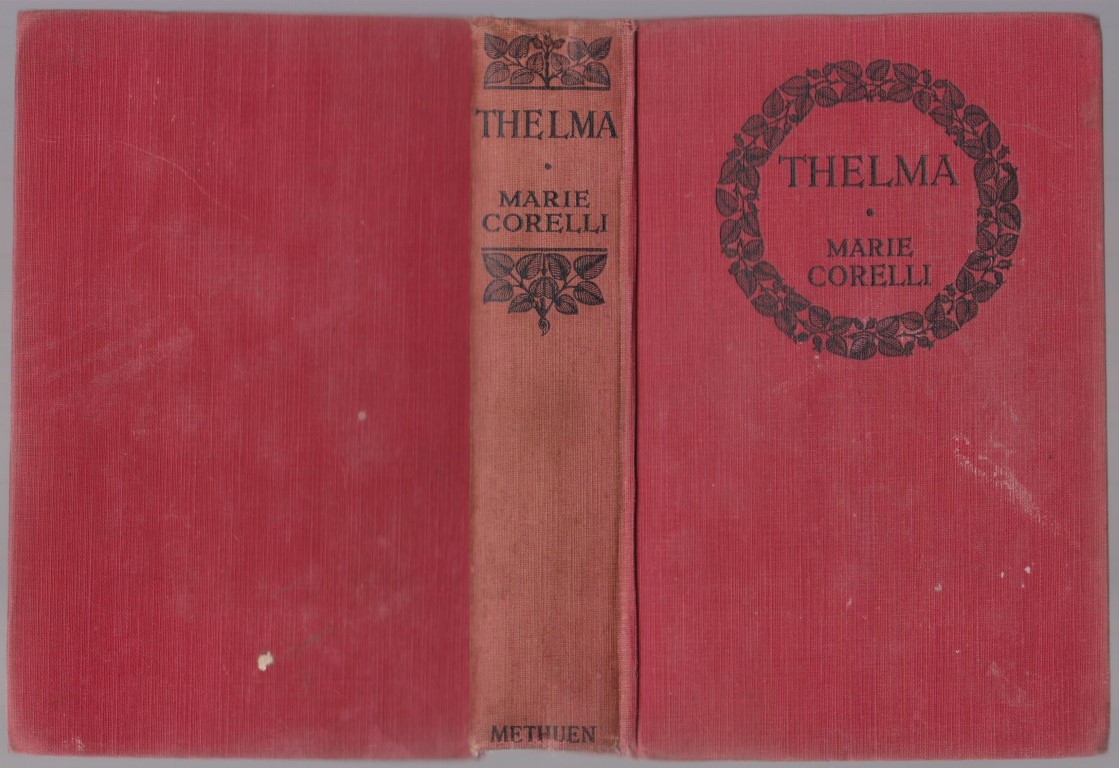 A Norwegian Princess marries an English gentleman but finds society in England dreadful and is tricked into fleeing her husband back to Norway, where he follows his true love.
Thelma's father Olaf is a pagan, and the Lutheran villagers are suspicious of Thelma's Catholicism.

G+ hardback, cloth boards lightly soiled, joints rubbed, names to endpapers and to half title.
$15 C/C
Methuen 1929 reprint, 615 + 8pp adverts.
[#4424 ]
CORELLI Marie

Ziska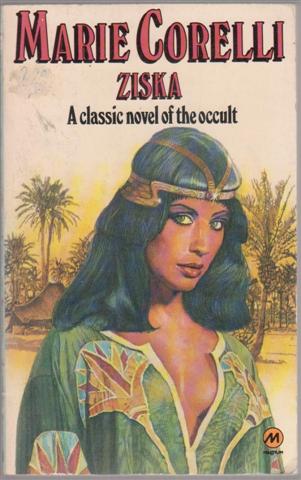 A classic novel of the occult with a reincarnation theme.
Two people in Victorian Cairo are drawn together based on their past life tragic romance in ancient Egypt.

ISBN0417047002
occult, romance
G+ paperback.
$7 A/B
Magnum 1979, 192pp.
[#83/PB1426 ]
© 2015 by Fortuna Books (NZ).