DELUXE BINDINGS AND EDITIONS

Rare and used copies of books published in deluxe or limited editions.
Often published with slipcases and illustrations, in editions specifically for subscribers or collectors.
Includes books by the Easton Press and the Folio Society.
Where possible these luxuriosly bound editions will have dust jackets and slip cases.
Quality paper and binding ensure these remain desirable in the future.
Fiction and non-fiction titles.

All these fortunabooks.com prices are in New Zealand dollars, and there is a minimum order required of NZD$20 excluding postage.




BARTER Richard

The Siege of Delhi

Mutiny memories of an old officer.
VG VG (slipcase). No dust jacket $30 C/C Folio Society 1984 second impression, dec cloth, card slipcase, xvi 130pp + plates. Indian mutiny, Raj. [FOLIO 6]



BEWICK Thomas edited by Iain Bain

My Life

with wood engravings and watercolours by the author
VG+ no dust jacket $15 C/C Folio Society 1981 quarter cloth 192pp + col plates [#1962 folio society]



BOURGOGNE translated J W Fortescue

The Retreat from Moscow

The Memoirs of Sergeant Bourgogne 1812-1813.
VG VG (slipcase)light soiling to slipcase. No dust jacket $30 C/C Folio Society 1985 first thus, dec cloth, card slipcase, viii 262pp + plates. Napoleonic wars. [FOLIO 4]



COCHRANE John Dundas edited Mervyn Horder

A Pedestrian Journey

Through Russia and Siberian Tartary to the Frontiers of China, the Frozen Sea and Kamchatka.
G VG (slipcase). No dust jacket, $30 C/C Folio Society 1983 first thus, dec cloth, card slipcase, 217pp + plates. Travel, exploration. [FOLIO 5]



DUMAS Alexandre translated by Alan and Jane Davidson

Dumas on Food


VG VG (slipcase) $40 C/D Folio Society 1978 first thus, dec cloth, card slipcase, 323pp. No dust jacket [FOLIO 1]



FULLER Thomas edited Richard Barber

Fuller's Worthies

selected from The Worthies of England
VG VG (slipcase) some wear to slipcase with short split to one edge. No dust jacket, $30 C/D Folio Society 1987 first thus, dec cloth, card slipcase, 441pp + plates. British medieval history and biography. [FOLIO 3]


GIBBON Edward

The History of the Decline and Fall of the Roman Empire
8 volumes in 2 slipcases.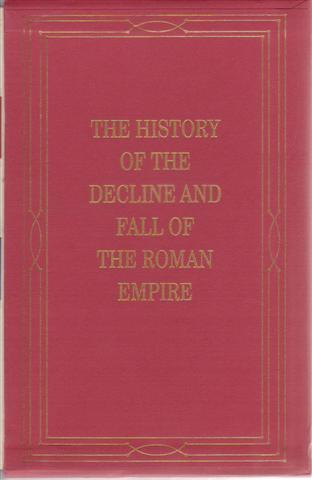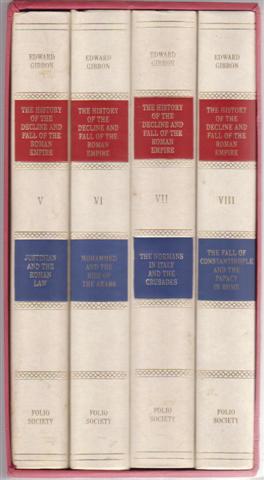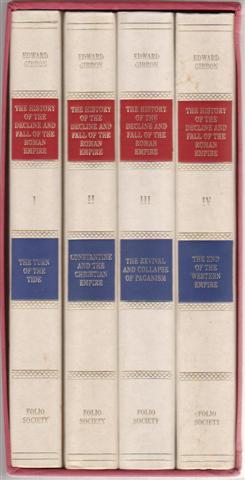 Edited with an introduction by Betty Radice.
Vol. I - The Turn of the Tide (320pp); Vol. II - Constantinople and the Christian Empire (348pp); Vol. III - The Revival and Collapse of Paganism (367pp); Vol. IV - The End of the Western Empire (394pp); Vol. V - Justinian and the Roman Law (394pp); Vol. VI - Mohammed and the Rise of the Arabs (377pp); Vol. VII - The Normans in Italy and the Crusades (440pp); Vol. VIII - The Fall of Constantinople and the Papacy in Rome (363pp).
Seventh printing of the 1983 Folio Society edition, which uses the Everyman Edition of 1910.
FINE hardbacks in FINE slipcases
$145 over 8 KG so email for a shipping quote, within New Zealand ONLY
Folio Society 1998. [#2884 ancient history, folio society ]
GORDON CLASSIC LIBRARY

Various titles as below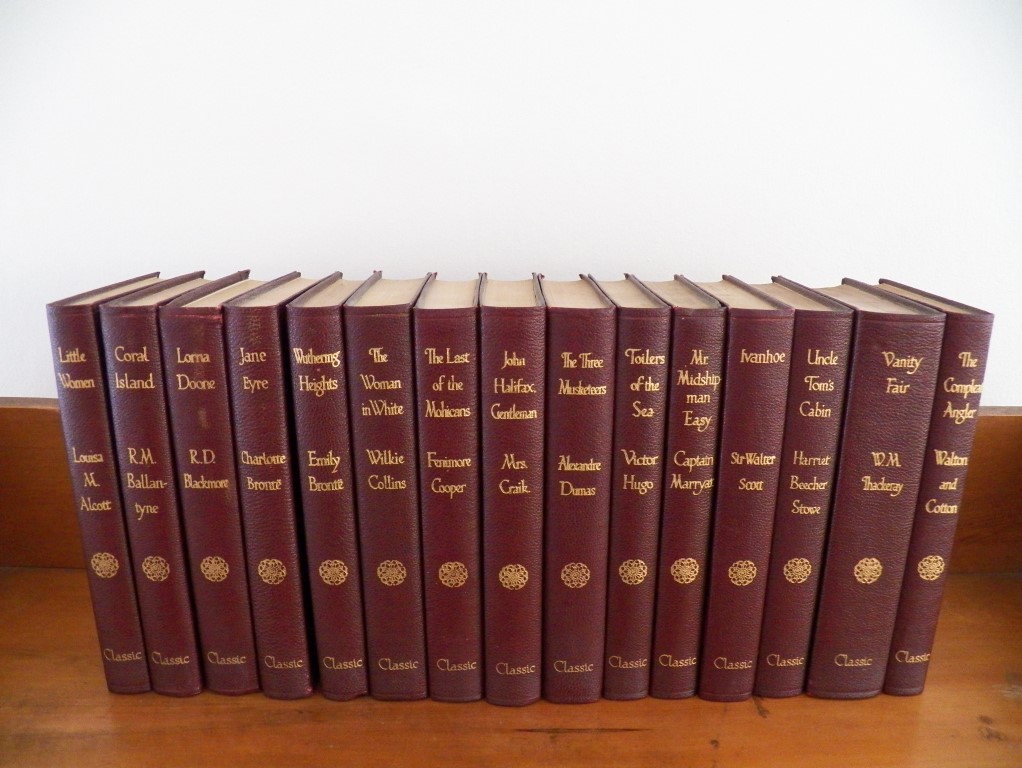 A changing stock of individual titles of these well produced and bound classics.
Limp red leatherette cloth, some have top page edges gilt.
Quality paper, some on thinner rice paper.
11x16 cm.
Originally issued in a display/ travel case.
Image is represenatitve only.
modern literature, classics, deluxe, collectable set

VG sewn softbacks with flexible cloth/ leatherette.
$15 A/B
Thomas Nelson and Sons Ltd, undated, various paginations.
Currently available;
Louisa M. Alcott - Little Women

Jane Austen - Pride and Prejudice

R M Ballantyne - Coral Island

R.D. Blackmore - Lorna Doone

Charlotte Bronte - Jane Eyre

Wilkie Collins - The Woman in White

Fenimore Cooper - The Last of the Mohicans

Mrs. Craik - John Halifax, Gentleman

Charles Dickens - David Copperfield

Charles Dickens - Pickwick Papers

Alexandre Dumas - The Three Musketeers

Victor Hugo - Toilers of the Sea

Captain Marryat - Mr. Midshipman easy

Sir Walter Scott - Ivanhoe

Robert Louis Stevenson - Treasure Island

Harriet Beecher Stowe - Uncle Tom's Cabin

W. M. Thackery - Vanity Fair

Izaak Walton and Cotton - The Compleat Angler

[Gordon Classic Library box ]





KROPOTKIN Peter edited Colin Ward

Memoirs of a Revolutionist


VG VG (slipcase) some wear to slipcase. No dust jacket, $30 C/D Folio Society 1978 first thus, dec cloth, card slipcase, 338pp + plates. Bolshevik Russian Revolution. [FOLIO 2]



RUNYON Damon

Dream Street

stories selected by Sue Bradbury, illustrated by Nicolas Bentley and David Eccles.
VG VG (slipcase). without dust jacket $30 C/C Folio Society 1989 second impression, dec cloth, card slipcase, xviii 236pp + plates. Humour. [FOLIO 7]


TROLLOPE Anthony

Harry Heathcote of Gangoil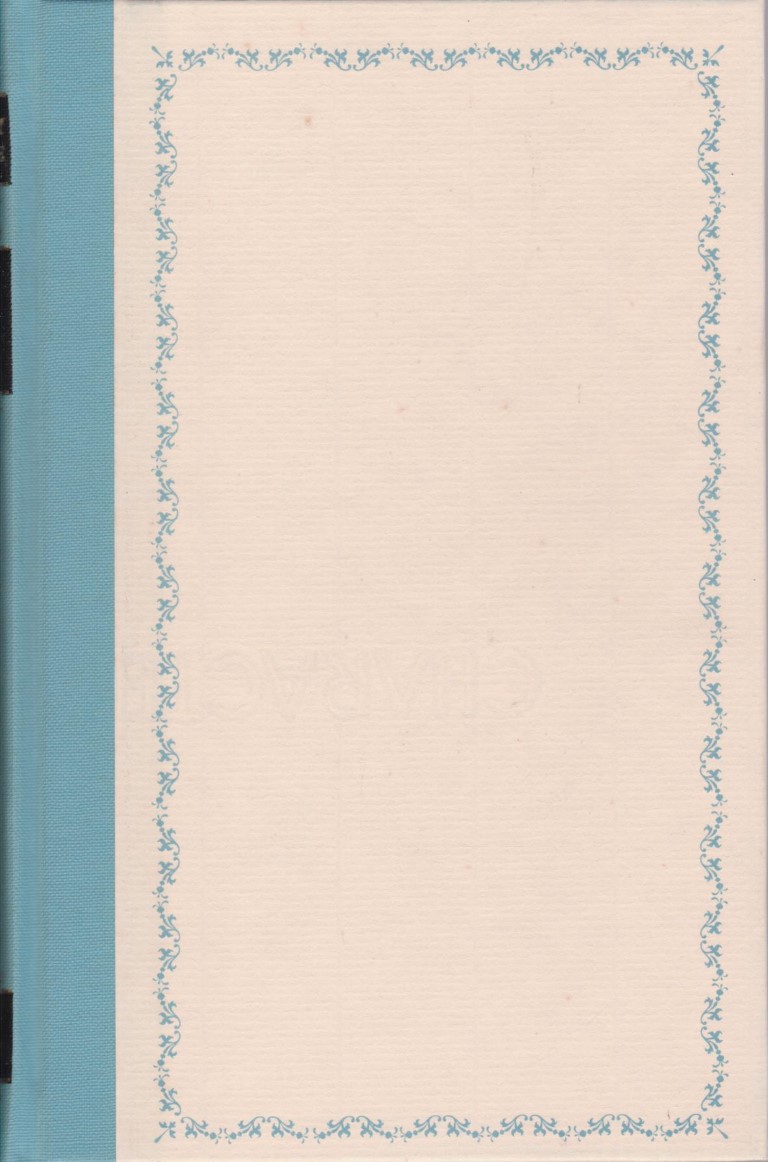 A Tale of Australian Bush Life.
Introduction by P.D. Edwards and with illustrations by Rod Waters.
deluxe, decorative binding
VG hardback in VG slipcase.
$15 C/C
The Folio Society 1998 first edition, 98pp.
[#5056 ]
VOLTAIRE Francois Marie Arouet de,

Candide, or Optimism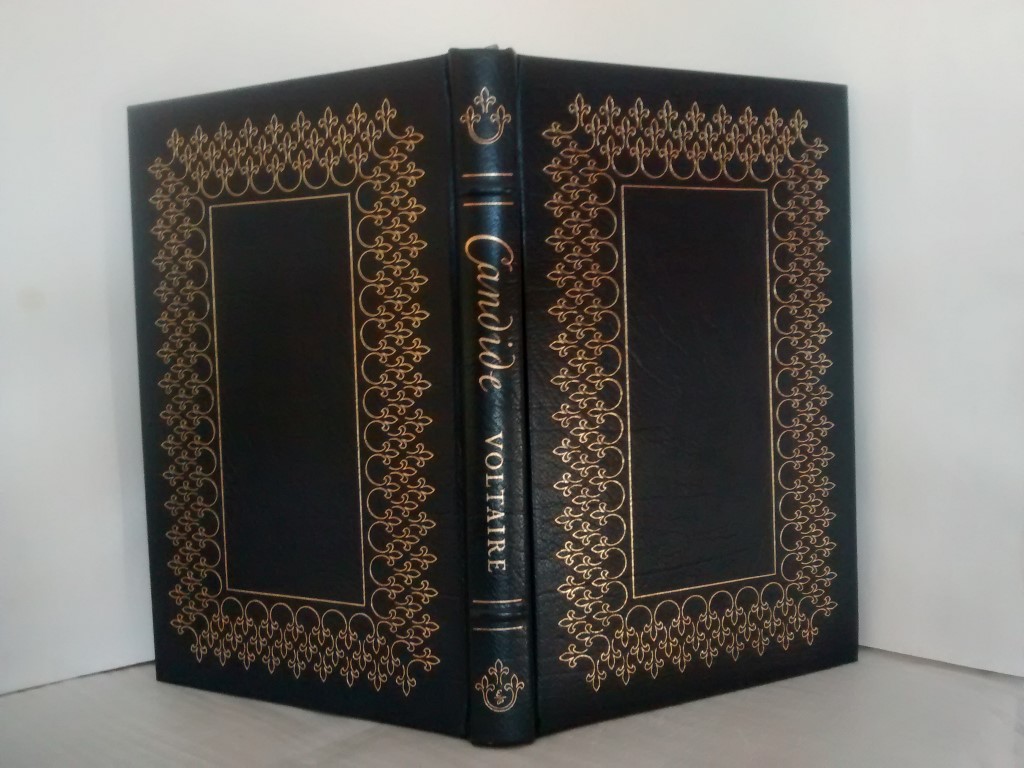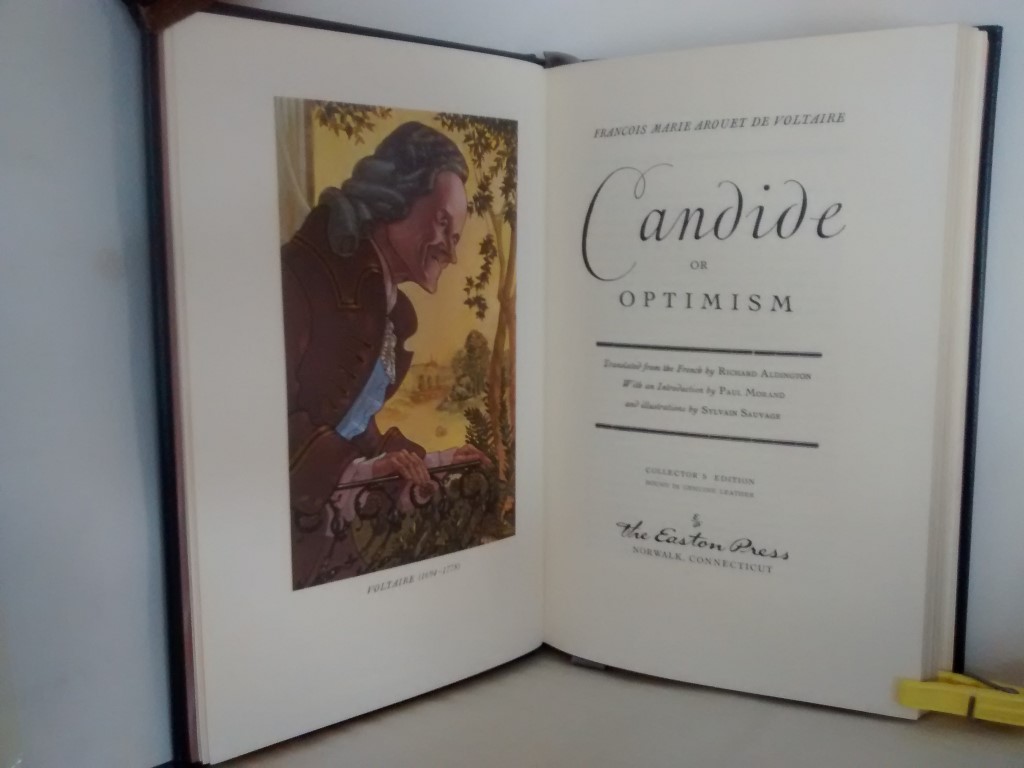 Translated by Richard Aldington, with an introduction by Paul Morand, and illustrations by Sylvain Sauvage.
A deluxe illustrated edition, bound in leather with gilt decoration, and all edges gilt.
Silk-moire fabric endpapers and a marker ribbon.
Part of the subscription set of The 100 Greatest Books Ever Written.
rare, collectable, deluxe, french literature

FINE leather hardback
$55 B/C
Easton Press 1977, 131pp.
[#3823 ]





ZOLA Emile translated Charles Duff

Nana


VG VG $15 C/C Folio Press / Dent 1973 cloth, 387pp + etchings by Vertes. Dust jacket is clear plastic covering gilt dec boards with printed paper flaps. ISBN 0460041444 [Item# 210 FCT]




© 2015 by Fortuna Books (NZ).