Minimum order $20 value excluding postage.
ABOUT FORTUNA RARE BOOKS, OUR SHOP AND HISTORY
Established in the year 1999 e.v. we have been selling online and shipping books worldwide ever since.
Originally we had a Brick and Mortar bookshop operating from various locations in Christchurch, New Zealand.
In the largest of the recent Christchurch earthquakes ( Feb 2011 e.v.) we were barred entry to our store for over a month, before it was demolished in situ and intact!.
Due to our loss of plant and stock, and the ensuing commercial uncertainty in Christchurch we have suspended running a bookshop for the fore-seeable future.
Hopefully sometime soon we may be in a position to re-open.
Currently we are trading at reduced levels through the internet and mail system!
We were in the Olympia building, above Vivace Cafe.
Our lease and entry was based in the Shand's Emporium building (green one in the photo).
We are pleased that Christchurch Heritage Ltd. have finally restored the Shand's building on a new location on Manchester Street.

We accept local bank deposits, cheques (drawn on New Zealand banks ONLY), or credit and debit cards via Paypal.
For overseas customers payment via Paypal is preferred.

SELLING YOUR BOOKS
We are interested in buying select good quality and good condition books, mainly non-fiction books and New Zealand related subjects.
Some early novels in tidy condition hardcovers (with jackets) may be of interest.
We are also interested in spirituality and occult works, including Theosophy etc. Usually these will need to be published prior to the 1980s to be of interest.
The best method is to email a list of titles and authors, and if possible a group photo, or photos of individual books showing the dust jacket with title etc. This gives us an idea of the range of items, age, and condition, and we can better respond with this information.
Contact details here.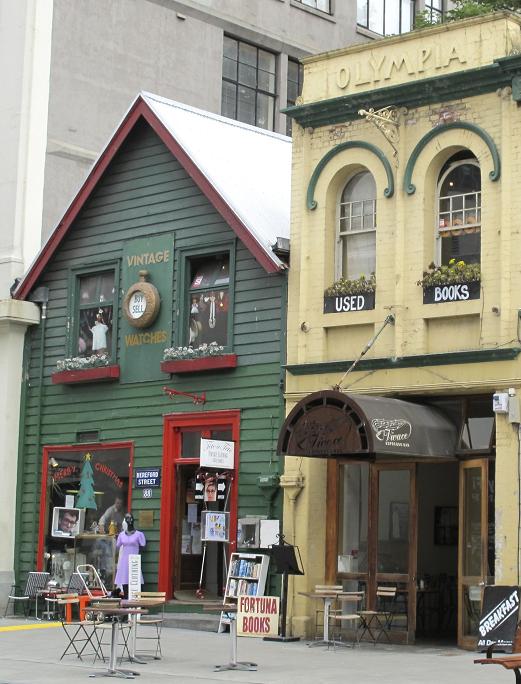 © 2015 by Fortuna Books (NZ).